Join us for 25 Days of CRAFTmas!
Each day we will reveal a new Christmas craft. We'll have a variety of different themed crafts including sewing, Cricut, crochet, and general crafting.
Check back to this post every day to see as each new craft is revealed.
Enter the Giveaway in 3 EASY Steps
Make a project from using a tutorial from 25 days of Craftmas
Post it on Instagram (make sure your profile is set to public so we can see the post)
Tag @sweetredpoppy and use the hashtag #srpcraftmas
You'll be entered to win a Serger or a Cricut machine!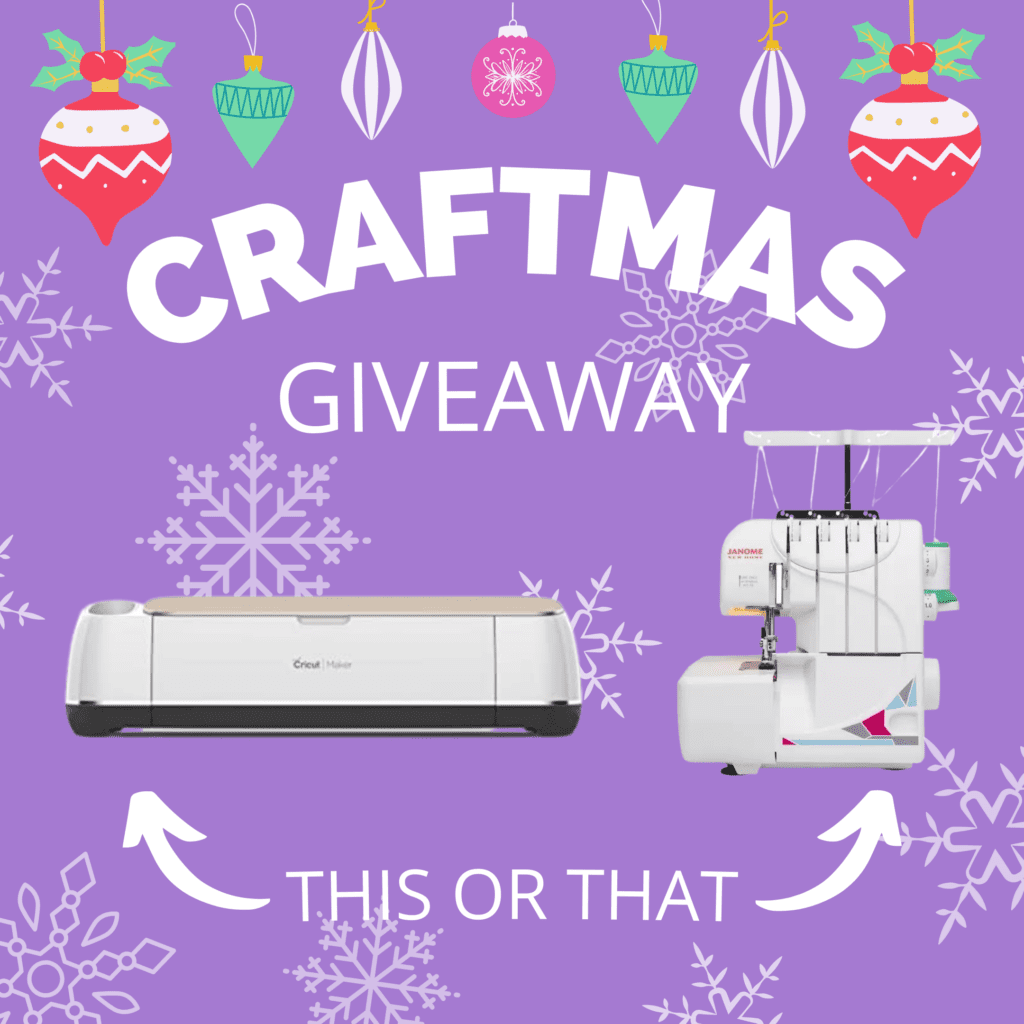 25 Days of CRAFTmas will run November 18th through December 19th of 2021.
Congrats to Brandi of Little Loves Growing on winning this giveaway!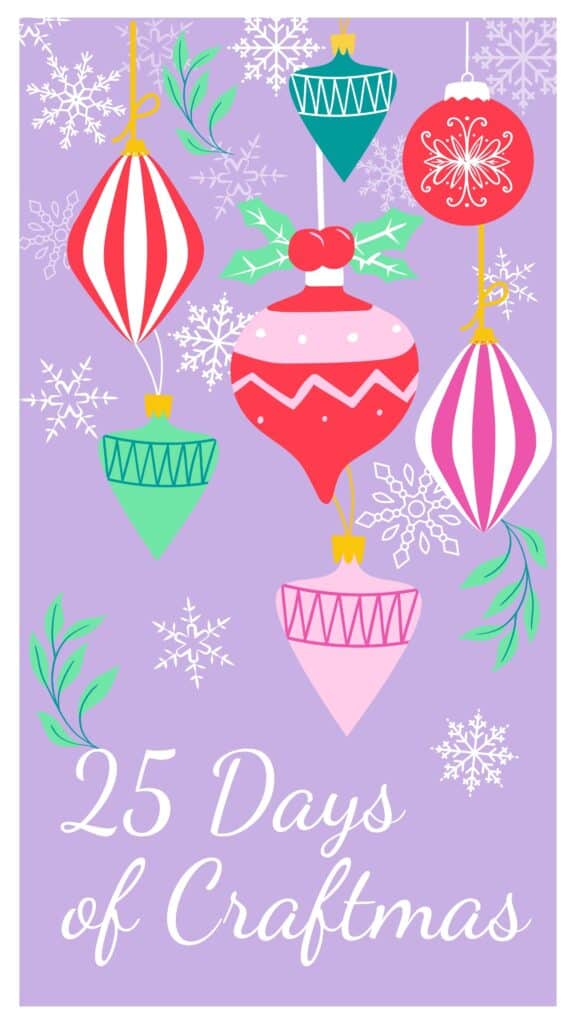 Join our crafting and sewing Facebook group where you can show us what you're making, ask questions, and learn from others!
Check this post each day to see what we reveal as our new craft of the day.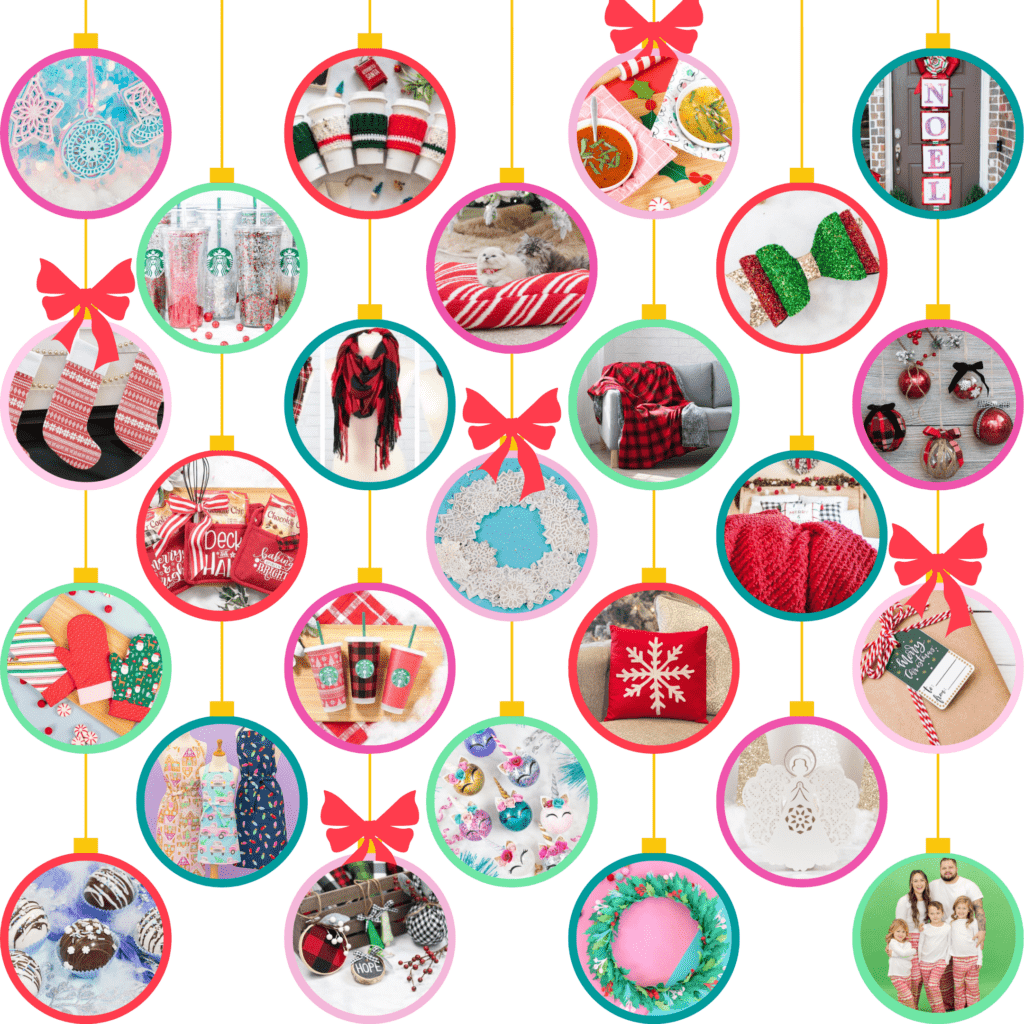 Day One: Layered Christmas Ornament SVG Files
There's nothing I love quite as much as creating handmade ornaments! Each year I challenge myself to make unique handmade ornaments to add to my collection. This year, I decided to make them out of paper with my Cricut Joy.
Get the full tutorial and 4 different cut files to create these beautiful ornaments.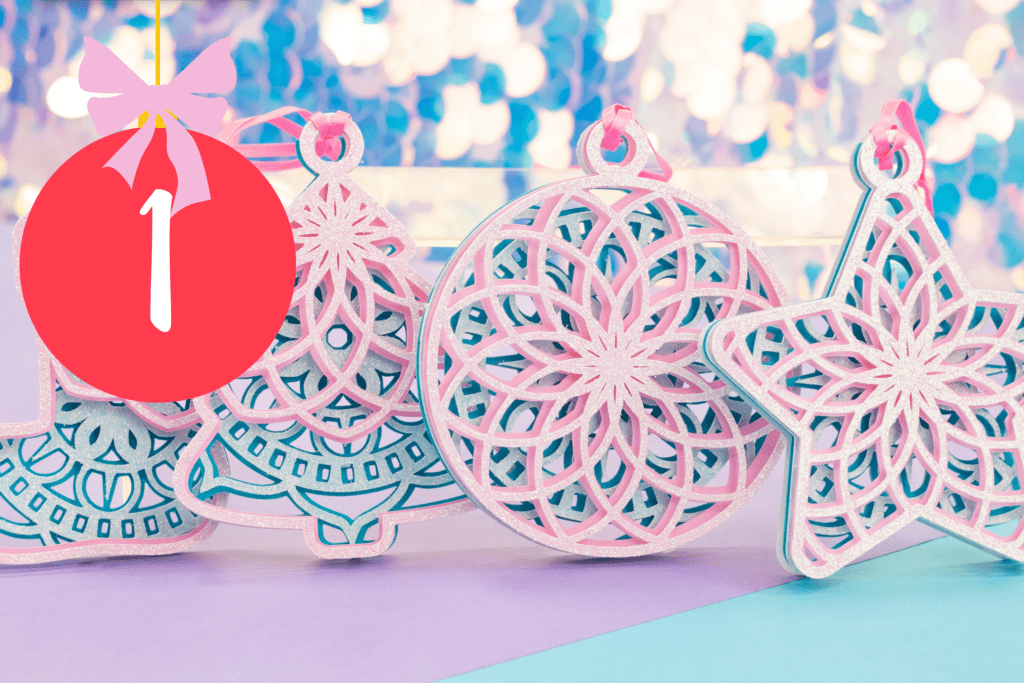 Day Two: Crochet Cup Cozy
A crochet cup cozy is such a thoughtful and warm gift to give during the holidays. These cup cozies are a quick project to work up and they make for the perfect last-minute present!
Day Three: Microwave Bowl Cozy
Sew up a soup bowl cozy in less than 20 minutes with this simple tutorial. It's great for protecting your hands and tables from hot bowls.
Sew a small, medium, or large bowl cozy with our free PDF printable sewing pattern.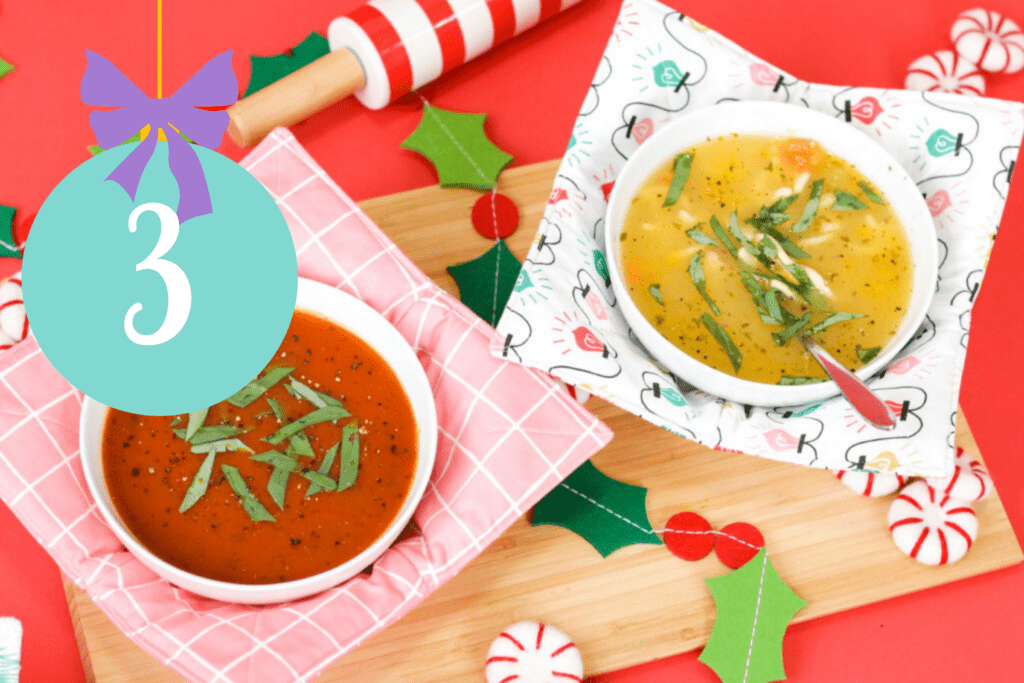 Day Four: Noel Door Decor
Want to know my secret to decorating my house for the holidays? I'm obsessed with Christmas door decorations. And I'm not talking about the traditional door wreath.
I love to make custom Christmas door decorations that are simple yet elegant.
Doors make the perfect blank canvas and are a really easy and fun way to add holiday decor throughout the house.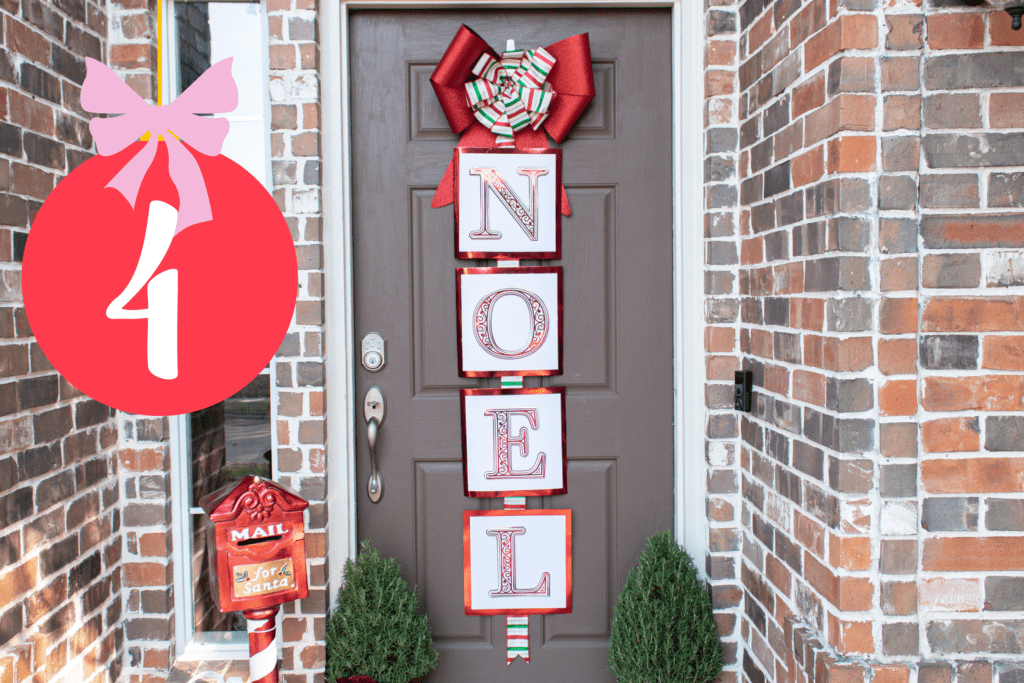 Day Five: Starbucks Tumblers
Learn how to make a Starbucks snow globe tumbler with floating glitter in this step-by-step tutorial and video.
This is one of my favorite projects I've ever made!!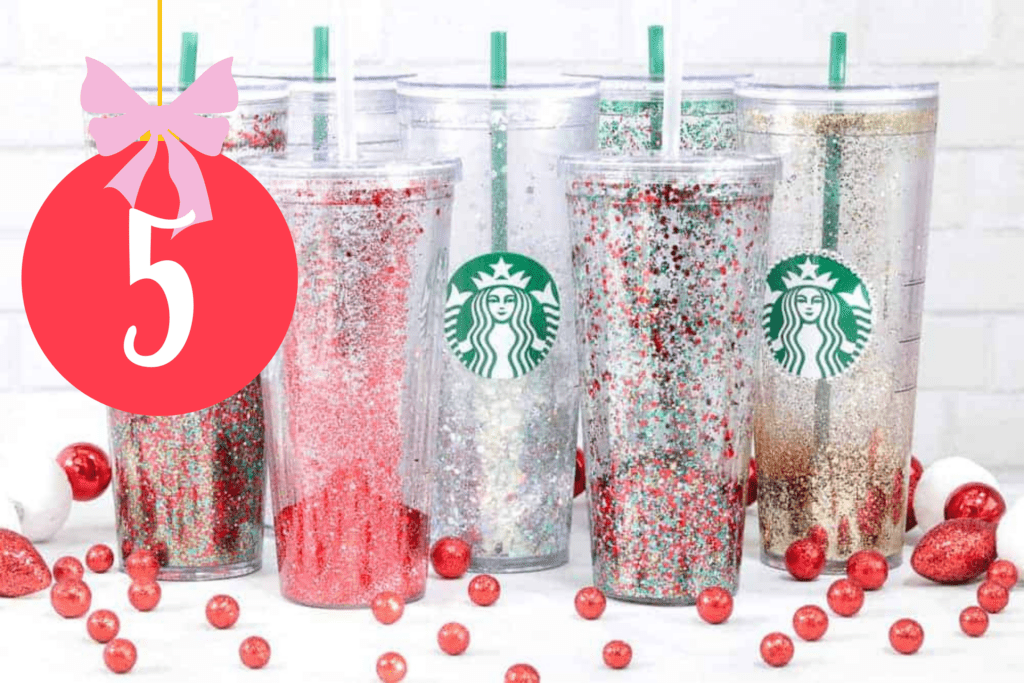 Day Six: Pet Bed Sewing Pattern
Sew up a pet bed for any sized animal with this simple sewing pattern. It comes in sizes x-small, small, medium, large, and x-large.
Your pets are sure to love this comfy bed!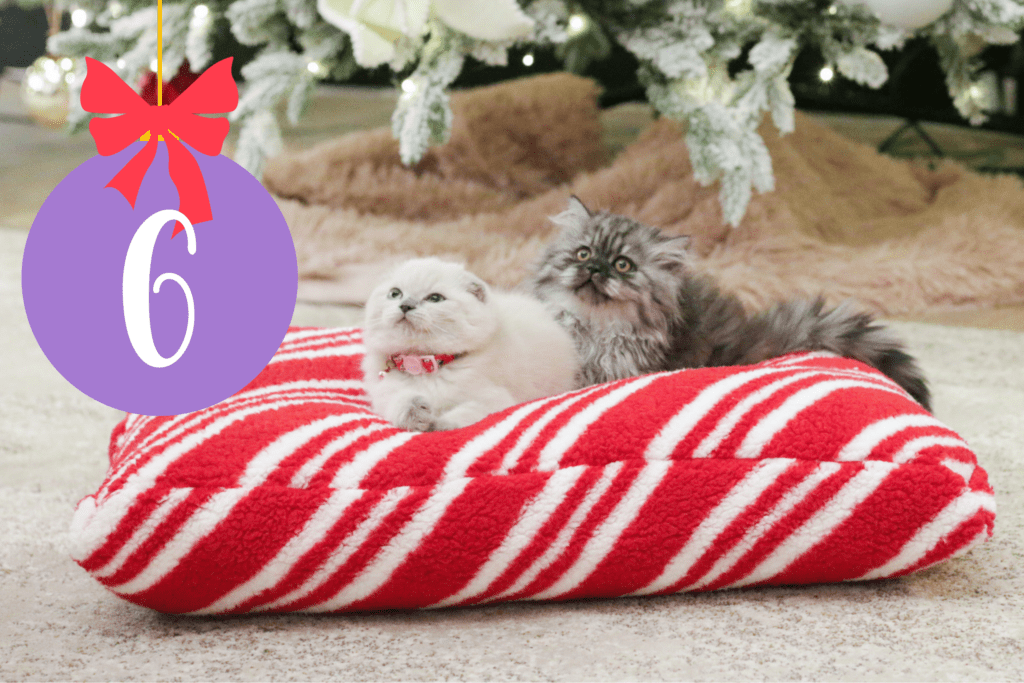 Day Seven: Layered Christmas Bow
Create beautiful boutique-style layered bows with this free SVG and PDF downloadable template.
Use them as hair bows, to decorate Christmas presents, tree ornaments, or on Holiday cards. The possibilities are endless!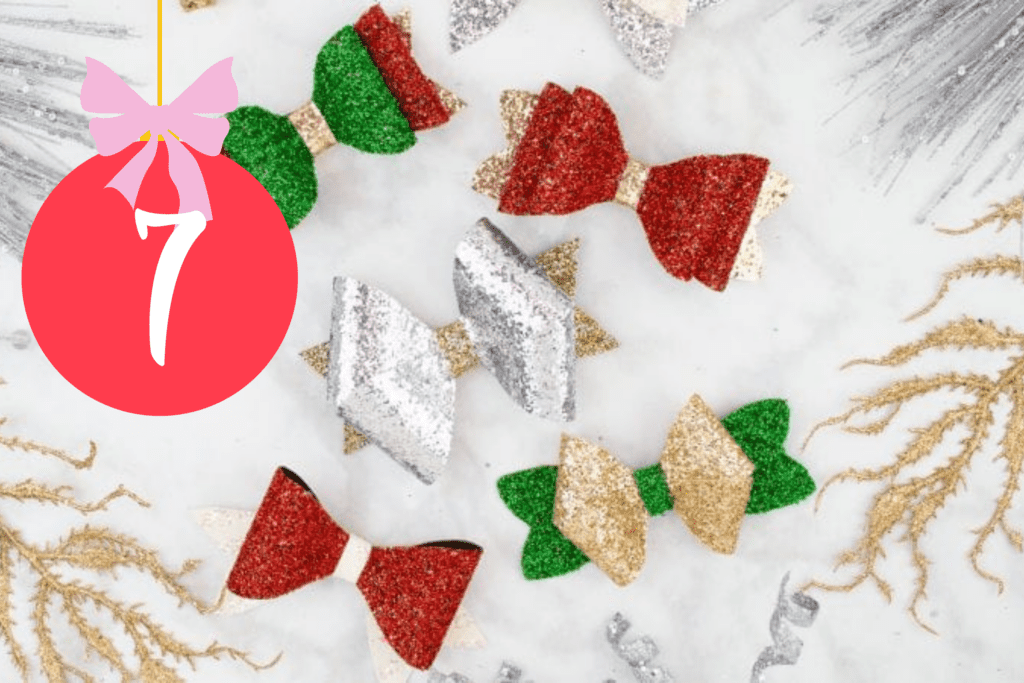 Day Eight: Christmas Stocking Sewing Pattern
Create matching Christmas stockings for the entire family with this simple sewing pattern.
You can use any fabric like quilting cotton, faux fur, felt, fleece and so much more!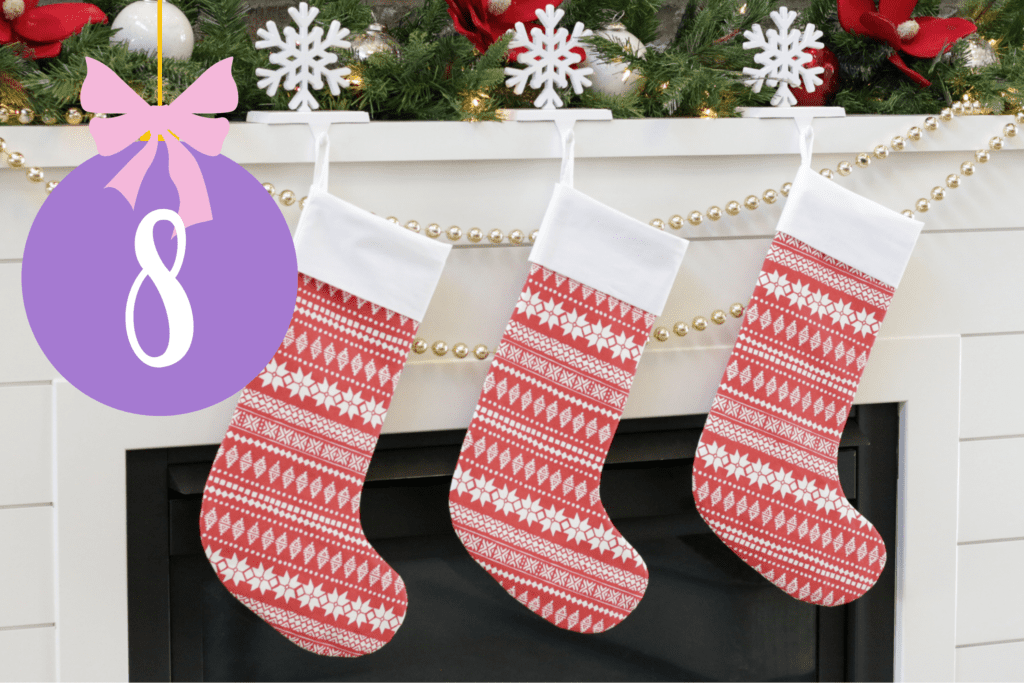 Day Nine: Blanket Scarf
Style this scarf in 12 different ways! This no-sew project is easy to make, warm to wear, and it's a great gift idea!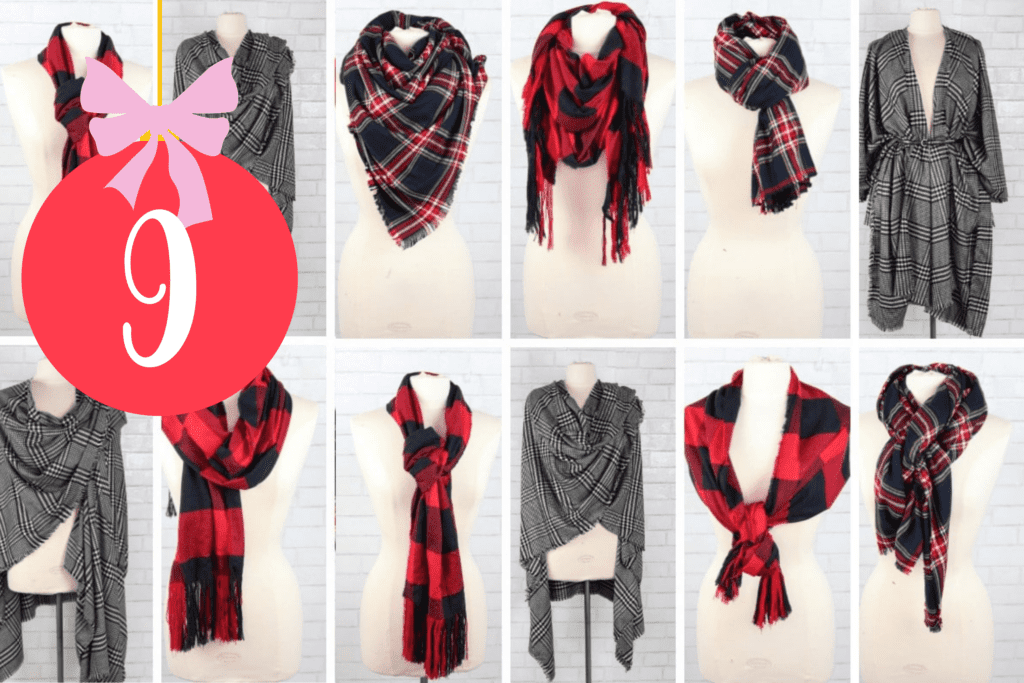 Day Ten: Flannel and Fur Blanket
There's nothing better than snuggling up by the fireplace with a warm blanket on a chilly fall day! While I love the heat of the summer, I'm so ready for the crisp chill in the air that fall brings.
Sewing these blankets was the perfect way to prepare for the cold winter months that are coming soon!
Day Eleven: Clear Ornaments
These ornaments are virtually indestructible and totally budget-friendly! When I saw these plastic ornaments, I instantly started brainstorming all of the different ways I could decorate them using things I already had lying around the house.
I dug through all of my scrap drawers and my Christmas bins and came up with some great decorations. I made a video to walk you through each step!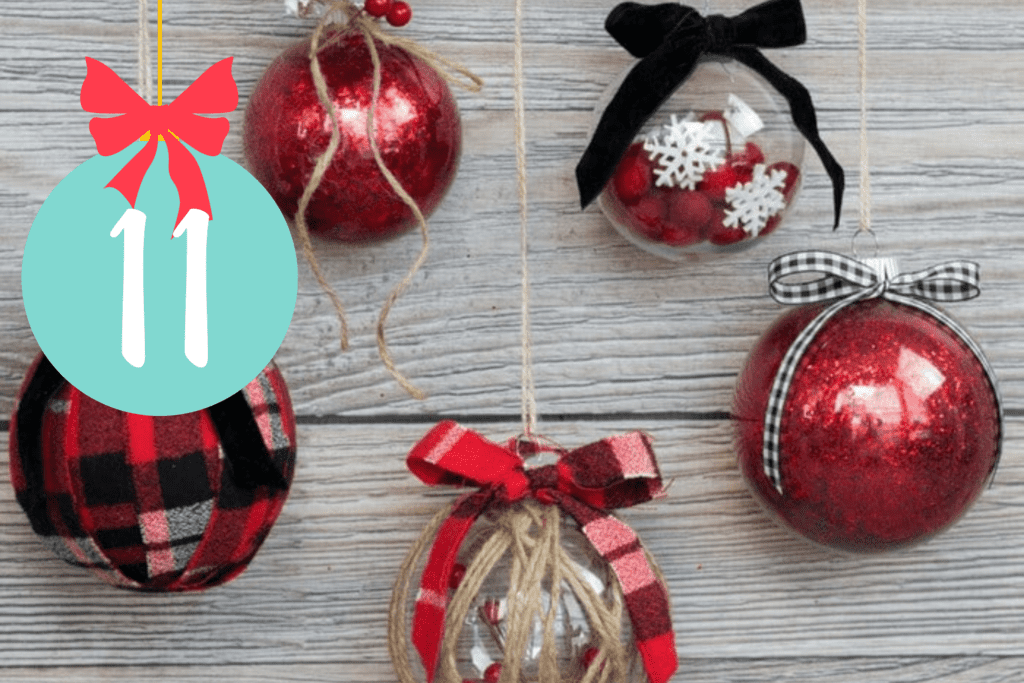 Day 12: Dollar Store Oven Mitt Neighbor Gift
Looking for a quick and inexpensive neighbor gift? You'll love this easy project!
Download my free SVG cut files and add them onto an oven mitt from the dollar store. fill the oven mitt up with a baking mix and a whisk and you're ready to go!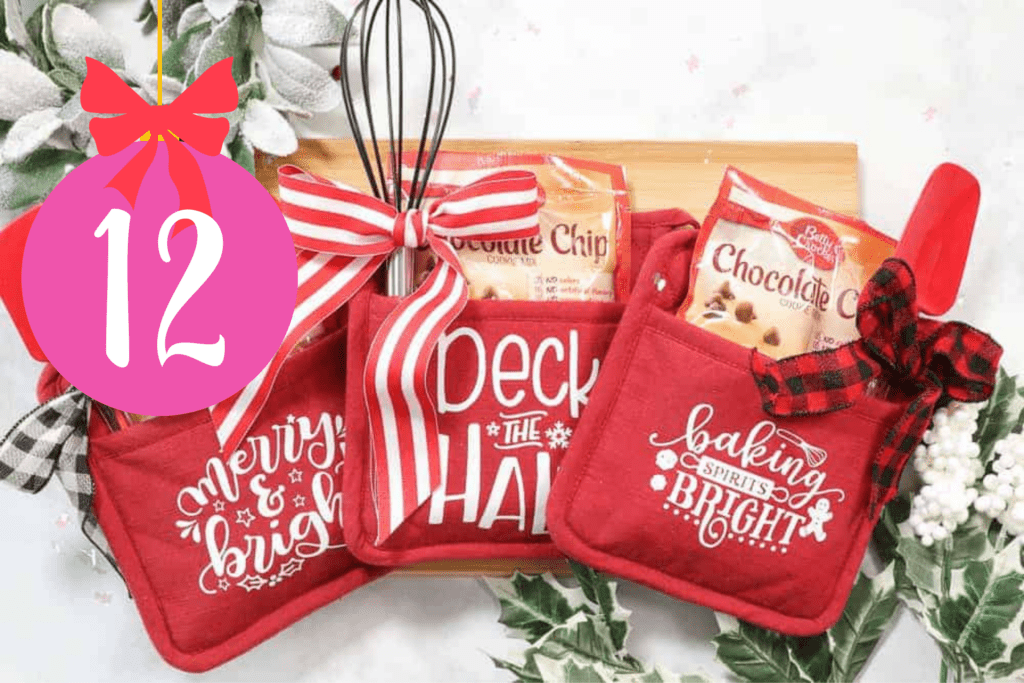 Day 13: DIY Winter Snowflake Wreath
This winter snowflake wreath was made using my layered snowflake SVG bundle with four different styles of snowflakes. It can be made into an elegant winter wreath or into layered Christmas ornaments.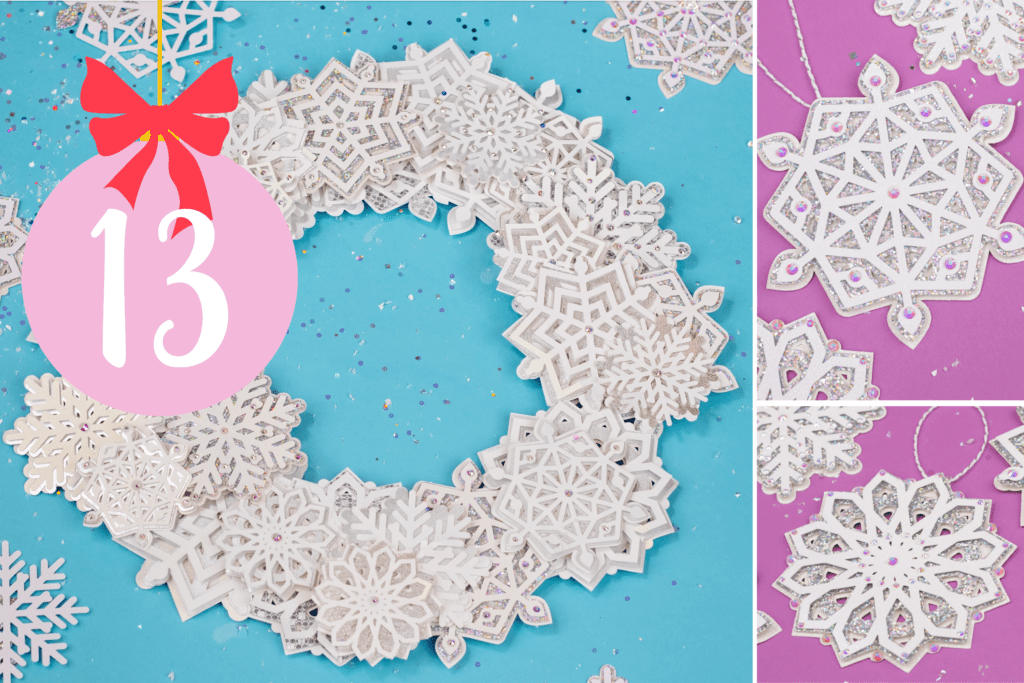 Day 14: Loopy Yarn Blanket
A handmade blanket is the best gift to give during the holidays and this easy, no hook, no needle blanket is no exception!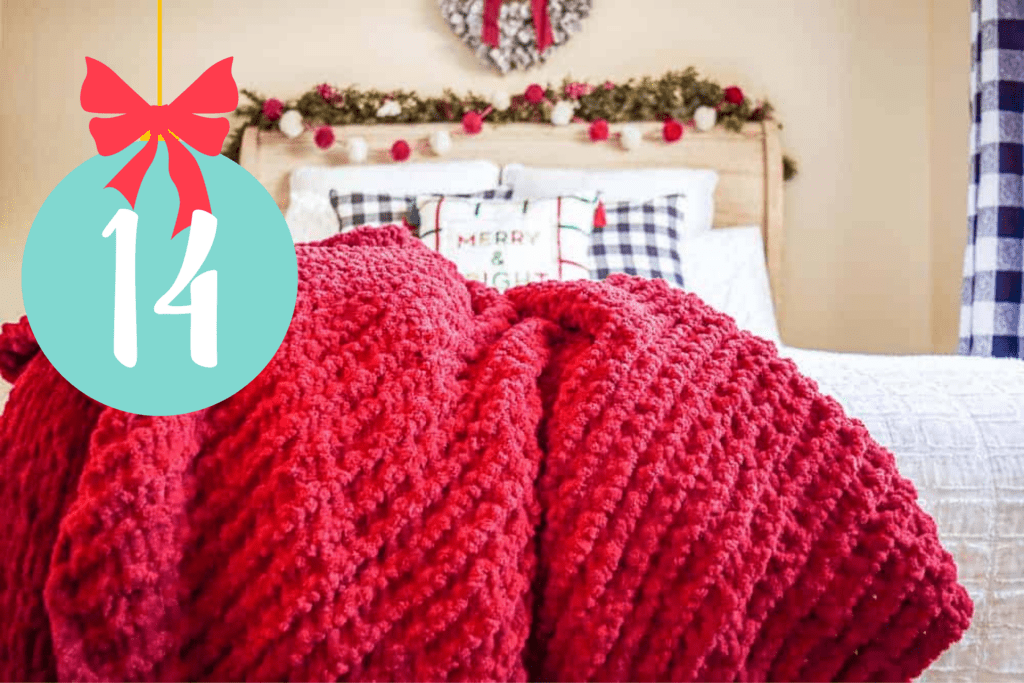 Day 15: Oven Mitt
My kitchen was in desperate need of some new oven mitts. With the holidays in full swing, I've been baking and cooking up a storm.
After sewing up a few for my own kitchen I just had to share the tutorial with you!
Day 16: Starbucks Coffee Cup
If you're a big Starbucks fan then you've probably seen the trend of adding a decal to your cold cup! I think this is such a fun way to personalize your Starbucks cup and add a bit of personality to it.
I've also included files so you can personalize your hot cup!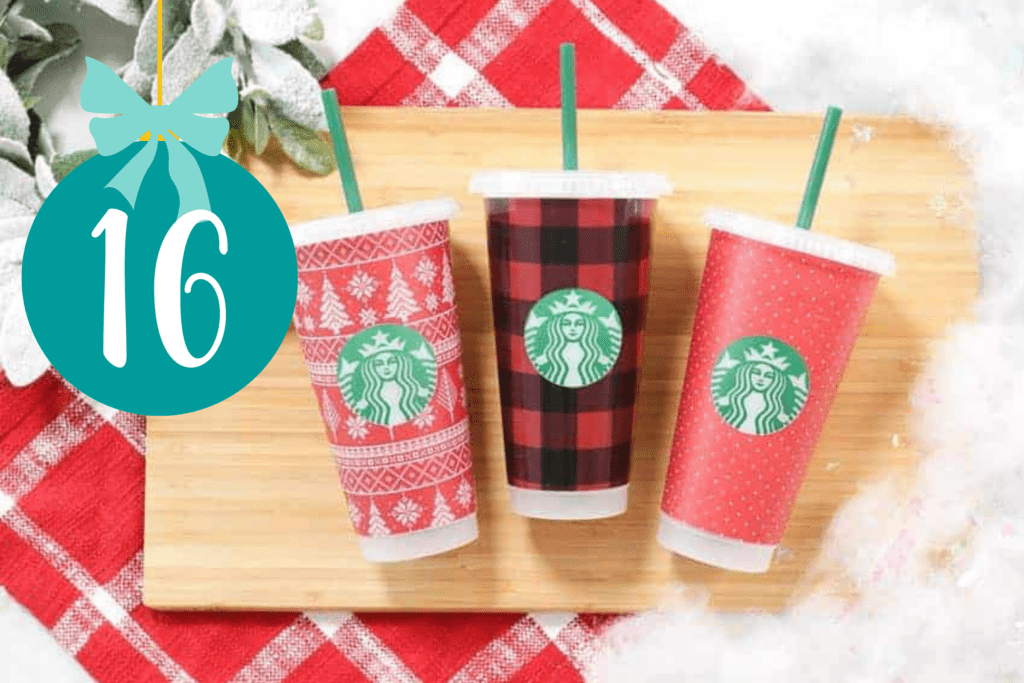 Day 17: Envelope Pillow
You probably didn't know that sewing an envelope pillow cover only takes 15 minutes!! The best part, you don't need a zipper for this project. It's easy enough that a beginner seamstress can make this because it's all straight lines!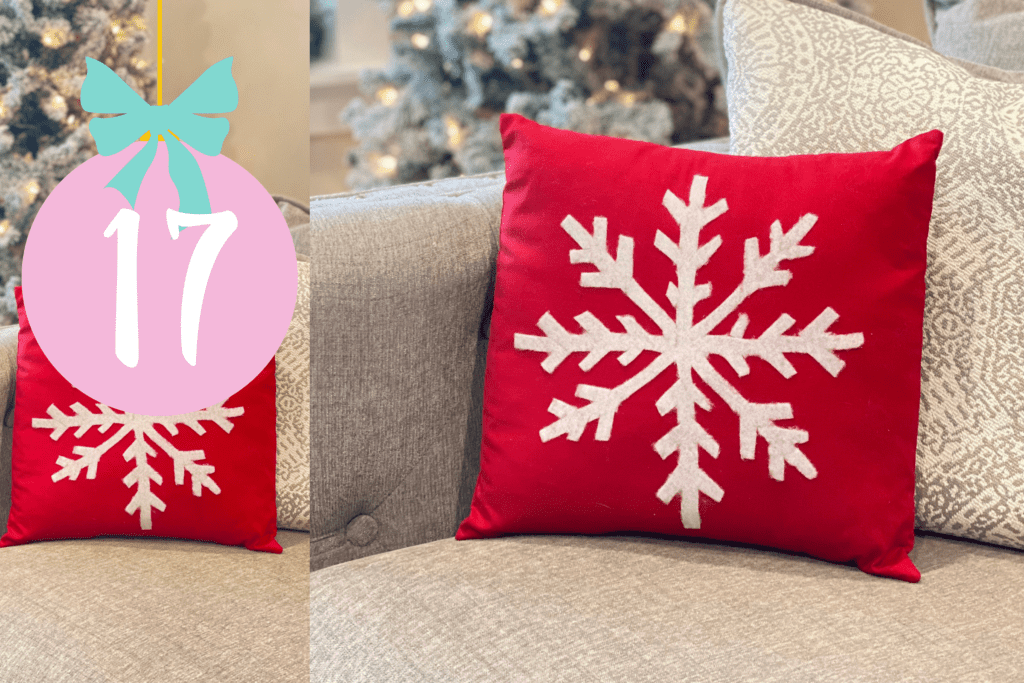 Day 18: Printable Gift Tags
The holidays tend to creep up on us and even though I feel like I'm ready with gifts, I'm always waiting until the last minute to wrap them all.
Before I know it, it's late on Christmas Eve and the unthinkable happens. I run out of gift tags.
Now I know in a true crunch I can just write on the wrapping paper with a marker but would Santa really do that?
This year I'm ready with my own printable Christmas gift tags that I'm so excited to share with you.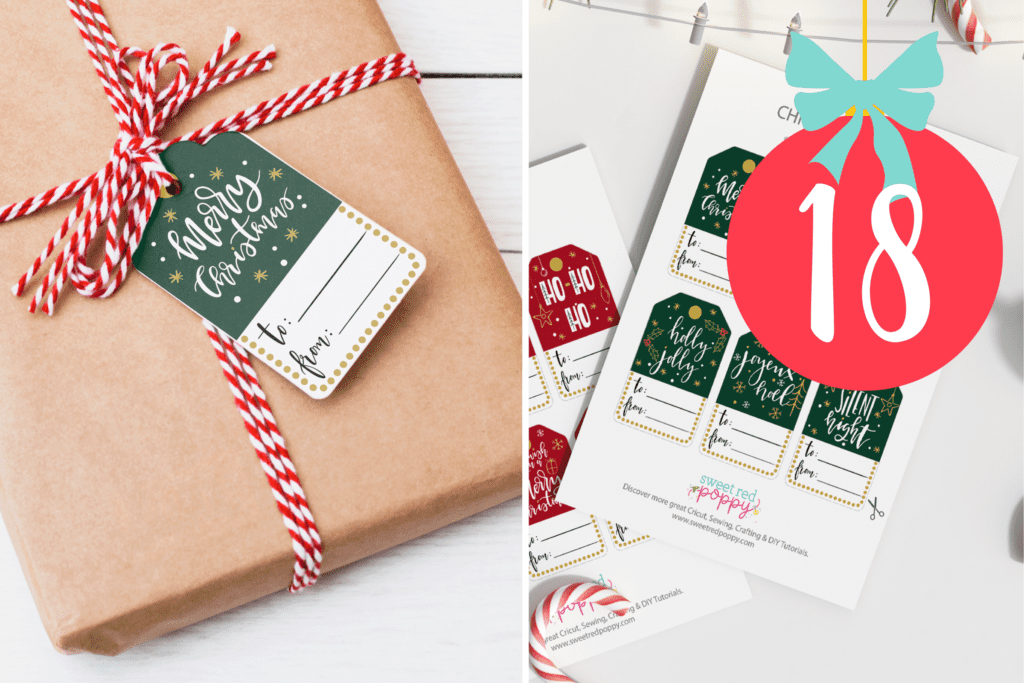 Day 19: Christmas Aprons
You'll love making matching aprons for the whole family with this Free Easy Apron Pattern!
This sewing pattern is a Sweet Red Poppy fan favorite!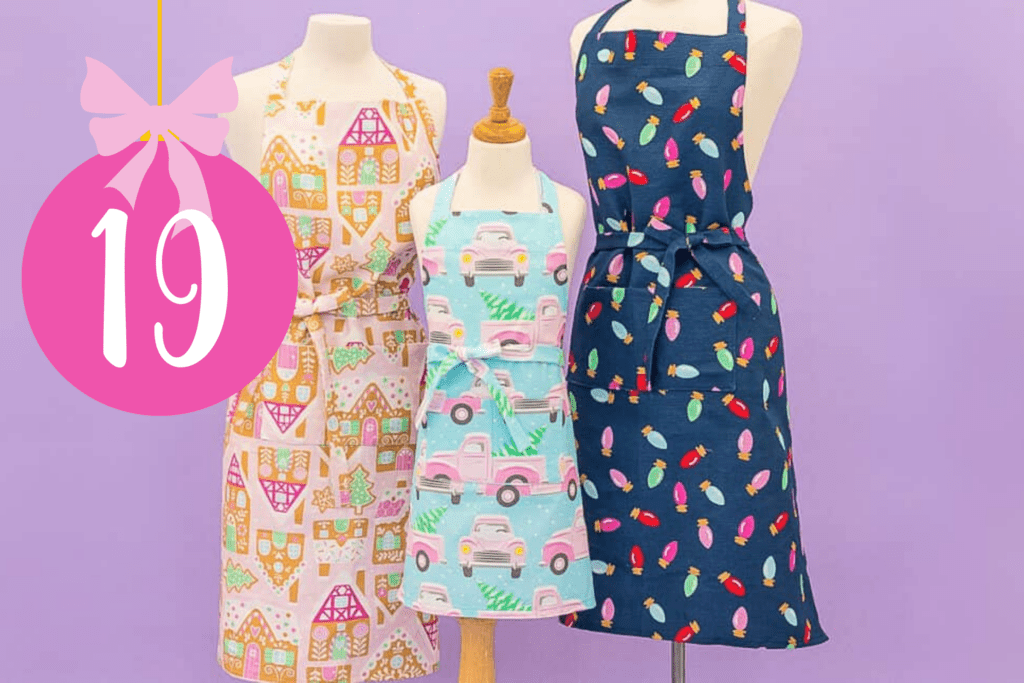 Day 20: Unicorn Ornaments
My unicorn obsession continues and this time I decided to deck the halls with all things glitter and sparkle. These unicorn ornaments are so fun to make!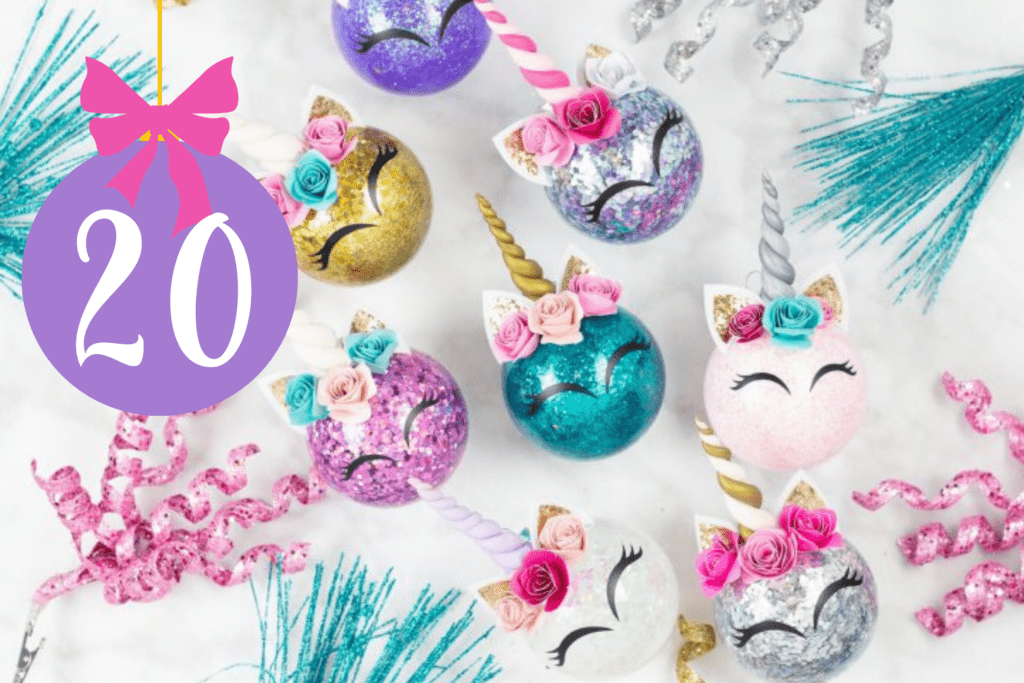 Day 21: 3D Christmas Angel
Christmas Angels have always been a traditional way to decorate for the Christmas season. Angels are a symbol of love, peace, and harmony. And this angel will bring just that to your holidays.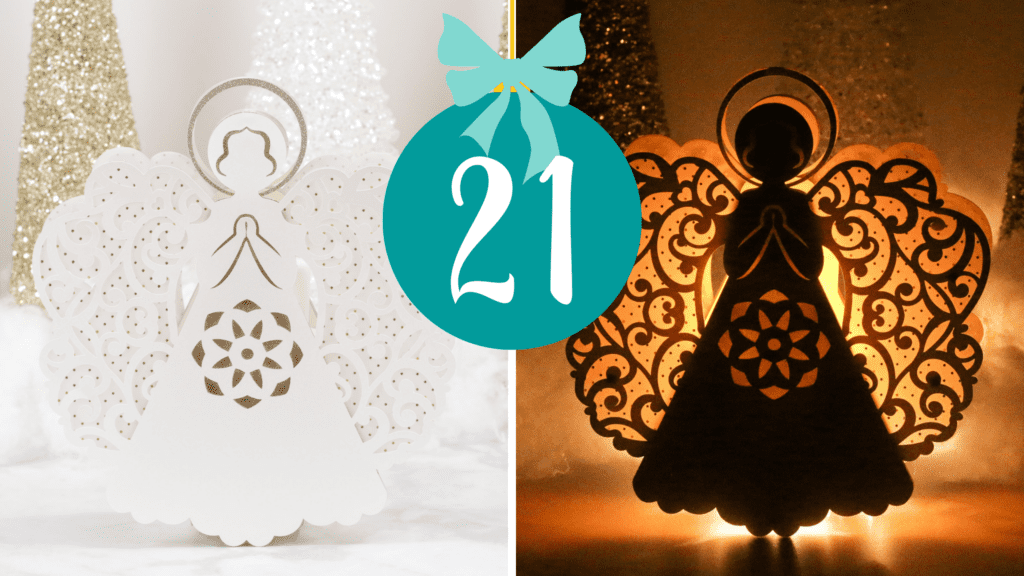 Day 22: Hot Cocoa Bombs
Whether you're looking for a unique gift for a coworker, a fun family night, or just looking to elevate your personal hot chocolate experience, these hot cocoa bombs are sure to be a hit.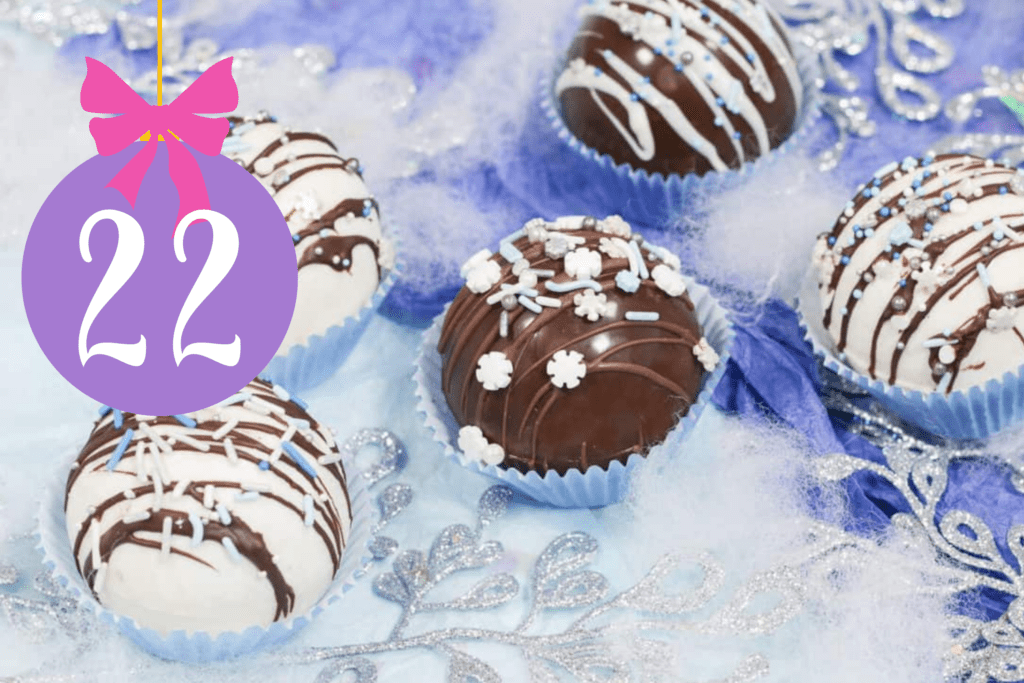 Day 23: DIY Christmas Ornaments
One of my favorite parts of the Christmas season is making handmade ornaments each year! I love pulling out each handmade ornament at the beginning of the season from each year prior and reliving those sweet memories of Christmas past!
Day 24: Christmas Paper Wreath
I fell in love with colorful Christmas decor and decided I definitely needed to make a color-filled Christmas mantle display this year. You can cut this out by hand or with scissors!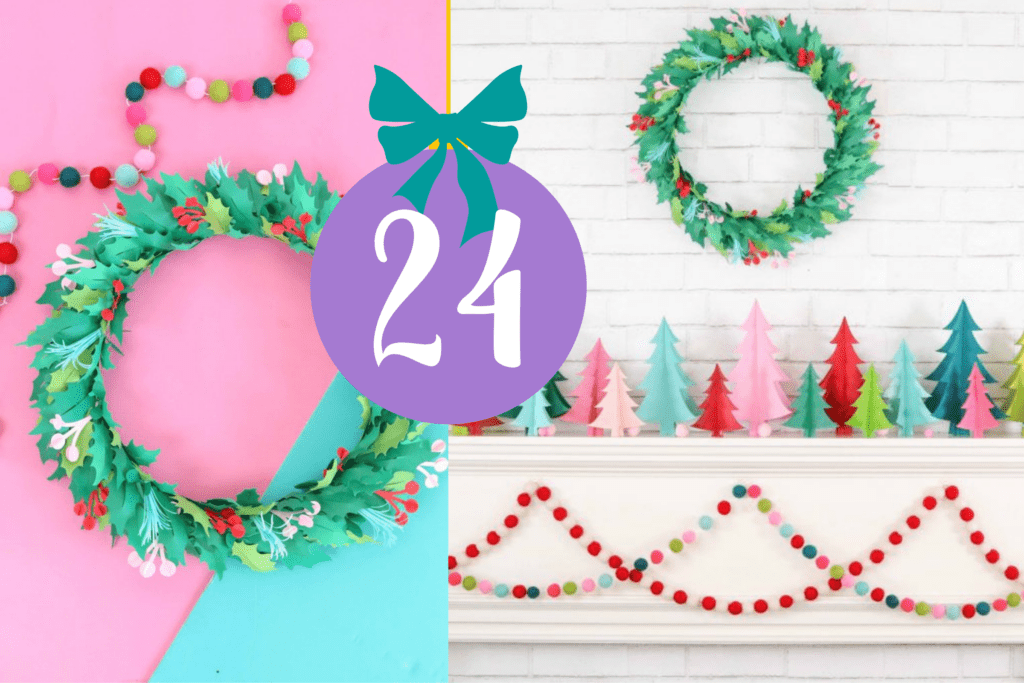 Day 25: Family Christmas Pajamas
Nothing gets me as excited for the Christmas season as a new set of family Christmas PJ's! Sew up a pair of PJ's for everyone in your family with this free size inclusive sewing pattern.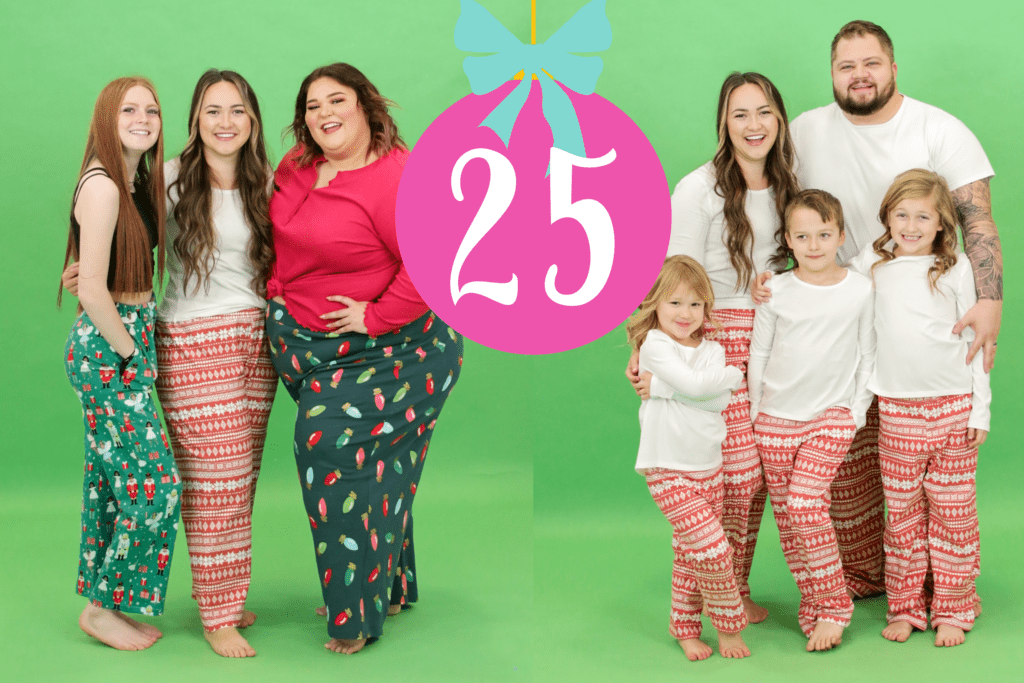 Enter the Giveaway in 3 EASY Steps
Make a project using a tutorial from 25 days of Craftmas
Post it on Instagram (make sure your profile is set to public so we can see the post)
Tag @sweetredpoppy and use the hashtag #srpcraftmas
You'll be entered to win your choice of a Serger or a Cricut machine!