Create a Knitted Blanket by Hand (in a fraction of the time it takes with needles) Using Pre-Looped Bernat Blanket EZ Yarn.
A handmade blanket is the best gift to give during the holidays and this easy, no hook, no needle blanket is no exception!
This is a sponsored post written on behalf of JOANN.
I teamed up with JOANN to teach you how to make this beautiful blanket with this step-by-step tutorial and it may just be the easiest blanket I have ever made! Doesn't it look perfect to cuddle in for the holidays?!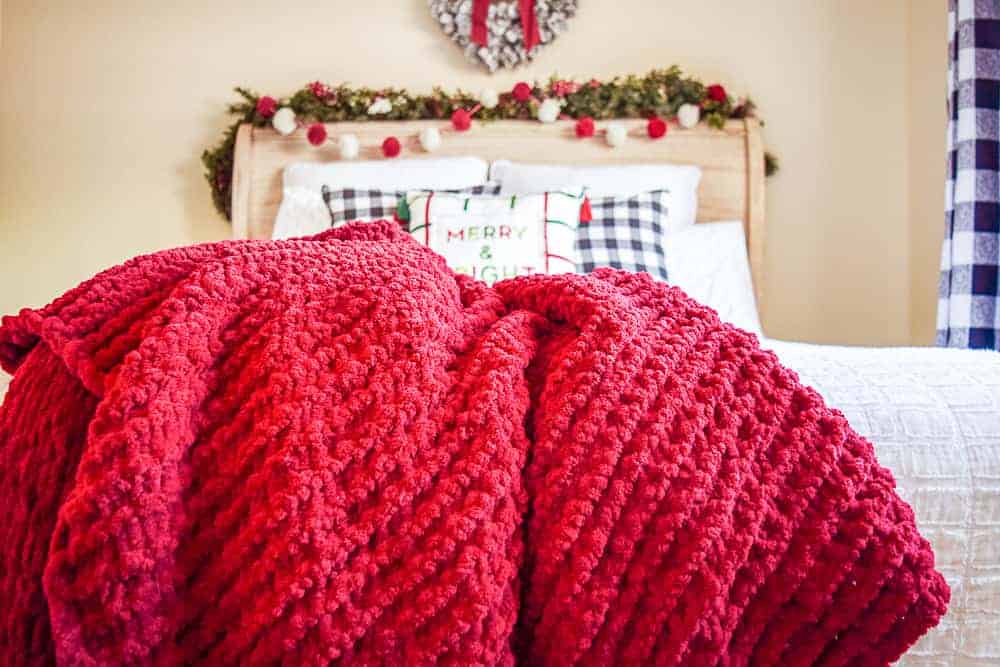 I am not an expert in crocheting or knitting but I LOVE yarn. The colors and textures are just so fun and so vibrant that I have collected quite the stash. I am always drawn to the yarn aisle in my local JOANN and I was so excited when I saw this amazing new yarn with preformed loops.
I knew I had to try it and I was able to make this beautiful 50" x 70" throw-size blanket in a weekend, which would normally take much longer with a hook or needle.
I am so excited to share this simple tutorial with you and show you that ANYONE can make a blanket with this yarn!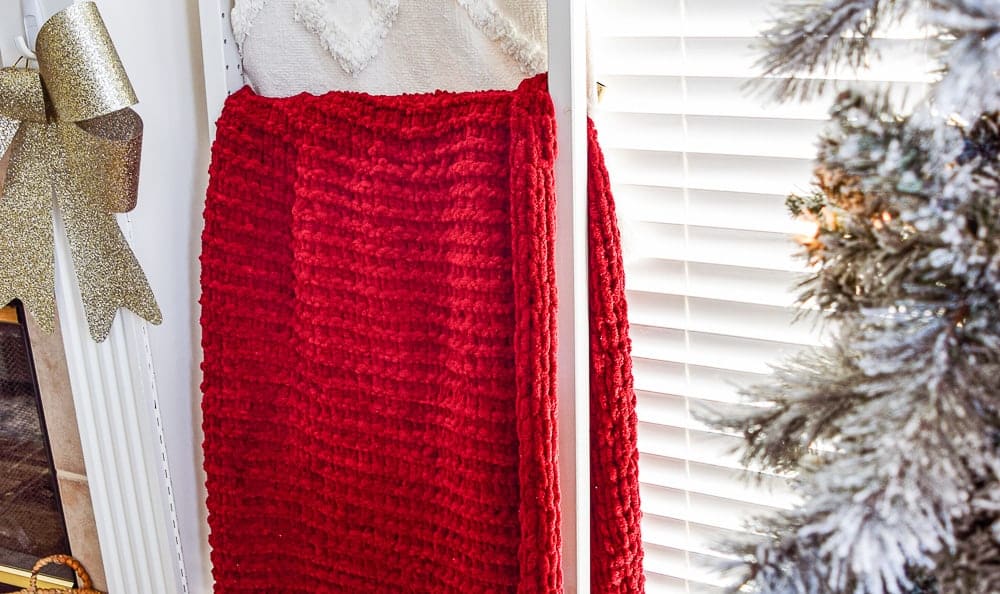 Level: Beginner
Time: A weekend project or 7 hours
Supplies:
Need a little extra help? Be sure to watch the video tutorial!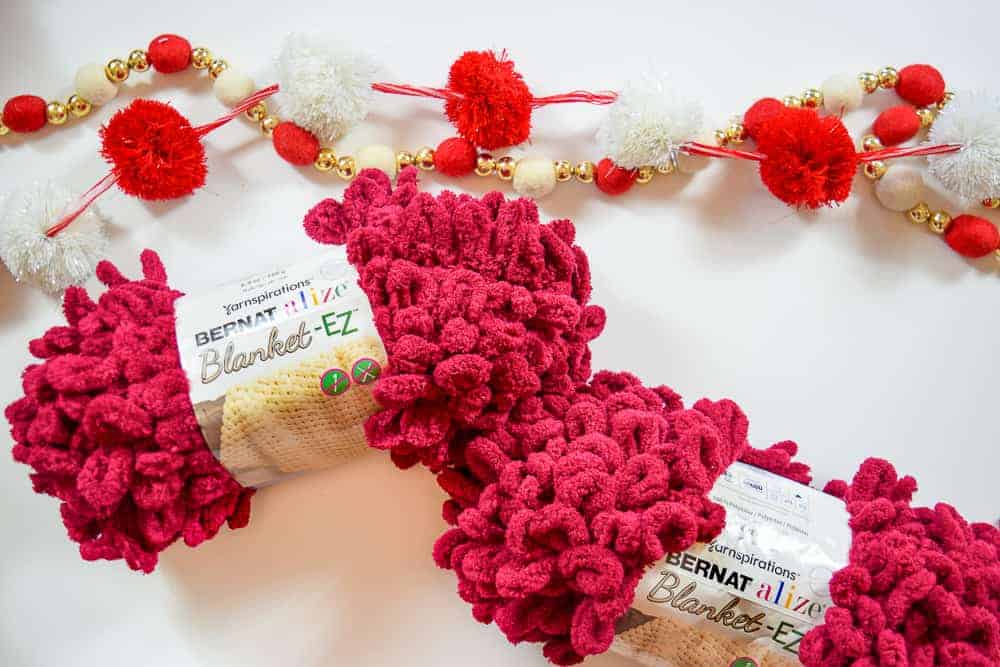 Let's get started!

On a flat surface, count 70 loops for your first row, skipping the first two to create a tail. Cut the thread in the middle of the first two loops that you skipped to create a long tail. ***Optional: Add a clip or safety pin to mark your last loop. For picture purposes I only counted 20 so make sure to count 70!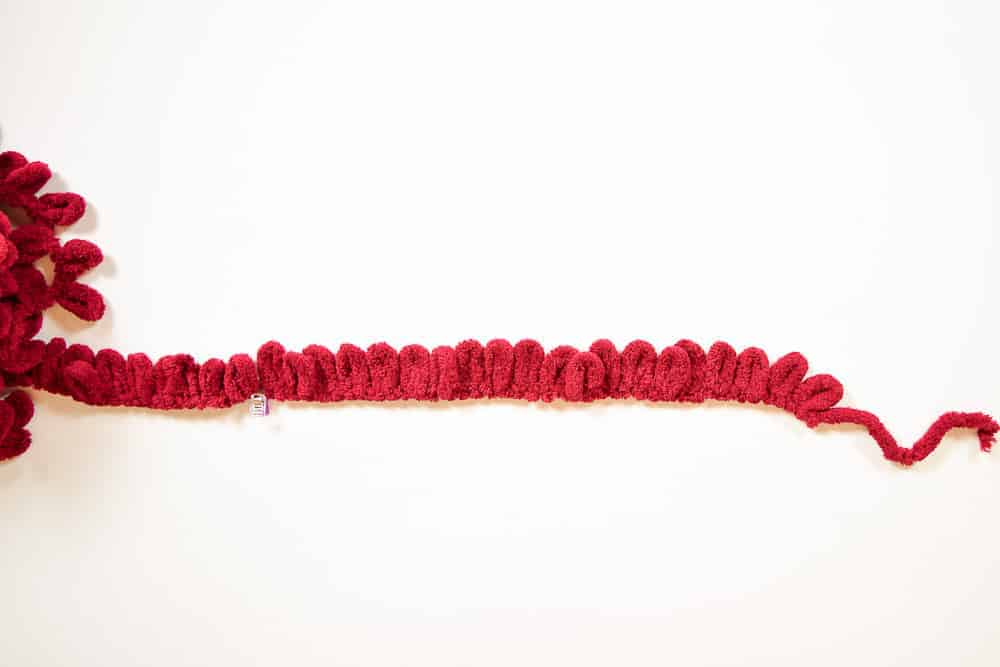 Move the next row of yarn above the 70 loops you just counted making sure there are no twists in the yarn. Lay it flat with the loops facing up. This helps you make sure you do not miss any loops.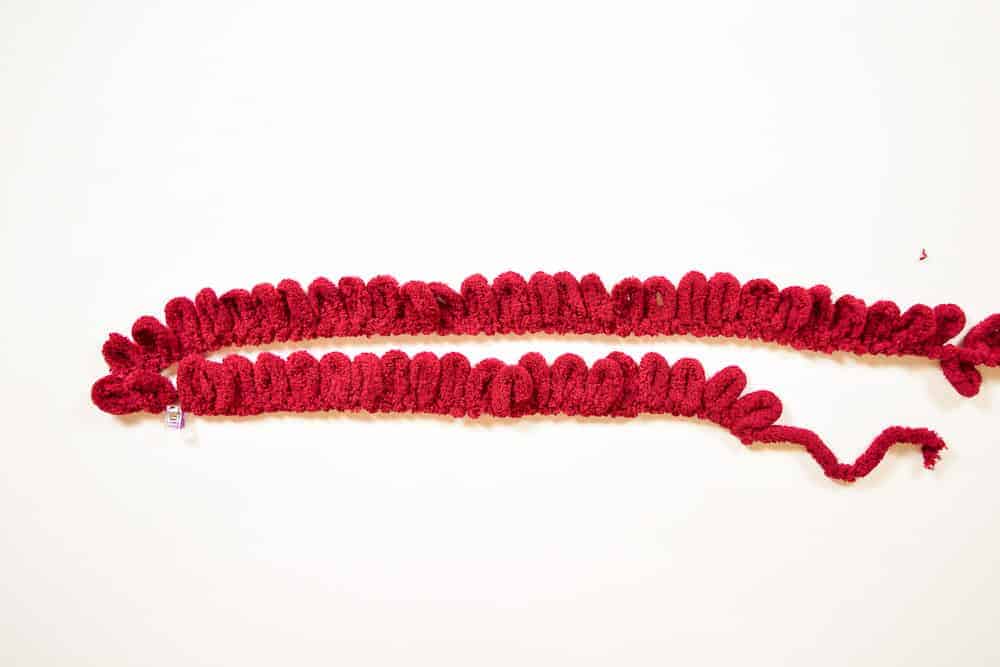 You are now going to loop together loop #70 from the first row, and loop #1 from the second row. To do this, take loop #1 and put it through loop #70 from back to front making sure you pull it all the way through. Loop #1 will end up in front of loop #70 and will be the start of the second row.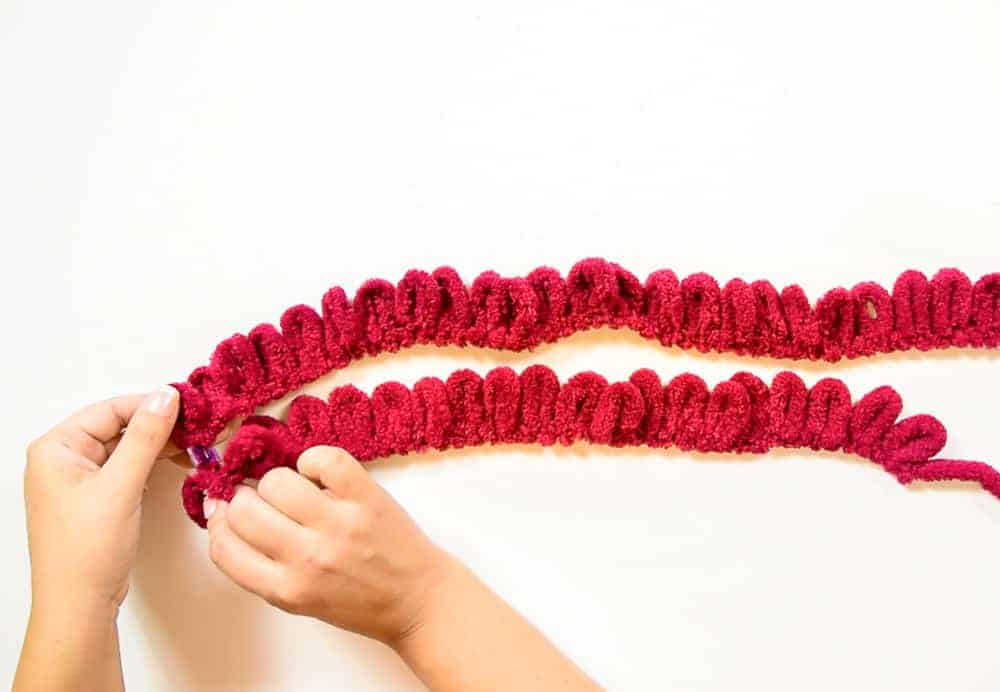 Now loop together loop #69 from the first row and loop #2 from the second row from the back to the front. Continue this process all the way across so that each loop from the first row has been connected to a loop from the second row.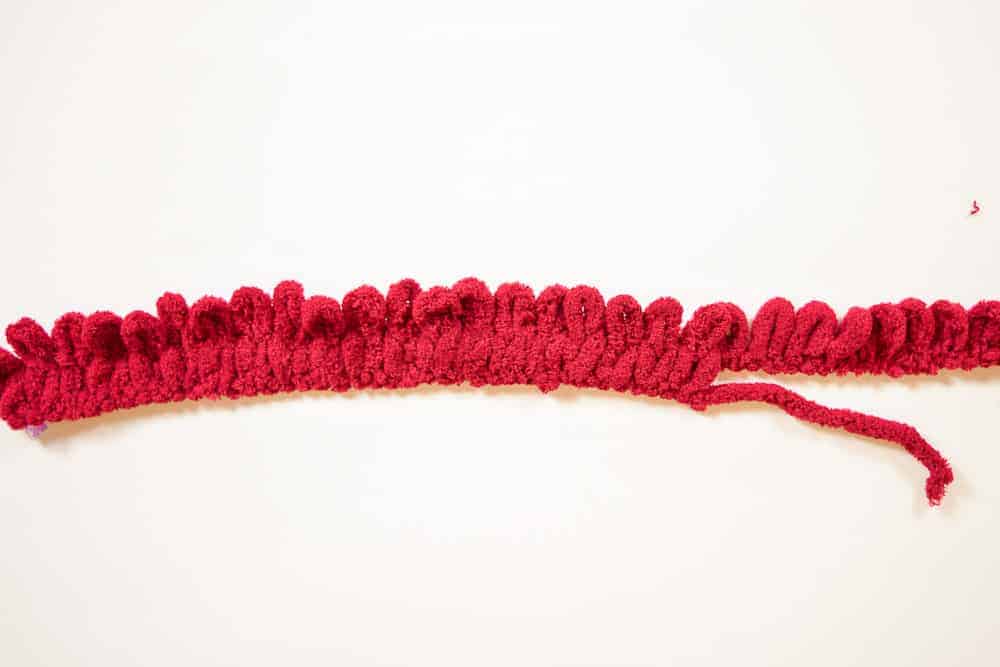 To start the third row, bring that new row of loops above your first two rows and lay it flat and start the same process as above. Connect loop #70 from the second row, to loop #1 from the third row and continue all the way across. You will start to see the pattern forming.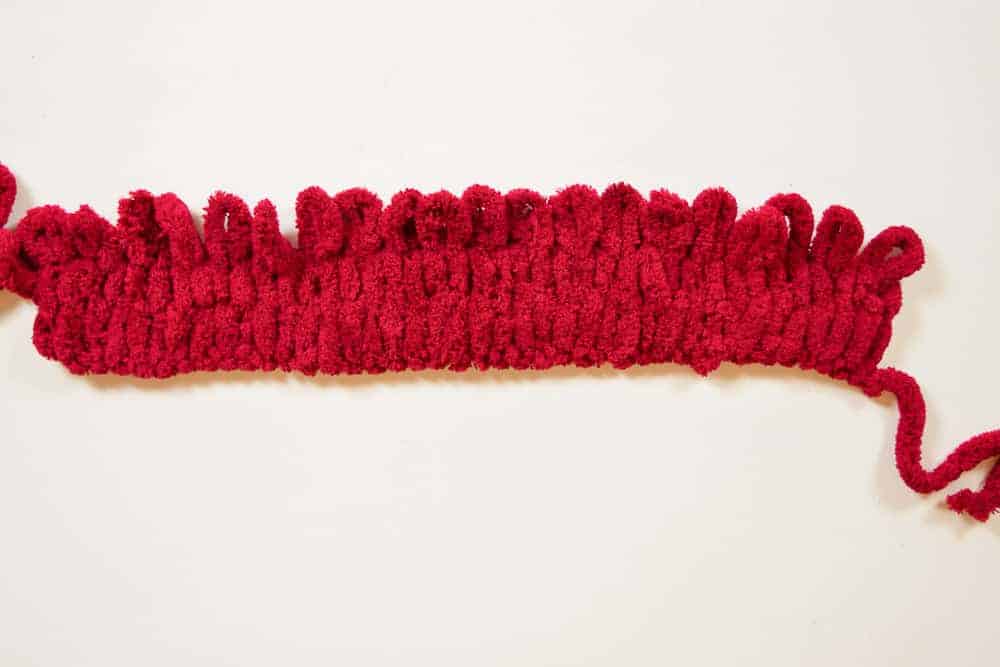 Repeat this process until your ball of yarn only has two loops left. Do not connect those two loops to your previous row, instead cut the thread in the middle so that they create a tail. Before you connect a new ball to your blanket, make sure you have a tail. If you do not have a tail, create one by connecting two loops. For reference, one ball of yarn will give you about 10" of your blanket and takes around an hour to complete.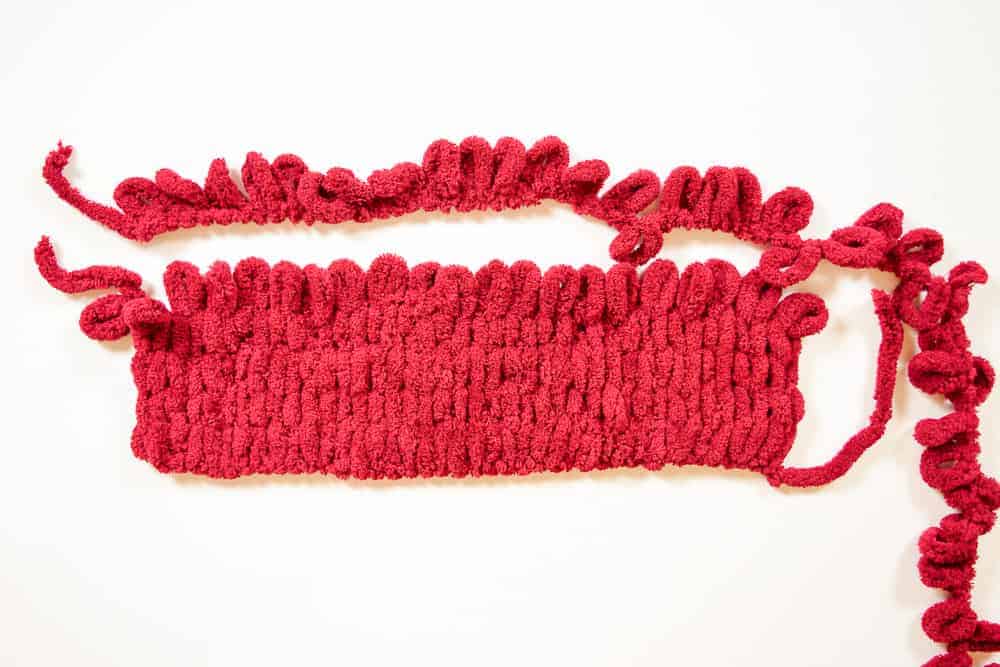 Now take your first loop in your new ball and connect it to the next loop in your blanket. Continue across connecting your new ball of yarn to your blanket and continue until that ball is finished. Repeat this process until all 7 balls of yarn are connected and have formed your blanket.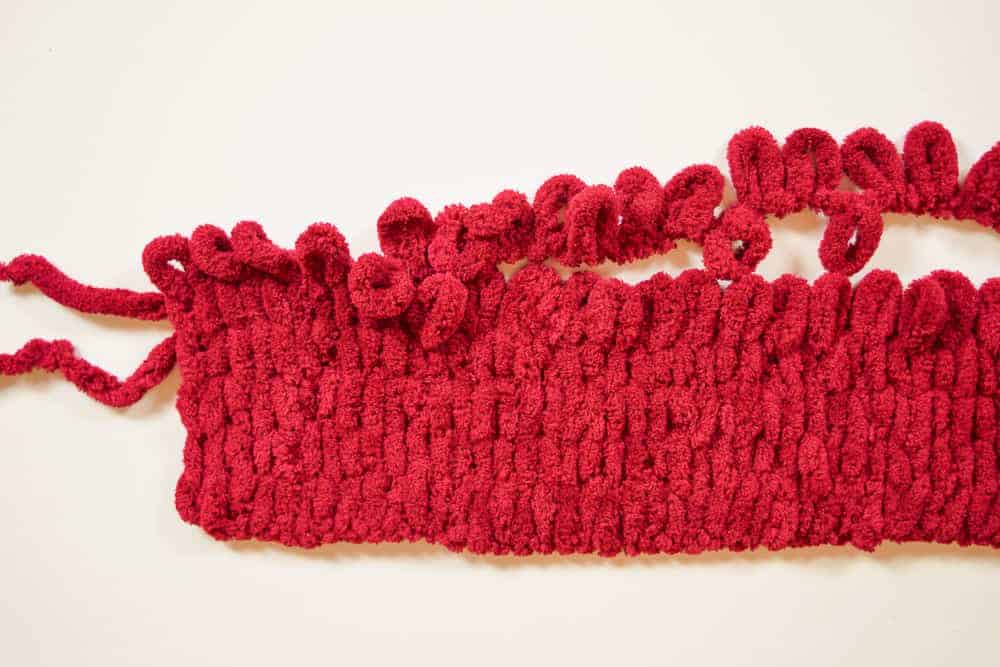 Now that you have connected your last row, you are going to close your blanket. Start with the two loops farthest away from your tail and pull the loop closer to your tail through the other loop. Now take the loop next to that one and pull it through the new loop you just created. Continue across until you pull the last loop through at the end. This process is locking those loops into each other so the blanket won't unravel.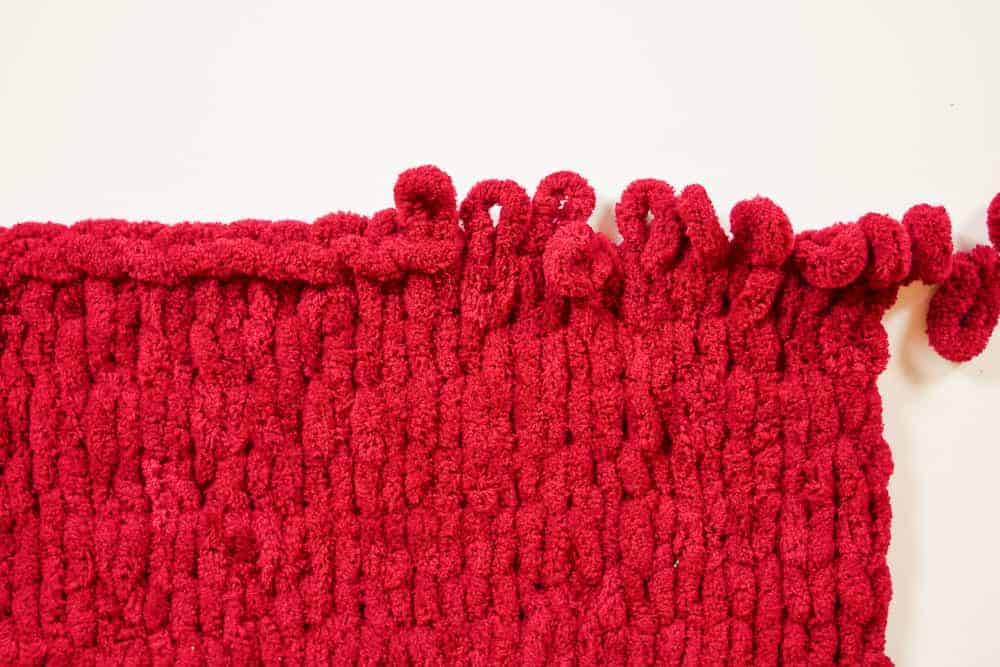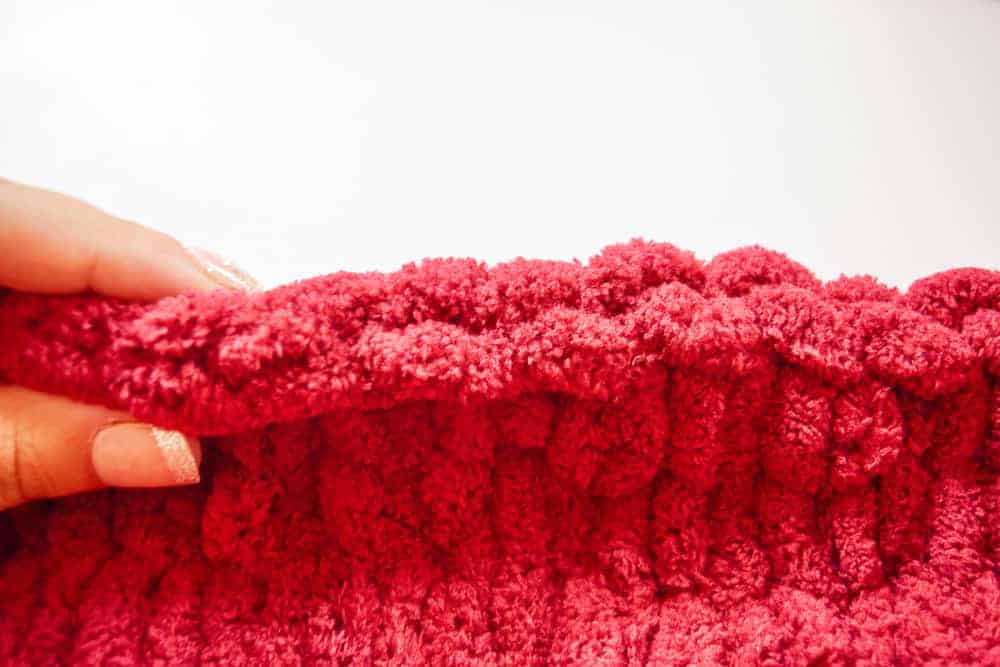 Take your tail and pull it through that last loop to create a knot. If your yarn has loops you can go ahead and cut them to create a tail. You can always cut the tail shorter if it is too long.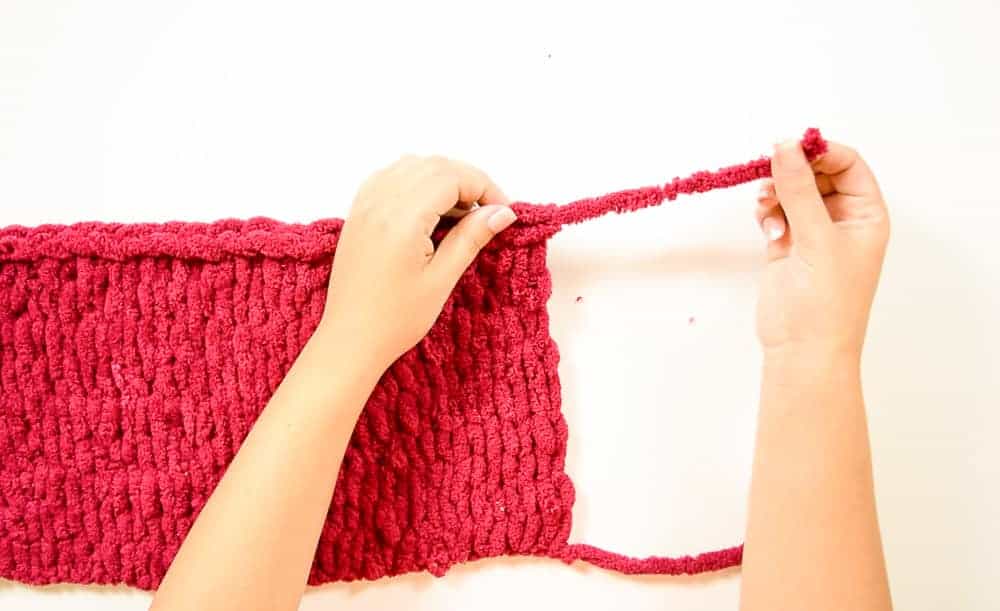 Now that your blanket is all done, we are going to clean up those tails. To do this, you are going to take your tails and weave them back into the back of your blanket. You can do this with your hands, or a crochet hook if you have one. If you have two adjacent tails in the middle of your blanket, you can tie them together and create a knot. This helps pull those loops together so the loose gap you have from starting a new ball of yarn will disappear.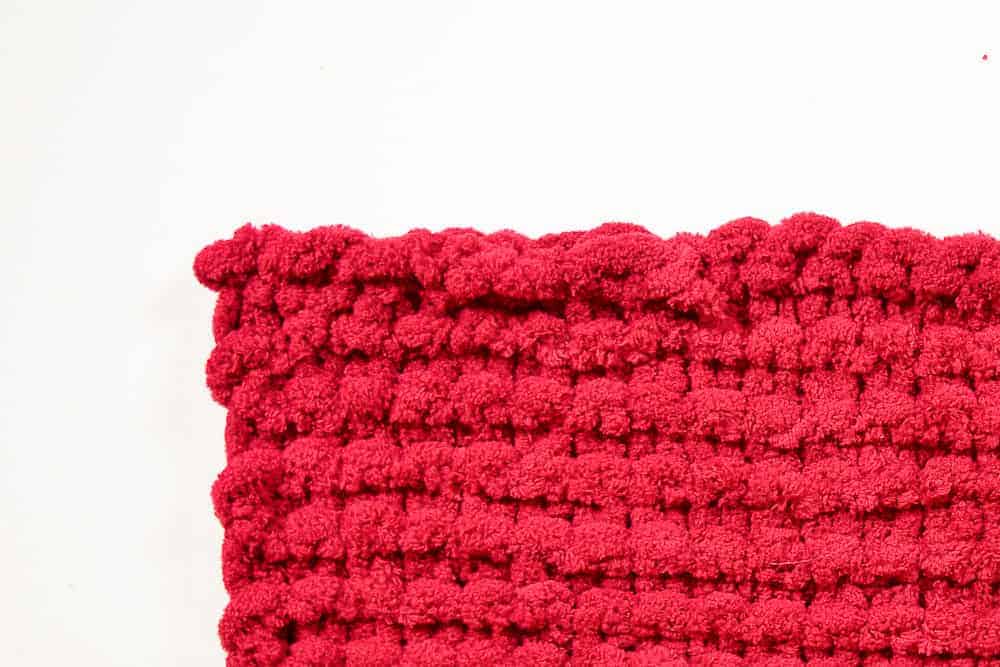 Once you have woven all your tails into your blanket, you are all done!
Purchase Bernat Alize Blanket EZ Yarn here in over 30+ colors.
Tips & Tricks to Make the Perfect Blanket
Always check the back of your blanket as you are going to make sure you do not skip a loop. If you do, work it into your next row by doubling it up with another loop to "hide" it.
Always pull your loops all the way through to create tight stitches.
If you put your blanket down and come back to it, make sure to continue on the right side. If you start to connect your loops from the back, your stitches will be on the wrong side.
You can always cut your tails shorter if they are too long. You do not have to weave too much into your blanket at the end.
Start the blanket on a flat surface. This will help the blanket create its shape and give you better looking stitches in the beginning. I like to do the first 5 rows on a table and then I will finish it on my couch watching a movie.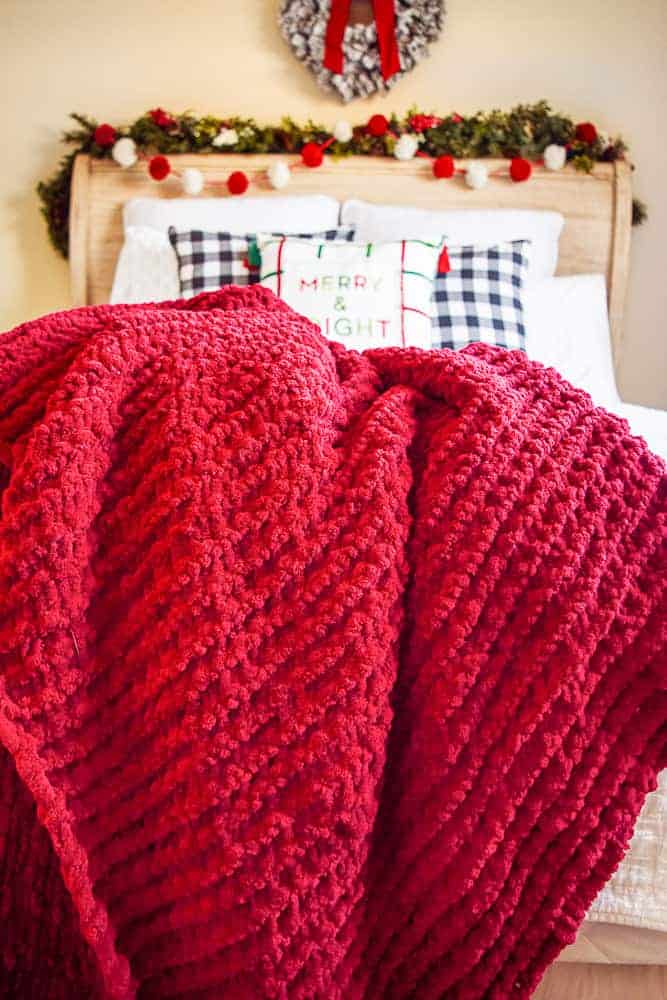 Do you have a friend who has always wanted to knit or crochet a blanket and has been too overwhelmed to start? Make sure to share this tutorial with them!
Are there more patterns you would like to learn with this yarn? Let me know in the comments!
Don't want to forget about this free template? Save this project for later! Click here to save this project on Pinterest.