Learn How to Make a Starbucks Snow Globe Tumbler With Floating Glitter in This Step by Step Tutorial and Video.
Today we are making a very fun and exciting project! Starbucks Snow Globe Tumblers!
Recently I dived a little into TikTok, and it's been super fun, and that's where I spotted this trend. People seem super excited about it, but there wasn't a great tutorial for it, so I decided to do some testing and figure it all out.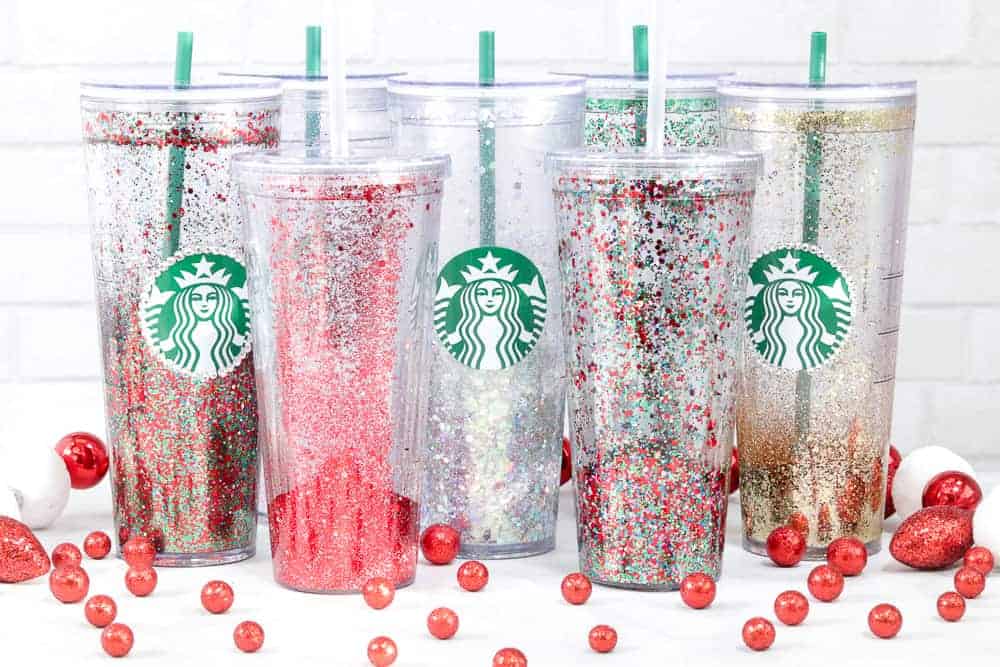 You can get these tumblers at Starbucks, in store for $14.95 for the 24 oz Venti, you may want to call ahead to see if they have any. You can also buy them on Amazon for $28.00 with a Prime membership.
Looking for an inexpensive alternative to this project? Check out my Dollar Tree Snow Globe Travel Mug tutorial.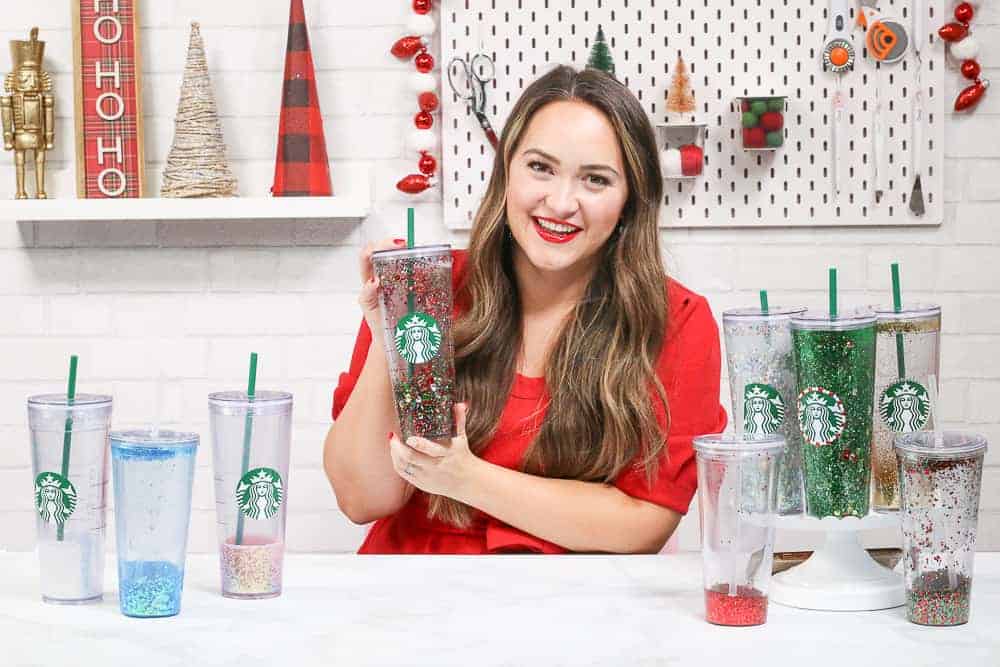 If you don't want to use Starbucks tumblers, Amazon and Dollar Tree sell generic clear double walled tumblers, these are a great alternative or there are some other brands on Amazon as well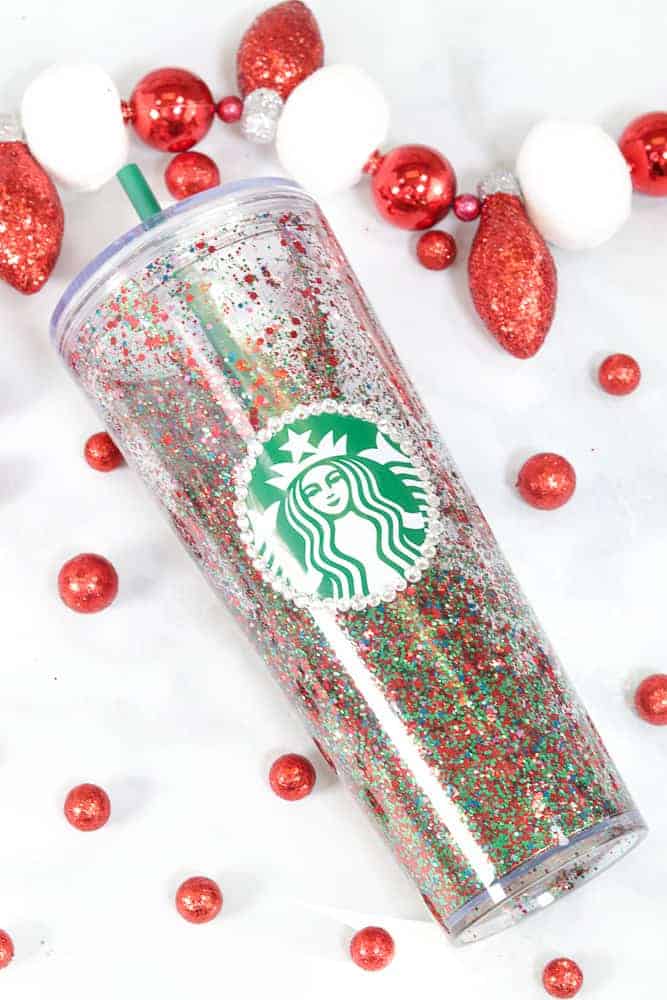 These tumblers are selling like crazy on Etsy! They range in price from about 25-45 dollars, with even some as high as 80 dollars. They probably vary in price due to the amount of personalization.
Today we are going to make some glitter snowglobe tumblers!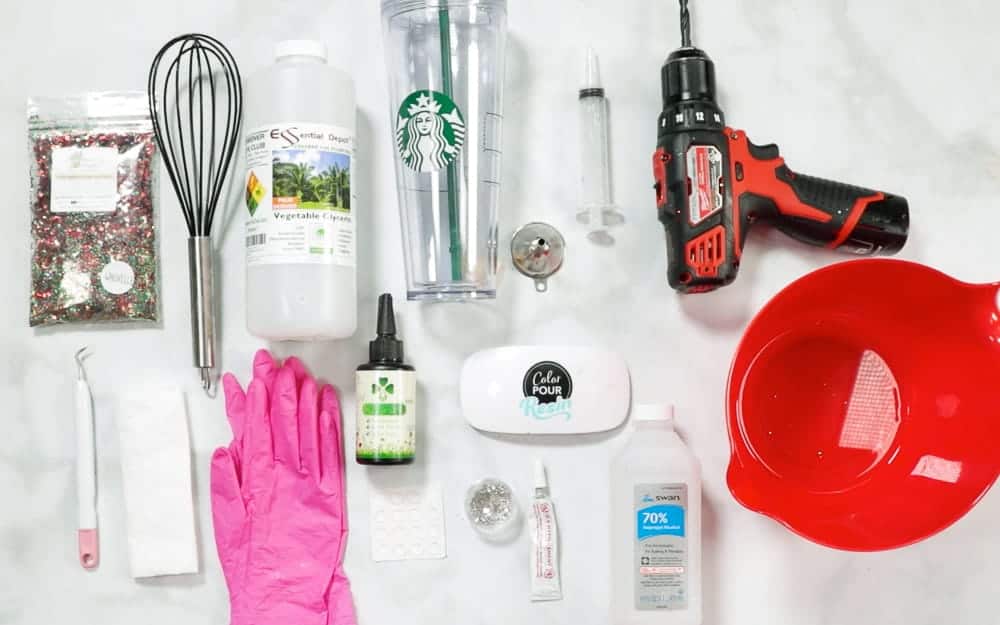 Starbucks Snow Globe Tumbler Supplies
Rubbing Alcohol
Paper Towel
Distilled Water
Measuring Cup
Whisk and Bowl
Drill
Let's start by removing the lid and any stickers from the tumbler.
I like to make a few practice tumblers with Dollar Tree or a cheaper type of tumbler so I don't accidentally break my Starbucks cup since they are on the more expensive side.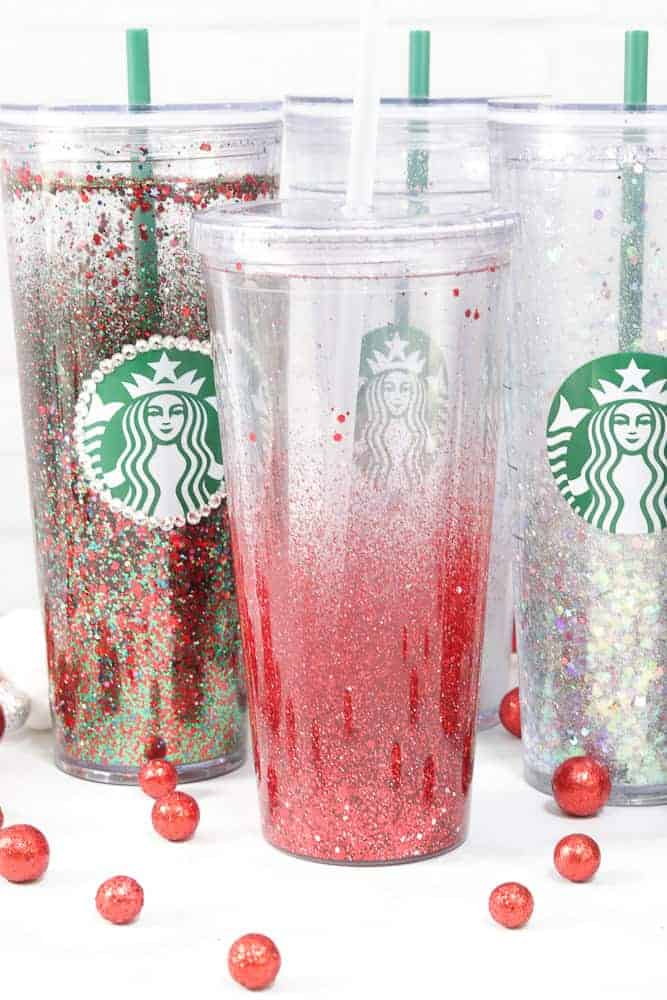 DRILL HOLE IN TUMBLER
Begin by drilling a hole in the bottom of the tumbler. It should be located as far to the side as possible and not the middle. This will help the glitter to flow down the side more easily instead of it getting caught at the top.
Drill very slowly so you don't crack the tumbler or accidentally drill into the second wall of the tumbler.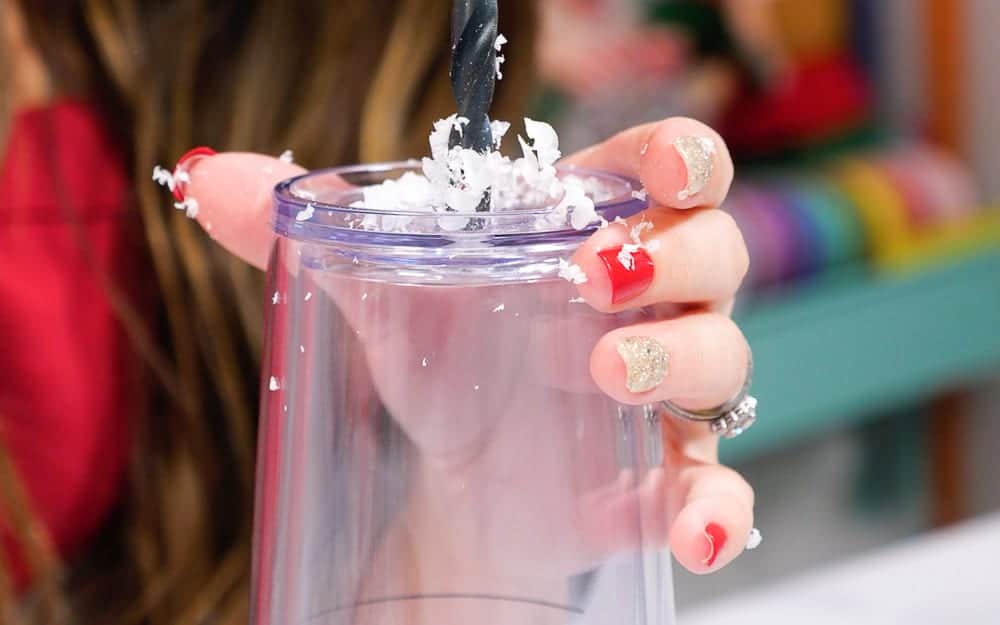 As you start to drill you'll see some of the plastic coming upwards. You can brush this away. You'll hear a pop once you've made it through. Now we've made it all the way through. Reverse your drill instead of just trying to pull it out. Here you can see a closer look at what this looks like. You want to be really careful that you don't accidentally drill through the second layer.
Something to keep in mind. Since I've just broken the seal on this insulated tumbler and I'm going to be filling it with liquid it's no longer going to insulate the liquid inside of the cup. It will also have some sweating when it's filled with liquid. So that's something to keep in mind.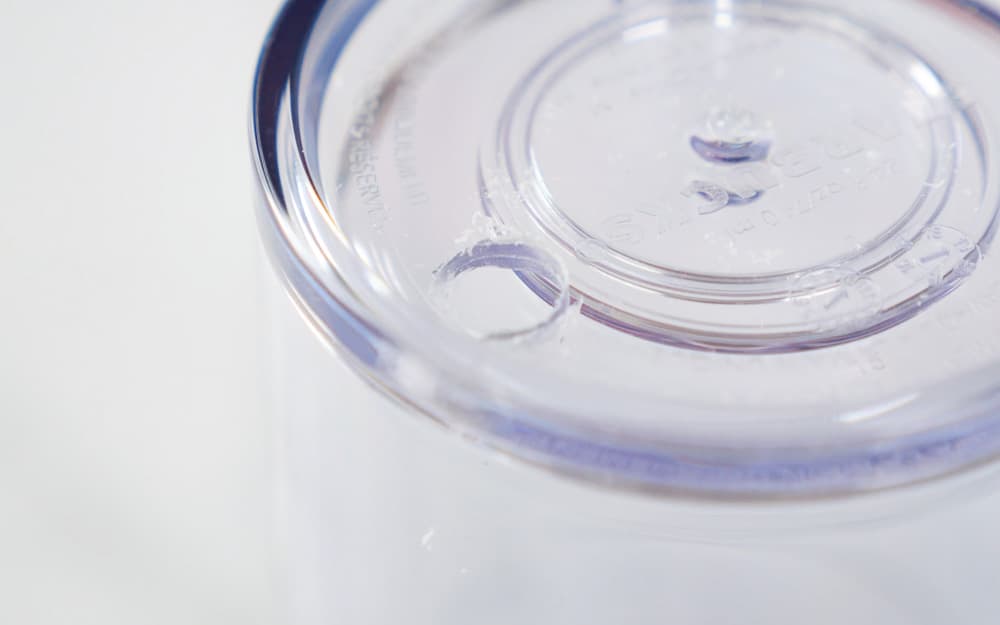 ADD GLITTER TO TUMBLER
Now it's time to add our glitter to the tumbler. I'm using a variety of custom mixed glitters from Peachy Olive Glitters. They have SO many cute glitters that are perfect for these tumblers. I love how the mixes have a variety of shapes and sizes of glitter because it catches the light really well and the way it disperses looks really beautiful.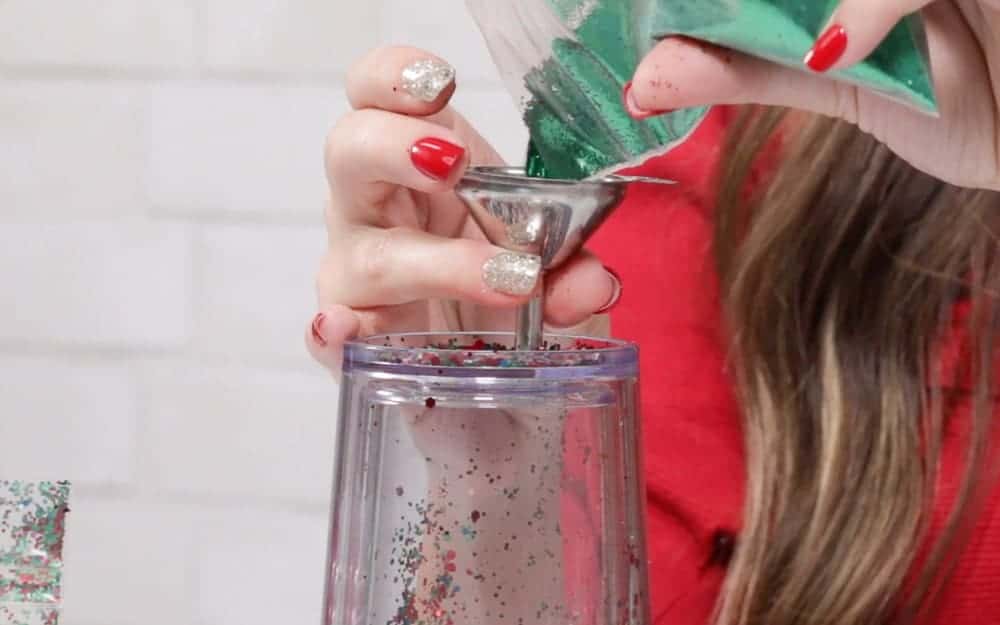 I would avoid using a really fine glitter by itself in these tumblers. You need at least some chunky glitter in there to make it look right. Personally, I really like using a mix of fine, medium and chunky glitter to get a nice sparkly effect.
Place your funnel or a rolled-up piece of paper into the hole and start filling your tumbler with glitter. You can gently tap on the side of the tumbler and funnel to help the glitter disperse. If you're using a chunky glitter I find it's easier to flood the top with glitter and use a tool to brush it in.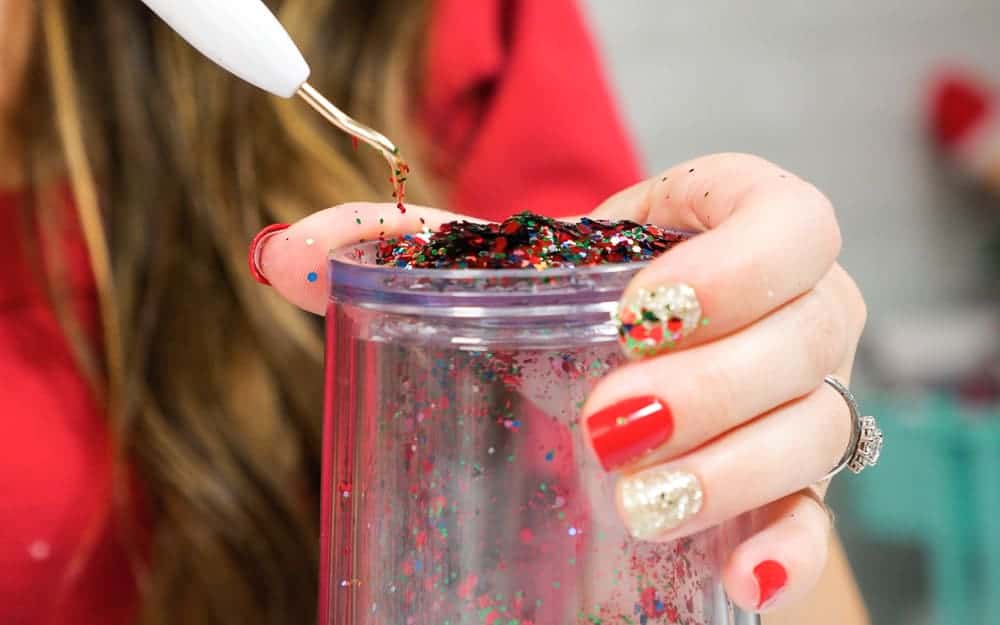 I will usually fill up my tumbler just below the first line with glitter.
MIX DISPERSION LIQUID
Once all of the glitter is inside of the tumbler it's time to mix up our dispersion liquid.
I've done a ton of testing when it comes to liquid and wanted to show you some of the differences. If you've ever made a calm jar it's very similar to this.
If you want a tumbler with tons of movement when it's shake go with: 1/4 cup glycerin and 3/4 cups water.
If you want a tumbler that moves more slowly and doesn't settle as quickly I'd recommend using: 1/4 cup clear glue with 3/4 cups water.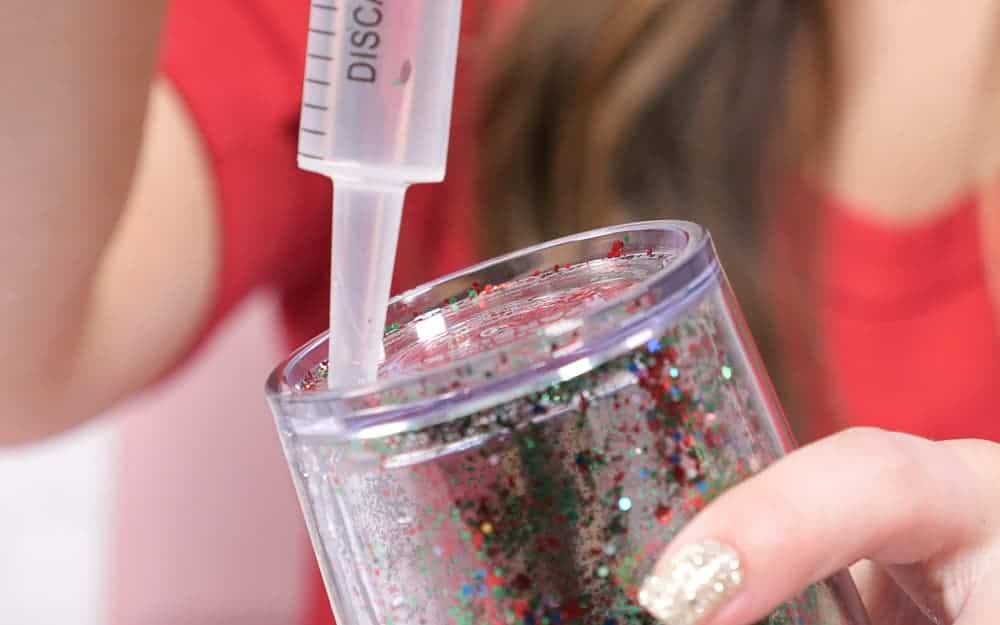 Mix immersion liquid. Fill a syringe with liquid and insert into the tumbler. You'll want to fill as full as possible. I like to tip my cup so that all the air comes out. Sometimes it looks like your tumbler is full when really you have a big air bubble.
If you're using vegetable glycerin something to keep in mind is it's made from oils so it leaves behind residue when you're transferring it into the cup.
It's really important that you thoroughly clean the bottom of the cup with rubbing alcohol to remove any residue. If you don't the epoxy won't be able to fully adhere to the tumbler and can cause leaking.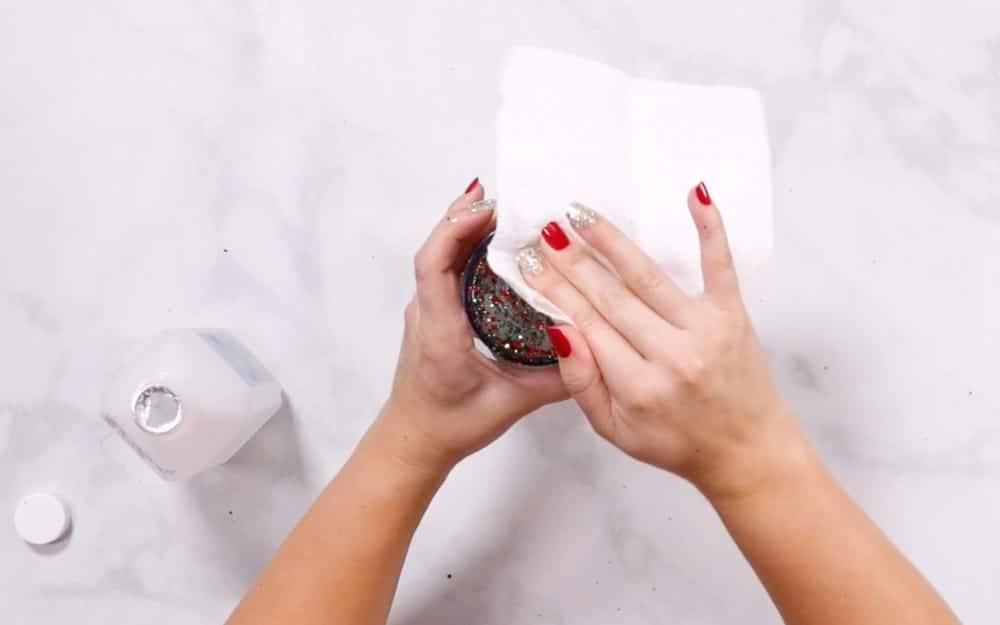 COVER AND SEAL HOLE
Now that we've filled up the cup completely cover the hole with clear vinyl or a plastic plug. This acts as a second barrier and it makes it so you don't have to try to fill this hole with resin.
Now it's time for our resin.
When you're using UV resin you'll want to work in a darker space. Make sure to wear gloves when you're working with UV resin and have good ventilation. I like to take my tumblers outside to a covered area out of the direct sunlight to do this.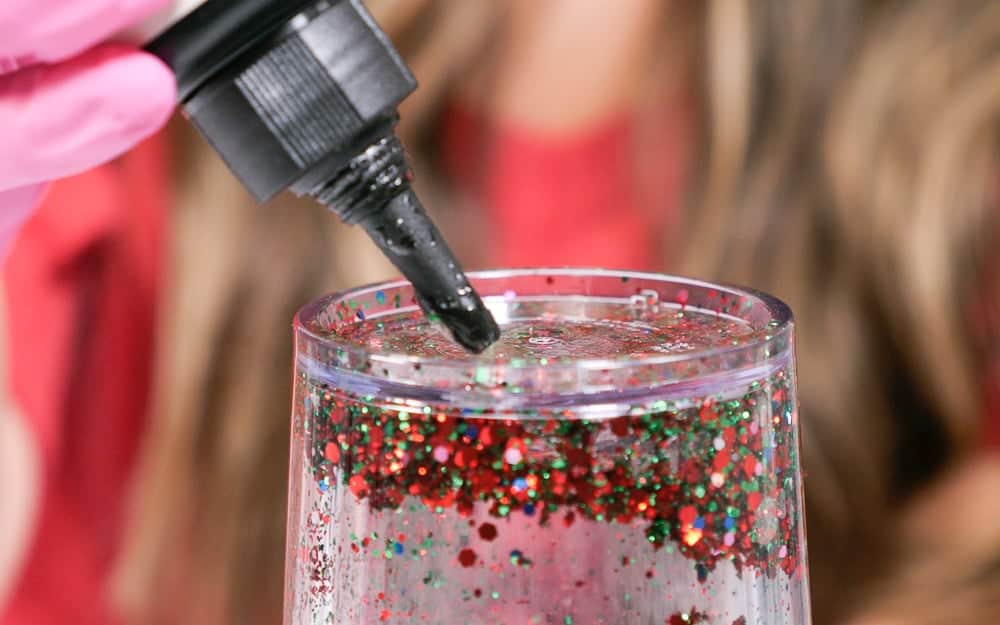 Cover the entire surface so it's level with the plug. I like to do a small layer and add another one I've cured the first.
Turn on the UV light and hold it over the UV resin to begin curing it. It will take about 3 minutes to fully cure.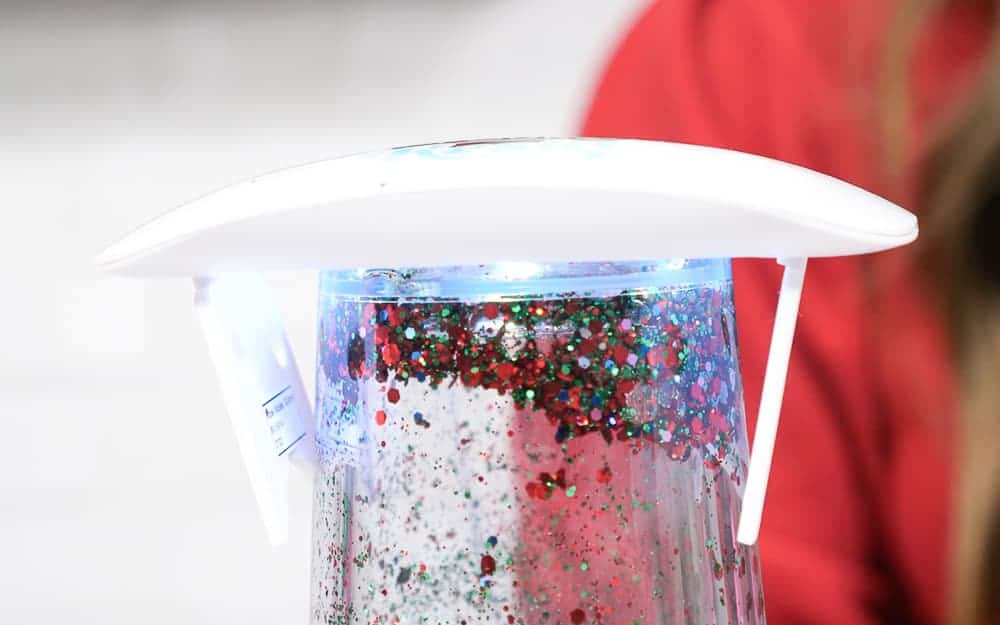 What I love about UV resin is there isn't a long waiting period when working with it. It is more expensive than regular resin but I think the time it saves is 100% worth the extra cost.
If you don't have a UV light you can also cure it by placing it in direct sunlight for about 20 minutes. Because the UV resin can be cured by sunlight you'll want to keep it out of direct sunlight until you're ready to cure it.
I'm going to add one more layer of resin and cure it.
Tip the tumbler over and make sure that you don't have any leaking from the bottom.
ADD RHINESTONES TO LOGO
The next step is optional, let's add some rhinestones around the Starbucks logo. I'm using this glue to make small dots around my Starbucks Logo.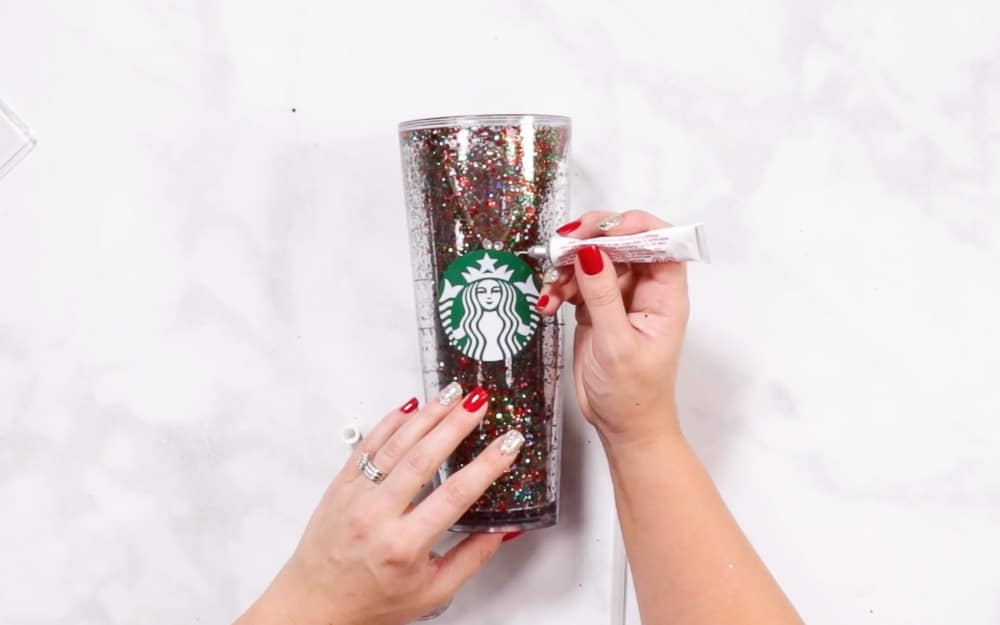 Then I'll hand place each of the rhinestones.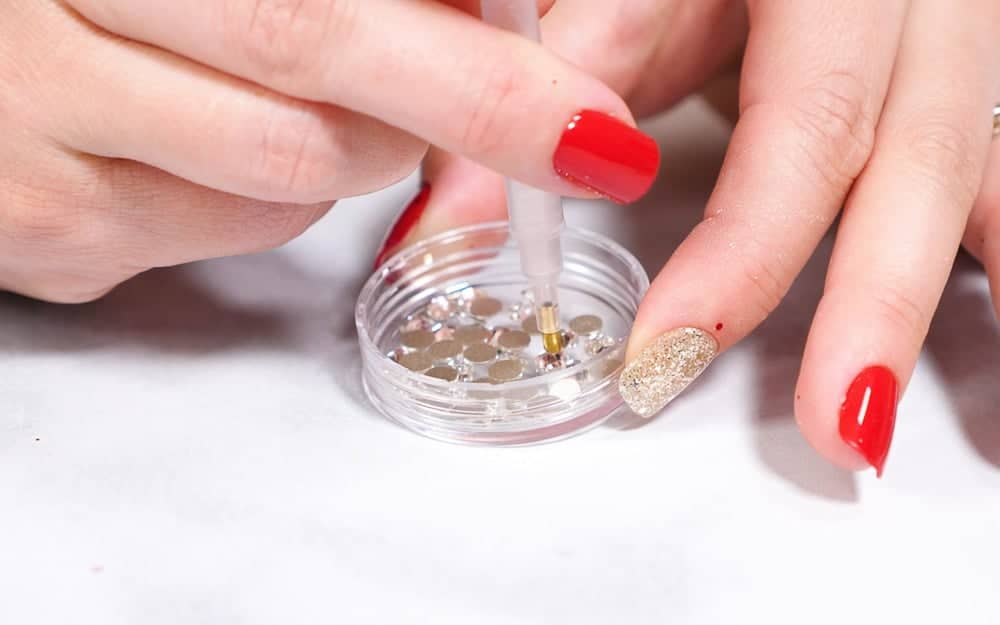 Allow the glue to dry for 24 hours before exposing it to water.
I love how this tumbler turned out!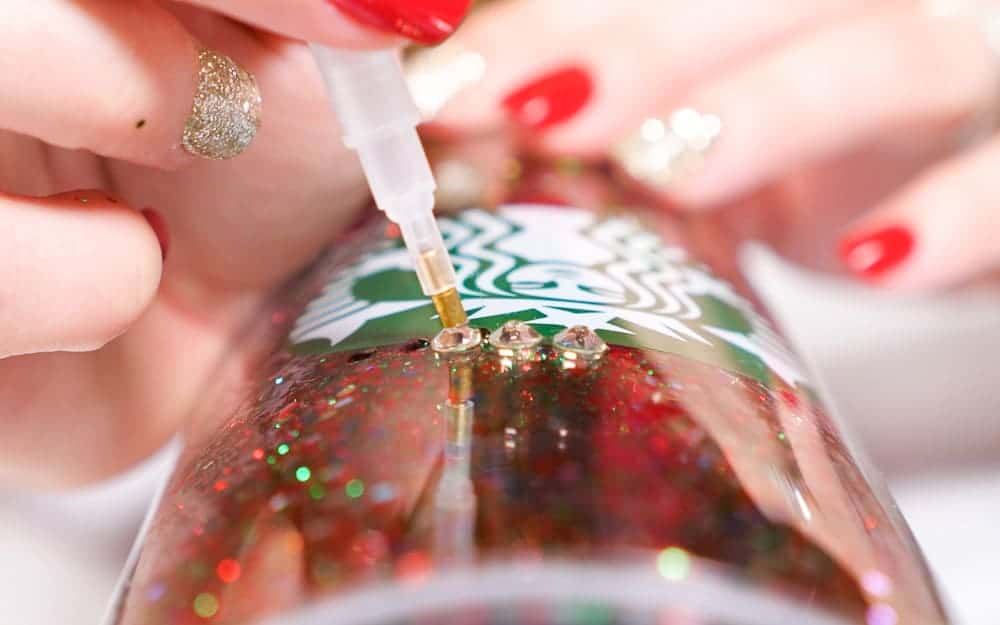 I'm so excited to see what you make with this tutorial! Be sure to tag me on Instagram when you use this tutorial so I can see what you're making and share your photos in my stories!
Don't want to forget about this free template? Save this project for later! Click here to save this project on Pinterest.