Making an Envelope Pillow Cover Is Easier Than Ever With This Simple Step-by-Step Tutorial and Video Guide! Learn How to Make an Envelope Pillow Cover with one piece of fabric in Less Than 15 Minutes!
You probably didn't know that sewing an envelope pillow cover only takes 15 minutes!! The best part, you don't need a zipper for this project. It's easy enough that a beginner seamstress can make this because it's all straight lines!
Learn how to make Halloween Make-a-palooza DIY Pillows Cricut Maker here.
Before we get started making our pillow covers I wanted to share a bit about my experience with JOANN's Fabric Customizer. I knew I wanted to make some cute rainbow-striped pillows but I couldn't find the fabric I was envisioning. So I decided to give JOANN's Customizer a try and I was so impressed with everything I could do!!
A big thanks to JOANN for sponsoring this post. You can find all of the organization supplies in this post at your local JOANN store or at JOANN.com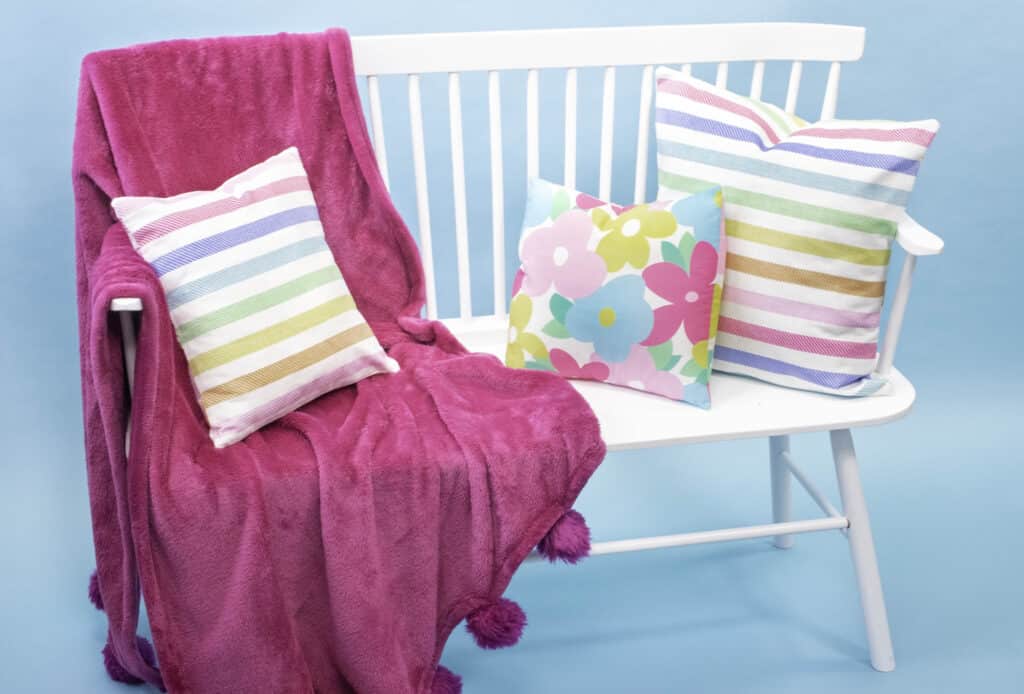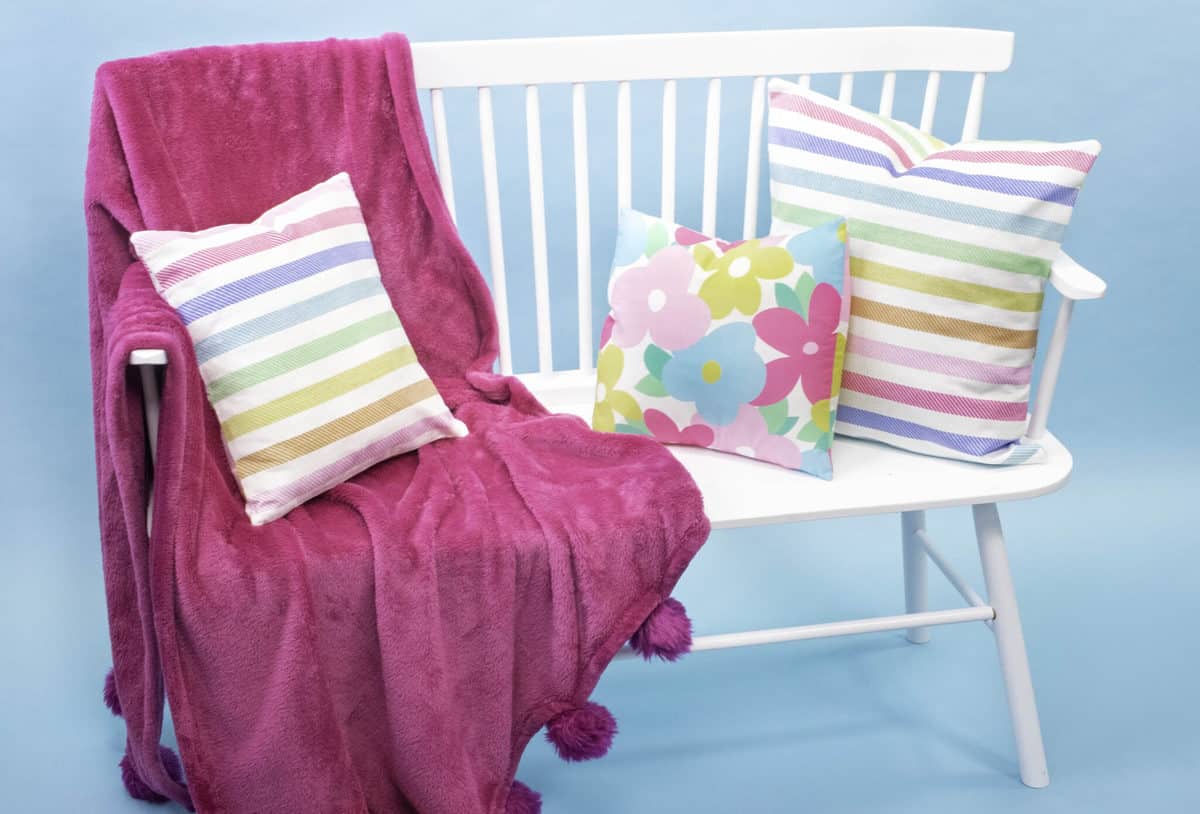 There are over 20 thousand different styles you can customize. The possibilities are endless! While this can seem like a lot at first, don't worry! You can filter these all by pattern, theme, holiday, season, color, collection, and more!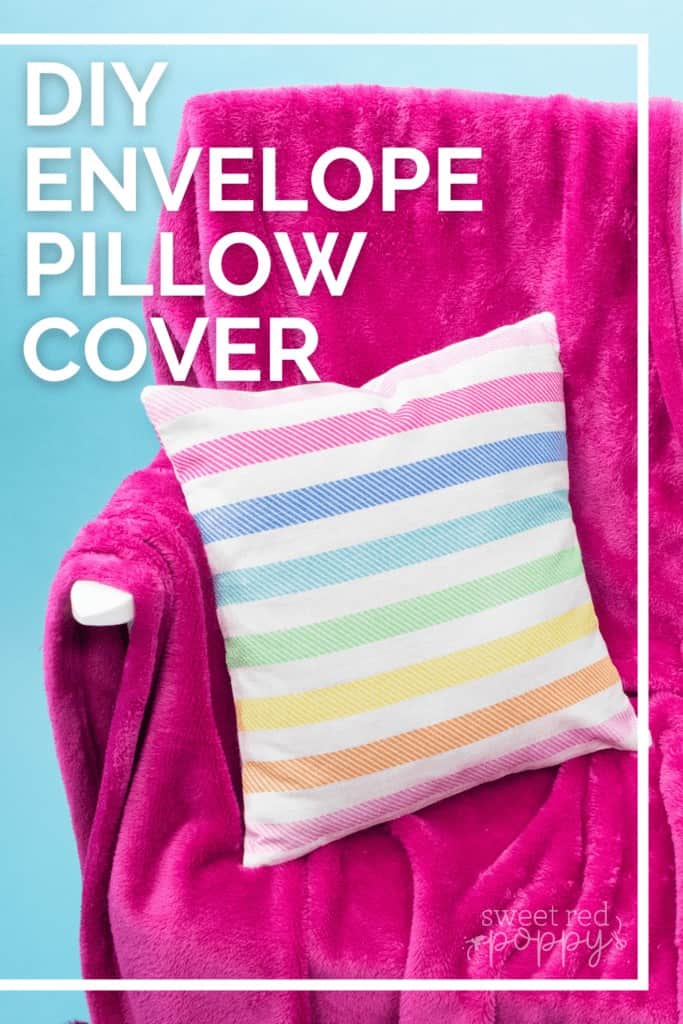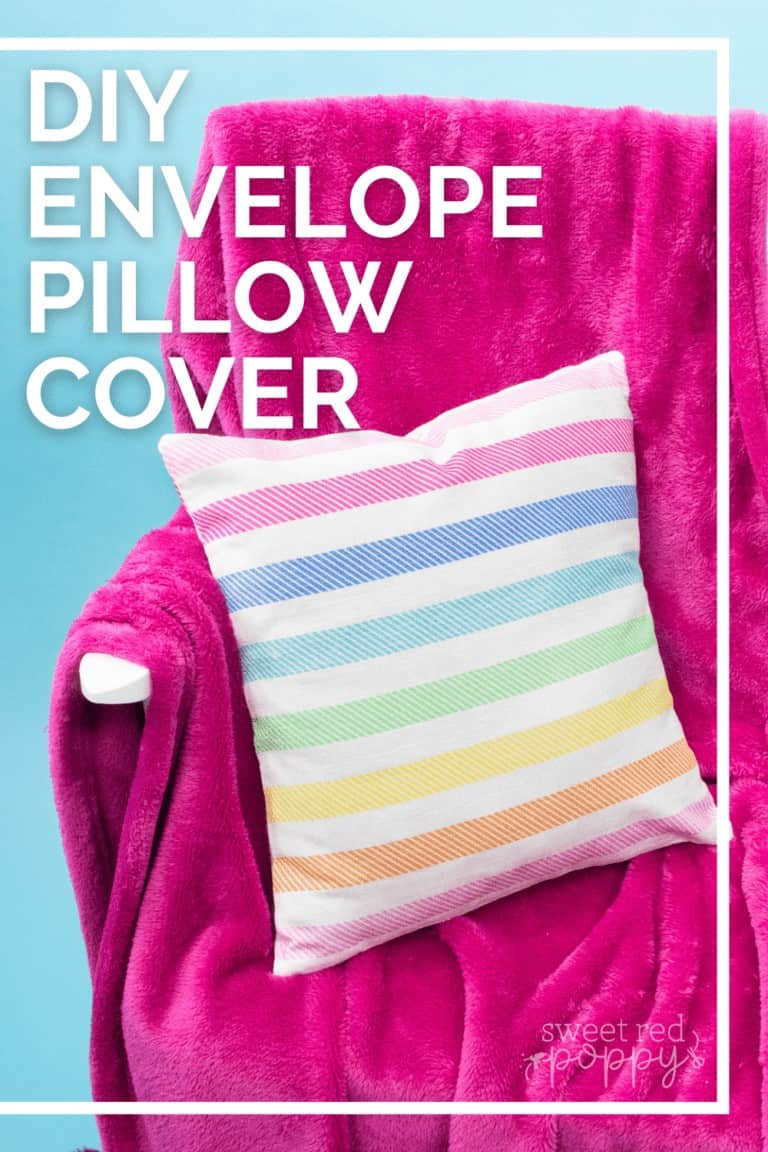 Now you may be wondering how to create your own custom fabric. Don't worry, I'm going to walk you through how to create some adorable fabric in three easy steps.
Look at these adorable fabrics I customized! I love how I can choose the exact shade I want in order to create a fabric that's a perfect match for my project!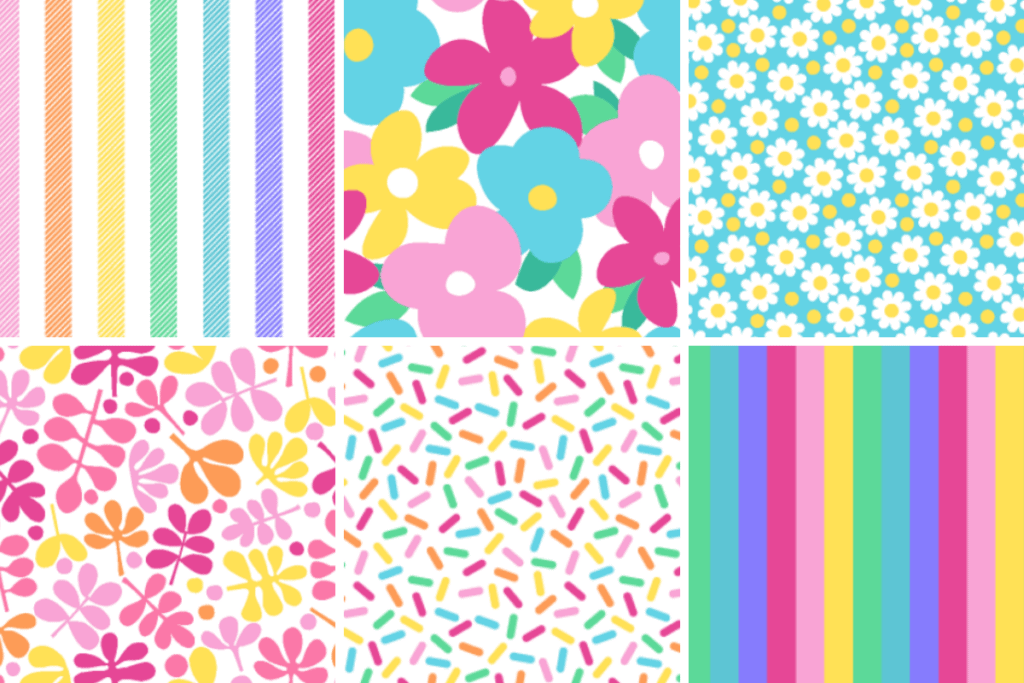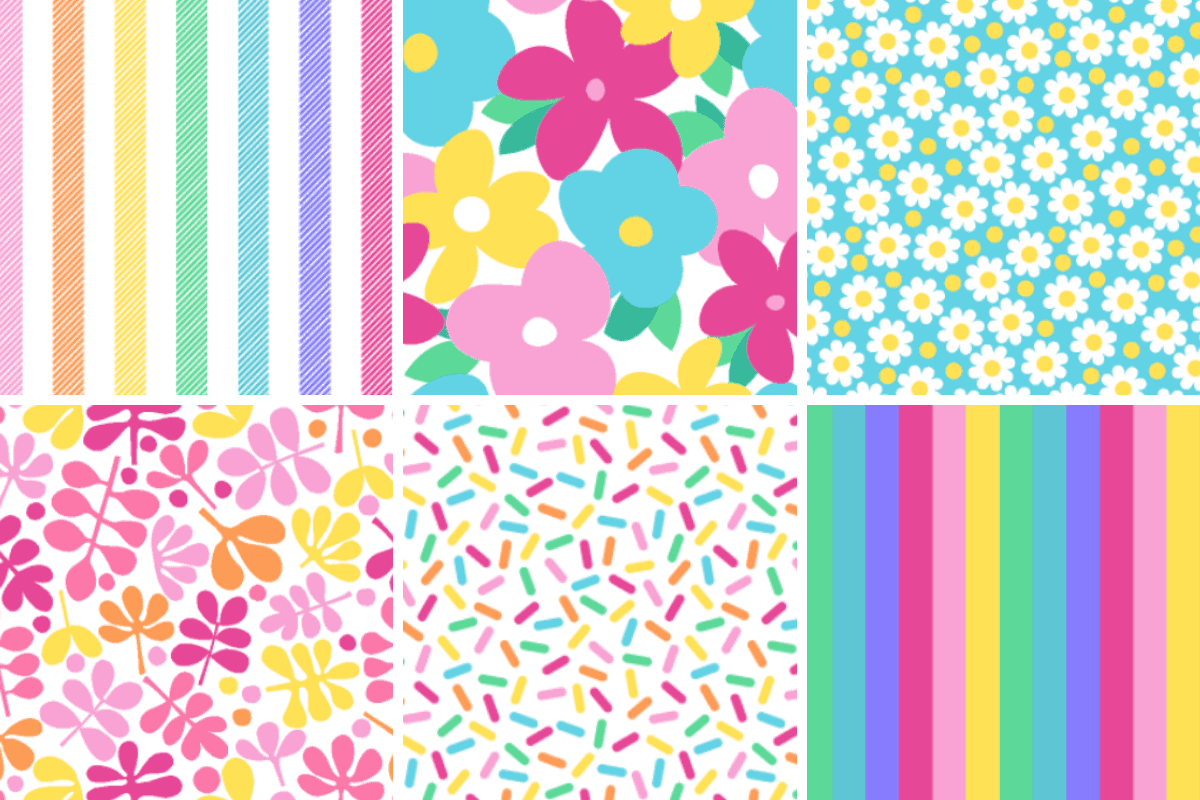 Step 1 - Customize Your Design
First, you're going to customize your design. Once you find a design you like, you're going to have a few different options.


Click on "Customize" to choose the colors. As you change each element's color, you'll get to see a preview of it on the screen. I love being able to see a preview of what my fabric is going to look like. If you don't want to mix and match your own colors, JOANN has the option to choose from predetermined color pallets.
You can also change the scale and pattern repeat.
Once you decide on your colors and scale, click on "Save."
Step 2 - Choose Your Fabric
Now that you have your fabric designed, it's time to choose your fabric. Honestly, I was so impressed with the different fabric choices. I chose a variety of different bases to get a feel for the different fabrics.
If you click on "View Fabric Details," you can see a picture of every single fabric they offer. You can also read a little more about each fabric to make sure you choose the right fabric for your needs.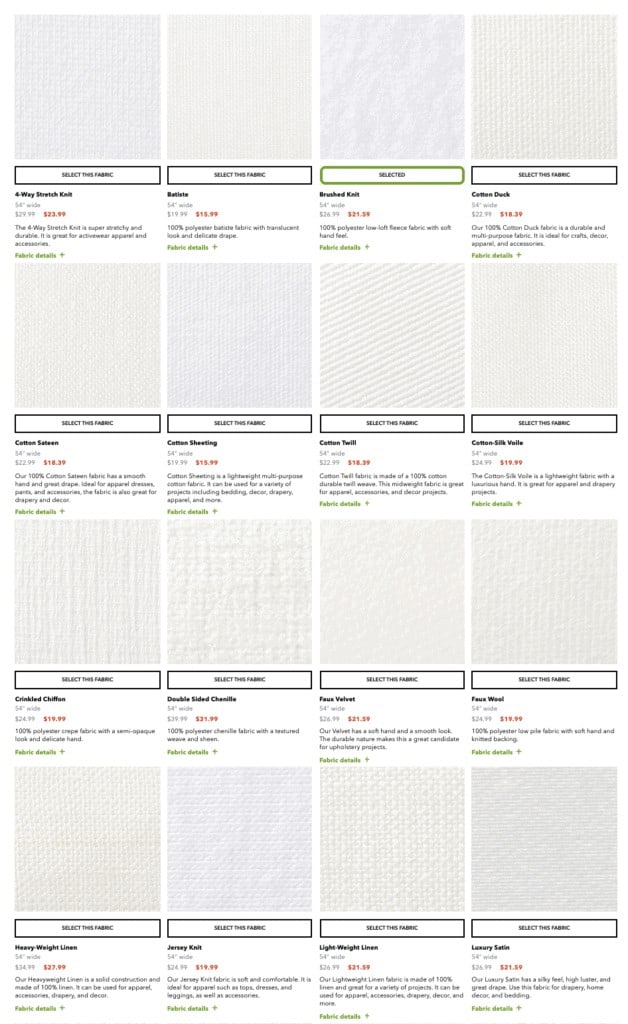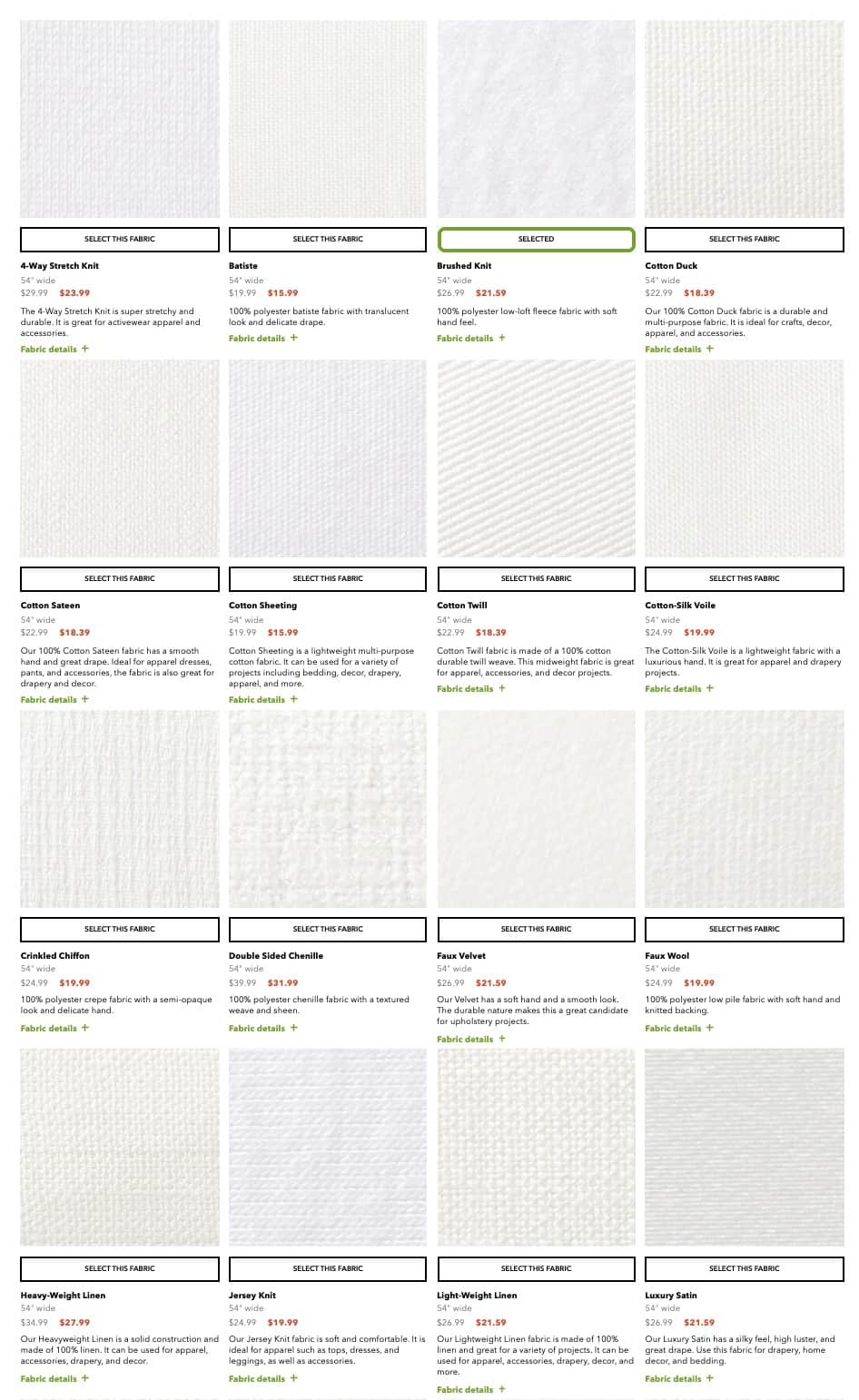 Step 3 - Place Your Order
Once you have your fabric ready to go, add it to your bag and check out. Now for the hardest part - waiting for it to arrive.
I couldn't wait to make this Envelope Pillow Cover with my fabric.
Now Let's make some adorable Pillow Covers!!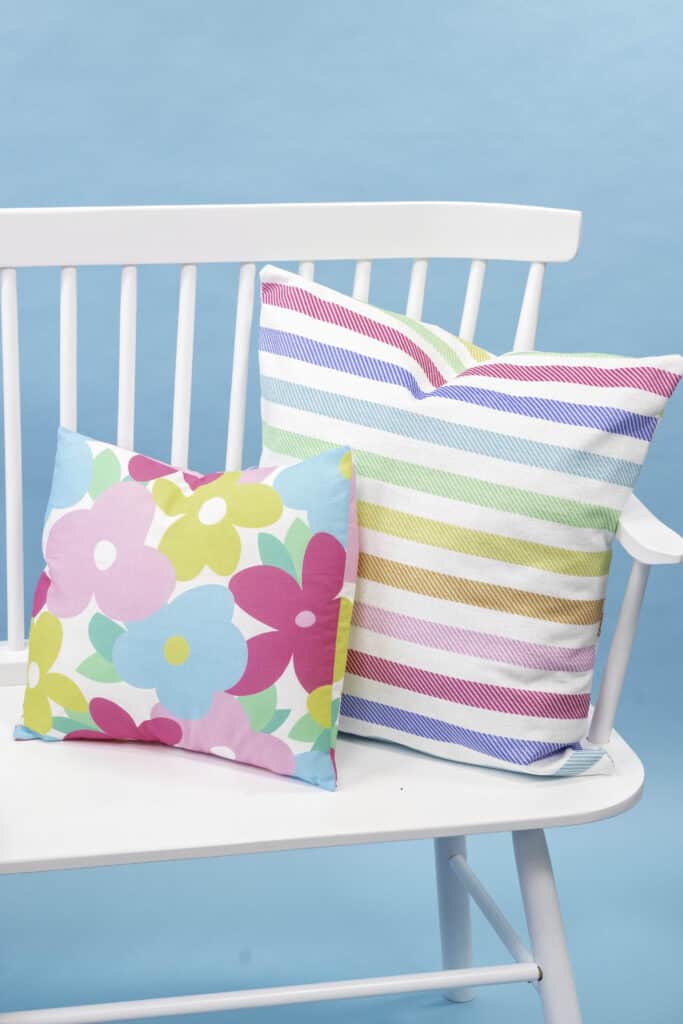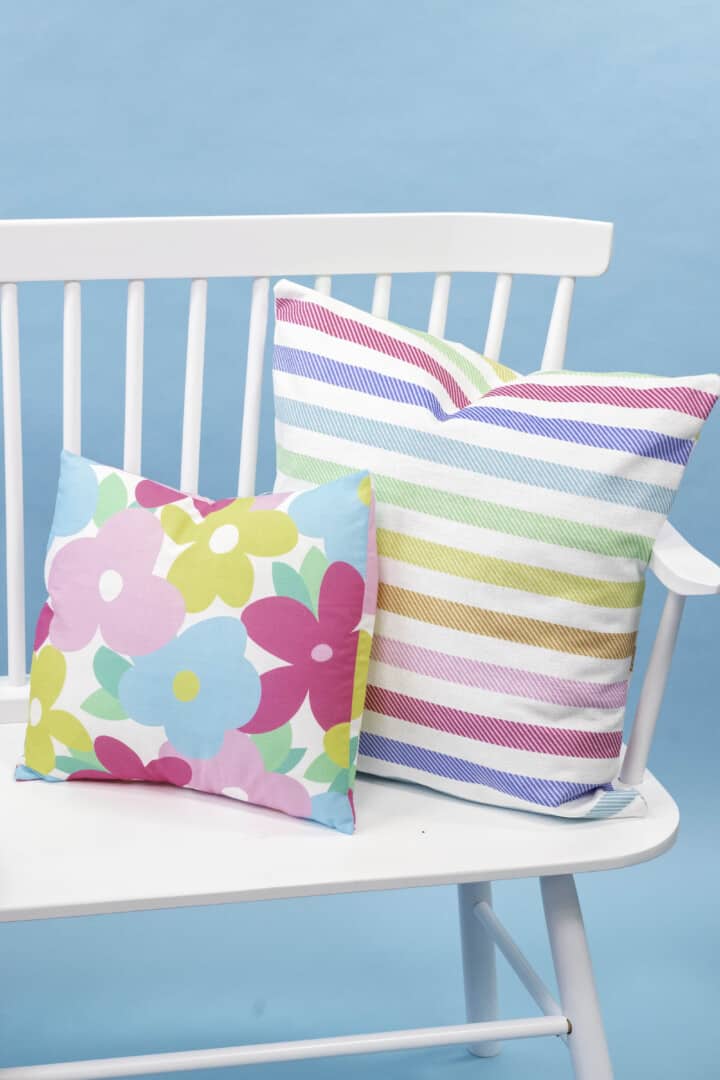 Pillow Cover Supply List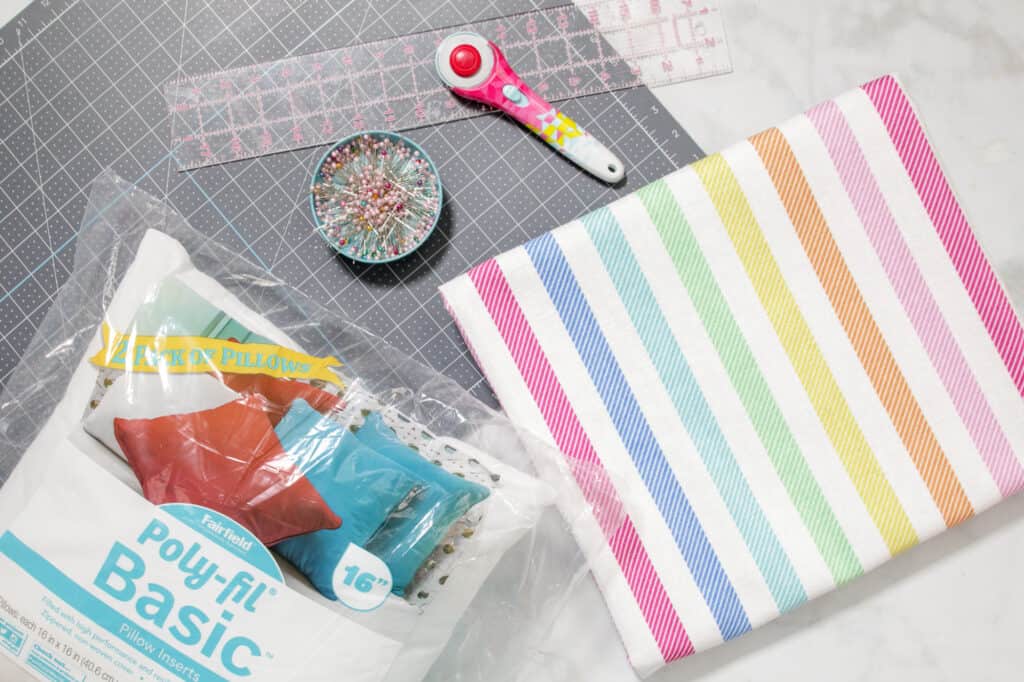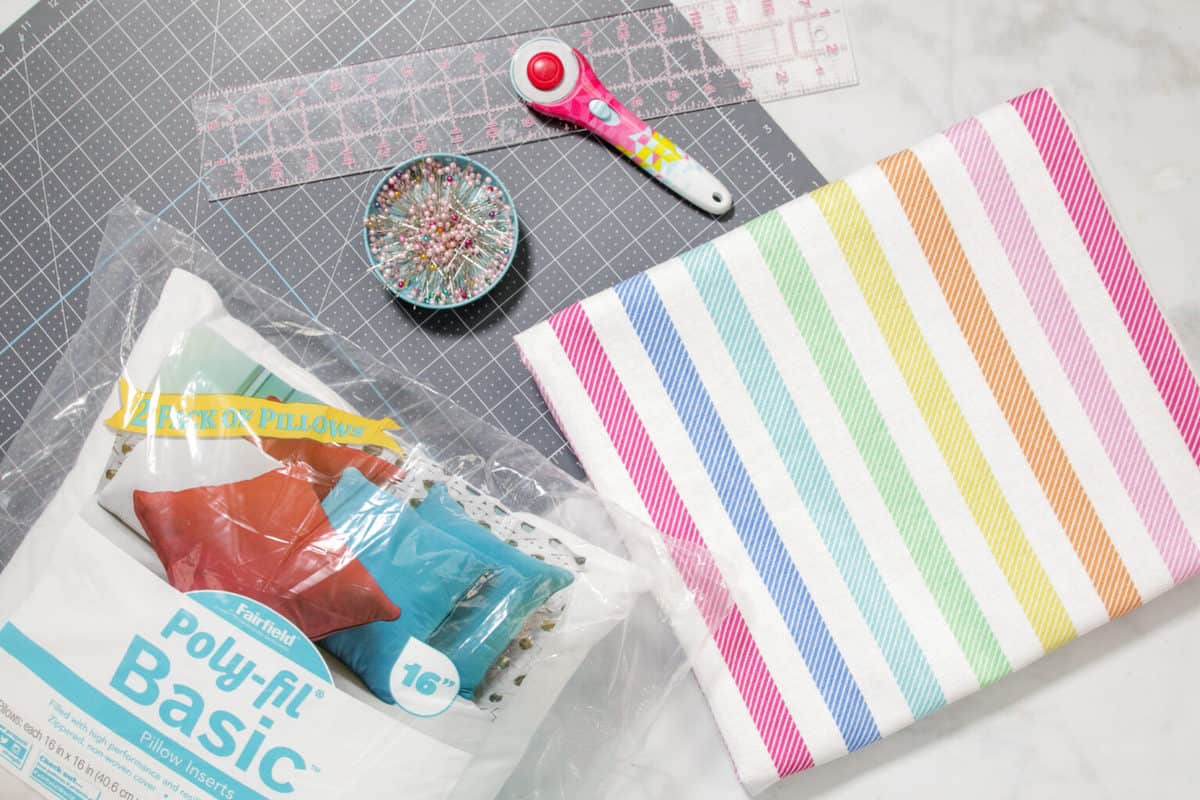 Step 1 - Cut out Fabric
Pillow Cover Fabric Cutting Chart
14 x 14 Pillow - Cut 1 14" x 14" Cut 2 14" x 10"
16 x 16 Pillow - Cut 1, 16" x 16" Cut 2 16" x 11"
18 x 18 Pillow - Cut 1 18" x 18" Cut 2 18" x 12"
20 x 20 Pillow - Cut 1 20" x 20" Cut 2 20" x 13"
24 x 24 Pillow - Cut 1 24" x 24" Cut 2 24" x 15"
Measure your pillow form and find the coordinating cutting measurements listed above.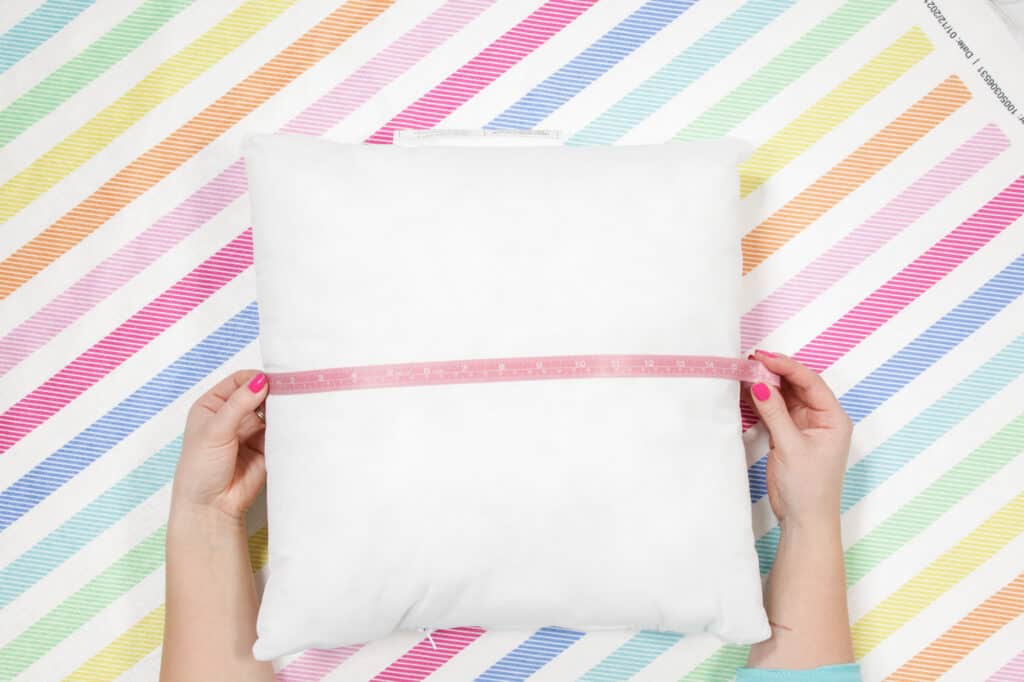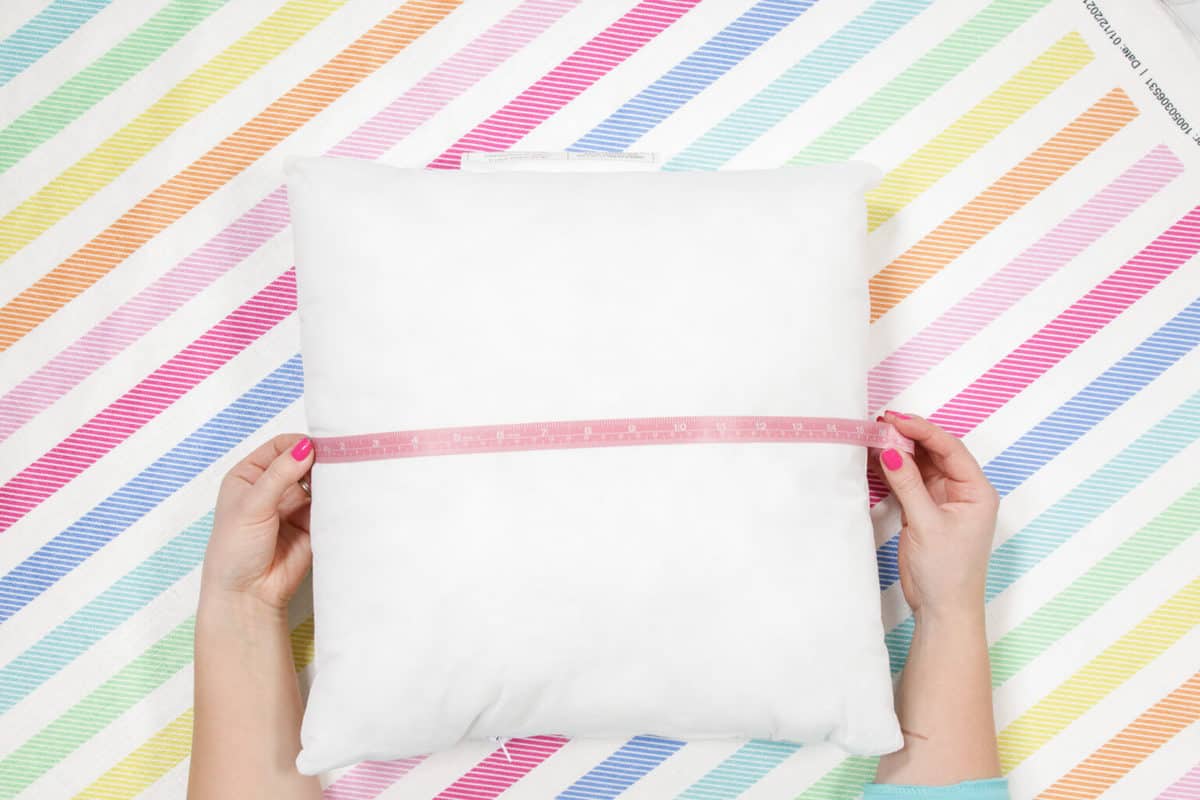 Cut out one square piece of fabric for the front of the pillow and two rectangles for the back. View the cutting chart above. If you are making a different sized pillow cover, the front should measure the same as the pillow. The back pieces should be the full width of the pillow and half the height of the pillow plus three inches to account for the overlap.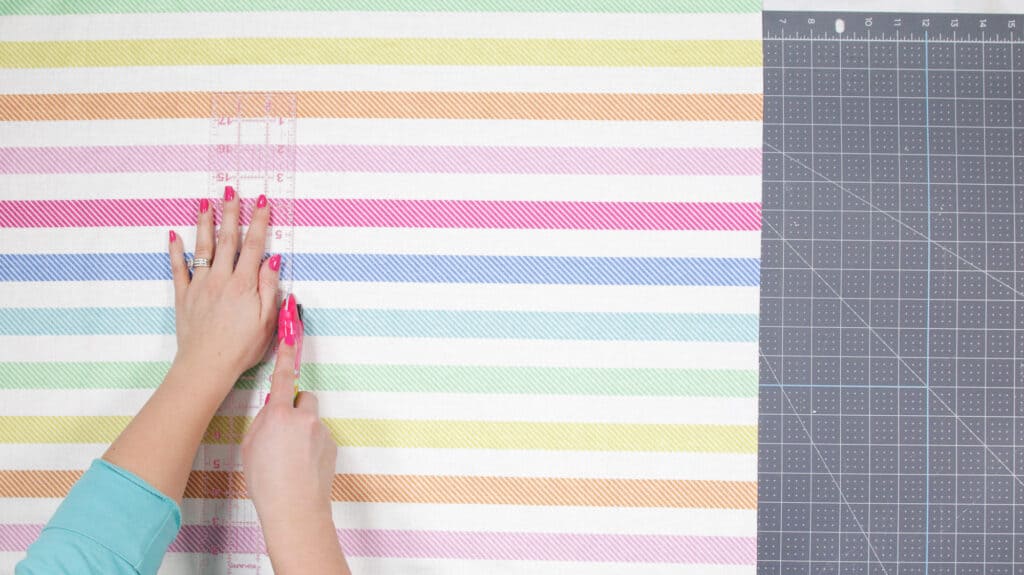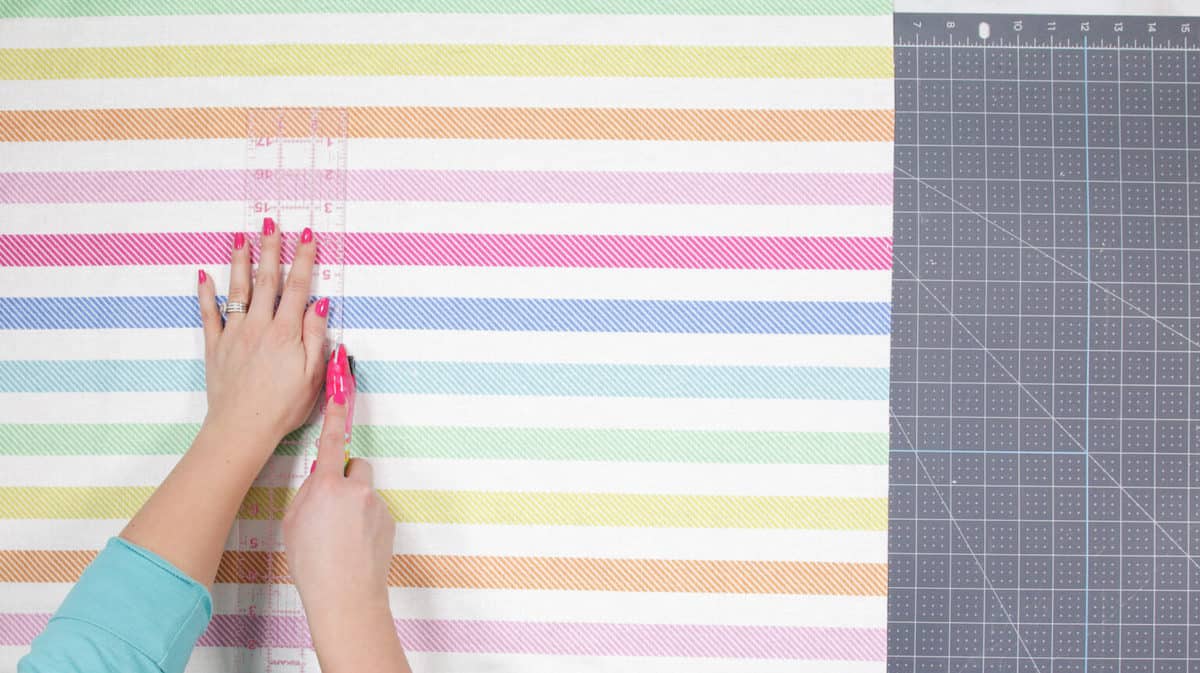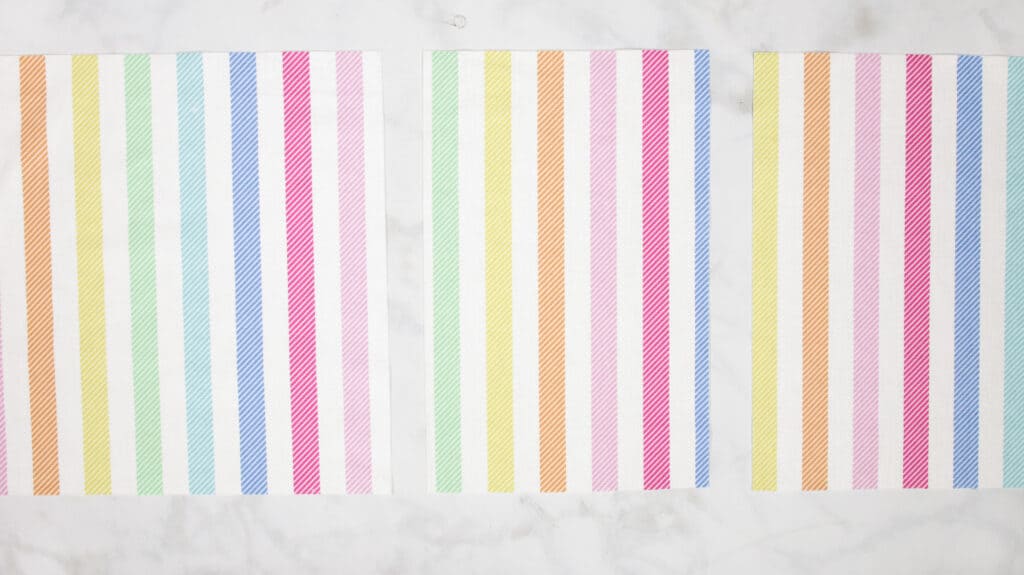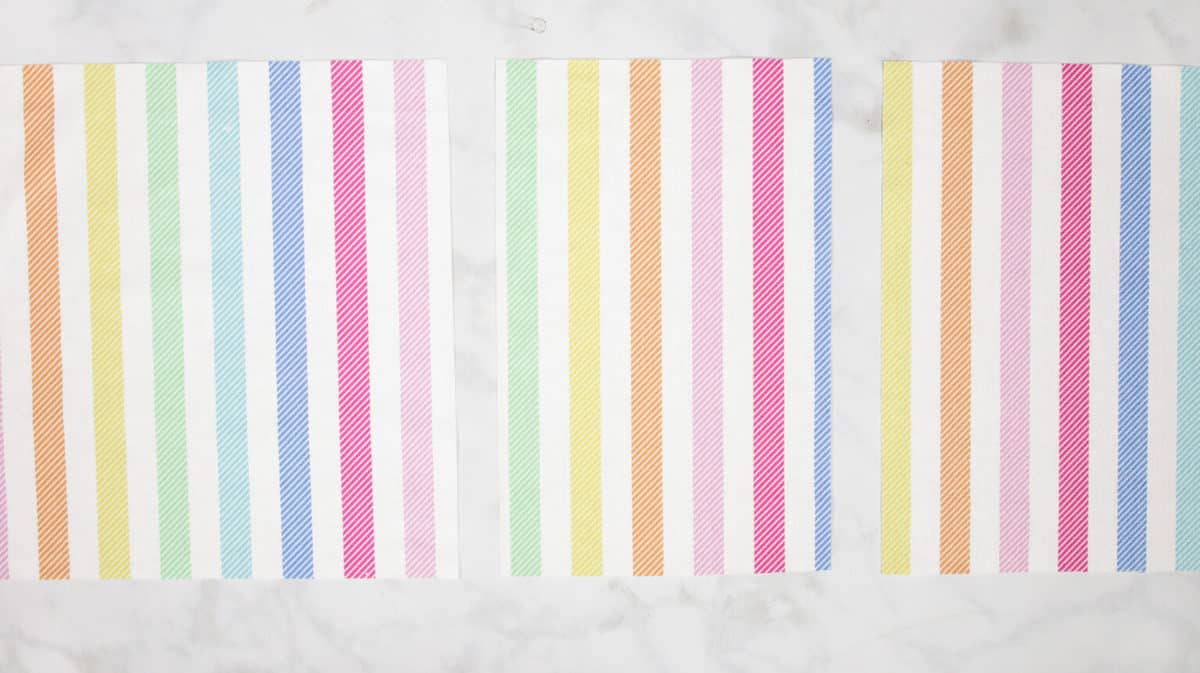 Step 2 - Iron and Sew Folded Edges
Take one of the rectangular pieces of fabric and fold one long edge under 1/2" and press. Fold it under 1/2" again and press in place with plenty of steam. Repeat on the second piece of fabric.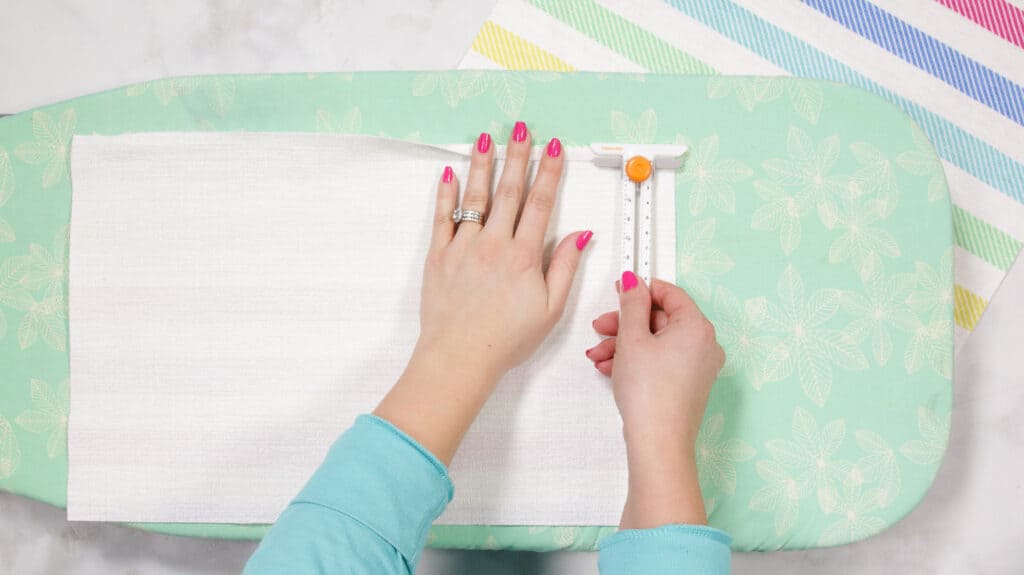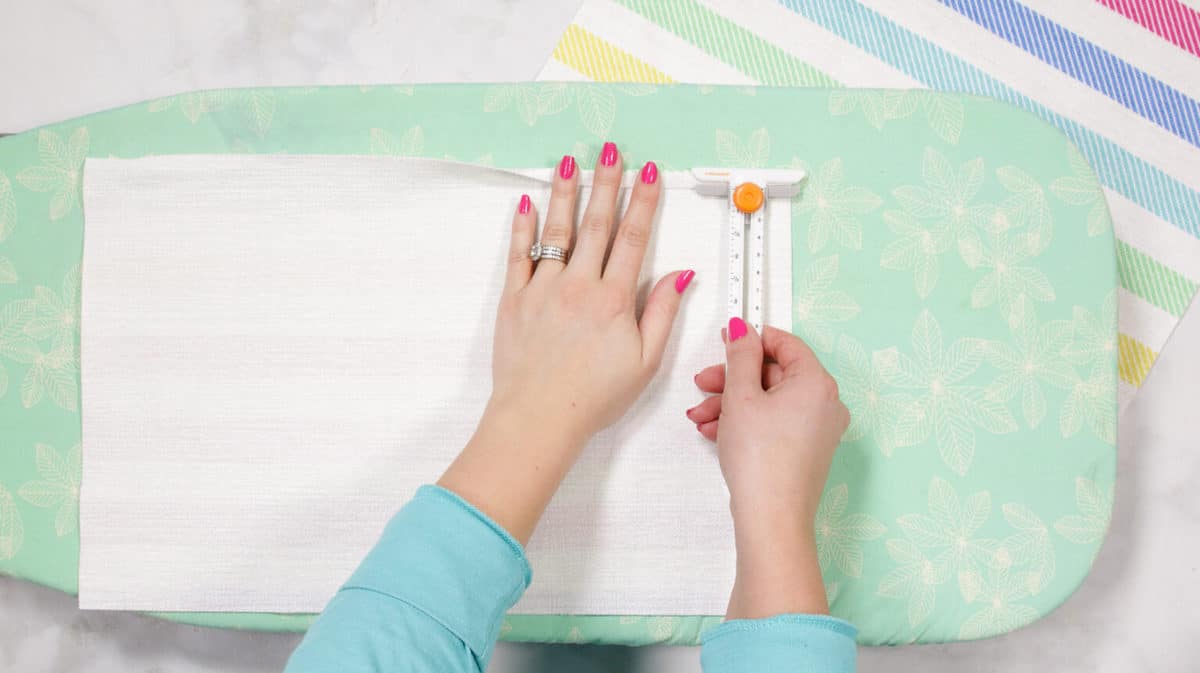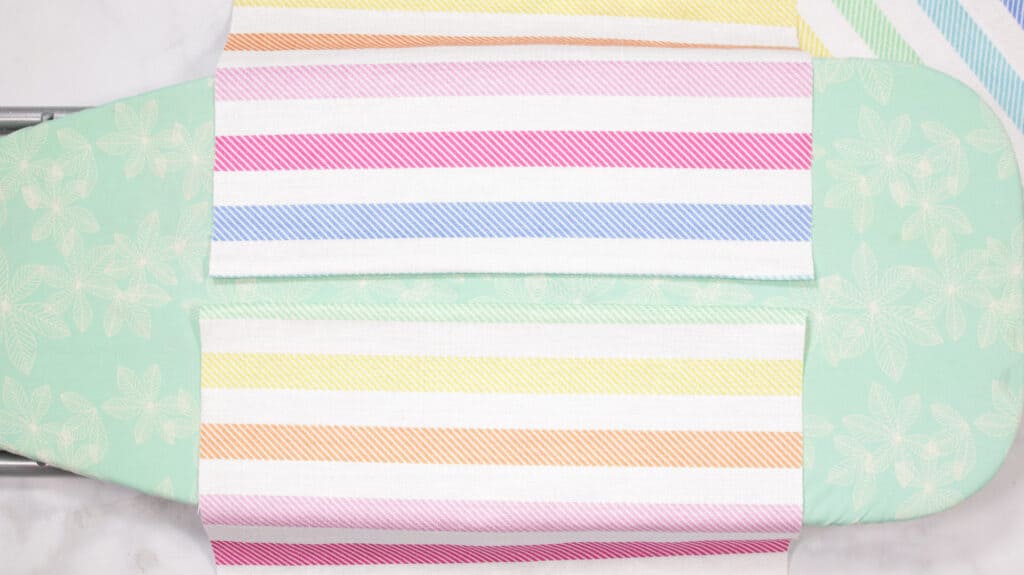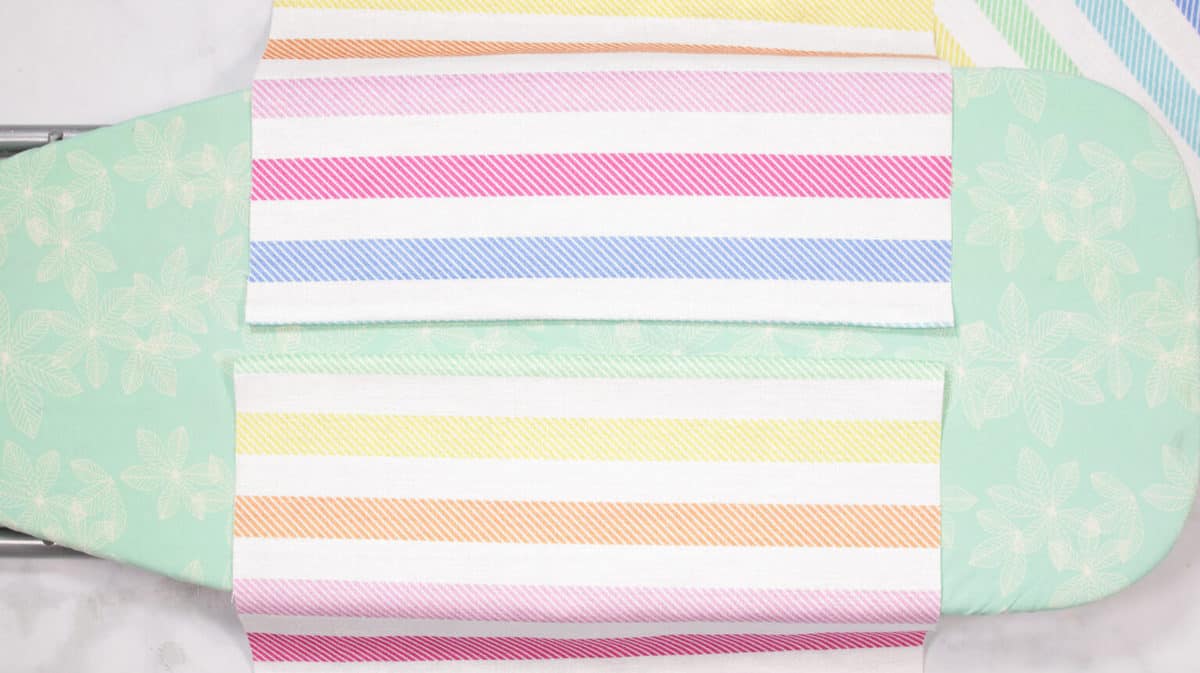 Sew along the middle of the fold 1/4" from the folded edge of the fabric.
Step 3 - Pin Front and Back Together
Lay the front pillow cover fabric on a table in front of you with the right side facing upwards. Lay the rectangular pice of fabric on top aligning the raw edges together.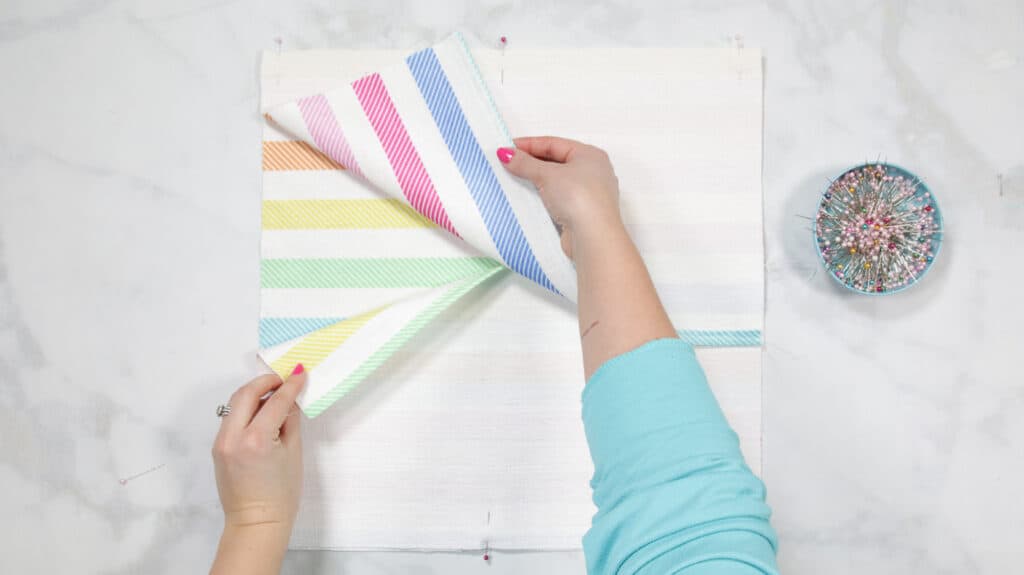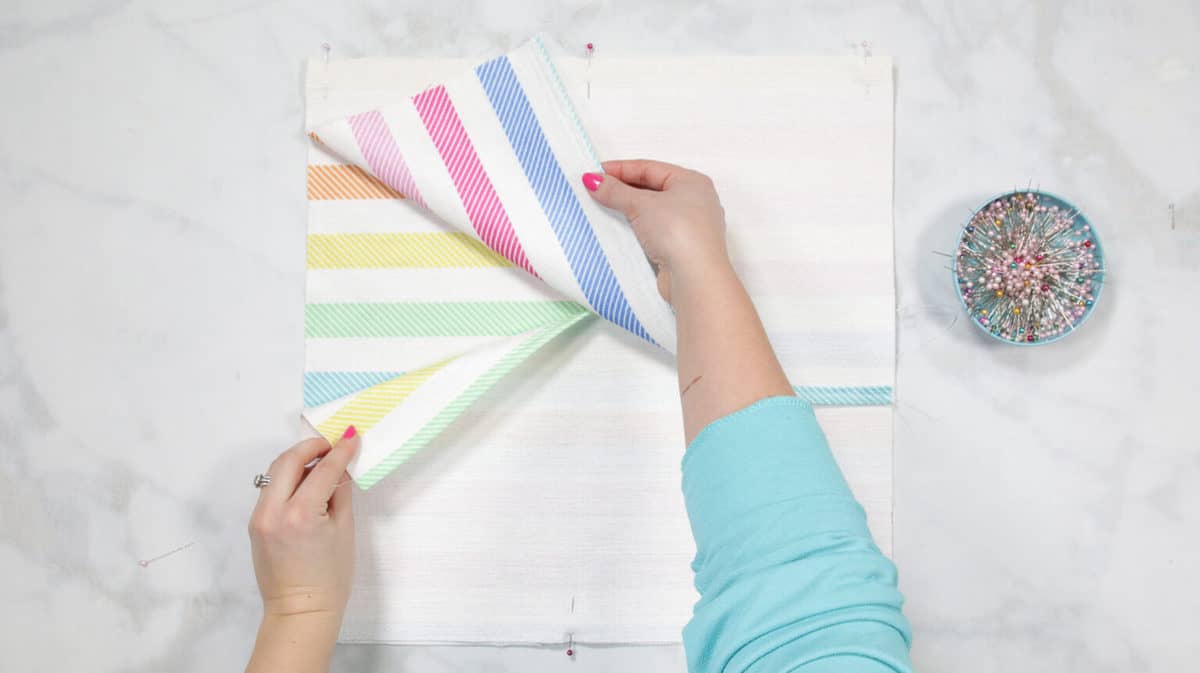 Layer the third piece of fabric on top. The back pieces of fabric will overlap each other by a few inches. Pin around the perimeter of the fabric.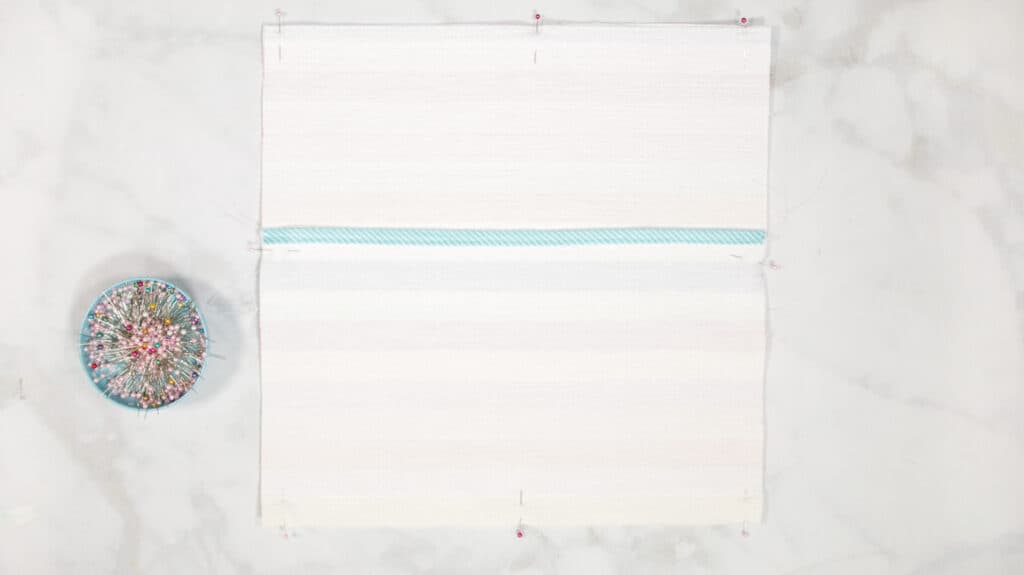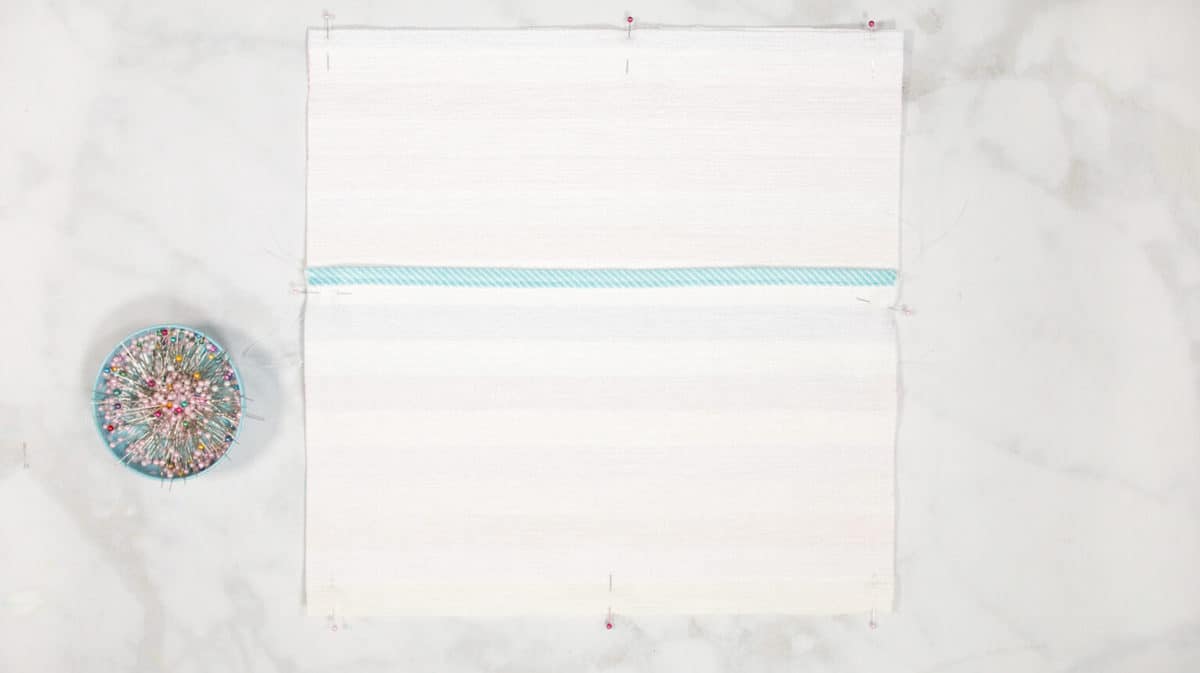 Step 4 - Sew Around Entire Pillow Cover & Finish Edges
With a 3/8" seam allowance, sew around the entire pillowcase.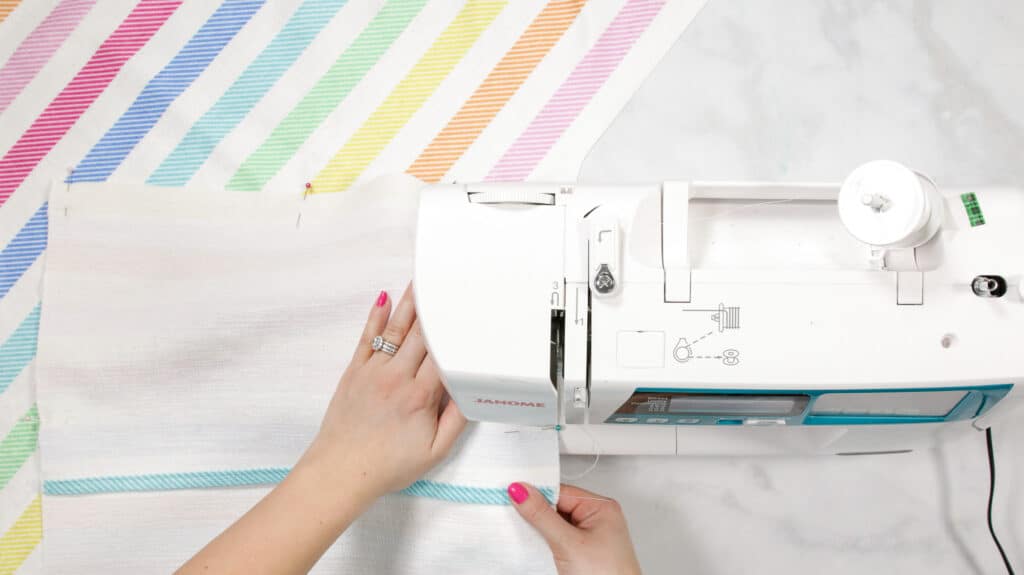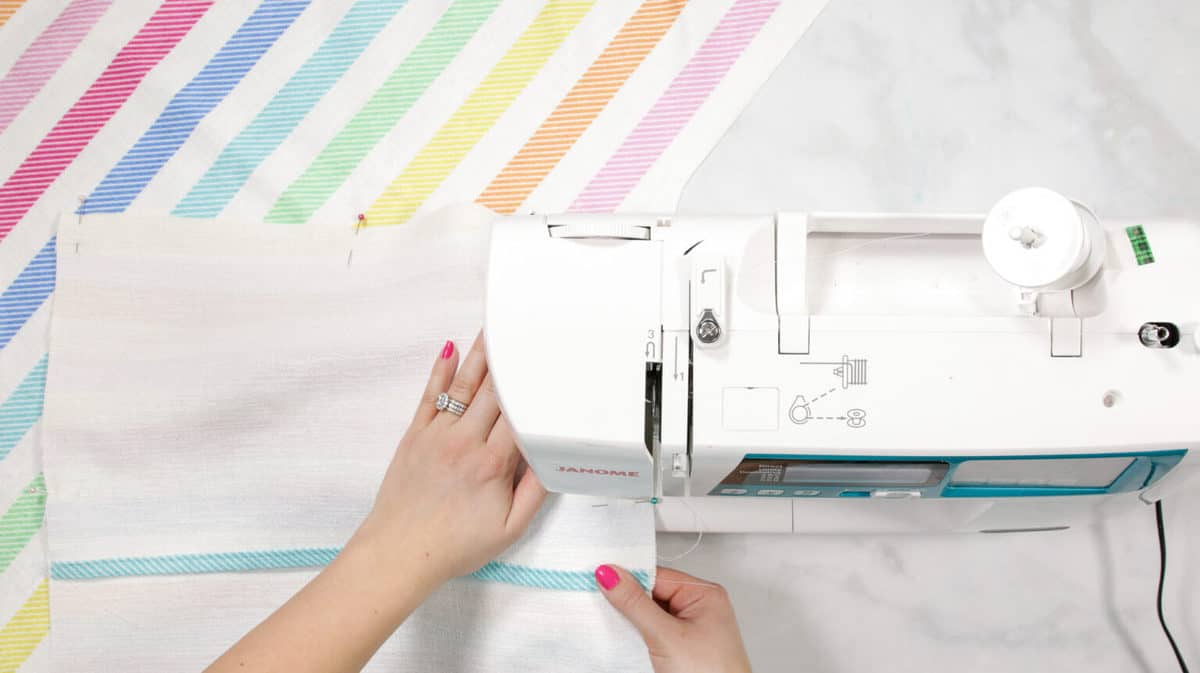 Finish the raw edges of the pillow cover with a zigzag stitch or a serger to prevent the fabric from fraying.
Step 5 - Turn Right Side Out & Insert Pillow Form
Turn the pillow cover right side out and use a turning tool to push the corners outwards to create sharp corners.
Insert the pillow form into the pillow cover and enjoy your new pillow!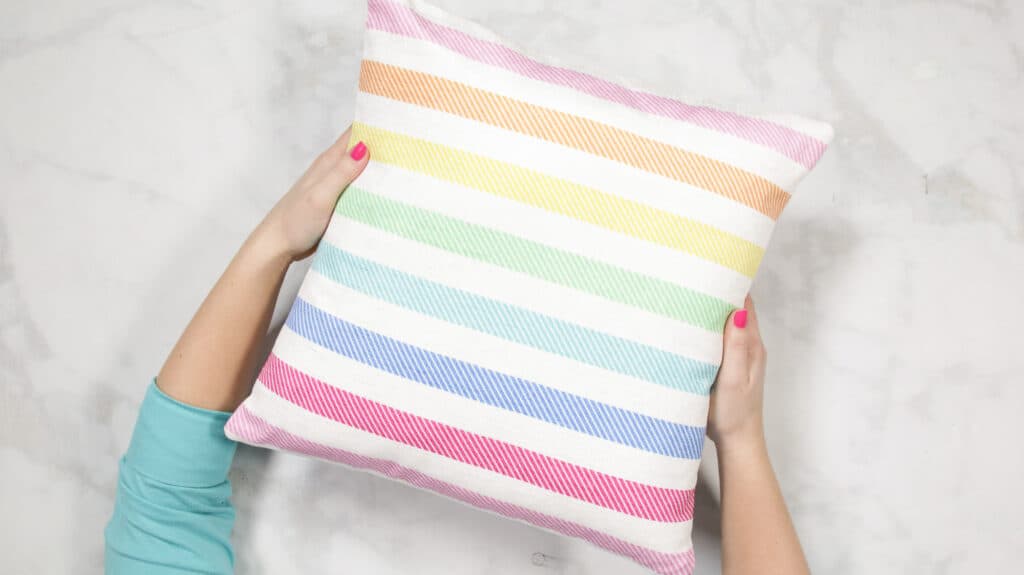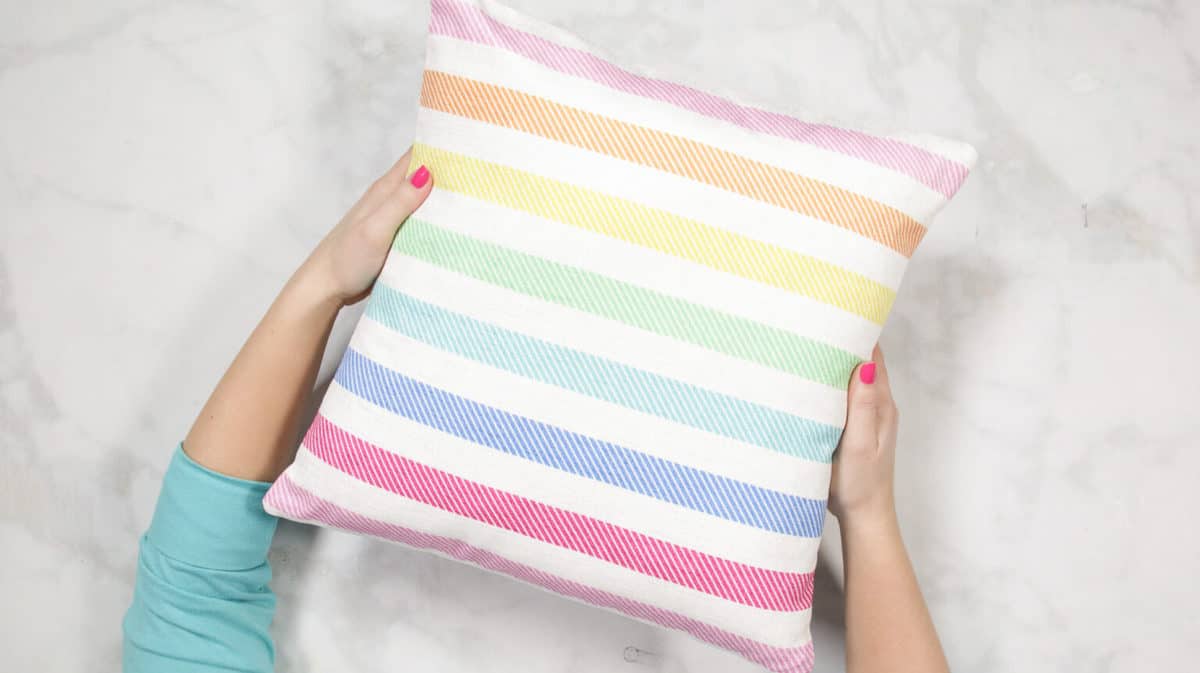 Click here to customize your own fabric at JOANN.com!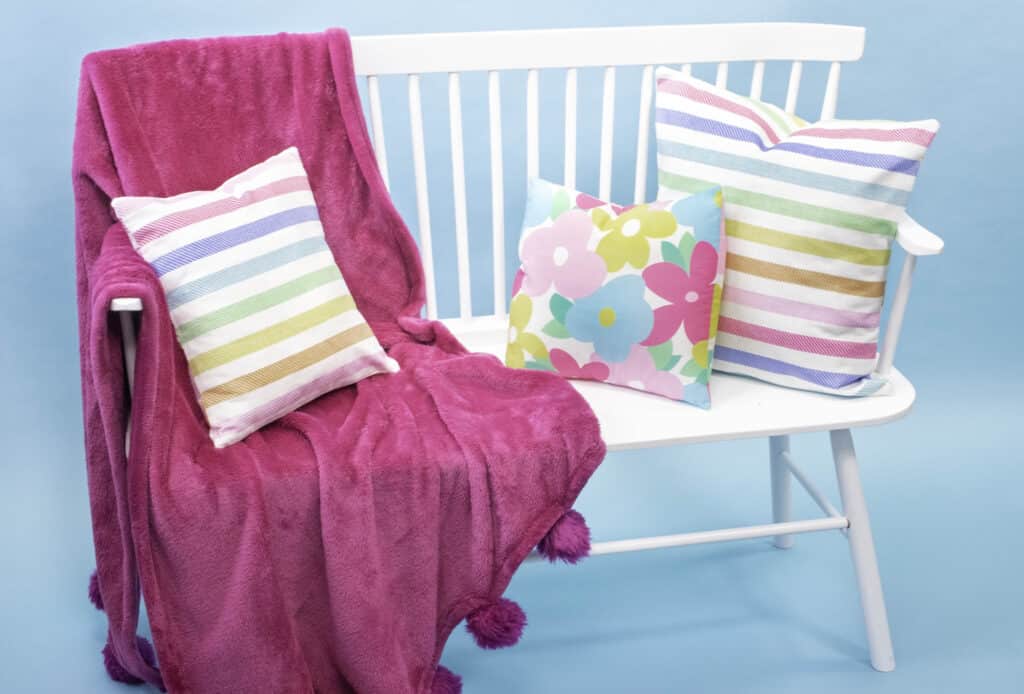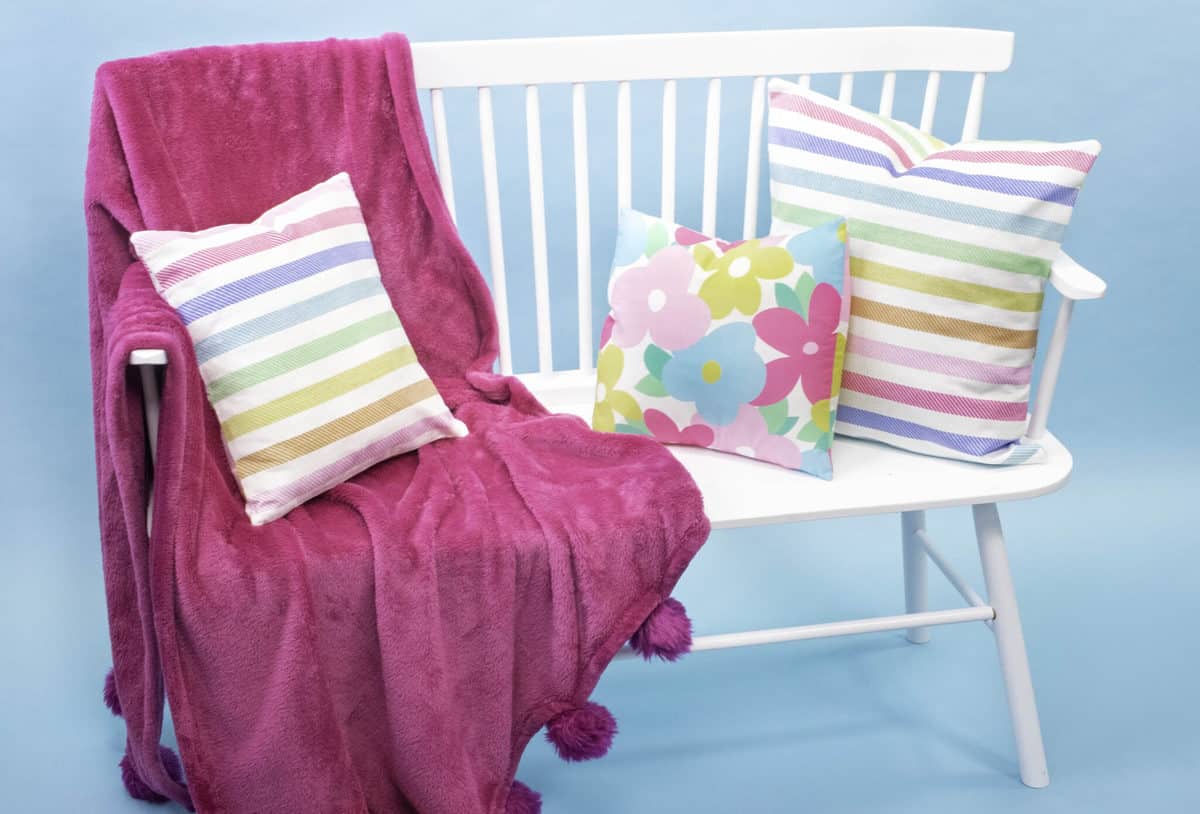 Share your finished pillow covers with us in the Sweet Red Poppy Crafting & Sewing Group!
Don't want to forget about this free template? Save this project for later! Click here to save this project on Pinterest.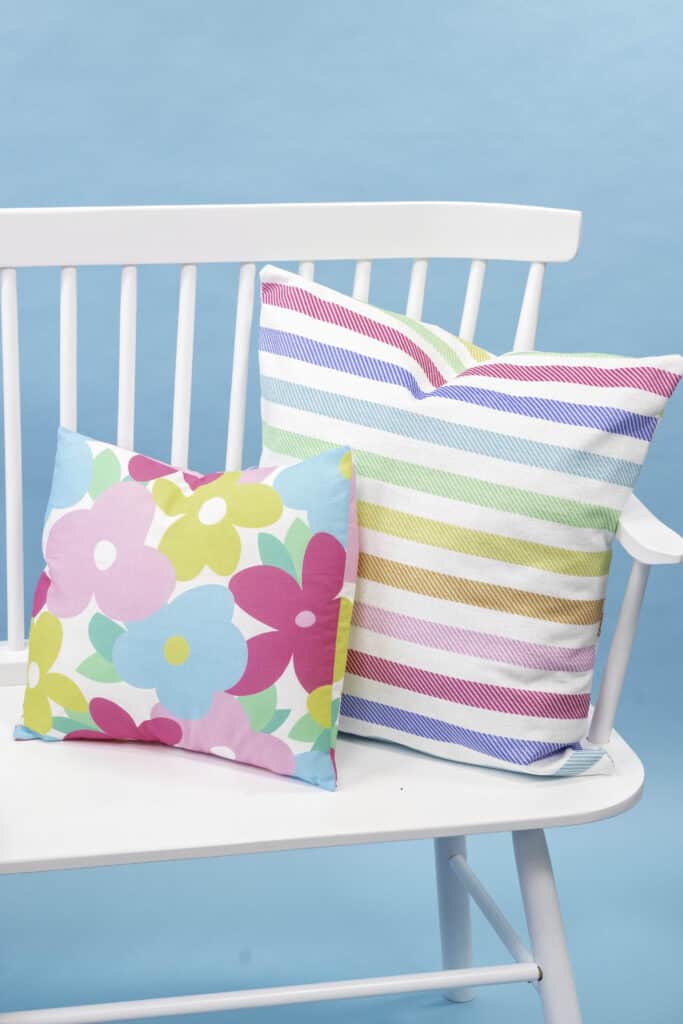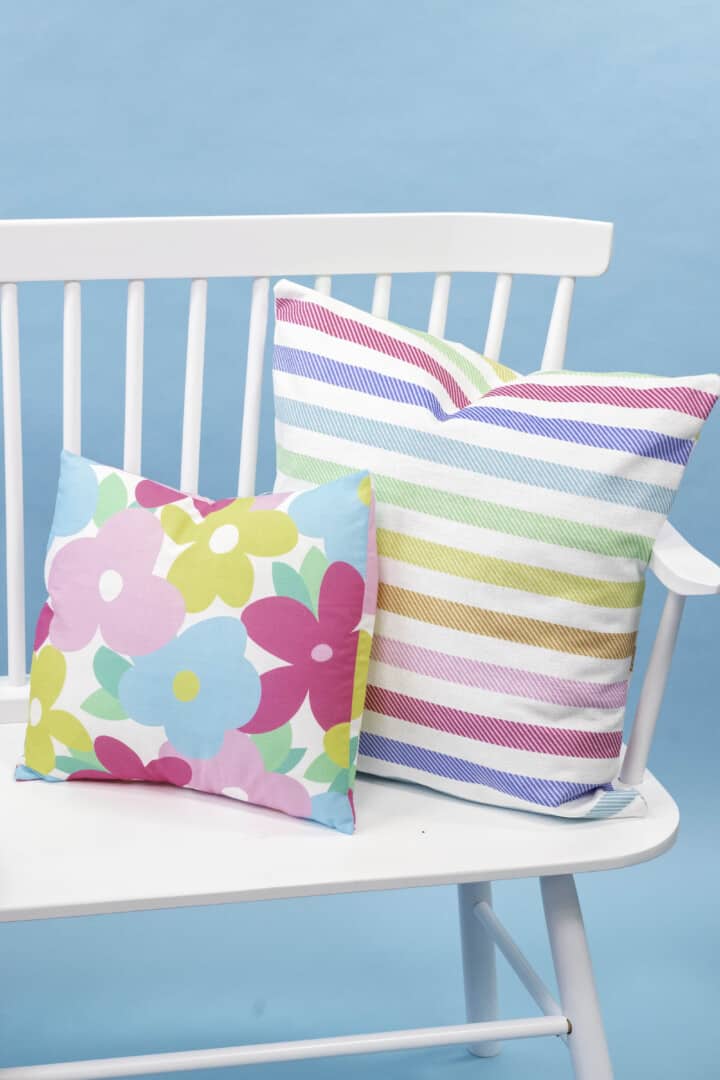 Looking for even more sewing tutorials? Click Here!
Learn how to sew a pillowcase with an invisible zipper here.
Find out how to make a pillowcase with tassels here.
Do you have any other questions about how to make an envelope pillow cover with one piece of fabric? Let me know in a comment below!