Do you feel like the holidays sneak up on you every year?
Between baking, shopping, wrapping, last-minute gift-giving, and everything else, I often find myself feeling anything but merry.
This year, I decided to get an early start on my Christmas crafting, and I want to give you a chance to start early, too.
As my gift to you, for the next 25 days, I'll be sharing a Christmas craft that includes a FREE pattern or design, step-by-step tutorial, and video to celebrate 25 Days of Craftmas!

25 Days of CRAFTMAS will run from November 1st through November 25th.
Every day, I'll send out an email with the newest project so you don't miss out.
Each day I will reveal a new Christmas craft. I'll have a variety of different themed crafts including sewing, Cricut, crochet, and general crafting.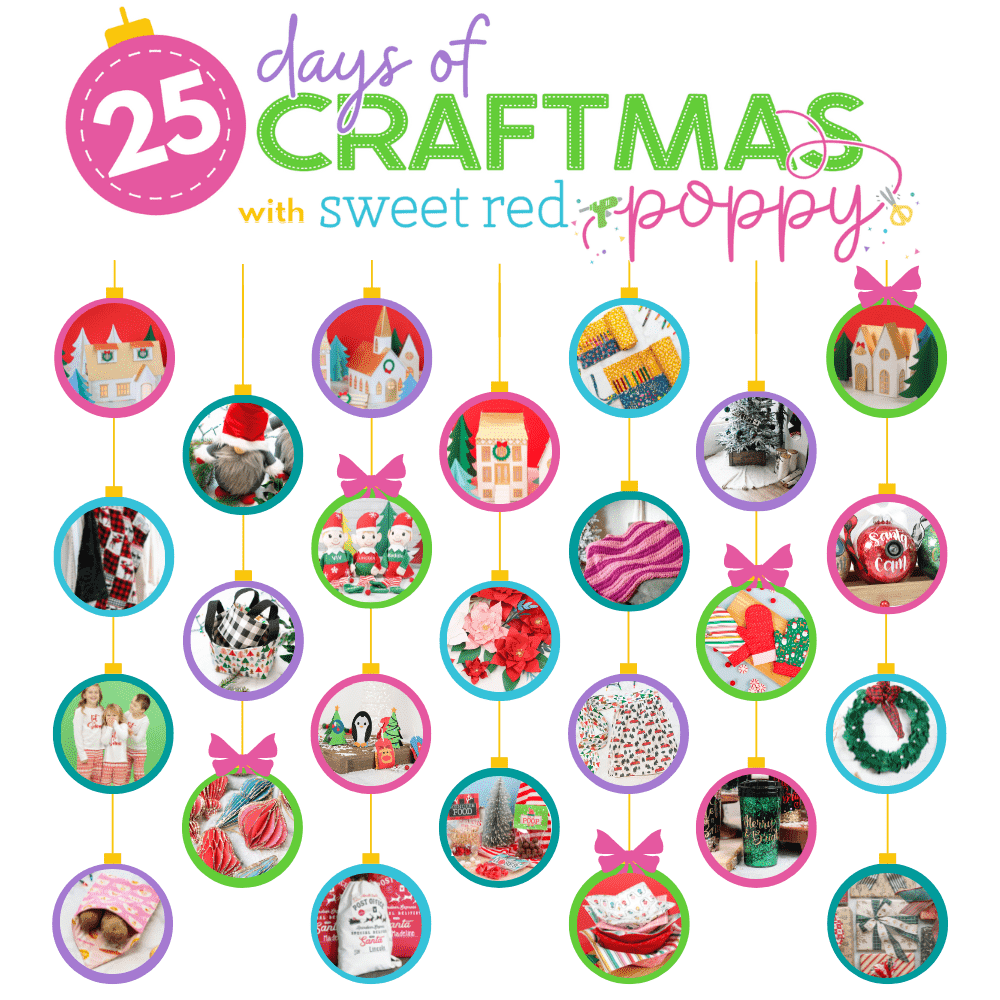 Check back to this post every day to see as each new craft is revealed.
Submit a giveaway entry DAILY and you'll be entered to win a Serger or a Cricut machine! Don't forget to click through to get extra bonus entries daily as well!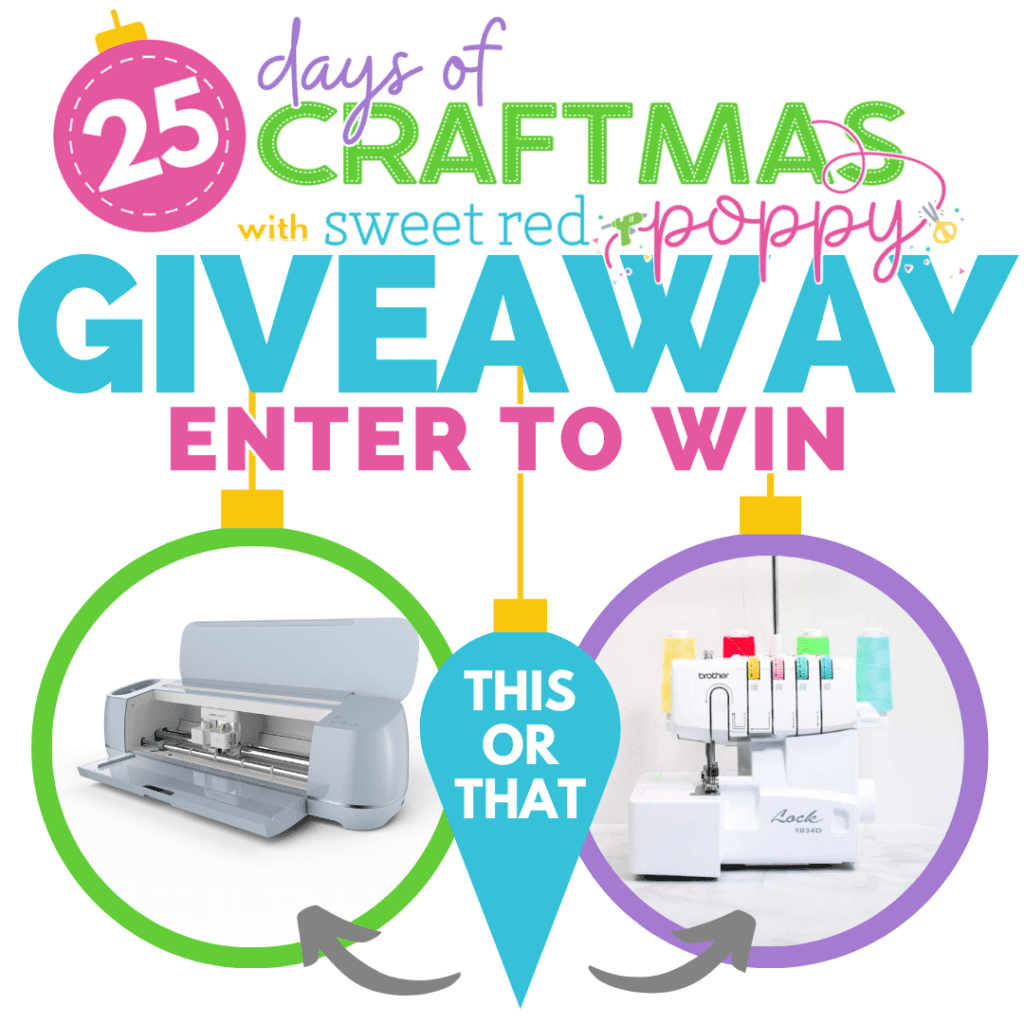 Join our crafting and sewing Facebook group where you can show us what you're making, ask questions, and learn from others!
Check this post each day to see what we reveal as our new craft of the day.
Day One: Paper Christmas Village Free Template
This farmhouse design measures 12" across. It has dainty window cutouts, two dormers on the roof, a small entryway, and comes with extra cutouts for tissue or translucent paper to illuminate LED lights.
*This post is part one of a four-part Christmas village luminary series.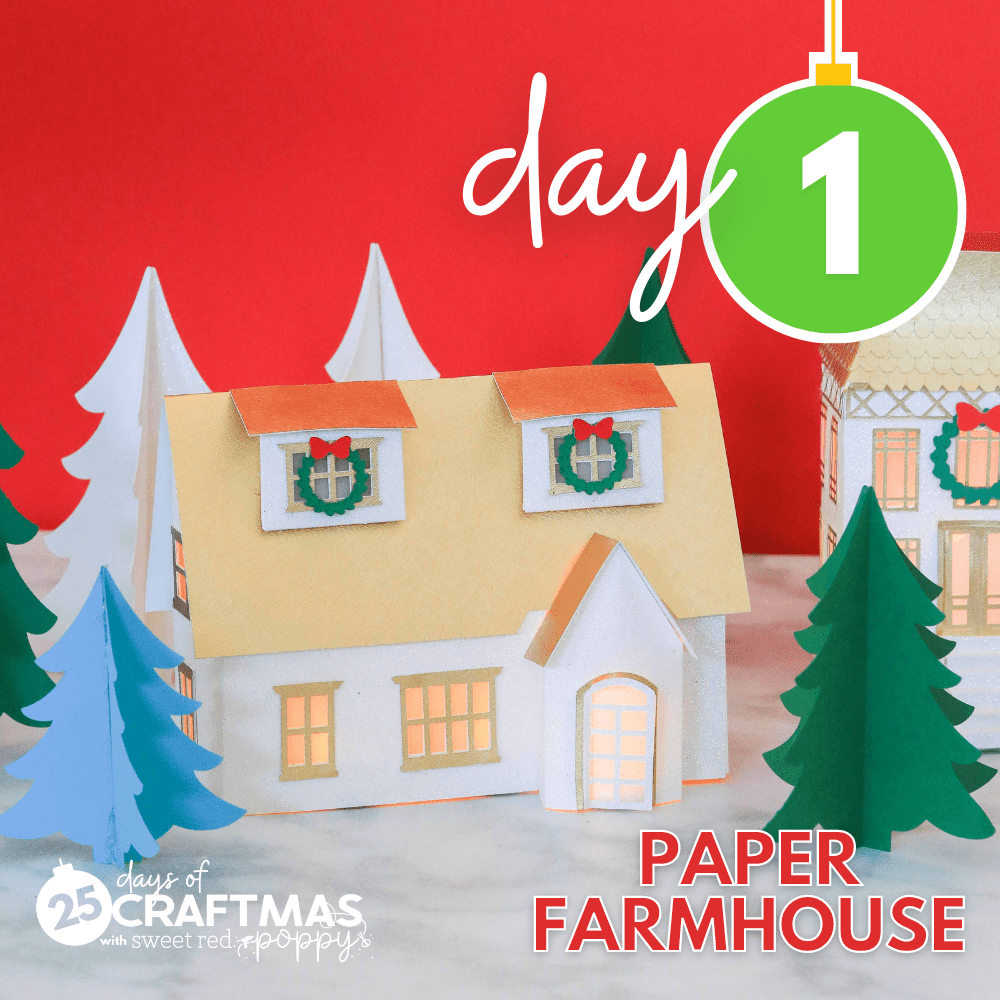 ---
Day Two: Paper Christmas Church
Ready to take your Cricut skills to the next level? This 3D Christmas church pairs perfectly with the Christmas village collection. It measures 5.5" across and comes with a festive wreath complete with an adorable bow. Add a tealight (or two) to the inside to really bring this building to life.
---
Day Three: Crayon & Colored Pencil Roll Up
This Crayon Roll-Up even makes for a great Christmas gift because it can be easily personalized for the recipient. Add in a few boxes of Crayola Crayons or Colored Pencils, and you have a thoughtful Christmas gift that's sure to get plenty of use!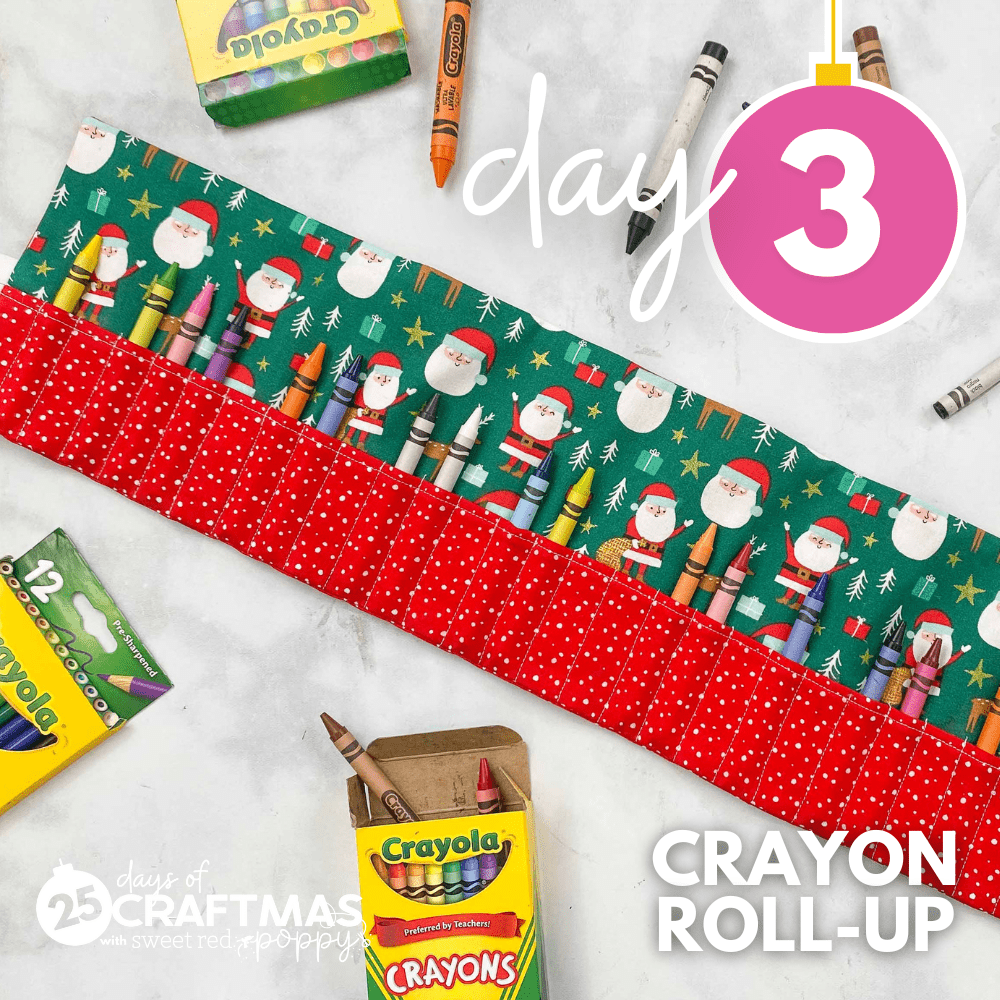 Day Four: Christmas Paper House
This house design measures 10" across, and has festive details such as sleigh bells with a bow hanging above the entryway, and it comes with extra cutouts for translucent paper materials to put behind the window trims to help illuminate LED lights.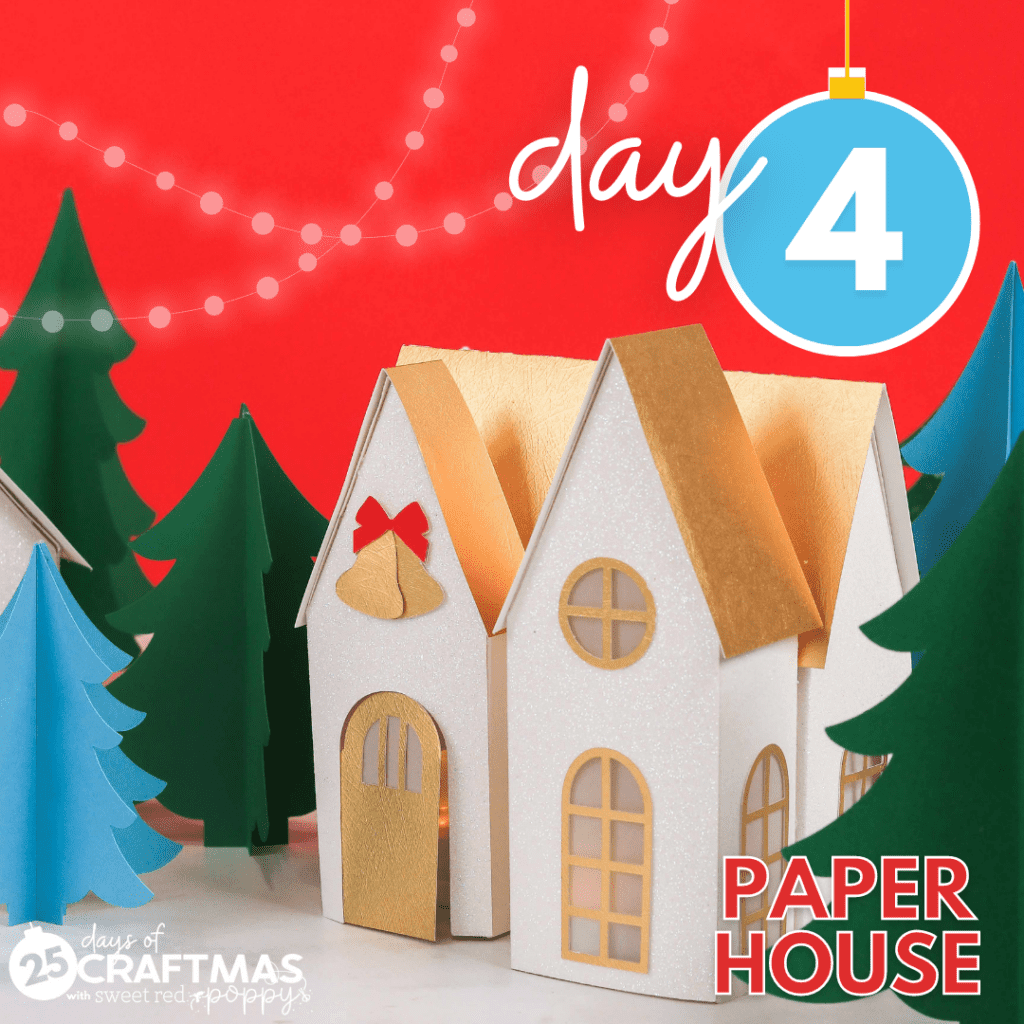 Day Five: Christmas Gnome Sewing Pattern & Tutorial
I've been seeing adorable little Scandinavian Christmas gnomes all over the place lately! They're the cutest Christmas decor trend and I wanted to join in and add some whimsy to my (and your) home this holiday season with a charming DIY gnome!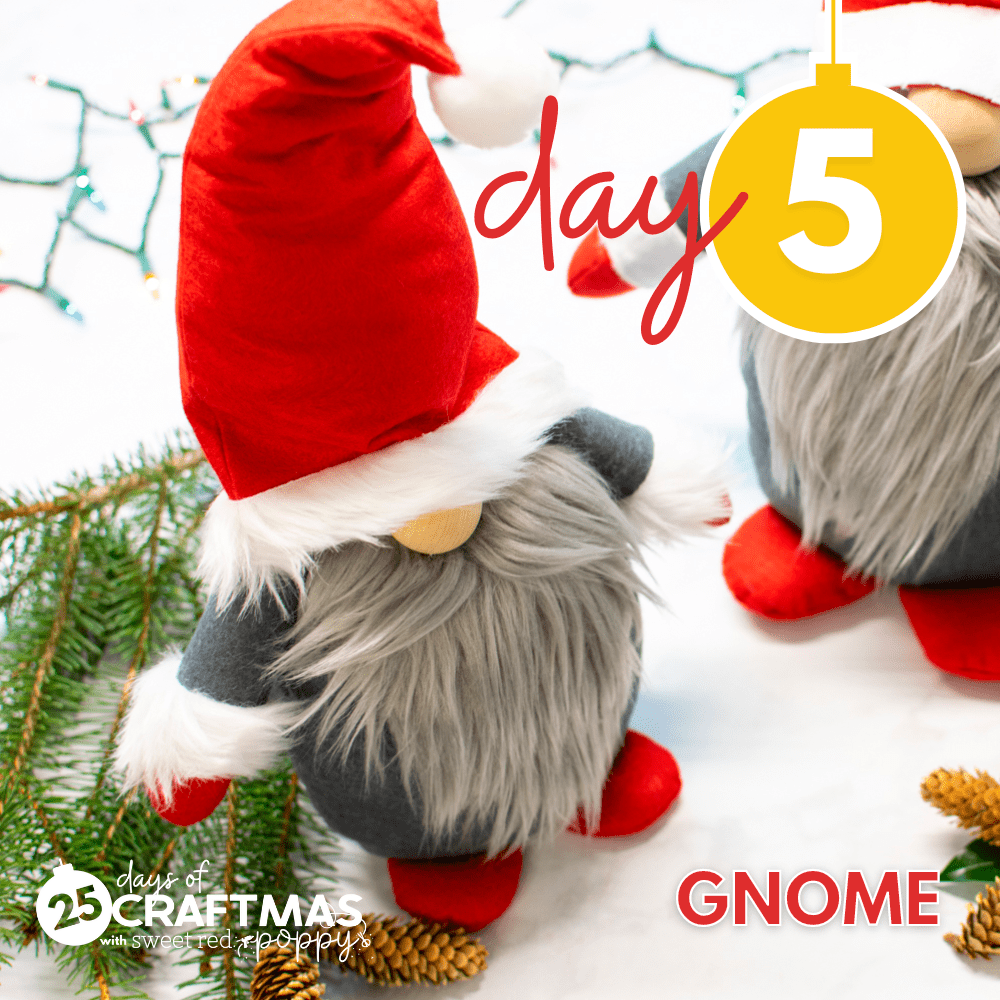 Day Six: Christmas Paper Condo
This 3D Paper Christmas Condo design is the perfect display to show off during this holiday season. It is a three-story building with charming accent pieces on the roof, a staircase leading up to the doorway, and it measures 4.5" across by 9" tall.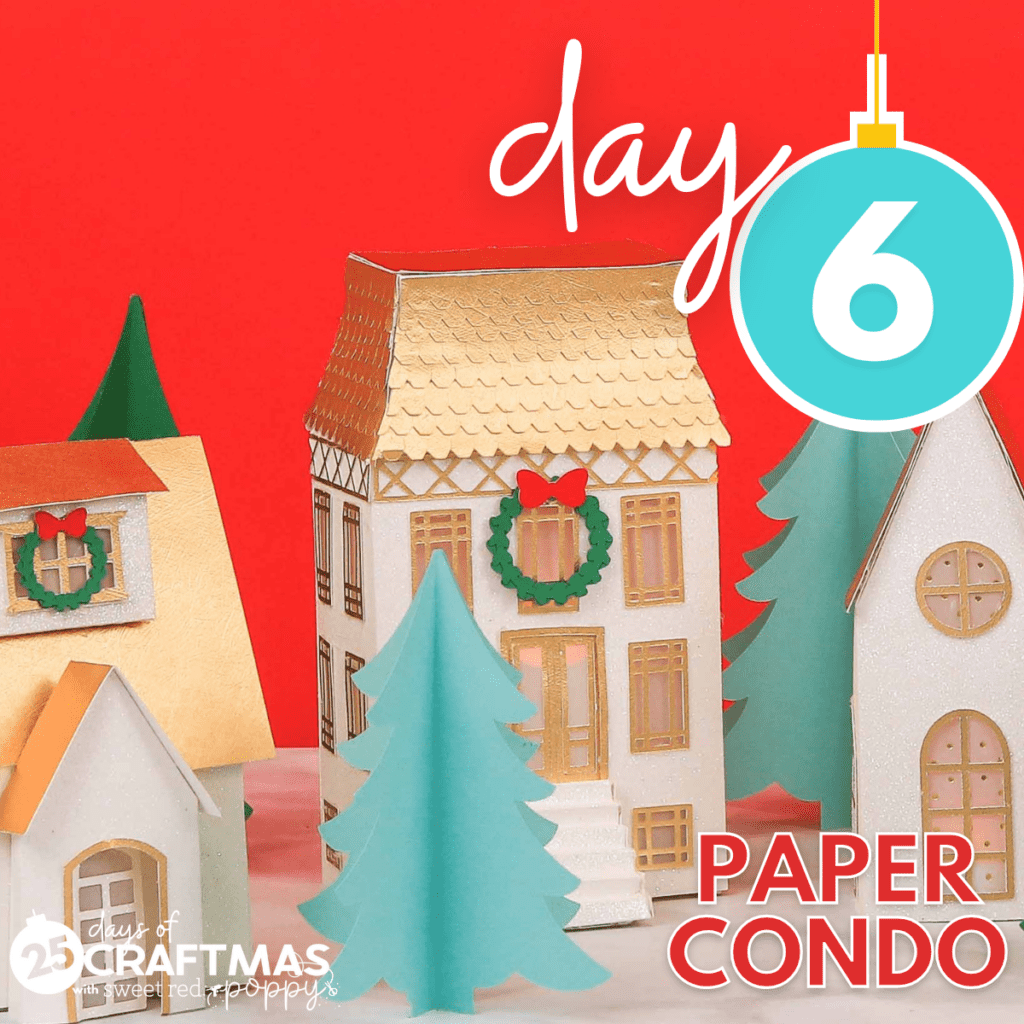 Day Seven: No-Sew Faux Fur Tree Skirt
Feeling crafty for the holidays, but don't want to commit to a month-long project? Make this No-Sew Faux Fur Tree Skirt in just a few minutes! Pick your favorite color of Faux Fur to match your holiday theme and get cutting!
Day Eight: Quilted Holiday Blanket
Do you want an adorable project for the holidays this year? This quilted holiday blanket is a fast and easy sew that will put a smile on anyones face! With a faux fur backing, you will want to snuggle this blanket everyday.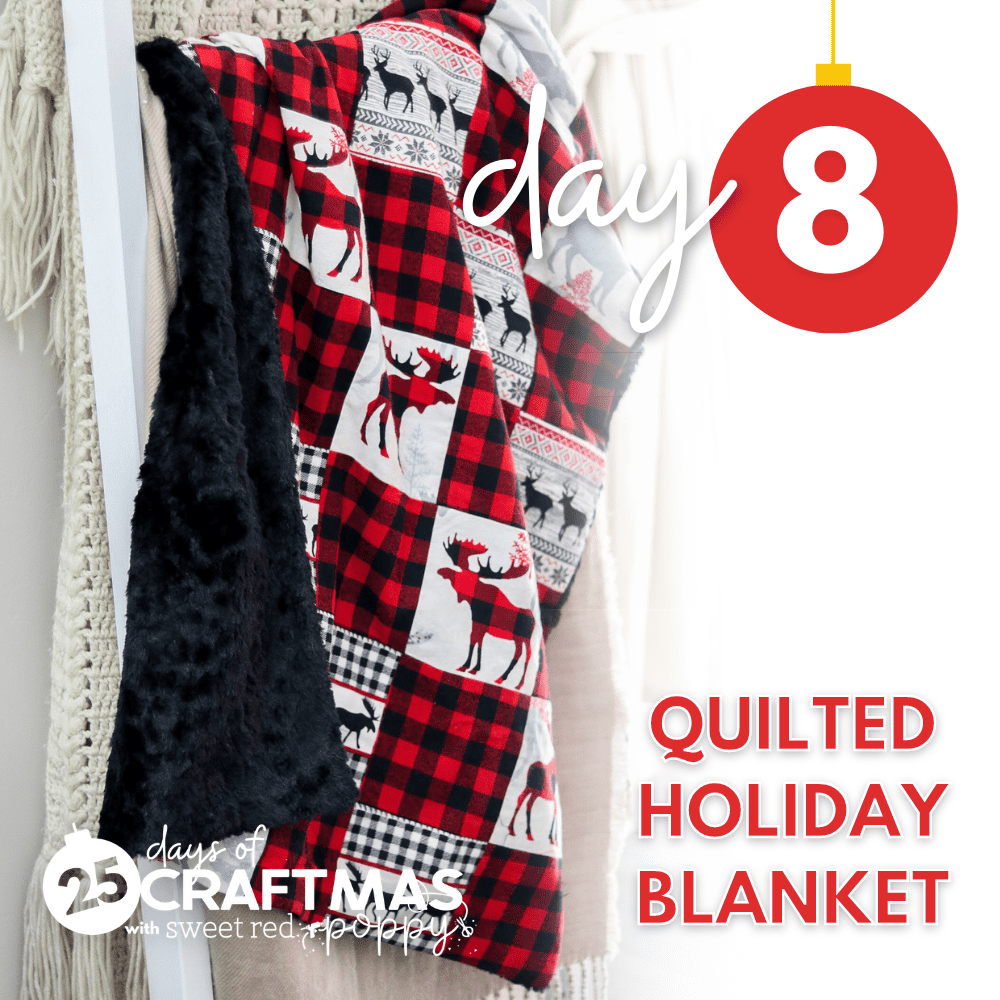 Day Nine: Personalized Dollar Tree Elves
During the holidays, I am always looking for ways to save money. When you can use a little bit of vinyl to dress something up from the dollar store, it's not only easy, but very inexpensive! Today, I wanted to share how you can personalize Christmas elves from Dollar Tree using the Cricut Joy.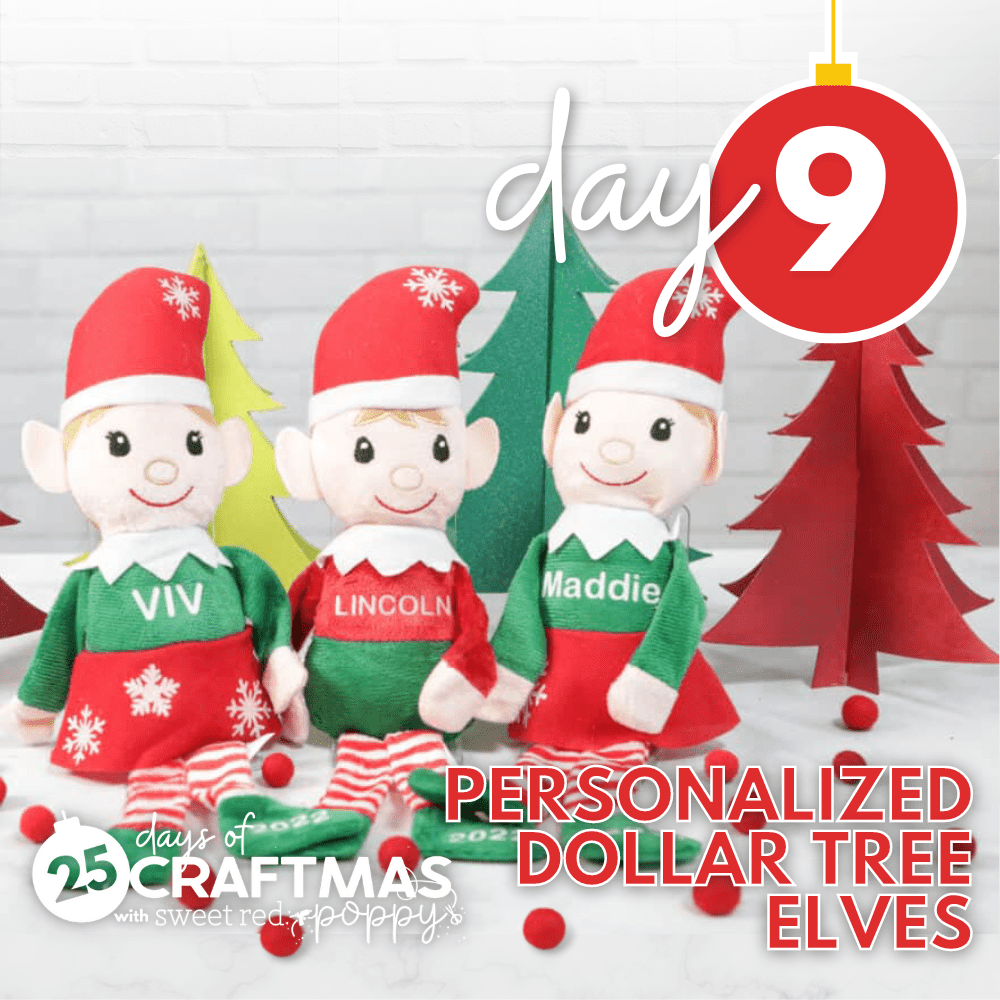 Day Ten: Finger Crochet Blanket
Have you fallen in love with the super chunky blankets at every home decor store only to hate the hefty price tag? Me too! I'm here to teach your how to crochet with your fingers to create this beautiful, chunky blanket anyone can learn how to make.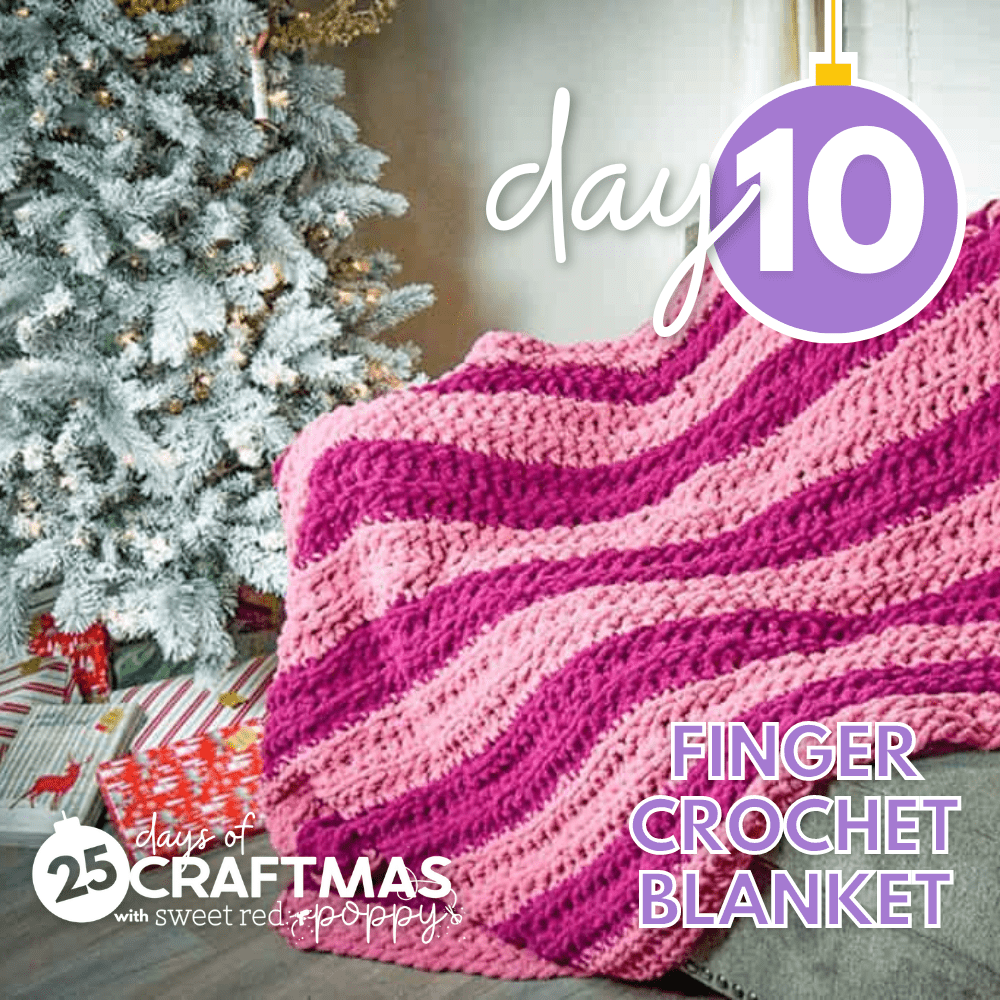 Day Eleven: Santa Cams
"He sees you when you're sleeping, he knows when you're awake! He knows if you've been bad or good, so be good for goodness sake!" Have you been singing that to your kiddos this time of year? The perfect solution to track who is naughty or nice is a cute little Santa Cam ornament that looks like a real camera straight from the North Pole!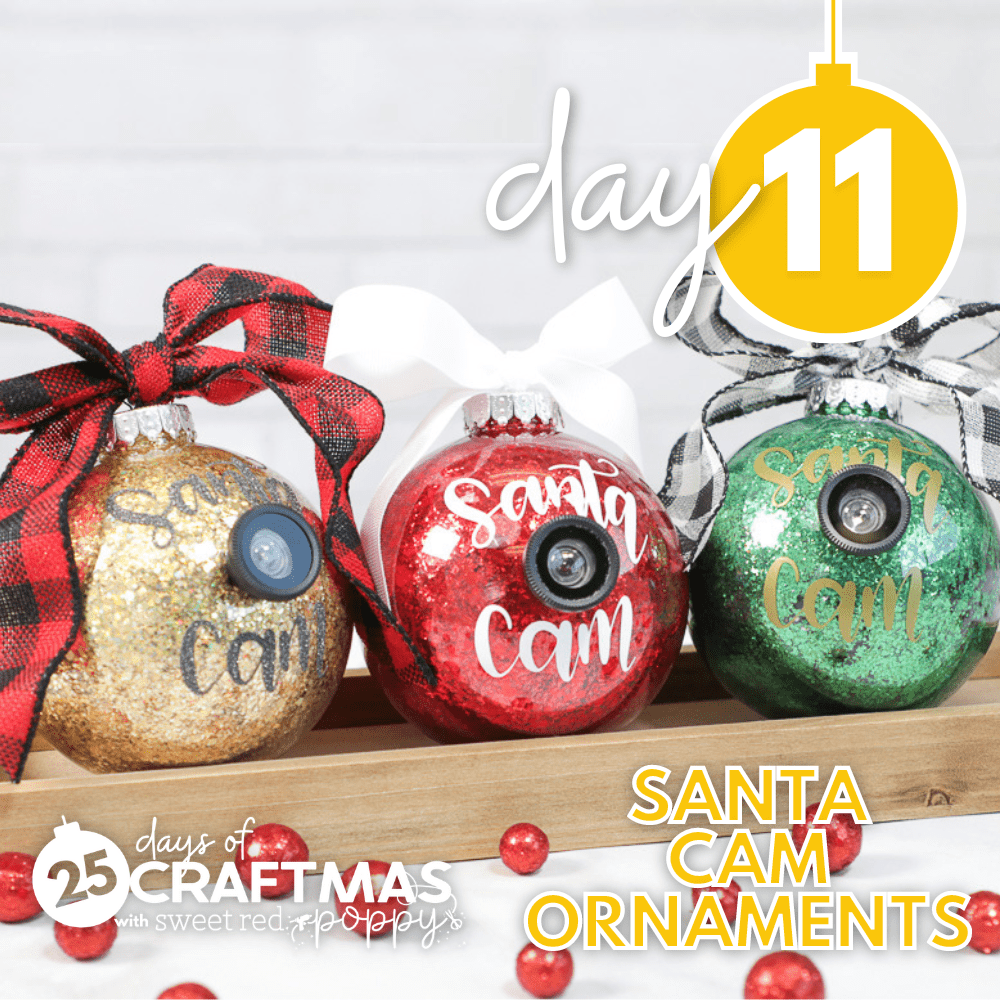 Day 12: Reusable Holiday Gift Baskets
I'm not sure about you, but I love to give and be gifted something that can be reused. What better way to use your sewing skills than to create a useful gift basket that can be reused for years. Learn how to sew these gift baskets made from your favorite holiday themed fabrics.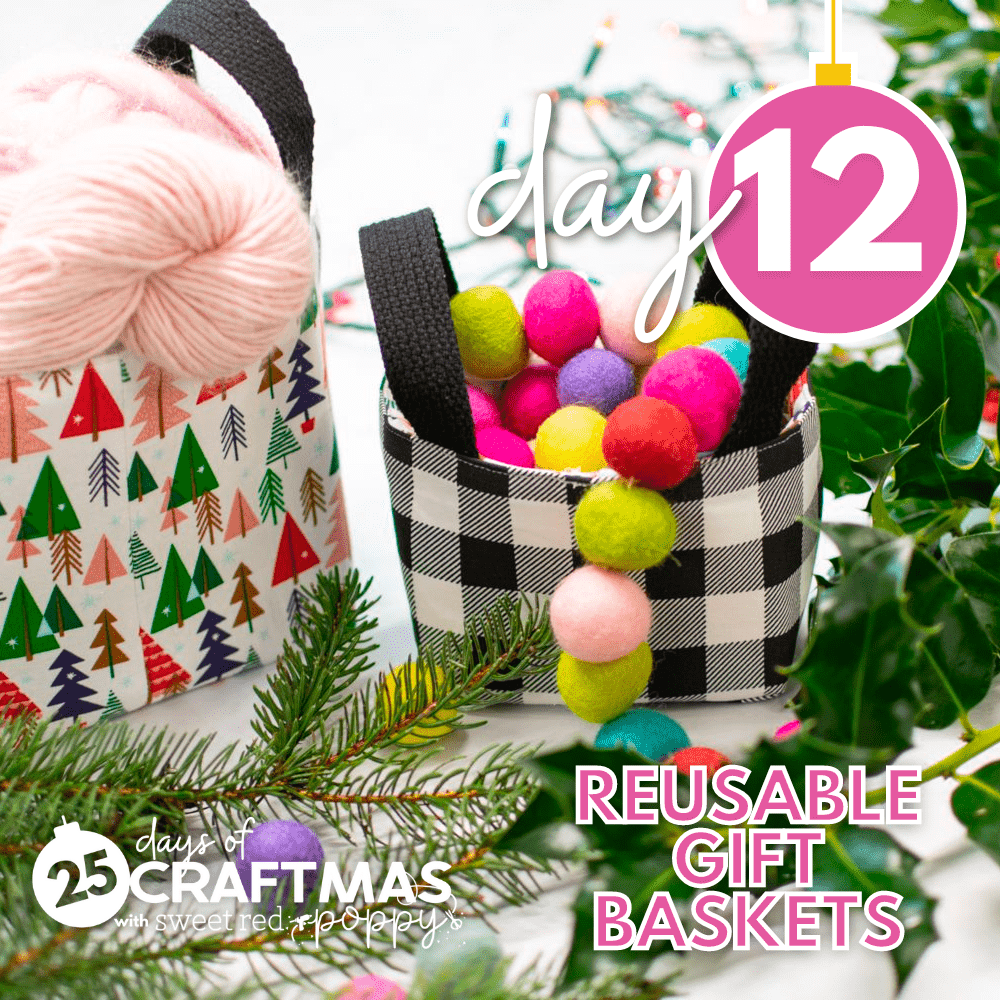 Day Thirteen: Paper Poinsettia Flowers
Decorating with Poinsettias has always been one of my favorite parts of Christmas! This year, I'm making them out of paper for a beautiful flower that will last the entire Christmas season and many years to come! Get your Cricut machine and paper ready, and let's get crafting with this free template.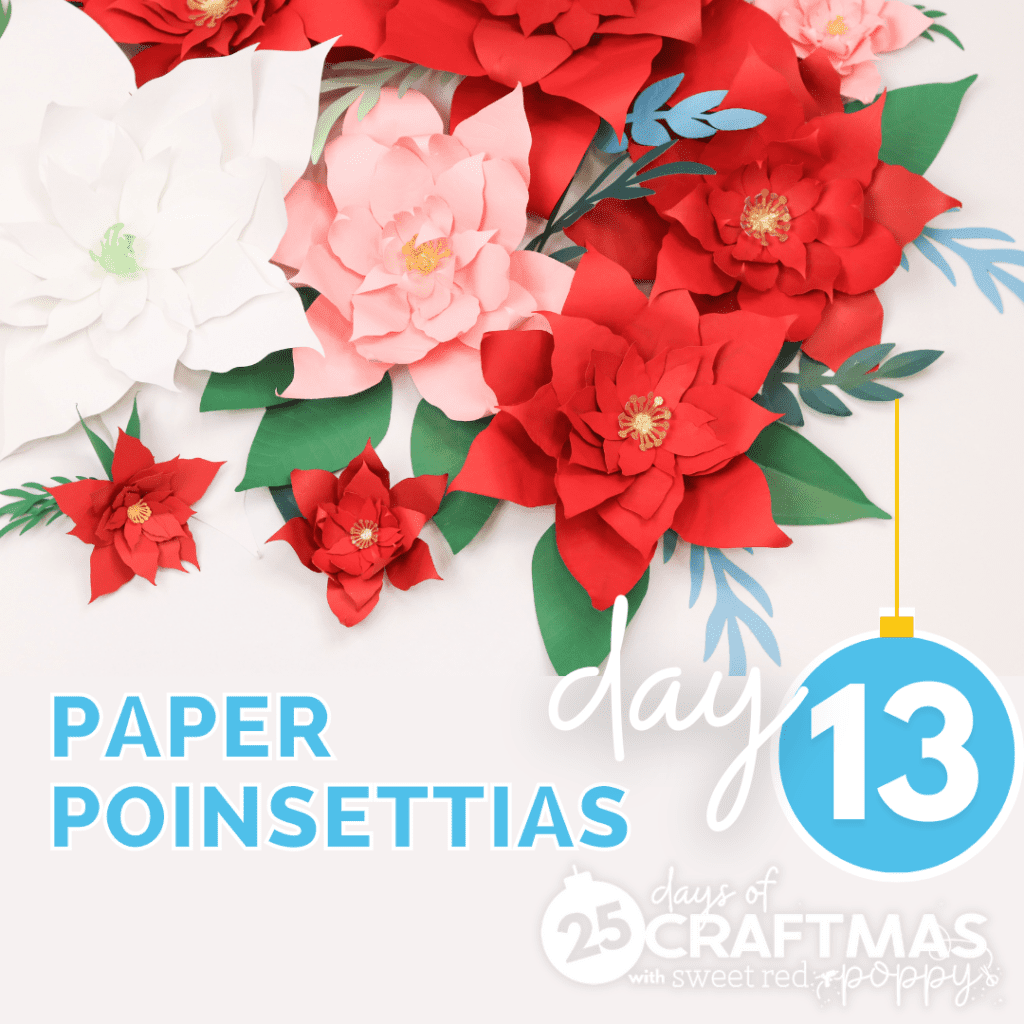 Day Fourteen: Oven Mitt
Learn How to Sew a DIY Oven Mitt With This Step by Step Photo Tutorial, Video, and Free Downloadable PDF Sewing Pattern.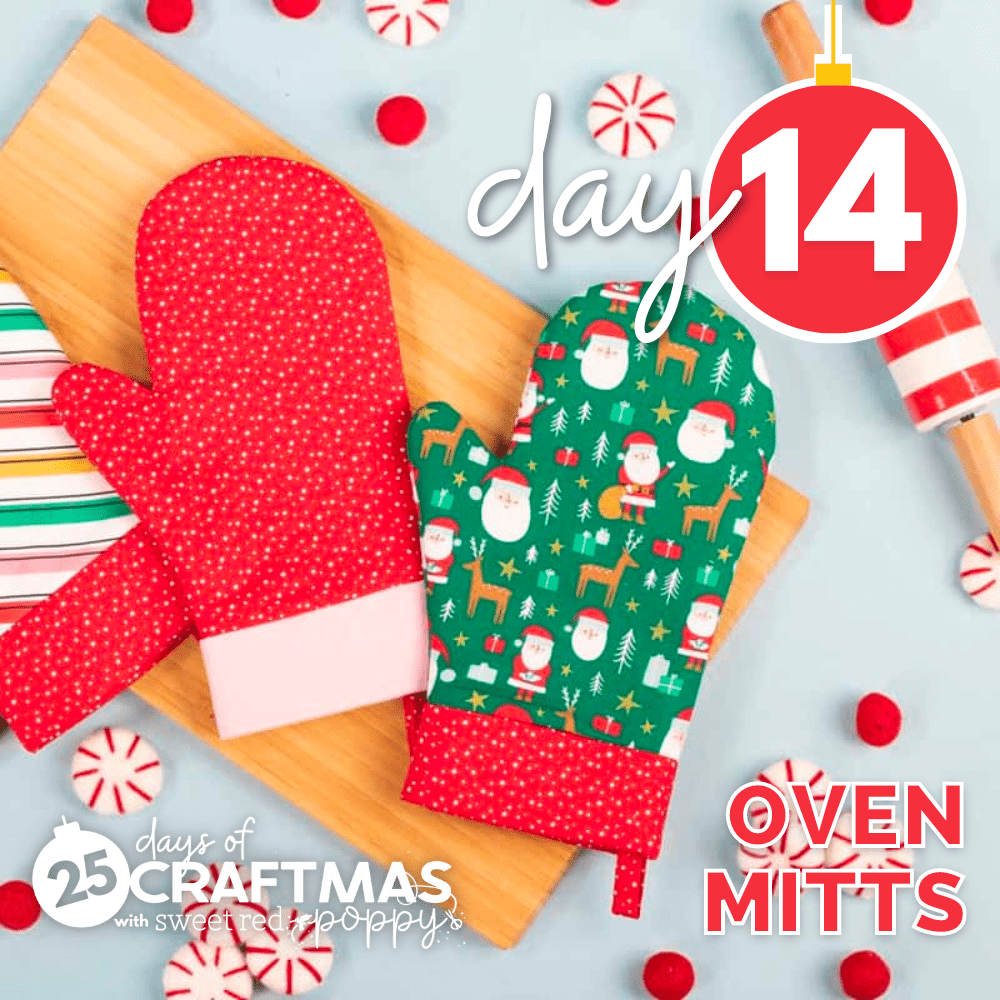 Day Fifteen: Christmas Pajamas Personalized with Hand Lettered Christmas SVG Cut Files
I love making new matching Christmas pajamas for my family every year, and I love being able to personalize them with my Cricut because it adds a bit of flair.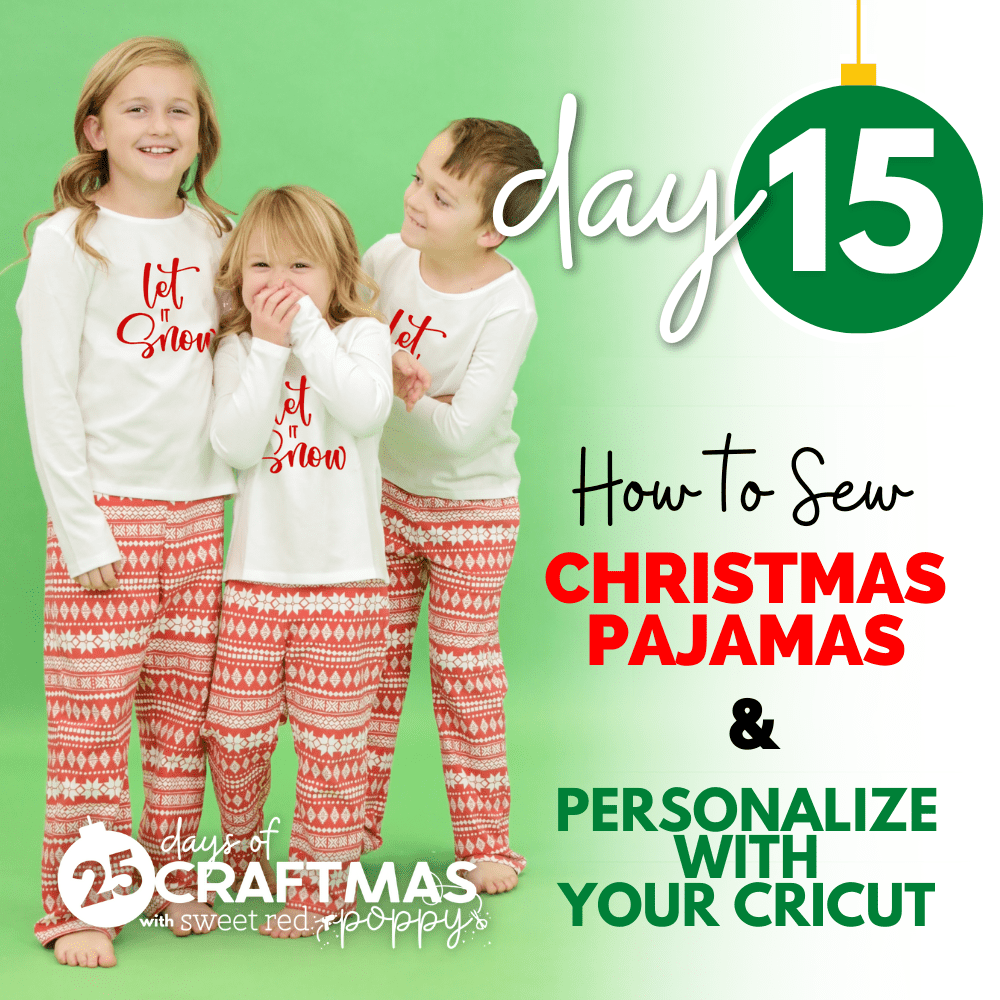 Day Sixteen: Christmas Lollipop Holders
These cute holiday lollipop holders are the perfect gift to make for your students, friends, or family! They're easy to make with just a few pieces of cardstock, and it's a great activity to do with your little ones this holiday!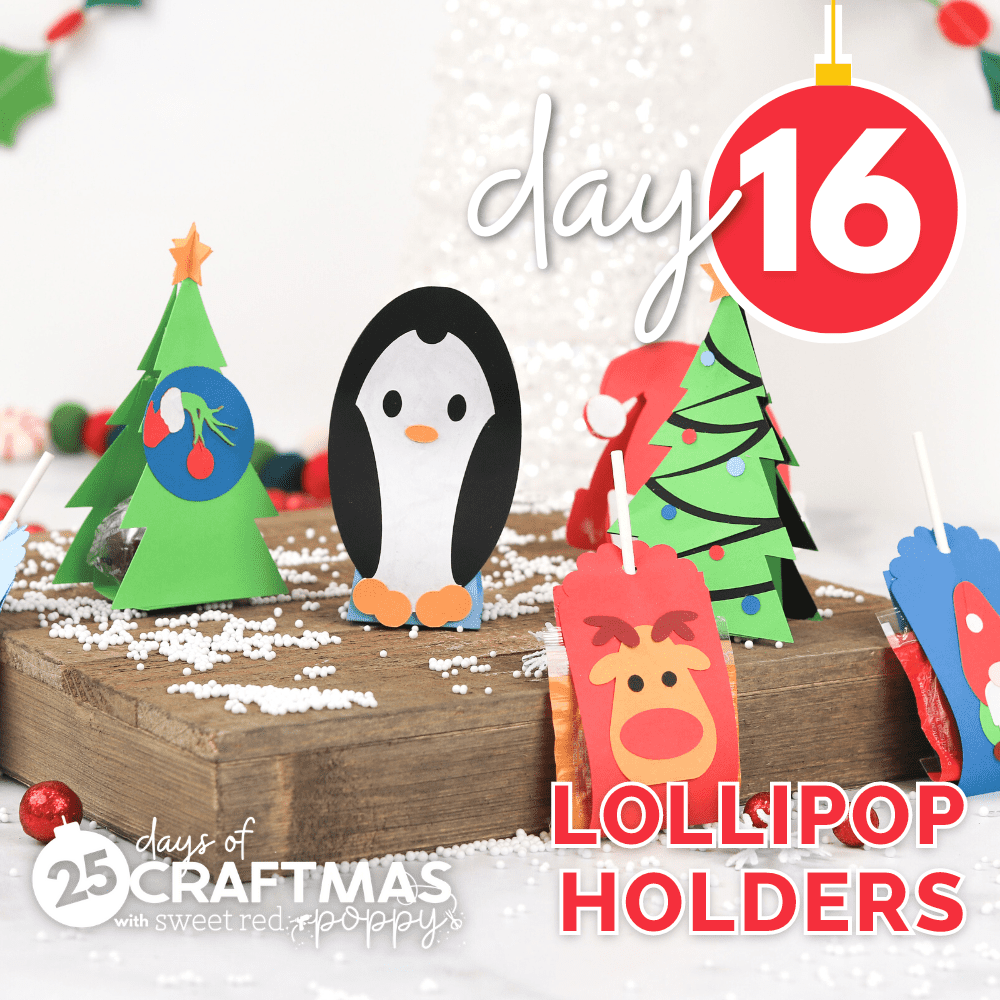 Day Seventeen: Free Half Apron Sewing Pattern
Aprons are one of the best sewing projects for beginners because they're so quick and simple to stitch up. Plus, they're fun to customize with different fabric colors and prints - everyone needs an adorable apron to wear while baking!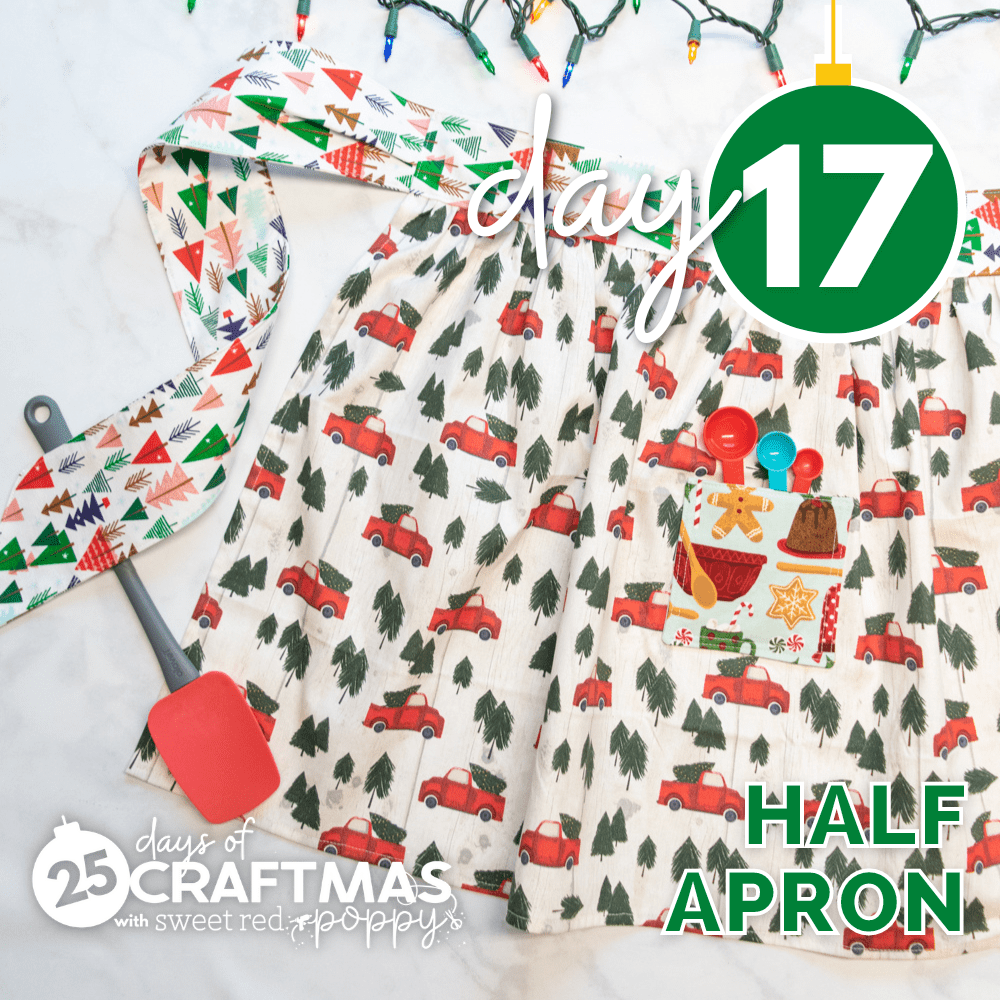 Day Eighteen: Magnolia Wreath
You only need a few materials to make this wreath and you can find them all at your local craft store. This project is perfect to do while watching your favorite Hallmark movie and drinking your favorite beverage!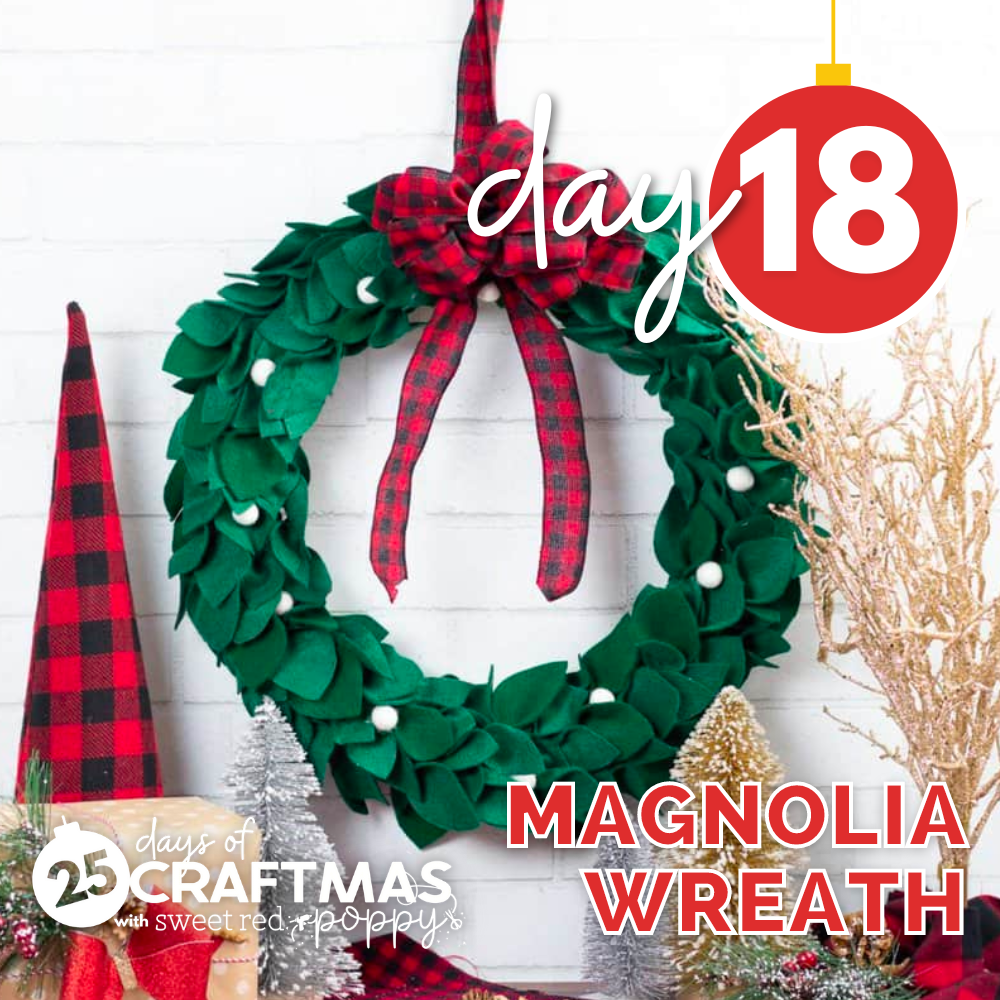 Day Nineteen: How to Make Honeycomb Christmas Ornaments
Looking for a unique way to decorate your Christmas tree this year? Make these elegant paper honeycomb Christmas ornaments. You can easily personalize the color palette of these ornaments to match your Christmas decor.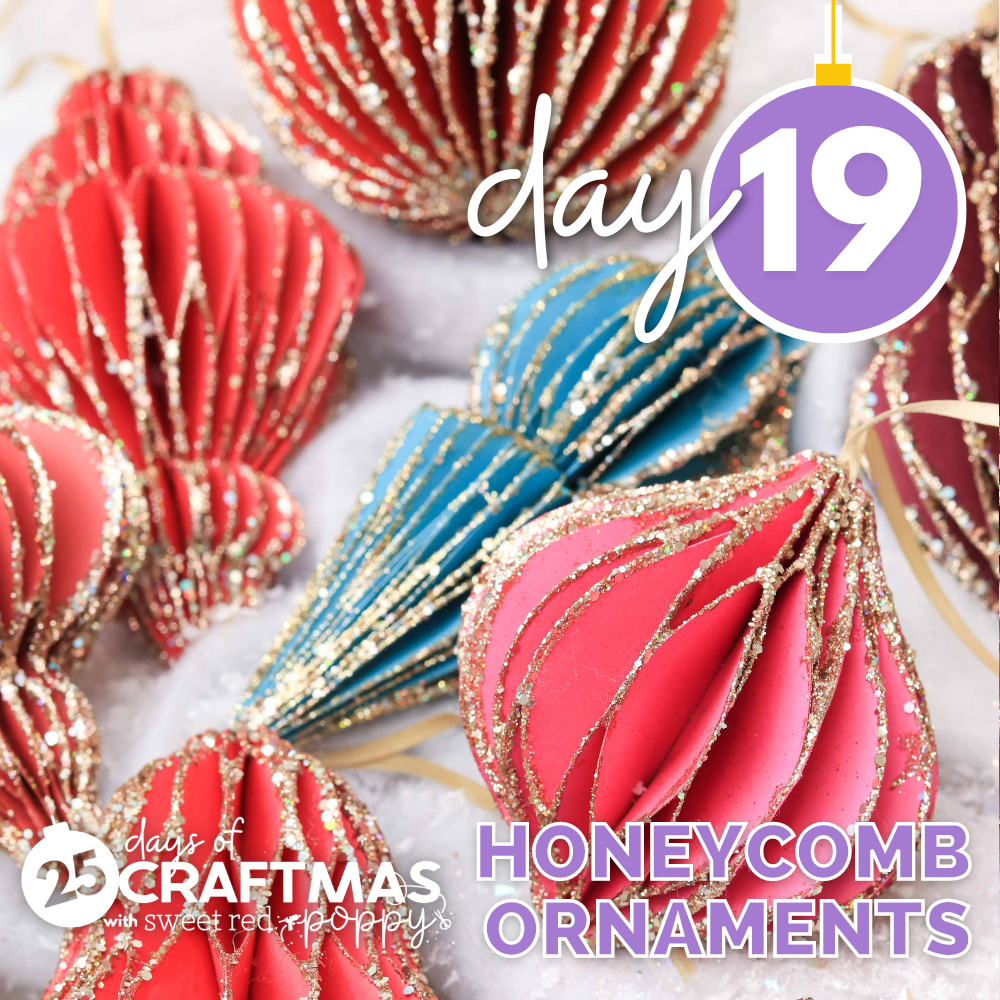 Day Twenty: Christmas Treat Printable Bag Toppers
Spread Christmas cheer this holiday season with a simple treat that's inexpensive and easy to make! These holiday printables are amusing and make the perfect stocking stuffers, classroom treats, or Christmas gag gifts.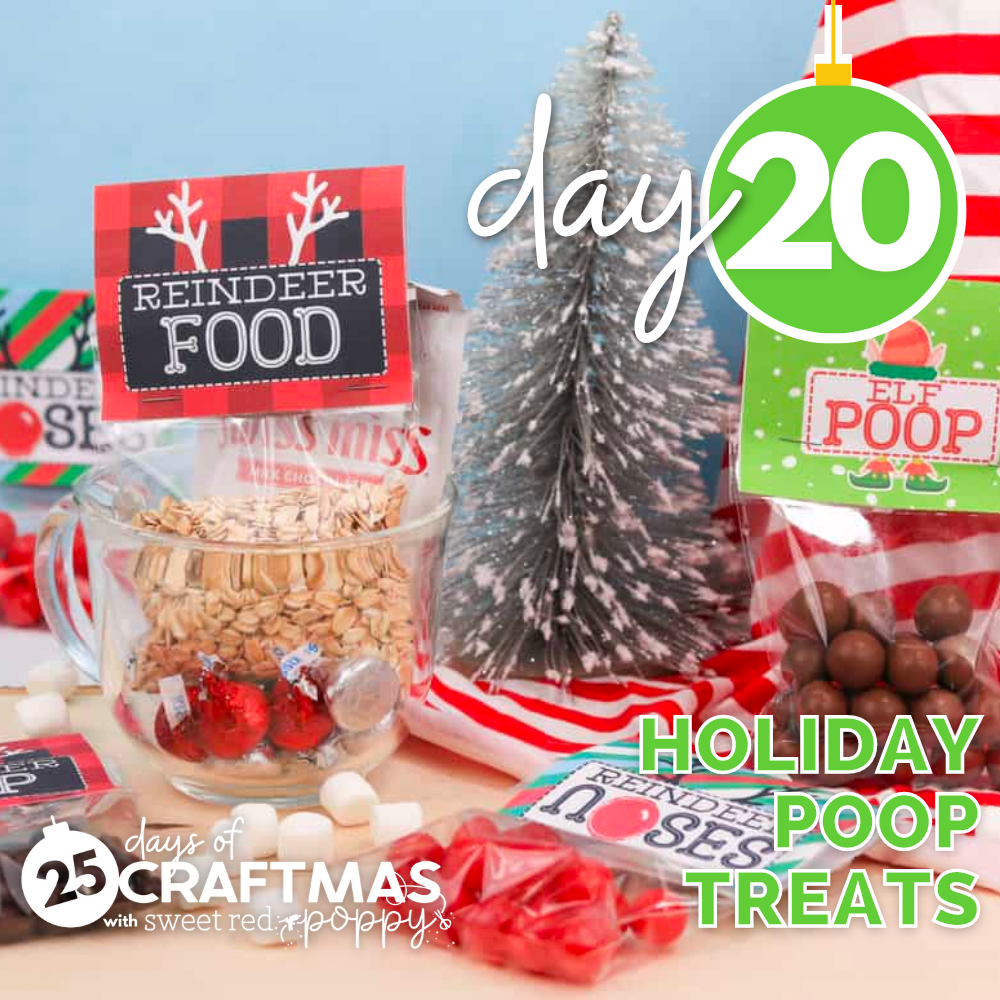 Day Twenty-One: How to Make DIY Dollar Tree Snow Globe Tumblers
Tis' the season for snow globe tumblers! Looking for something to put your warm holiday beverage in? These Snowglobe Tumblers are both functional and aesthetically pleasing.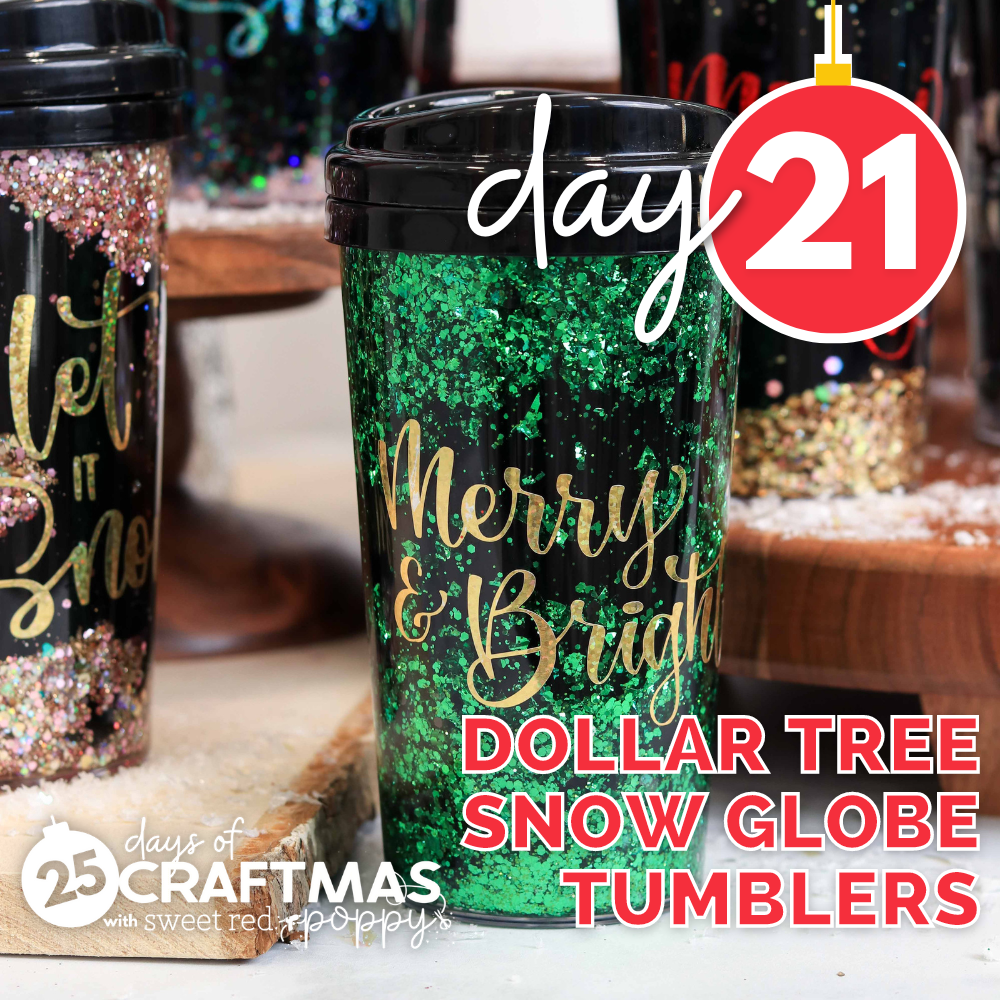 Day Twenty-Two: Microwave Potato Bag Pattern
If waiting (what feels like) ages for your baked potatoes to cook in the oven isn't your jam, you may want to try making baked potatoes in the microwave! But often microwaved potatoes just aren't the same - they can be dry with a papery, tasteless skin... a microwave potato bag solves that problem!
These easy-to-sew bags make for great holiday gifts for loved ones!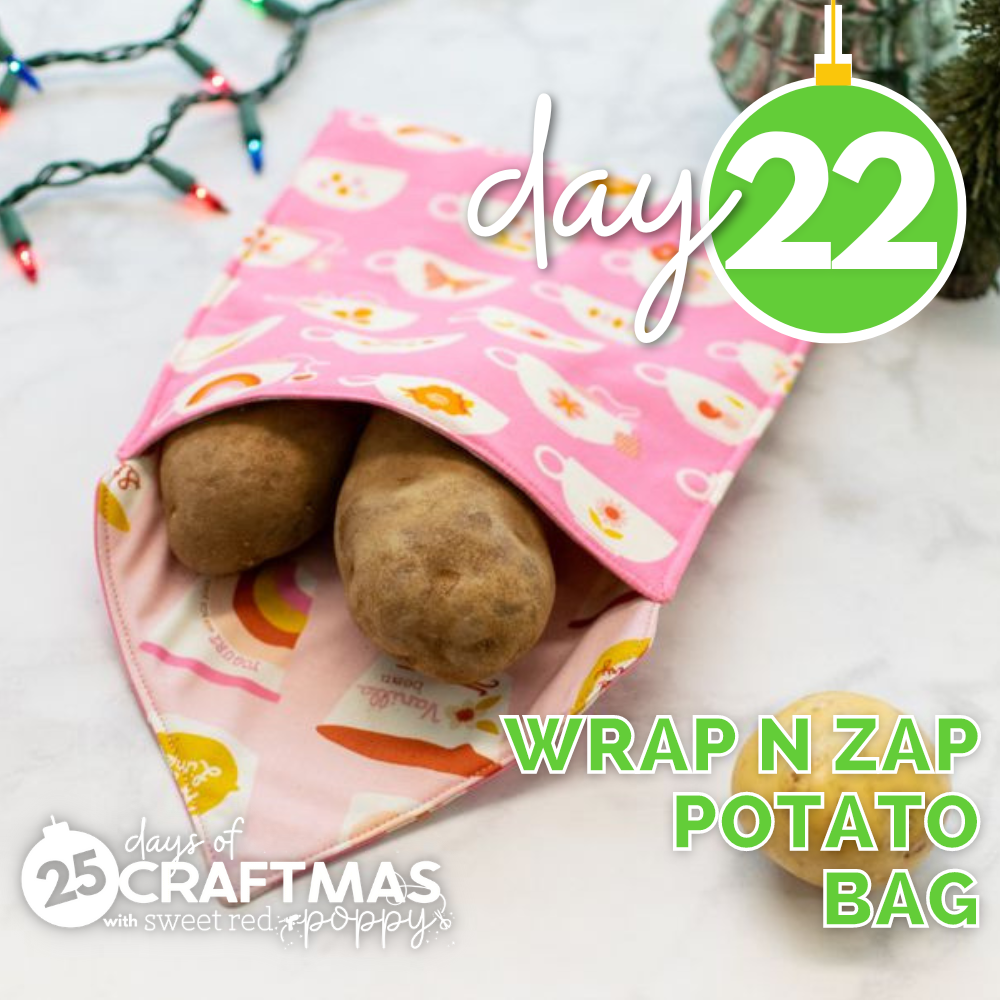 Day Twenty-Three: Santa Sack SVG Files
Santa Clause is coming to town! In this tutorial I'll show you how create this Santa Sack for a special delivery of gifts this Christmas.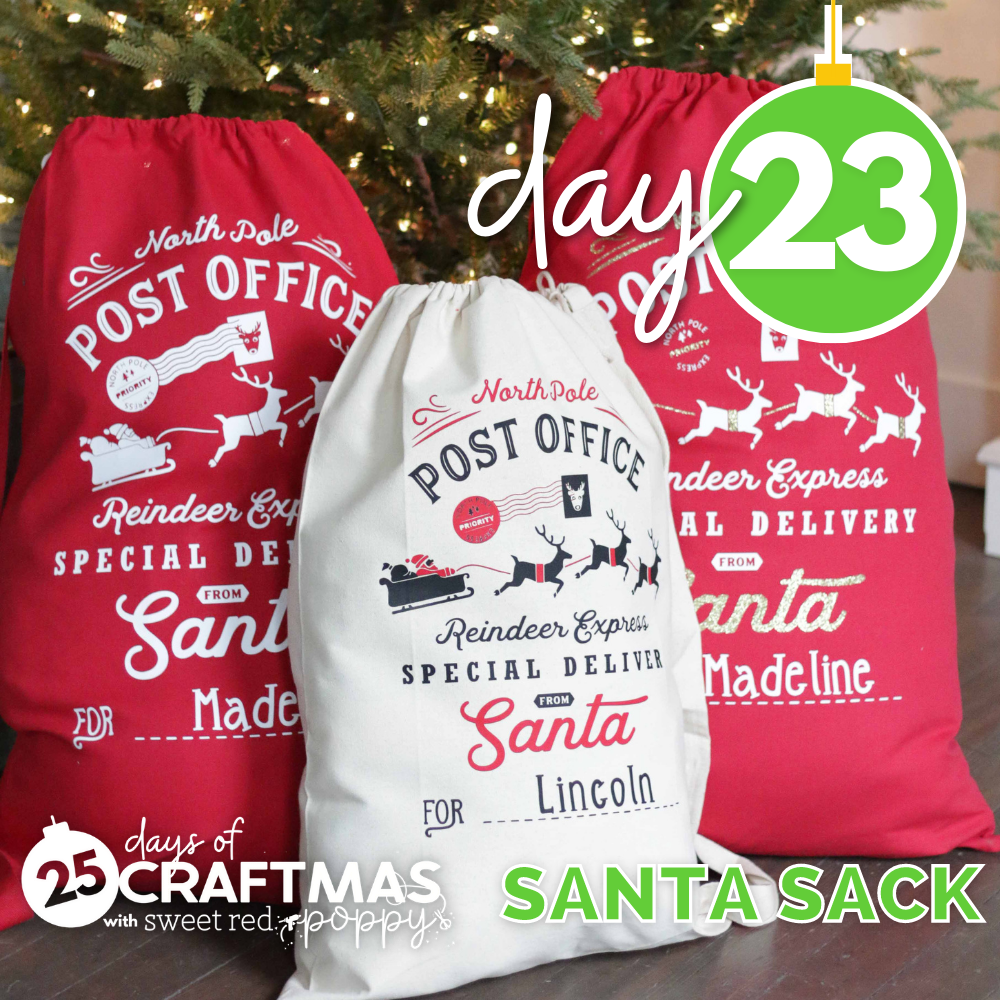 Day Twenty-Four: Microwave Bowl Cozy Sewing Pattern
Sew up a soup bowl cozy in less than 20 minutes with this simple tutorial. It's great for protecting your hands and tables from hot bowls.
Day Twenty-Five: How to Tie a Perfect Bow with Ribbon
Learn to tie a beautiful ribbon bow for the perfect gift, wreath, or tree topper. If finding the perfect gift seems to be an impossible task, at least you can rest assured that your present will look incredible!