Learn How to Make an Easy Quilted Holiday Blanket With This Step-By-Step Sewing Tutorial and Video.
Do you want an adorable project for the holidays this year? This quilted holiday blanket is a fast and easy sew that will put a smile on anyones face! With a faux fur backing, you will want to snuggle this blanket everyday.
Looking for even more blanket tutorials? Learn how to make a faux fur blanket with this tutorial.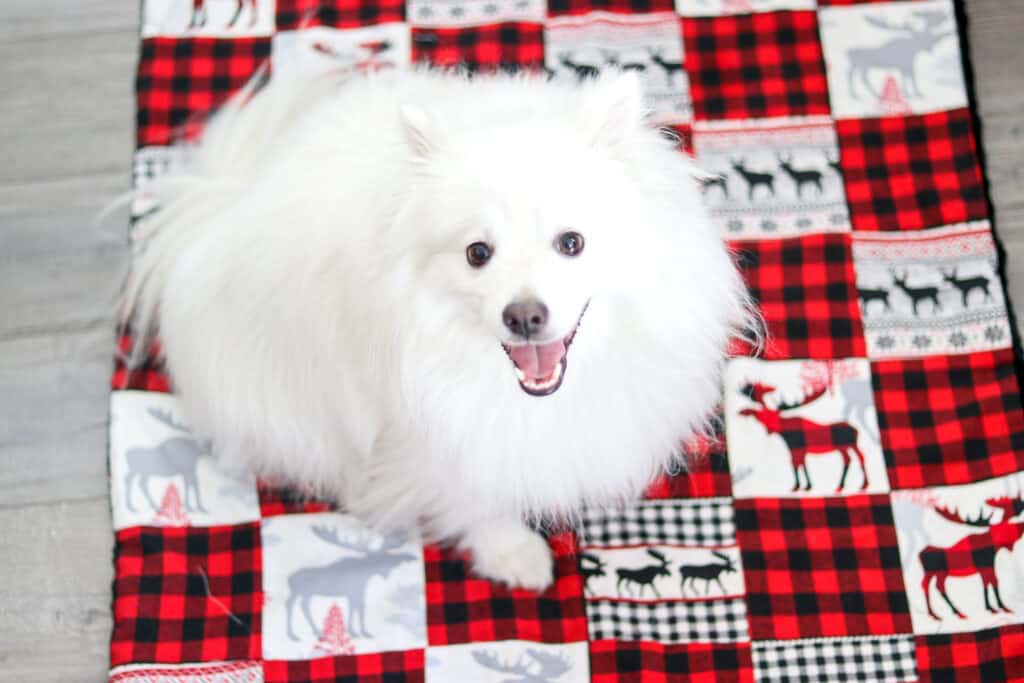 This tutorial makes a blanket about 35"x 41", which is a great child's size, but if you are sewing for an adult feel free to add additional squares to increase the size. Just make sure you buy more fabric!
Click here to see over 100+ free sewing patterns and tutorials.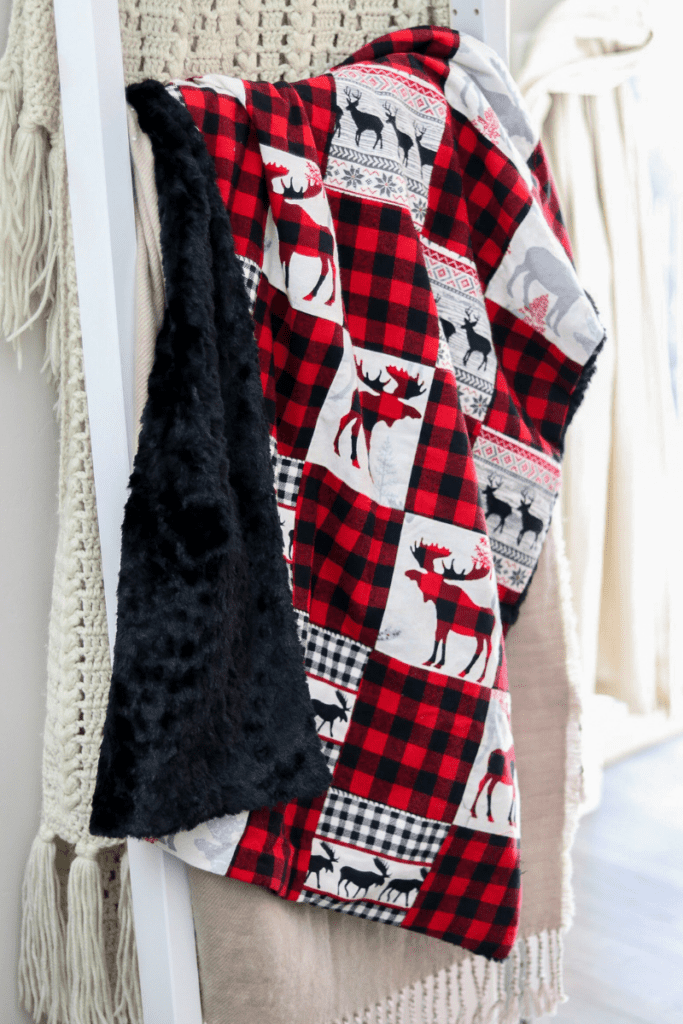 What Type of Fabric Should I Use?
For the quilt top, you can use a variety of different fabrics like Cotton, Flannel, Fleece, Gauze etc. For this tutorial, I used flannel fabrics and did a lot of fussy cutting to get the exact print I wanted.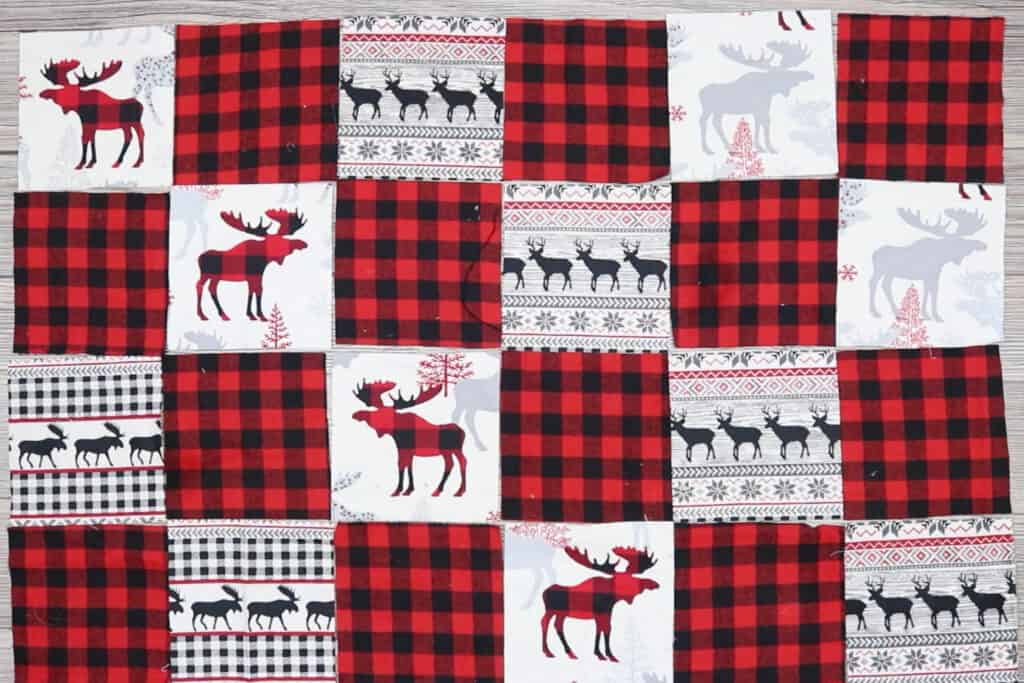 How Much Fabric Do I Need?
Quilt Top: 1/2 yard Red Checkered Fabric
Quilt Top: 1 yard Fair Isle Checkered Fabric
Quilt Top: 1 yard Novelty Print
Backing: 1 yard Faux Fur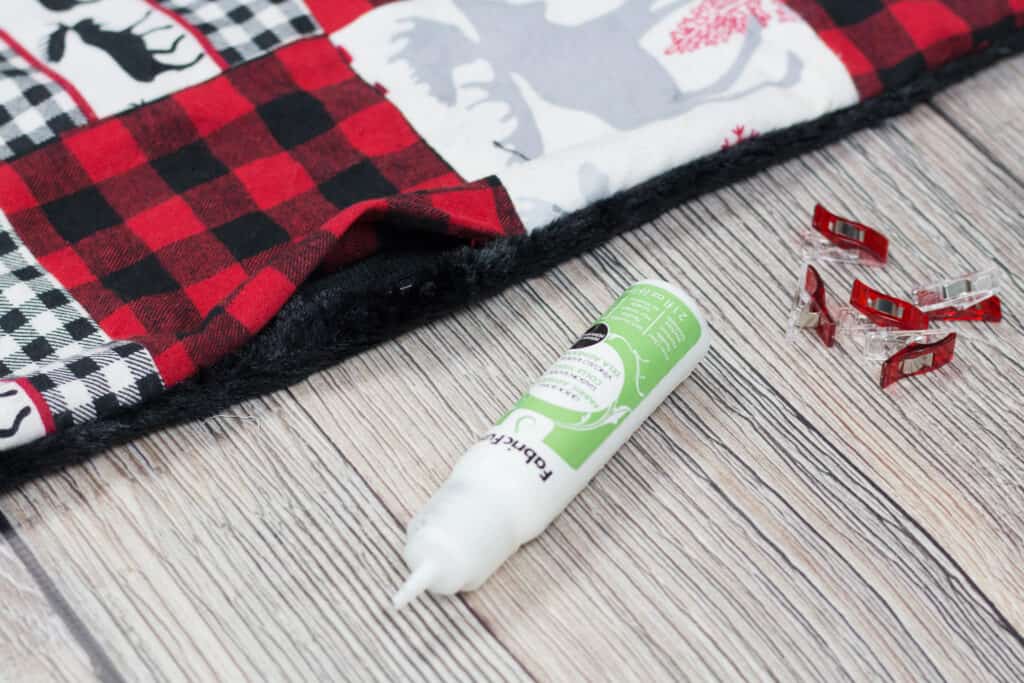 Materials Needed:
Step One: Cut Your Fabic
Lay out your rotary mat and place your two checkered fabrics on top of each other matching corners. (PRO-TIP: this cuts time in half by stacking your fabric and cutting the squares at the same time)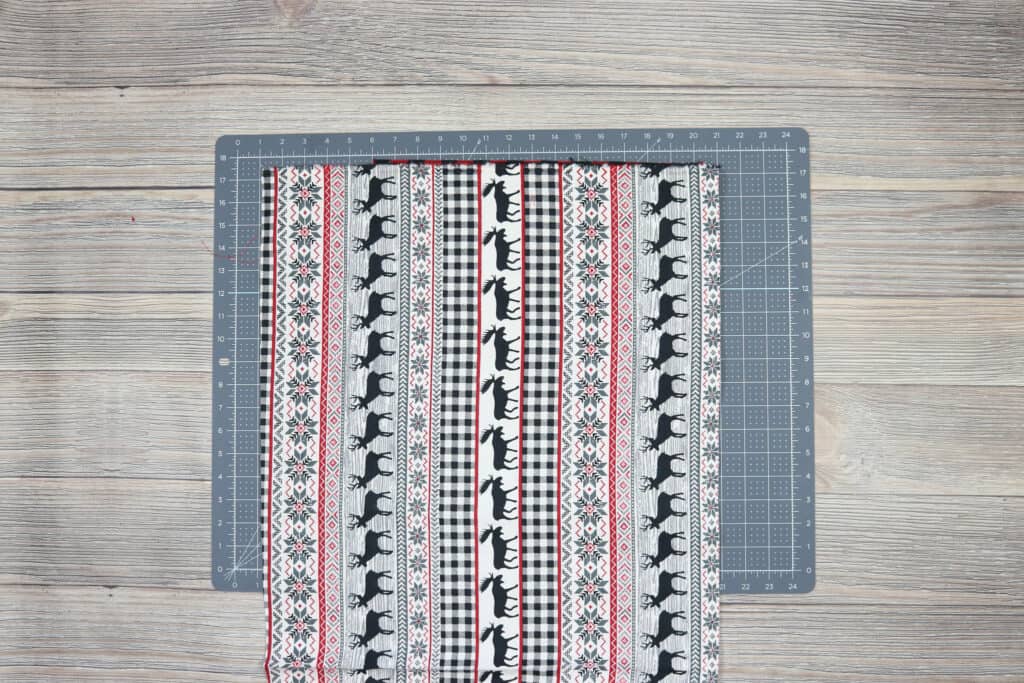 Cut these two checkered prints into 6"x6" in squares. You need 14 of each fabric. Set those two fabrics aside and lay out your novelty print.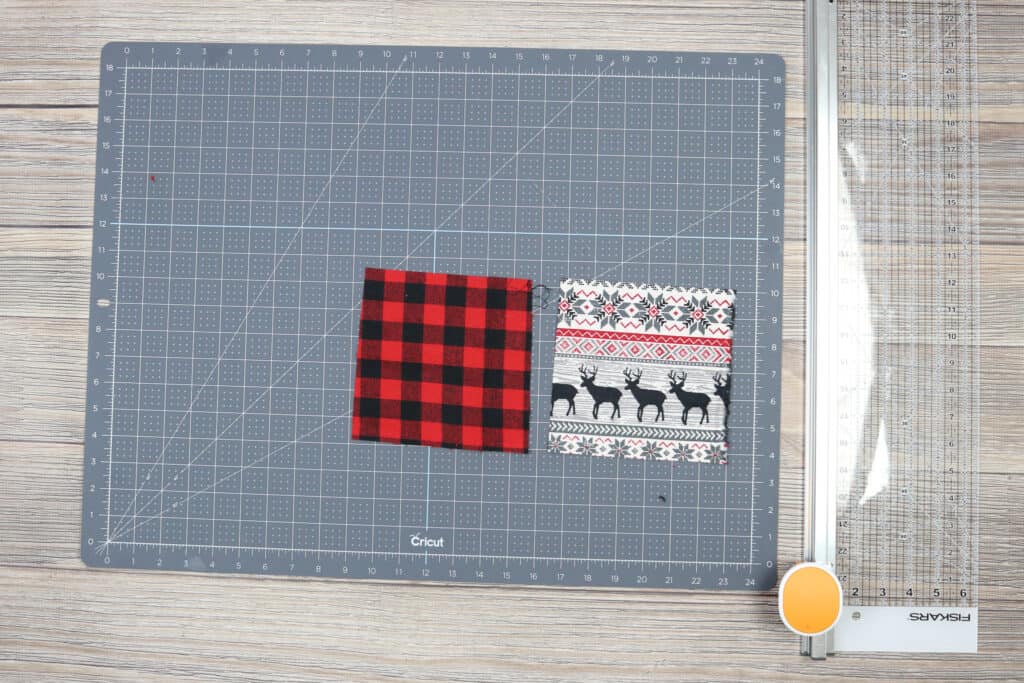 Fussy cut (PRO-TIP: fussy cutting means to cut the graphic out intentionally wherever it may be in the fabric) the moose out so it is centered in the 6x6 inch square. You need 14 squares.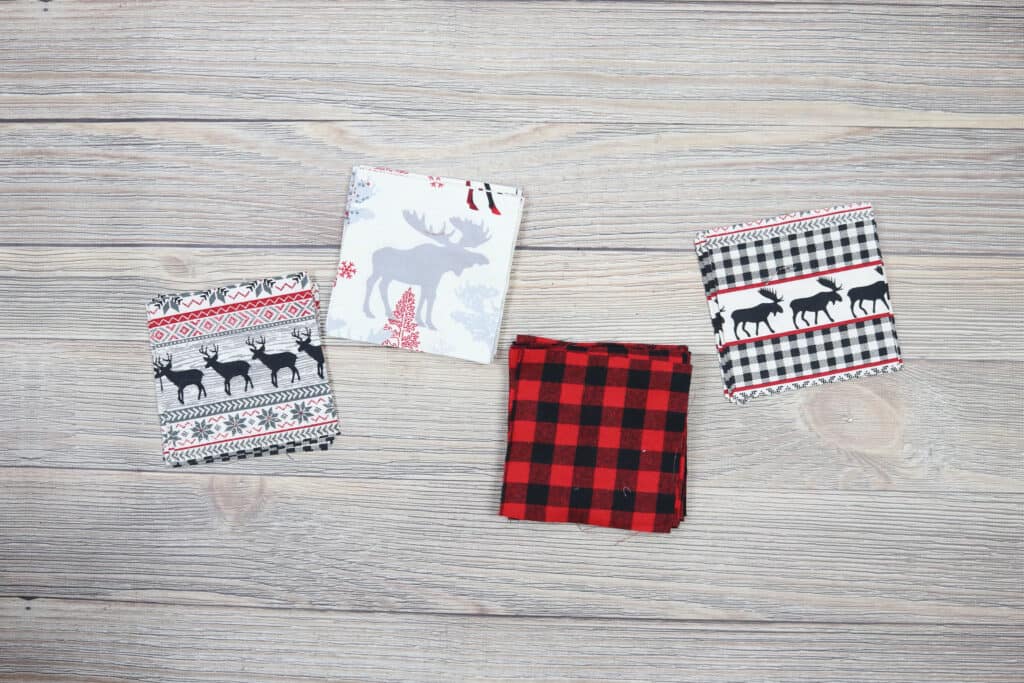 Lay out the fabric squares in the order you want the quilt top to be. You can create a pattern or randomly place them. You will do 6 squares across and 7 squares down. This blanket has 42 squares total.
Step Two: Sew Quilt Top
Time to get that sewing machine out and thread it!
You are now going to sew six squares together to make long rows. Sew the squares by placing right sides together. I used a 1/2 inch seam allowance for this quilt top.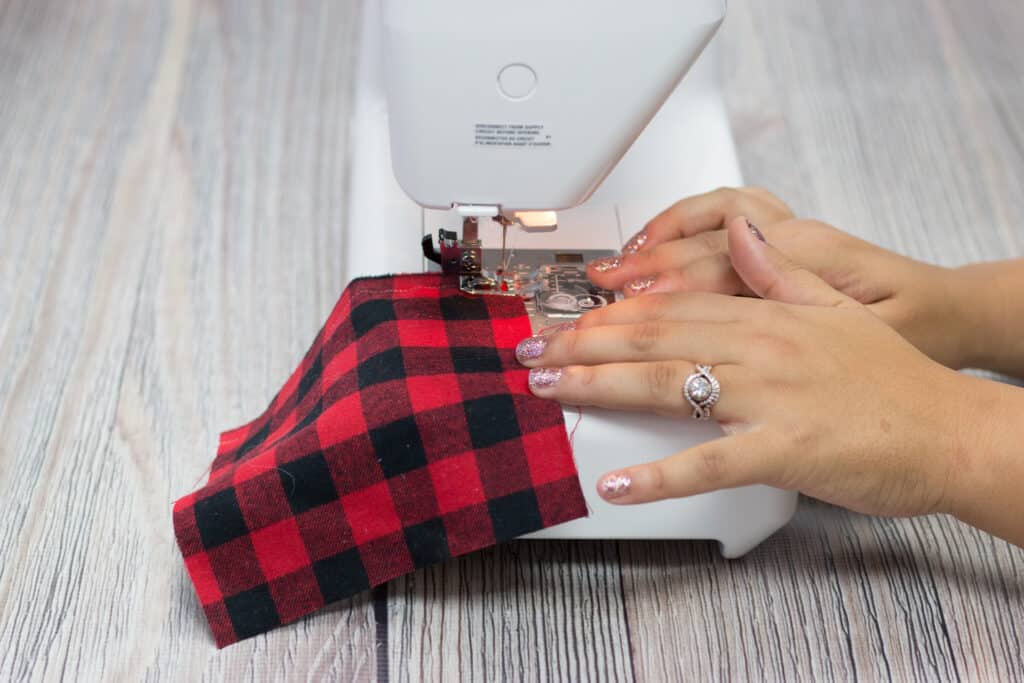 You will end up with 7 strips that have 6 squares in each row. Once all 7 rows are sewn together press the seams down. You want the quilt top to lay flat.
You are now going to sew the rows together using a 1/2 inch seam allowance.
(PRO-TIP: Make sure the seams are flat and don't fold when you sew over them. Also pin your seams together so that your lines match up)
Remember to sew with the right sides together. To make sure you don't sew out of order, start with the top and leave the pieces laid out until you need them.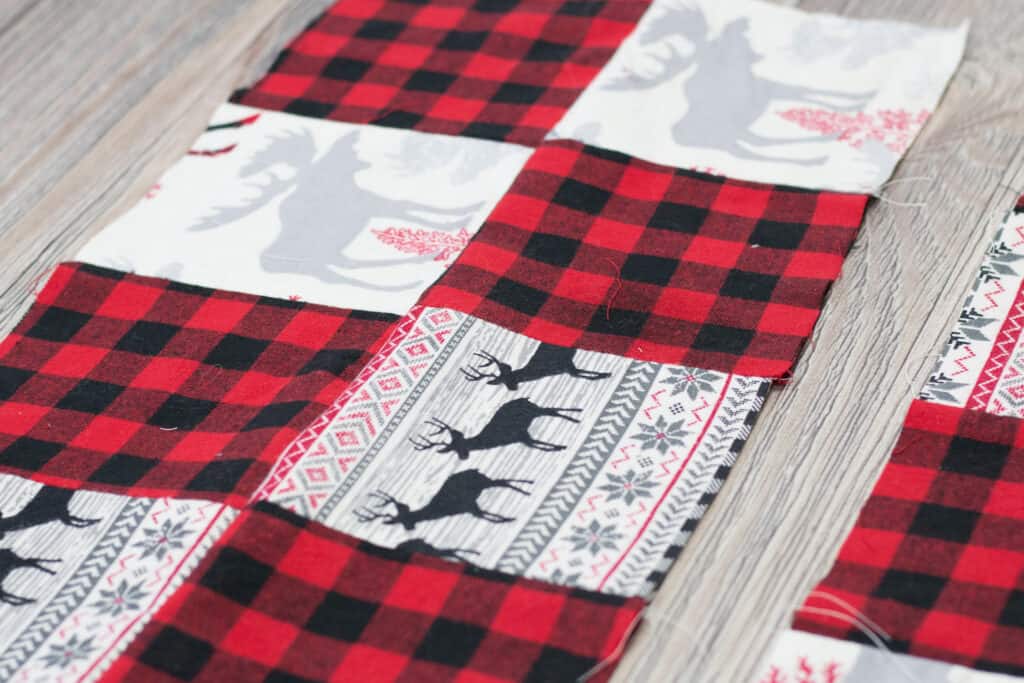 Once all the rows are sewn together PRESS ALL THE SEAMS DOWN. Your quilt top is now done!
Step Three: Cut Backing Fabric
Get your rotary mat back out and scissors. Lay out your faux fur on top of the mat and place your quilt top over it matching the corners. Cut out your faux fur using your quilt top as a guide.
(PRO-TIP: Throw your faux fur in the dryer after you cut it to get rid of all that excess fur floating around everywhere.)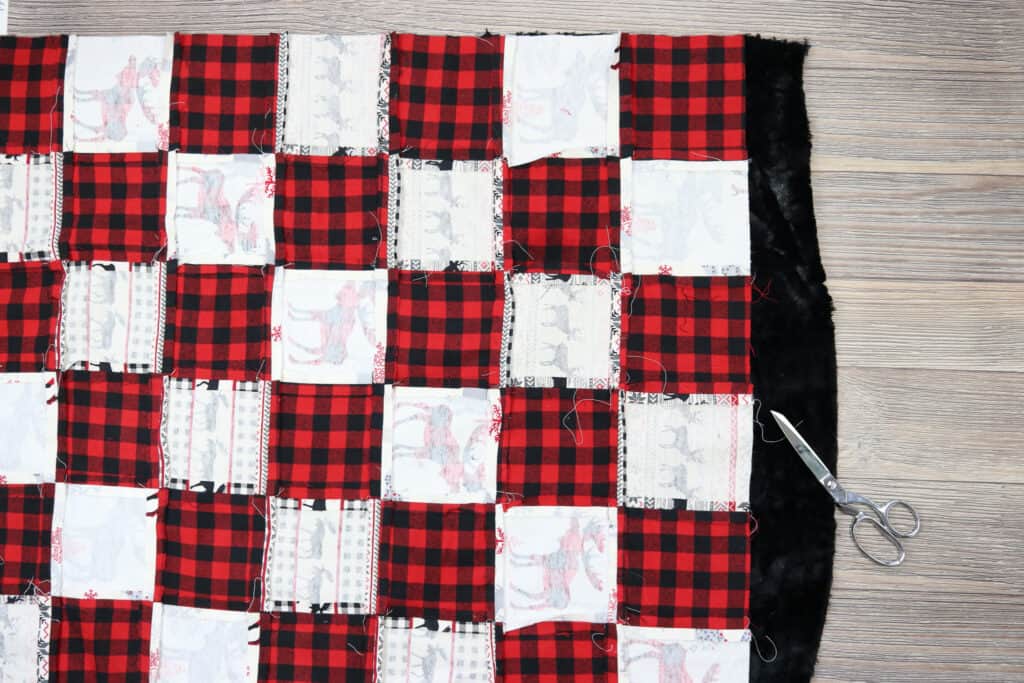 Step Four: Sew Backing to Quilt Top
Pin or clip the quilt top to the faux fur with right sides together. Using a 1/2 inch seam allowance sew the sides together. Make sure to backstitch to really secure the seams. On the last side, leave a 2" opening to turn the blanket.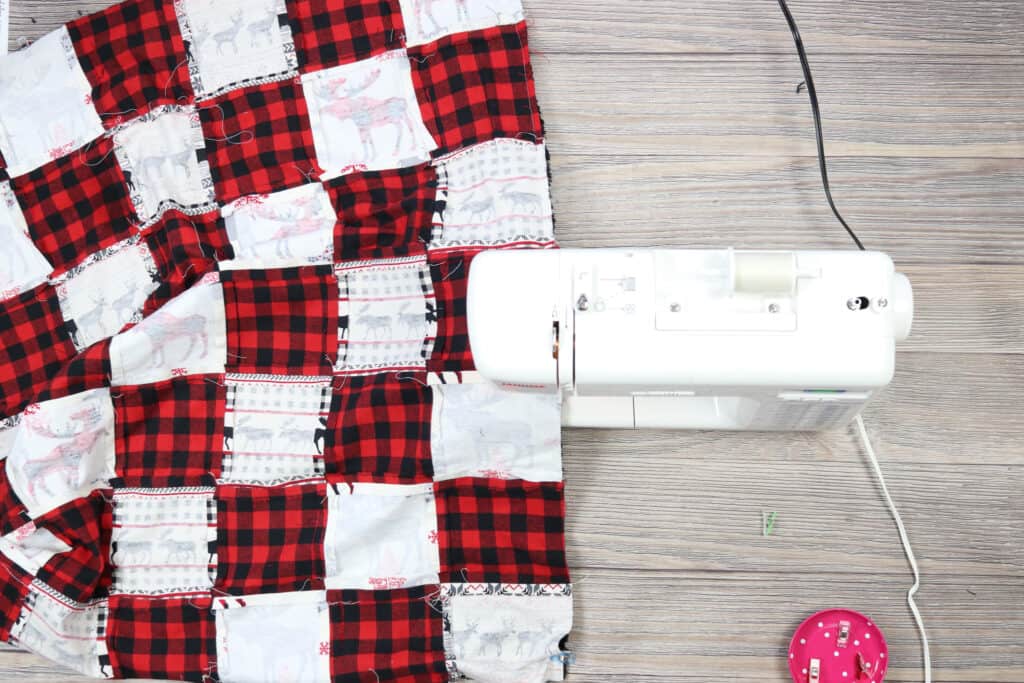 Clip the corners. Turn the blanket right side out by pulling the corners through. Push out the corners so they are rounded out.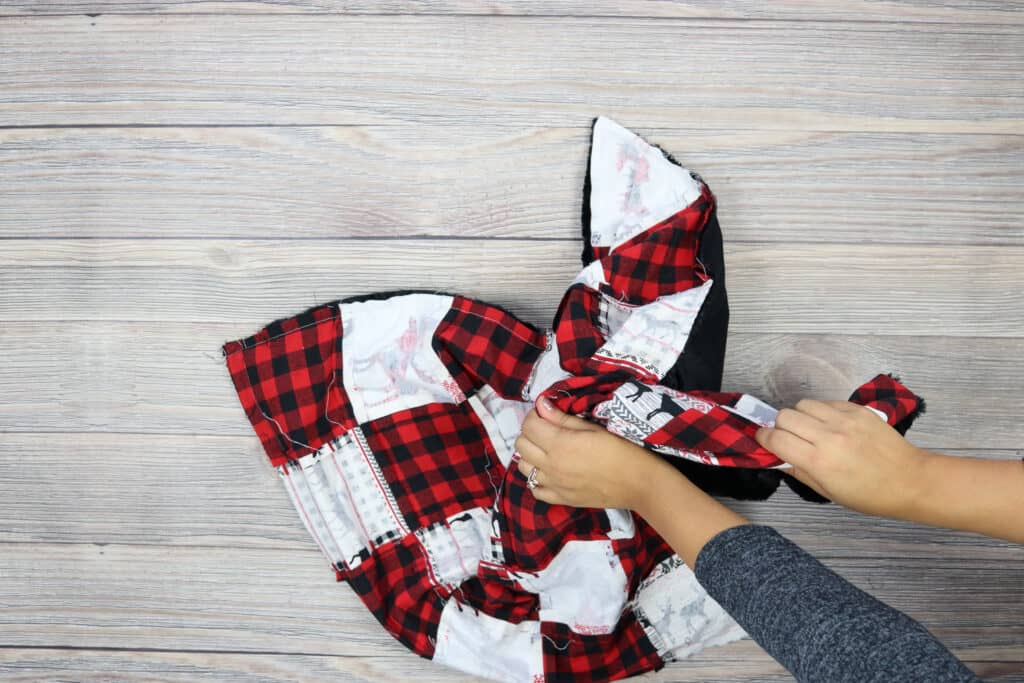 Step Five: Close Opening
To close the blanket, get our your fabric fuse out. Finger press your opening so you know exactly where to glue. Glue down the seam and clip it together with your craft clips. It dries clear so don't worry if it gets on the blanket!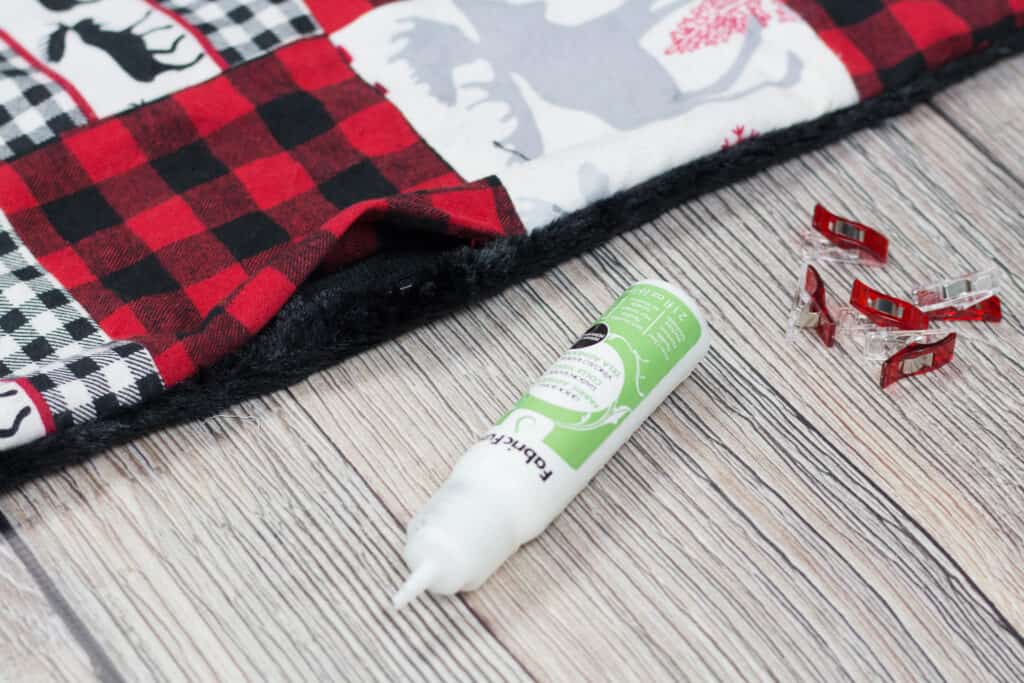 Let it dry and enjoy your Holiday Snuggle Blanket!
Join my crafting and sewing Facebook group where you can show us what you're making, ask questions, and learn from others!
Looking for more blanket tutorials and projects? Click HERE!
Save this project on Pinterest by clicking HERE.