Learn about Cricut's new machine, the Cricut Joy Xtra, how to use it, and a variety of new tools and materials.
Are you ready to jump into the world of Cricut? Cricut Joy Xtra is the perfect addition to any craft room!
I'll tell you everything you need to know about this machine and help you to decide if it's the right fit for your crafting needs.
This Cricut Joy Xtra post is sponsored by JOANN, my one-stop shop for all of my craft needs!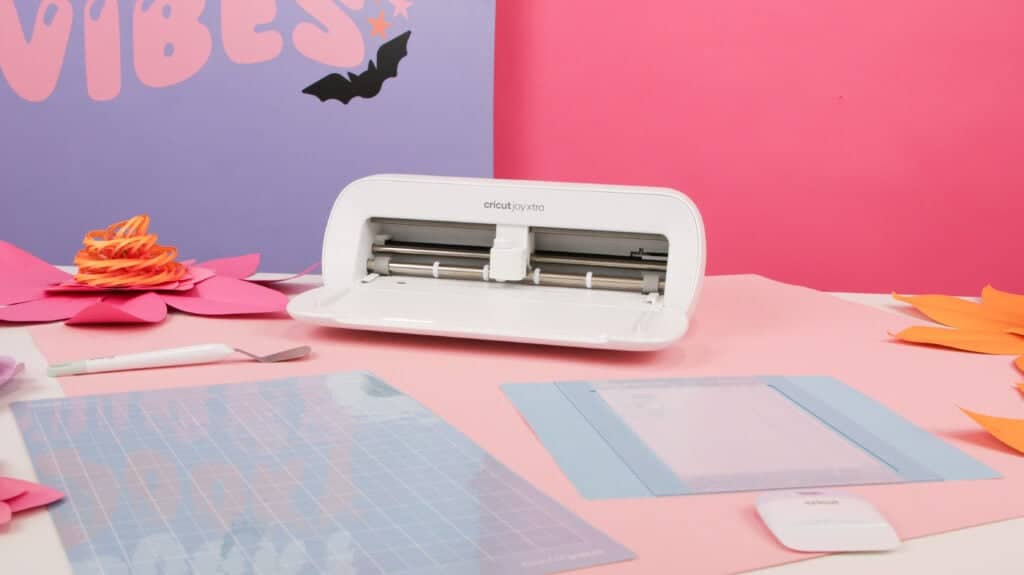 Ready to make stickers, cards, labels, decals, and t-shirts? This machine is perfect for making all those popular projects you've been seeing on social media!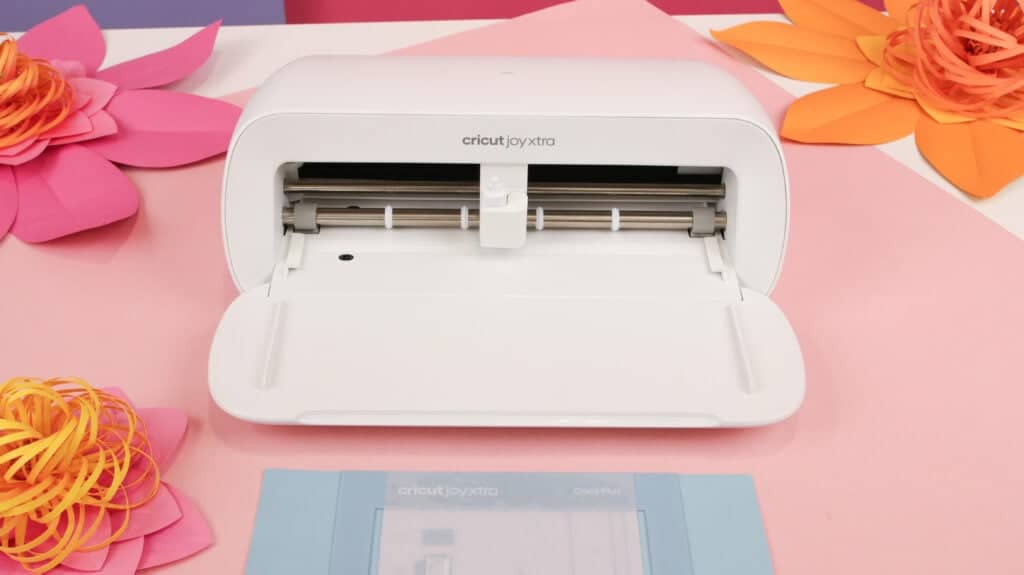 Why Get a Cricut Machine?
Are you new to the world of Cricut? With Cricut machines, you can say goodbye to scissors and hello to perfect cuts every time.
Check out my blog posts for more information on Cricut Machines, including comparisons to help make the right choice for your needs.
A Cricut is a machine that cuts hundreds of materials to assist you with making a variety of unique projects. Use the machines for personal use, for your creative small business, or to make fun, personalized gifts for your friends and family.
What Can the Cricut Joy Xtra Machine Do?
The Cricut Joy Xtra can cut larger projects than the original Cricut Joy machine. It has an 8.5-inch cutting width for cutting wide decals, tags, and cards with 50+ compatible materials.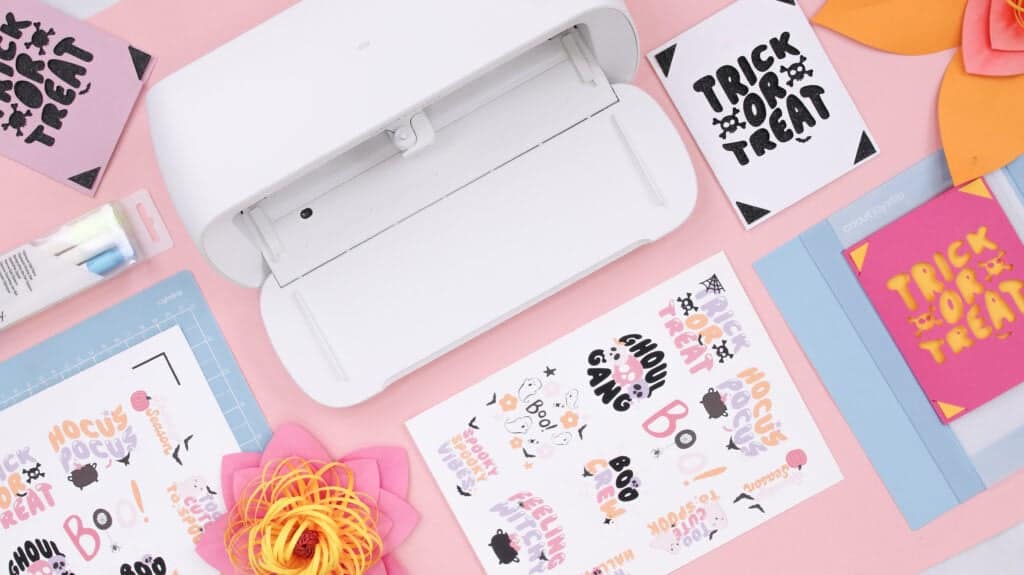 Cricut Joy Xtra Features
This machine uses Bluetooth wireless technology to connect to your computer.
It features a single carriage that can hold fine-point blades, foil tools, Joy pens, and markers.
It also offers a print-then-cut feature, which makes it possible to create high-quality, multi-colored stickers with the assistance of the Easy Printables™! Sensor located on the machine's internal left-hand side.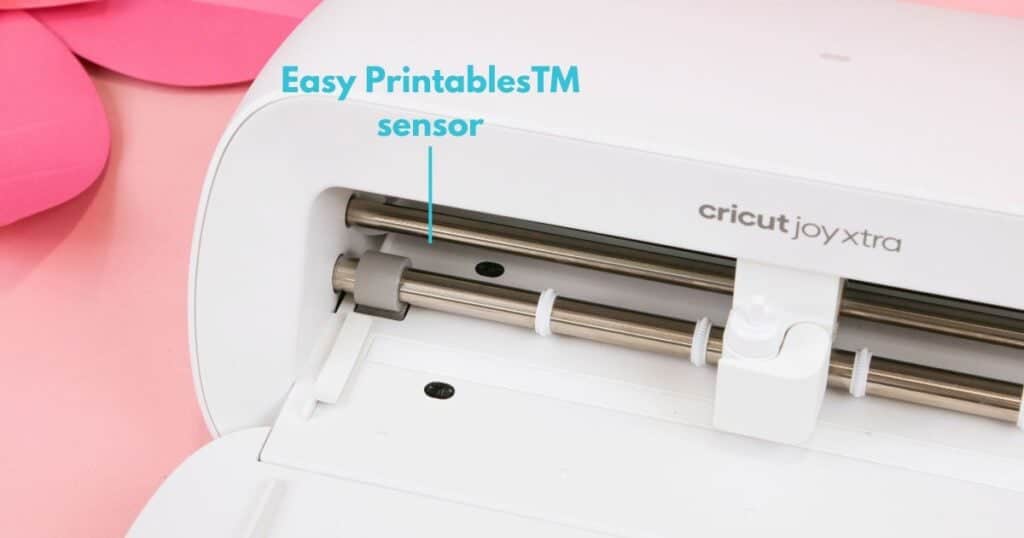 Who is Cricut Joy Xtra Designed For?
Cricut Joy Xtra is designed with the DIY crafter in mind. You don't need a huge amount of space for this machine or even an entire craft room. This machine is small enough to sit on your kitchen counter or on a small shelf.
It's perfect for someone who's never used a Cricut machine before and is ready to upgrade their crafts with a professional, personalized touch.
If you don't need all of the features of an Explore, Maker or Venture and you value portability, a smaller machine size that can fit anywhere, and a budget-friendly price tag, this machine might be the perfect fit for you!
Size of Machine
If you're familiar with the original Cricut Joy, you're probably wondering what makes these two machines different!
Cricut Joy Xtra has a larger maximum cut size than Cricut Joy. While Cricut Joy has a maximum cut size of 4.5 inches by 4 feet, Cricut Joy Xtra offers a maximum cut size of 8.5 inches by 4 feet. It also allows users to utilize the Print then Cut feature.
Cricut Joy Xtra measures W 12.48 in x L 4.46 in x H 5.87 in and weighs just 6.03 lbs.
Click here to learn more about Print then Cut.
If you live in a small apartment or have a small crafting space at home, this machine has a compact design and can fit almost anywhere! Even Cricut says it's a fits-in-any-space cutting machine.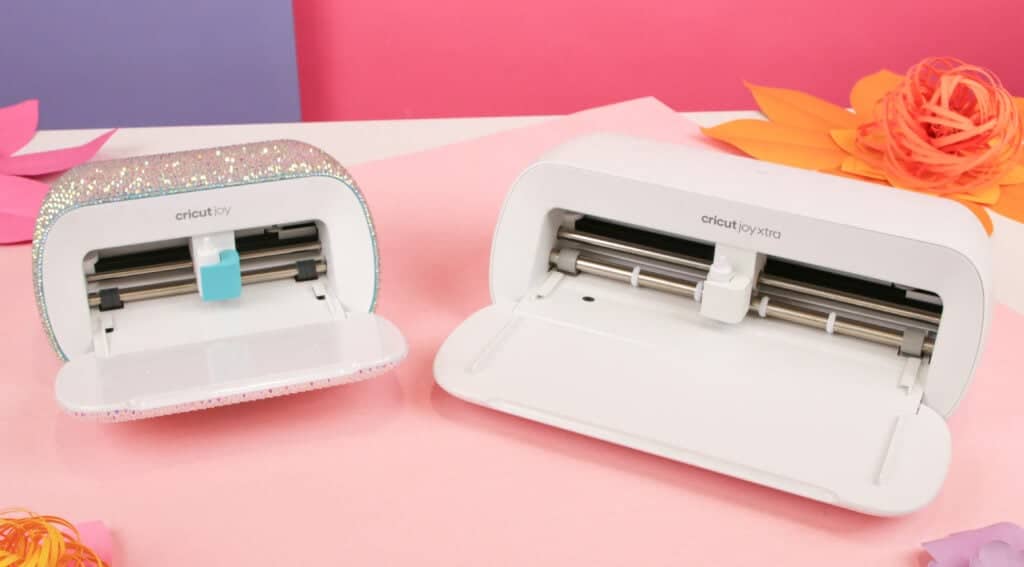 What's Different Between Cricut Joy and Cricut Joy Xtra?
Cricut Joy Xtra includes everything you know and love about Cricut Joy, plus a little bit more!
It features a larger cutting width (8.5") as well as a Print then Cut sensor allowing you to make customized stickers and printables.
Cricut Joy Xtra has the same cutting and drawing speeds as Cricut Joy (5.4" per second).
What Color is Cricut Joy Xtra?
Think of Cricut Joy Xtra as a clean blank canvas! This machine features an entirely white design, so it can blend in with any aesthetic.
Maybe white isn't your style? Feel free to decorate your machine with stickers and Vinyl to reflect your own personality and unique style.
What Does the Cricut Joy Xtra Come With?
Blade + Blade Housing (pre-installed in the machine)
Fine Point Pen, Black (0.4 mm)
StandardGrip Mat, 4.5 in x 6.5 in (11.4 cm x 16.5 cm)
Welcome card
Power adapter
Free 30-day trial membership to Cricut Access (for new subscribers)
50 ready-to-make projects online
Materials for a practice cut
Machine Capabilities
Similar to other Cricut machines, Cricut Joy Xtra can precisely cut, write, draw, and foil.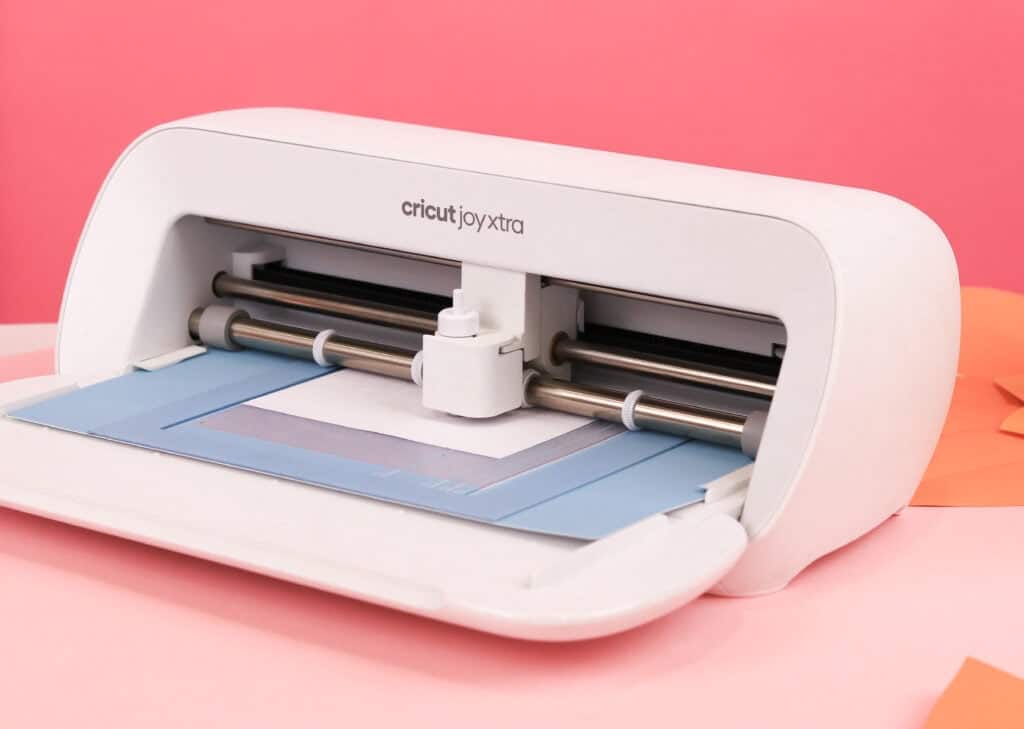 One significant advantage of this machine is that it can produce projects as large as 8.5 inches by 11 inches with a mat.
Additionally, when using Smart Materials, it's capable of cutting projects that are up to 4 feet long!
What's New?
Cricut is releasing new materials compatible with this machine; Actually, some are designed specifically for it.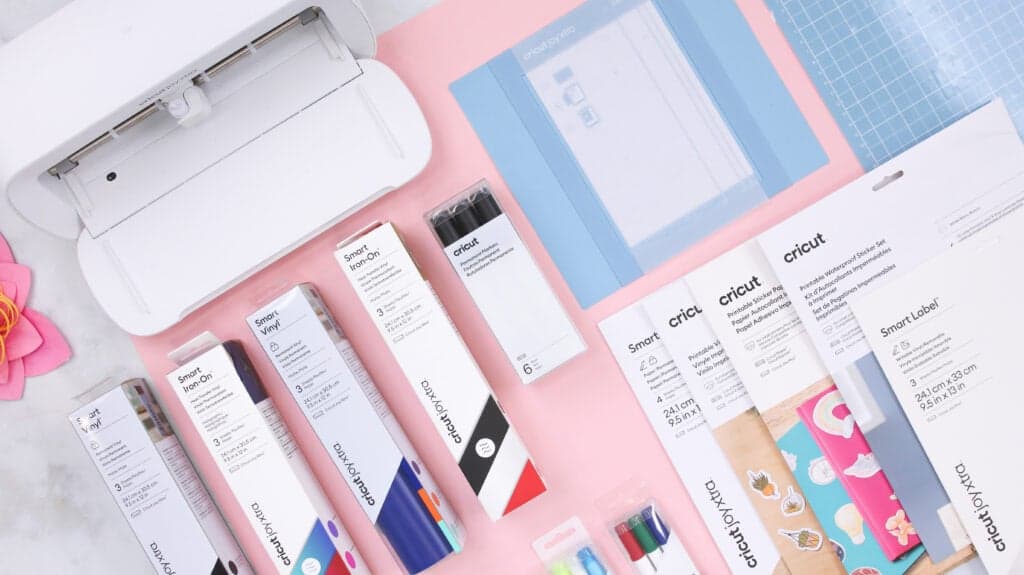 New materials include printable materials and Smart Materials for sticker sheets, Vinyl, and Iron-On projects.
All new printable materials measure 8.5" x 11" & A4 sizes. I will go over all the new, compatible materials down below.
Compatibility
This device works seamlessly with the Cricut Design Space® app and can handle a variety of new tools and materials. Design Space is a free download that can be used on Android, iOS, and Bluetooth-enabled Windows and Mac computers.
Additionally, it can easily connect to your home inkjet printer to print out sweet sticker sheets!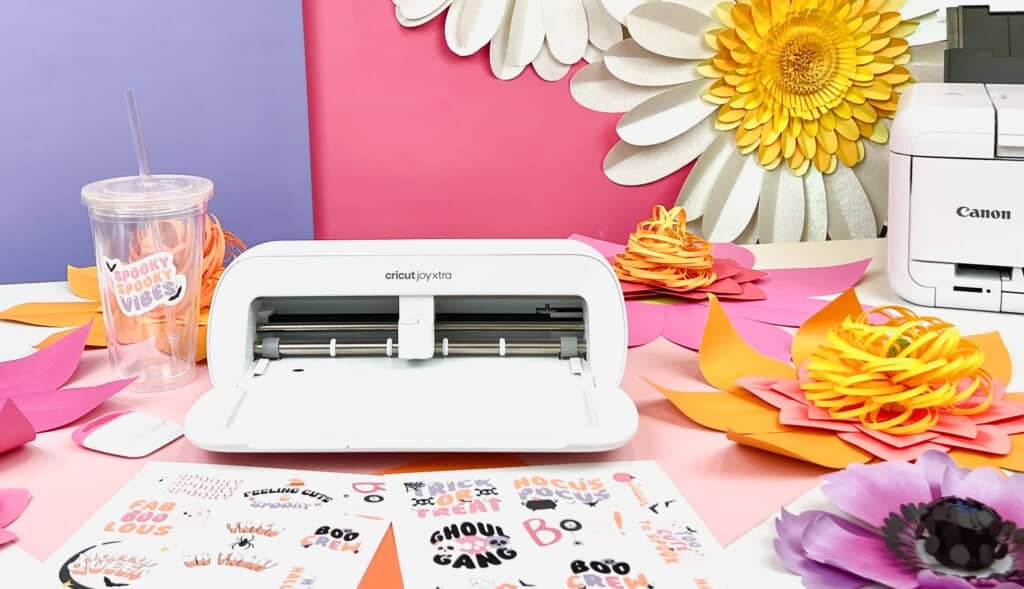 Cricut Design Space Library
You can upload and cut your own designs or search from the Cricut Design Space's expansive library.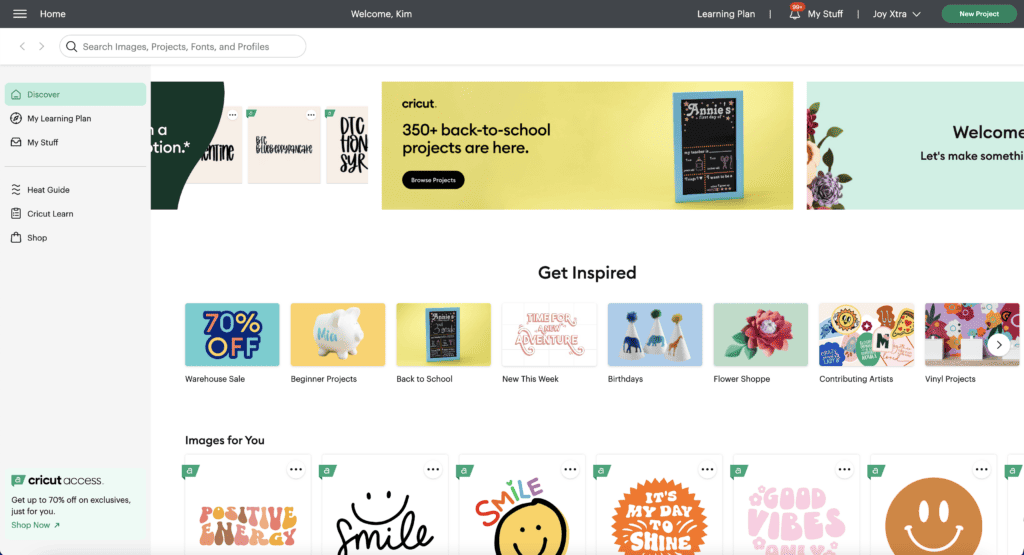 To find the Cricut Design Space Library, open the app, and click New Project. To the left of the canvas, click Projects or Images.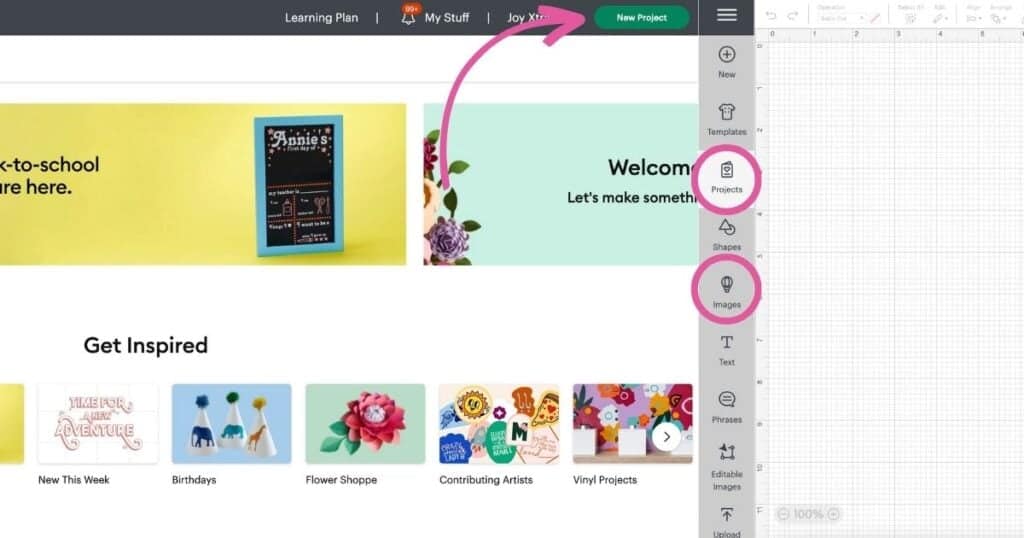 In the Projects tab, you can search all projects in different categories.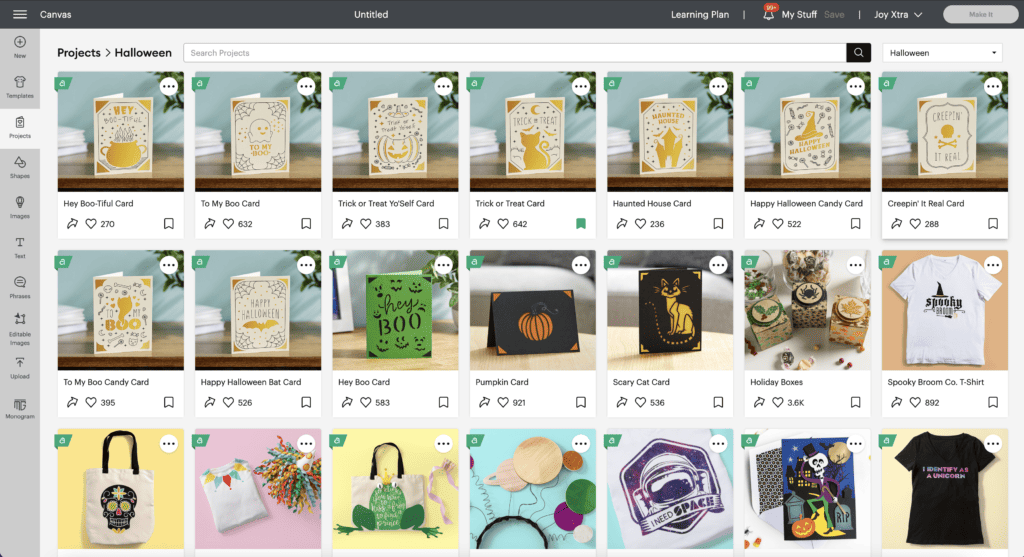 If "Images" is selected, you'll find a variety of images to choose from to add to your project.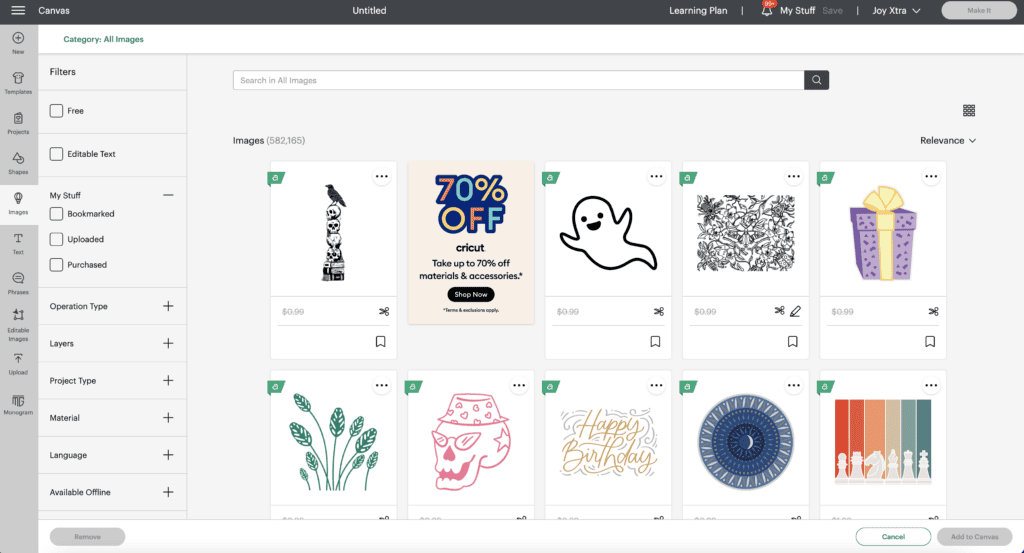 Compatible Materials
Let's talk about all the new printable materials. Each printable material will be available in 8.5" x 11" and A4 sizes.
All of the Cricut sticker paper has been re-engineered from the ground up to be easier to use and longer lasting.
All new printable materials will feature a green grid, while older printable materials feature a gray grid along the backing. The new paper is thinner to prevent printer paper jams, making it easier to feed through at home printers.
It's also designed to be compatible with inkjet printers. Laser printers are not compatible with the new printable materials because of the heat and toner-based inks, which may damage the material.
Click here to learn more about the best settings to use for Print Then Cut.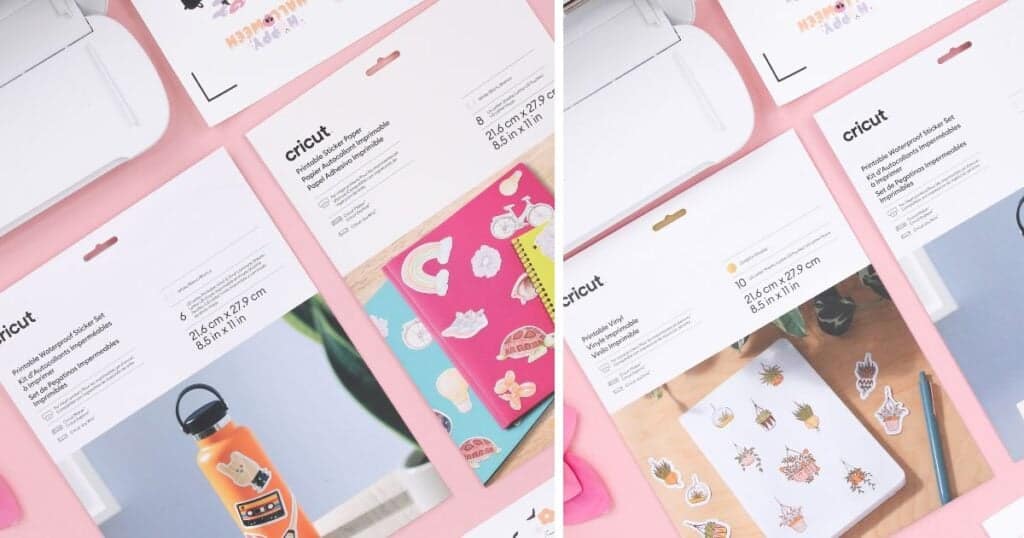 Use to make regular sticker paper sheets available in white 8.5" x 11" & A4 size
This is a durable vinyl that makes high-quality stickers and is a step up from the Printable Sticker Paper.
If you plan on making stickers for your water bottles, tumblers, phone cases, or car, this would be the best material to use. This new printable base features a clear liner that's applied after printing to create a waterproof, and UV-friendly sticker. There will be four different color options to choose from.
Print your customized design onto this material, and press it onto your surface using a Cricut EasyPress or iron. The material is available for light or dark fabrics. Think of this product as a heat-activated sticker than can be applied to a fabric base.
Cricut Smart Materials
Now, onto the Smart Materials. No need for a mat when using Smart Materials! Just load the material into your machine and press go!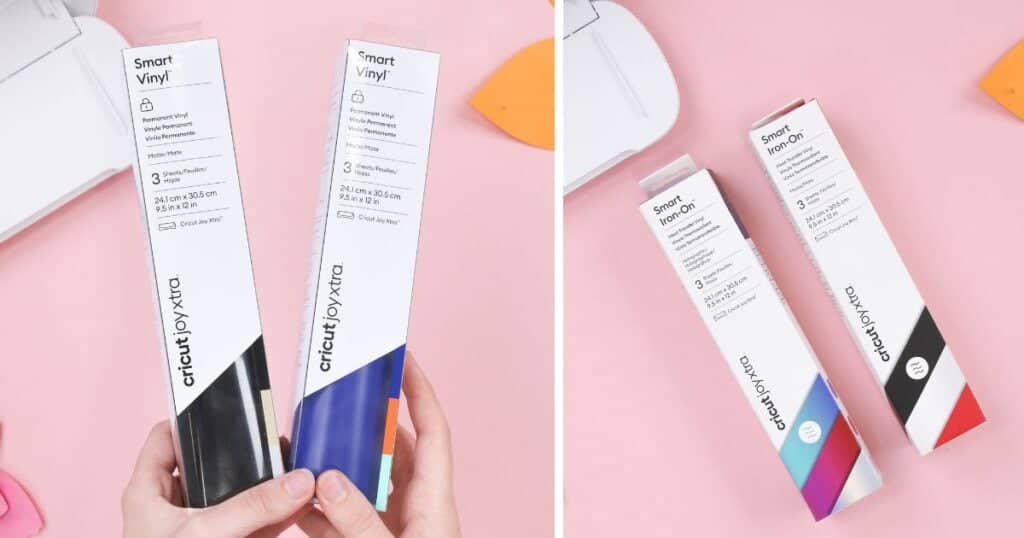 Add personal touches to projects using the Smart Kraft Labels- you can use them to label items in your pantry or craft room. Each pack includes 4 sheets of one solid color.
The Smart Label Writable Vinyl material works well with Cricut Joy pens and markers and is Available in both permanent and removable options. Each pack comes with (3) 13" sheets.
See what I did with Smart Label Writable Vinyl here.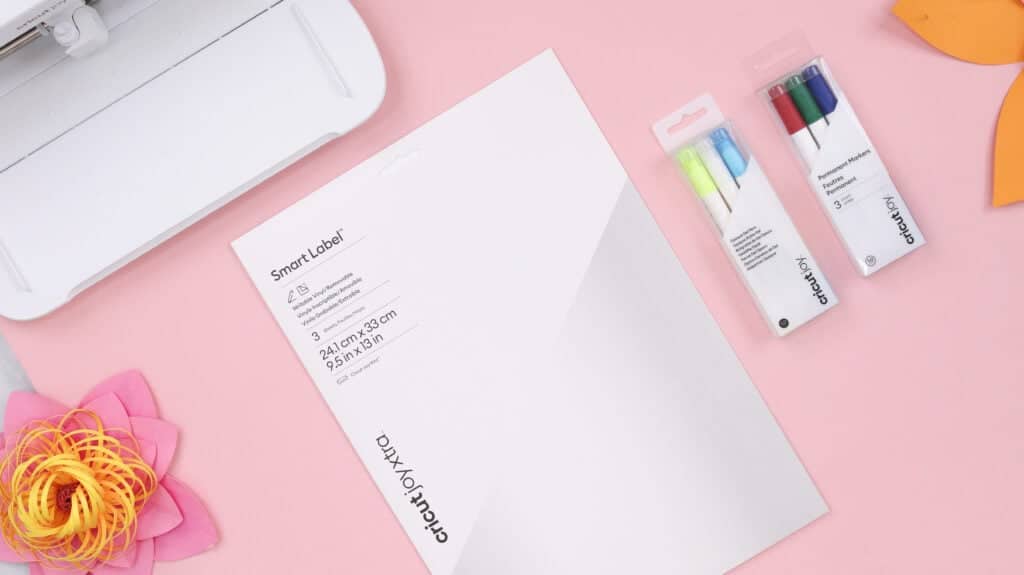 With Smart Iron-on, you can cut custom designs, place them onto your surface, and press them with a Cricut Easy Press or iron.
Cricut Joy Xtra Prismatic Glitter Smart Iron-On - This material is a microplastic flake-free glitter material that you can apply to your surface, and press with a Cricut EasyPress® or iron.
See what I made with Smart Iron-On here.
Compatible Tools
Cricut is releasing new mats designed for the Cricut Joy Xtra machine- A LightGrip, StandardGrip, and Card Mat.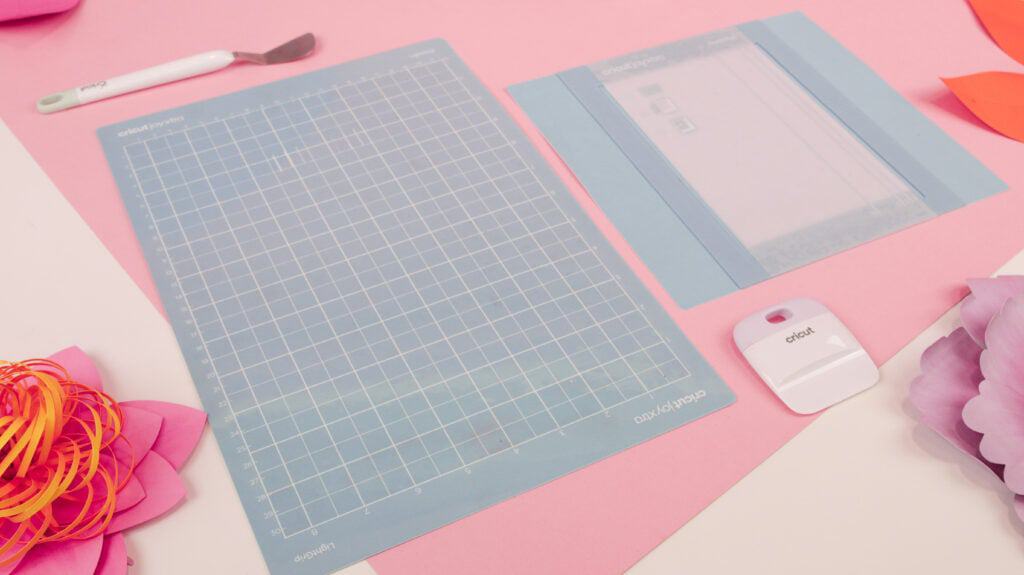 The LightGrip Mat has a softer release for the materials that are lighter in weight such as copy paper and light cardstock.
The StandardGrip Mat is great for medium-weight materials such as Infusible Ink Transfer Sheets and heavier cardstocks.
The Cricut Joy Xtra Card Mat is exactly like the other card mats, except sized specifically for this machine. It's used for customizable cards and works perfectly with Cricut cards.
The mat measures 8.5" across and comes with one protective sheet, alignment guides, and protective dividers.
The divider has a top layer and a bottom layer.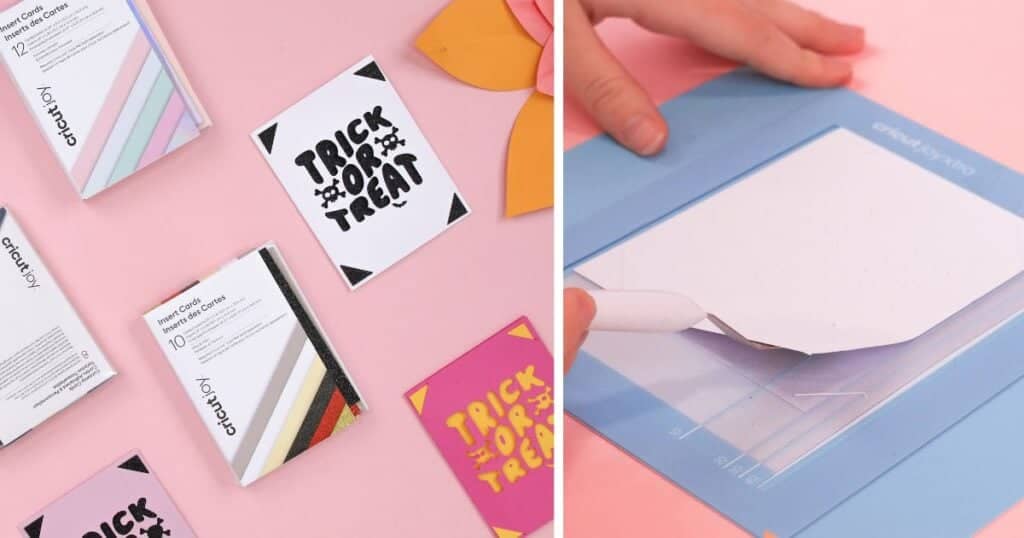 To use it, open a blank card, slide it flush against the divider at the top of the mat, then press the front of the card flat onto the sticky surface.
The divider will protect the back of the card while your machine is cutting a design on the front.
Click here to learn how to use the Cricut Joy Card Mat to make custom cards.
Click here to download ten free Cricut Card SVG cut files.
Cricut Joy Xtra Transfer Tape is specifically designed for the Cricut Joy Xtra Machine and most types of Cricut Vinyl- patterned, holographic, metallic, and matte metallic.
The Cricut Foil Transfer Tool (Sold Separately) also works with this machine.
Click here to learn more about the Cricut Foil Transfer Tool.
Cricut Joy Pens & Markers
Joy pens come in a variety of different sizes and types. They are compatible with both Joy and Joy Xtra.
Click HERE to learn more about using Cricut Pens and Markers
How Much is the Cricut Joy Xtra Machine?
The Cricut Joy Xtra machine is currently priced at $199 and can be purchased here.
Projects I've Made with the Cricut Joy Xtra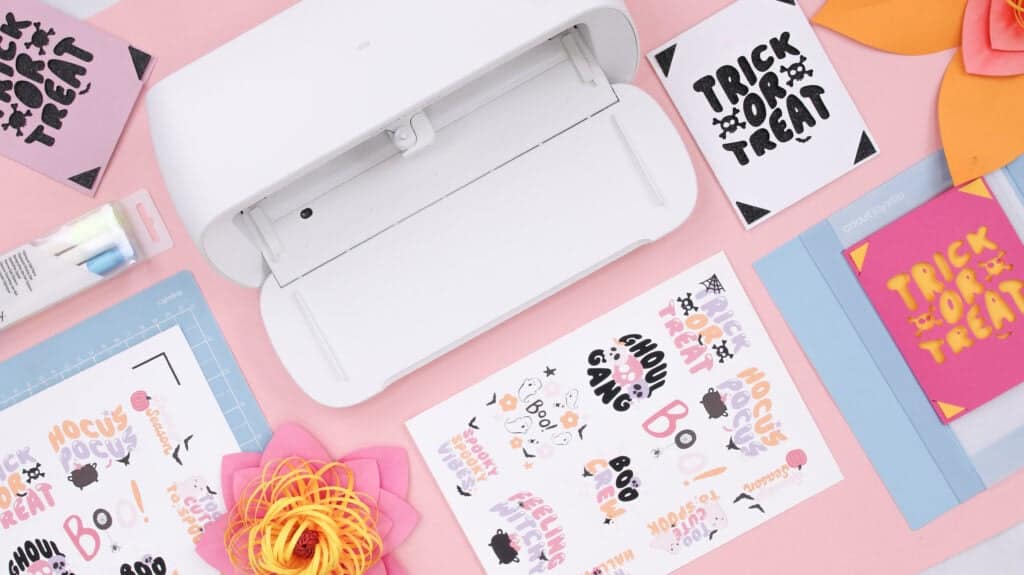 There are so many projects you can make with this machine! I made Halloween sticker sheets, cards, and the most adorable Halloween wall decor with the Cricut Joy Xtra and Halloween SVG designs.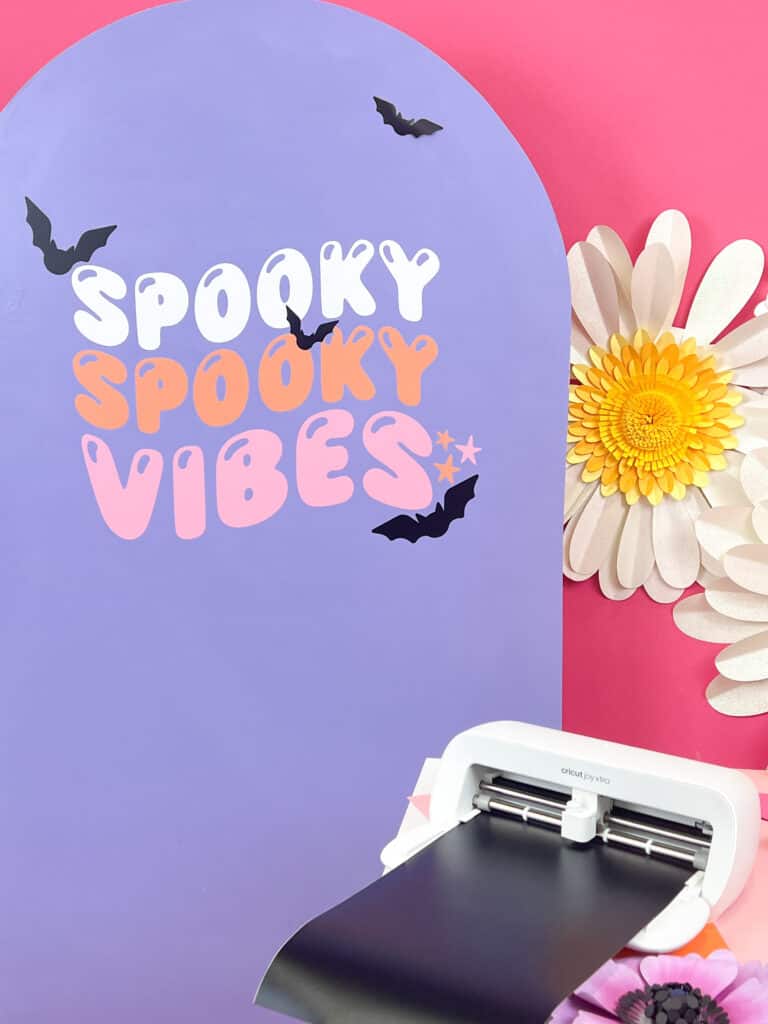 I used Cricut Joy Xtra Smart Vinyl to create the Halloween wall decor. Printable Sticker Paper and Printable Waterproof Sticker were great for making a Halloween sticker bundle. I also used the Cricut Joy Xtra Card Mat and Cricut Joy insert cards (material size: R:20) to assemble the Trick or Treat cards.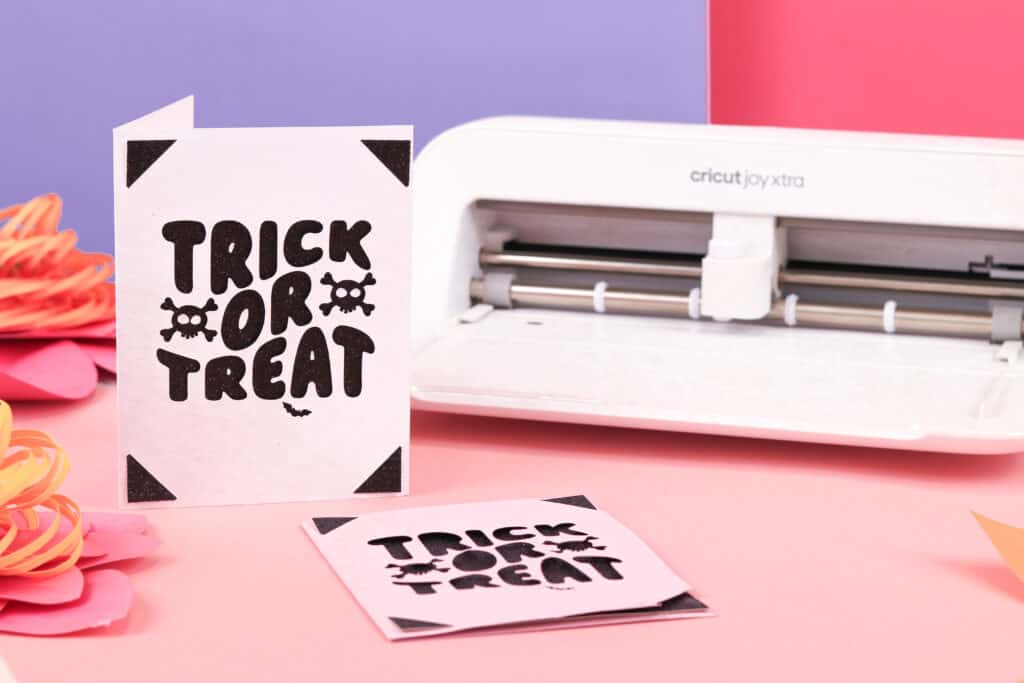 Don't know how to create print-then-cut stickers? Click here to learn how to my DIY stickers!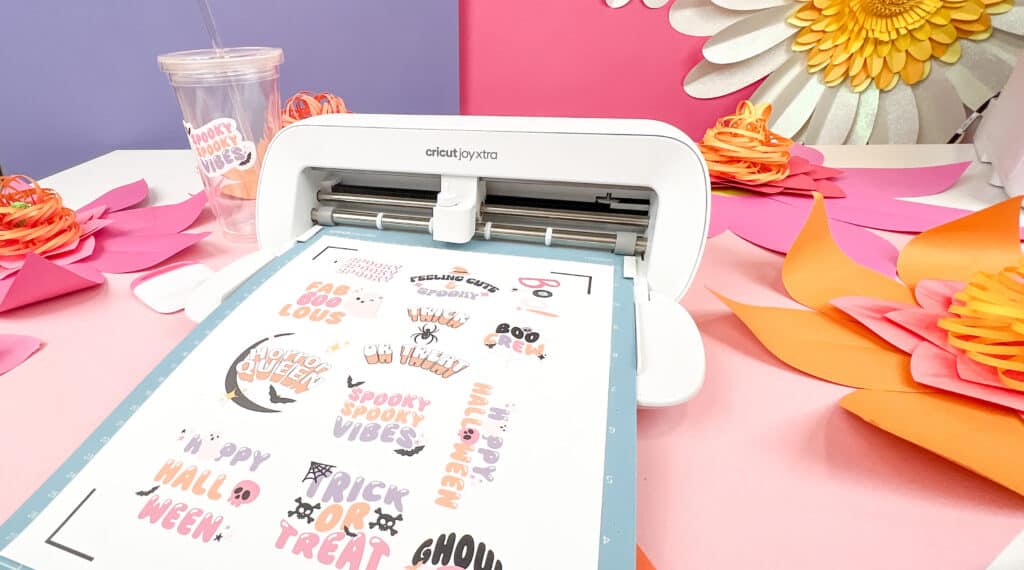 The Cricut Joy Xtra will be available September 7, 2023, to purchase at your local JOANN craft store or online!
Final Thoughts
I'm excited for crafters to try out this machine, especially if you're a beginner and are yearning to grow and expand your crafting skills! Not only is it professional-looking, but it also allows you to create incredible projects while only taking up a small amount of space.
If you have a friend interested in buying a Cricut machine, let them know about the Cricut Joy Xtra machine- it might be for them!
Questions?
Do you have questions about the Cricut Joy Xtra? Drop them in the comments below so I can answer them!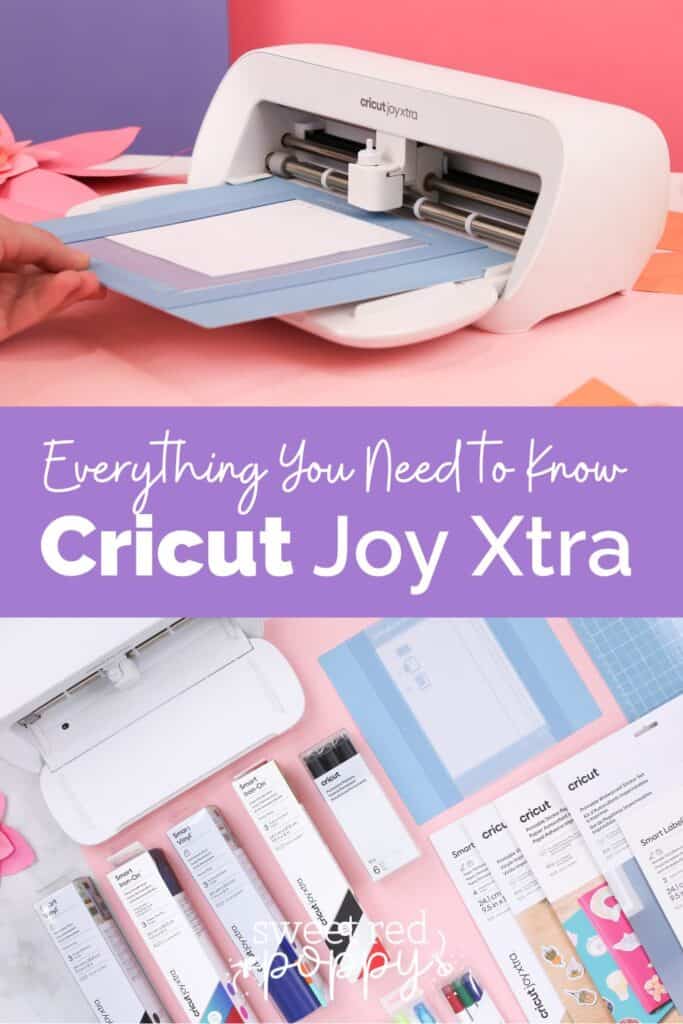 Don't want to forget about this Everything You Need to Know - Cricut Joy Xtra template? Save it to your Pinterest here!
Thanks to JOANN for sponsoring this post and sending me a Cricut Joy Xtra for this review. All thought and opinions shared in this post are my own.