Learn How to Sew a Baby Hat With a Top Knot With This Sewing Tutorial and Free Pattern. This Step-by-Step Photo Tutorial Also Includes a Video and It's Perfect for Beginners.
If you've been following along with me for a while, then you know I'm completely obsessed with sewing for babies! I get giddy when I find out one of my friends is expecting and I start sewing like crazy.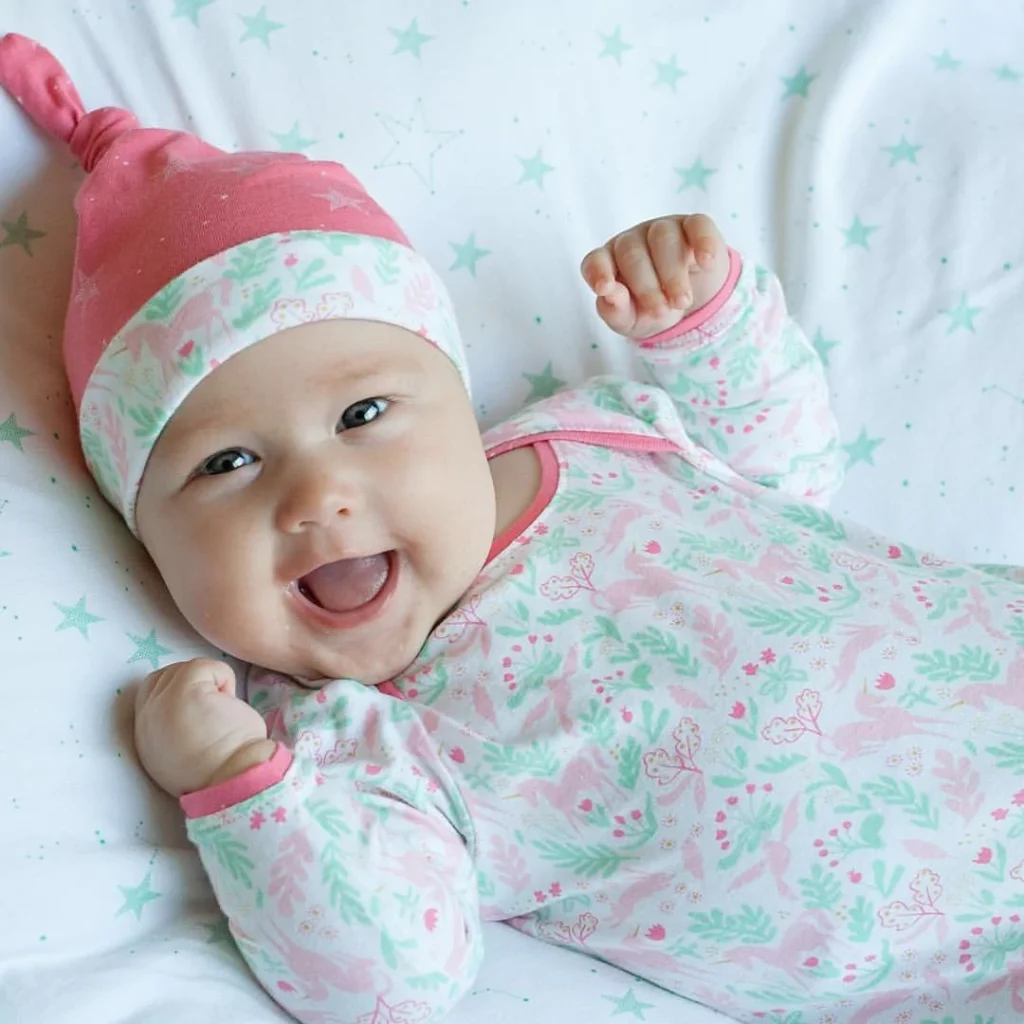 I actually keep a box full of handmade baby gifts just for baby showers. That's why I'm so excited to share this Double Top Knot Baby Hat Pattern with you! This is my tried and true baby pattern that I used with all three of my babies.
The best part about sewing for babies is that you can use up your scraps and the projects come together so quickly!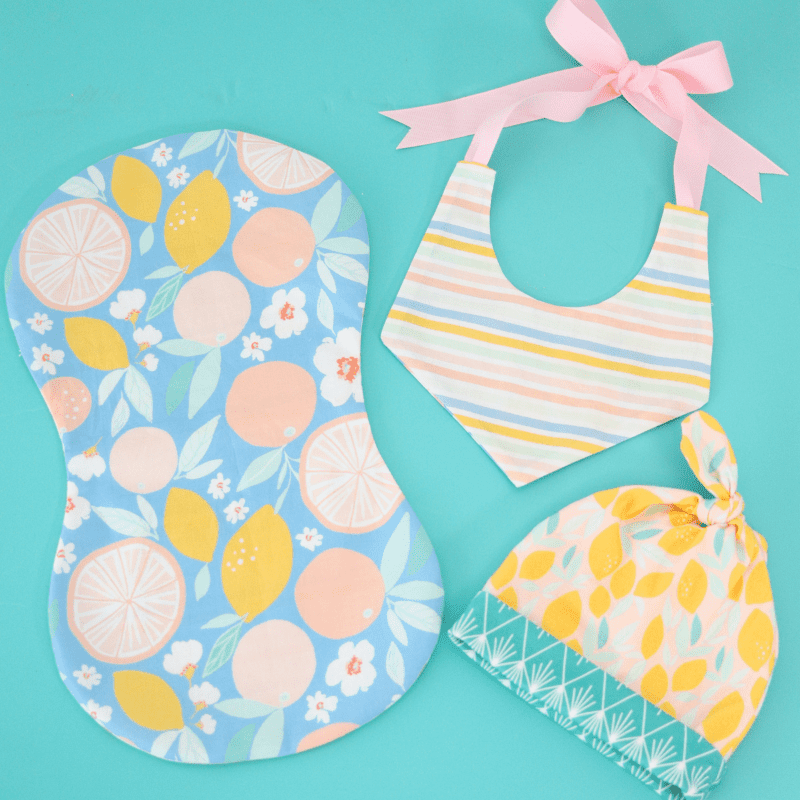 This hat is easy enough that a beginner can sew it and I've included step by step photos as well as a video. I'm also sharing a few of my favorite tips for stress-free sewing with knit fabric.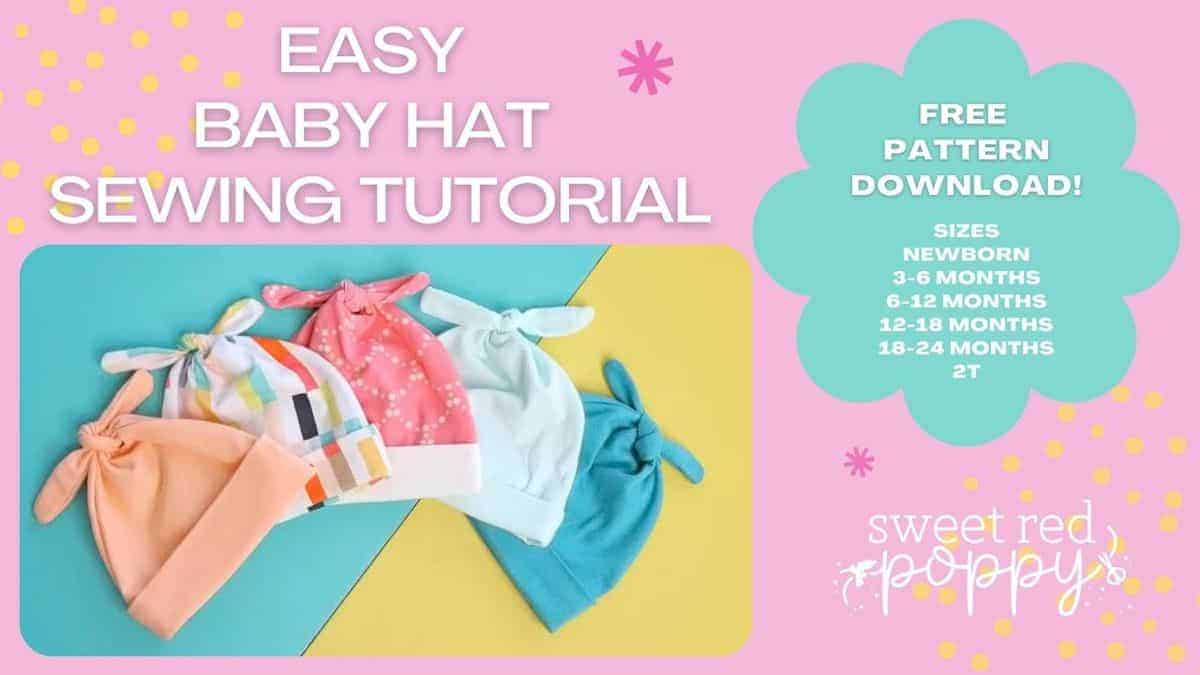 Be sure to check out the posts listed below for even more FREE baby patterns!
Free Leggings Pattern, Free Baby Bandana Bib Pattern, Free Baby Burp Cloth Sewing Pattern, All The Best Hair Bow Tutorials
New to sewing with Knit fabric? Read THIS post for even more tips on sewing with knit fabric.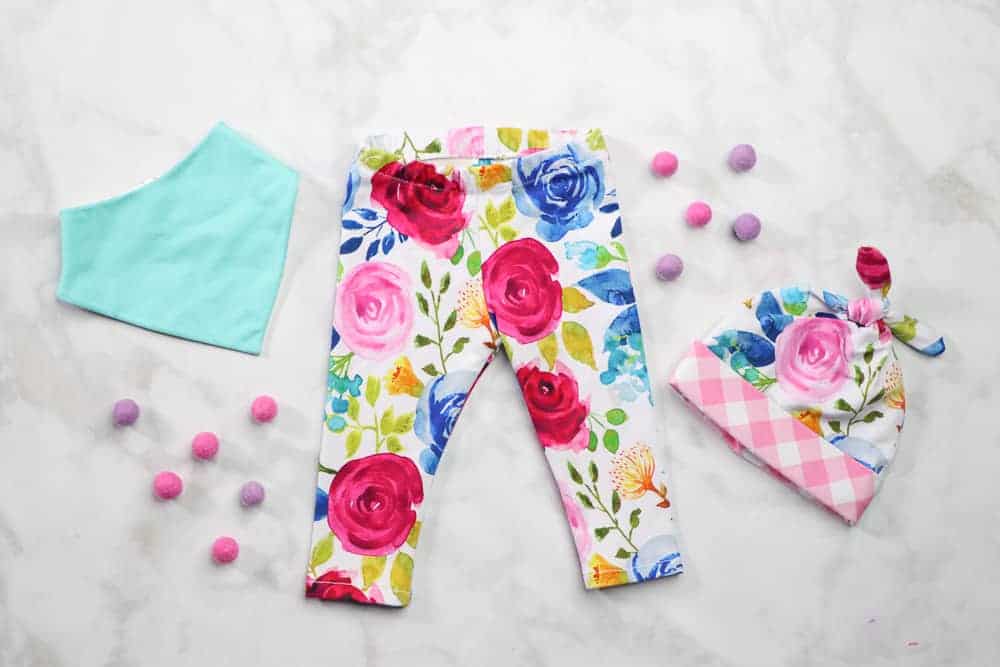 Looking for an ad-free experience and printable instructions?
Head to the Sweet Red Poppy Shop to get my Baby Sewing Pattern Ebook for only $9! You'll get access to 11 different baby projects with printable patterns and tutorials.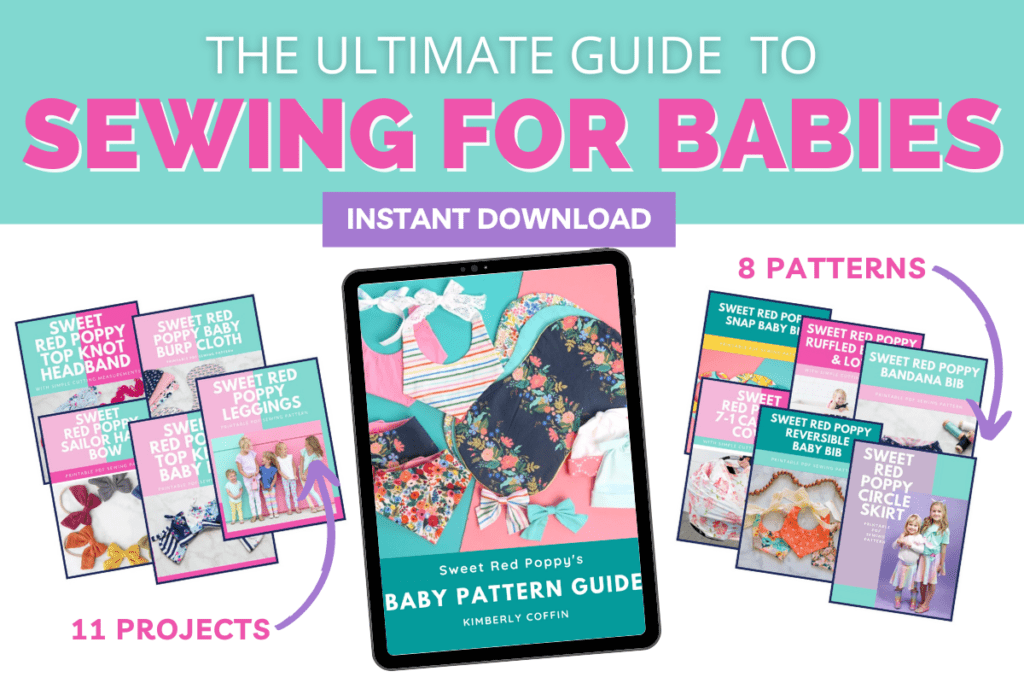 Beginner-Friendly Baby Hat Sewing Pattern
Create adorable baby hats with this easy-to-use sewing pattern!
This download includes a professionally drafted, color-coded double top knot baby hat and a single top knot baby hat sewing pattern in 6 different sizes.
Step-by-step detailed photos and detailed written instructions are also included.
Sizes
Newborn
3-6 Month
6-12 Month
12-18 Month
18-24 Month
2 Years
Pattern Includes:
Included in this pattern is a professionally drafted and graded color-coded pattern. Use the 1x1 inch printing guide to ensure accuracy and quickly put this pattern together with its no-trim pieces.
Step-by-step detailed photo and written instructions are also included.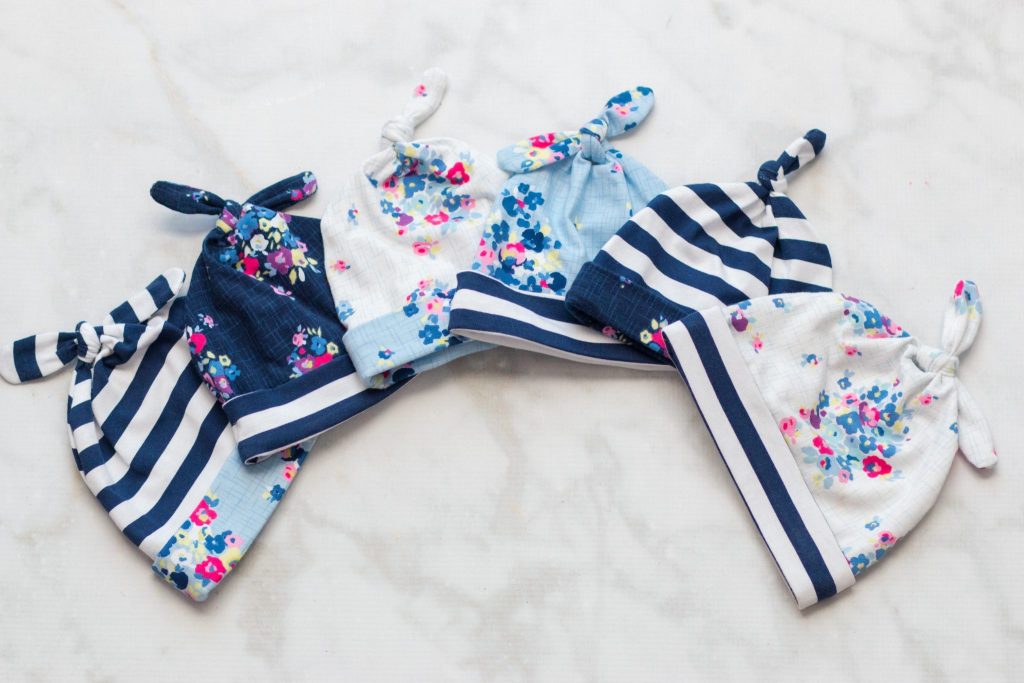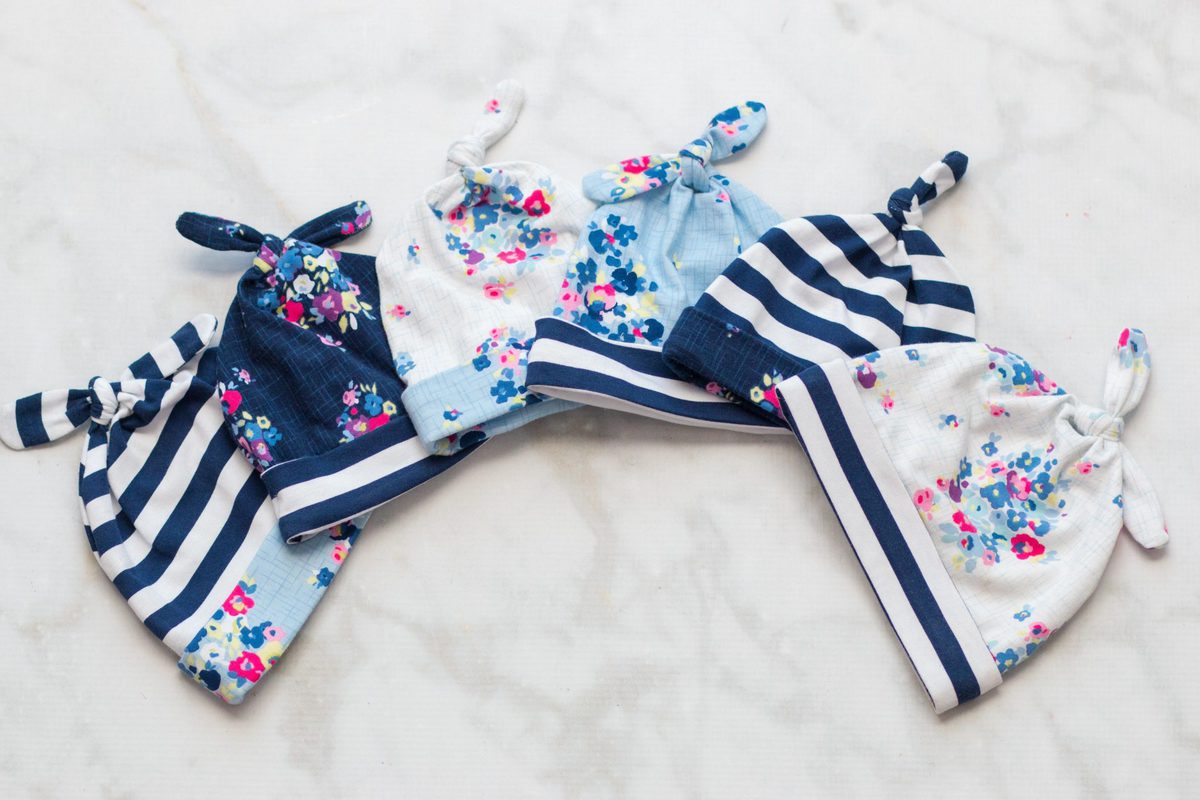 FABRIC REQUIREMENTS
For this pattern, I recommend using a medium-weight knit fabric with a content of 95% Cotton, 5% Lycra/Spandex. Having at least 5% Lycra or Spandex allows the fabric to have elasticity and bounce back to its original shape without getting stretched out over time.
To determine the stretch of your fabric simply stretch a 2-inch piece of the knit fabric in one direction and repeat this process in the opposite direction. Choose the direction of the greatest stretch to go around the head.
---
I recommend shopping for knit fabric from Raspberry Creek Fabrics. This is my one-stop shop for high-quality knit fabric with the cutest prints!
*Be sure to double-check the type of fabric in the drop-down menu on the fabric listing.
This pattern works best with a four-way stretch fabric. That means it has stretch in both directions and will be ideal for creating a comfortable fitting baby hat.
The following four-way stretch fabrics are ideal for this pattern.
Double Brushed Polyester - 4 Way Stretch
Jersey - 4 Way Stretch
Polyester Spandex - 4 Way Stretch
Cotton Spandex Jersey - 4 Way Stretch
Cotton Spandex French Terry - 4 Way Stretch
Sweatshirt Fleece - 4 Way Stretch
Rib Knit - 4 Way Stretch
Bamboo Cotton Spandex Jersey
Avoid the following fabrics
Quilting Cotton (this is not a stretchy fabric)
Cotton Interlock (this is typically a two way stretch fabric)
Ponte De Roma (this fabric doesn't have enough stretch and it's too structured)
Tri-Blend Jersey (two-way stretch)
Supplies Needed for your Top Knot Baby Hat Pattern:
View the full Youtube video tutorial for this baby hat sewing pattern below.
Step 1: Download Baby Hat Sewing Pattern
Open the pattern in your PDF reader, I recommend using Adobe Acrobat Reader.
You can download the free version here: https://get.adobe.com/reader/
Avoid printing the pattern from your browser as it can cause the scaling to be off and the border lines to print incorrectly.
*Pro Tip: I like to print off my pattern on cardstock so that it will last for multiples uses.
Step 2: Print off the Baby Hat Sewing Pattern
Next, click on "Print" to open the print settings box. In the print settings, make sure the scaling is set to "Actual Size" or "Custom Scaling: 100%."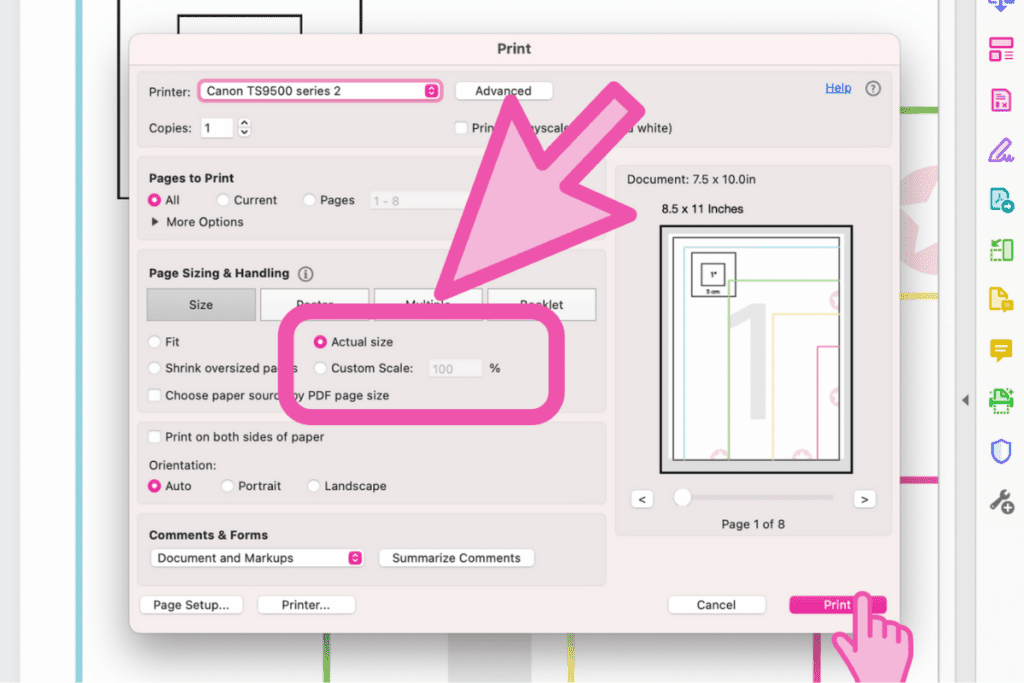 Then, print just the first page of the pattern. This page contains a 1" test square that you can measure to check that the scaling is correct
Once the first page prints, measure the test square. If it measures 1" x 1", print the remaining pages of the pattern.
If it does not measure 1" x 1", you will need to recheck your print settings before printing the rest of the pattern.
Trim away the excess paper on the sides (along the scissor guide) before taping the pages together.
You can also choose to overlap the papers. Holding the pages up to a light can help you to see through the paper and align the pattern lines correctly.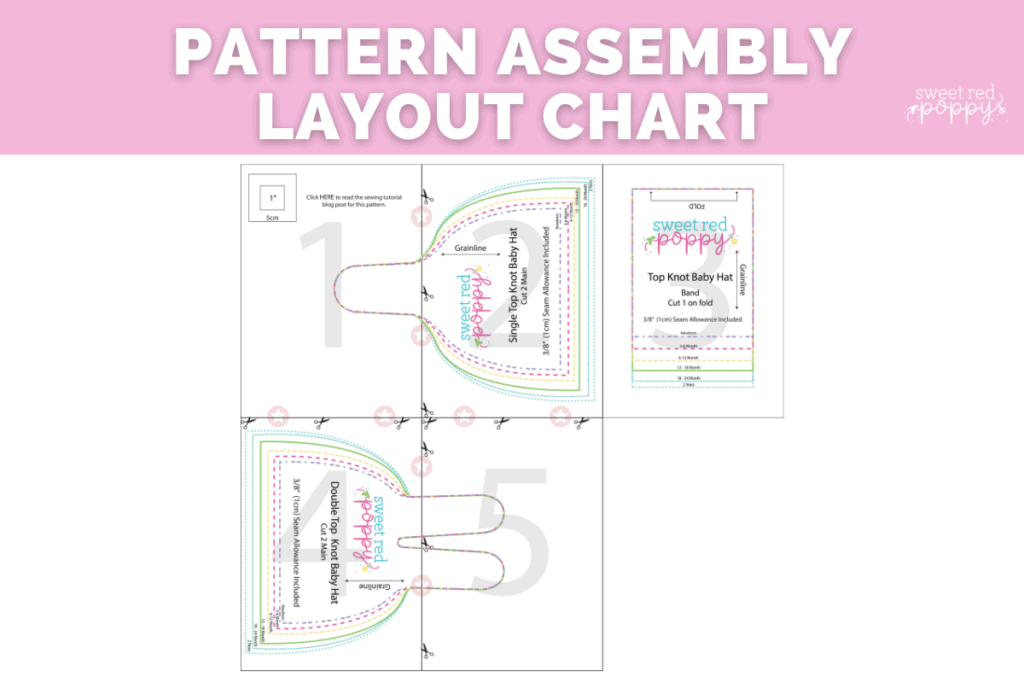 On a flat surface place page one out in front of you. Overlap page two, aligning the black border and pink circles with stars. Tape or glue the pages together.
Continue this process until you reach a page without stars on the right-hand side. This means the row is complete. Begin assembling the next row below the first row.
Finally, connect the rows by aligning the black outline and circles together.
Step 3: Cut out the Baby Hat Pattern and Fabric
You can choose between two different styles, one features a single knot and the other features a double knot. I'm using the double knot in this tutorial.
Once you have the pattern taped together, cut out the pattern pieces along the lines corresponding with the size you want to sew.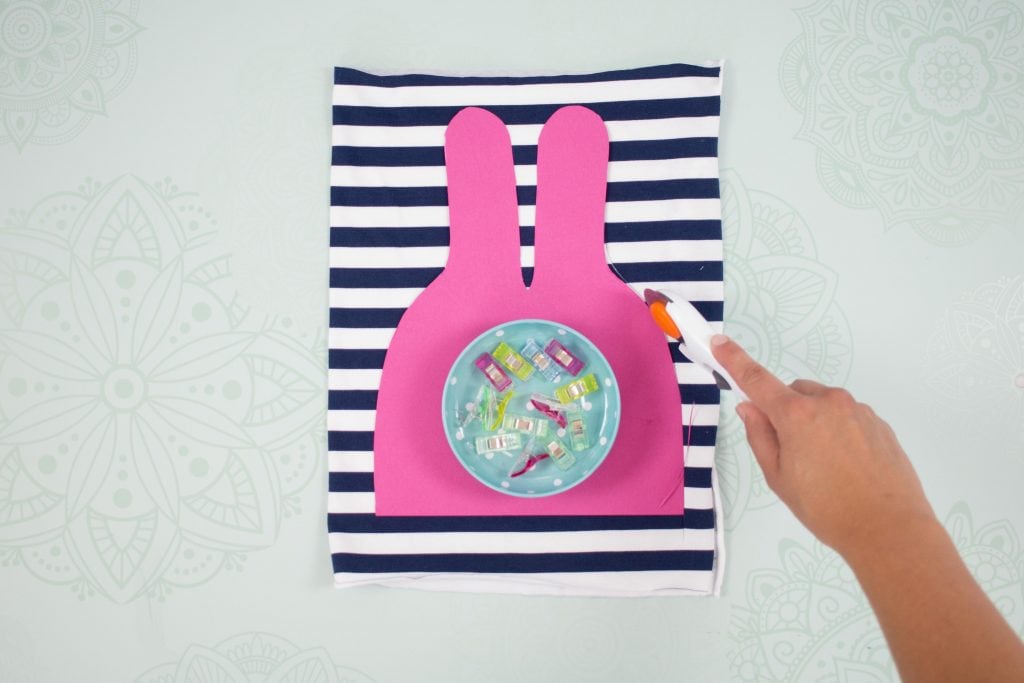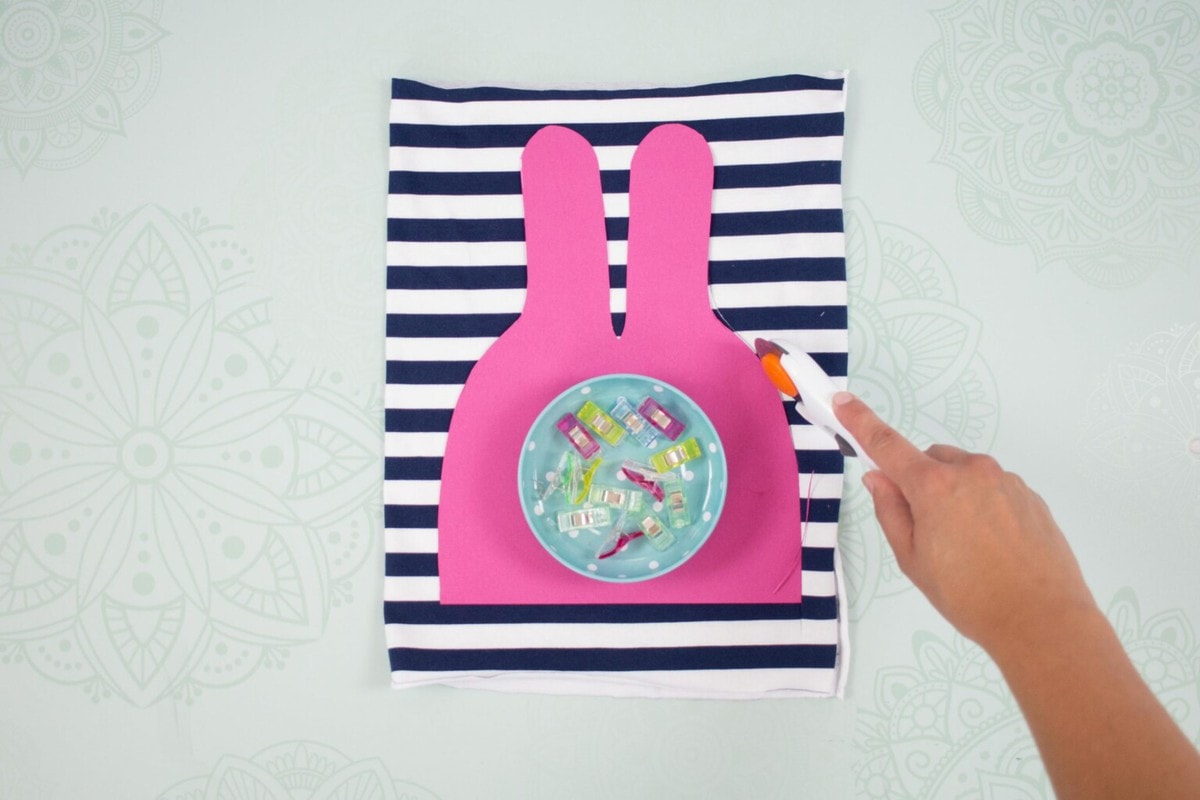 Choose the correct size, lay it on top of two pieces of fabric with the greatest amount of stretch going across (This is very important!) the pattern horizontally. Pin it in place and cut around the outside of the pattern.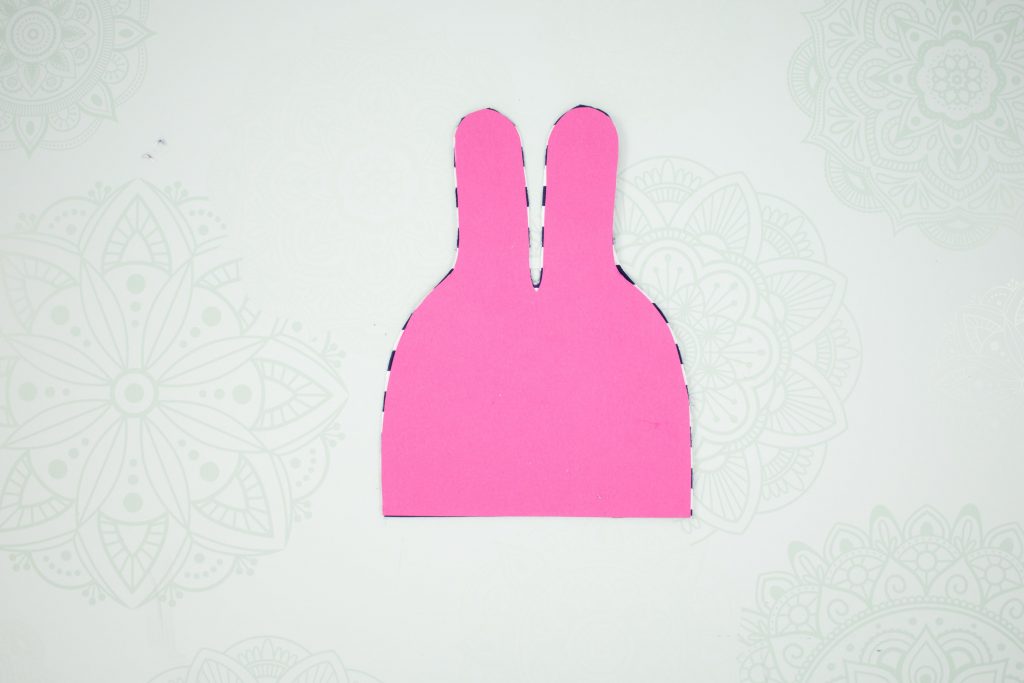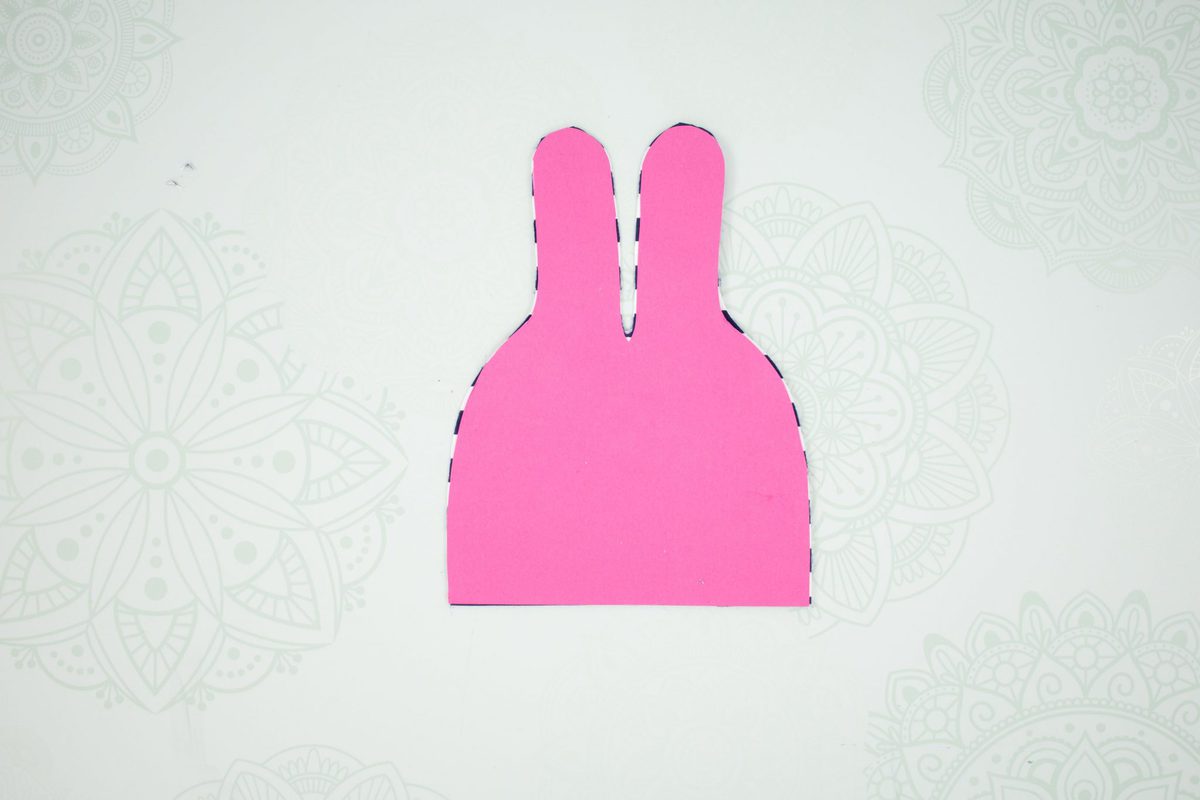 You should now have a front and a back.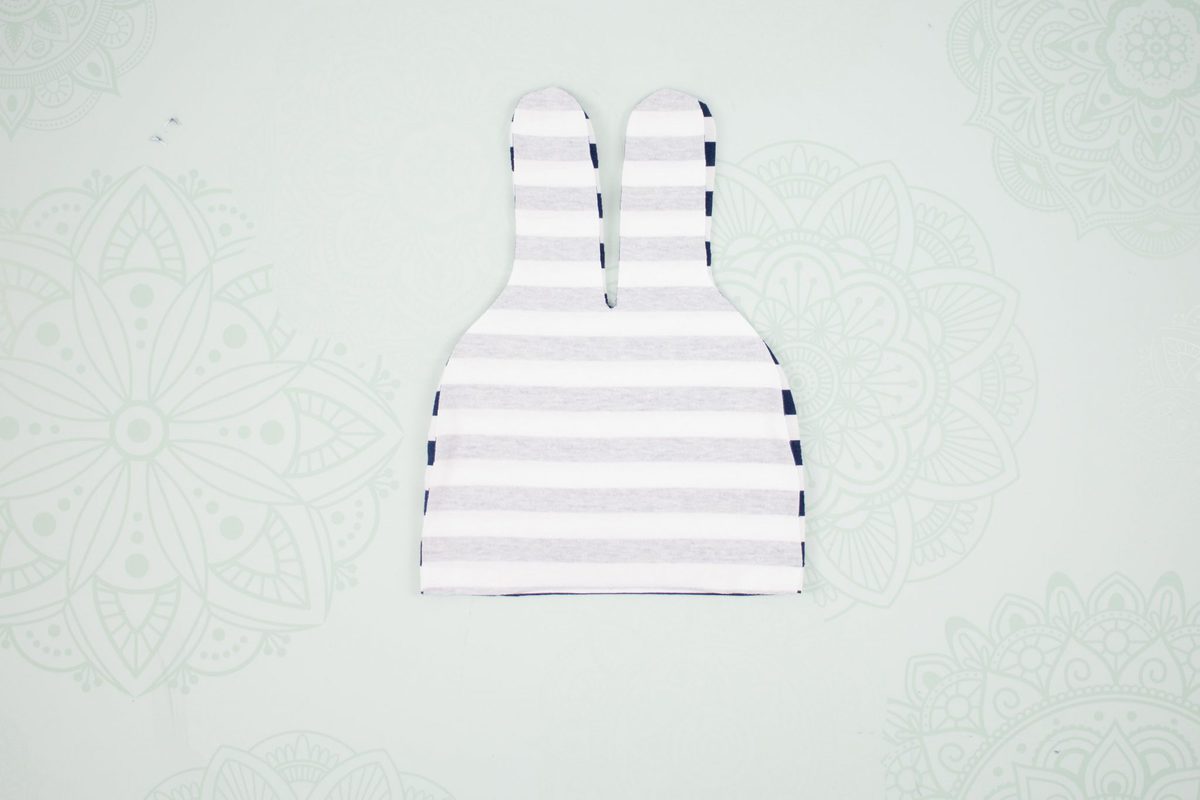 Next, cut out the hat band. It's important to cut out the band with the greatest stretch going across the width of the fabric so that it stretches when it's placed on a baby's head.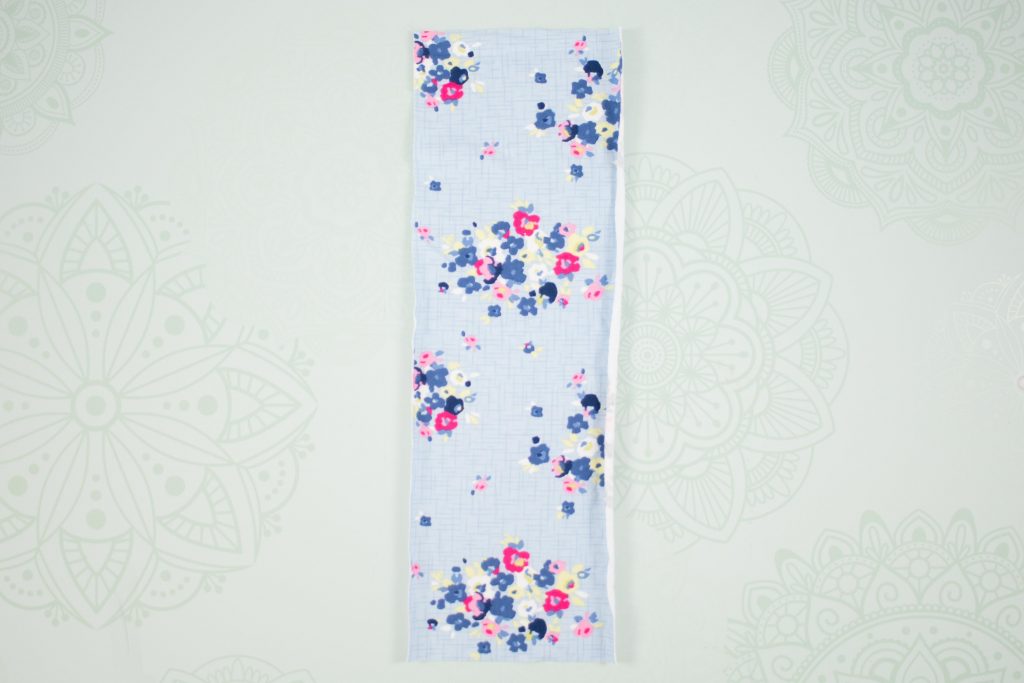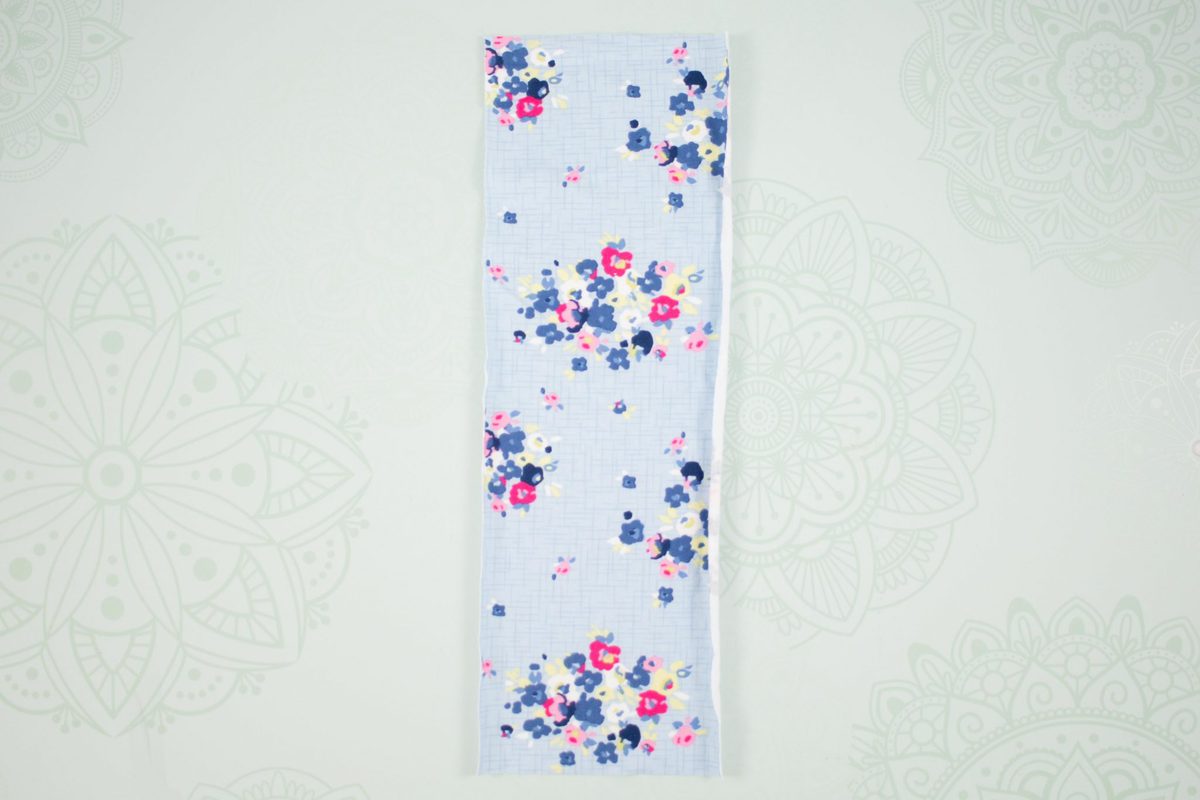 Step 4: Pin Baby Hat Fabric Together
Clip or pin the two pieces of fabric with right sides facing together.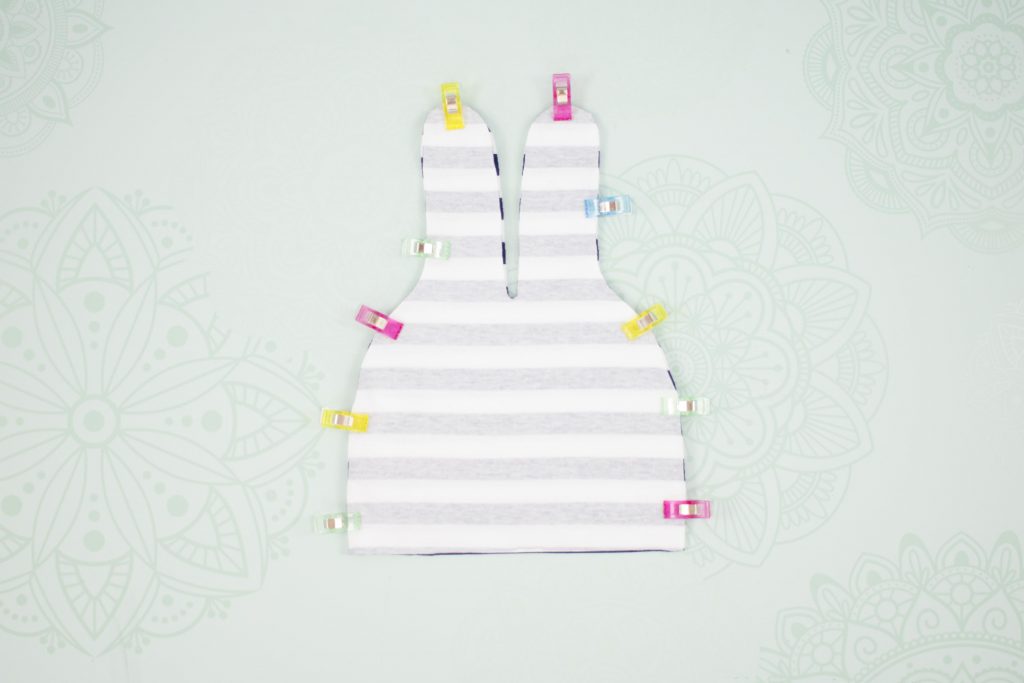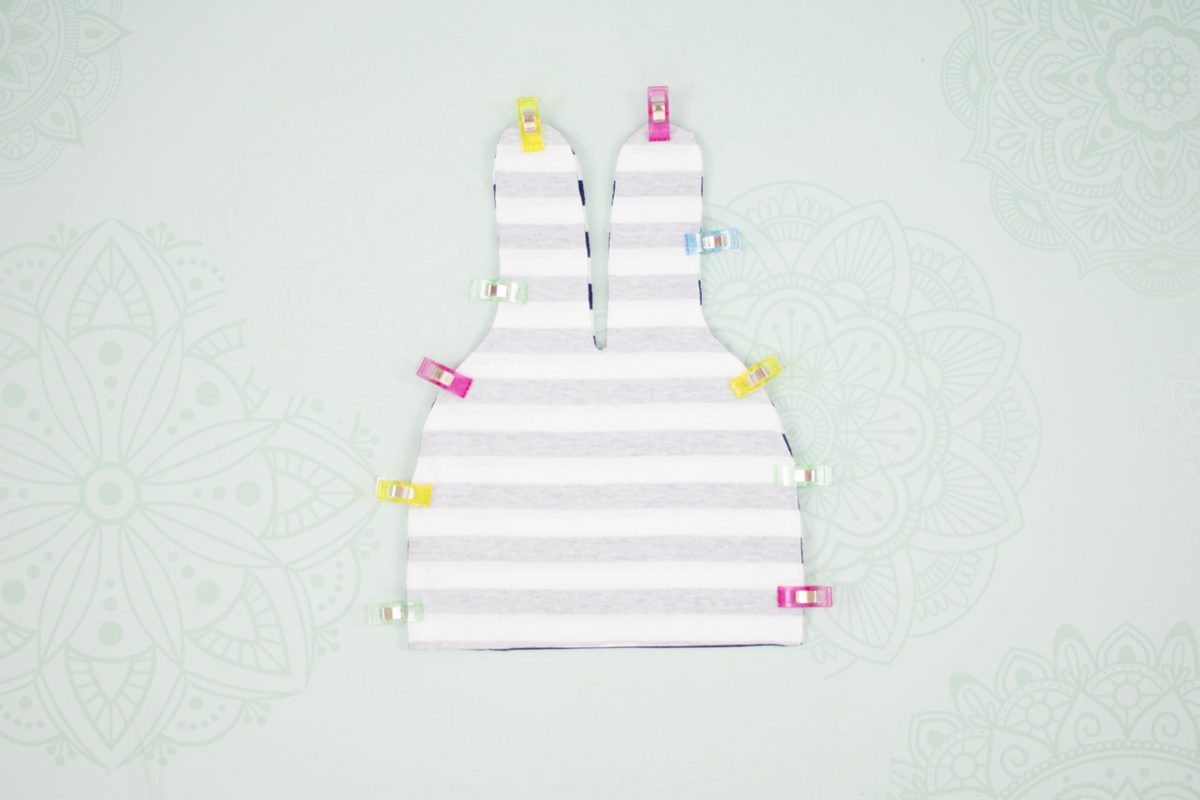 Here's one of my favorite knit sewing tips!! Coats recently released Eloflex thread and it's a game-changer! I keep about 10 spools of these on hand in a variety of colors for all of my knit sewing. This allows me to use a sewing machine instead of needing a serger for every project.
the Eloflex thread is a stretchable thread which allows the fabric to stretch without the seams popping or breaking. This means you can use a normal stitch instead of a lighting or stretch stitch when sewing with knit fabric. I just wish this thread would have been around when I first started sewing with knits years ago!!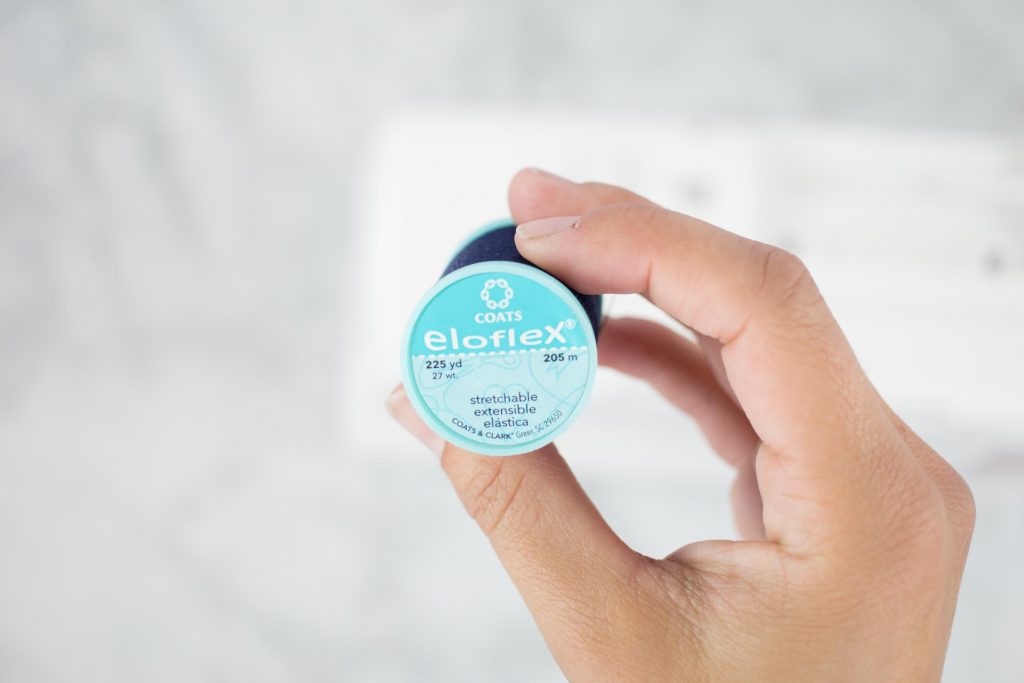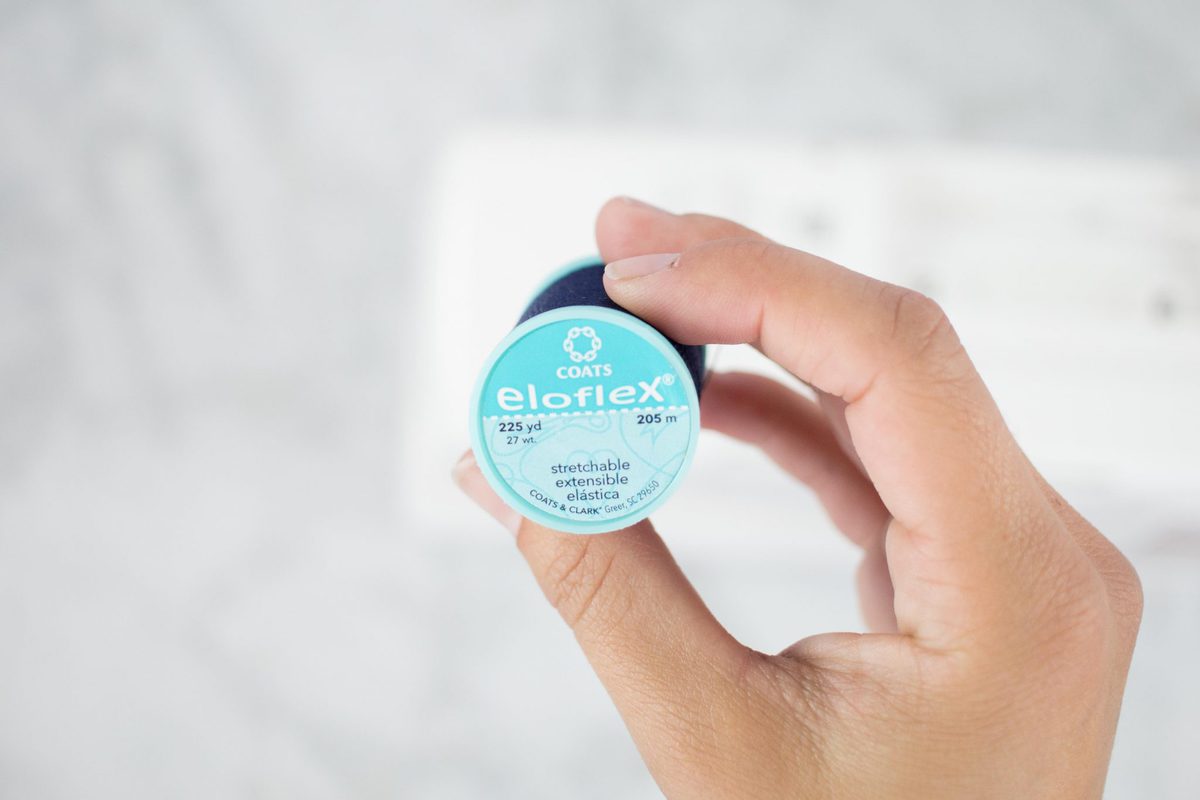 Step 4: Sew Top Knot Baby Hat and Band
Sew around the hat using a 3/8ths-inch seam allowance. If you find sewing around the points of the hat tricky, try setting your needle to the down position and lifting the presser foot to rotate the fabric as you go around the curves.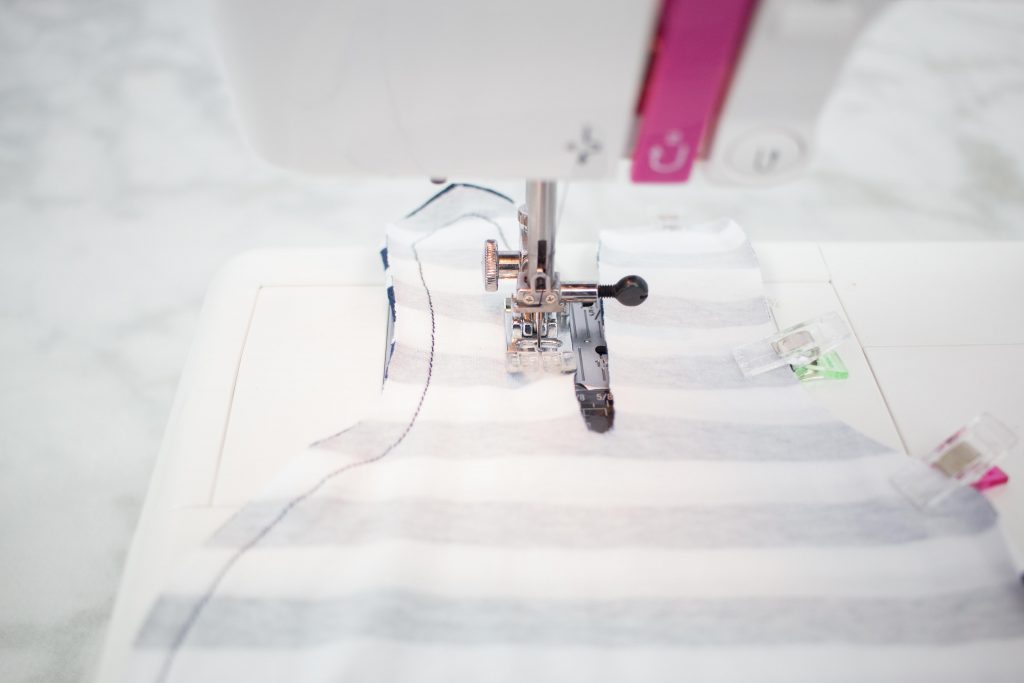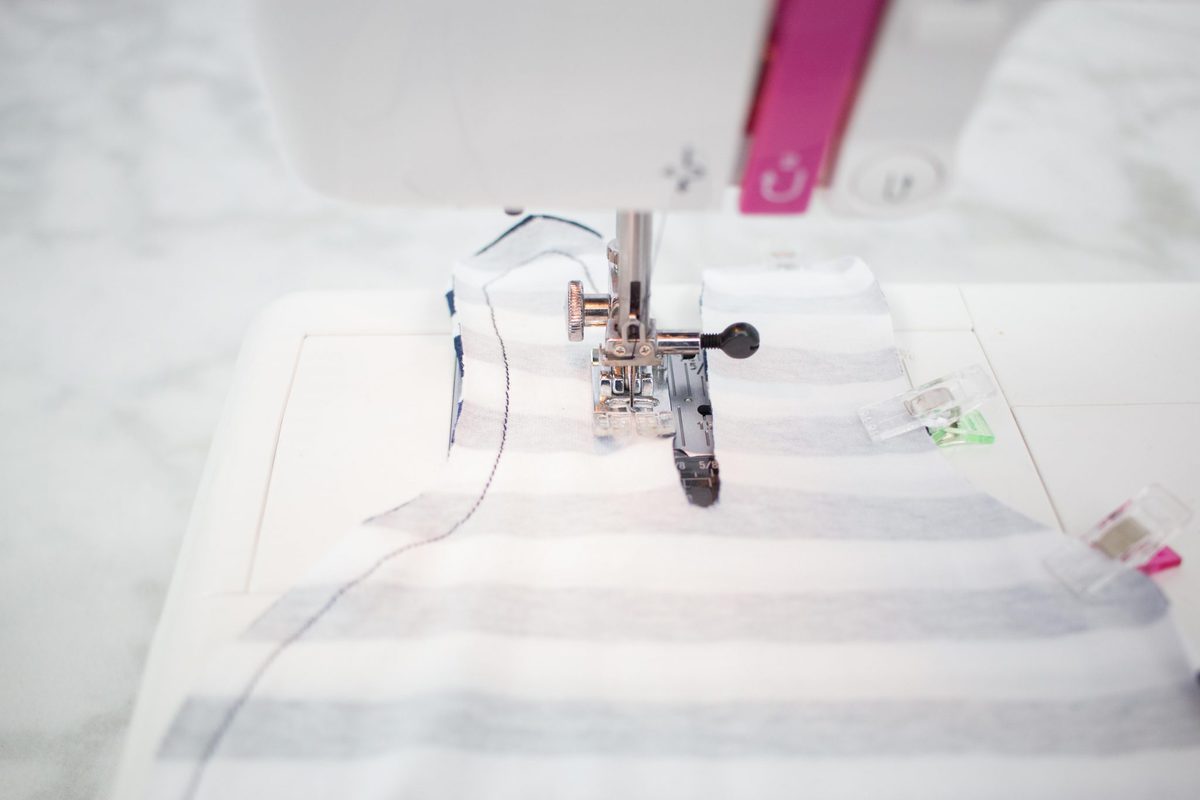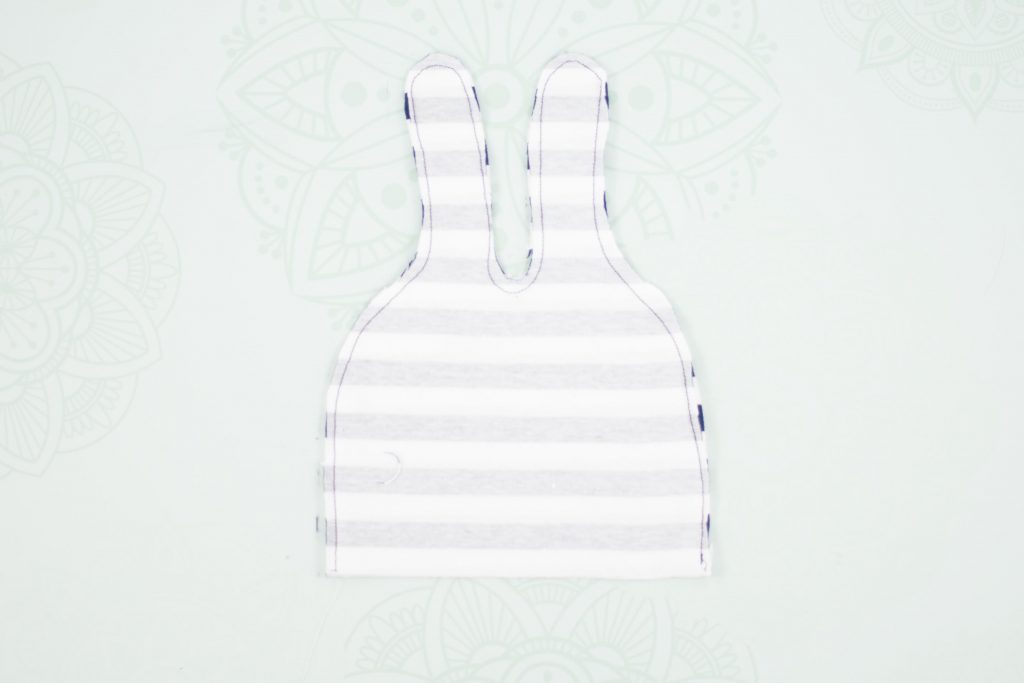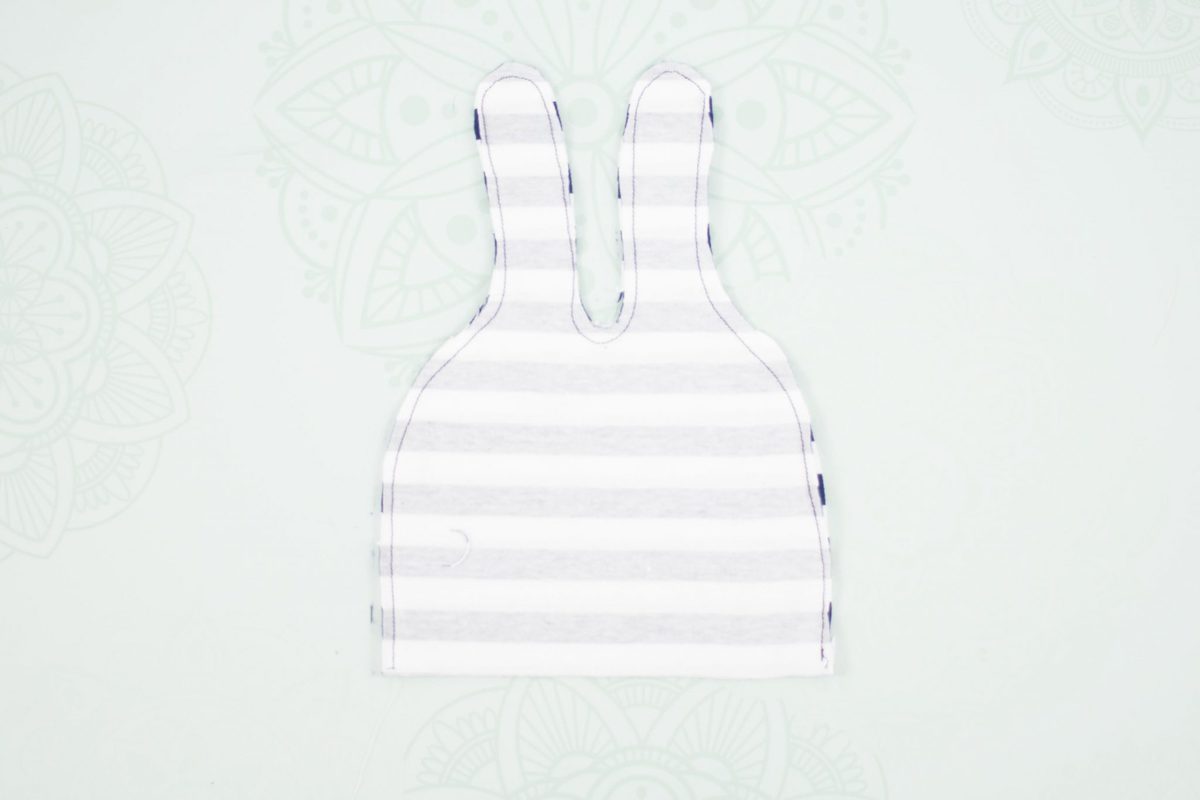 Trim down the seam allowance to reduce bulk.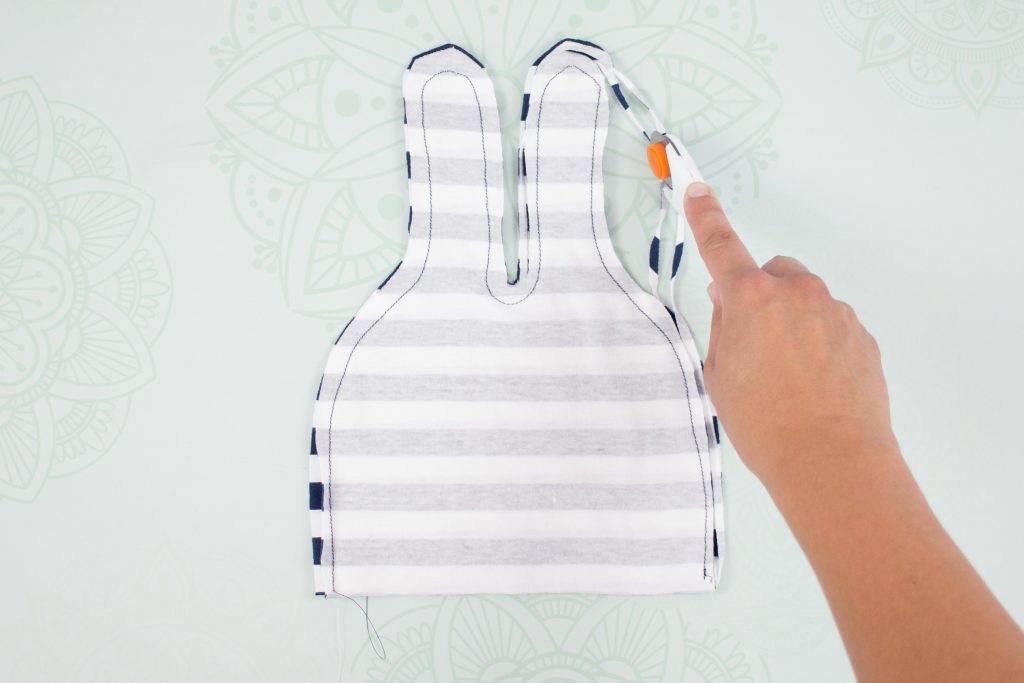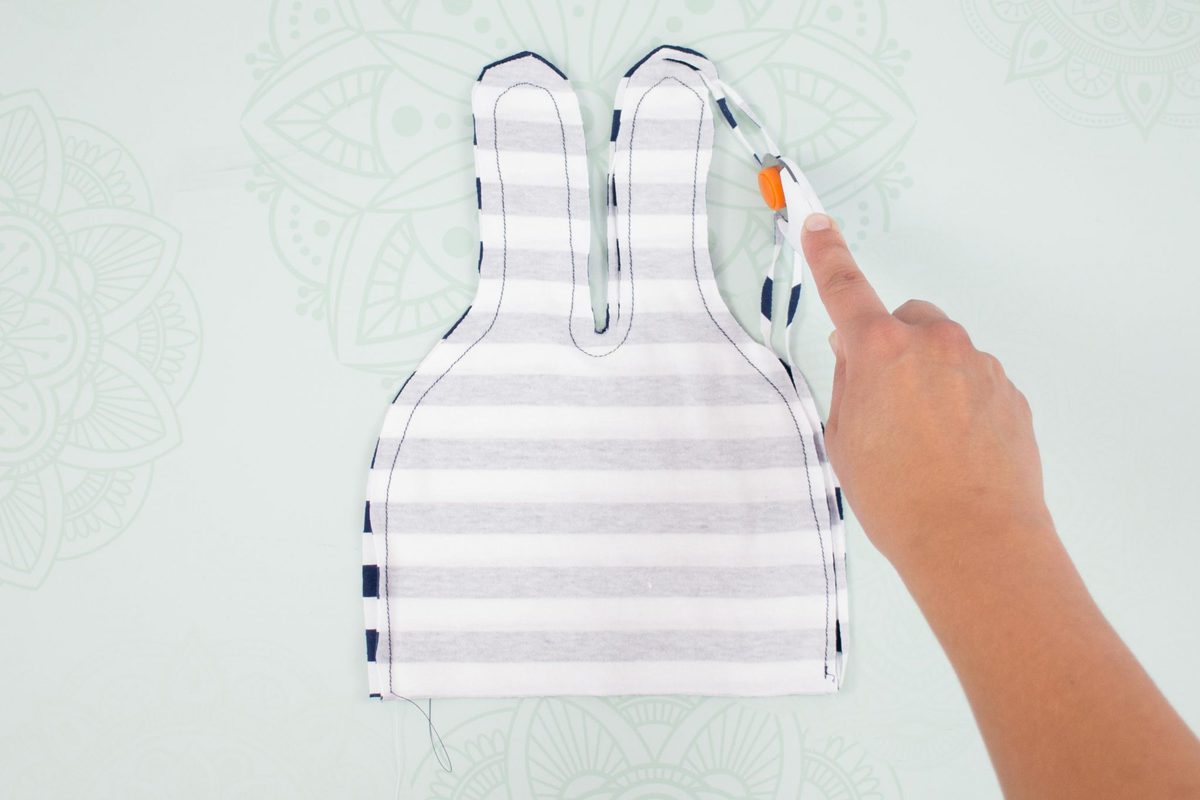 Fold the fabric in half with right sides together and sew along the short side.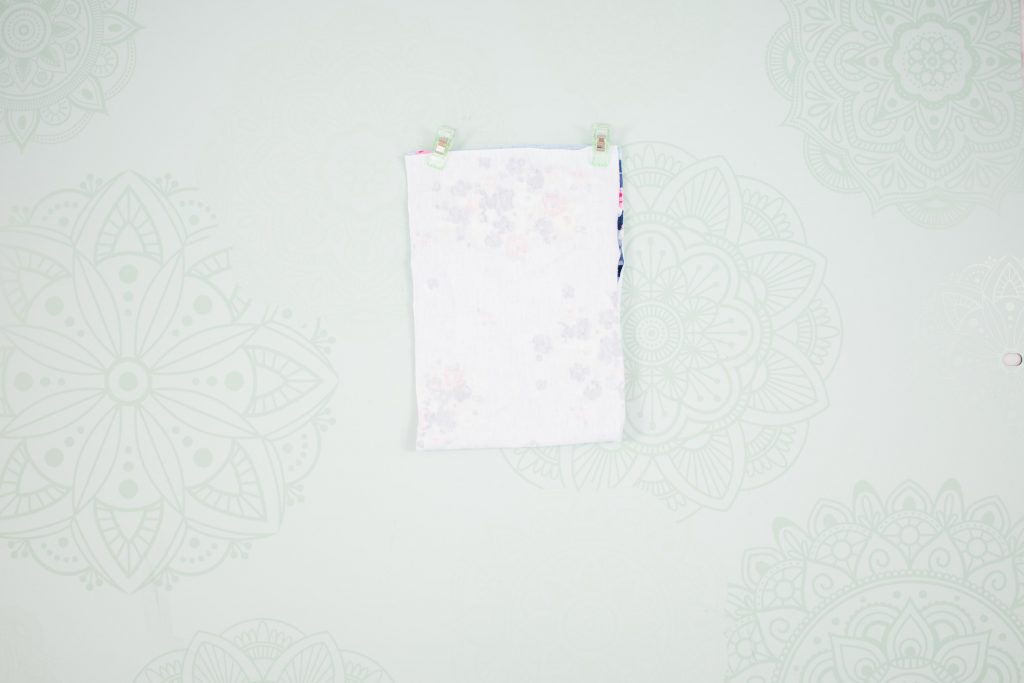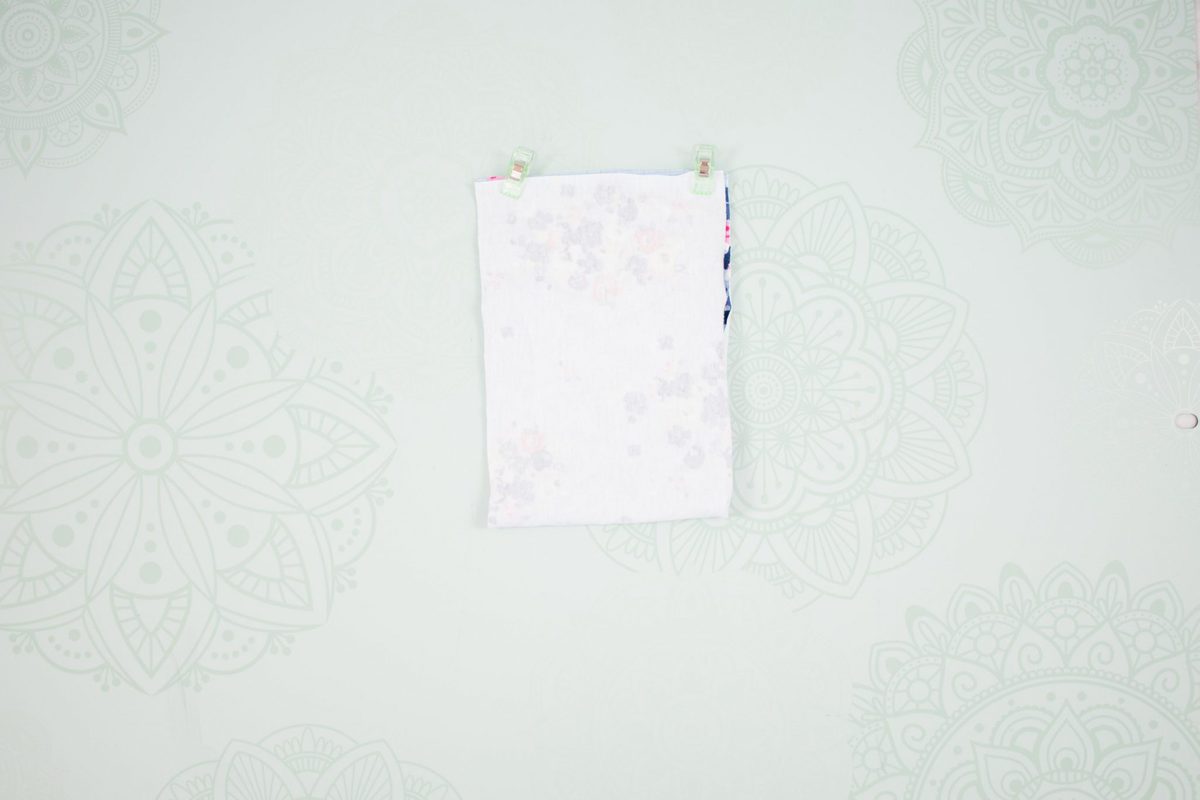 Sew the band with a 3/8" seam allowance.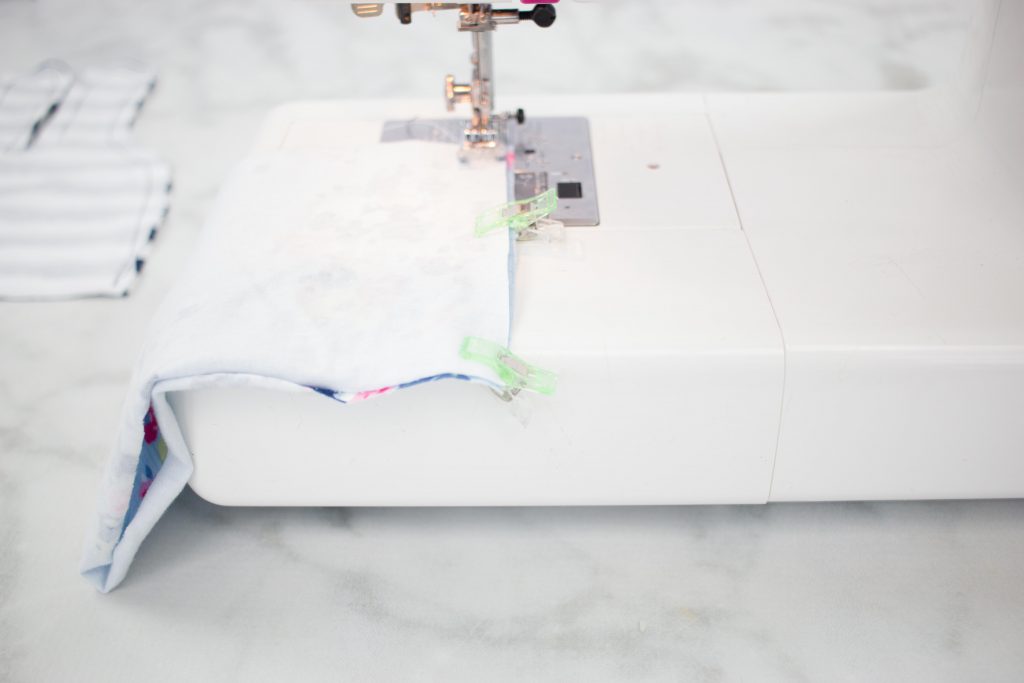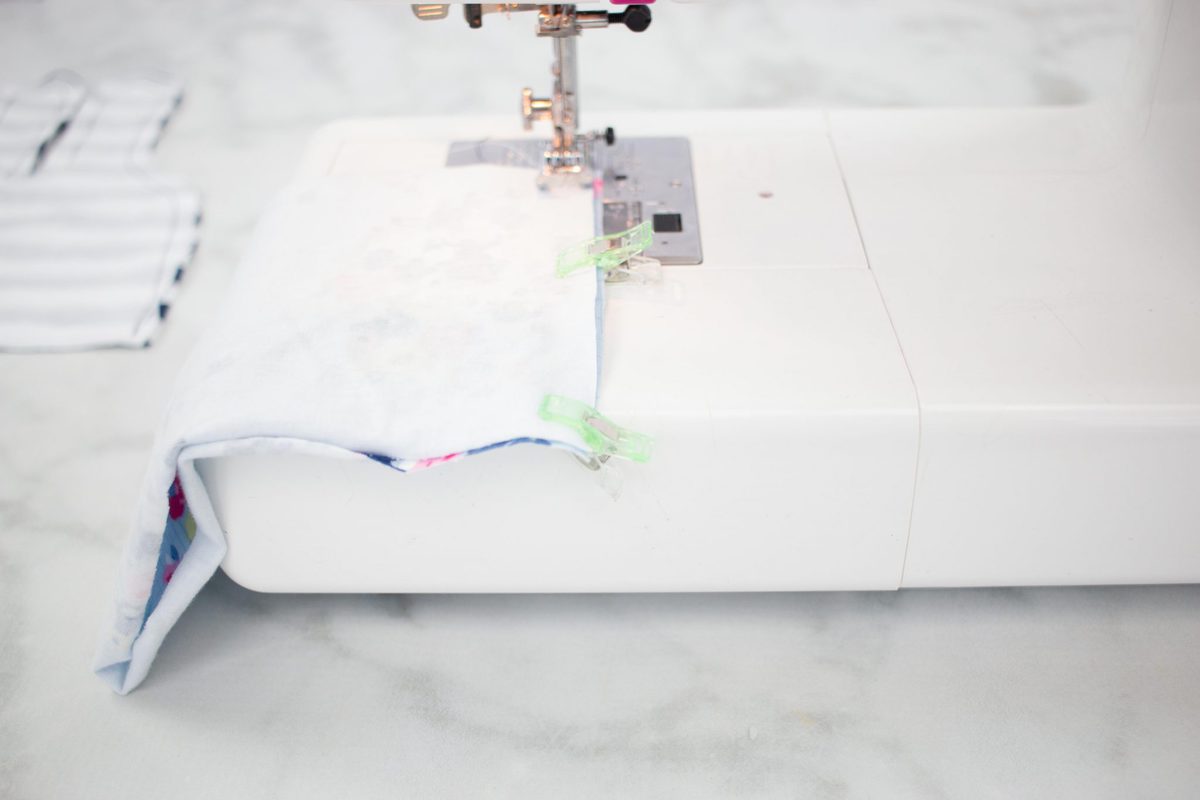 Turn both the hat and band right side out.
Take the band and press the seams open. Then fold the band in half with the wrong sides facing each other.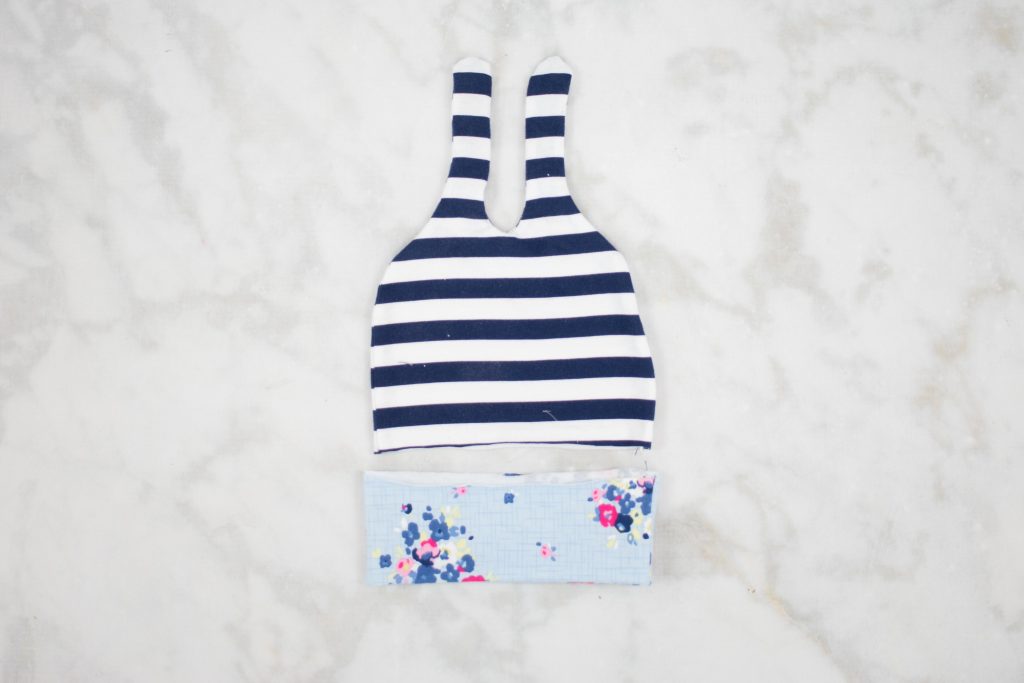 Step 5: Pin and Sew Baby Hat to Band
Slip the band around the hat aligning the side seams on one side and the side seam and the middle of the band on the other side. The raw edges of the band and the raw edge of the hat should be aligned.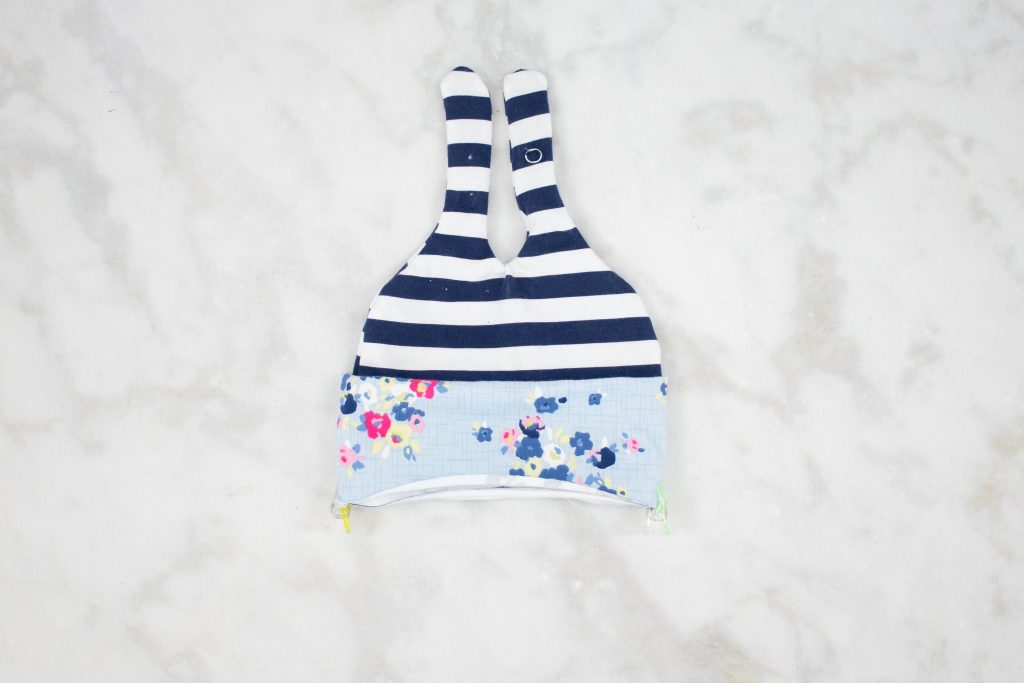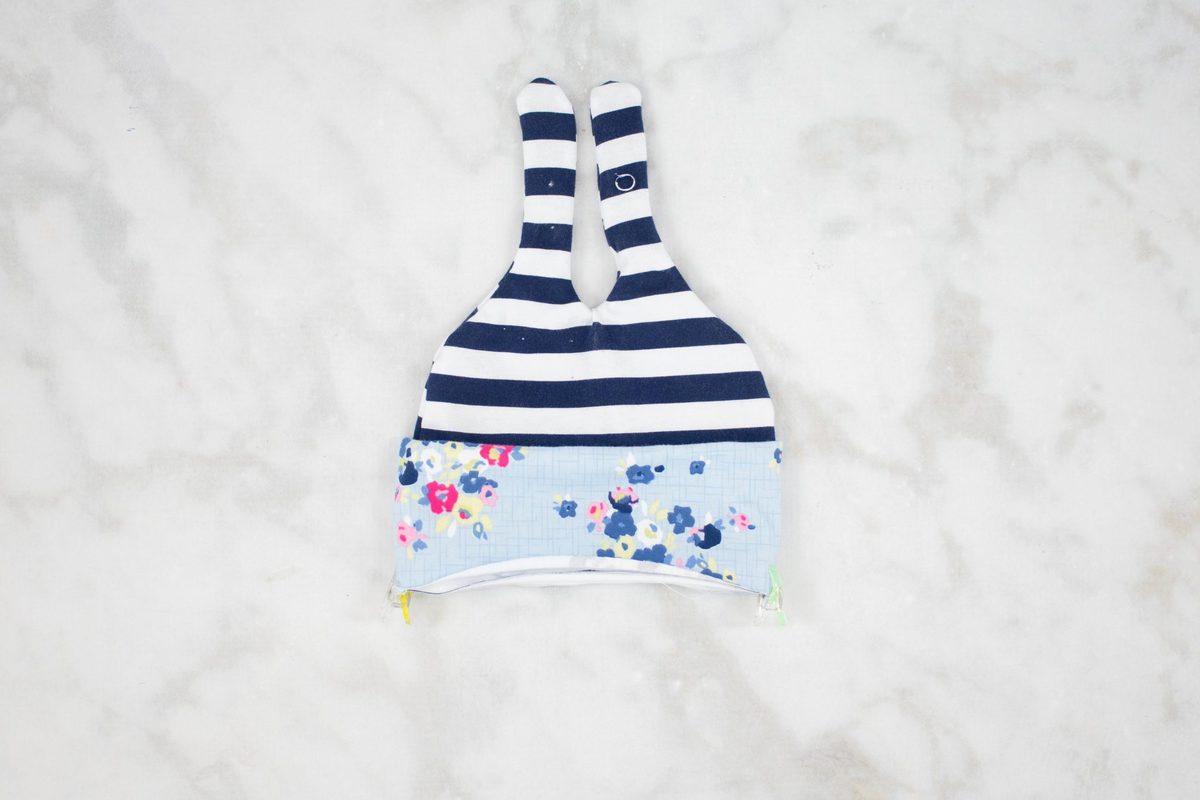 With a 3/8ths-inch seam allowance sew through all three layers of fabric.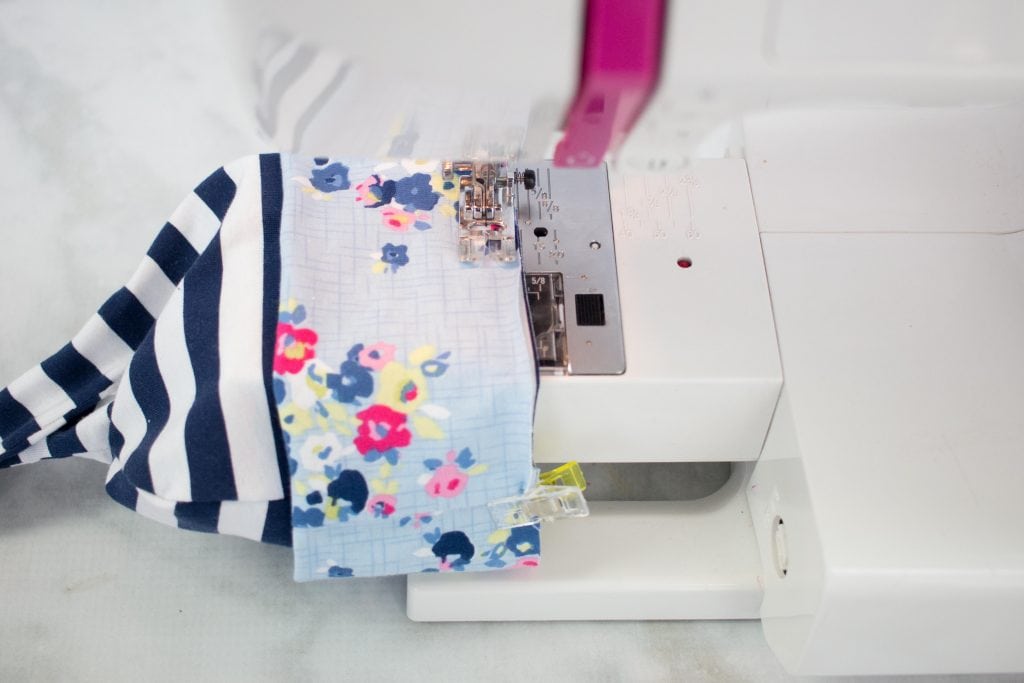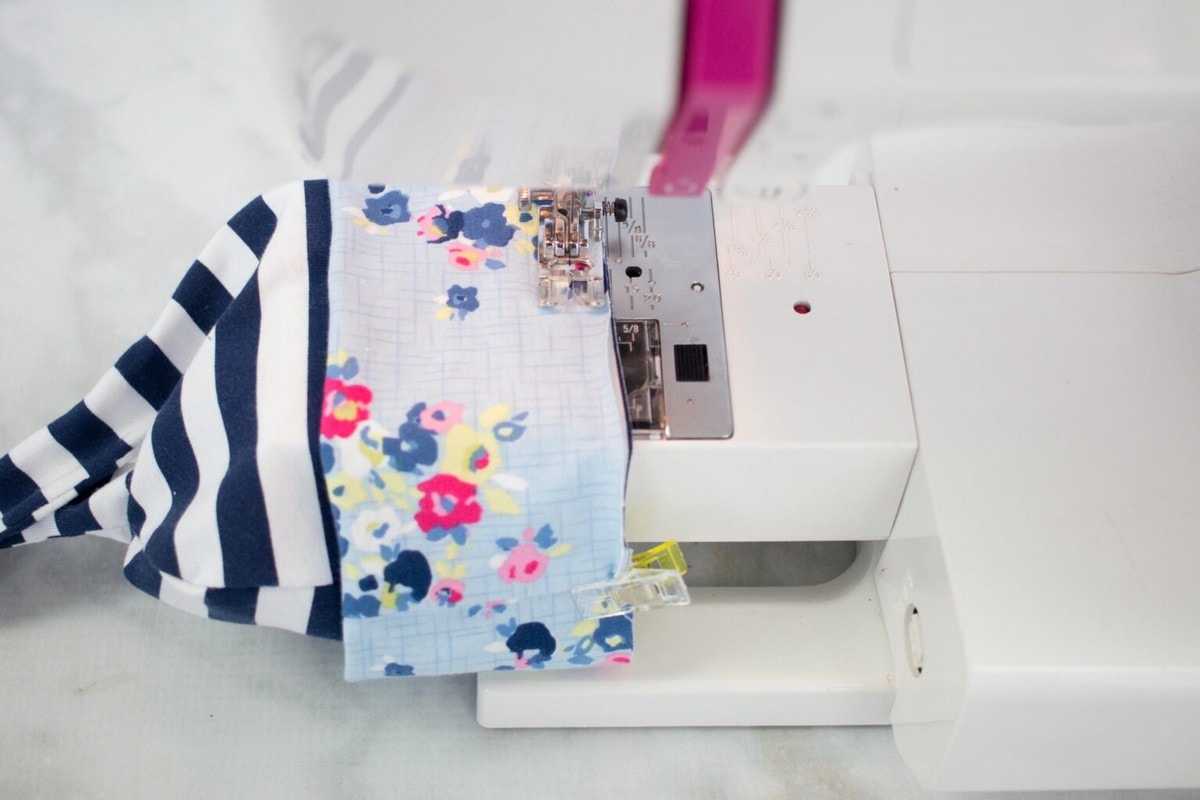 Press the seam allowance upwards towards the hat and the band downwards. Then fold the band upwards 1.5 inches.
Now you have a Top Knot Baby Hat!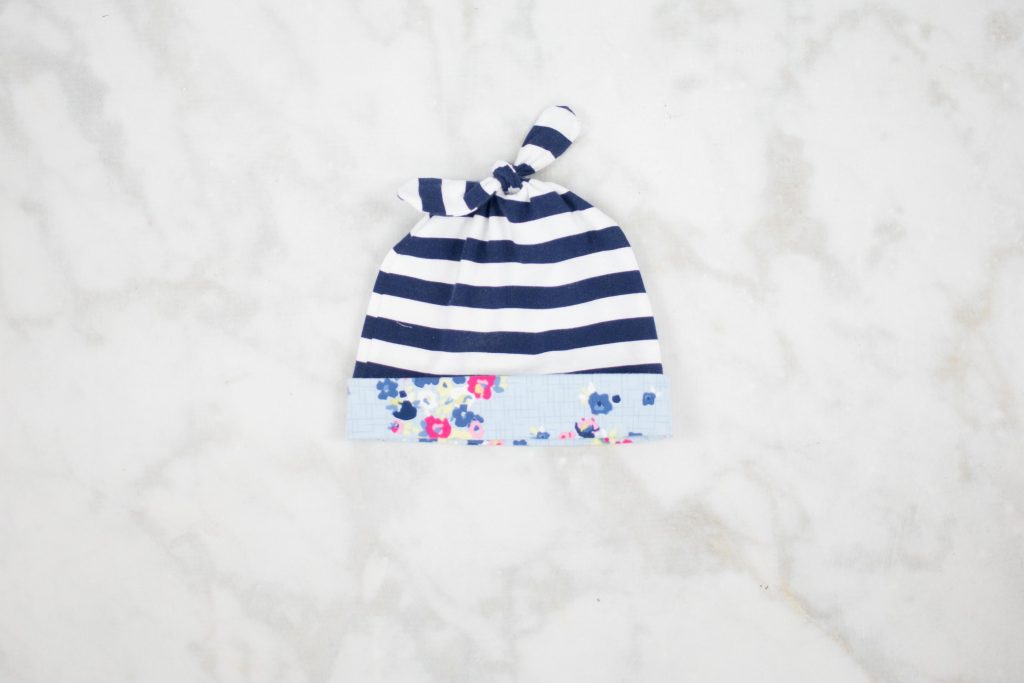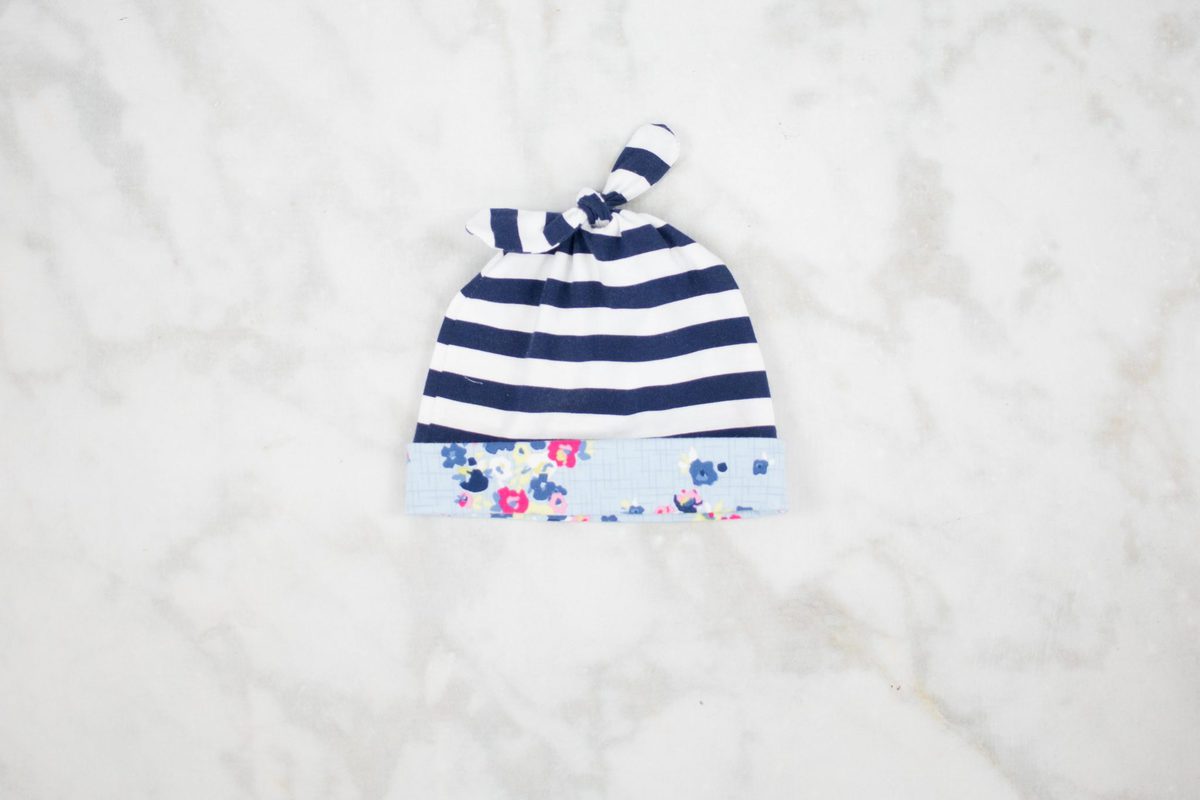 Looking for an ad-free experience and printable instructions?
Head to the Sweet Red Poppy Shop to get my Baby Sewing Pattern Ebook for only $9! You'll get access to 11 different baby projects with printable patterns and tutorials.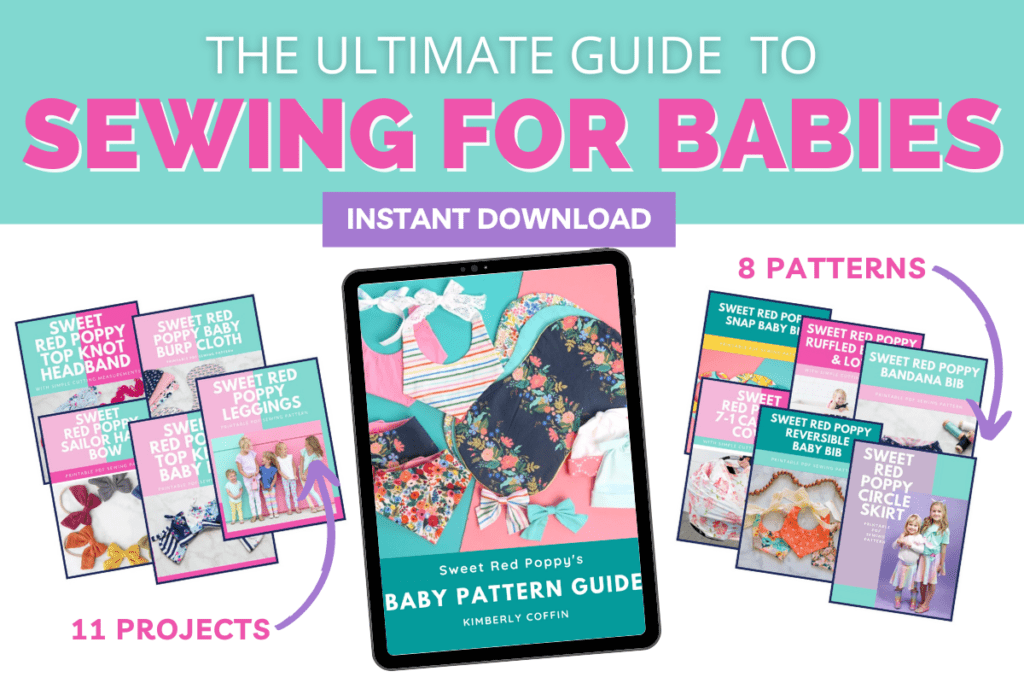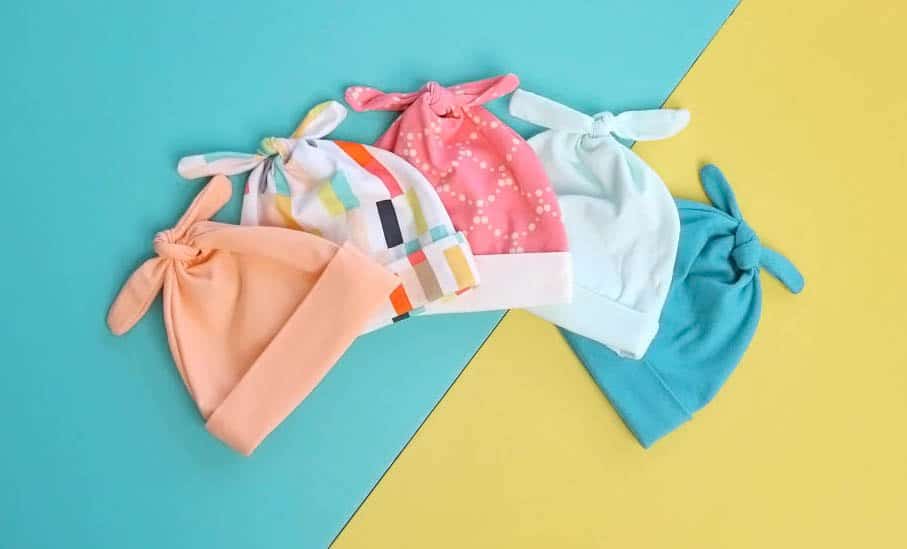 Did you try this pattern out? Post a picture on Instagram with the hashtag #sweetredpoppy - I would love to see how it turned out!
Don't forget to join my Facebook group where you can show us what you're making, ask questions, and learn from others.
Don't want to forget this project and free pattern? Click here to save this tutorial on Pinterest!
Looking for even more FREE sewing patterns? Click the links below!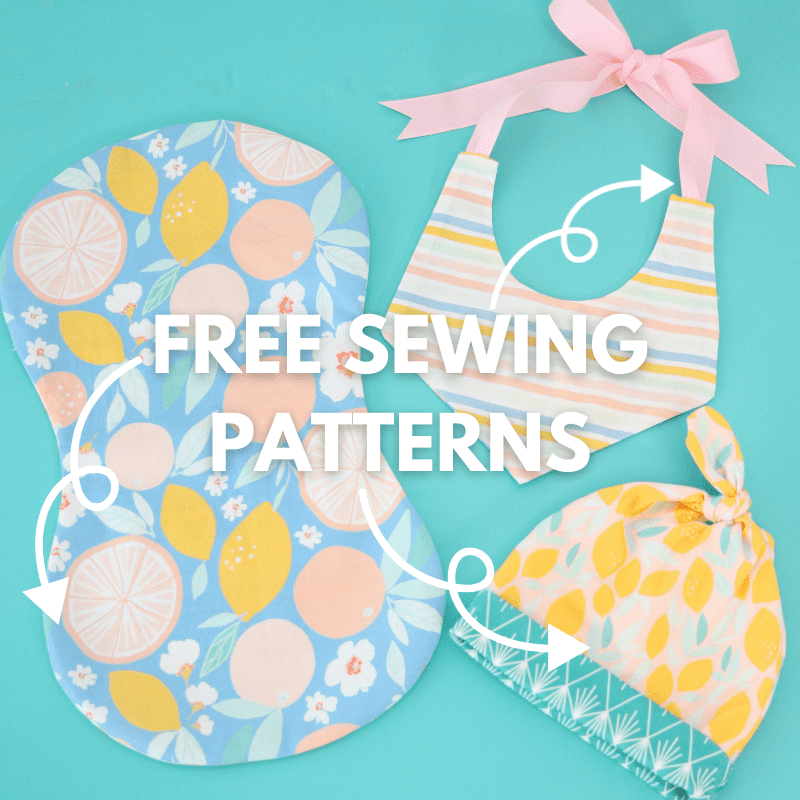 Wasn't that simple?!? I love to batch sew these hats. Layer a bunch of fabrics and cut out multiple hats at once and spend an evening making a set of these adorable hats!
TERMS OF USE 
You are welcome to sell hats made from this pattern on a small from a home scale. This is a personal use only pattern and may not be shared or resold. All contents of this pattern including the access to video, images, steps, and techniques, are protected under copyright.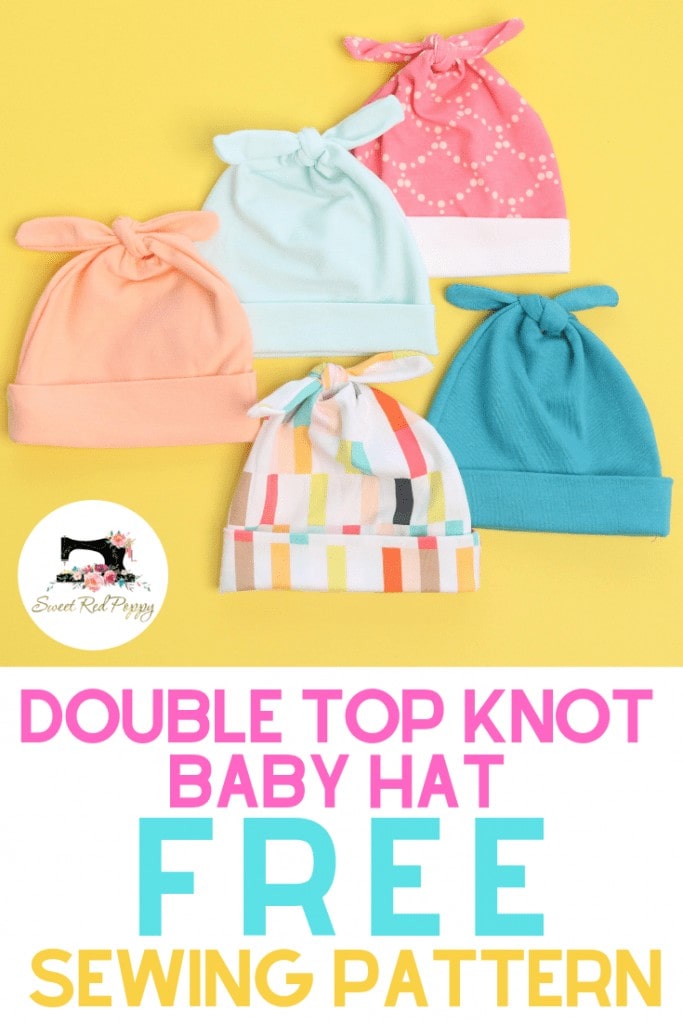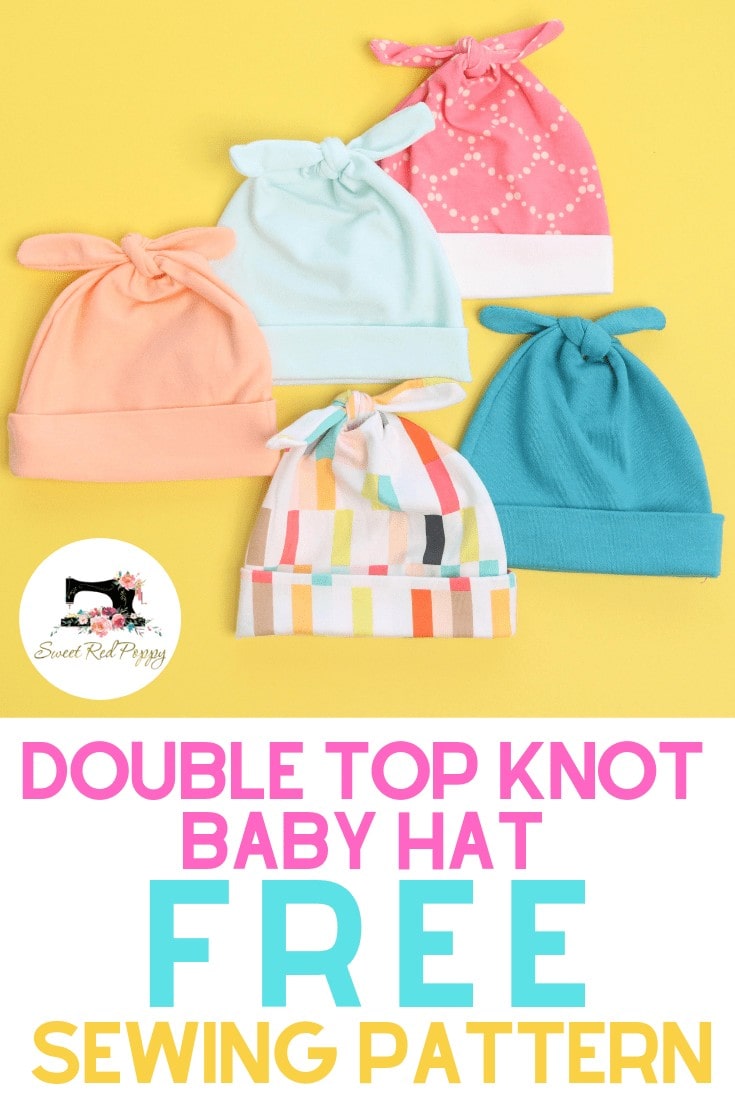 Learn how to hack this baby hat pattern into a Knotted Turban Hat below!