Create Adorable Reversible Baby Ribbon Bibs using Ribbon and Cotton Fabric with this Beginner-Friendly Baby Bib Sewing Pattern and tutorial. Download the FREE Baby Bandana Bib Pattern File.
You know how obsessed I am with sewing for babies, so I had to share a new bib pattern with you! This pattern basically combines my Bandana Bib pattern and Baby Bib Pattern together with a subtle touch of ribbon.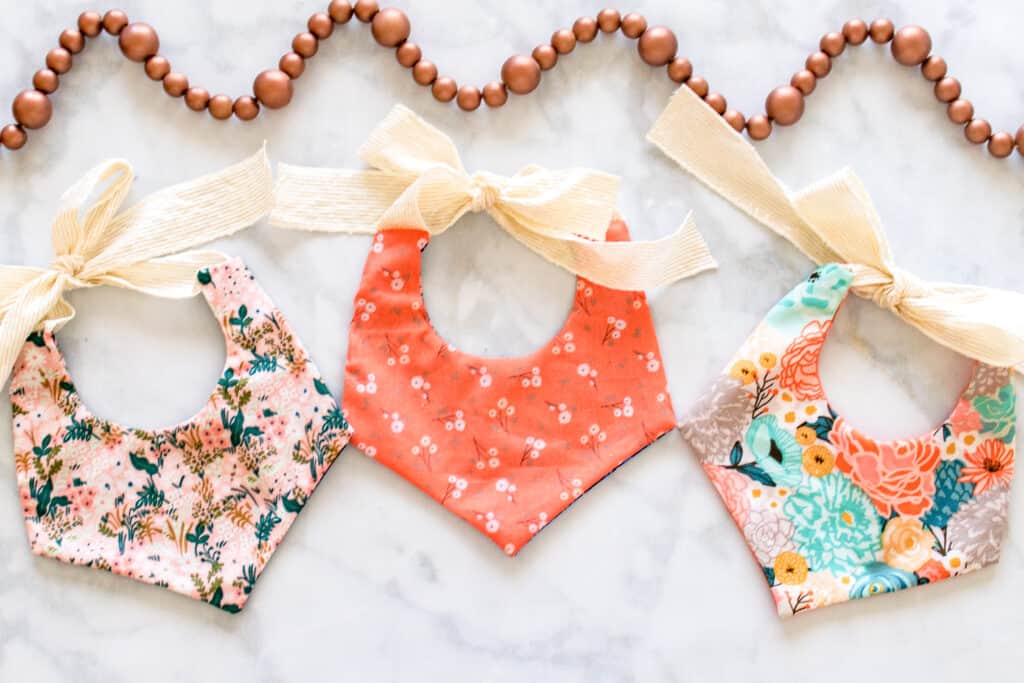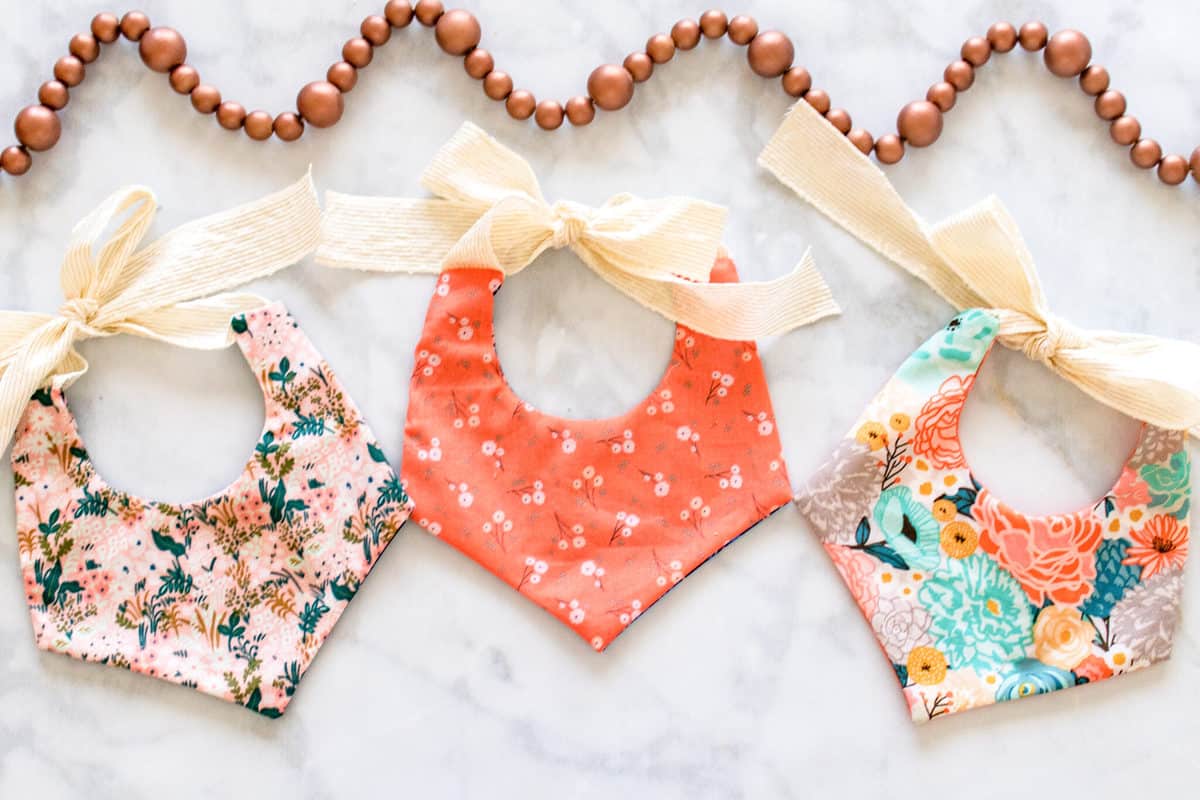 I can't wait for you to try this pattern and give all those special babies a boutique-worthy bib! Are you ready to get started? Gather all of your supplies and let's get sewing!
Reversible Baby Bib Sewing Pattern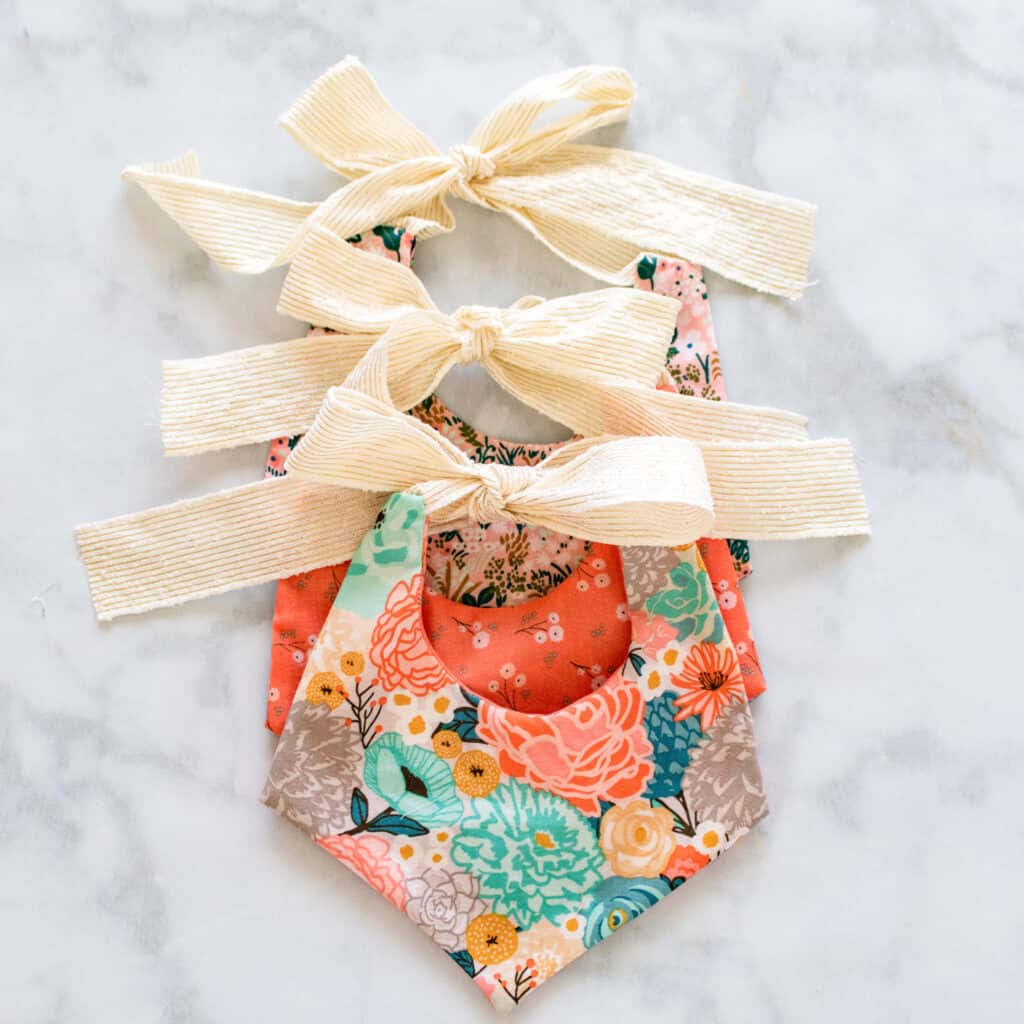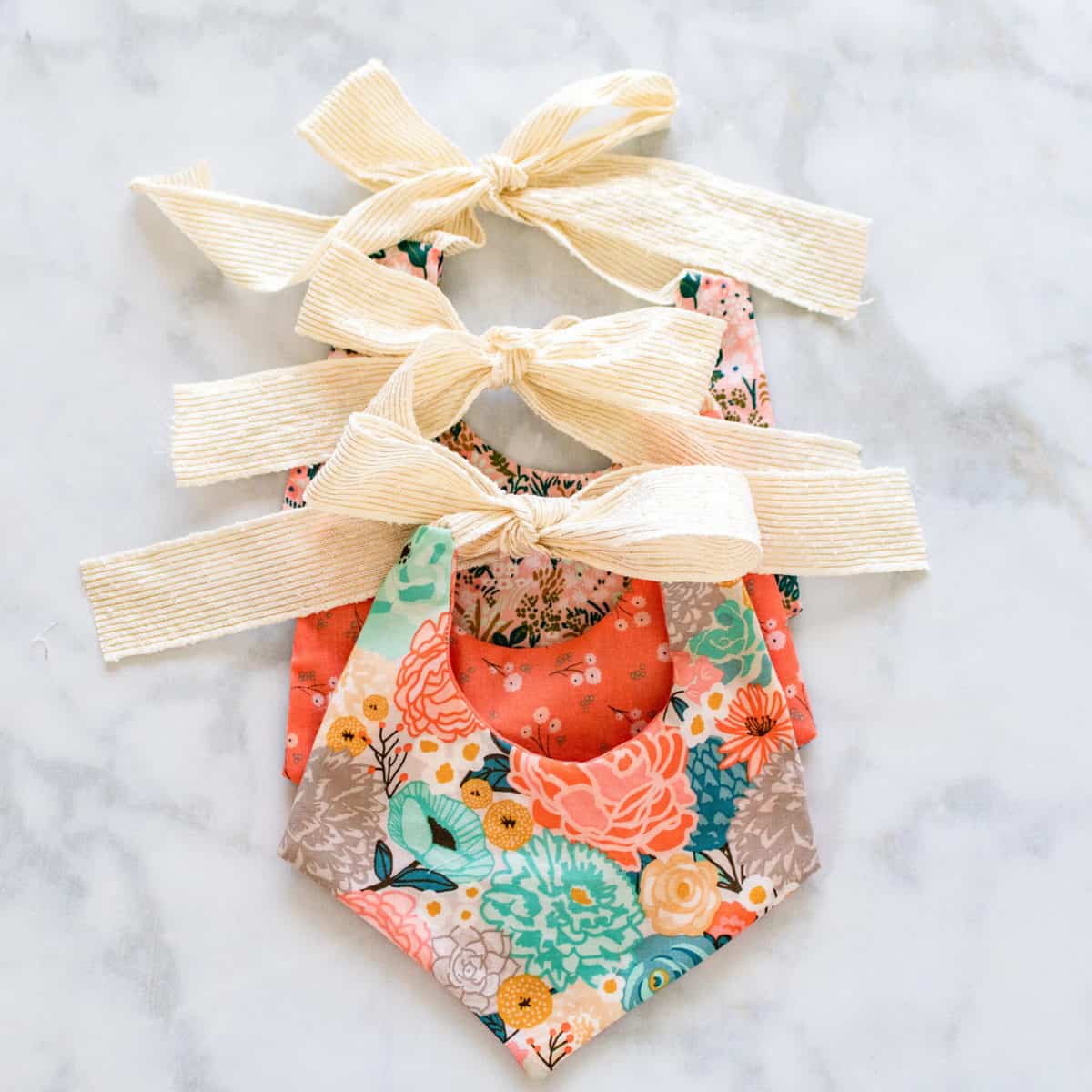 Supply List: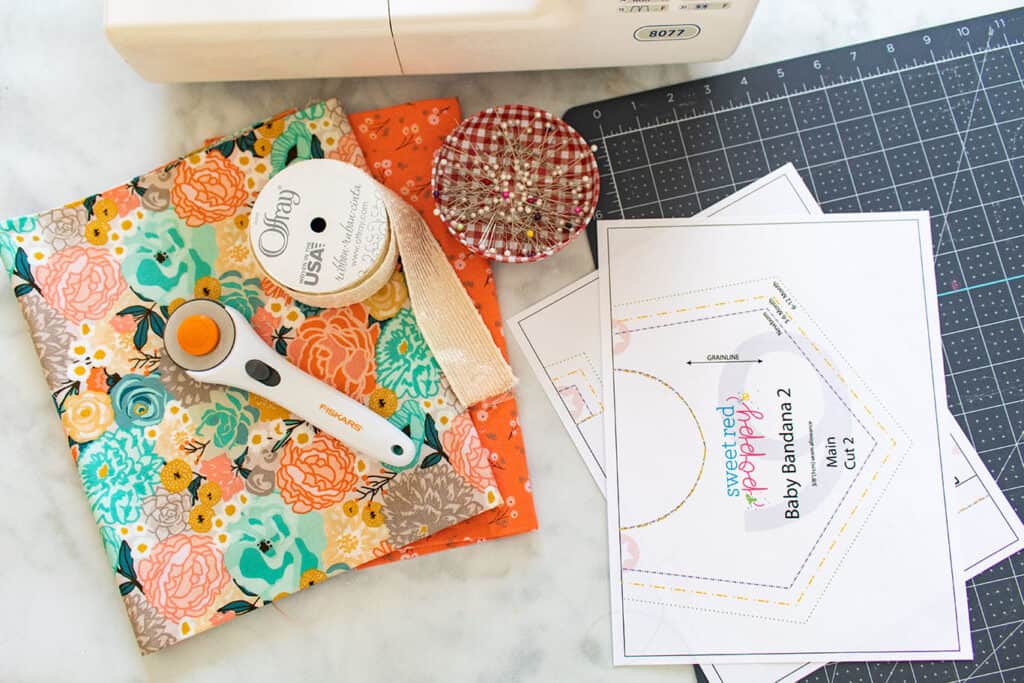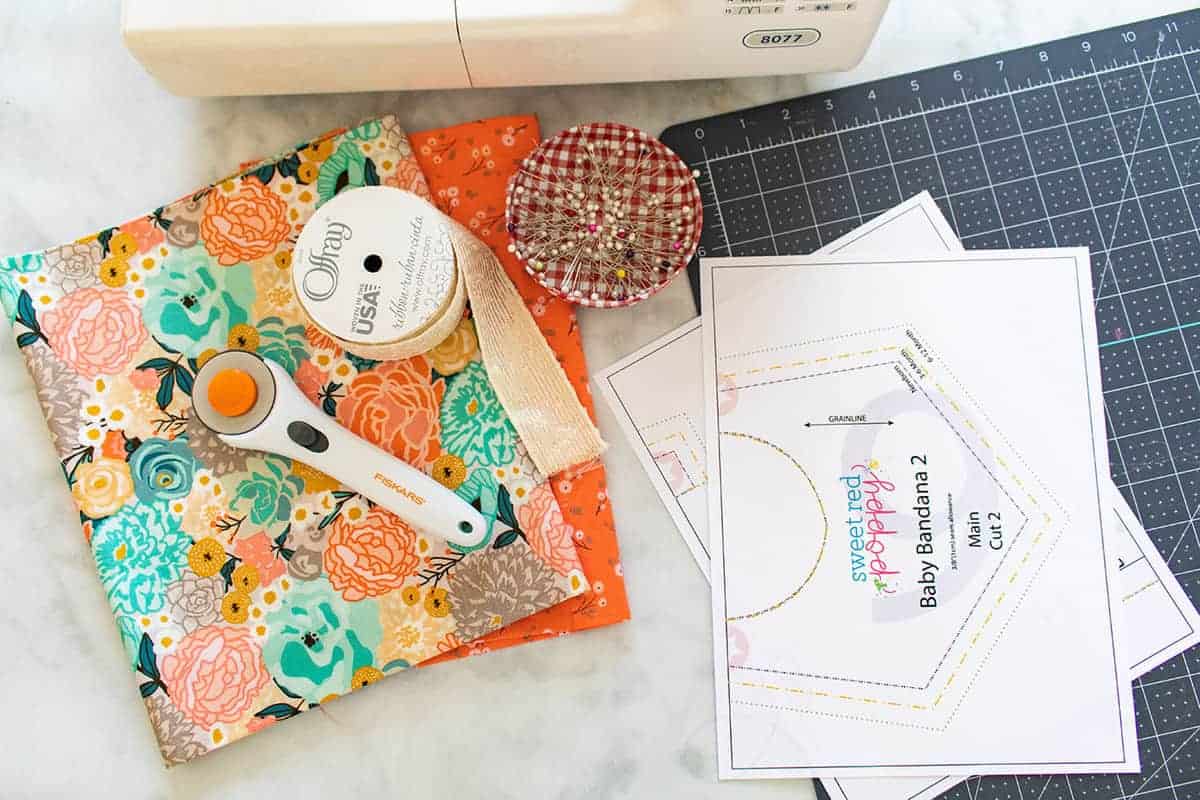 2 Fat Quarters Cotton Fabric

1 yard of Ribbon
Sewing Machine
Thread
Scissors or Rotary Cutter/Mat
Iron & Ironing Board
Turning Tool
Beacon Fabric Glue
Step #1: Cut Fabric & Ribbon
Download the pattern and print it out. Measure the 1"x1" square to make sure it was printed correctly. Piece it together and cut it out according to the size you are making.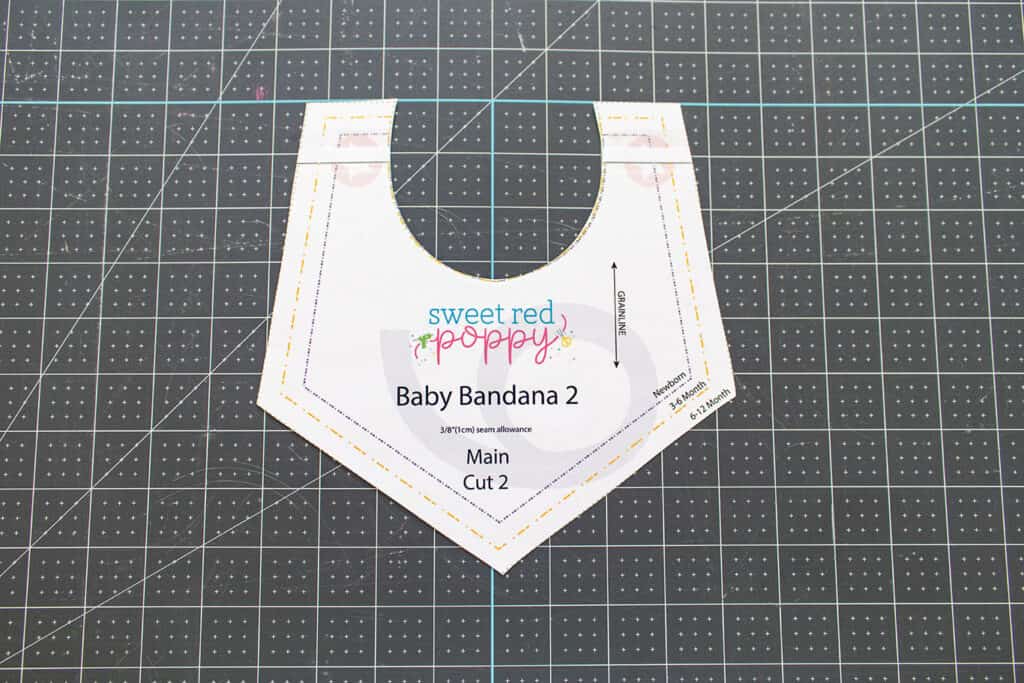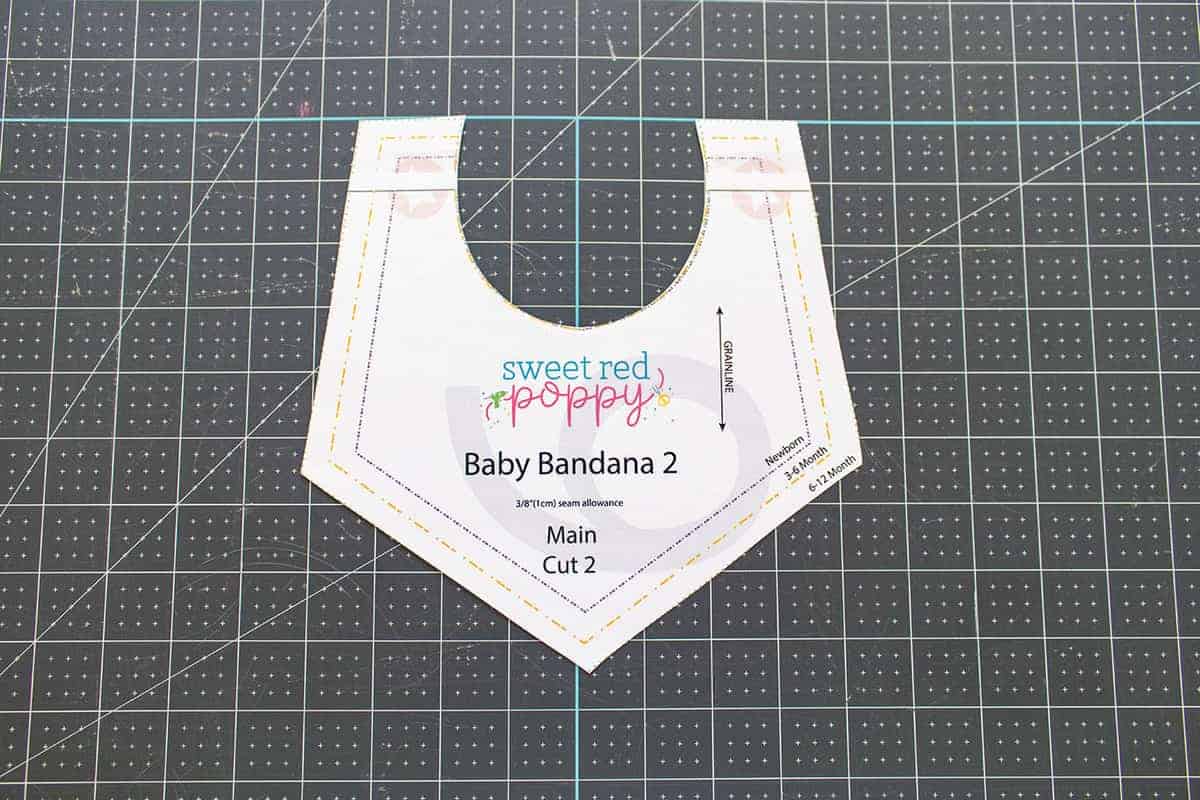 Lay your fat quarters on top of each other and place the pattern on top of the fabric paying attention to the direction of the grainline.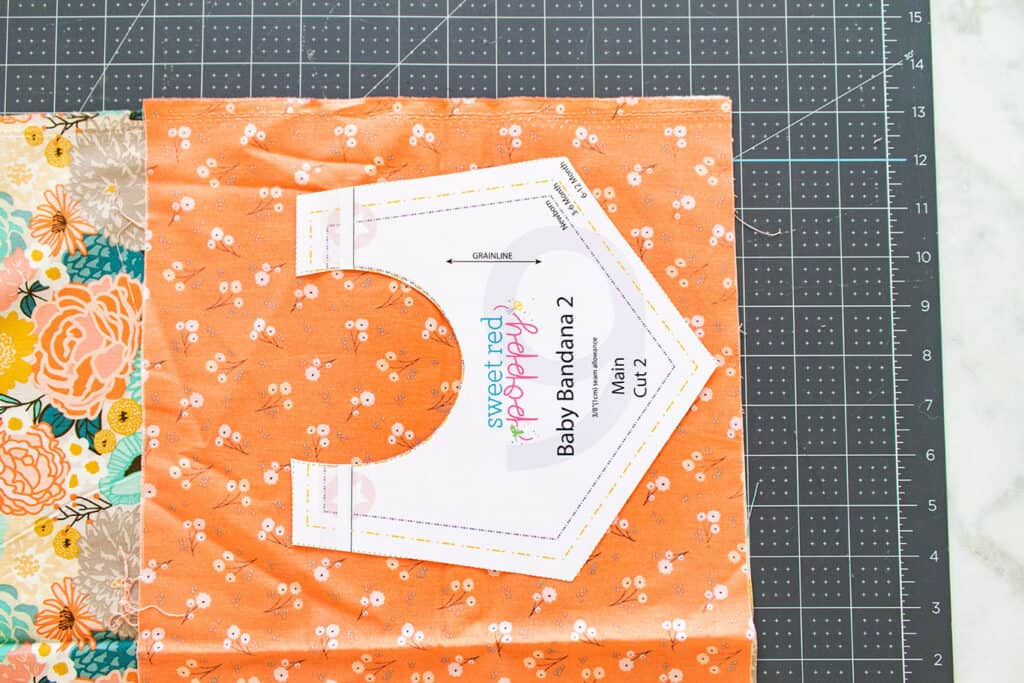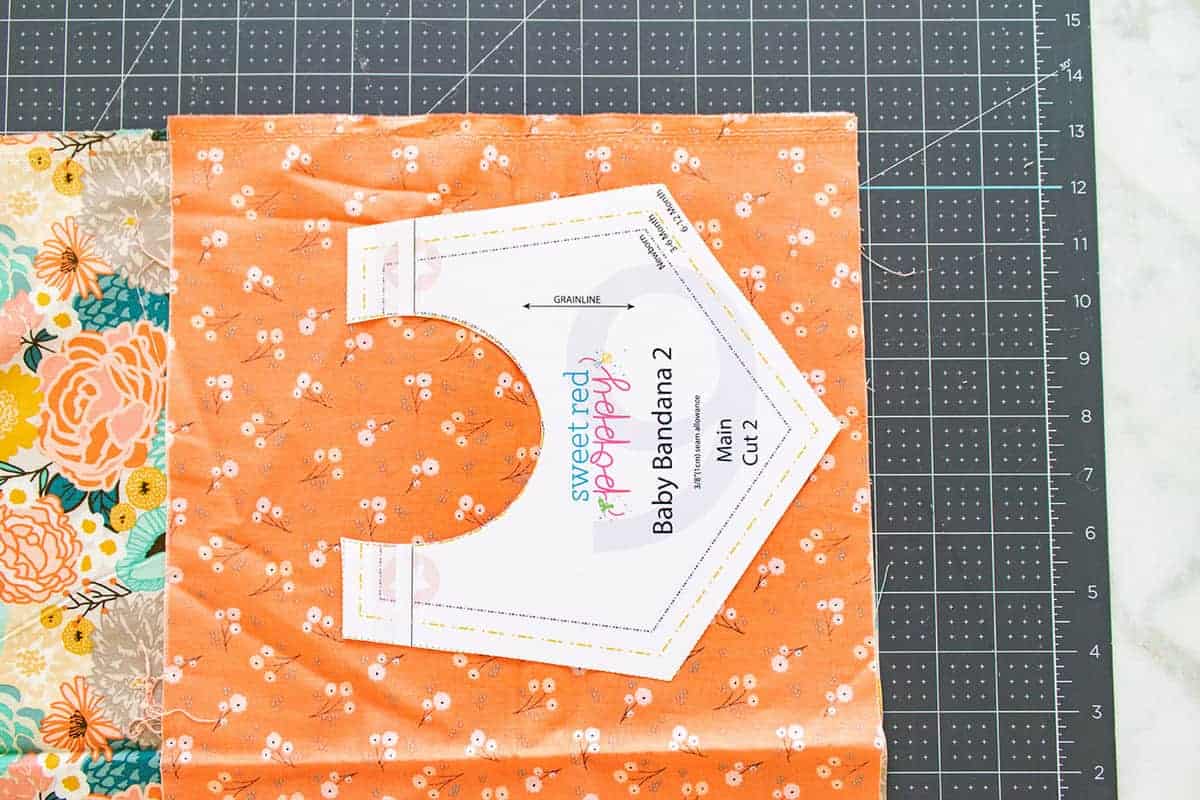 Using your rotary cutter or scissors, cut out your fabric. You should end up with two pieces.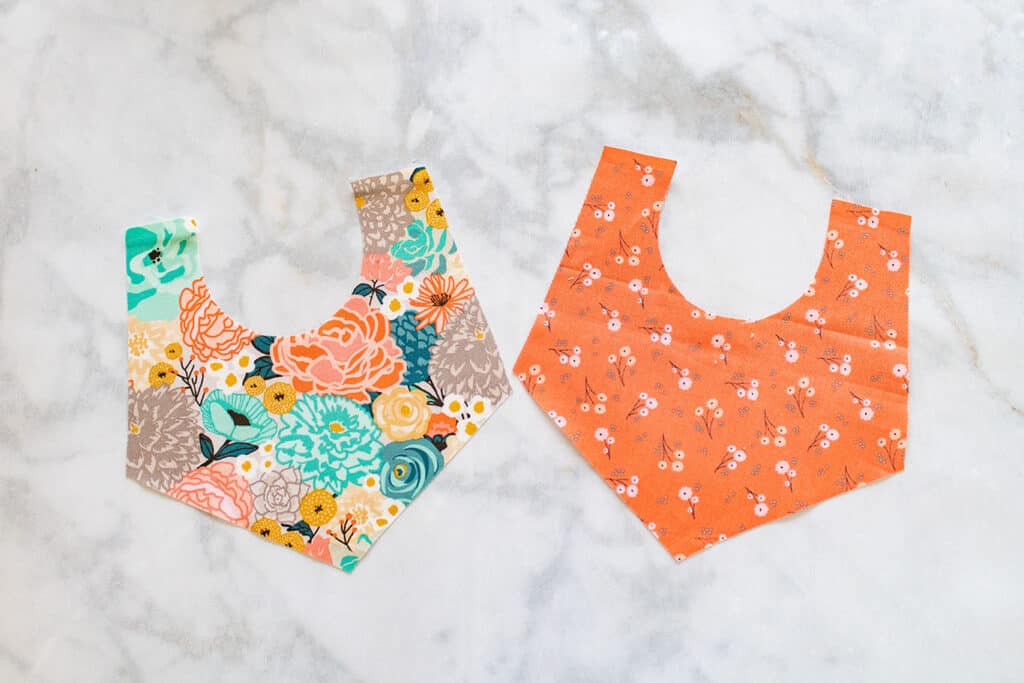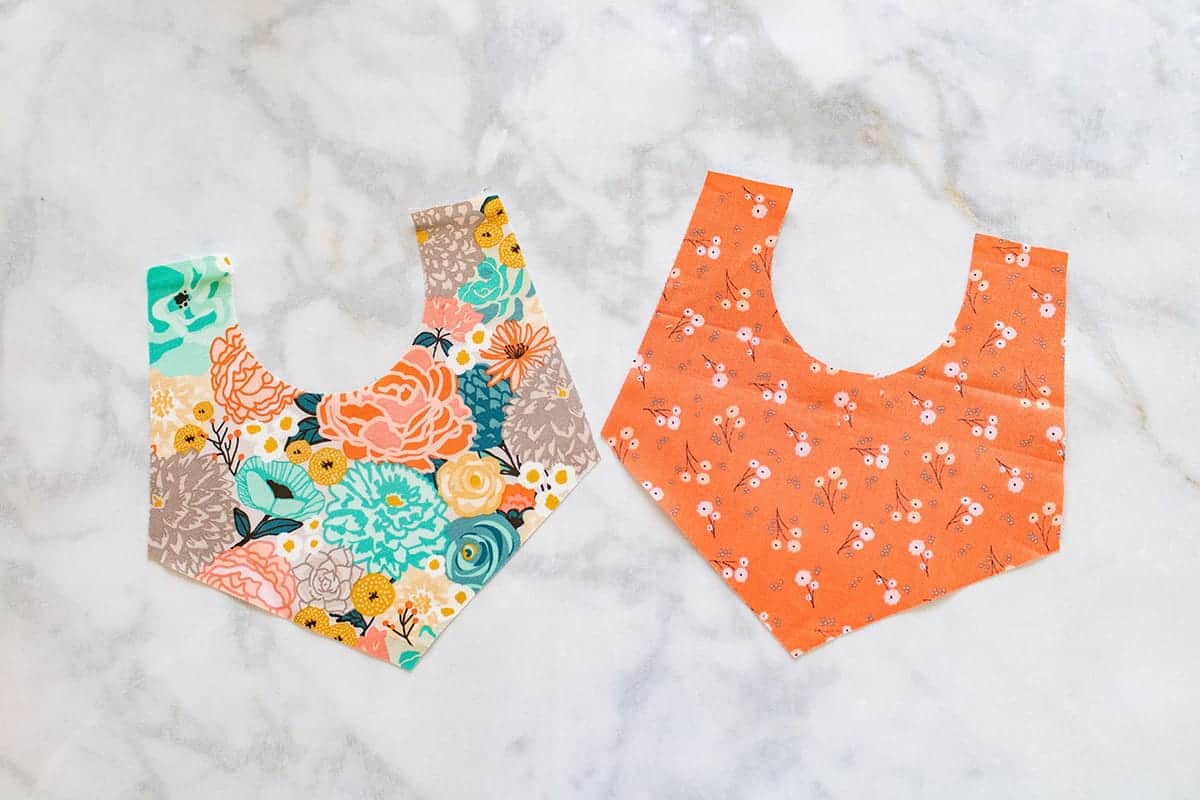 Next, take out your ribbon and cut two 18" pieces. If you bought 1 yard, you can just cut your ribbon in half!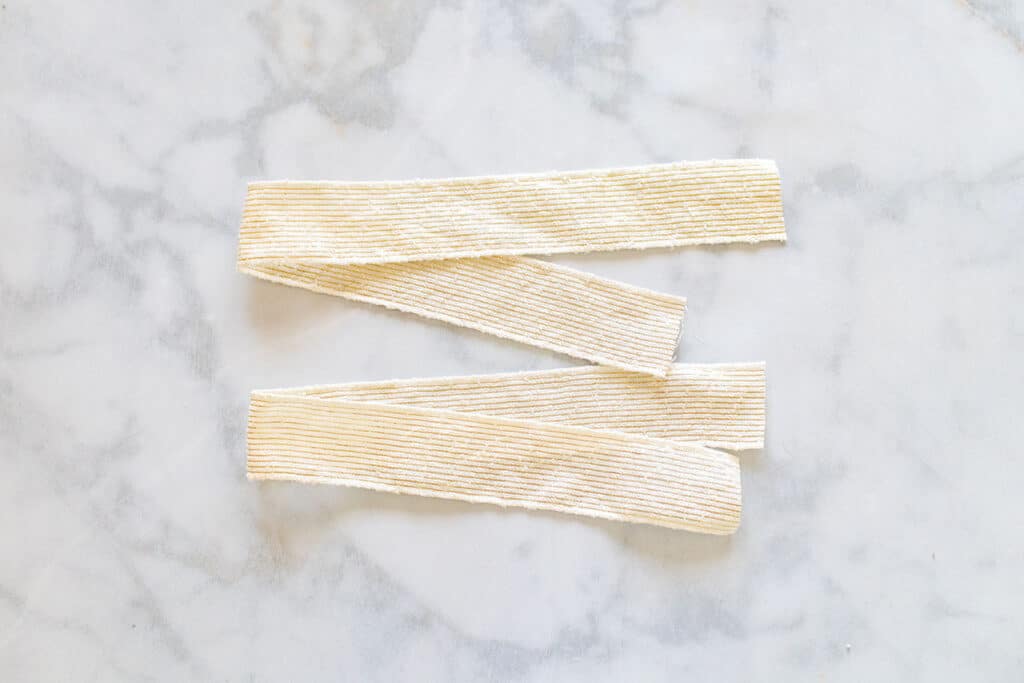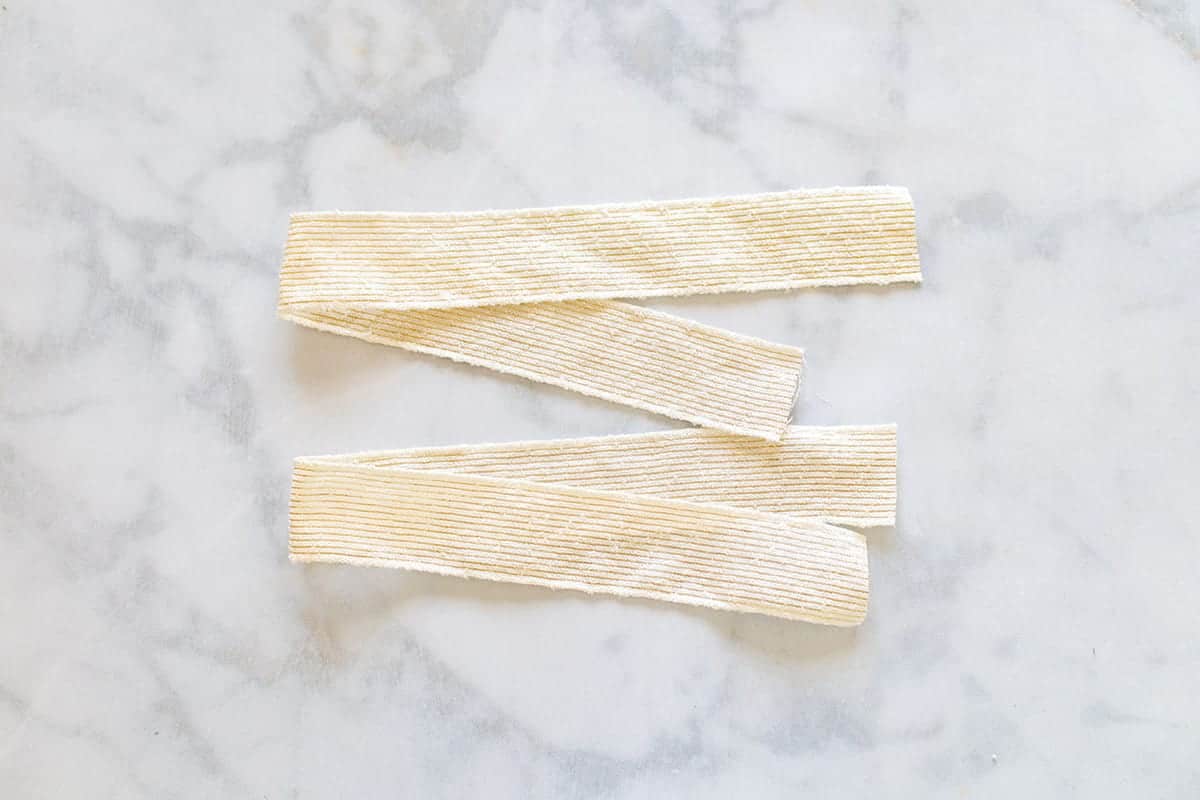 Step #2: Pin Together
Lay one piece of the bandana bib right-side up and place the two pieces of ribbon on top.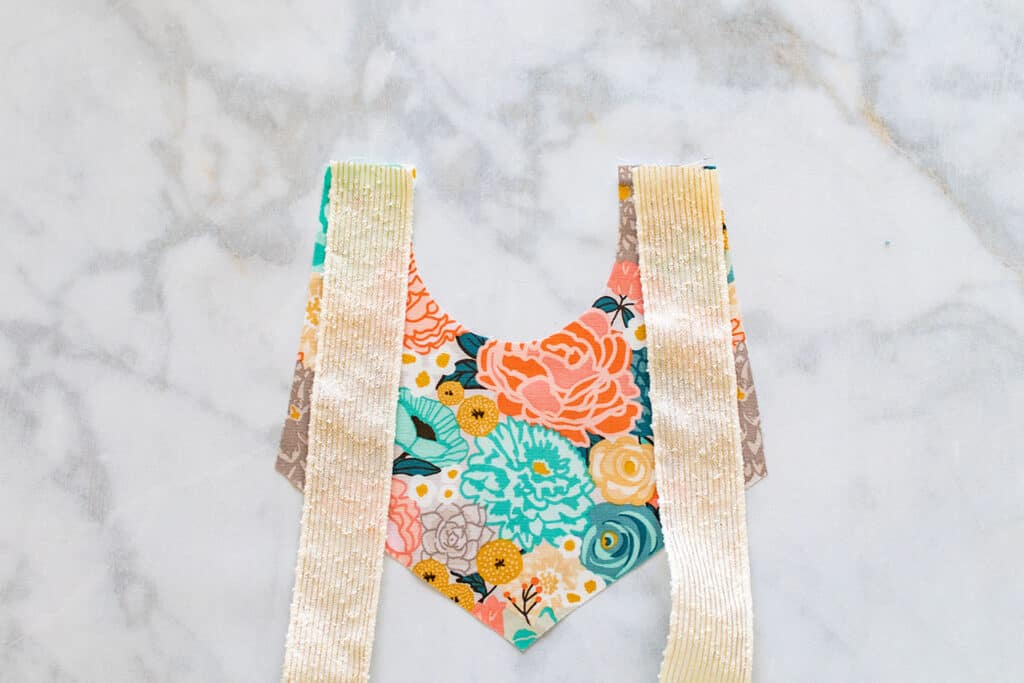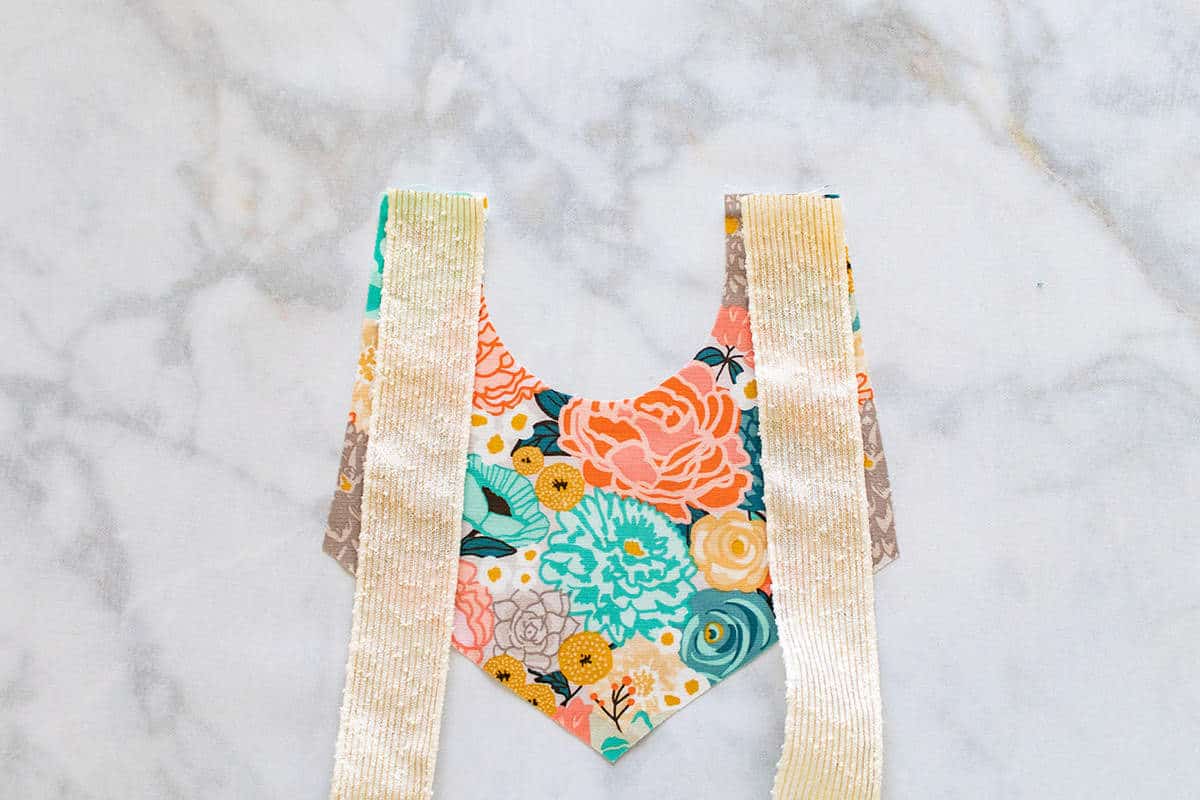 Now place the other piece of the bib on top of that right-side down.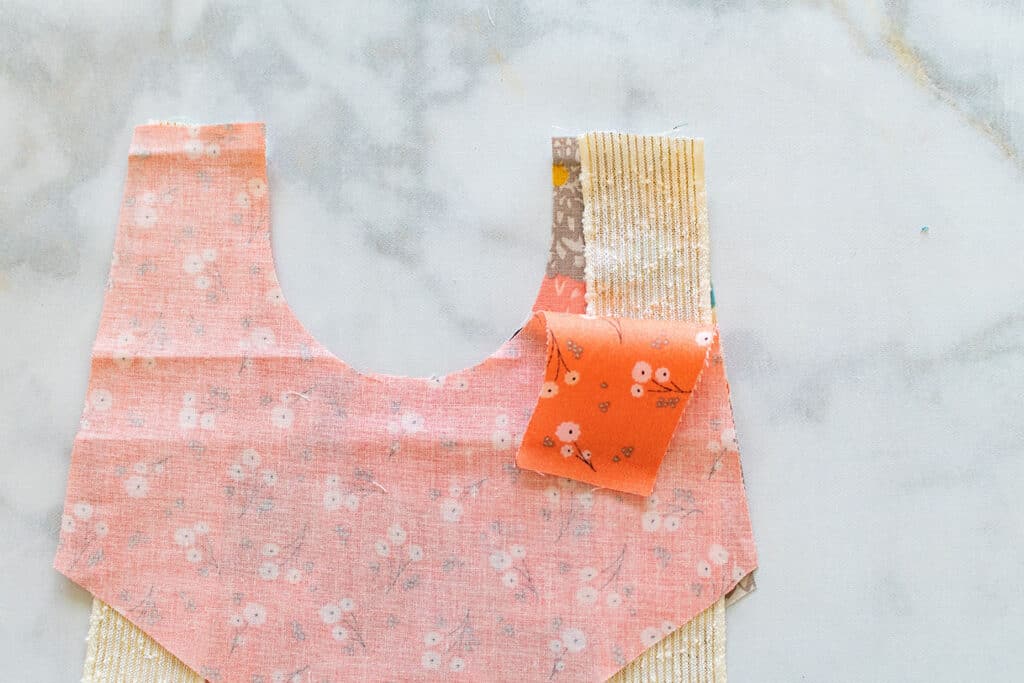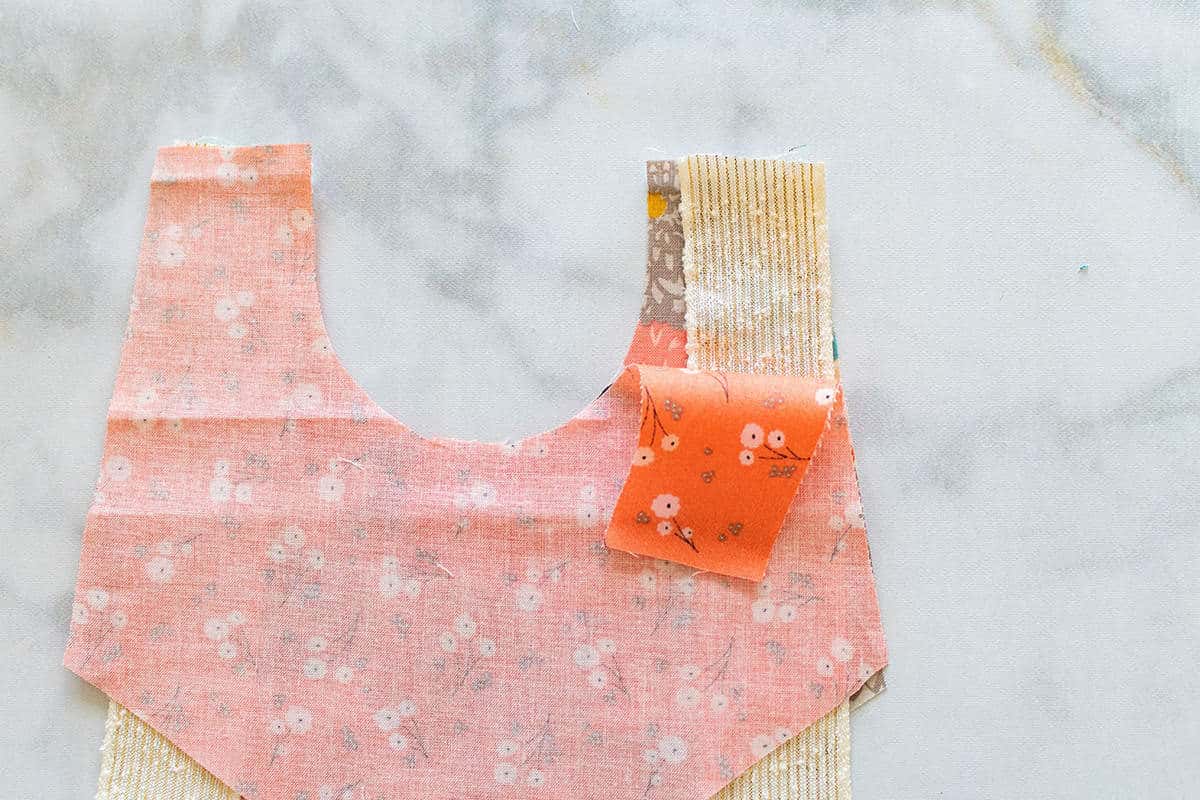 Pin everything in place. You are going to want to feed both ends of the ribbon through one hole to turn, so make sure to pin accordingly.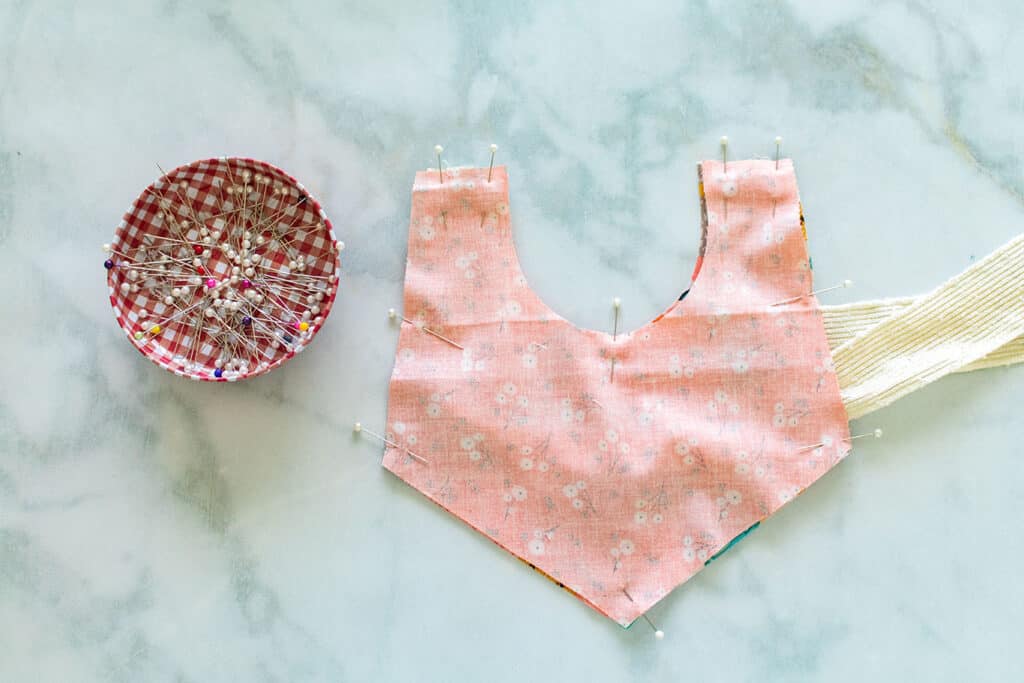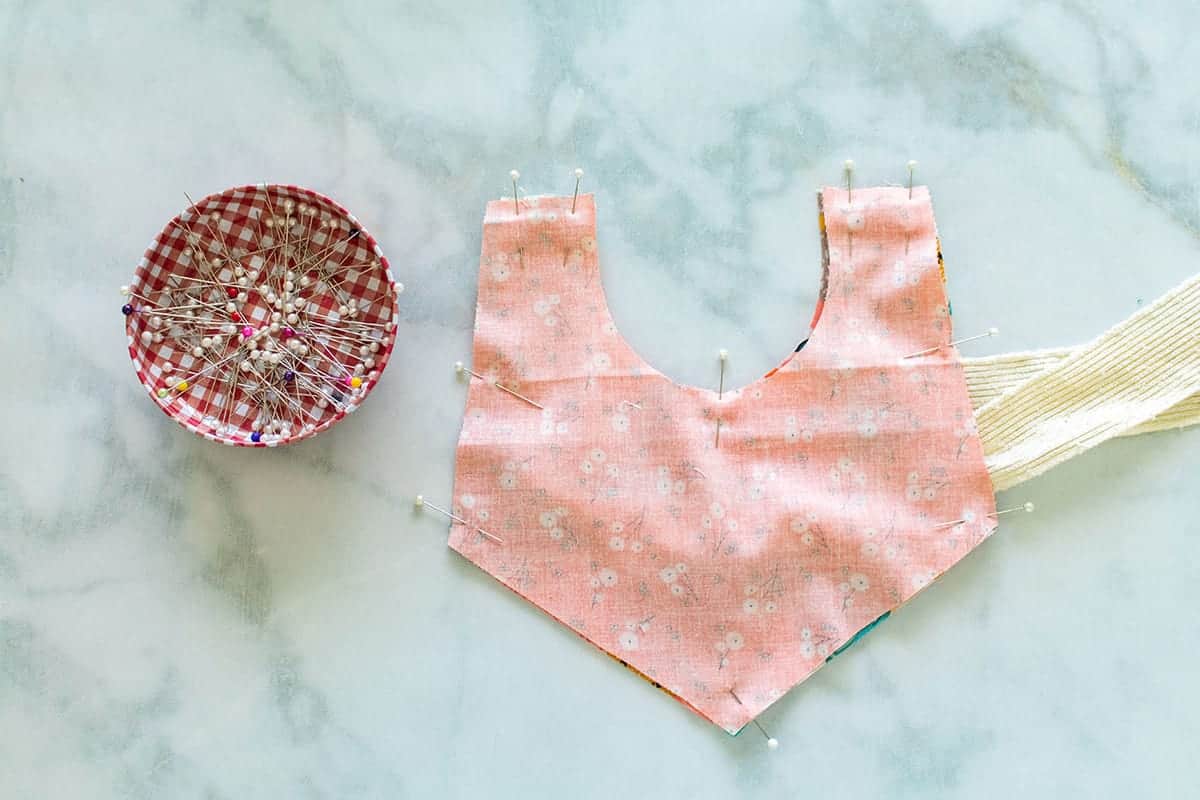 Step #3: Sew Together
Using a 3/8th's inch seam allowance sew the bib together along the raw edges. When you reach the point of the bib, lower the needle, lift the foot and pivot the fabric. This will help you to create a sharp point.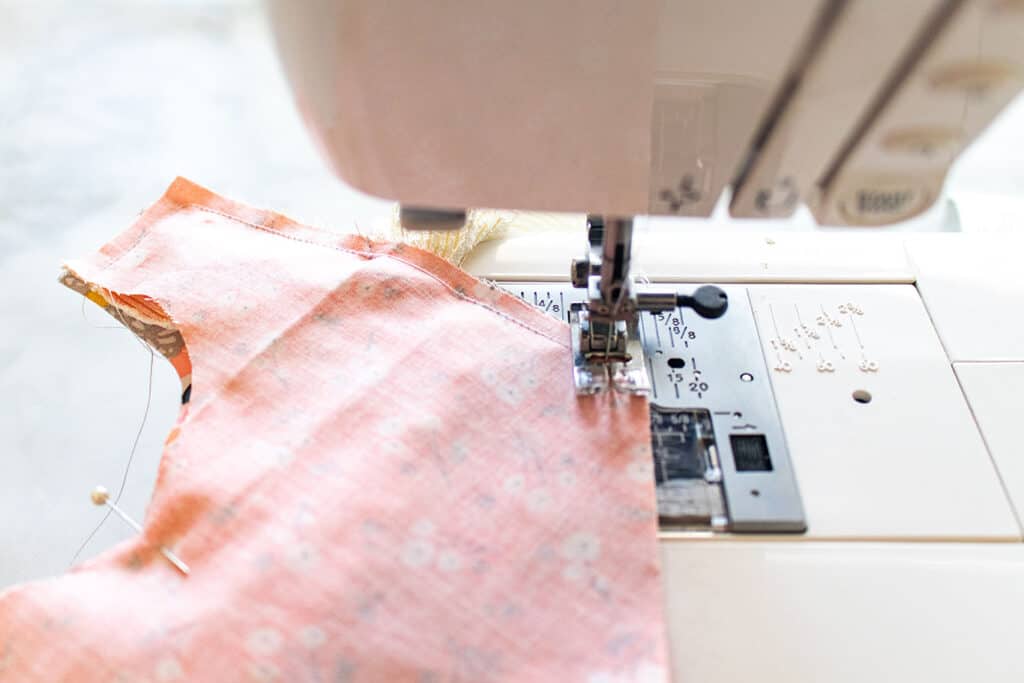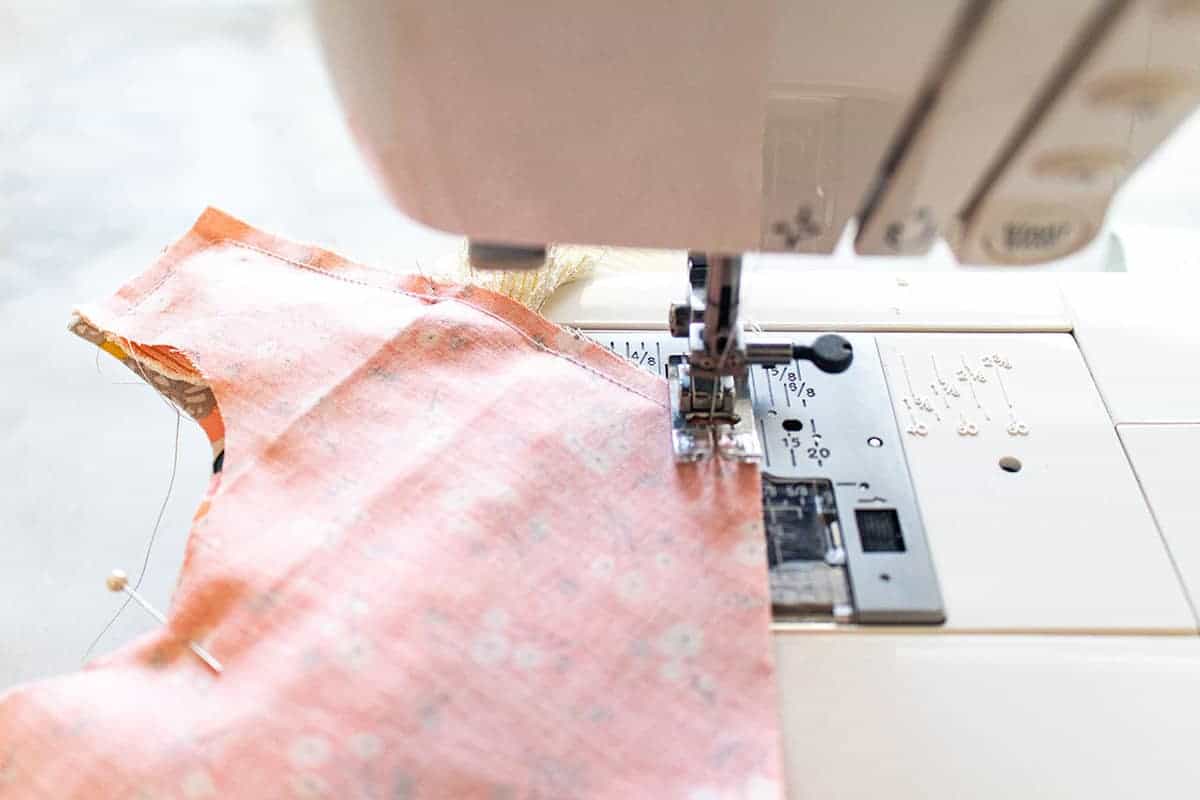 Don't forget to backstitch at the beginning and end of your seams, otherwise the seams will pull apart when you flip the bib right side out. Also, make sure to not sew any other part of the ribbon into a seam.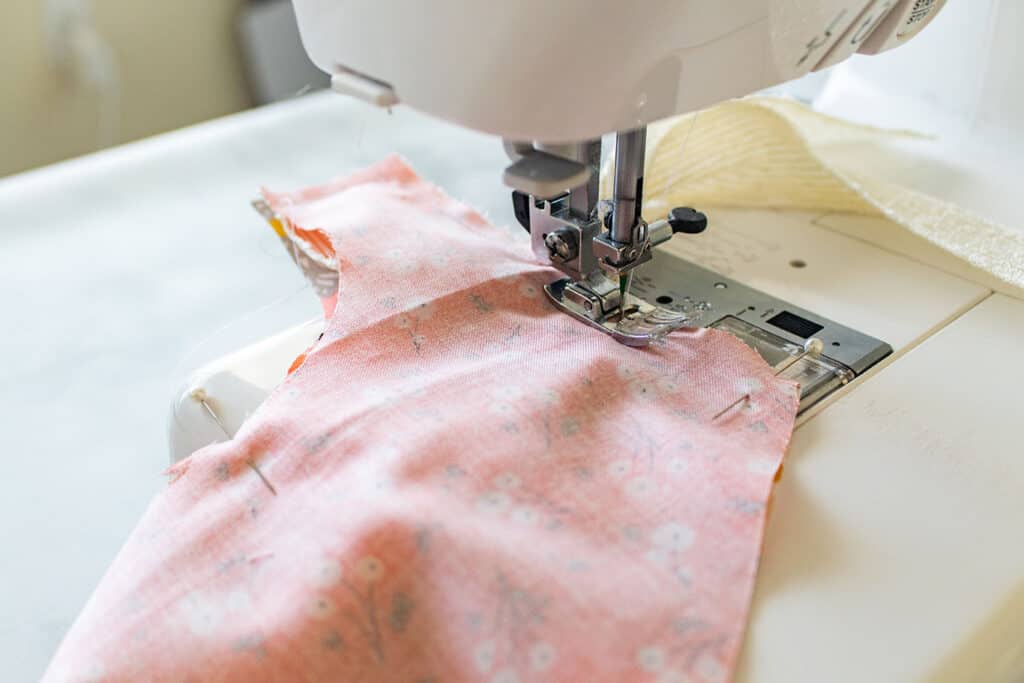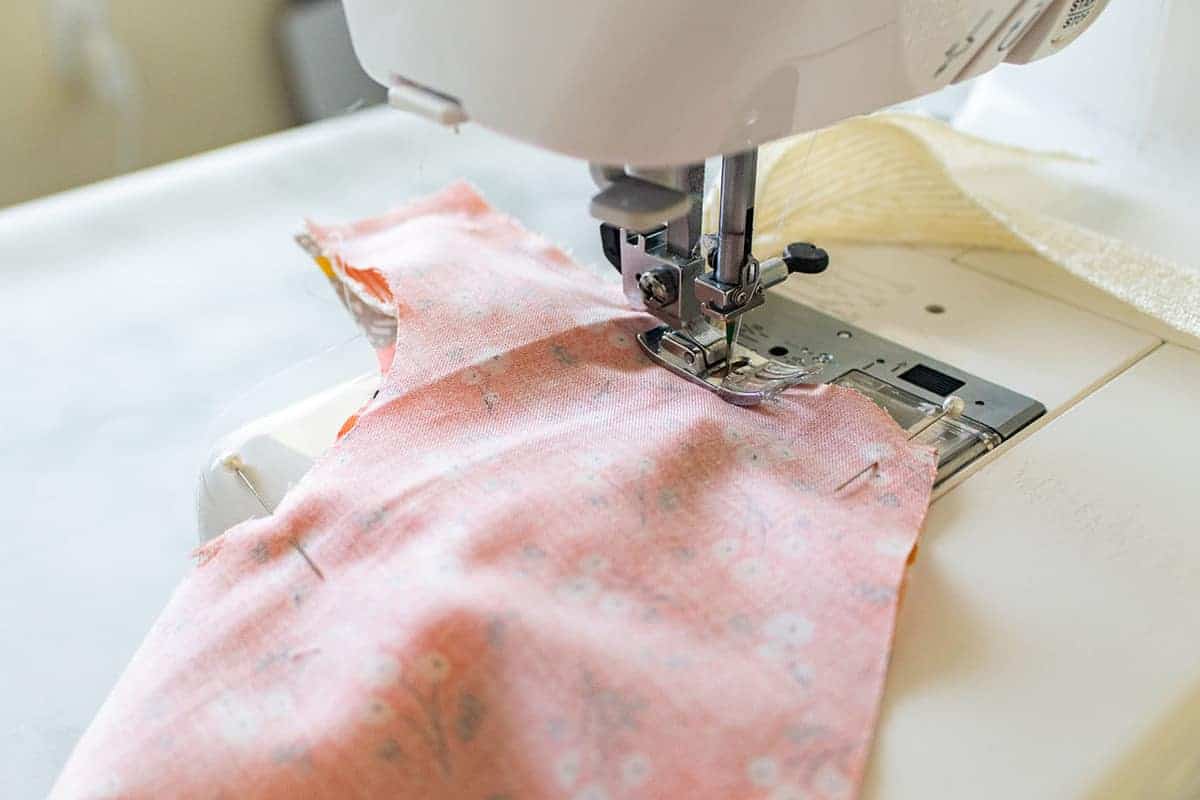 Leave a 1" opening for turning. (This is where you should have both tails of the ribbon sticking through.)
Step #4: Turn Right Side Out
Clip the curves of the bib. This helps the fabric to lay flat once you turn it right side out and prevents any bunching.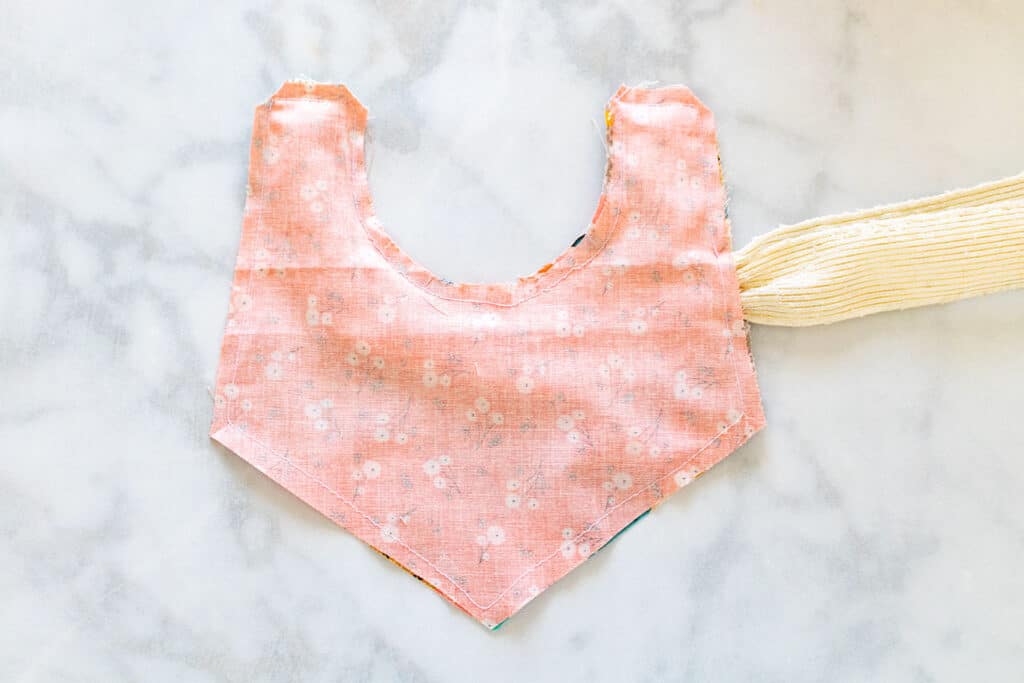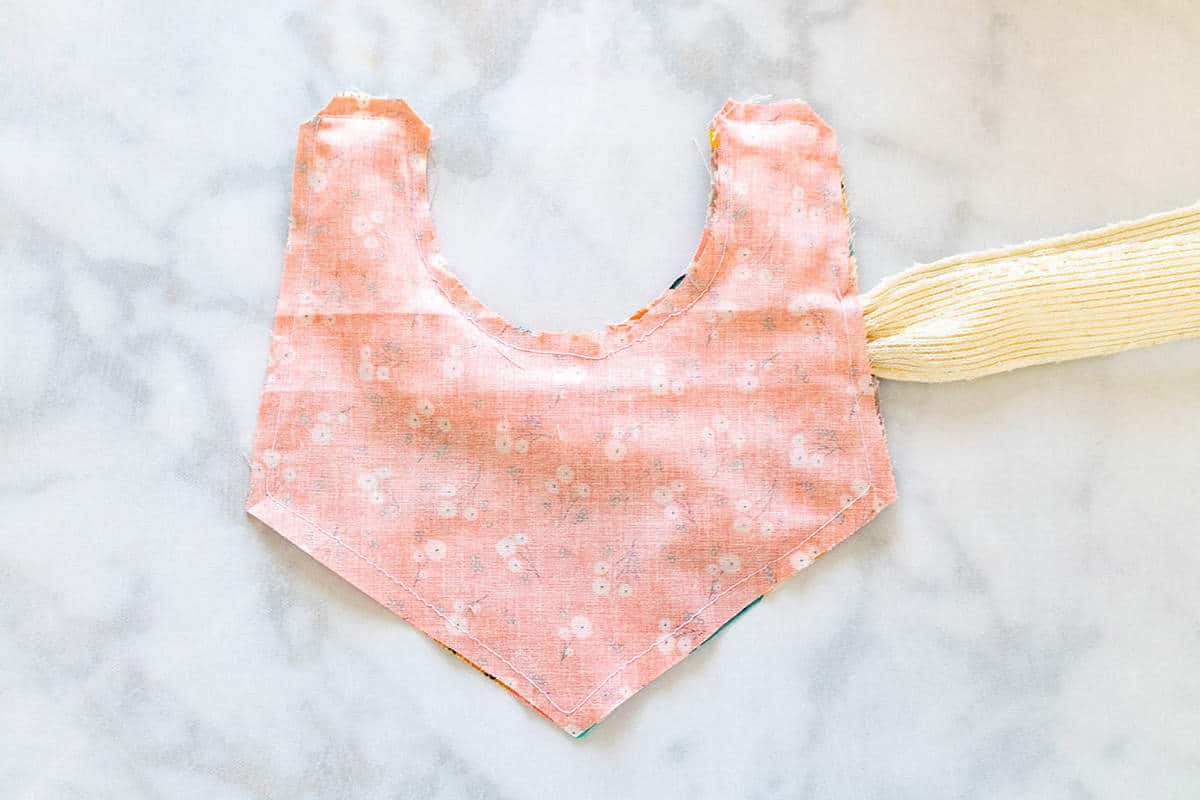 Turn the bib right side out and with your turning tool, push out the seam allowances.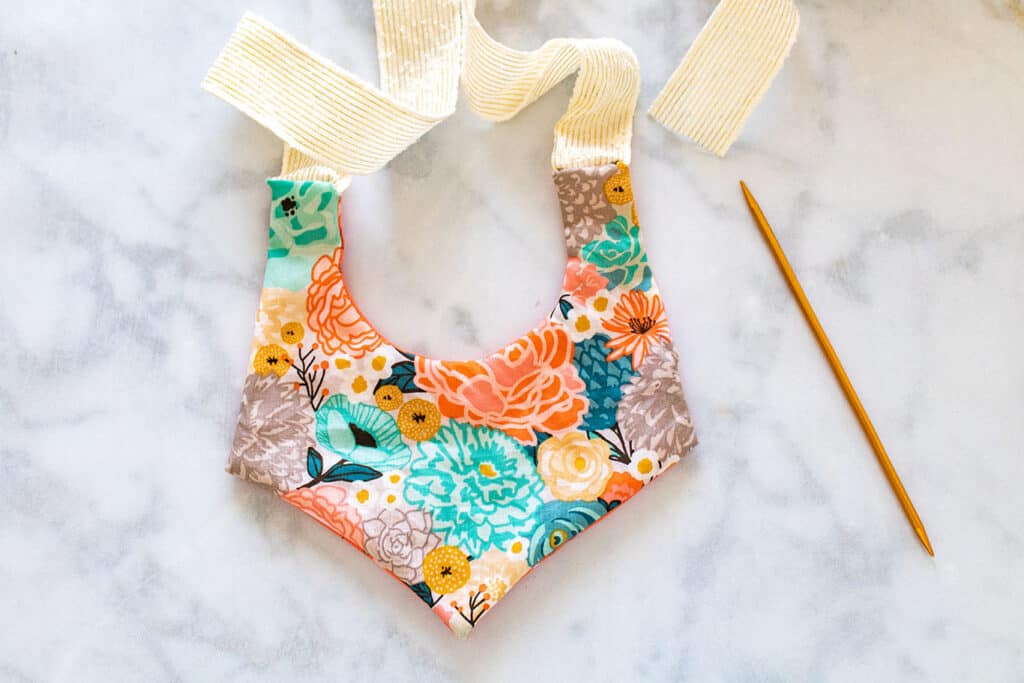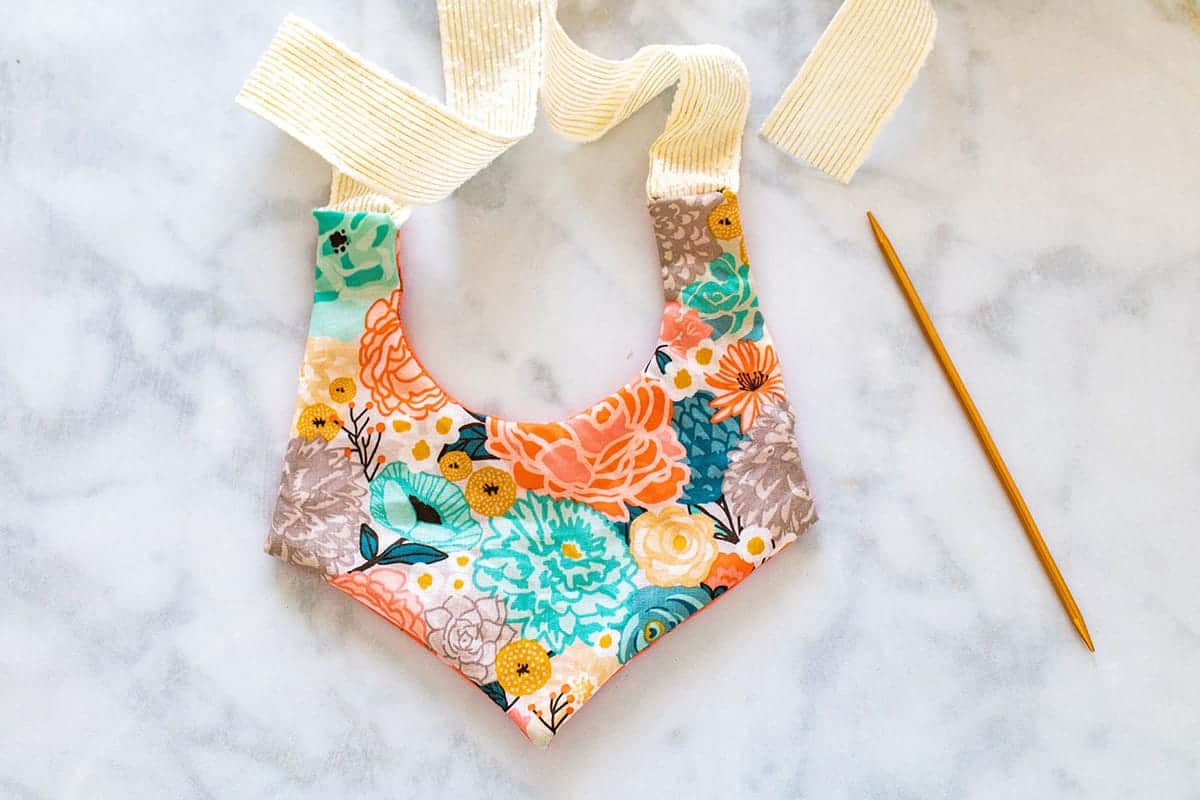 Step #5: Finishing Touches
Using plenty of steam, iron the entire bib to create a crisp professional looking finish. Using your thumb and pointer finger roll the seam allowances outwards along the edges of the bib.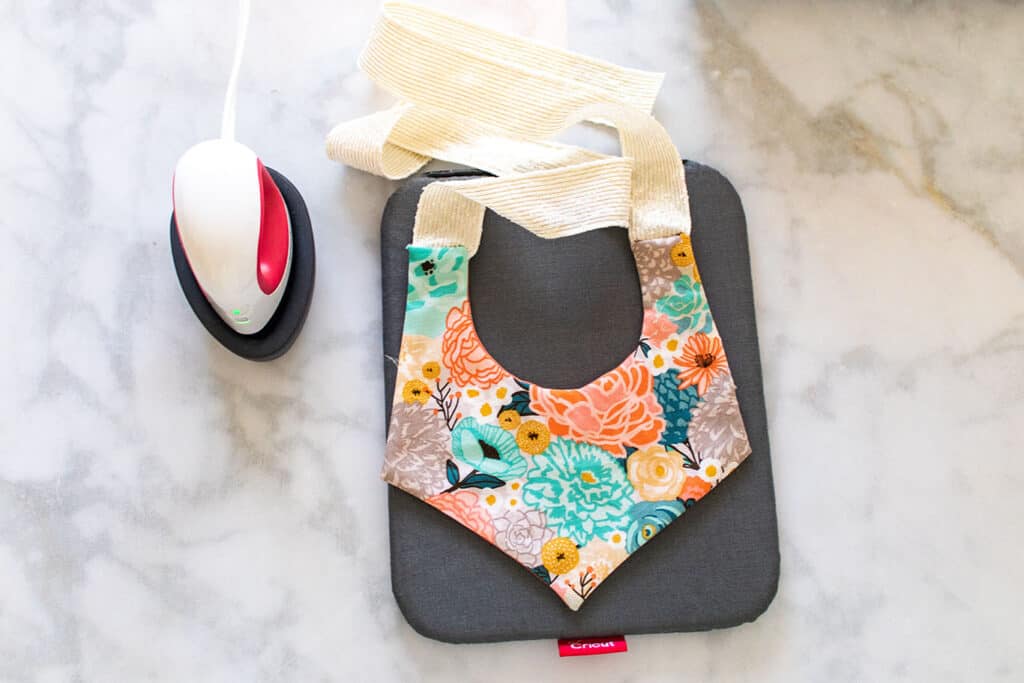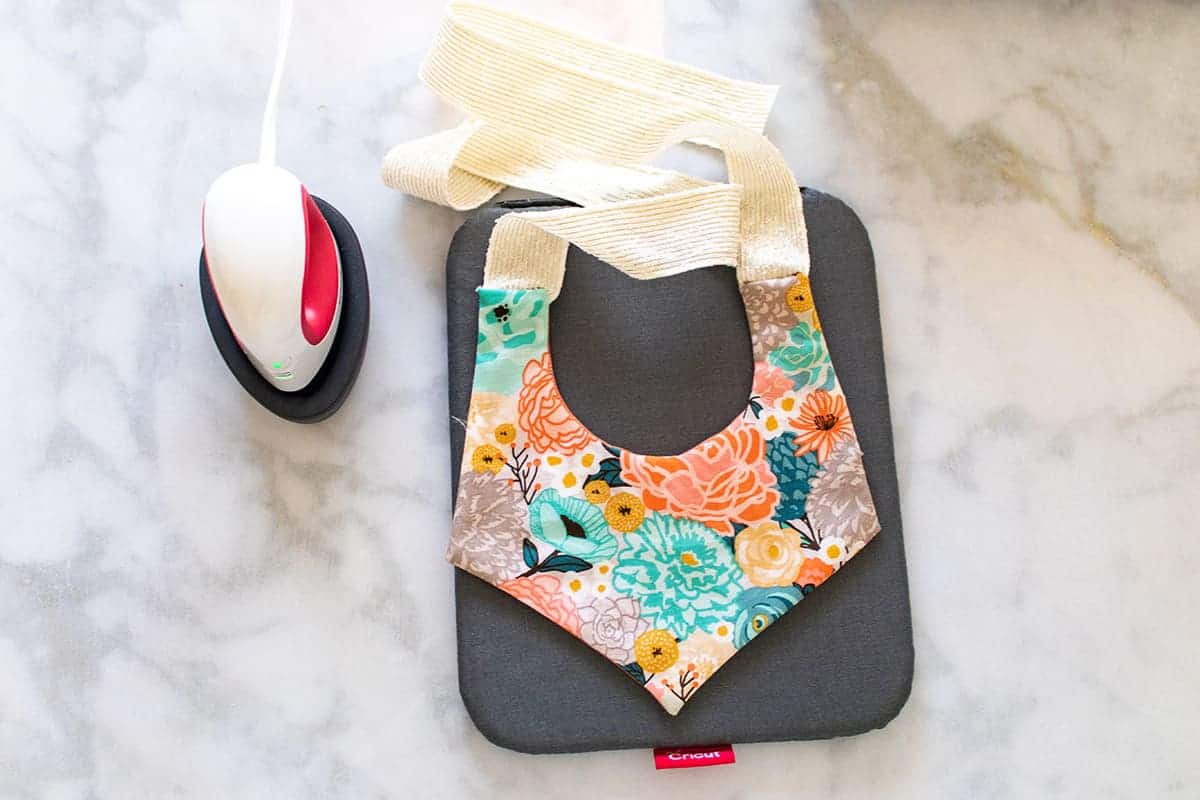 With your Beacon Fabric Glue, close the opening.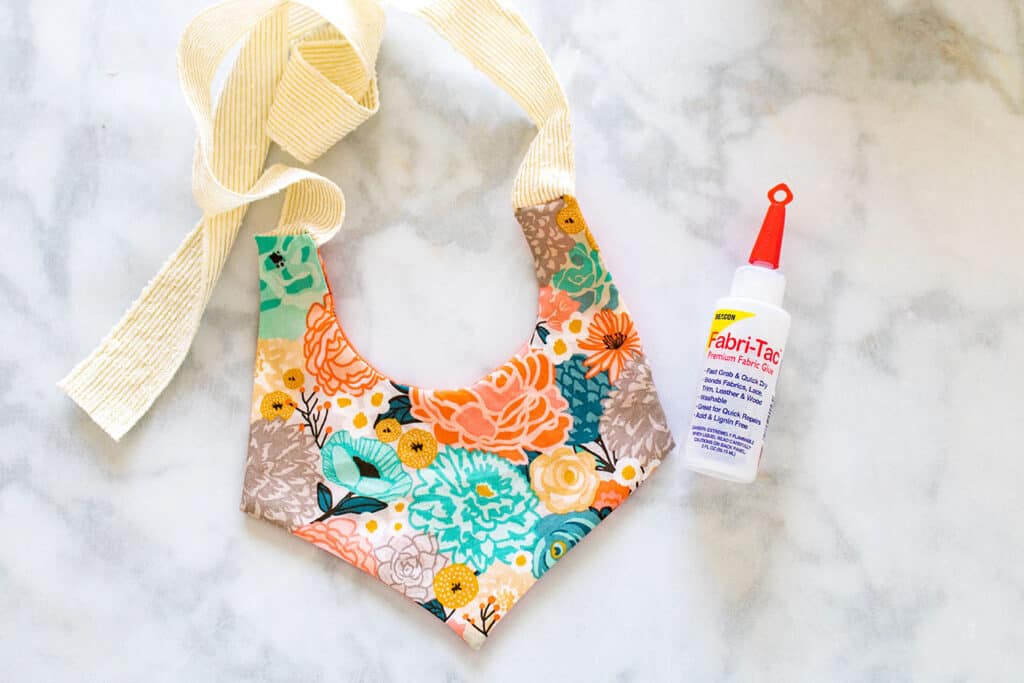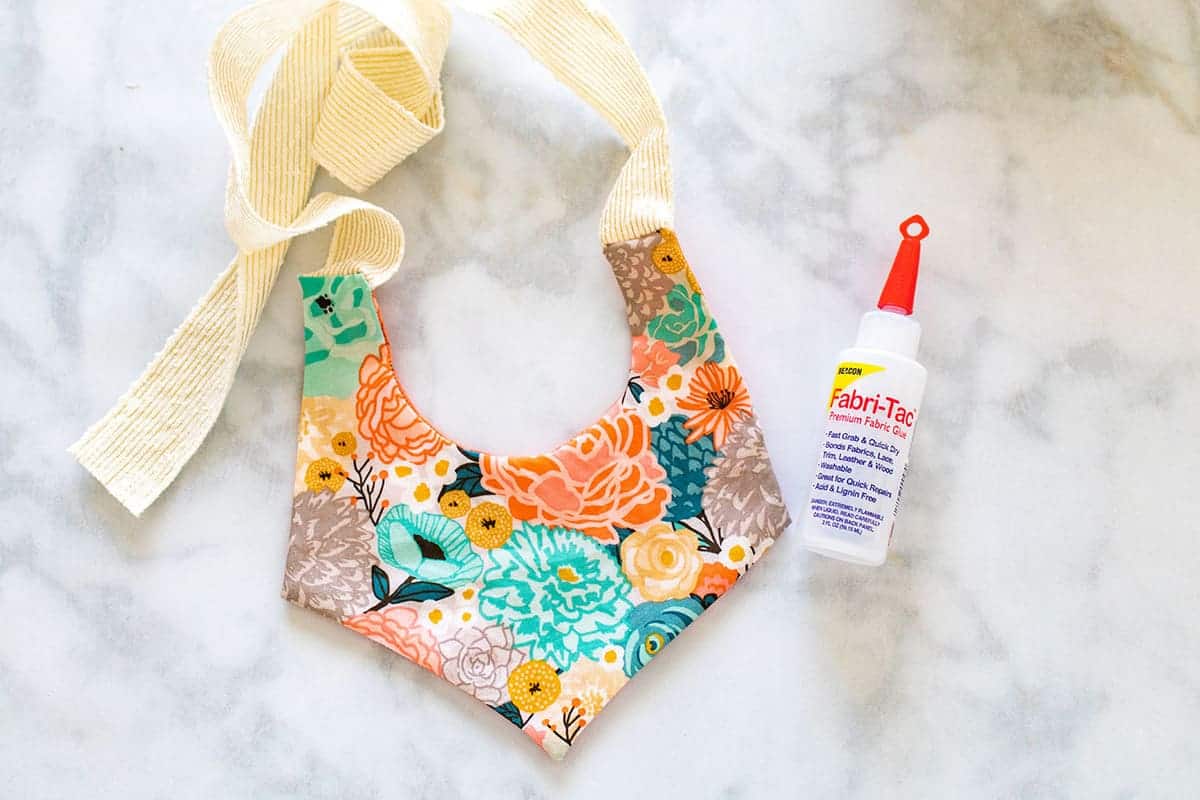 Now you're finished and you have an adorable, boutique-worthy Baby Ribbon Bib!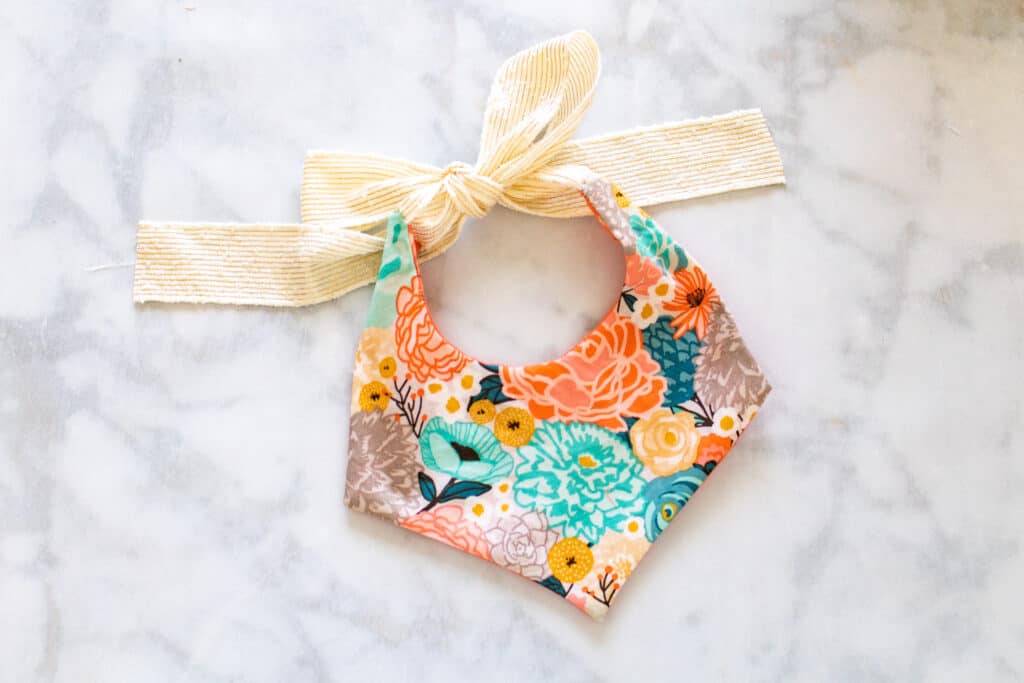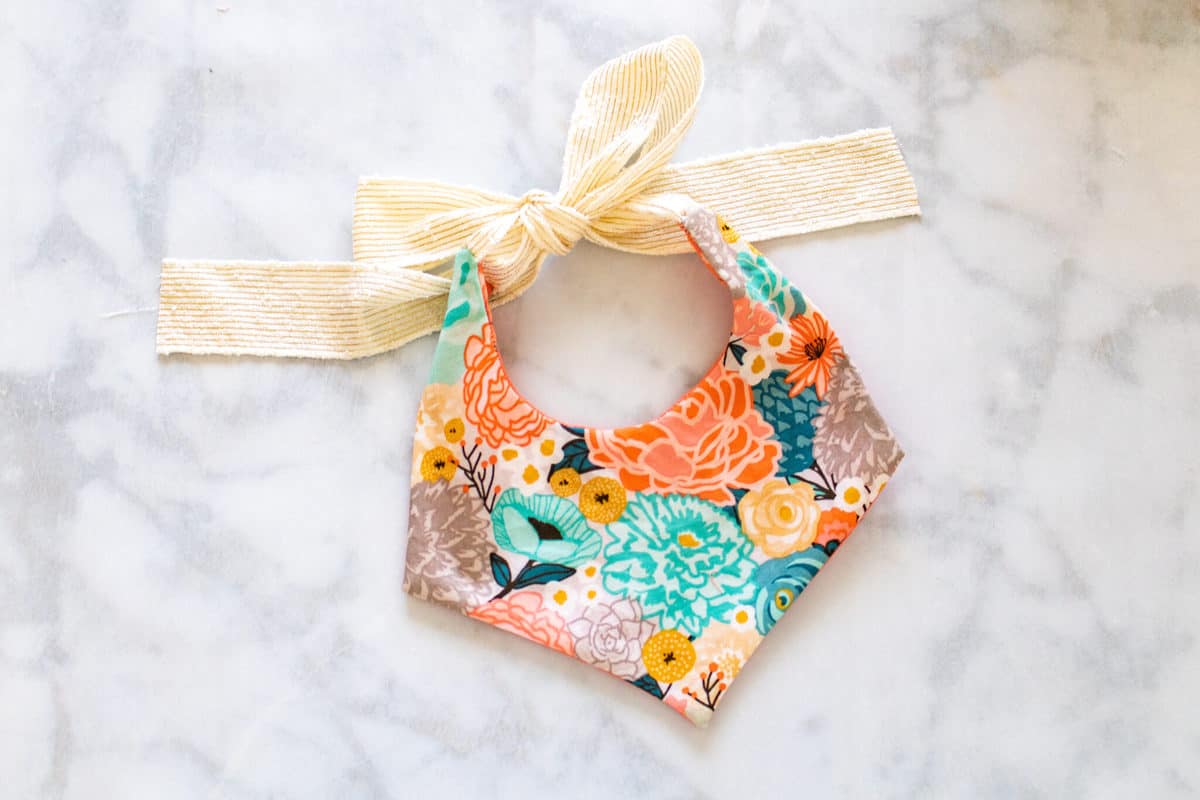 I can't wait to see what you make with this free pattern!
Make sure to join my Crafting & Sewing FB group and share what you are making with us!
Leave a comment below telling me which bib is your favorite.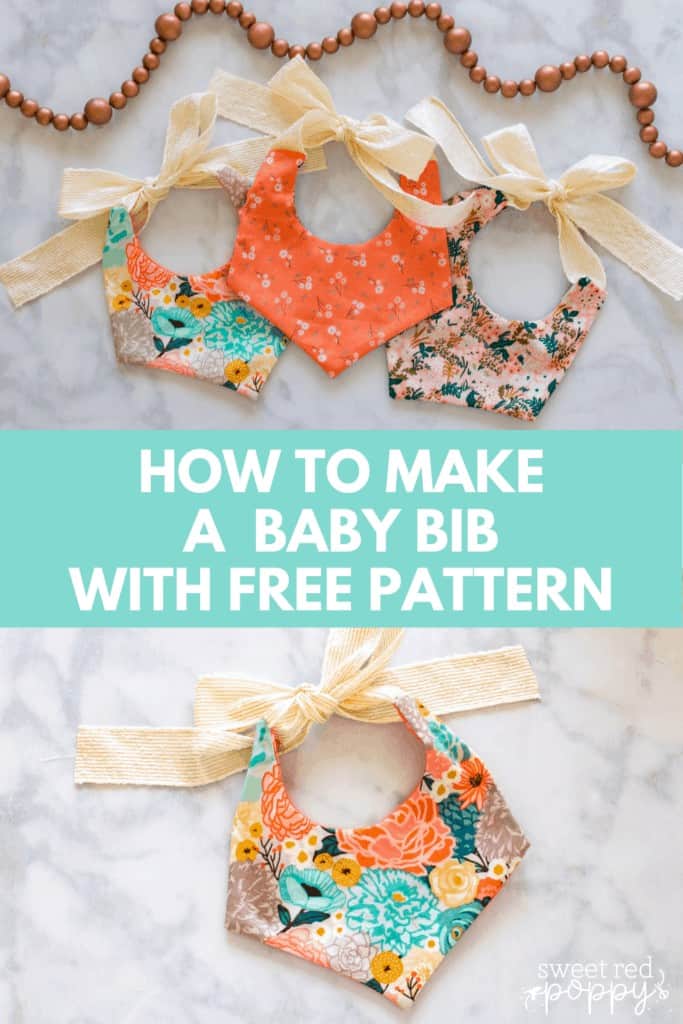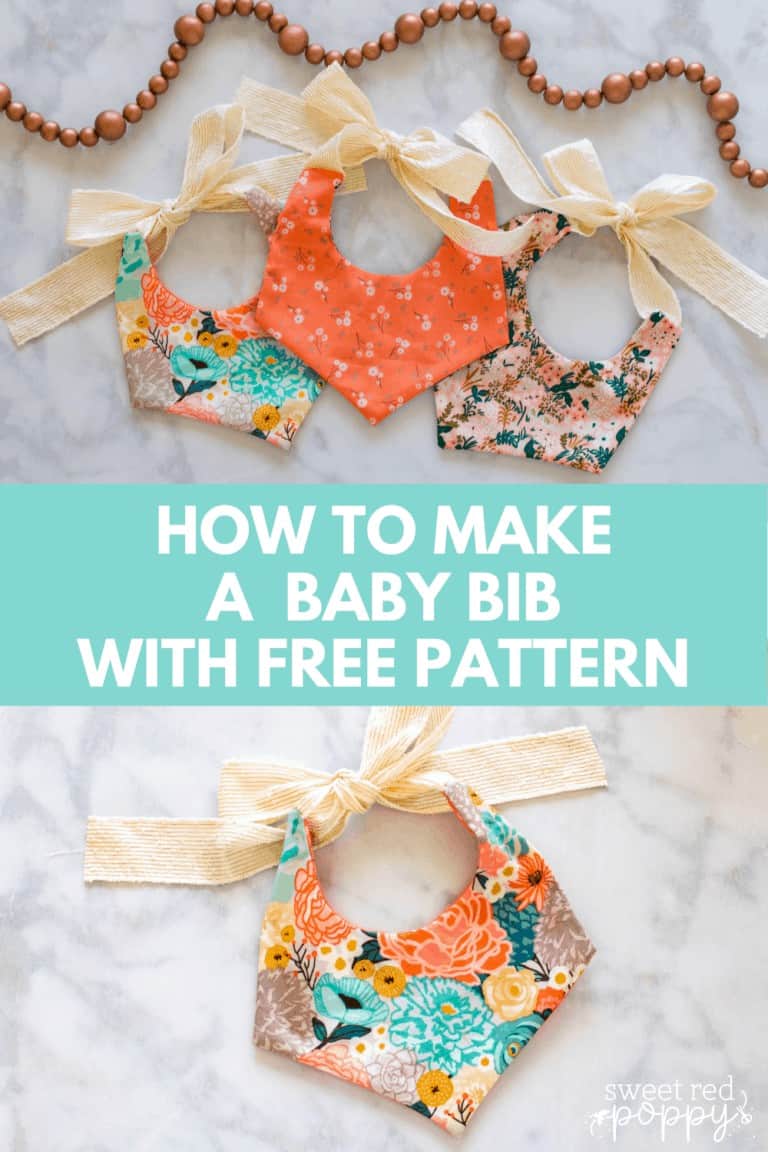 Do you have any questions about this baby bib sewing pattern? Let me know in a comment below!