Make a Rolled Paper Flower Wreath With Leaves and Butterflies With This Tutorial. Plus, Get 12 FREE Rolled Flower SVG Cut File Templates.
Rolled paper flowers are one of my favorite things to make with my Cricut machine! Today, I'm sharing 12 free rolled paper flower templates as well as leaves, and layered butterflies so you can make your own wreath to welcome in spring's arrival.
I love making rolled paper flowers because they look so impressive but really don't require too much effort at all! This wreath is a combination of rolled flowers, beautiful butterflies, and various leaves to give it a really fun and full shape.
A big thanks to JOANN for sponsoring this post. Find all of the supplies in this post at your local JOANN store or on JOANN.com.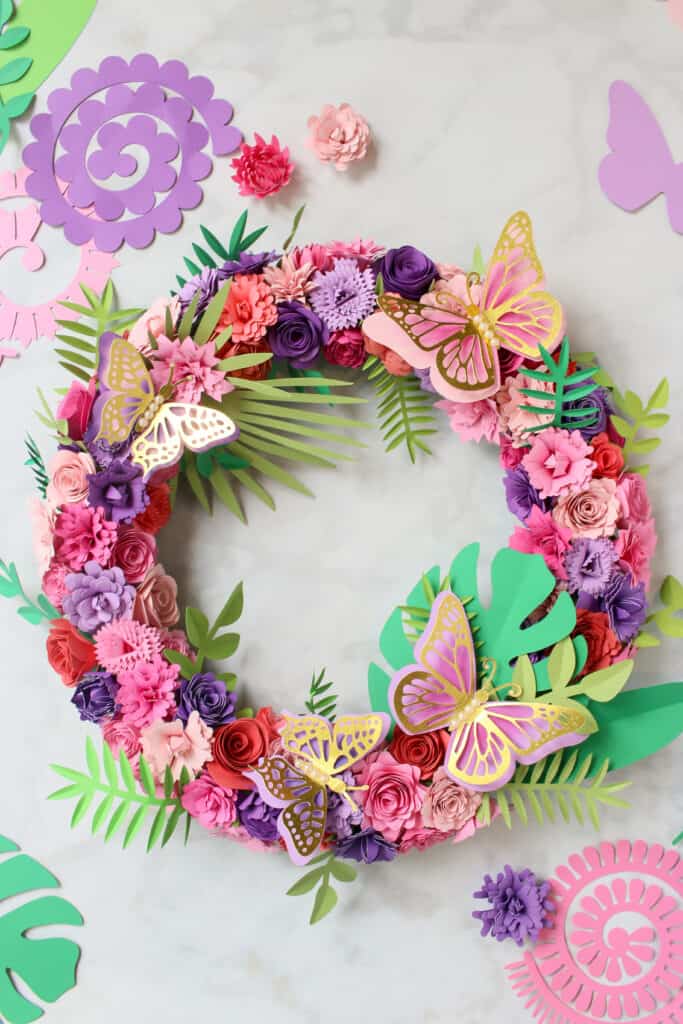 If you have wanted to try paper flowers, rolled flowers are a great place to start. With 12 different rolled flower designs, all requiring a similar technique, you are sure to feel accomplished with this wreath!
I have a few tips and tricks that take your flowers above and beyond!
Did you know I have TEN more paper flower blog posts? Click here to see them all! I have everything from paper Daisies, Anemones, and Peonies, to Dahlias, and Oversized Roses.
What Kind of Cutting Mat Should I Use to Cut Rolled Flowers?
Rolled paper flower cut files are can be really delicate so it's important to use the correct mat. A Lightgrip cutting mat is ideal. It will hold the 65 lb paper steady, but it will come off really easily when you remove it from the mat.
You can absolutely use a Standardgrip mat as well, but one that has been used a bit with weakened adhesive is best. Otherwise, peeling your mat away from your design can be a bit tricky and you risk tearing the paper.
For the butterflies and leaves, using a standard grip mat will give you the best results.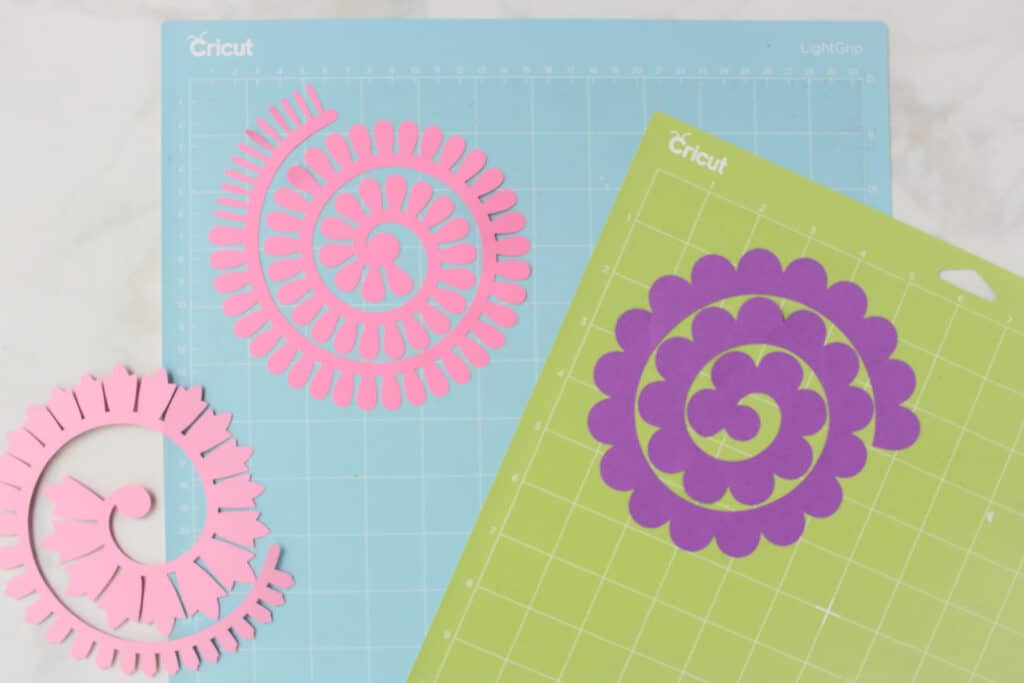 What Kind and How Much Paper Should I Use For Rolled Flowers?
The correct paper choice for rolled flowers is really important. With these designs, you want to keep in mind that you will see the front, back, and the edge of your paper. That being said, you want to look for "Solid-Core" paper. This type of paper is the same color all throughout the paper, as opposed to being printed on one or two sides.
Additionally, I would recommend using lighter-weight paper such as 65lb. This weight is much easier to roll than a heavier variety. You can find paper for this project at your local JOANN store or on JOANN.com.
For this wreath, I used the following amounts of paper:
75-90 Rolled Flowers: Requiring 38-45 sheets of 8.5x11 paper in shades of pink, peach, and purple.
24 Leaves: Requiring about 5 sheets of 8.5x11 paper in shades of green.
4 Butterflies: Requiring 1 sheet of 8.5x11 textured gold cardstock and 1 additional 8.5x11 sheet of pink and/or purple cardstock.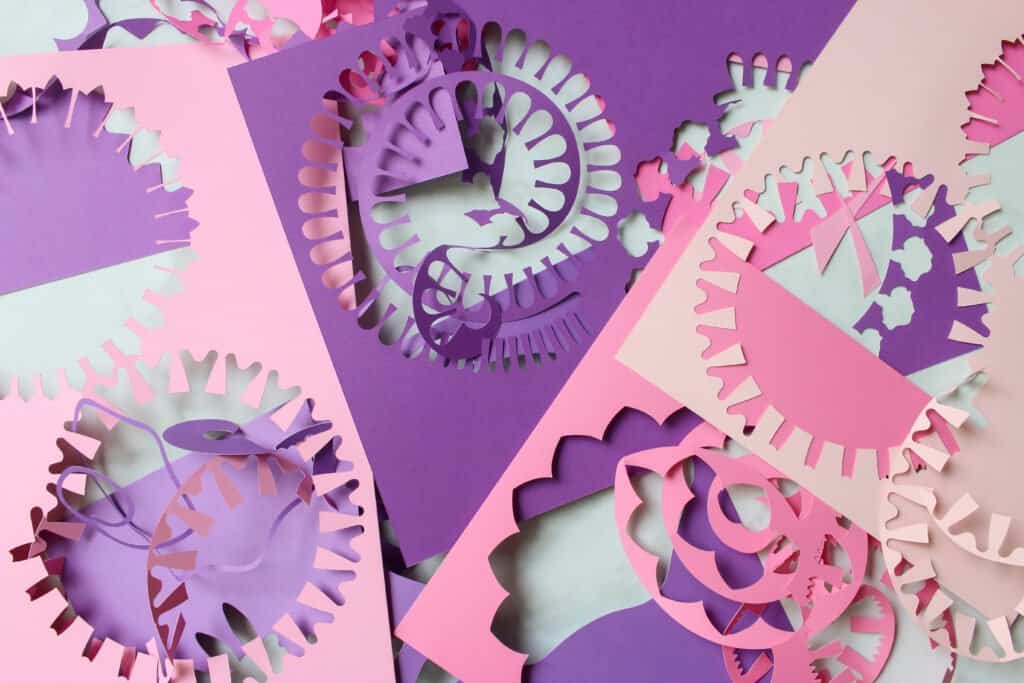 What Kind of Glue Should I Use?
For rolled flowers, you can use tacky glue or hot glue. There are pros and cons with both, but I prefer and recommend using a hot glue gun.
Tacky glue is nice because it has a thinner consistency and you don't have to worry about burning your fingers. However, tacky glue takes a longer time to dry. This means that you have time to readjust your flower after applying glue if you want to change the density of your blossom, but it also means you have to hold the flower steady for a longer time before the glue dries and stabilizes.
Hot glue dries very quickly, which makes creating your flower and positioning the petals in place a much faster process. I really like this aspect of using hot glue, especially when I'm making a lot of paper flowers, like in this wreath.
If you're worried about burning your fingers, pick up a few silicon finger guards!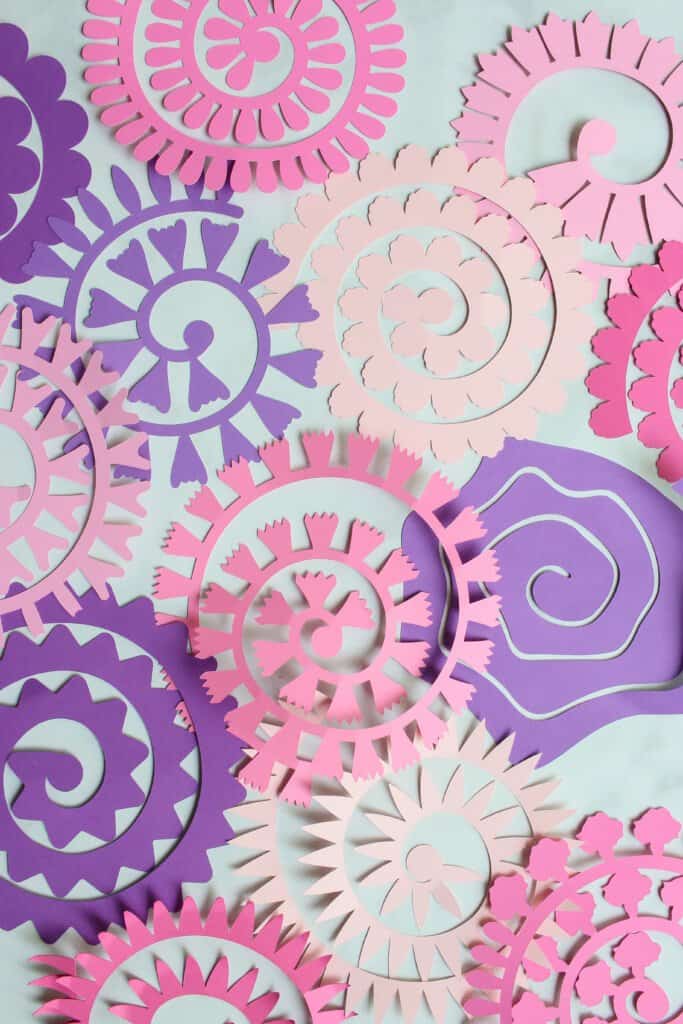 Tips and Tricks for Making Rolled Flowers
After you finish rolling up your paper flower on your quilling tool, there are a few things to consider before you glue it into place. Remove your bud from the tool and assess your flower.
You can leave your flower rolled very tight. Or you can let your flower relax and unroll a bit to create a more natural-looking flower. This creates some space and room for all the petals to "breath." Doing this allows you to fluff out your petals to create a fuller blossom.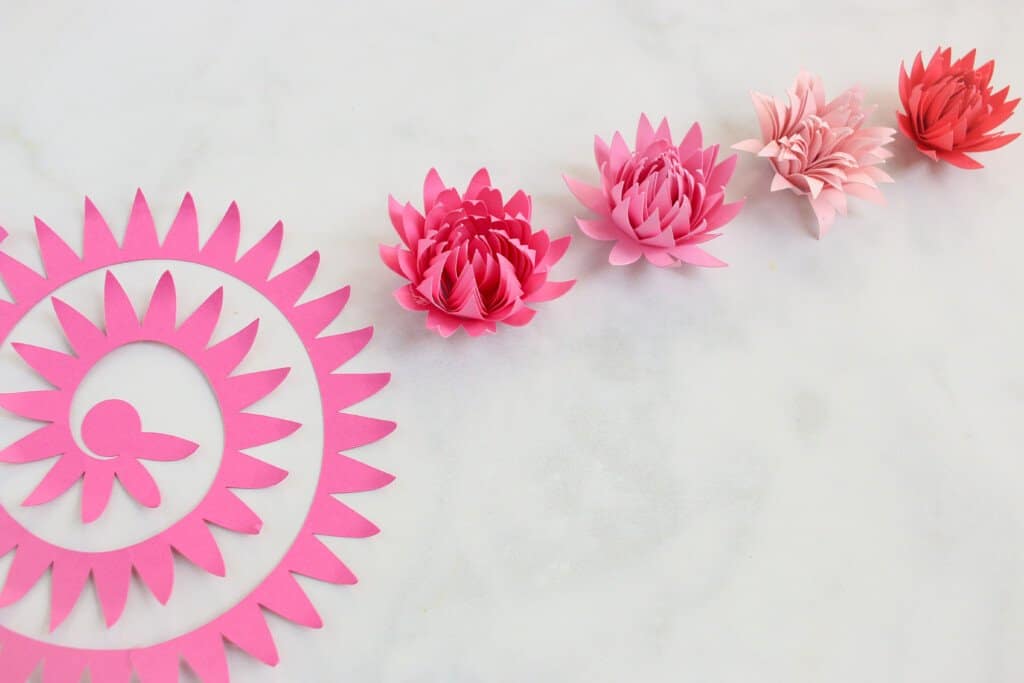 With some of the rolled flower designs, you can shape your petals in multiple ways, creating some very different looks. You can bend the petals inwards or outwards. I love this aspect of paper flowers because it's like a two-for-one design! For some designs, there is one direction to shape the petals that's much easier than the other.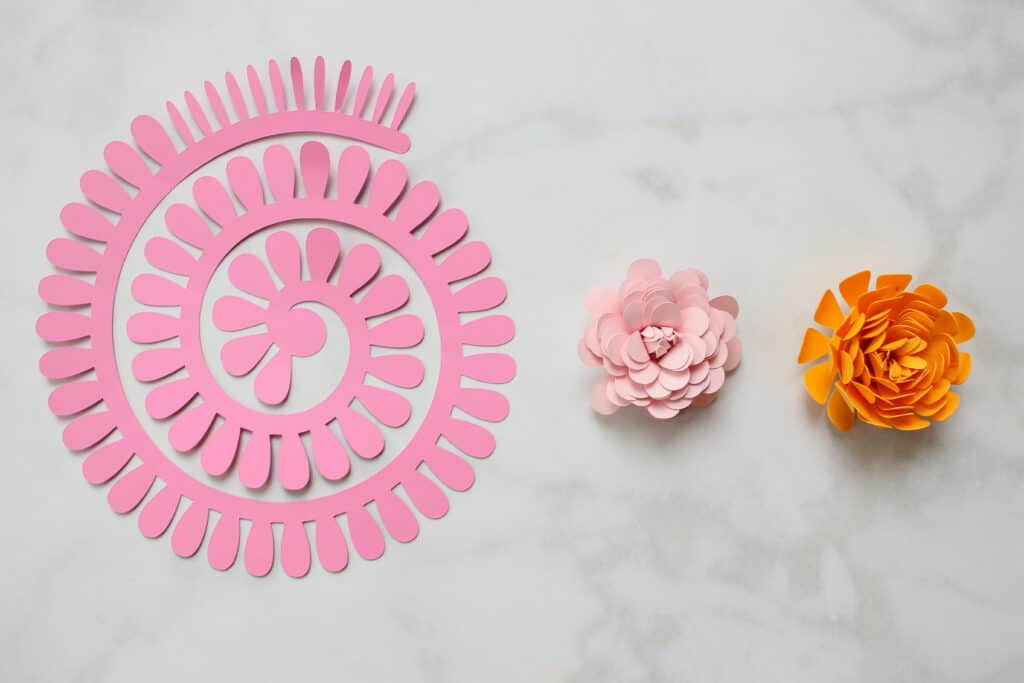 I encourage you to experiment with both the direction you bend the petals and how tight or loose you roll them and see which way you like better. Below are some examples of the different looks of one flower design rolled and shaped slightly differently.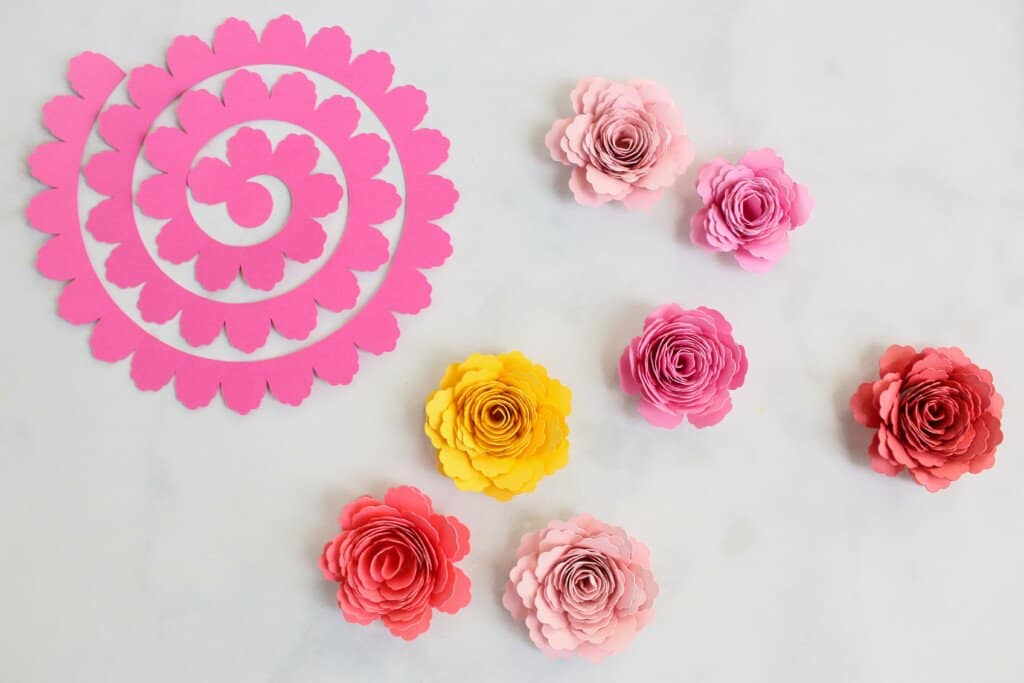 Once you like the look of your flower, then apply glue to both the circle portion and the bottom rolled edges to create a strong seal.
How Long Will it Take to Make Rolled Paper Flowers?
This is certainly a more time-intensive project as it requires quite a lot of flowers. That being said, rolling flowers is the perfect project to do while watching a show or listening to a podcast if you like to multitask like I do!
It will take a few hours to prepare the flowers, leaves, and butterflies. But once everything is prepped, assembling the wreath comes together quite quickly.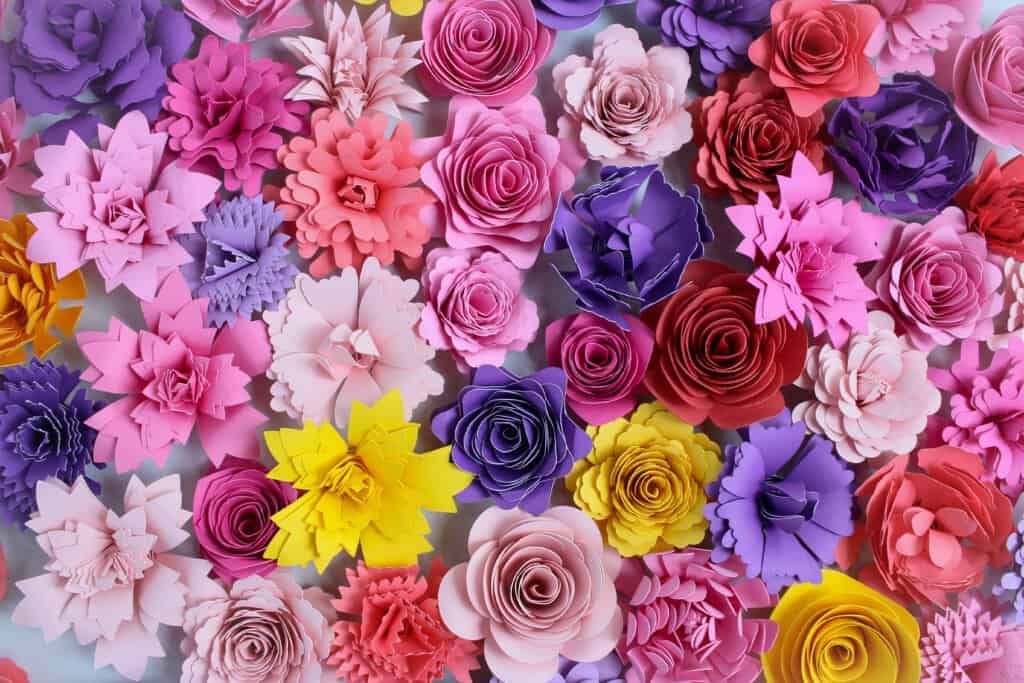 Rolled Flower Wreath Supplies: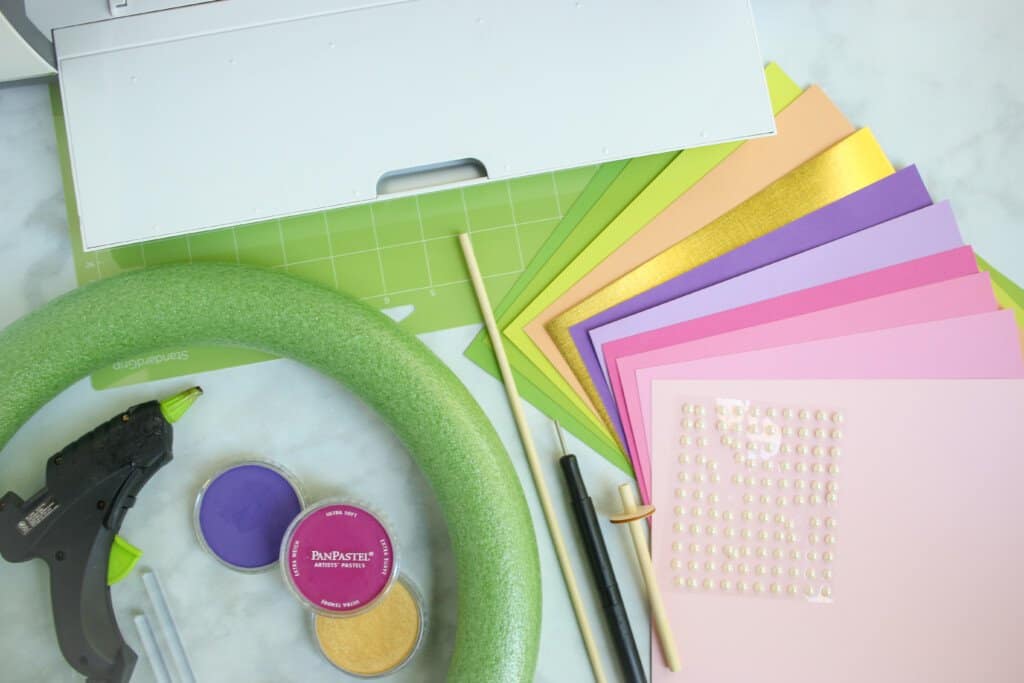 Let's Get Started!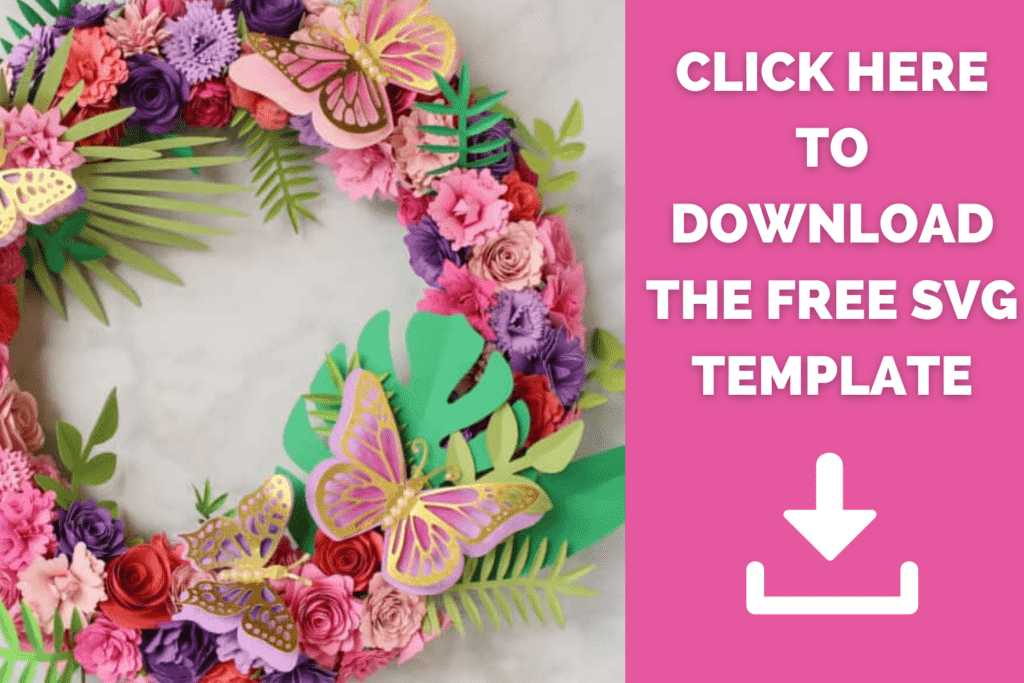 Want to learn how to make even MORE paper flowers?
Get The Ultimate Guide to Paper Flowers E-Book and get access to ALL of my printable paper flower tutorials and flower SVG files in my Ultimate Guide to Paper Flowers Ebook by clicking here!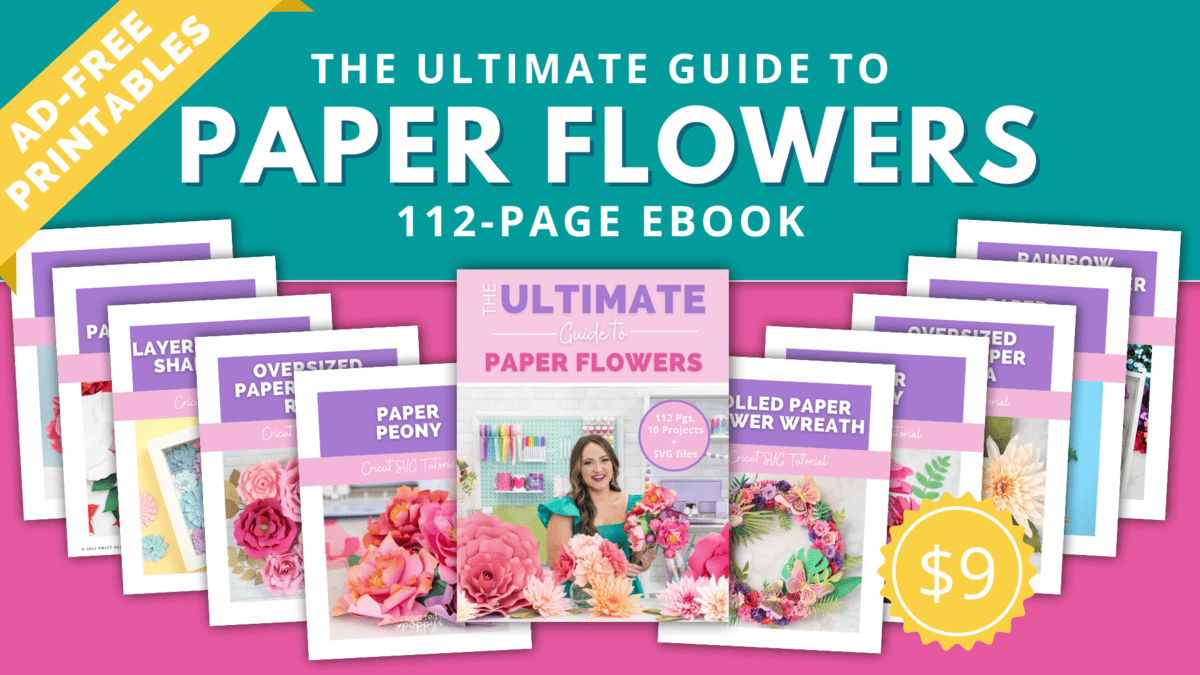 Step #1: Upload Your Cut Files
Need help uploading your SVG file? Click here to read my blog post that will walk you through this process.
Open Cricut Design Space and click the + to create a new project.
In the Design Panel on the left, select "UPLOAD."
If you are a Design Space PRO, you can skip to step #2.
Click "UPLOAD IMAGE."
Click "BROWSE" or drag and drop the file.
Navigate to the file on your device to click "OPEN" to add it to Cricut Design Space.
On the Prepare Screen, you can change the name of the project and add tags. Click "UPLOAD."
Once you have the file uploaded, select it and click "INSERT IMAGES" to bring it onto your canvas.
Select "UNGROUP" in the top right-hand corner. Then "UNGROUP" the flowers, leaves, and butterfly components to adjust the size and color as desired.
Step #2: Prepare the Cut Files in Cricut Design Space
There are 12 different rolled paper flower designs for this wreath. Each measure between 1 and 2.5 inches in diameter, depending on how tightly you roll the flowers.
In addition to the flower cut files, there is a variety of leaves, as well as two different layered butterflies. You can include however many leaves and butterflies in your wreath as you'd like.
For my 12-inch wreath, I used the following number of elements:
80 Rolled Flowers: Requiring 40 sheets of 8.5x11 paper
24 Leaves: Requiring about 5 sheets of 8.5x11 paper
4 Butterflies: Requiring 1 sheet of 8.5x11 gold cardstock and 1 additional 8.5x11 sheet of colored cardstock
Step #3: Cut out the Wreath Components
Start by removing the clear liner from your Cricut mat and then set it aside. Again, I like to use a light grip or well-used standard grip cut mat for the rolled flowers since the cut files are a bit more delicate than the other designs.
Place the cardstock paper onto the mat and press down firmly on the paper to adhere it to the mat. This step is really important when cutting out cardstock to ensure you get the best results possible.
Insert the mat into the cutting machine and press "GO."
Once the machine has finished cutting the design, unload the mat from the machine. Repeat this process until you've cut out all the components for your wreath.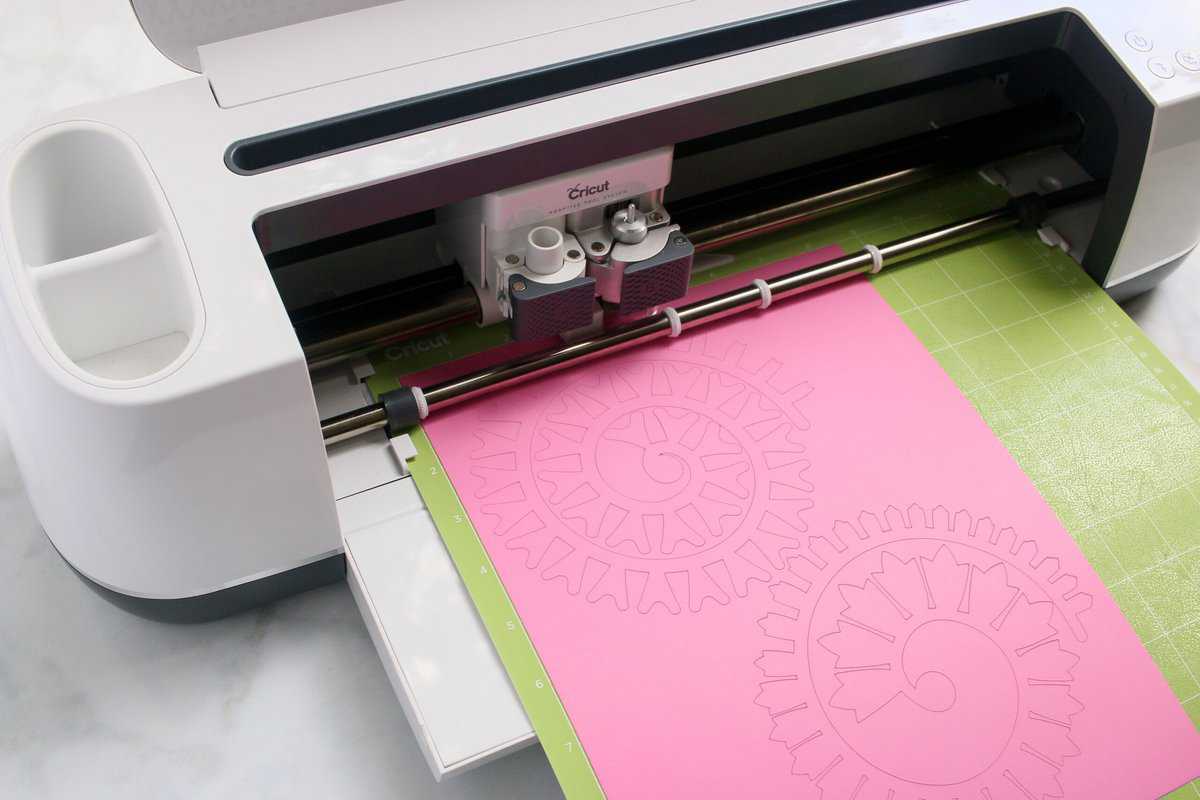 Step #4: Shape and Roll Flowers
After you have cut out all your flowers, use a skewer, dowel, or chopstick to curl the petals and give them some shape.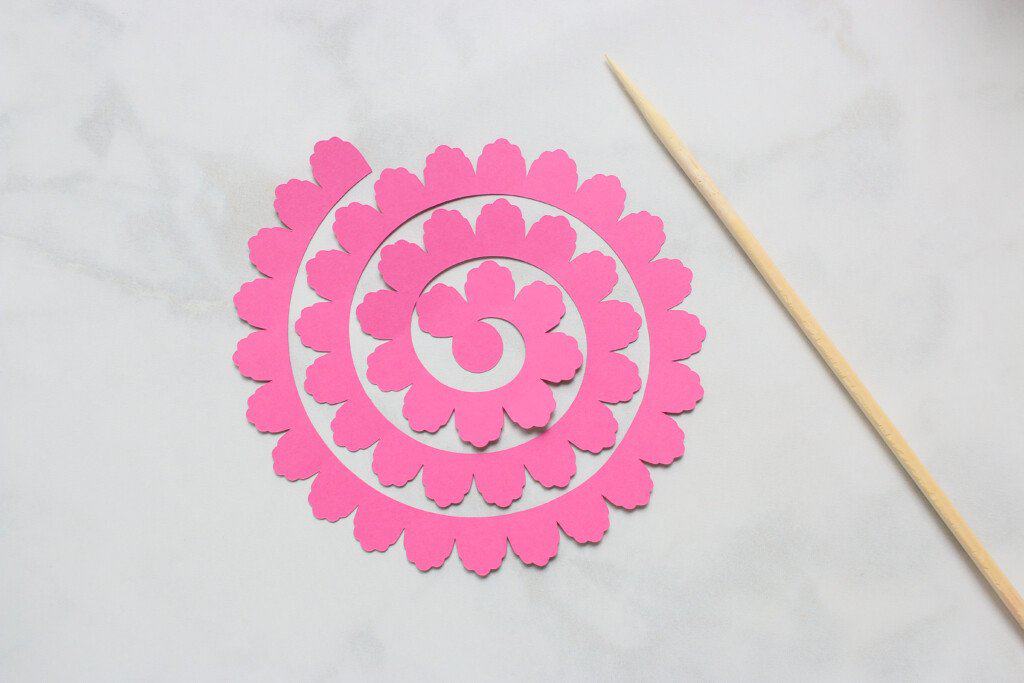 You can do this in a variety of ways, curling them all in one direction or using a combination by curling the first few petals inward and the remainder outward and vice versa. You can create so many unique looks with one flower design so experiment and have fun with this step!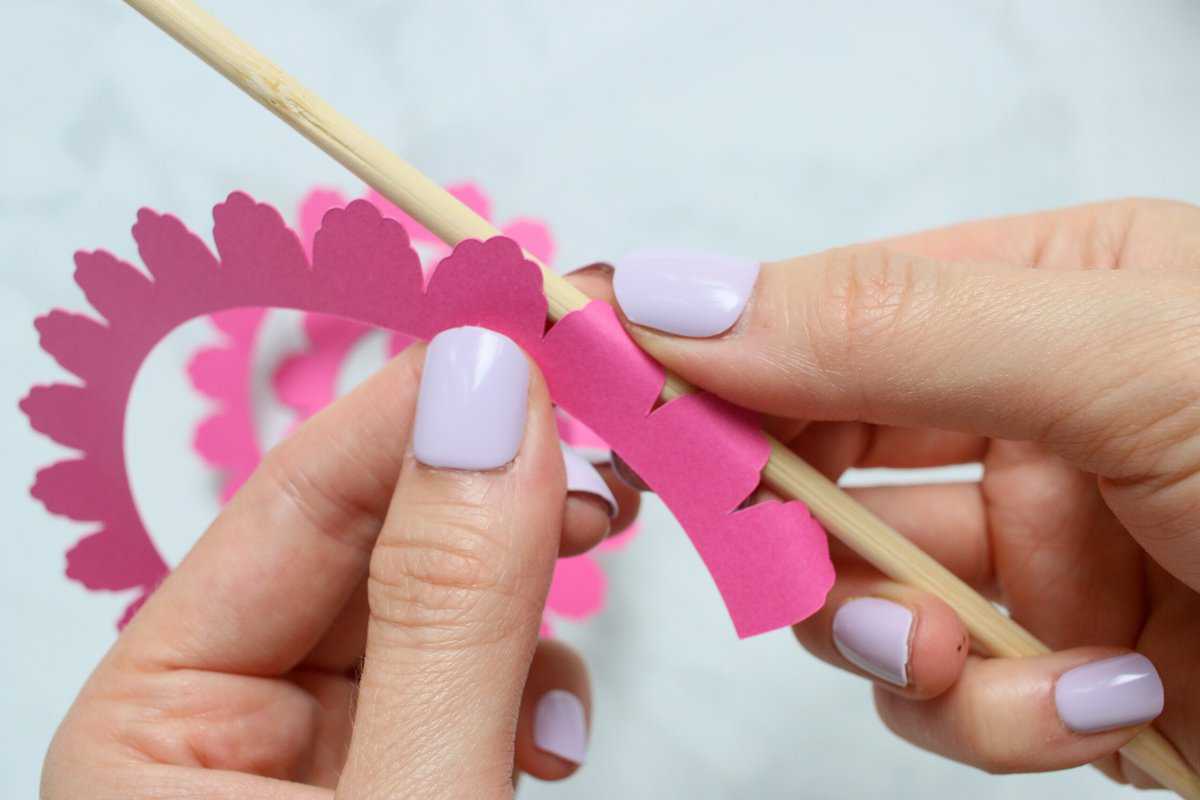 Grab a quilling tool and place the outer end of the paper flower spiral into the slot of the tool. Begin rolling the paper flower around the quilling tool until you get to the end of the piece.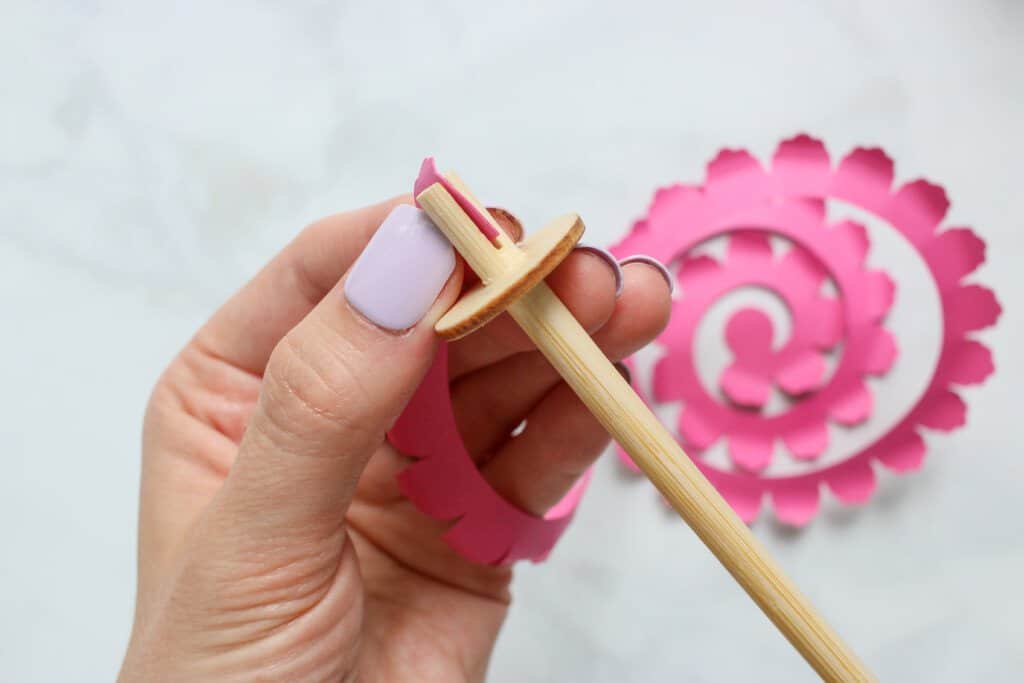 The beginning will roll quite easily and get a bit trickier toward the end. Don't worry, this is normal. And the more flowers you roll, the easier the process becomes.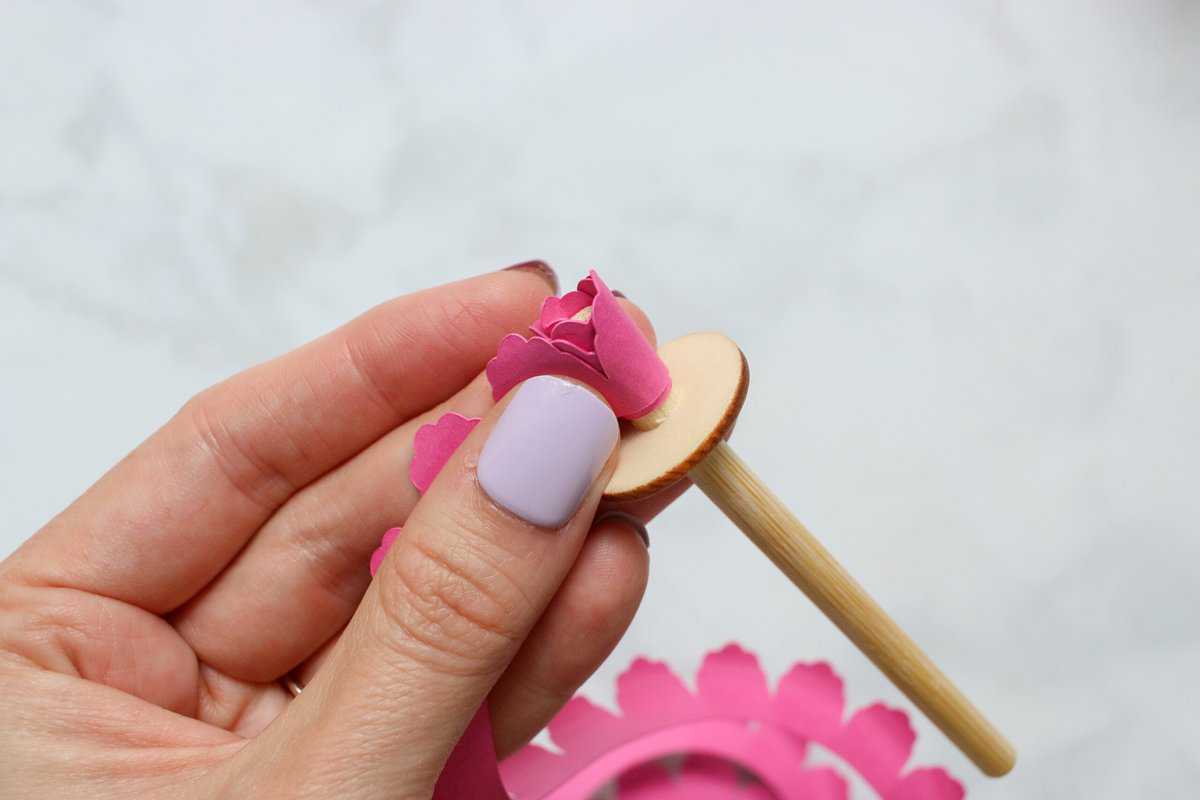 Once you reach the end, wiggle your quilling tool slightly to carefully remove the paper flower.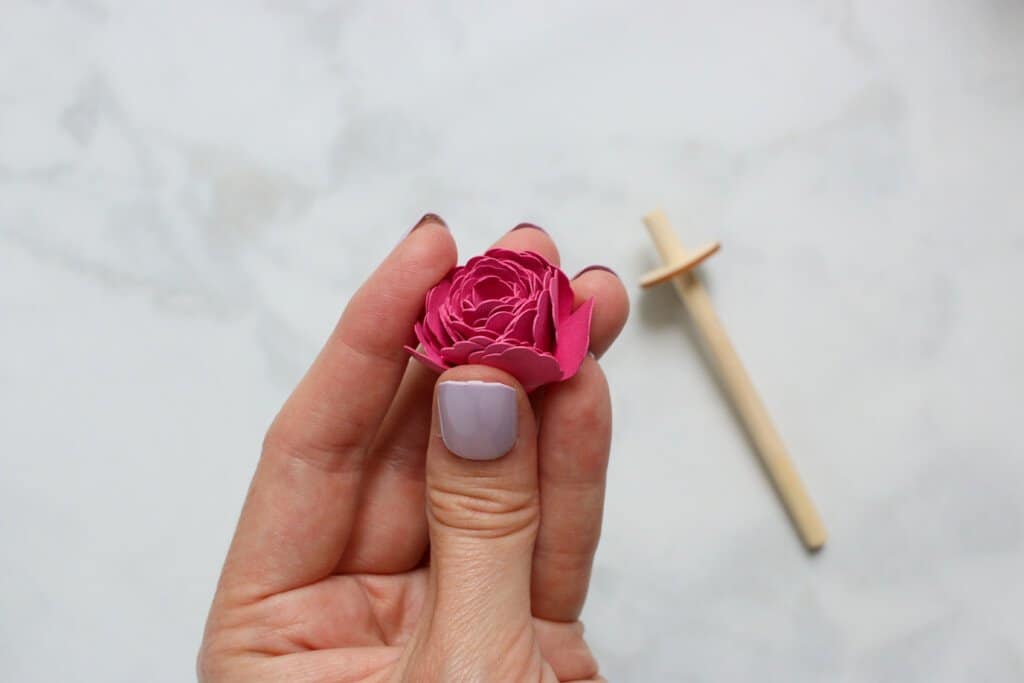 Now before you apply hot glue to finish off your flower, you have some options! You may opt to let your flower unroll a bit to loosen the petals. See the photo below. This will result in a bigger flower with more room to further shape and curl the petals.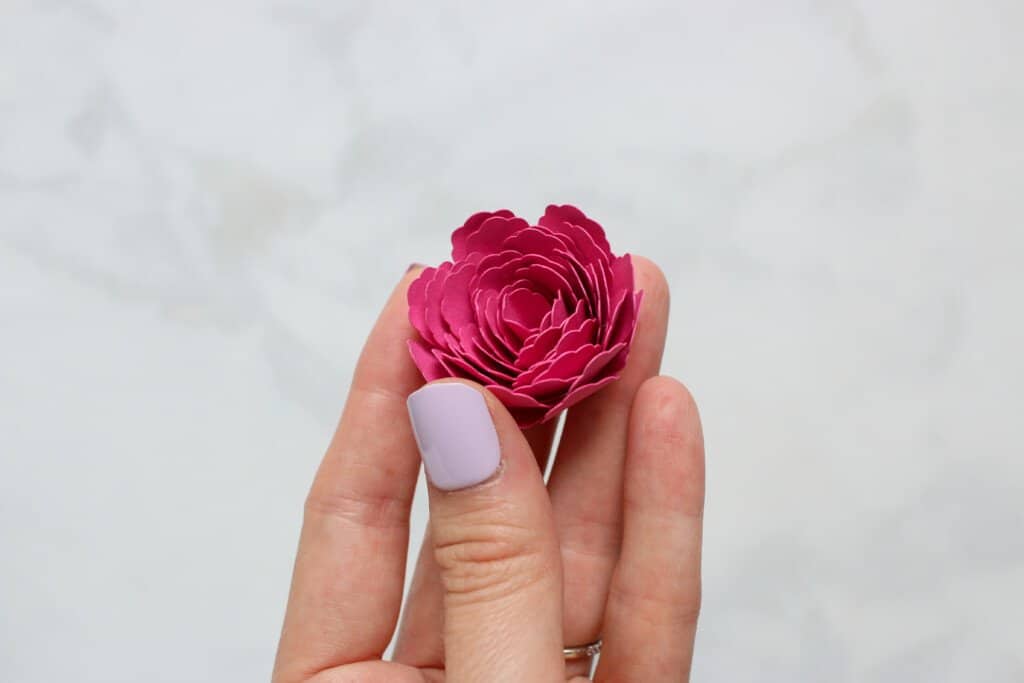 However, you can also leave the flower rolled tightly for a smaller blossom and immediately apply glue to the bottom.
For this wreath, I used a combination of these techniques to give me a wider variety of flower looks and sizes. I love how one flower design can look so different depending on how you shape the petals and how loose or tight you roll it!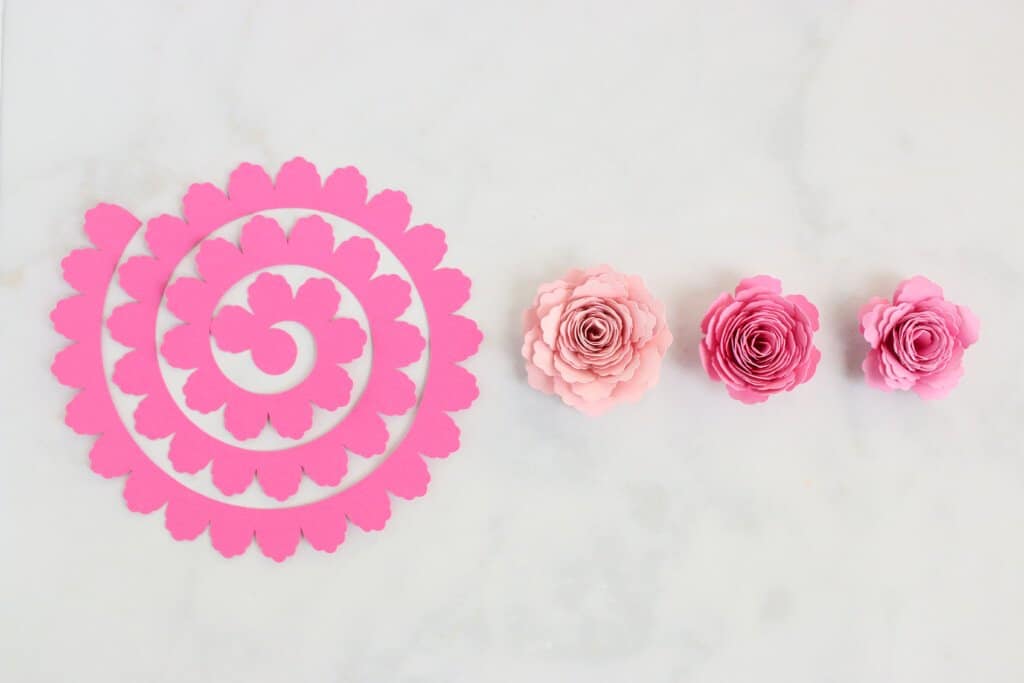 Once you're satisfied with the look of your flower, apply glue to the circular tab and press tightly onto the rolled edges to create a strong bond.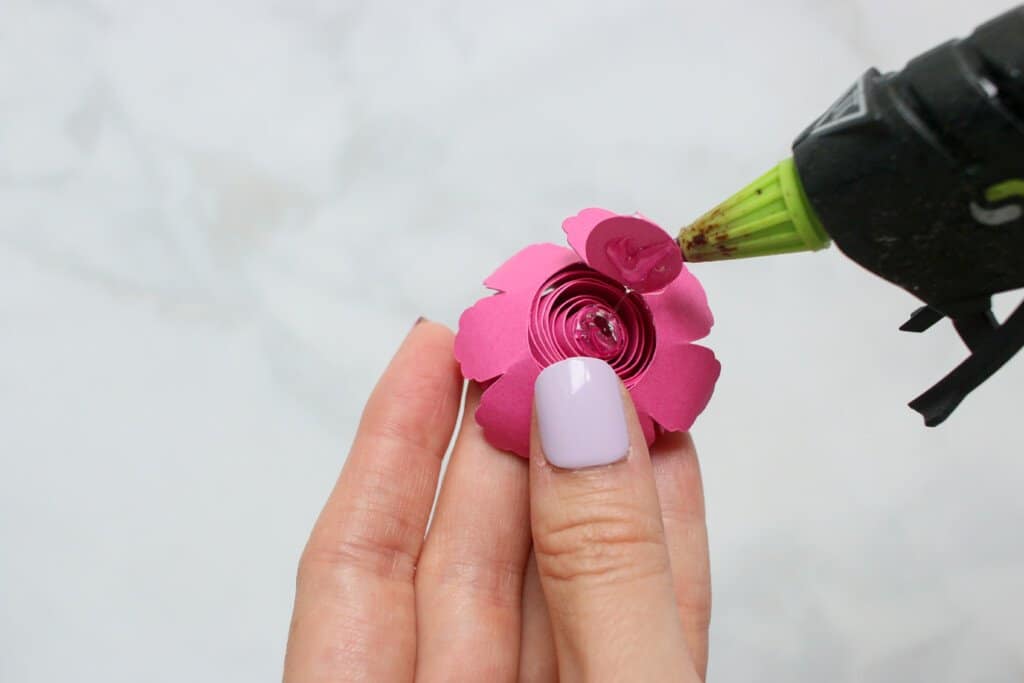 Add any additional shape to the petals as desired. Continue shaping, rolling, and gluing your flowers until you have enough to cover your wreath.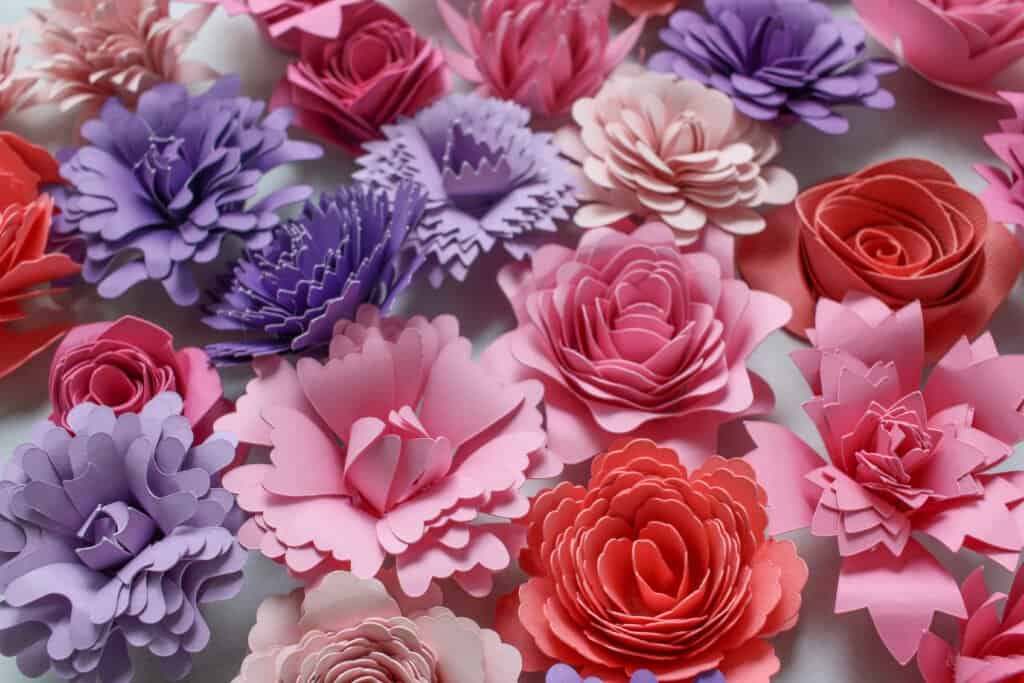 Step #5: Shape the Leaves
Once you have all your leaves cut out, you can add some dimension to them with a craft knife.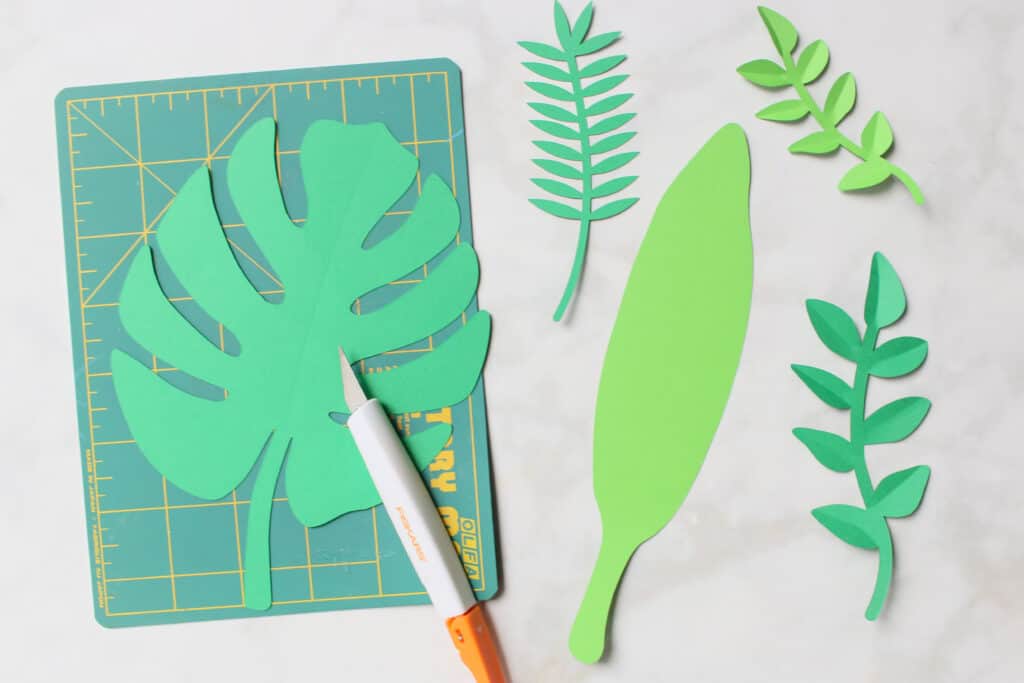 Create "veins" by gently scoring lines along your leaves with the knife.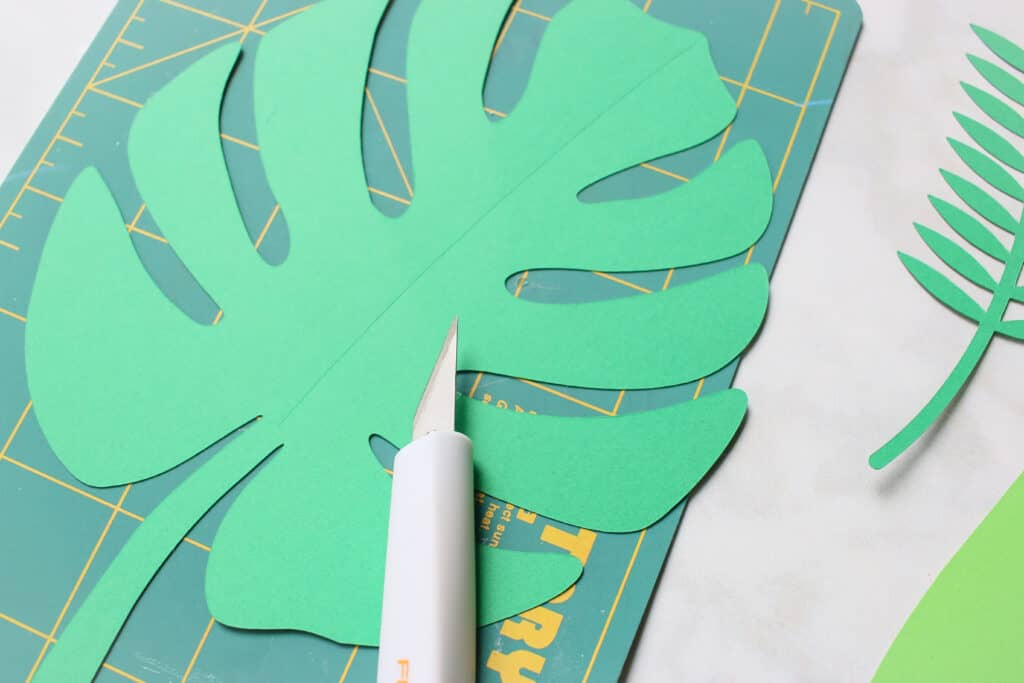 Then fold along these score lines to give the leaves some natural shape.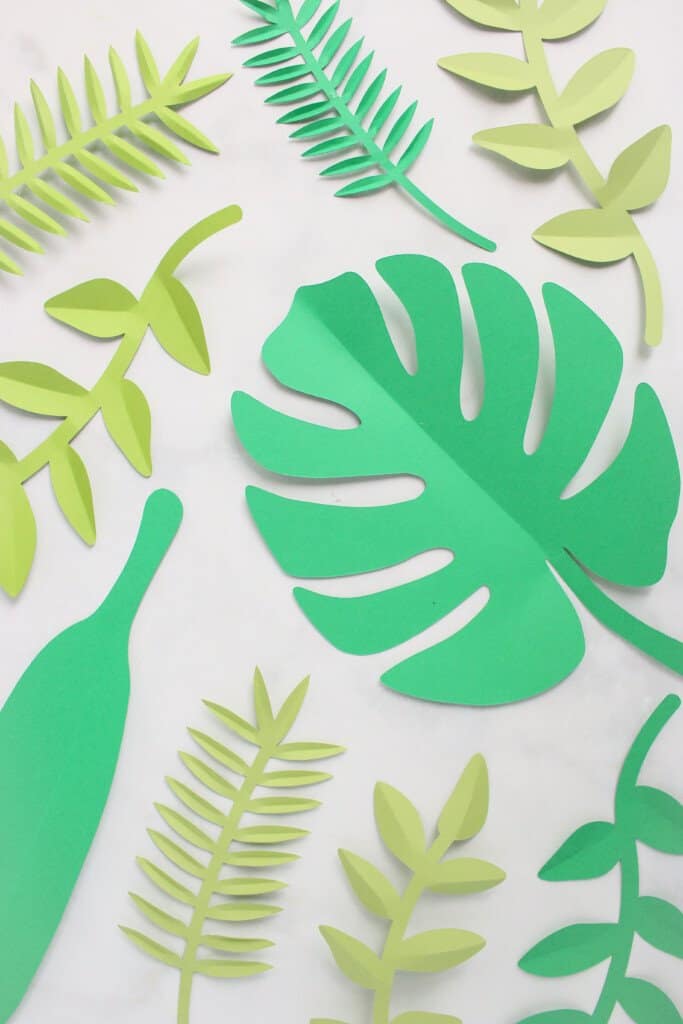 Step #6: Create the Butterflies
Each butterfly should have one solid, colored layer and one detailed, gold layer.
To add further depth to your butterfly, use pan pastels. Pastel colors that are a few shades lighter or darker than your paper will show up the most.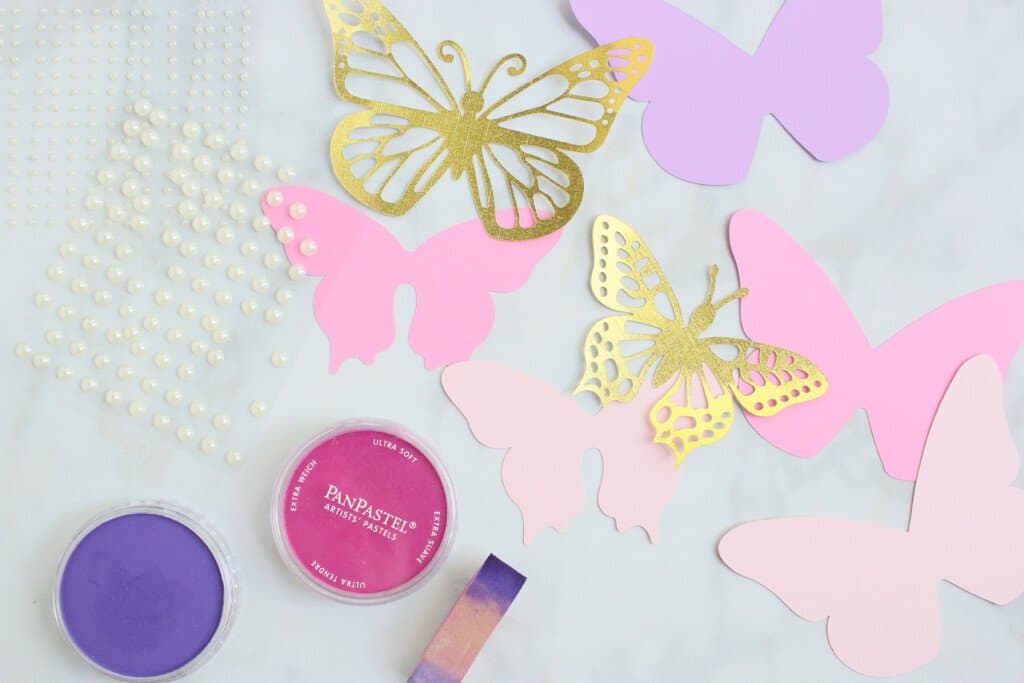 Use a sponge to apply swipes of pastel to the innermost portion and/or along the edges of the butterfly.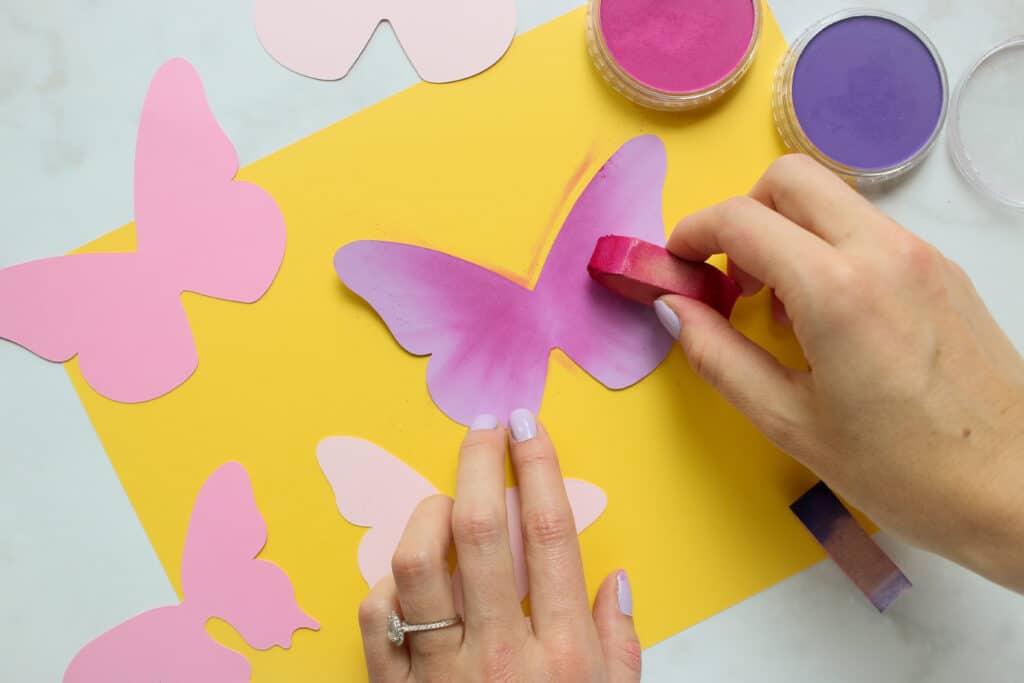 Then apply glue to just the body portion of the butterfly and layer the gold piece on top of your colored butterfly.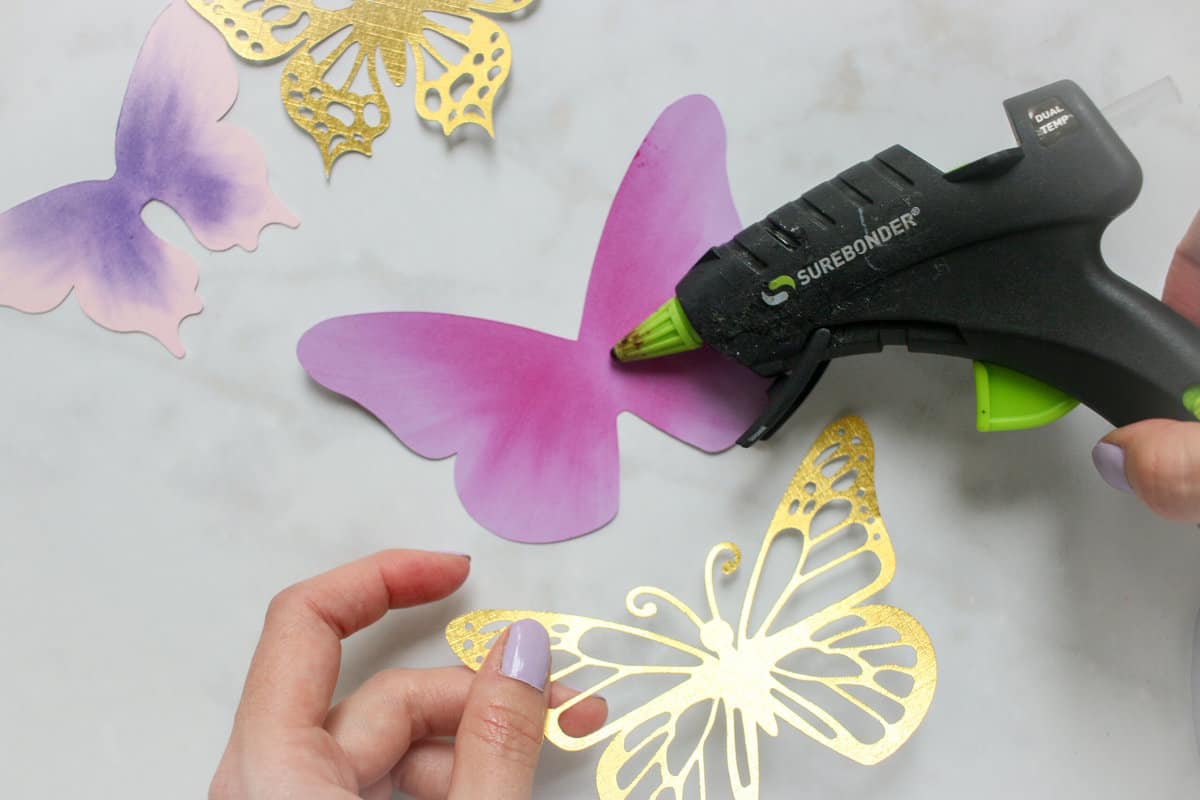 Add pearl stickers to the body and antennas for a final touch.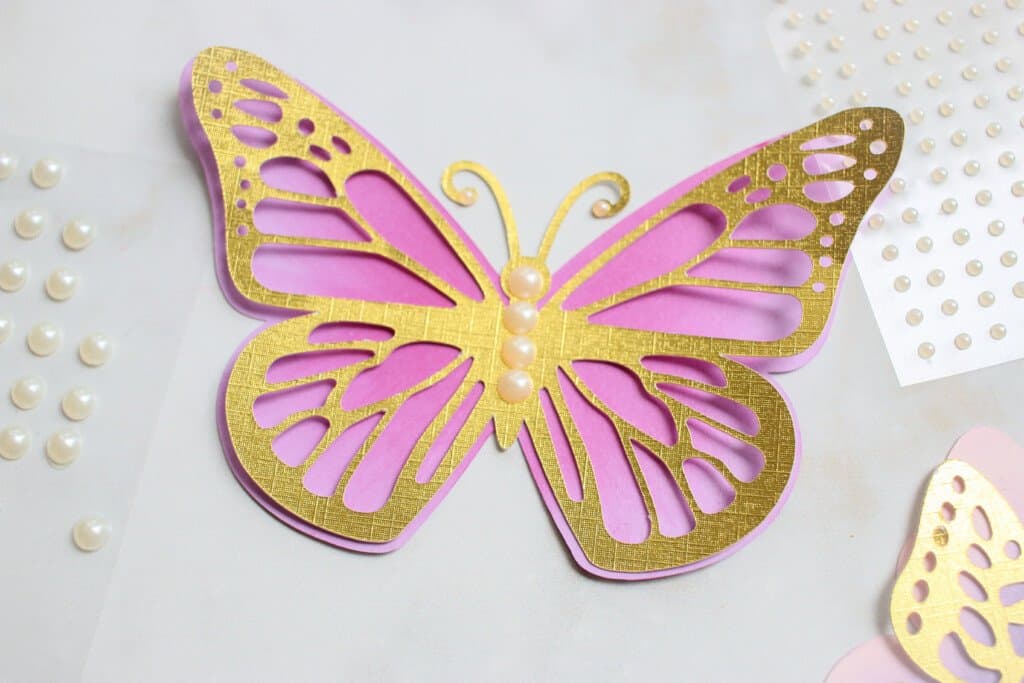 Raise the edges of the gold butterfly to give the wings some movement.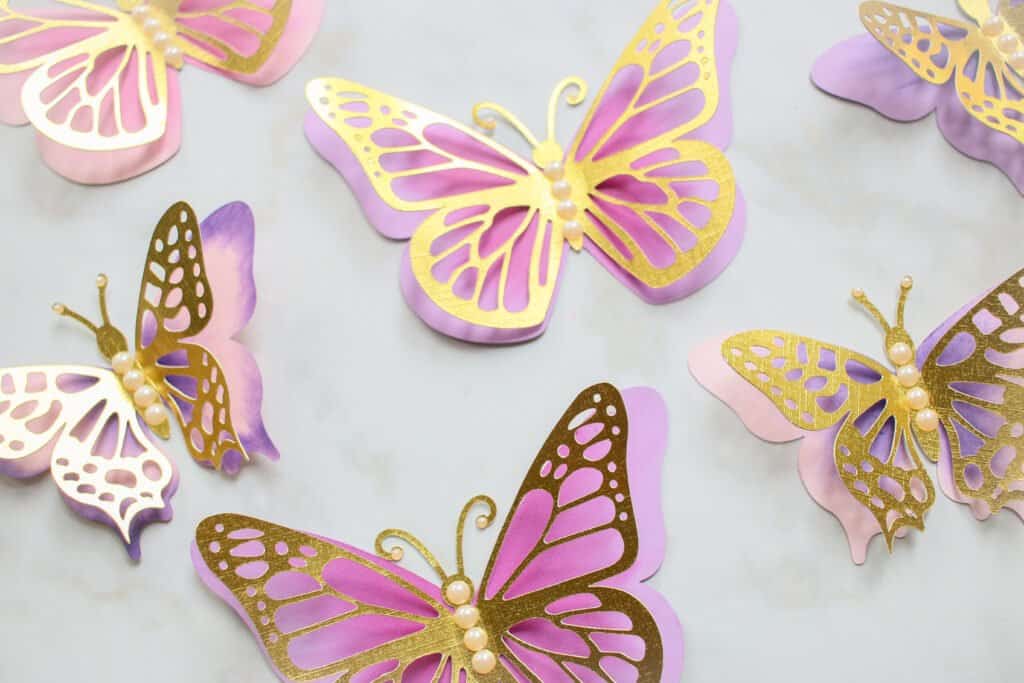 Step #7: Assemble the Wreath
Now gather all your prepared elements: flowers, leaves, and butterflies, in addition to your wreath form and glue.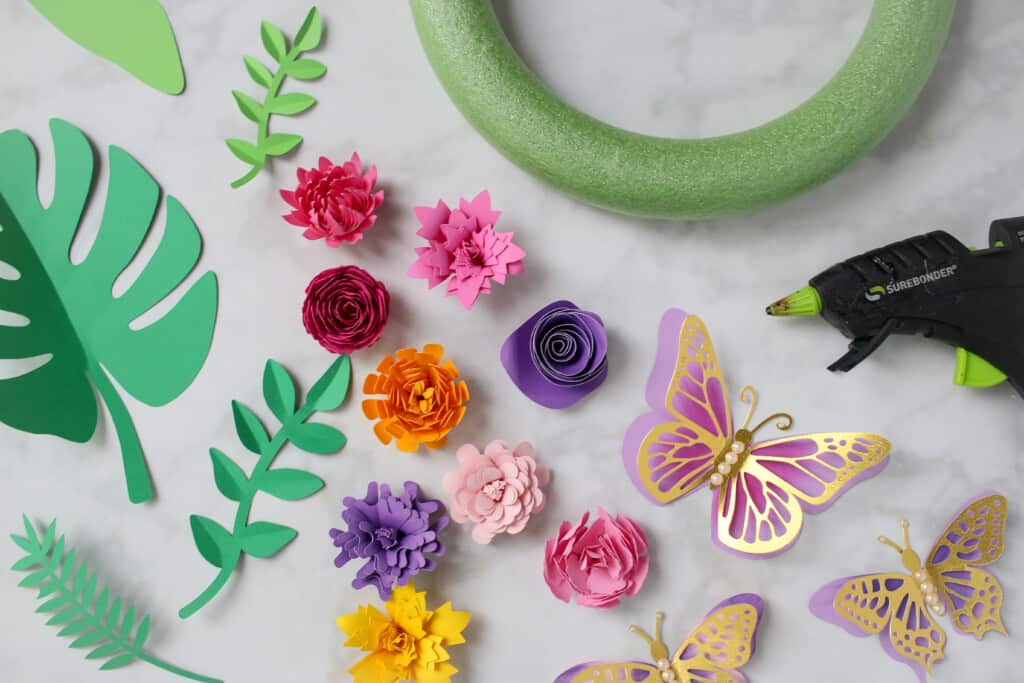 Begin by gluing your rolled flowers to your wreath.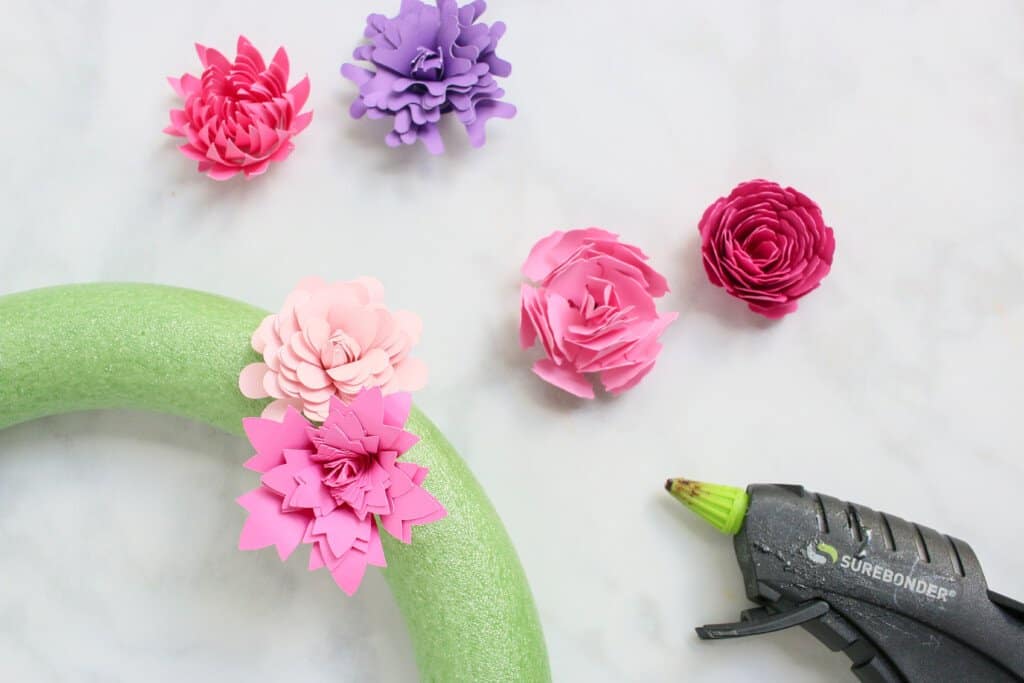 Nestle the flowers closely together to avoid any empty gaps between the petals.
Add greenery as you go, positioning the leaves so they stick out along the outer and inner edges of the wreath.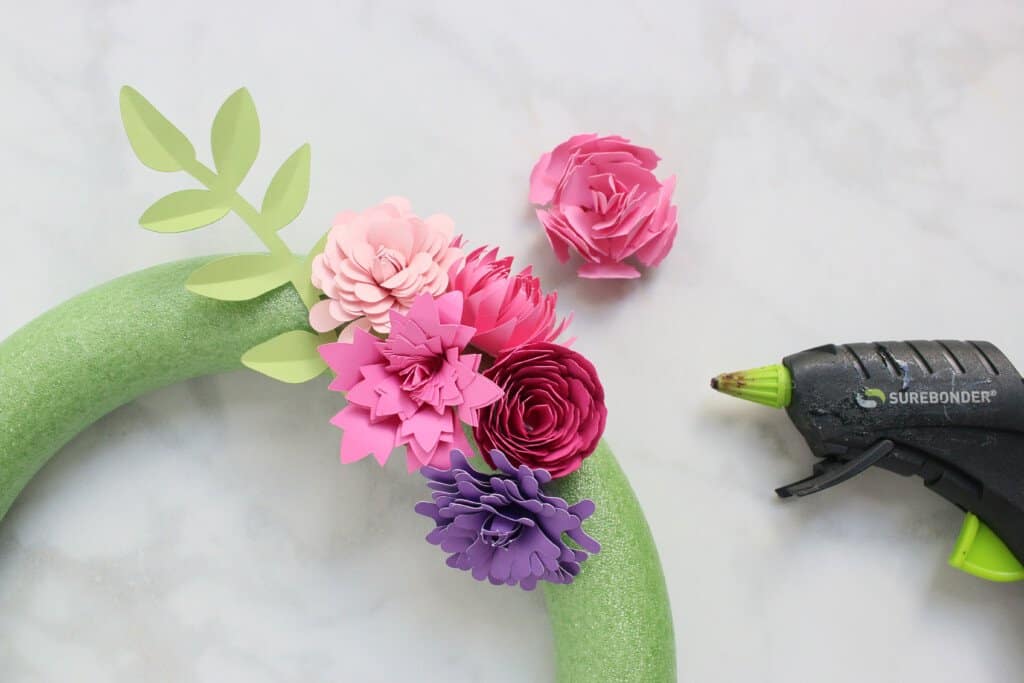 I also created a cluster of leaves to act as a focal point of the wreath. This is totally optional, and you can alternatively add the leaves sporadically throughout the wreath instead.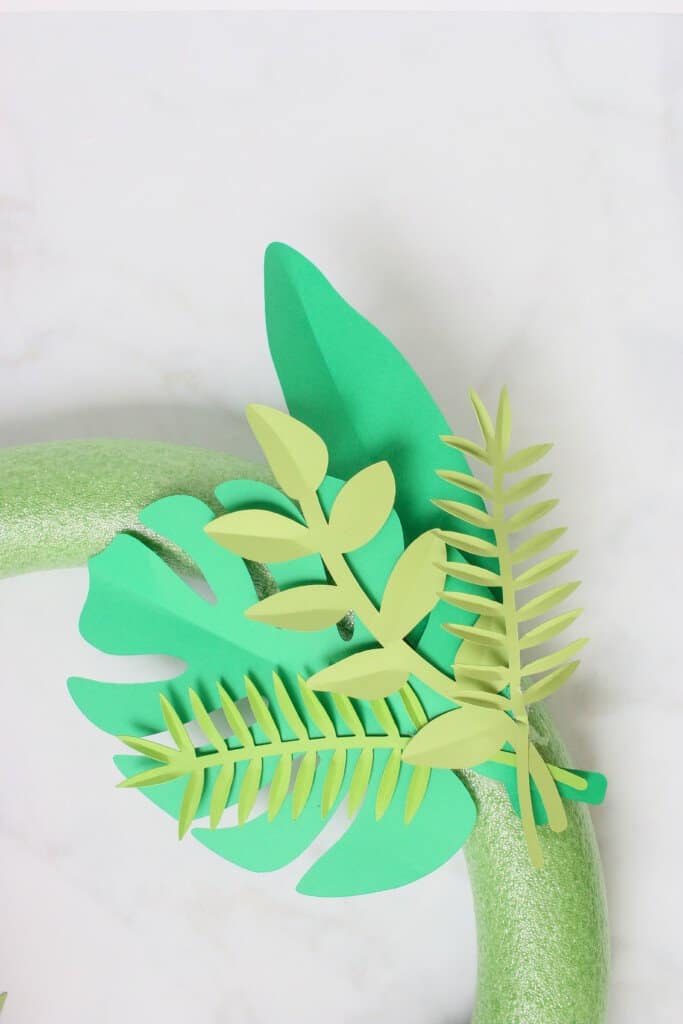 Continue gluing on flowers until you cover your entire wreath. You can stop here if butterflies aren't your thing, but I love the added touch of sparkle they bring!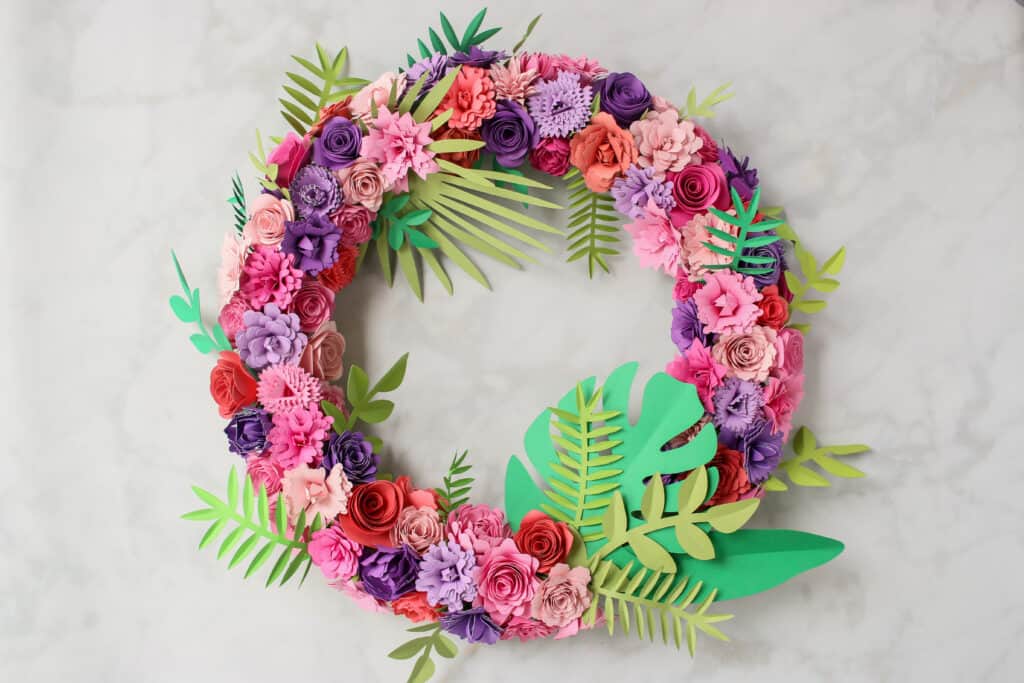 Now add your butterflies. You are welcome to add the butterflies as you attach the flowers and leaves, or you can wait until the end.
To apply the butterflies, simply glue them on top of your flowers or leaves.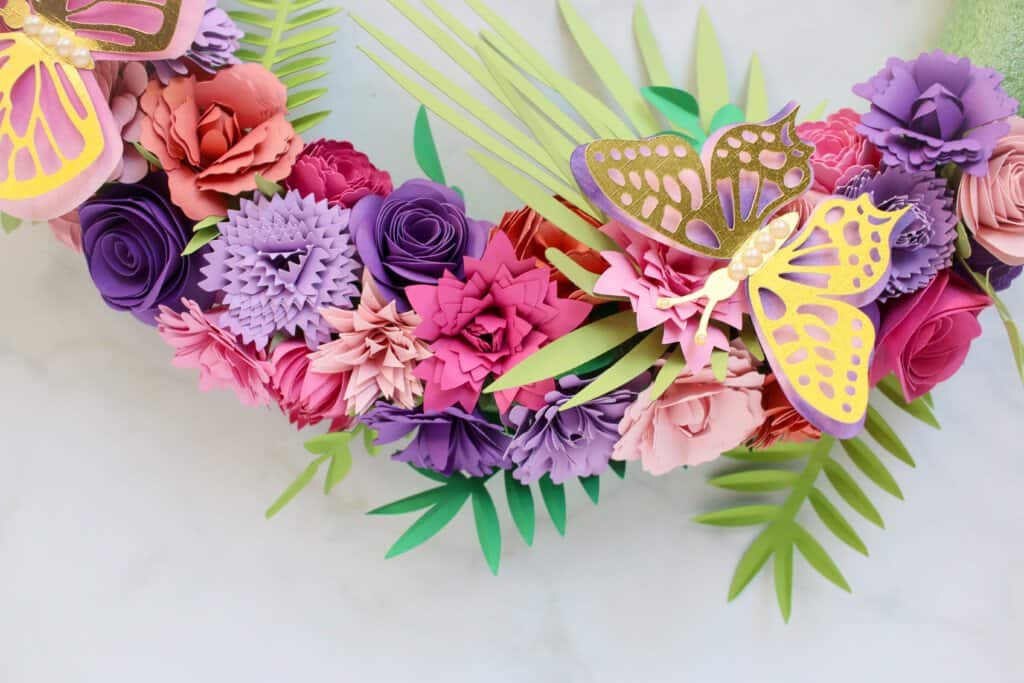 Once you've covered the entirety of your wreath, hang it on a wall or door to admire!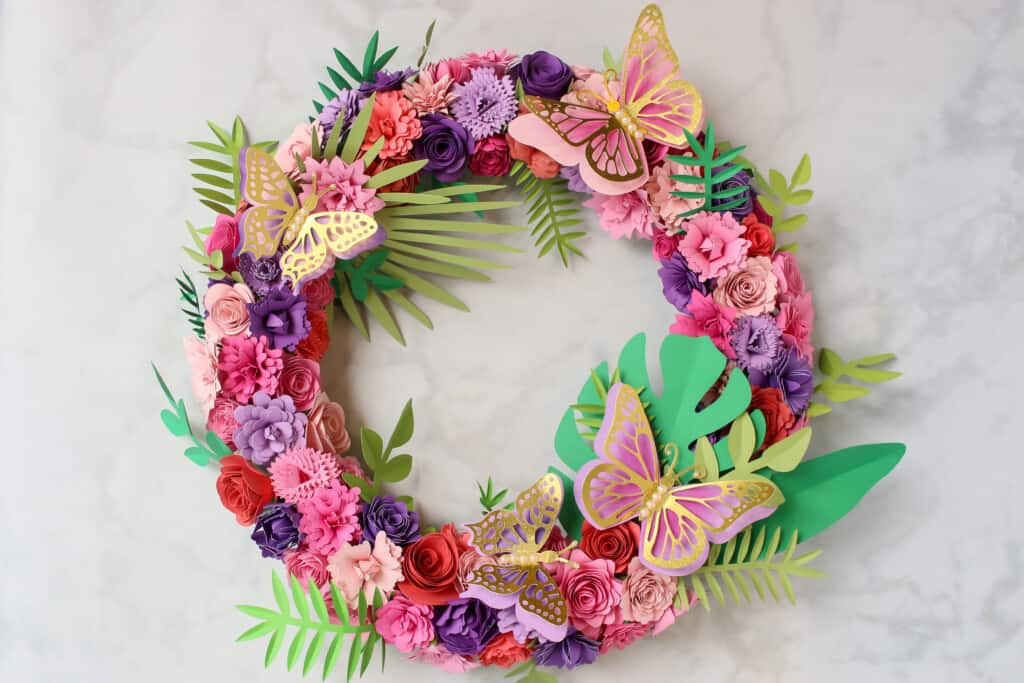 Have you made rolled flowers before? What do you think of them? Let me know in the comments below!
Don't want to forget about these FREE SVG Files? Save this project for later! Click here to save this project on Pinterest.