Learn What an SVG File Is and How to Upload SVG to Design Space to Easily Create Custom Projects With This Step-by-Step Tutorial.
When I first got my Cricut machine, I was completely overwhelmed by the idea of this mysterious thing called an SVG file. I wasn't quite sure what qualified as an SVG file or why I even needed to use one with my Cricut machine.
I spent endless hours researching them, finding websites with high-quality ones (spoiler alert, not all files are created equally), and learning how to make them myself. I've received countless messages from my readers asking all of the same exact questions that I had when I first got my Cricut.
Today, I'm going to demystify the SVG file for you! I'll teach you what an SVG file is, how to find a high-quality one, and finally how to upload it to Cricut Design Space.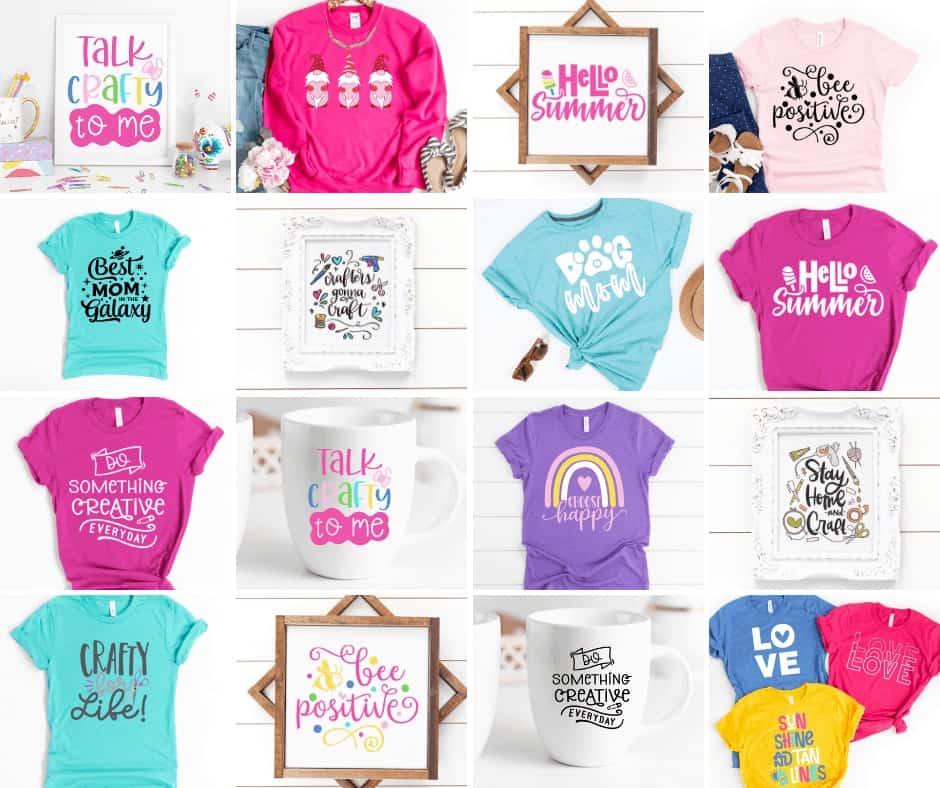 How to Upload SVG to Design Space
Bonus - at the end of this post, I'll also show you how to upload a PNG or image to Design Space.
What is an SVG?
SVG stands for Scalable Vector Graphics file. An SVG file is a design that can be used with a cutting machine. This file is an XML-based text format meaning that it doesn't rely solely on the resolution. This allows the image to be scaled infinitely without losing quality.
Normal photos like JPEG are made of tiny dots that are the result of compression. It's a small file that can be uploaded quickly but the downside is that when the image is blown up it will appear as tiny different colored pixels that together create the full image.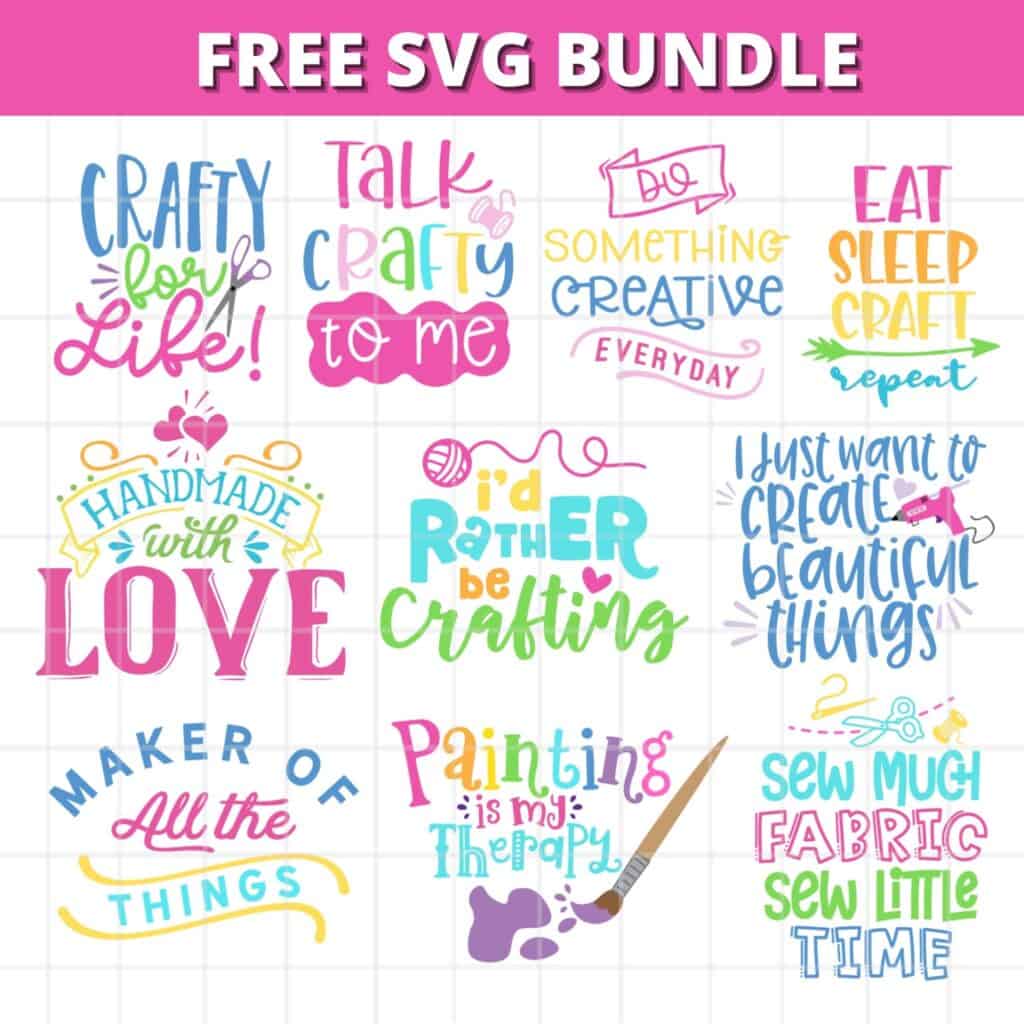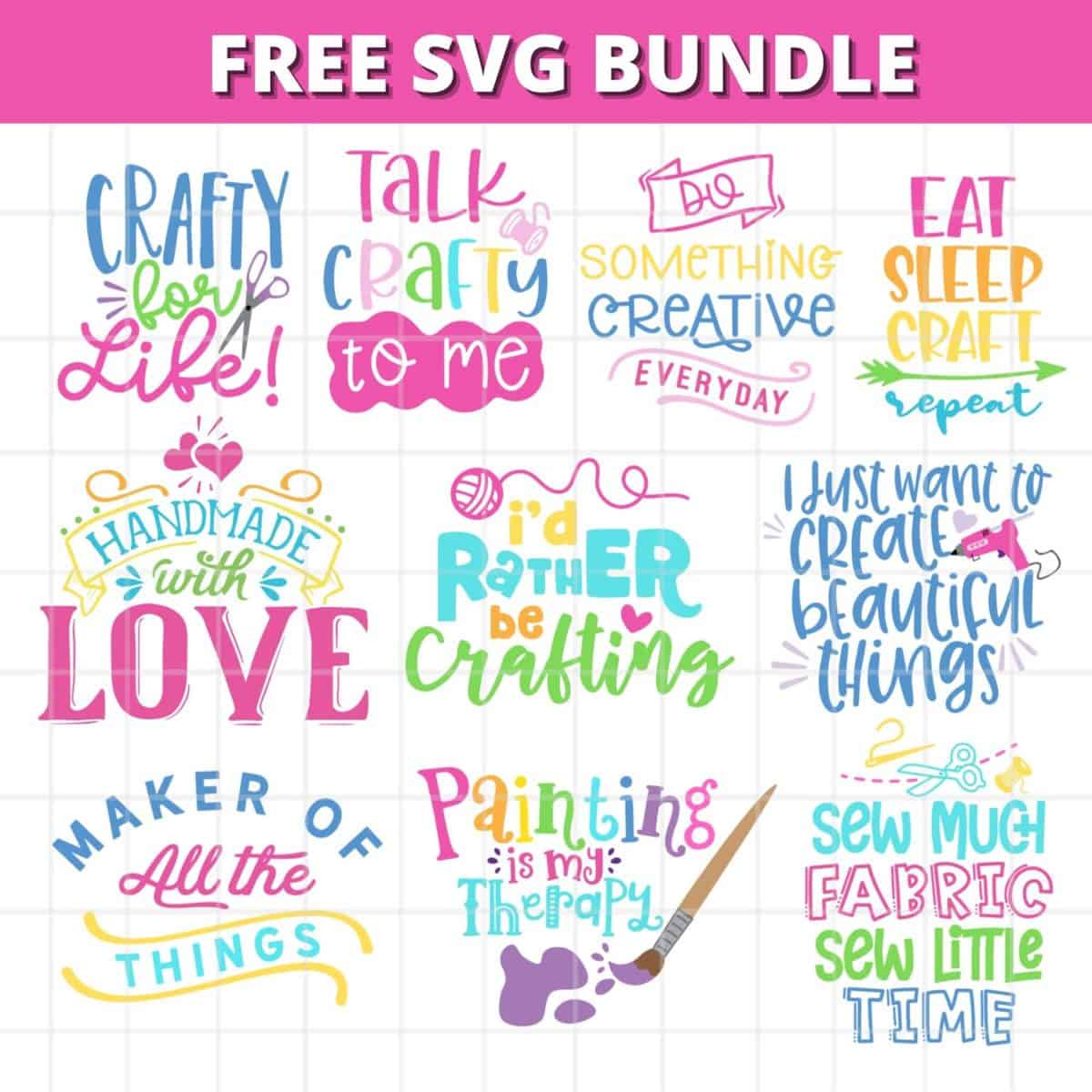 An SVG file on the other hand can be resized without ever losing quality. Numbers and coordinates are used to make up an SVG file instead of pixels resulting in crisp and clear images at any size. This allows the Cricut machine to easily cut along smooth pathways with precision.
Another difference between a normal photo and an SVG file is the ability to layer designs. SVG files can be made up of layered designs with different colors. This is perfect for telling your cutting software exactly what you want it to do with the file.
SVG's can be previewed in a web browser or can be opened in a program like Adobe Illustrator, Silhouette Studio, or Cricut's Design Space. SVG files offer a level of precision that is unmatched by other files.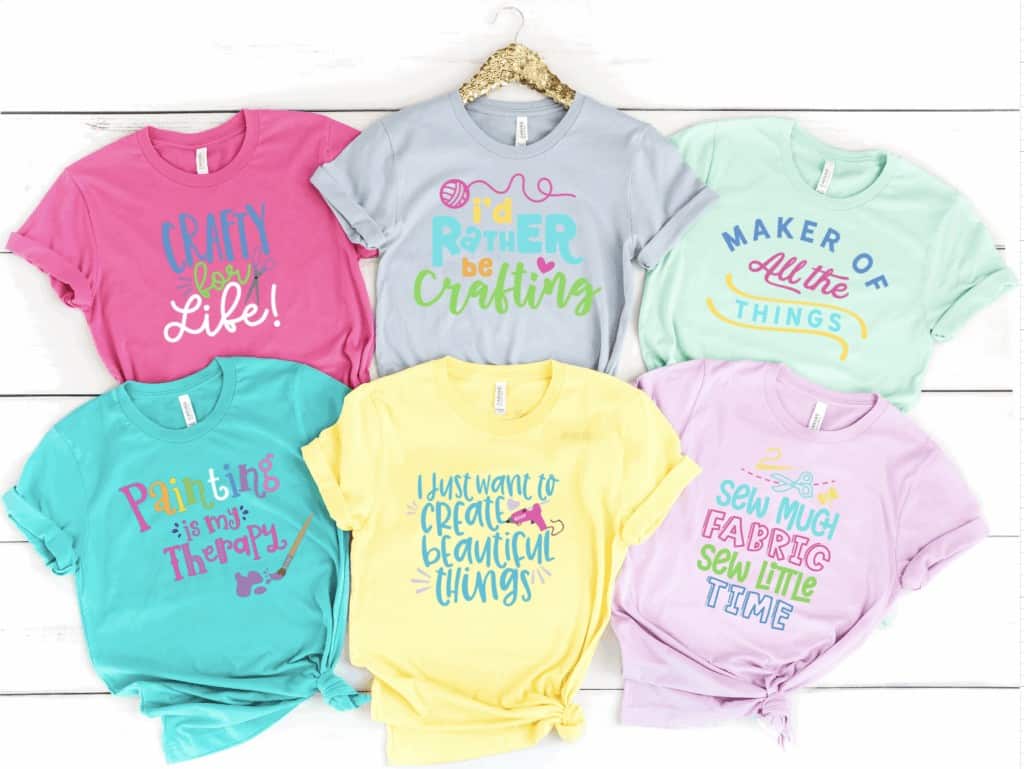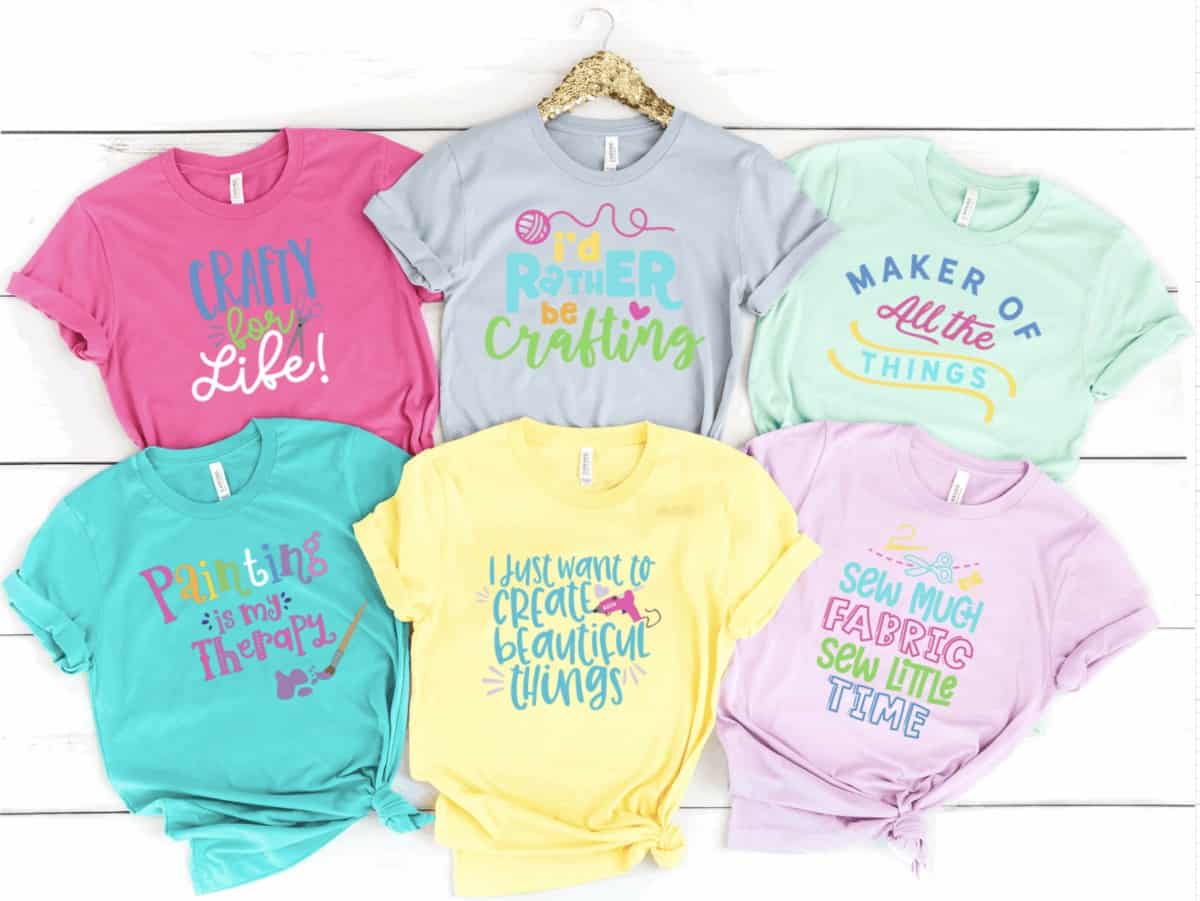 Step 1 - Download an SVG
To being, download an SVG. You can find a variety of SVG files online. When downloading files from the internet, be sure that you are using reputable sources.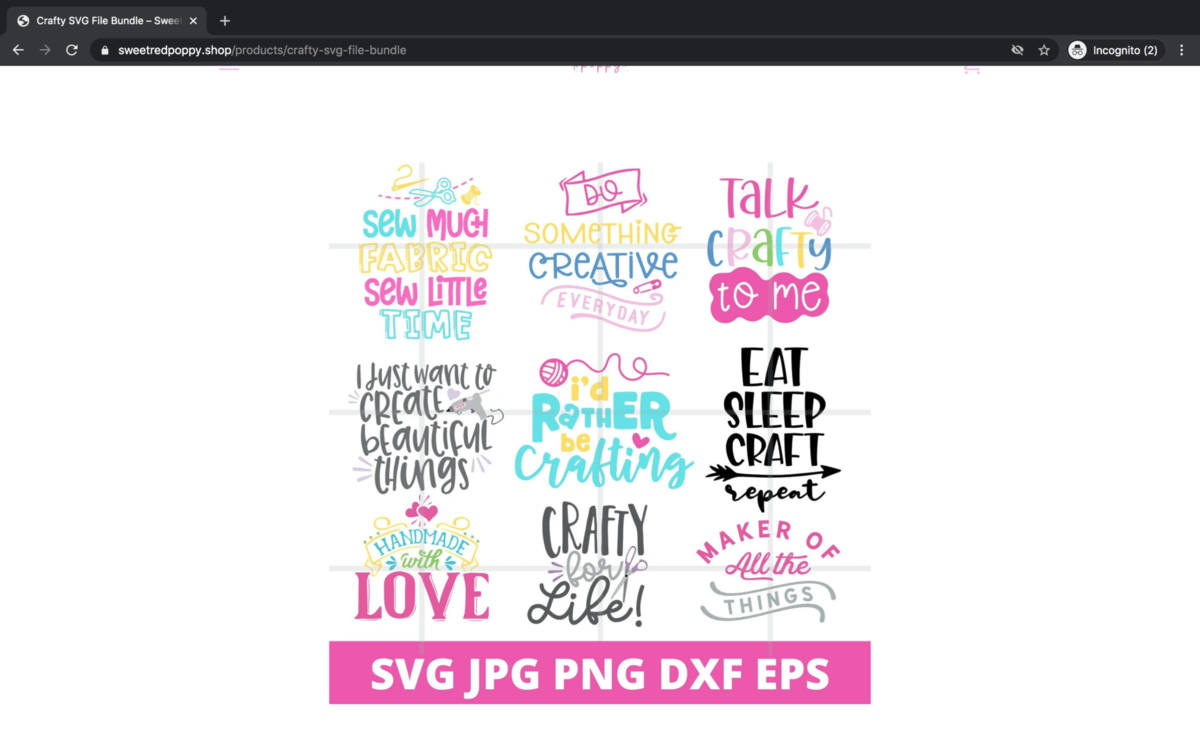 Step 2 - Upload the SVG to Design Space
In Design Space, click on "Upload."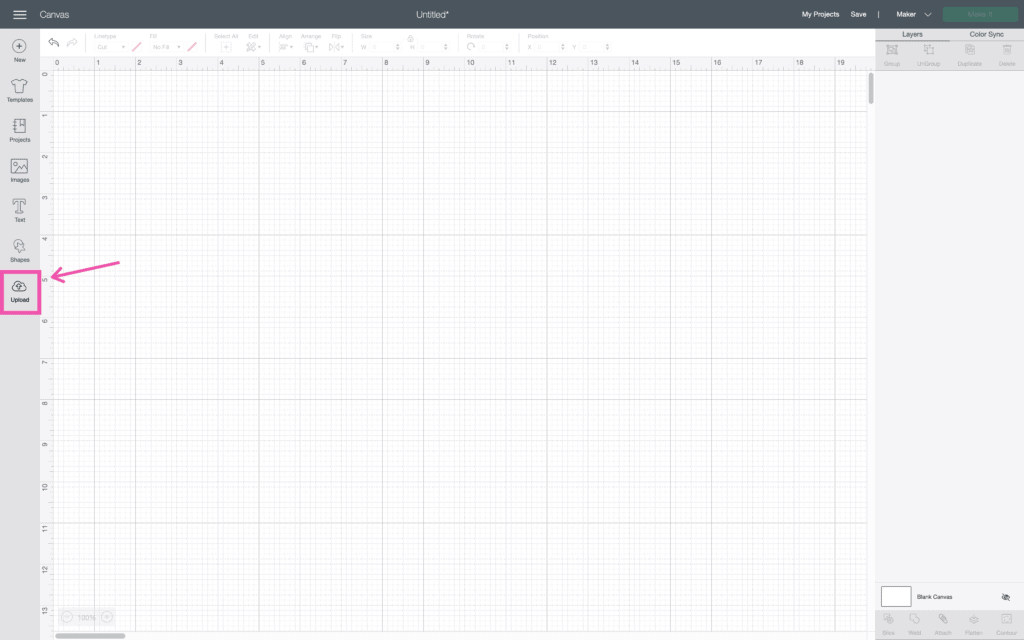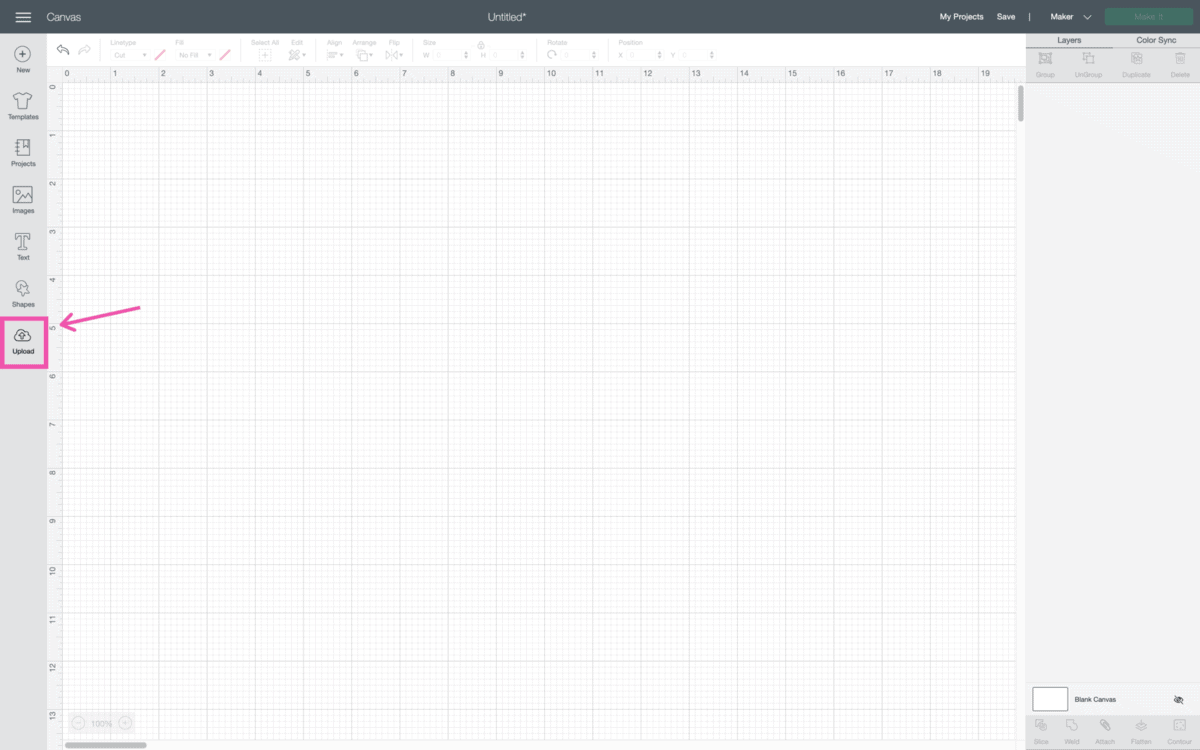 Here you have two options. You can either upload an image or a pattern fill. Images can be .jpg, .png, .gif, .bpm, .svg, or .dxf files. Pattern Fills can be .jpg, .gif, .png, or .bpm.
At the bottom, you can view your recently uploaded images.
To upload a downloaded SVG file, click on "Upload Image."
If your SVG is downloaded as a zip file (a folder that ends in ".zip"), you will want to unzip it before moving onto the next step. To unzip a folder, simply double-click it.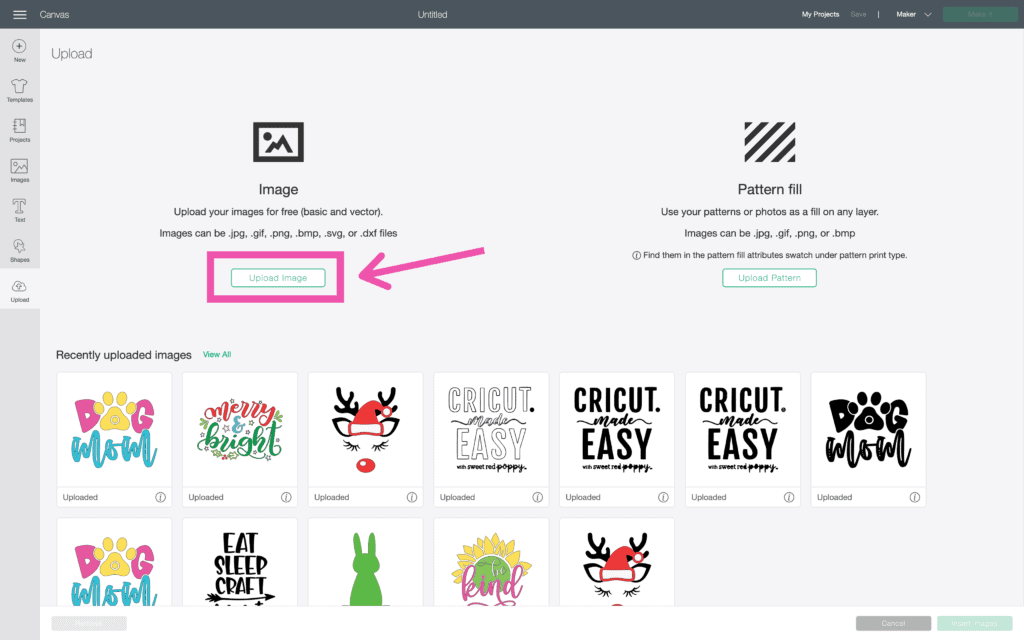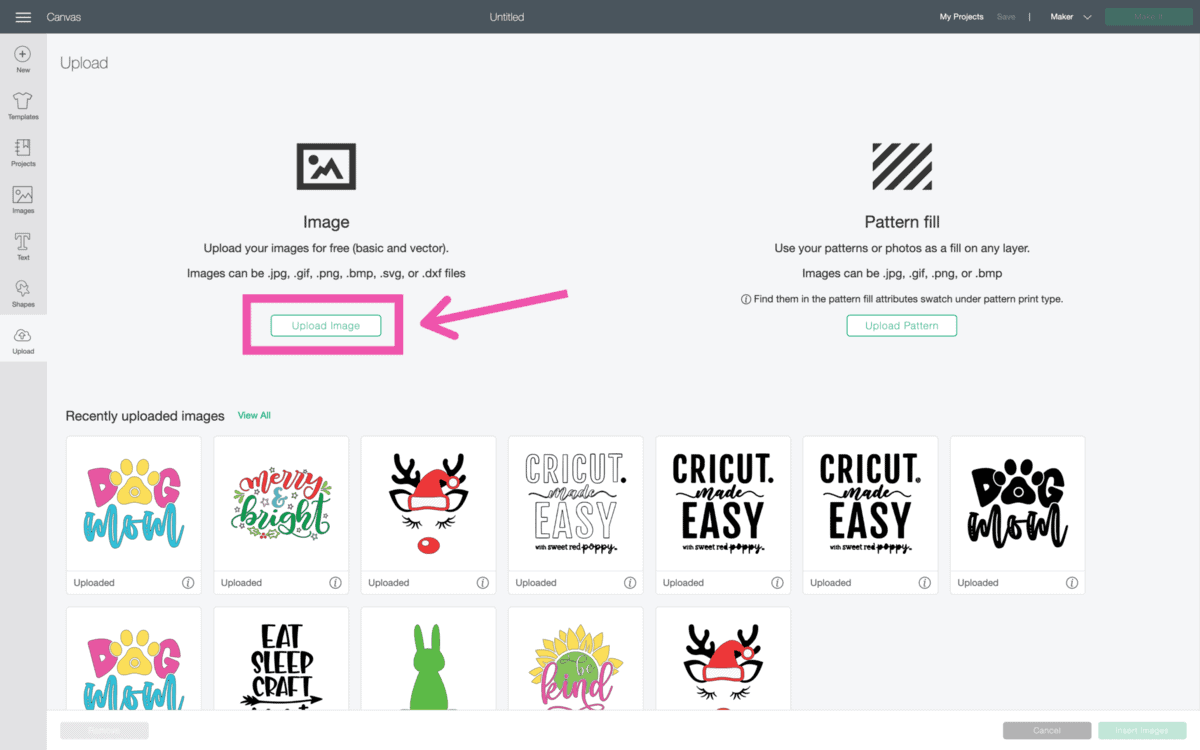 Then "Browse."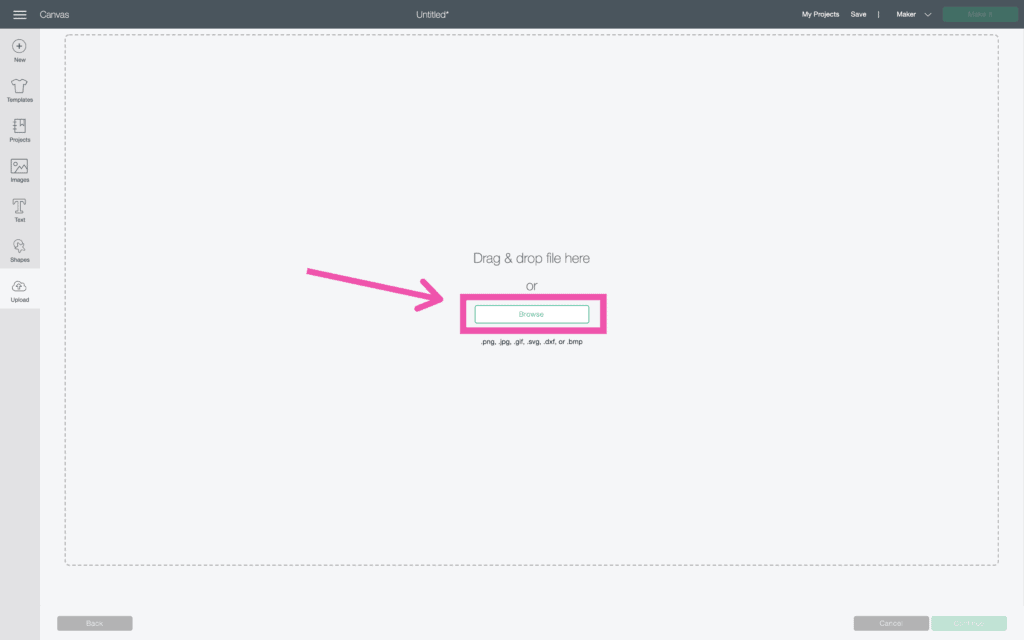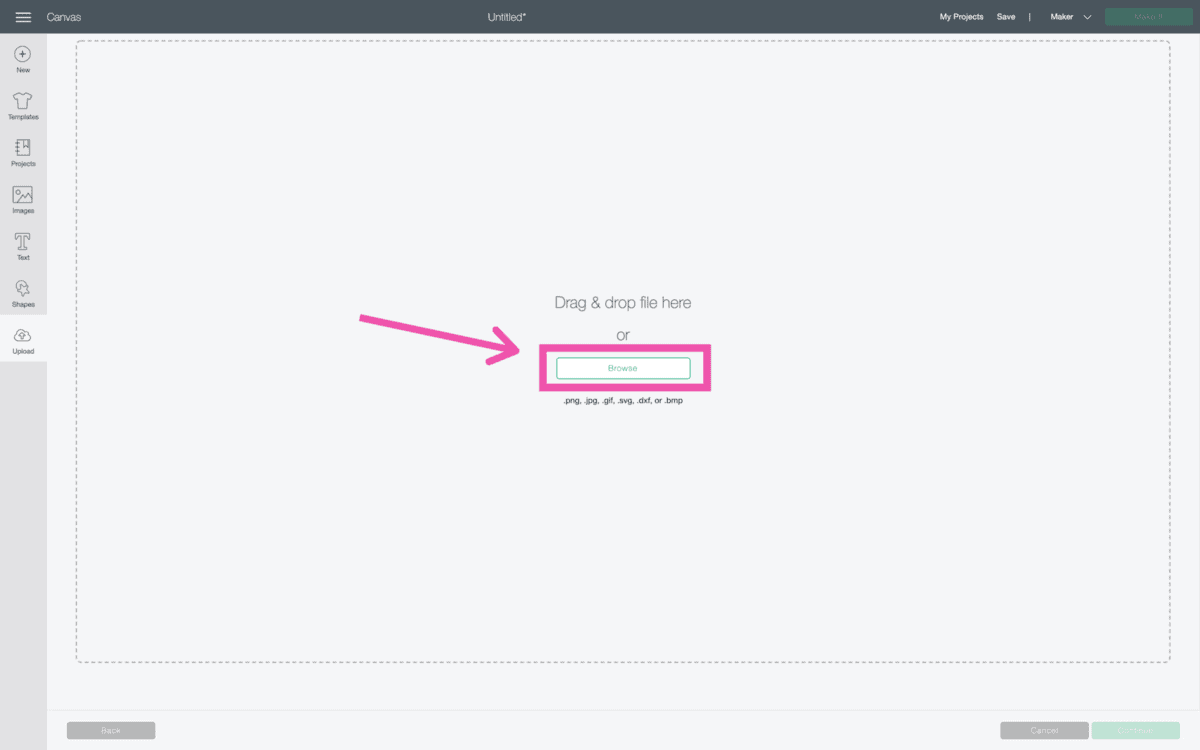 Click on "Downloads" and select your file.
Once you have the correct file selected, click "Open."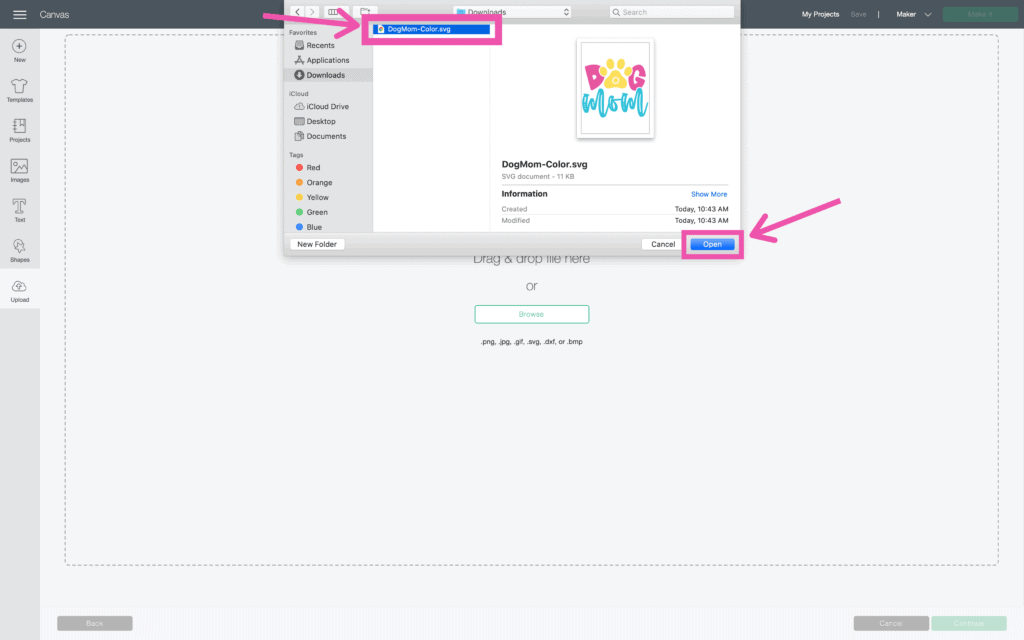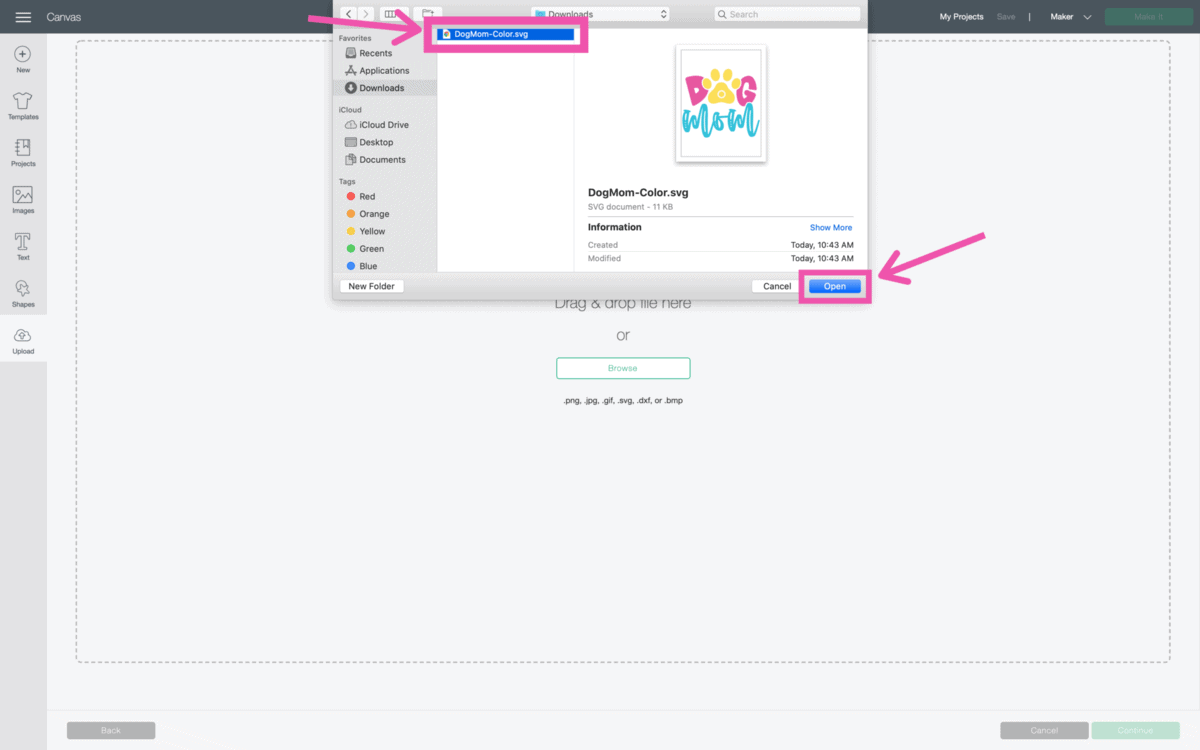 Now, you will see a preview of your file as well as the option to rename it and add tags. Adding tags makes your image easier to find later on.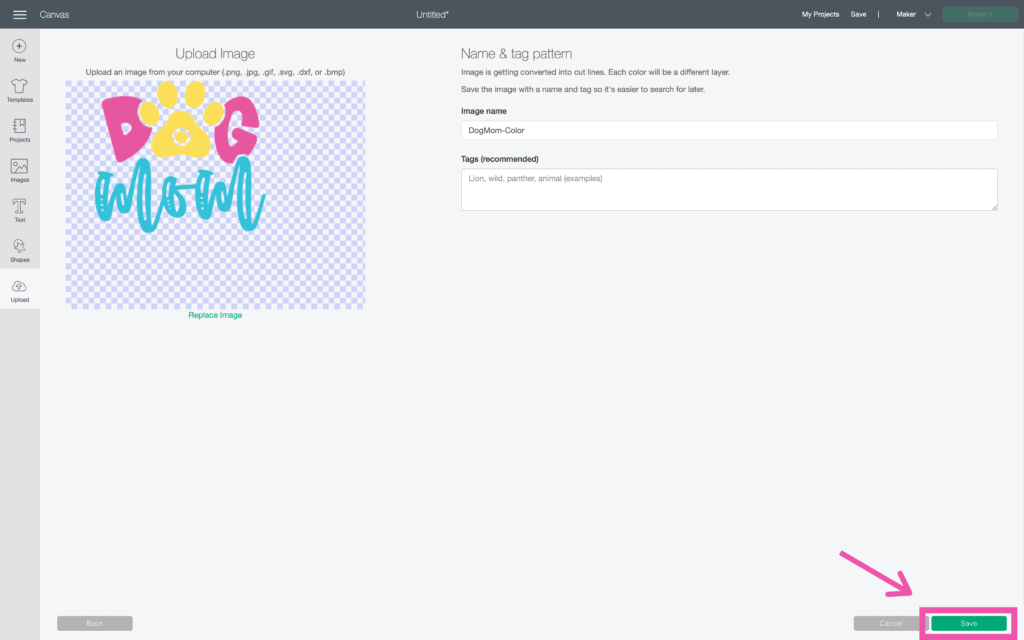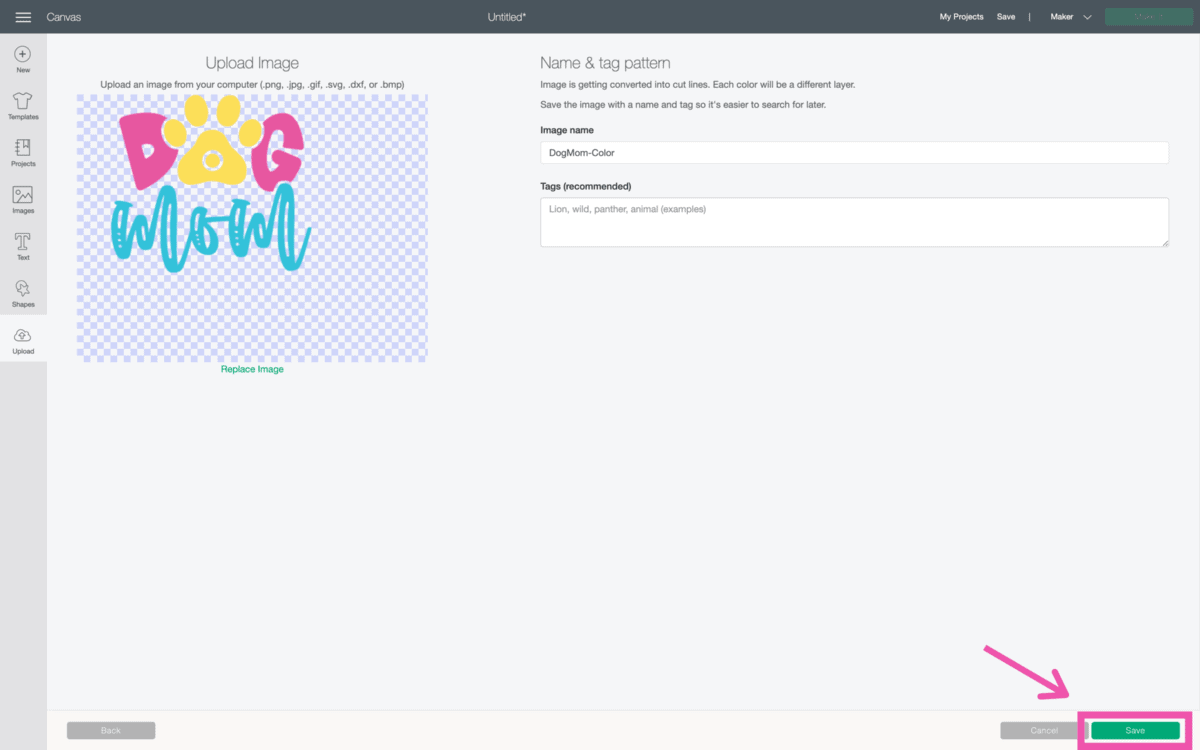 Once you have renamed your file and added any tags you want, click "Save."
Step 3 - Insert SVG
Now, highlight your file under Recently Uploaded and click on "Insert Image" to insert your design into Canvas.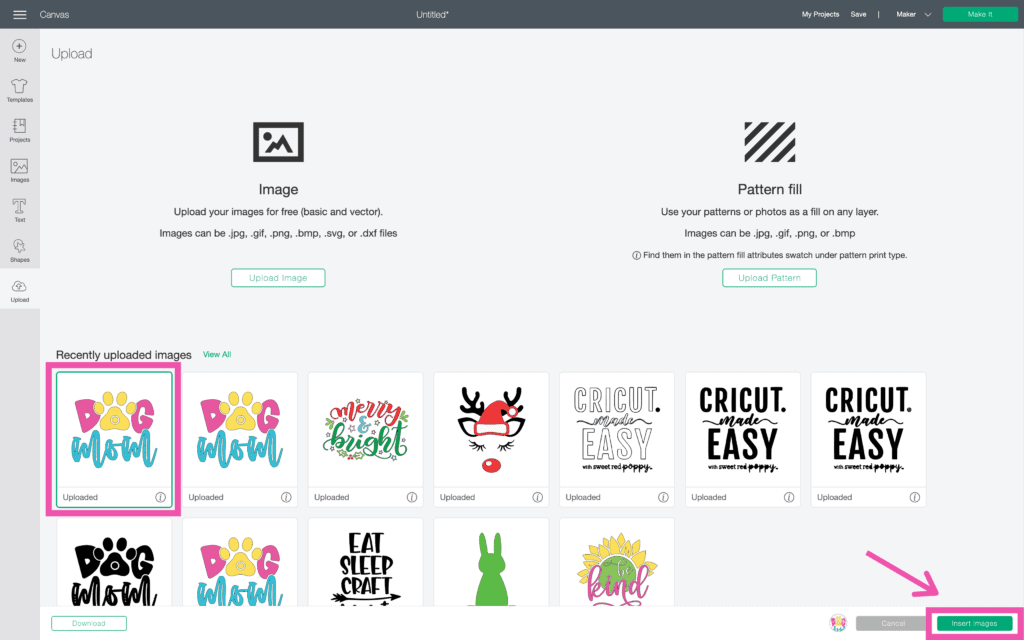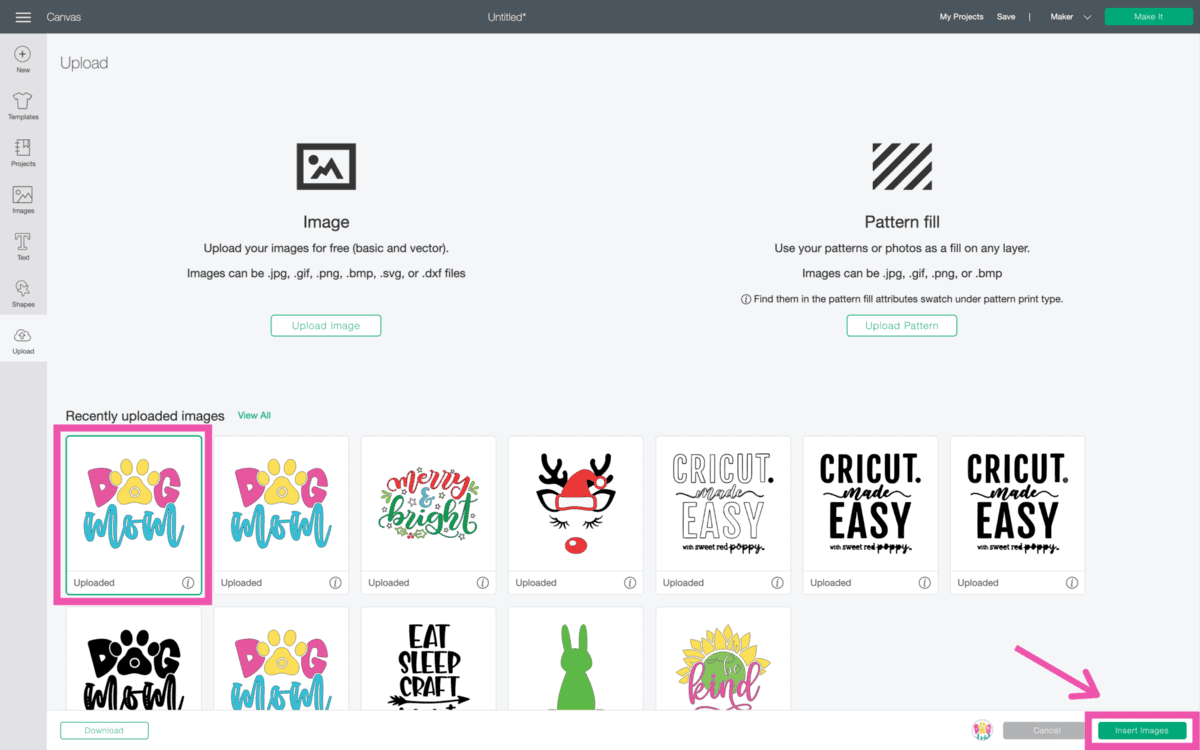 How to Upload a PNG File to Cricut Design Space
Uploading a PNG file is very similar to uploading an SVG file, just with a few differences.
Once you have your PNG downloaded, click on "Upload."
Then, "Upload Image" and "Browse."
Find your PNG file and hit "Open."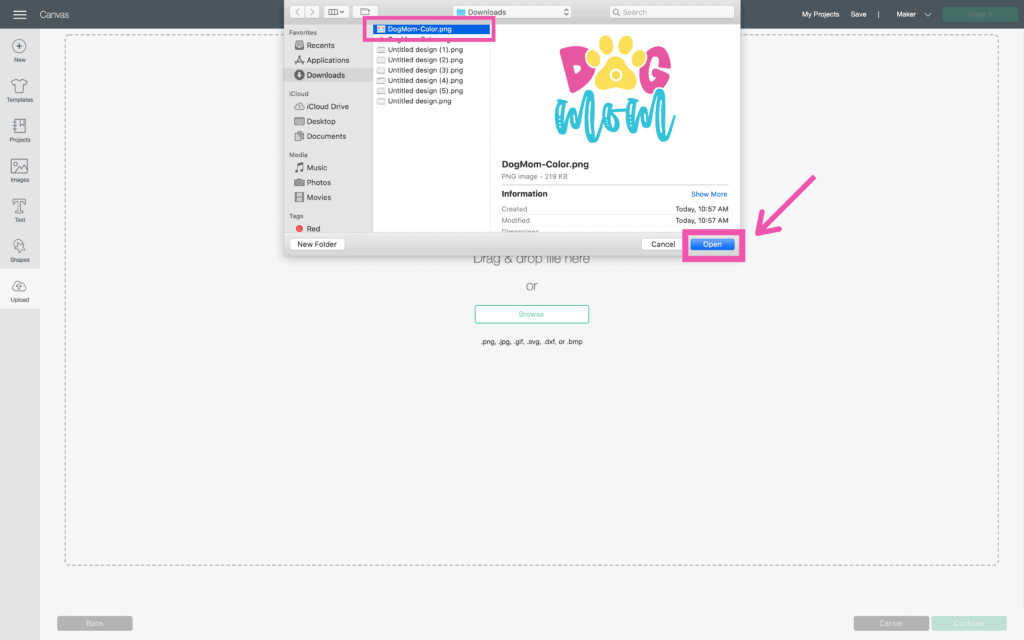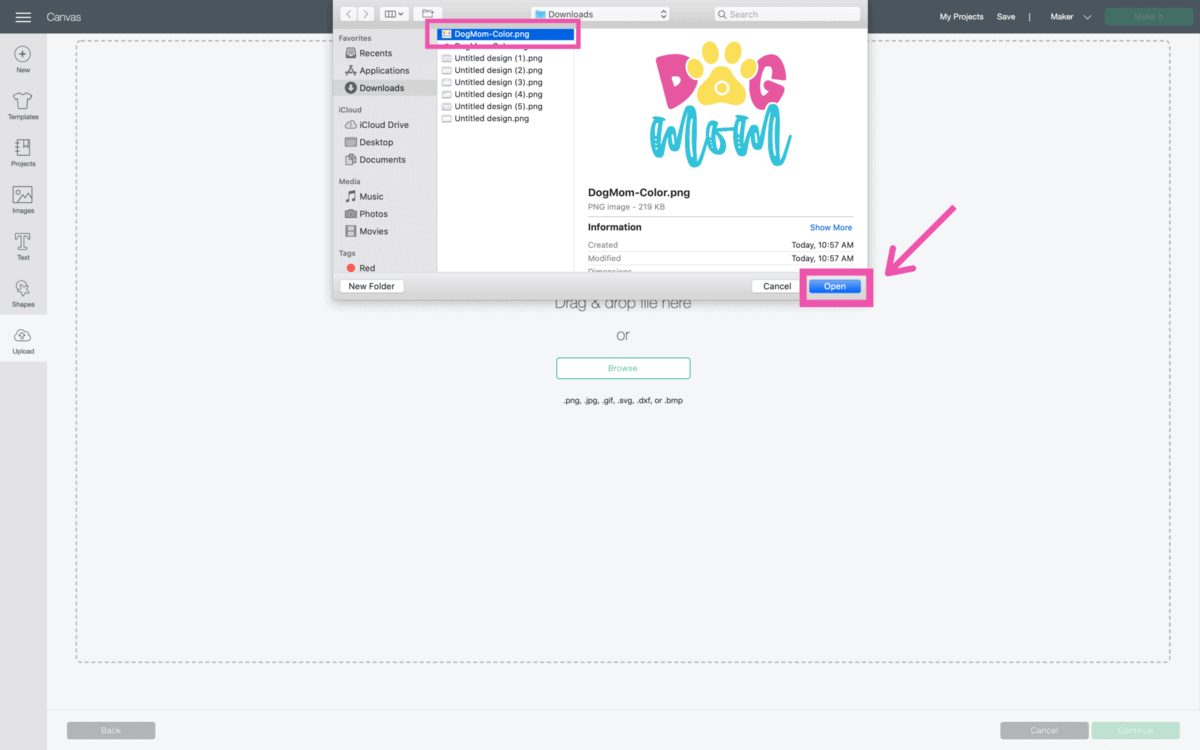 This will bring you to a preview screen of your image. You will also have the option to choose if your image is "Simple", "Moderately Complex" or " Complex".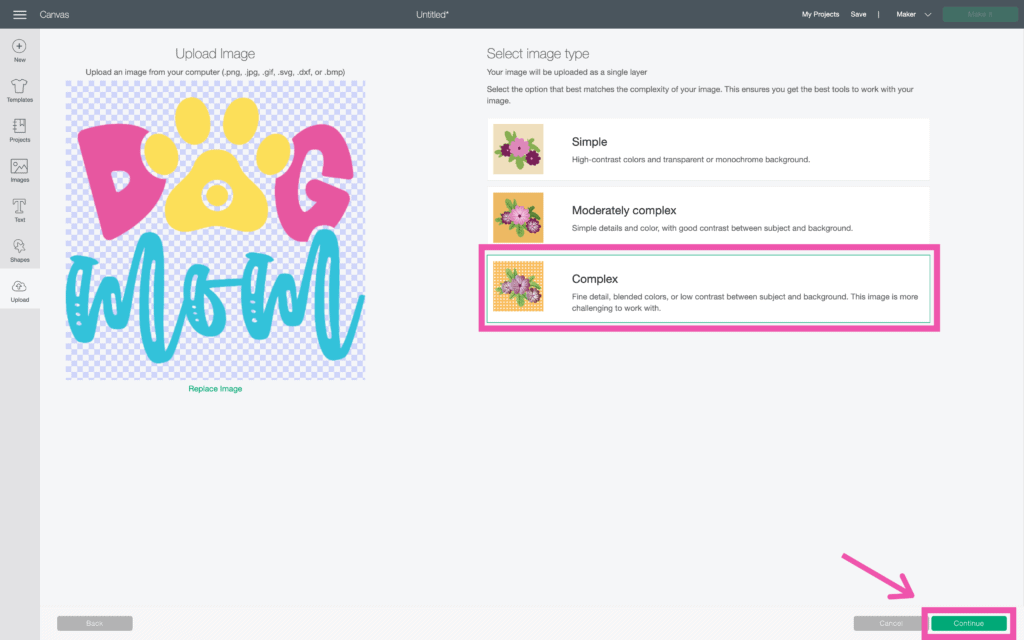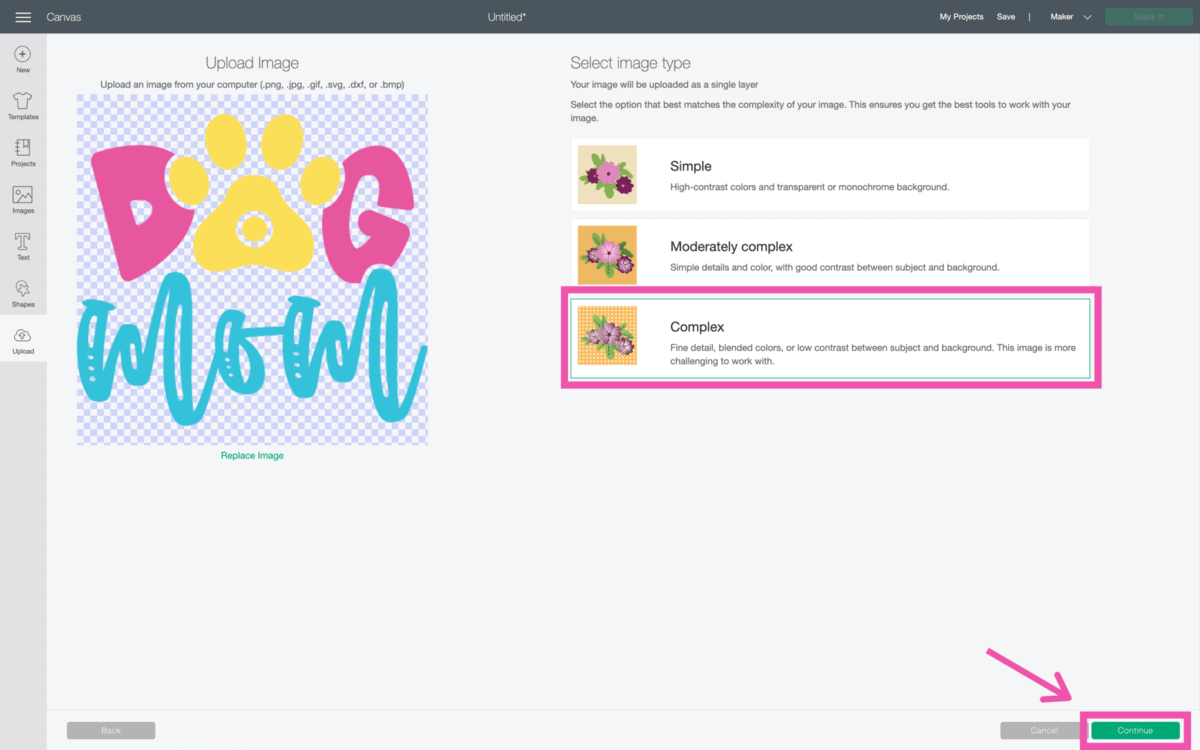 I always select "Complex" this ensures my image stays sharp and vibrant.
When you hit "Continue," you will be brought to this screen. Here you can select and erase any element of the PNG you do not want in your design.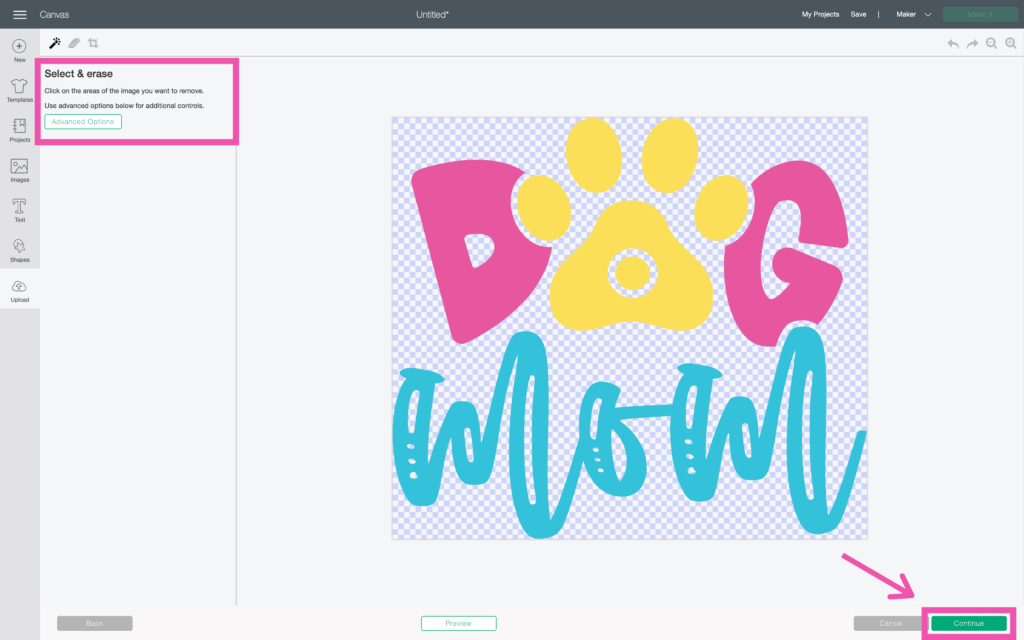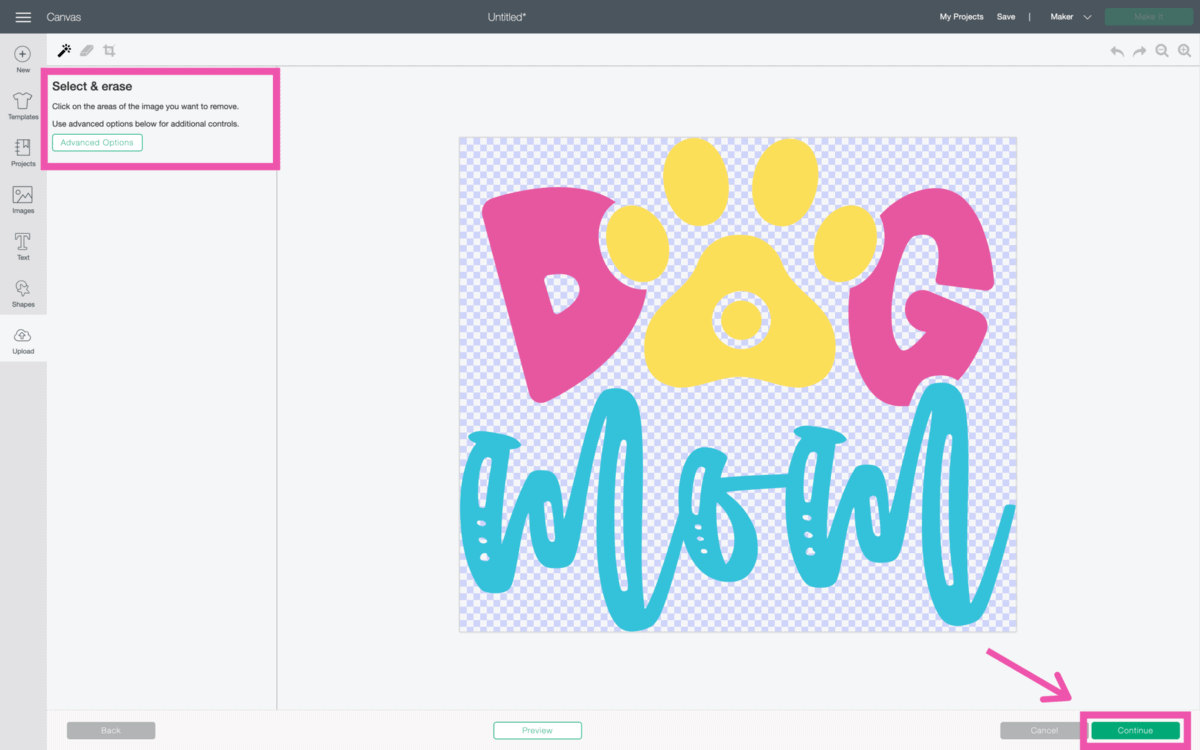 Once you are happy with your design, hit "Continue."
Now, you have the option to either save your file as a Print then Cut image or a Cut image. Click on whichever option you are wanting and select save.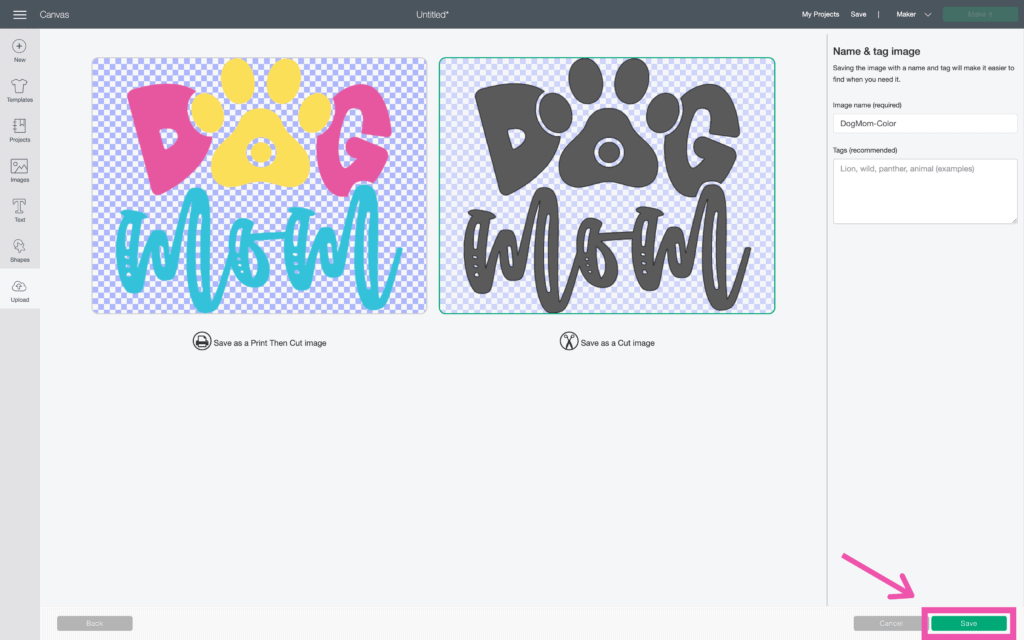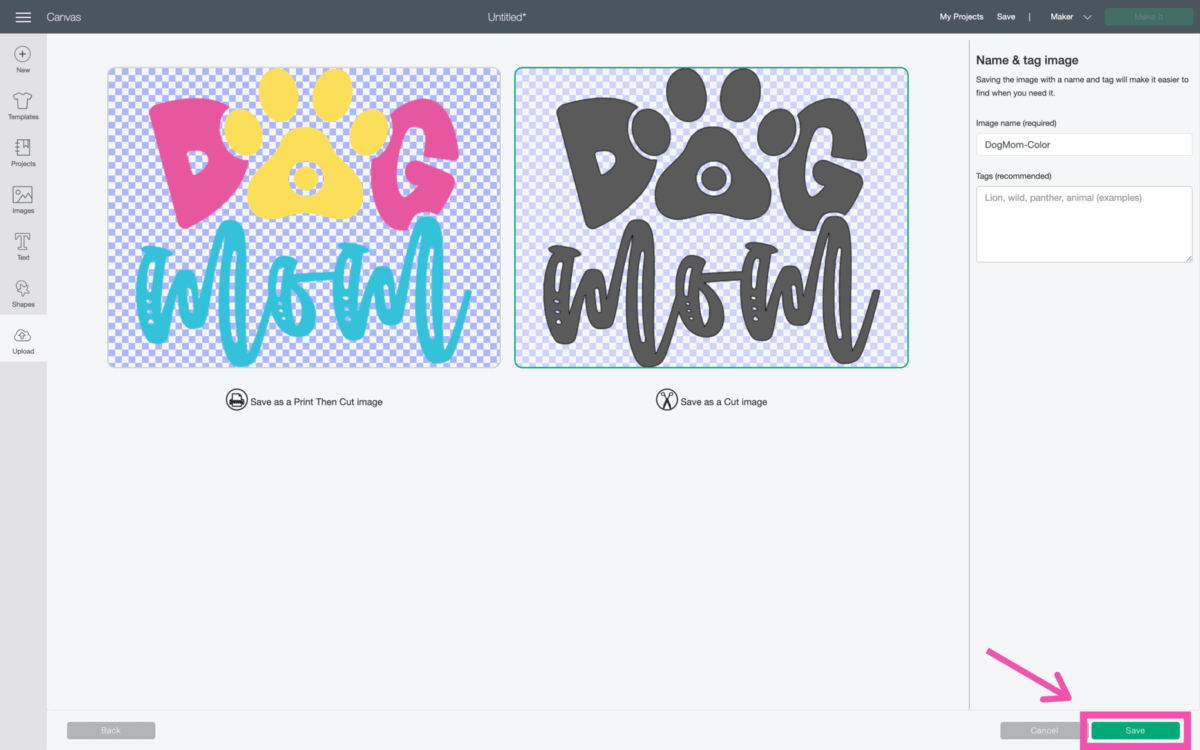 To insert your image into Design Space, highlight the image and click "Insert Image."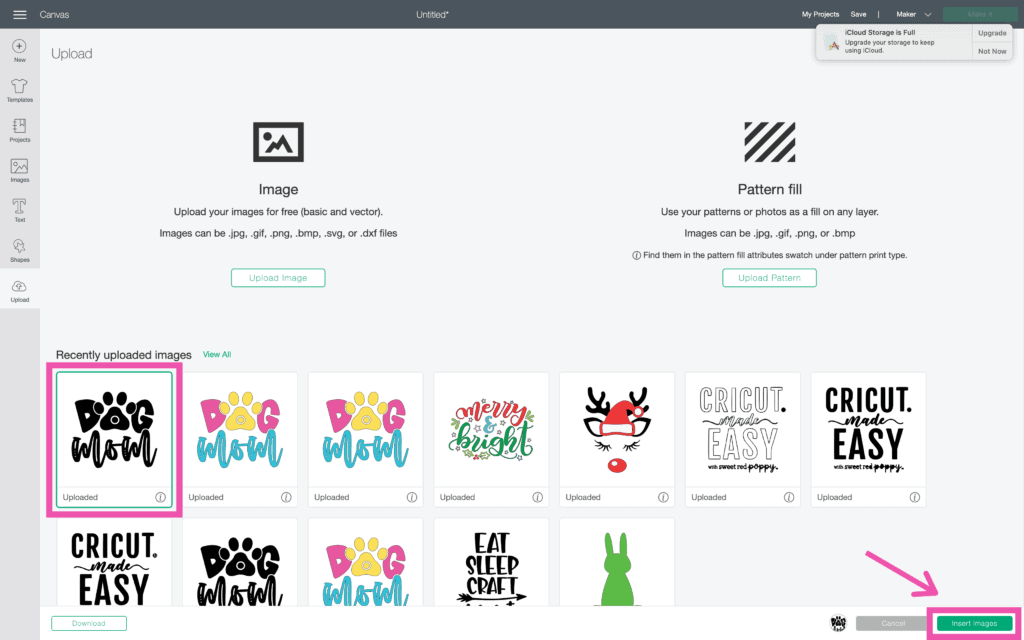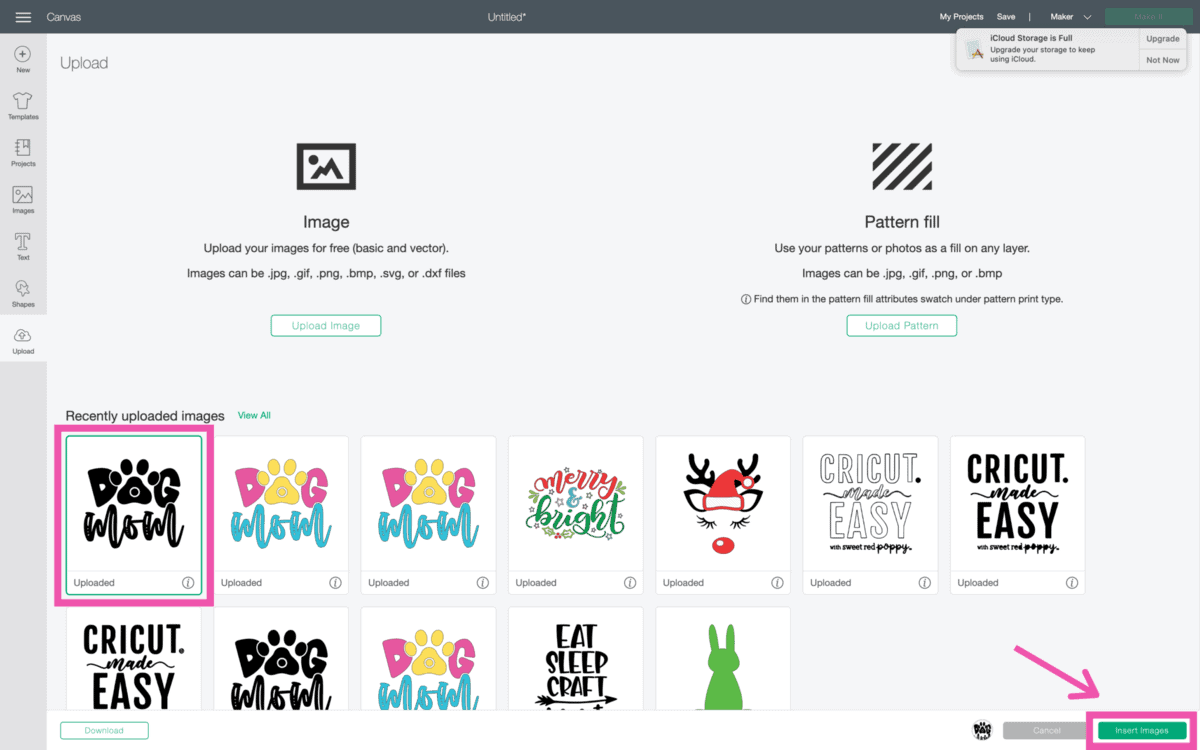 Now that you've learned how to upload your own files into Design Space, I can't wait to see what you do.
Cricut Made Easy with Sweet Red Poppy
For more Cricut help, be sure to check out my Cricut course - Cricut Made Easy.
Cricut Made Easy is a video and written course that not only walks you through everything you need to know about Design Space but also everything you need to know to master crafting with your Cricut. Learn more about Cricut Made Easy HERE.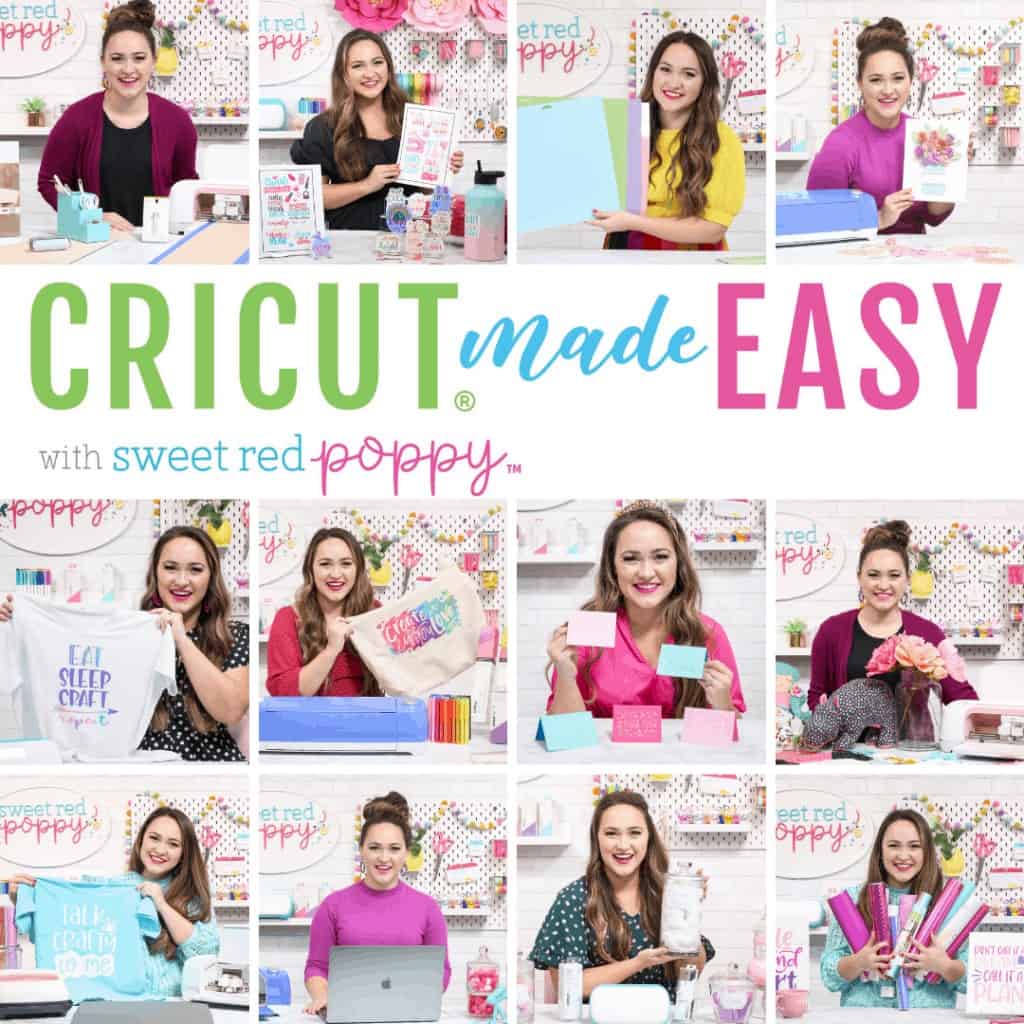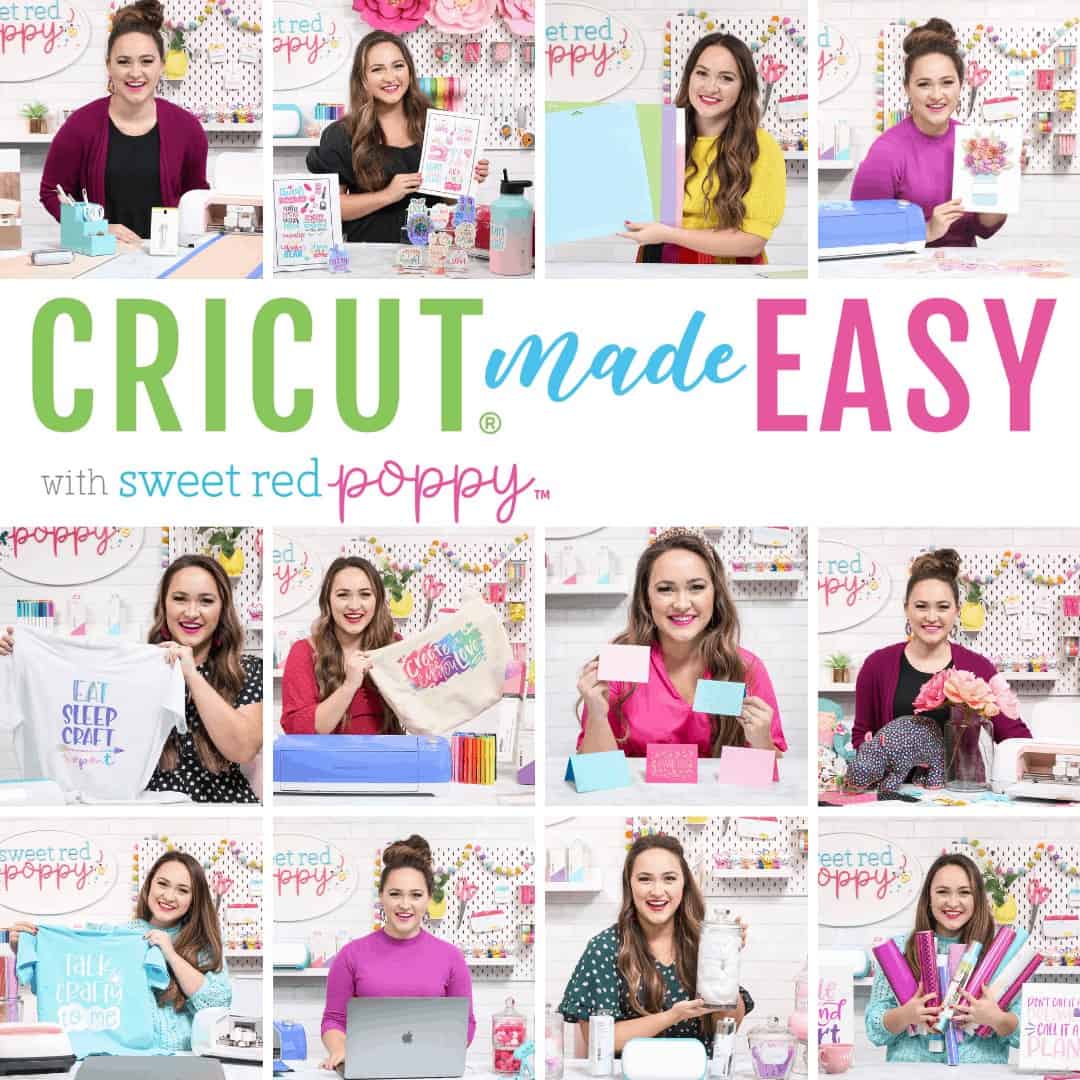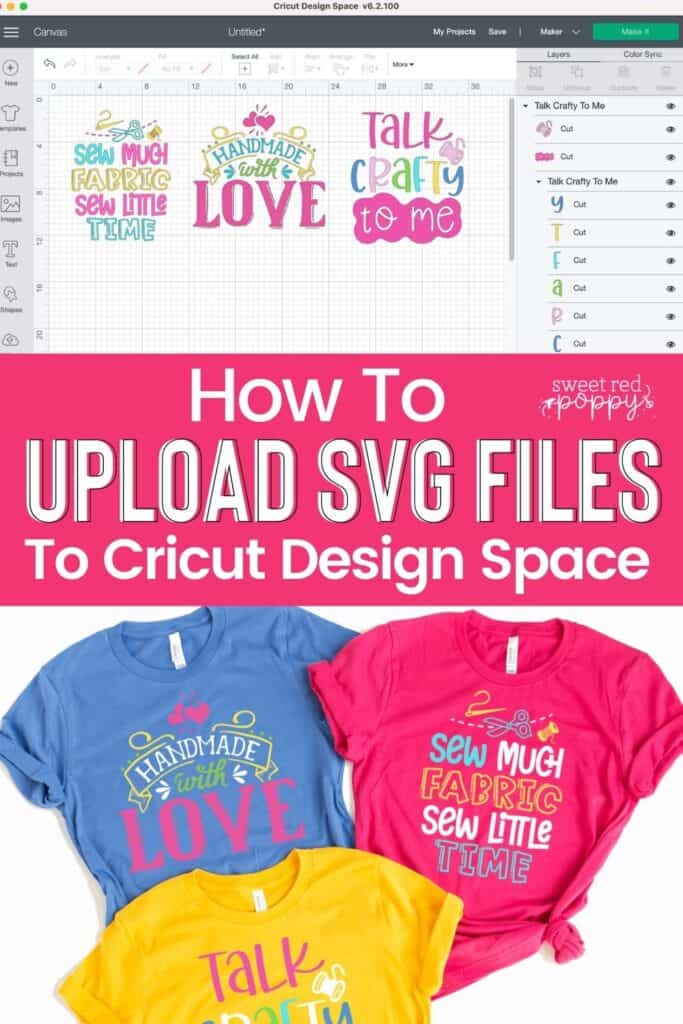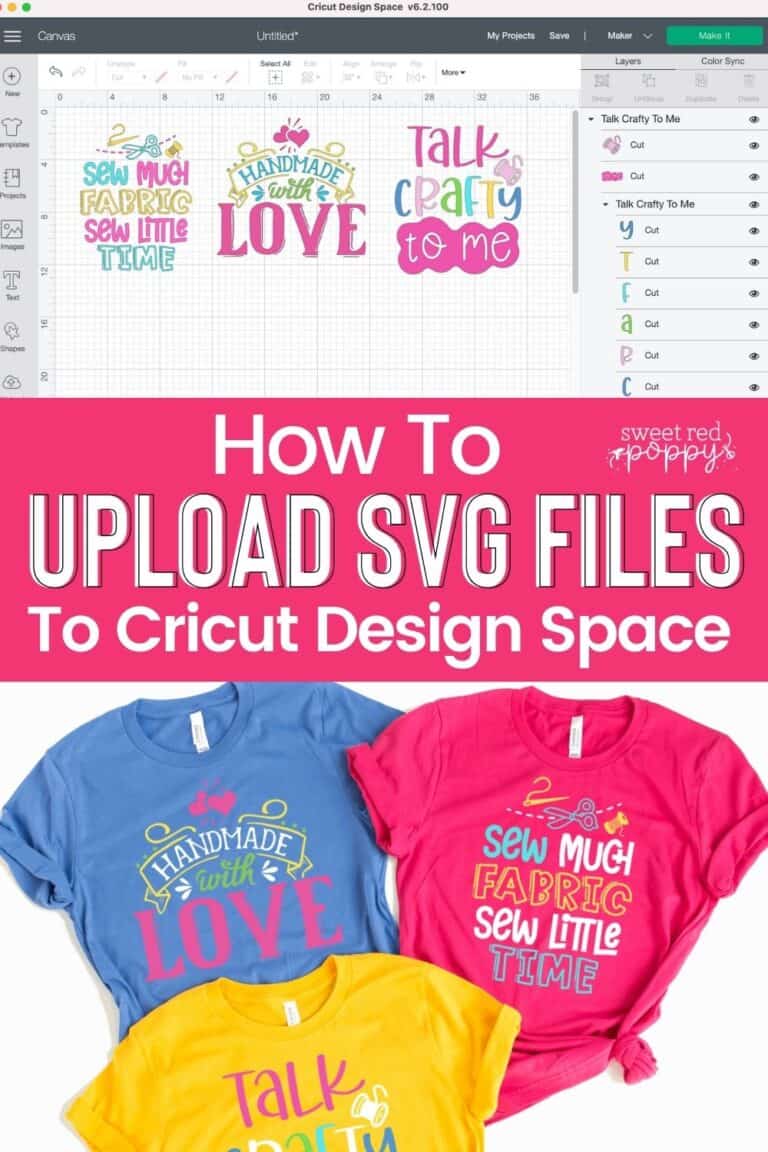 Do you have any other questions on How to Upload SVG to Design Space? Let me know in a comment below!