This is a sponsored post written on behalf of Cricut. All thoughts and opinions are my own. This post contains affiliate links. If you purchase a product through an affiliate link I make a small commission at no additional cost to you.
Did you get a Cricut recently? If you've found yourself wondering how to use a Cricut, which mat to use and how to complete your first project, this post is for you!
I'll walk you through everything from opening your box, and purchasing the right supplies to completing your very first project!
What Comes with the Cricut Maker?
Cricut Maker with Fine Point Blade
Let's Get Started Box (Included URL for setup)
Welcome Book & Rotary Blade
Fine Point Pen
Warranty
USB Cord & Power Cord
A Piece of Cardstock and Fabric (for your first project)
12 x 12 Light Grip & Fabric Grip Mat
50 Free Ready-to-Make Projects, Including 25 Sewing Patterns
Free Trial Membership to Cricut Access™ (for new subscribers)
Learn the difference between the Cricut Maker and the Explore Air 2 here!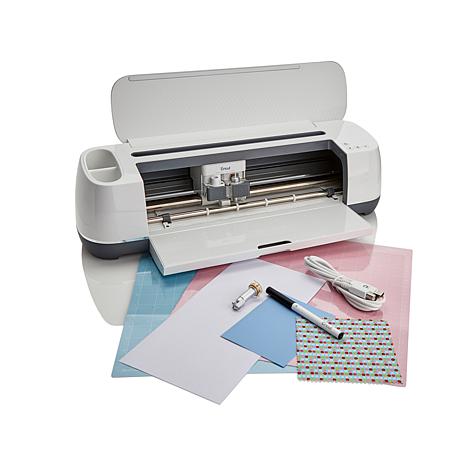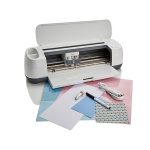 Check out this post for all of my Cricut Hacks!
Which Cricut Mat Should I Use?
Blue Light Grip Mat
This mat is ideal for light weight materials. It provides enough grip to keep the material in place during cutting but allows it to be easily removed without ripping.
Printer Paper, Vellum, Light Cardstock, Construction Paper, Vinyl & Cardstock
Green Standard Mat
The standard mat is ideal for the widest variety of materials. It provides a stronger grip which allows it to firmly hold heavier materials in place with easy.
Patterned Paper, Vinyl, Iron-On, Cardstock, Embossed Cardstock, Heavey Cardstock
Purple Strong Grip Mat
The strongest of the Cricut mats, this mat is perfect for thick and heavyweight materials. It features double-life adhesive technology which allows it to easily grip onto more robust materials and hold them in place through out the cutting process.
Specialty Cardstock, Chipboard, Backed Fabrics, Leather, Magnet Sheet, and Felt
Pink Fabric Mat
The fabric mat is made from higher-quality PVC to withstand increased cutting pressure. It features a different adhesive than the other cutting mats making it the ideal choice for fabric and th perfect match for the Cricut Rotary Blade.
Silk, Canvas, Burlap, Cotton, and More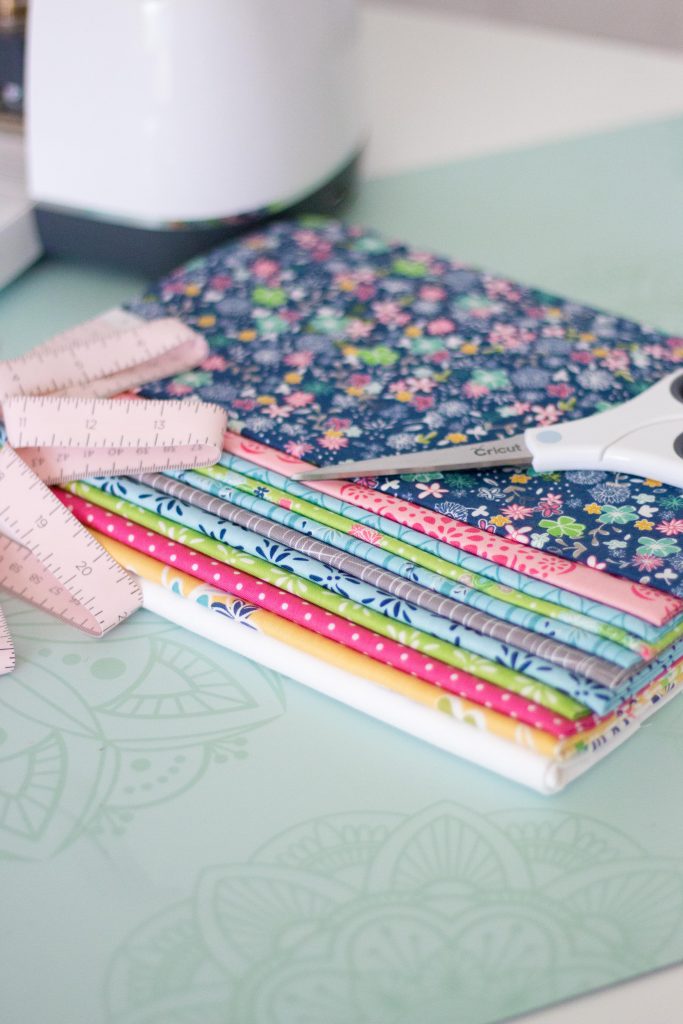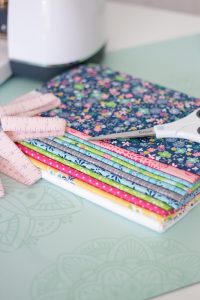 Learn How to Make a Quilt with your Cricut Maker Here!
How To Use A Cricut Mat
To use the adhesive Cricut cutting mat, remove the clear protective liner. Place it to the side while the mat is in use and place it back on the mat once you have finished using it.
Place the material you are working with (right side up) within the 12" x 12" grid making sure that the entire material has adhered to the mat completley.
Once the material has finished cutting gently remove the material from the Cricut mat and replace the clear protective liner.
Purchase a Cricut Mat Variety Pack Here and the Fabric Mat Here!
What Is Cricut Design Space?
Cricut Design Space is the design software provided by Cricut that allows you to create projects. In order to use Design Space you will need to download the program to your computer or use the Desing Space App from a device.
Design Space allows you to upload your own designs or choose from thousands of fonts, images, and Ready-to-Make projects within Cricut.
Design Space is Cloud-friendly. Save your designs to the cloud to access them from any device.
Filter by material or theme to narrow down your choices or build something from scratch!
Download Cricut Design Space here.
Which Cricut Accessories Do I Need To Get Started Crafting?
I recommend purchasing an Essential Tool Set before you begin crafting! This will have all of the items you need to make amazing projects quickly and easily!
This tool set includes:
Reverse Tweezers to lift and secure delicate materials
Weeder allows you to remove small negative pieces from the design
Scissors with Protective Cover
Angled Spatula to lift materials from the mat without bending them
Scraper to burnish materials and clean cutting mats
Scoring Stylus to create fold lines on cards
12" Wide Material Trimmer to accurately cut Vinyl, Iron-On and Cardstock
Replacement Blades for Trimmer
Scoring Blade for Trimmer to add scoring lines to different projects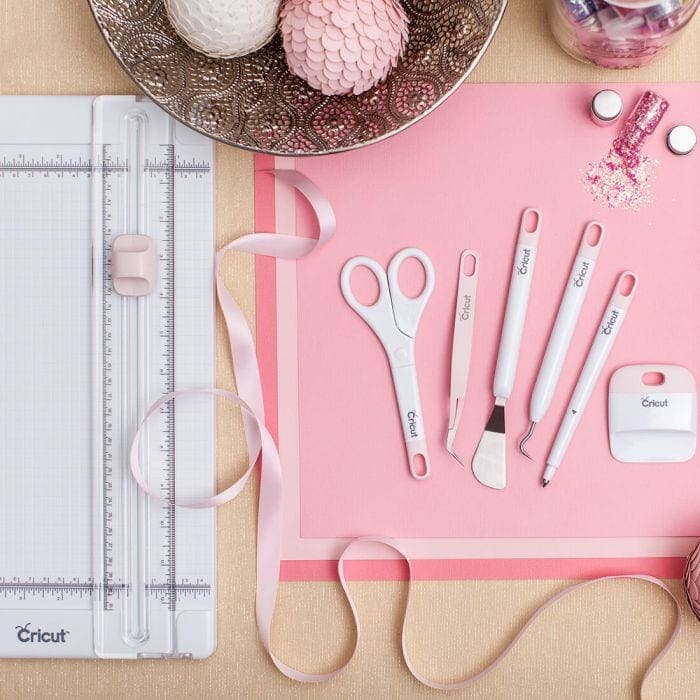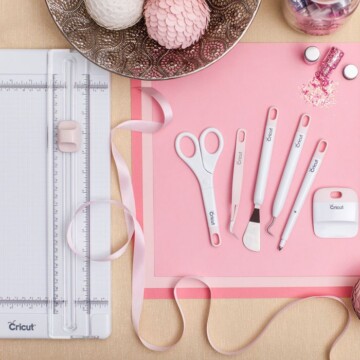 What Supplies Should I Purchase?
I recommend purchasing a variety of different materials so you can learn the wide variety of materials that your Cricut Maker is capable of cutting. Below are a few of the materials I would recommend purchasing!

What's the Difference Between Vinyl and Iron-On?
There are two different types of Vinyl, Adhesive vinyl which has a sticky backing and is applied with pressure and Iron-On (also referred to as Heat Transfer Vinyl) which has a glue backing that is activated by heat.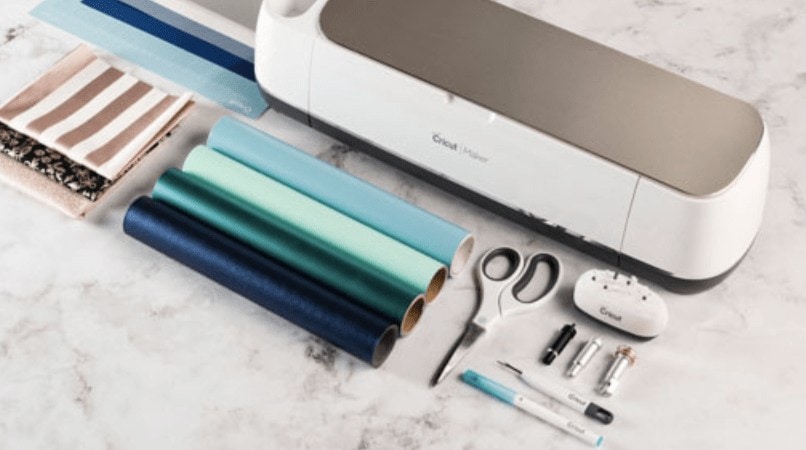 Iron-On & Heat Transfer Vinyl
Iron-On is ideal for projects that can withstand heat. The surface should be smooth and able to have an iron applied to it. Examples of suitable materials are:
T-Shirts
Fabric
Pillows
Wood
Cardstock
Canvas Tote Bags
Some of the items listed above might surprise you like wood and paper, but as long as the material is able to withstand heat without being damaged Iron-On can be applied to it.
Iron-On has a glue backing that adheres to a surface once it's been activated by heated. YOu can apply Iron-On with an iron, EasyPress or Heat Press. You can read more about the Easy Press here.
A clear protective liner is located on top of the Iron-On, this allows the vinyl to be heated without being damaged and is peeled away from the design once it has adhered to the material. Iron-On needs to be cut with the liner side (pretty side) facing downwards and any text or images should be reversed or mirrored.
Adhesive Vinyl
Vinyl is ideal for surfaces that are hard as well as smooth. Examples of items that can have vinyl applied to them are mugs, wood, walls, mirrors and glass. It can be cut with the right side facing upwards and the liner facing downwards towards the Cricut mat.
You'll notice the backside of Vinyl has a paper liner with a grid on it, this is an easy way to tell vinyl apart from Iron-On.
In order to use Vinyl, you will need to purchase Transfer Tape!
How Do I Clean My Cricut Mats and Fabric Mat?
To clean the Cricut Light, Standard and Strong Grip Mats soak the mat in warm soapy water. Gently clean any leftover residue with Non-Alcohol Baby Wipes. Use your Scraper to remove any stubborn pieces of residue.
To clean the pink Cricut Fabric Grip mat simply remove any stray threads with a set of reverse tweezers. The adhesive is different on this mat and should not be washed!
Additional Cricut Posts You Will Love!
How Do I Create My First Cricut Project in Design Space?
To create your first project in Cricut's Design Space you will need to download the application to your desktop or device. Follow the photo instructions below to create your first "Ready-to-Make" project.
I can't wait for you to make your very first project with your brand new Cricut Maker!