Cricut Craft and Sewing Room Organization Hacks
Learn how to easily organize all of your Cricut supplies and tools with these handy tips and tricks!
This is a sponsored conversation written by me on behalf of Cricut. The opinions and text are all mine.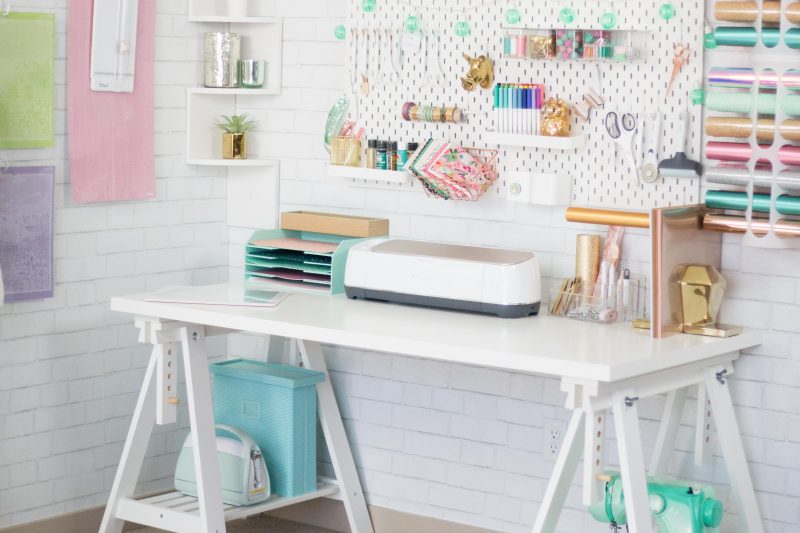 I've been on an organizing kick this past week and I'm so excited to share my newly decorated and organized craft room with you all! I was so tired of always losing my crafting tools and wasting time searching for them that I decided my sewing/craft room needed a major overhaul.
Today I'm going to share 15 different ways to organize your Cricut tools and the supplies in your craft room. Are you ready to get started?
Love getting the most out of your Cricut supplies? Find all of my Cricut Hacks here and read about the NEW Cricut Maker here!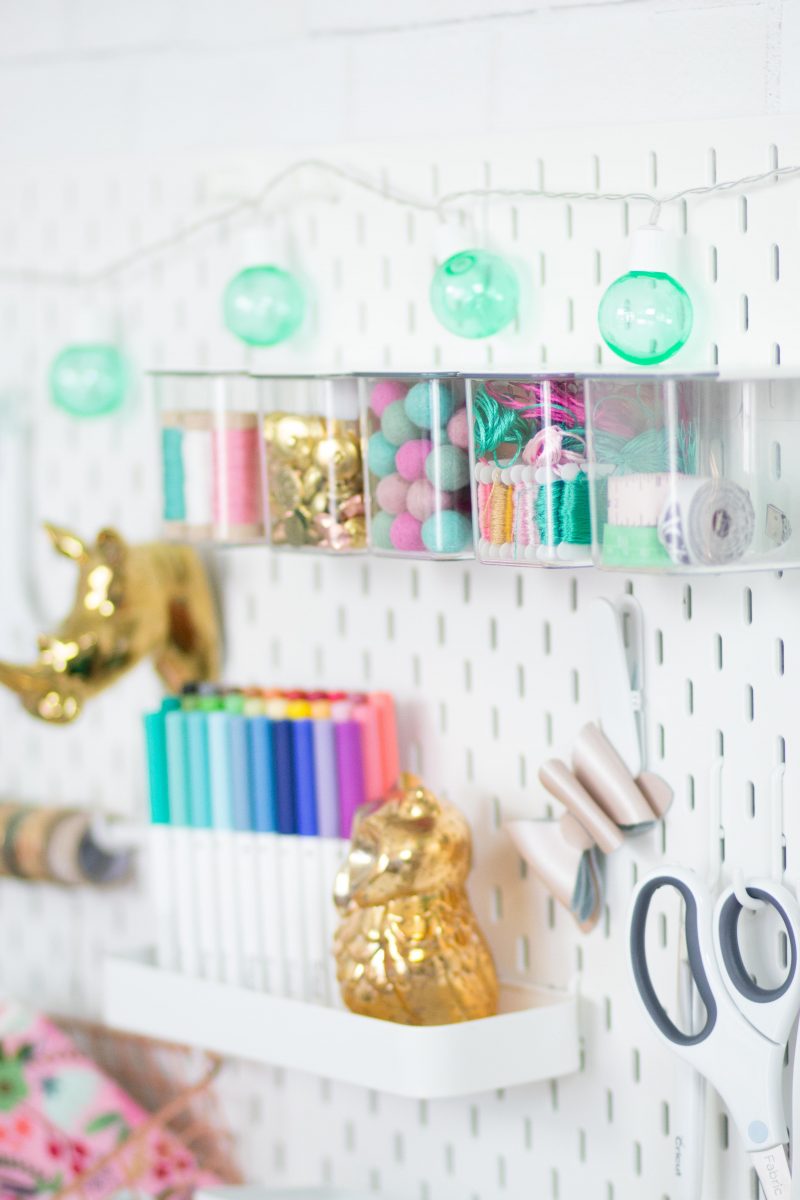 Ikea Trash Bag Holder
This is one of my favorite hacks for organizing my craft room! It's always hard to find the exact shade of vinyl that I need when it, but with this Ikea trashbag holder it's all clearly displayed and easily accessible.
You can find the trash bag holder here and Cricut vinyl here. It even works for my small sheets of leather, just roll them up and slide them in!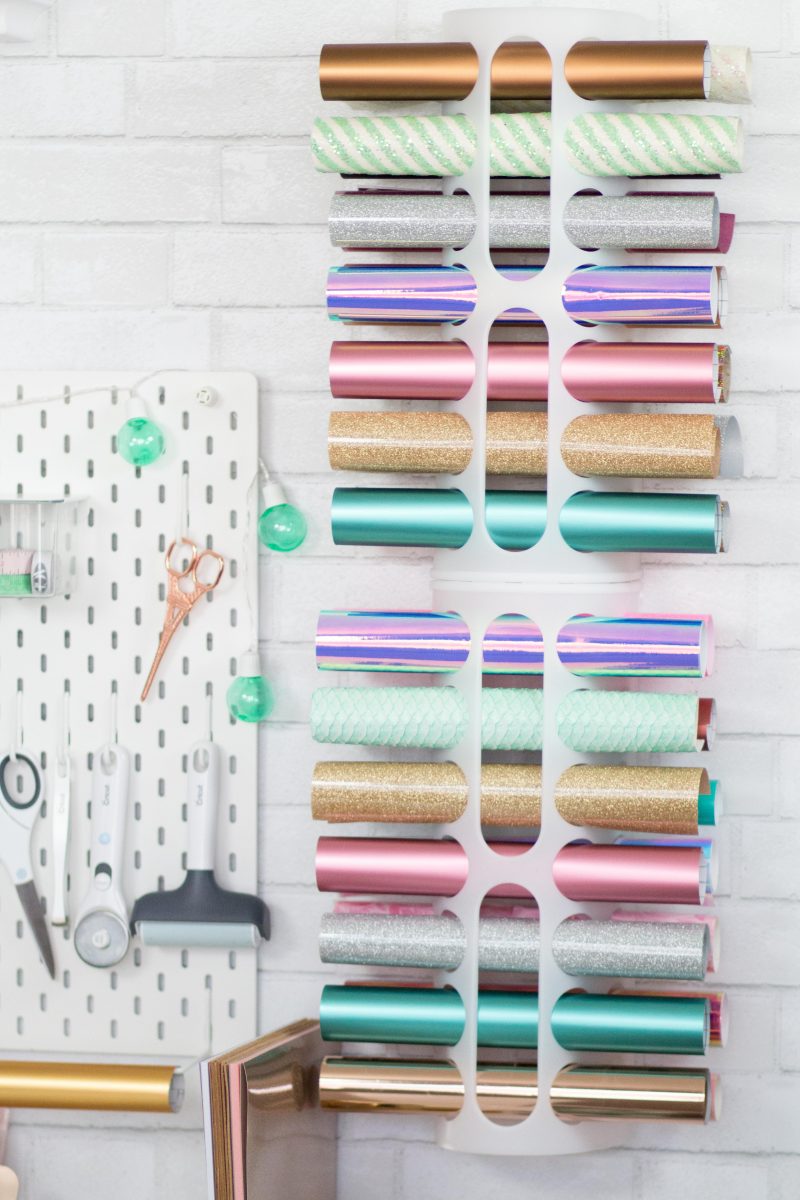 Peg Board
I can't say enough about having a pegboard in your crafting space to help you stay organized! I found this Ikea pegboard recently and it comes with an amazing variety of organizers and different styles of hooks. I linked to this version available on Amazon, but going to the store in person is so much better!
I used the pegboard to hang up all of my Cricut tools so that I can easily reach for what I need without having to dig around my desk drawers.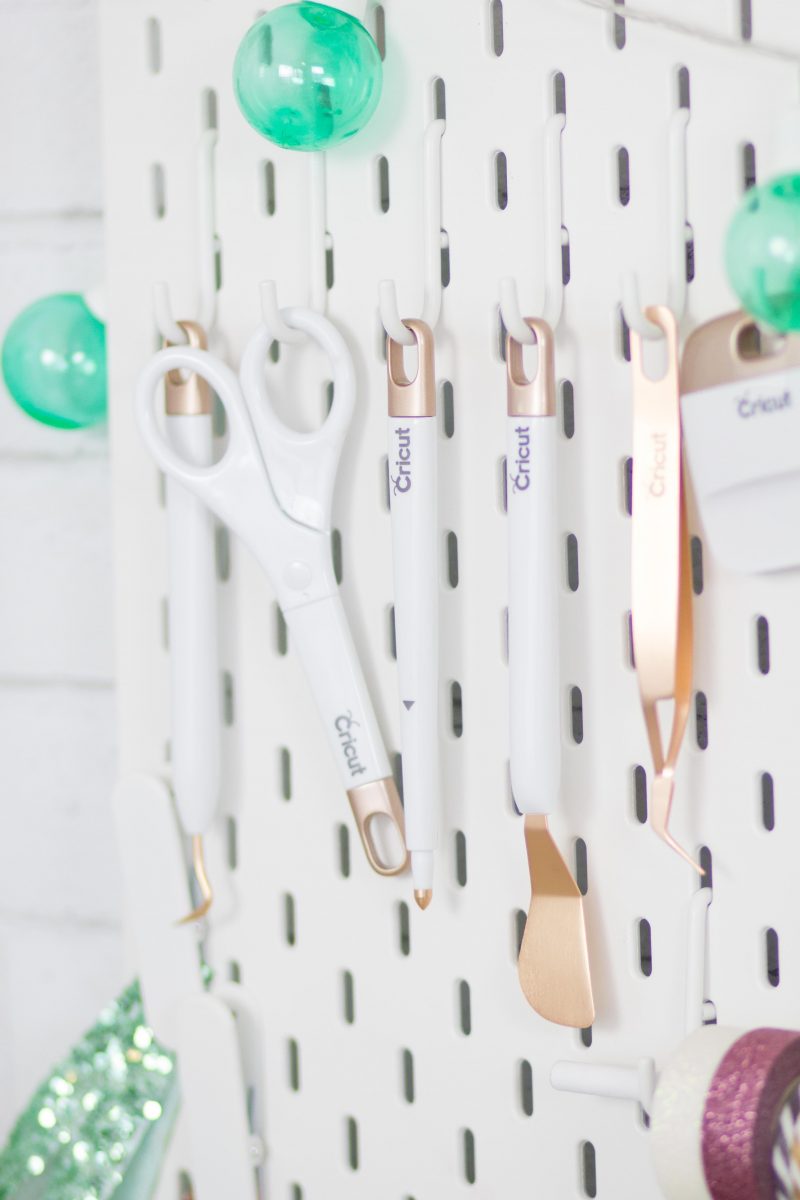 Doesn't it look adorable? I love how you can customize the pegboard to fit your specific needs!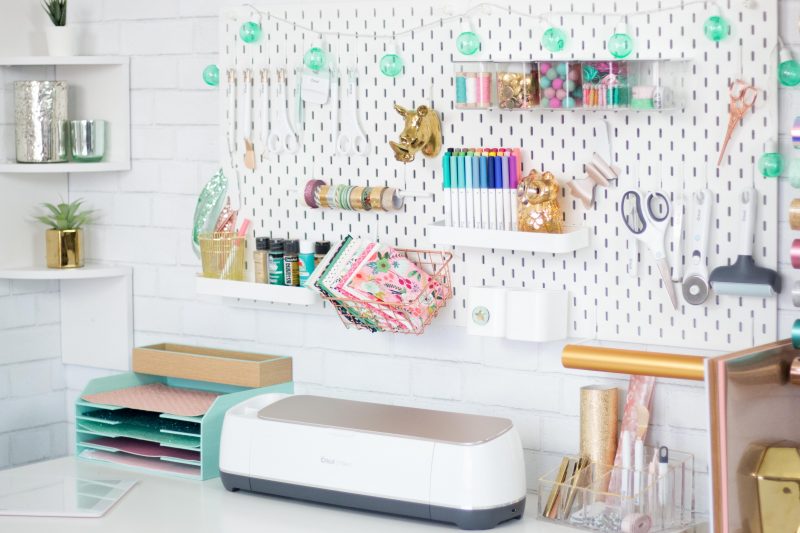 I found some adorable clear containers to organize all of my small crafting supplies! Plus, it makes everything cuter when you store brightly colored items in them!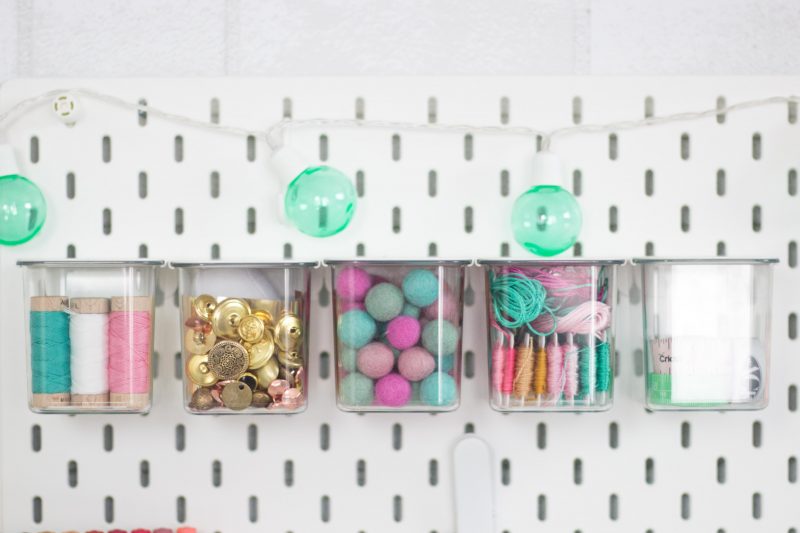 Bookends
Use a cute set of bookends to keep your most used paper close by and easily accessible. This diamond set came from Target and it's perfect for holding my Cricut paper and leather.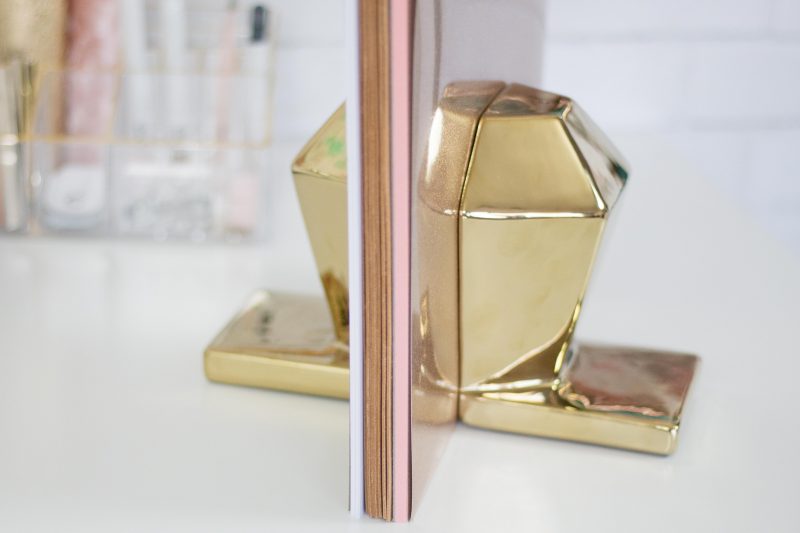 Napkin Holder
Another way to store small amounts of paper is to place them inside a napkin holder. This gold one from Ikea is surprisingly sturdy and it works perfectly with my 12 x 12-inch paper.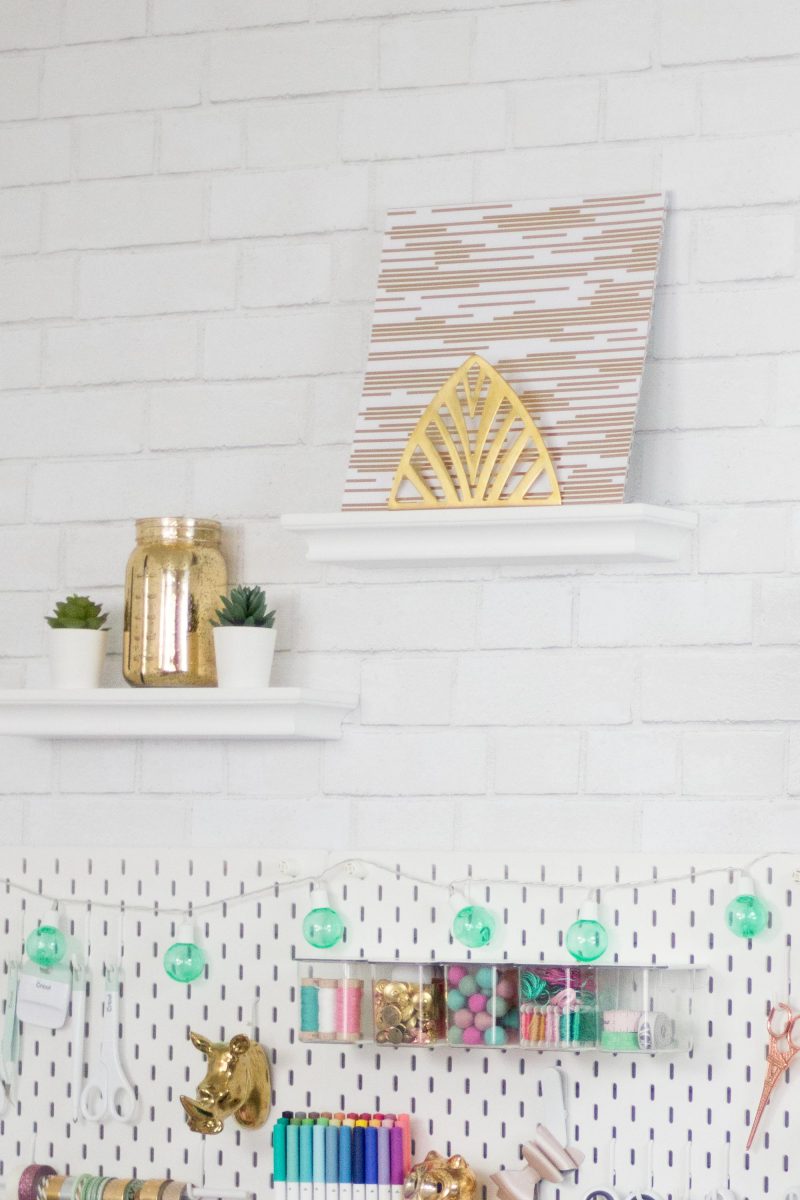 Cricut Glitter Tape
I'm sure I'm not the only person obsessed with Cricut tape and Washi tape! Hang them up on a pegboard for easy access. Bonus, they are so cute and you can easily see the patterns you have on hand!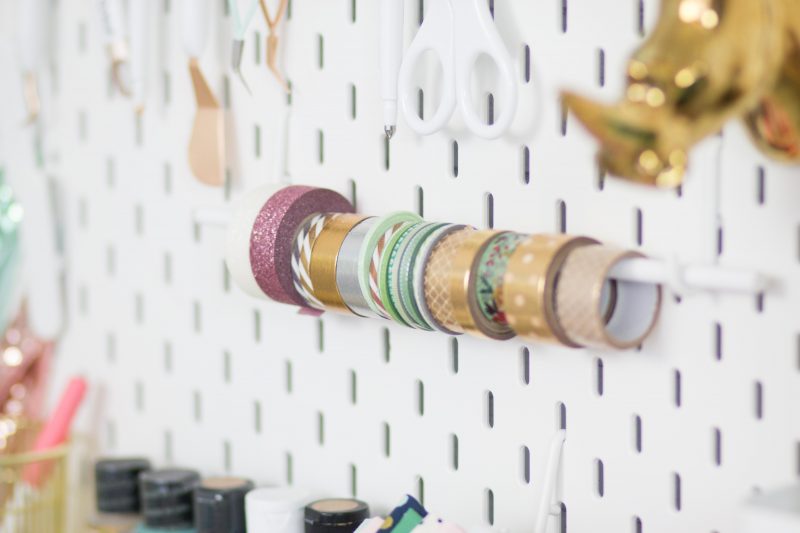 Makeup Organizer
I found this adorable gold-lined makeup organizer at Target. It's perfect for all of my Cricut supplies like my pins, sewing tape, and weeding tools.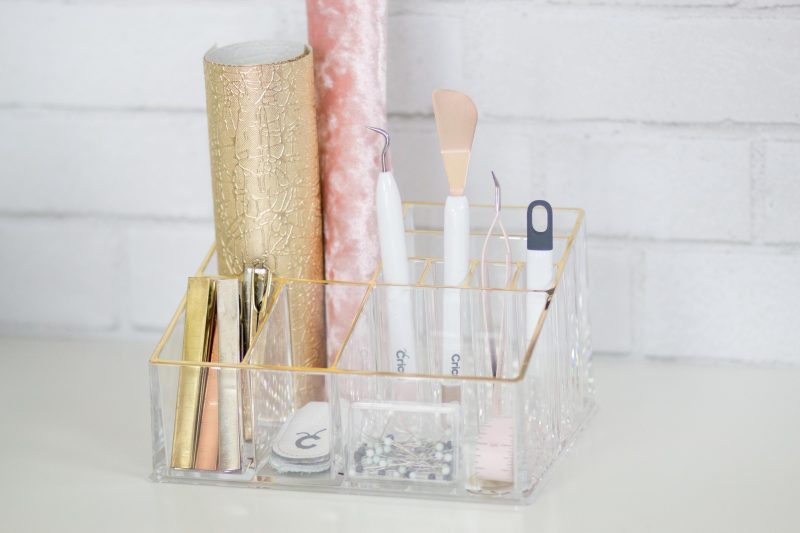 Cricut Mats
If there's one thing I can't stand it's digging around my craft room looking for the right Cricut mat when I want to quickly work on a project. Maybe I'm not the most patient when it comes to crafting???
Hang your Cricut Mats on the wall and you'll always be able to find exactly what you are looking for. You can get Cricut mats here.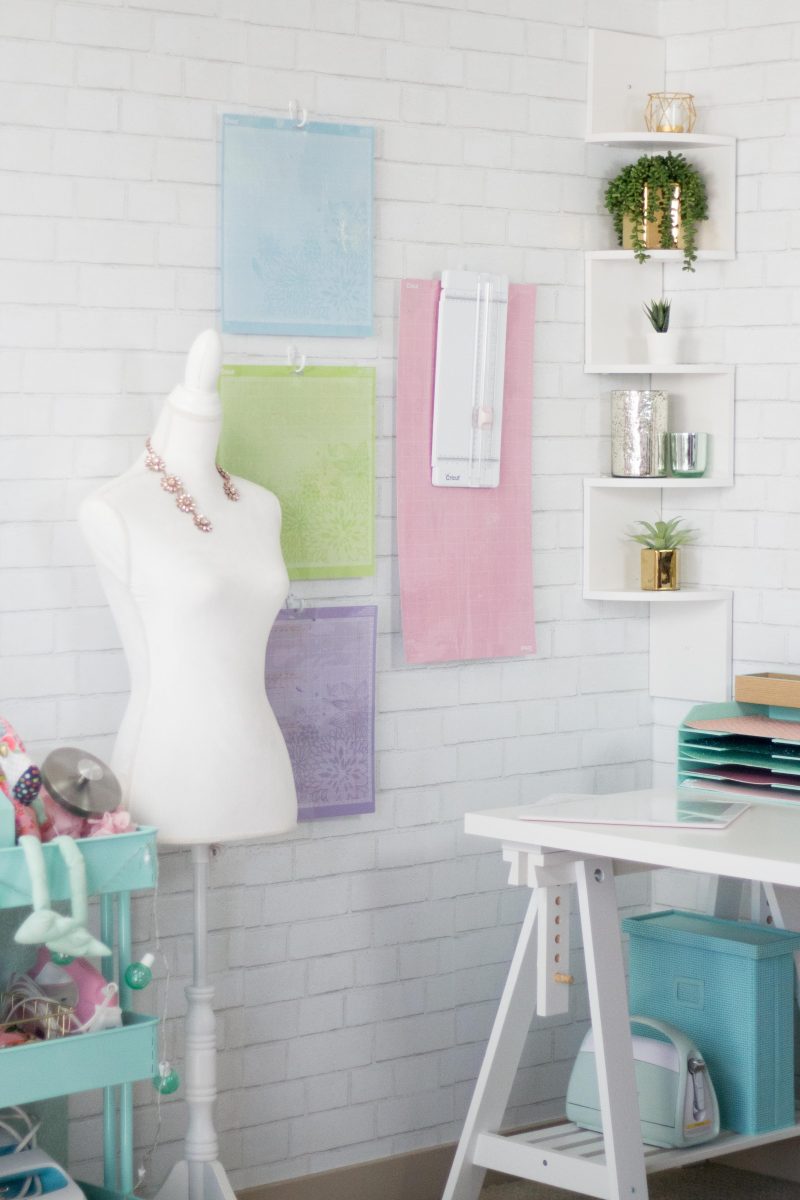 Rotary Mats
Hang your Cricut Self-Healing Rotary Cutting Mats on the wall. This makes them easily accessible and prevents them from becoming warped. I find I'm more likely to use the supplies I've purchased when they are hanging on the wall where I can see them.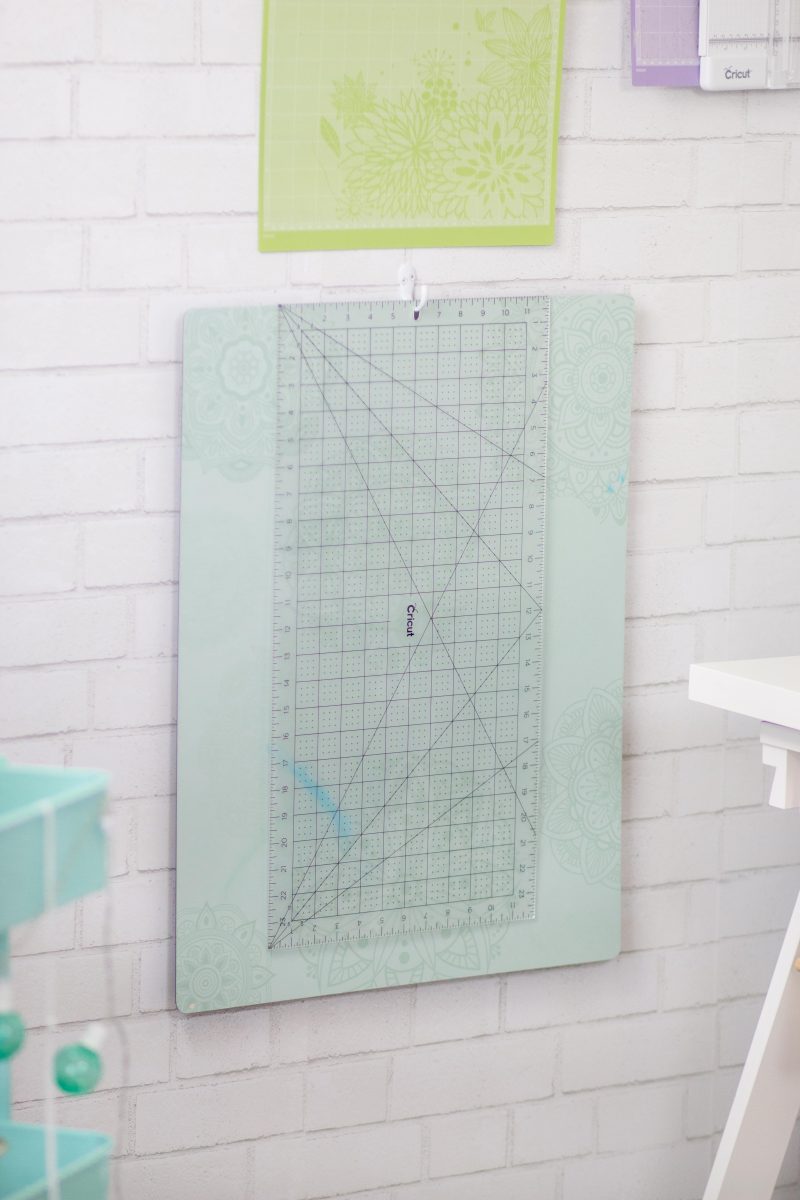 Wire Basket
Hang a small wire basket on your pegboard to store your Cricut fabric. It adds a fun pop of color to your space and it makes it easy to find the exact color you are looking for.
You can find these adorable fabrics that are precut to 12 inches wide for the Cricut fabric mats here.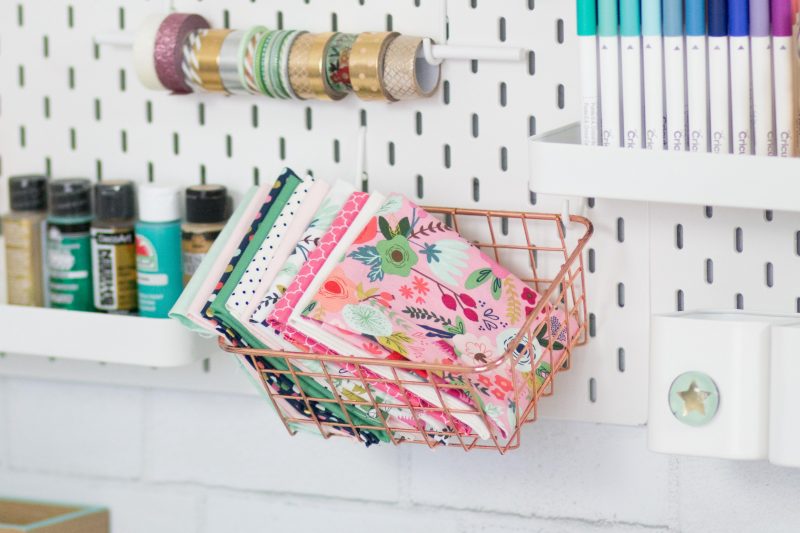 Cricut Luggage Bags
I'm amazed at just how much fits into the Cricut Luggage Bags! I can pack up the majority of my Cricut supplies into the three different bags, stack them on top of each other and create a portable craft room.
It's time to plan your next girls' craft night with friends because these bags are designed to be portable! The extra padding and wonderful construction mean that you can travel in style without any worry of your precious machine getting damaged.
Each bag was designed with care to store all of your supplies with ease. There is a spot for every single tool, material, and even your machine!
Don't plan on crafting on the go? The tote/bag combination is perfect for organizing and storing your tools in small spaces. I have two Cricut machines and I love being able to store my second one in the machine tote.
Find the Cricut bags here.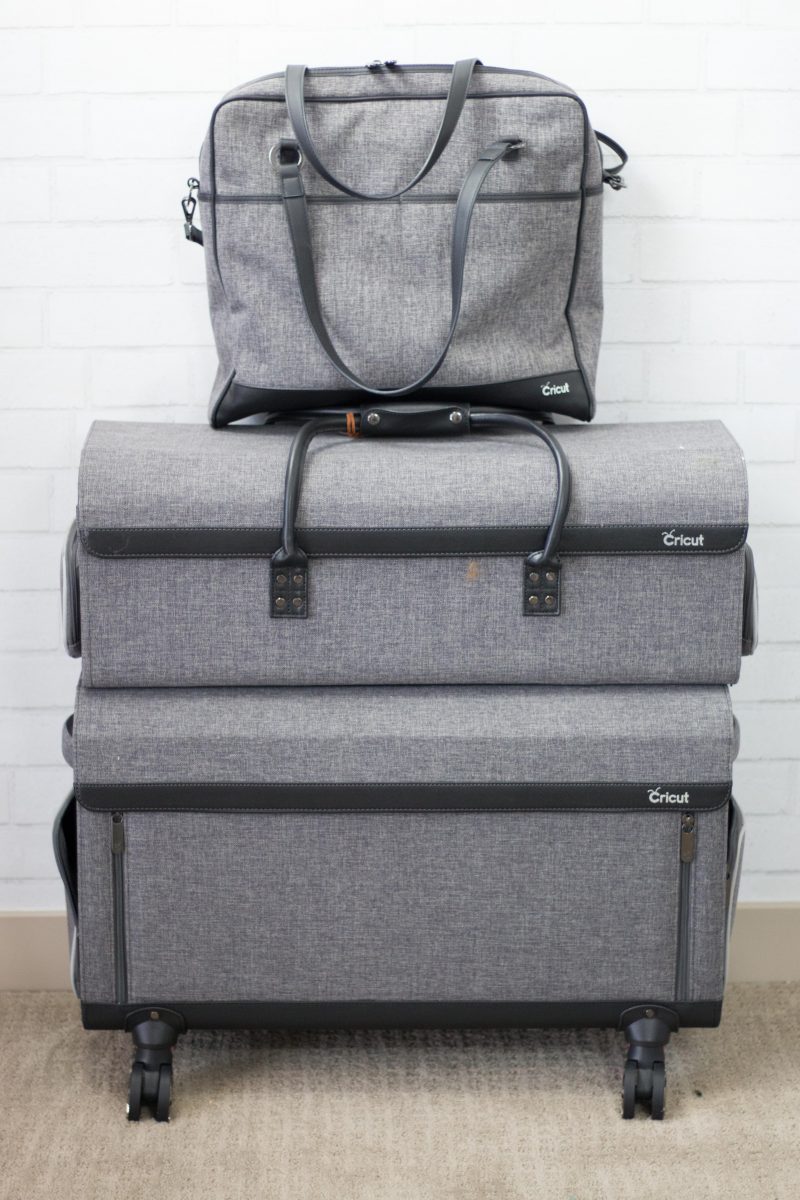 Blades
Use a small box to organize all of the different Cricut Blades. Can you name each of the different blades? There have been some new releases lately! You can find them here!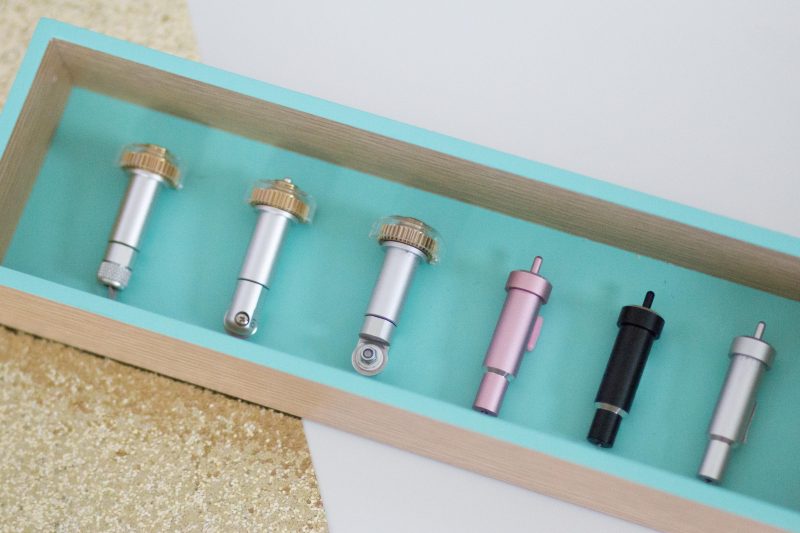 Scraps
I can't bear to throw away my Iron-On and Vinvyl scraps. I used to keep them all stored in a small bin on my shelf but I always forgot what colors I had scraps of because they were out of sight. Store them in a basket near the Cricut EasyPress and you'll actually remember to use them!
The squeaky wheel gets the grease, right?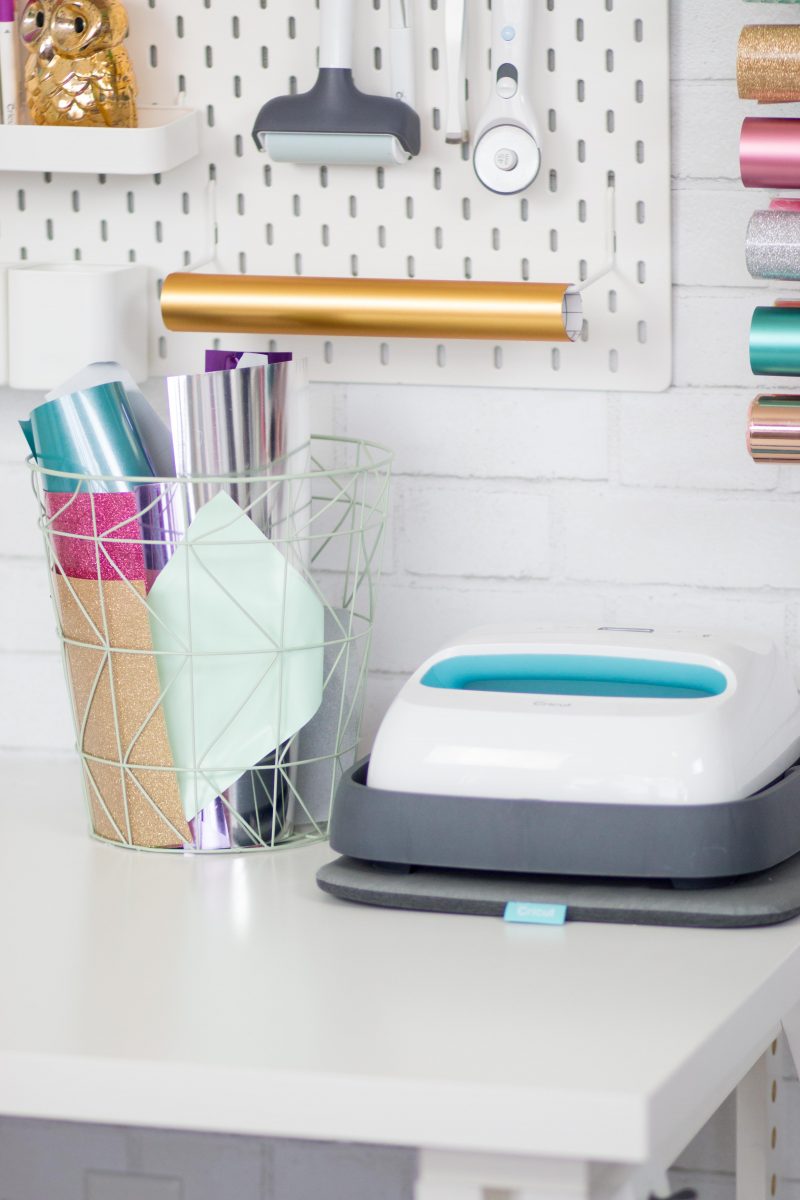 Rolling Organizer
I've heard so many people rave about having a cart in their craft room to store all of their supplies on. I found this teal rolling organizer at Walmart and it immediately jumped in my cart and came home with me.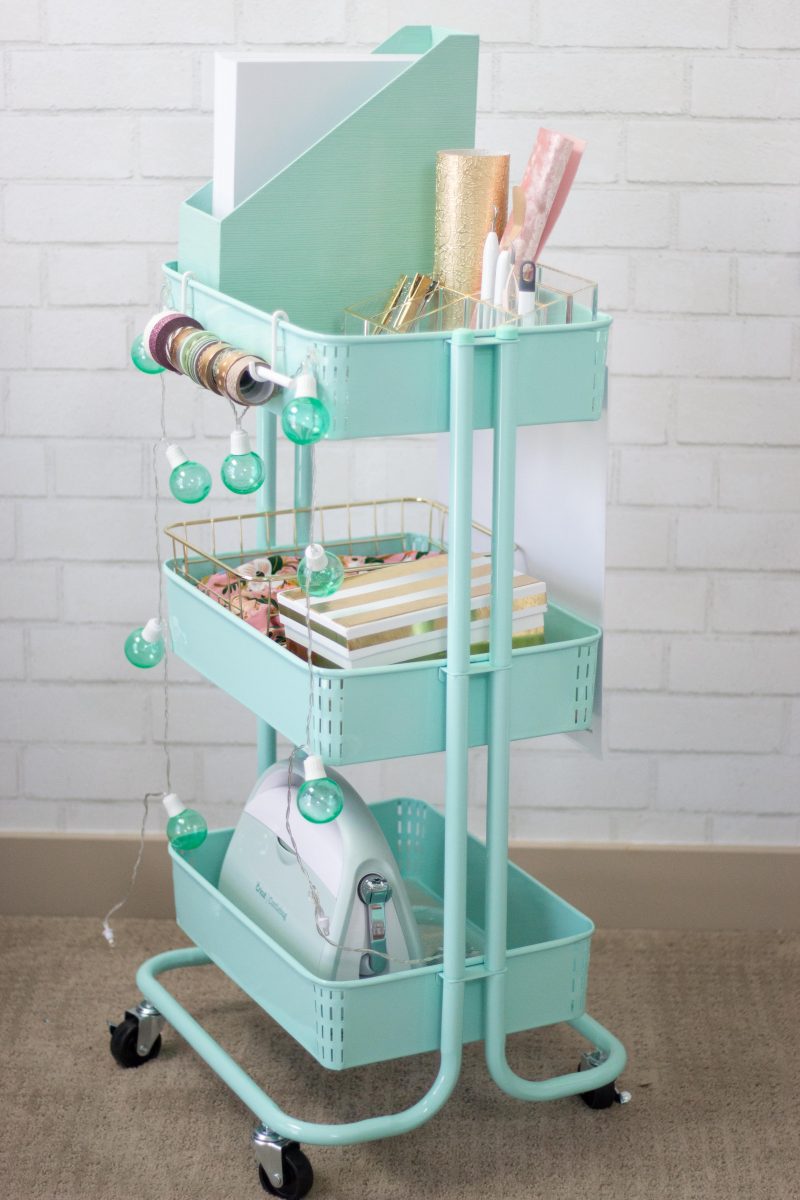 Place a command strip on the side of the cart to easily store your Cricut mats.
This makes them easily accessible while crafting. Once you are finished crafting the cart can be wheeled away into a corner to preserve your precious craft room space.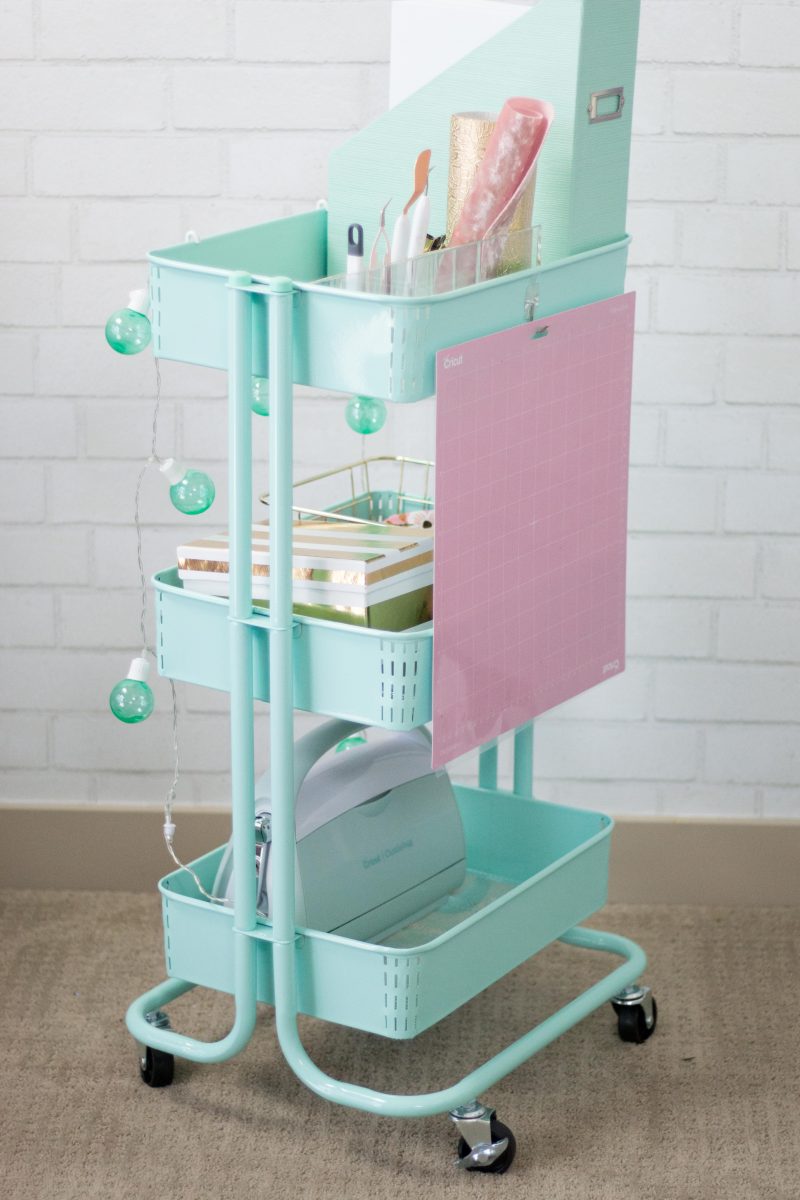 Paper Organizer
Use a paper organizer to store your paper or leather supplies on your desk where they are always within reach.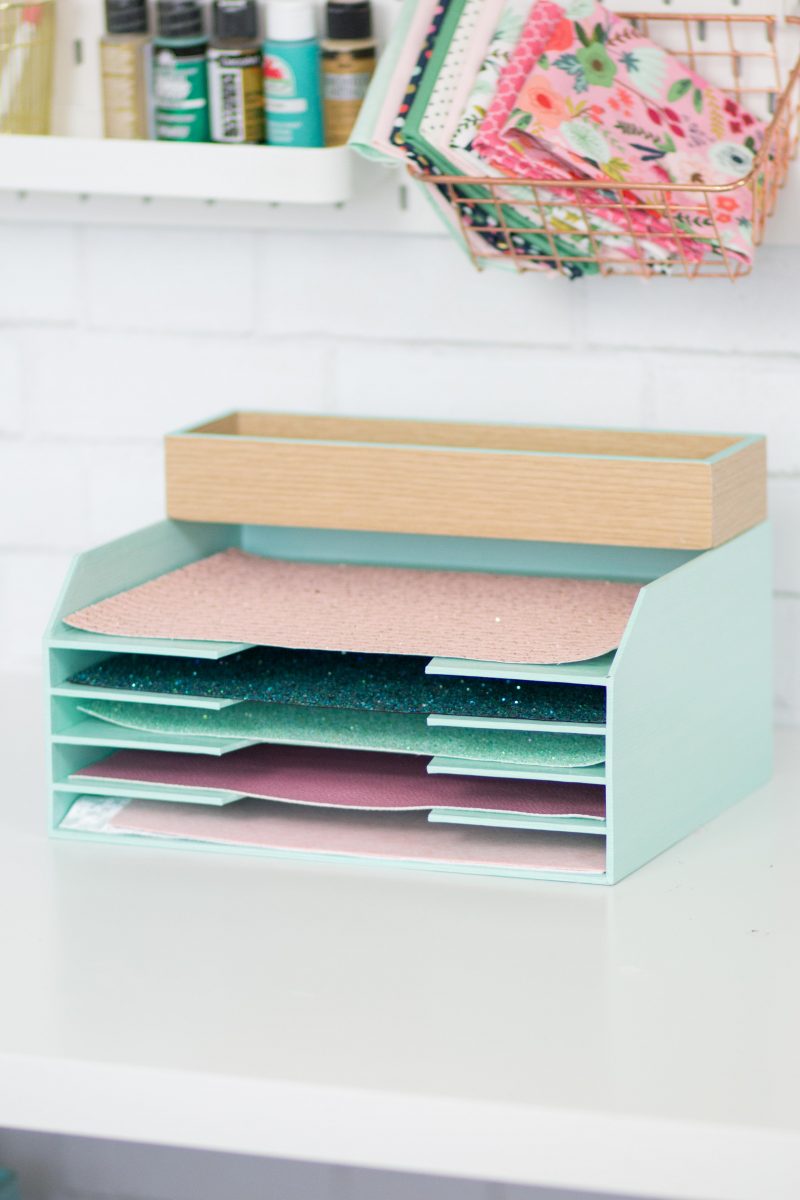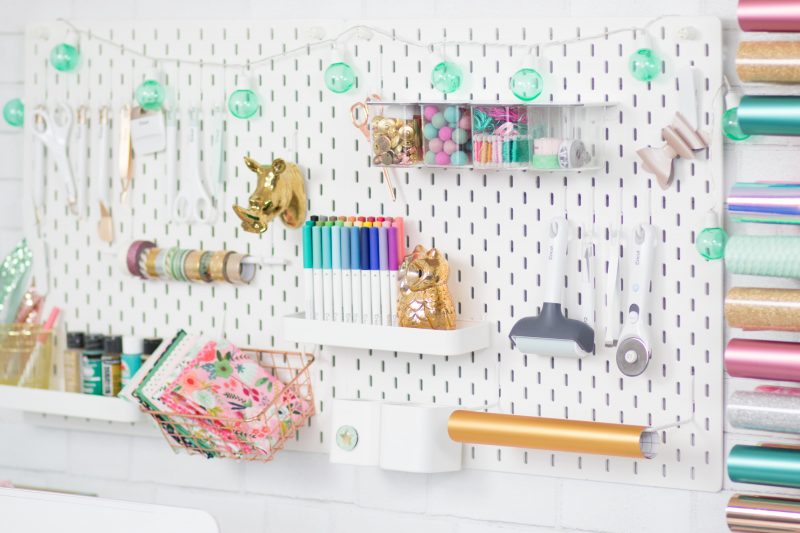 Pen Storage
Store your Cricut pens where you can see them by placing them in a small cup on your pegboard. I always forget which Cricut Pen colors I actually have in my craft room but now I can see exactly what I have!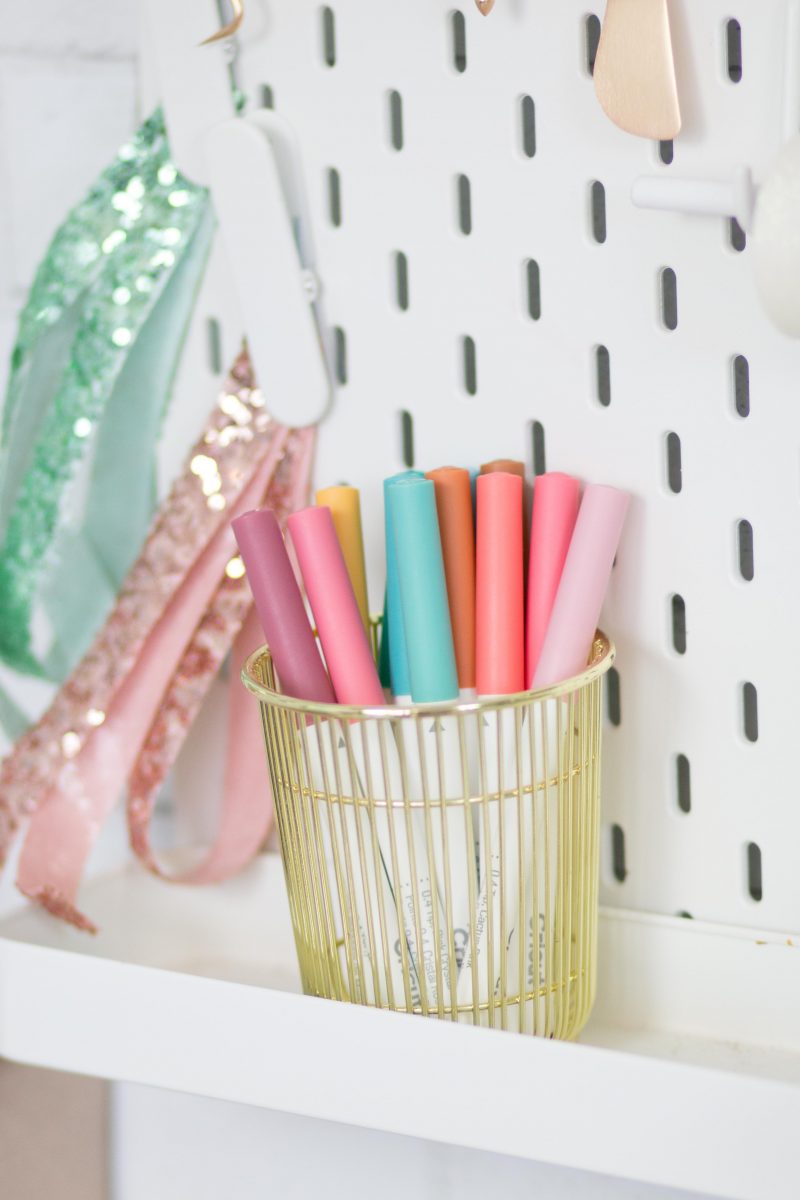 That wraps up my craft room tour! I hope you found some inspiration from my craft room tour! I can't wait to see how you organize all of your supplies.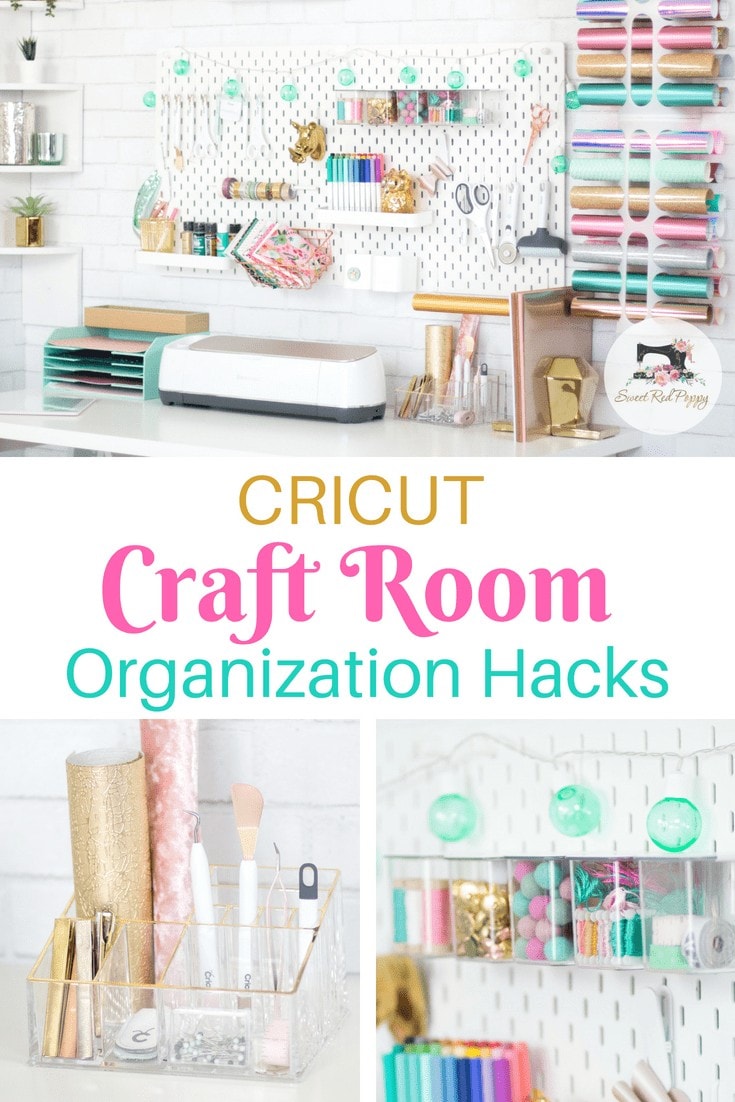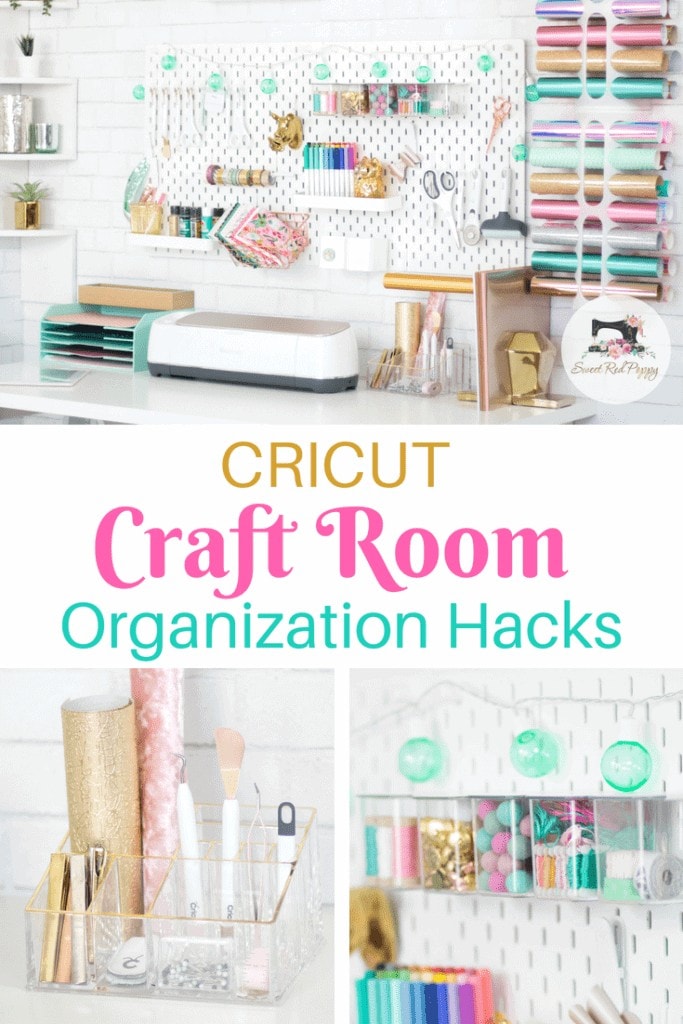 This is a sponsored conversation written by me on behalf of Cricut. The opinions and text are all mine.