Cricut Hacks Every Crafter Needs To Know to Organize Tools and Supplies, Get the Most of out Their Purchases and Save Time and Money!
10 Cricut Hacks Every Crafter Needs To Know!

I've found some simple solutions to common storage problems and a few ways to speed up the process of crafting! I can't wait to share all of these ideas with you and hear all about your hacks as well!
If you own a Silhouette machine many of these Cricut hacks will work for you as well!
You can watch the video or read the step by step tutorial with photos.
Follow me on Instagram to find out what I'm making with my Cricut Machine!
Cricut Hacks: How to Organize Cricut Supplies
Cricut Mat Organization
Let's start with a
Cricut
Storage idea first! Hang your
Cricut mats
on the wall in order to easily access them while you are crafting. I used command hooks to organize my mats and sort them by type and by length.
No more digging through your pile of mats for the right color! They are all displayed on the wall and easy to find!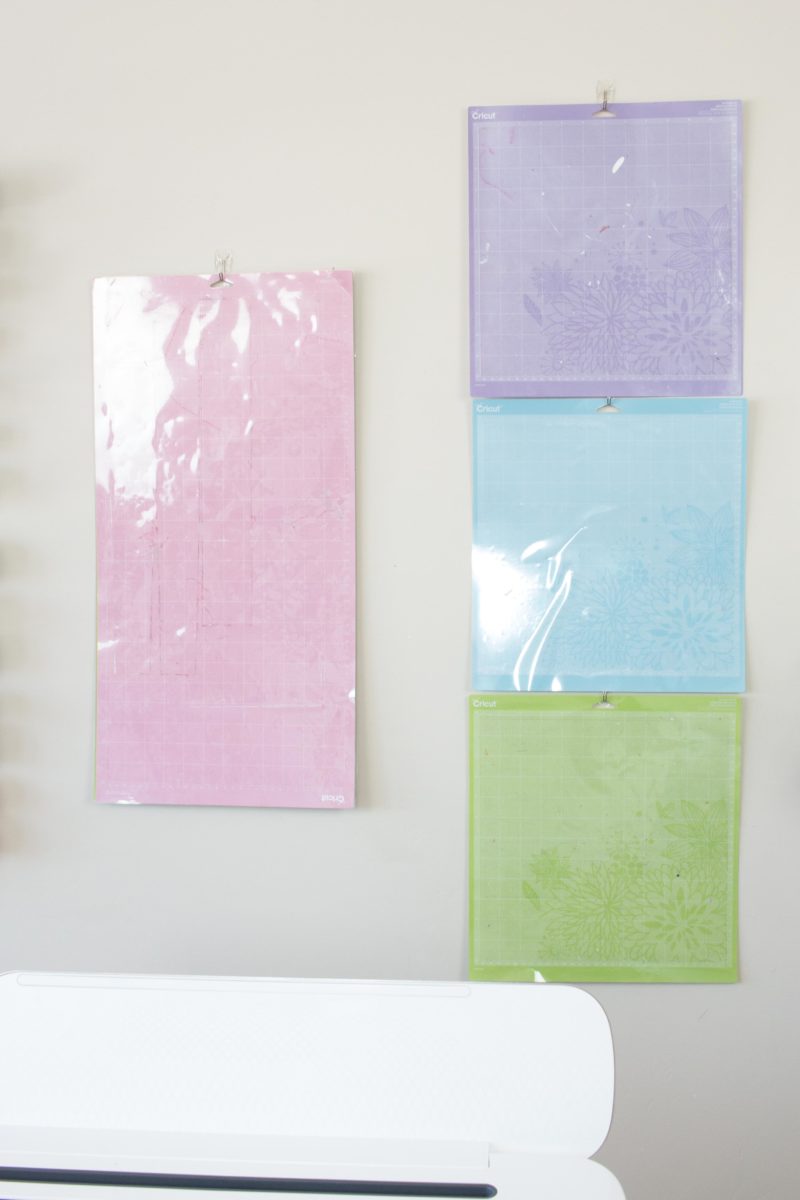 How to Store HTV, Iron-On & Vinyl Rolls
If you've ever wondered how to organize Cricut vinyl rolls, Ikea trashbag holders are the most cost-effective solution! They are only a few dollars and can hold 14 rolls each.
They can be stacked one on top of the other. I just hang mine on the wall using a command hook and it works wonderfully!
You can easily create your own vinyl roll mounted storage rack using this hack for under $10.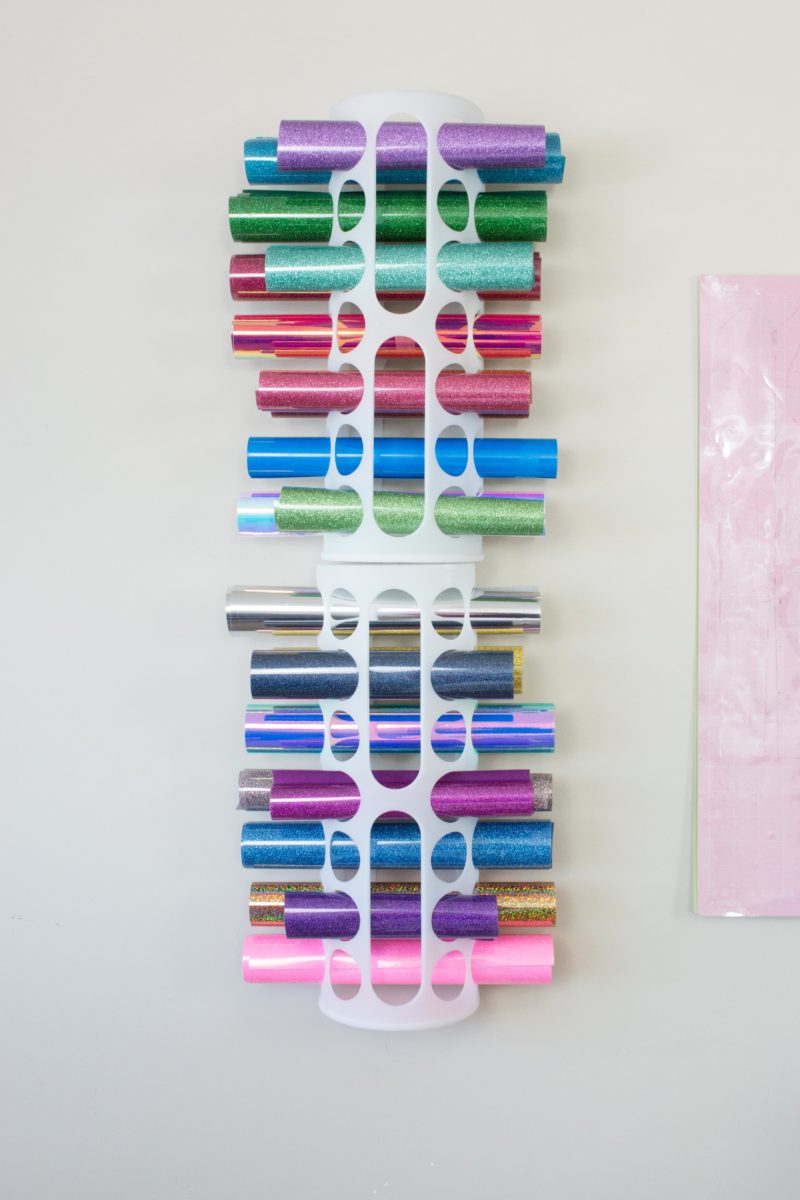 How to Store Cricut Tools on a Peg Board
I found a $5 Peg Board at Target that is the perfect way to store all of my Cricut vinyl weeding tools. Each tool has a small hole on the top so that it can easily hang from a hook.
I used to store my tools in a pouch but I was always digging through it to find the right tool.
Now they are all displayed nicely and there's no guesswork when I need to find a specific tool to use on a project!

Cricut Hacks, Tips & Tricks
How to Quickly Weed Vinyl
Quickly Weed HTV/Iron-On or Vinyl with a Cricut BrightPad! Place the Iron-On on top of the lightbox and the light will peek through all of the cut lines. It makes weeding SO much easier and removes all of the guesswork!
I'm kicking myself for not figuring this out sooner! If a BrightPad is out of your budget you can always hang the vinyl on a window to get a similar effect.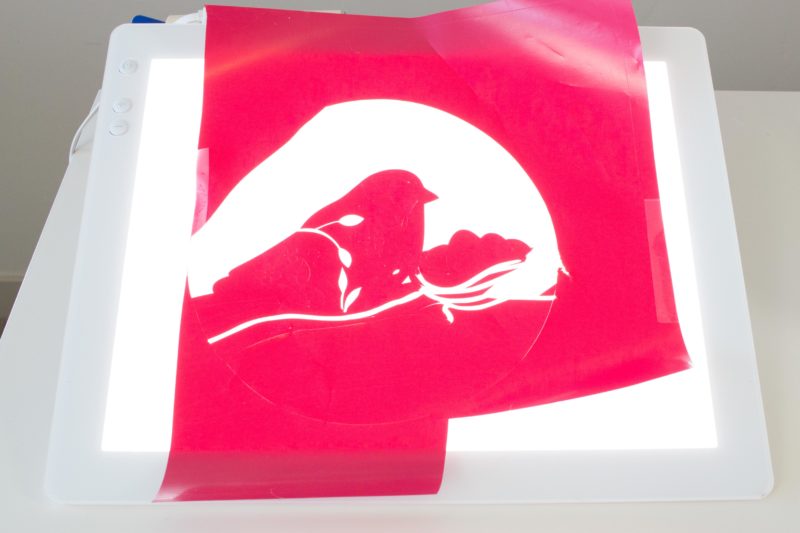 Charge your Electronics from your Cricut Maker
The Cricut Maker has a USB port on the side that can power your phone, tablet or the bright pad. There's also space to prop up your tablet or phone on the actual Cricut Maker so you don't have to connect to your computer.
What more could I ask for???
How to Use a Cricut Easy Press for Perfect Results
If you've tried doing Iron-on with an iron before you've probably been met with a fair amount of frustration. Most irons have hot spots and cold spots and those can be exacerbated by lower end models.
They also have a relatively small plate which means you'll spend a lot of time just trying to press one design.
That means you don't have to worry about burning one side of your project while the other side doesn't even stick! I just use the chart to select the exact temperature and time and press it until it beeps at me. Easy peasy!!!
How to Use Vinyl Scraps
I'm a self-proclaimed hoarder and one of the things that I just can't bear to throw away are my vinyl scraps! You better believe I save every piece!
My favorite way to use up my scraps is to place them all on a mat and then use the Snap Mat feature. This can be found in the Cricut App.
It takes a photo of your mat and then lets you arrange your designs on the scraps so they are cut out perfectly. No more guesswork!
This also works wonderfully for quilters who want to fussy cut their fabric. Use the Snap Mat feature to take a photo of your mat and the fabric.
Then place the design over the image you want to cut out. This works amazingly well for Hexis! Here's an example.
Cricut Explore & Maker Pen Hack
If you have a marker, sharpie or even a colored pencil that you would like to use with your Cricut machine ( this works on the Cricut Explore as well) you just need to remove the Cricut Pen Adapter, wrap a hair tie around the pen and then place it in the pen holder. Make sure that it's all the way down!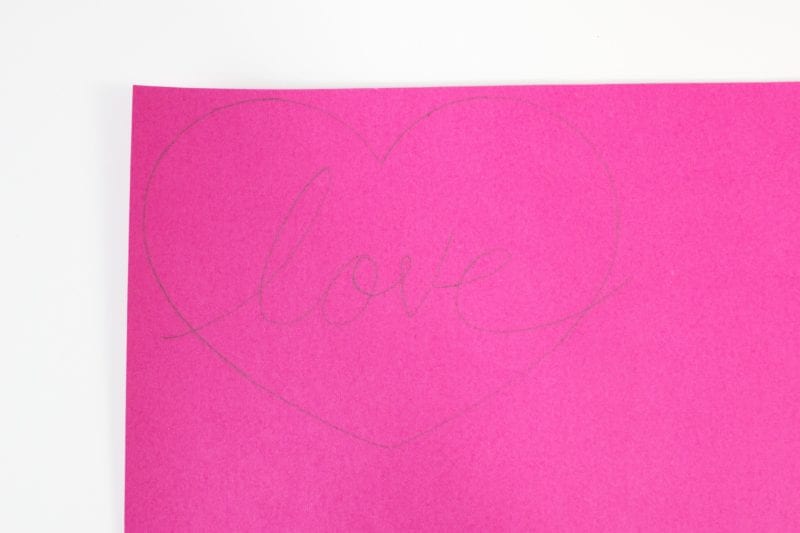 How to Clean a Cricut Mat
There are a few different ways to clean a mat depending on how dirty it is. If it's been used lightly you can use tweezers to grab any stray pieces of felt (this is what I had to do after this felt-heavy project) or vinyl.
Try rolling a lint roller across the mat as well. If you have some leftover residue you can gently wipe the mat with a bleach & alcohol-free baby wipe to remove some of the grime.
If a baby wipe doesn't quite do the trick you can cover the mat in GOO GONE, let it sit for about 15 minutes and use a scraper tool to remove all of the adhesive.
Once the mat has dried, cover all of the edges with tape and use a spray adhesive to cover the mat. Allow to dry.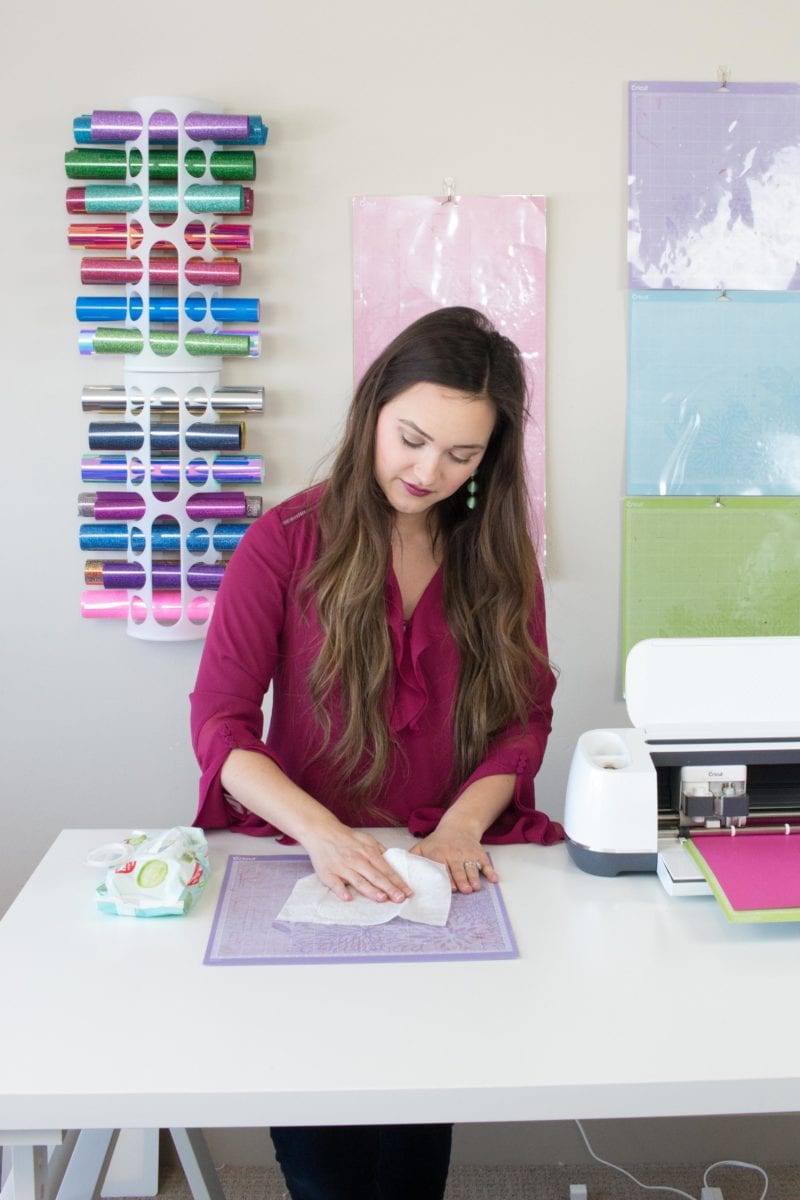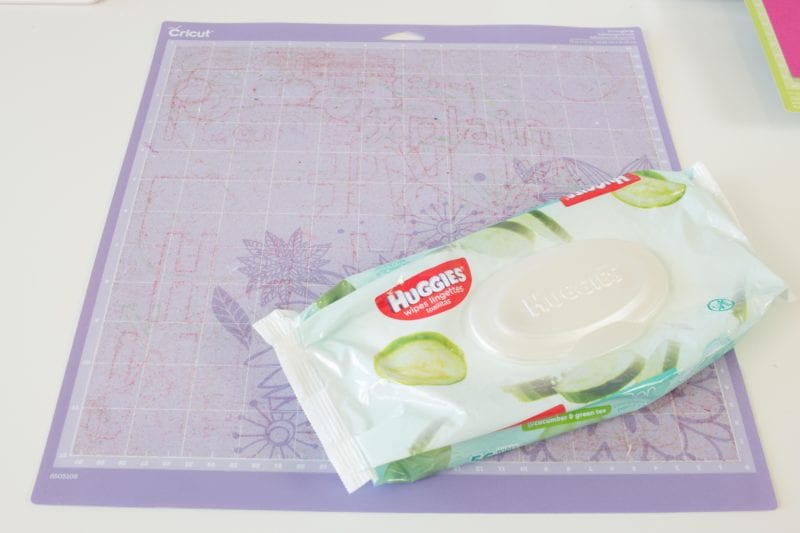 Hey Let's Make Stuff has a great post on how to clean your Pink Cricut Mat if your pink mat is in need of some love!
How to Quickly Remove Intricate Cardstock Designs
If you've ever made an intricate design on cardstock or even vinyl you know that the weeding process can be lengthy, to say the least.
One of my favorite tricks is to use a lint roller to quickly pick up all the small pieces (this also works well for glitter).
Just roll it over the design before removing it from the mat. It will save you from having to individually remove each piece from the mat.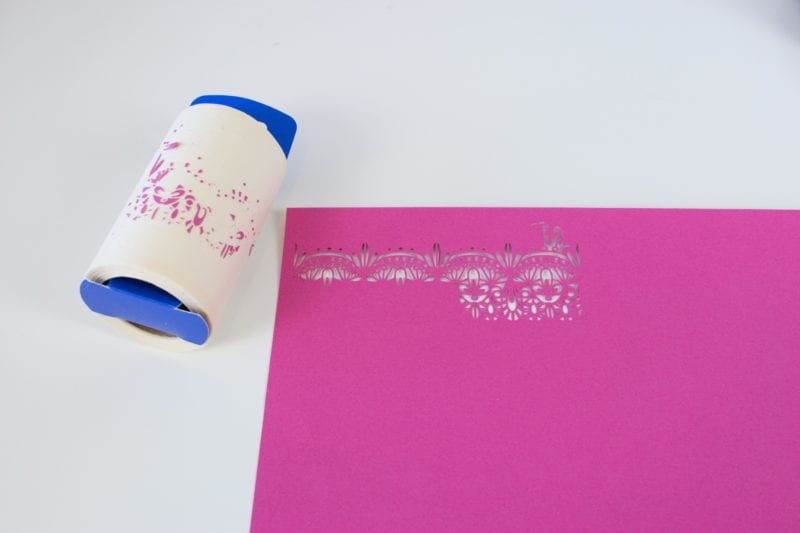 And while we are on the subject of lint rollers, if you are ever in a bind and run out of transfer tape a lint roller sheet works perfectly!
I hope you enjoyed all of these Cricut storage and organization hacks and learned some new time-saving tricks!
I'd love to hear in the comments all about your favorite Cricut hacks!
Loved these Cricut Hacks? You can find all of my Cricut posts here.
Follow me on Instagram to find out what I'm making with my Cricut Machine!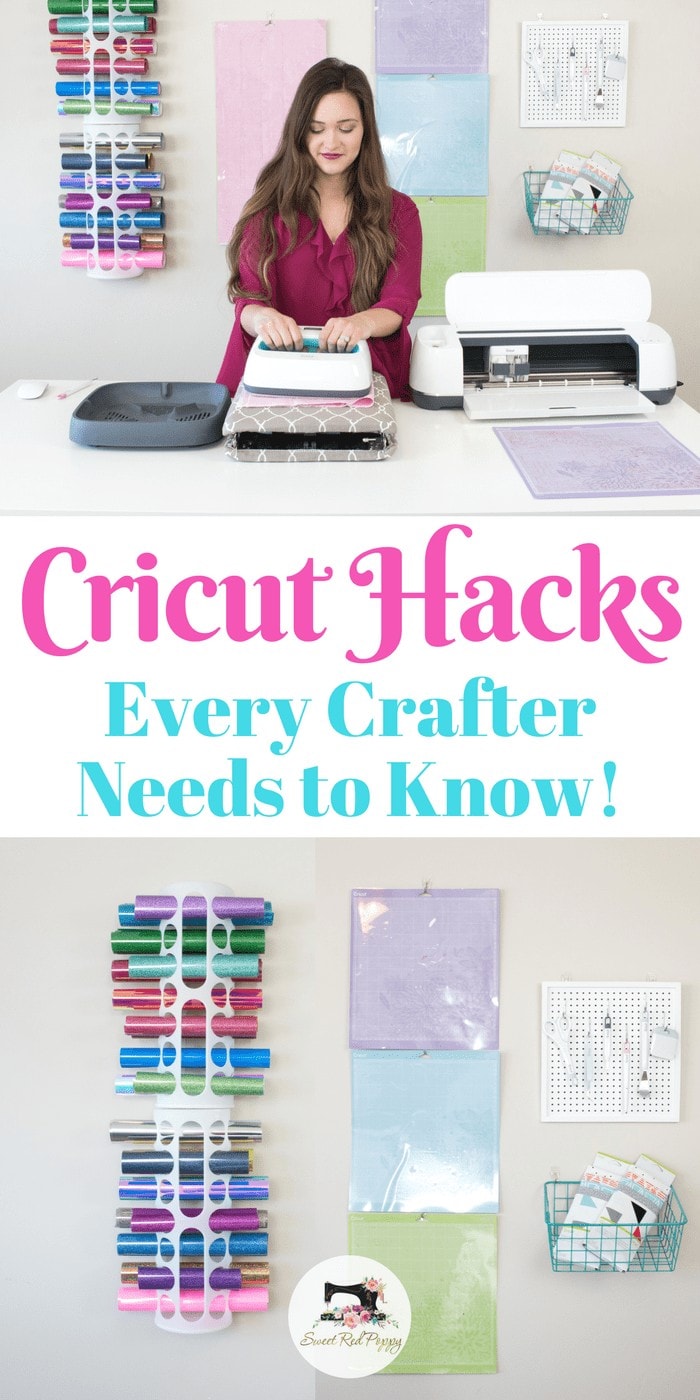 SaveSave
SaveSave
SaveSave
SaveSave
SaveSave
SaveSaveSaveSave
SaveSave
SaveSave
SaveSave
SaveSave