Learn How to Easily Organize Your Craft Room Utilizing Different Storage Ideas for Sewing, Cricut, Paper Crafting and Painting.
Today, I'm going to be sharing some of my favorite tips and tricks for organizing and tidying up your crafting supplies.
This is a sponsored post written on behalf of JOANN. All thoughts and opinions are my own.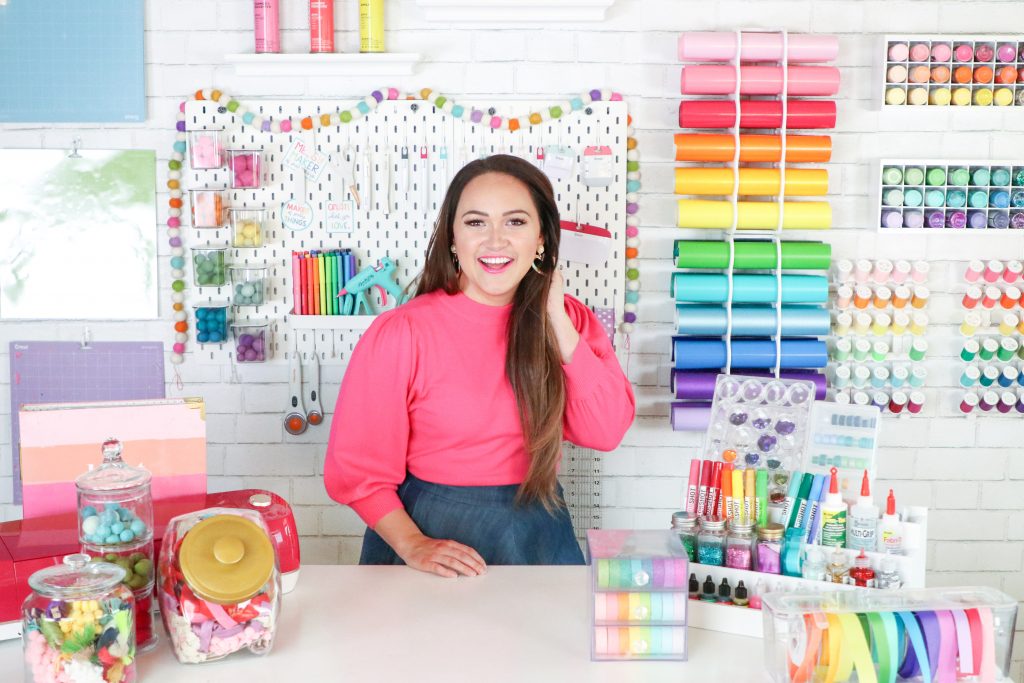 If your New Year's Resolution was to be more organized this year, I've got you covered!
Whether you have a dedicated crafting space or not, you can utilize so many of these tips to keep your supplies organized for easy crafting!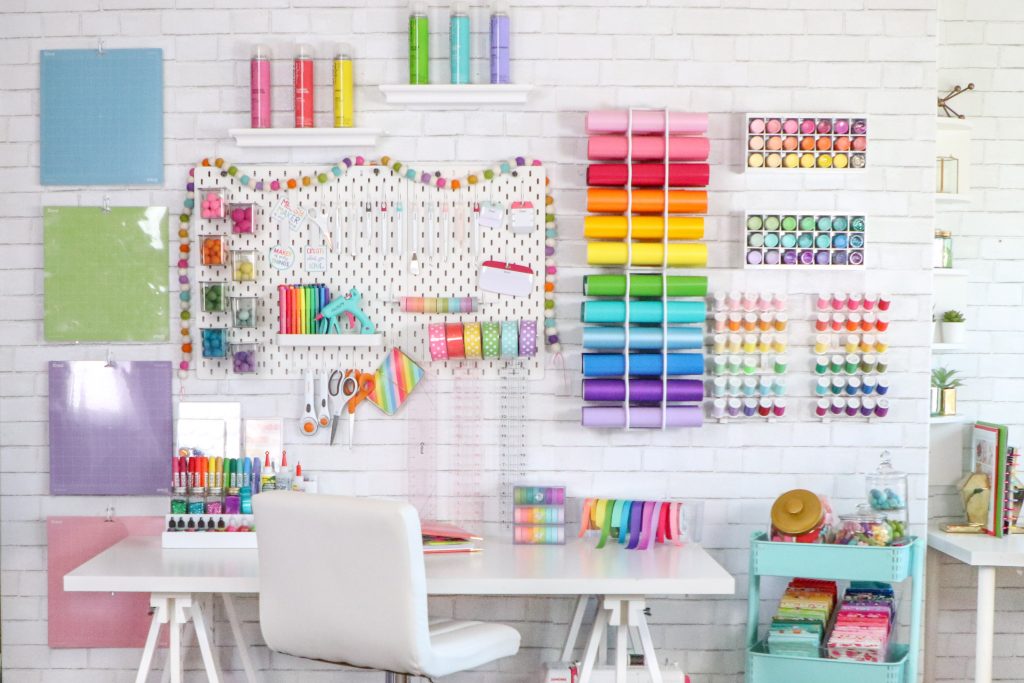 I teamed up with JOANN to give my craft room a makeover and I couldn't be more thrilled with how it turned out! The best part is you can replicate this exact set up in your own home using products from JOANN!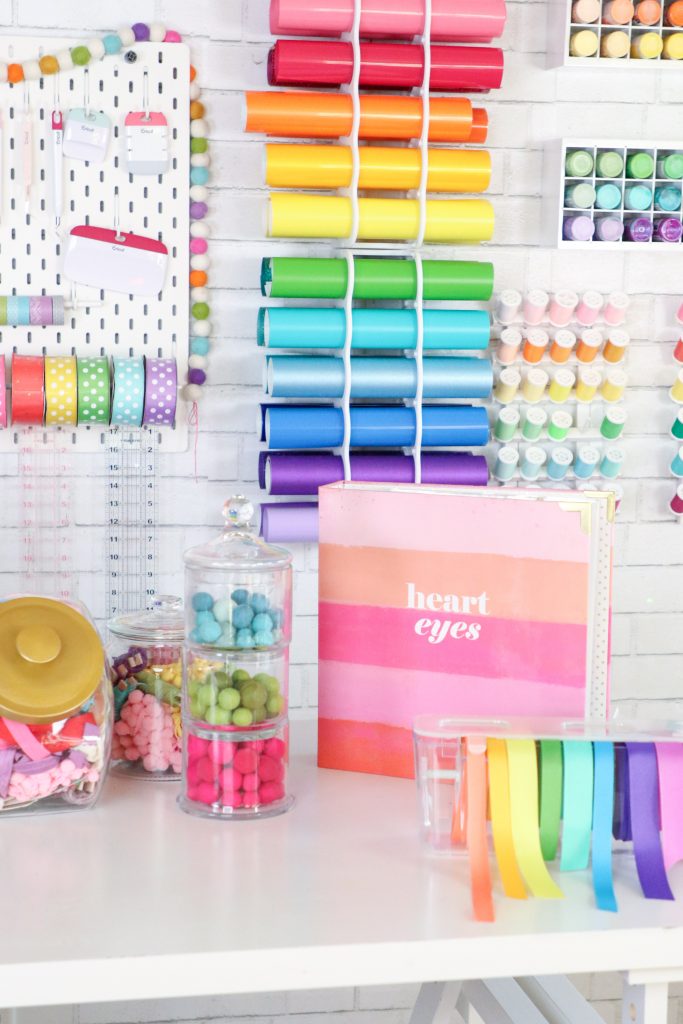 One of my favorite ways to store supplies is by mounting them on the wall. This allows me to easily access my supplies and see exactly what I have!
In this post, I've linked to the products I'm using in my own craft room as well as a few others that I think might be helpful!
Artbin Paint or Marker Storage Tray
This paint storage tray is a dream because it mounts to the wall and allows you to easily see exactly what you have without digging through a box of supplies. I love that I can mount it high on the wall to keep it out of reach of little hands!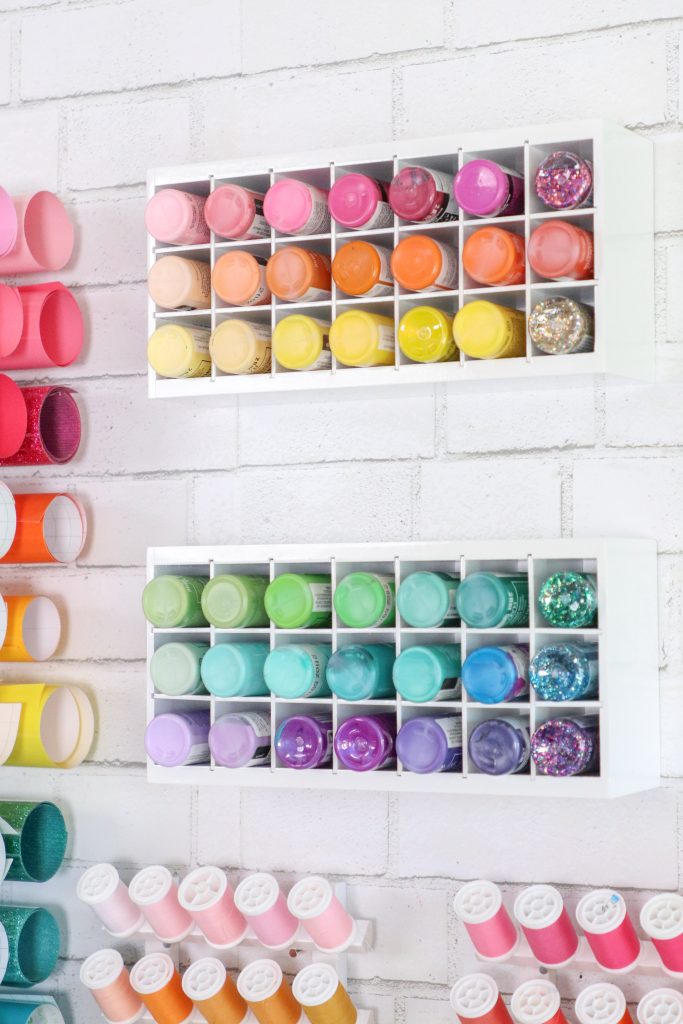 If painting isn't your thing it's also great for holding markers! It doesn't have to be mounted to the wall, it can also sit on a desk as an organizer as well.
Artbin Vinyl Storage Rack - White
This Vinyl Storage Rack from Art Bin makes storing vinyl a cinch! It has large holes which allows you to store tons of vinyl, iron-on or even faux leather sheets in each slot. You can even stack multiple organizers on top of each other if you have tons of vinyl like me!
June Tailor 30 Spool thread Wood Rack with Legs
I spray painted this thread rack white to match the rest of my organizers and it's a great way to store thread. It keeps them from unrolling and allows you to find exactly the right color you need when you're sewing.
This rack is meant to stand on a table, but you can close the legs and hang it from two nails to mount it to the wall.
If your spools of thread currently resemble a rats nest, you definitely need this handy storage rack!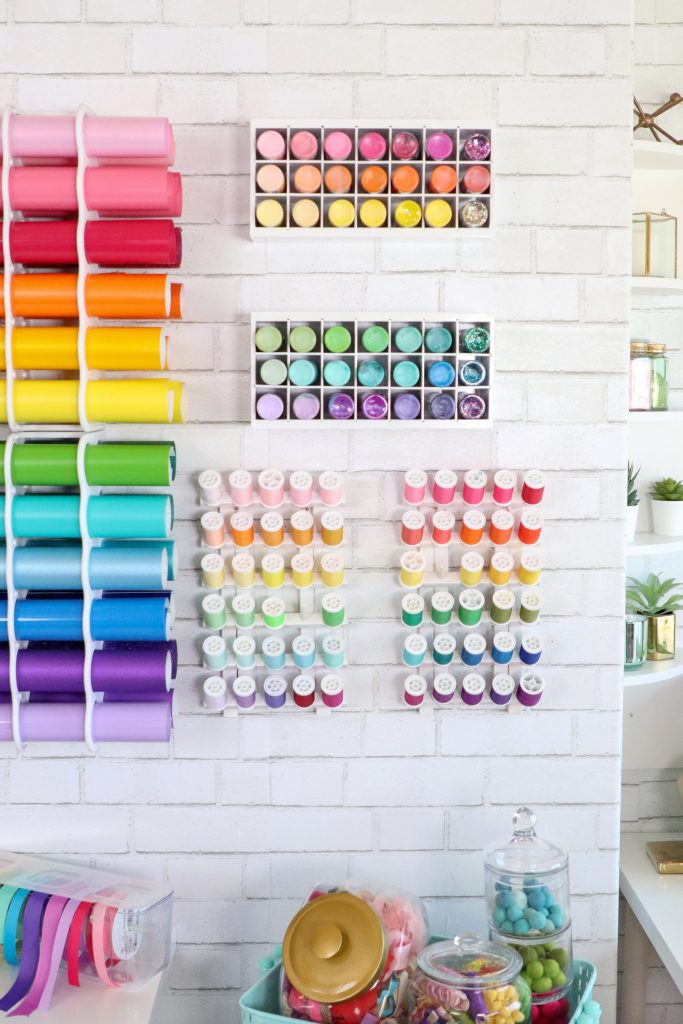 Pegboards
Pegboards can be a huge game-changer in any crafting space because they allow you to hang tools, scissors and organize small supplies. You can find a pegboard at almost any home supply store.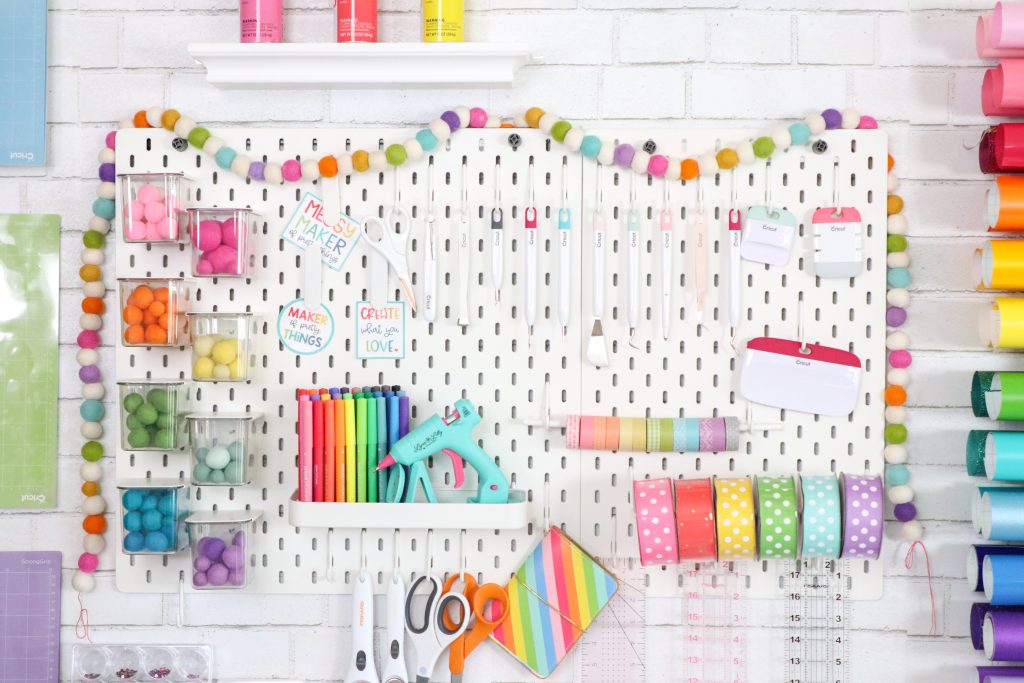 Hooks
Whether it's Cricut mats, cutting mats or rulers, installing a few hooks on your wall can make it easy to organize oddly shaped items. Joann has a wide variety of command hooks which work really well for this!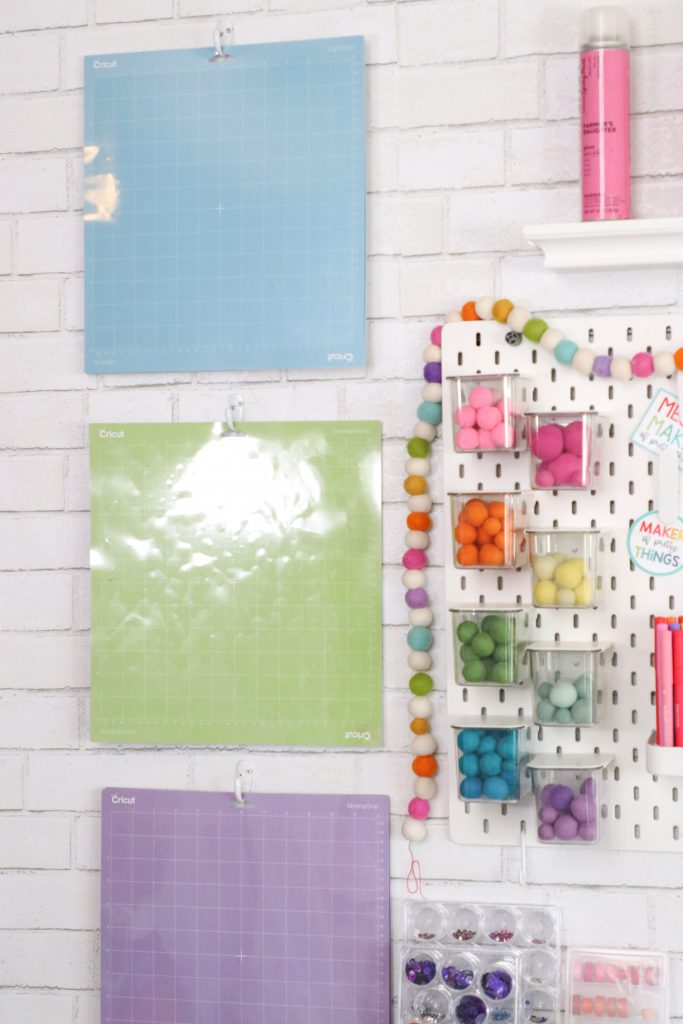 Washi Tape Storage
Use a clear container to easily store wash tape in a way that you can see each roll. This exact container isn't currently available, but here are two different options that look great!
Washi Tape Dispenser and Washi Tape Storage Case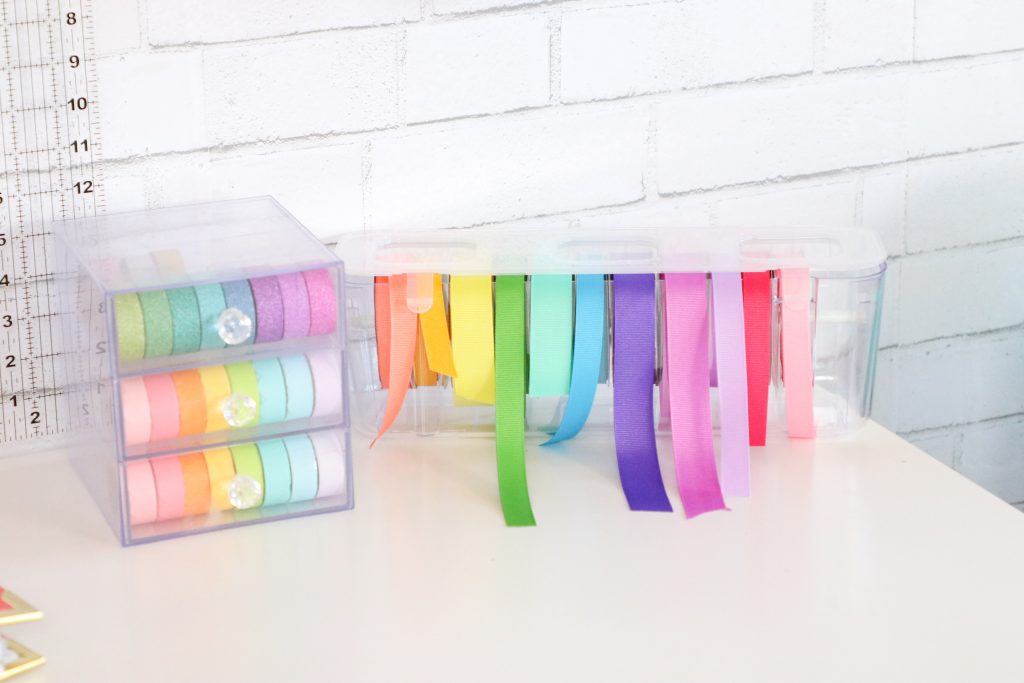 Rolling Cart
Utilizing a 3-tiered rolling cart in your craft room is a great way to store items that might need to move around your room for easy access.
Deflecto Ribbon Dispenser Clear
This ribbon dispenser makes it SO easy to access ribbon and it's no longer stored in a box where it gets tangled up. This dispenser can be stacked as well for more storage.
Need an even larger organizer? Check this one out!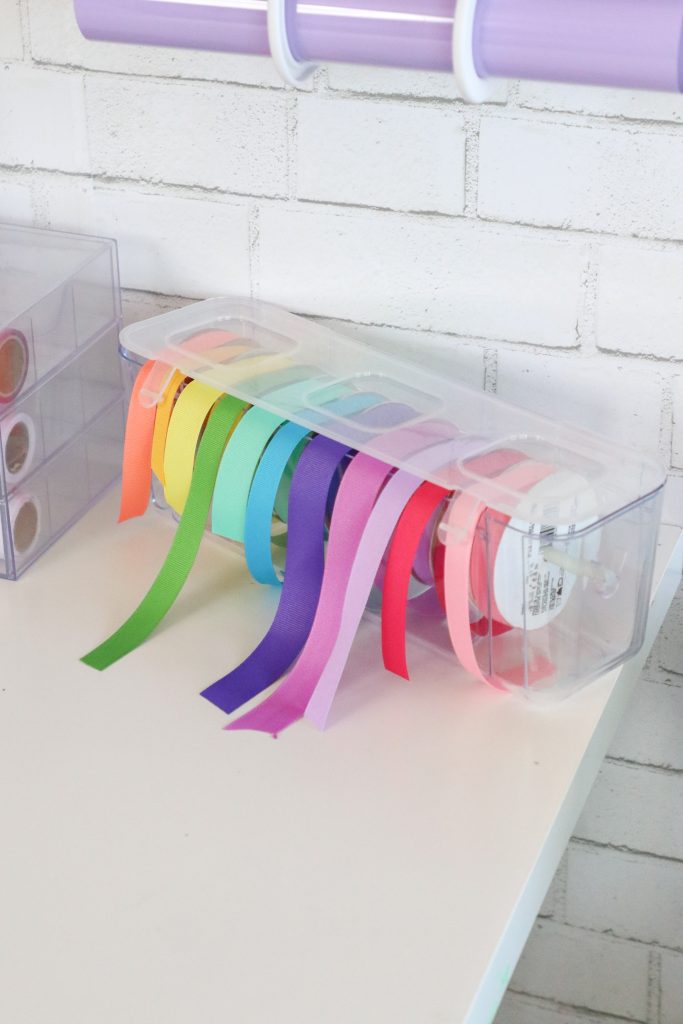 4 Level Stamp & Supply Stadium Organizer
This 4 level organizer is intended for stamps but I love using it to store alcohol inks, glitter glue, paint markers, and small storage cases.
It has four different levels with plenty of room for all of your supplies.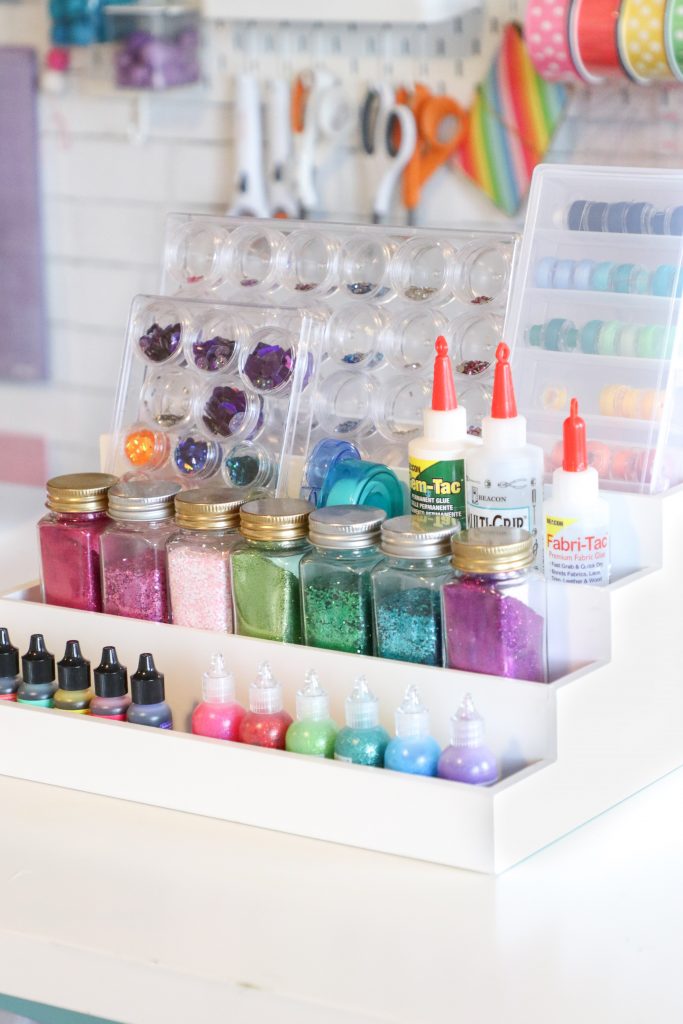 Photo Album
Do you have tons of Vinyl or Iron-On scraps? Use a photo album like this one from Heidi Swapp to store all of your scraps. I sort mine by color so it's easy to find everything I need.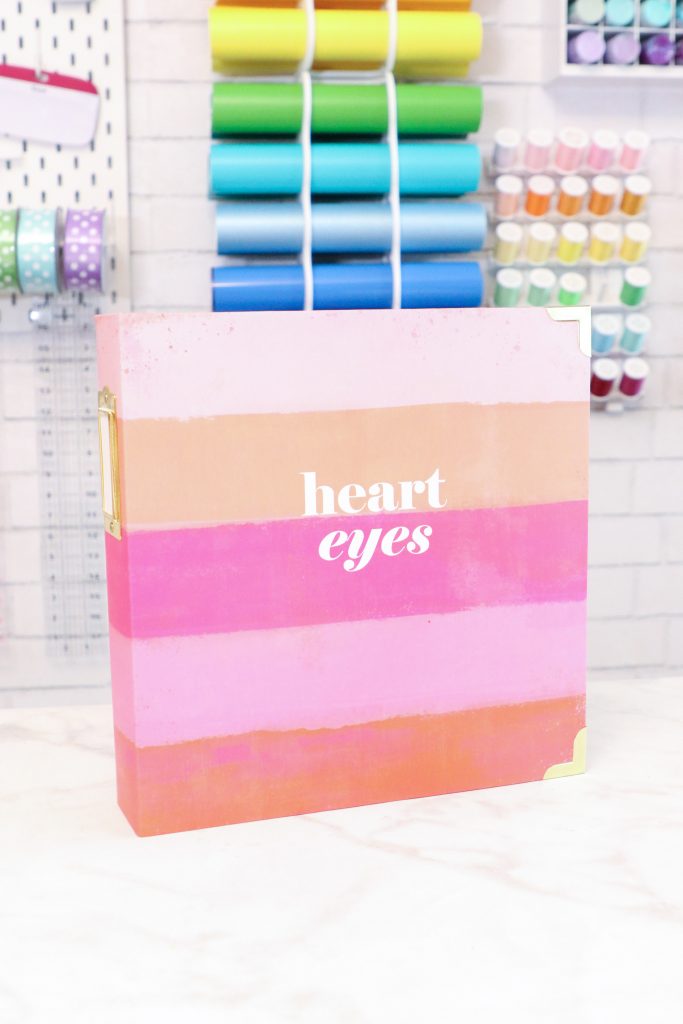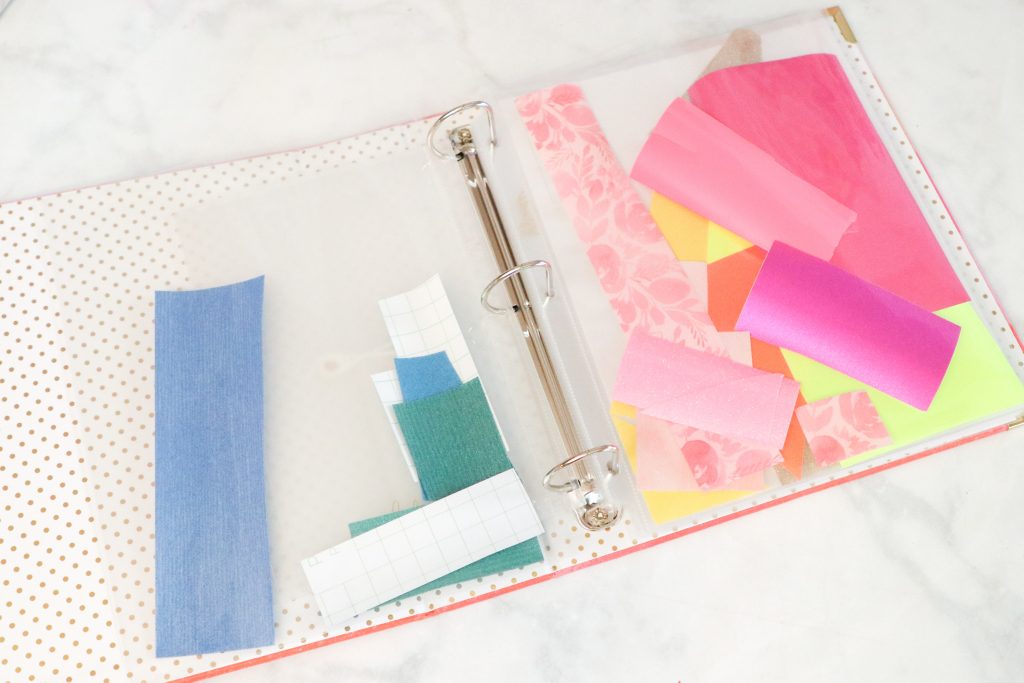 Fab Lab Glass Jars
I love using glass jars to store ribbon, felt balls and embroidery thread. It's easy to see what you've stored inside of the jar, plus it looks SO pretty and can add a fun pop of color to your craft room.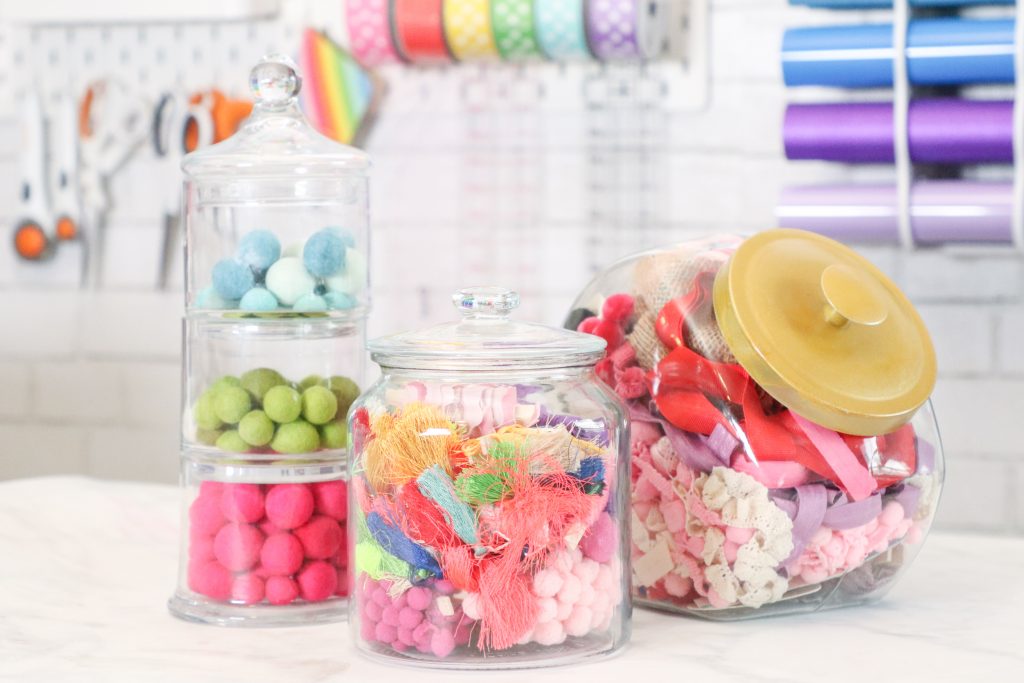 Artbin Large Bobbin Box
Tidy up your threads with this clear plastic bobbin box organizer! I love being able to easily find exactly the right shade of thread I need for a project.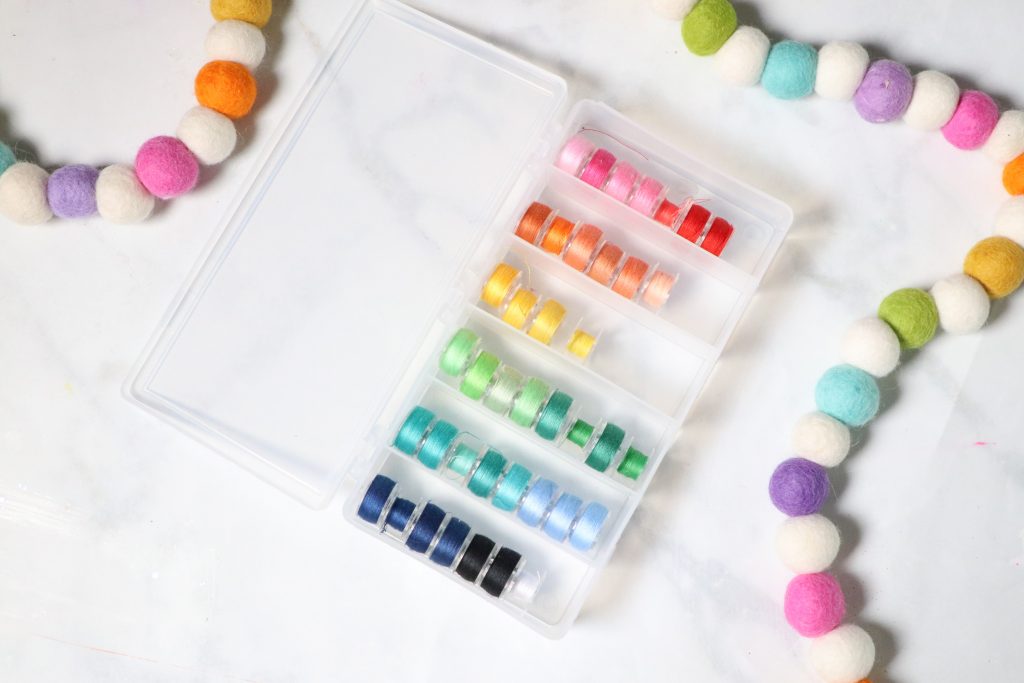 Darice Bead Storage System EZ View
This Bead Container is great for rhinestones, sequins, and glitter. The clear plastic allows you to find what you need quickly and easily!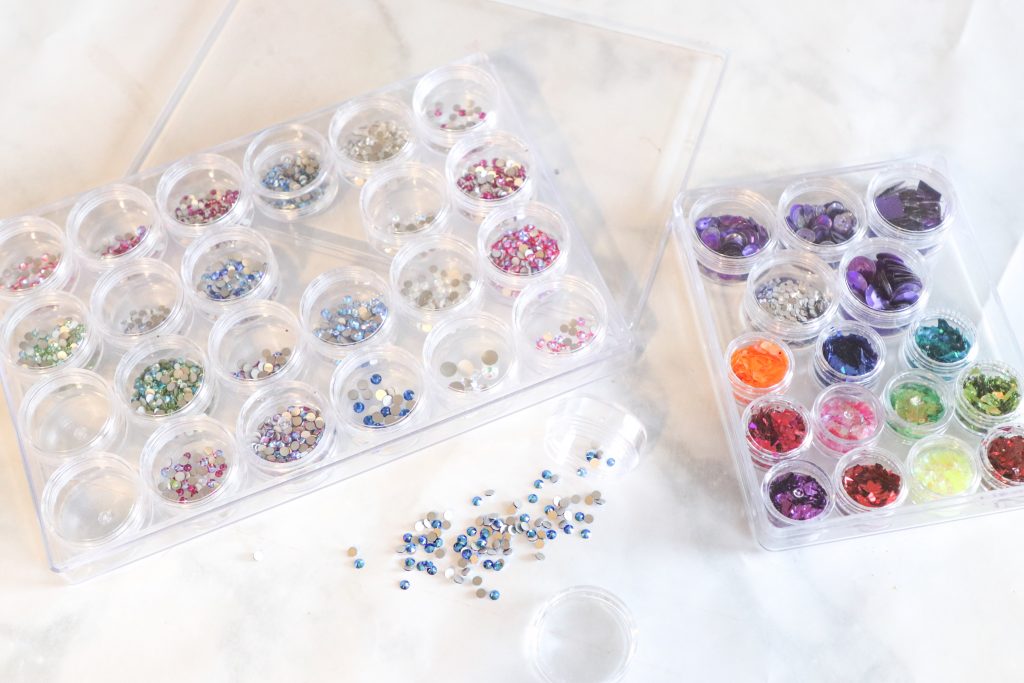 That wraps up my tips and tricks for organizing your crafting space! I hope you enjoyed all of these fun ideas and I can't wait to see your newly organized craft space!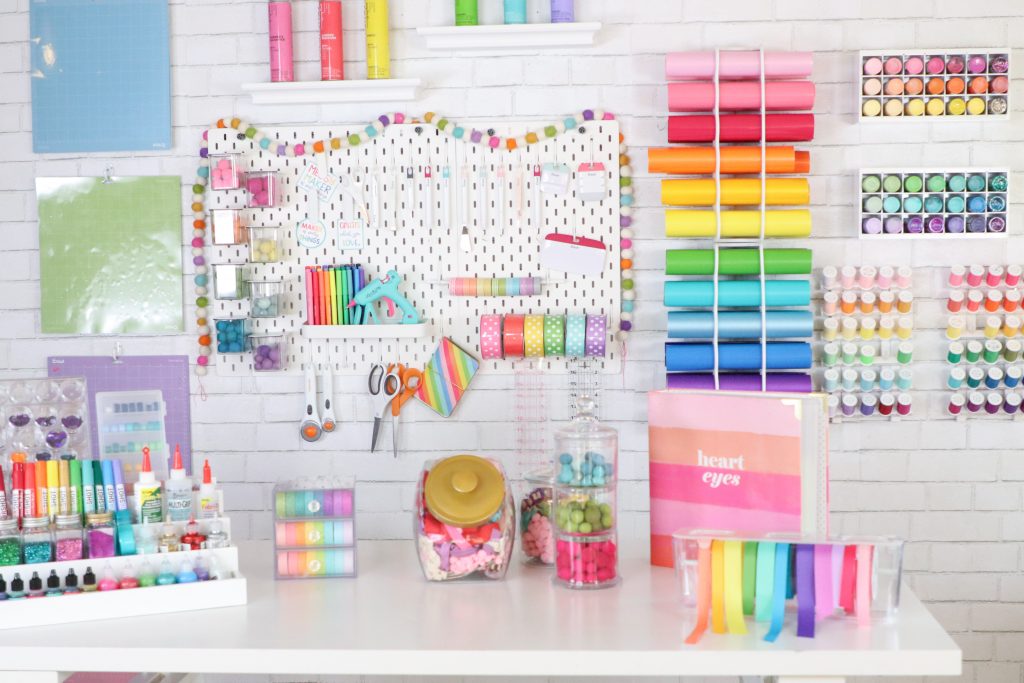 Be sure to share your craft room makeover with me on Instagram or in my crafting Facebook group!
Looking for even more craft room organization tips and tricks? Check out this post!