Have you wanted to get a DreamBox from Create Room (formerly Original Scrapbox)? I'm sharing all of the details on their amazing storage products PLUS a special coupon code: SWEETREDPOPPY to save you $100!
If you're new to Create Room, you might be wondering what the Dreambox is and I'm here to tell you all about it and why it's the perfect fit for your Cricut craft room!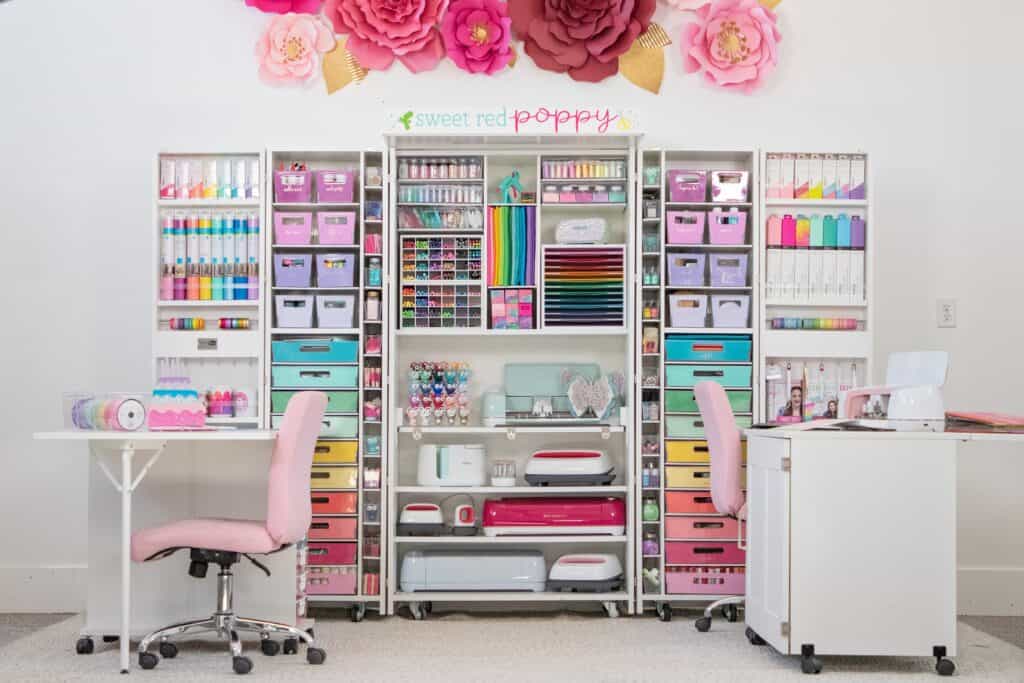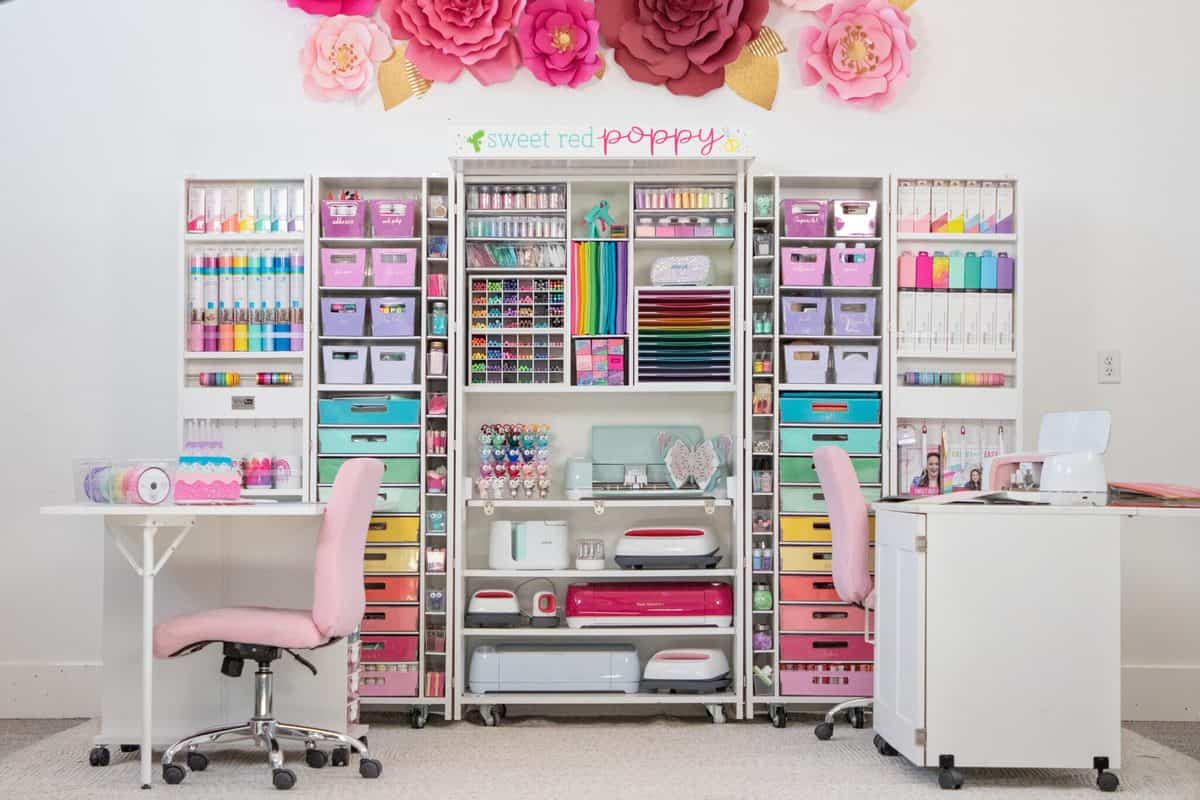 I've had my Dreambox for nearly four years in my last three homes and it's become the centerpiece of my crafting space and a vital part of my ability to stay organized while I craft with my Cricut machines.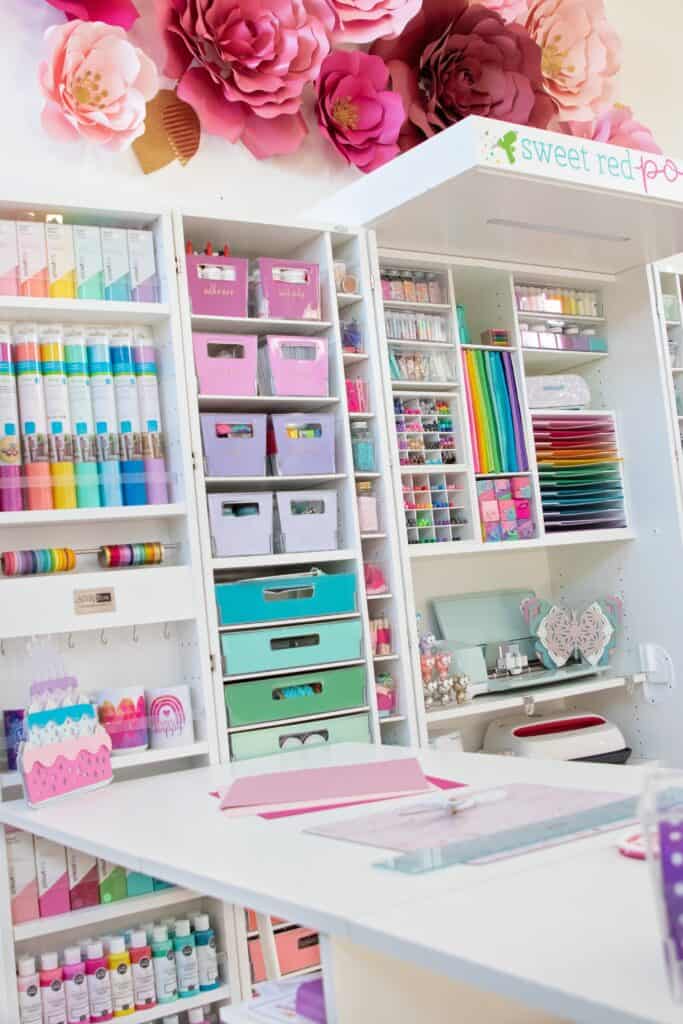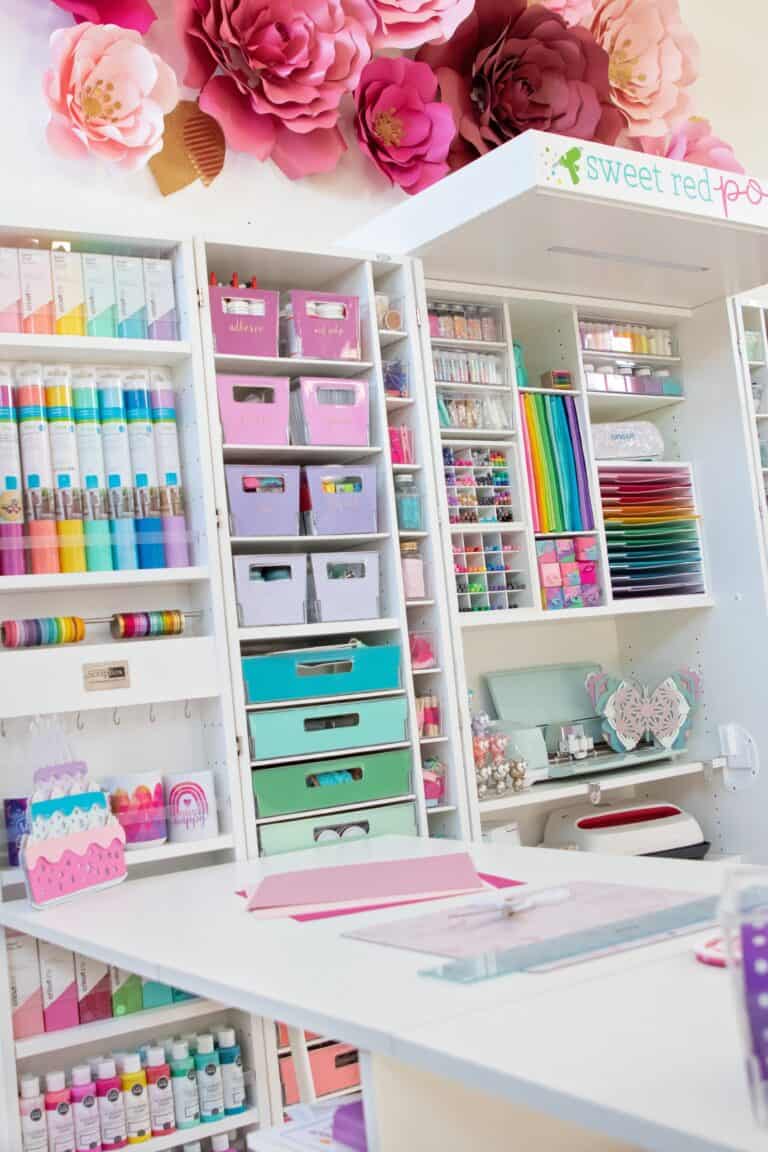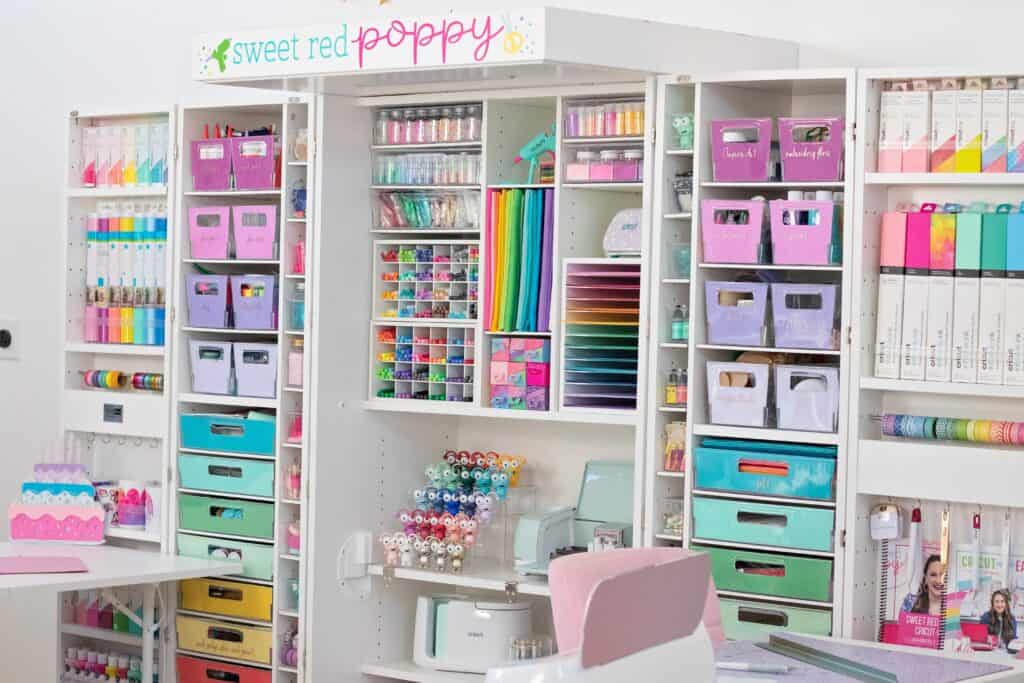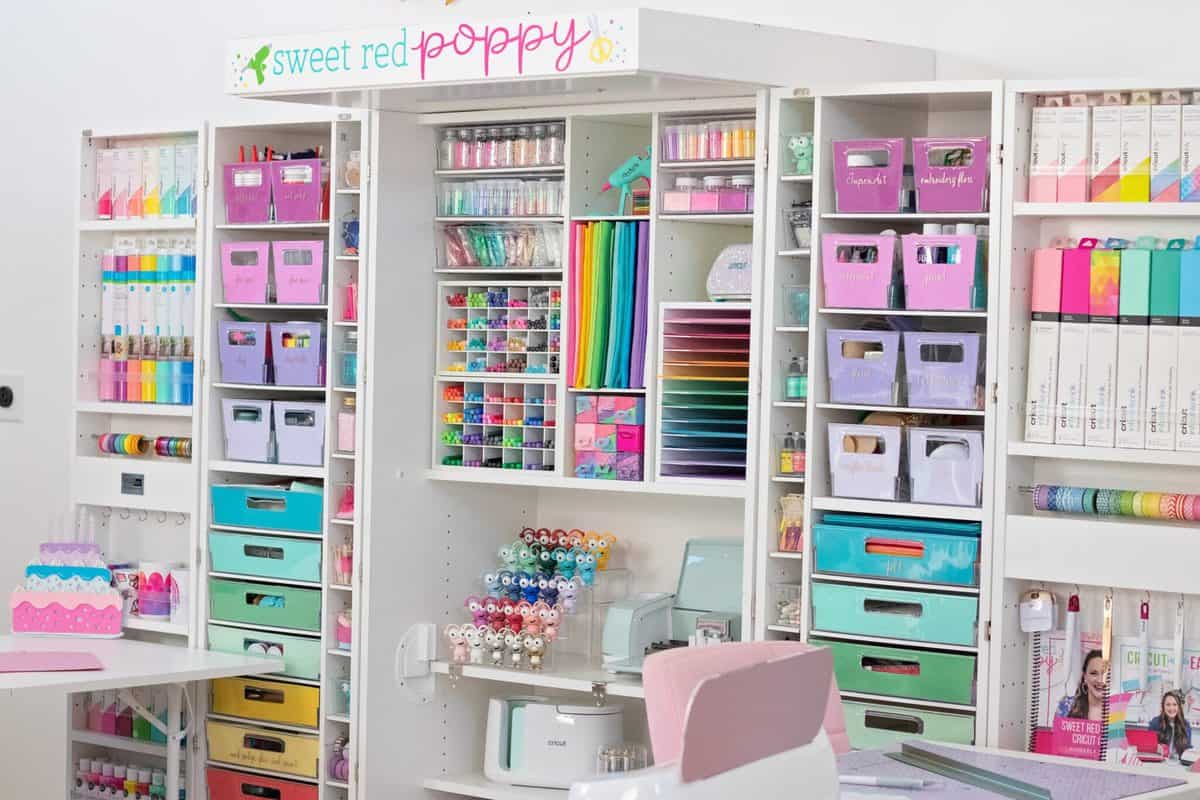 Let's chat all about the Dreambox and how I use it with my Cricut!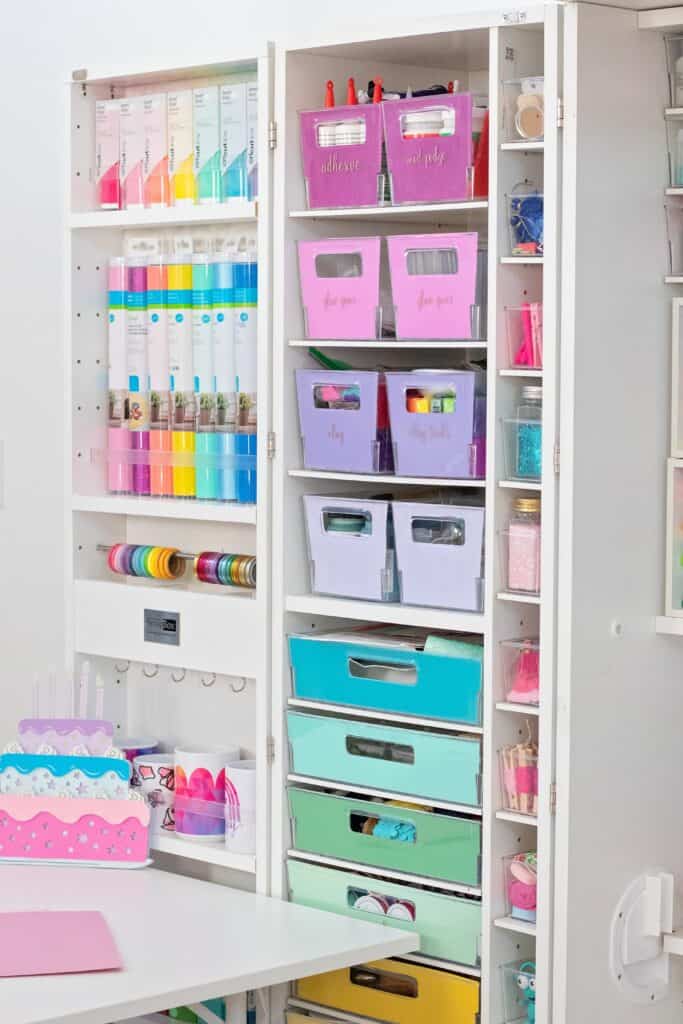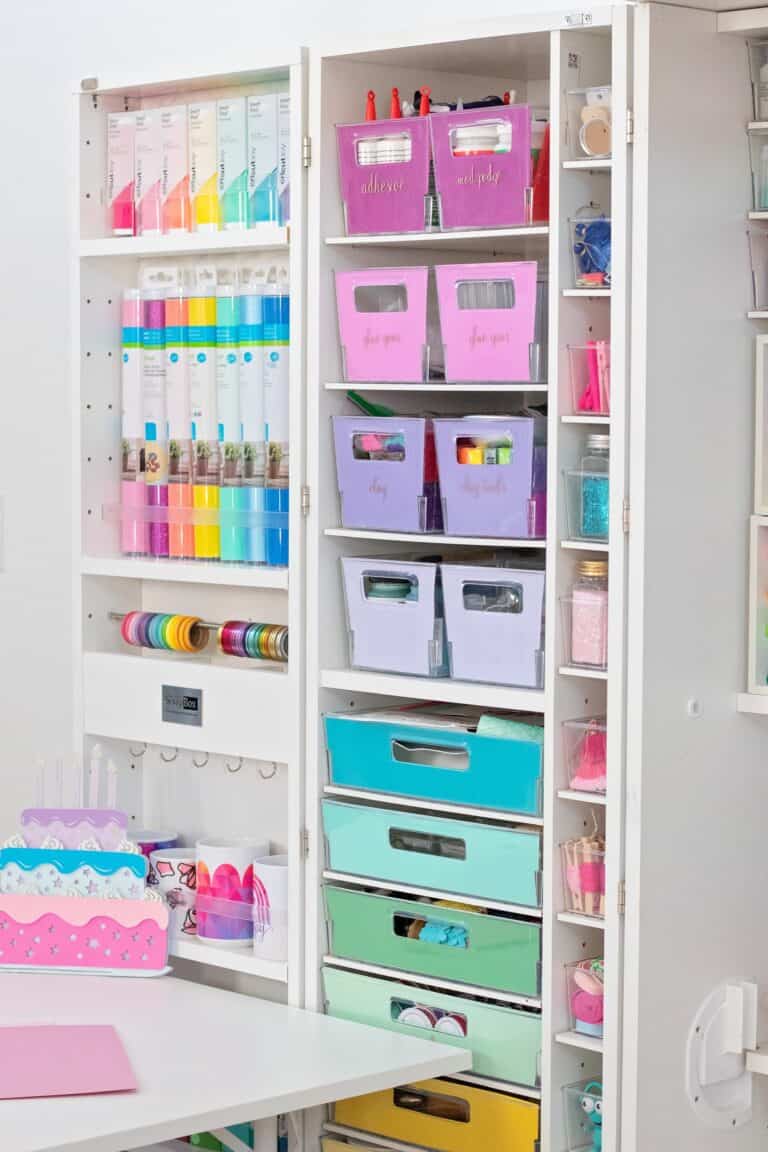 What Comes with the DreamBox?
Clear Storage Totes
With your purchase of a DreamBox, you can opt for the half or full set of totes.
The clear totes come in three different sizes; Large, Medium, and Small.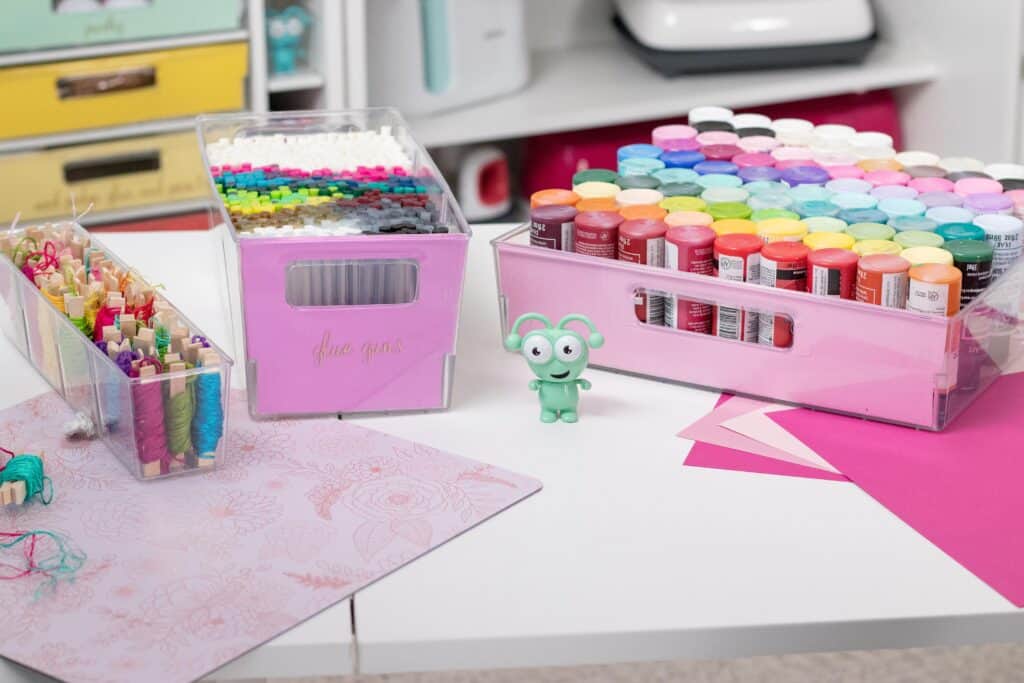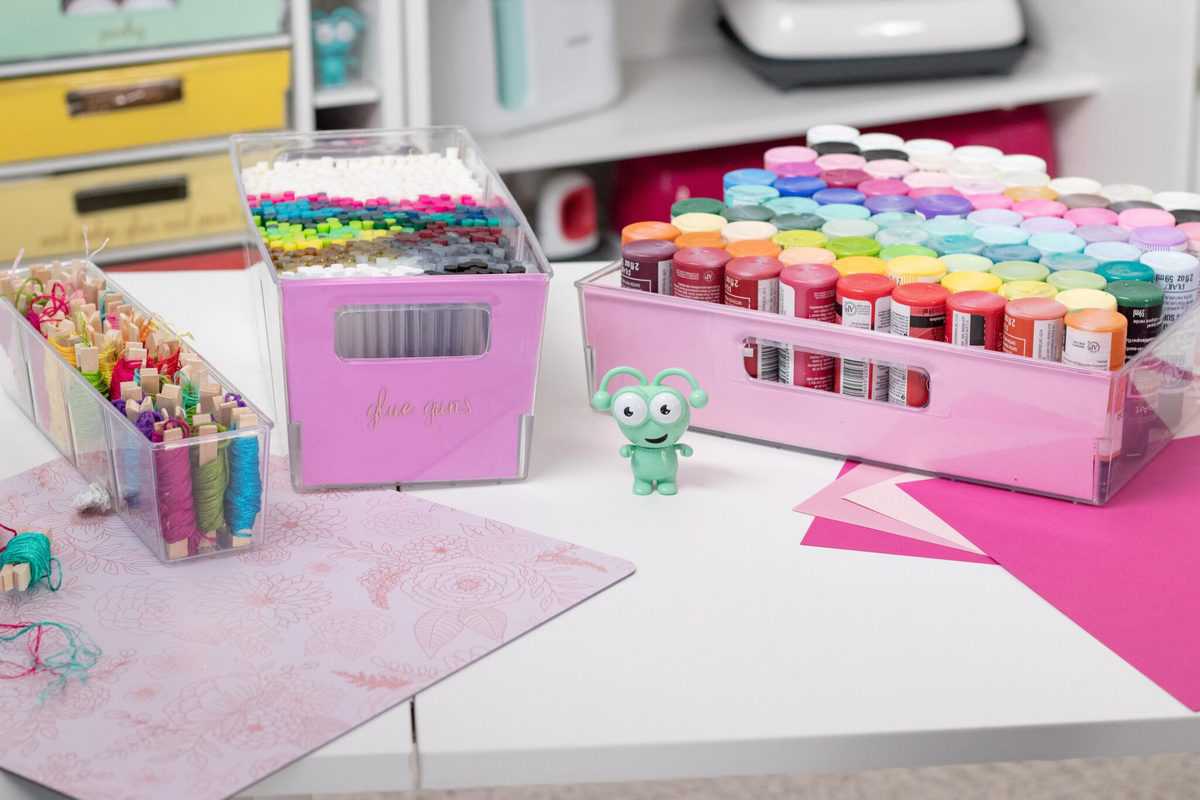 The clear totes are one of my favorite parts of the Dreambox. It makes organizing all of your crafting supplies so easy. I like to label each of my totes so I can find what I need when I'm crafting. It also makes cleaning up a breeze when you know exactly where everything belongs.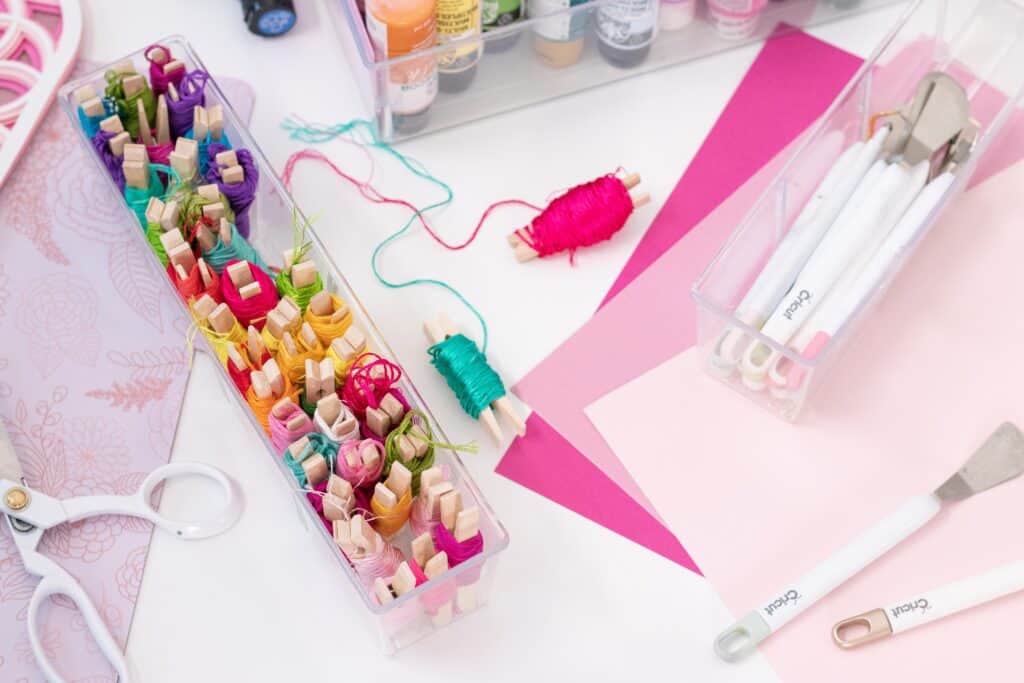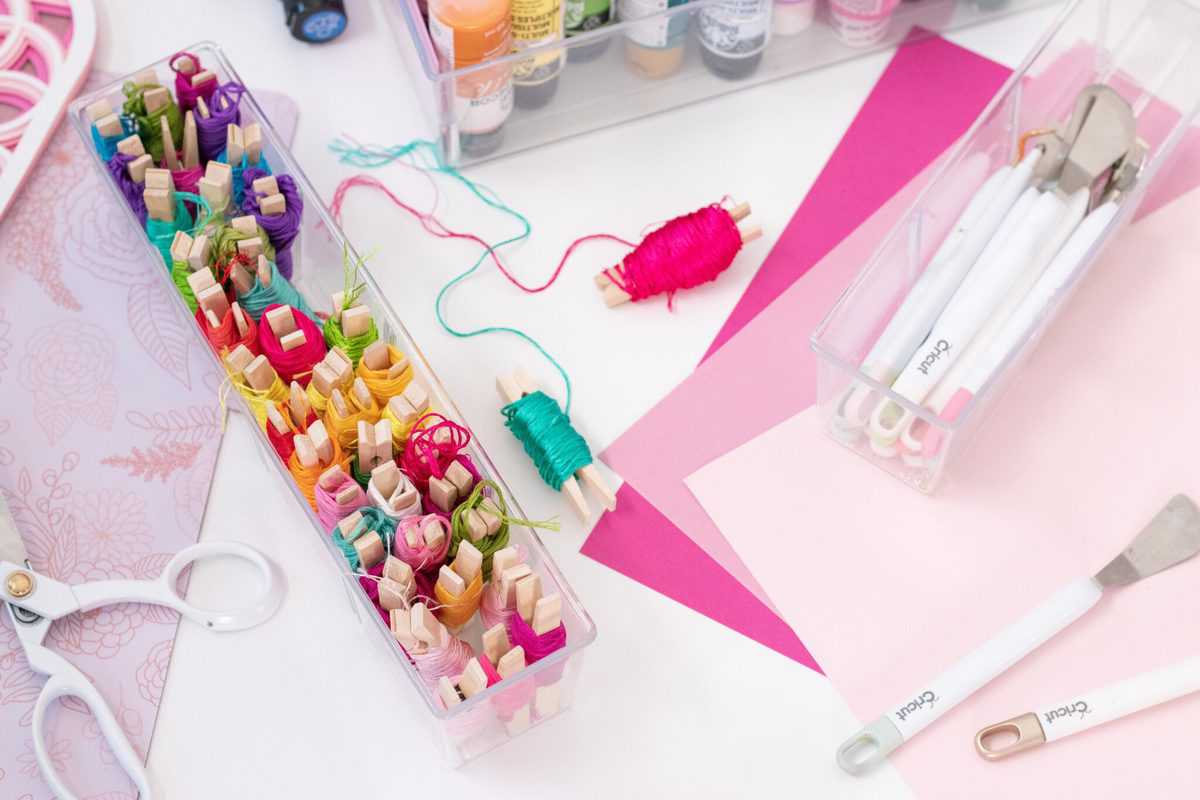 Adjustable DreamBox Shelves
One of my favorite things about the DreamBox is its adjustable shelves. This allows you to personalize your DreamBox to perfectly fit your needs.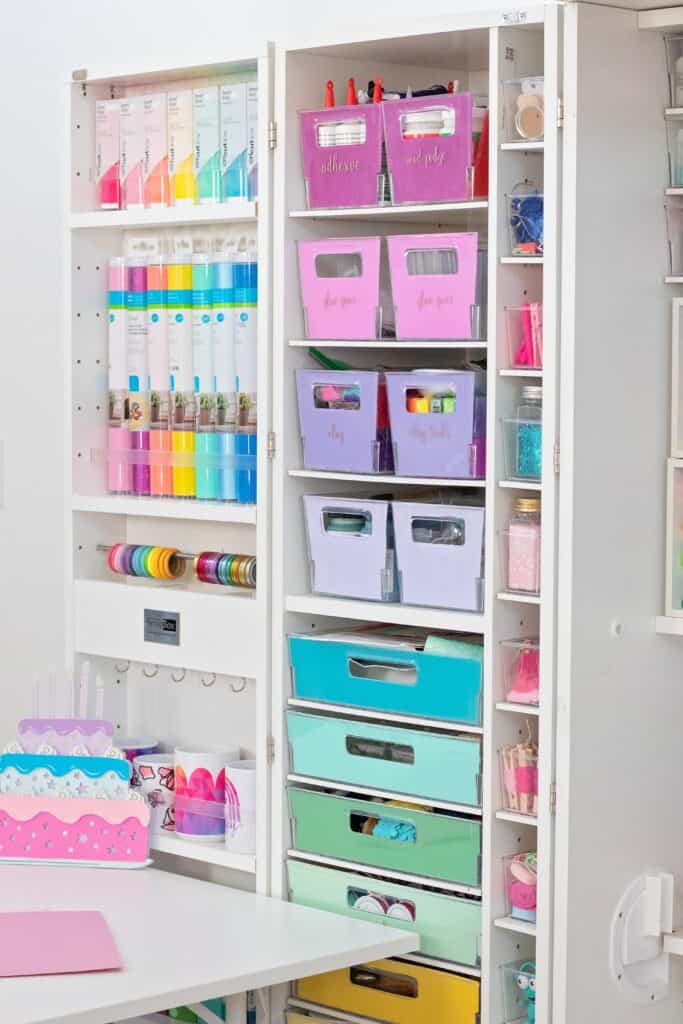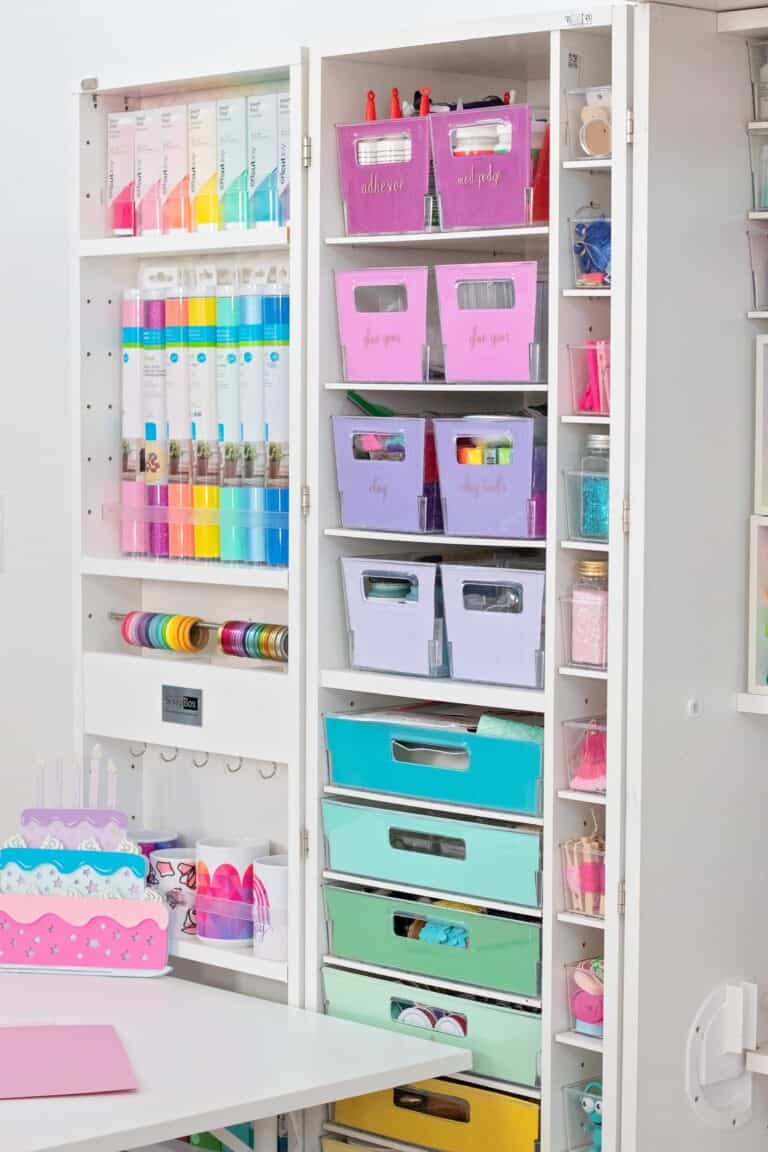 Swing Door Shelves and Acrylic Guards
The swing door shelves paired with the acrylic guard create the perfect home for all of my Iron-On, Infusible Ink, and Vinyl.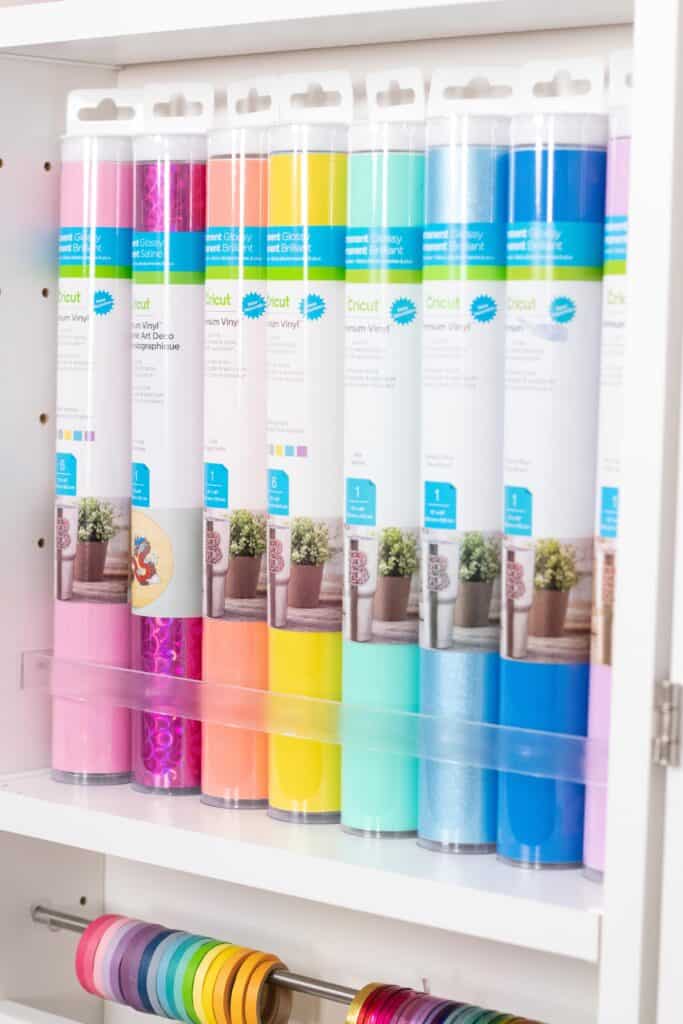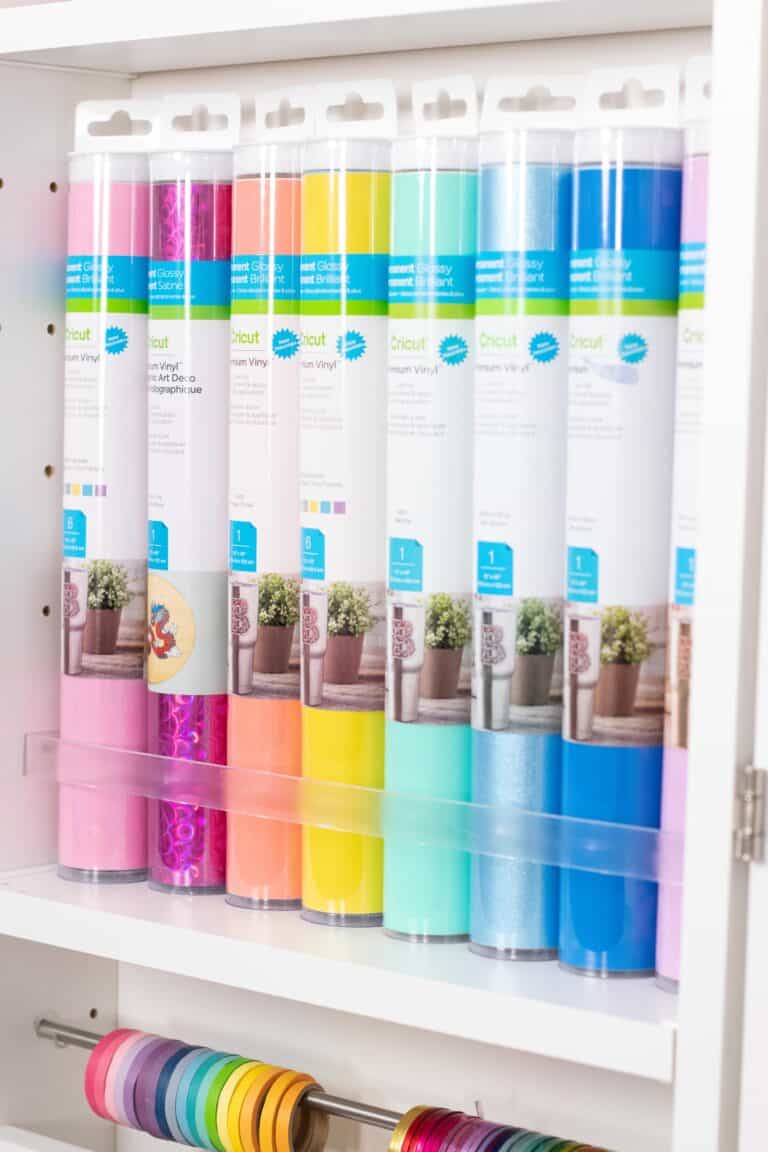 It's easy to see what I have on hand for a project and I know when I need to replace one of my frequently used products.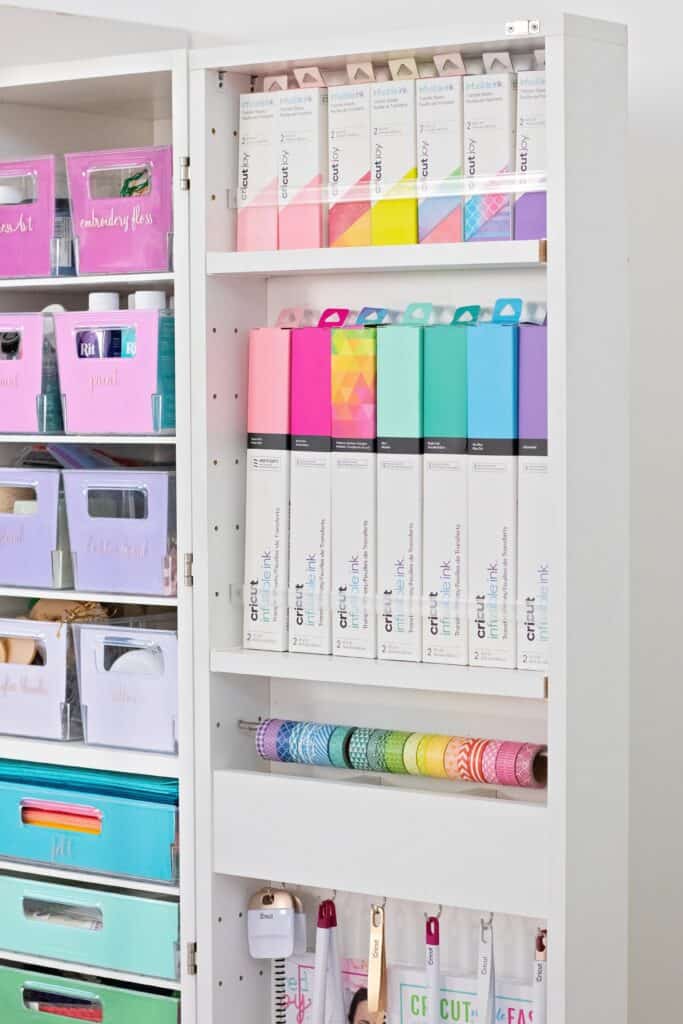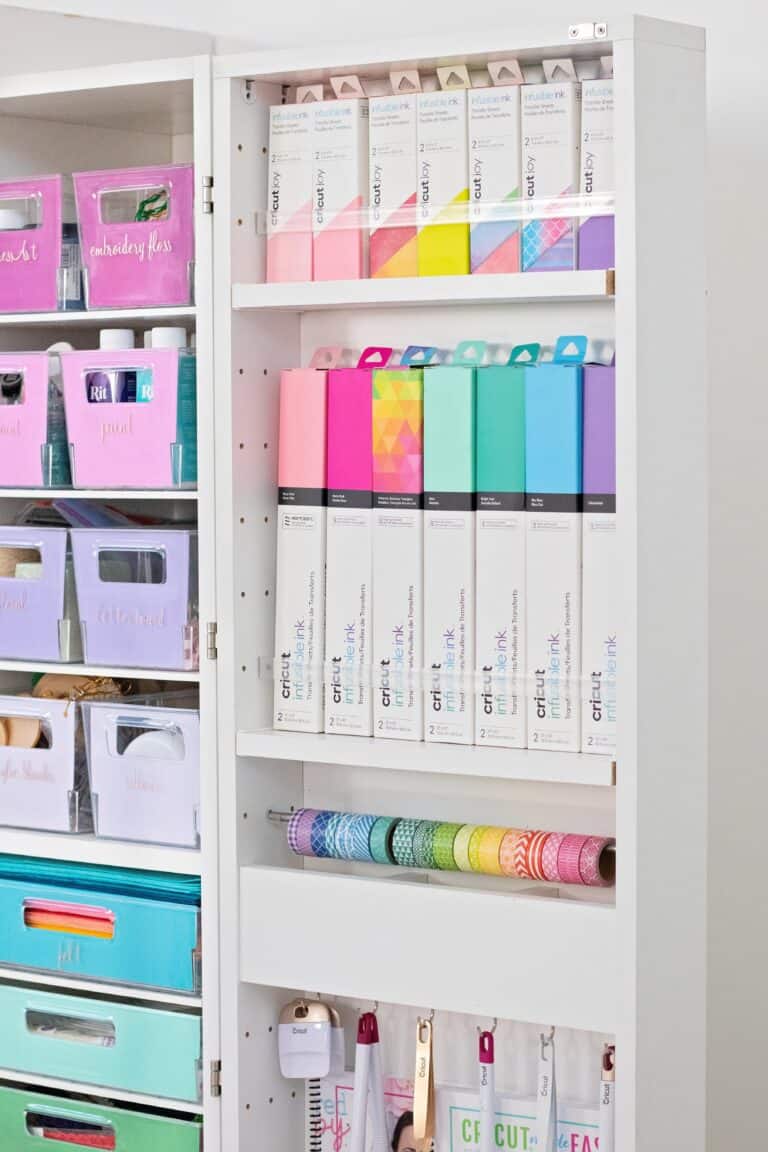 4 DreamBox Rods and 12 Utility Hooks
The DreamBox rods are great for storing washi tape, ribbon, and even vinyl or transfer tape.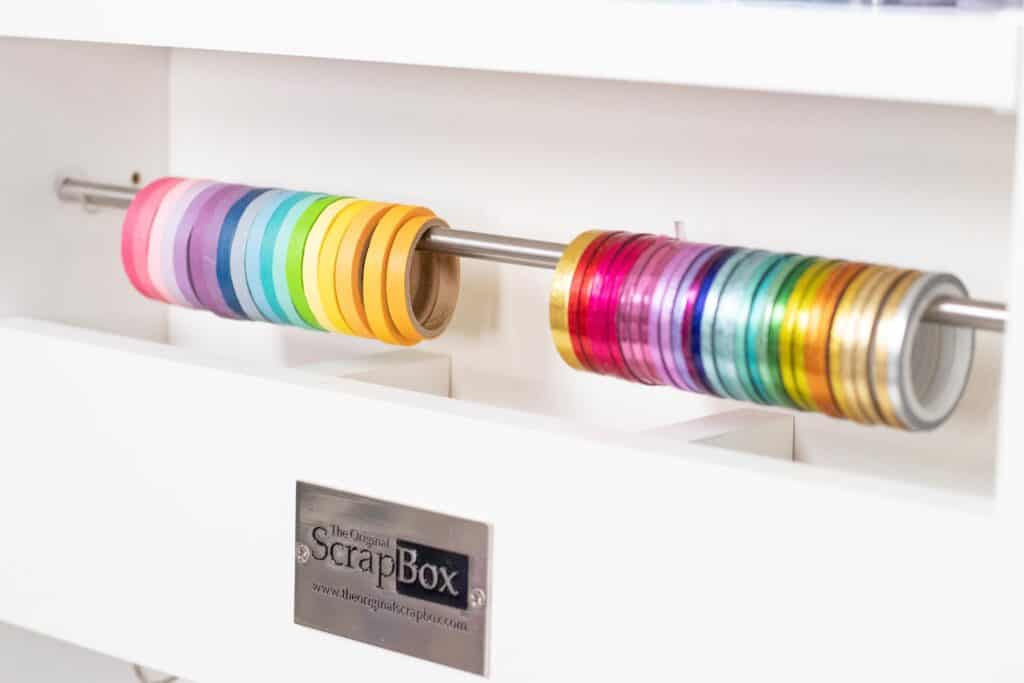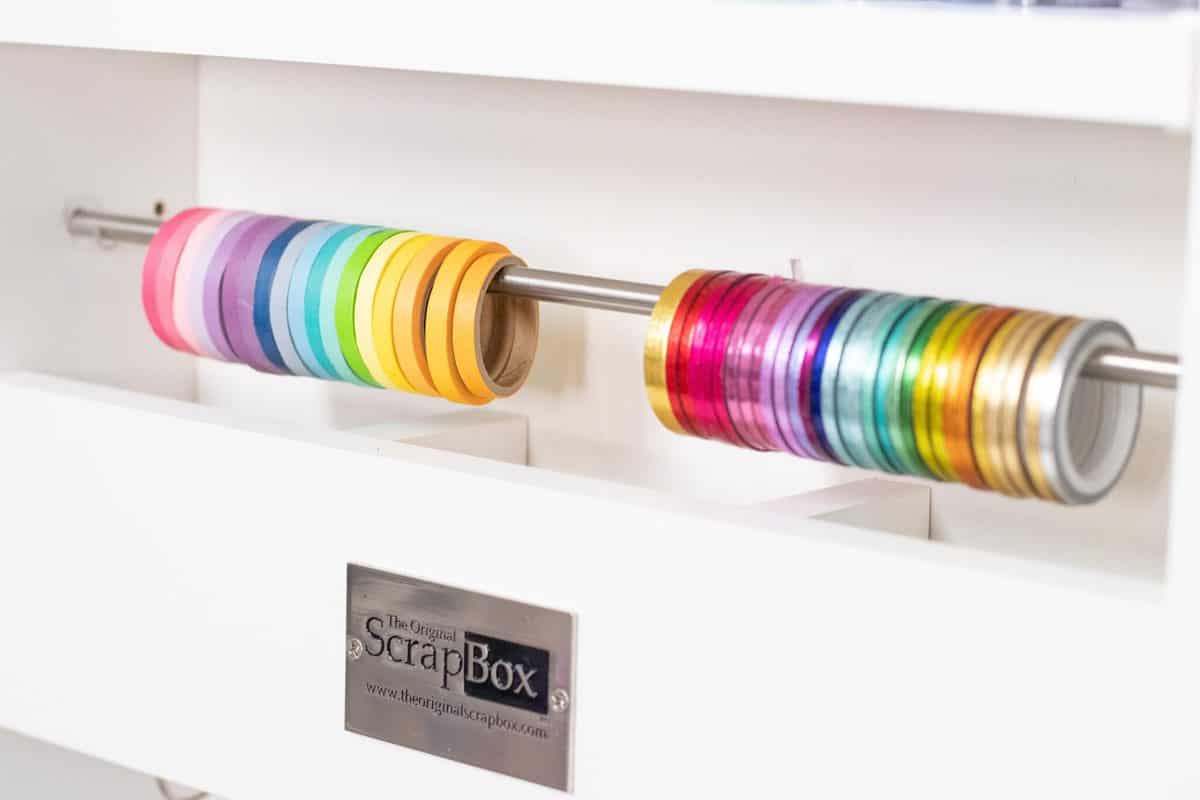 Each side of the DreamBox comes with its own set of 6 hooks. The hooks can hold a variety of different items. I use them to hold my Cricut tools like my weeding tool, spatula, and scissors.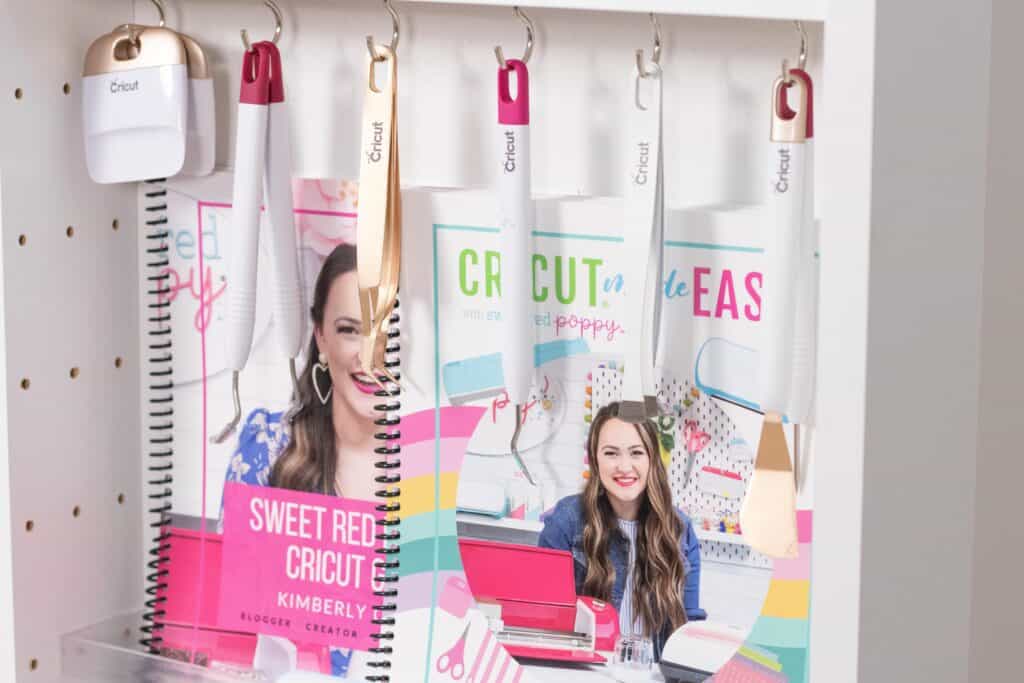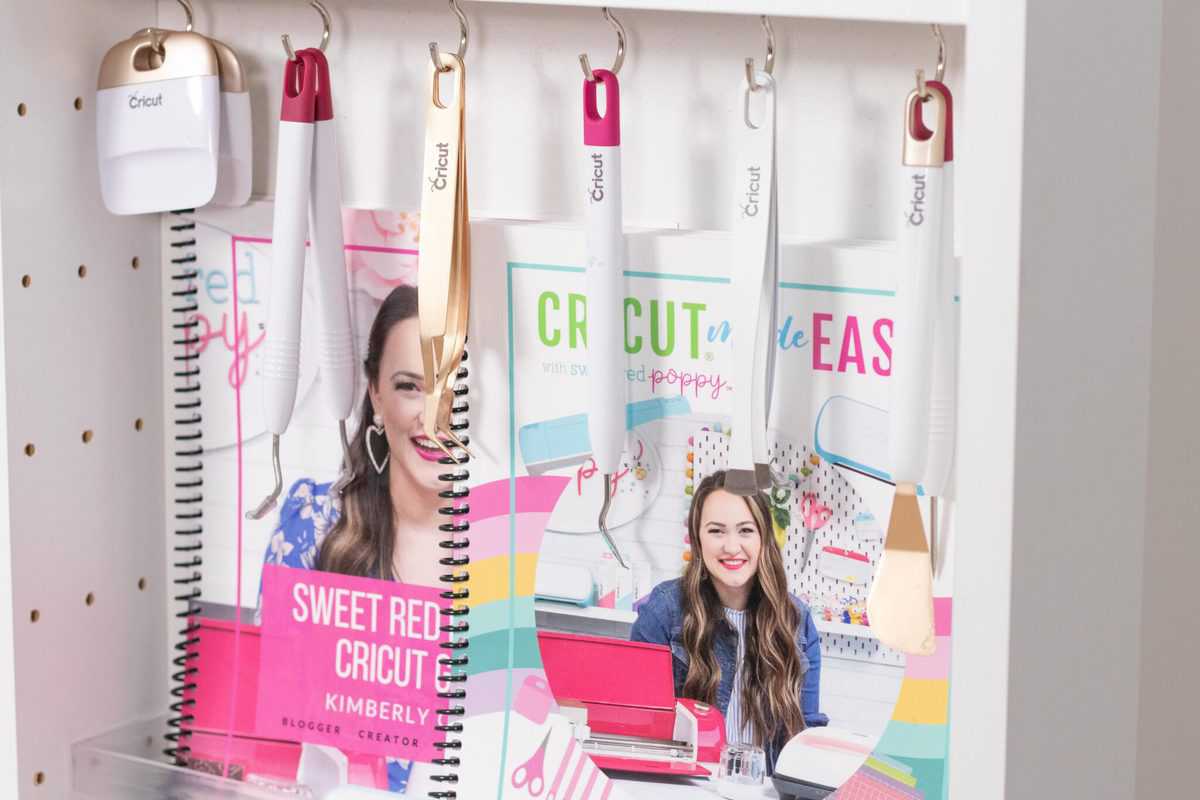 16 DreamBox Jars
These clear jars are perfect for storing small items like felt balls, buttons, and even glitter.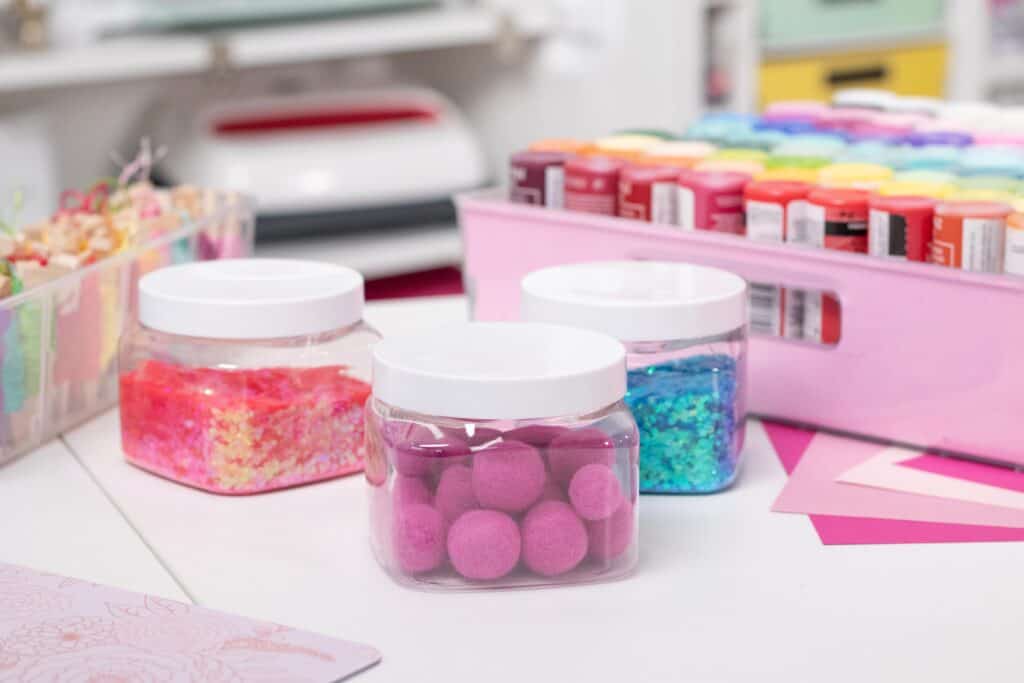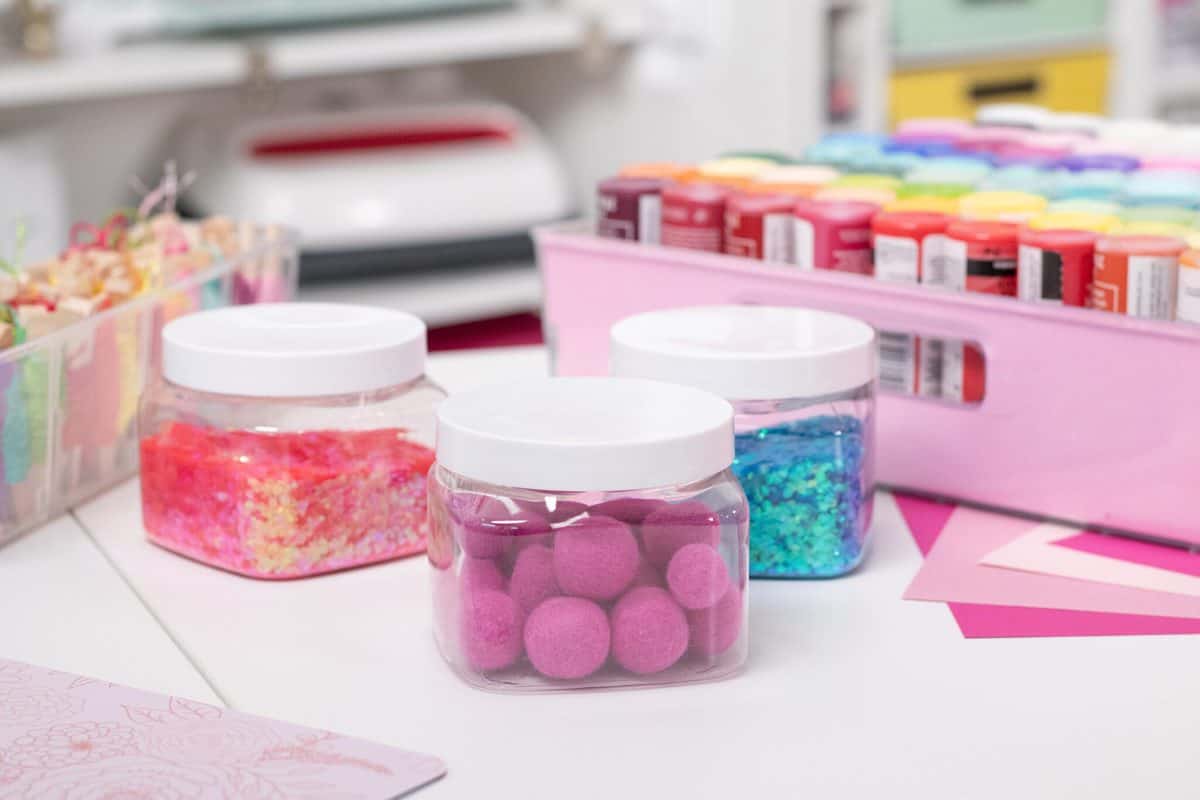 Crafting Table
The Dreambox comes with an adjustable table that can be used to sit or stand. Personally, I prefer using my Dreambox without the table which is why I removed mine. Instead, I like to use the DreamCart and Sew Station on the sides of my Dreambox.
In addition to what's included with your DreamCart you can also purchase accessories that are made for the Dreambox. There are quite a few different options but I have a few that I've tested thoroughly and got my stamp of approval!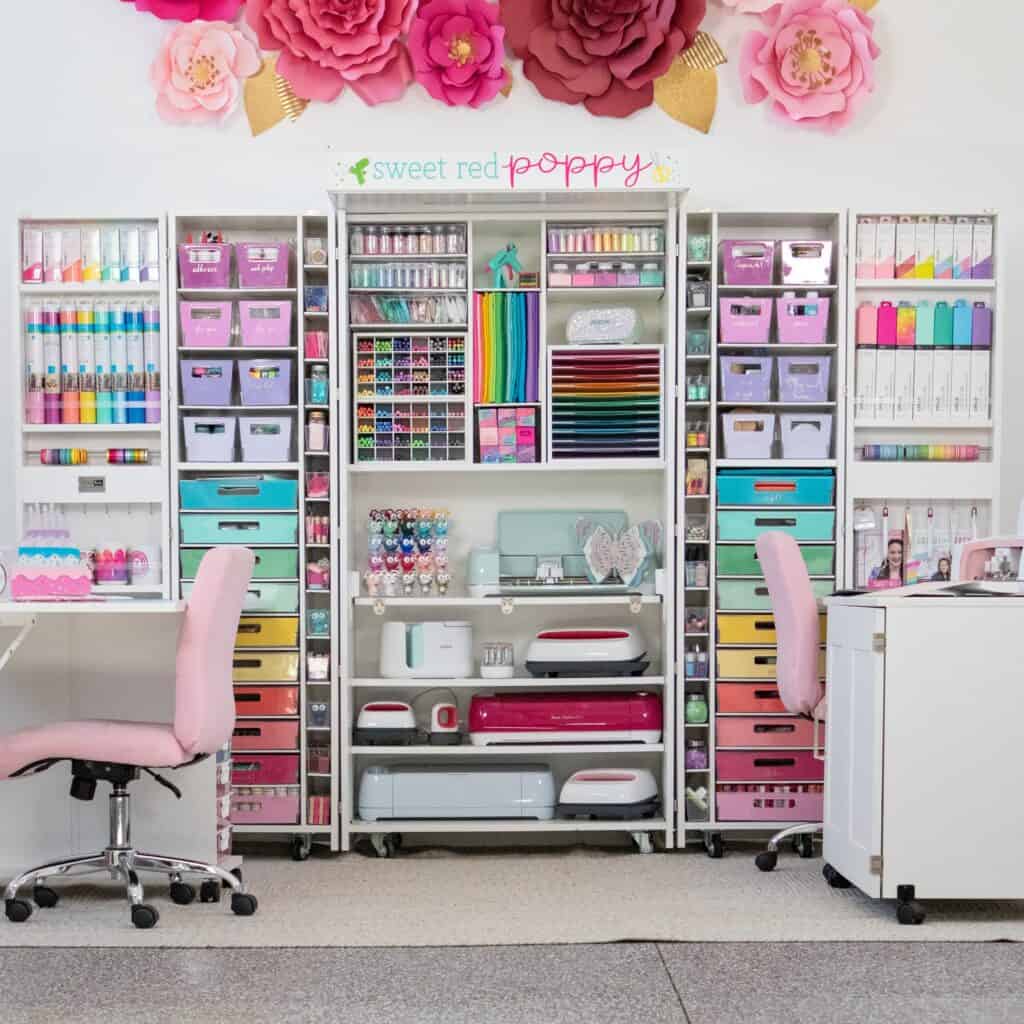 Add On Accessories
Tool Cubby
The tool cubby features 8 adjustable shelves that work with any tool size. I like using my tool cubbies to house all of my Cricut pens and markers. I've accumulated quite the collection over the years!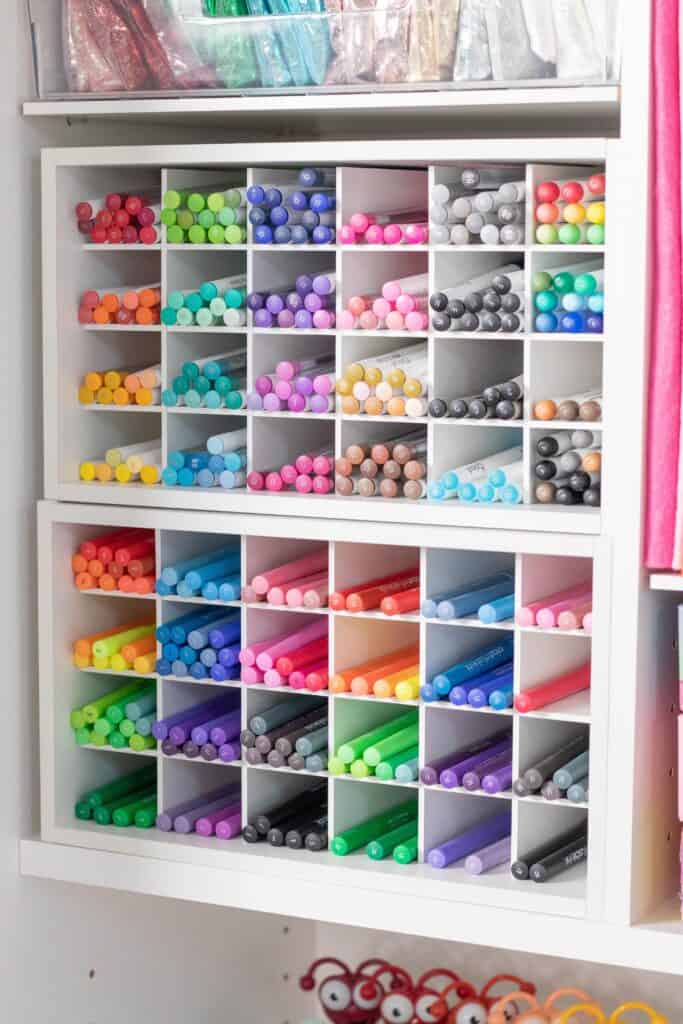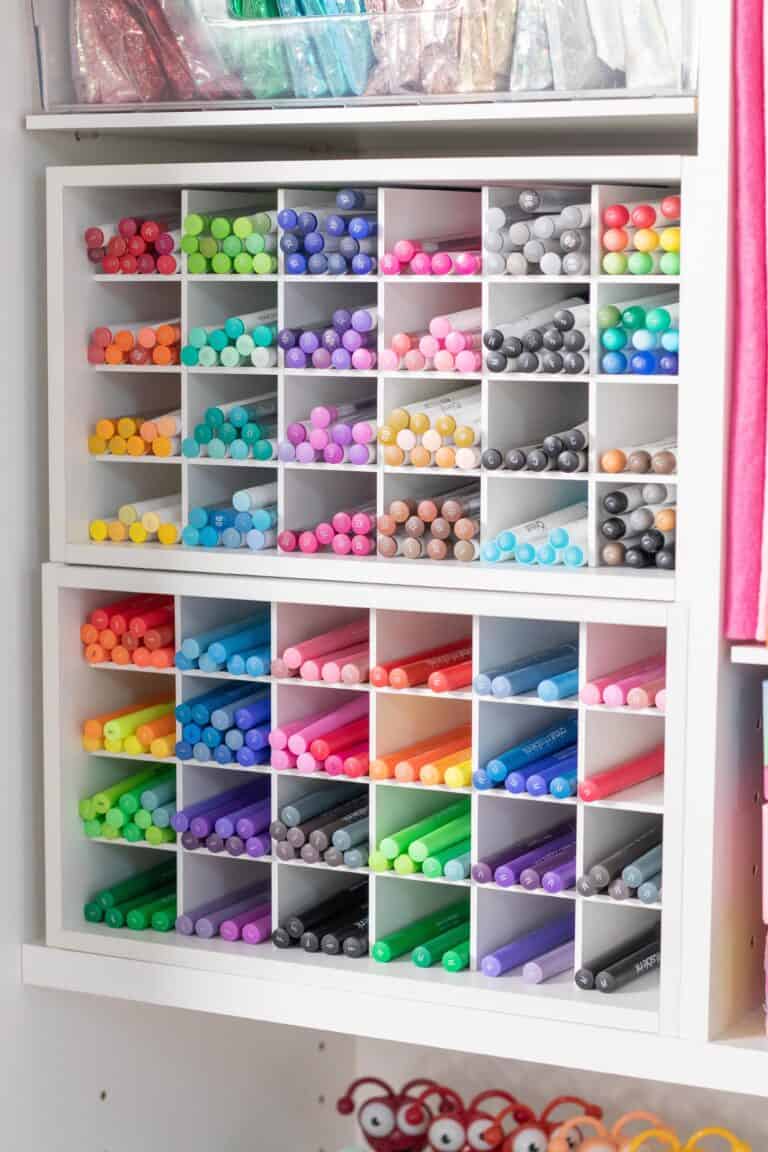 Crown with Light
One of my favorite parts of my DreamBox is the crown with the built-in light feature. This is ideal for late-night crafting and it also really adds to the look of the DreamBox.
InView Tote Lid
The InView Tote Lid is designed to fit the most popular large-sized totes. The lid snaps into place allowing the totes to be stacked for storage or easily transported.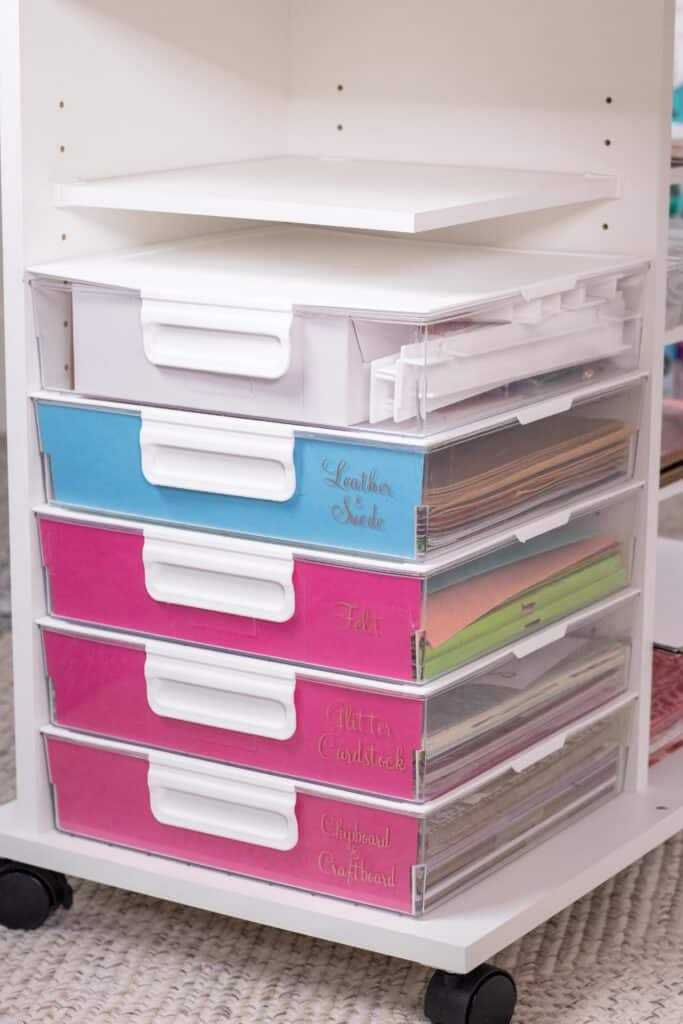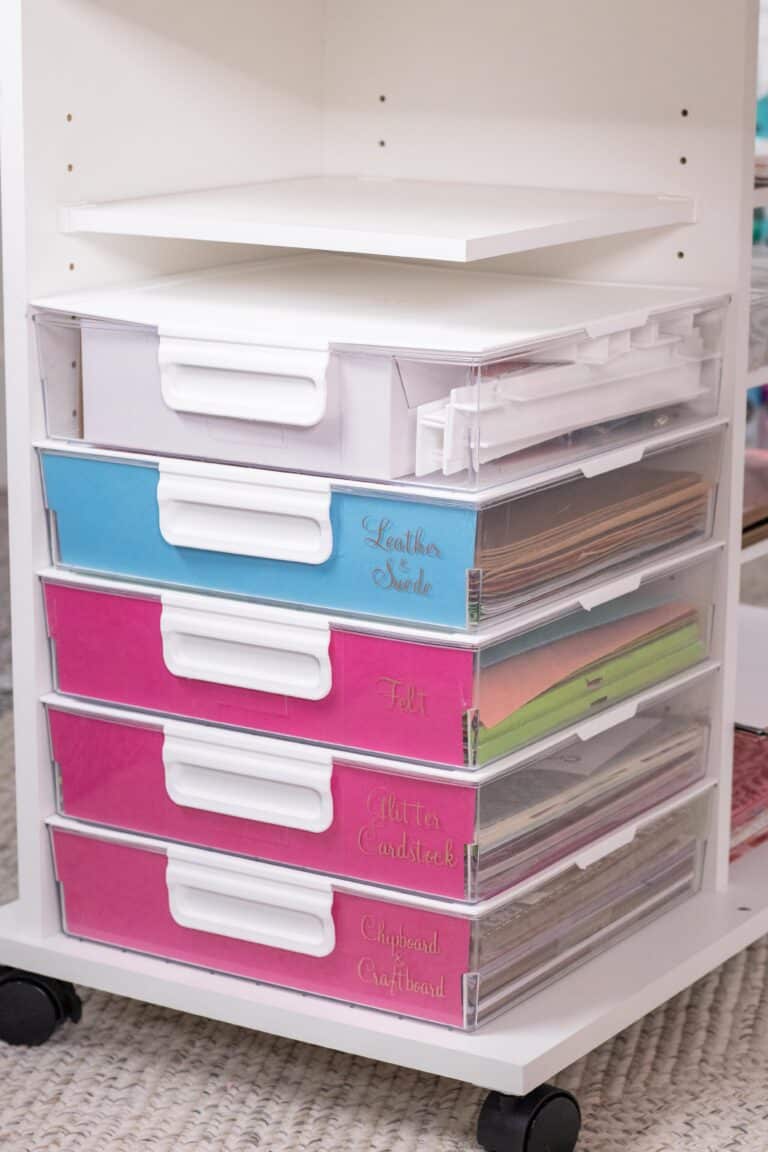 Paper Organizer
The paper organizer features 12 paper slots with removable shelves. You can use the organizer vertically or horizontally depending on how you want to store your paper or your vinyl. You can use it in the DreamBox or even in the Dreamcast. You can also remove one of the shelves and easily store Vinyl or Iron-On in the slots.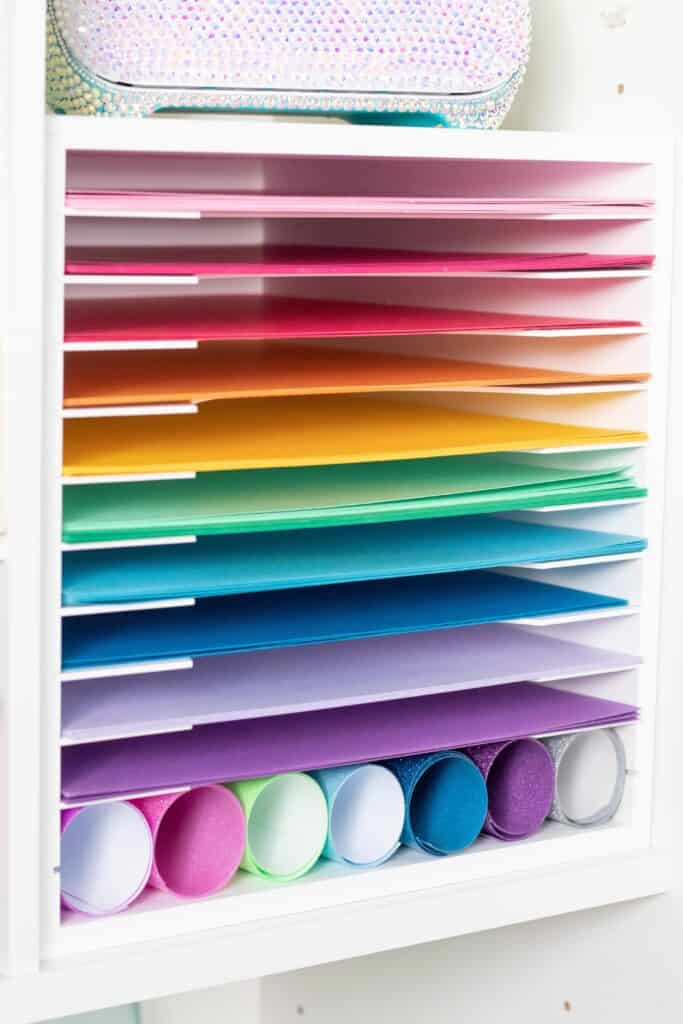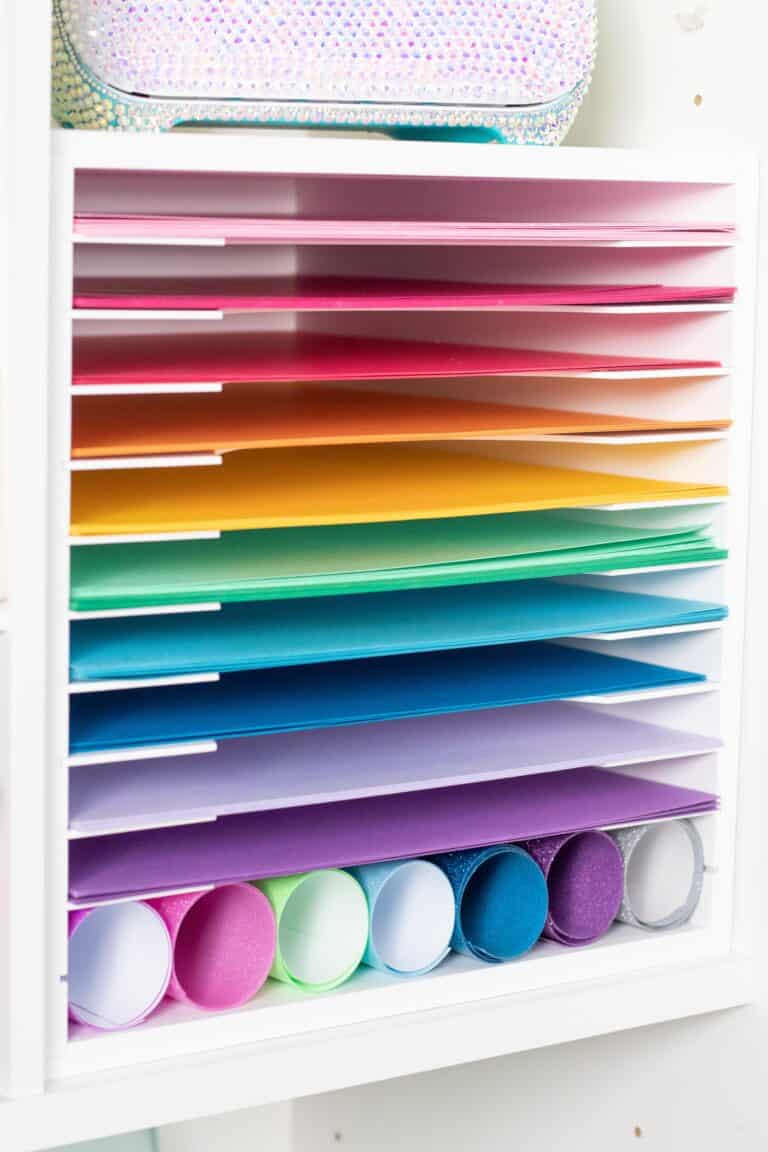 Plastic Notions Tray Inserts
This handy little insert allows you to easily organize all of your small notions. It can be used to store Cricut blades, tools, vinyl scraps, pens, washi tape, heat resistant tape and so much more.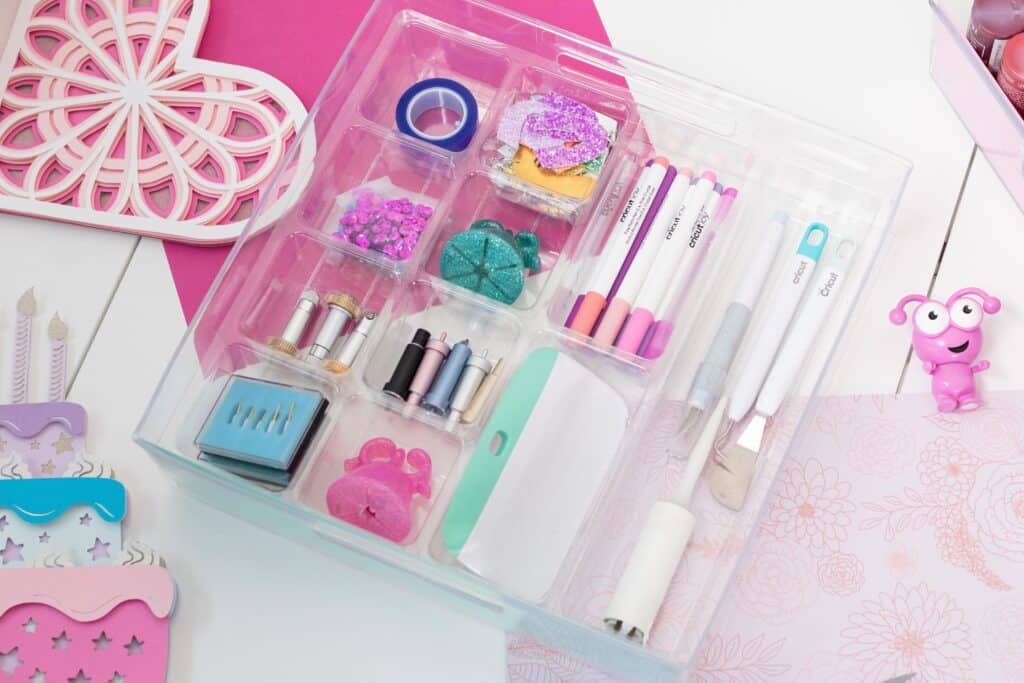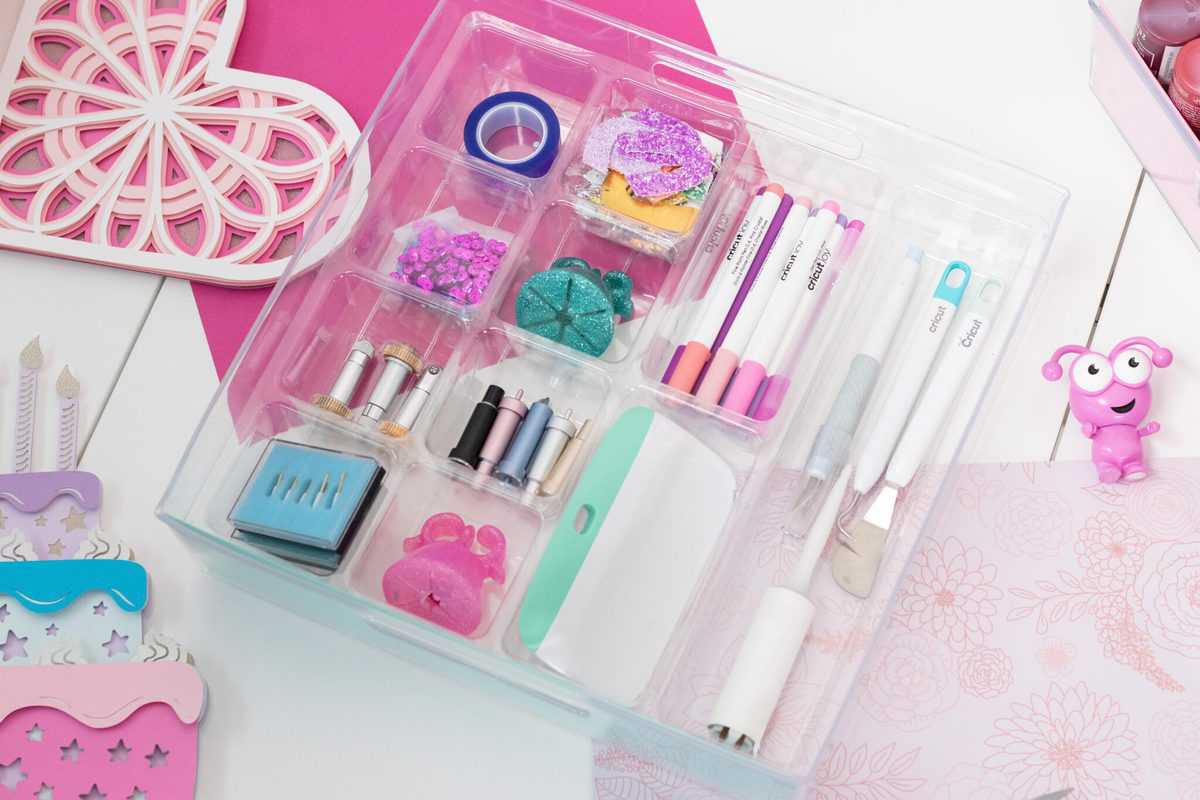 Overall, adding a Dreambox to my crafting space has been a huge game-changer! I love the level of organization that it adds to my crafting space. Did I mention that the entire Dreambox can close? Yep! It's pretty amazing.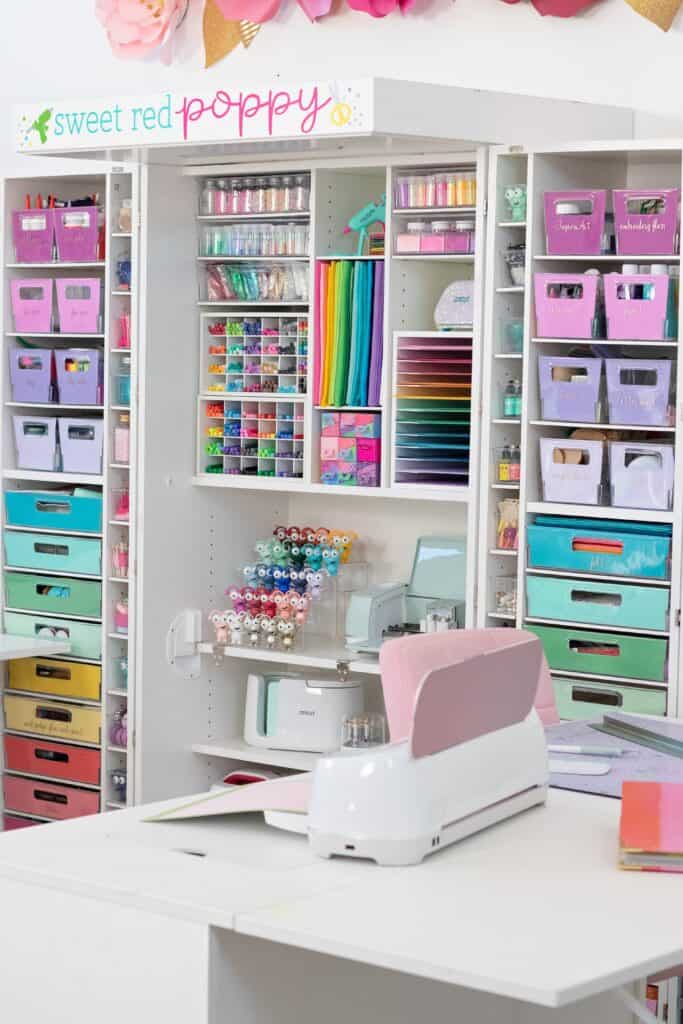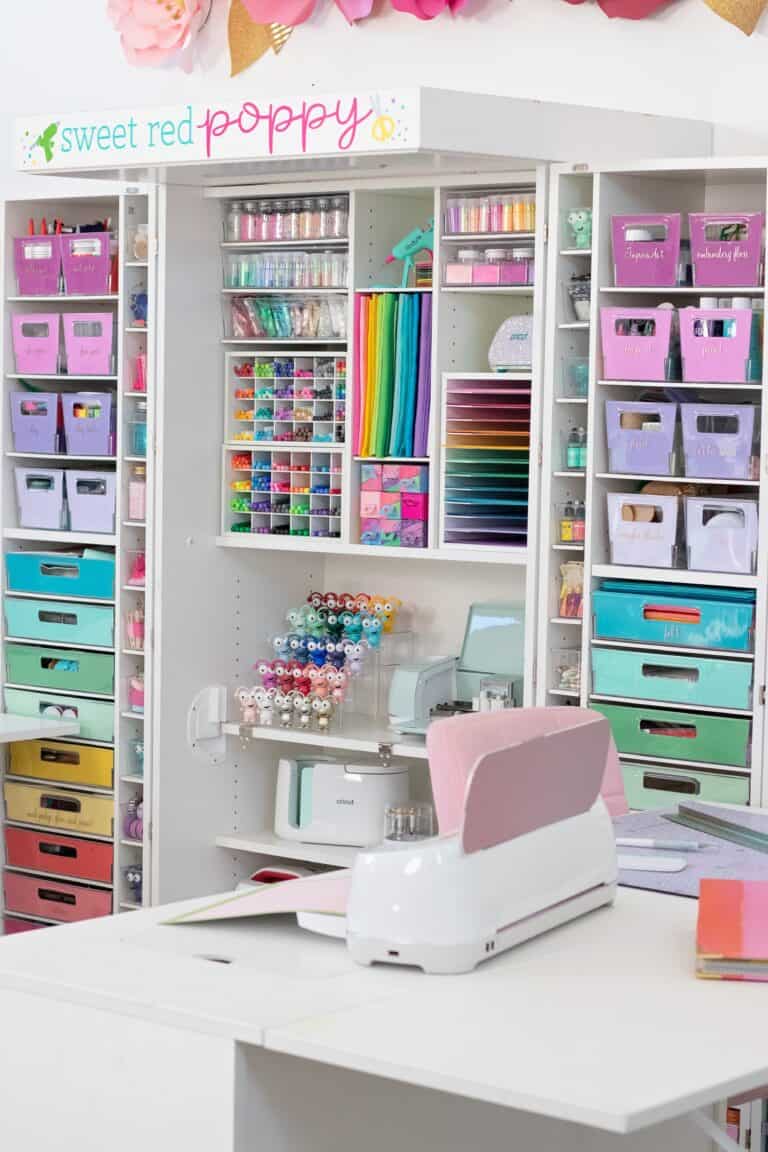 Want to save this post for later? Save this on Pinterest for inspiration! Click here to save.
Do you have questions about the Dreambox? Leave them in the comments below!