Learn How to Tie-Dye Using the Ice-Dye method with Tulip Tie-Dye to Create Amazing Watercolor and Galaxy-Like Patterns on Plain Garments!
This post is sponsored by JOANN. All thoughts and opinions are my own.
For this tutorial, I'm tie-dying a table runner and a few of t-shirts using the ice-dye method for a 4th of July celebration with my daughters! Tie Dye is a family-friendly fun summer activity that everyone will surely enjoy!
You've likely tried tie-dye before, but have you tried the ice-dye method? This is one of my favorite ways to use tie-dye to get unique patterns of colorful gradients.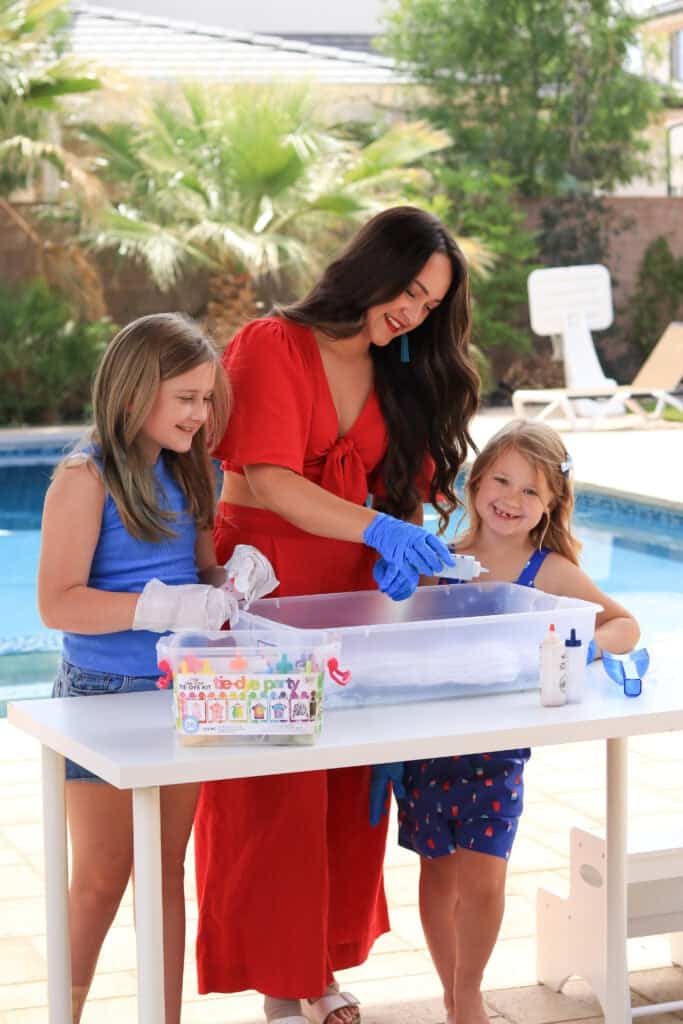 This technique is one of my favorites, especially during the summertime, and I'm so excited to share the process and finished result. The steps are simple- all you need is a dyeable garment, powdered fabric dye, and ice.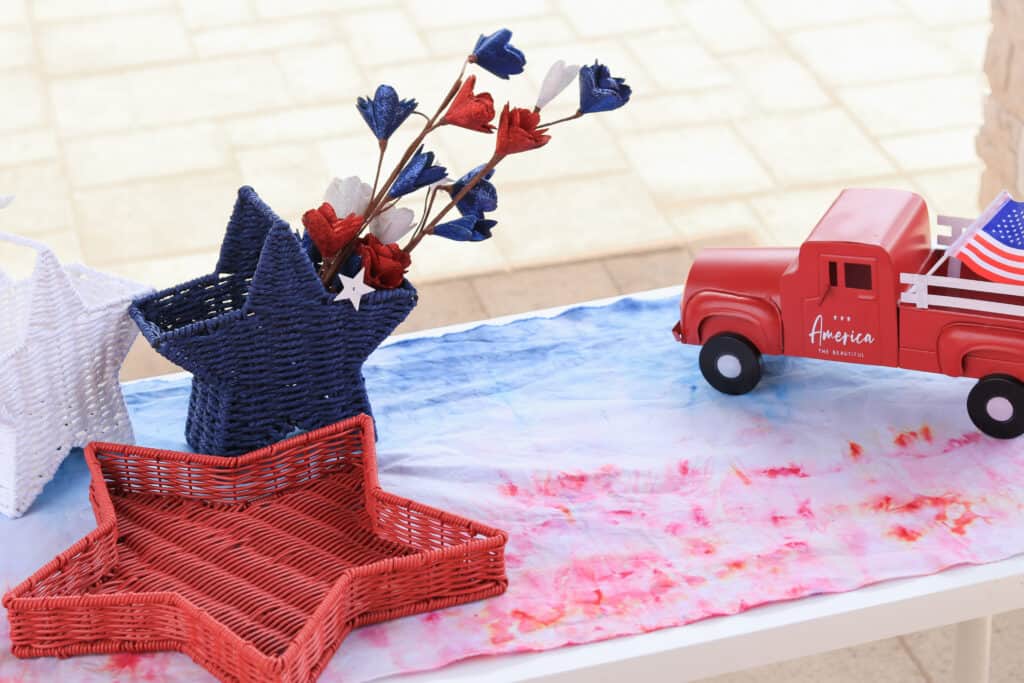 I like using the ice-dying technique because the results look more organic and galaxy-like. It basically has the same effect as watercolor does on paper. This method also allows for more color variations than the normal tie-dye technique.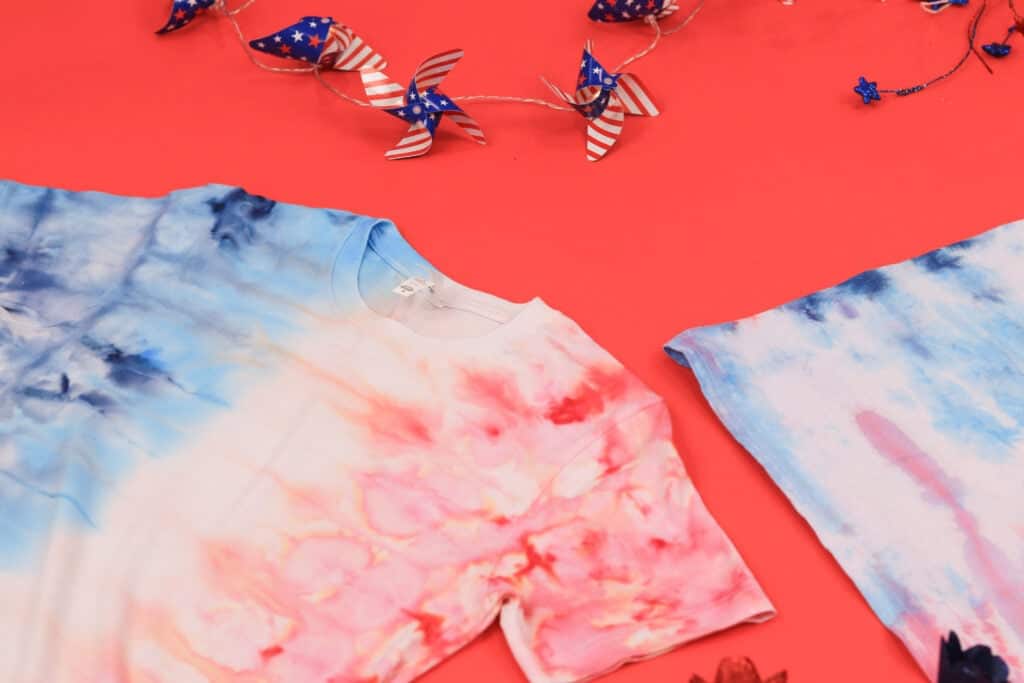 When using this technique, powdered fabric dye or all-purpose dye is the best for ice-dying. You can mix the dye powder with water or leave it in its powdered form. I'm going to be using Tulip Tie-Dye from my local Joann store.
What Materials Can I Tie Dye?
When it comes to tie-dye, the options are truly endless! But the most important part of this process is to look for a natural base that's made primarily of cotton or Rayon fabric.
Synthetic fabrics such as polyester will have a harder time holding onto the dye and will have less vibrant-looking results.
Another thing to keep in mind is that dyeing a white base will give you the most vibrant results without altering the color of the dye. You can dye darker bases, but you won't get the same vivid results.
Should I Prewash My Fabric Before Dyeing?
Yes! For the very best results, I always recommend washing your base material before applying dye. This will remove any sizing or chemical that may have been added to the material during production. The dye will absorb best on a freshly washed material.
Supplies Needed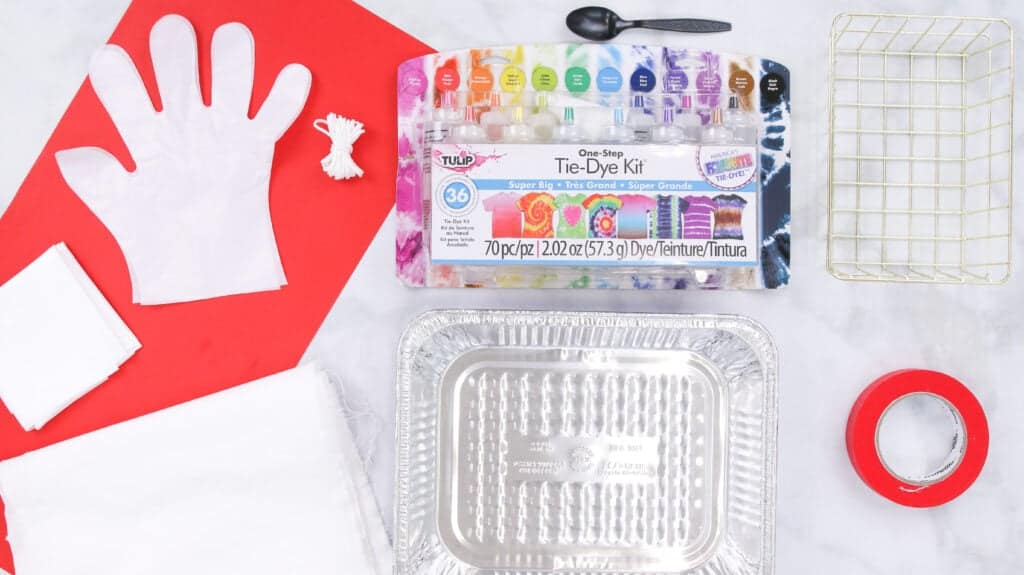 Tulip Tie Dye Kit or Powdered Dye
70-100% Cotton Material
Bucket of Ice
Metal Cooling Rack or Dish rack
Plastic Tablecloth or Garbage bags
Storage Bin or Washtub
Disposable Spoons
Dust Mask
Laundry Detergent
If you're new to Tie Dyeing, I recommend grabbing a Tulip Tie-Dye Kit for the best results. Your kit will come with a variety of dye colors, rubber bands, instructions, a plastic table covering, and gloves.
I always recommend picking up a higher-quality pair of gloves than what comes with the kit. I find the tighter-fitting Rubber Gloves are much easier to work in.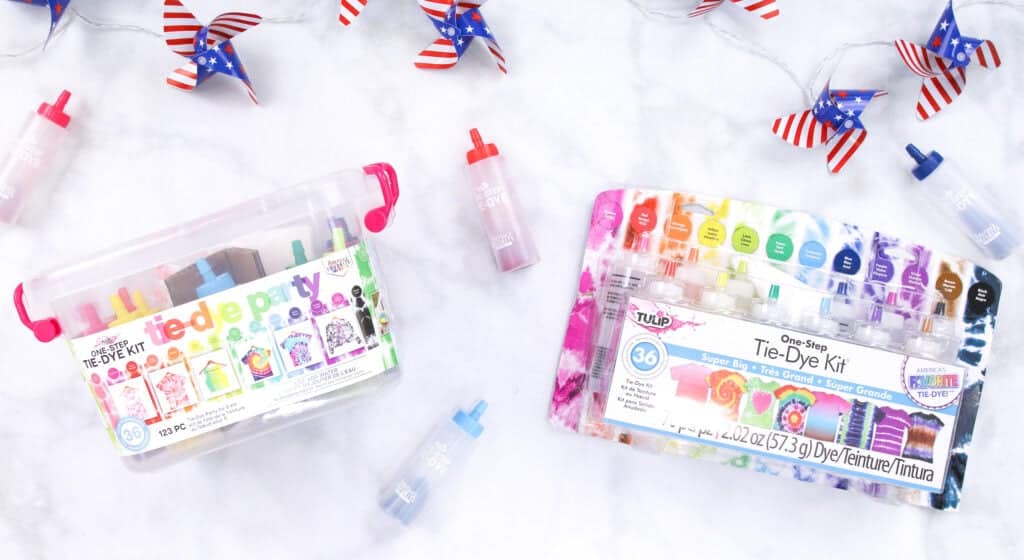 Prepping the Fabric
Pre-washing your fabric will eliminate any residue on the material from the manufacturing process and help give you the best results. If you're not using Tulip Tie Dyes, you may need to pre-soak the fabric in soda ash depending on the brand you're using, but when using Tulip Tie Dye you can skip the soda ash.
Using a minimum of 80% cotton fabric will also help you get the best results.
Folding Techniques
There are many tie-dye folding techniques you can use! There's the spiral, bulls-eye, linear, etc. Feel free to use any of them for the ice method. I decided to tie-dye my garments using the linear and crumple technique. You can refer to your Tulip instructions for a variety of folding technique options.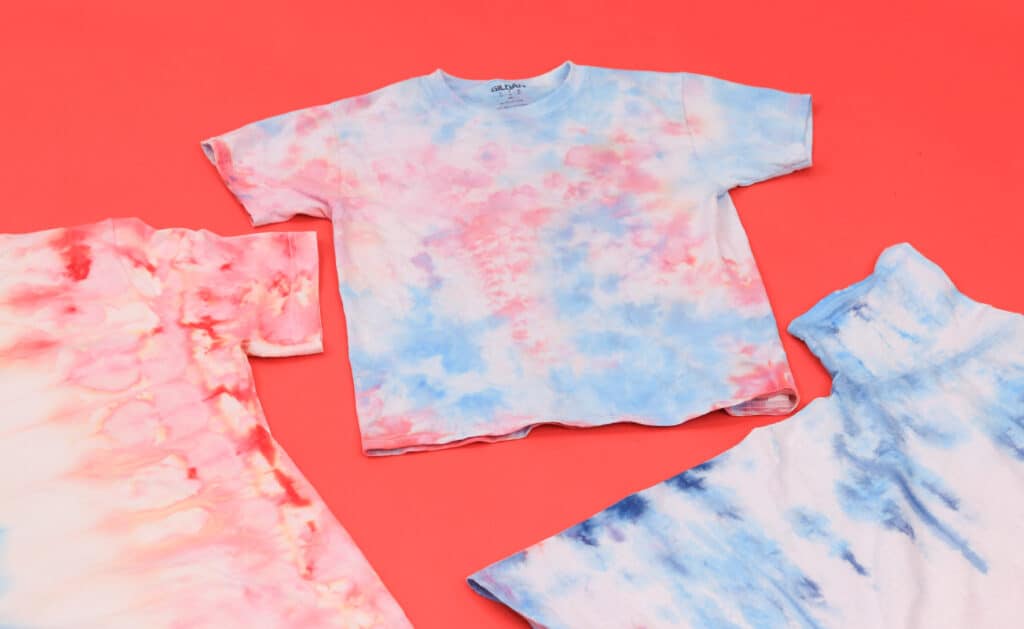 How to Ice-Dye
Step One: Prepare the Surface for Tie Dye
The first step is to prepare your surface. Cover your surface with a tablecloth or garbage bag to prevent any dye from staining your surface.
This step is REALLY important. Just ask me how I know this. 🤣 I've stained way too many tabletops thinking I could get away without a protective layer between my project and table.
Next, grab a bin and set a rack inside. I recommend grabbing a metal or plastic rack to prevent your fabric from becoming too muddy as the ice melts. This will elevate the project so it doesn't have direct contact with the melted dye in the bottom of the pan, which gives you more vivid results.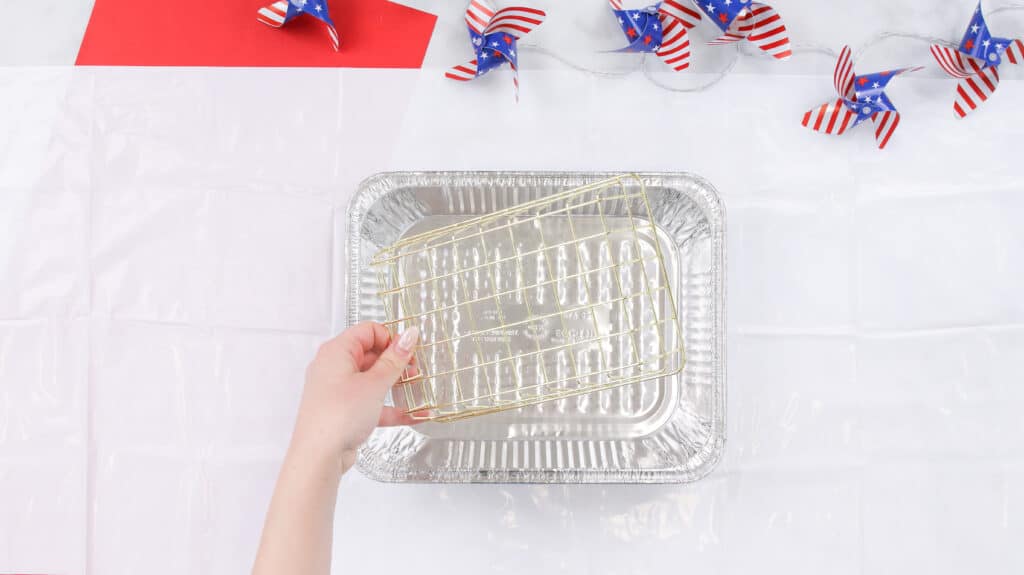 Step Two: Fold or Scrunch Your Base Into the Desired Pattern
Fold or scrunch your material into your desired pattern. The technique below is called the crumple technique. You grab parts of the fabric and crumple it. There's no right or wrong way to scrunch your fabric. You can use an iron to help set the scrunched design into place.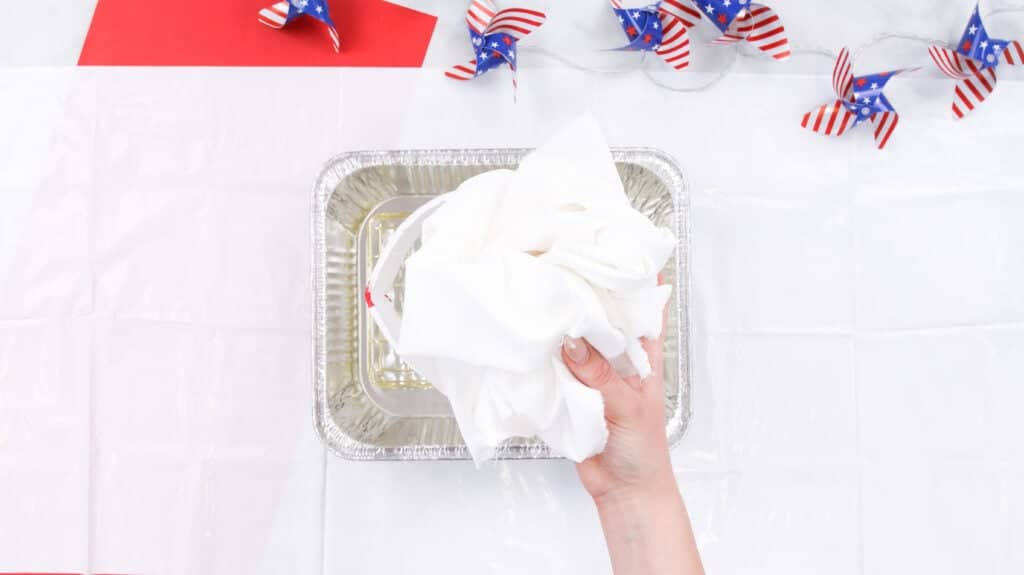 You can wrap rubber bands around your fabric to secure it into place.
Or you could grab a strip of cardboard or foam piece and make a border to keep the ice in place. To make a border, tape the ends of a strip of cardboard together to form the wall, place it on the rack in your tub, and put your scrunched fabric inside.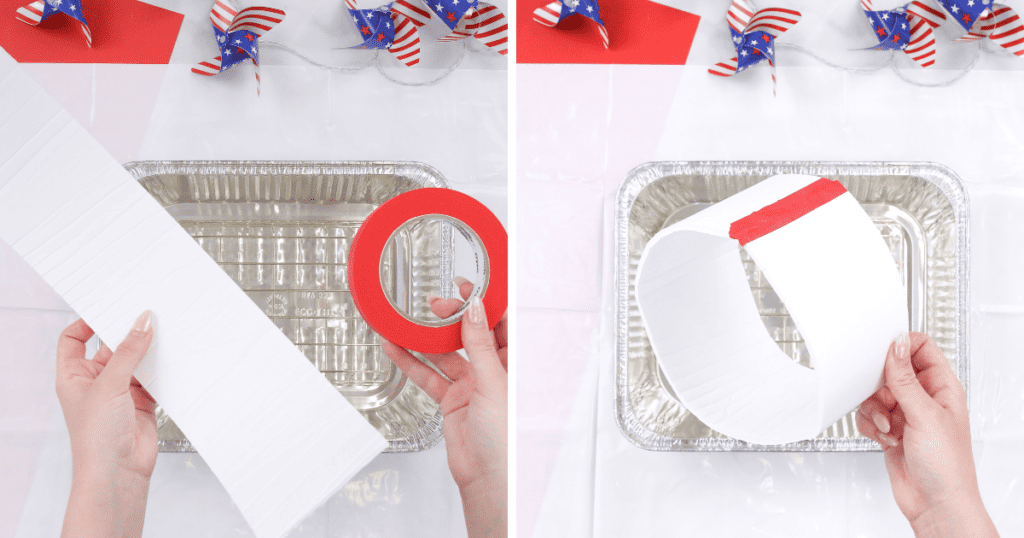 Step Three: Add the Tie Dye to the Material
The next step is to sprinkle the dye over our material. Again, you can mix the dye in water or use it in its powdered form. I prefer using the dye dry to get the best results.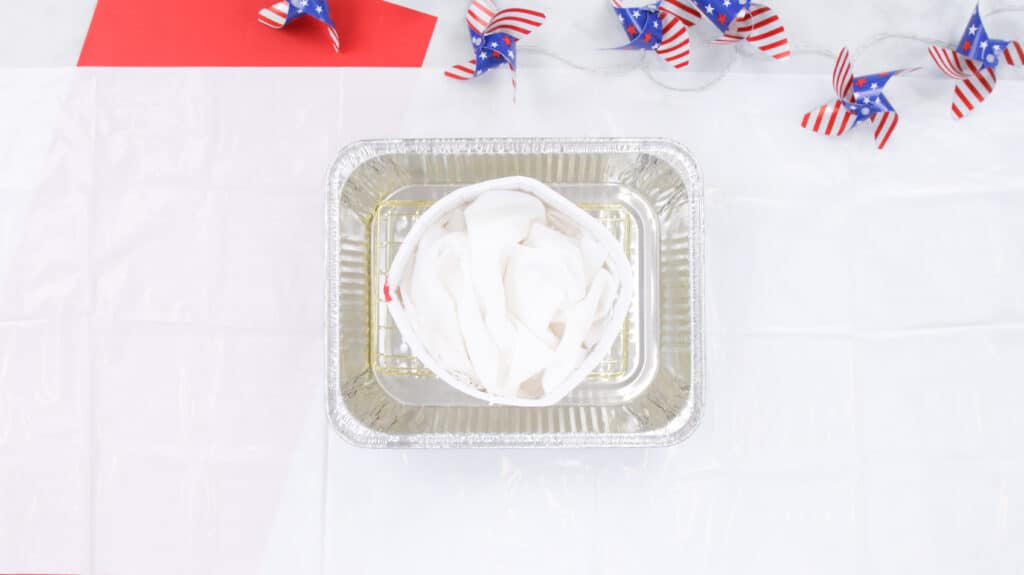 Sprinkle the colored dust onto the fabric however you want- it can be random or controlled. I just dusted the fabric by shaking the squeeze bottle.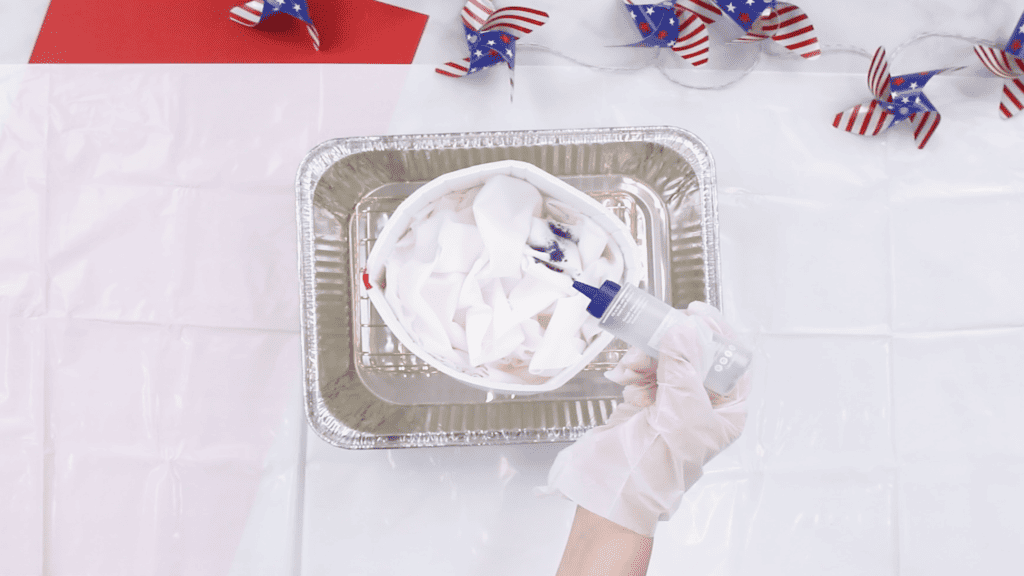 Note: Powdered dye has different colored particles that make up the color you're using and can show up during the melting process. For example, if you are using a green dye, yellow and blue will appear.
If you don't want a variety of colors to appear, I recommend mixing the dye in water because dissolving the dye in water will turn it into a unified color, and you won't get the same effect as the melted ice mixing with the powdered.
Step Four: Add the Ice to the Dye
After sprinkling the first layer of dye, it's time to add the ice.
Dump handfuls of ice onto your fabric until it's fully covered.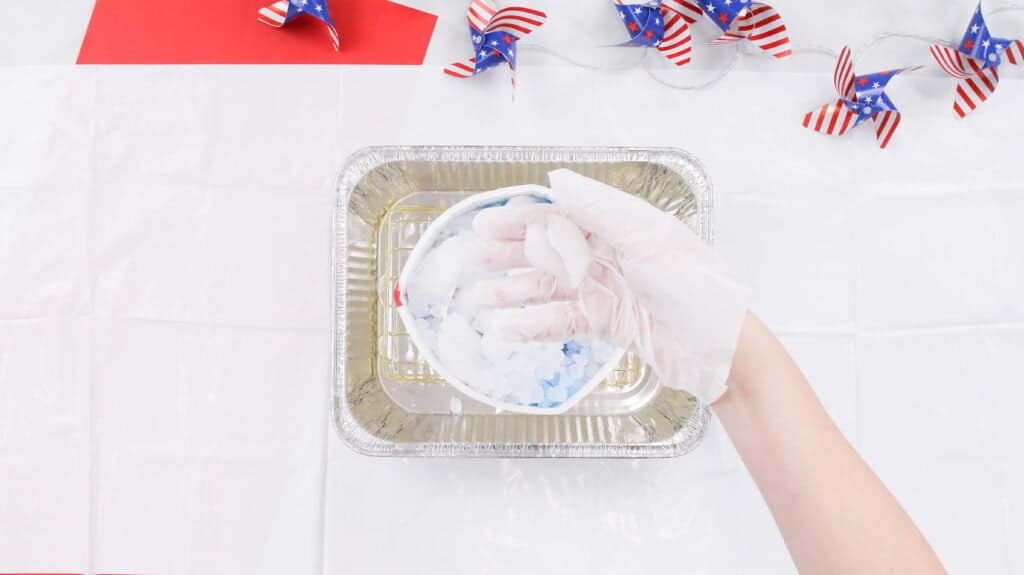 Note: Places that don't have ice will be left empty, meaning those areas will not be dyed. It can also happen if your material is tightly wrapped or crimpled.
Pro Tip: If you don't want any empty spaces, fully cover your material with ice.
Then, sprinkle more powdered dye on top of the ice randomly or in a more controlled way.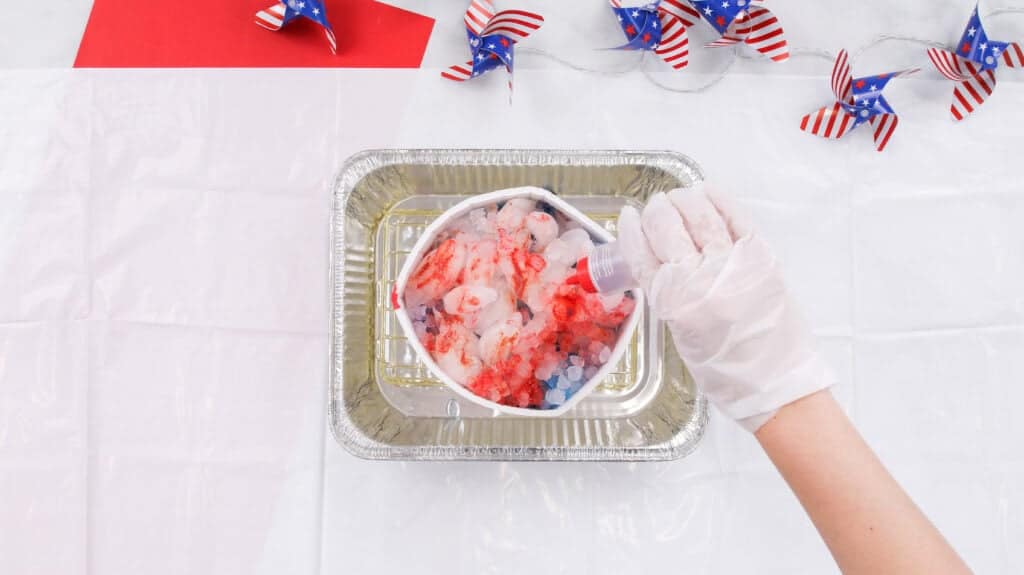 Step Five: Allow the Ice to Melt and Dye to Set
Let the ice melt completely. Afterward, you can wait 6-24 hours for the tie-dye to set for vibrant colors. If you want pastel colors, you can wash it immediately or wait a few hours after the ice melts.
As the ice melts, the powdered dye will mix with the water and create organic watercolor-like shapes.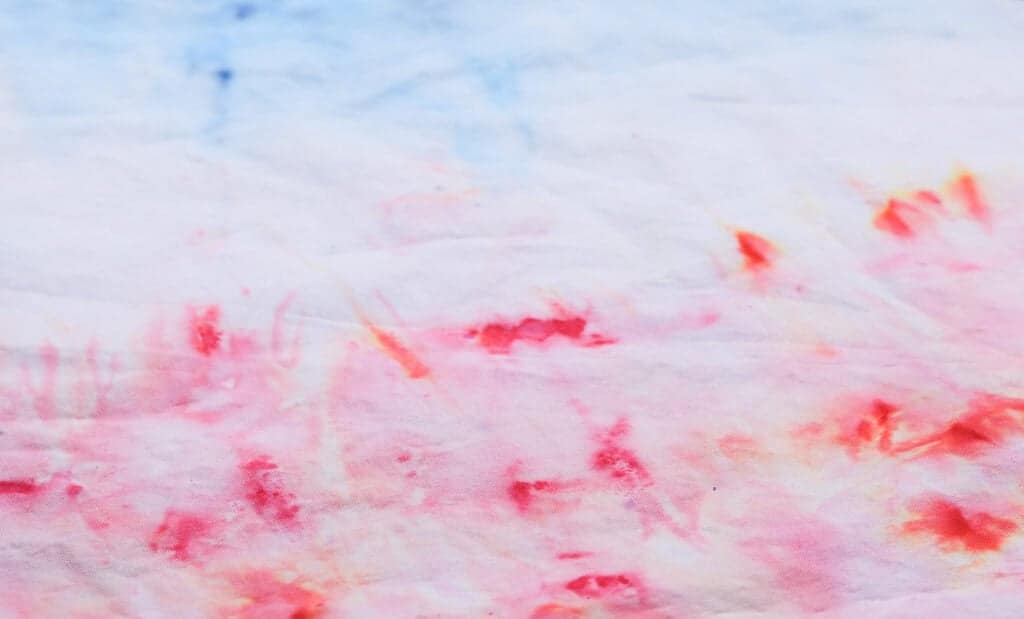 I'm placing my material with ice outside since I live in a warmer climate, and then I let it completely melt.
Step Six: Rinse By Hand and Machine Wash
Hand rinse the garment to remove any excess dye with cold water until the water runs clear. It's important to use cold water during the process to avoid the colors running together. Afterward, put it through your washer and dryer.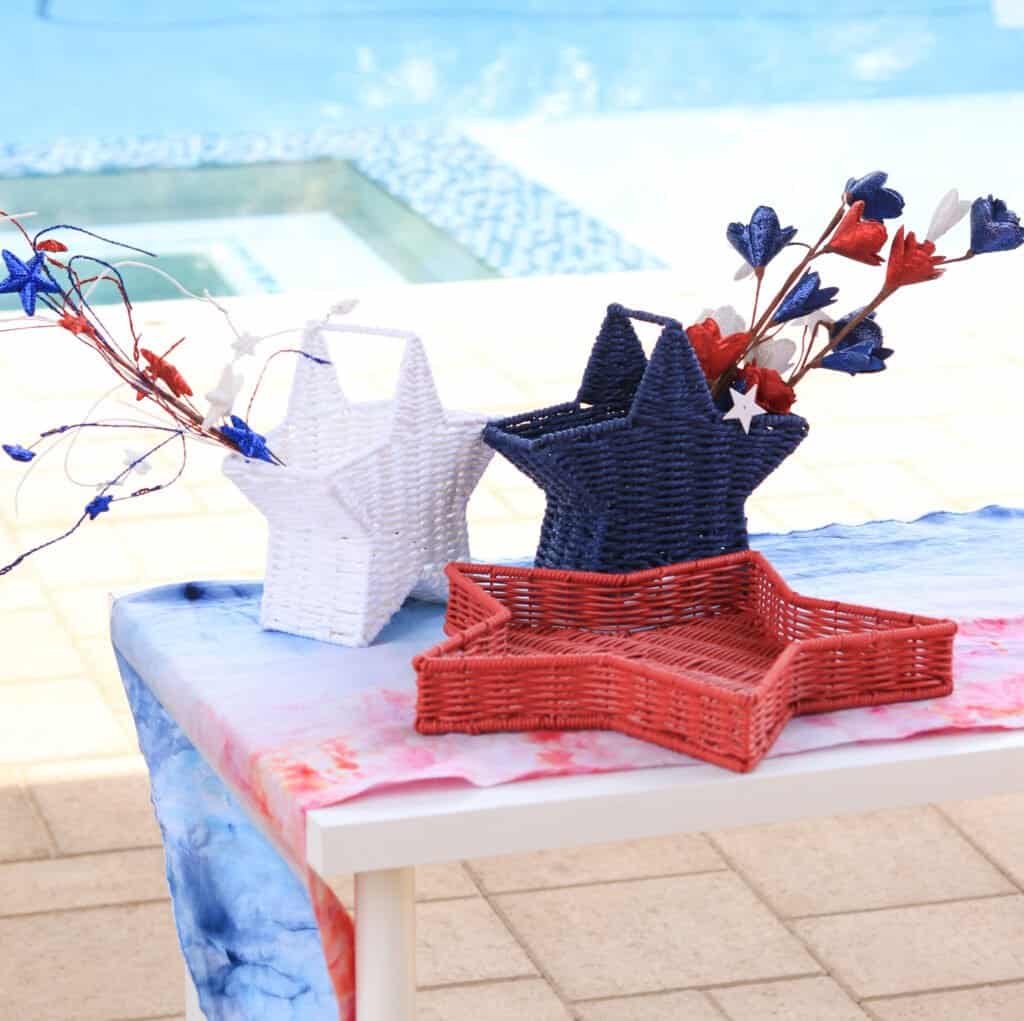 Finally, put the garment through the wash and dryer separately, and now you have a beautiful ice-dyed piece of clothing!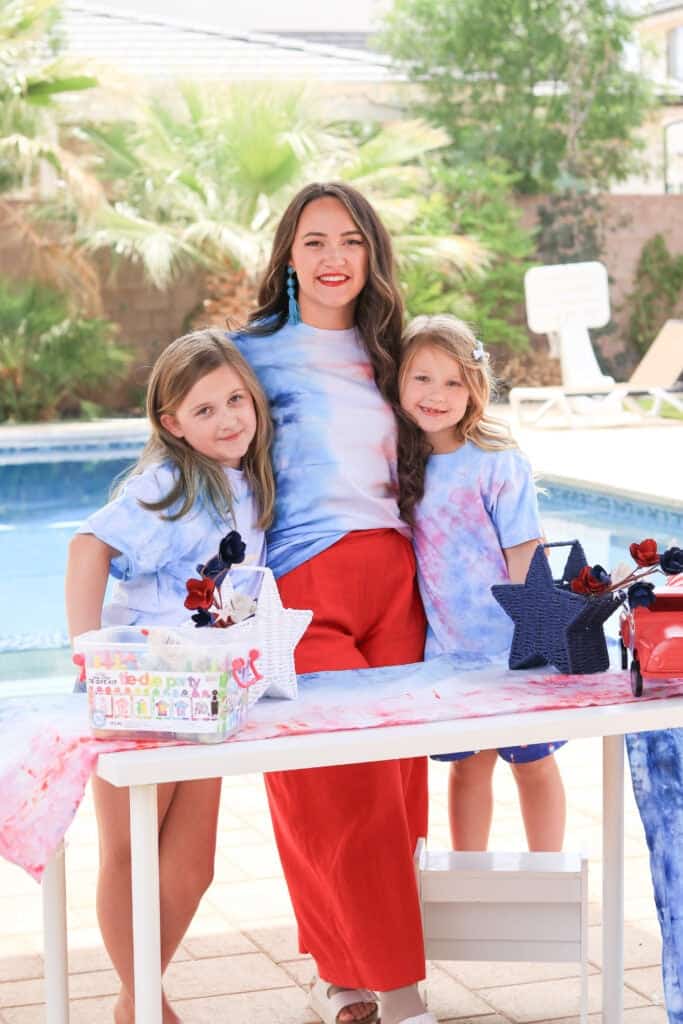 Looking for more tie-dye projects?
Don't want to forget about this craft? Click here to save it on Pinterest!