Learn How to Get Perfect Pastel Tie Dye Results with this DIY Tie-Dye Step-by-Step Tutorial.
Tie-Dye is one of the biggest trends of the summer and I'm going to show you two different ways that you can achieve the perfect pastel Tie-Dye!
First off, a big thanks to JOANN for sponsoring this blog post and video. All of the products that I'm using today can be found at your local JOANN store or on Joann.com
I'm going to be using two different Tie-Dye kits in today's video to show you different techniques for achieving the perfect pastel Tie Dye.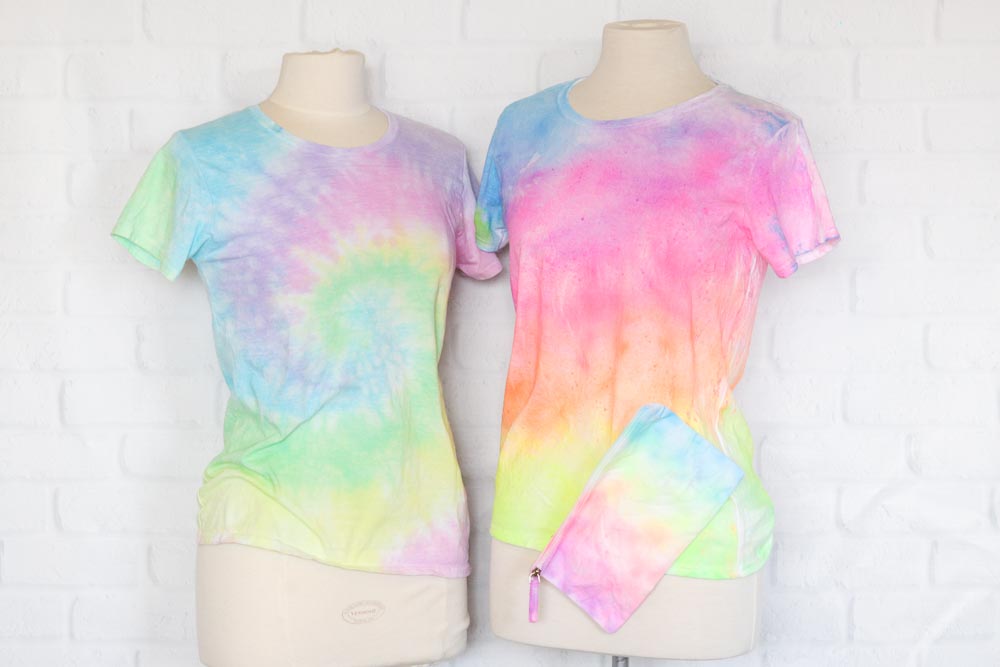 Up first we are going to use the SEI Tumble Dry Neon Tie Dye Kit. This pack retails for about $20, but you can usually use a coupon on it to save about 40 percent! It comes with 8 pre-mixed Tie-Dye spray bottles.
What I like about this kit is that you don't have to mix anything together, you don't need any additives like soda ash or salt and the dye lasts for more than just a few hours, unlike other brands.
It's recommended that you use a 100% cotton T-shirt, but you can use as low as 50% cotton and still get lasting, vibrant results.
SEI Tumble Dye
SUPPLIES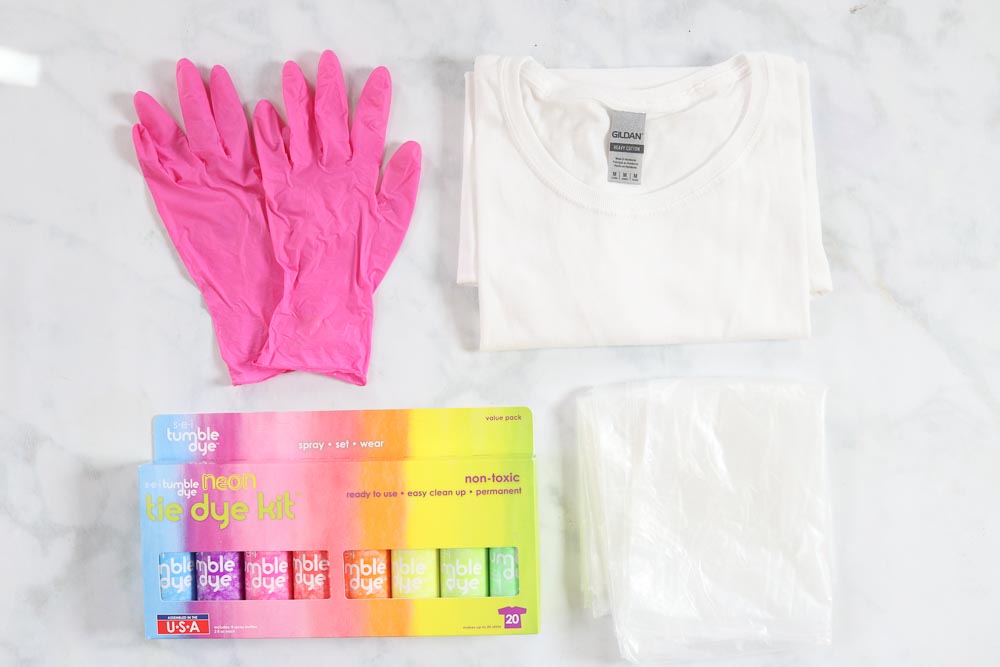 Start by laying out a piece of plastic to cover your table.
Just a warning, Tie Dye is pretty messy, so you might want to put on an old outfit or wear an apron to protect your clothing from unwanted splatters!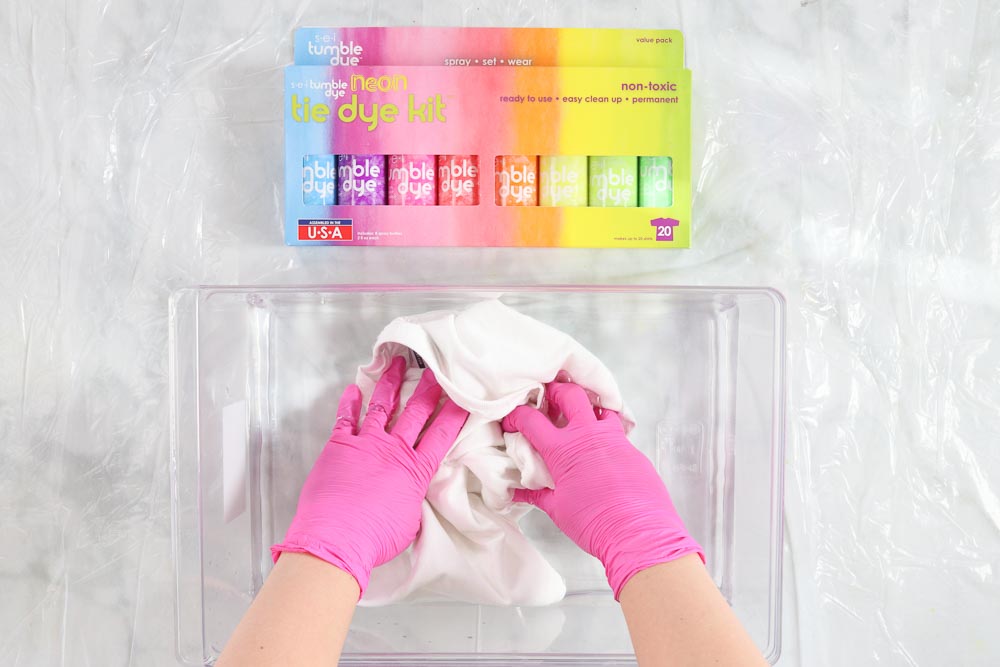 Completely saturate your T-shirt or whatever you're planning on dyeing in water and ring it out. This will help you to achieve the best results possible and it allows the dye to be absorbed more easily.
Lay the T-shirt out in front of you on the table with the right side facing upwards.
Now it's time to open up the dye. It's really important that you shake it thoroughly otherwise the color may come out clumpy. I like to do a test spray on a piece of paper towel just to make sure the nozzle is working and spraying evenly.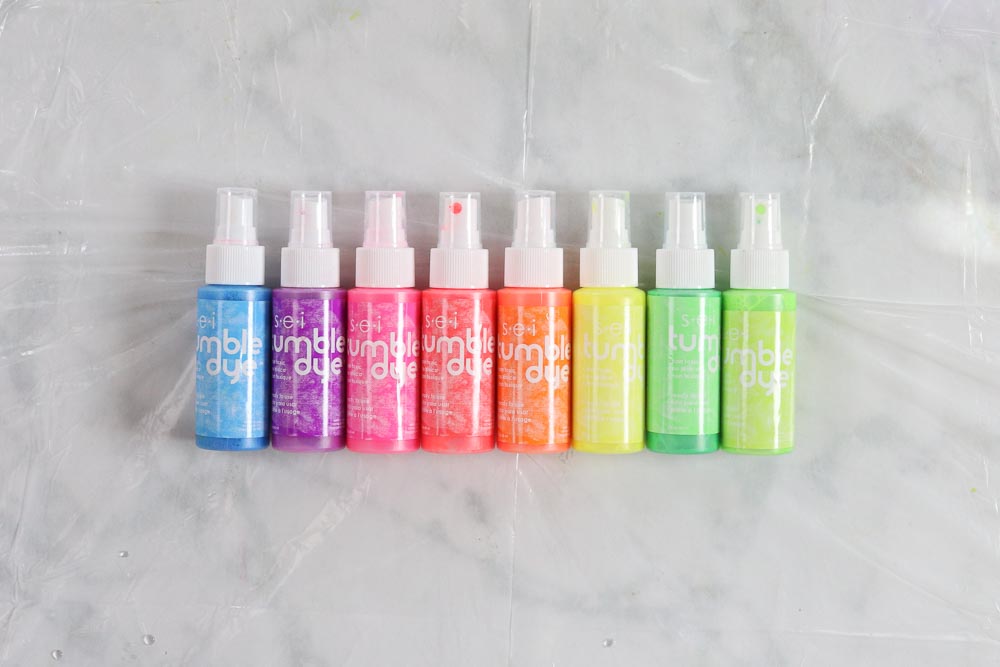 Now you can spray it on randomly or create a specific design. I'm going to cover the majority of the fabric with dye because I want to end up with very little white fabric leftover.
Once you've covered the entire front, flip the shirt over, and repeat the process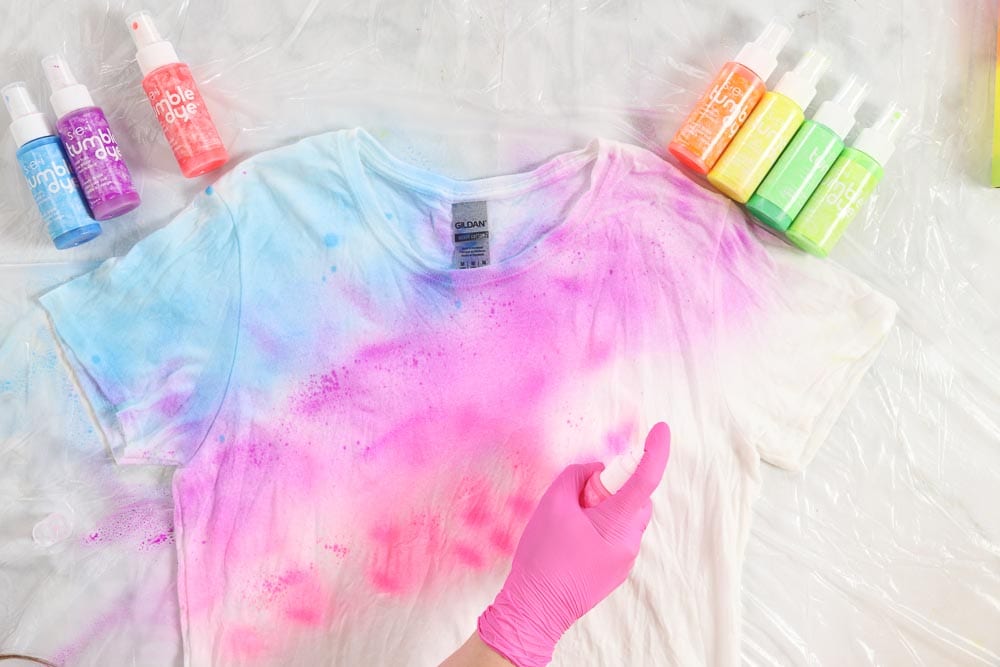 Now you need to let the shirt dry completely. Once it's dry, go ahead and place it in the dryer for 20 minutes to dry. This will set the dye. You can also set the dye by using an iron over the dye.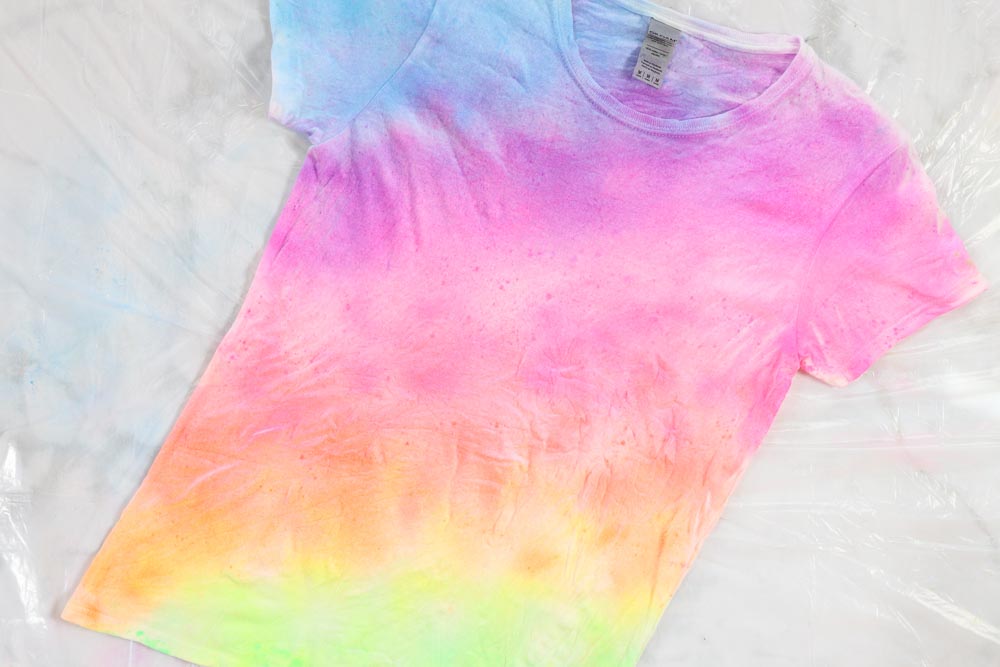 I love how vibrant this T-shirt turned out! What do you think?
Next up, we have a traditional Tie Dye Kit!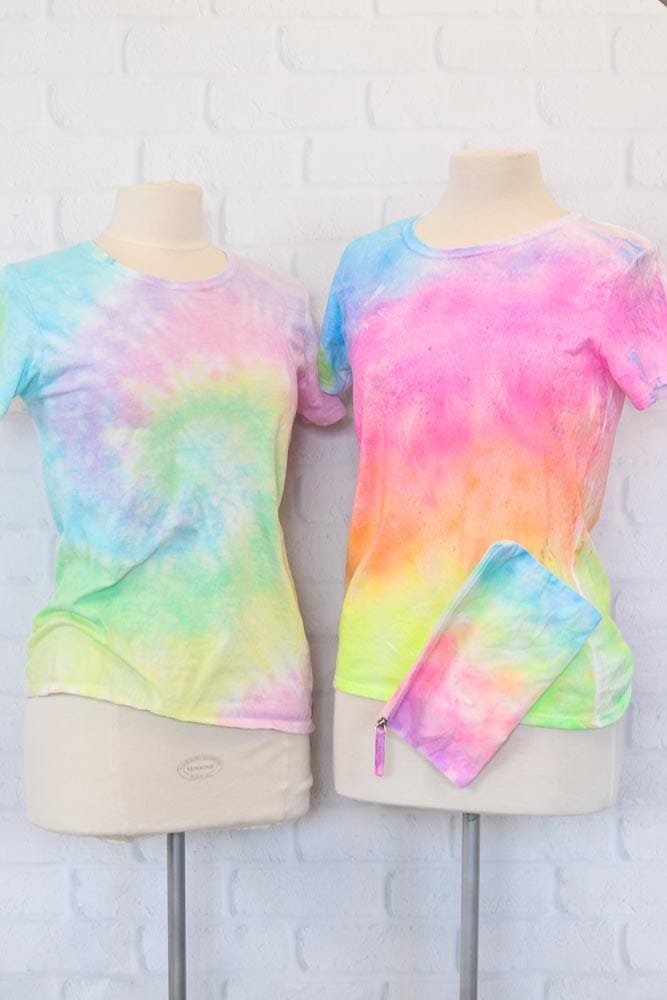 Traditional Tie Dye With TULIP
SUPPLIES
Water
Rubber Bands (Included in kit)
Gloves
Set up your work station with a layer of plastic.
Now we're going to mix up our dye. We're not going to follow the instructions to a T, instead, pour out about half of the dye. You can save it for a later project if you want, but we only need half!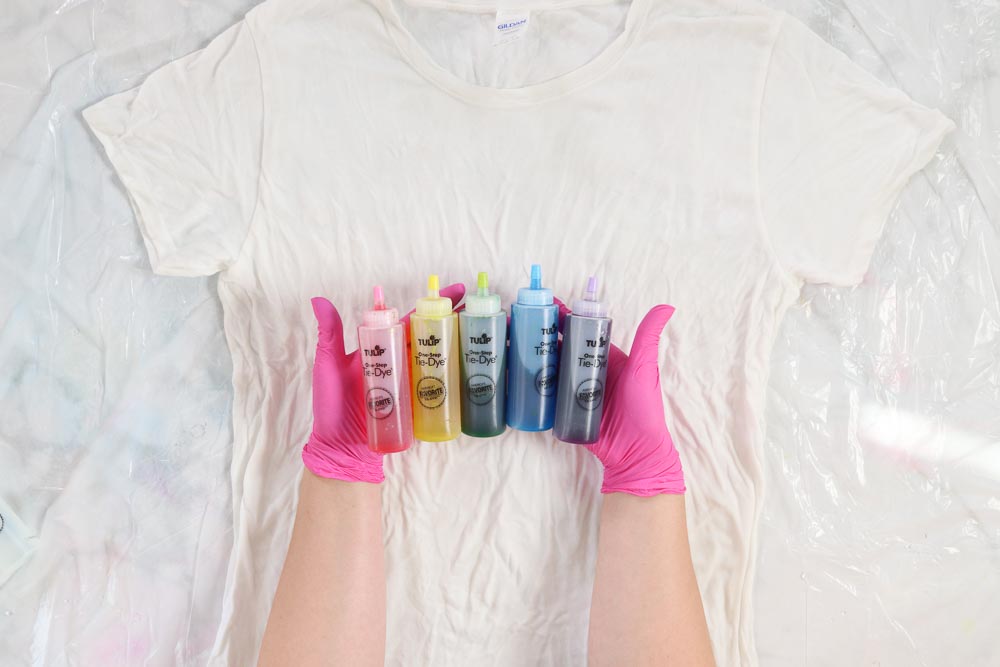 Go ahead and fill it to the top with water and shake the bottle well until all of the powder has dissolved.
Saturate your shirt (or item you're dyeing) in water.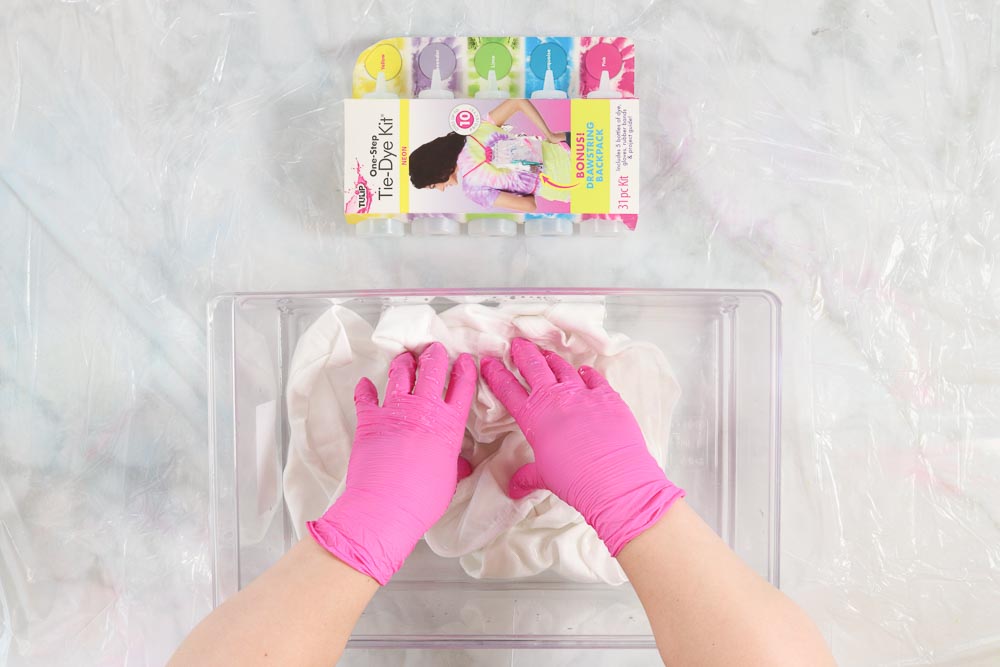 There are quite a few different techniques for tie-dyeing. I'm going to go with the spiral method.
What you'll want to do is grab the center of the shirt and start spinning it into a circle. Then, use some rubber bands to separate it into even sections. I don't like to wrap my rubber bands too tightly since I'm trying to avoid having large sections of my shirt without color.
Each section will be covered in one color. Keep color theory in mind while you're doing this because the colors that are next to each other will have some bleeding and can create a new color. If, for instance, you don't love purple, you probably shouldn't put red and blue right next to each other.
Saturate the entire section with color, making sure to open up the folds to really get into the fabric.
Flip the shirt over and repeat this process.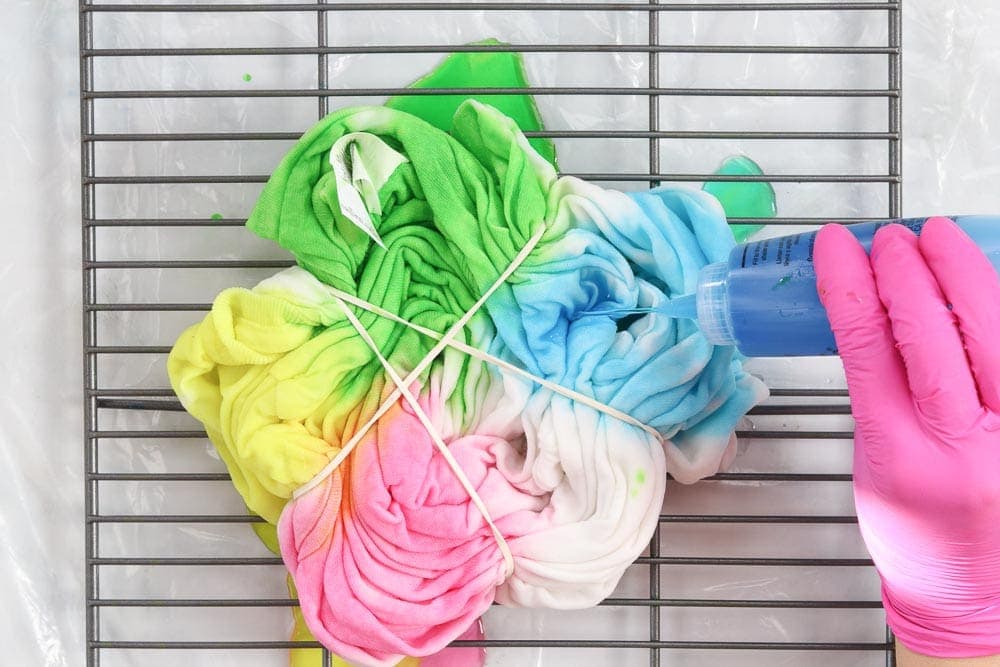 Pull out a cooling rack to work off of. This is to keep colors from running together.
Wrap the shirt up in Saran Wrap and let it sit for about 30-60 minutes. The directions will instruct you to let it sit overnight, but we want a lighter pastel look, so it doesn't need nearly as much time.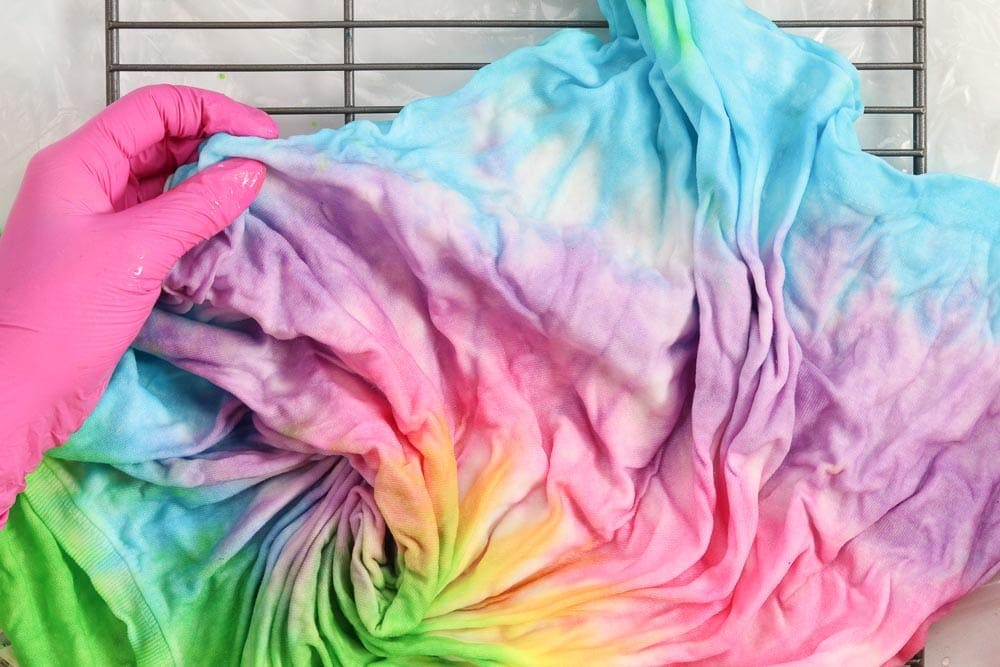 Once your time has run out, you'll want to wash out all of the dye and dry your shirt.
Here are a few examples of some shirts I made earlier that have been washed and dried.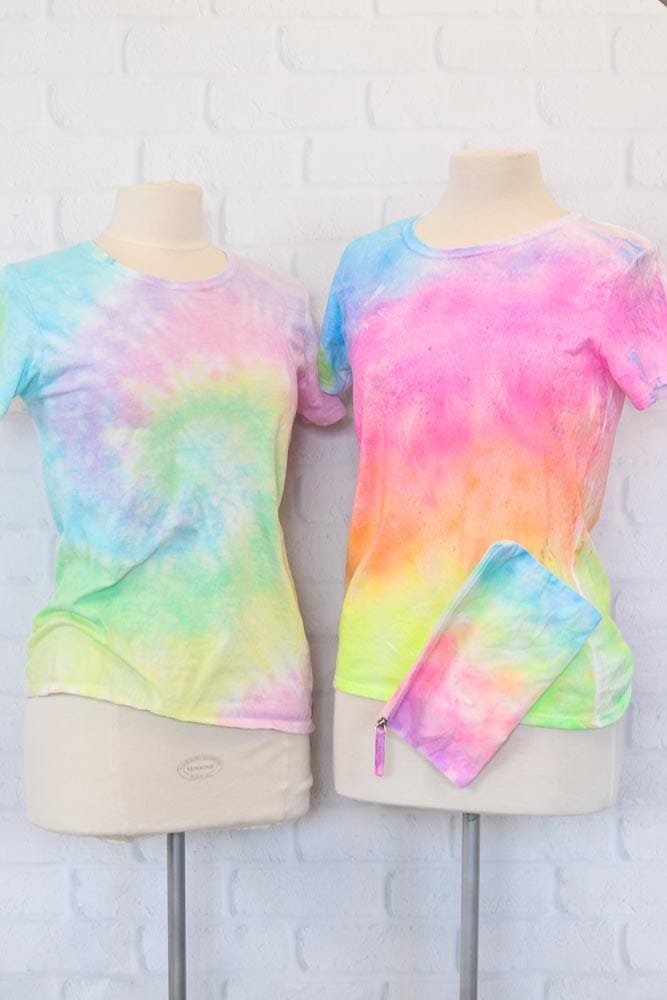 Now you've seen two different ways to create a pastel tie-dyed shirt. Tell me in the comments below which method you think works best!