Learn How to Sew a Bucket Hat With This Free PDF Printable Bucket Hat Sewing Pattern and Tutorial in Sizes Adult, Child, Toddler, and Baby.
This is a sponsored post on behalf of JOANN. All thoughts and opinions are my own.
Bucket hats are all the rage right now! I have to admit, it took me a minute to come around to this trend because it feels SO 90's but once I put one on my head I was totally sold.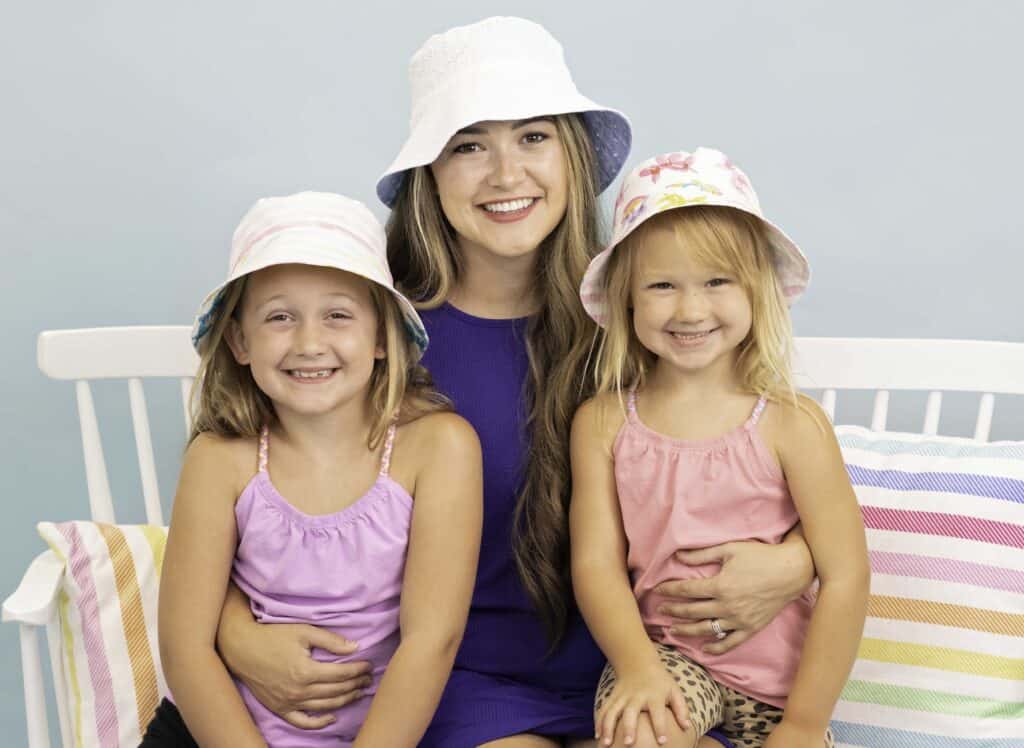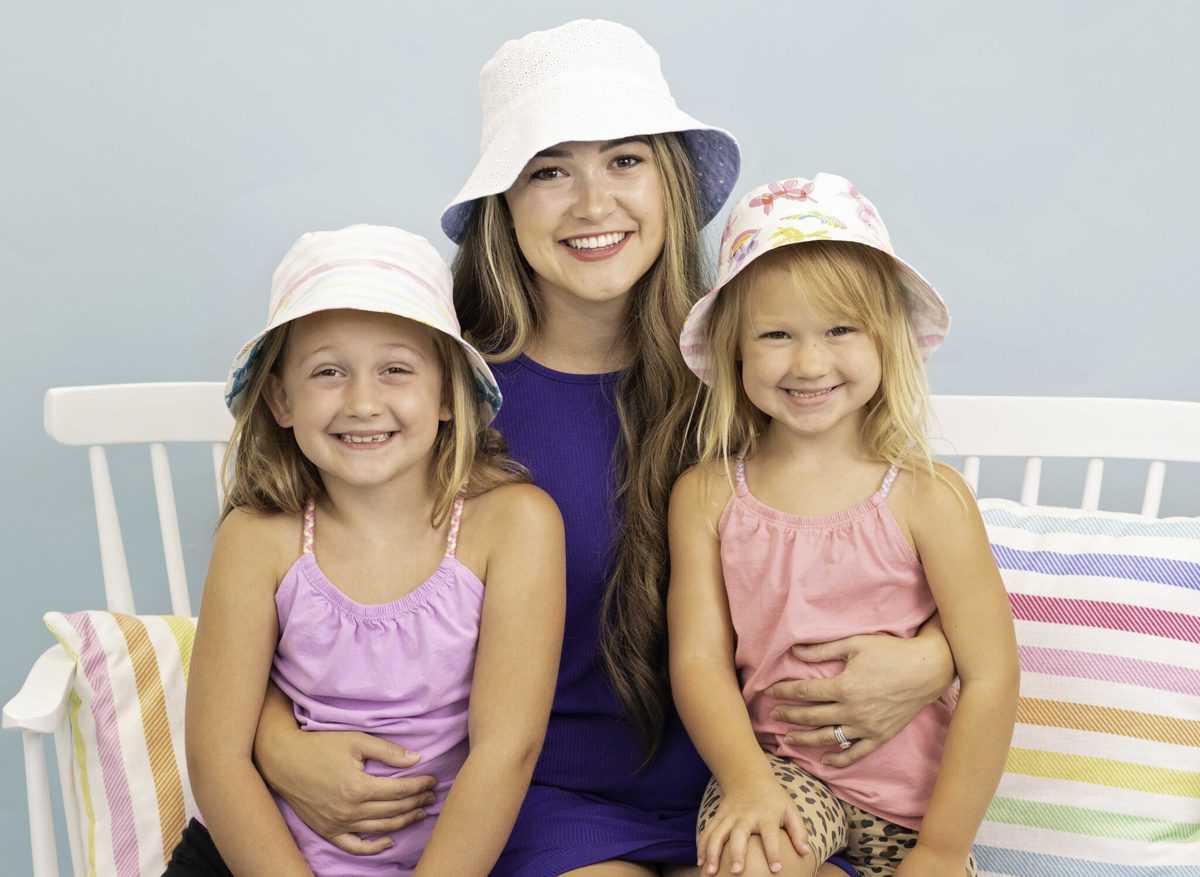 Warning, once you make one you won't be able to stop! Lucky for you, I'm sharing this pattern in every size so you can make them for your whole family!
I teamed up with JOANN, to bring you this pattern for free! JOANN, is my one-stop shop for all of my sewing needs.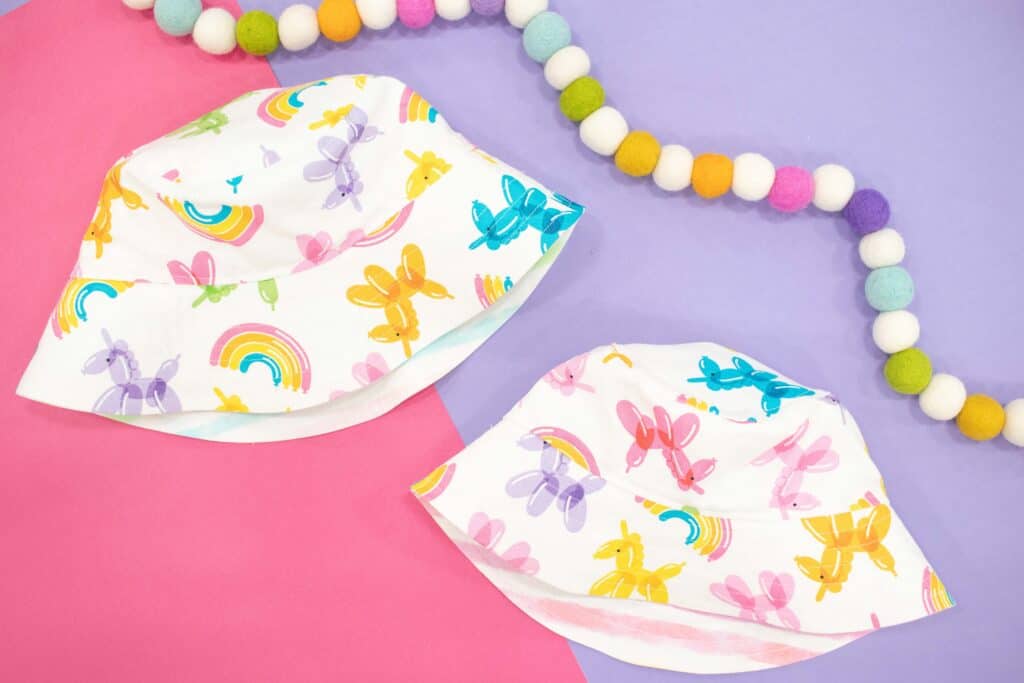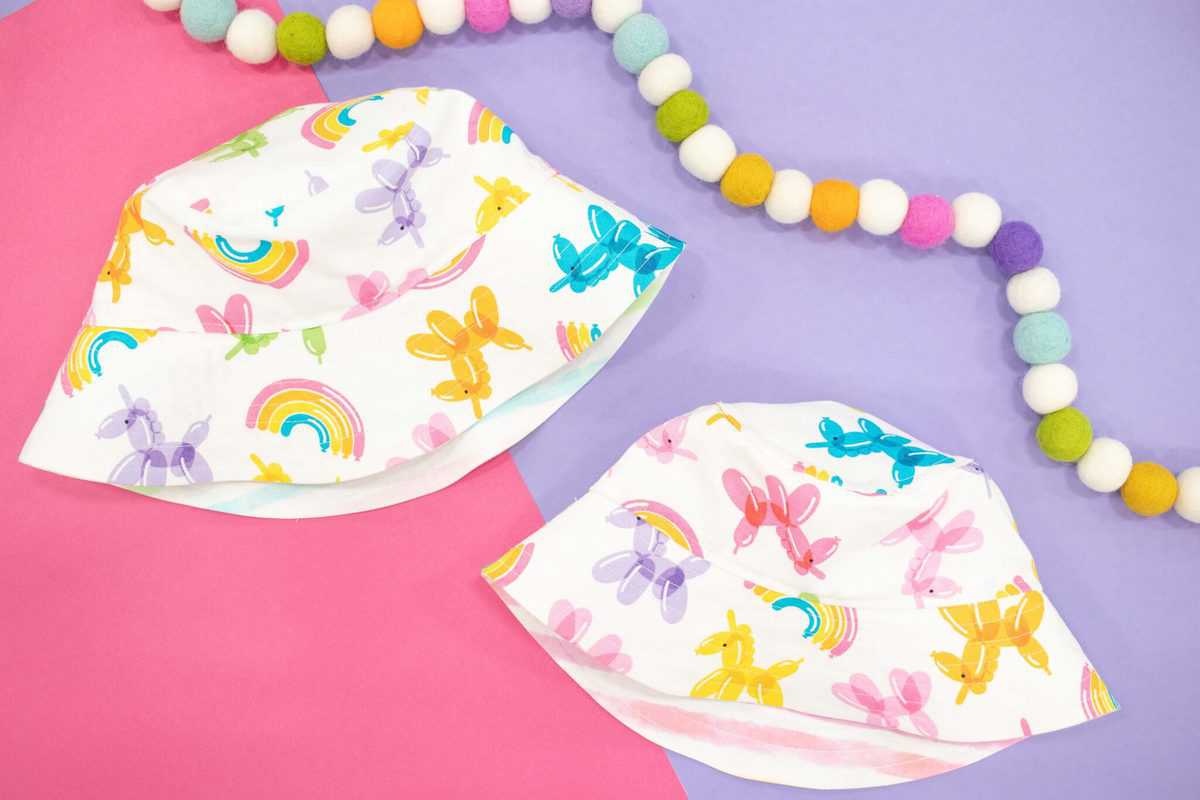 Bucket hats are great for a day at the beach, or for playing outside. The brim gives a little extra protection to your neck, ears, and face and I'm all for safe sun exposure!
Now, let's talk about all of the details of this Bucket Hat sewing pattern.
Bucket Hat Sewing Pattern
This sewing pattern download includes a professionally drafted Bucket Hat pattern. There are four sizes: Adult, Child, Toddler, and Baby. This Bucket Hat sewing pattern features instructions for a fully lined reversible bucket hat.
You can also refer to the video tutorial for extra help if you get stuck on any steps.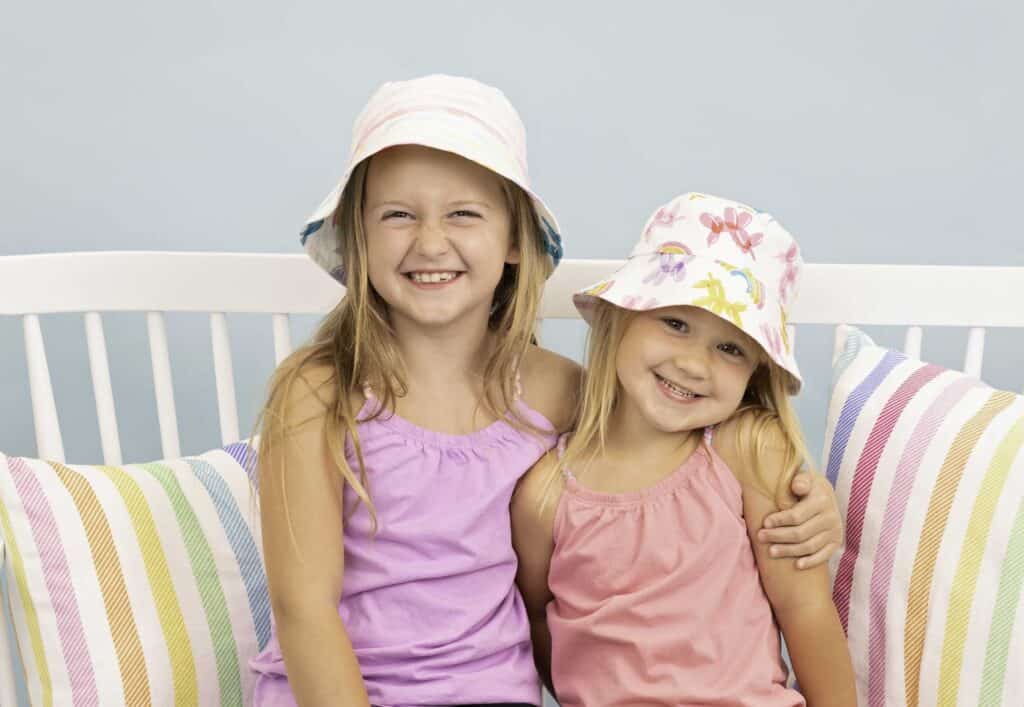 FABRIC REQUIREMENTS
This hat pattern is perfect for using up scrap fabric as it doesn't take very much fabric to sew!
To start, you'll want to use cotton fabric. This pattern works best with a light to medium weight fabric. In this tutorial, I'll be using quilting cotton.
SUPPLIES
Scissors or Rotary Cutter & Mat
Printer
Printing Paper
Tape
Pinking Shears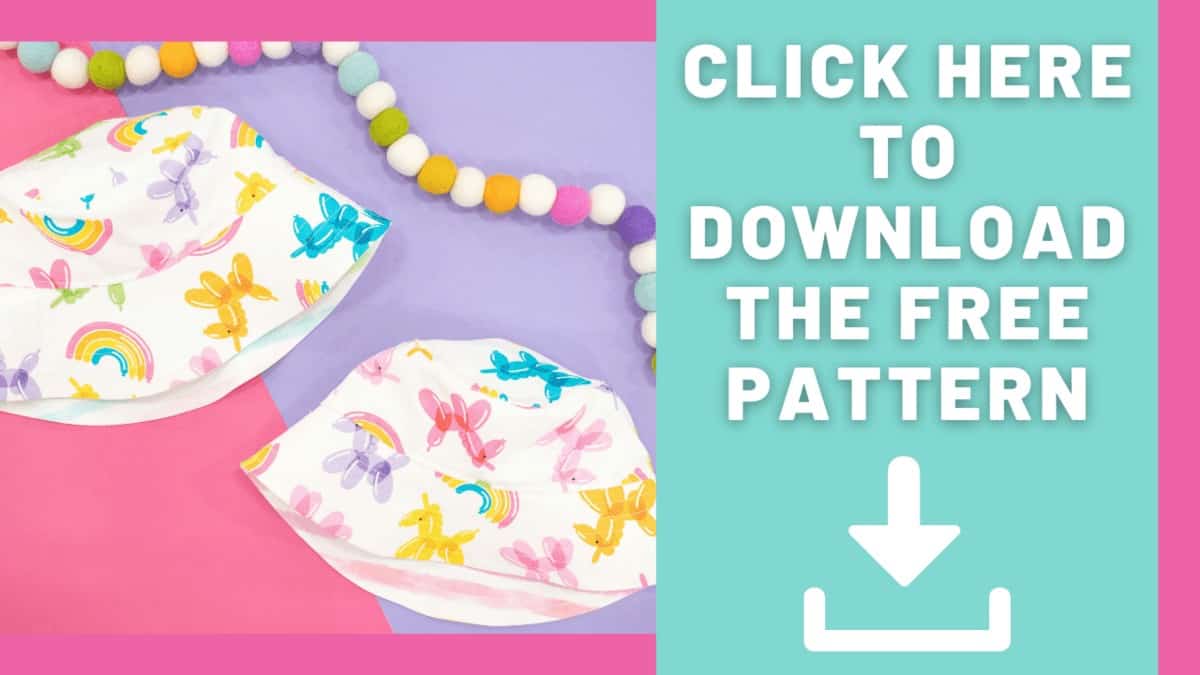 STEP 1: PRINT BUCKET HAT PATTERN & ASSEMBLE
Download the pattern to your computer and print the pattern at 100% with no scaling.
Trim one side and the bottoms edge using a paper cutter or scissors.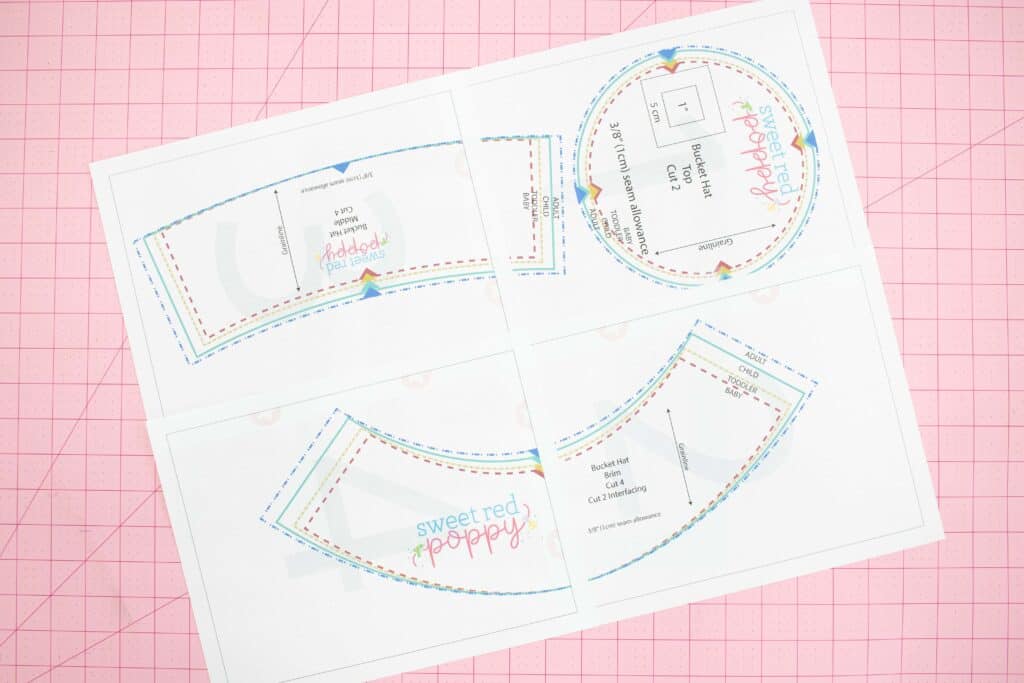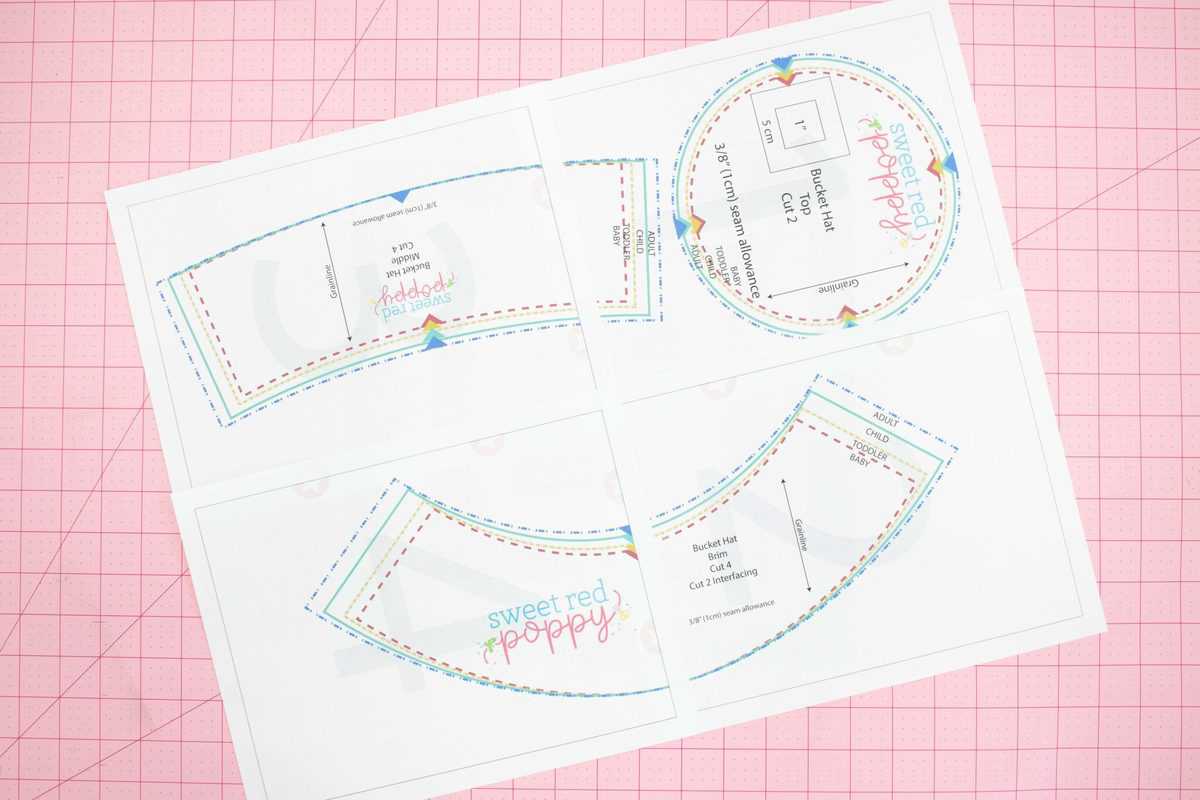 Align stars of each page and tape in place. Then, cut out the pattern in your desired size.
STEP 2: CUT OUT FABRIC & MARK NOTCHES
*PRO TIP: Make sure to iron your fabric before cutting it out to ensure the best results. This will ensure that your fabric cuts out evenly without any wrinkles or folds.
Lay the fabric out in front of you on a flat surface and fold the selvage edge of the fabric inwards to create a folded edge. This will allow you to cut two mirrored images at once.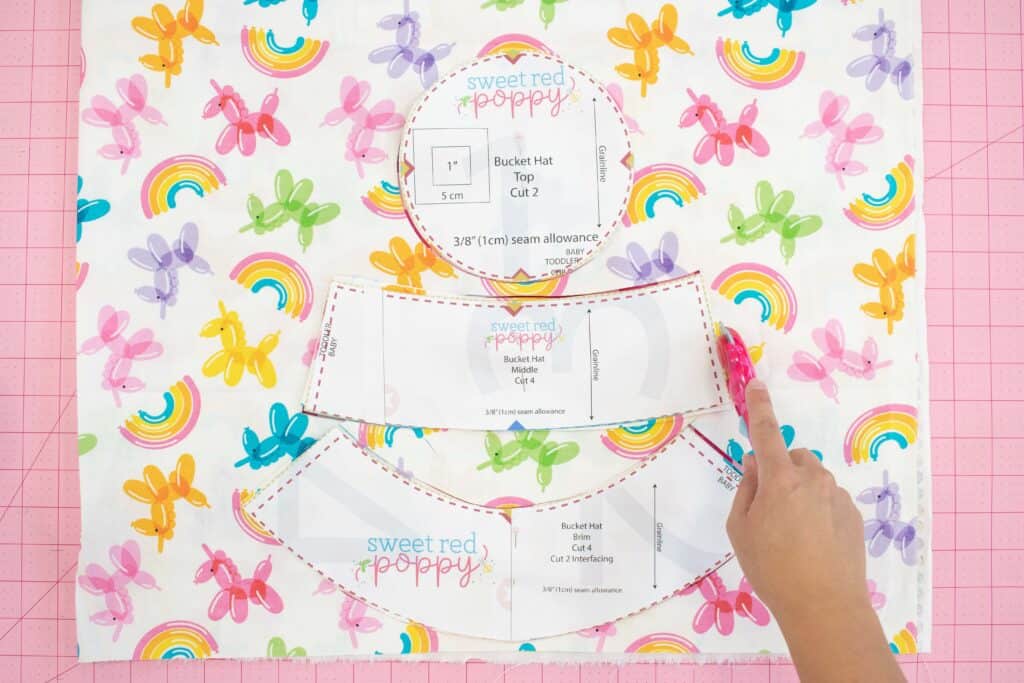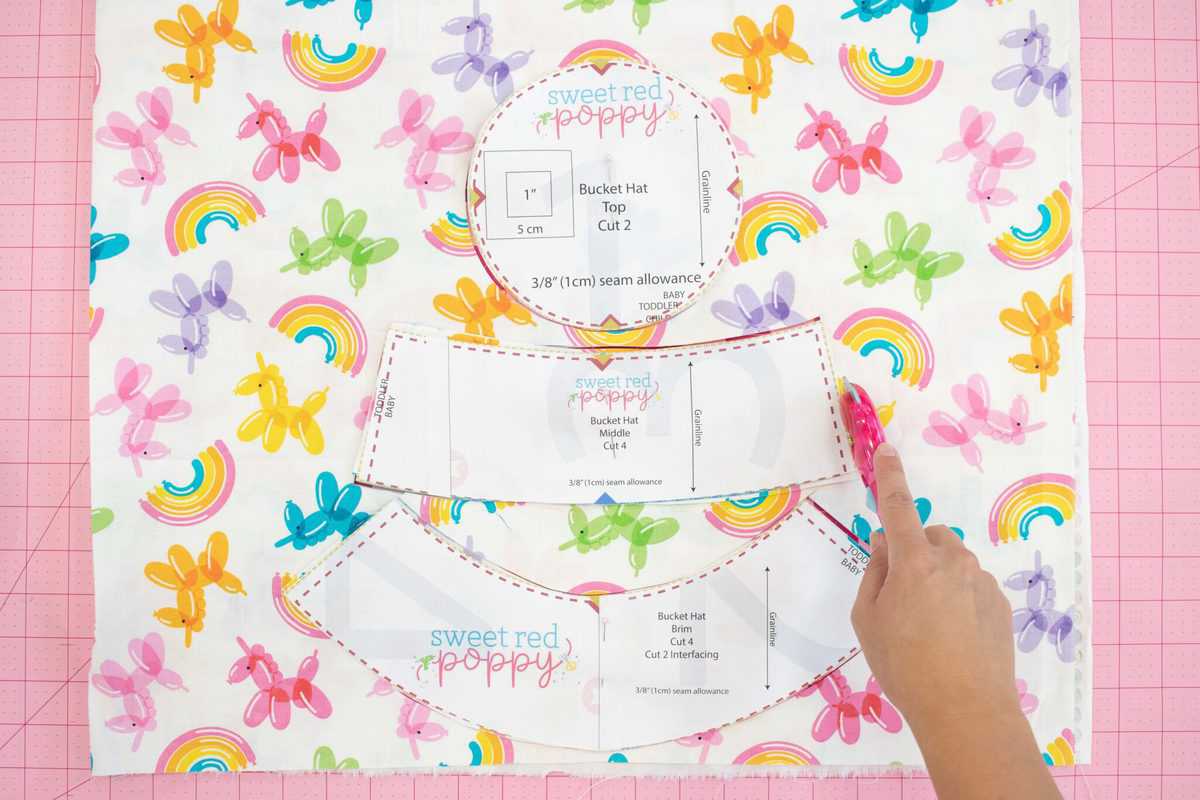 Lay the patterns on the fabric taking care to align the grainline marking so they are running parallel to the selvage edge of the fabric. Pin the fabric in place and cut around the outside of the pattern pieces.
Before removing the paper pattern from the fabric mark all notches using a fabric pen or chalk. The notches are marked on the pattern pieces with a triangle and will help you to correctly align the fabric in the following steps.
Repeat the cutting and marking process with your lining fabric as well.
Now it's time to cut out your interfacing for the Bucket Hat Brim. If you are using a very lightweight fabric you can add interfacing to the entire hat to give it more structure.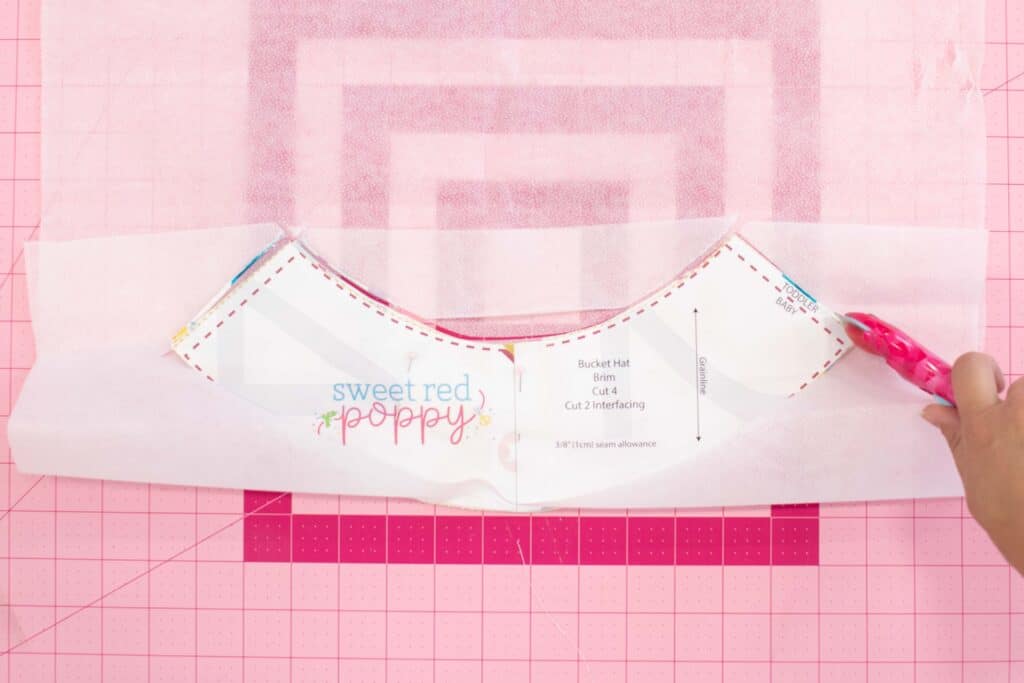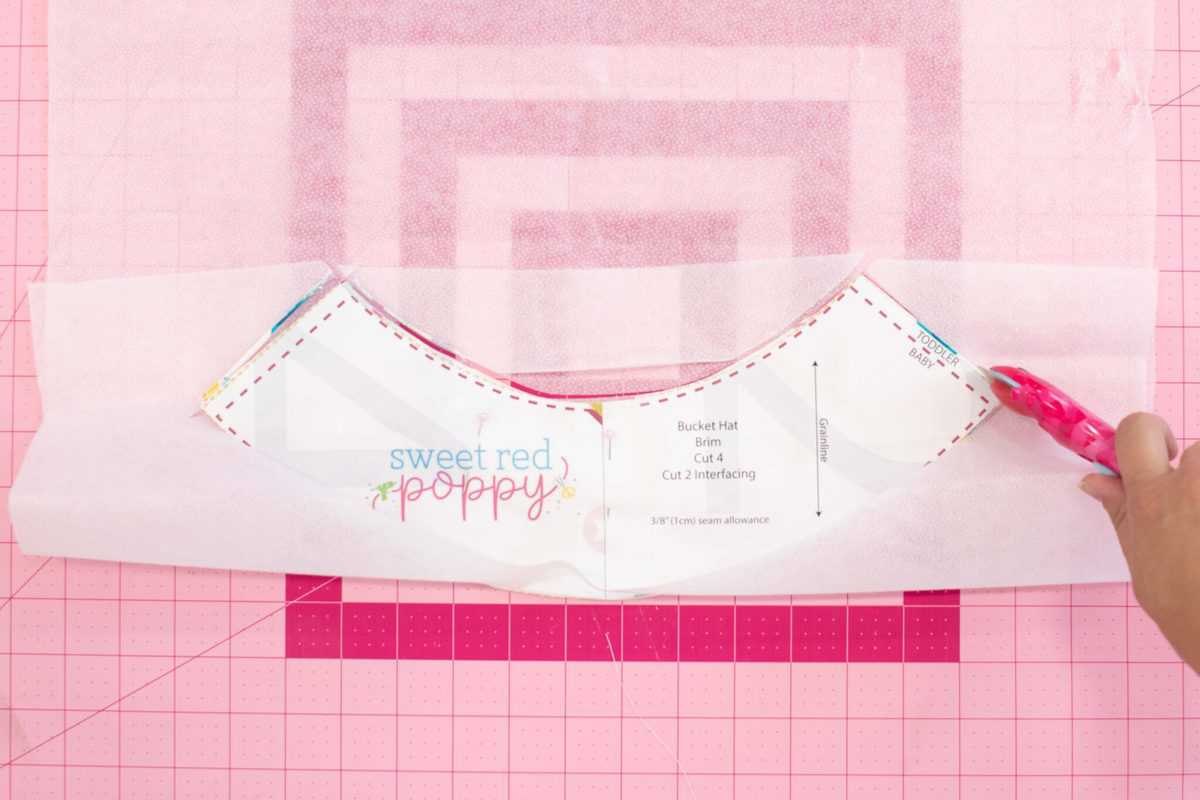 (X1) Bucket Hat Top
(X2) Bucket Hat Brim
(X2) Bucket Hat Middle
(X1) Bucket Hat Top Lining
(X2) Bucket Hat Brim Lining
(X2) Bucket Hat Middle Lining
(X2) Bucket Hat Brim Interfacing
You should have a total of 12 pieces to complete the bucket hat.
STEP 3: ATTACH INTERFACING
Take main bucket hat brim and iron on interfacing to the wrong side of both pieces. You'll want to refer to the instructions that come with your interfacing for this step to make sure it's applied correctly.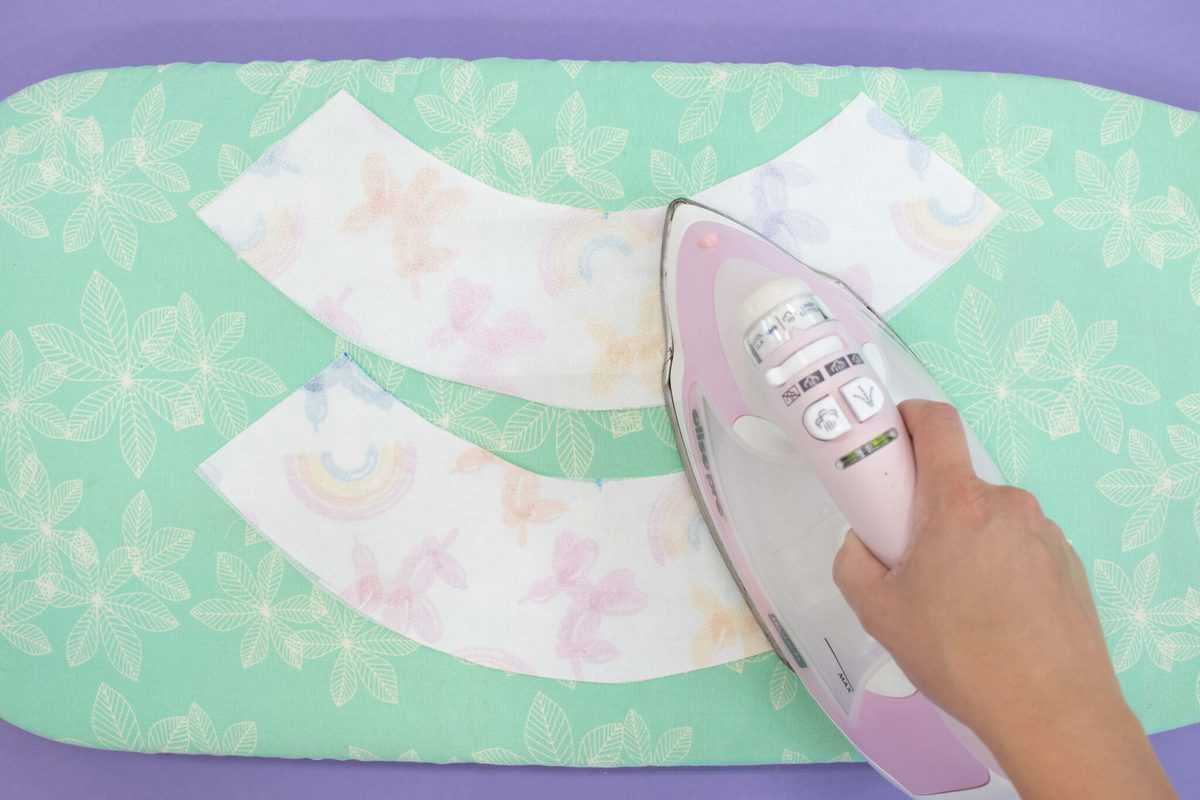 Make sure to turn off the steam on your iron for the very best results!
STEP 4: SEW BRIM SIDES AND BOTTOM
Place the main bucket hat brim pieces (the ones with the interfacing) right sides together and pin them together. Sew the side seams with a 3/8" (1cm) seam allowance. Place lining bucket hat brim pieces together and sew side seams.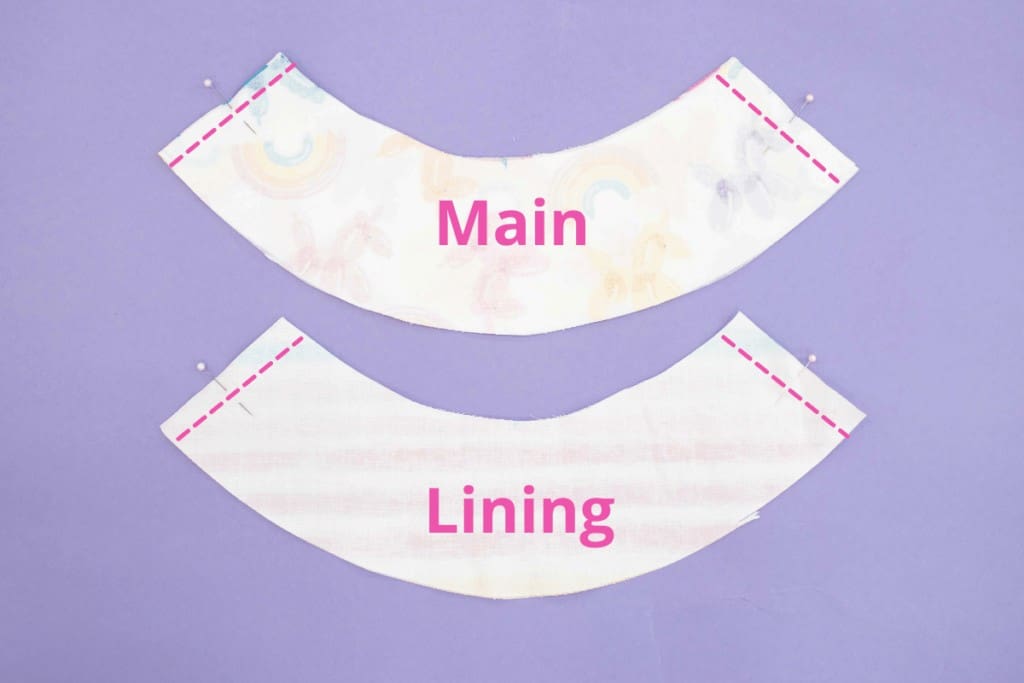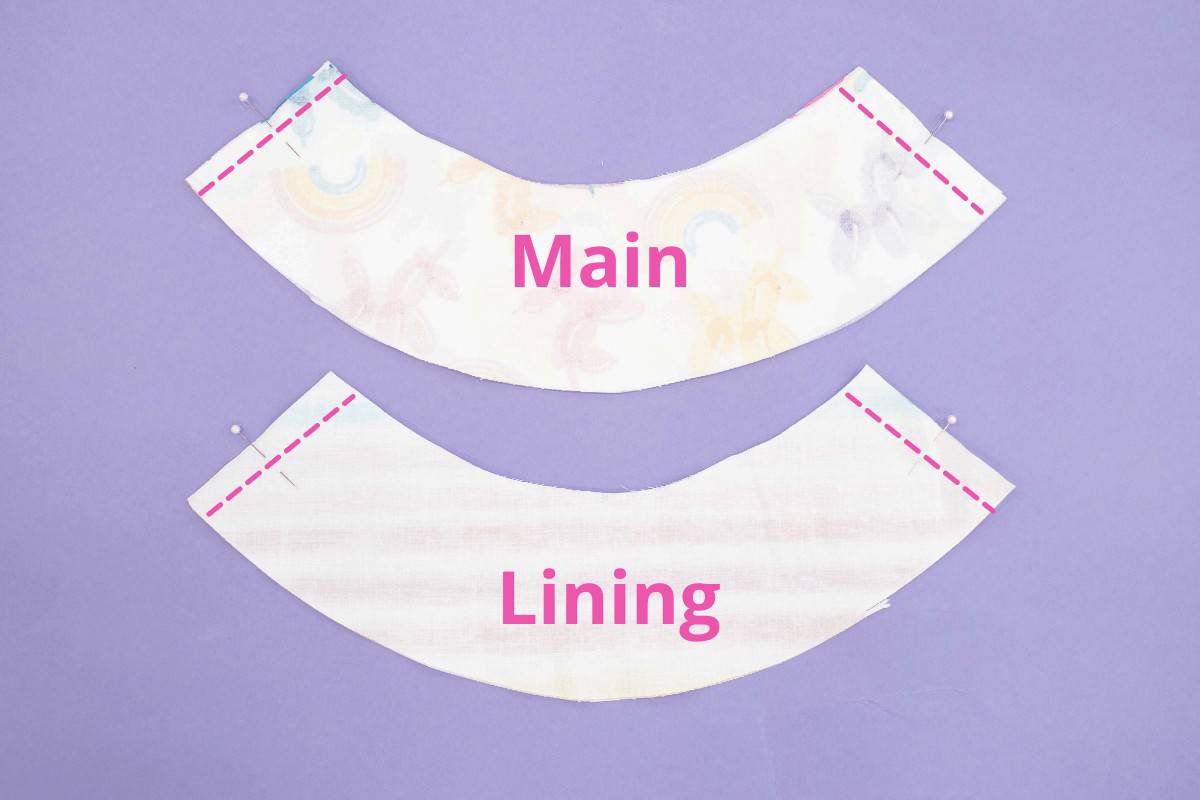 Iron the seams open.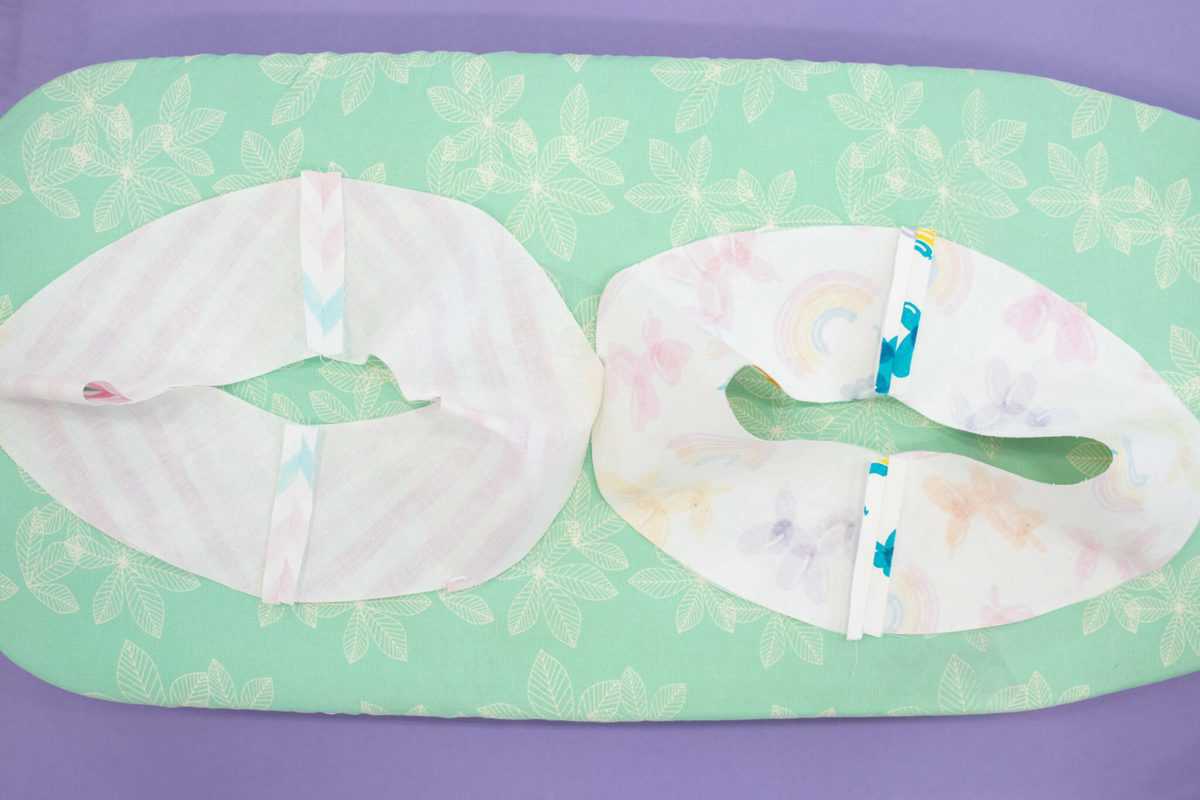 *Optional: sew the seam allowance in place using 1/8" seam allowance on either side of the seam.
Place lining brim on main brim with right sides together, lining up the side seams. Pin the brims together.
Sew along the bottom outside edge all the way around using 3/8" (1cm) seam allowance.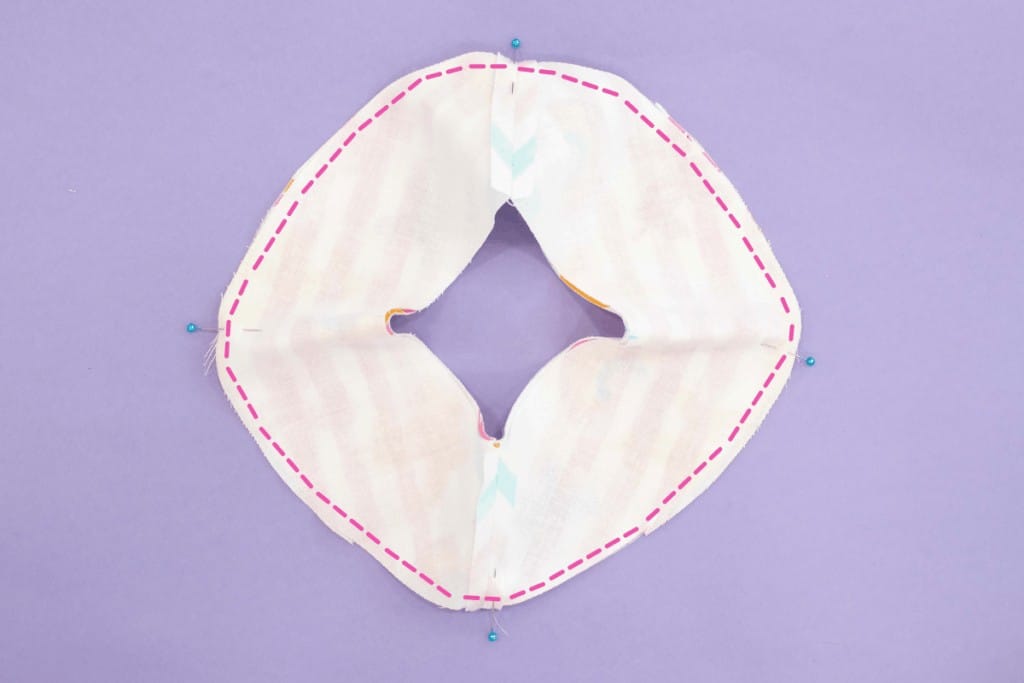 Trim the seam allowance with pinking shears to minimize the bulkiness of the seam.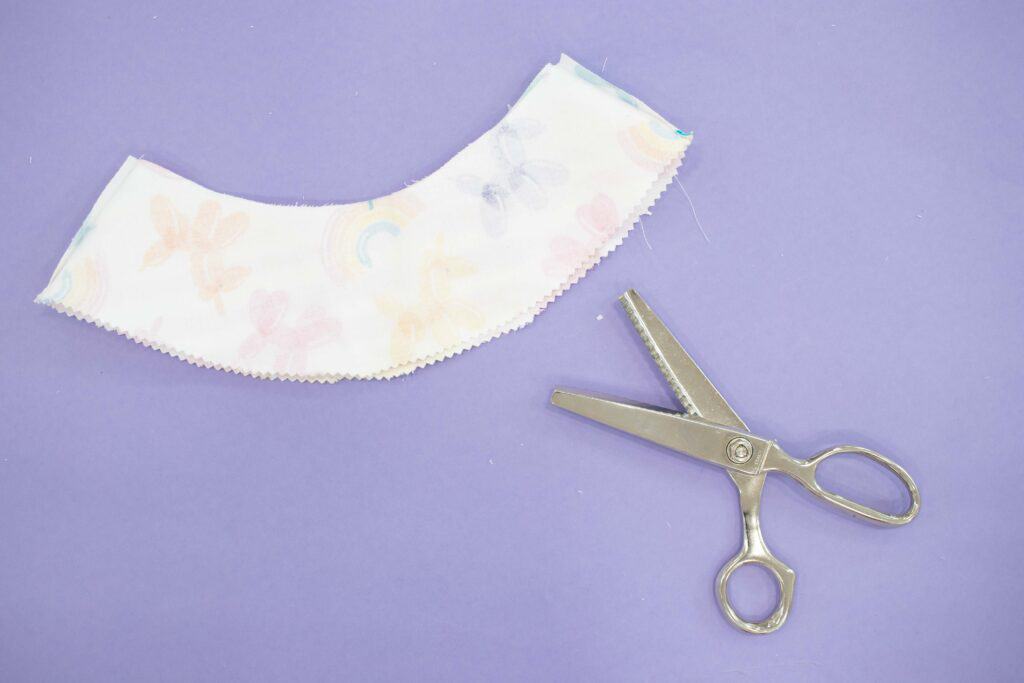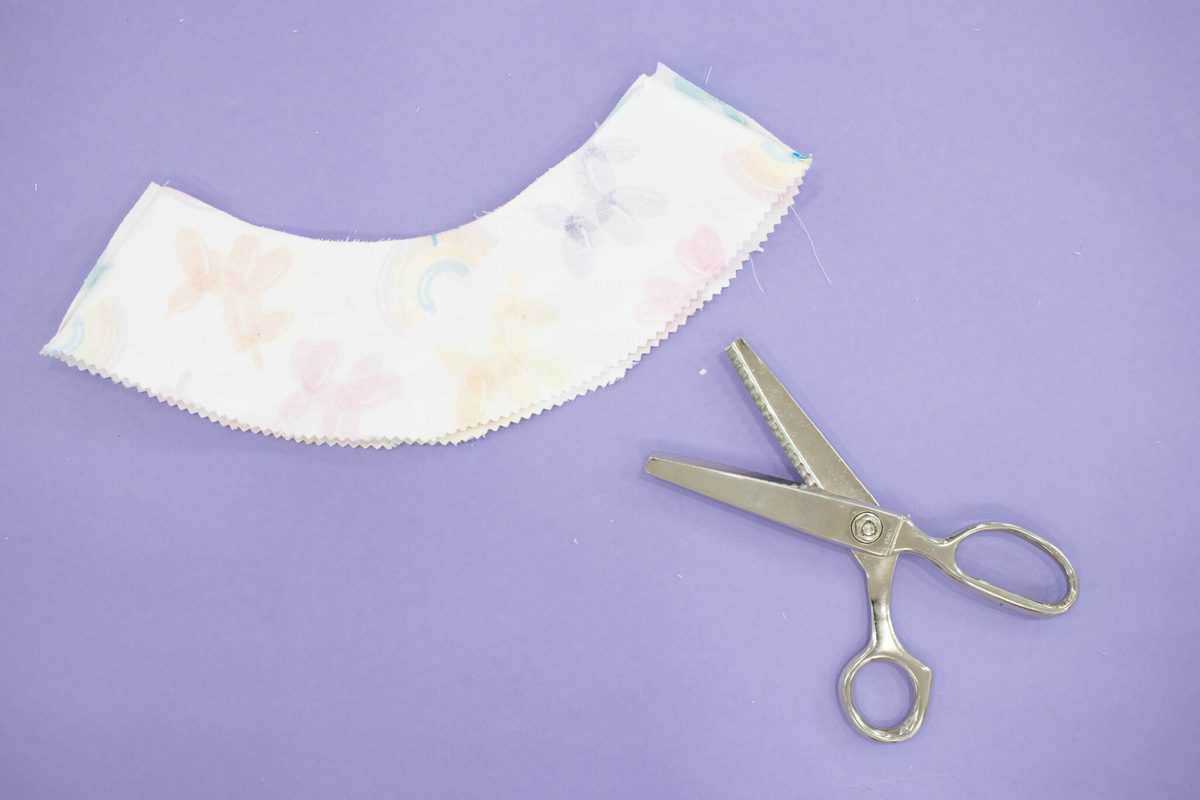 Turn right side out and press the steam with plenty of steam to set it in place.
*PRO TIP: Taking the time to iron in between each step, helps you to achieve professional-looking end results. I recommend setting up your iron near your sewing machine so it's easy to access.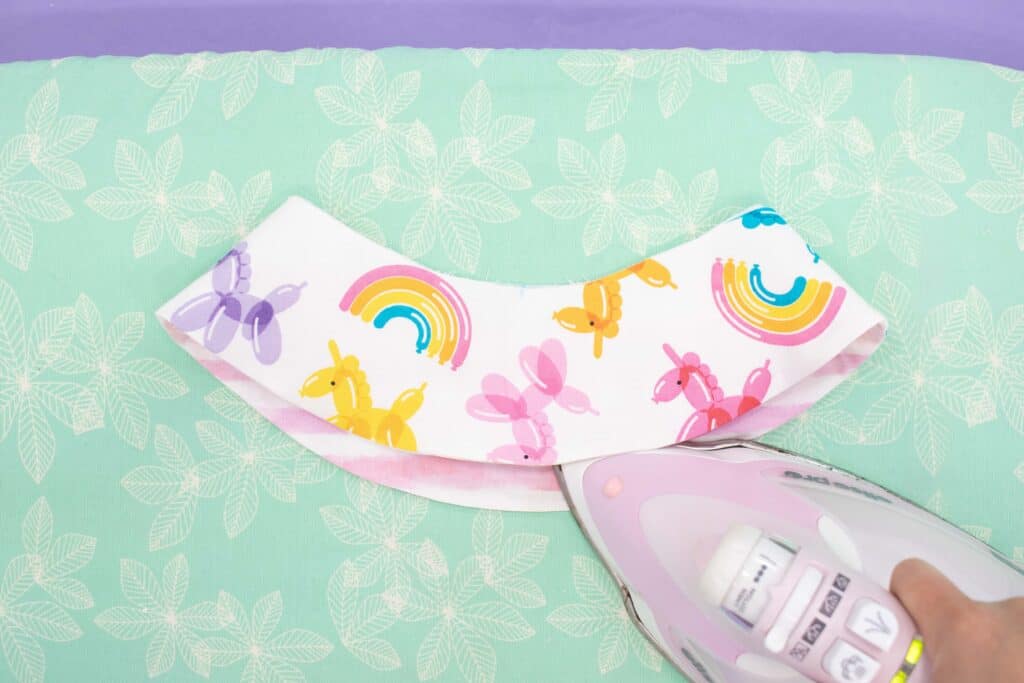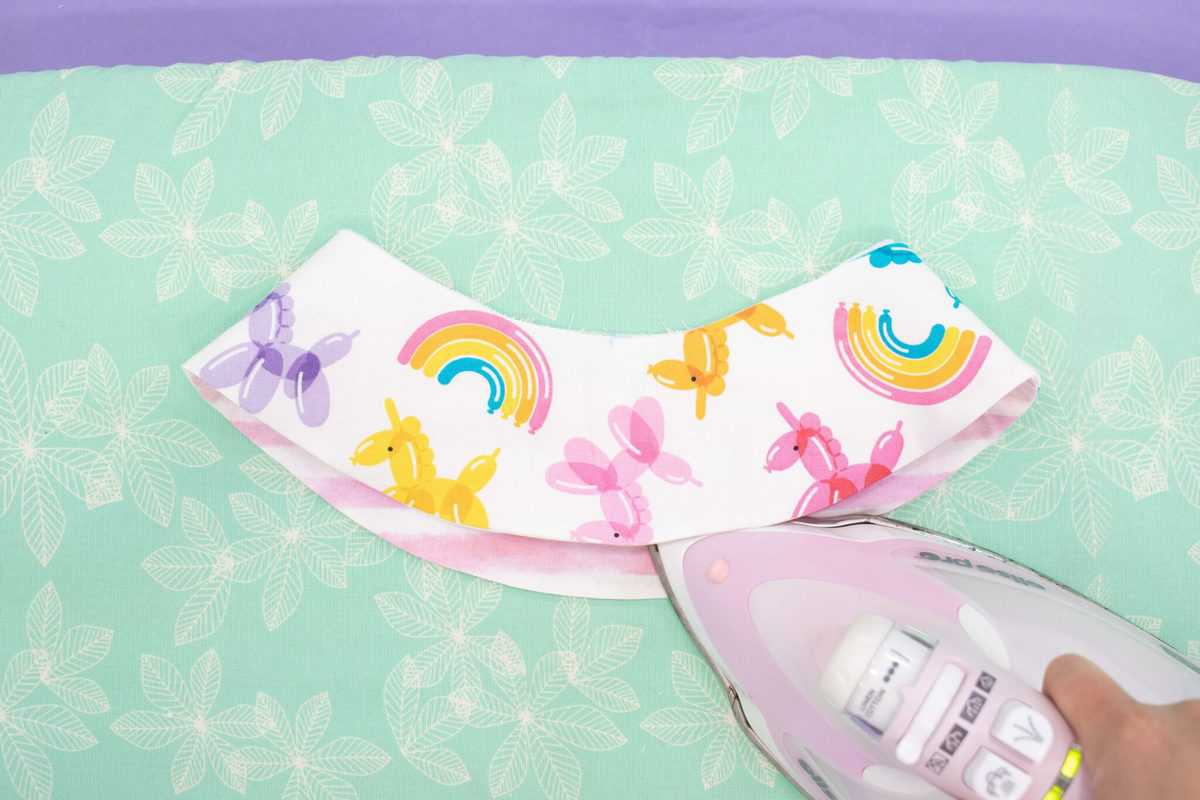 Increase your stitch length slightly for this next part. Starting 3/9" from the outside of the brim sew a stitch all the way around. Repeat sewing all the way around the brim every 3/8" to the top.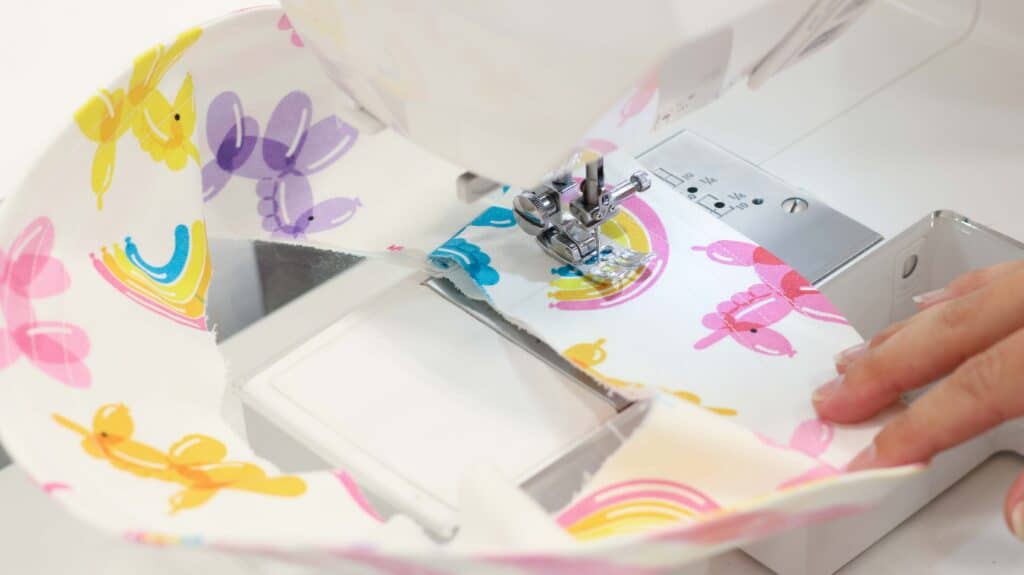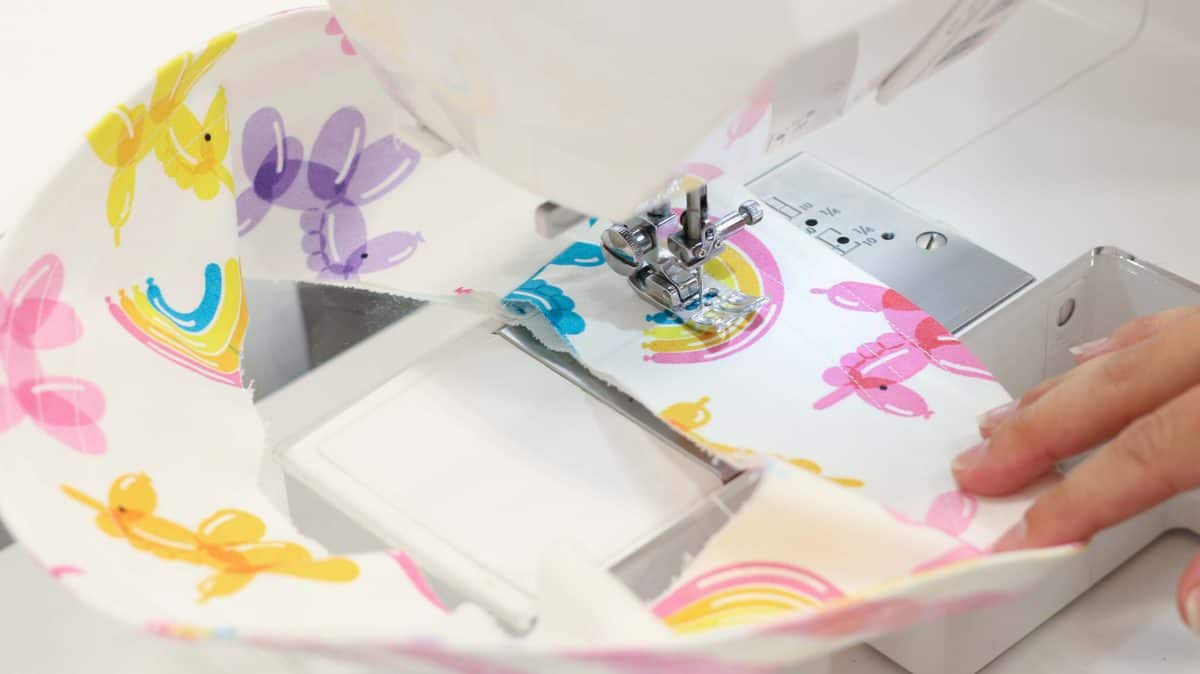 This gives the hat extra structure and makes it look more professional. Set the brim aside for now.
STEP 5: SEW MIDDLE PIECES
Place the main middle pieces right sides together, pin, and sew the two side seams.
Next, place the lining middle pieces right sides together, pin, and sew the side seams.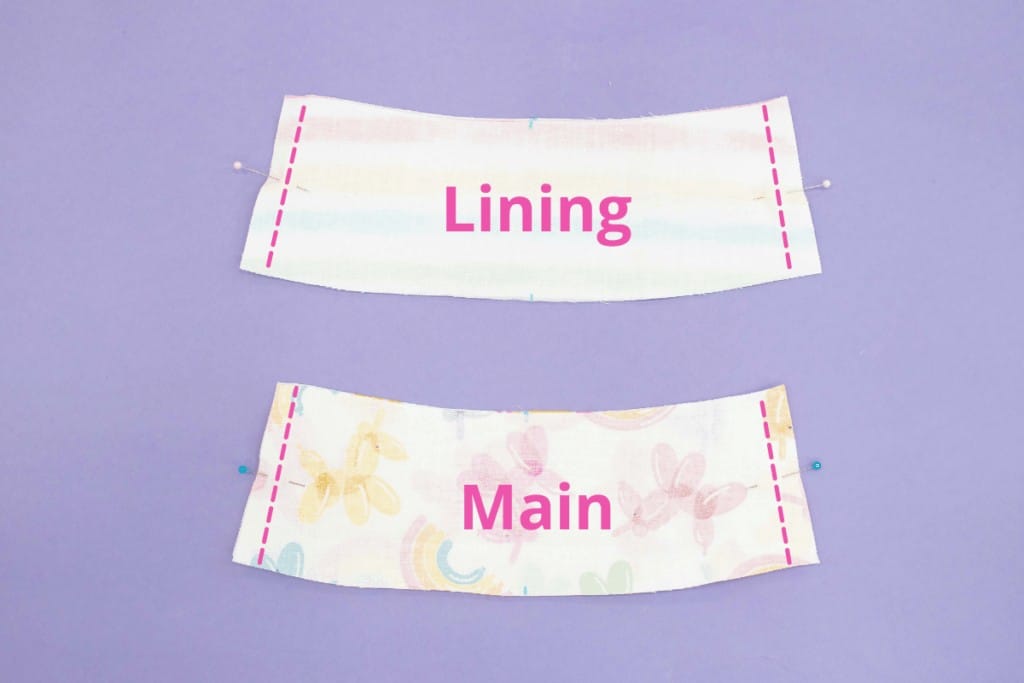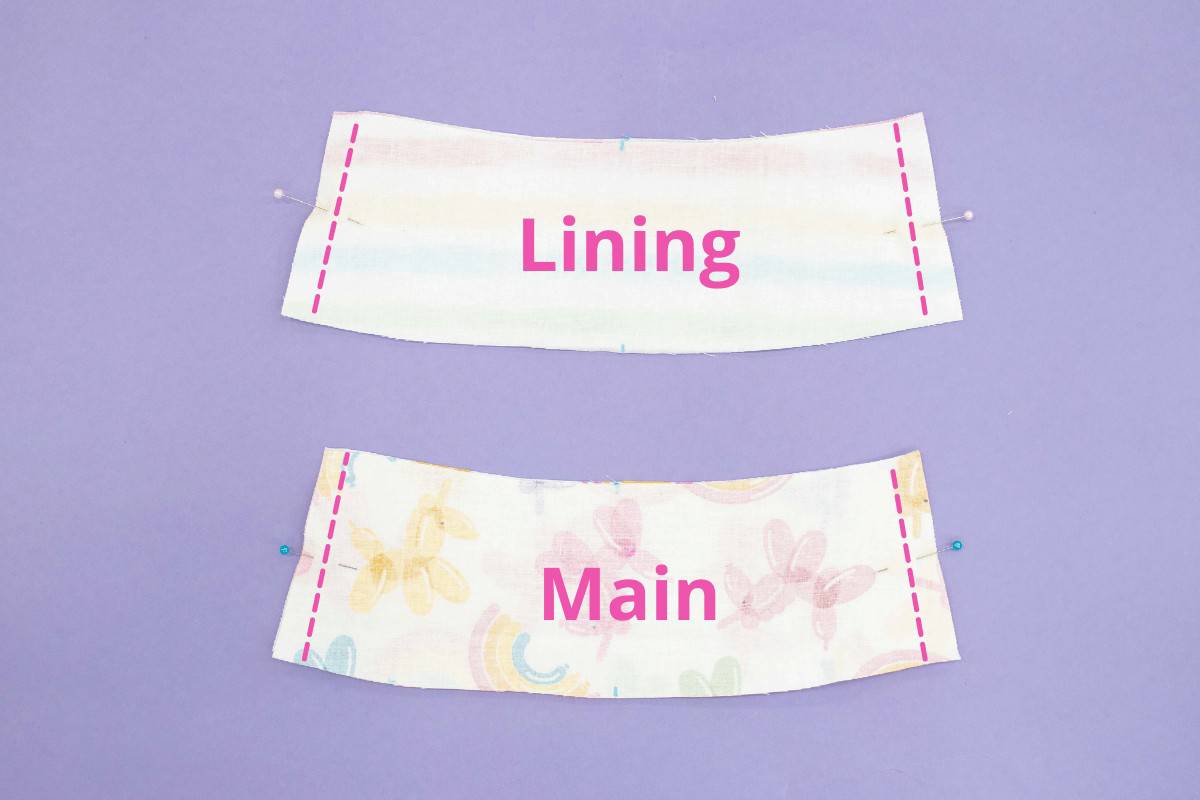 *Optional: Topstitch the seam allowance down using a 1/8" seam allowance on either side of the seam.
Press the seams open.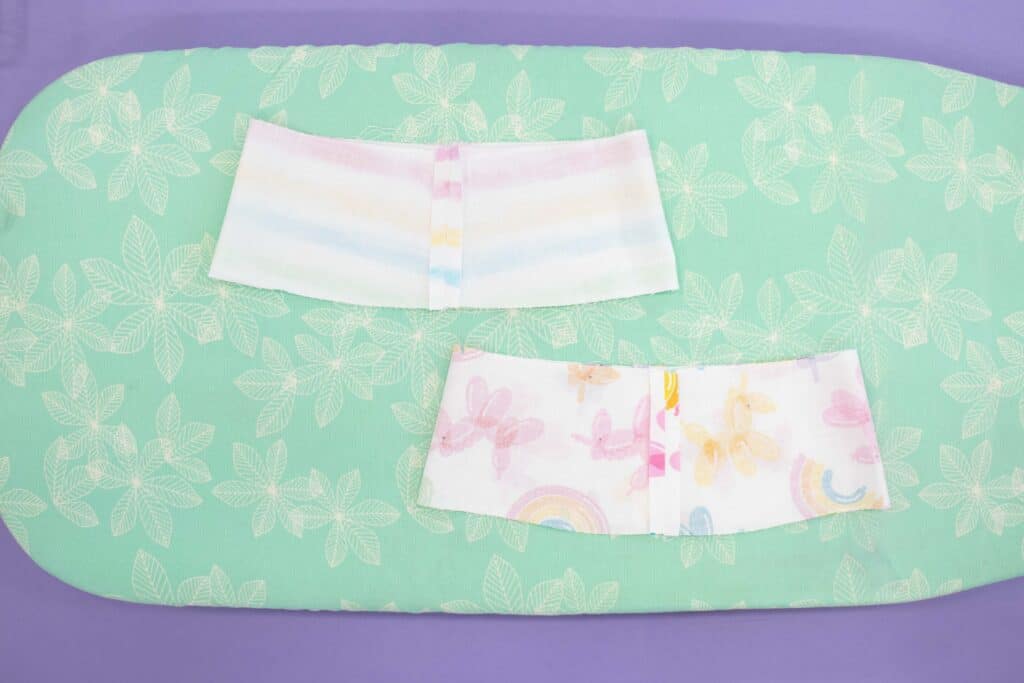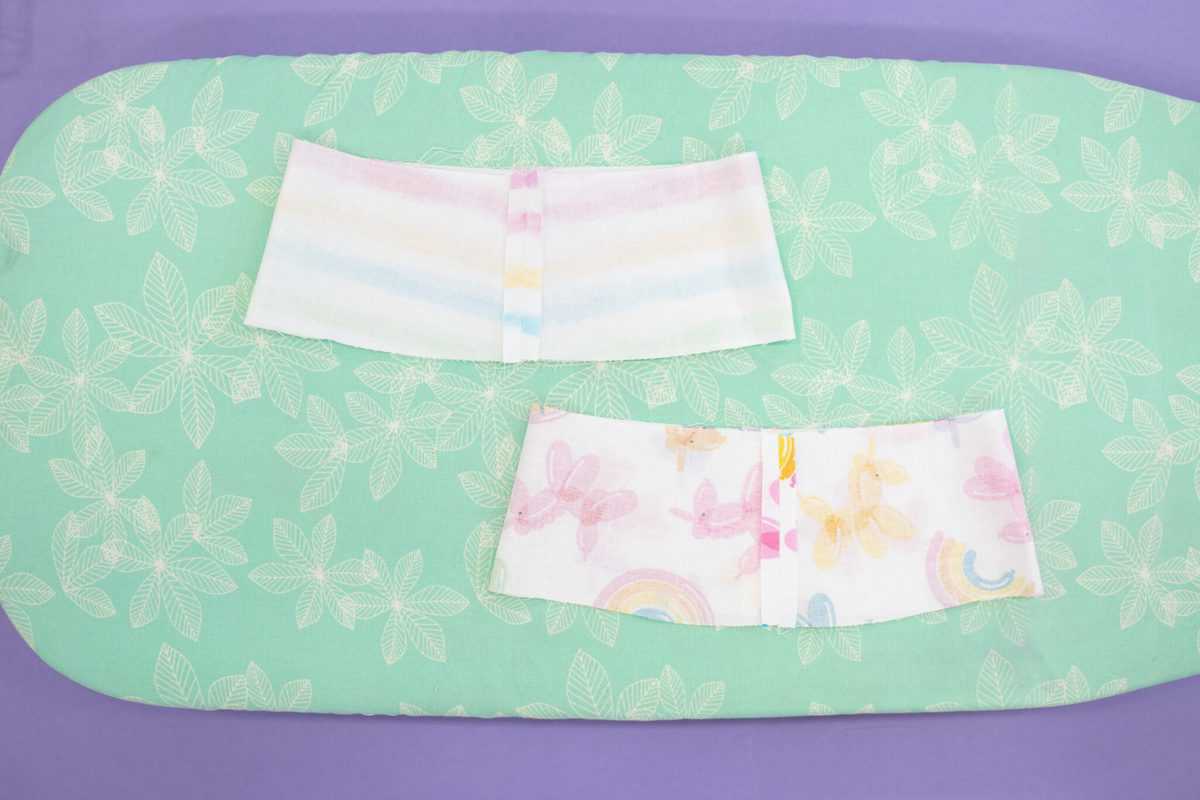 STEP 6: SEW MAIN CIRCLE TOP AND LINING
Take the main bucket hat (circle) and align the notches with the middle notch of each middle main and side seams. The fabrics should be facing right sides together. Pin the fabric in place. You'll want to use plenty of pins for this step to really line everything up.
Use the markings to easily align and evenly distribute the fabrics.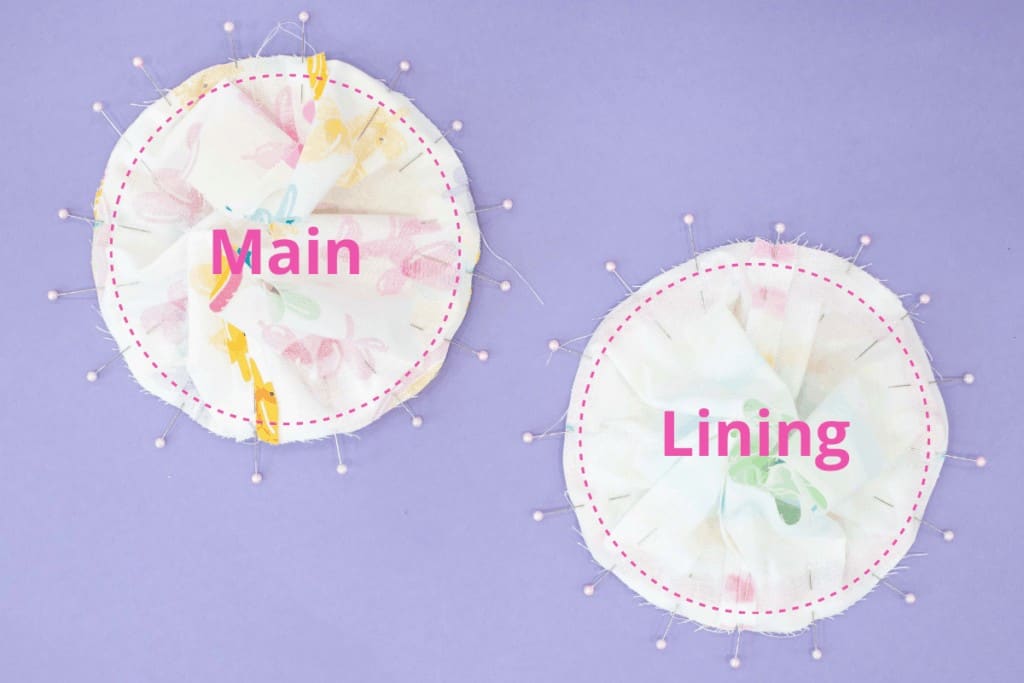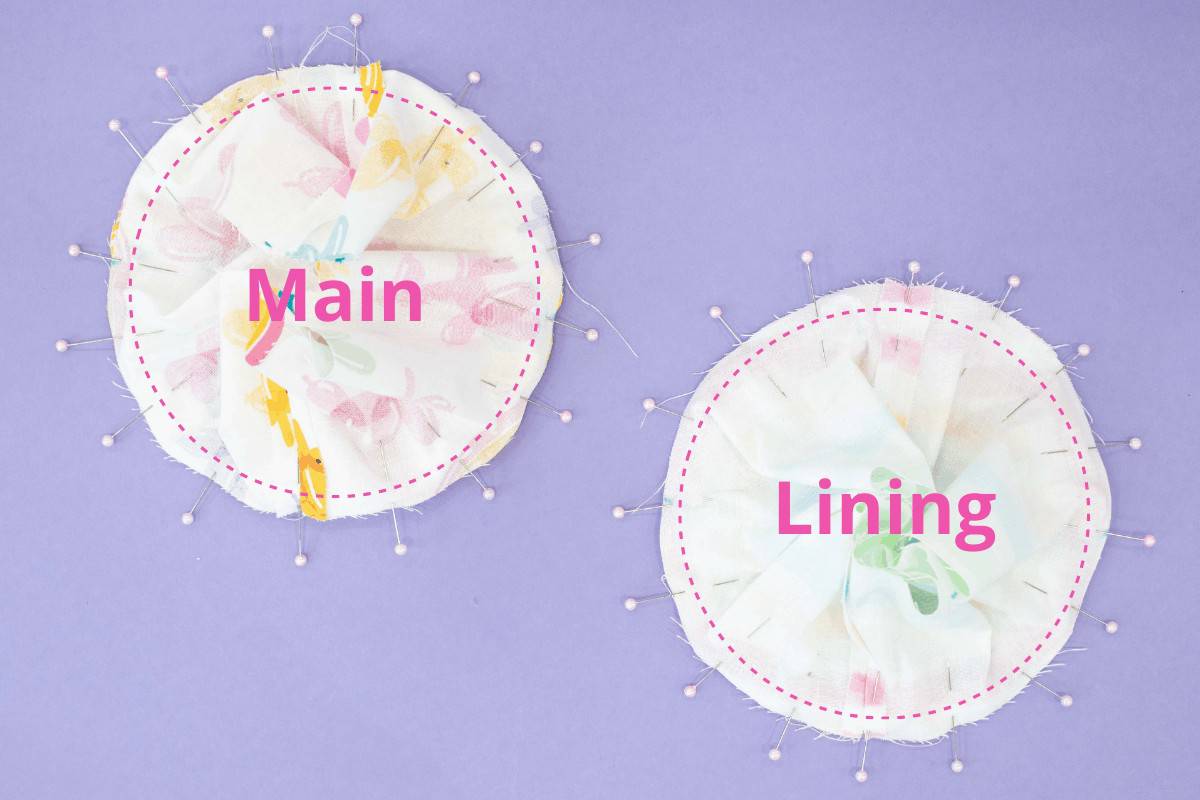 In this step, you are matching a concave curve to a convex curve. This can be a bit tricky and requires more pins than a normal seam to make sure you avoid making any tucks or gathers.
The middle piece is slightly smaller than the top so you'll want to ease the top in as you sew the pieces together. You can do this by gently stretching the fabric. I find it's easiest to sew these two pieces together with the circle piece facing downward.
Repeat this step with the lining.
*PRO TIP - If you have a pair of pinking shears, trim around the seam allowance to reduce the bulk of the seam. This will help the fabric to lay flat once it's turned inside out without puckering.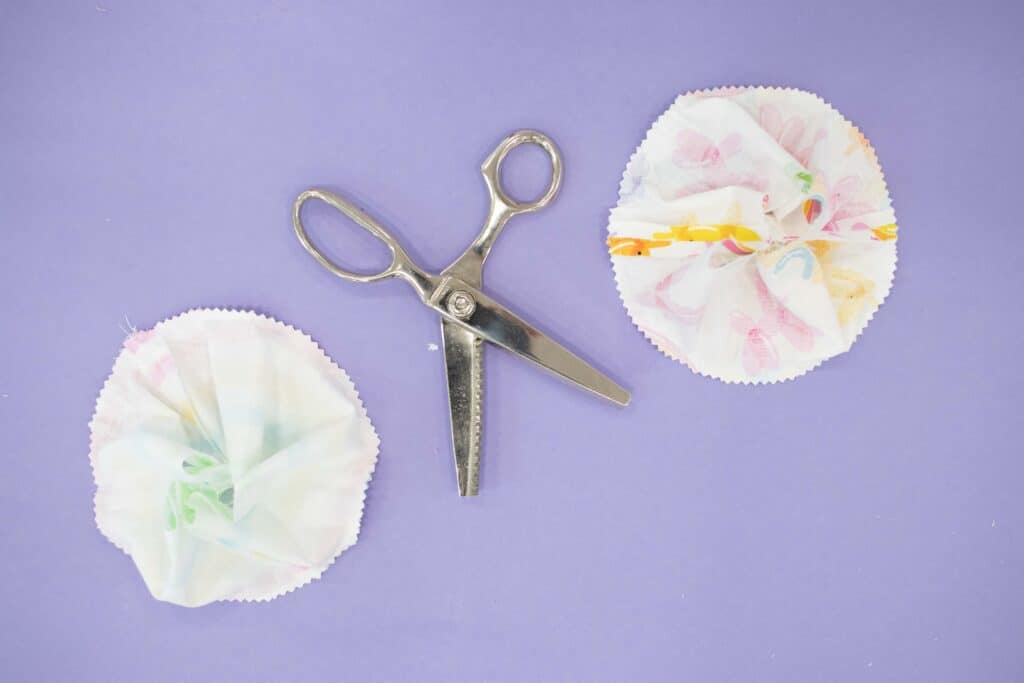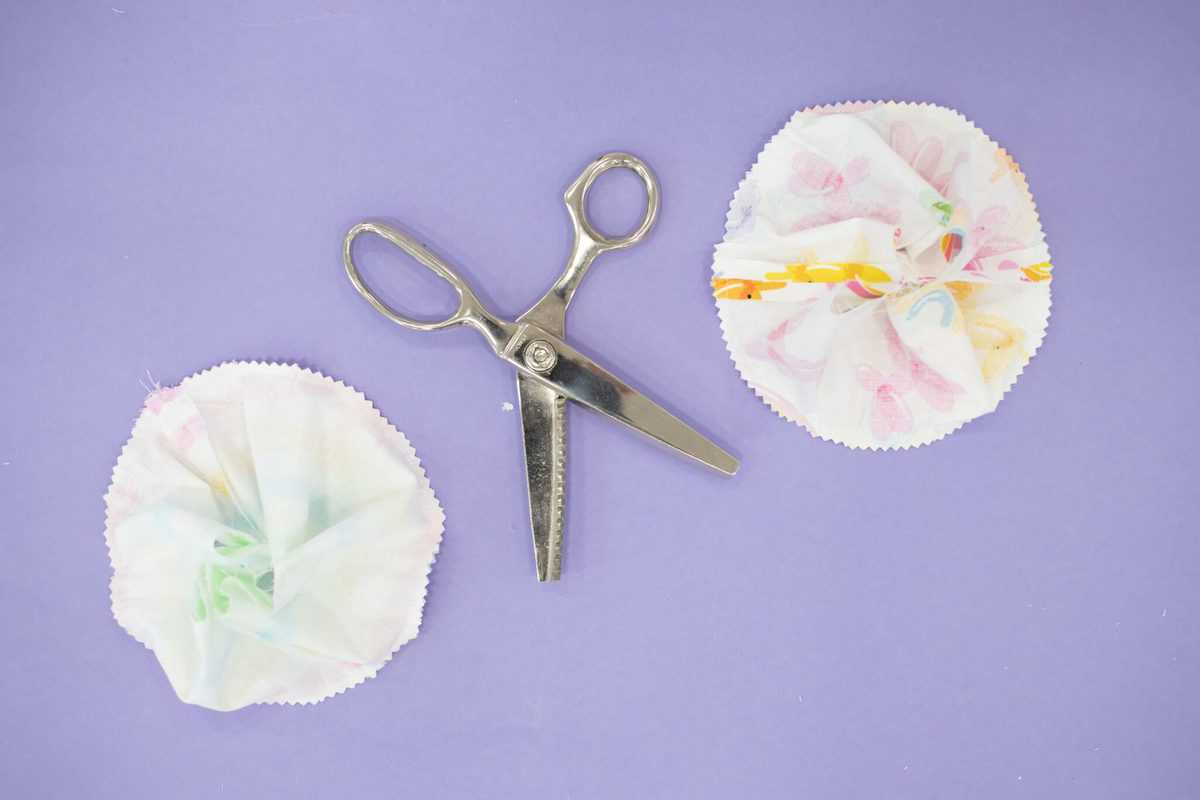 Press the seams inwards towards the top of the hat.
Press a 2" long piece of the edge of the hat (main) under 3/8". This will create a nice crisp folded edge for one of the next steps.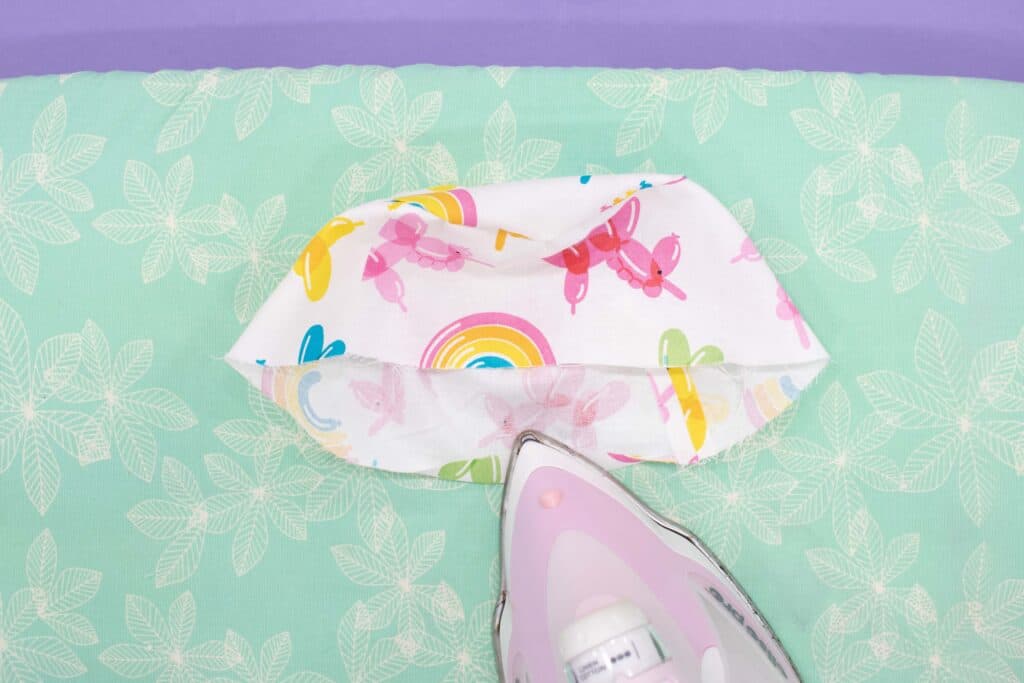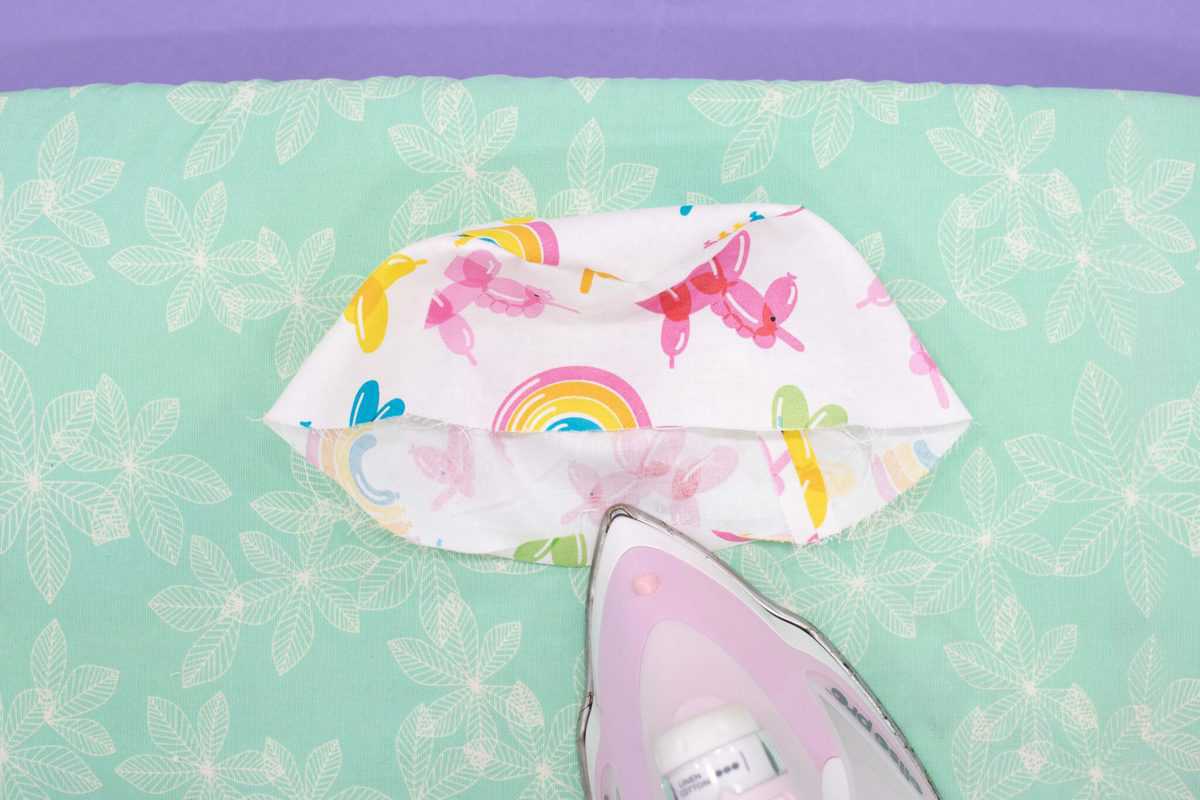 *Optional: Topstitch the seam allowance down using a 1/8" seam allowance.
STEP 7: ATTACH MAIN TO BRIM AND TOPSTITCH
Align the lining top hat side seams with brim side seams (make sure you having lining sides facing right sides together). Pin in place and sew all the way around.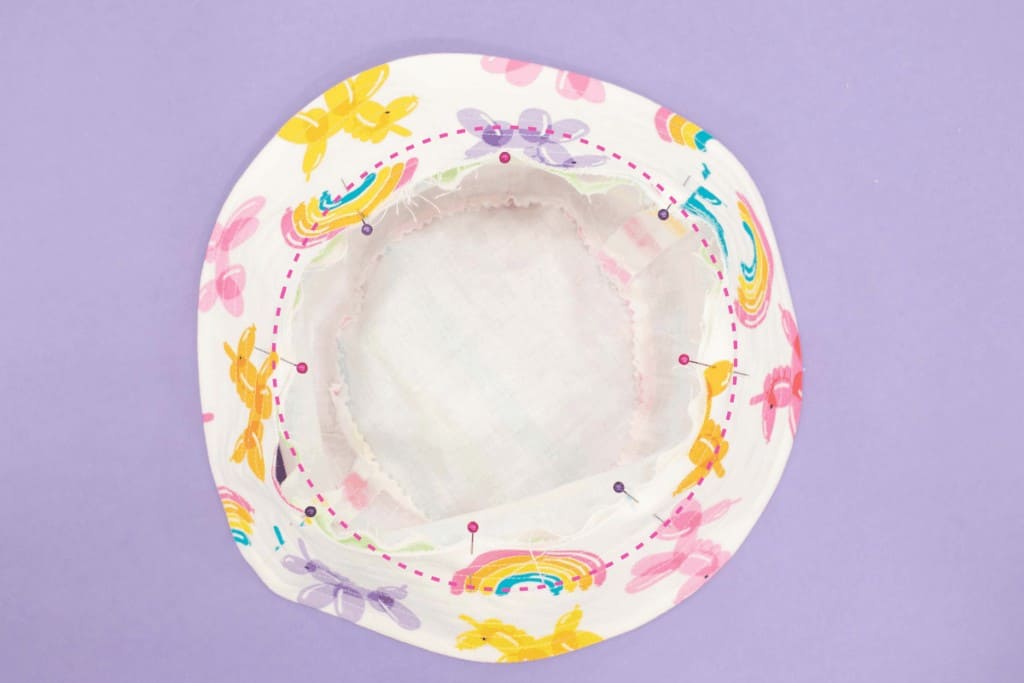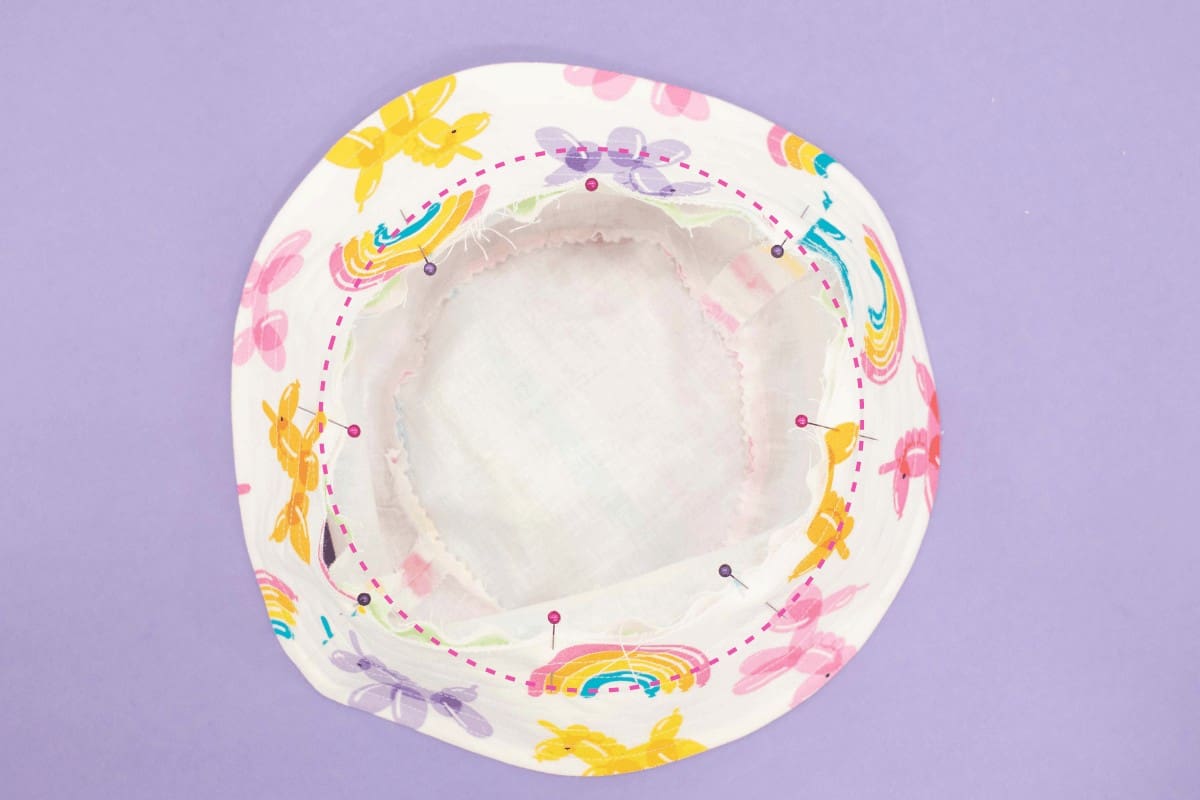 Press well with plenty of steam.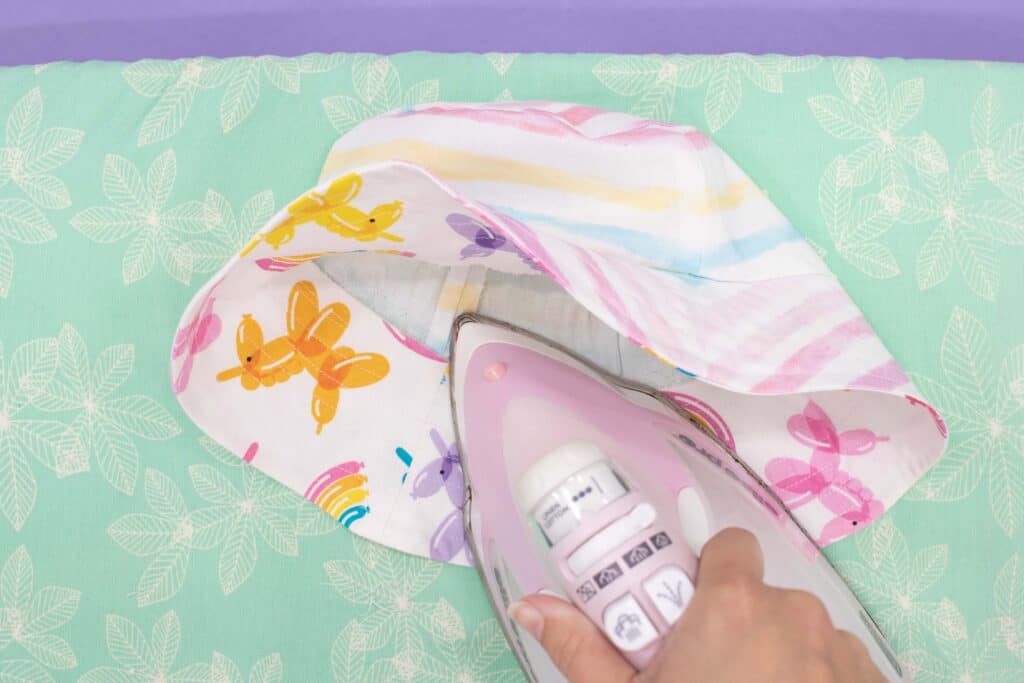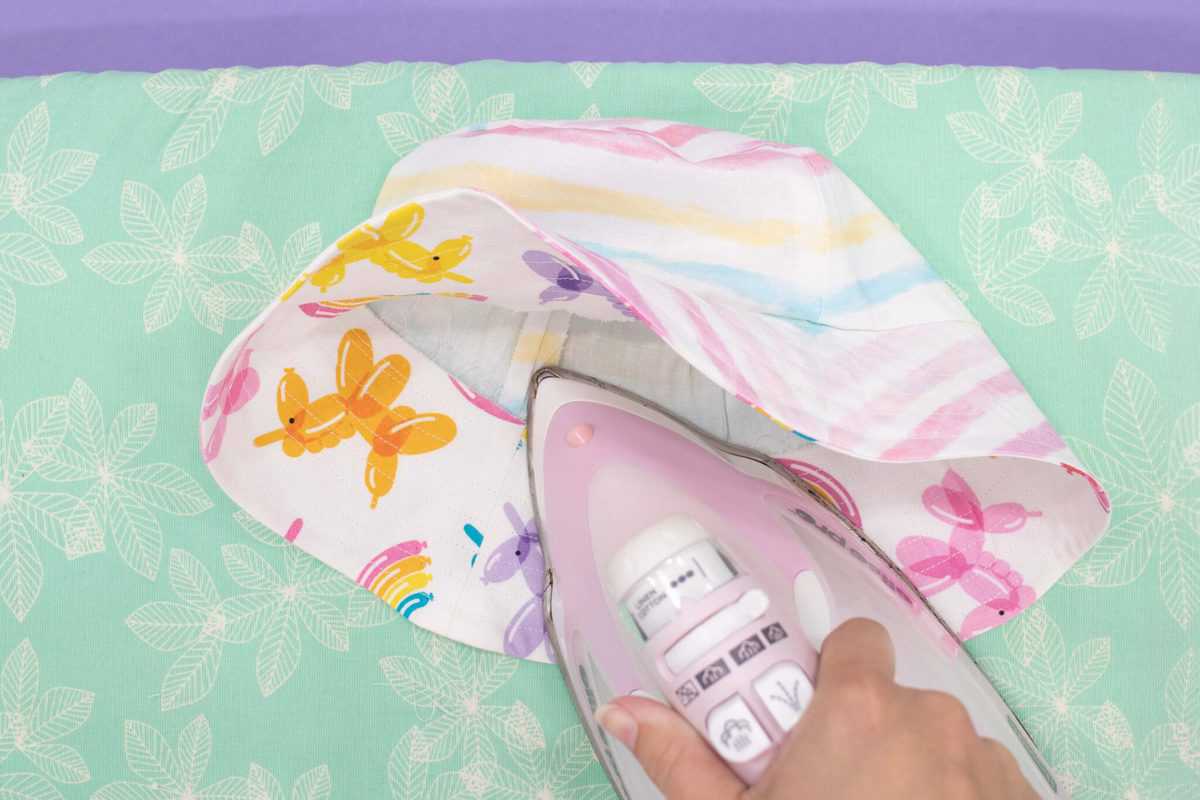 Align the main bucket hat with the main bucket hat middle with right sides facing each other and pin around the hat. Sew around the hat leaving a 1" - 2" opening for turning.
Turn the hat right side out and press the seams with plenty of steam.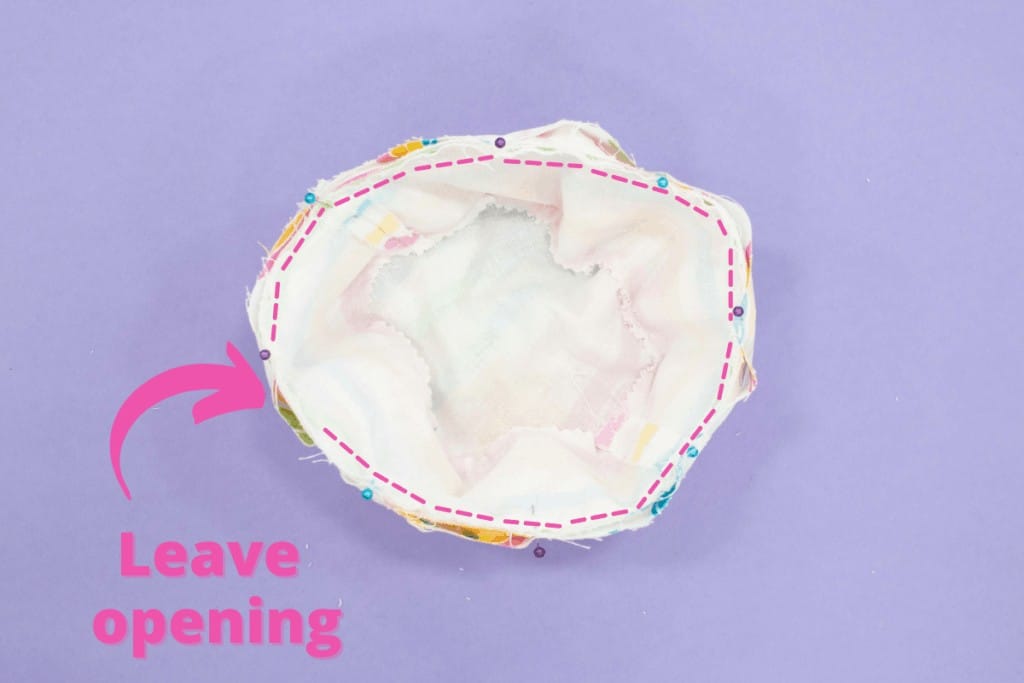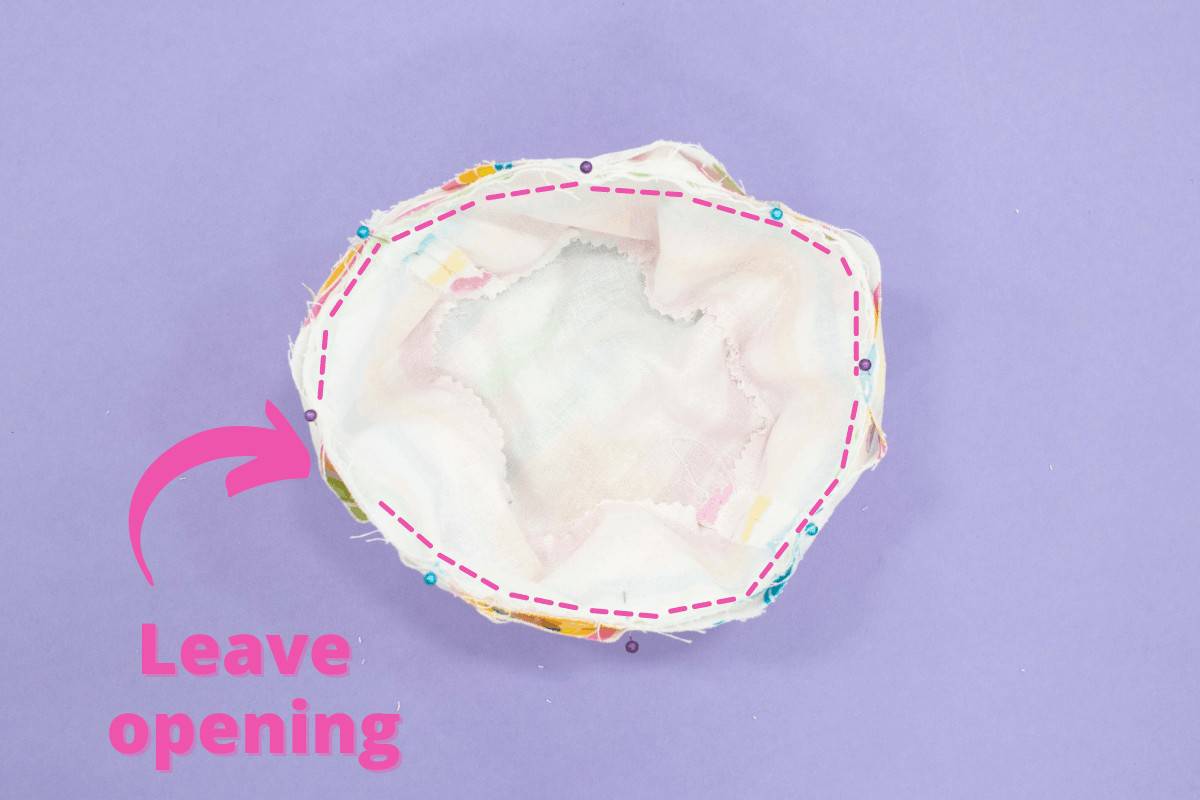 Top stitch along the seam to close the opening.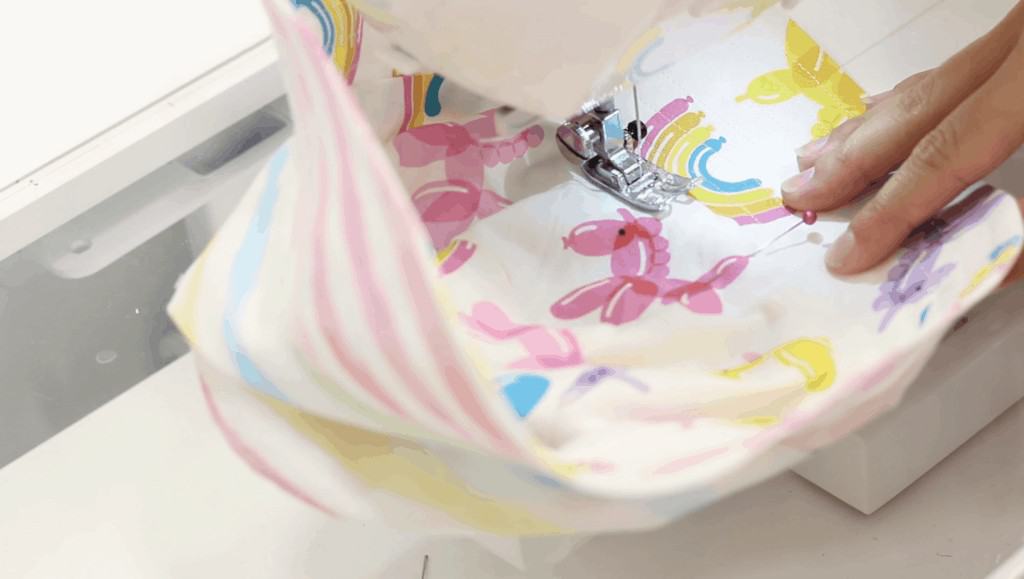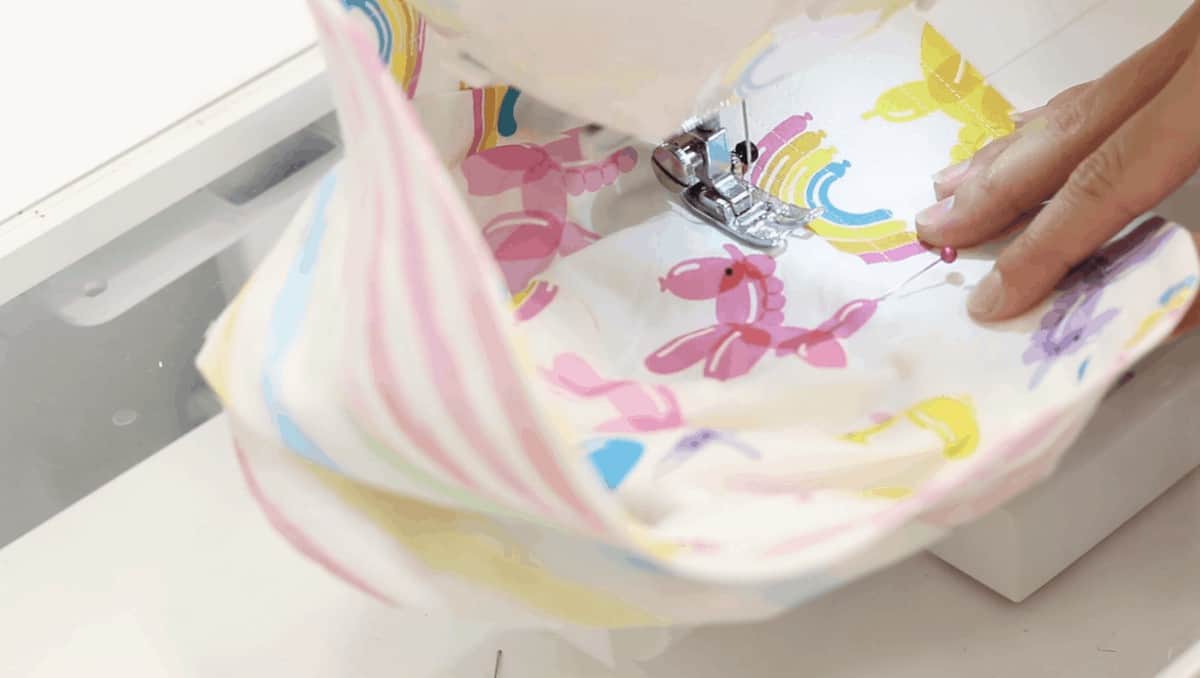 Now you have an adorable bucket hat!
Looking for more easy sewing projects? Check out my scrunchie post here!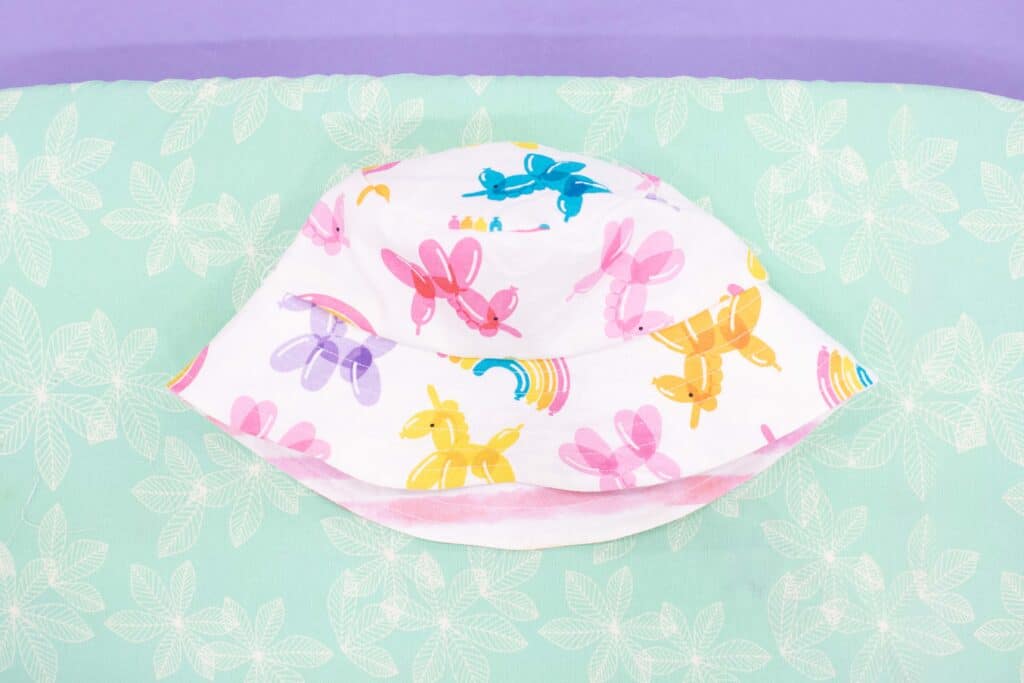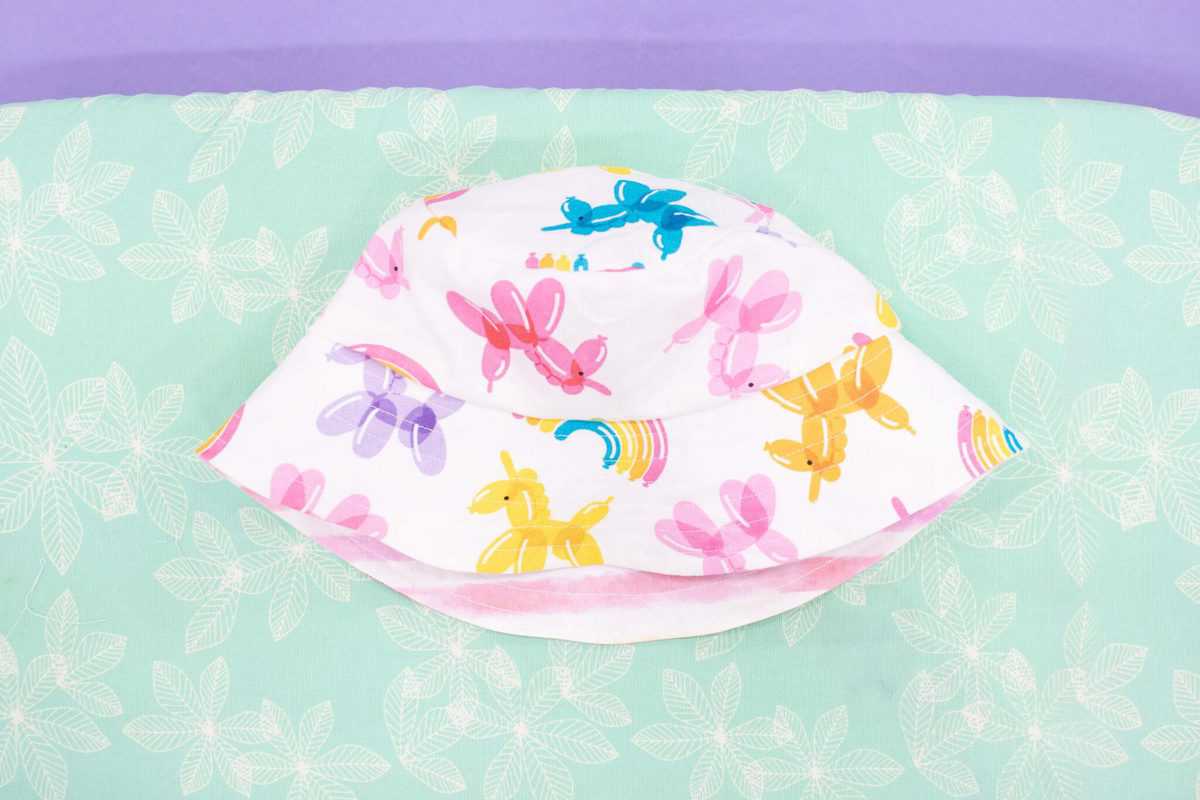 Did you enjoy this tutorial? I'd love to see what you've made with it!
Don't forget to order or pick up all of the supplies for this tutorial from your local JOANN.
Join my crafting and sewing Facebook group where you can show us what you're making, ask questions, and learn from others!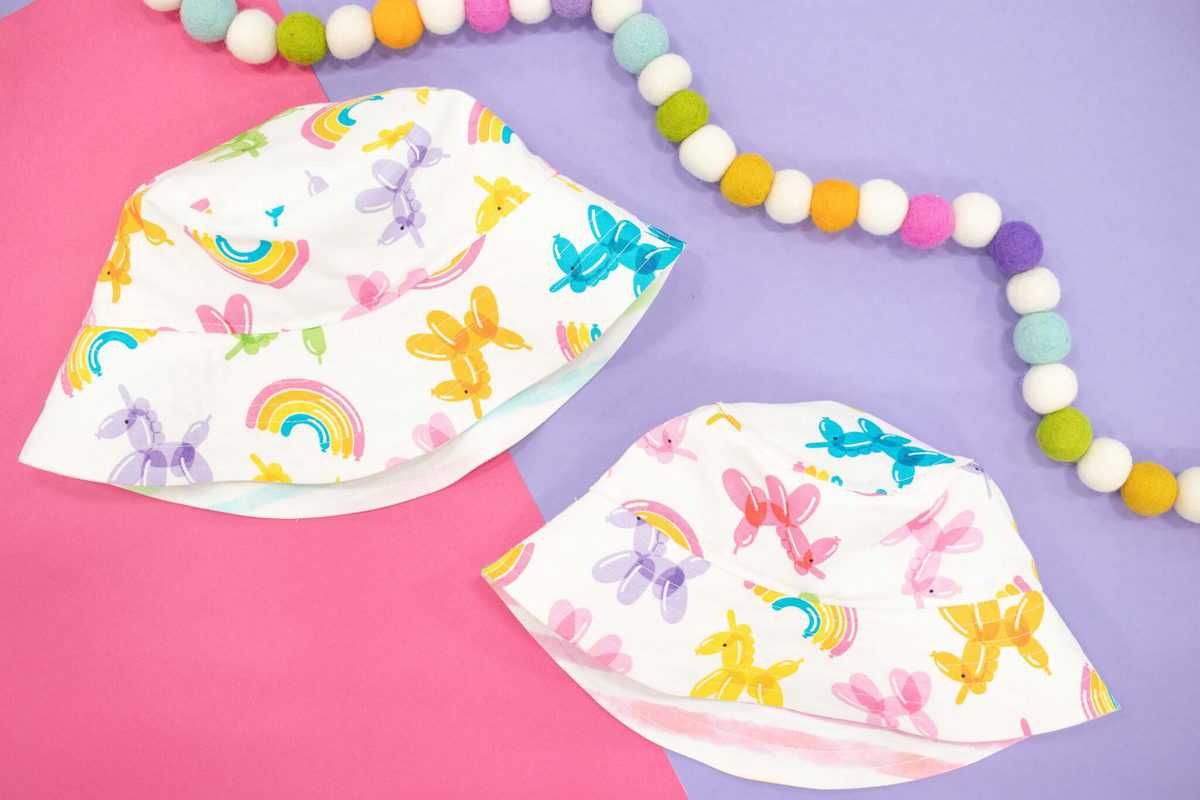 Follow me on Instagram for daily crafting inspiration and a look behind the scenes.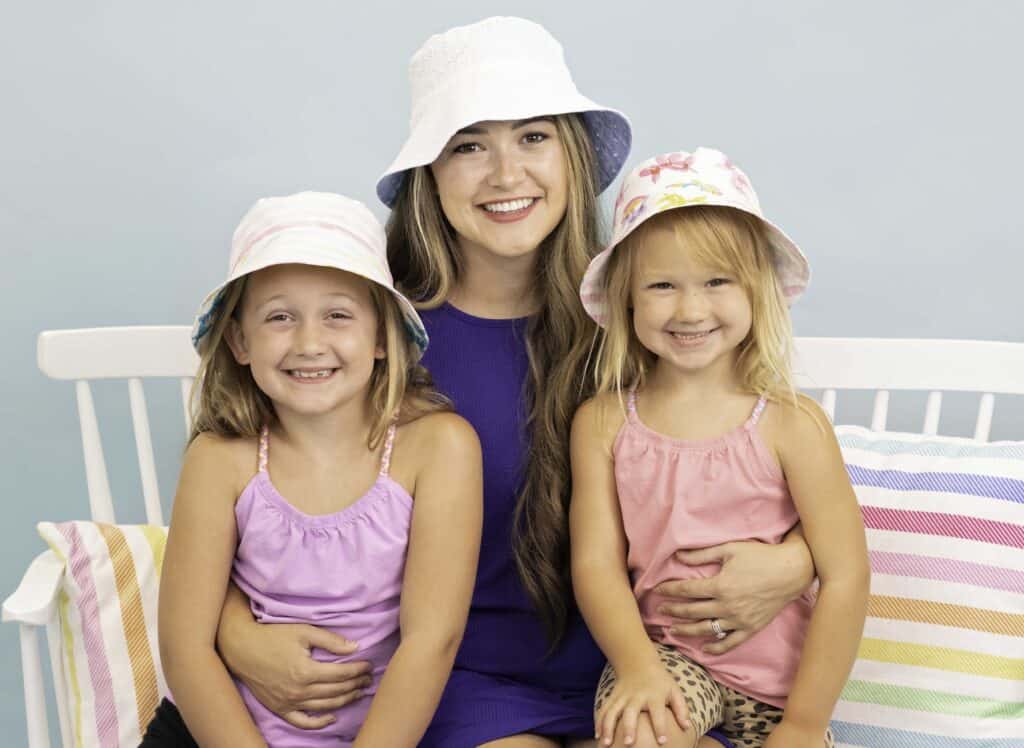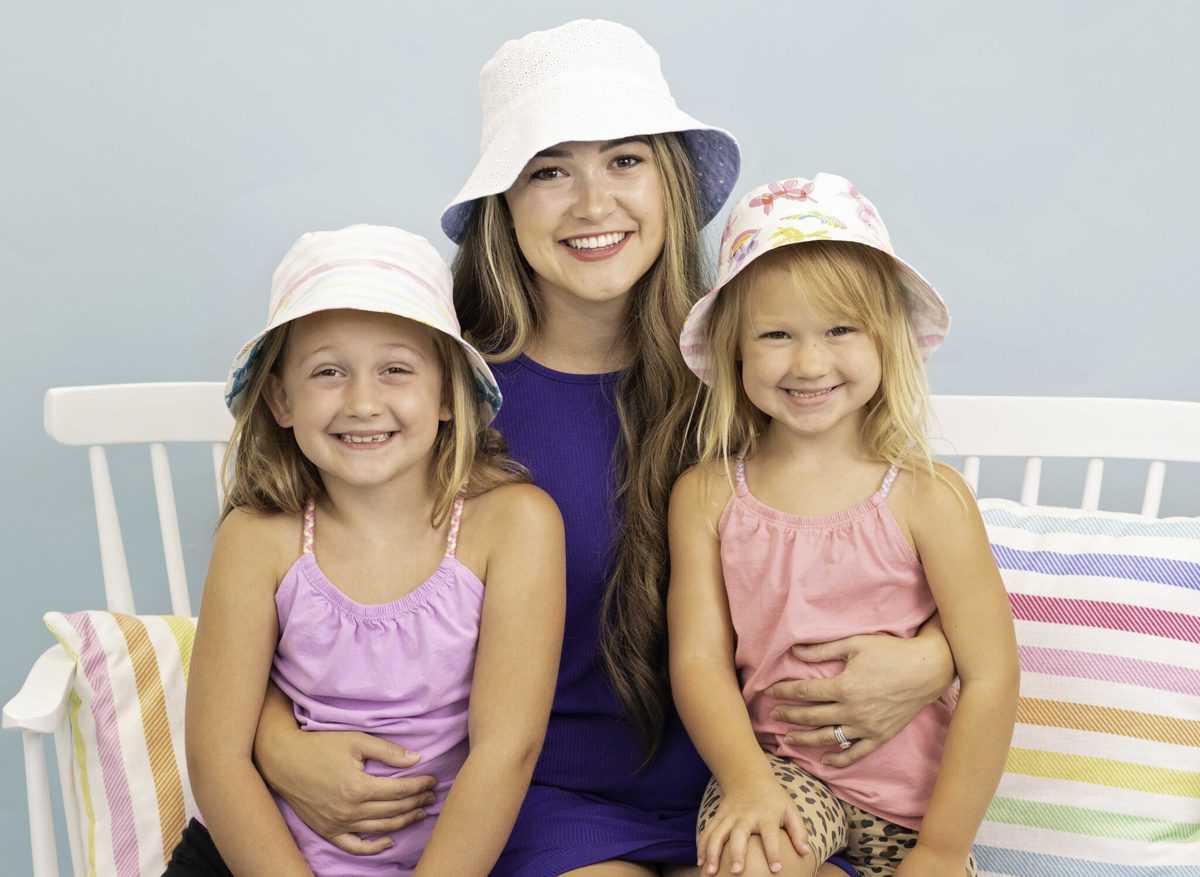 Do you have any questions about this bucket hat sewing pattern? Let me know in a comment below!