Create a Back to School Teacher Gift Card Printable Gift with this Free Printable Download.
Back-to-school prep is in full swing! Where did the summer go? I feel like I blinked and suddenly our summer is coming to a close.
As I took my three kids back to school shopping (crazy to think all THREE of my kids are in school now!) I had the idea to make a fun printable to go with the gift cards I grabbed for our new teachers!
One of my favorite things to do each year is sending a few fun gift cards to my children's teachers that they can use on themselves throughout the school year. It's an easy way to say "Thank You" for all that they do!
First Day of School Coffee Teacher Gift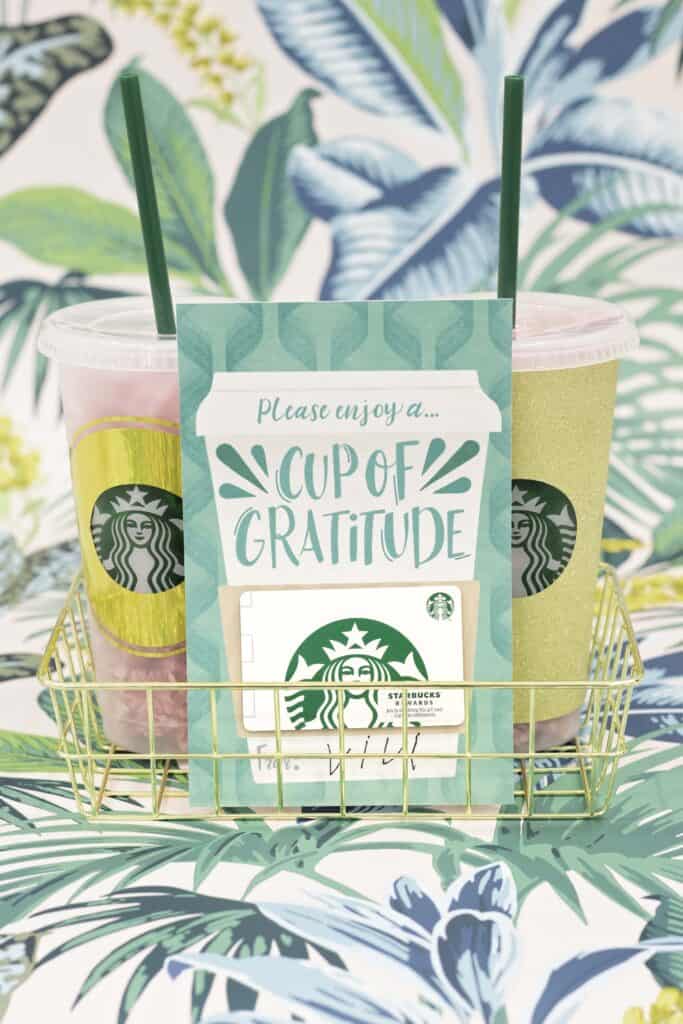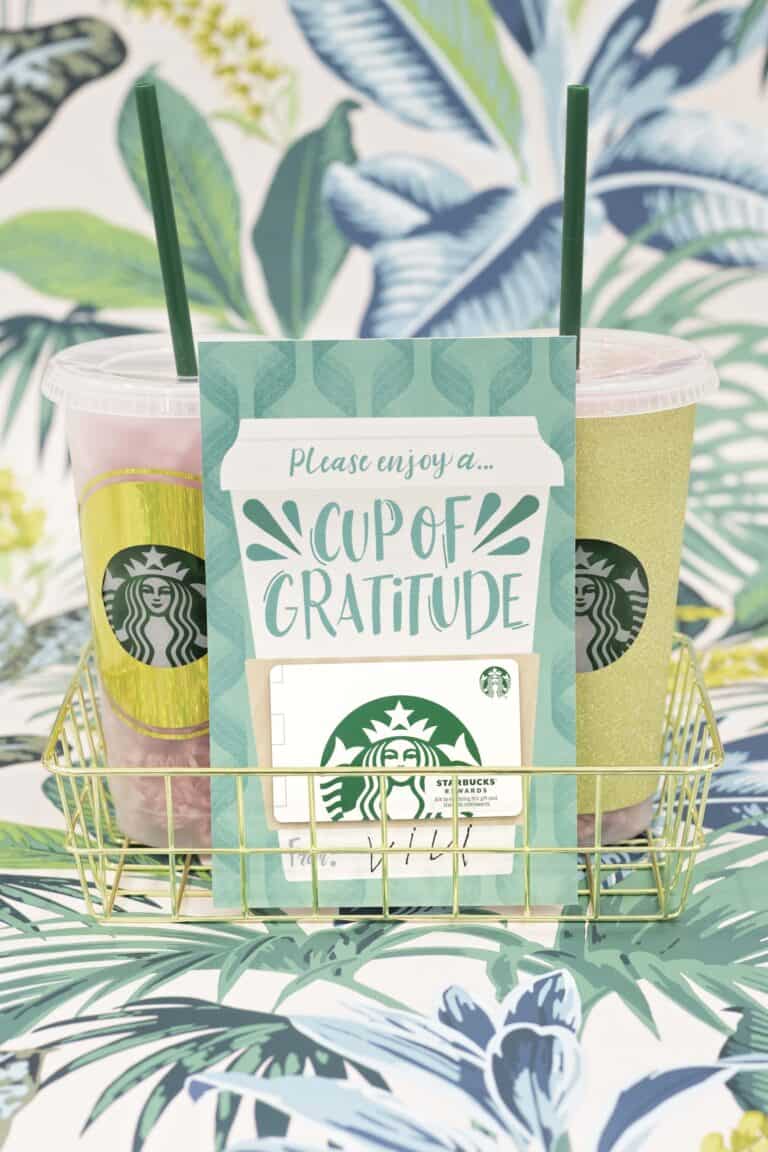 My mother, mother-in-law, and father-in-law have all been school teachers and I know just how much time and effort goes into their jobs. Not to mention how much money they spend out of their own pockets on classroom supplies. Growing up, I remember how a small but thoughtful gift would make my mother's day as a school teacher!
I designed four different printables that are all perfect for back to school. Grab a gift card from Starbucks, Dunkin, or Dutch Bro's, print off this printable, glue your gift card onto the printable and you are set! It really couldn't be any easier!


Back to School Gift Card Printable Supplies
Envelope (Optional)
Printable File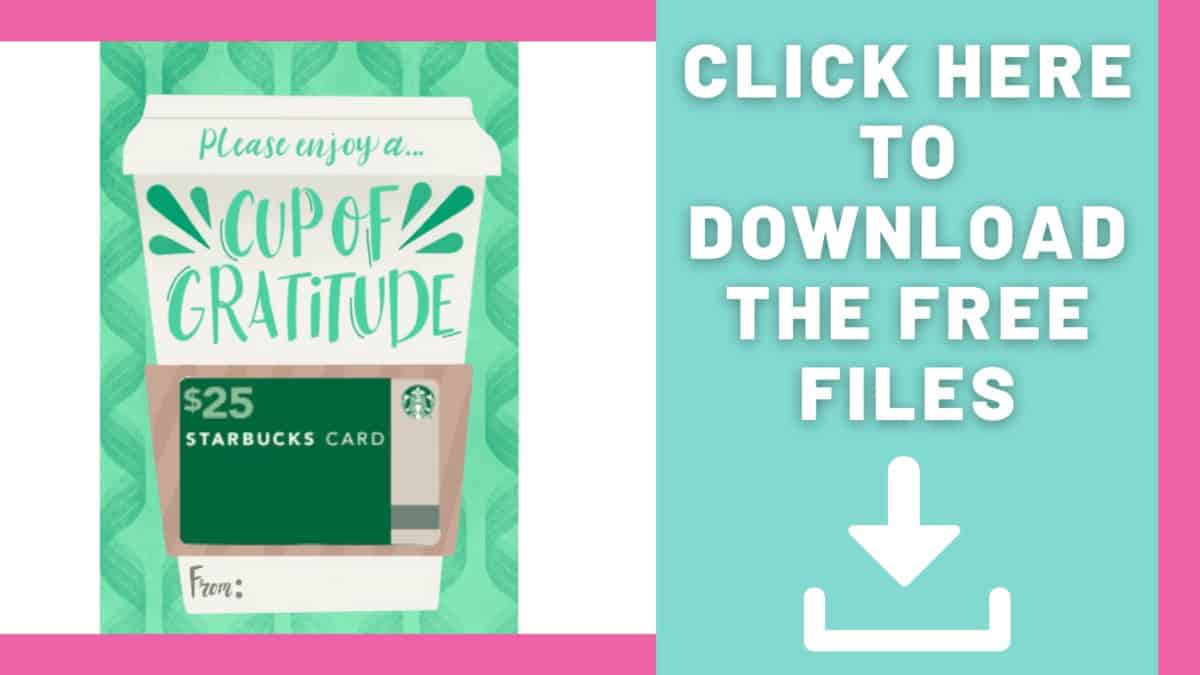 Start by printing off the Gift Card printable. Be sure to choose your favorite file. There are four different variations. I always increase the quality of my print when working with multi-colored printables so the image quality is higher.
I like to use a heavy weight cardstock so the printable has some weight to it and can hold the gift card without tearing or bending.
Once you've finished printing you can cut the paper in half leaving you with two different printables.
Add a few glue dots to the back of the gift card to help secure the gift card.
Adhere the gift card to the printable.
Feeling a bit extra? Sometimes I just can't help myself from going a little bit overboard! Can you relate?
Grab a few reusable Starbucks cups, use my FREE Starbucks vinyl templates to personalize the cups, and create a cute back-to-school gift basket for your teacher!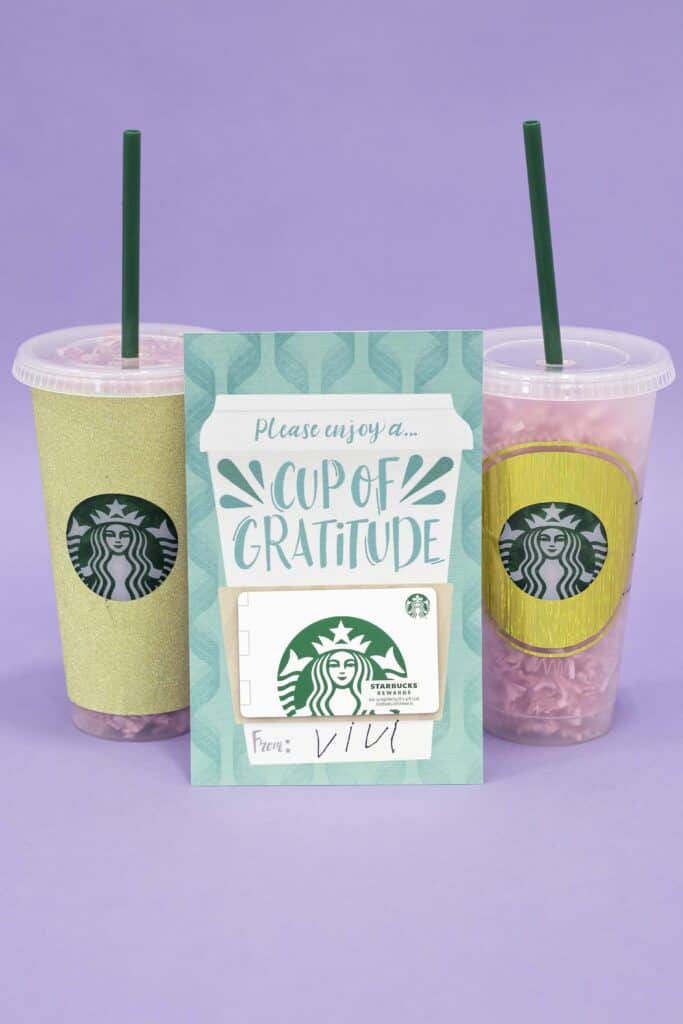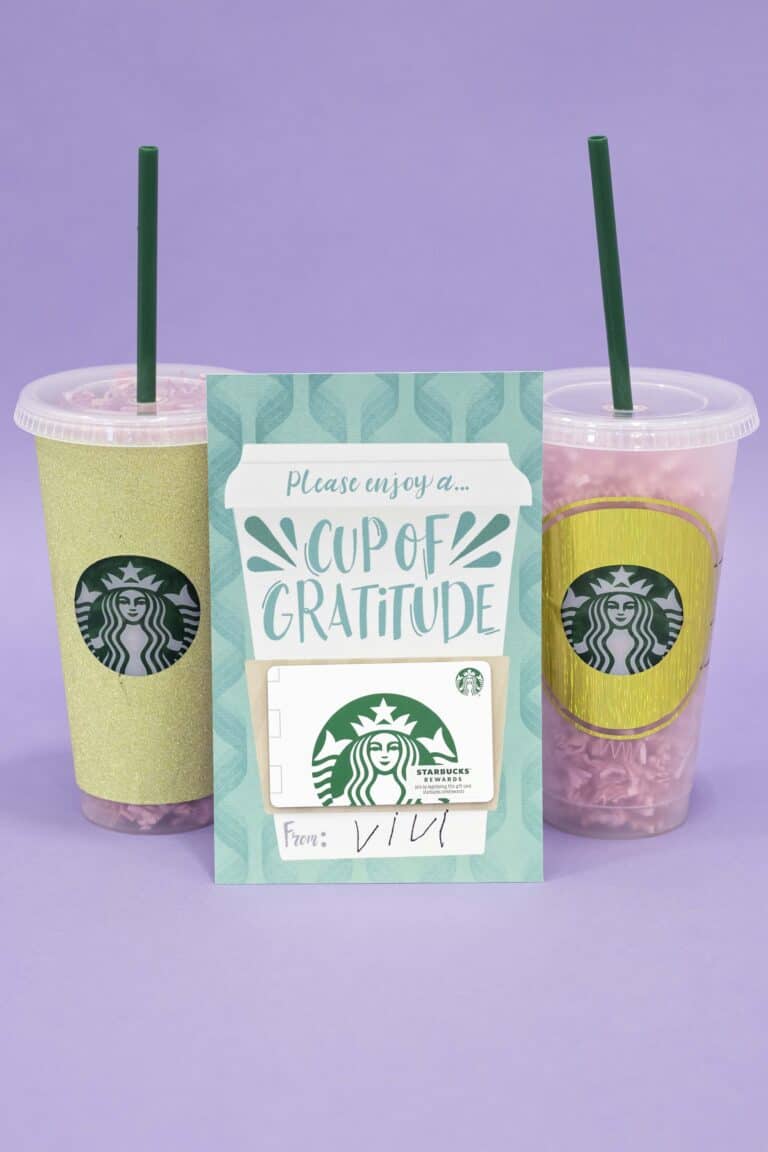 Look how cute all of these printables are! You can use them with any gift card you want!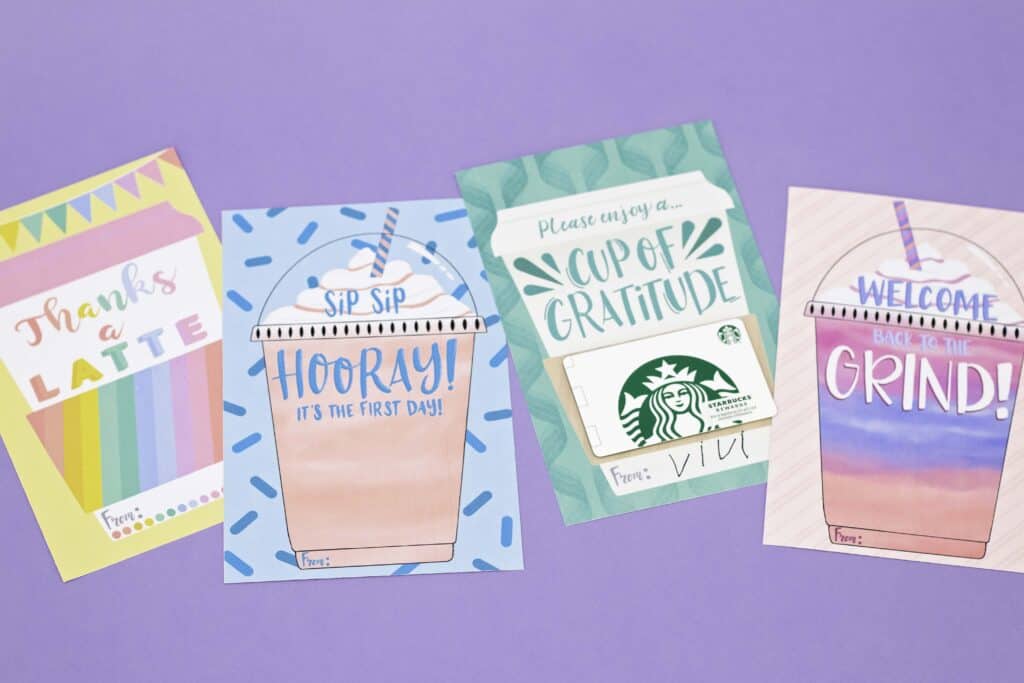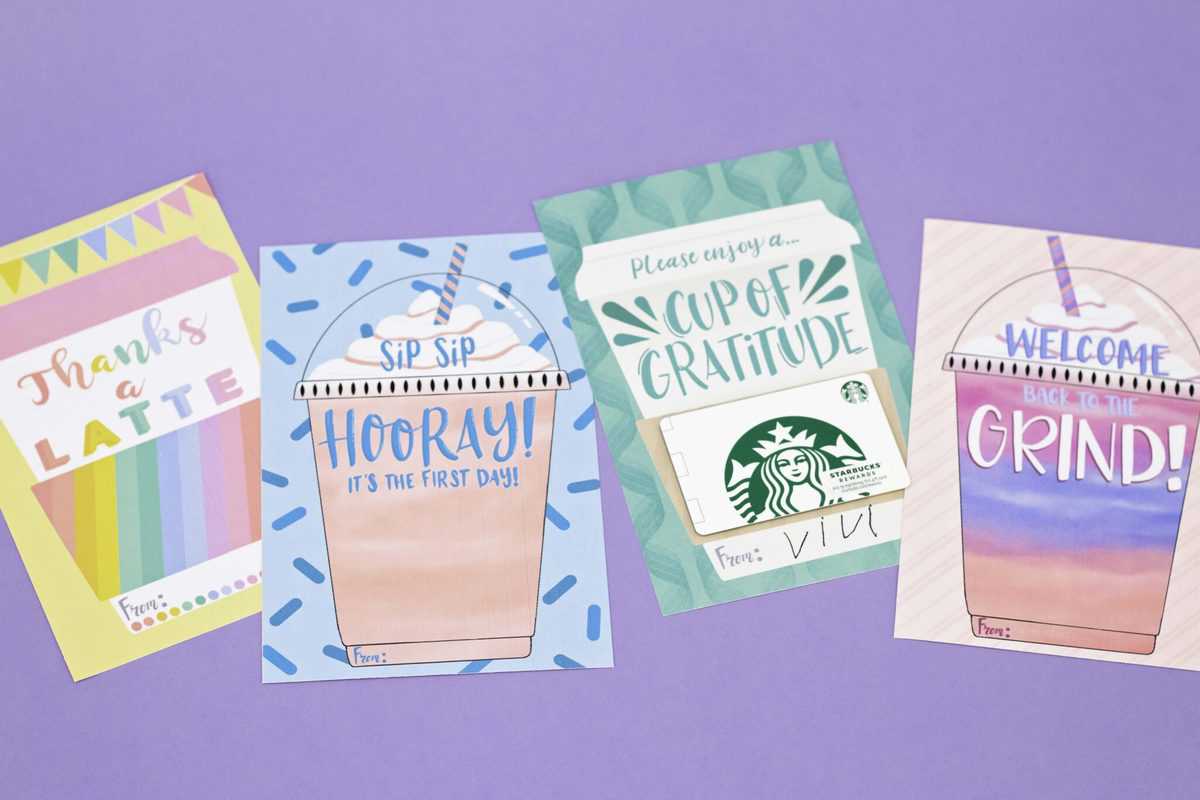 Want bonus points? Call the front office and find out if they have info on your teacher's favorite snacks or treats so you can add a few thoughtful items to the basket as well.
I hope you enjoy these free back-to-school coffee teacher printables!
Join my crafting and sewing Facebook group where you can show us what you're making, ask questions, and learn from others!
Follow me on Instagram for daily crafting inspiration and a look behind the scenes.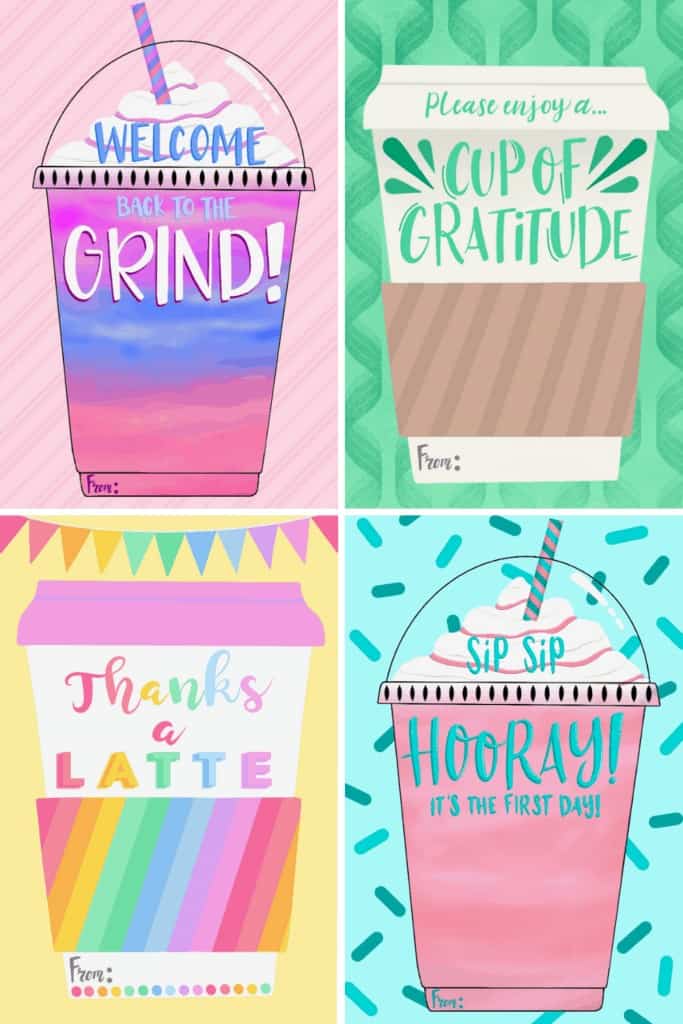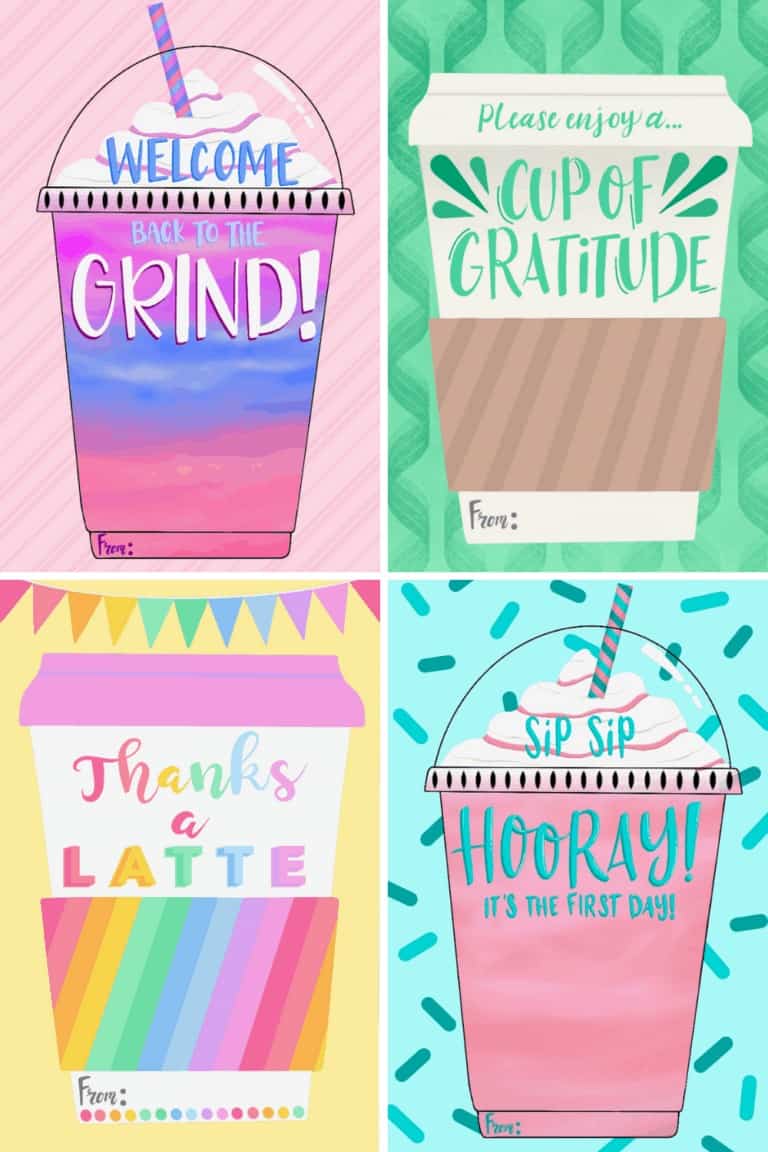 Which coffee themed teacher gift card do you like the most? Let me know in a comment below!