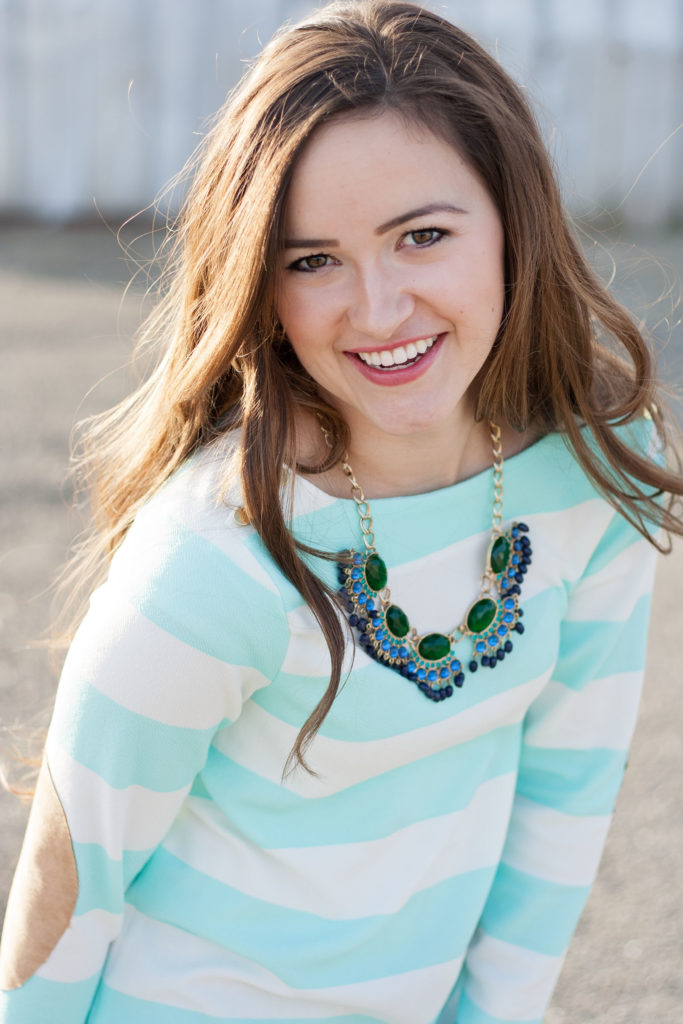 I have this obsession with stripes this year, but can you really blame me? In light of my recent obsession, I've gathered quite the collection of striped fabric and it's been waiting ever-so-patiently to be sewn. Once I saw the line drawing for the new Terra Tunic from Love Notions, I immediately ran to my sewing room to grab my fabric. Running to my sewing room probably wasn't my greatest idea, considering my living room floor was littered with baby dolls, books and blocks. I narrowly escaped stepping on legos which is kind of like a near-death experience. Whew!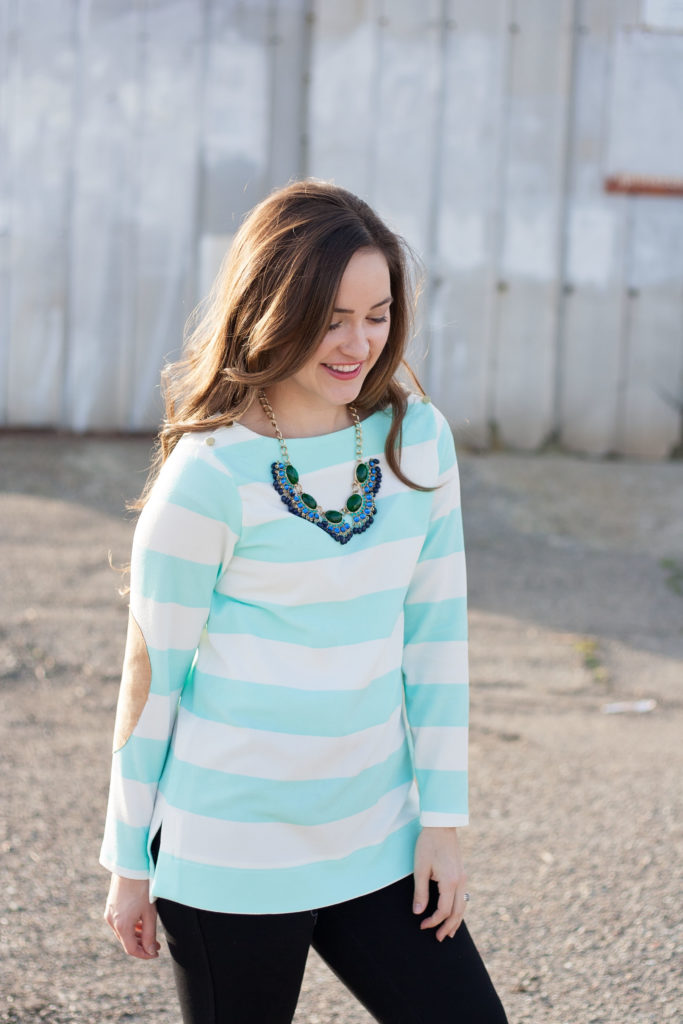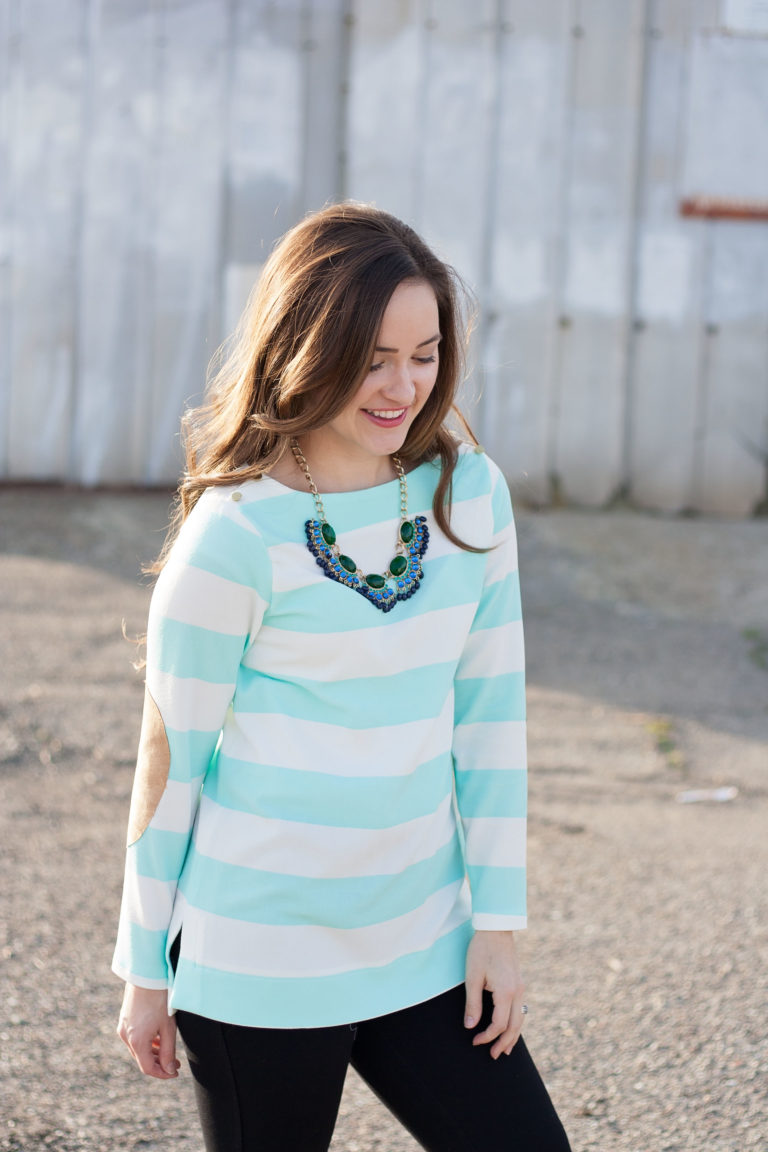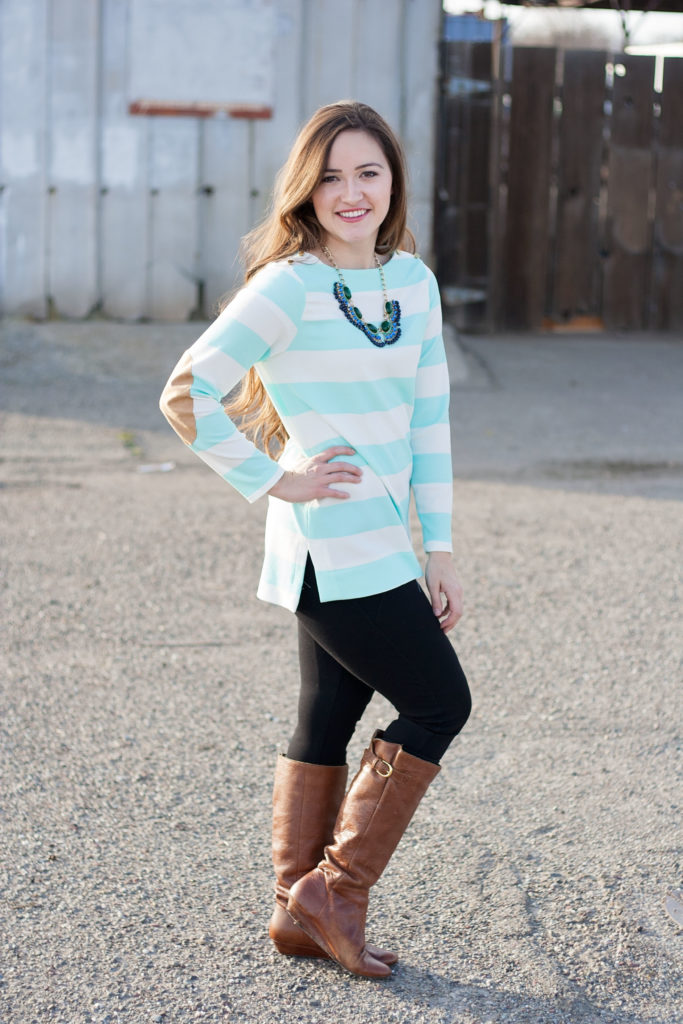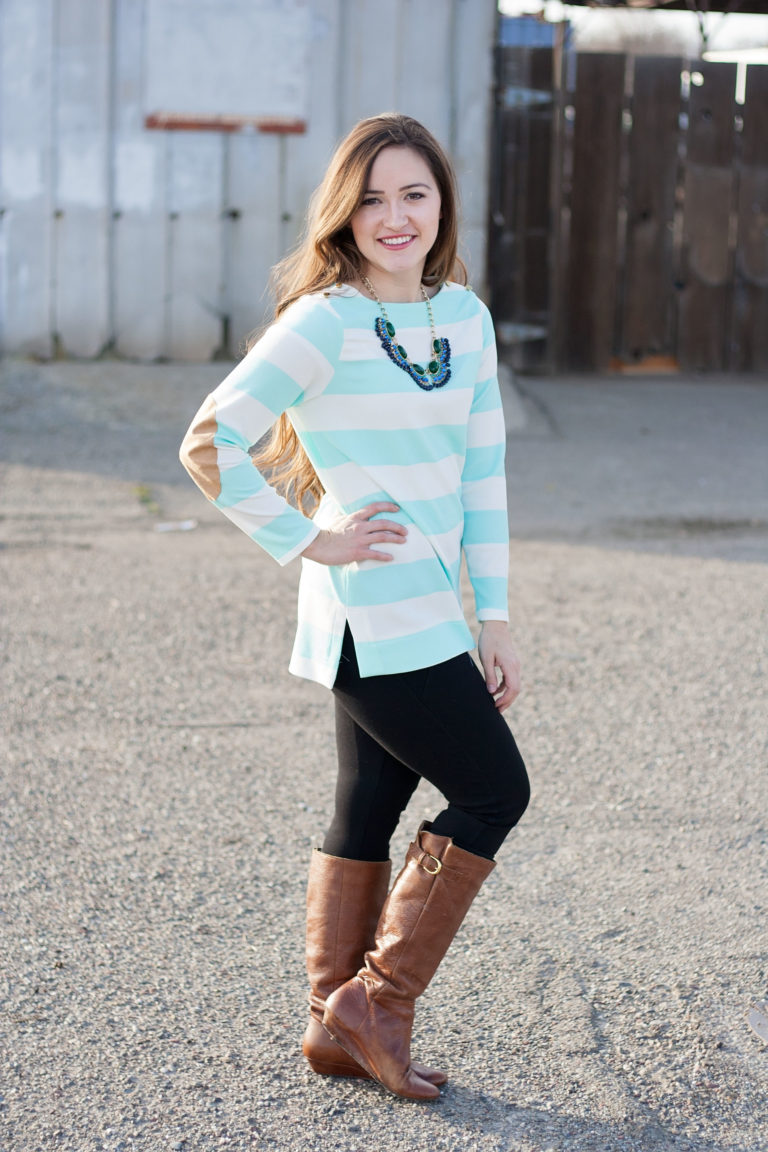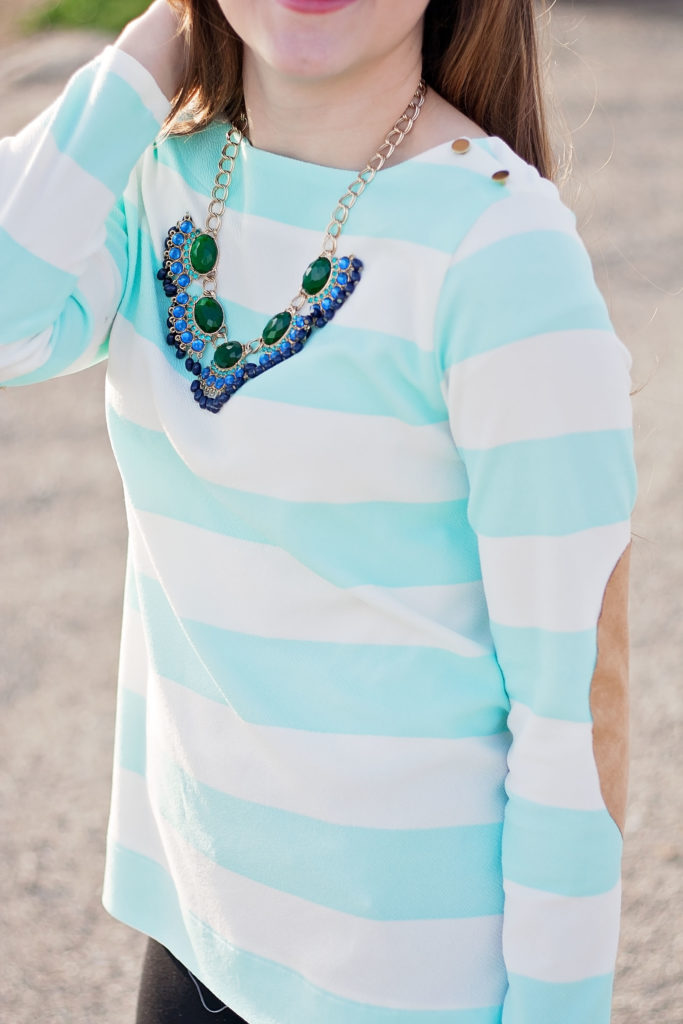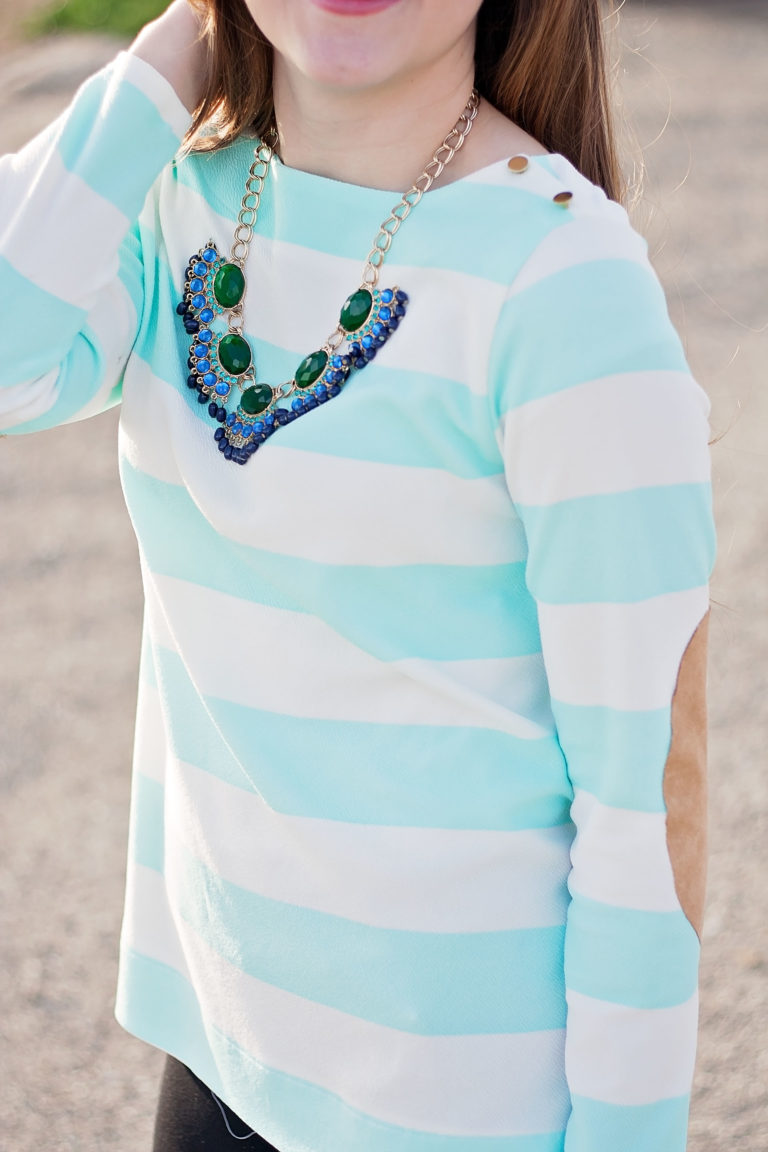 I pulled out my scrap bin hoping that I'd have just enough of my mint and white striped Liverpool fabric from this dress left over to squeeze out a Terra Tunic. Boy, was I right...it really was a close squeeze; I actually had to cut an inch off of the back hem allowance, though it didn't change the actual length since the hem is 2.5 inches deep. I did, however, take an inch from the torso and the arms of this top to better fit my petite height.
You can find the mint and cream fabric here and the navy fabric here.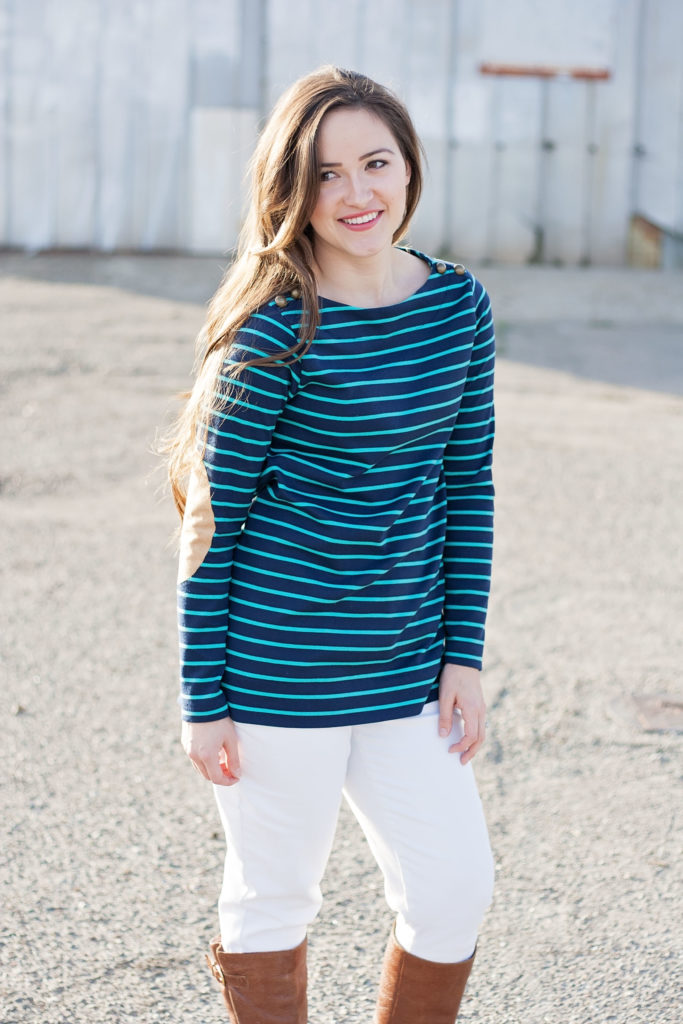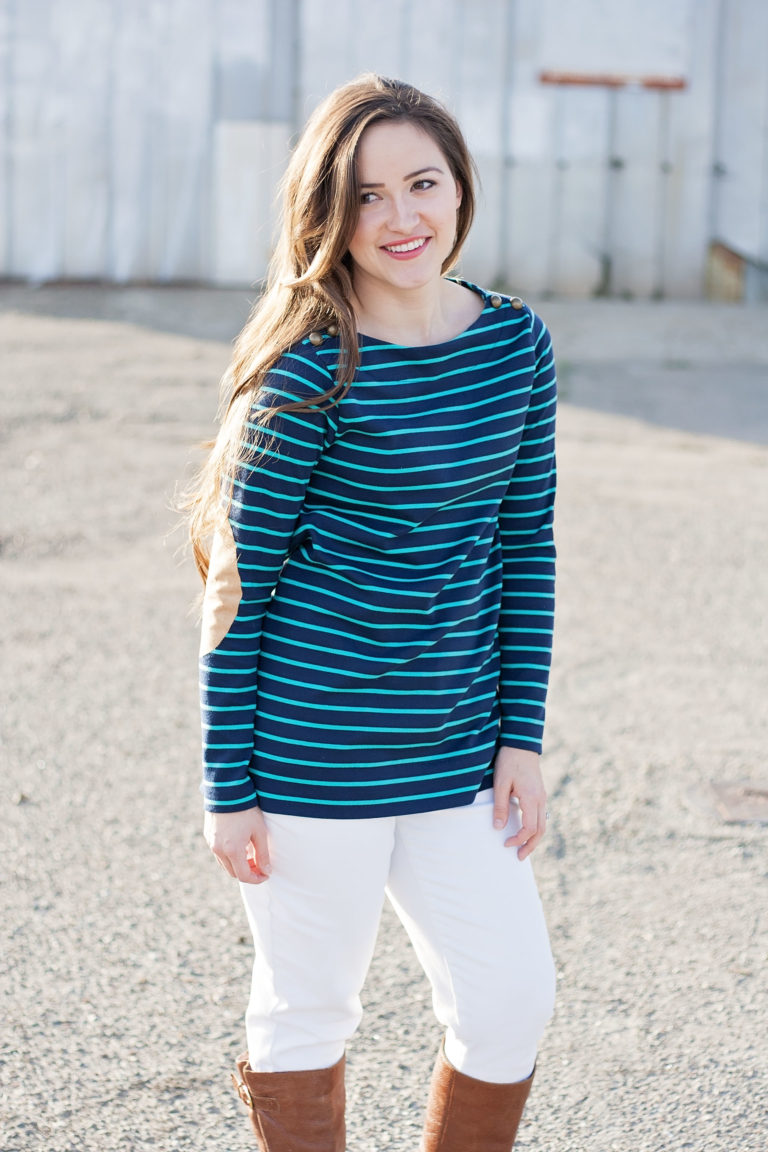 I also chose a beautiful navy blue and turquoise Ponte de Roma that I've been holding onto for about 2 years. I really love how warm and cozy this top is! I made no alterations to the length of my navy tunic. Both tunics were paired with some cognac suede elbow patches for a fun finishing touch.
I made a size small (35", 28.5", 38" ) My measurements happen to be exactly the same as the Love Notions size chart which really works in favor of my pear-shaped body.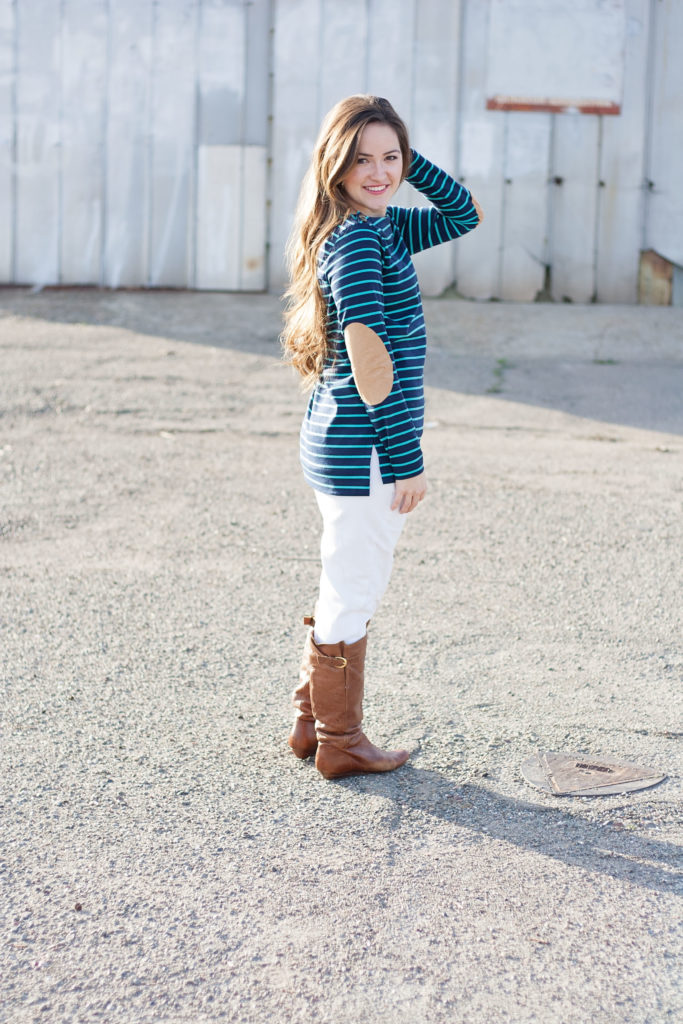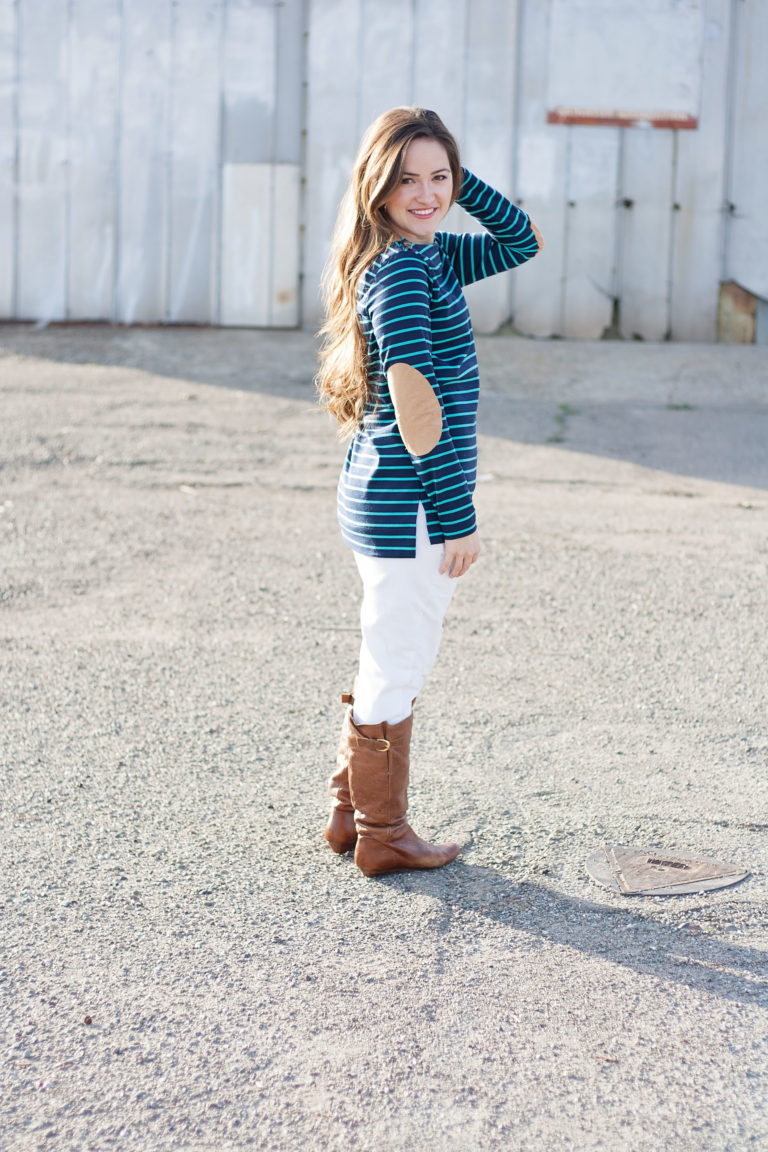 After digging through my overflowing stash of buttons, I couldn't seem to find anything that I loved for either of these tunics, so I headed to JoAnn's with coupons in hand. I scoured the entire button section looking for the perfect fit. I finally settled on 8 different sets of buttons. I took them all home with me so I could audition each set. Sometimes I find that making a decision in the store can be hurried and I end up regretting my original decision. I like to ensure that I have options once I'm at home and have a little more time to mull it over. Plus, I really don't mind adding to my button collection. I finally settled on adding these gold buttons for my Mint Tunic and I'm in love! These oversized brass buttons were the perfect addition to my Navy blue tunic and I think both sets of buttons really complement the elbow patches.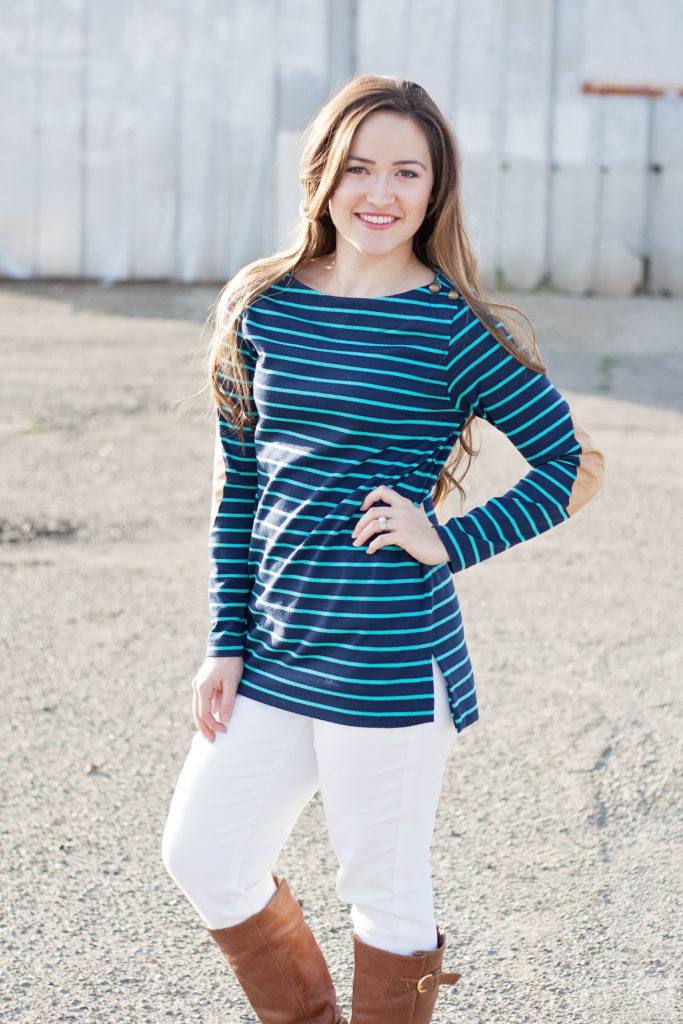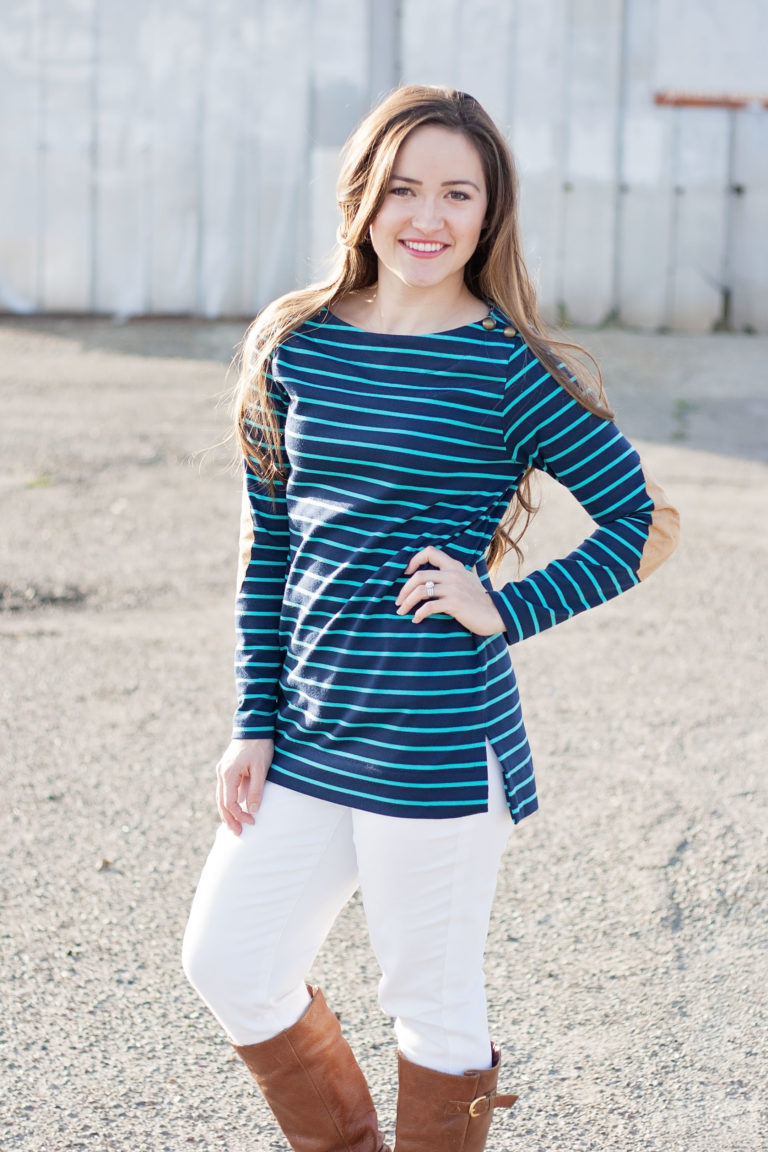 I was impressed by just how quickly the Terra Tunic sews together! I finished each of my tunics during separate nap times. Somehow the stars aligned and all three of my children decided to nap at the same time. Yes, miracles really do still exist. The Terra Tunic features side vents and a chunky hem that gives you adequate booty coverage. I'm a leggings kind of girl in the winter time but I will only wear leggings if my bum is totally covered and this top is the perfect length for just that! The Terra Tunic is a straight-fitting top, it's not too oversized and it's also not too fitted; it's situated perfectly in the middle.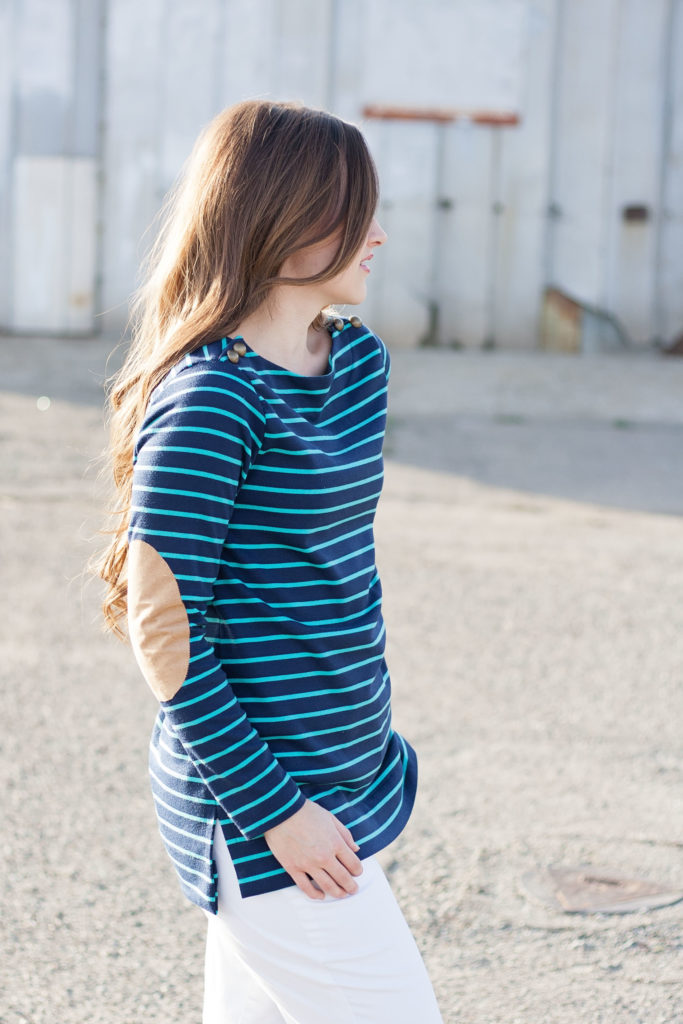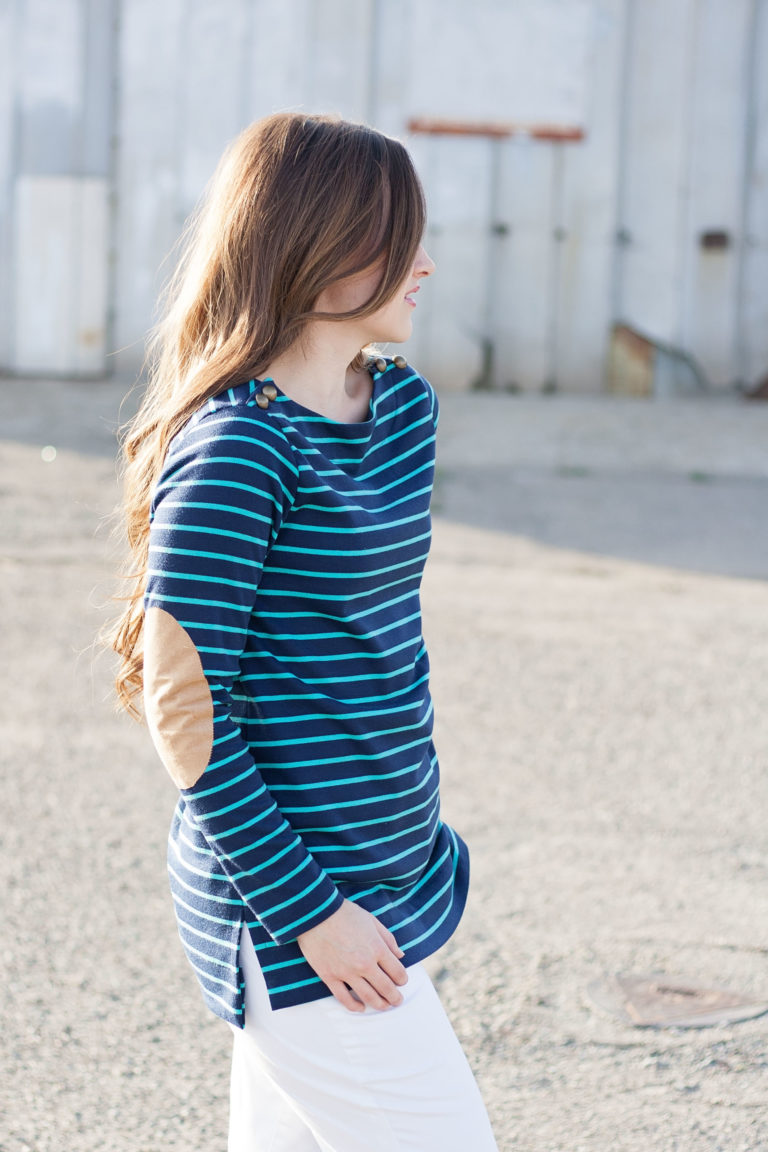 This pattern comes with a variety of different neck options, 6 to be exact and using a different weight of fabric can change the look entirely.
Ladies size XS-XXXL
6 Neckline Options: scoop, v-neck, asymmetrical, boat neck and v-neck hood.
4 Sleeve Lengths: short, elbow, 3/4 and long sleeve
Deep Hem with Side Vents
Optional Welt Pockets and Elbow Patches
Grab the Terra Tunic HERE while it's on sale! (Aff. Link)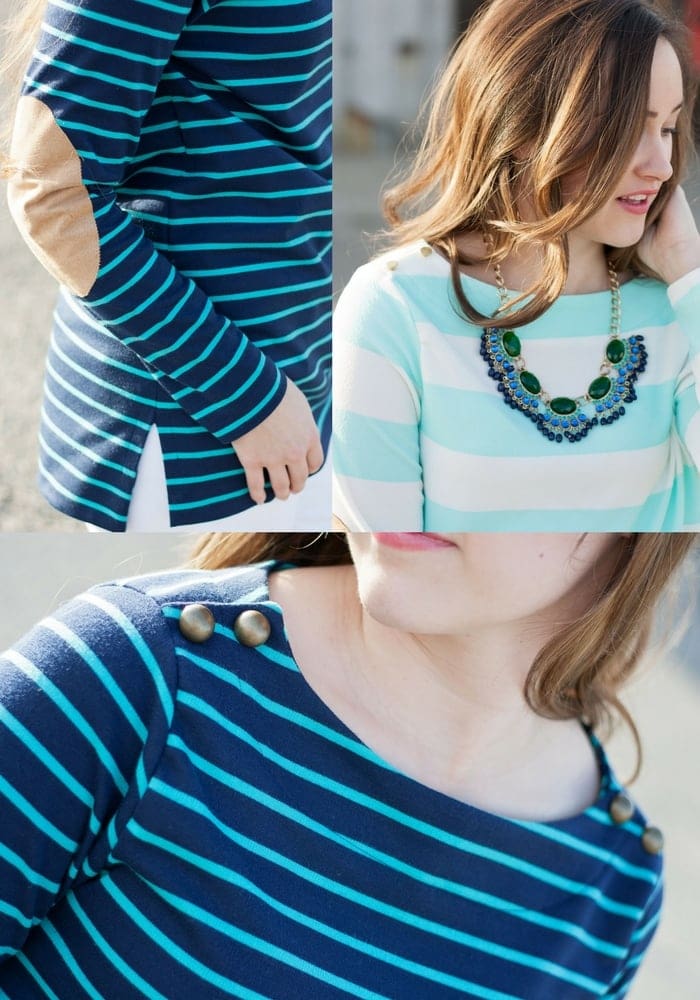 Which option would you sew up first?
Want to catch up with me behind the seams? Find out what I'm working on before I blog about it on Instagram and Facebook. Drop by and say hello!
This post contains affiliate links. I receive a commission from patterns purchased from affiliate links.
SaveSave