Hey friends! Welcome to Sweet Red Poppy. I'm Kim and today I'm going to be talking all about The Janome Sewist 740DC!
If you've watched my sewing tutorials or taken my sewing course, you may have noticed that I'm almost always using a Janome machine.
I seriously love these sewing machines. Janome machines are sturdy, easy to use, and one of the best buys for your money.
The Janome Sewist 740 DC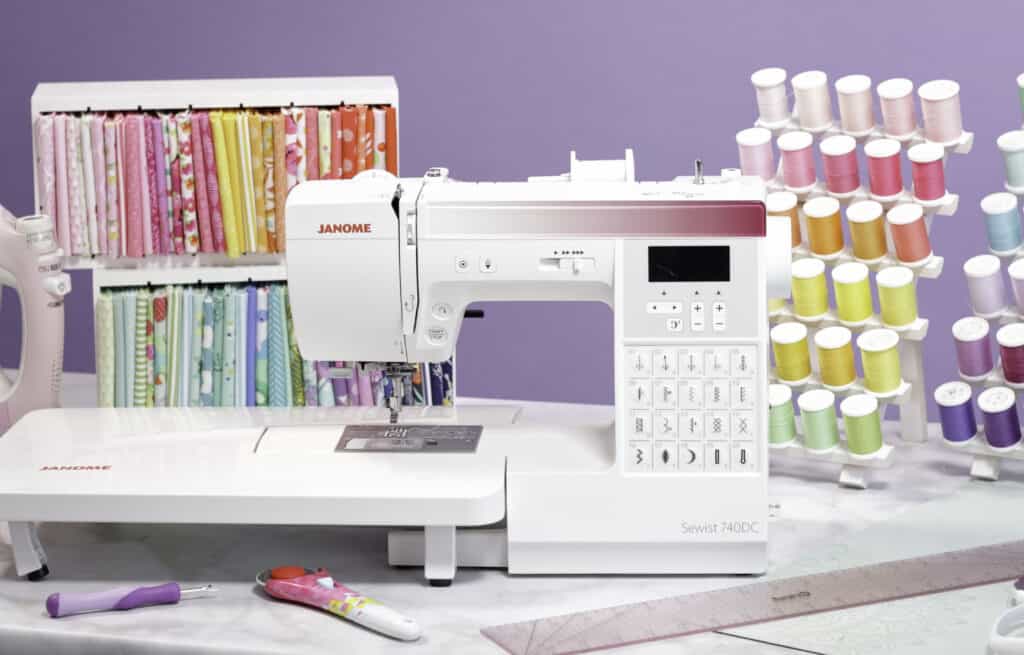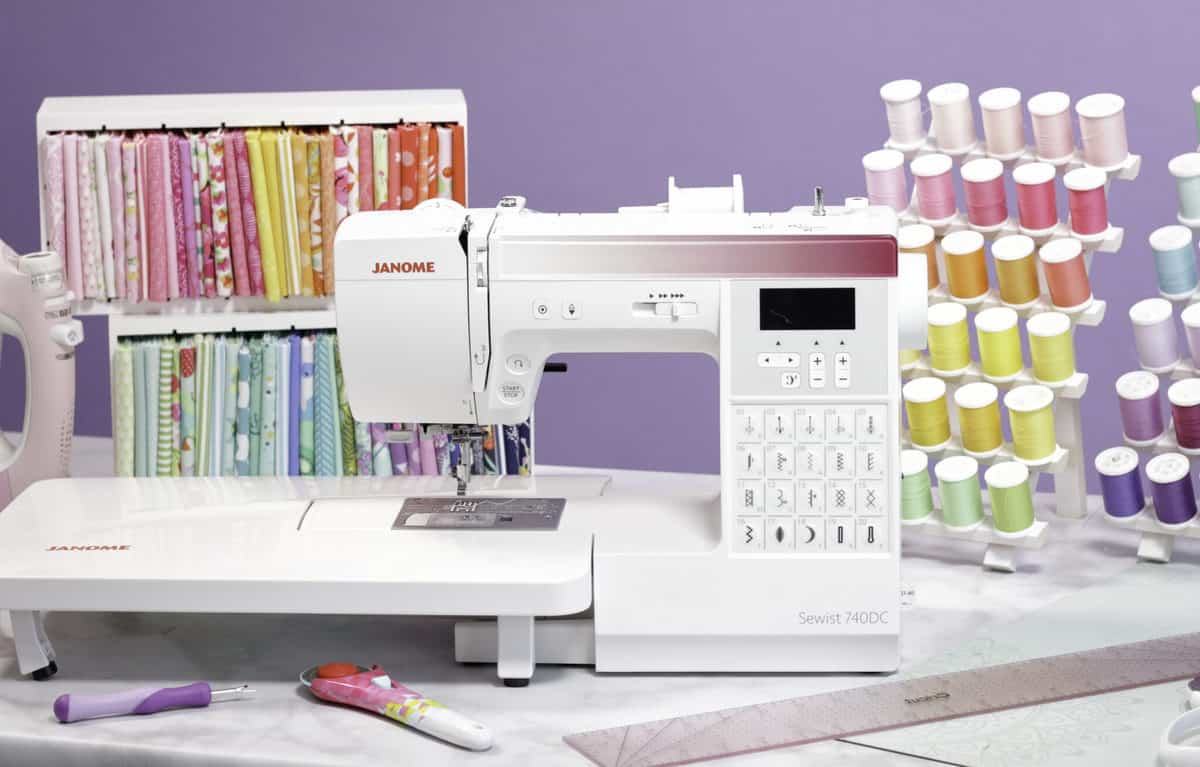 One of my favorite machines they carry is The Sewist 740DC. The Sewist 740 DC is a fully computerized sewing machine with so many amazing features. Let's go ahead and unpack a few of its features.
Stitches - this machine features 40 different stitches. The 20 most commonly used stitches are here on the front of the machine. The other 20 are on this easy access slide-out chart. One of my favorite features is the different buttonhole choices. Now, this may seem like a small thing, but having the correct buttonhole style really takes your projects to the next level, giving you a professional-looking product.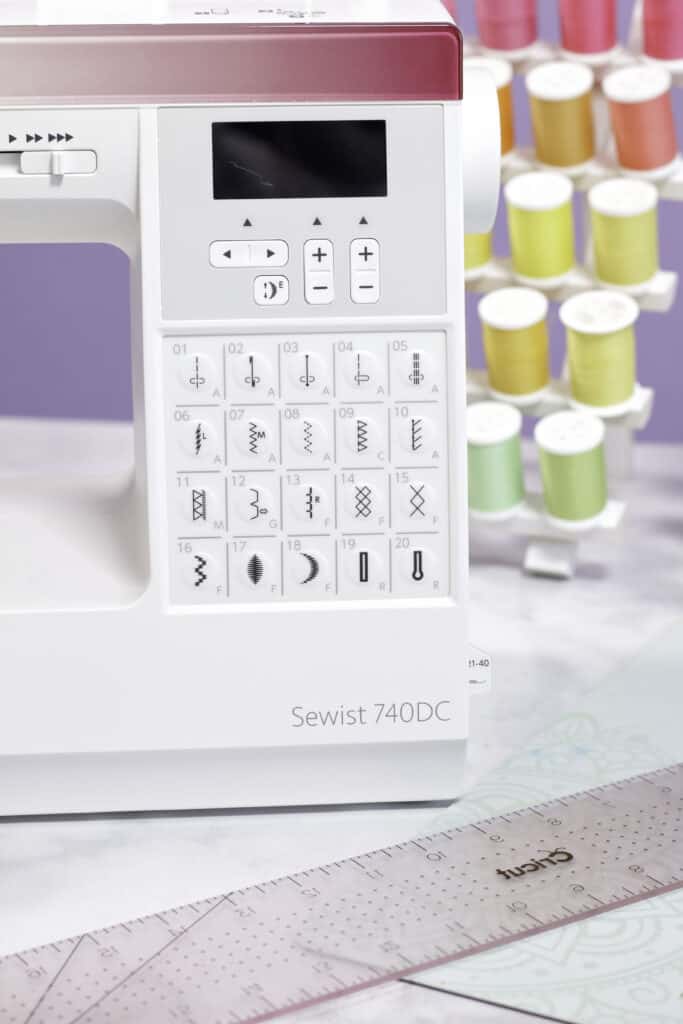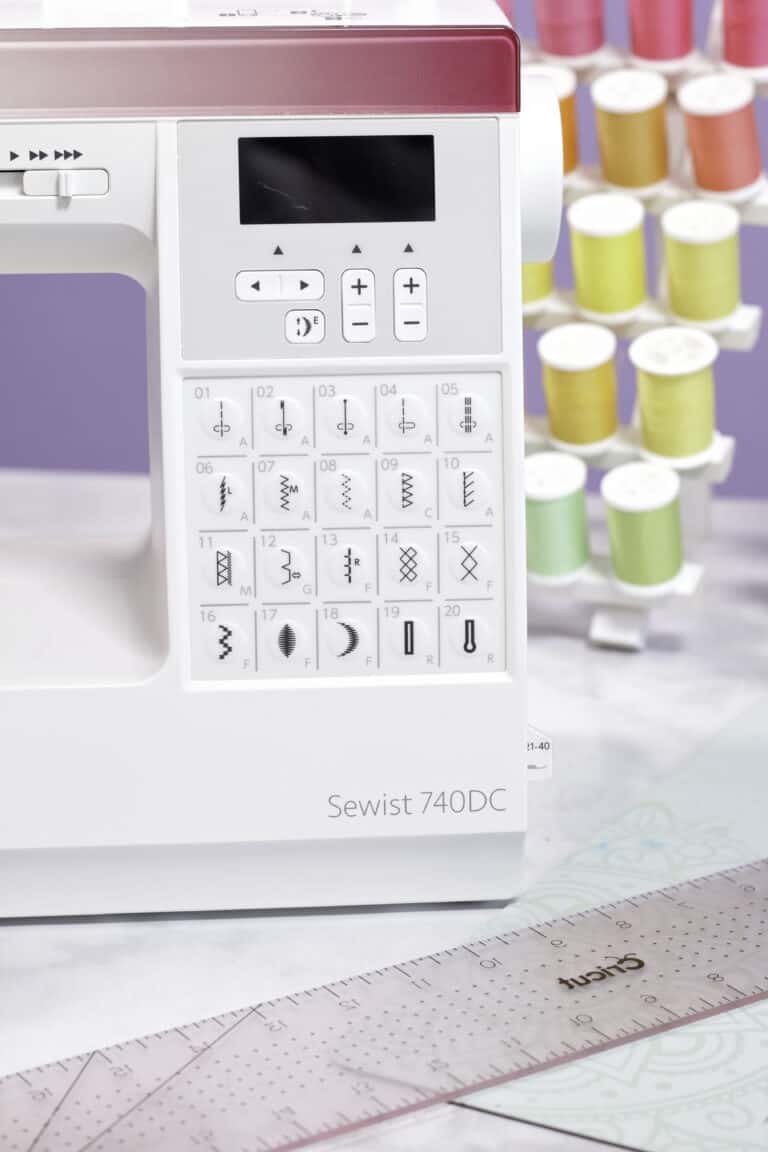 When you select a stitch, the digital screen will show the selected stitch, recommended foot, and default stitch width and length. From here you can fully customize the stitch width and length to fit your exact needs.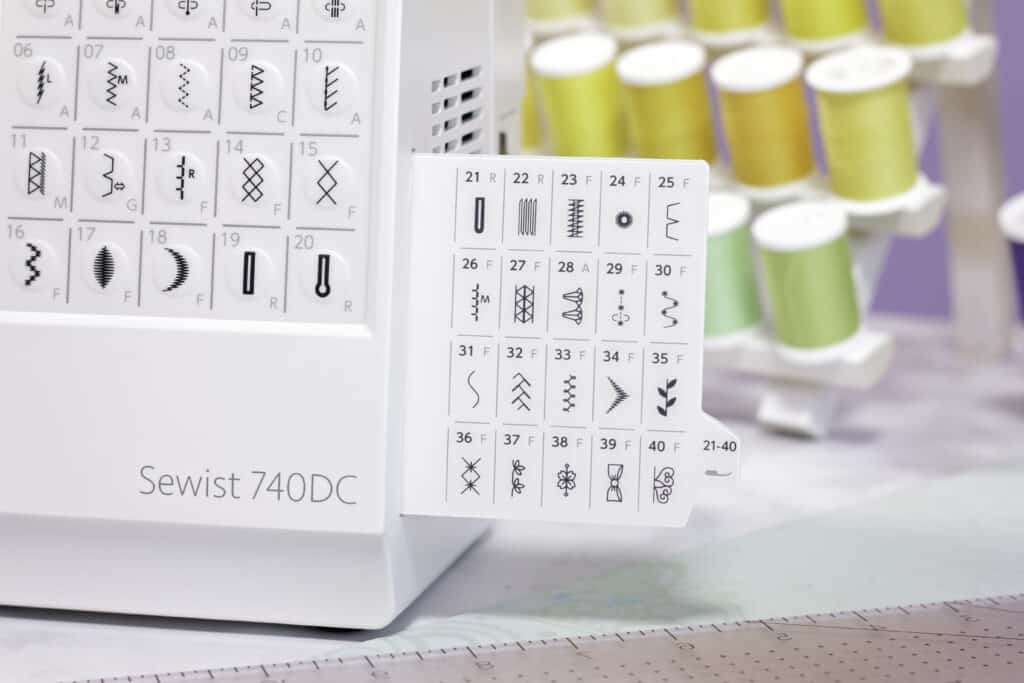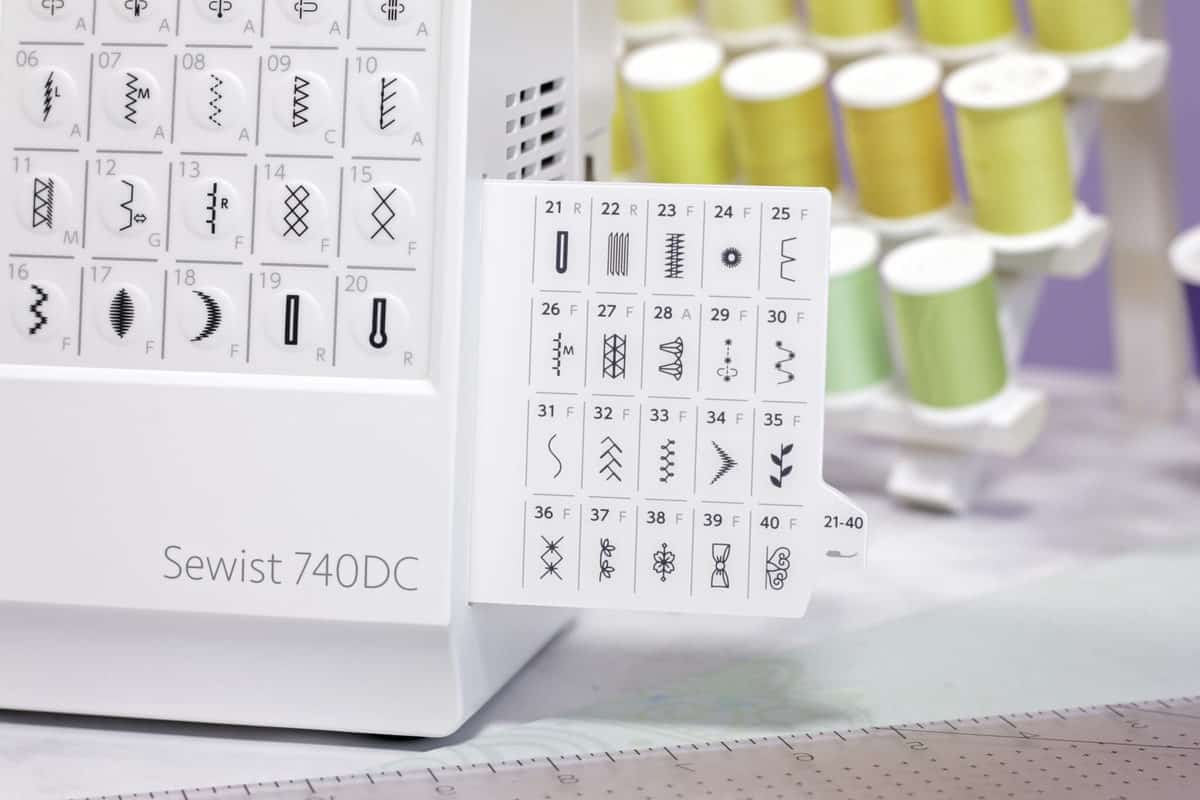 Easy Convenience Buttons - The Sewist makes your life a little easier with these Easy Convenience Buttons. The locking stitch quickly secures your stitchers. This ensures your stitches are locked and won't come undone. The needle up/down button quickly puts your needle into positions. I love how quickly and efficiently this is. And the speed control slider lets you customize your machine's sewing speed. I love being able to speed up or slow down my machine depending on the project I am sewing.
Stop/Go Button - Another amazing feature of this computerized sewing machine is the stop/go button. With this button, you don't have to worry about using a foot pedal. You can start or stop a stitch simply by pressing the button.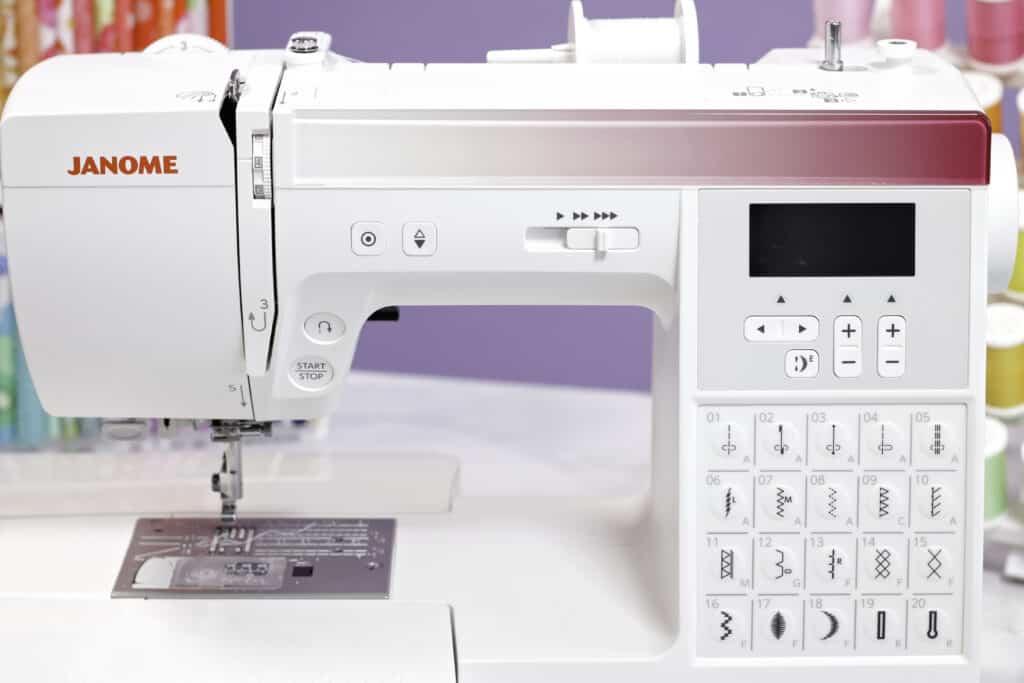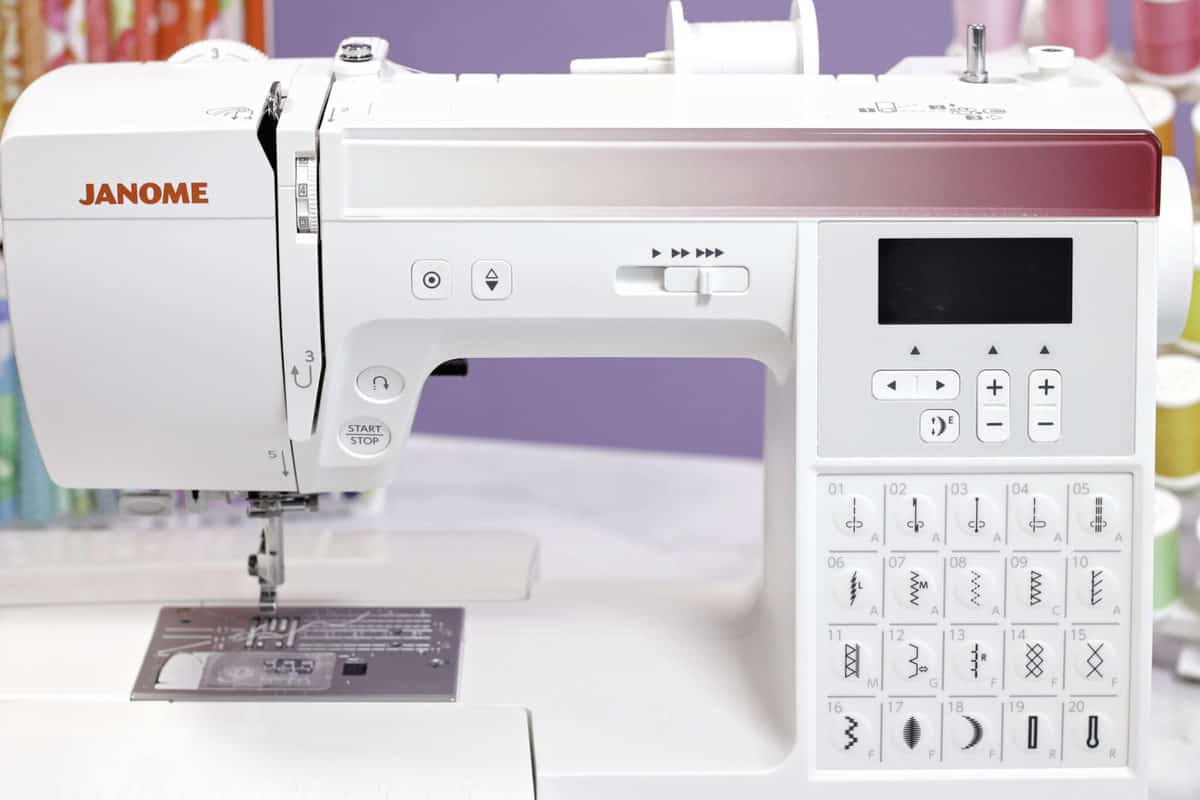 Easy Set Bobbin - This machine features a top-loading bobbin. To load your bobbin, simply place it inside and pull the thread into place.
Accessory Box - The accessory box on this machine slips off quite easily. Inside here, you'll find the buttonhole foot. You can store extra bobbins, thread cutters, and other sewing essentials in the accessory box. Another thing that I love about this machine is that it comes with an extension table. Not all sewing machines include a table, so it's an extra perk Janome decided to throw in with The Sewist.
Needle Plate Markings - To help you achieve flawless results, Janome has these needle plate markings along the throat plate. These markings help you keep your lines straight and the seam allowance just right.
Accessories - Finally, one of my favorite things about this machine is just how much it comes with. Aside from getting an amazing, durable sewing machine, you get all of these useful accessories. It comes with: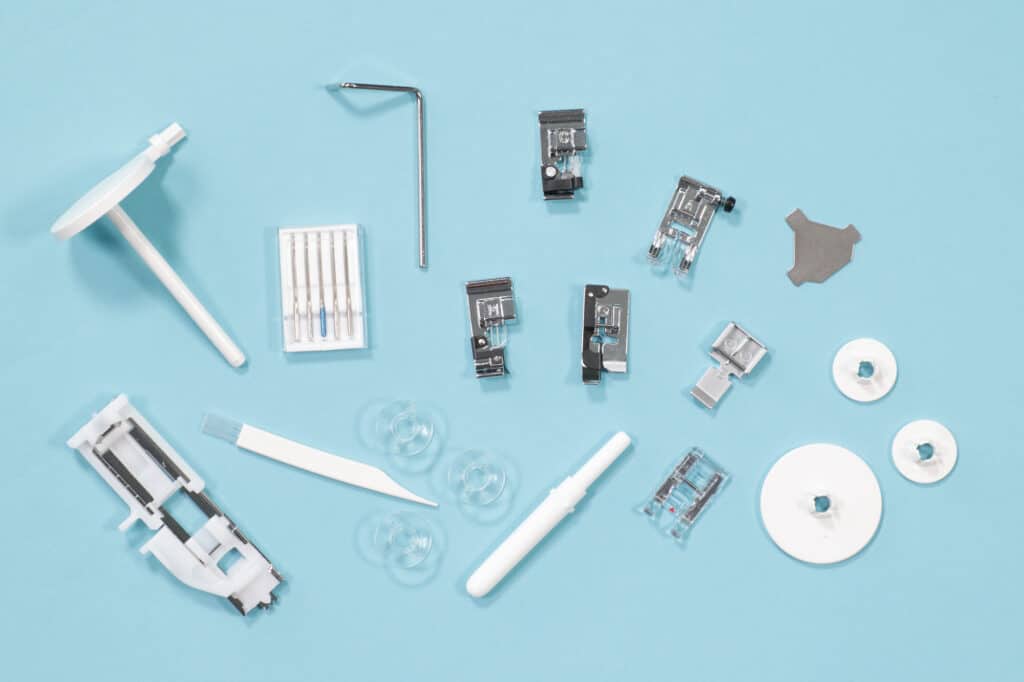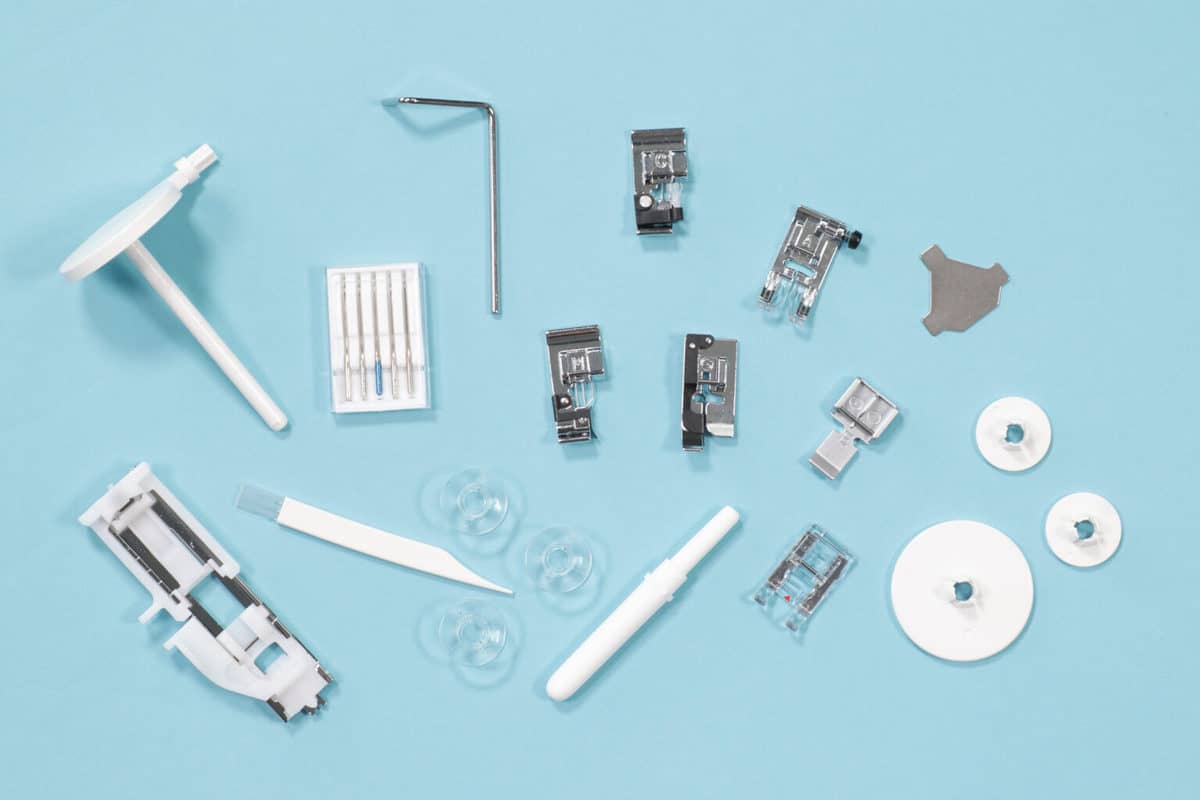 All of these specialty sewing feet
A hardcover to keep your machine protected during storage
Needle Set
Extra spool pin
Quilting guide
Janome plastic bobbins
Spool holders
And an extension table
Everything you need to sew like a pro comes with your Sewist!
Check out my FREE Circle Skirt Sewing Pattern here.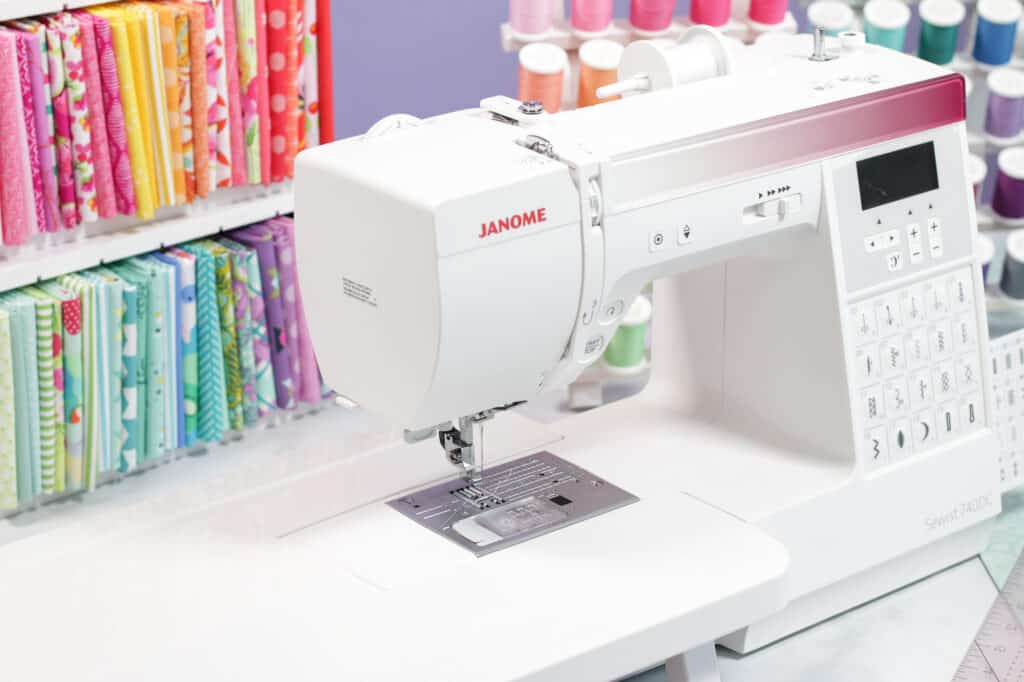 This machine can do so much, but don't let all of its functions intimidate you. Aside from its extra features and accessories, it's just a great sewing machine. It creates flawless, beautiful stitches, and consistently runs smoothly. After unboxing your machine and taking a quick look at the guide, you'll be sewing in no time.
I've included a link here so you can purchase this machine for yourself! If you have any questions about it be sure to let me know in the comments below! Sometimes it can be sold out, so be sure to check out this link HERE for other amazing Janome machines! We recommend any Janome machine in the $200-700 price range to get you started! Quality machines at every price point!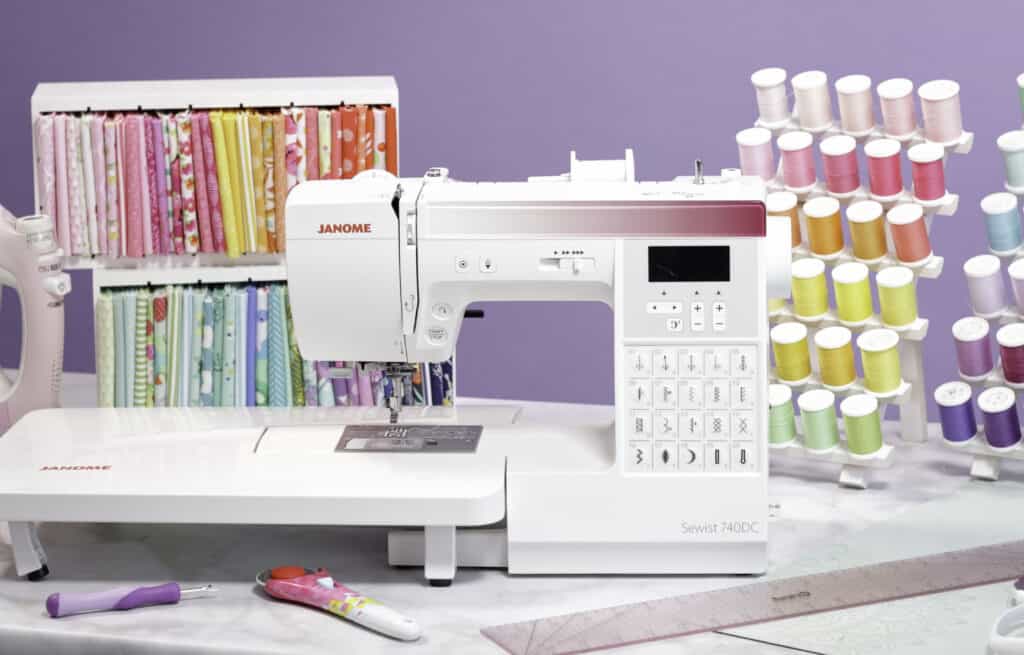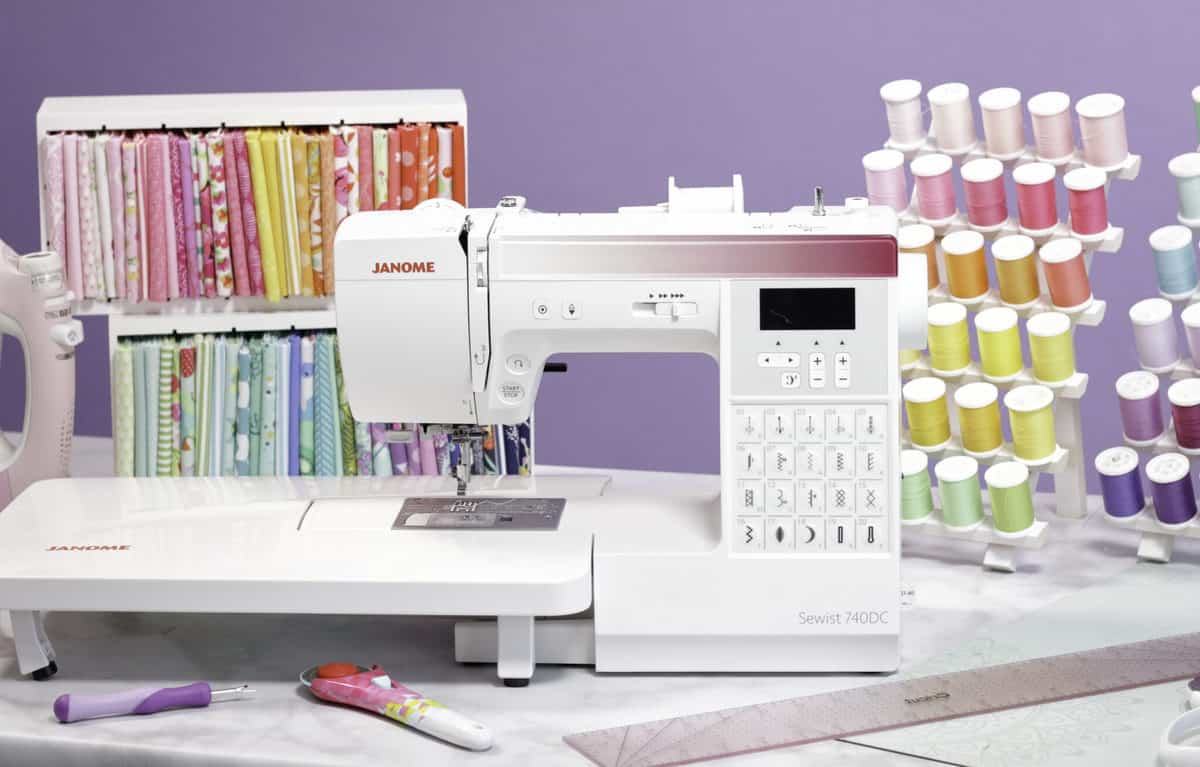 Want to see me sew on this machine? Check out my FREE Circle Skirt Sewing Pattern here.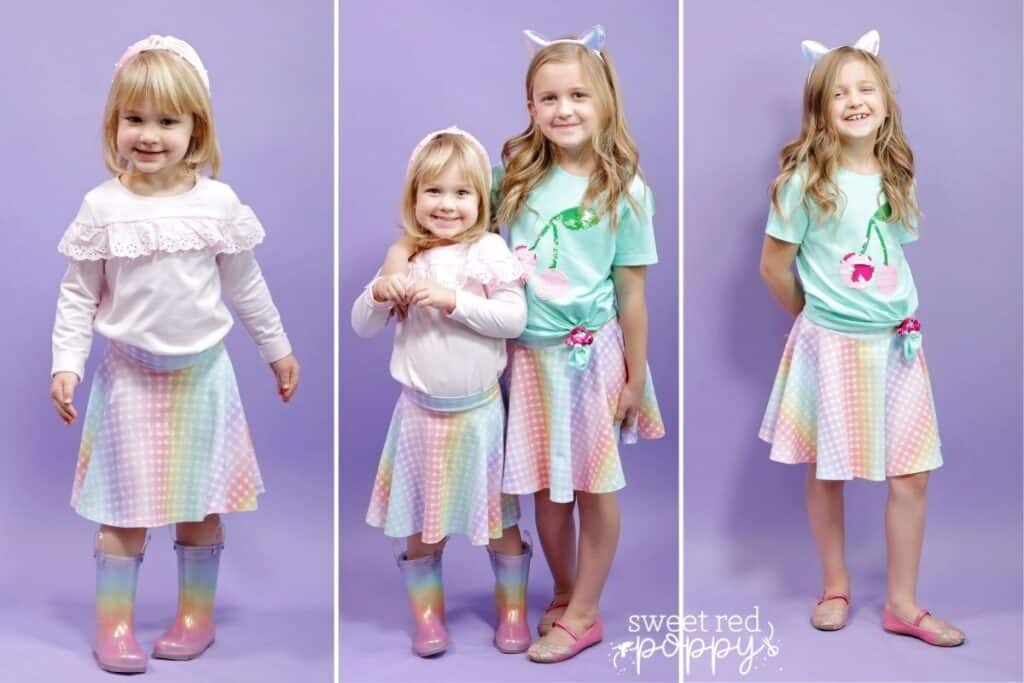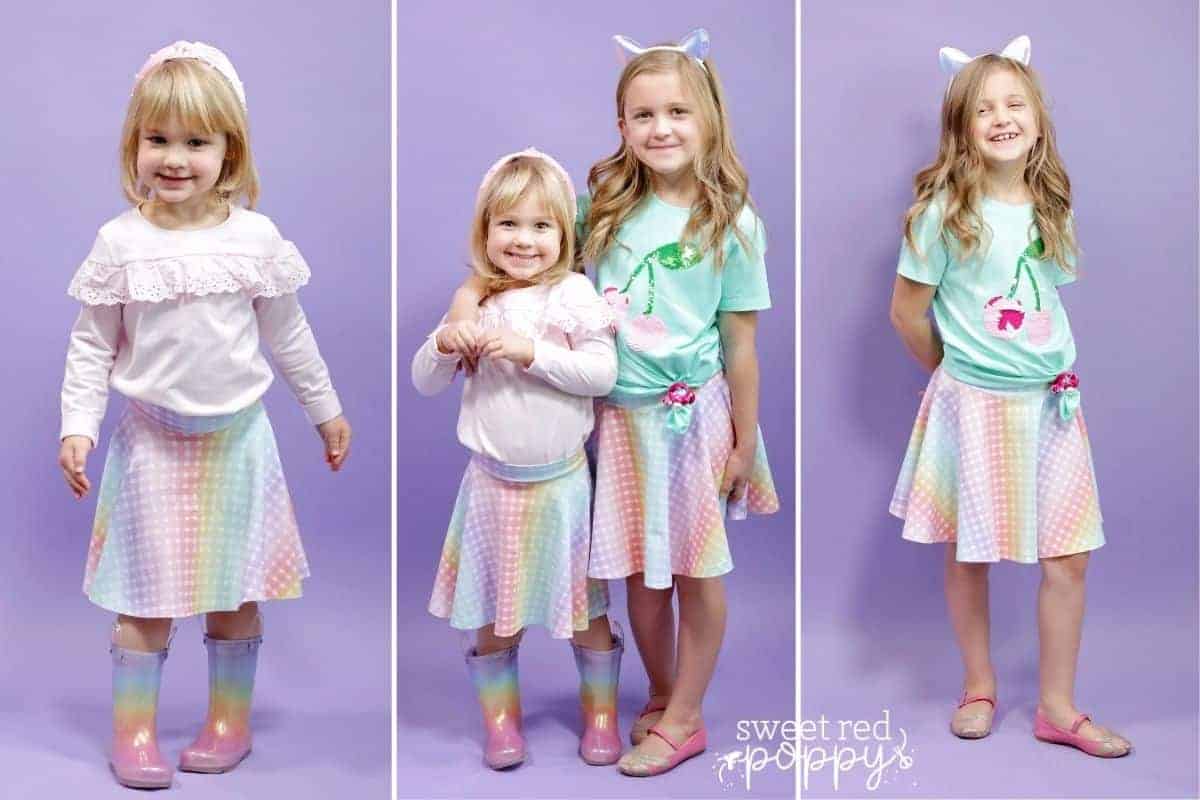 What sewing machine do you use? Do you own a Janome Sewist? Let me know in a comment below!