Style Maker Fabrics Blog Tour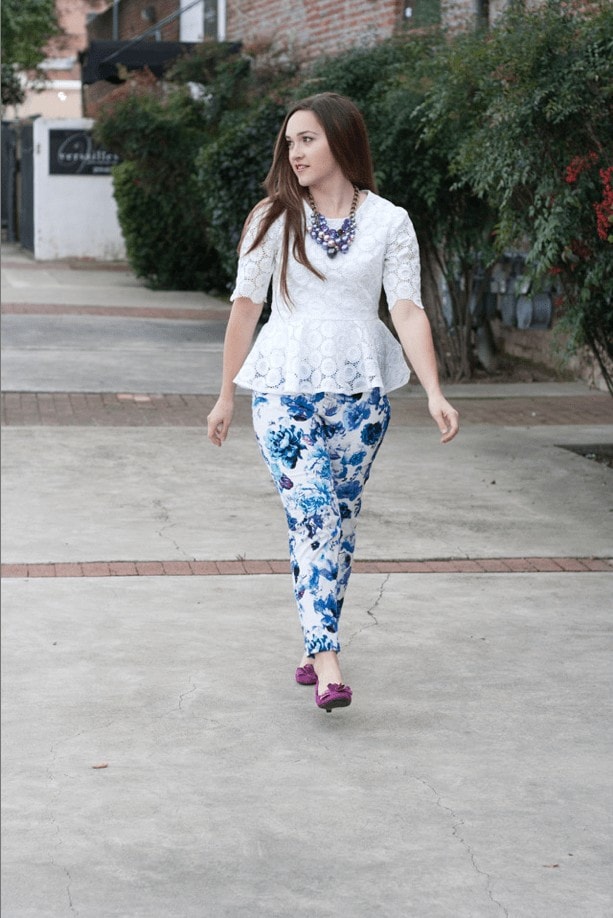 Spring is by far my favorite season to sew for! I love the burst of colors that comes with this season and the ability to wear light layers. It really is the very best of summer and winter combined.
I had already started dreaming up my spring wardrobe a while back, so when Michelle of Style Maker Fabrics invited me to participate in her Spring Fabrics Blog Tour, I jumped at the chance. If you aren't familiar with Style Maker Fabrics, it is hands-down my favorite place to not only buy fabric but also find sewing inspiration. Michelle is totally in line with each seasons' colors and trends and she buys her fabrics accordingly.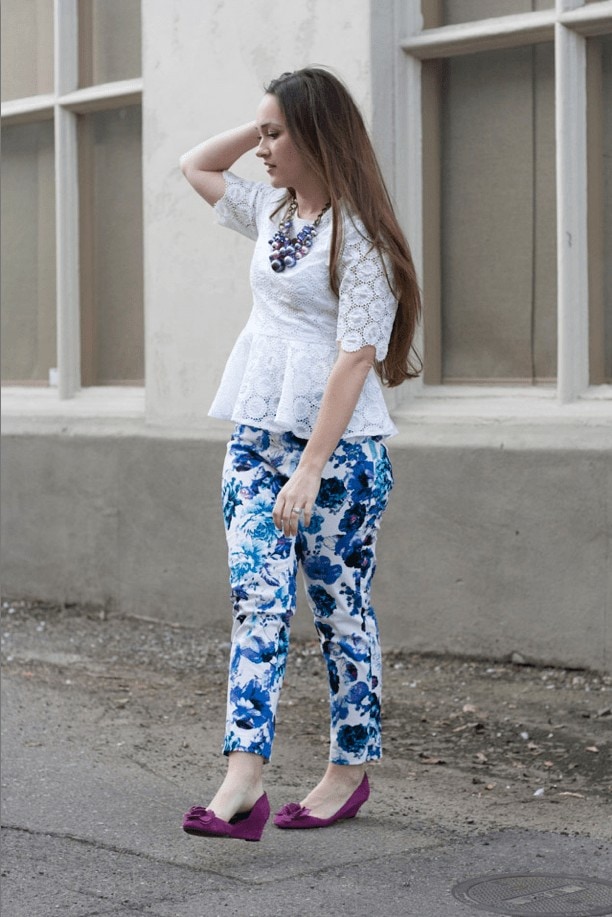 *All the fabrics and patterns I used were supplied to me in exchange for this post, but all opinions are entirely my own.
For my first look, I chose this gorgeous white eyelet shirting fabric. I'm a hopeless case when it comes to white eyelet. I blame my mother entirely for that. I can hardly walk past white eyelet without it magically jumping into my hands and making its way off to the register with me in tow. So it should come as no surprise that this fabric was my very first choice.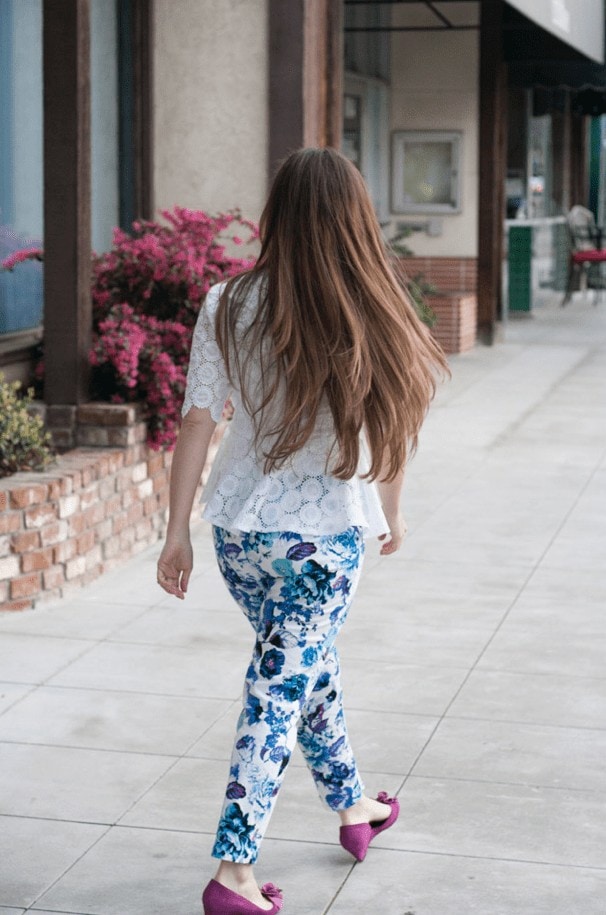 I chose to use the new Sew Caroline Primrose Peplum pattern. I did make some alterations to this pattern. I took some of the width off of the sleeve, shortened the hem and I narrowed the waist in a bit. This pattern is meant to be made in a flowy fabric and it fits a bit on the oversized side. Since my fabric has a bit more body, it really needed to have a closer fit.
I really just love how this top turned out! I've pinned about a million white eyelet peplum tops on my Pinterest board and they are definitely trending for the spring.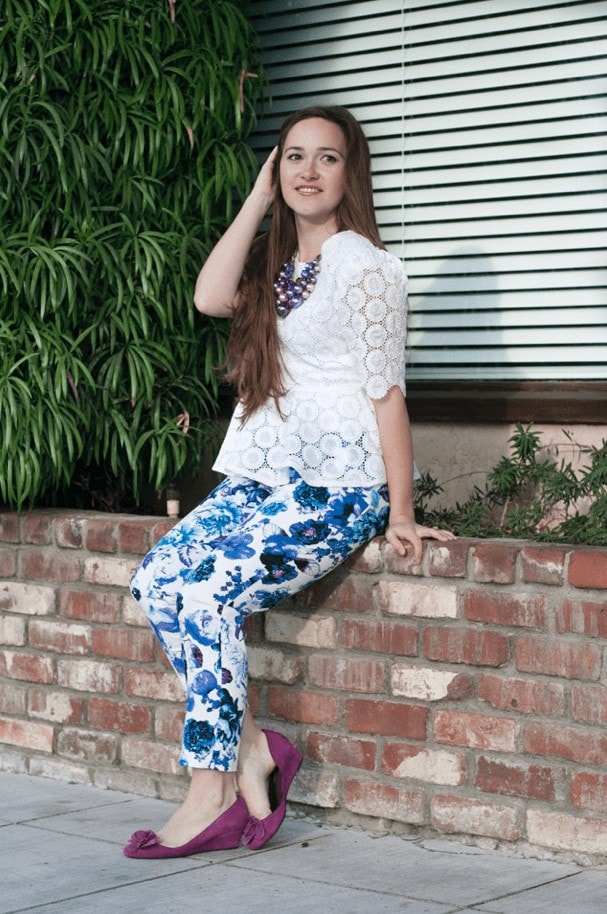 I paired my Primrose Peplum with a pair of Ultimate Trousers from Sew Over It made from a lovely watercolor floral stretch sateen. You have to stop by the Sew Over It website and look at all of their amazing patterns. You'll fall totally in love with Lisa's (the owner) impeccable sense of style. I've been wanting to wear floral print pant for years and I finally worked up the courage. I've never been a huge fan of my thighs so usually, I don't like to bring attention to them. I tend to steer clear of lighter colors on my bottom half, but this fabric was so perfect for trying something outside of my comfort zone and I'm working hard on embracing my body exactly the way it is. After all, it's done some pretty amazing work for me in the last few years.
Overall, I really feel like this is the type of garment I would purchase at a high-end store and probably spend waaaay too much money on.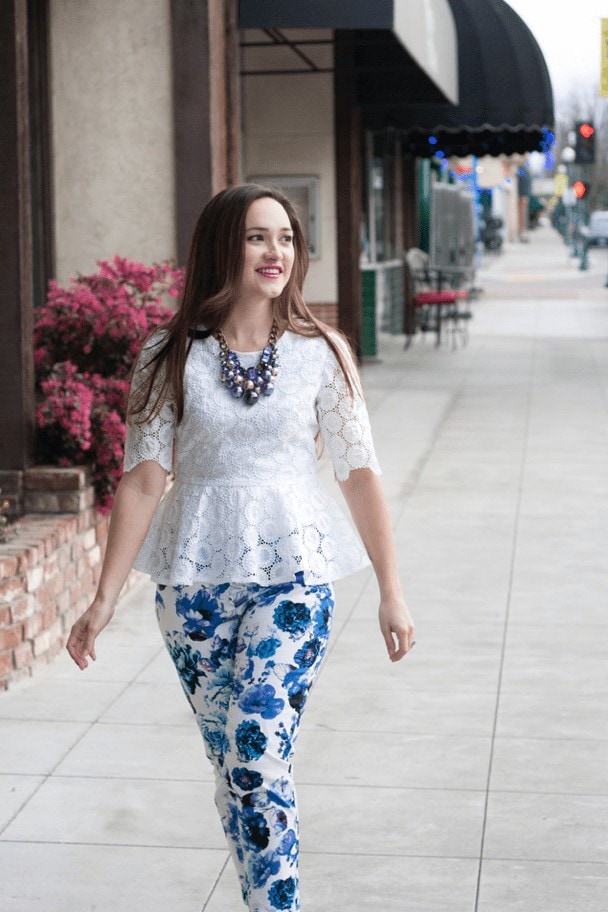 Can I just tell you how happy I am with how these pants turned out? Eek! They are the best fitting pair of pants I own and that's thanks to a lot of fitting help from Becca Duval in the Capsule Wardrobe Facebook Group. That woman is a fitting genius! She guided me through a knock-knee adjustment, scooping out my seat, a flat pubis adjustment, (that sounds totally gross) a short torso adjustment and even helped me blend a size 12 back crotch to a size 6 front crotch. My booty has never been happier in a pair of pants before! I think this pattern is a really great base to work off of. I just happen to require quite a few adjustments because of my sizing. I would highly recommend this pattern to anyone wanting to make their own pants.
If you are pear-shaped like me and wondering if you can rock a peplum top and skinny pants I think there are a few things to consider. Make sure the peplum begins at your actual waist and ends a few inches above your largest hip measurement. Making clothing that is figure flattering is all about balancing proportions.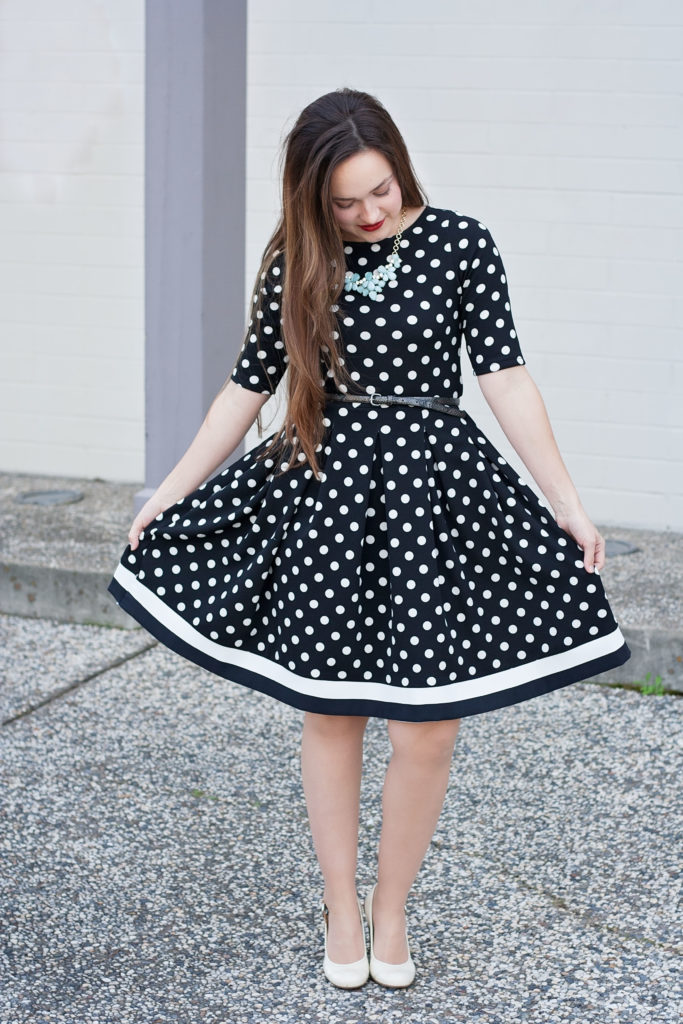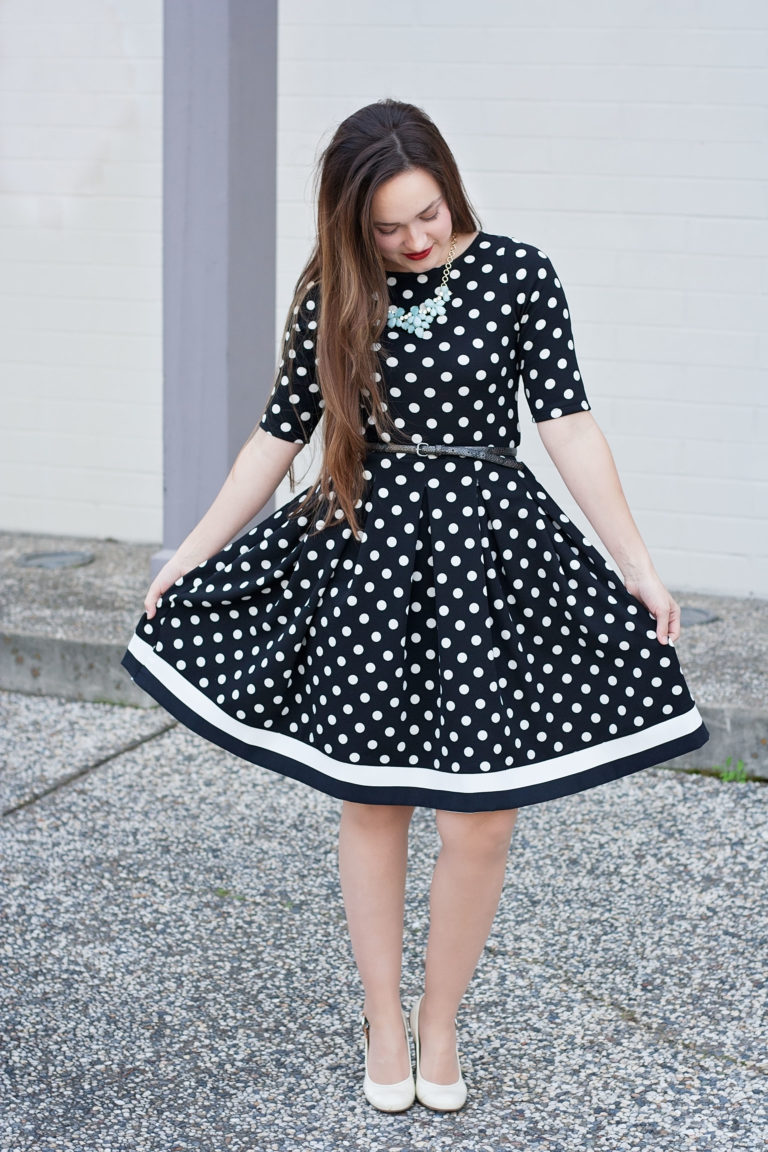 My final look is a mashup of Love Notions Tessa Sheath Dress and the Sybil Illusion Skirt. You might remember the other Tessa Sheath Dresses I've made here and here. This time I chose the pleated option and I used a black double knit (liverpool) crepe textured fabric with ivory polka dots. I swoon whenever I see a good polka dot so naturally, I couldn't resist this fabric.
It actually turned out too short, I really should have measured twice before cutting. Rookie mistake!!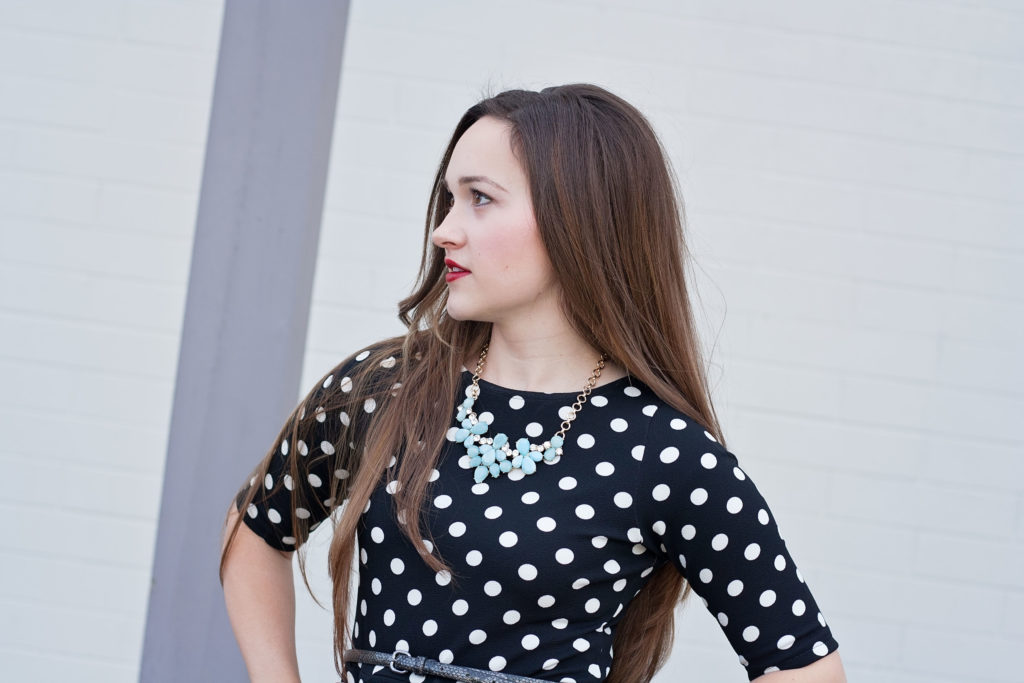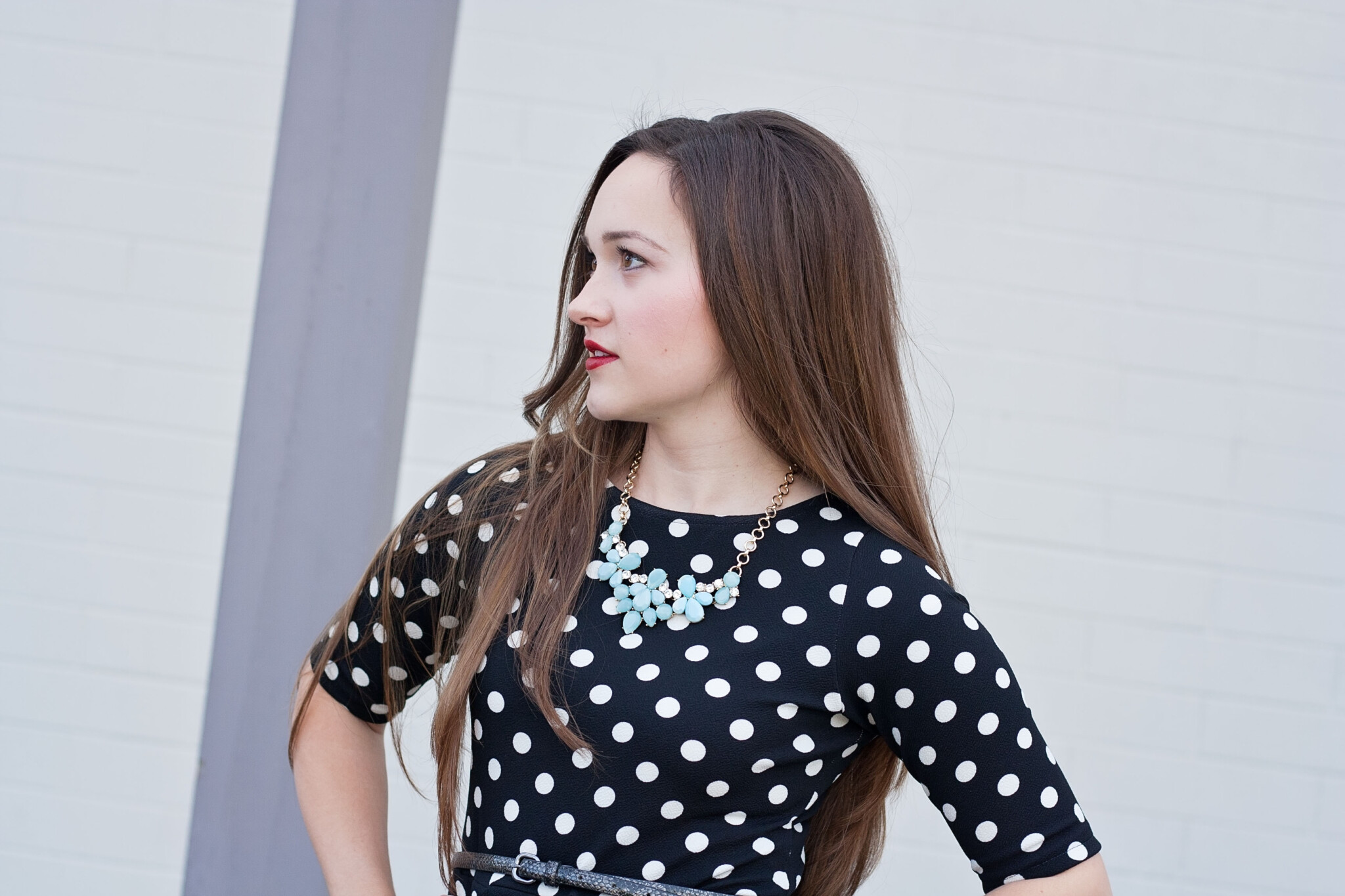 Once I tried it on I was crushed because I knew I wouldn't wear a short dress! Luckily, I had this bright idea to add some black and white striped fabric that had been sitting in my stash for years. I love, love, love the added detail at the hem. It's like it was meant to be!
I'm totally obsessed with polka dots and stripes separately, but combining them together just took my obsession to a whole new level!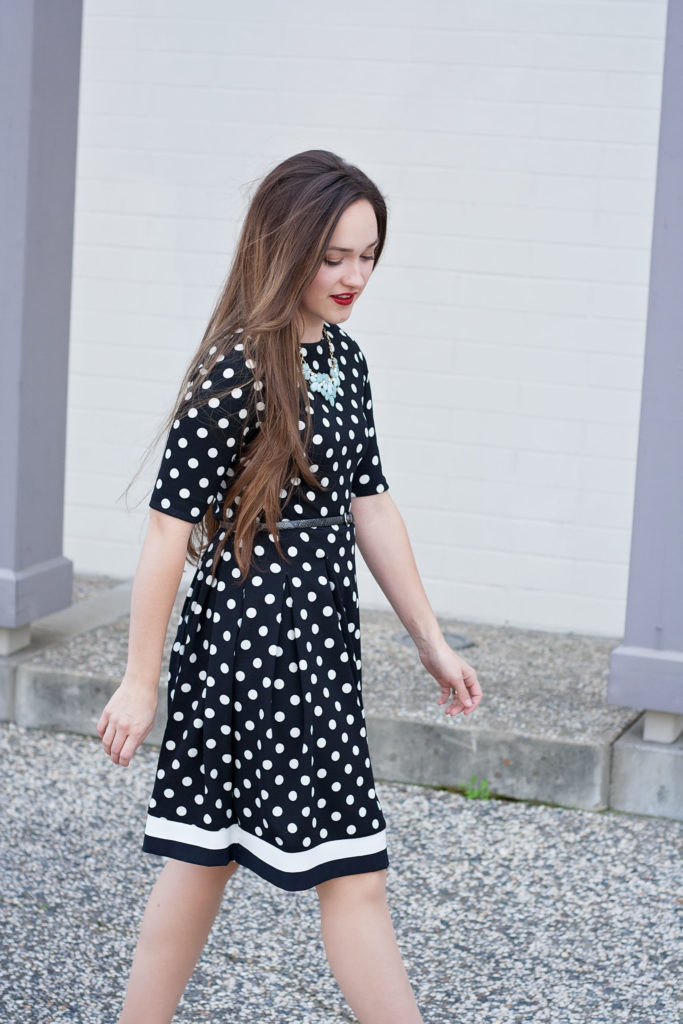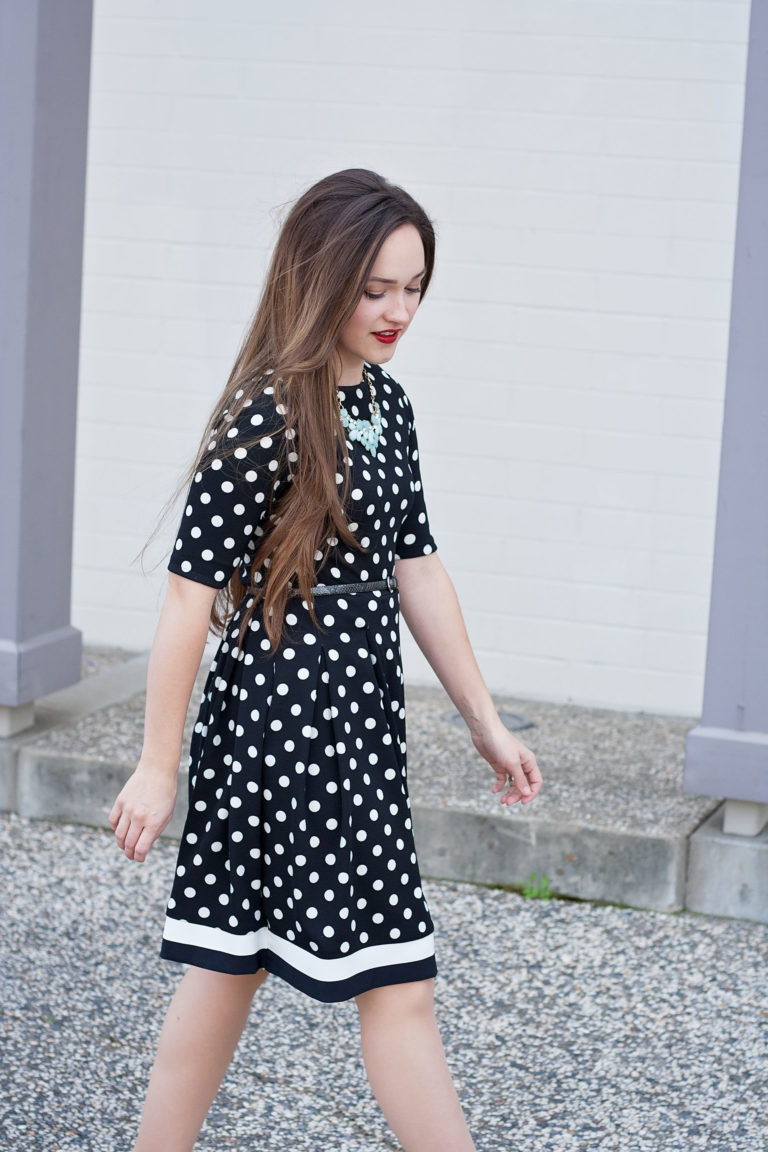 This mashup was really easy to do! I just cut the Tessa Sheath Dress Pattern off about an inch below the waistline to account for seam allowance. Then I lined up the skirt with the bodice and sewed it together. Just make sure that you chose the same waist size for your skirt and bodice so they will align perfectly.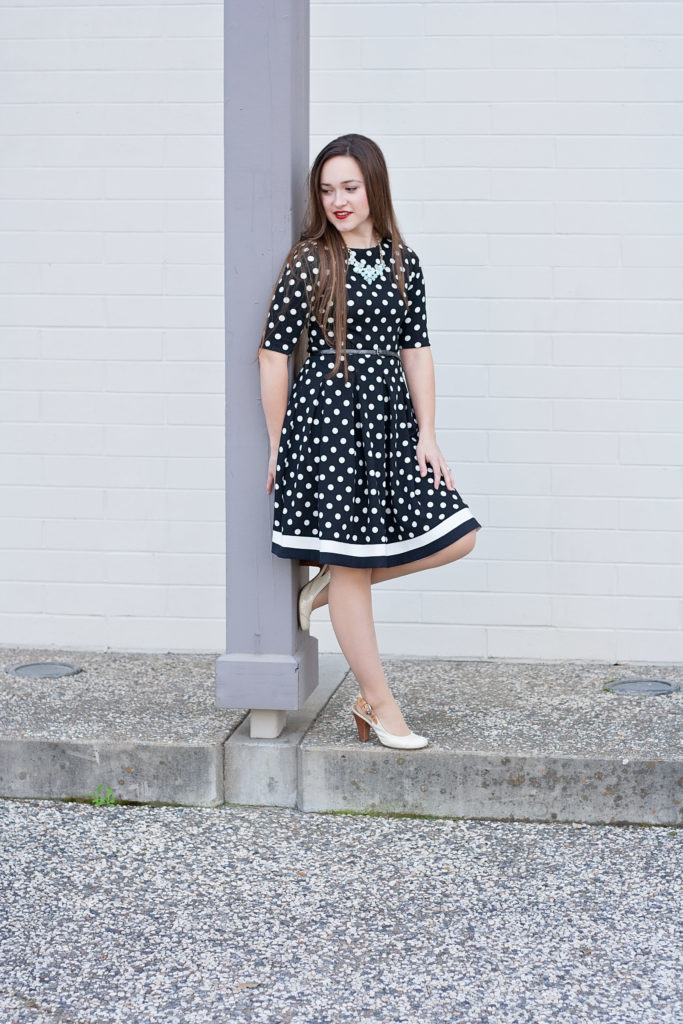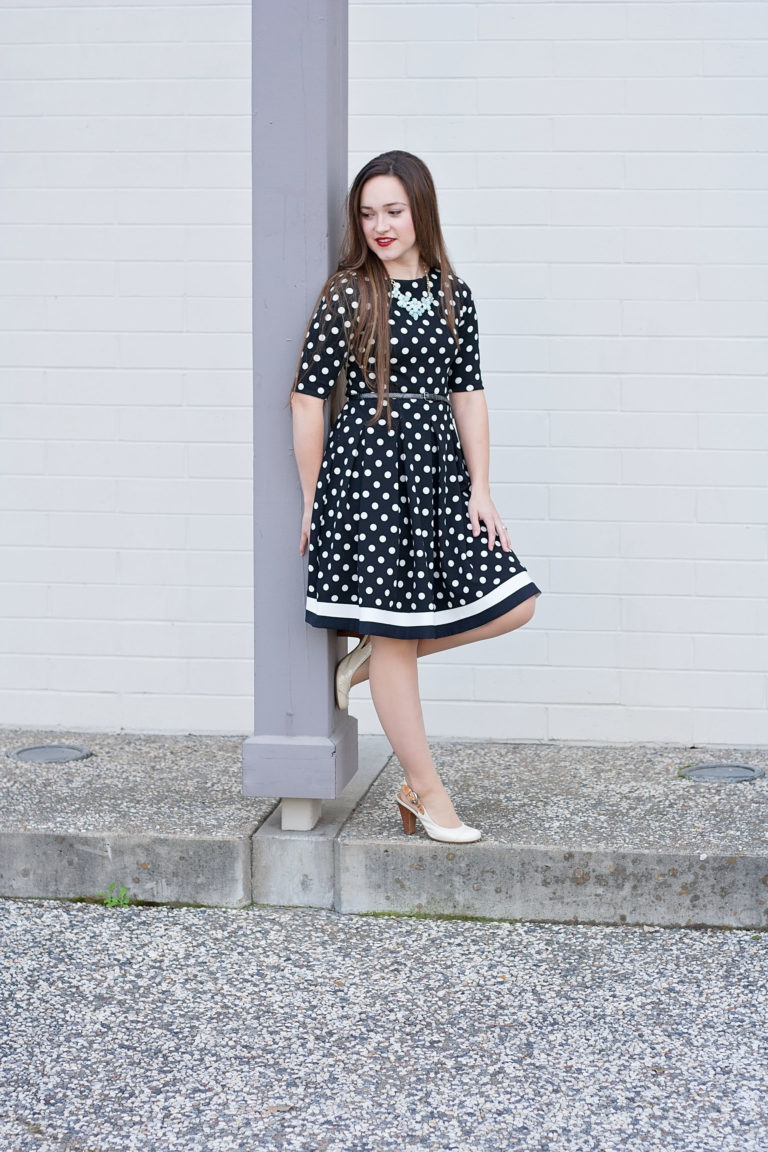 I love how easily these two patterns can be mashed together and the options are really endless! The Sybil Illusion Skirt has seven different skirt variations including pencil, a-line, swing, drop yoke with swing, gored, asymmetrical wrap and pleated. It's really the only knit skirt pattern you will ever need.
Make sure to stop by Style Maker Fabrics and check out their amazing selection of fabrics!
Watercolor Floral Stretch Sateen
Black and White Polka Dot Double Knit
Up next for day four is Peggy from Sew House Seven.
I'm so honored to have joined up with such a lovely, talented group of bloggers for this blog tour. Stop by their blogs to find even more spring fashion inspiration.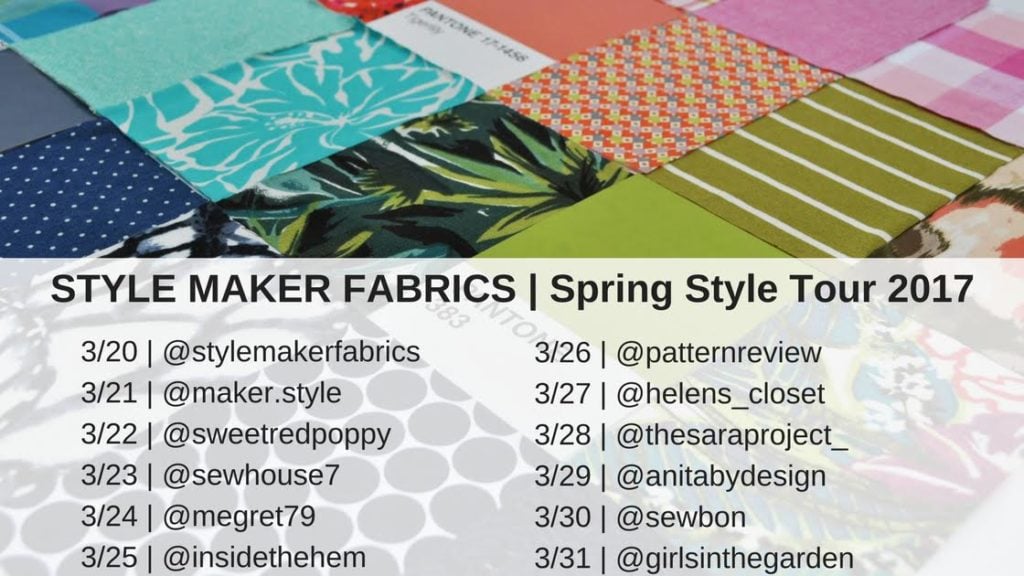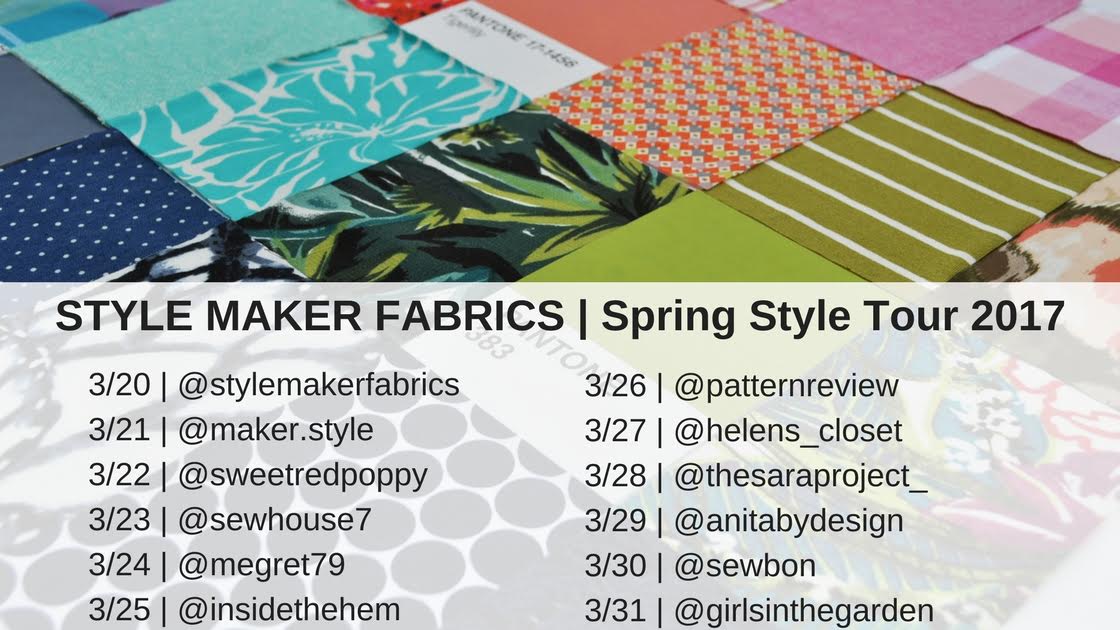 3/20 | 3/21 | 3/22 | 3/23 | 3/24 | 3/25 | 3/26 | 3/27 | 3/28 | 3/29 | 3/30 | 3/31
SaveSave