Learn how to sew a half square triangle unit fast and with no fabric waste - with the simple, 4-at-a-time HST method.
When you are first starting out in the quilting world, all the complex, multi-step quilt blocks can be quite intimidating - not to mention confusing. But did you know that some of the most intense quilt blocks are actually made up of really simple blocks?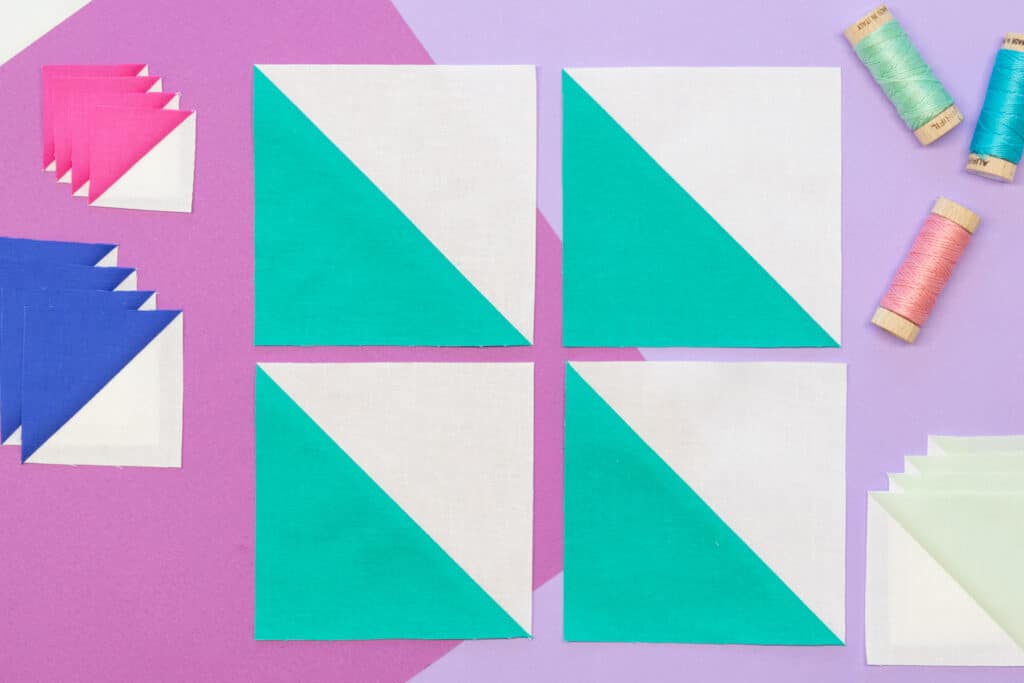 The half square triangle (HST) block is one of these "simple" blocks that is used extensively in creating all types of quilt blocks.
Today, we're going to go over the steps in creating 4 HST blocks at one time. Plus, I'm sharing my math cheat sheet to make it super simple for you to make any size of HST you need!
What Kind of Quilt Blocks Can I Make with HST?
I know you're probably wondering, is the HST block really "that" versatile? How many different blocks can it be used for? Here are just a few example blocks that use only HST in their construction:
Isn't it amazing how completely different these 4 blocks look? Each one is completely made up of HST units! Now that we have your inspiration peaked, let's look at what we will need to make some half square triangles for ourselves.
Supplies You Need To Make HST Blocks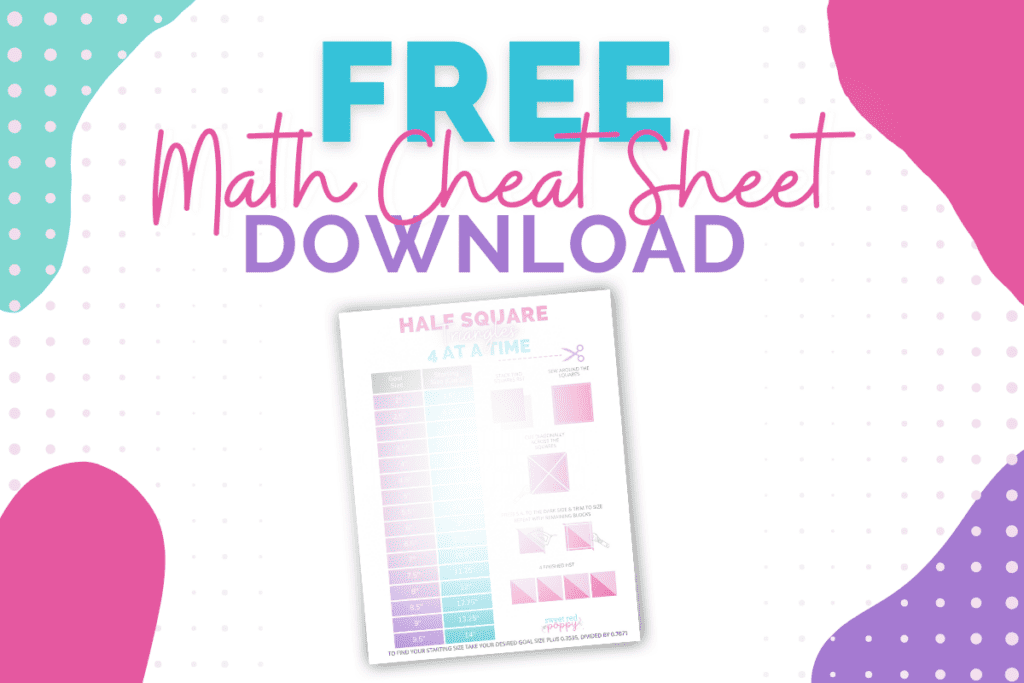 Half Square Triangles- "4 at a time" Method
Now comes the fun part, actually making your first half square triangles! This first step is going to be a doozy (the math step), but don't worry, I've broken it down for you so it will be much easier to understand.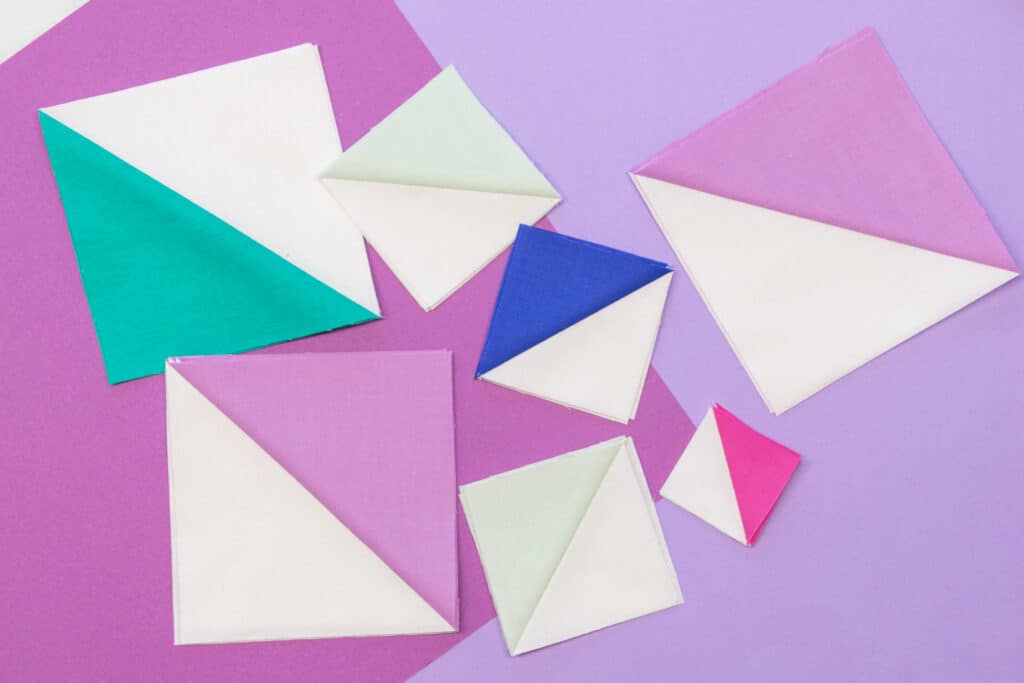 Step 1: The Math
Before we get into the equation, I want to make sure you know these terms:
Cut size- refers to the size that you cut your fabric to before any sewing.
Goal size- refers to the size of the block after we have pieced it together and before we have sewn it into the quilt. Sometimes called the "unfinished size".
Finished size- refers to the size of the block after it has been sewn into the quilt and there will be no more sewing on this block.
Knowing these terms is very important when figuring out the math for your specific project. Now let's look at the equation:
y= 0.7071x - 0.3535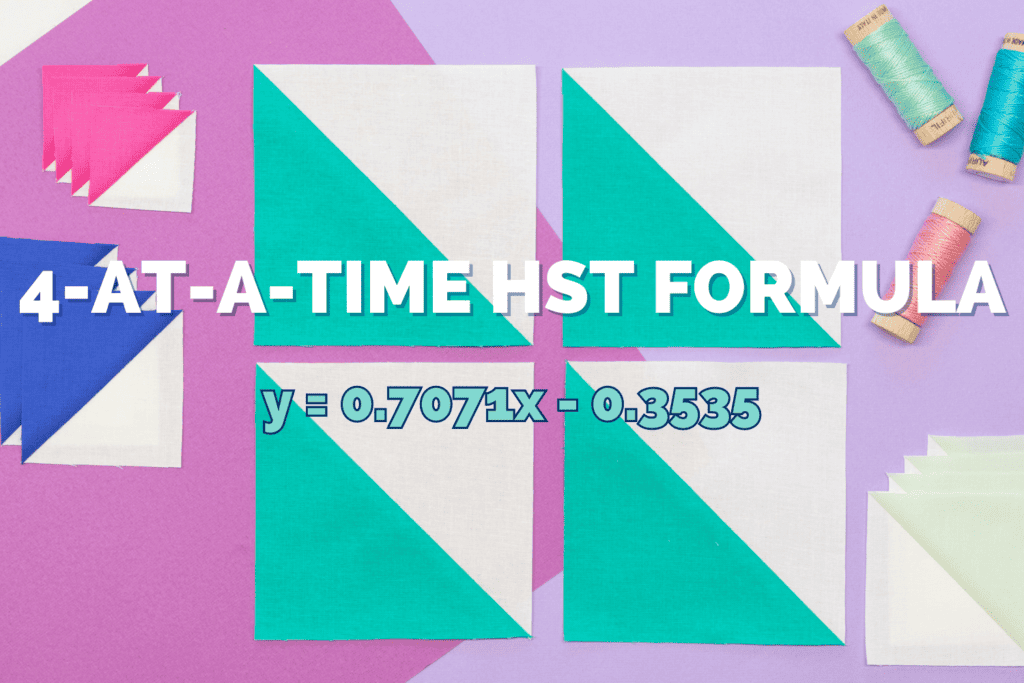 I know…yikes! Don't worry, I'll break it down for you.
y= Goal size
x=Cut size
To find "y" we need to first choose "x". For example, if you have a layer cake (a precut fabric bundle of 10" squares), you will take 10 and multiply it by 0.7071.
10 x 0.7071= 7.071
Now subtract 0.3535 from 7.071
7.071-0.3535= 6.7175
Now round that number down to the nearest quarter of an inch, ie 0.25, 0.5, 0.75, 1. You will need to trim the squares down to this new rounded number.
6.7175 rounded down will be 6.5. This means I will be able to get 4- 6 ½" squares from a 10" square.
Now, if you don't want to deal with all this math, I've put together a math cheat sheet for you. This sheet tells you exactly what size to cut your starting squares to create any size of HST! You can download the cheat sheet above.
Step 2: Cut the Fabric
You will need 2 equal squares to create 4 HST at a time. Choose 2 fun, coordinating fabrics.
I am going to cut 2- 10" squares for this example to go along with the math we did in Step 1.
Step 3: Sew the Fabric
Optional: If you want, you can mark a line all around the circumference of the square to make sure you sewing ¼" all the way around, but most sewing machines come with a ¼" foot that will help with this.
Take your squares to your sewing machine and place them right sides together. Make sure they are lined up perfectly, if you need to, place a few pins in the fabric to hold it in place.
Pro Tip: Make sure you are not pulling or tugging the fabric while you are sewing. This will create puckers and over-stretch the fabric which is definitely not what you want.
Sew around the entire square, making sure you are leaving a ¼" seam allowance. If you mess up, don't be afraid to pull out your seam ripper, snip the stitches, and start again. You want this seam allowance to be precise.
Step 4: Cut the 4 HSTs
Take your sewn square back to your cutting mat and use your ruler as a guide to cut the square diagonally, creating 2 large triangles.
Now cut the opposite diagonal line to create the 4 half square triangles. Pretty neat, right?
Step 5: Press the HST blocks
Lay each HST unit on your ironing board right sides facing up and press the seam towards the darker fabric. Pressing towards the darker fabric helps to avoid seam allowances showing through light-colored fabrics.
Pro Tip: Be careful when you are pressing that you aren't running your iron back and forth on the fabric. You don't want to accidentally stretch the HSTs out of shape. Just take it nice and easy and press with an up-and-down motion. Think press, not iron.
Step 6: Trim to size
You definitely want to do Step 5 before Step 6. Pressing the blocks will ensure they lay nice and flat for trimming. Now it's time to trim the blocks to the desired size. For this example, I want 6 ½" blocks.
See the excess fabric on the sides? It may not seem like a lot, but think about it: If you have that much excess fabric on each block of a quilt top, by the time you have completed the quilt the measurements will be WAY off.
To square up these blocks perfectly, use the 45° line on your ruler and line it up with the seam of the block. Trim a small amount off the 2 edges emerging from the ruler.
Then, flip the ruler, lining the 45° line up with the seam in the other direction. Trim the remaining 2 edges, trimming the square down to exactly 6.5 inches.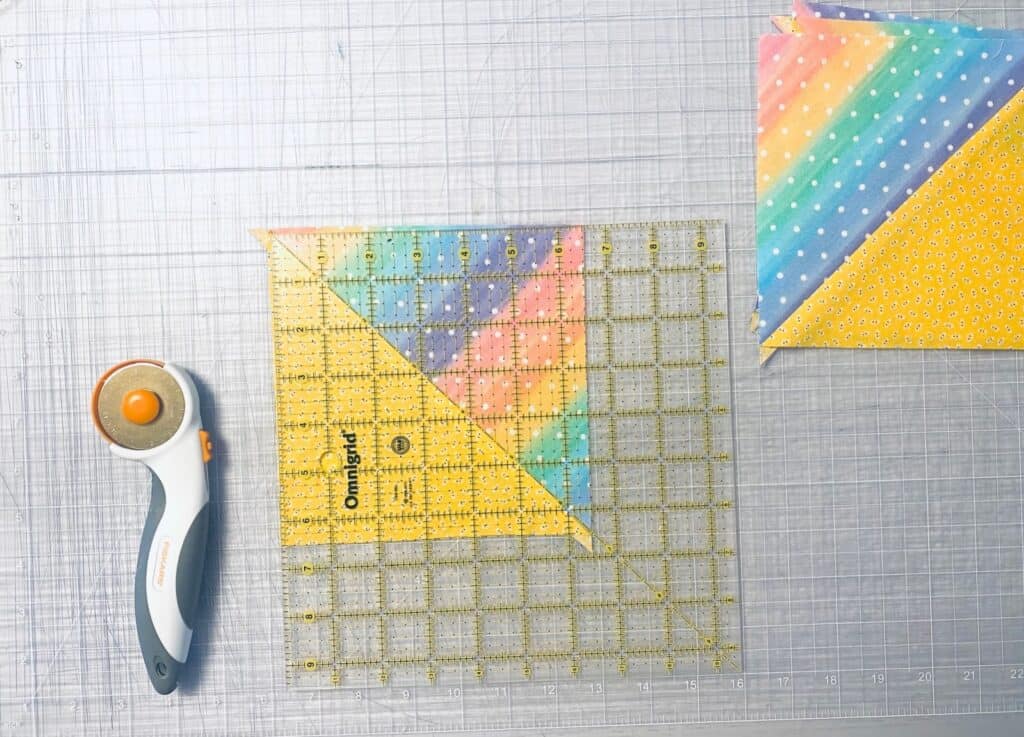 Take a step back and admire your gorgeous half square triangle quadruplets!
Once you get past the math of this method, these blocks are so fun to make - and extremely versatile!
No matter what your skill level is, the HST unit will become your friend and you will thank yourself later for learning how to make this awesome foundational block.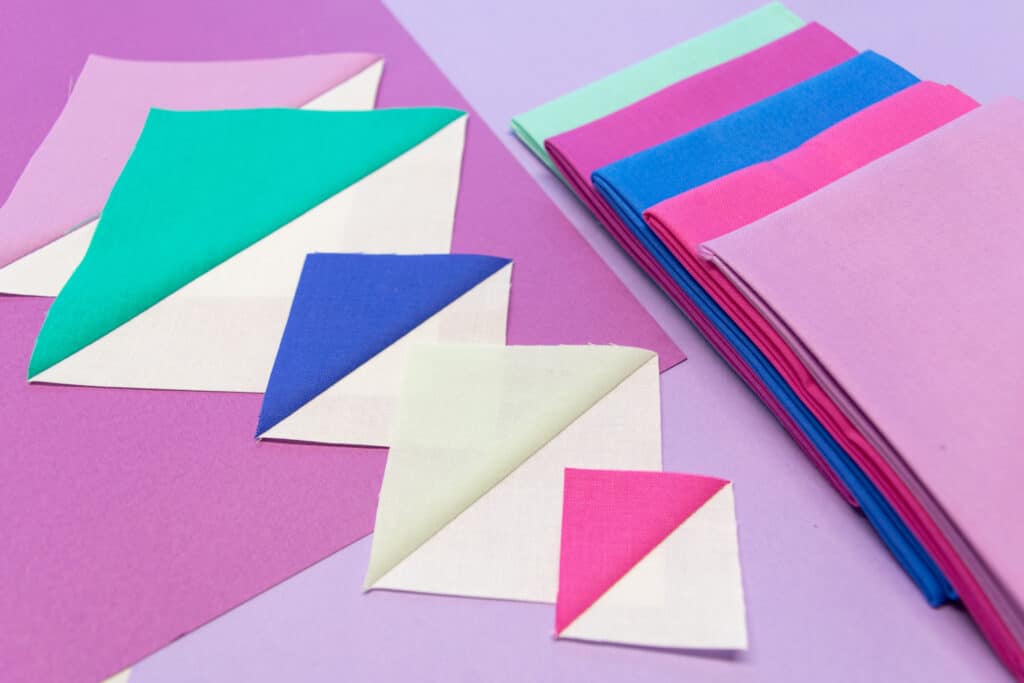 Want a method to make even more HST units at once? Try this: How to Make a Half Square Triangle 8-At-A-Time.
Want to remember this? Save it to your favorite board on Pinterest here.