Learn How to Use, Cut and Apply Cricut Iron-On/Heat Transfer Vinyl in this Step-by-Step Tutorial and Video
Whether you're using your Cricut Maker, Explore Air 2 or Joy, you can create adorable and professional-looking designs with Cricut's Iron-On Vinyl. Today, I am going to be making this adorable "Crafty for Life" t-shirt with my Cricut Explore Air 2 and Cricut's Every Day Iron-On Vinyl.
This Cricut Vinyl tutorial post is sponsored by JOANN, my one-stop-shop for all of my craft needs. All of the supplies for this tutorial can be found at your local JOANN.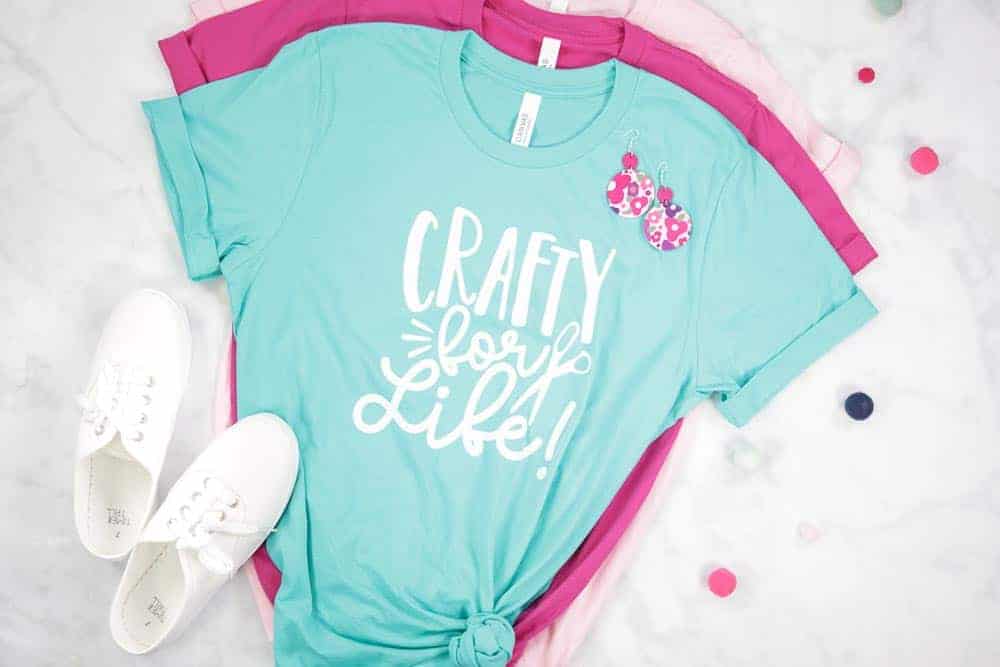 Have you ever wanted to create a custom T-shirt using Iron-On and a Cricut cutting machine? Well today's your lucky day! I'm walking you through all of the basics of creating a custom T-Shirt with this step-by-step tutorial! There's even a video to help you get perfect heat transfer results!
What is Iron-On Vinyl?
If you're not familiar with Cricut Iron-On Vinyl, it is a special type of vinyl material with a heat-sensitive adhesive that can be used with fabrics, metal, paper, wood and a variety of other materials.
Cricut carries a wide variety of Iron-On Vinyl Materials.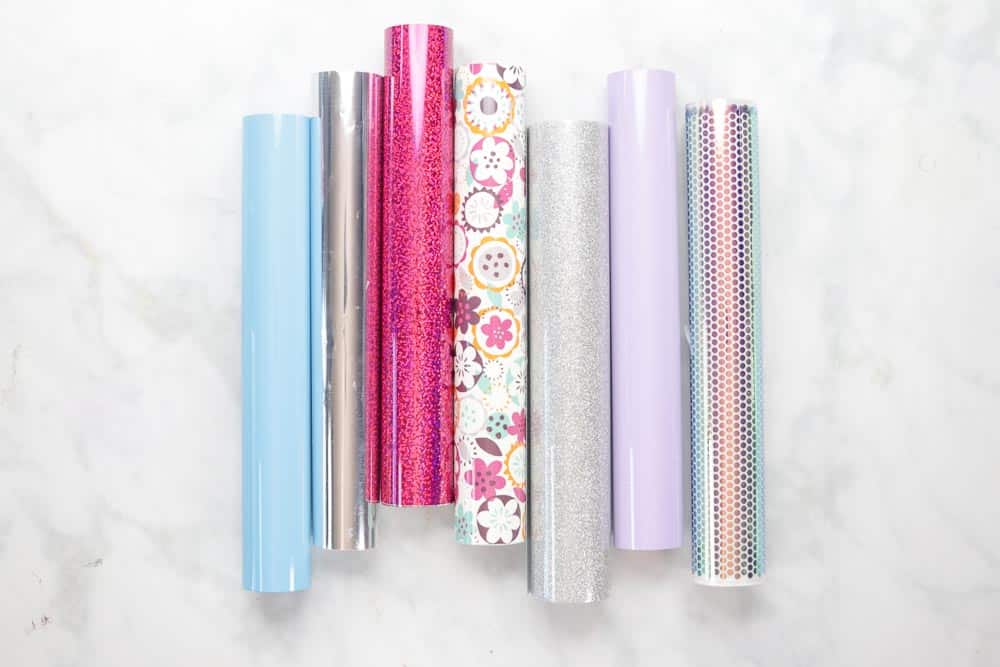 The most popular is Everyday Iron-On - this is the one we are going to be using today. The Everyday Iron-on is versatile, durable and user friendly; it's my go-to iron-on material.
This vinyl can be used to layer as the base layer, top layer or both. Everyday Iron-On is a cool peel, meaning that you will peel the backing off of your project when it is cool to the touch.
SportFlex Iron-On is another popular option. This iron-on pairs great with stretchy, athletic materials. One thing to note about SportFlex is that you can't layer using it. Not a big deal, just something to keep in mind.
Next, is one of my personal favorites - Patterned Iron-On. Patterned Iron-On comes in a variety of different patterns to add an additional dimension and pop of color to your projects. While it can be layered on top of other vinyl, it does not work well as a base layer.
Glitter Iron-On adds some shine and sass to any project. I like using the Glitter Iron-On to add little embellishments to my projects. It is not recommended to layer your glitter iron-on as it either doesn't adhere or begins to peel away after a few washes.
The Holographic Iron-On makes any design stand out. This material should not be used as a base when layering but works well on top of Everyday Iron-On.
Foil Iron-On is a super popular option. This is one of Cricut's few iron-ons that is a cold peel. After ironing a foil design, wait until the backing is cool to the touch before you peel it off.
The last type of Iron-On is Smart Iron-On - which is only available for the Cricut Joy. What's different about this iron-on is it features a thicker backing so you can cut it without a mat.
For this project, you will need: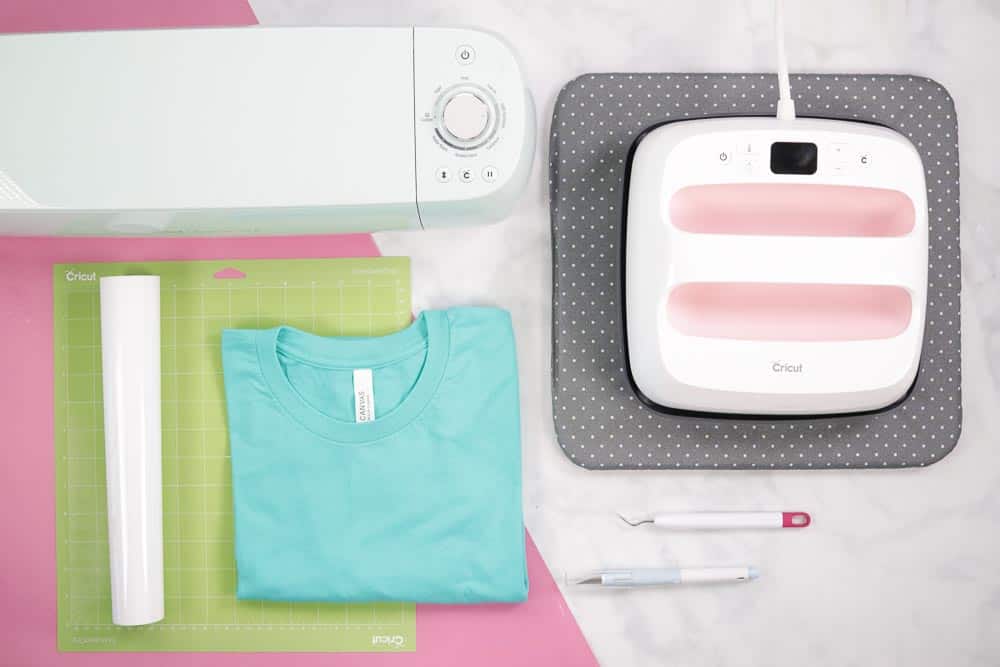 Cut Your Design
To get started on your project, go ahead and open up Cricut Design Space. For this project, we are going to be using a free file from this SVG bundle: CLICK HERE
While this SVG file is already sized for a t-shirt, feel free to adjust it as needed. You can use Design Space's t-shirt template to ensure it cuts to the perfect size. Personally, I like to size my design to be around 8 inches wide.
Once you have your design ready, click "Make It" in the top right-hand corner to view the preview screen.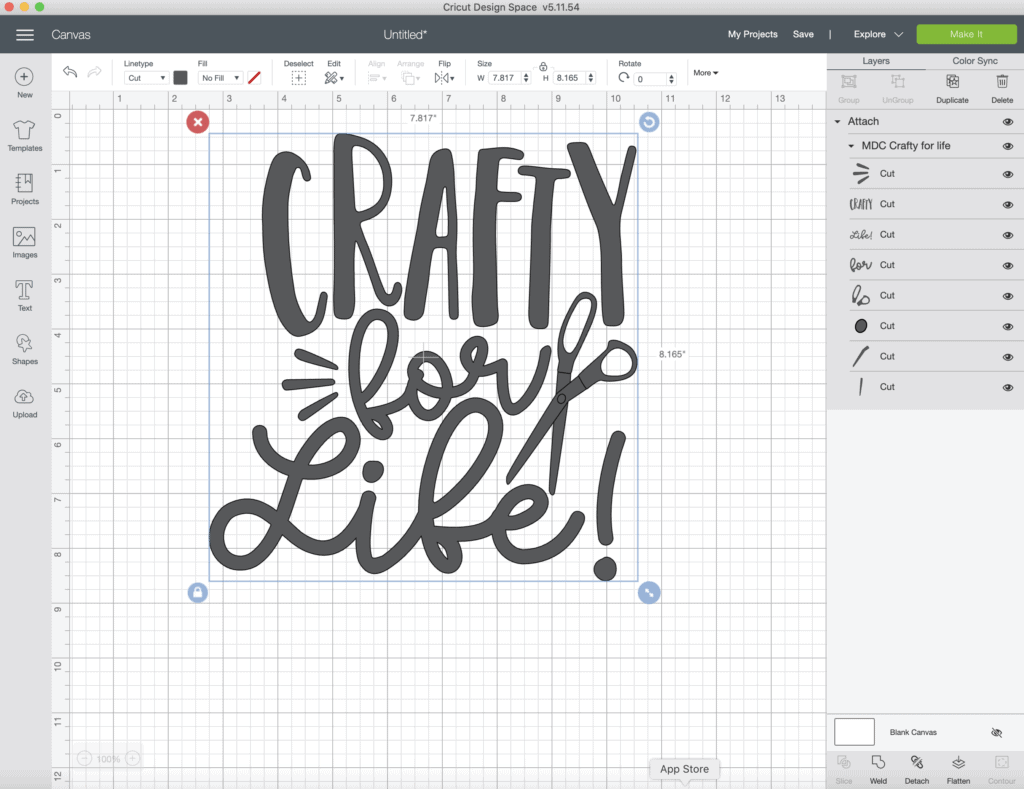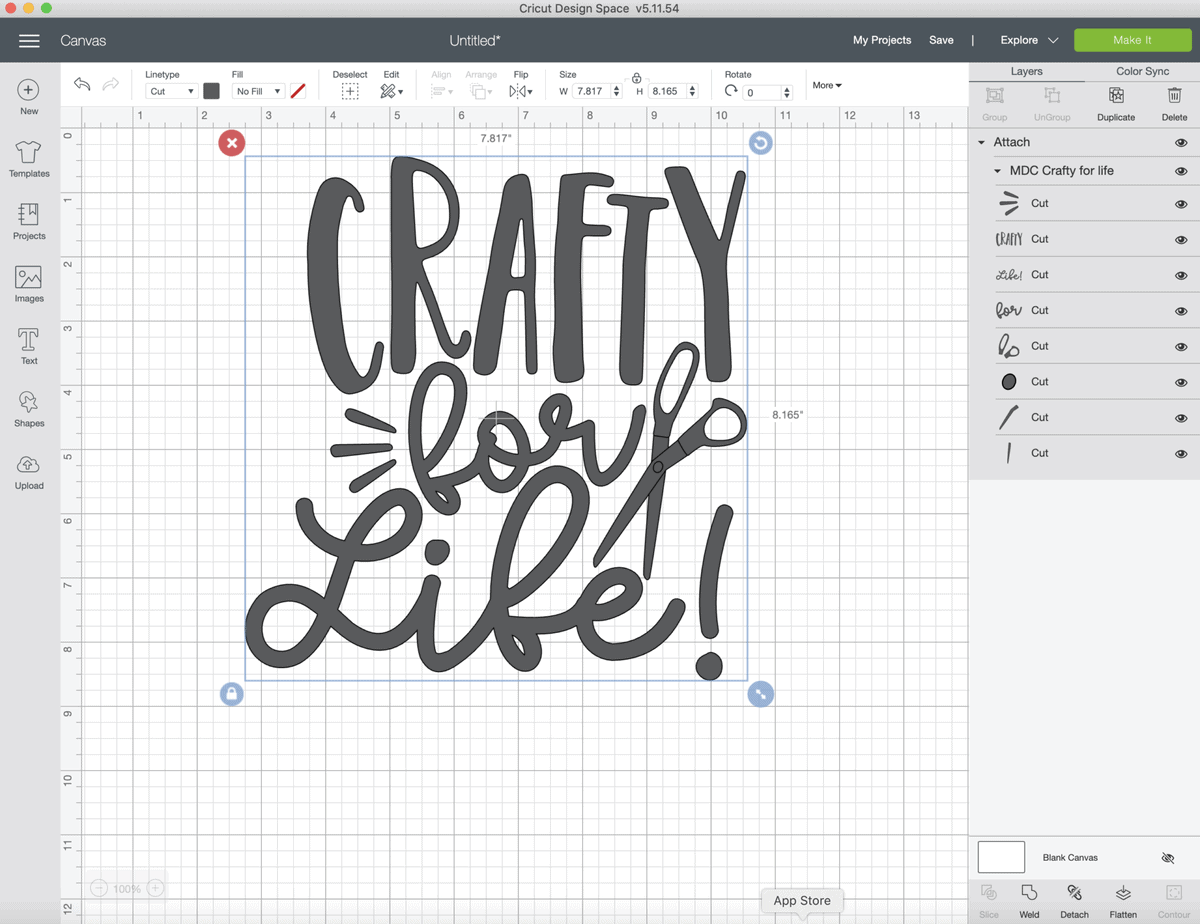 Be sure to mirror your image, that way it is cut the right way for iron-on. If you don't do this, your image will be backwards when you iron it onto your shirt. So, before you cut, double-check that your image is mirrored.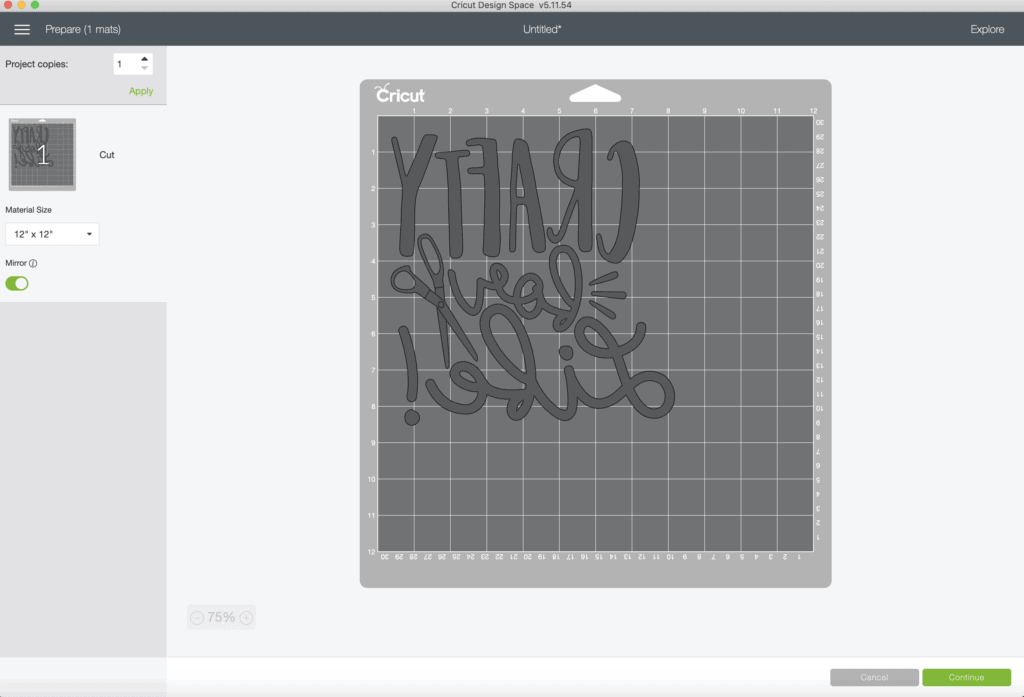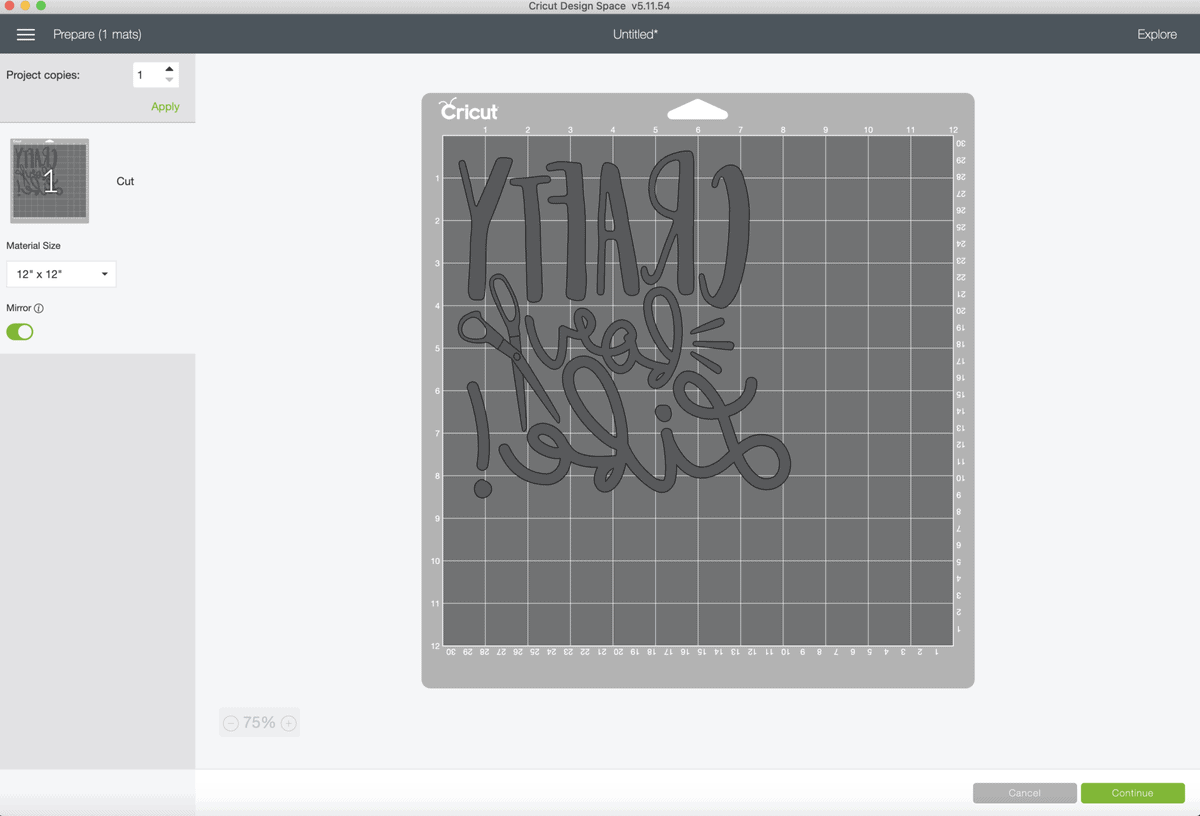 After clicking continue, the screen prompts you to select the material you are using. For this project, I am using Everyday Iron-On. To find my material quickly, I like to use the search bar. If you use this material frequently, save it as one of your favorites.
*Pro Tip - I always select "more" pressure to make sure it cuts completely through the Iron-On.
Place your iron-on vinyl shiny side down on your green mat.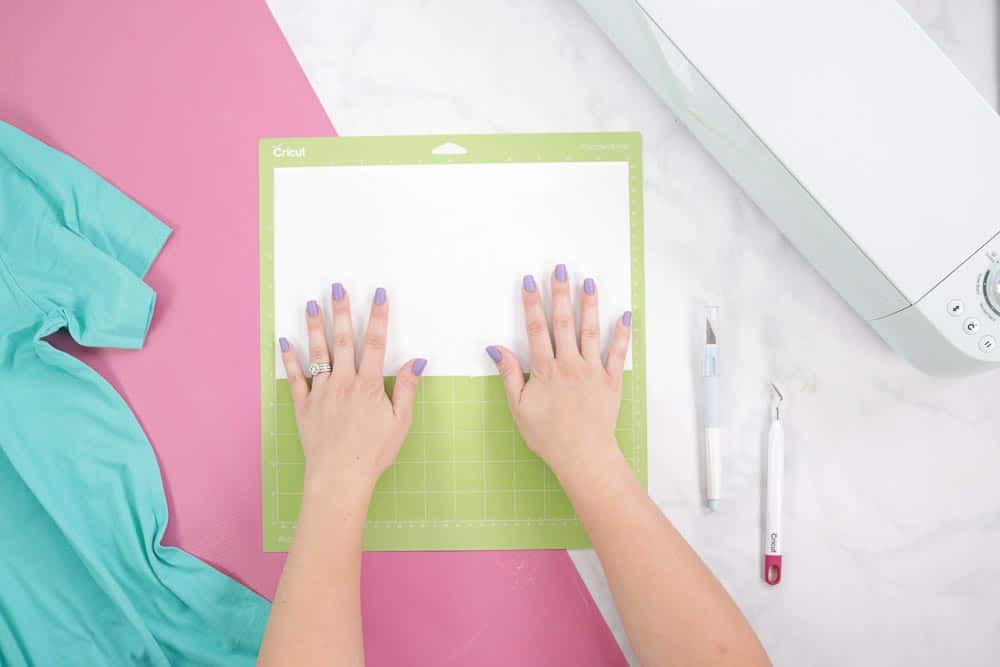 Make sure that your Cricut is loaded with the fine point blade.
Next, insert your mat into either your Cricut Maker or Explore machine.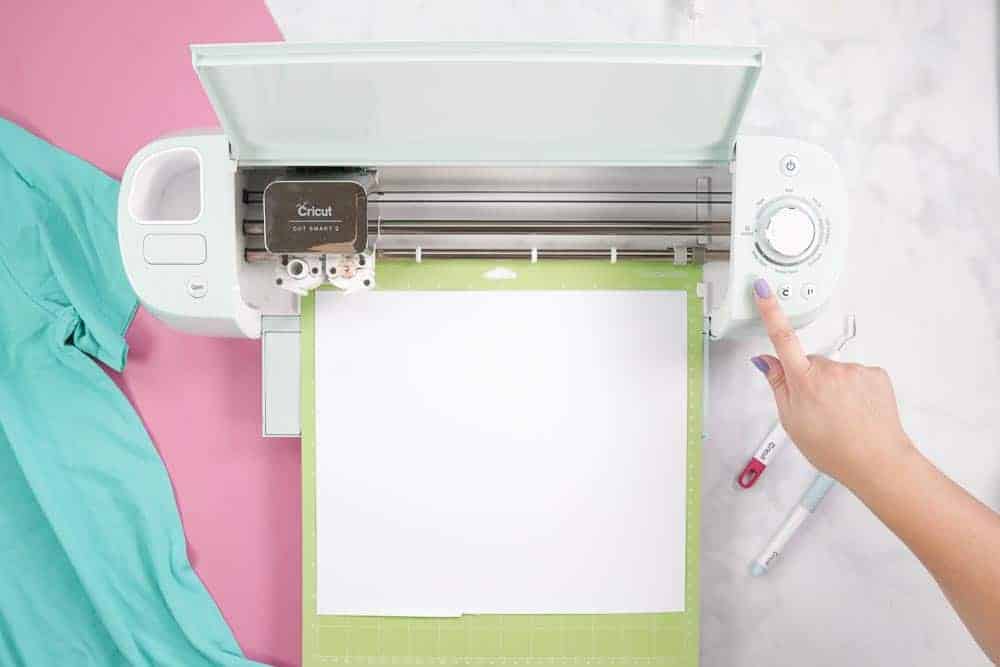 Press the blinking Cricut "C" button and your Cricut will start cutting.
Once it is finished cutting, press the arrow button to release your Cricut Mat.
Weed Design
Once the cut has finished, it's time to start weeding your project. I like to use my true control knife to remove some of the excess vinyl from the edges of the design and save them for use later on.
You are going to be removing all of the vinyl that you do NOT want to transfer to your project.
I like to start weeding in the corner of my project.
Use a 45-degree angle to slowly pull the excess vinyl away from your project, being careful not to rip anything in the process.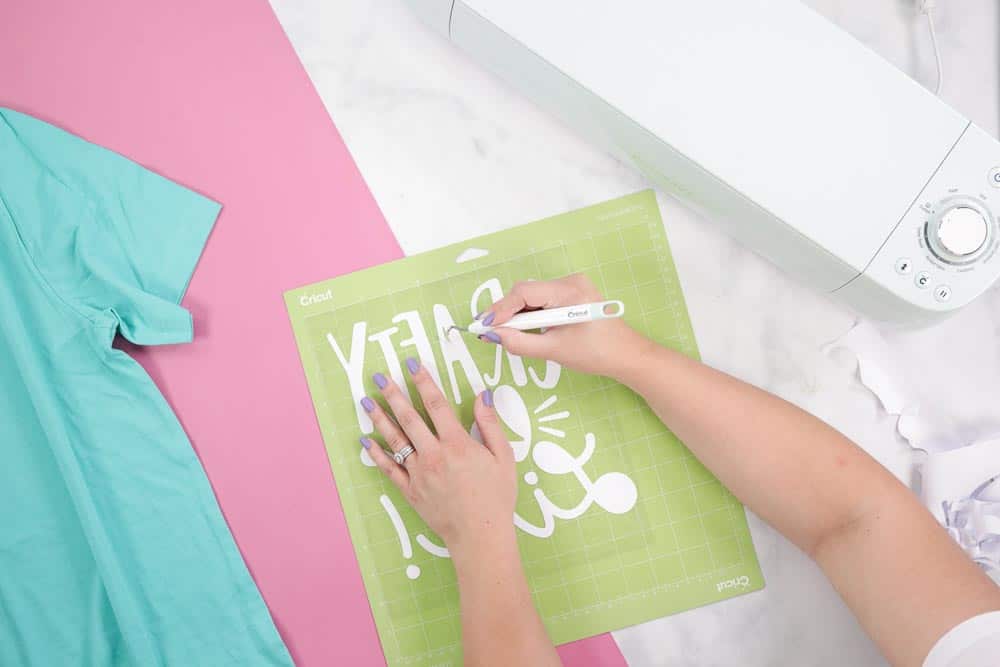 I like using my weeding tool to get the more intricate parts of my design up, like the insides of letters.
If you need help seeing which parts of your design you need to weed, you can either hold it up to the light or use a lightbox. The light shows through the cracks, making it easier to see (especially on more intricate projects).
Flip your mat over and gently peel the mat away from the project. This will keep your Iron-On from wrinkling or bending. Don't worry, your mat is meant to be bent like this!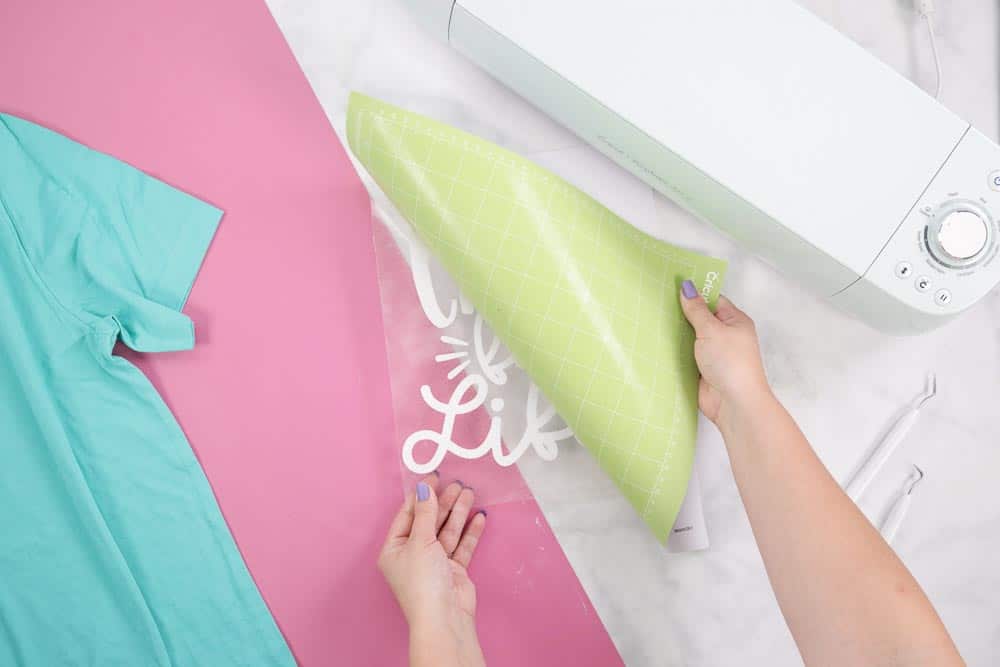 Flip over your design to make sure everything looks perfect.
Heat Up Your Iron or EasyPress
Now that your design is ready to go, it's time to heat up either your EasyPress or iron to Cricut's recommended settings. I like using Cricut's EasyPress since it has a large surface area, heats up to an exact temperature and has a timer so I know exactly how long to press my project for. Learn more about the Cricut EasyPress here.
If you are using an iron, set it to high heat with zero steam. Make sure the water basin is completely empty, otherwise the steam could ruin your vinyl transfer.
Cricut has an amazing online guide to tell you exactly what temperate, time and pressure you need to press your iron-on at. The exact settings vary depending on the type of iron-on vinyl you are using and the material you are transferring it to.
For this project, we are going to be heating the EasyPress to 315 degrees and pressing for 30 seconds.
Preheat Your Shirt
Preheating your shirt removes moisture, flattens it and ensures it is ready for iron-on application.
Find the Center of Your Shirt
Before ironing-on my design, I like to find the center of the t-shirt to ensure my design is centered. To find the exact center of the shirt, I fold my t-shirt in half and press the fold line, this gives me a line down the center of my shirt so that I can perfectly center my design later on. You can also fold your shirt down at the armpits to create a horizontal line.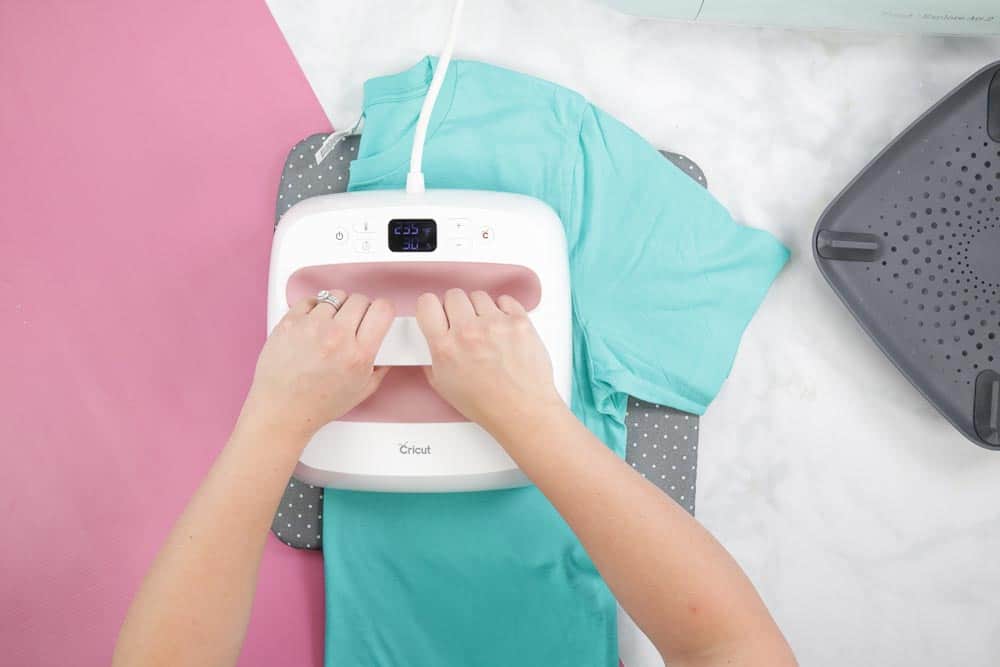 Once you have your centerfold, open it back up and place it on top of your EasyPress Mat.
If you don't have an EasyPress mat, it's helpful to use a towel that's been folded over as a pressing base.
Position Design
Next, you're going to place your decal sticky side down - use the ironed line to determine if your design is centered.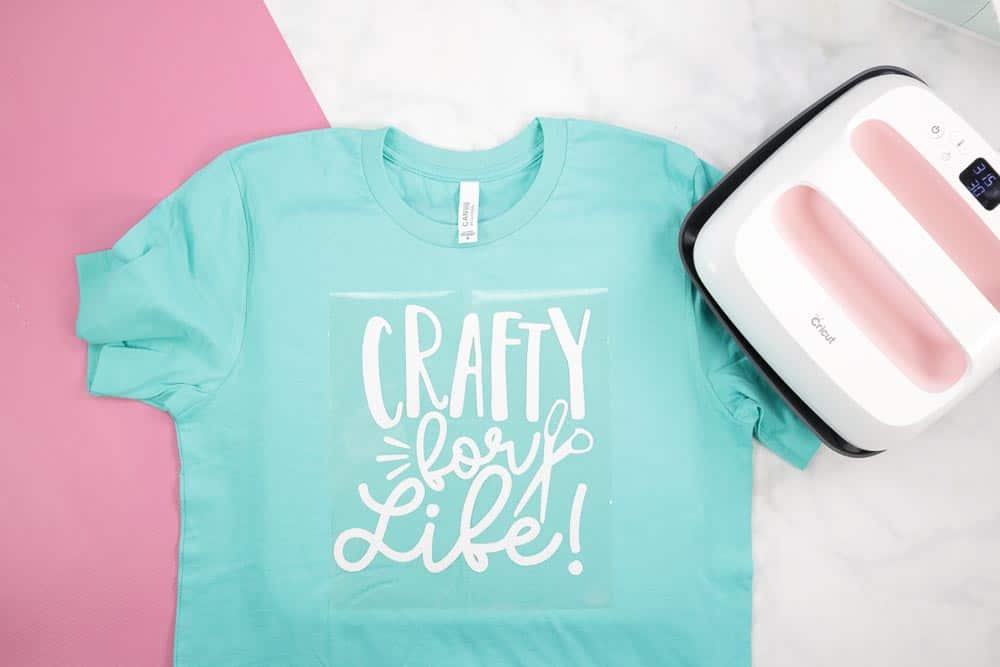 Once you are happy with its placement, press your design.
Press Your Design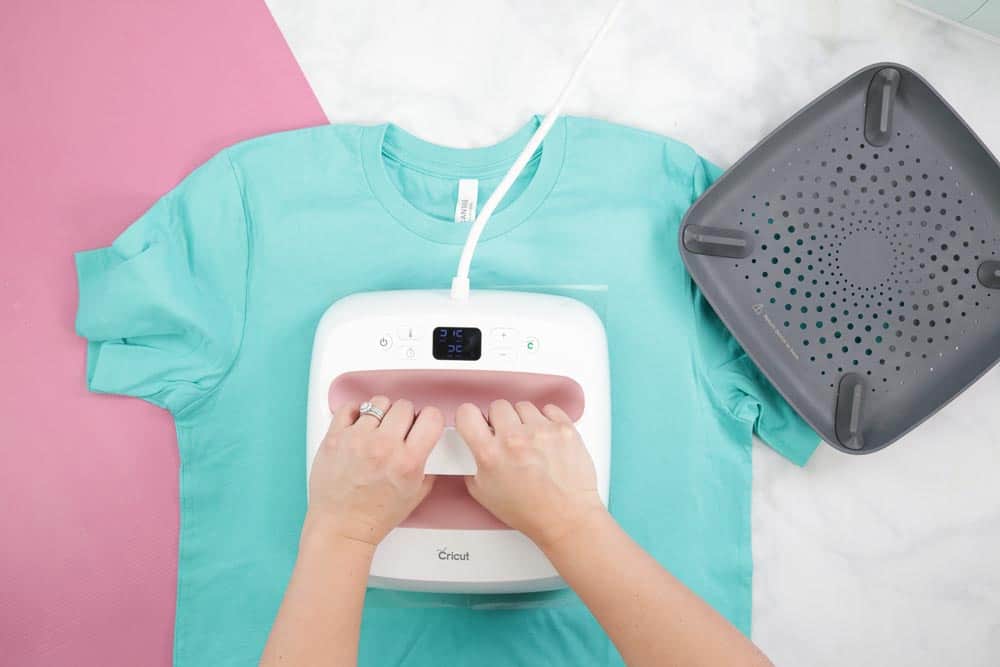 Be sure to check that your EasyPress is heated to the correct temperature before you begin pressing.
Once your EasyPress is positioned, click the "C" to start the timer. After you have been pressing for 30 seconds, your EasyPress will beep to let you know that it is done.
After ironing the front, you are going to want to flip over your shirt and press the back for another 15-30 seconds. This helps to ensure that the Iron-On is completely adhered.
Cool and Peel
If your iron-on is a warm peel, allow the design to cool for about 10-15 seconds before peeling off the backing. If it is a cool peel, you are going to want to wait about 1-2 minutes, or until your design is completely cool to the touch before you peel it.
When your design is ready to be peeled, slowly peel it away from the shirt at a 45-degree angle. I like to start peeling from the corner of my design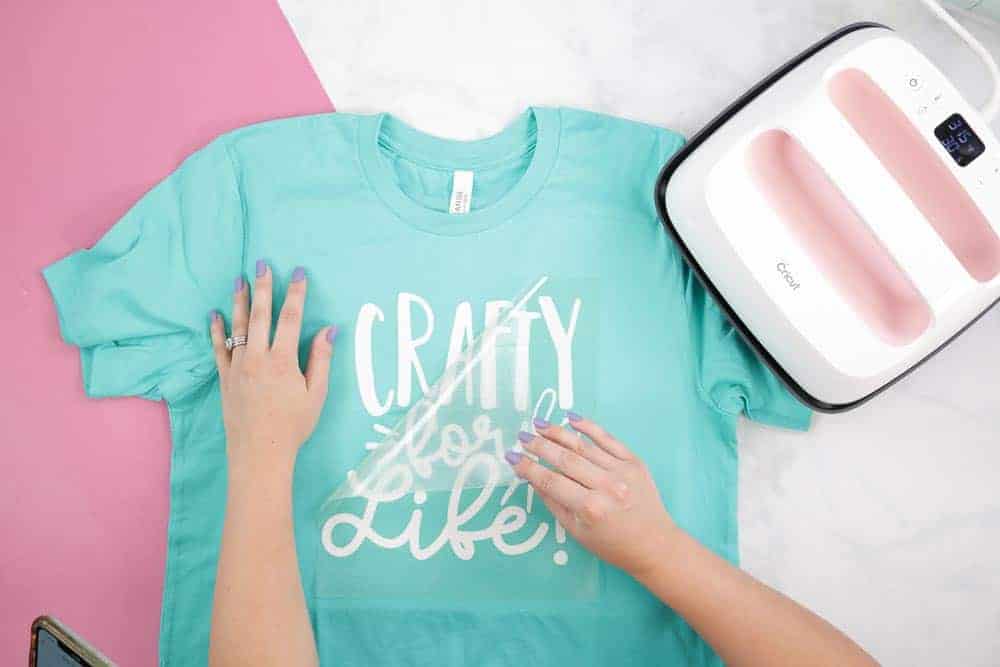 As you begin peeling, be sure to check to see if your design has completely transferred. If the Iron-On is coming up, lay the transfer back down and press for an additional 15 seconds.
Now we have this cute "Crafty for Life" t-shirt. I can not wait to see the t-shirts you create!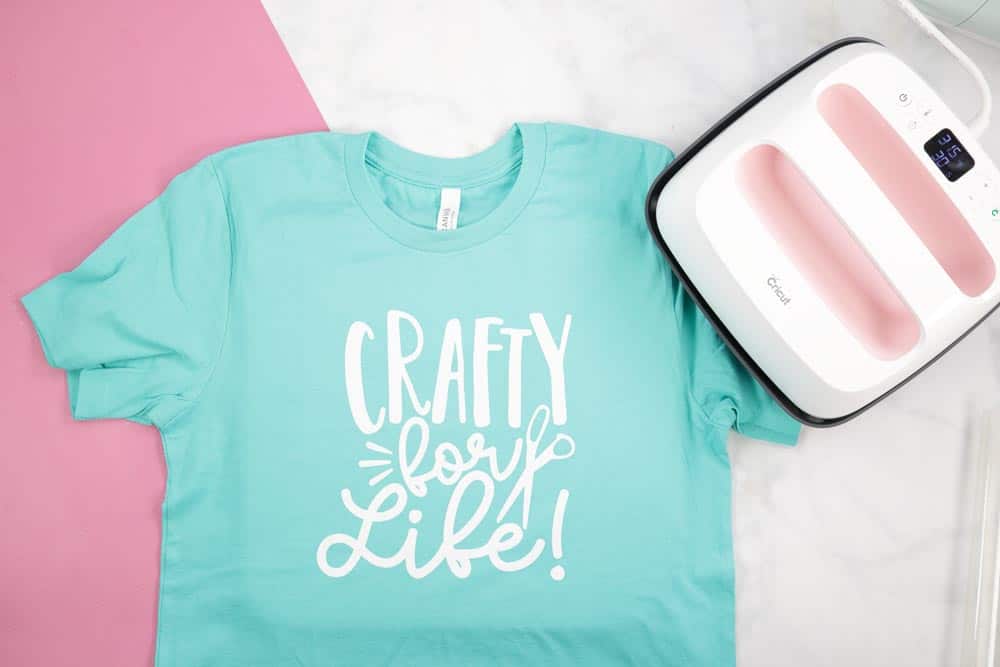 Caring for Your Shirt
To care for your shirt, wait at least 24 hours before washing. Turn it inside out and tumble dry. Your shirt should last at least 50 washes before showing signs of peeling or cracking.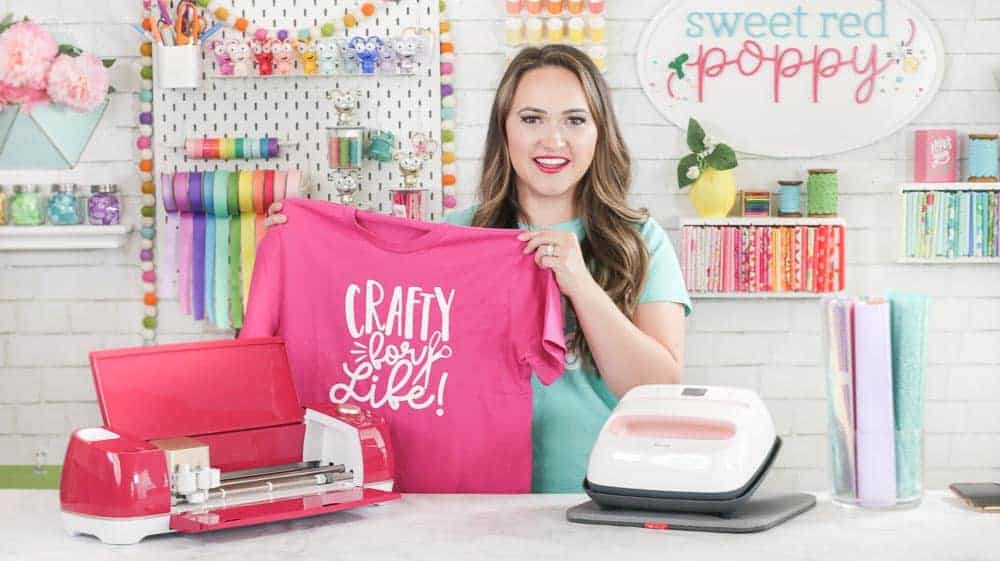 Trouble Shooting
The most common problem with iron-on is that it does not stick to your project.
If your vinyl starts to peel up, be sure that you are using Cricut's recommended settings and that you are ironing on a flat surface.
If you are still experiencing peeling, cover your iron-on design back up with the backing sheet and press it again for another 15 seconds. You can retouch the back for an additional 10 seconds as well.
I hope you enjoyed learning how to cut and apply Cricut Iron-On Vinyl in this tutorial! You can find all of the supplies to make this adorable Iron-On t-shirt at your local JOANN. I can not wait to see what you make!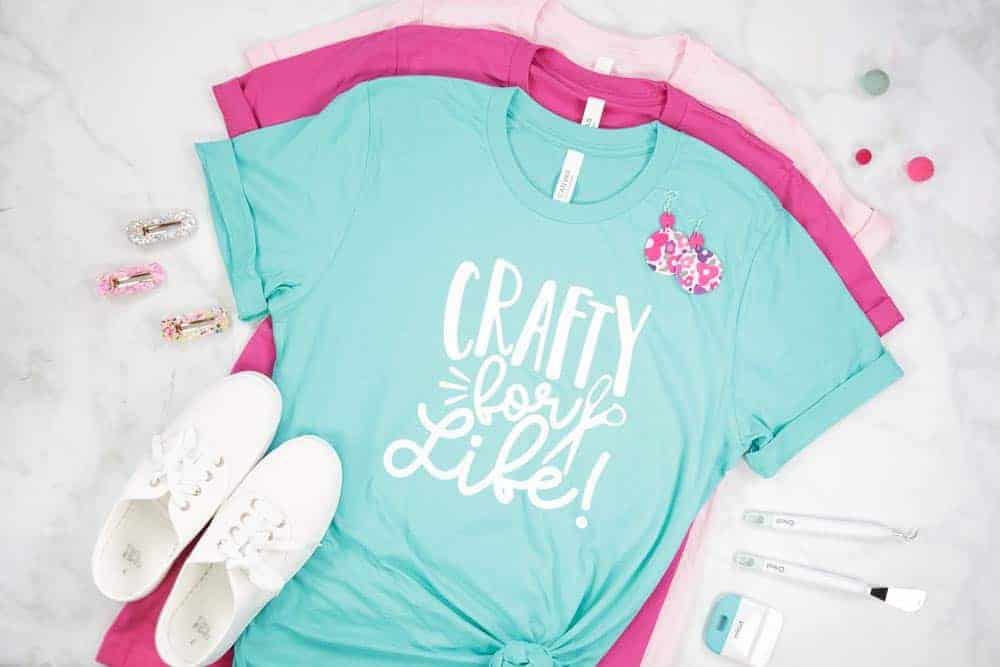 Don't forget to join my crafting Facebook group where you can show us what you're making, ask questions, and learn from others! Follow me on Instagram for daily crafting inspiration and a look behind the scenes.