Learn how to sew an easy-to-make, personalized drawstring backpack using fabric from JOANN and Cricut Iron-On.
This is a sponsored post written on behalf of JOANN. All thoughts and opinions are my own.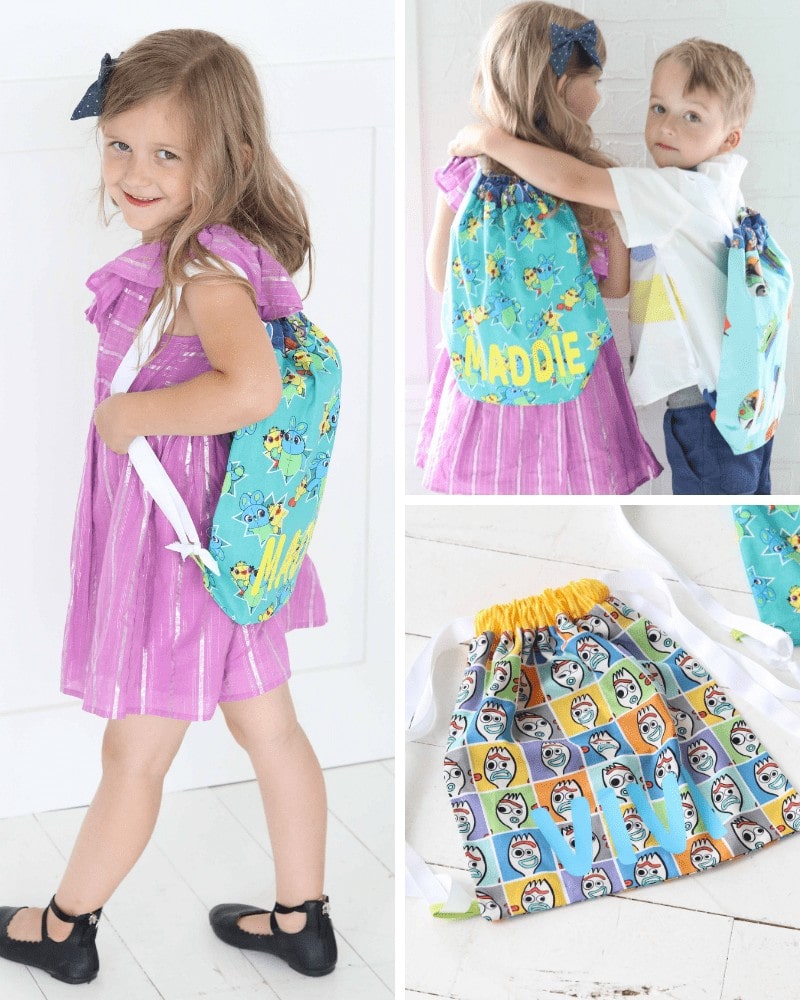 Toy Story 4 just released and my kids have been watching all of the Toy Story movies on repeat for the past few weeks.
As we were shopping in JOANN we came across this adorable line of Toy Story 4 fabric and we knew we had to make something fun with it!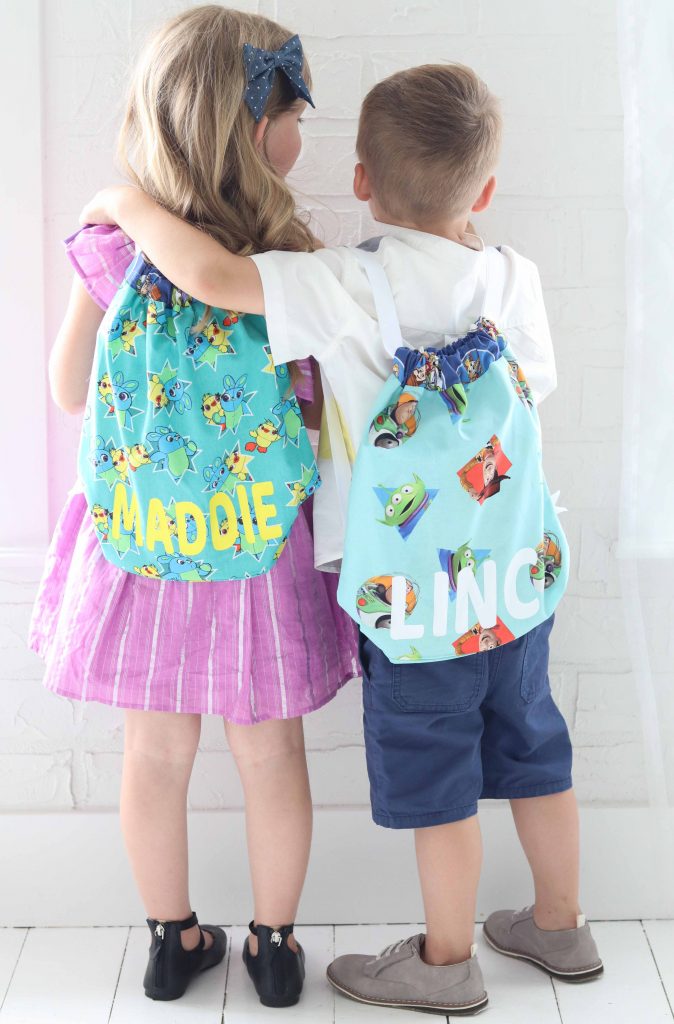 When I asked my kids what they wanted they immediately asked for snuggly blankets and drawstring bags!
Get the tutorial for the blankets here.
Drawstring Backpacks are easy to make and my kids love them! Planning a road trip this summer? Fill them up with toys, snacks and a notebook and colored pencils.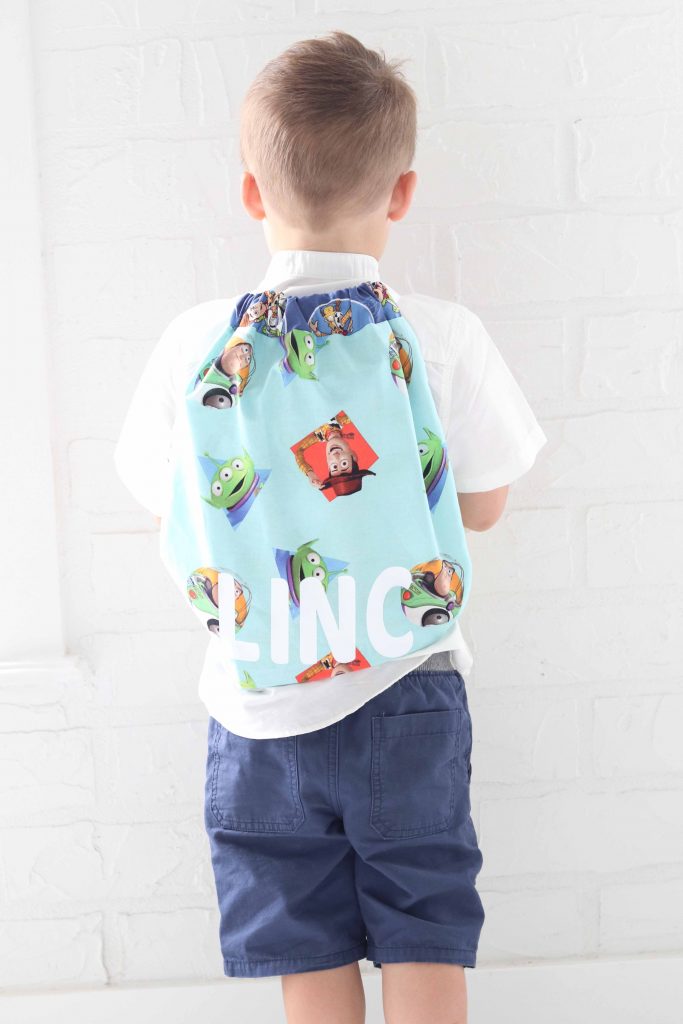 To keep everyone from fighting, I pulled out my Cricut and quickly added names to each of the backpacks. Now everyone knows exactly which backpack belongs to them. Yay for no fighting, plus it makes them even cuter, don't you think?
This tutorial will walk you step-by-step through sewing a drawstring backpack as well as how to apply Iron-On.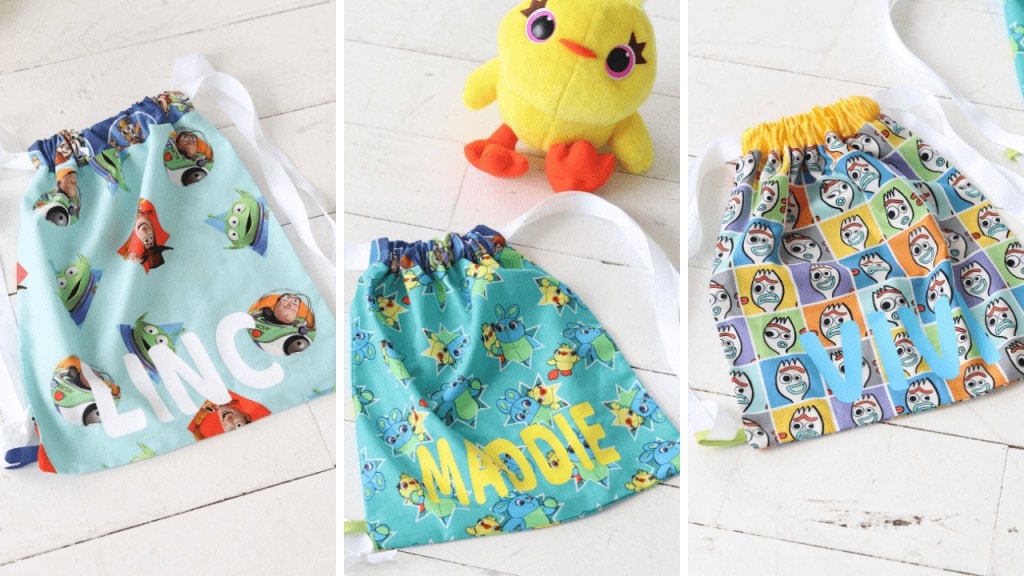 Drawstring Backpack Supplies
1/2 Inch Wide Ribbon
Safety Pin
1 Package of Bias Tape
Optional
Measurement Chart
Main Bag (Cut 2) 14″ x 14″
Top Contrast (Cut 2) 14″ x 4″
Drawstring Bias Loops (Cut 2) 4″
Ribbon (Cut 2) 55″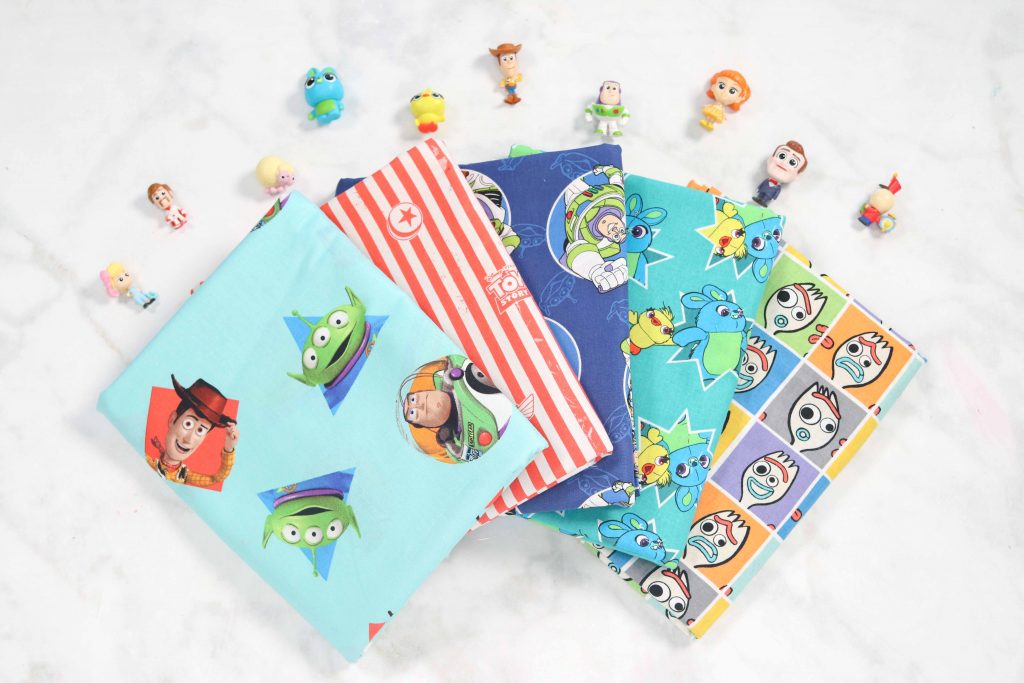 Let's get started!
If you're new to sewing this is a great beginner project!
Cut all pieces out according to the measurement chart located above.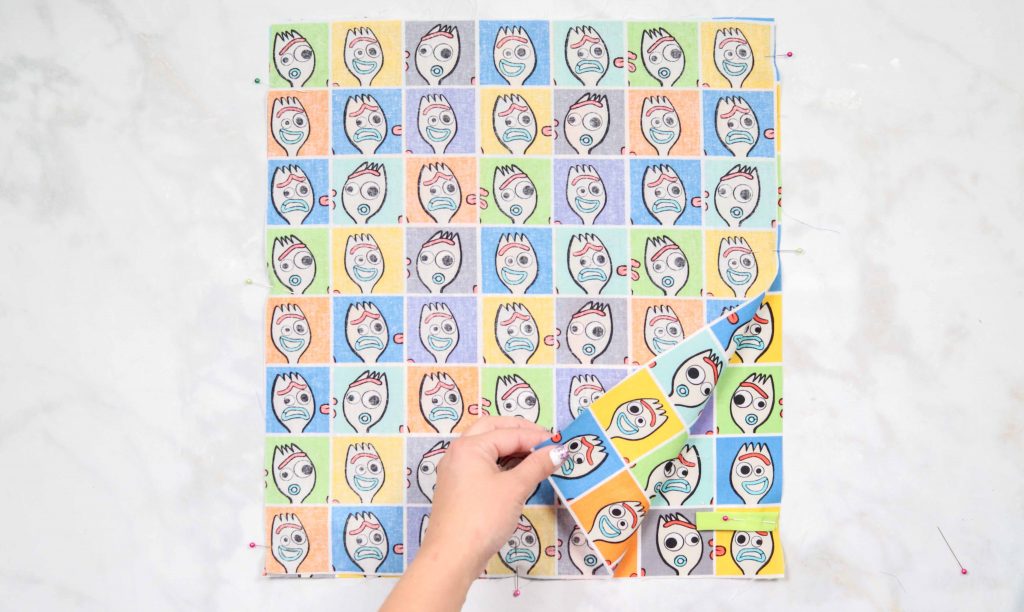 Fold the loops in half and place them 5/8ths of an inch from the bottom of the main bag.
With right sides together pin the front and back together.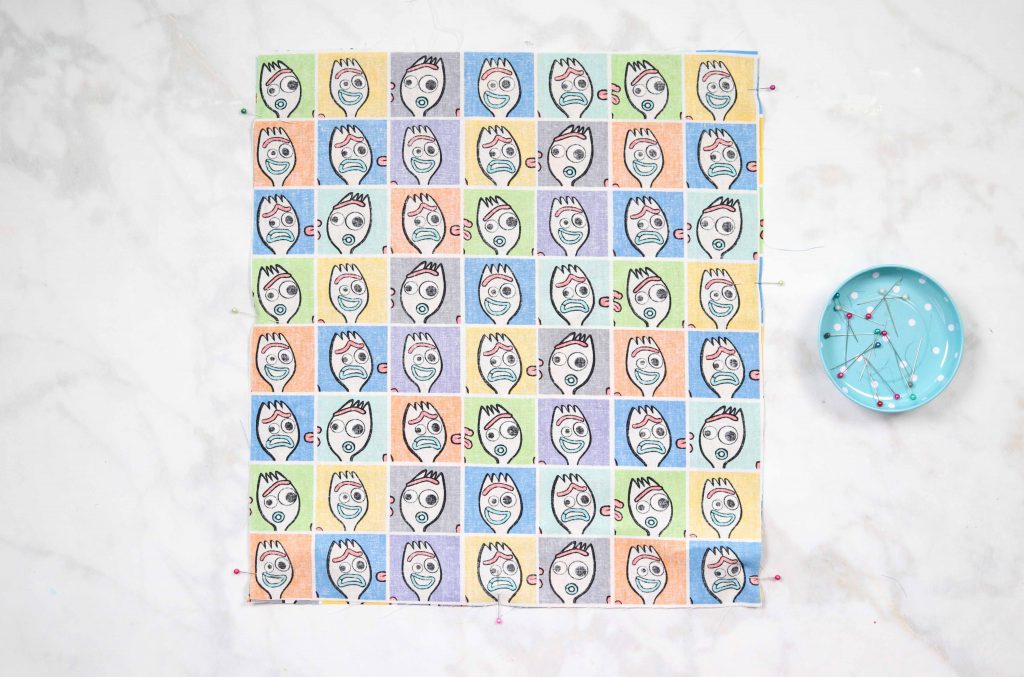 Sew the front and back together leaving the top of the bag open, making sure to pivot at the corners.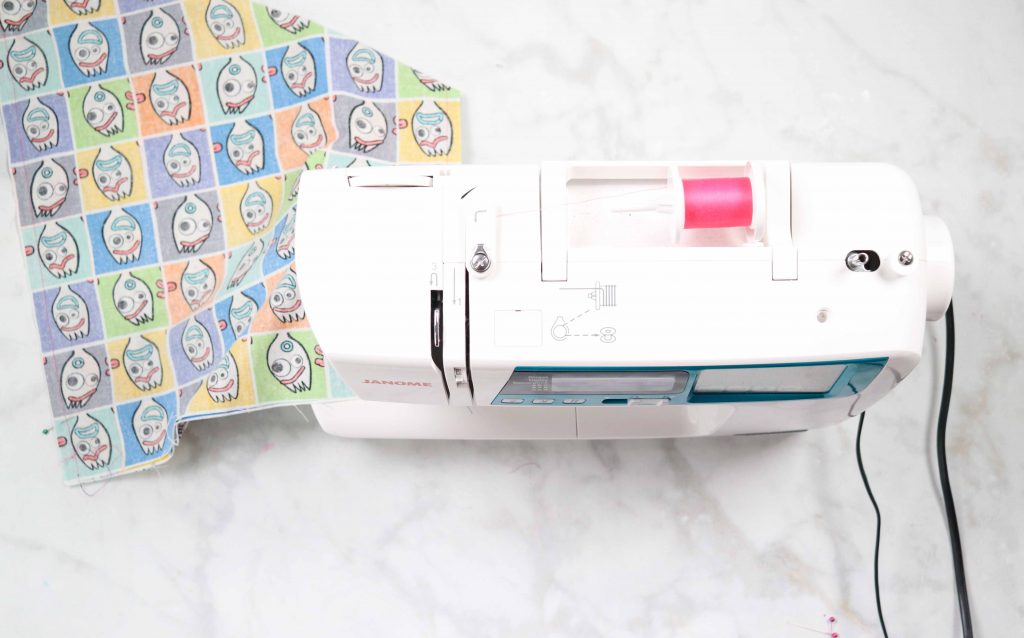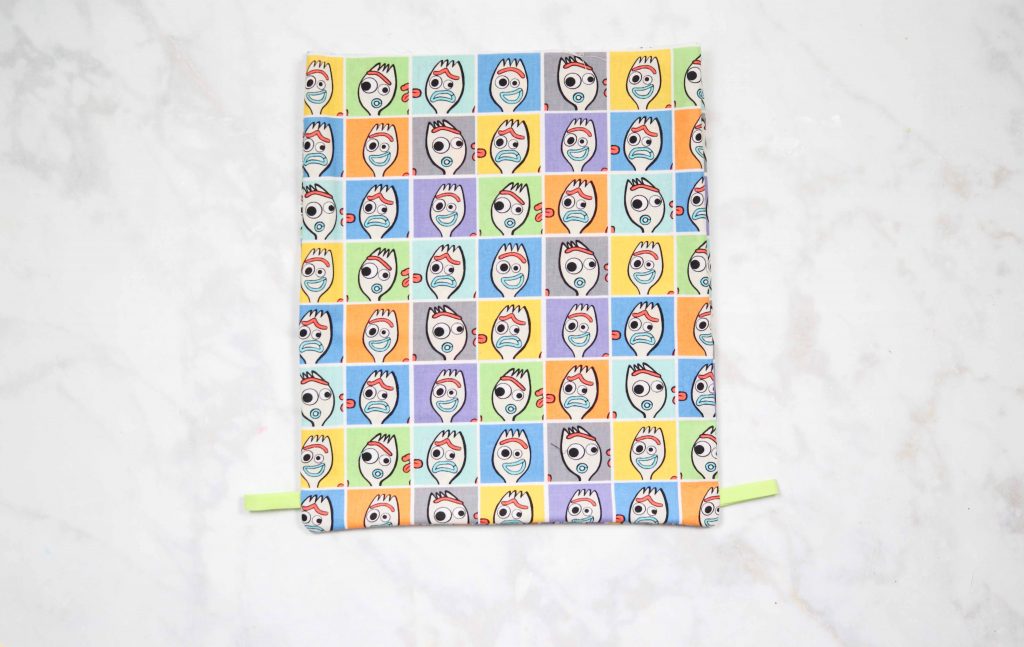 Fold the edge under 1/2 inch on both sides. Then fold the contrast piece in half with wrong sides together. This will be the casing for the ribbon.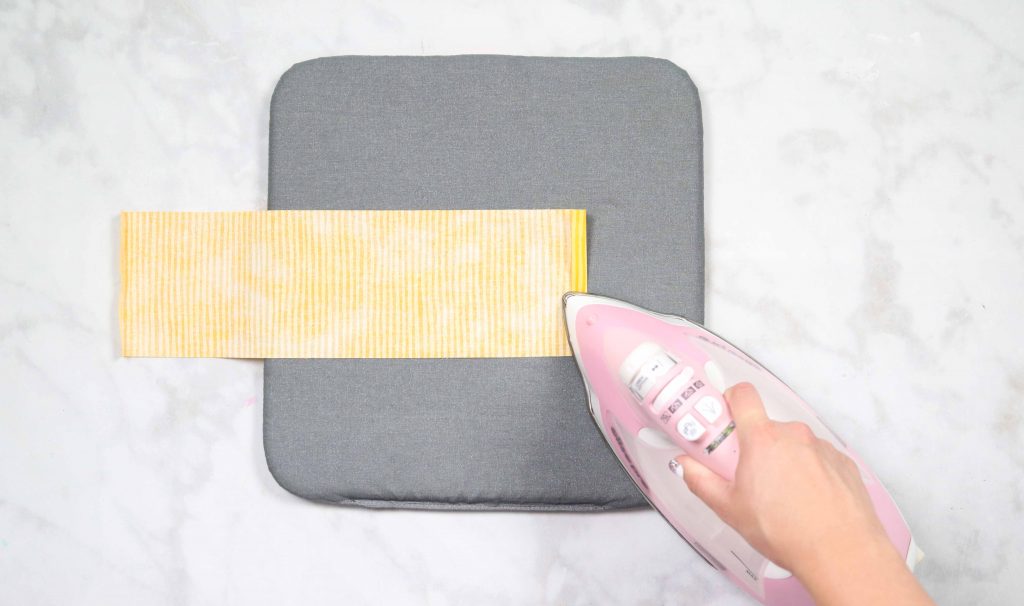 Place the casing on top of the main bag with right sides together. The unfinished seam should be at the top. Align the folded edges with the seams on either side. Use plenty of pins to align everything together.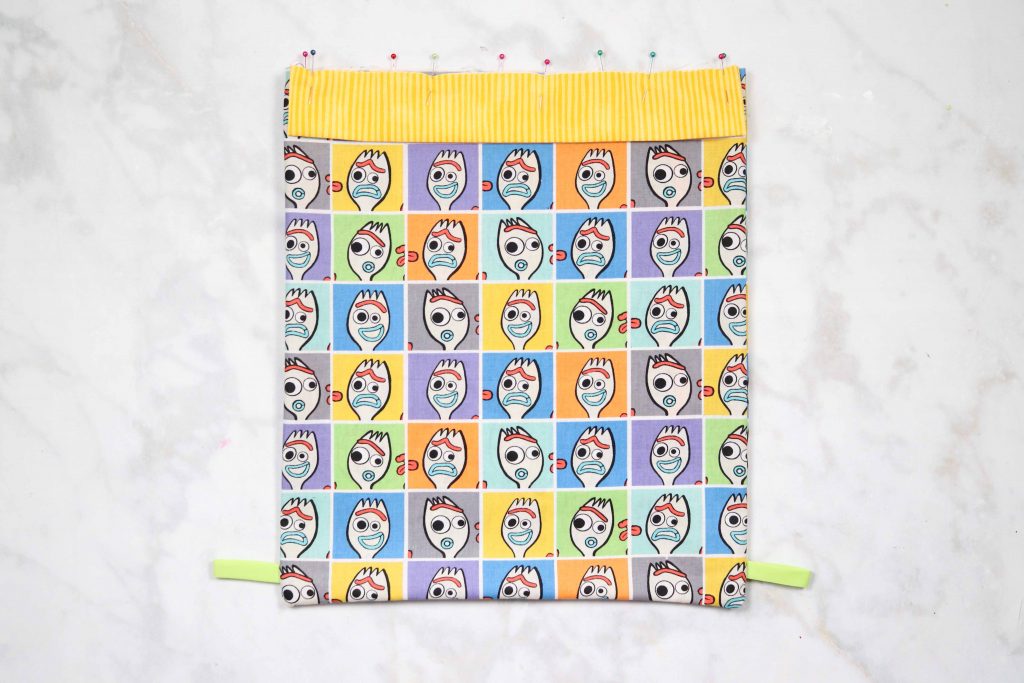 Sew the contrast and the main bag together with a 1/2″ seam allowance and finish the edges using a serger or a zig zag stitch.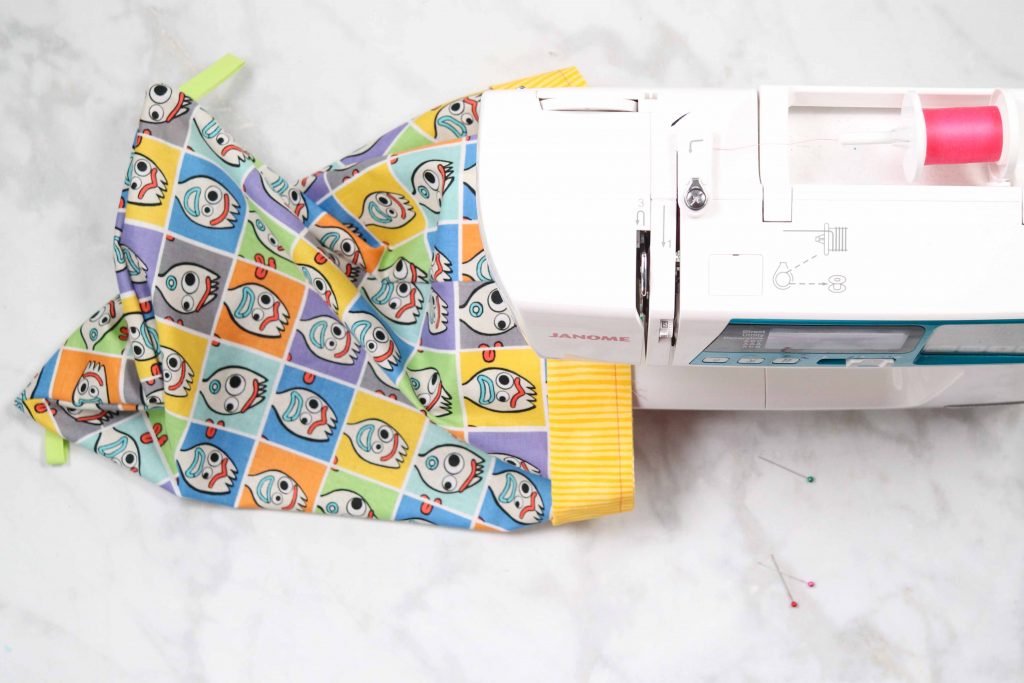 With a hot iron, press the casing upwards away from the bag.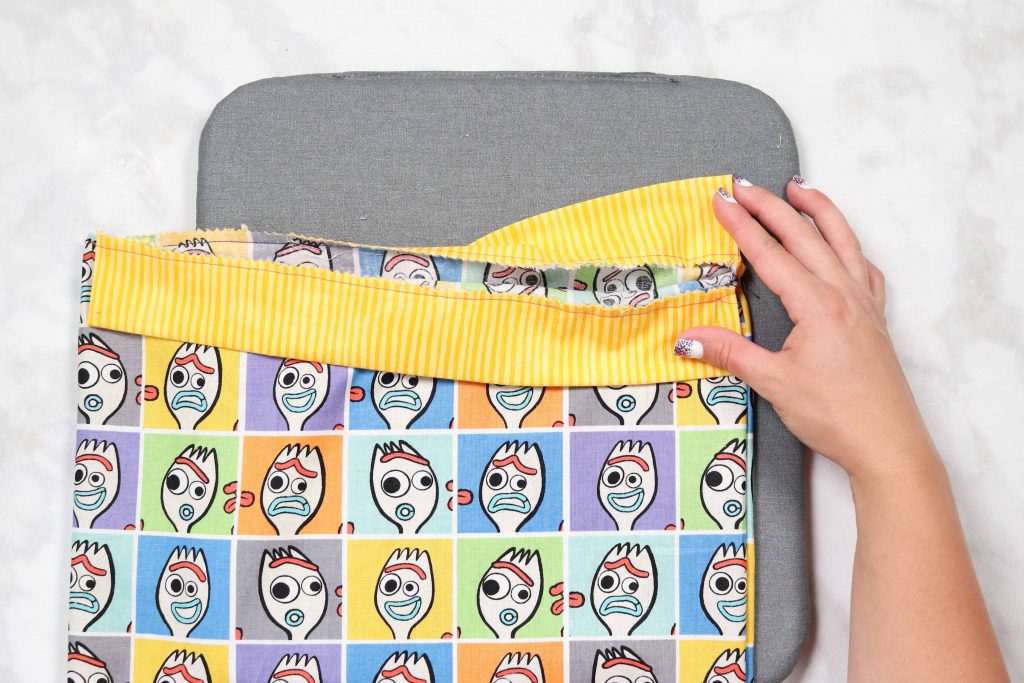 Attach a safety pin to the ribbon and feed it through the casing until it comes out the other side, right next to where you began. Repeat this same process on the opposite side.
Adjust ribbons until they are equal lengths on either side.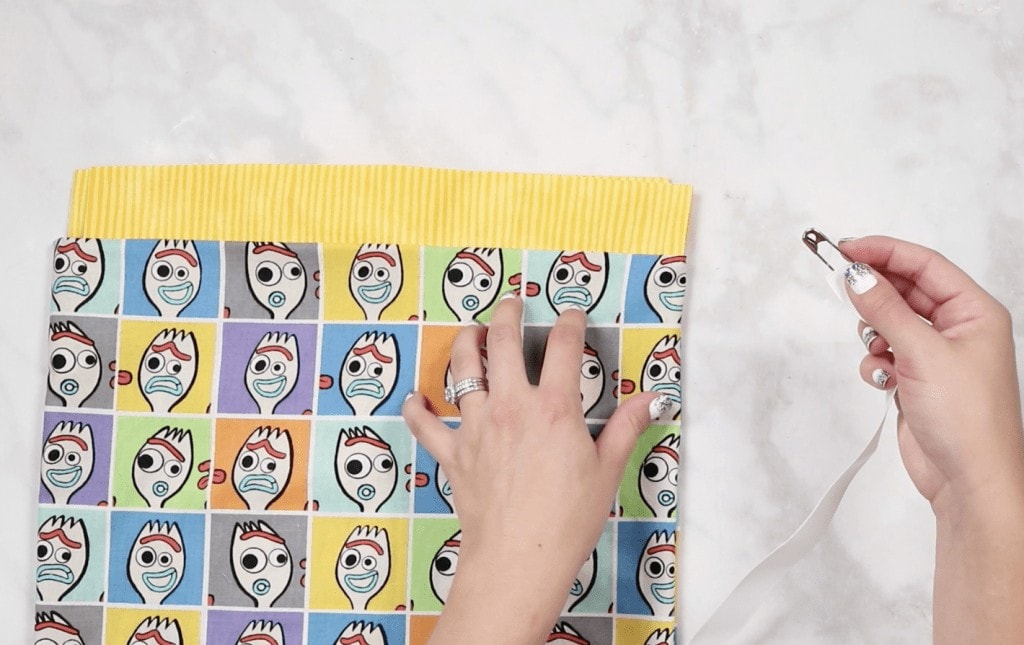 Feed one ribbon through the loop, then tie a knot or a bow. Finish by trimming the edge of the ribbon at an angle to prevent fraying.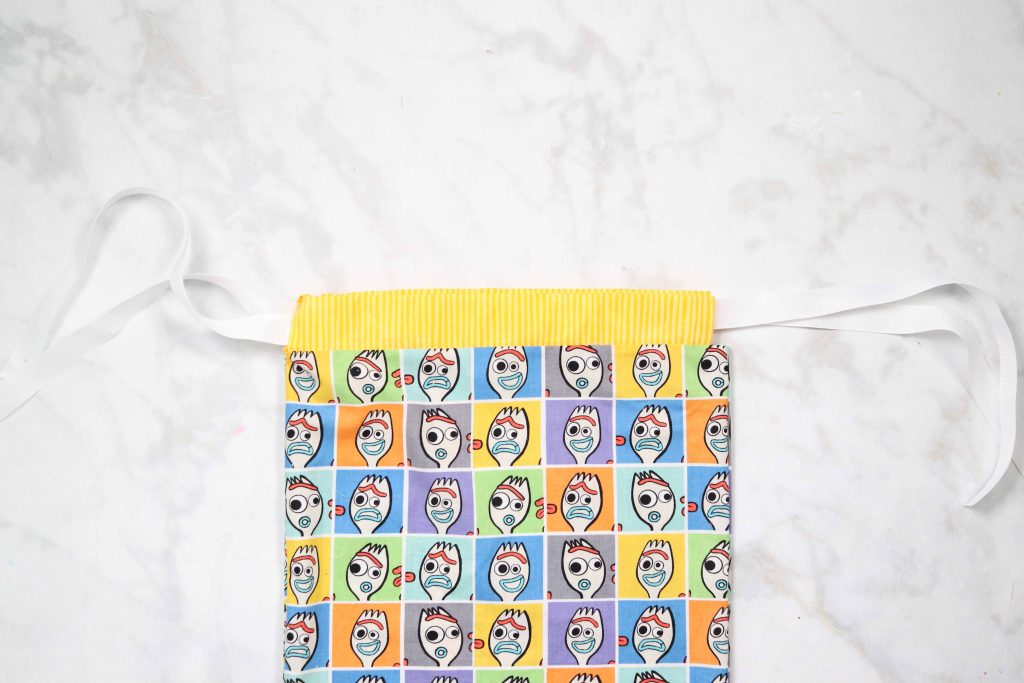 Optional: Personalize your bag with iron-on to make it extra special.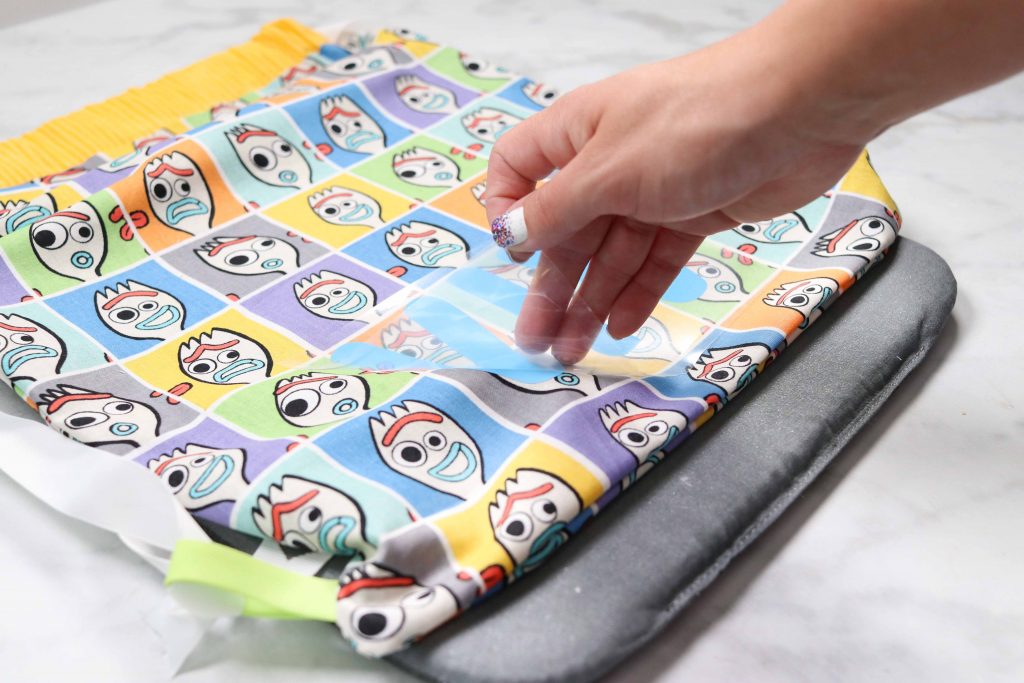 Get the coordinating blanket tutorial here.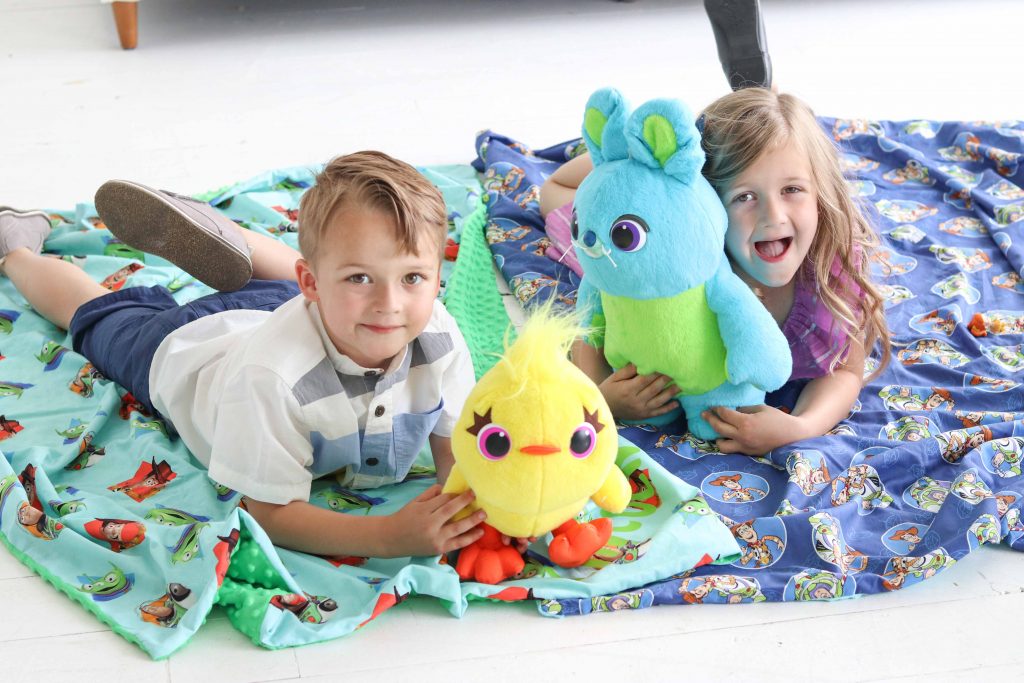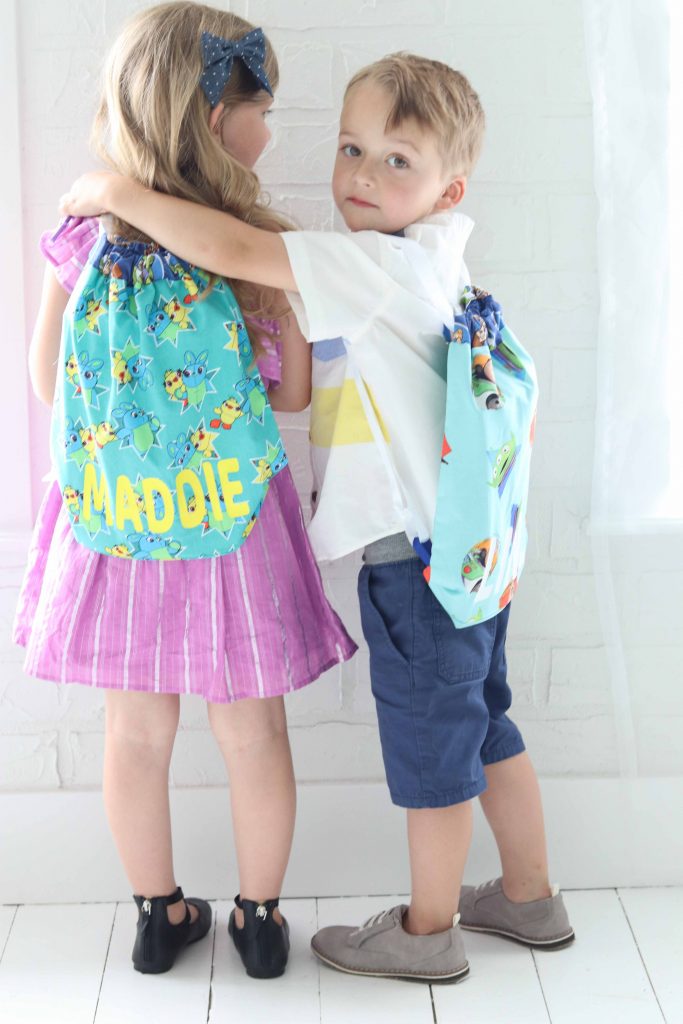 Don't forget to join my Crafting and Sewing with Sweet Red Poppy Facebook group and share how your bags turn out!