If you're thinking, "I want to make crepe paper flowers," but you're wondering where on earth you should begin, you're in the right place! I'll teach you everything you need to know to create incredible crepe paper flowers.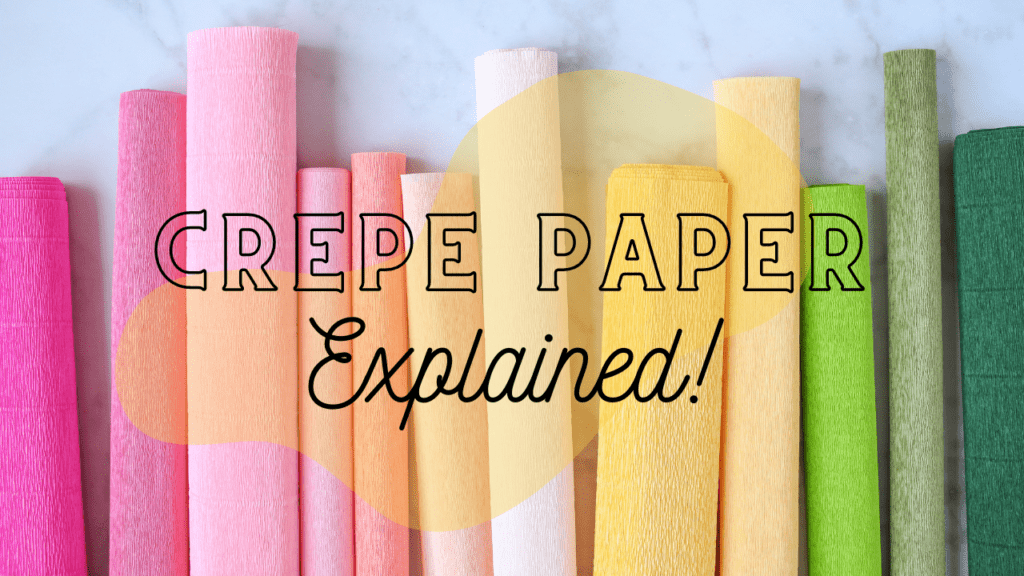 Paper flowers have been gaining in popularity over the years and there are more resources than ever to learn to create your own! This can be both encouraging and overwhelming. Especially considering crepe paper is a very unique medium many are unfamiliar with.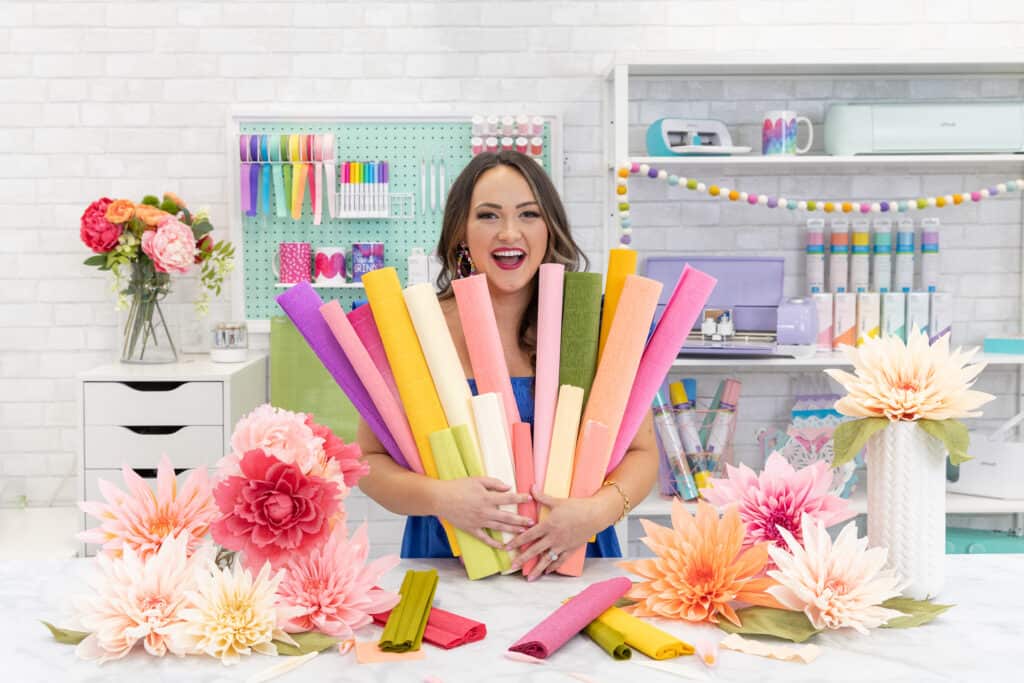 So let me break it all down for you! You'll be surrounded by paper petals and beautiful blooms in no time.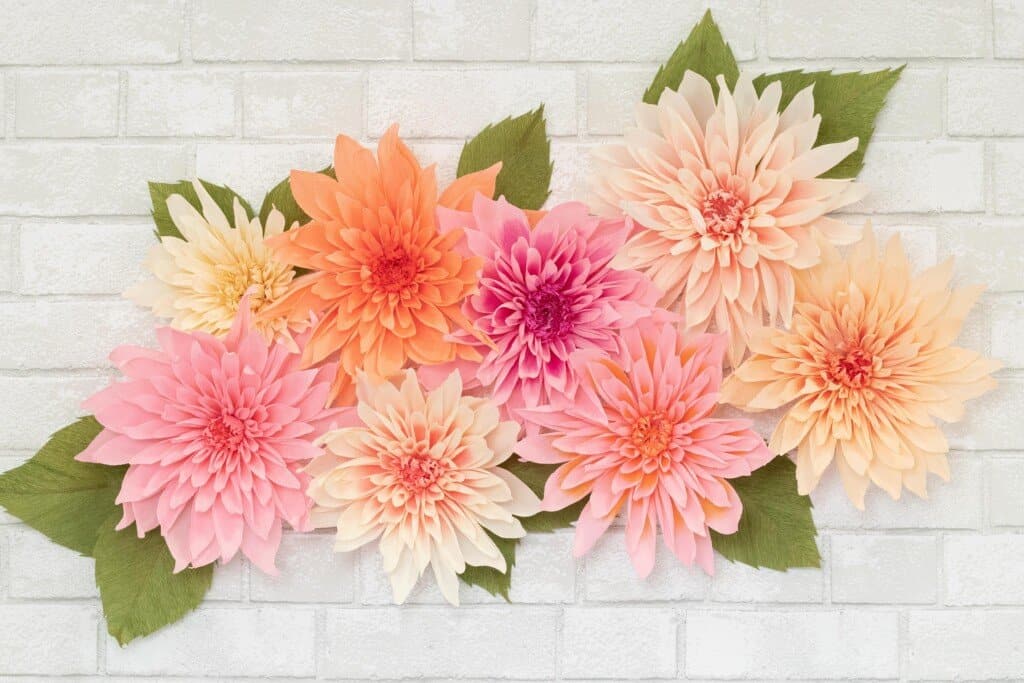 If you're anxious to get started, make sure to check out the Crepe Paper Dahlia post after you're done here!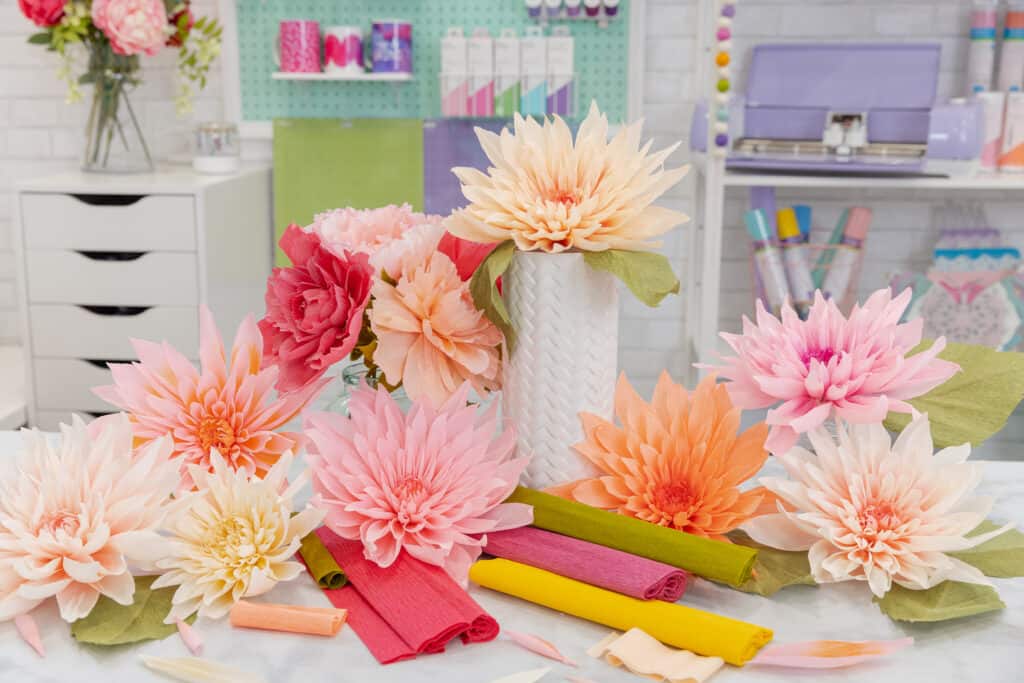 What is Crepe Paper?
Perhaps the only thing that comes to mind when you hear crepe paper is party streamers. Not surprising! However, the crepe paper you will need to create flowers is a slightly different variety, and far superior in quality.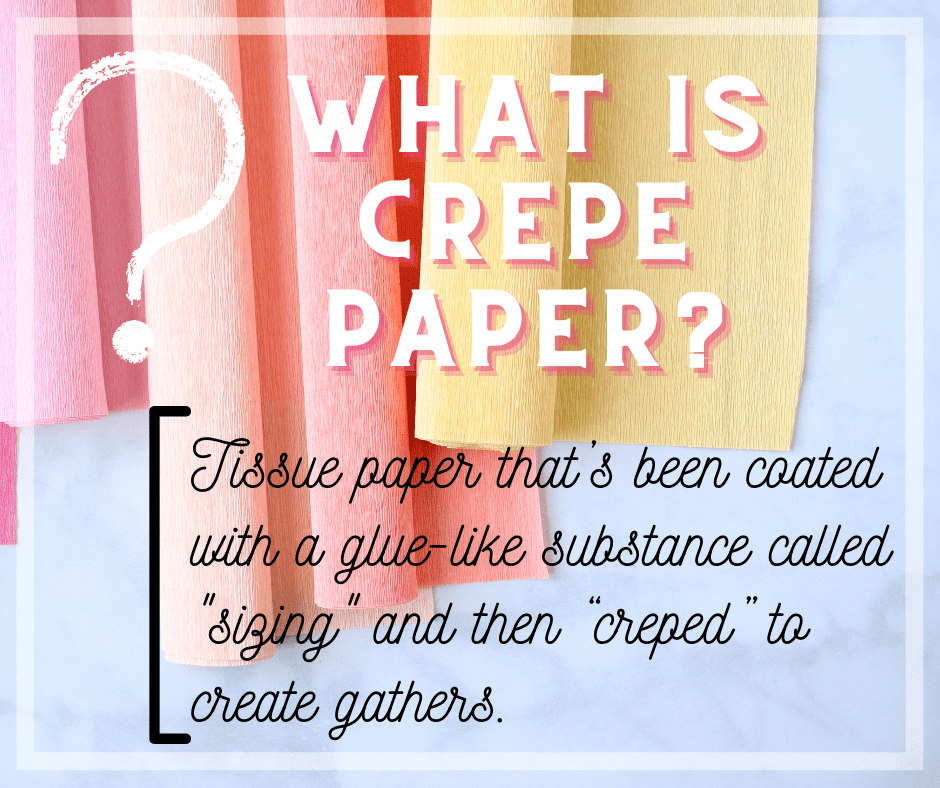 Crepe paper has been around since the late 1800s and was used for all sorts of applications, from home decor embellishments to children's costumes, event decorations, and even paper flowers. Essentially, all the same, things we want to use crepe paper for today!

Crepe paper is textured paper with stretch. The ridges in the paper, which range depending on the weight of the paper, create the stretch. This gives crepe paper the unique malleability that makes it ideal for creating realistic paper flowers.
What do the different weights of crepe paper mean?
When you look at different types of crepe paper, you'll notice that they are sold in varying weights. This will always be in grams or gsm, meaning grams per square meter.
Heavy: 160-180 grams

More stretch and more structure.

Double-sided, Doublette, or Medium Weight: 80-100 grams

Good structure and stretch. Heavier than fine and a smoother appearance than heavy weight.

Light Weight or Fine: 30-60 grams

Much more smooth, less stretch, and delicate.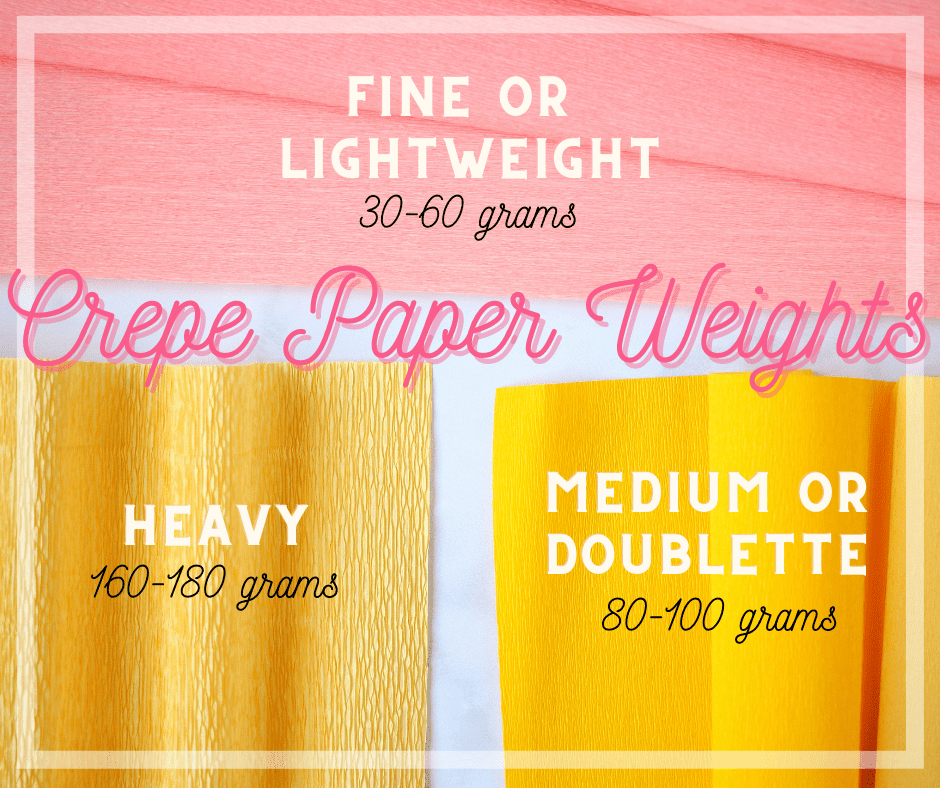 Heavy and double-sided or medium-weight papers have more structure and stretch than the extra fine variety and are generally more well-suited for paper flower making.
However, the extra-fine weight crepe paper lends itself beautifully to very delicate flowers. It's certainly a personal preference, but I would recommend a heavier weight when starting as it is a bit more forgiving and flexible.
Anything less than 30 grams is going to be very fragile with little to no stretch.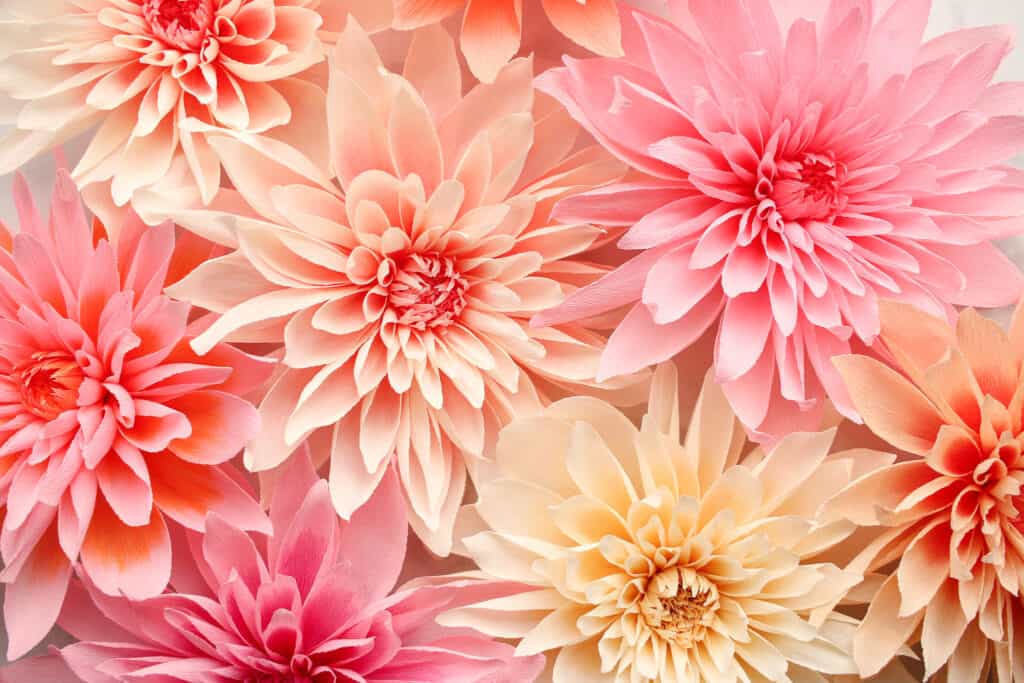 Where Can I Buy Crepe Paper?
There are essentially only 5 companies in the world that manufacture crepe paper. Pretty crazy right? The main factories are located in Italy, Germany, America, China, and Mexico.
Luckily, because of the rise in popularity, crepe paper is much easier to source today than it was 20 years ago. The quality varies greatly between each factory but there is a time and a place for all! Chances are you will need to buy your crepe paper online, but you can find some varieties in the store.
Of course, there are other places you can source your crepe paper, but I've found these are the best websites with the greatest selection of the different varieties. So you have all the websites in one place, I've listed them below.
(1) Cartefini.com
(2) Rosemille.com
(4) Papermart.com
Now let's dive into all the different varieties each company offers.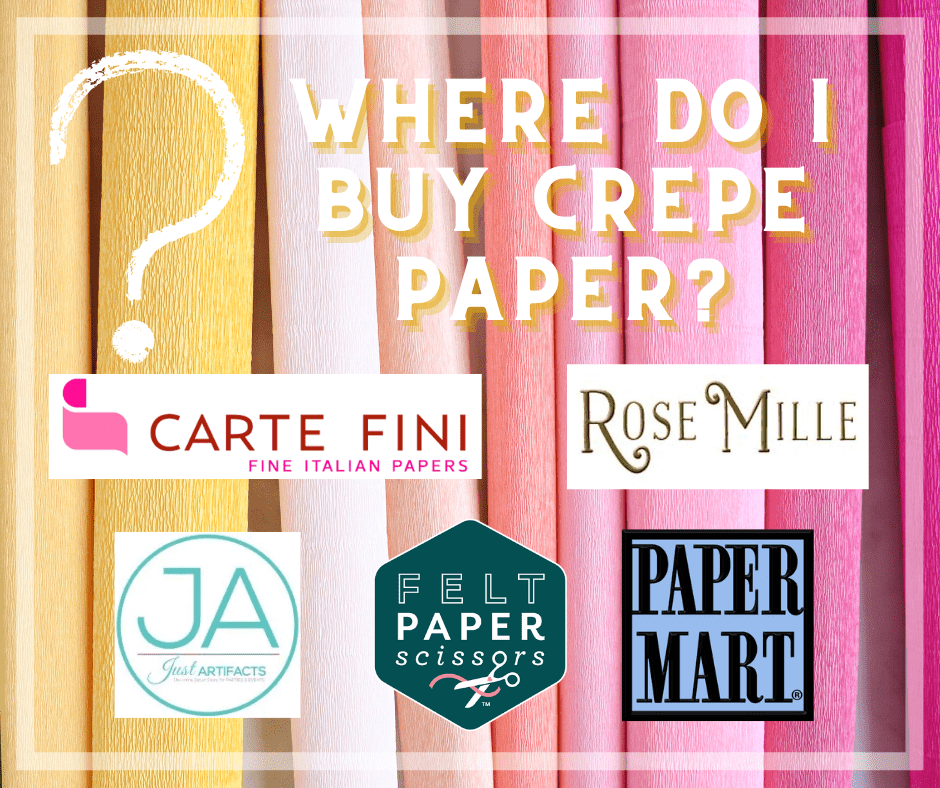 Italian Crepe Paper
Italian crepe paper is manufactured by Cartotecnica Rossi. They have been around since 1878. The best place in the USA to source Italian crepe paper is through Cartefini. If you're getting serious about paper flower making and want to use the best of the best with an abundance of colors and textures at your disposal, CarteFini is for you! They have an incredible color selection and lots of variety in weight and types.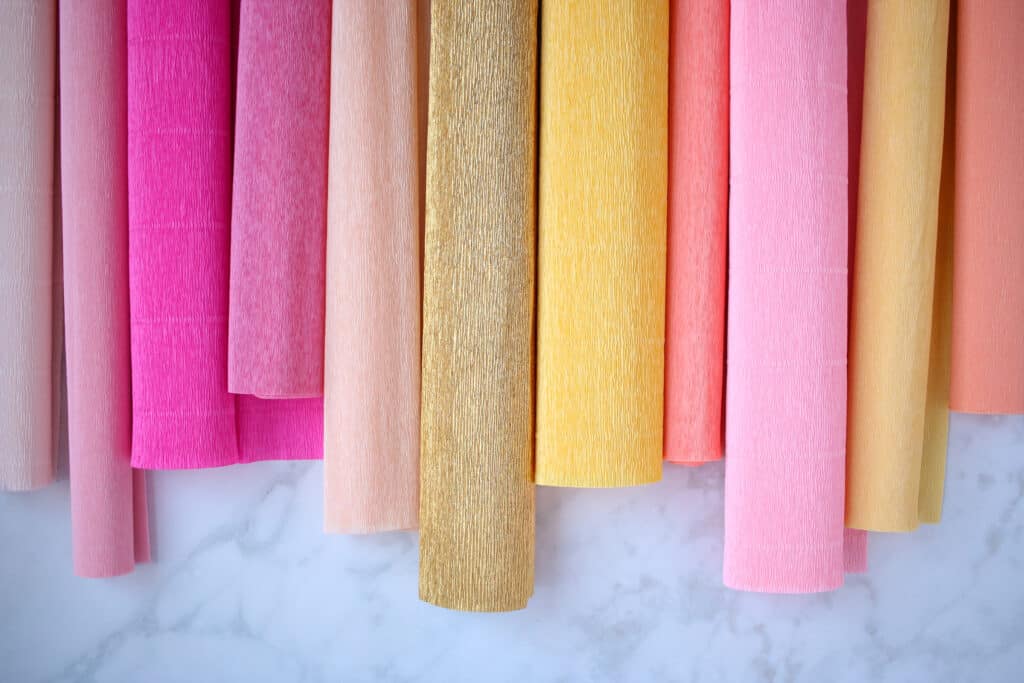 German Crepe Paper
German crepe paper is manufactured by Werola. This company has also been around for years. The double-sided variety really sets the German crepe paper apart. There are two main distributors you can purchase German crepe paper from: Rosemille and Lia Griffith.

Rosemille.com. If you buy through Rosemille, you can purchase 20 inch by 27-inch rolls. The color selection is not quite as plentiful as Carte Fini.

Extra-fine: 31 grams

Super lightweight and delicate.
Very little stretch
Only 7 colors available
20x78 inch long rolls
$3.95

Heavy: 160 grams

Strong and stiff
Most stretch
20x98 inch long rolls
$7.85

Double-sided

135% stretchability
Beautiful weight and hand for paper flowers
Two colors fused into one paper
10x50 inch long folds
$2.75

Lia Griffith (Feltpaperscissors.com) Lia's line with Werola features shorter 10-inch Rolls or sheets of paper as opposed to the 20 inch rolls. Convenient if you want to cut crepe paper using your Cricut machine! You can find Lia Griffith crepe paper in store at a handful of big box craft stores.

Extra fine: 48 gram

130% stretch
Lightweight and delicate
$9.99 for 4 sheets of 9.8 in x 78.7 in or can buy in packs

Double-sided

Two colors fused into one sheet of crepe paper
130% stretch
10 inch by 50 inch rolls
$7.09

Heavy: 160 gram

Sells in packs with 10 colors each
Strong, stiff
250% stretch
10, 10 inch by 39-inch rolls
$21.99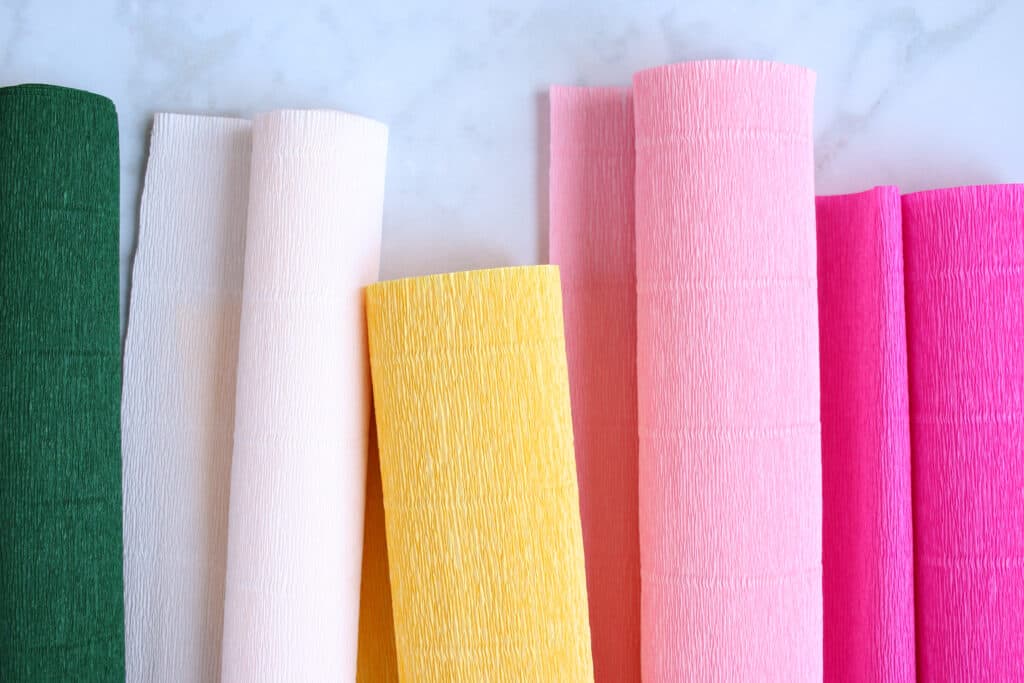 Chinese Crepe Paper
Chinese crepe paper is much cheaper than the German and Italian varieties. You'll notice this in some color and weight inconsistency and a lack of stretch. It's still a good option if you're just starting to experiment with paper flowers and you aren't willing to spend as much money. The best place to source this crepe paper is Papermart.com. They also sell a few varieties of the Italian Cartotecnica Rossi crepe paper, which is labeled as such and you'll notice the price difference between the other varieties they carry.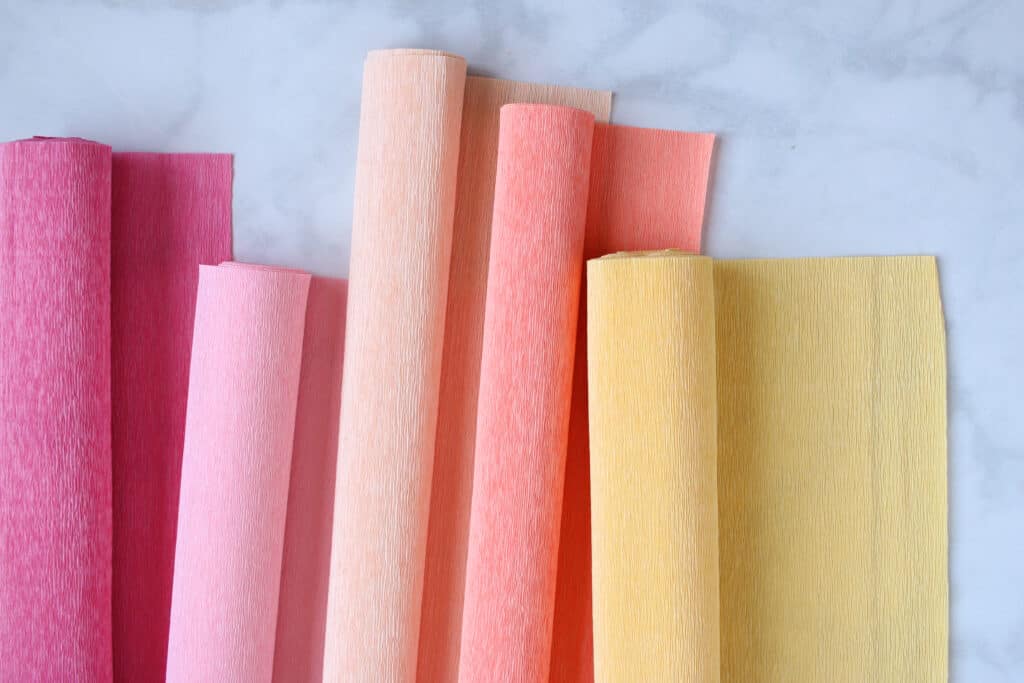 American Crepe Paper
Dennison was the first crepe paper manufacturer in the US and began the process of manufacturing crepe paper in 1914. They marketed it towards home decor projects such as lampshades, children's costumes, flowers, and party decorations. It is a much thinner and delicate crepe paper and offered in 31 colors and still made on the original machines! Rosemille.com is the best place to buy from, in addition to a handful of Etsy and eBay shops.
Mexican Crepe Paper
Mexican crepe paper comes in a huge variety of colors. It has a much lighter feel, similar to Dennison (even compared to the same weight paper manufactured in Italy or Germany). It's a lesser quality and stiffness but still great for crafts, children's projects, and disposable creations. The best place to source Mexican crepe paper is Justartifacts.com. They sell a variety of multicolored packs to give you a good start on your projects!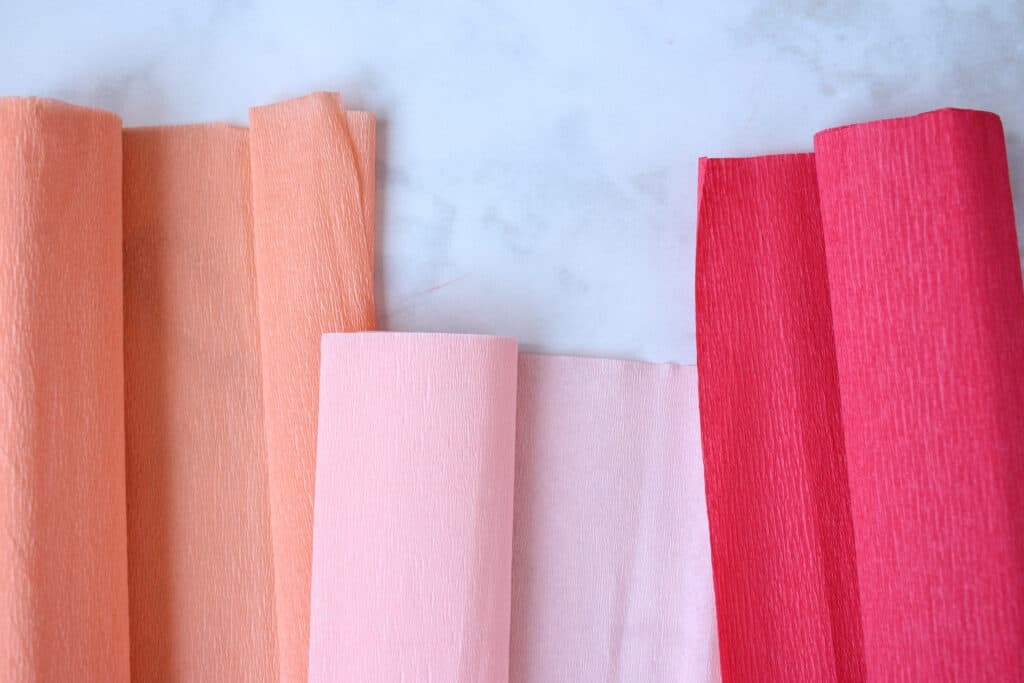 Which kind of crepe paper is right for me?
Determining what kind of craft you're planning on using the crepe paper for will determine which variety you should buy. Begin with how much you want/should invest in the quality of your crepe paper. If you're just wanting to experiment and play around with crepe paper techniques, maybe begin with a less expensive variety. Or perhaps you're planning on making a very large, temporary installation and will need a lot of material. This would be another good reason for opting for a cheaper paper.
However, if you want to really develop your paper flower-making skills and achieve the highest quality results, I'd really recommend spending the extra money on German or Italian crepe paper, as nothing really does compare to it.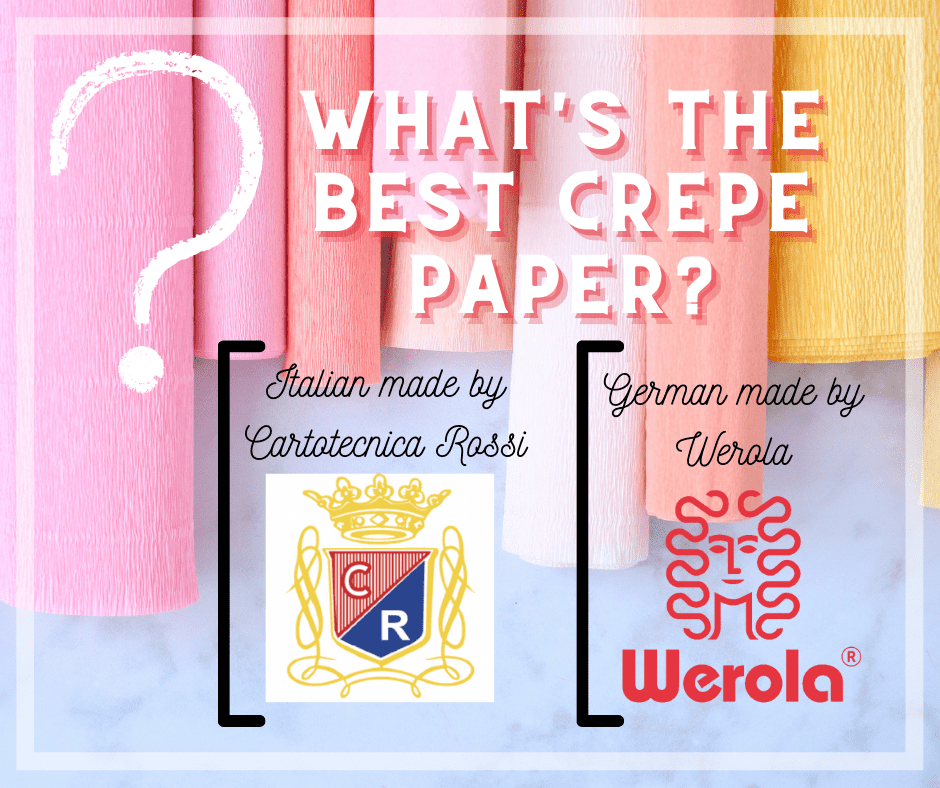 The durability and stretch of the high-quality papers will greatly impact your paper flower construction and finished project. The very fine and thinner varieties of crepe paper, such as those made by Dennison, are much more difficult to create shaped and structured flowers.
How do I cut crepe paper?
The main thing to remember when cutting crepe paper is to cut with the grain! Similar to fabric, crepe paper has grain, or vertical lines running through the paper.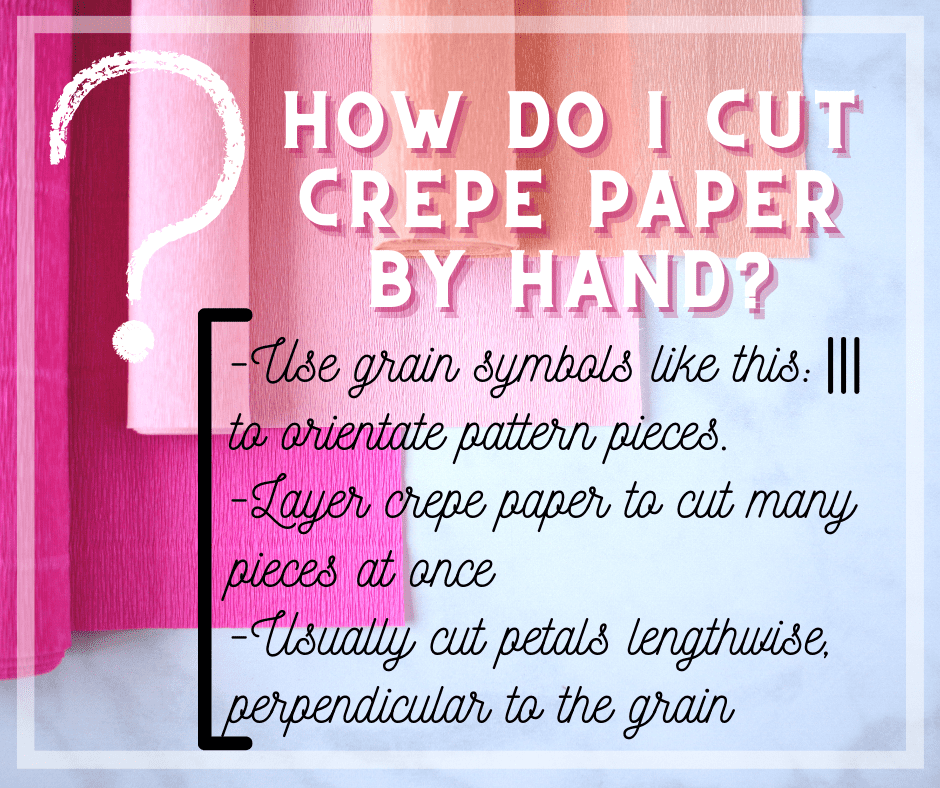 This creates both texture and stretch. As we discussed earlier, more texture equals more stretch, and less texture and a smoother finish equals less stretch. Additionally, a higher-quality paper will provide more stretch than a cheaper variety.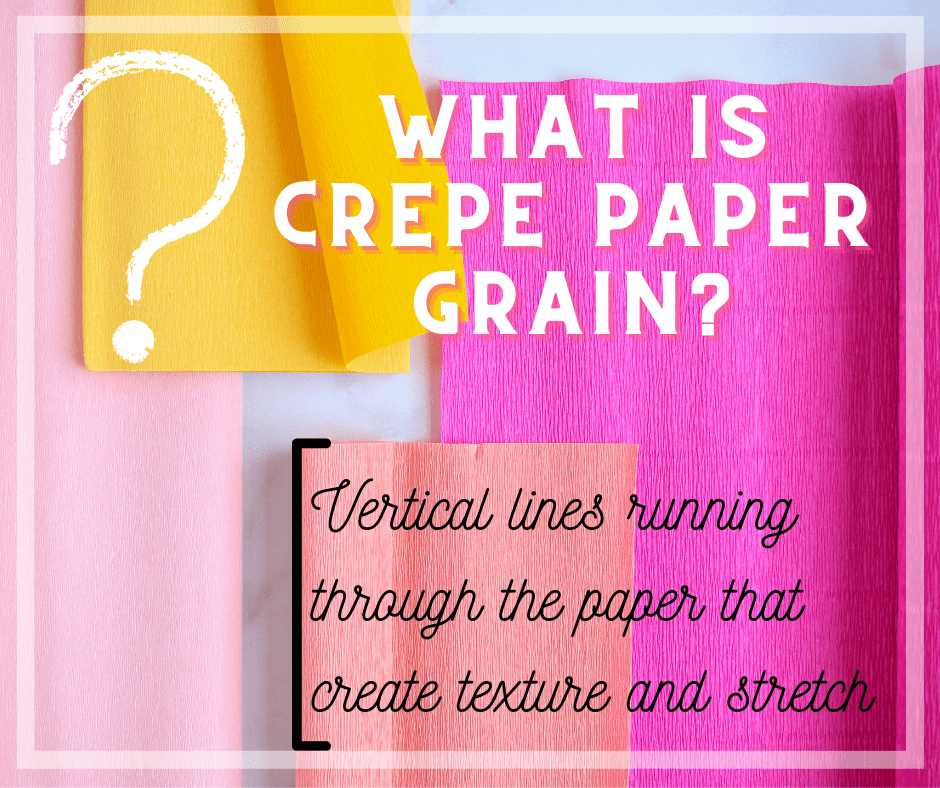 When cutting paper petals, you almost always want to cut your petal lengthwise, parallel to the grain, so the lines of the crepe paper are running up and down along the length of your petal. This will allow you to stretch and manipulate across the midline of the petal. Using two thumbs to gently stretch the petal is often called "cupping," turning up the edges of the petal, giving the petal a much more natural and realistic shape. This is what makes crepe paper flower making so magical!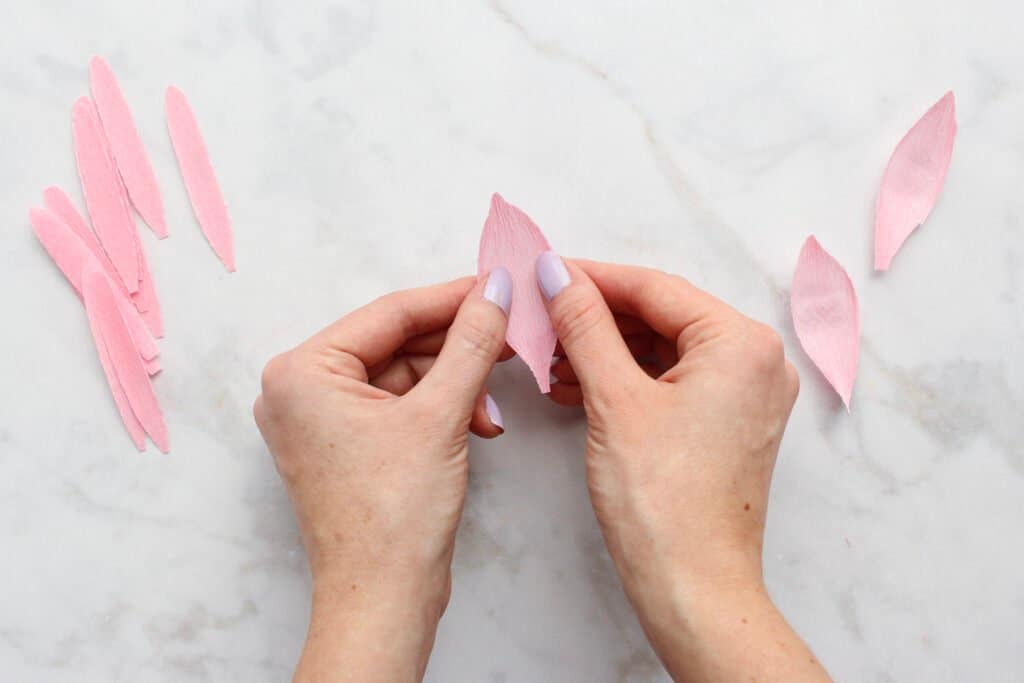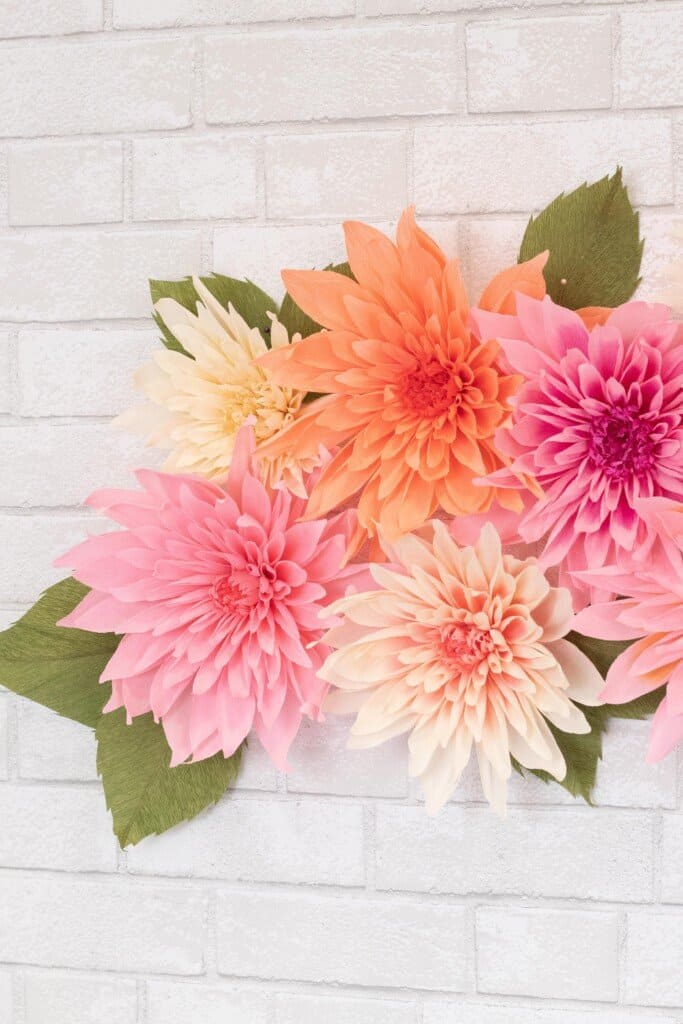 Most paper flower templates will indicate how to align the template onto your crepe paper with markings, like 2 to 3 small hash marks, or written instructions.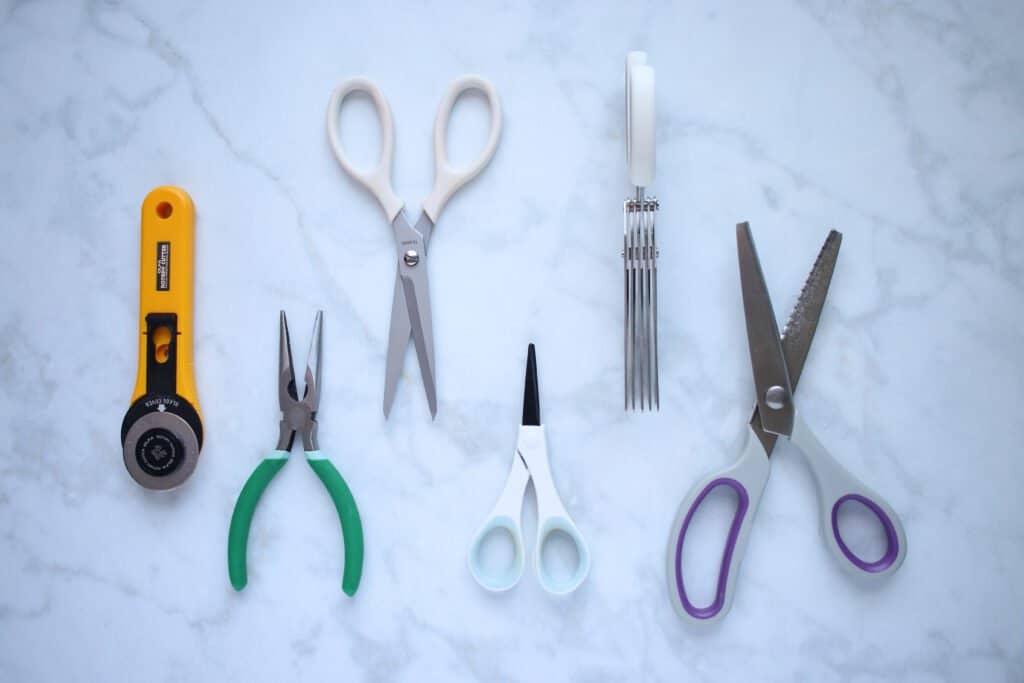 Can I cut Crepe Paper with my Cricut Machine?
Cricut Maker machines do cut crepe paper! You will need a rotary blade and a Strong Grip mat for successful cuts. Use your scraper tool to burnish down the paper to make sure there is a good seal between the paper and the mat. Cutting crepe paper flowers with your Cricut certainly reduces the amount of manual labor involved in creating these Dahlias, however, it might not be the quickest option.
Because of the unique texture of crepe paper, you can usually fold or layer your paper so you can cut through multiple layers of paper at a time. This allows you to cut lots of flower petals, for example, far more quickly than with your Cricut machine.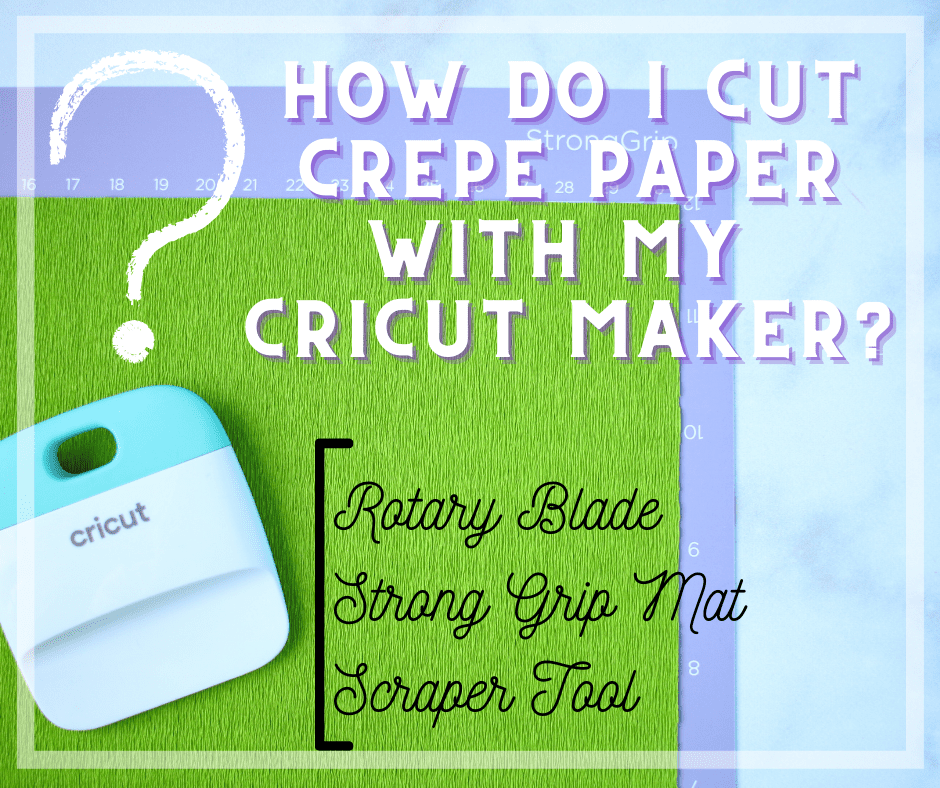 What other tools should I invest in for Paper Flower making?
There are a handful of items that are useful for crepe paper flowers. But some are more critical than others. I would suggest beginning with the basics, and as you become more familiar, start to add in some other tools to take your flowers to the next level!
Tools: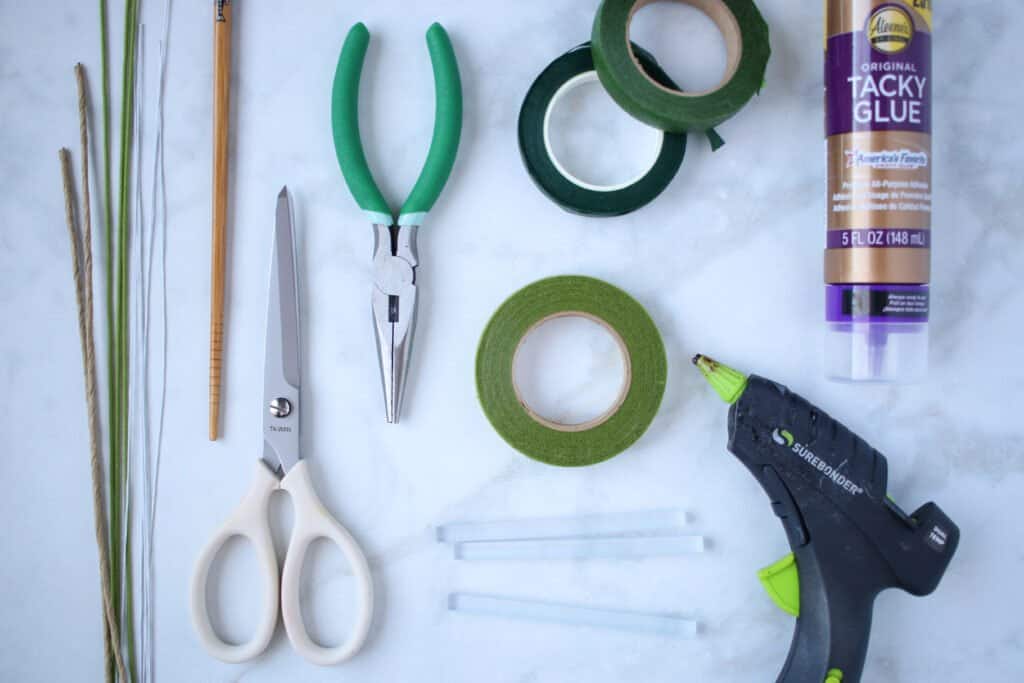 Optional but helpful:
Pinking shears; can add fun texture to petals
Detail scissors; helpful for small, delicate cuts
Fringe scissors; To make quick work of those fringed centers
Rotary Cutter and Self-healing Mat: convenient for quickly cutting strips for petals
Foam or cotton spun balls or wooden beads; used to create bulk for center pieces and bulbs
Pan pastels, alcohol based markers, acrylic paints, inks, or water colors; To add color, depth and dimension to your flowers. For Pan Pastels, we love this kit, but you can also buy individual colors.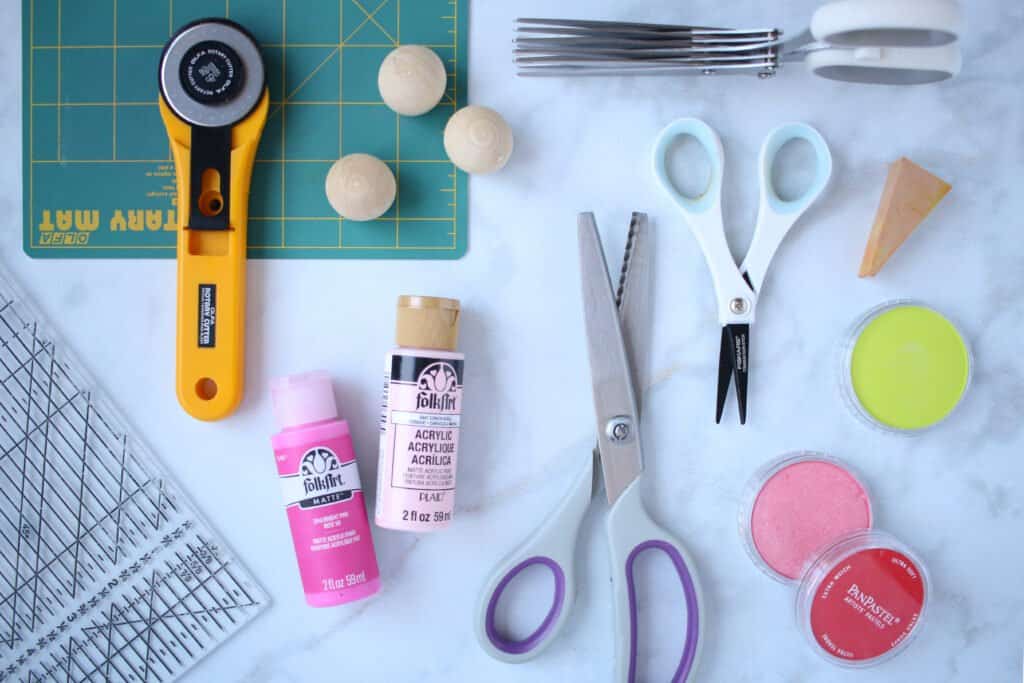 Have you delved into crepe paper flower making yet? I hope this post has inspired you to start! Let me know what other questions or hesitations you have in the comments below!