If you're feeling limited by the capabilities of Cricut Design Space, learn why it may be time to try out a vector graphic software like Adobe Illustrator or Inkscape.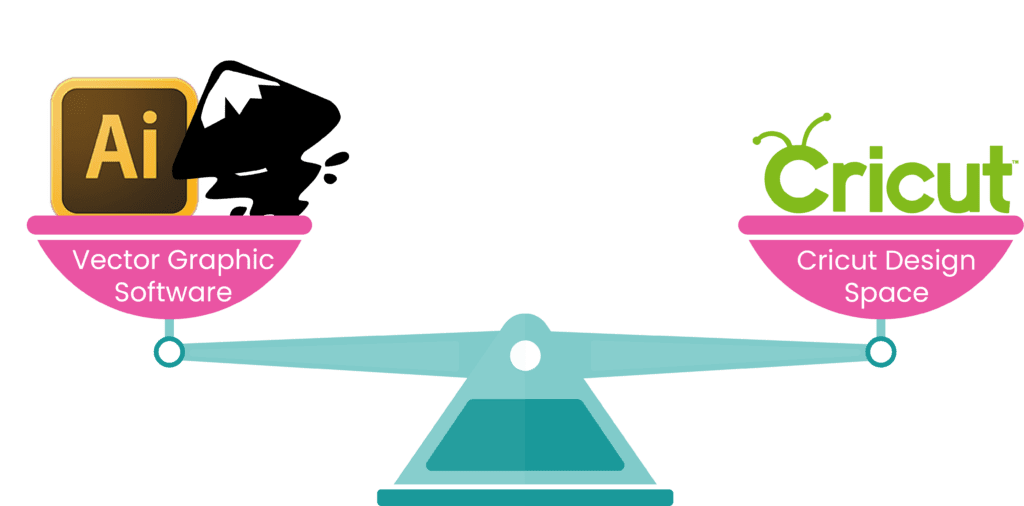 If you have a Cricut cutting machine, you have access to its own design software, Cricut Design Space.
This program, though much improved over the last few years, still has many limitations when it comes to making your own designs.
Learning a vector graphic software like Inkscape or Adobe Illustrator allows for much greater design opportunities for crafters looking to take the next step and design their own cut files!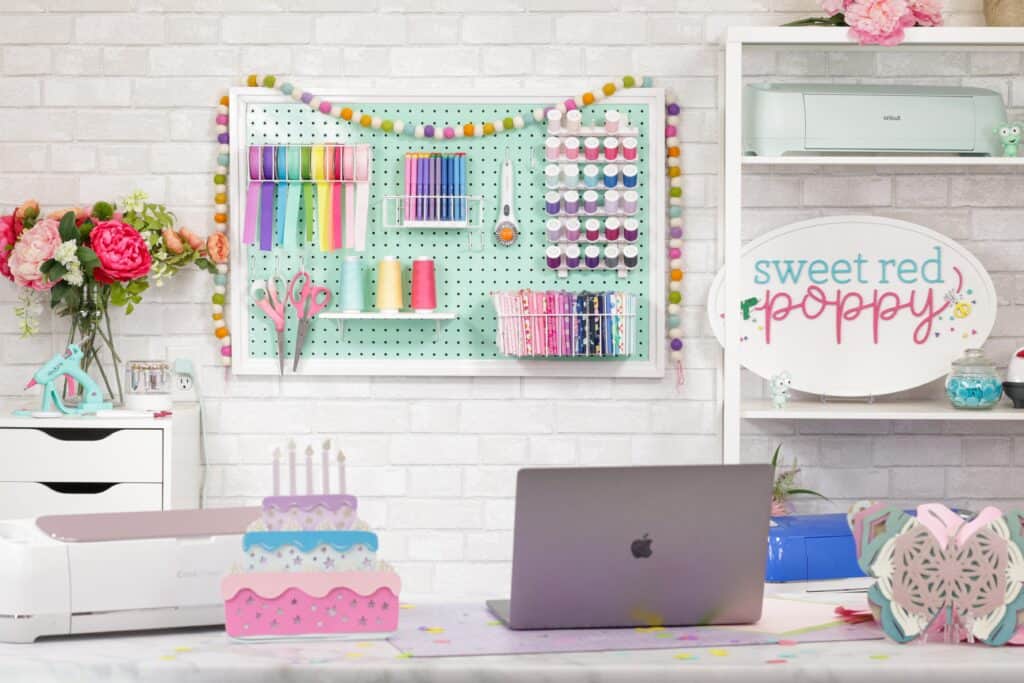 Why Should I Invest in Adobe Illustrator or Inkscape When I Can Already Design in Cricut Design Space?
Cricut Design Space has increased its design capabilities over the years and is always adding new features to its software.
But crafters are still limited in what they can do.
Using a vector graphic software like Adobe Illustrator or Inkscape has a full range of tools to create and modify your designs, and then upload them to Cricut Design Space.
Let's take a look at how a vector graphic software is different from Cricut Design Space.
Wondering how Adobe Illustrator and Inkscape Compare to Silhouette Studio? Find Out Here!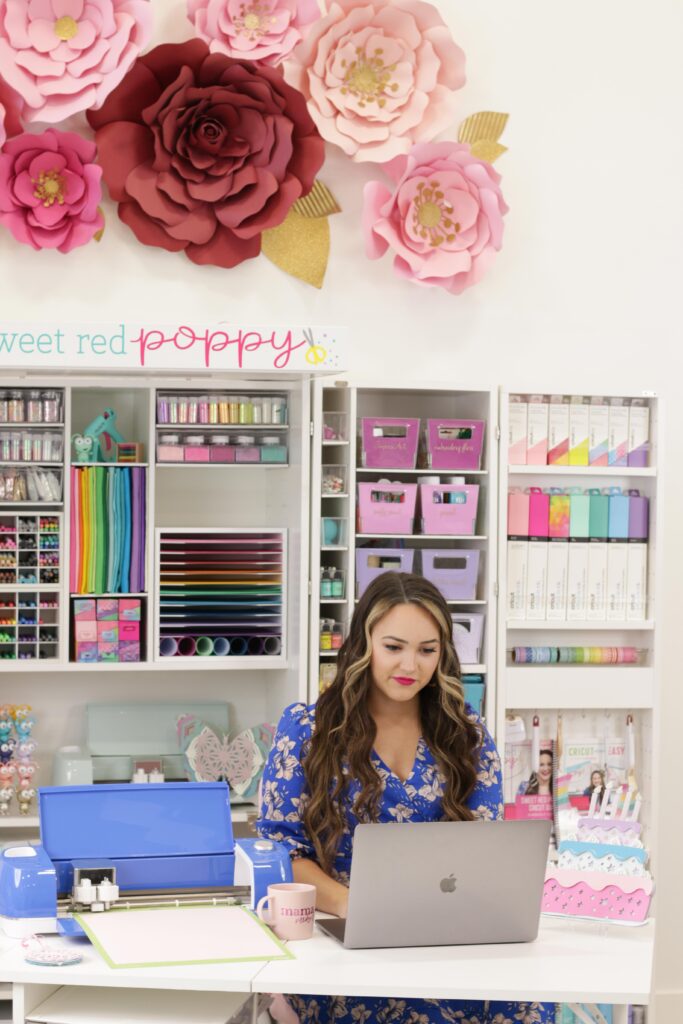 Easy-to-Use Workspace
This may sound trivial but having an easy-to-use workspace when designing can make your design process a whole lot easier.
Adobe Illustrator offers the ability to use multiple Artboards. This is especially handy when you're working on projects with multiple elements such as a greeting card with an insert and an envelope, monthly planner stickers, or a multi-page printable like these gift tags.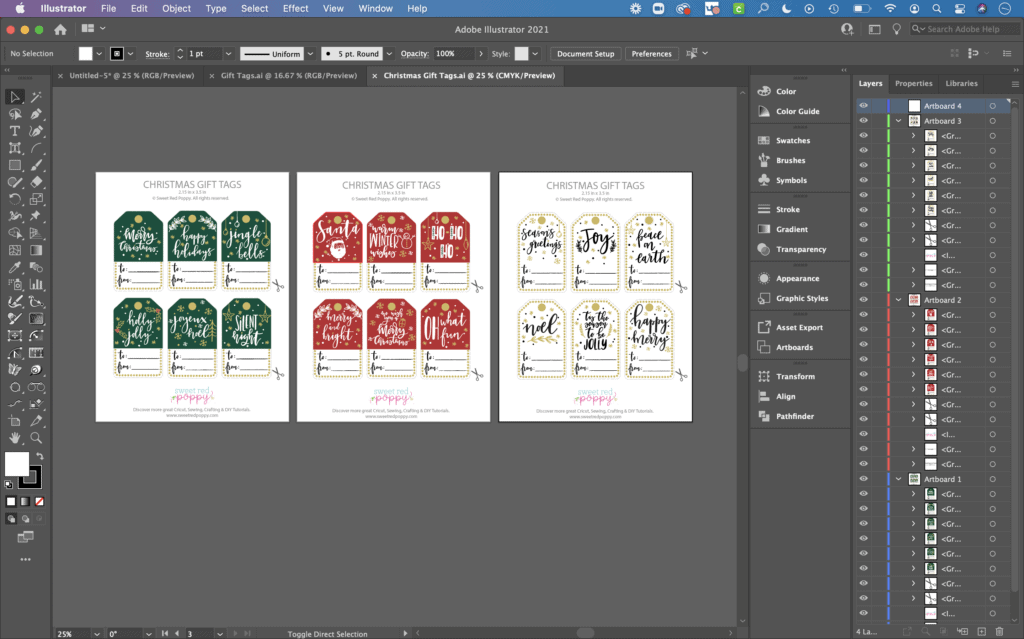 You can also customize your workspace by using a preset workspace or setting up your own to include the tools and windows you use most often.
This makes designing easier, more organized and efficient!
Exporting Files
The major benefit to using a vector graphic software like Adobe Illustrator or Inkscape is the ability to export your files in multiple file formats.
When you're designing in Cricut Design you can save your designs within a project and share the link on Facebook, Pinterest or through text message or email.
You can also choose to share it with the entire Cricut Community so anyone in Cricut Design Space can view your project.
While you have the ability to share your designs from Cricut Design Space, you aren't able to export them. This means you wouldn't be able to sell your designs or share them with anyone outside of the Cricut community.
This gives vector graphic software a major one up because as crafters and now designers, we love to share our work!
All About Typography
Most crafters when they start designing create text cut files because who doesn't love a good font!
When it comes to typography, Cricut Design Space does a pretty great job. It allows you to use your system fonts which means any font you purchase can be used in Cricut Design Space. Win!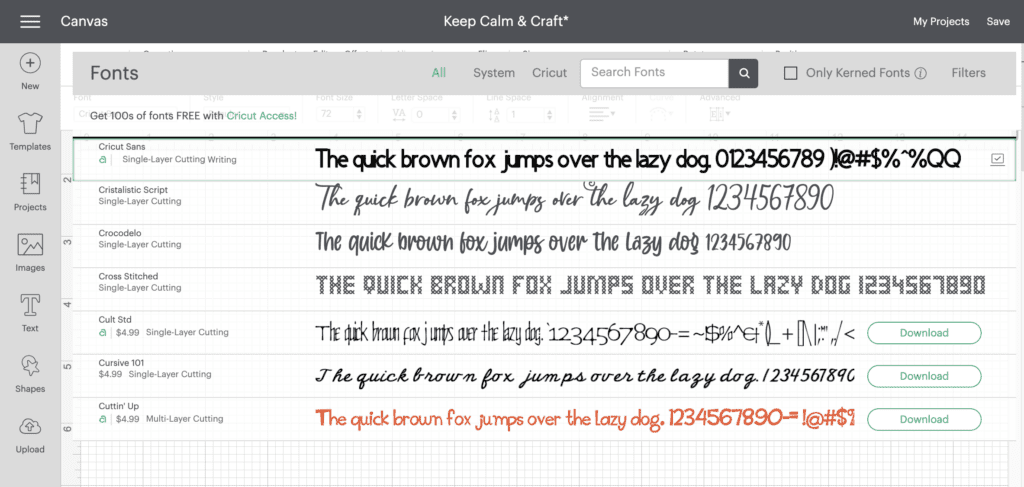 And over the years, the software has been upgraded so you can now edit individual characters by moving, scaling and rotating them.
There's also the ability to change the letter spacing or kerning, change line spacing between words and curve text.

But Adobe Illustrator and Inkscape still have the upper hand when it comes to typography.
Both software programs have even more typography capabilities like adding text to a path and placing text within an object to name a few.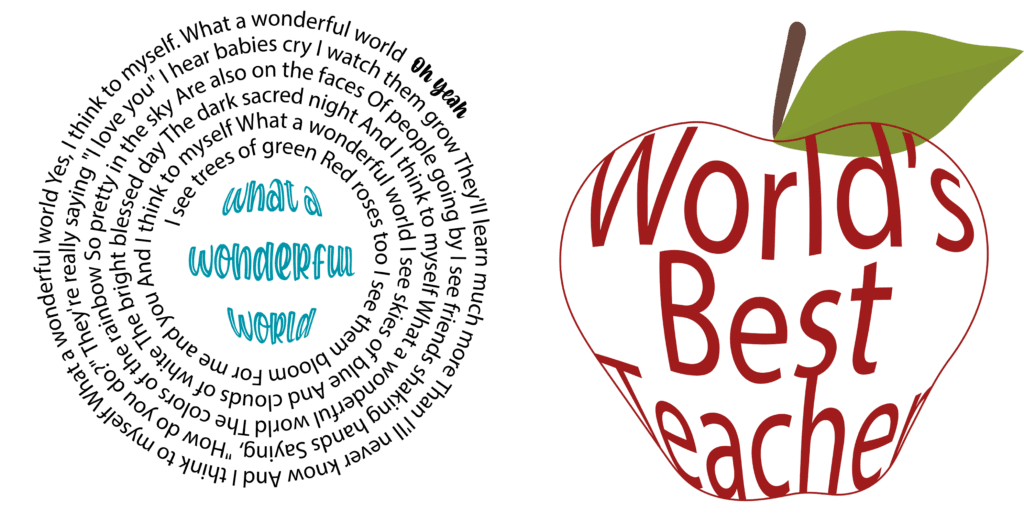 If you love what you can do in Cricut Design Space with fonts, just wait until you see what you can do with a vector graphic software!
You Don't Have to Be an Artist to Design
One of the big things I learned from designing my own cut files is that I don't have to be an artist. In fact, I don't know how to draw anything but a few doodles.
Using a vector graphic software like Adobe Illustrator or Inkscape allows me to design without being a professional artist.
The drawing tools within these programs help me take my designs to the next level and this is where Cricut Design Space is lacking.
Each vector graphic software has a variety of drawing tools allowing you to design in different ways and truly create custom and unique designs.
These tools not only allow you to create but also are used to modify designs.
Shapes Are the Building Blocks of Design
One of the most powerful tools you'll need to design are shapes.
Simple shapes can easily turn into a complex design by changing their size, color, orientation and arrangement. Shapes are truly the building blocks of design.
That's why Cricut Design Space has added several more shapes to the Shapes Panel.
New shapes include an oval, a plus sign and a rectangle, to name just a few. And there's 40+ premium shapes you can use if you have Cricut Access Subscription or purchase if you don't.
While Cricut Design Space has these pre-made shapes, the fun thing about Adobe Illustrator and Inkscape is that you get to design your own shapes using their shape tools.
For example, both programs have a Star tool. If you want a 6 point start instead of your standard 5 point star, it's easy to create one with the Star Tool!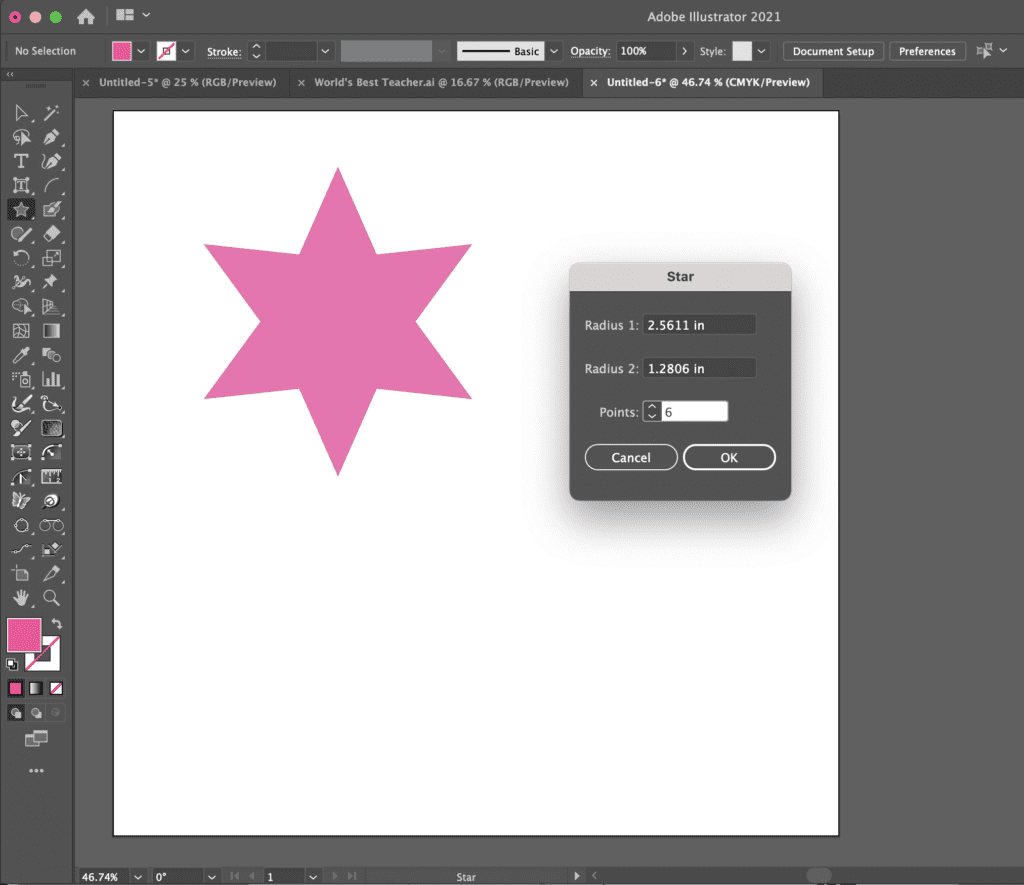 Both programs have a Rectangle Tool, Ellipse Tool, Polygon Tool, Star Tool and Spiral Tool. Adobe Illustrator also has a Flare tool!
Modifying Objects and Text
When it comes to modifying an object or design Cricut Design Space has the main options available.
Duplicate - Copy and paste an object or text to create multiple versions.
Group/Ungroup - Select multiple layers in the layers panel and group them together so they move as one. Alternatively, ungroup layers so you can edit elements of the design individually.
Slice - Split two overlapping layers into separate parts.
Weld - Join multiple layers together to create one object, removing any overlapping cut lines.
Attach/Detach - Hold objects in positive by attaching them together. This means they'll cut in the exact position you have them on your Canvas. You can also use Attach to ensure the Draw or Score feature is placed on the correct layer. Detach any layers to separate them.
Flatten/Unflatten - Use flatten to turn an image into a printable image, merging all selected layers into a single layer. Unflatten separates layers from a single printable image into individual layers.
Contour - Hide or unhide contour lines or cut paths on a layer.
That said, Adobe Illustrator and Inkscape both have significantly more features available to modify objects and text.
From additional align and distribute options to enhanced combining and dividing tools. There's so much more you can do!
Which brings me to my next point, the ability to modify points along a path.
Modifying Points Along a Path
One of the biggest differences between a vector graphic software and Cricut Design Space is the ability to modify the points that make up the design.
You can edit designs using the tools mentioned above but you can't edit the points along the path that make up the design.
Both Adobe Illustrator and Inkscape have tools that allow you to add, delete, and modify the points that make up the path of the design.
Why is this important? It allows you full control of the design.
For example, here I have a simple text in Adobe Illustrator using the font Pinkmatte.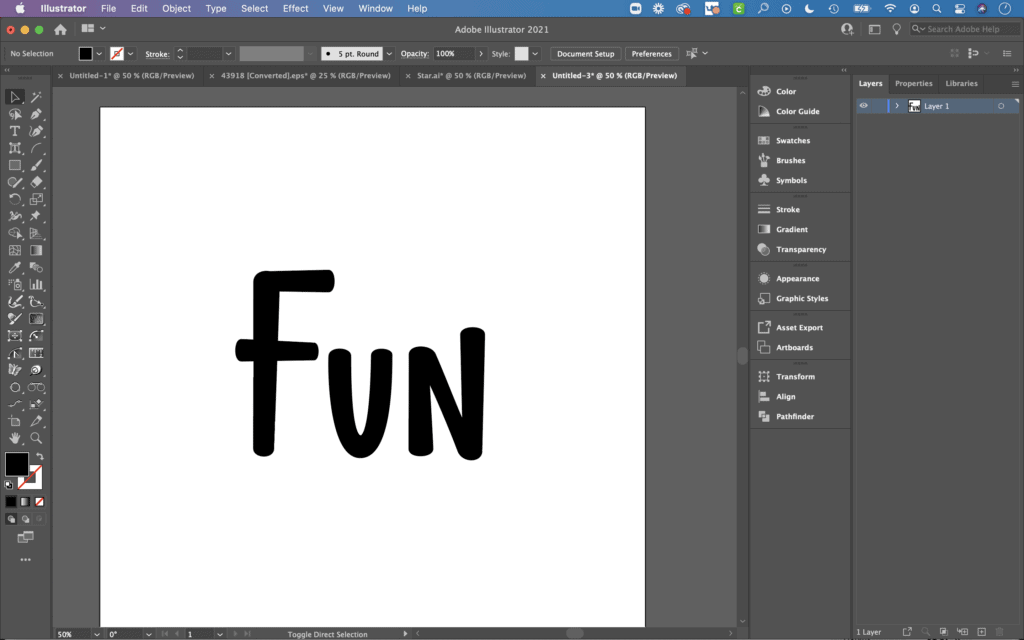 I want to make the word Fun even more FUN!. With Adobe Illustrator (or Inkscape) you can modify the points that make up the path to change the text or design.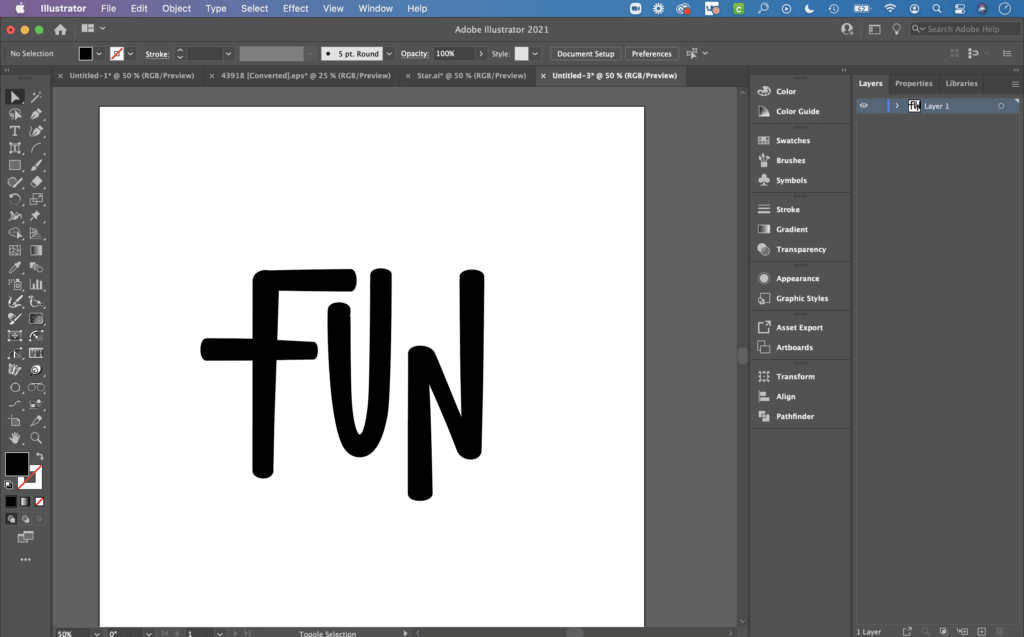 You have the ability to customize text and shapes the way you want to create a custom design.
Special Effects
Since vector graphic software is used by illustrators, graphic designers and more there's an incredible amount of effects to take designs to the next level.
Both Adobe Illustrator and Inkscape have the ability to design 3D files, warp and distort text and objects, offset designs, create shadows, and mask with images.
Cricut Design Space has added one feature that is commonly used in the crafting world, and that's the ability to offset.
An offset is a duplicate of your design with a border. It's mainly used to design Print and Cut stickers but can also be used as a shadow effect with cut files.
If you want to create even more illustrations or apply fun effects to your text, you'll need a vector graphic software to do that.
Color Color and More Color
Color is a key component to design.
Even though crafters can use whatever material and color they want for their project, providing the right color in your design gives you and anyone who uses your cut files an idea of what the end product looks like.
Plus, the right color combinations make your design look professional.
There are two different color modes:
RGB color mode is used for digital files and refers to the primary colors Red, Green and Blue that are used in monitors, digital cameras, scanners and more.
CMYK is used for print designs and refers to the primary colors Cyan, Magenta, Yellow and Black that are used in printers.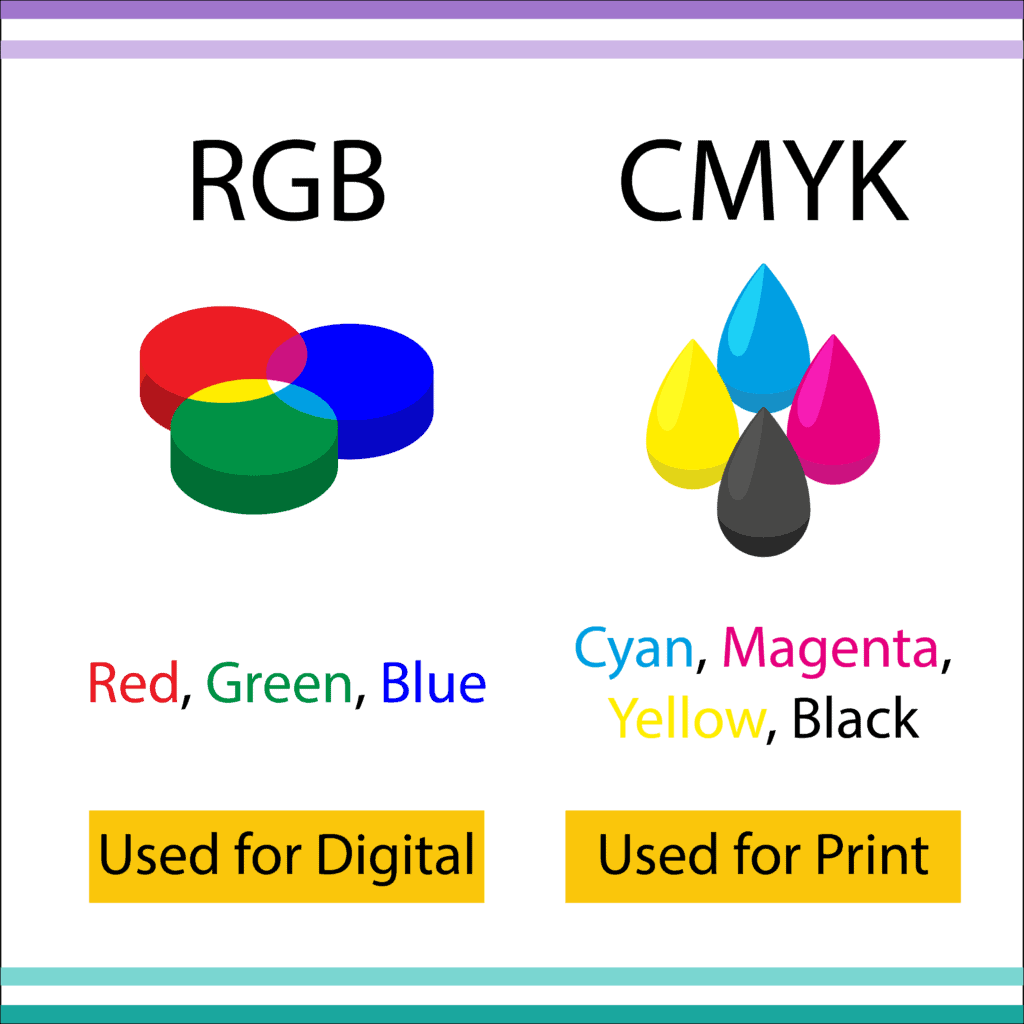 If you love designing projects for the Print and Cut feature on your Cricut machine like stickers, printables, gift tags and more you're going to want to use Adobe Illustrator specifically.
It has the ability to use the CMYK color mode to ensure what you're seeing on your screen is printed on your printer.
Both Adobe Illustrator and Inkscape also have color wheels, swatches and the ability to apply and create different gradients.
Working with Image Files
One of the biggest requests I get is how to turn an image into a cut file. Unfortunately this can't be done in Cricut Design Space. You'll need to use an outside program to convert the image.
You can however import images into Cricut Design Space to be used for Print then Cut projects and with the Slice Tool you have the ability to crop images into specific designs like a circle or flower.
But Adobe Illustrator and Inkscape both have features that allow you to trace an image, like the dog below, and convert the image to a cut file.

Conclusion
If you want to take your design skills to the next level, a vector graphic software like Adobe Illustrator or Inkscape can be the next tool you add to your craft room.
Inkscape and Adobe Illustrator give you the ability to create your very own custom designs, in addition to saving you time and money. And best of all, this allows you to spend more time doing what you love, like crafting
Find out the difference between Adobe Illustrator and Inkscape to find out which vector graphic software is right for you!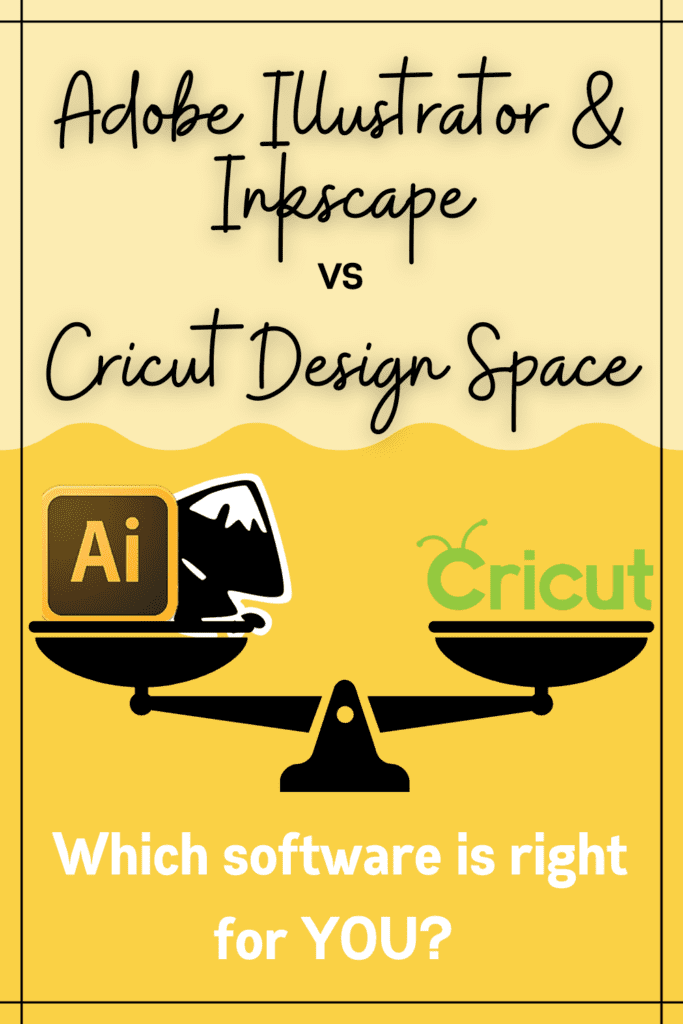 Want to Design Your Own Cut Files?
Whether you just started crafting or begin creating your own cut files, I'm here to help.
In my new SVG Design School (which will be launching soon) I teach you everything you need to know to design your own cut files.
Starting from the basics, I cover editing, text, colors, saving your design, and so much more.
Throughout the course, I'm including a variety of class projects. These projects are designed to put into practice the skills you'll learn in the course.
I've found that the best way to really learn how to design is to do it yourself.