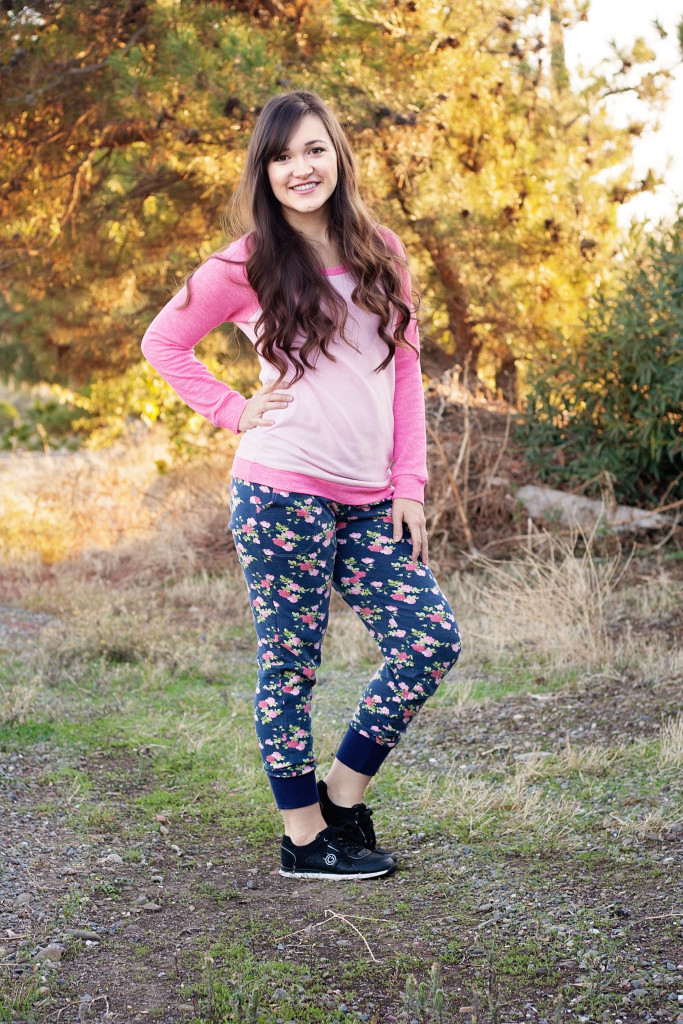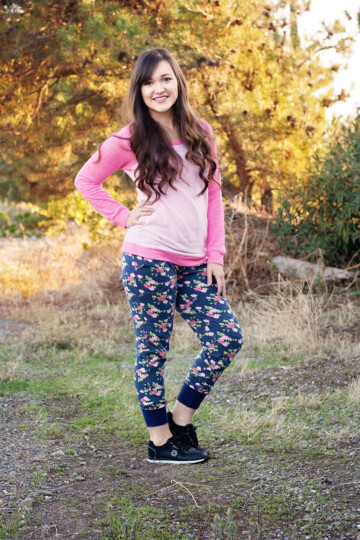 Can I just say how excited I am to be a part of the Wear To Where blog tour?!? Katy from Wild & Wanderful has done such an awesome job organizing this blog tour. If you haven't been following along, you can still go back and read all of the posts from last week. When Katy asked me to be a part of her blog tour, I jumped at the opportunity! I won't pretend like it took too much convincing because I can always use a good excuse to sew another outfit.
I chose to make a workout outfit because now that I'm a stay at home mom, all I wear anymore are comfy clothes. So I figured it was about time I made myself a nice comfy pair of sweatpants! I don't spend a whole lot of time working out. Actually, I never workout. But I have a one year old and a two year old so my life revolves around playing, park dates, messy food and backyard shenanigans. So comfy pants it is, EVERY DAY! Luckily my husband is a good sport and never expects me to get dressed up!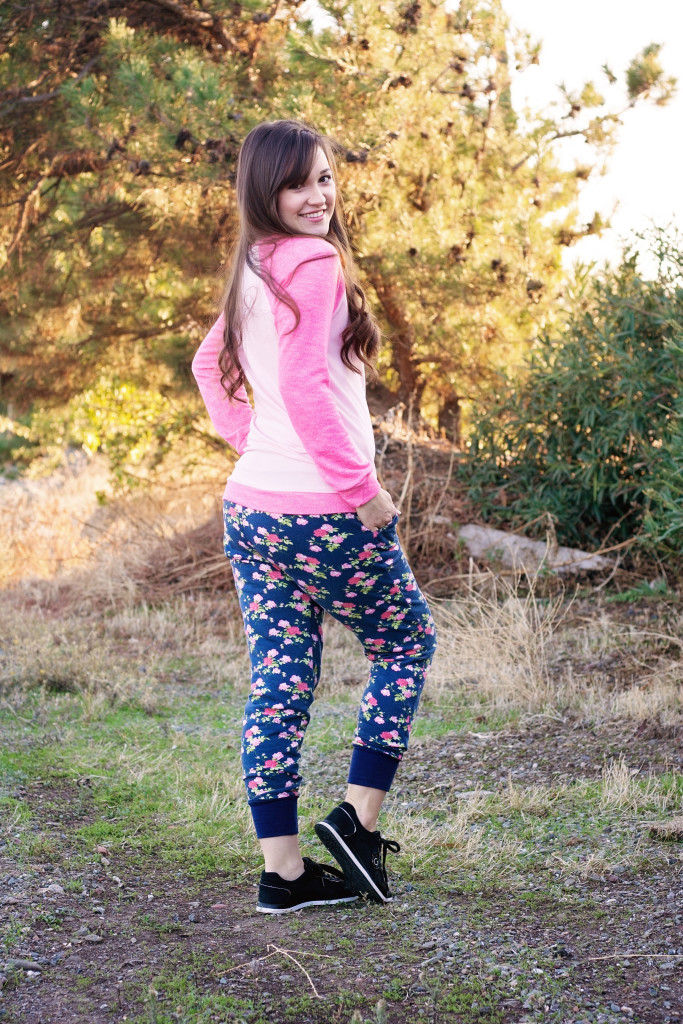 I ordered this floral print french terry from Raspberry Creek Fabric a few months ago and it instantly made it into my hoard pile. I should probably rename my hoard pile my hoard room, because it's growing at an alarming rate. But really can you blame me? There's just so much dang cute fabric out there! So anyways....there my fabric sat in my hoard pile err... room, waiting ever so patiently to be sewn into something gorgeous. You know what I'm talking about, don't you? That fabric that just sits on the shelf begging you to use it, but for some reason you can't bear to cut into it, because if you accidently mess it up you will be heart-broken. Obviously, I have fabric attachment issues....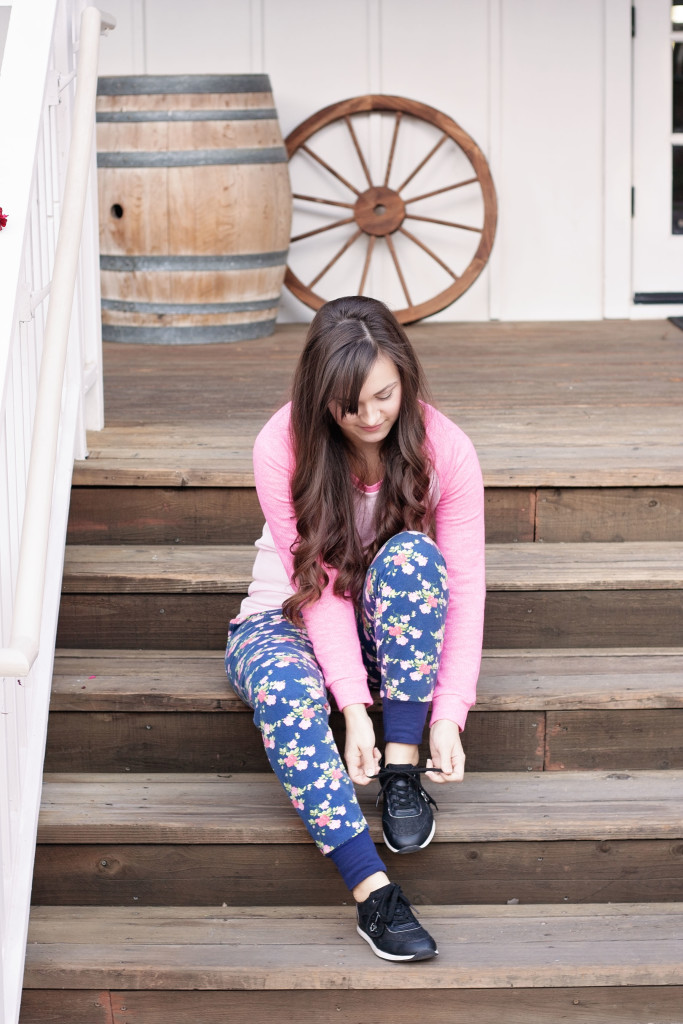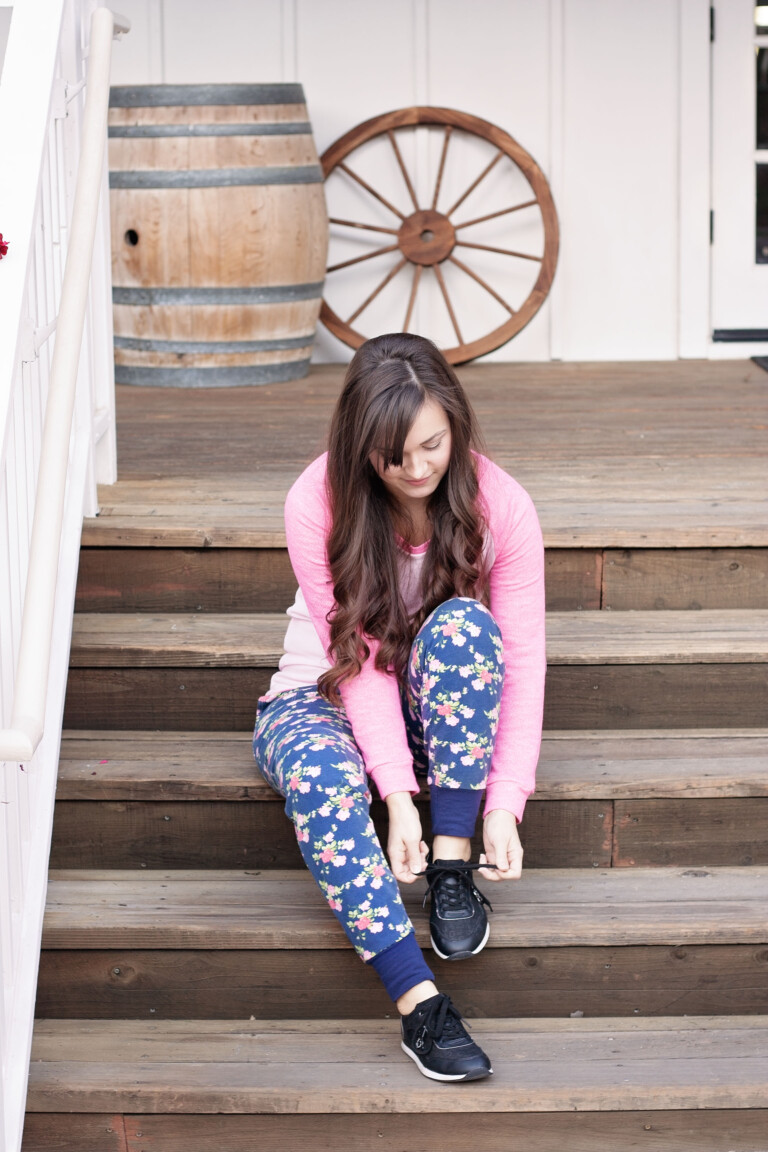 Then it finally hit me. I've been wanting a pair of joggers for what feels like forever. So I decided it was finally time to cut into my floral french terry and let me just tell you they are my new favorite pants! I used the Greenstyle Creations Brassie Joggers pattern. I made the size small since my measurements of 28" and 38" put me in the small category, but I probably should have sized down. I ended up taking the pattern in about 1/2 inch on each side after finishing them. I also took off quite a bit of length since I'm on the shorter side. Overall, they were such an easy pattern to make! If you are afraid to make your own pants, this pattern is perfect. It goes together quickly and it's forgiving since it's knit. I will definitely be making more in the future! Also, they have pockets, which makes them a win in my book. Just ask my daughter, we are both obsessed with pockets. You know, cause something's got to hold her ever increasing rock/flower/bug collection.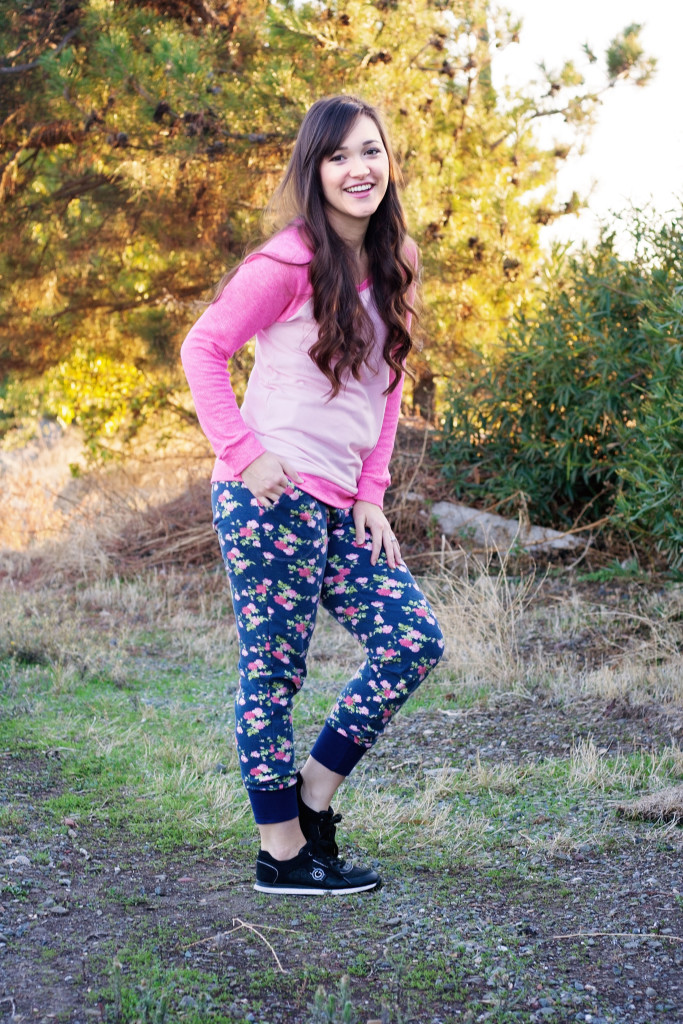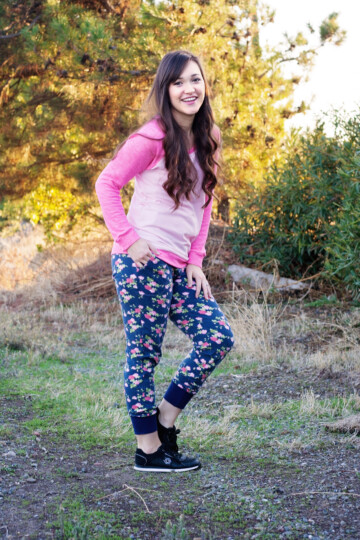 For the top I chose the Hey June Lane Raglan. After hearing so many rave reviews about this pattern, I picked it up during the last sale. This is the second one I've made and I'm really quite happy with the fit. I took off a couple inches from the sleeves as well as the length of the top and it fits perfectly. You can size down to get a fitted raglan shirt or up to make a sweater. Can I just take a minute to do a little bragging about how awesome Adrianna of Hey June is? She has totally gone the extra mile for me in answering my millions of questions and offering some much needed blogging advice. Anyone who so freely shares their knowledge and experience gets two thumbs up from me. If you are looking for tried and true patterns, then you will definitely want to head over to Hey June Handmade's page.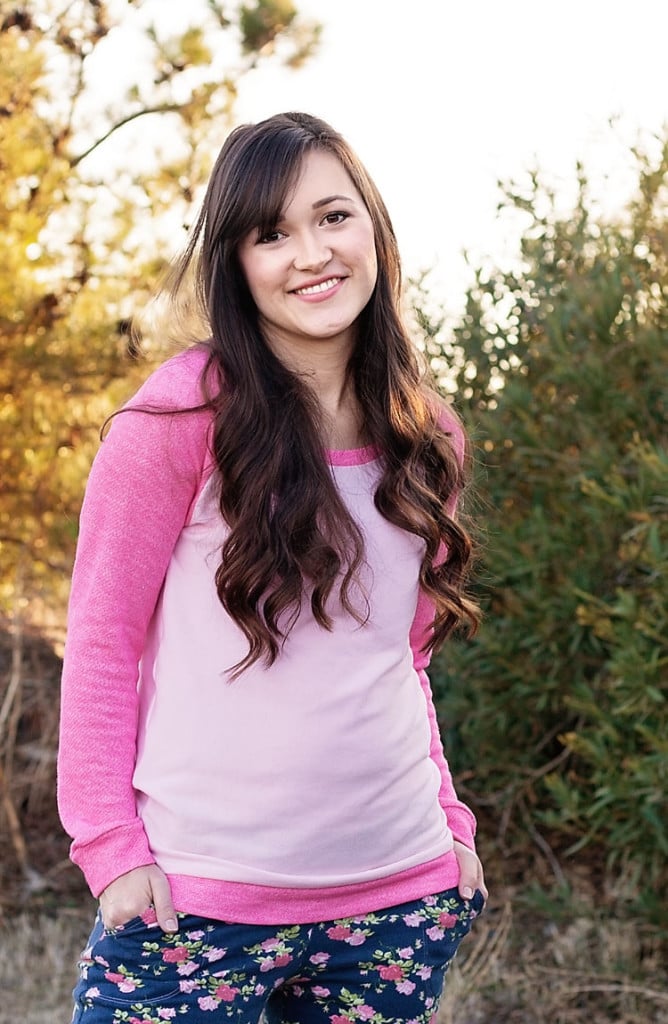 Overall I'm happy with the way this outfit turned out. I really love that both pieces are tailored for my petite height. I get so tired of drowning in ready to wear clothing. Having a pair of sweatpants that are the right length is such a breath of fresh air! And I'm even okay with the fact that my "workout" outfit might be confused as pajamas. So when I wear it in the future, you'll never know if I just woke up or just finished working out. Ha!
Pants: Greenstyle Creations Brassie Joggers
Raglan: Hey June Lane Raglan
Fabric: Raspberry Creek Fabric
Be sure to head over to Wild+Wanderful or Gardening in High Heels to check out the other brilliant bloggers, sewists and stylistas on the tour, as well as be able to link up your own looks and show us what you would Wear to Where!
Now let's talk giveaway prizes for this tour!!
For the sewists:
Choice of 3 patterns from Cole's Creations, Choice of 3 patterns from Made for Mermaids, Pattern of choice from Patterns for Pirates, Pattern of choice from Scientific Seamstress, Sewing-tee of choice from Sewing Stadium, Pattern of choice from Simple Life Pattern Co, Pattern of choice from StitchArt
For the Fashionistas: Set of 6 cards from Designs by Nicolina, 30 minute Social Media/Copy Consult by Gardening in High Heels, Tee of choice from Handmade Escapade, $20 Store Credit from Jenny Penny Designs, Tumbler from Joy+Tren
A big thanks to our amazing sponsors!
Cole's Creations | Designs by Nicolina | Gardening in High Heels
Handmade Escapade | Jenny Penny Designs | Joy+Tren
Made for Mermaids | Patterns for Pirates | Scientific Seamstress
Sewing Stadium | Simple Life Pattern Co | Stitch Art