You've heard me rant and rave about Violette Field Threads before, but I'm about to do it again! I was lucky enough to be one of their testers for the newly released Violette Field Threads Grace dress and I'm in love with this sweet little dress!

Grace features:
Sizes 2T-10
Scalloped or Zig-Zag bodice
Shoulder tie casing (perfect for lace, trim, ribbon or fabric strips)
Vintage length skirt or Maxi length skirt
1-1 1/2 inch bodice ease
Madeline's chest measures 19.5" which put her into the size 2T.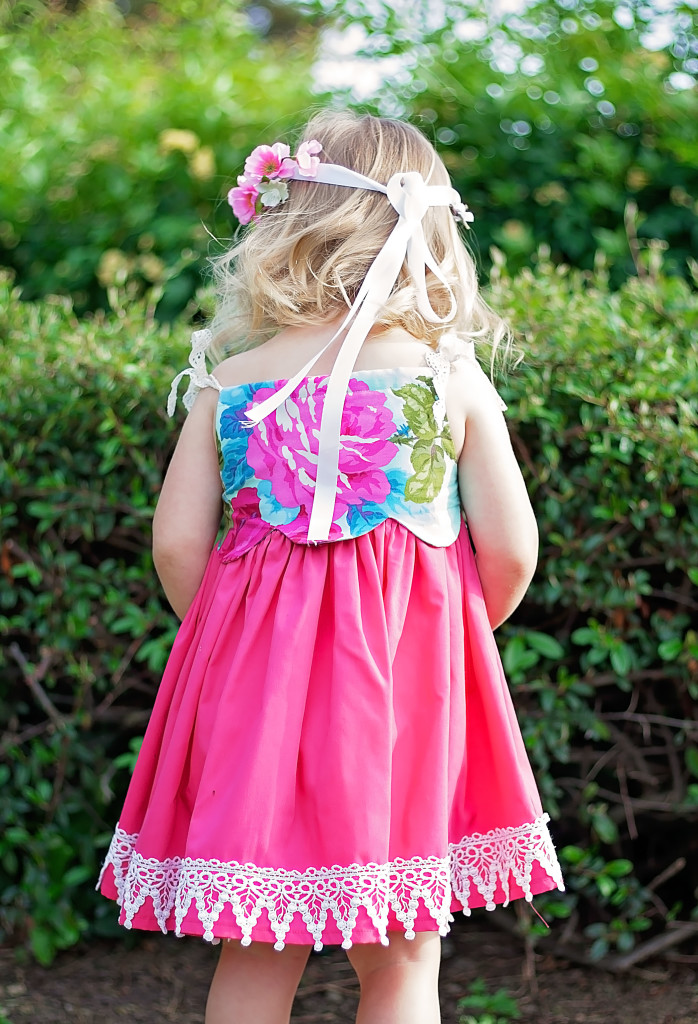 For the scalloped bodice I used fabric from my Jennifer Paganelli hoard. If you've seen Jennifer's fabrics then you would understand why it's completely reasonable to hoard them. I've been waiting for the perfect dress to use this fabric on and Grace definitely fit the bill! For the skirt I used a pink cotton. I also added a large lace trim along the bottom. I chose to add the lace to the actual skirt instead of having it hang off so that the color would really pop! I have to say I really love how it turned out. The straps on this dress are actually just a narrow lace, but it was the perfect dainty touch.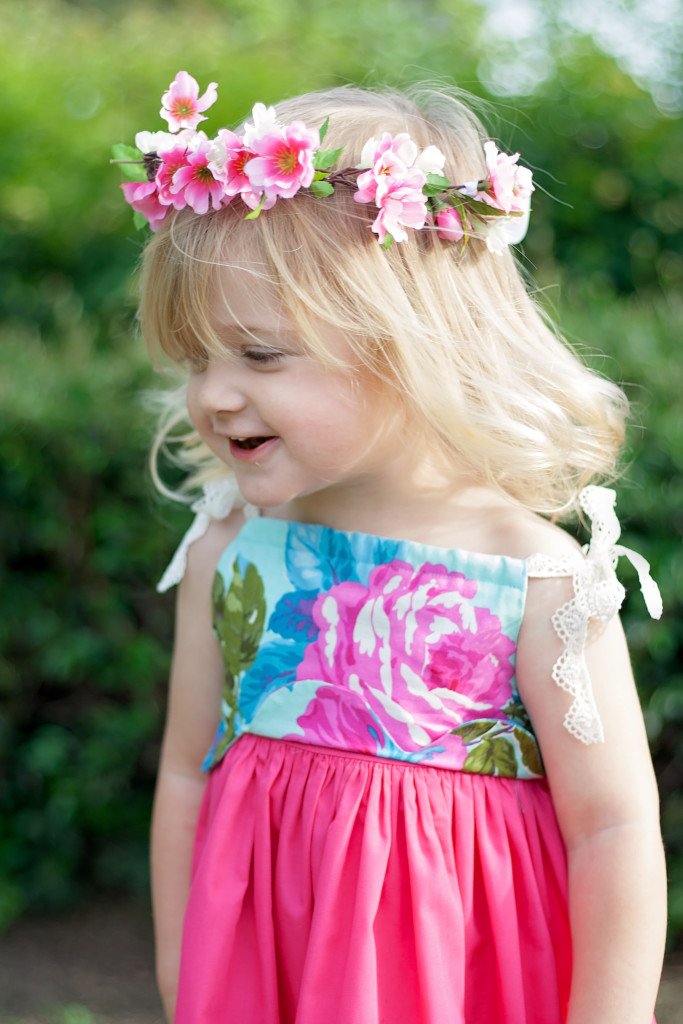 I've been so set on attempting to make a flower crown for Madeline ever since they started springing up (no pun intended). I probably could have saved myself a whole lot of time by just buying one but it was actually really fun to make it! I laughed to myself as I stood in line at Michaels with all my coupons hoping that it would end up being less expensive to make one than to buy one. Luckily I ended up making three different crowns and I had flowers left over, which meant that Madeline got to choose which one she wanted to wear for the photoshoot.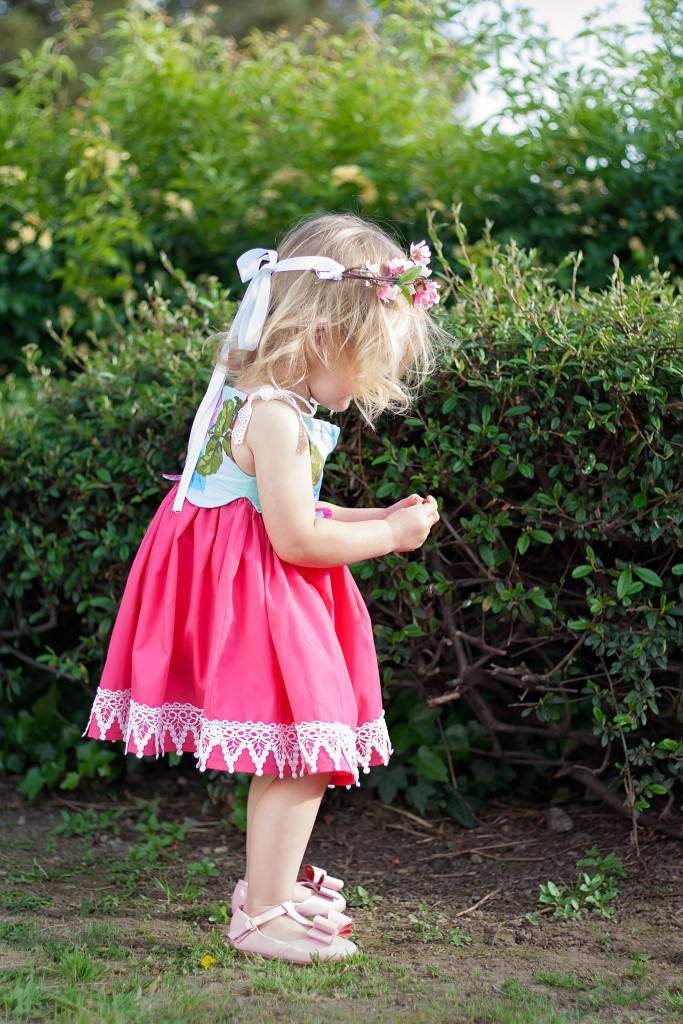 Honestly, I'm feeling a little bit envious of her flower crown photoshoot. Do you think I could pull off a maternity photoshoot with a flower crown? 😂 I have just 6 weeks left on the due date count down! I'm almost there, although if it happened to be shorter than 6 weeks you wouldn't hear me complaining. I have serious mom guilt over the fact that I haven't sewn a single thing for baby girl. But, I'm pretty sure I haven't experienced the nesting sensation this entire pregnancy. It's been more like the intense need to sleep all day, every day! Here's to hoping the next few weeks are a bit more productive than the last few months!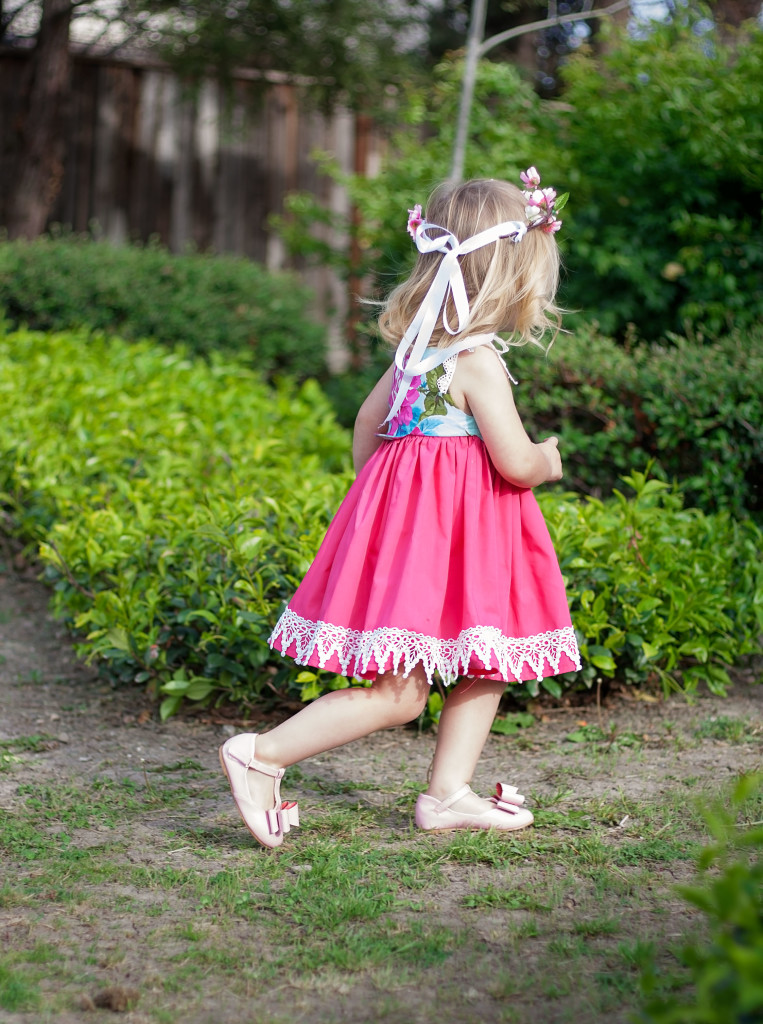 The twirl factor on this skirt is great! And anything that twirls makes my little girl SO happy! When I showed her the dress she immediately said "Helpy!" Translation, please help me put this dress on. I couldn't help but giggle as I watched her twirl in front of the mirror as she grinned from ear to ear. I was about 90% sure she would say no to the whole flower crown idea since she has always been particular about wearing any sort of adornment in her hair. Surprisingly, she was thrilled with the idea of wearing flowers in her hair. Woot, woot! Mom win right there!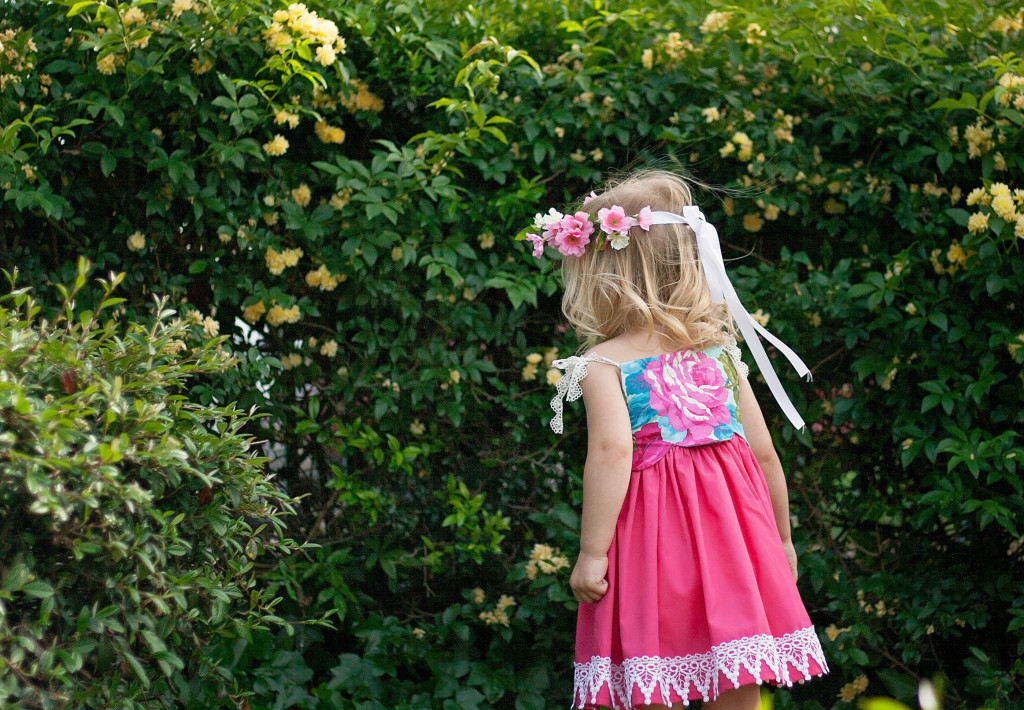 Her Joyfolie shoes paired perfectly with this outfit! You can purchase them HERE. I always wait to purchase shoes during their annual 50% off sale. And if I didn't keep them hidden in the back of my closet she would wear them all day, every day! She loves to click around the kitchen with her little shoes! There's really nothing sweeter than the pitter patter of her little dancing feet.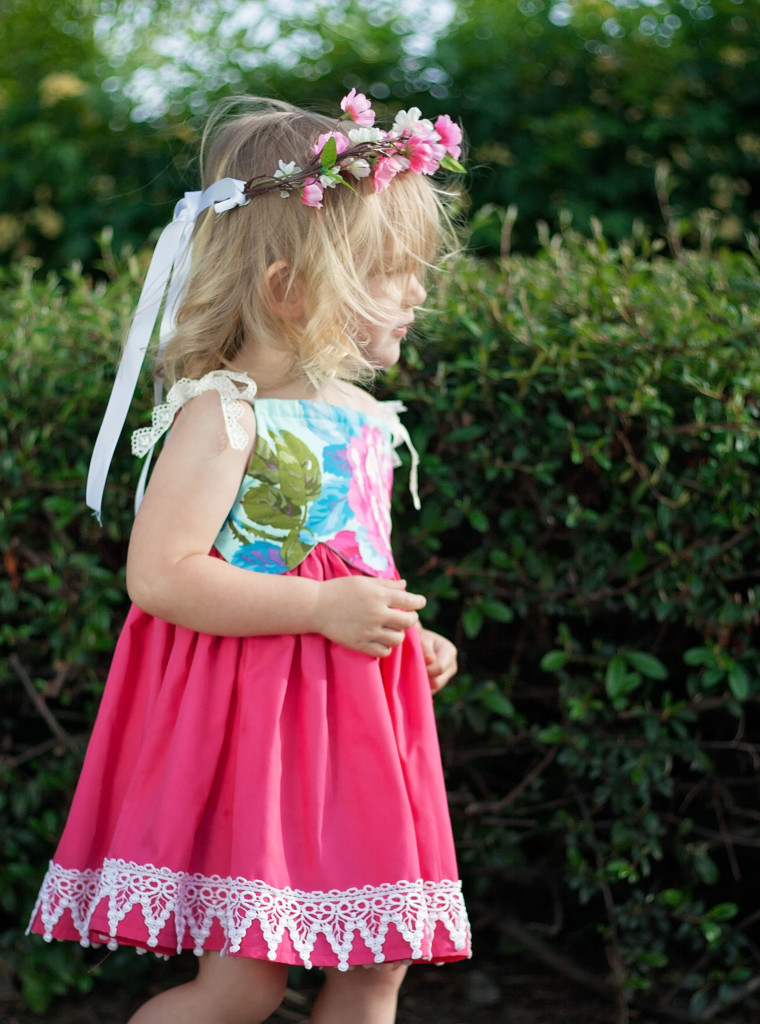 I love the classic, simple look of this dress and I will definitely make it again. The only concern I had with it was that my scallops flipped up in the front. This can easily be fixed by hand tacking the scallops down. I'll make sure to do that before she wears it next. I'm sure Madeline will end up with more Grace dresses in the future! Violette Field Threads Grace pattern will be releasing on Thursday along with Mila and Paige. Hopefully you can wait that long! You can purchase all three as a bundle on Violette Field Threads website. If you want to see more tester photos, stay up to date on new releases and get sewing inspiration, check out this Facebook group, especially for Violette Field Threads.
You won't want to miss out on these adorable dresses! I've been dying over all the gorgeous tester photos! Too much cuteness! <3