Stylish Fabric McCall's M7801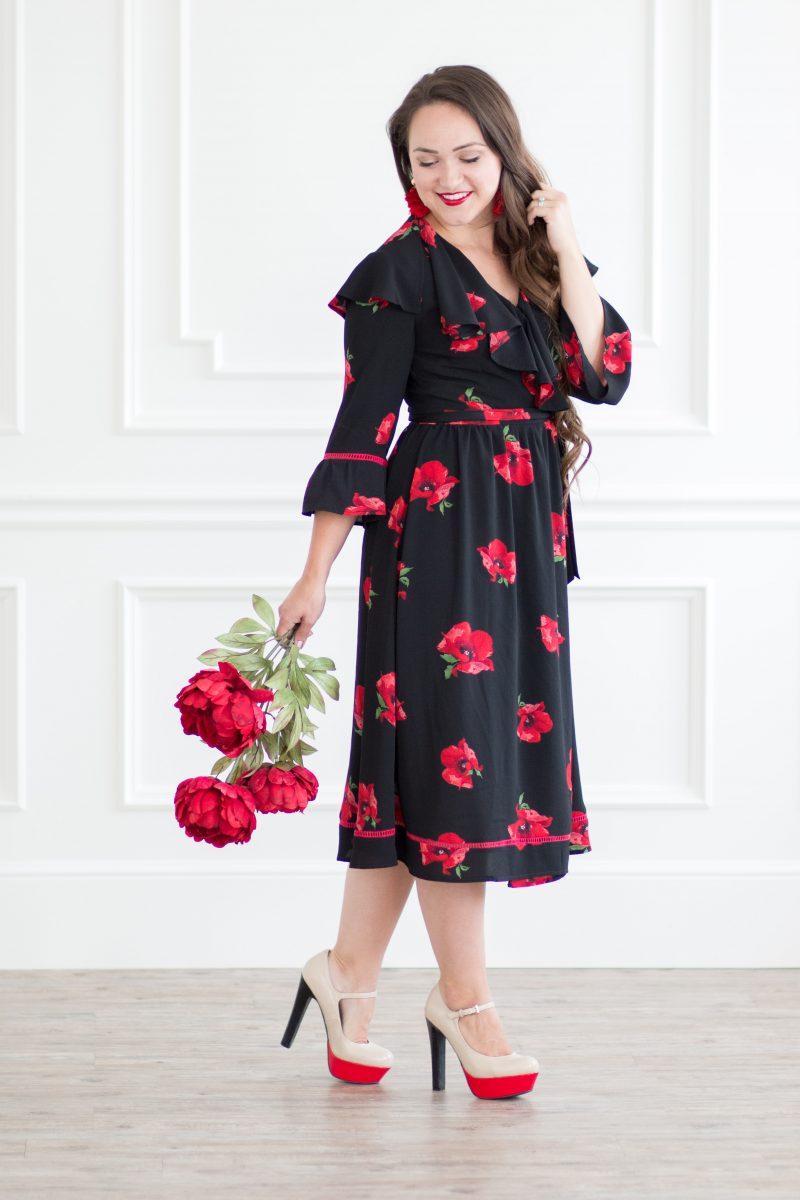 I have to admit that I'm loving the recent trend to more feminine dresses with ruffles and flounces. I jumped at the opportunity to sew the McCall's dress pattern M7801 for that very reason. I opted to do a modified version of View B, choosing the sleeves from View C instead. Selecting the fabric for a project is crucial! I turned to my "go to" for great affordable fabrics, Stylish Fabric. I always love browsing their "New Arrivals" section to find apparel fabrics at great prices. When I saw this beautiful red poppy pattern, I was in love! The drapey nature of this substrate works well with the flowy shape of this dress.
This is a sponsored post written by me on behalf of Stylish Fabric. All opinions and text are my own.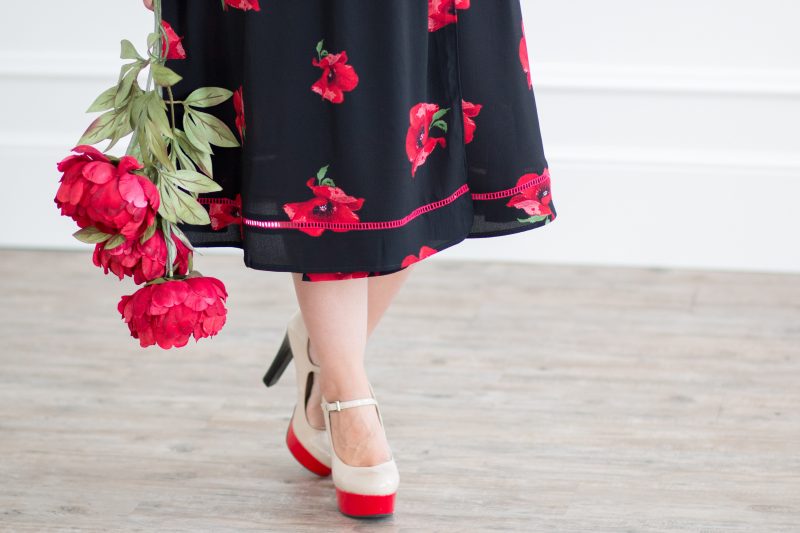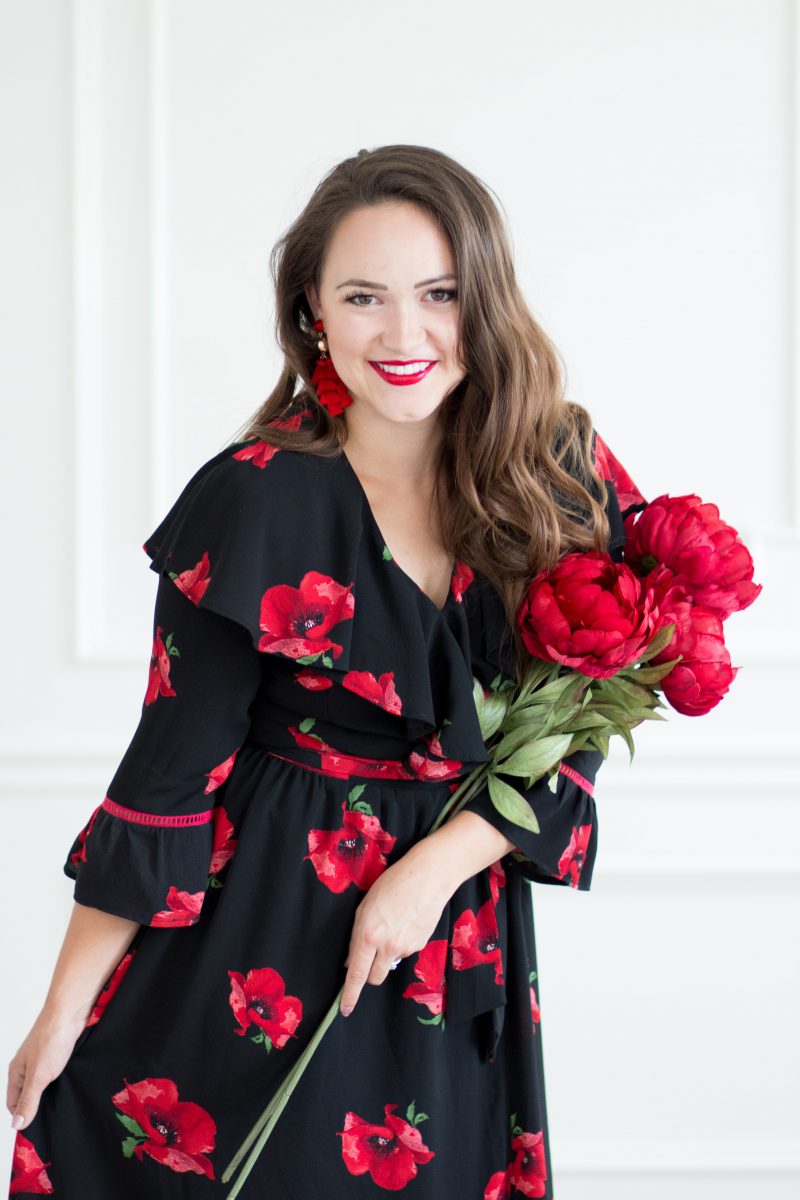 My love of poppies, started about 10 years ago, when I went on a trip to North Carolina to visit my grandparents. A highway median near their home, was covered in these beautiful blooms, and I was eager to enjoy a fun photo op! Thus began my love of poppies! The fabric reminded me of that carefree moment in my life and I was smitten! Paying homage to my Sweet Red Poppy name, I clicked and ordered the required yardage, dreaming of once again being surrounded by those delicate blooms.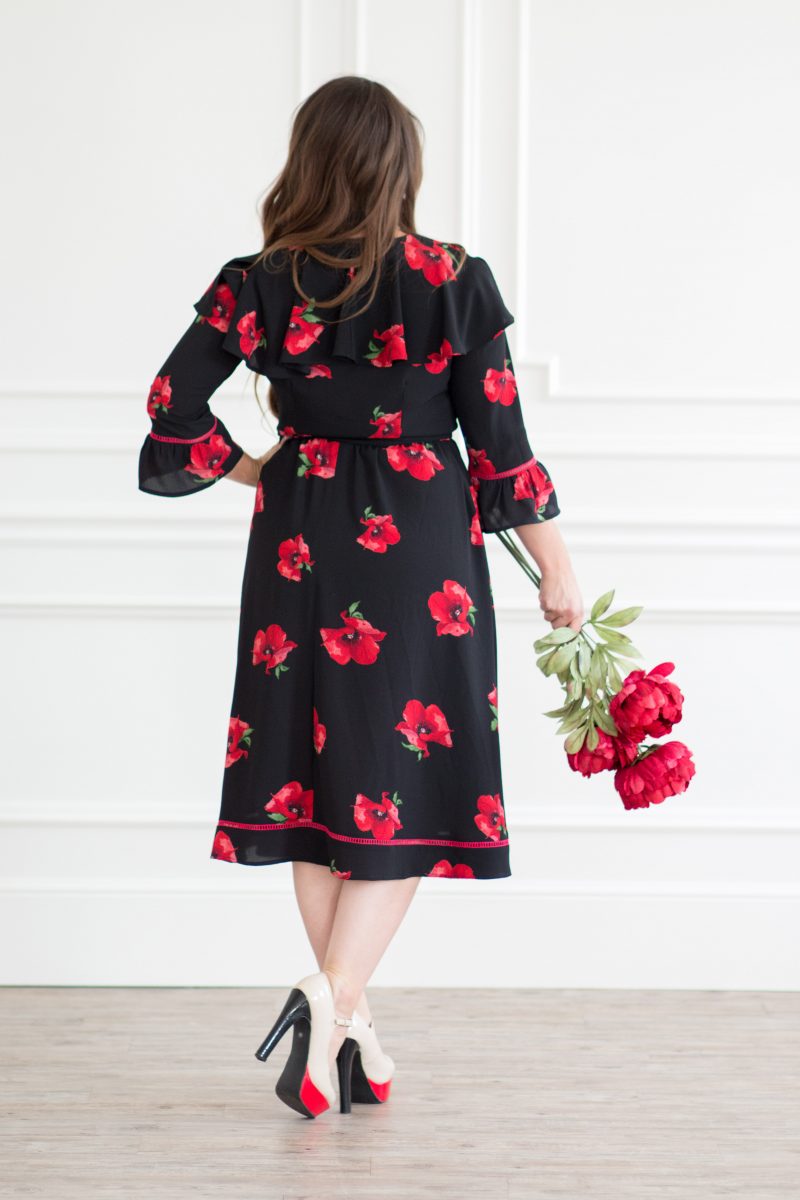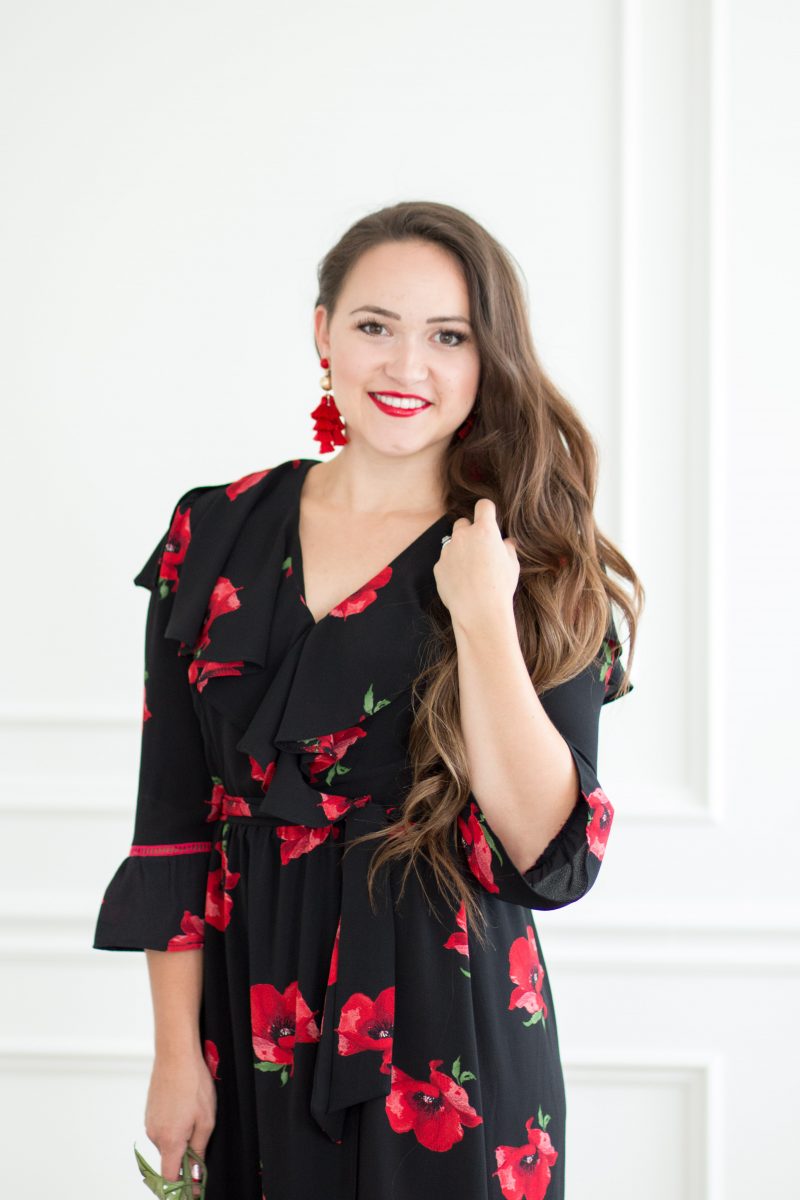 But enough reminiscing! When my fabric arrived, I gave it a good wash, determined my size according to the measurements on the pattern, and cut out the required pattern pieces. It is sometimes a challenge cutting fabric that is flowy and I opted to pin the pattern as opposed to using weights. I cut the bodice in a size 12 and was excited to see 3 cup size options for different bust sizes. For the skirt, I measured to a size 14 and added some fullness to the skirt back pieces, since I like a little more twirl in my skirt.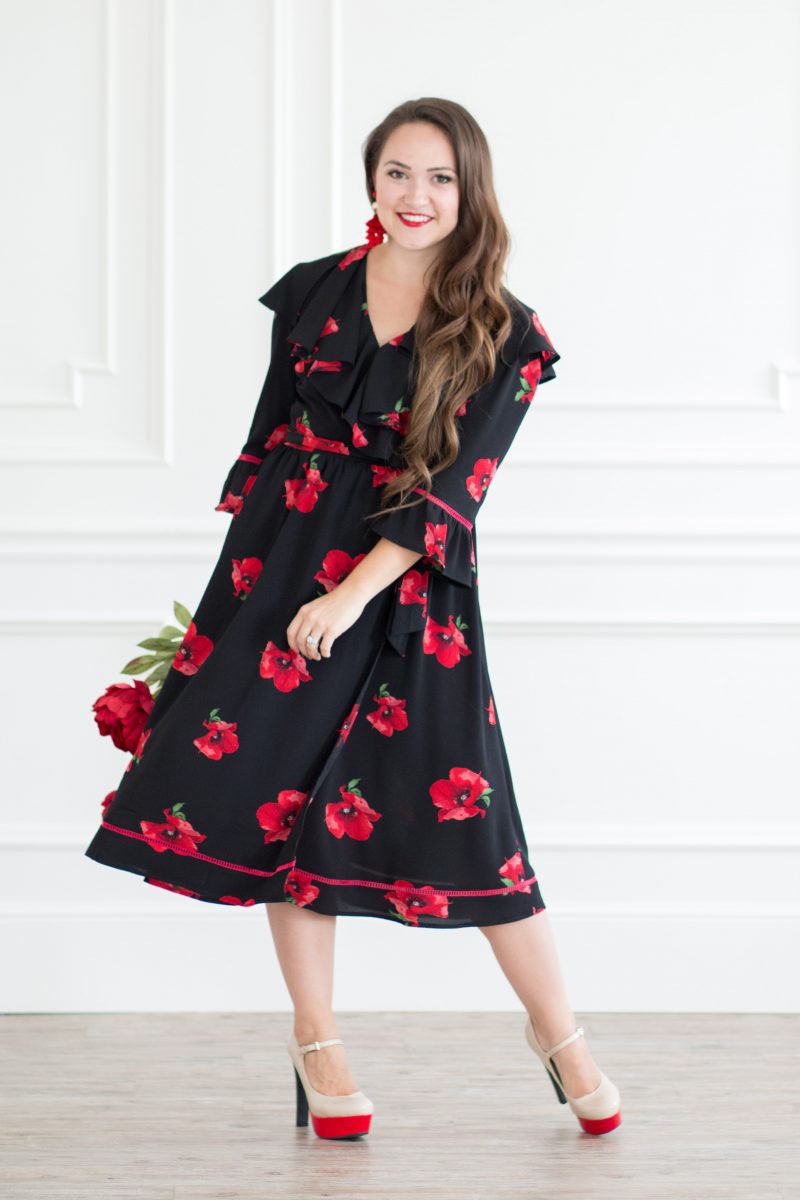 The pattern was easy to follow, with complete and thorough directions. It is marked "Easy" which seems appropriate as there are no zippers or complex construction techniques required. The fabric sewed like a dream! It has a bit of stretch to it and as a result was very forgiving if I got off a tad bit on a seam. I used a solid black fabric for the lining and loved how the bodice to waist seam was enclosed in the lining giving the dress a clean finish. For some extra pizazz, I used a red EntreDuex (aka French insertion lace) that I picked up at Mood fabric on my recent trip to NYC. This lace added some interest to the sleeves and hem.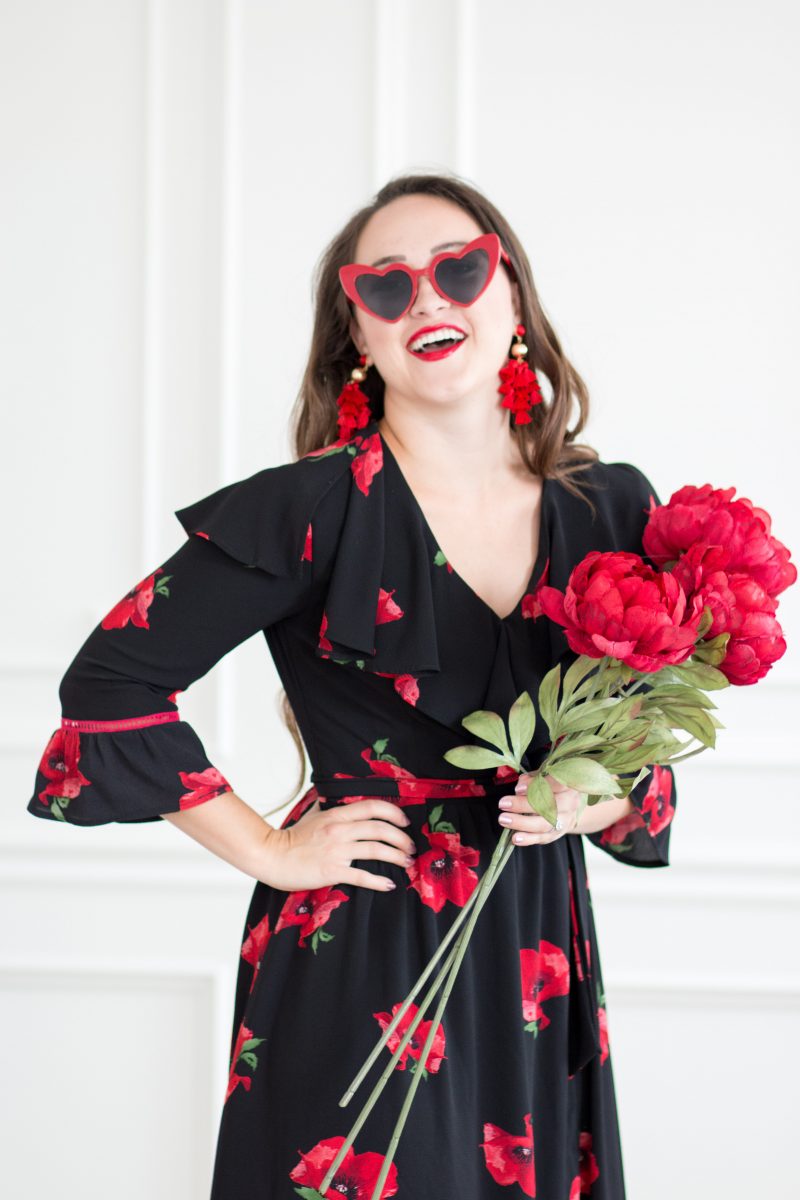 I always like to give a little "post-mortem" to any pattern I sew. I was a little curious as to why they chose to split the flounce at the shoulder seam. If I were to sew it again, I would leave it as a solid seam. For you other petite women out there, I would probably cut an inch or more from the length of the flounce, since it seems a little long for my frame. I also cut 3 inches from the hem, to make it more proportional for my height. Overall, it was a great project and I love the final result.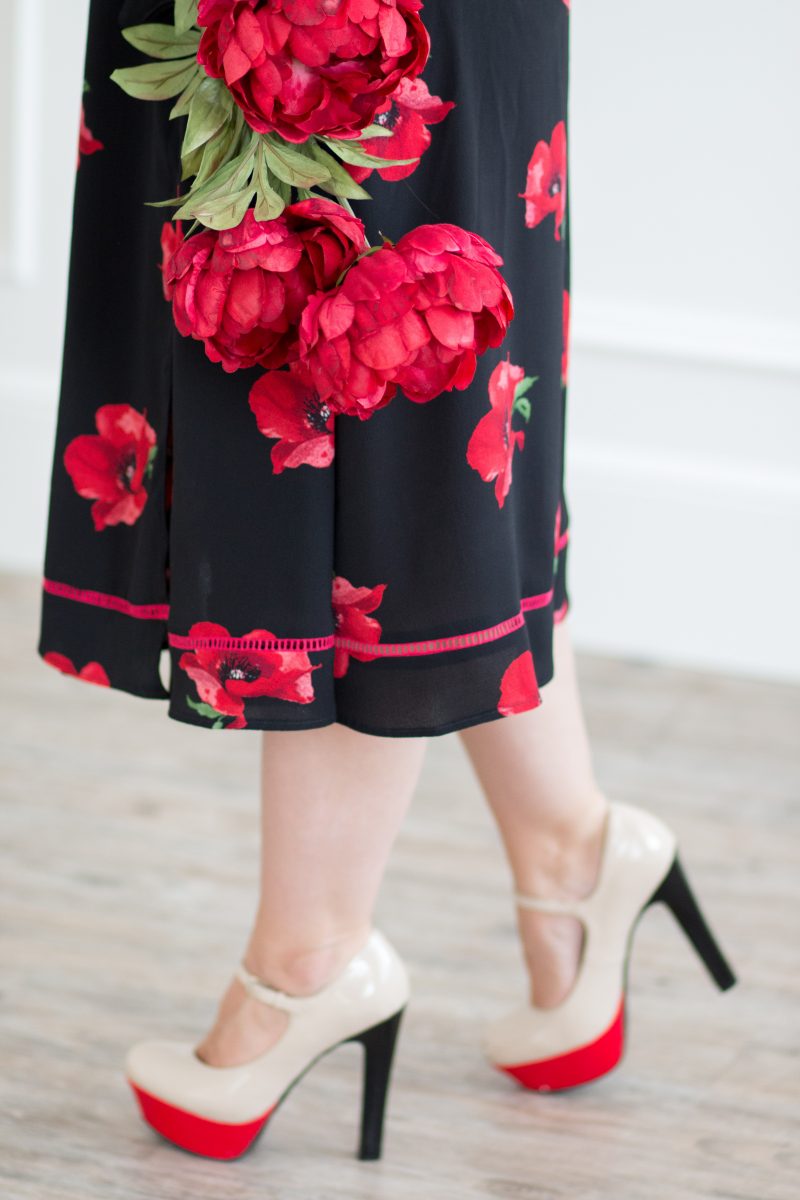 As you can see from the pictures, this poppy fabric was the perfect choice for this pattern! It is light, flowy, and totally twirlable! (not sure if that is a word!) I wonder if I can convince Stylish Fabric to name this fabric after me!?!