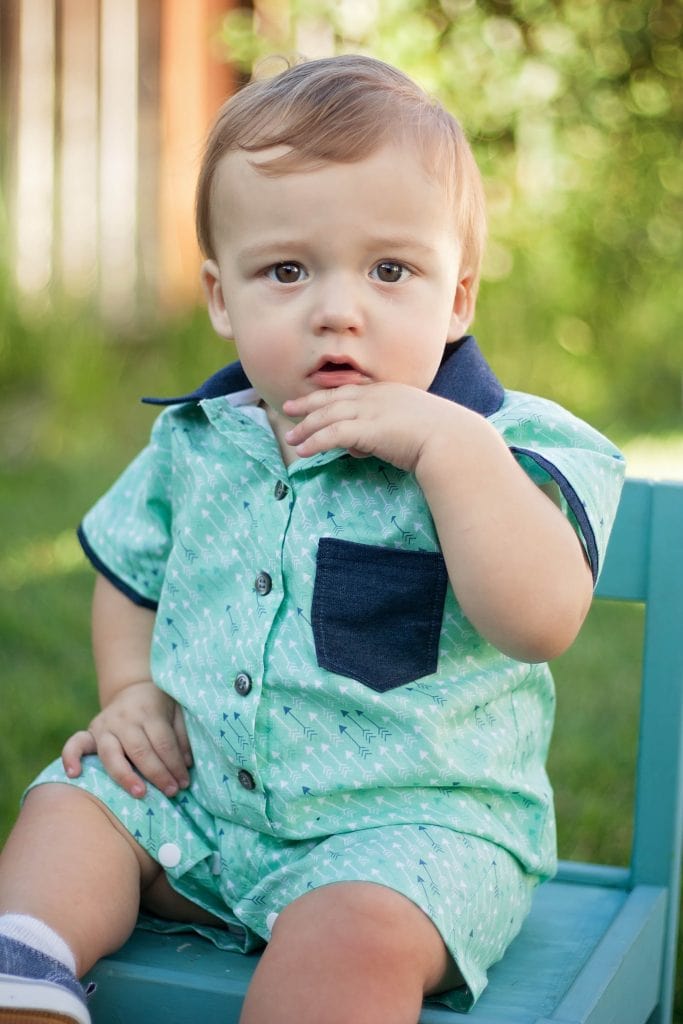 My little man turned 10 months old and started walking this past week. So, of course, I needed to capture a few pictures of his latest feat! Isn't his outfit the cutest too? I love this romper pattern for boys. He is growing up way too fast and he apparently didn't get the memo that he is supposed to be my baby forever! I have loved seeing his personality blossom over the past 10 months. He has such a strong determination but he is also gentle and kind. He is constantly babbling and working on saying new words.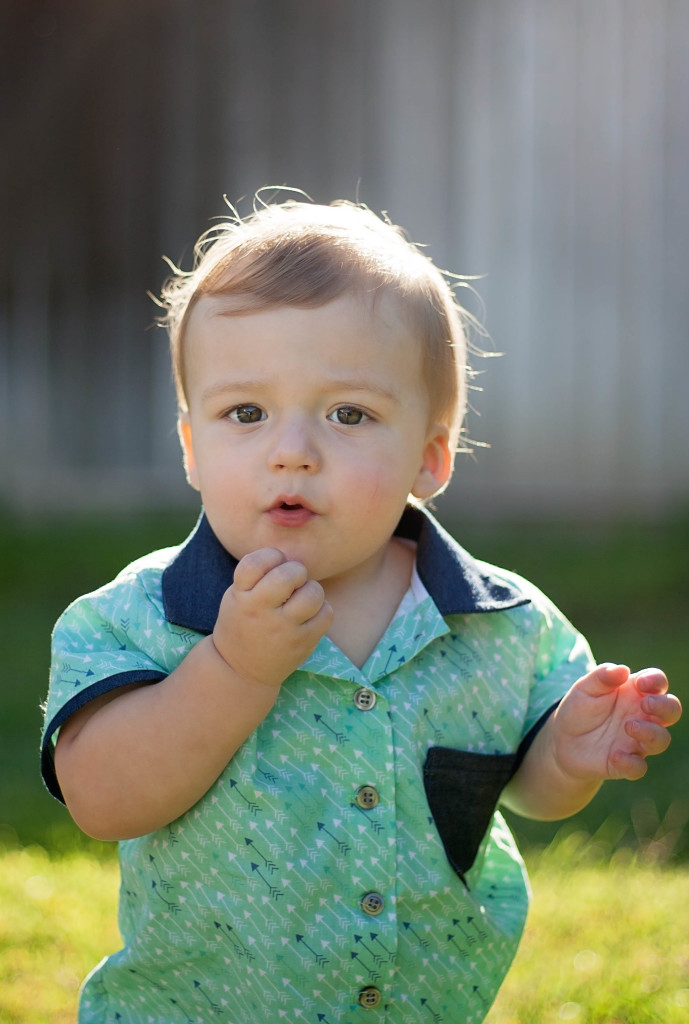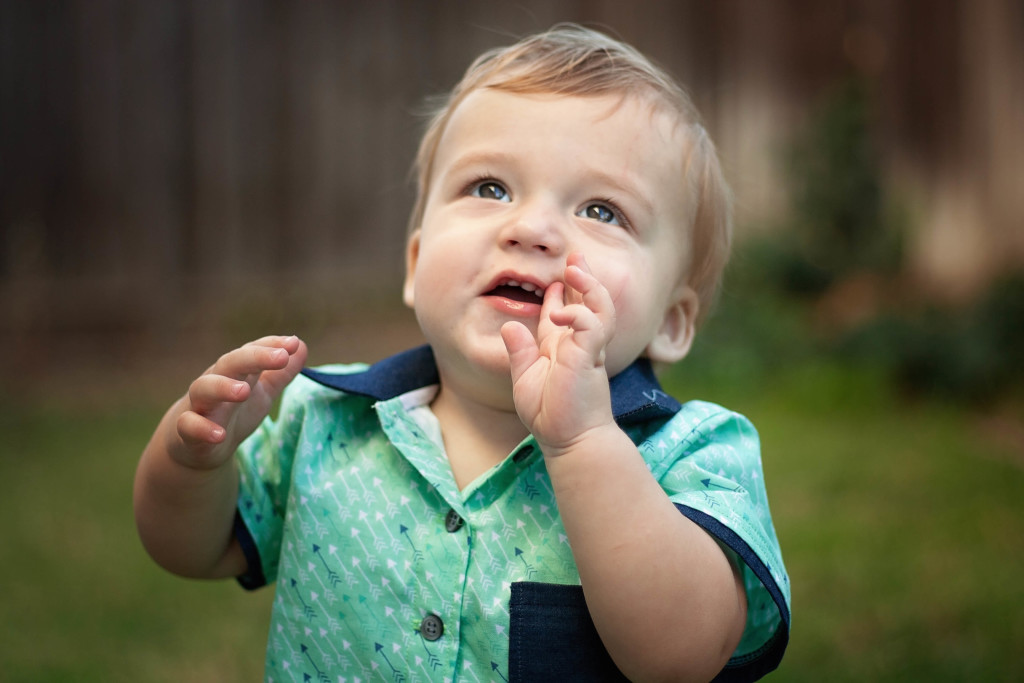 Sewing for boys is hard! In all honesty, I sew about a 10 to 1 ratio of clothing for Madeline and Lincoln (sometimes it gives me mommy guilt). When it comes to girl's sewing, the variations of patterns are endless! The fabric selection for girl's clothing is amazing as well! But when it comes to sewing for boys, I always get a little stumped. Whenever I make outfits for Lincoln, I have to keep in mind that he tends to be a bit harder on his clothing. He loves to eat, and by eat I really mean INHALE any food within his reach. He's very good at smearing his food all over his clothes so I like to look for fabric with prints. Typically solids don't work as well for little boys.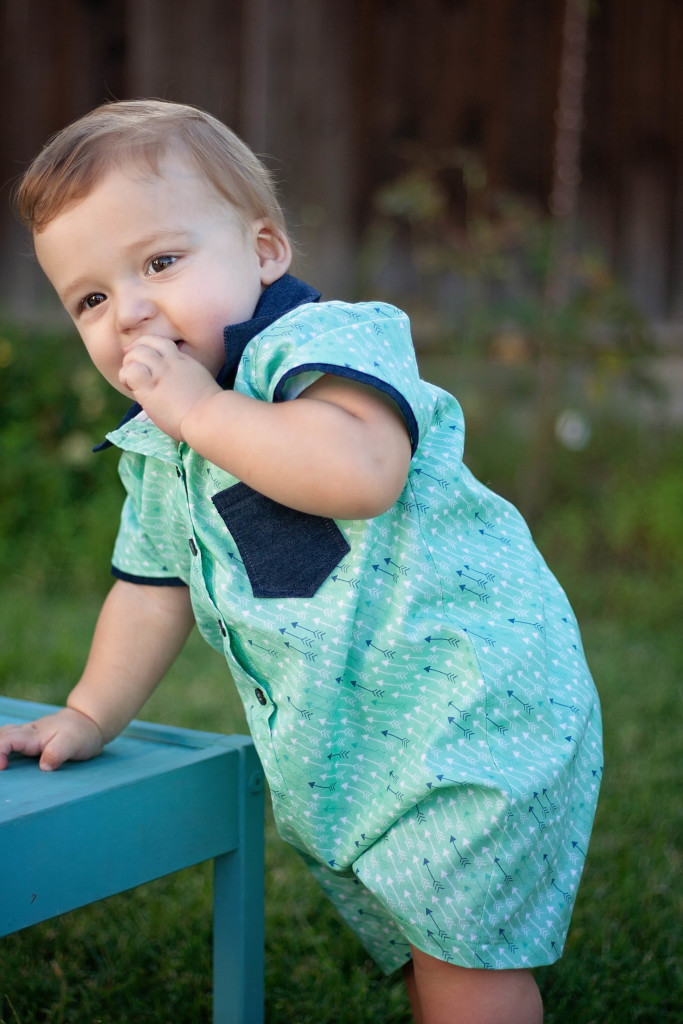 I came across Peek-A-Boo Patterns while I was pregnant with Lincoln. I was looking for patterns for sewing basic clothing. If you've ever walked into Carter's and wished you had a pattern for every piece of clothing in the store, then Peek-A-Boo Patterns is your one-stop-shop. Amy, who is the designer at PAB, is always busy creating new patterns to fit her family's needs. She has everything from onesies to women's maternity clothing. She even has her very own line of custom knit fabrics and can I just say that they are ADORABLE!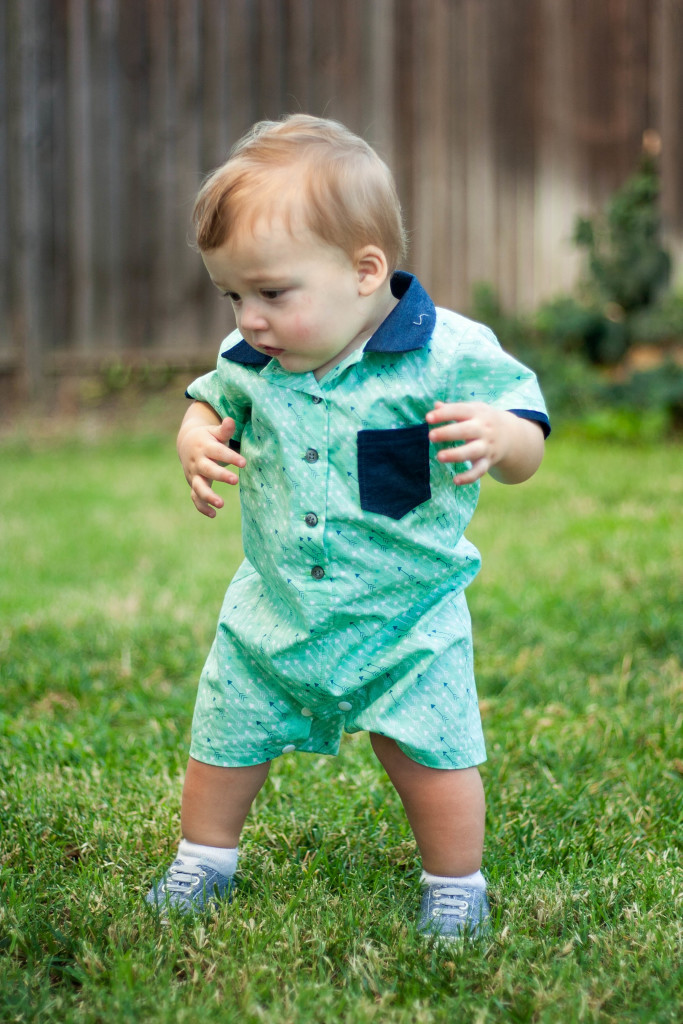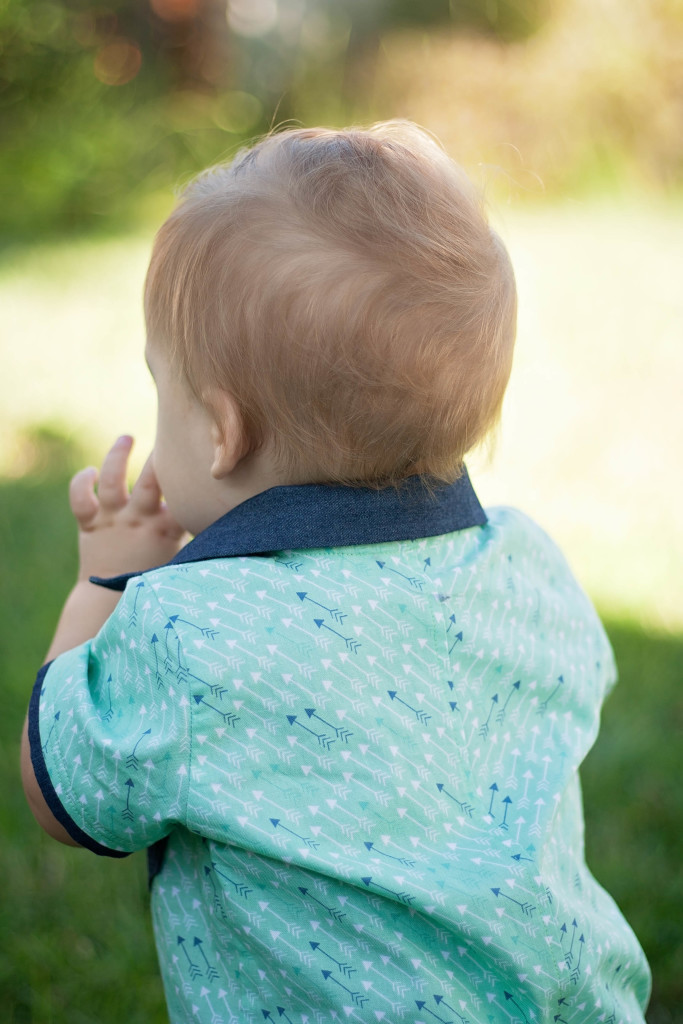 One of my very favorite patterns for little boys is the Pat-A-Cake Romper. You really can't go wrong with this romper pattern for boys. I always love the ones I find at Carter's, but the material they use doesn't hold up very well. So I decided it was time to make my own! I found this awesome Riley Blake arrow fabric while I was visiting my family in Idaho. The store I was at hadn't even unpacked it yet when I caught a little glimpse of it and basically begged them to let me buy a yard before I headed back to California. Finding good fabric for boys is tough work so I jump at every chance!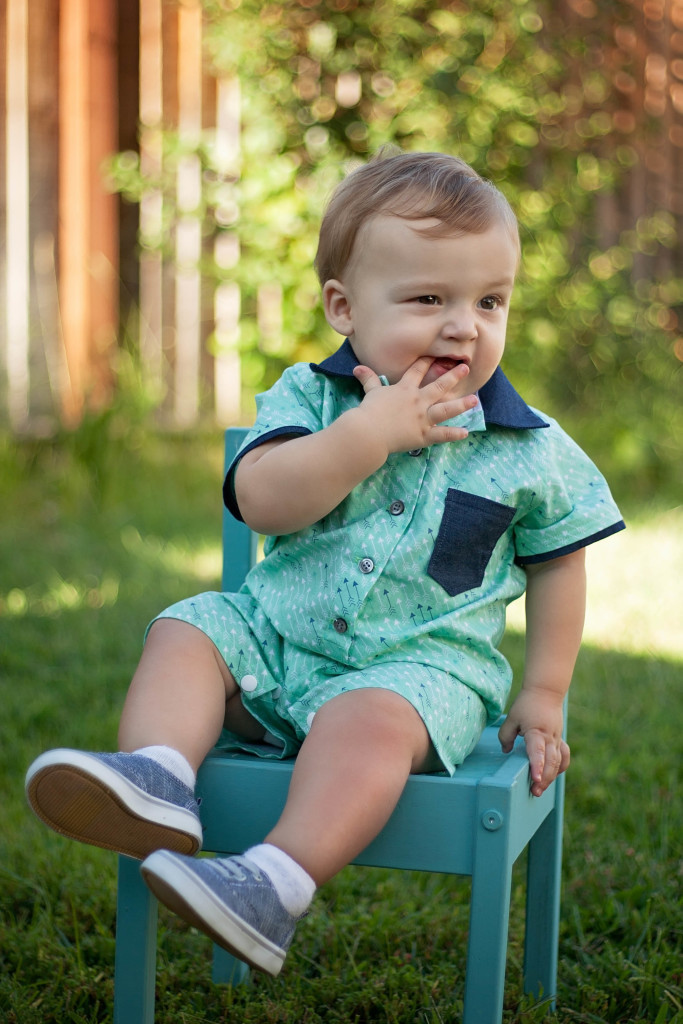 Here is a photo from the very first time I made this pattern. Hasn't he grown so much?!?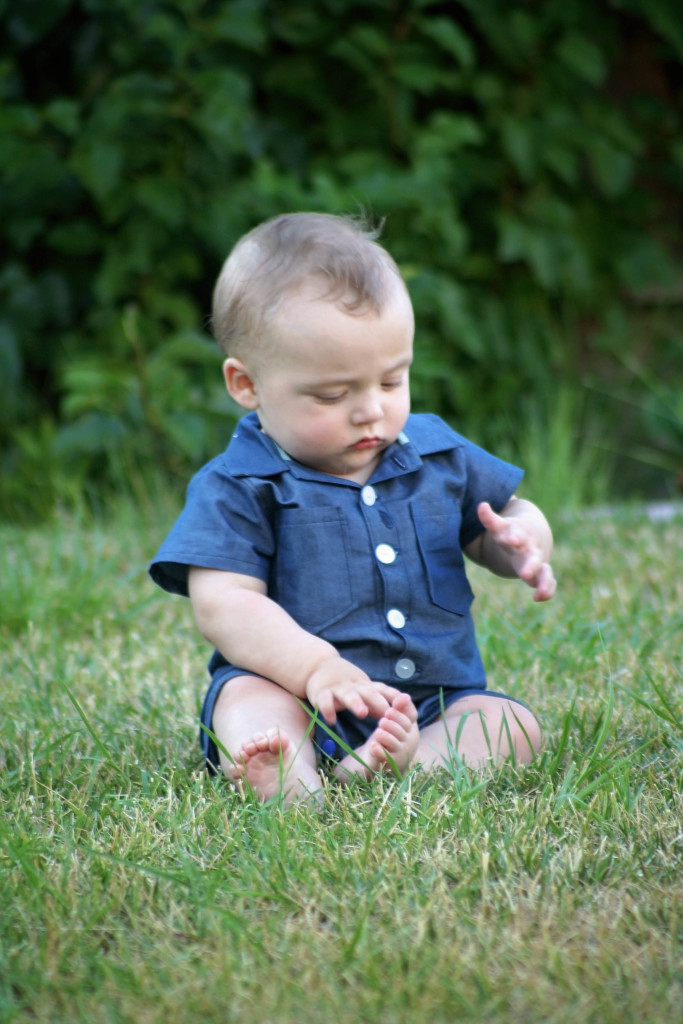 Features
Sizes newborn-4T
Shorts or Pants Length
Standard or Puff Sleeves
Standard Neckline or Collar
Optional Snap Inseam
Fit
I am really happy with the way this romper fits. He was at the low end of the measurements for this size, so it is a little big on him. But that gives him some room to grow, which is perfect.
Modifications
One of the modifications that I made to this pattern was to cut out the smaller-sized pocket. I wasn't really loving the over-sized pocket as it can end up making the romper look a little goofy. I also added a little contrast fabric to the sleeves.
Overall
The romper pattern for boys was easy to follow! It's a PDF file, so you can print it as many times as you want and use all the sizes available. The tutorial was really clear and had lots of pictures. This pattern requires a little bit of patience to get everything right, but it's definitely doable for someone who is new to sewing. My advice to someone sewing this pattern would be to read over the directions entirely before beginning. Although, let's be honest, that's always my advice! Also make sure to take time on lining the collar up and ensuring that the tops of the placket line up with each other.
If you are afraid of sewing buttonholes you could easily use snaps instead.
Happy sewing!
Click HERE to purchase this pattern or visit Peek-A-Boo Pattern Shop's website.
Check out the Peek-A-Boo Pattern shop Facebook group for more sewing inspiration.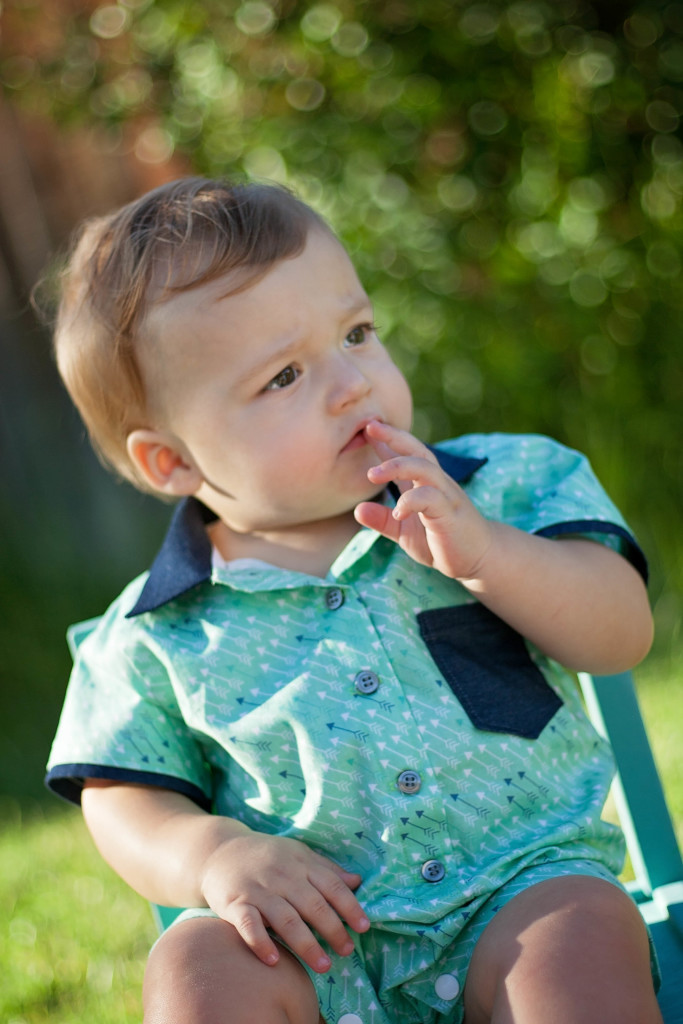 This post contains affiliate links, which means that if you click on one of the product links, I'll receive 20% of purchases. All opinions expressed are my own.