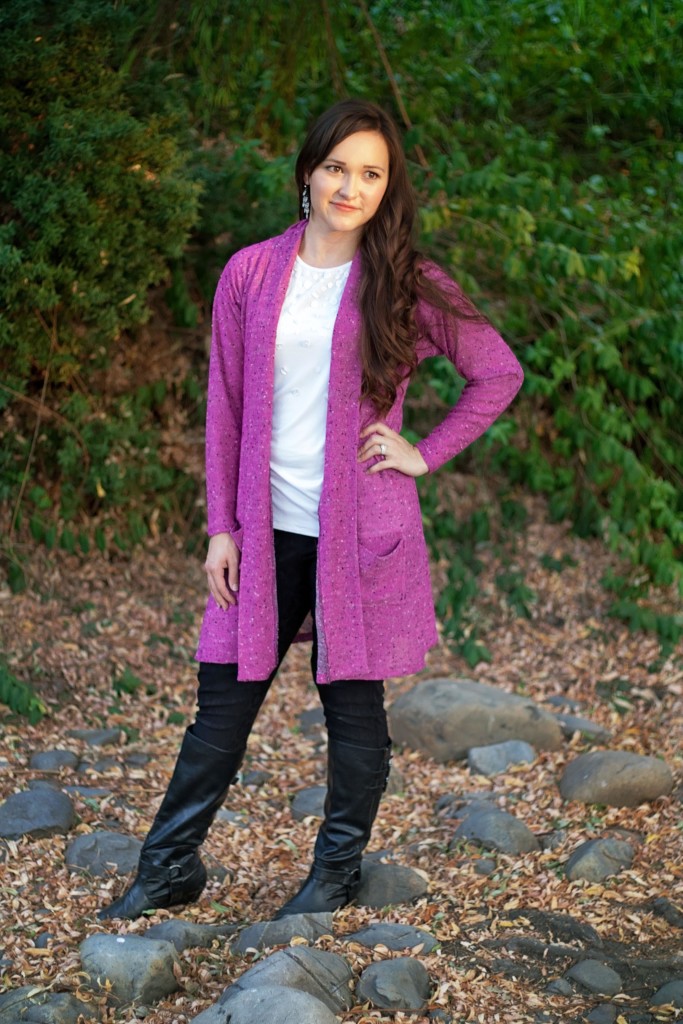 I used to be the person who woke up before the sun got up to curl my hair, apply a full face of makeup and try on 20 different outfits before settling on one. I thought every day warranted high heels; skirts were a must and my makeup was always fully done. Fast forward 3 years and now I have two little munchkins that I stay home with. The time I spend getting ready is nonexistent minimal. So when I come across a cardigan pattern that is both easy to sew and comfortable, I jump at the chance to get it!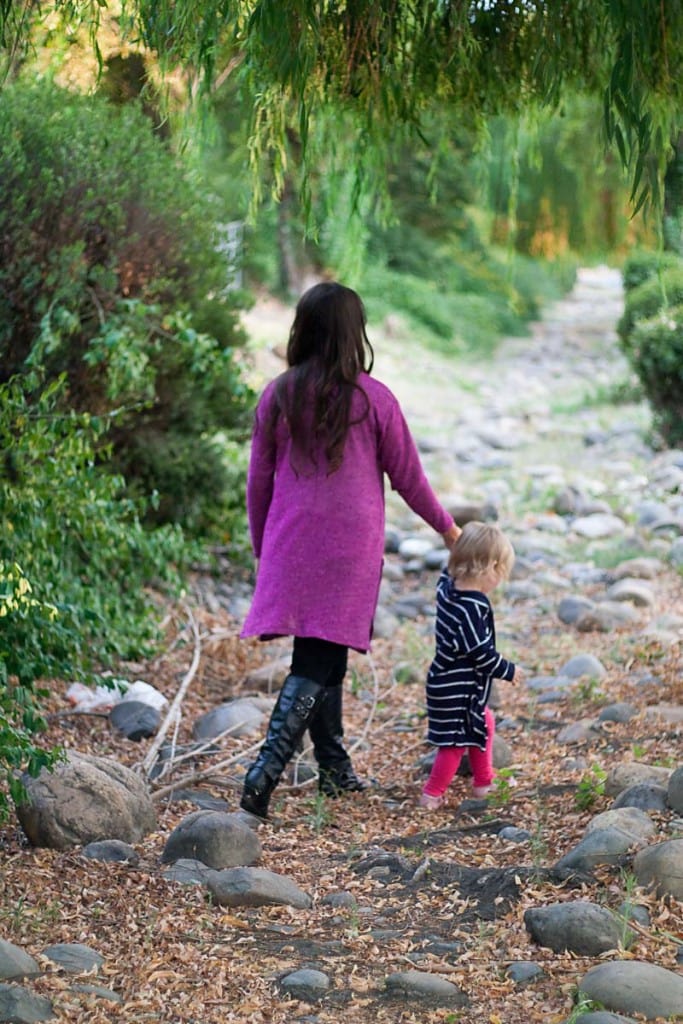 I love finding patterns that I can sew up quickly and provide me with all day comfort. Let's be honest, if it's not comfortable then I'm not wearing it. I'm also a big fan of patterns that cover all the areas that I'm not so confident about. 🙂 I'm obsessed with sweater knits for building my fall wardrobe so knit patterns are at the top of my list right now.
The good news is Love Notions released their Boyfriend Cardigan in both Ladies and Girls sizes today and I was lucky enough to test it! If you use the code SewAllTheCardigans you can save 20% off the normal price.
Cardigan Features:
Shawl collar or Hood
Ladies XS-XXXL Girls 2T-16
Over-sized Pockets
Dropped Shoulders
Side Vents
Mid-thigh Length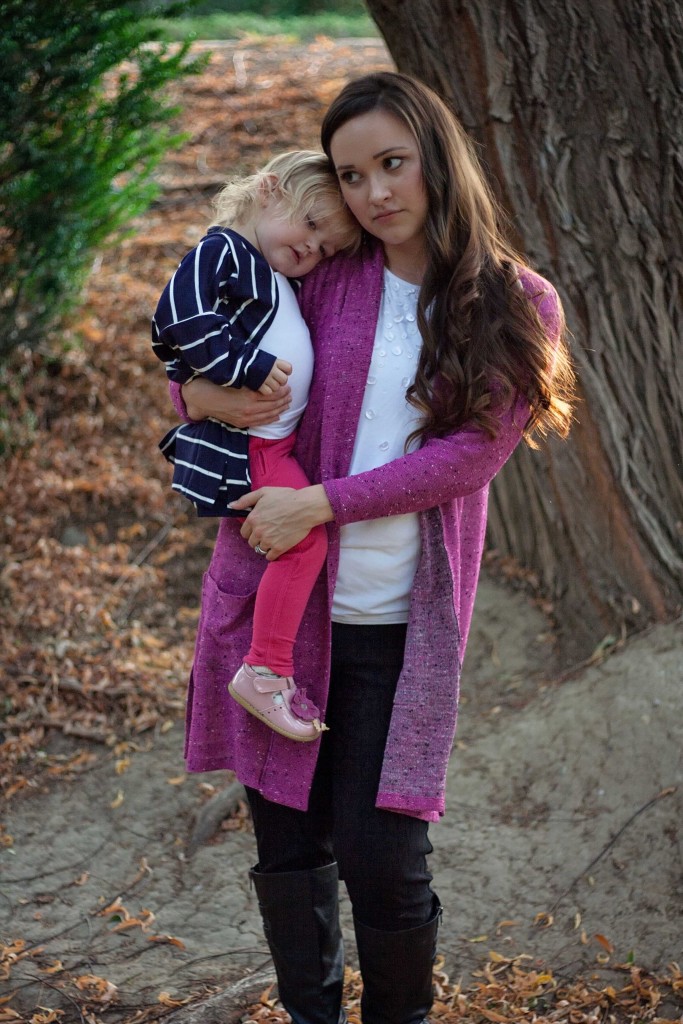 My obsession with comfy clothing is met with equal enthusiasm from my daughter Madeline. After trying on her new Cardigan she pretended it was a blanket and told me how soft it was. That was after she had filled her pockets to the brim with rocks. She has a slight rock obsession.....and also a pocket obsession. It's hard to please an almost two year old but she was surprisingly happy with this outfit. On a side note I think the terrible two's should encompass 18 months and older. Anyone else with me on that one?
For Madeline's cardigan I used a blue and white striped fabric I found at Michael Levine. I made her white knit top using FooFooThreads Roxanne and knit from Girl Charlee. I added a band to the bottom to lengthen the bodice. Her cute skinnies are from Carters and I really need a pattern just like that!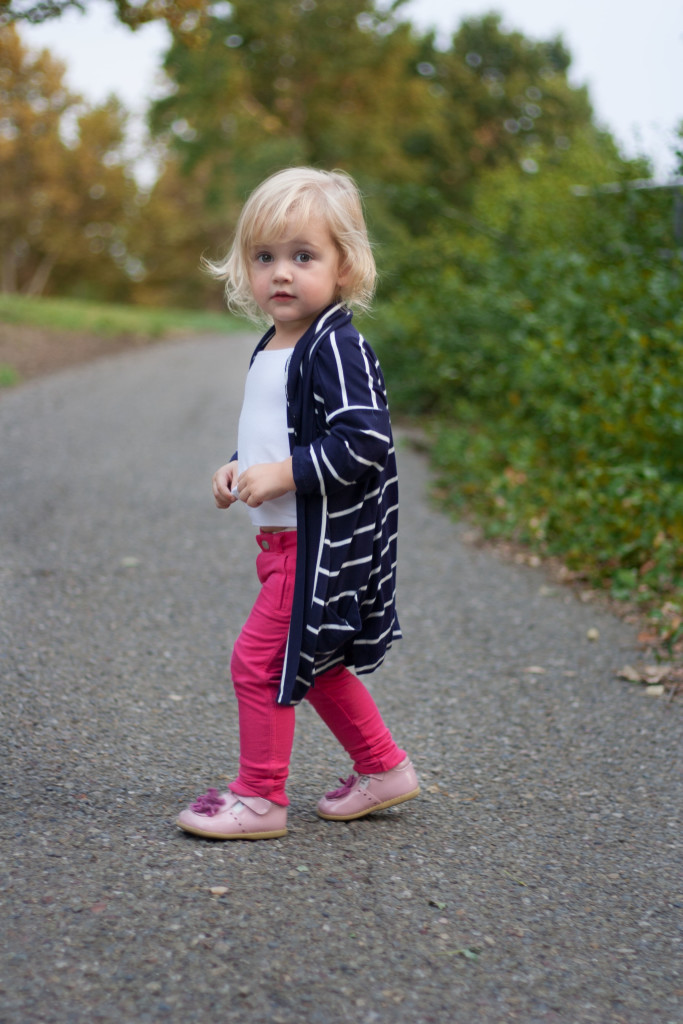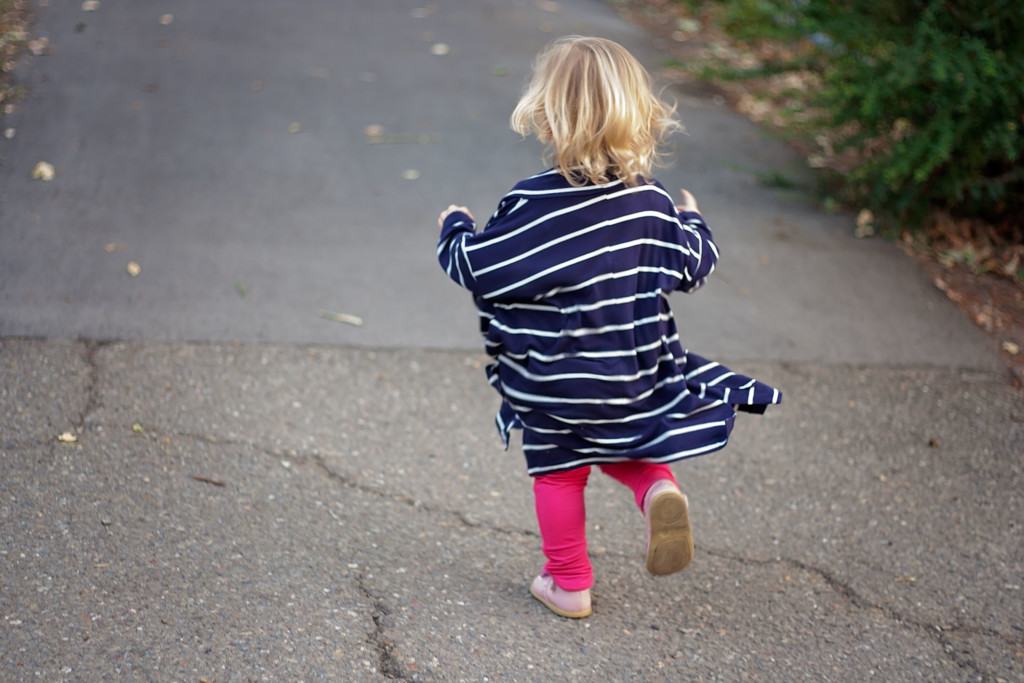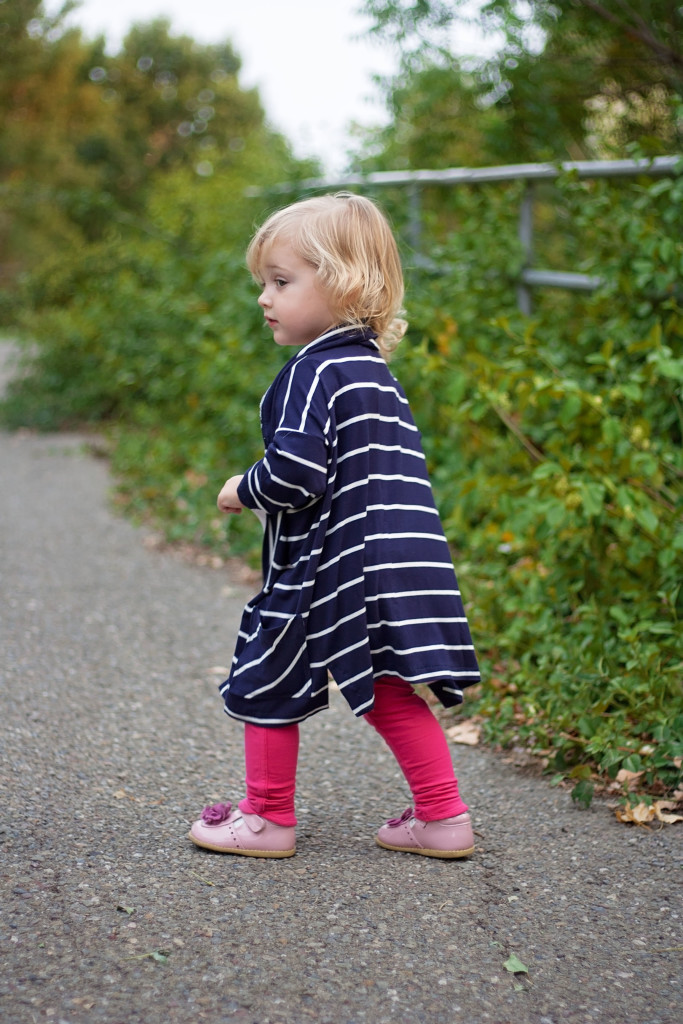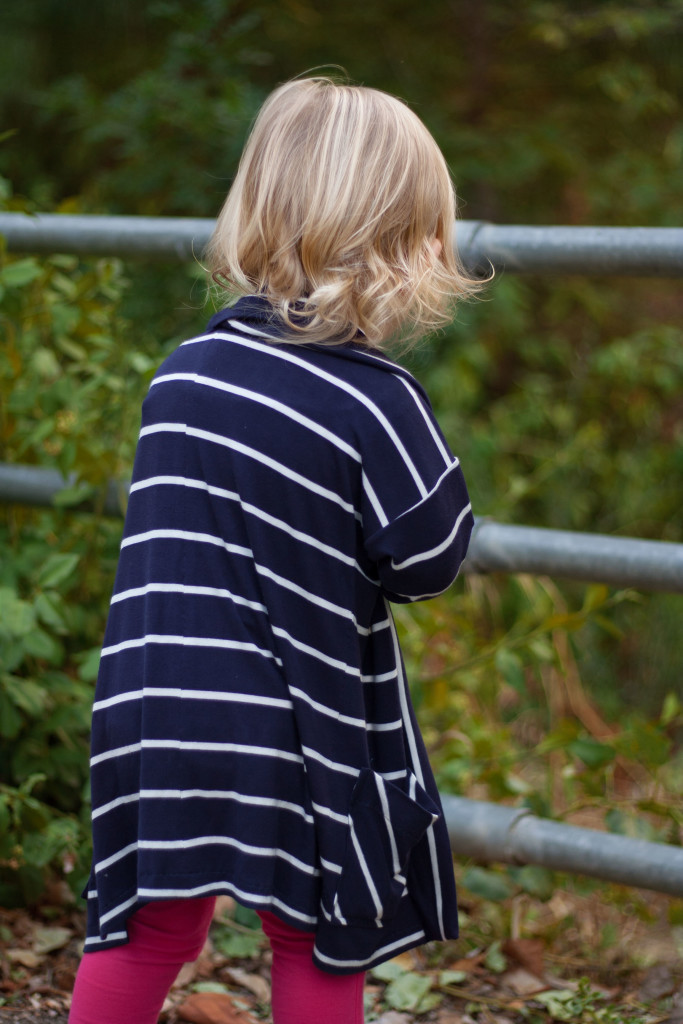 The fabric I used to make my Cardigan also came from Michael Levine, another wonderful find from my LA trip. It's the same type I used for my Raglan but in a different color. Like Madeline, I'm also a big fan of this super comfy cardigan. I love the detail of the vented side seams. It allows for more movement and adds a little bit of subtle interest to the garment. You won't hear me complaining that it pairs perfectly with skinnies. I used Patterns for Pirates SOS knit pants pattern to make my black pants and since they have pockets I'm gonna pretend they are real pants and not leggings........cause you know leggings aren't pants. But honestly It's not even fair how comfy this outfit is. I feel like I'm wearing pajamas.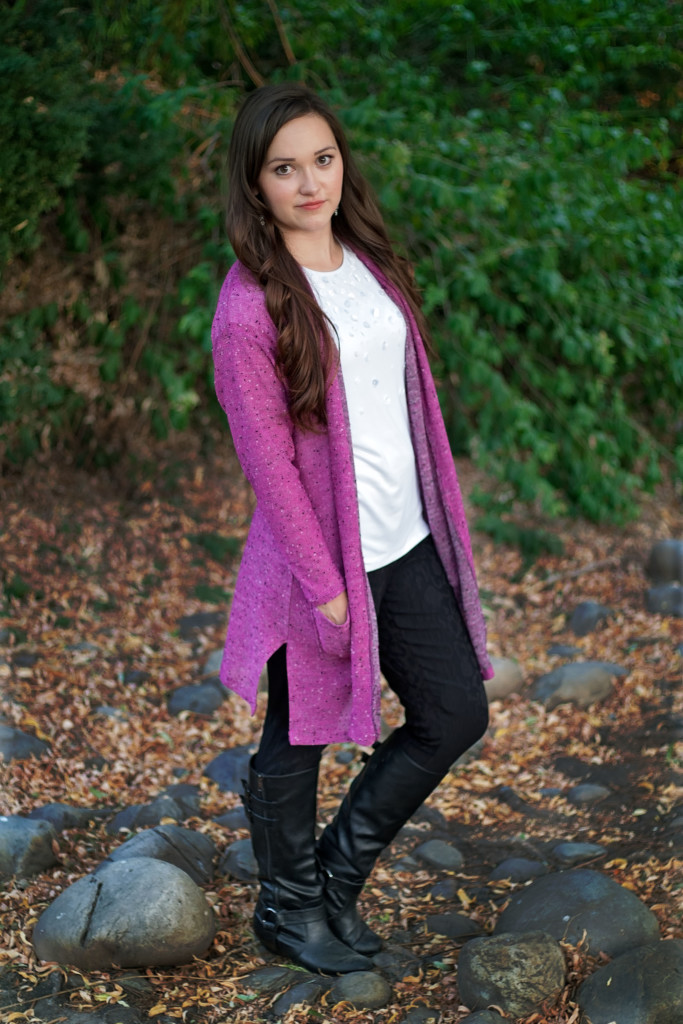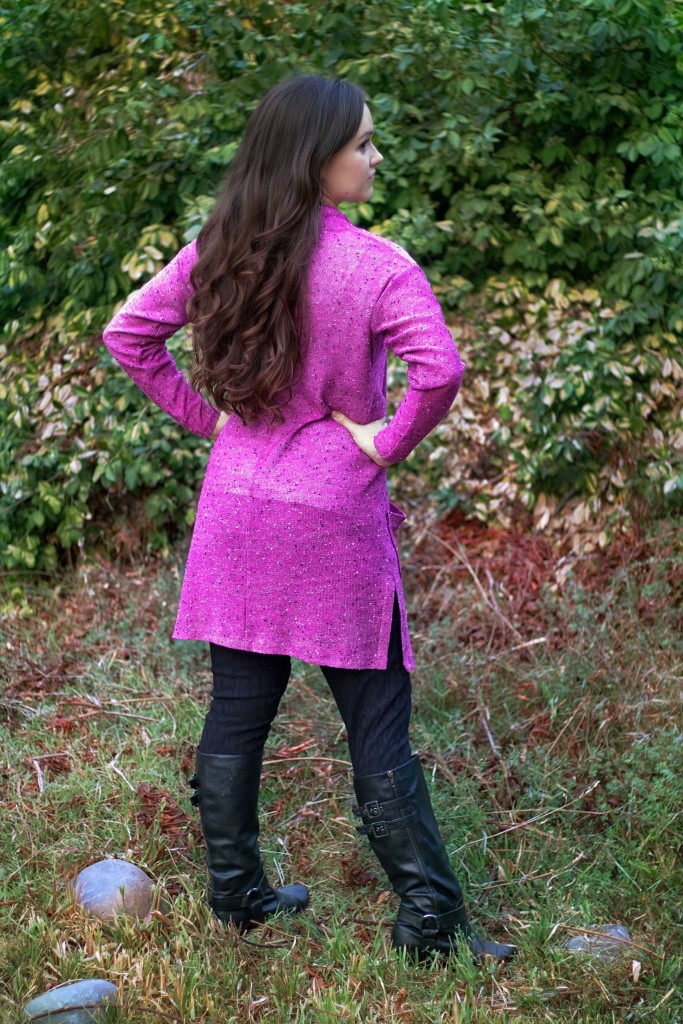 In case you're wondering where to get fabric for your Boyfriend cardigan I've linked my favorite knit stores below:
Check out Love Notions Blog for more fabric suggestions from Tami, the designer of the Boyfriend Cardigan.
You can purchase the pattern HERE. Use the code sewallthecardigans to get 20% off the normal price.
Check back next week for another pattern release and my favorite new fall dress pattern.
This post contains an affiliate link but rest assured that all opinions are my own. Thanks for supporting my fabric habit. 🙂