Learn to use your Serger with my brand new online serger course, Ready, Set, Sew! Serger Edition. Keep reading for more info! Plus, get my FREE serger freebies below.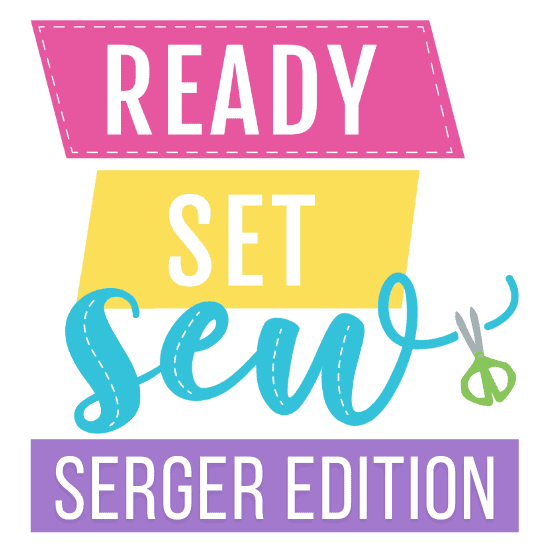 Are You Struggling to Learn How to Use Your Serger?
I understand. The first time I used a serger, I was overwhelmed! Honestly, I didn't think I ever needed to learn how to use a serger since I could already do so much with my sewing machine. But boy was I wrong!
After spending time with my serger (and learning how to thread it), I came to love it. Honestly, I can't imagine sewing without it. Having a serger adds a level of professionalism to my project that I was lacking before.
Join me in Ready, Set, Sew! Serger Edition to learn more about your serger!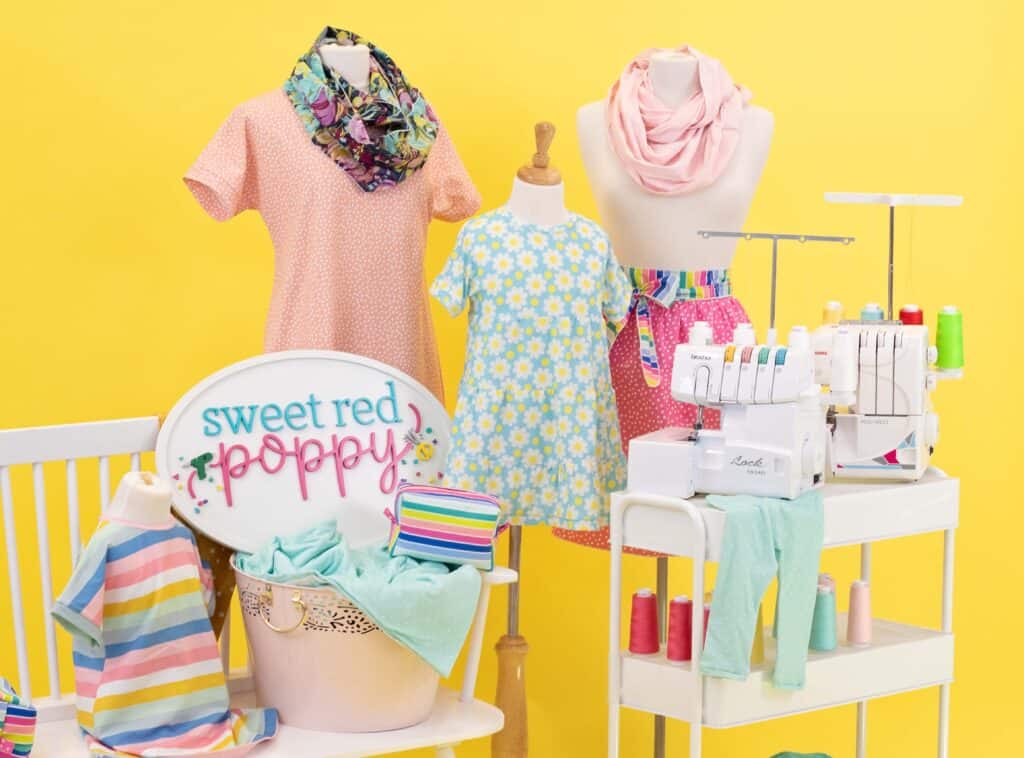 Why I Created my Online Serger Class, Ready, Set, Sew! Serger Edition
Soon after launching my very first sewing course, Ready, Set, Sew! I received feedback from thousands of students asking for a serger course.
After looking for a good course I could tell my sewing students to take, I came up with nothing. All of the serger content I found was dated or hard to understand. So, I started working on my own course, Ready, Set, Sew! Serger Edition.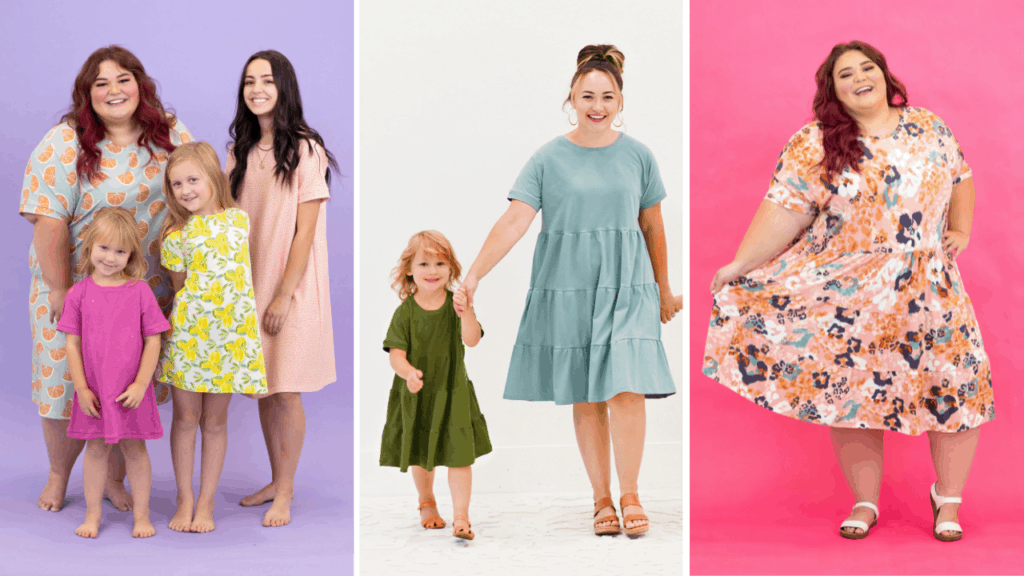 Since the beginning of my blogging journey, I have been passionate about learning all that I can about sewing and sharing that with you in a way that is easy to understand. This course is my love of learning and teaching all in one!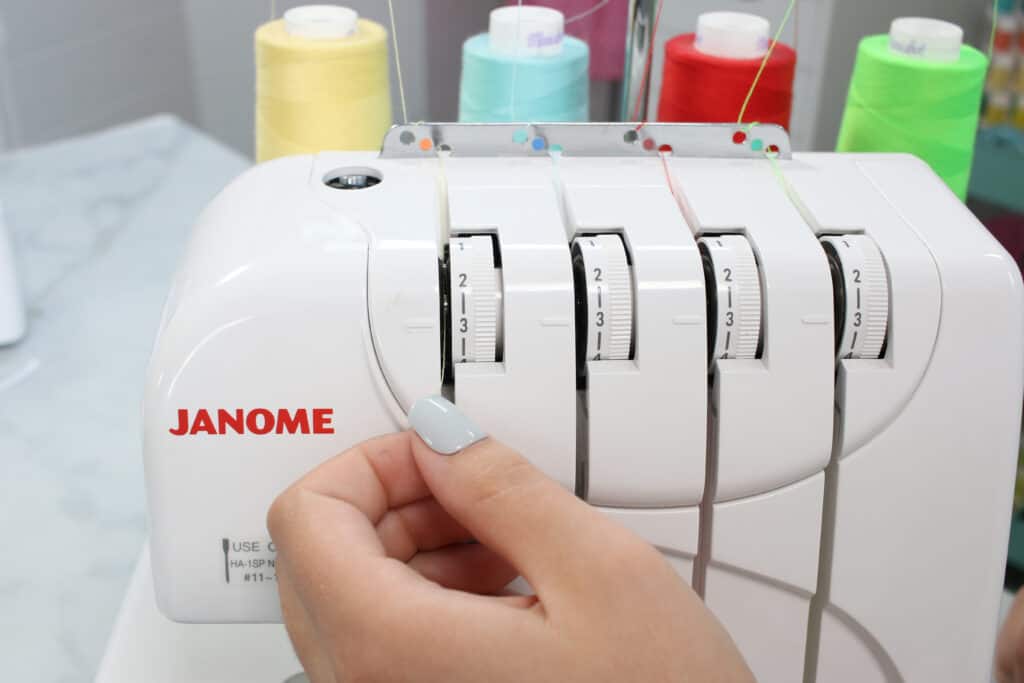 This course has been a long time coming with learning, writing, revising, filming, creating, and writing some more. I am so thrilled to teach you not only how to use your serger, but how to create amazing, professional projects with it as well!
Check out the exciting FREE printables that are just a sneak peek of what you can get with the course.
What is Ready, Set, Sew! Serger Edition?
Ready, Set, Sew! Serger Edition is an online serger course designed to help you master the serger so that you can create beautiful projects and most importantly have fun doing it.
This course covers everything from the fundamentals of identifying the parts of your machine and threading your machine to more advanced techniques like using decorative thread, sewing corners and curves, and so much more! After learning important serger techniques, I walk you through 5 different projects to put those skills to use.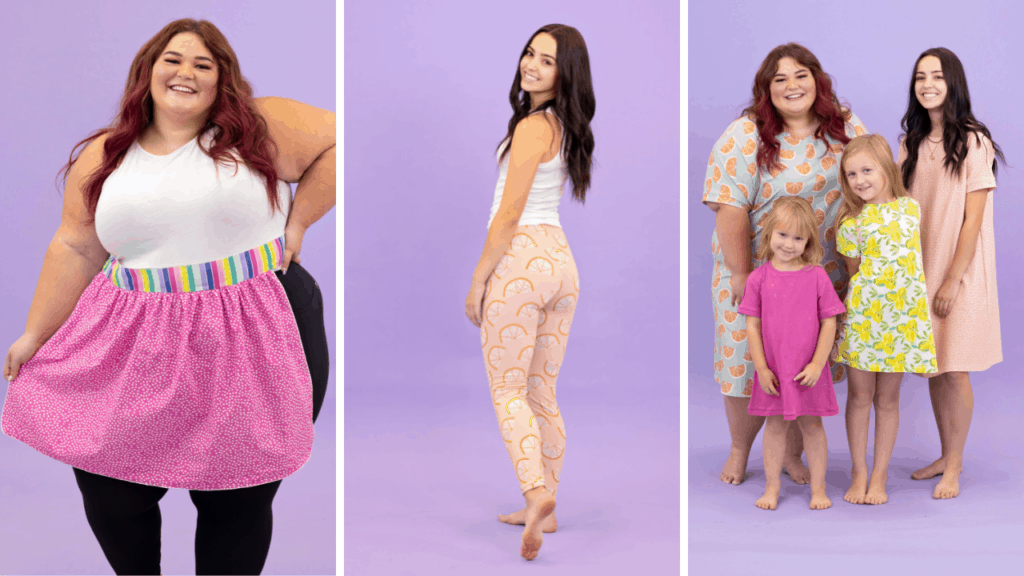 Once enrolled in this serger course, you can work through the video course at your own pace. If you are feeling overwhelmed, simply hit pause and take a break. With full, lifetime access to the course, there is no need to rush through complicated topics.
And, if in a year from now you need a little refresher, simply open your course back up and dive right in!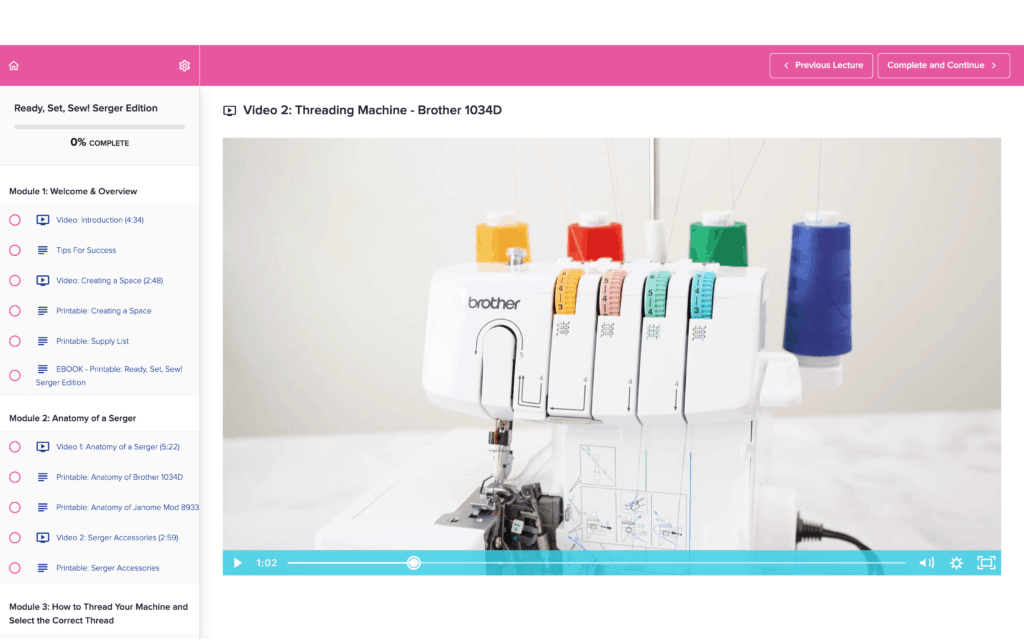 Join us in Ready, Set, Sew! Serger Edition today!
Ready, Set, Sew! Serger Edition includes over:
40 Videos
30 Printables
16 Modules
5 Projects
Size Inclusive Patterns
185 Pages of Exclusive Serger Information
Access to an Exclusive, Students-Only Facebook Group
Full Lifetime Access
And a No Stress Enviroment Where You Can Learn at Your Own Pace
Learn How to Use a Serger!
Organize your sewing space to make it inspiring and accessible.
Identify the different parts of your machine and learn what they do.
Choose the perfect thread based on your stitch and fabric.
Learn how to correctly thread your machine.
Achieve the perfect stitch by controlling for tension, differential feed, presser foot pressure, stitch width and stitch length.
Learn five basic stitches: 4-thread overlock, 3-thread overlock, 3-thread rolled hem, lettuce edge, and flatlock stitch.
Create decorative stitches using decorative threads with your serger.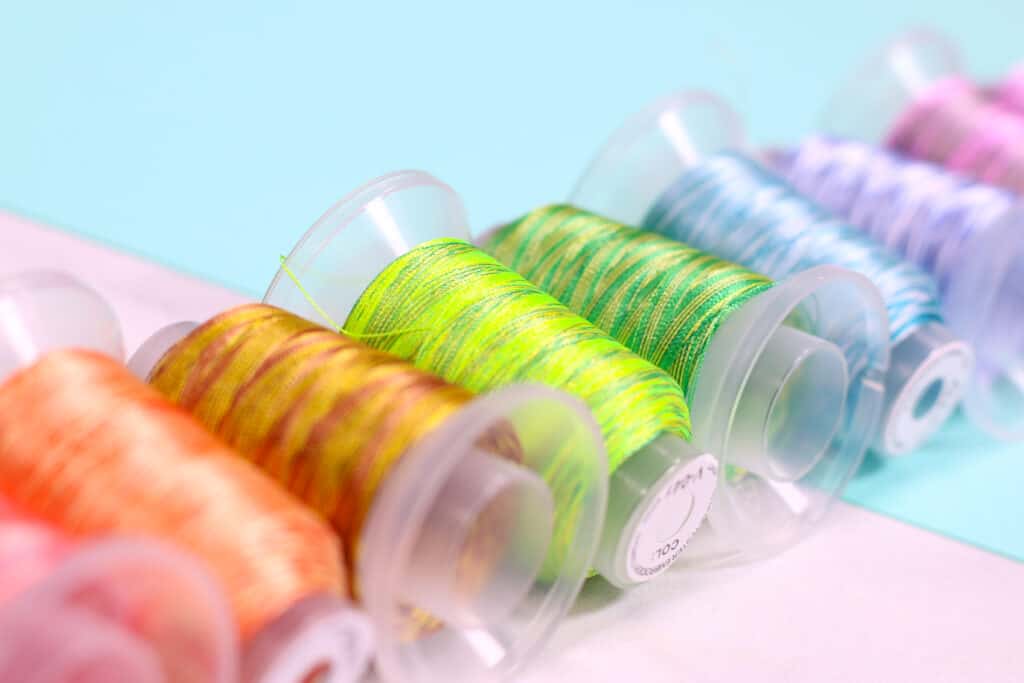 Master basic serger techniques like finishing your stitch, turning corners, and serging circles with my favorite tips and tricks.
Understand how to properly care for your serger.
From broken thread to a noisy machine, learn how to identify and fix common serger problems.
Learn how to properly prepare your PDF pattern and fabric, as well as take accurate measurements for the perfect fit.
Create stunning ruffles and a professional-looking rolled hem while sewing an apron.
Create an adorable boxy bag with this easy-to-follow tutorial. Learn how to successfully serge a zipper.
Create a professional-looking infinity scarf with a rolled hem.
Make a stunning and simple t-shirt dress in this easy-to-follow tutorial.
Create your very own pair of leggings while learning a few of my tips and tricks for serging with knit fabrics.
Discover everything your serger has to offer by exploring different presser feet options.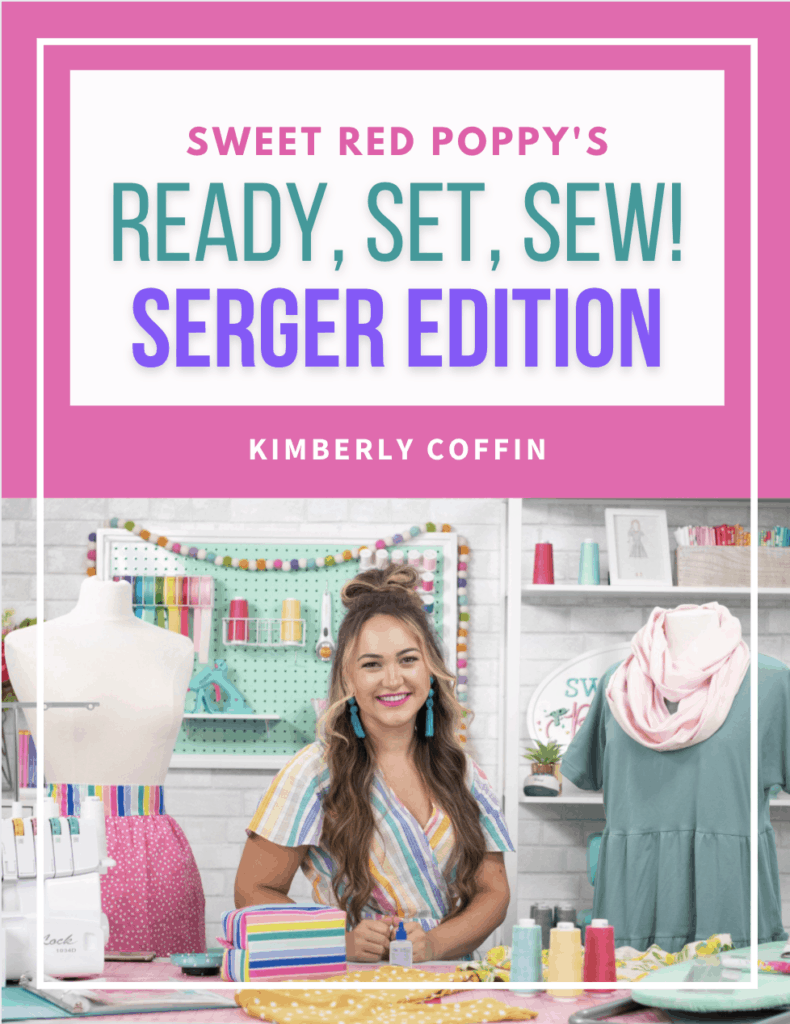 Whether you are a new Serger owner, don't have a Serger yet, or have had a Serger for years, join me in my exciting online Serger course, Ready, Set, Sew! Serger Edition! I'm excited to see you soon.
Get your Free Serger printable downloads below! It's a FREE gift from me to you!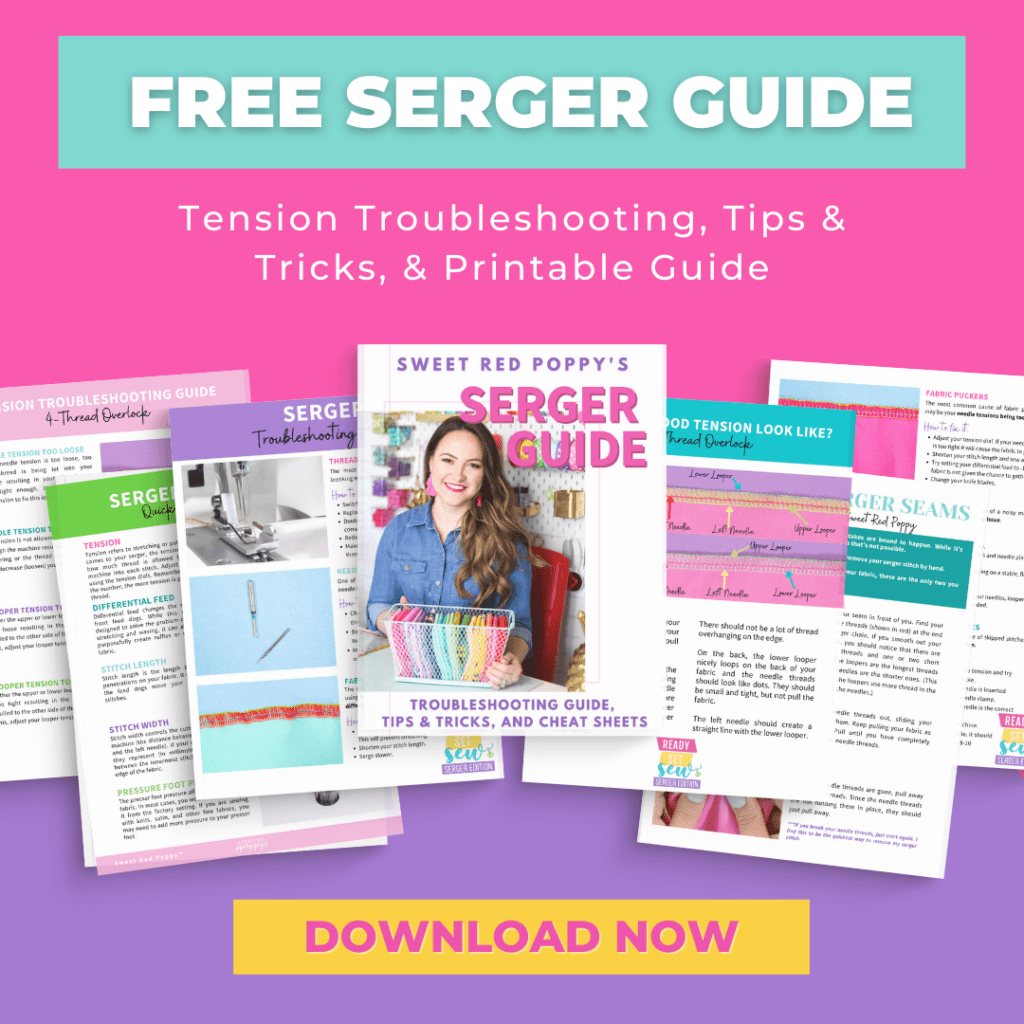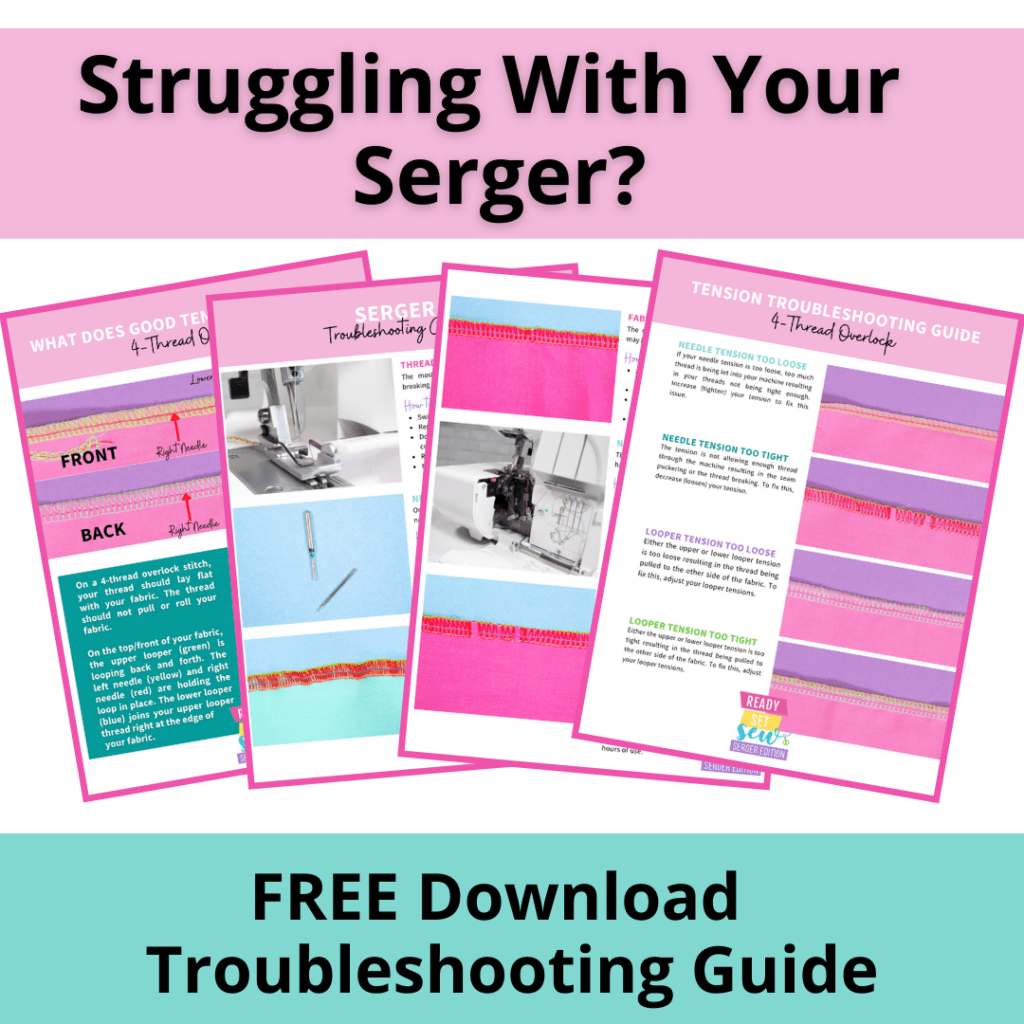 Looking for our Sewing Course as Well?
You can now purchase both Ready, Set, Sew! And Ready, Set, Sew! Serger Edition together as a bundle for a discounted price!
Click here to get the bundle!
Do you have questions? Post them below!