Learn all about Glowforge Aura™ the first-ever Craft Laser™ from Glowforge®. Find out what it is and how to use it in this blog post!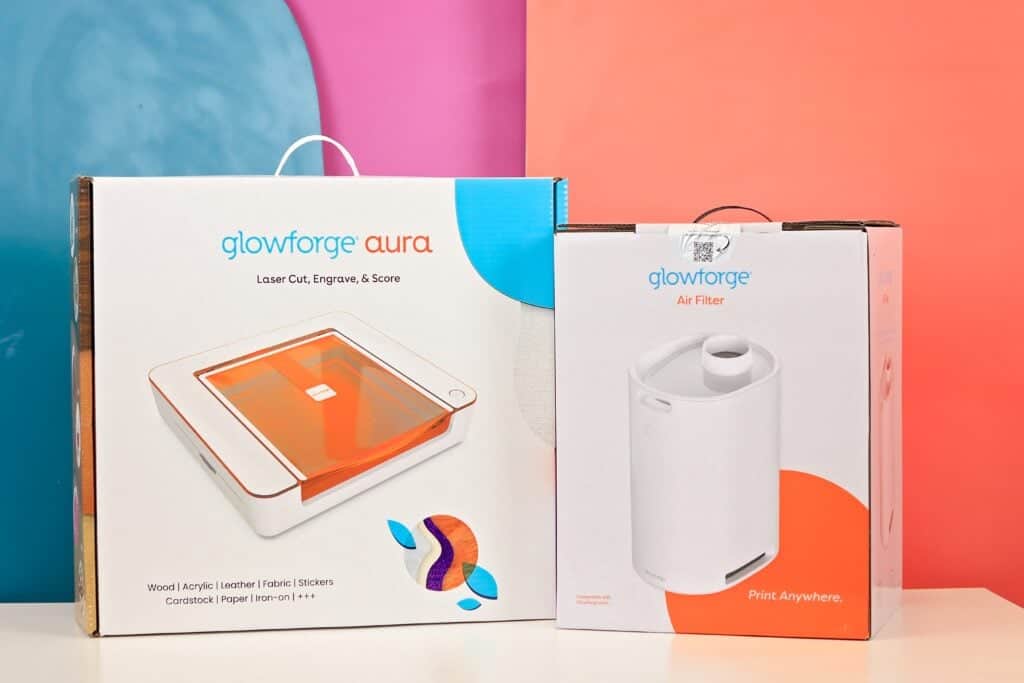 I'm so excited to announce Glowforge's new laser cutter, the Glowforge Aura™!
The Glowforge Aura is a Craft Laser™ from Glowforge. The power of this laser is far more powerful than a blade and it can cut intricate, detailed designs in a precise way. No blades or mats are required!
This is a sponsored post written in partnership with Glowforge®. Glowforge provided me with this machine in order to review it. All thoughts and opinions are my own.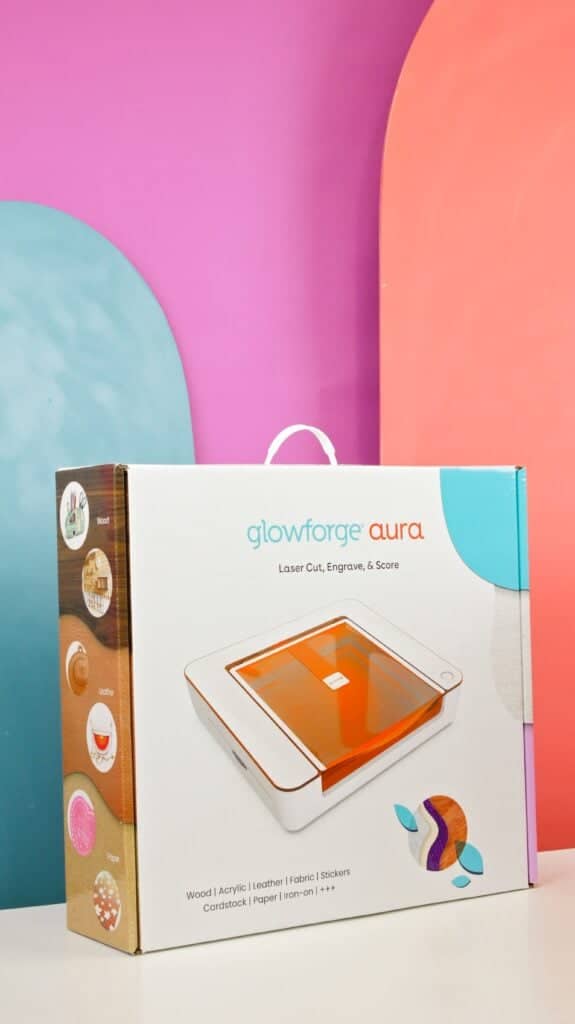 If you're an experienced designer or an aspiring maker or want to start a small business, you're going to love this machine!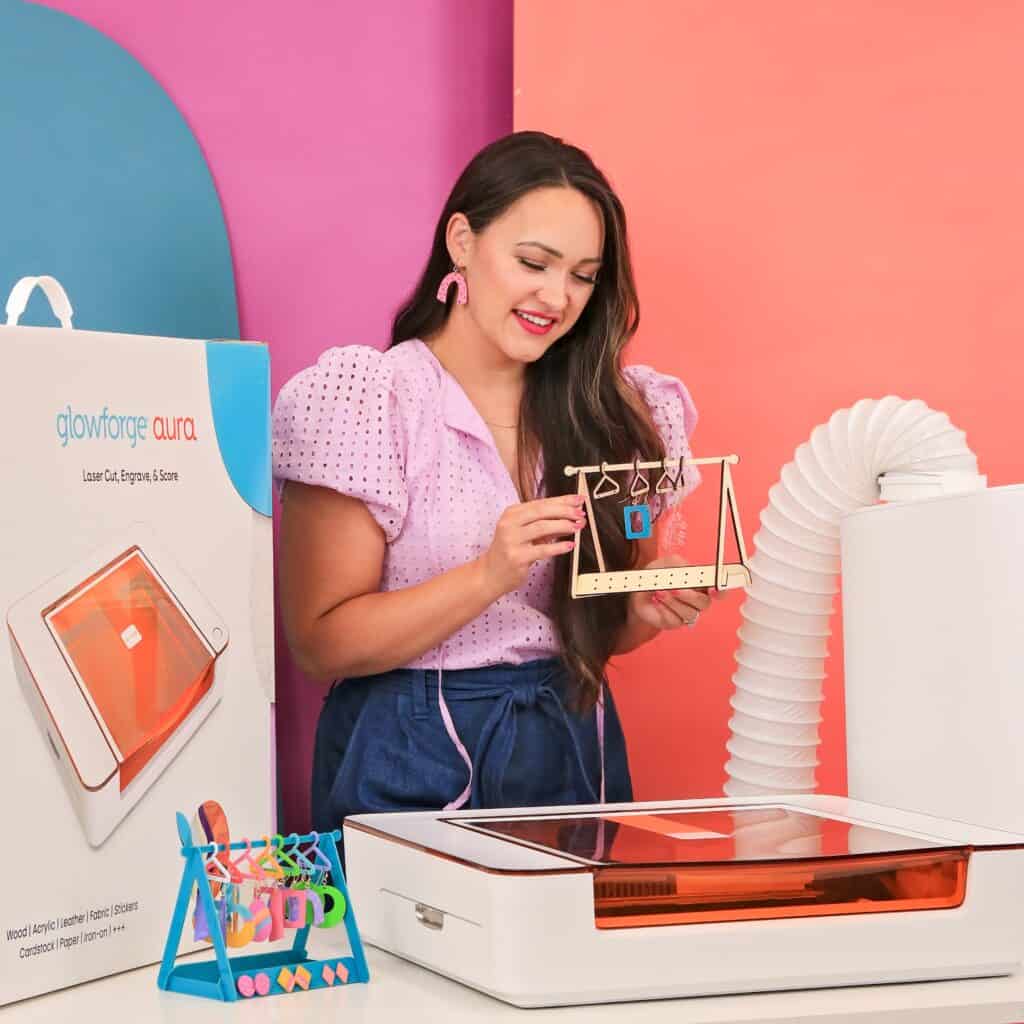 What Can the Glowforge Aura Machine Do?
The Glowforge Aura machine can cut, score, and engrave.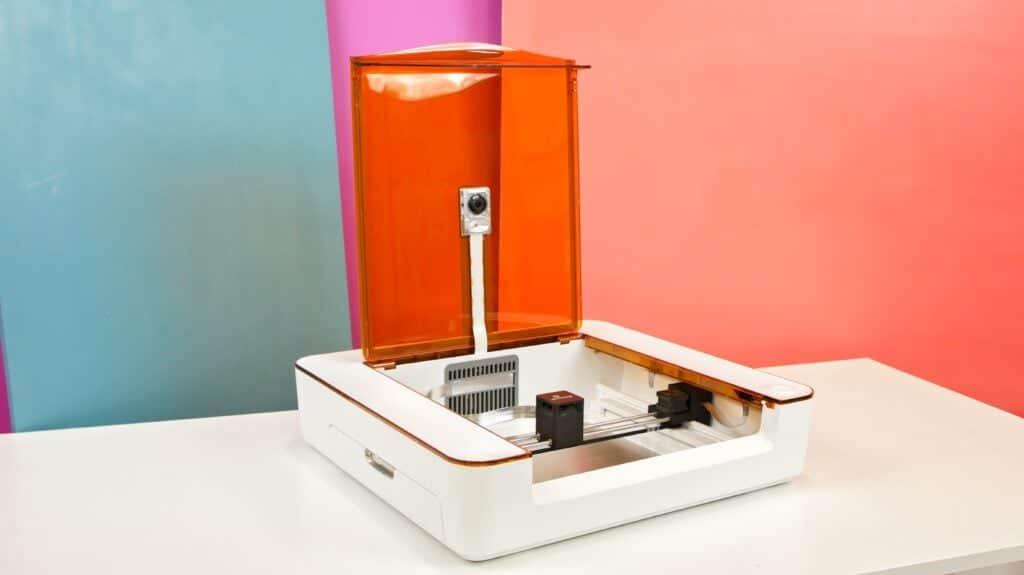 Cut: The Aura's laser can cut all the way through a 1/4" thick material.
Score: The Scoring process is similar to drawing on material with a pencil.
Engrave: Engraving carves away the top layers from the material to create contrast and add depth to your projects. It can engrave images such as photos, logos, or JPEGS.
The best part? This machine doesn't need any blade replacements or mats!
I made an adorable earring display using this machine! You'll see the final product later in this blog post.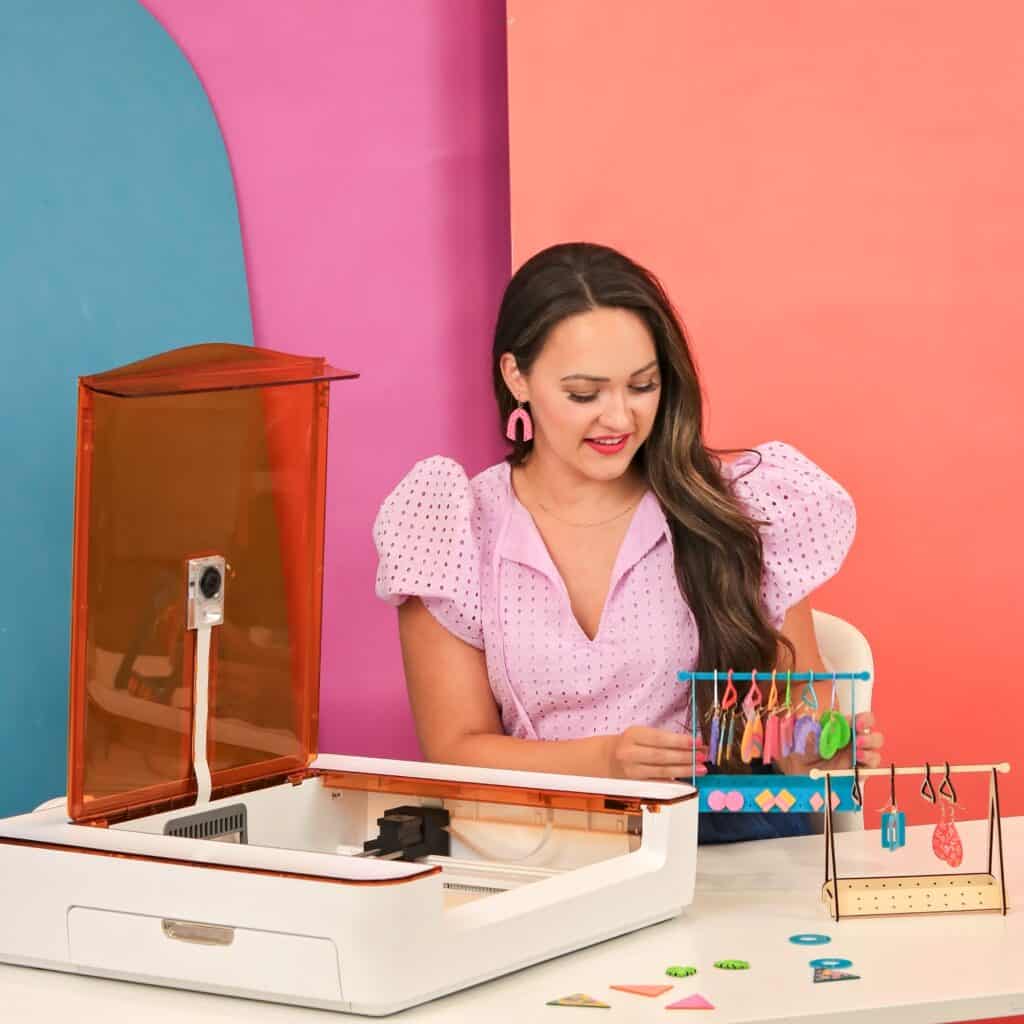 Unboxing- What's Inside?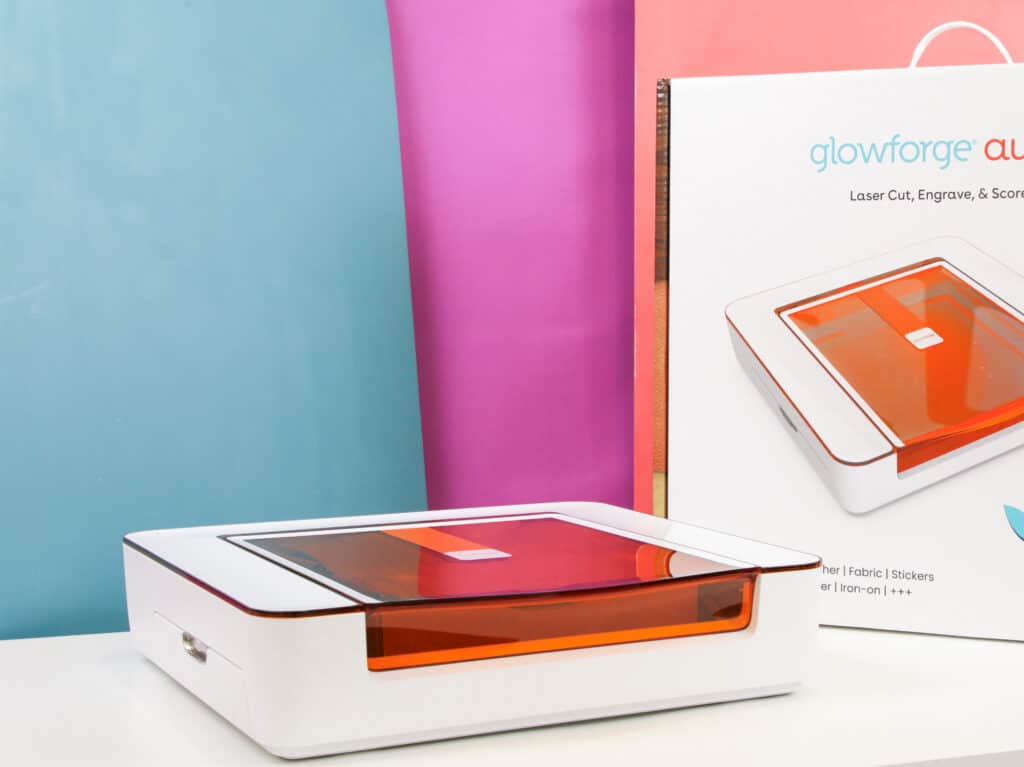 Protective Foam Packaging
Laserhead
Glowforge Aura
Power Cable
Vent Hose
Cutting Tray- Inside a Cardboard Sleeve
Laser Head Features
Fan
Head Body
Carriage & Rails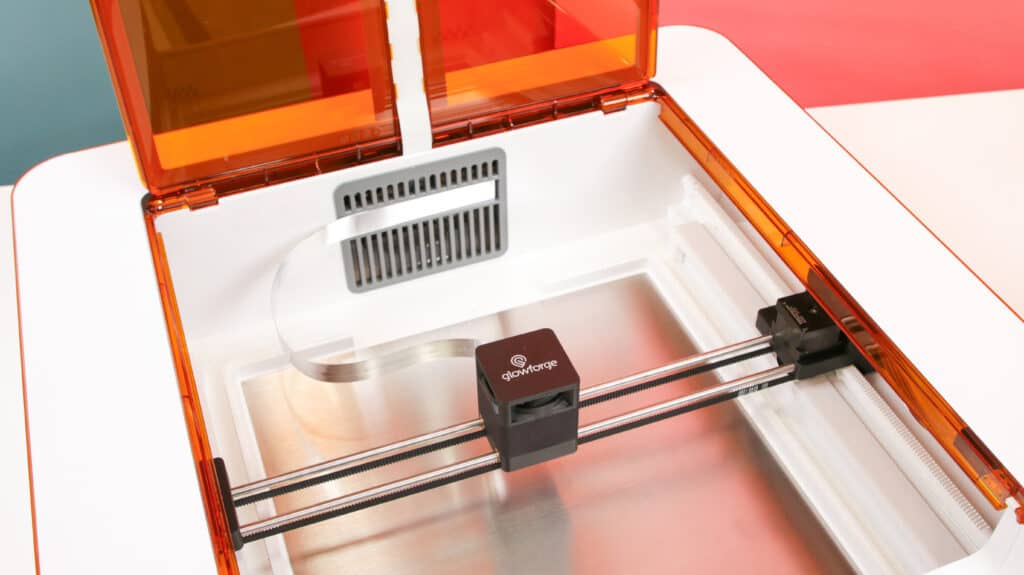 This laser is a Diode laser- One of the most common lasers used in the laser cutting world. It's a semiconductor containing p-type and n-type materials. When these two materials join, they form a junction; and from this junction, a laser is emitted.
Laser Head Characteristics:
Wavelength: 450nm (metric unit) CW
Internal laser power: less than 6000 milliwatts peak
Beam diameter: 0.1mm
Original laser beam is .2 mm
Beam divergence: 9mRad
If you're wanting to start a small business, this laser is for you. This laser is able to cut through many materials and is a great way to join in on the laser-cutting world of creativity!
Compatible Materials
The Glowforge Aura machine is compatible with hundreds of materials offering you limitless creativity!
Glowforge provides Proofgrade® materials that measure 12" x 12", are 100% compatible with this machine, and are laser-ready.
What sets the Proofgrade materials apart is how they are designed to be laser-ready with a useful QR code on the front of the material. The machine is able to read this QR code and automatically adjust its settings for perfect results. No need to play the guessing game! Just place the material into the machine with the QR code facing up, close the lid, let it scan, and begin the cut with perfect precision.
Glowforge Proofgrade materials are also covered in protective masking that can be taken off once the machine is done printing, so your projects are clean and burnt-mark free!
Pro Tip: An awesome pro tip from Glowforge is to use duck tape to take off the protective masking by sticking it onto the laser cut-outs and peeling it off to reveal the material.
Here is a list of Proofgrade compatible materials:
Acrylic- non-translucent
Thin Natural Leather
Iron-On
Wood such as Hardwoods, Plywoods, and Veneer.
One thing to note about this laser is that it can't cut through clear or translucent materials. You might be wondering, why? Because, a diode laser emits blue light, and this blue light can travel through the translucent material without making a difference.
You also want to ensure that you are using compatible materials because reflections could occur and damage the unit.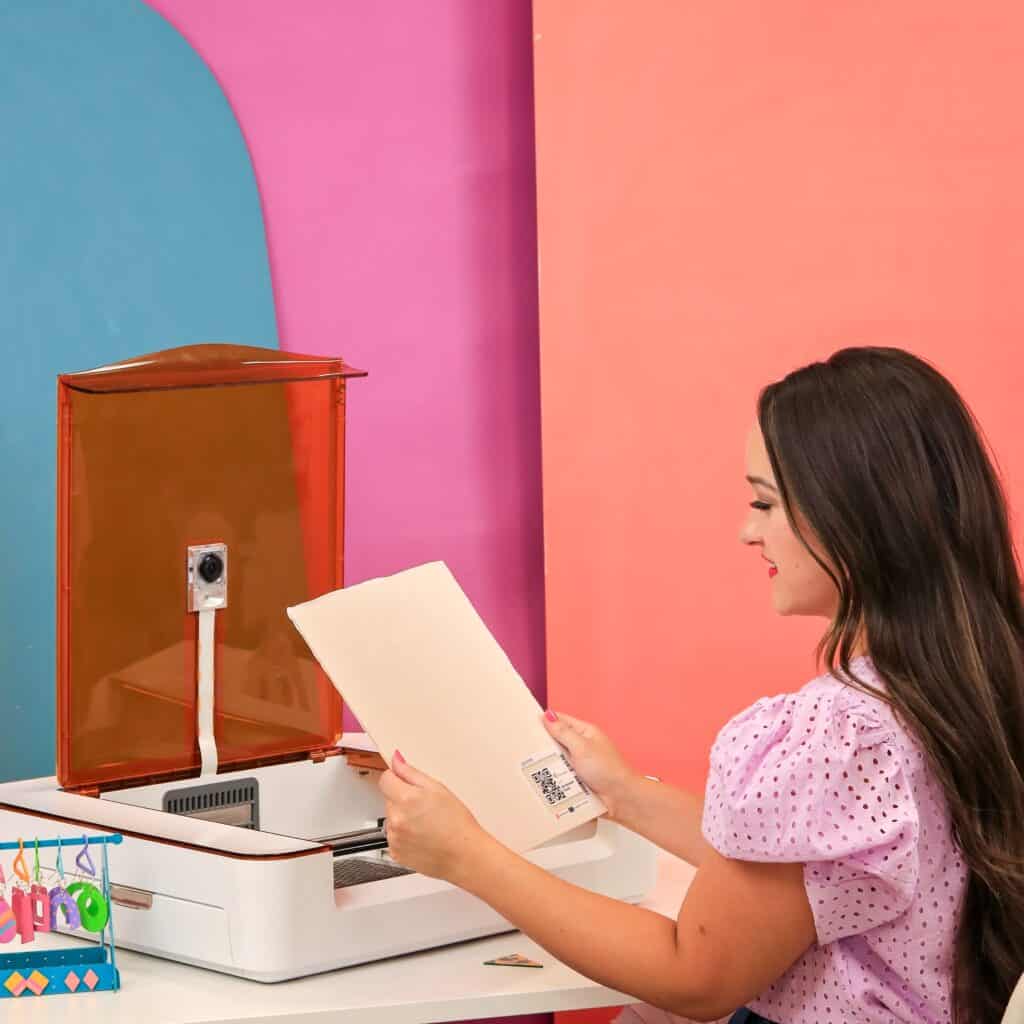 Non-Compatible Materials
Acrylic- Clear, white, or translucent variations
Chromium-Based Materials- for example, make sure your materials don't contain Chromium.
PTFE/Teflon-Based Materials
PVC-Based Materials
PVB-Based Materials
Beryllium Oxide
Compatible Devices
Macs, PCs, Tablets, and Phones are all compatible with the Glowforge Aura Machine.
Glowforge App
In the Glowforge software (browser-based app not a downloadable app), you are able to preview your designs on materials using the Aura Vision™ before printing- which definitely comes in handy! Learn more about Aura Vision down below!
The browser-based app is also free! You can create designs with the software you have or use the images, fonts, tools, & catalog designs (I talk more about the catalog below) Glowforge Premium provides!
What's Aura Vision™?
Aura Vision™ is an Onboard 8-megapixel camera. It lets you position your material exactly where you want it- all thanks to the live camera preview.
Glowforge Premium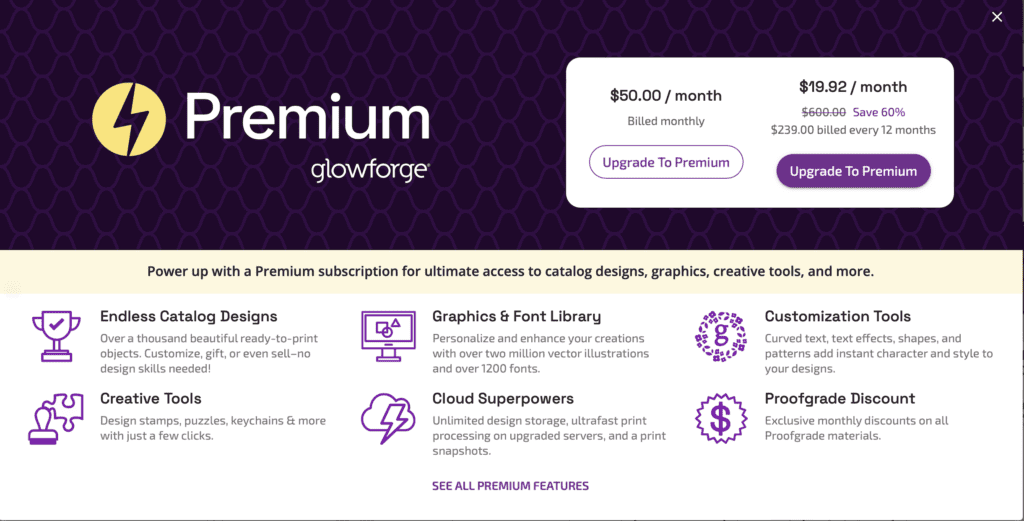 Glowforge Premium is an optional upgrade to Glowforge's free print software. It offers free designs, features, and tools. Plus, you can get early access to these features before anyone else!
One of the features that comes with Glowforge Premium is the Magic Canvas. Magic Canvas is an Ai tool- just type in a description and quickly turn it into art!
Glowforge Catalog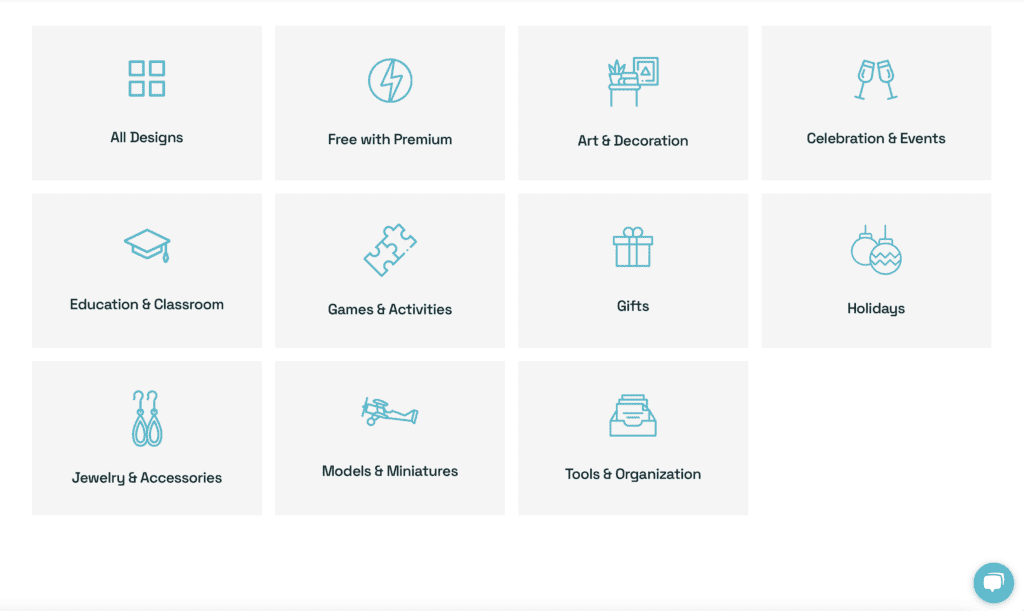 The Glowforge Catalog features a collection of ready-to-print designs in sectioned categories such as Games & Activities, Jewelry & Accessories, and Education & Classrooms. It also includes thousands of creations to pick and choose from! It's quite user-friendly if I do say so myself.
Compatible Softwares
Illustrator, Photoshop, even Google Slides, and Powerpoint are compatible with Glowforge's software!
What Can You Make With Glowforge Aura?
Earring Display
This earring display measures 4.5" x 7" x 5.5" and comes with the cutest hangers with two circle cutouts to hang your earrings from!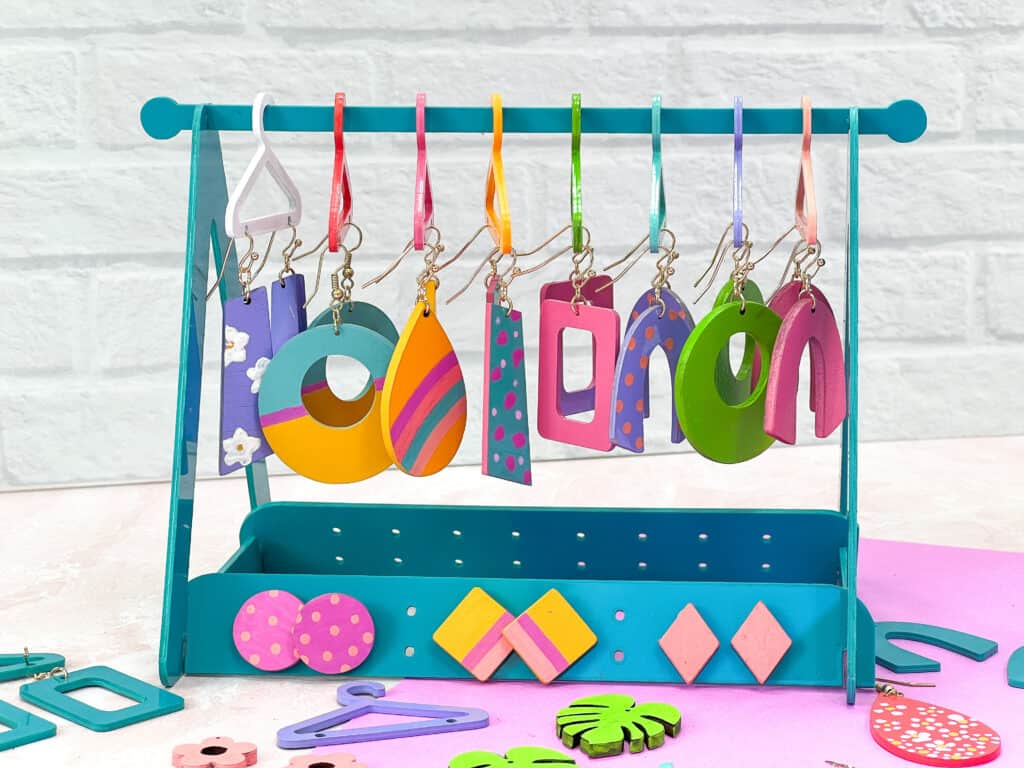 I designed this earring display in Adobe Illustrator, uploaded it to the Glowforge app, and cut it out using the Glowforge Aura.
The display is made out 100% compatible, Proofgrade, teal acrylic material Glowforge provides, and all the earrings were cut by the Glowforge Aura as well.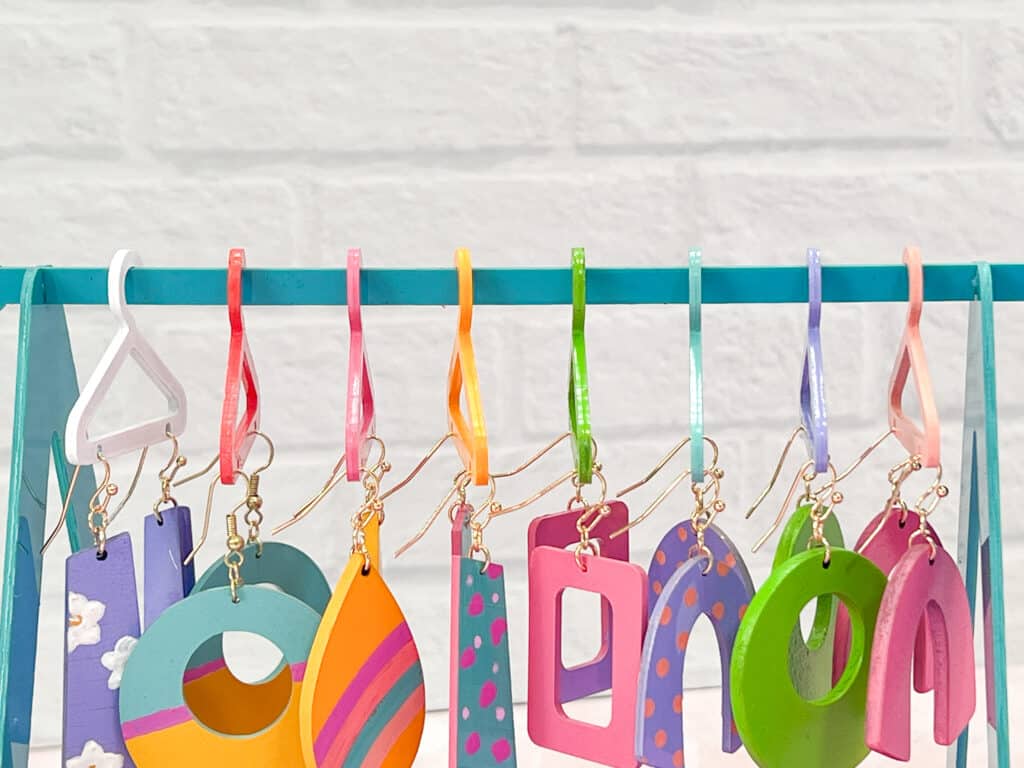 The cutting process took about 40 minutes but went by quickly because I used that time to paint the earrings.
I hand-painted the earrings and hangers with paint markers and spray paint after they were cut to make everything really pop!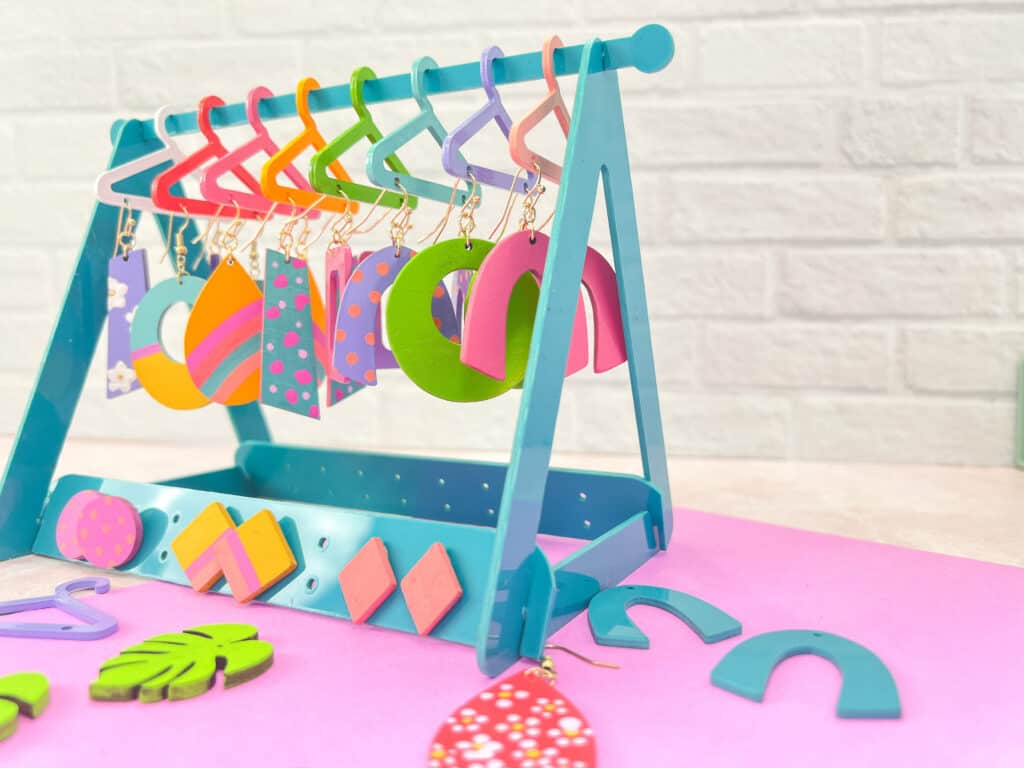 I had an absolute blast turning a 2-D design into a functional 3-D object using Glowforge's Aura Laser Cutter. It's a creative dream come true!
Download the FREE Earring Display SVG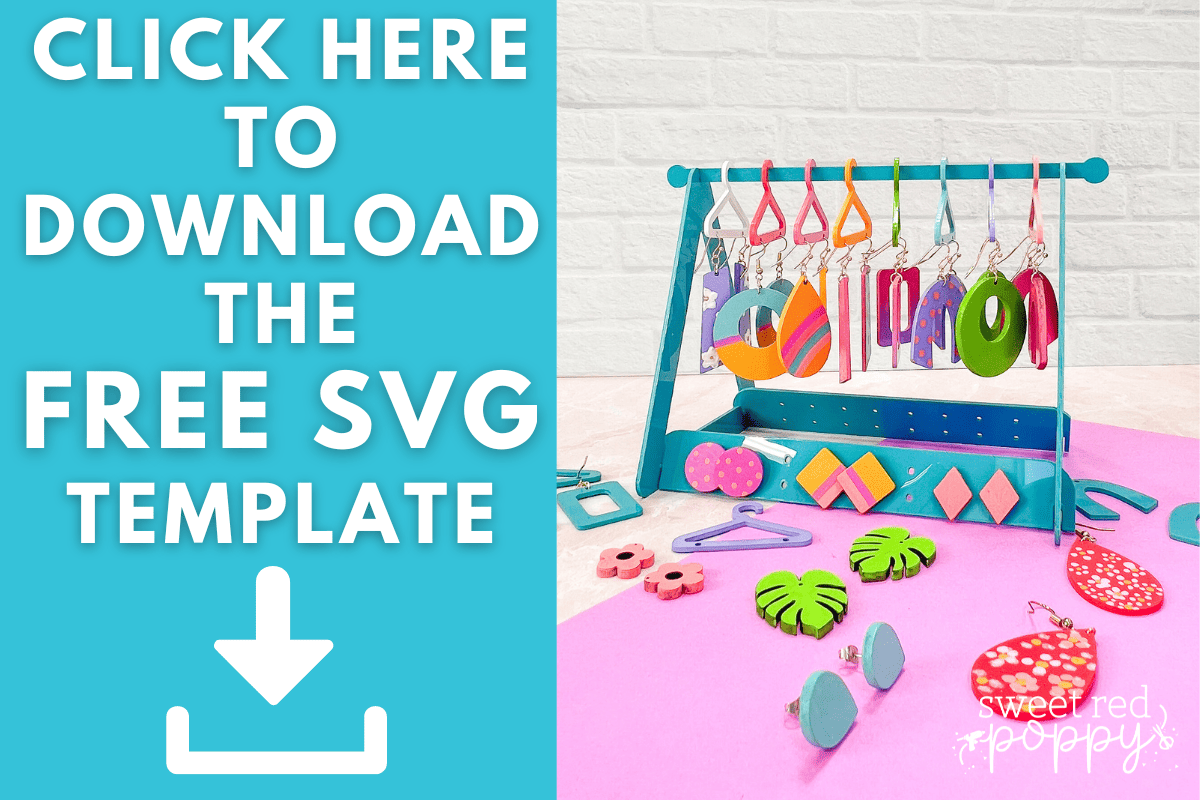 If you would like to make this earring display, you can download the FREE SVG files here. There are two files, one for the Glowforge acrylic and one for the Glowforge wood.
This machine is impressive and is a great machine to have if you are a small business owner or an aspiring designer and crafter!
Do you have questions about Glowforge Aura? Post them below so I can answer them!
Shop Glowforge Aura by clicking here!