Say farewell to paper patterns, endless printing and taping, and hello to the latest in sewing tech, the Ditto sewing pattern projector!
Thanks to JOANN for sponsoring this post and sending me a Ditto projector to review.
In this post, I'll share everything you need to know about a Ditto pattern projector as well as a few projects I've made for myself and my daughter.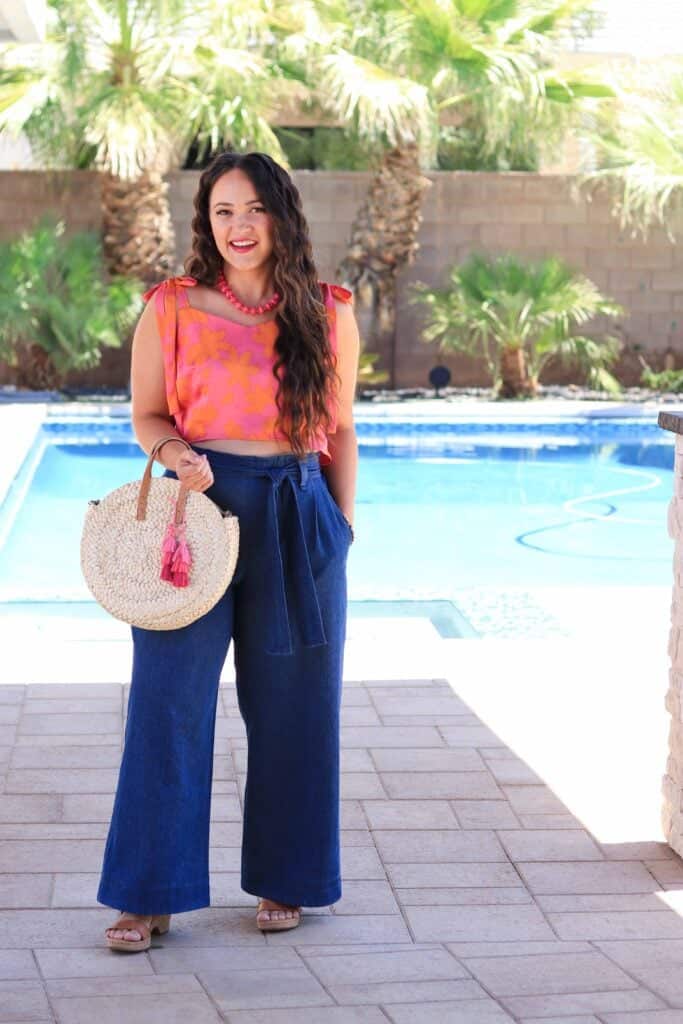 What is Ditto?
Ditto is both a software app and a sewing pattern projector designed to make cutting fabric easier than ever before. Ditto software allows you to input body measurements to create a customized sewing pattern for a perfect fit that's tailored to your unique body.
How Does Ditto Work?
The Ditto pattern projector works by projecting an outline of your sewing pattern cut lines onto your Ditto cutting mat. This makes the cutting process "seamless." See what I did there? 😉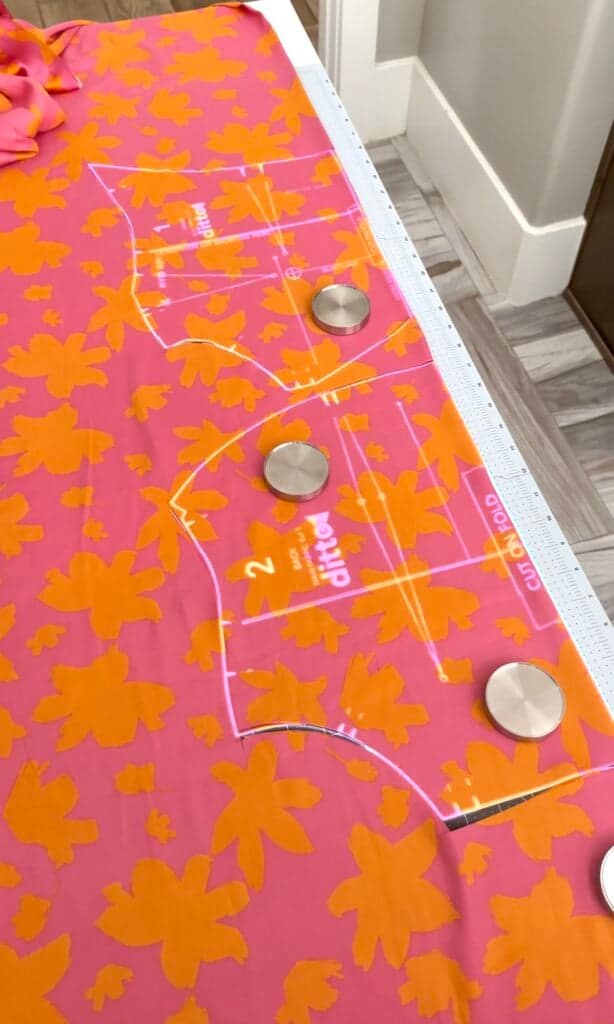 Here's a quick overview of the process.
Step One: Select and Customize Your Pattern
Use the Ditto software to select your desired digital sewing pattern. Be sure to enter your measurements for the best possible fit.
Step Two: Launch the Ditto App
The Ditto App is compatible with a variety of different devices and systems. Launch the Ditto App and connect the projector. Then select your pattern within the app. Customize the pattern by changing the length, neckline, or sleeves for a totally unique pattern.
Step Three: Project Then Cut
Once your pattern is selected project it onto the mat, and cut the fabric along the illuminated guidelines.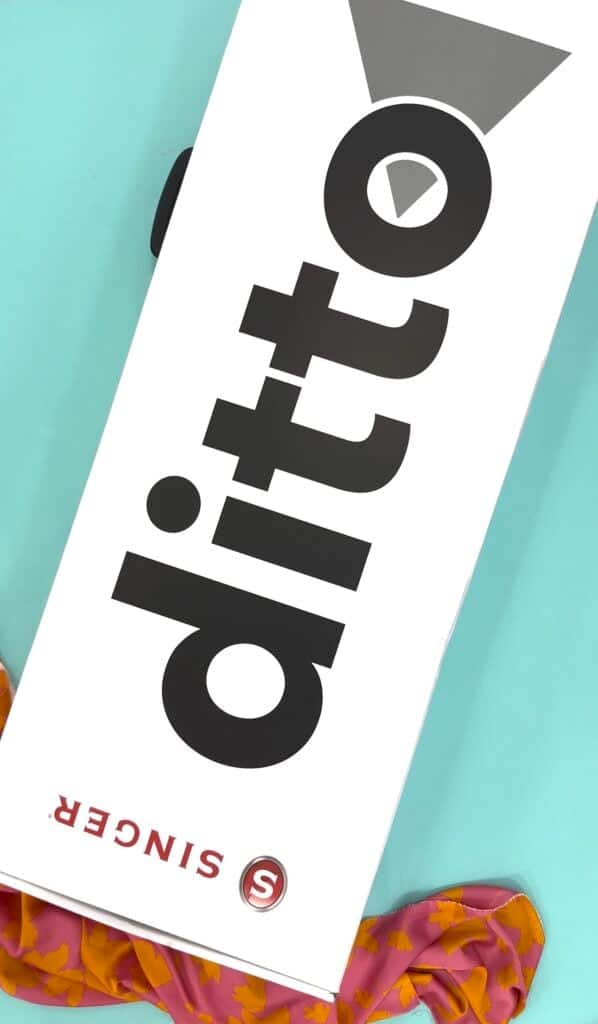 Why is Ditto Better Than a Traditional Sewing Pattern or Printable PDF Pattern?
Ditto eliminates the need for paper patterns. If you've ever printed off 50+ pages, trimmed down the edges, laid them all out in order, taped them together, and cut out the pattern pieces you know the struggle is real! 😅 As a sewing pattern designer myself, I know this process all too well!
Ditto allows you to store all of your patterns virtually in one easy-to-access location. It also allows for the customization of Ditto branded patterns to enable you to get the perfect fit for your unique body.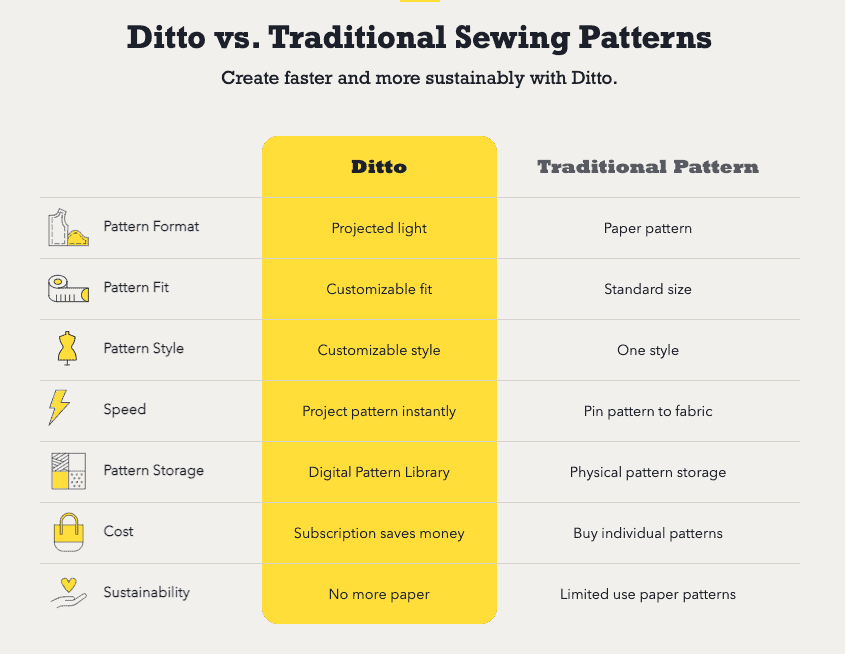 What Comes With the Ditto Projector Purchase?
Included in the box:
Ditto Projector
3 Set Up Beams
6x24 Inch Cutting Mat
Rotary Cutter
½ lb. Fabric Weights (x4)
Pattern Target Stickers
Power Cord
Level
Cord Covers
How Much Does Ditto Cost?
Currently, (as of July 6th, 2023) a Ditto Pattern Projector costs $799. Joann offers 4 interest-free payments of $199.75 through Klarna.
Click here to purchase a Ditto.
*Ditto products are excluded from JOANN in-store and online coupons.
Does Ditto Require a Subscription?
You will want a Ditto Patterns Subscription to get the most out of your projector. This will give you free access to all of the Ditto branded patterns, the ability to add patterns to your library, and access to measurement profiles.
You can choose from the Monthly plan priced at $9.99 per month or select the Annual Plan priced at $99.99 a year.
Keep in mind that every Ditto comes with 3 months free by scanning the QR code on your Ditto box.
Who is Ditto Made By?
Ditto was made in collaboration between Singer and JOANN. Development of Ditto began in 2019 and took over three years. It's been thoroughly tested to ensure you get the very best results!
Where Can You Purchase Ditto?
Ditto pattern projectors are available for purchase at JOANN online and in-store.
What Brands of Sewing Patterns Does Ditto Offer?
Currently, Ditto offers patterns from Butterick, Kwik Sew, Liesel + Co, Little Lizard King, Madalynne Intimates, McCalls, Named, New Look, Style Arc, Straight Stitch, and Simplicity. Ditto also offers their own line of Ditto branded patterns.
Are All Patterns Sold by Ditto Customizable?
No, as of right now only some of the Ditto branded patterns have the option to customize the fit with unique measurements as well as the style of the pattern. Patterns sold by Indie brands are not customizable through Ditto, currently.
However, I've really enjoyed using the customization feature on the Ditto branded patterns. Below is an example of a customizable pattern.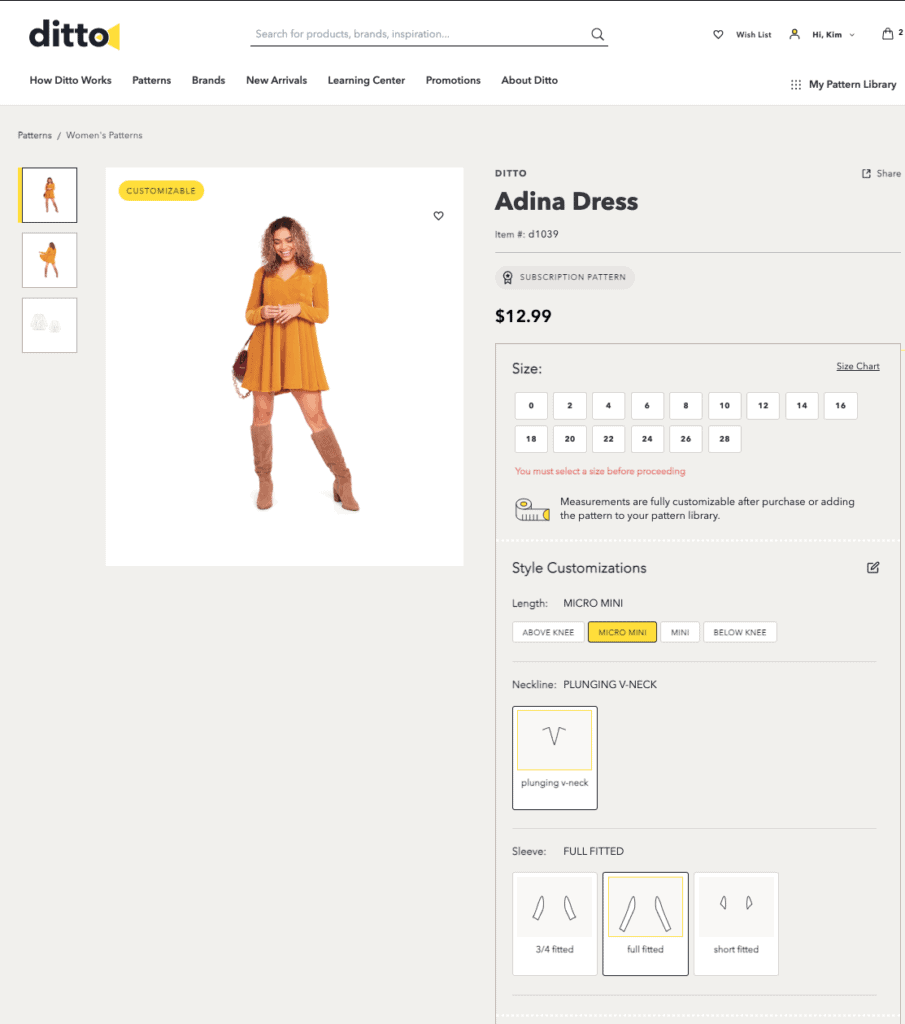 How Does Ditto Customize Patterns To Fit You?
Within the Ditto platform, you can use the Measurement Profile to create customized profiles for each person you wish to sew for. Simply select "Create New Profile", and enter the name, gender, and standard size. Next, you'll be asked to take 17 custom measurements to ensure the perfect fit.
Each measurement comes with a guide to ensure you're measuring the correct area which I found really helpful! Having all of your measurements in one spot is AMAZING!! You can even create multiple profiles which is helpful if you like to sew for other people.
Can You Upload Your Own PDF Patterns to the Ditto Software?
As of right now (July 6th, 2023) you can NOT upload your own PDF patterns to be used with the Ditto software and projector. Ditto has released several statements saying that this functionality is coming soon! I'm hopeful for this as I have an extensive PDF library I'd love to be able to use with my projector.
How Does Ditto Calibrate a Pattern?
Calibration is the process of removing distortion or skew for an accurate pattern projection. You need to calibrate the Ditto system every time the product has been moved or taken down, if the beam is accidentally knocked out of place, or a different mobile device is used for the Ditto app.
To calibrate, set up the Ditto projector, connect to wifi, and select Calibrate from the app. Take a photo of the white outline and the Ditto app will calibrate the pattern.
What are the Cons of Ditto?
Overall, I really enjoyed using the Ditto Pattern Projector, but there were a few downsides that you should be aware of before purchasing to make sure this is the right projector for your sewing space and needs.
Ceiling Height Requirement - The workspace requires a flat ceiling with a height between 7.5 - 10 ft. My house has 13' ceilings so I ended up setting up my projector in a doorway before I realized I could mount it on top of a table. Once I figured that out, I moved it into a much better location.
Projection Limitation - The projector projects the image directly down from where it's mounted. This presents an issue if your table or cutting counter is deeper than the cutting mat. The workaround I found for this was to mount the Ditto Projector on top of my tabletop so I could scoot it closer to myself.
Splicing Can Be Tricky - If you plan on cutting out a large-sized pattern like a dress or pair of pants, you might find it difficult to use the Splicing feature. I found Splicing worked really well with my thicker, heavier-weight fabrics, but it was tricky to use with fabrics with stretch or slinkiness.
Small Mat - The small size of the cutting mat left me wanting more cutting space. I'm used to using a 36"x59" mat so downsizing took a little getting used to.
What's Coming Soon?
The ability to upload your existing PDF patterns to your Ditto projectors is already in the works!
Sizes of Ditto's customizable patterns will be increased from size 28 to size 36 for women and size 52 to 64 for men. As a pattern designer myself, inclusive sizing is very important so I'm looking forward to seeing this update!
New Ditto patterns are added each month as well as additional independent designers and partners.
Ditto is currently developing options for sewists to purchase different components of the Ditto system such as alternative options to installing the projector without the beam.
---
Ready to see what I made with my Ditto pattern projector?
I grabbed this fun pink and orange floral Charmeuse from JOANN a few months back, and I've been saving it for the perfect outfit. When my daughter spotted it, she requested matching outfits, and of course, I obliged! It's currently sold out, but I'm crossing my fingers it gets restocked soon.
I also picked up some of JOANN's new Lucky Brand Denim. Did you know JOANN carried Lucky Brand denim? I was pretty excited when I found this on my last trip. It's a great weight for this pattern (4oz) and very high quality.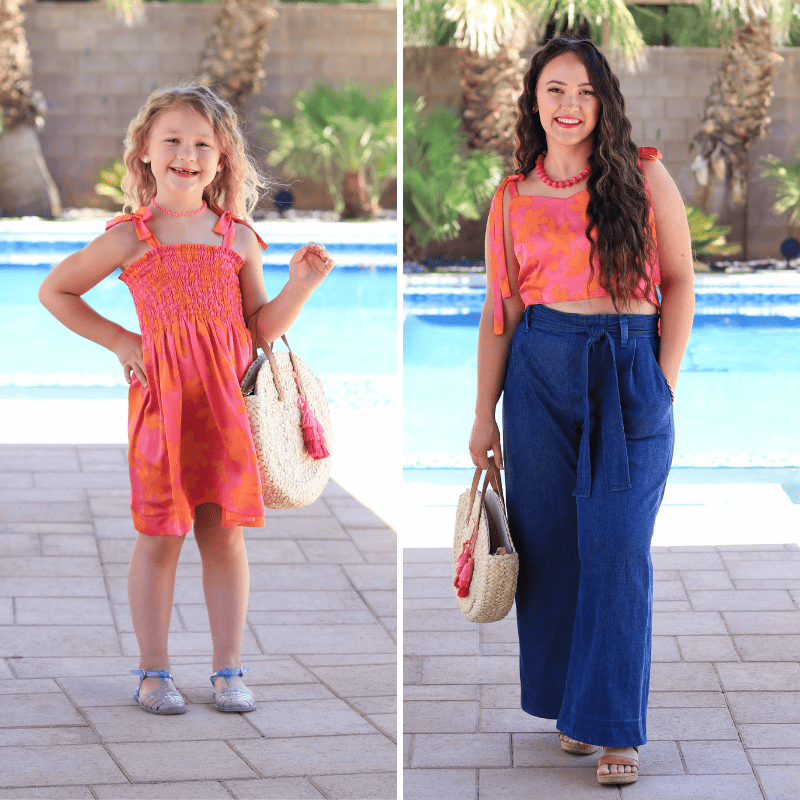 I used the Ditto Victoria Top as my pattern for my crop top and added ties for a bit of drama. I love the look of a romantic bow during the summer months.
For the pants, I used the Style Arc Clare Pant, and I have to gush over how perfectly this pattern fits!! I'm a size 8 chest, 10 waist, and 14 hips so finding patterns that fit me is always tricky. These pants fit like a dream. I shortened the length of the elastic by a few inches to cinch it in to fit my waist but other than that the fit was spot on.
For my daughter's outfit, I used the Style Arc Pippa Dress pattern. It was a super simple sew, and I love how it turned out!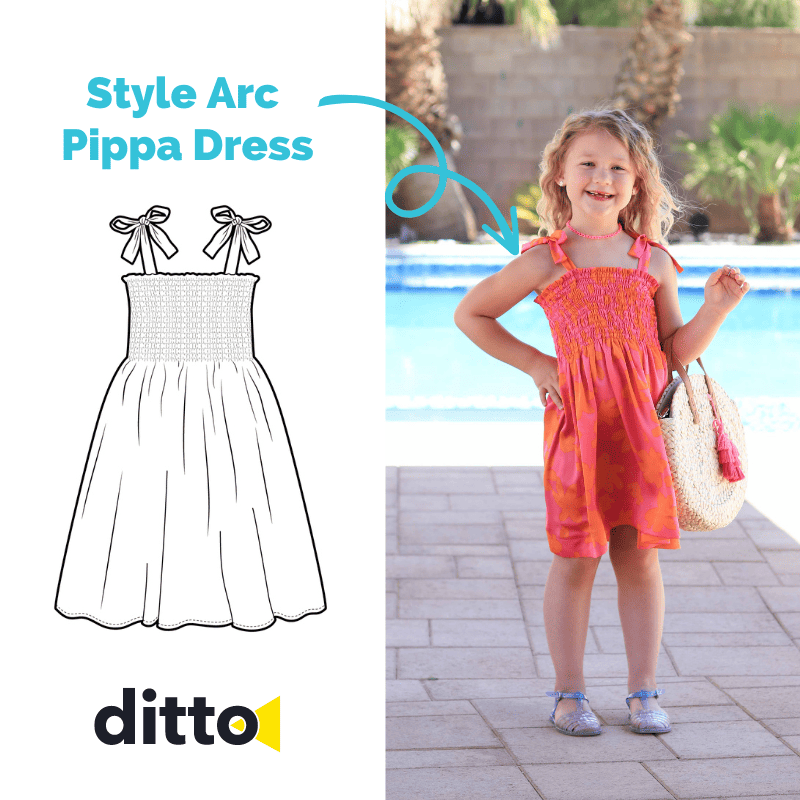 Do you have questions about Ditto? Feel free to drop them in the comments below so I can answer them!
Are you ready to purchase a Ditto Pattern Projector? Click here to shop!
Thanks to JOANN for sponsoring this post and providing me with a Ditto to review.
---
Remember to save this post on your favorite Pinterest board.