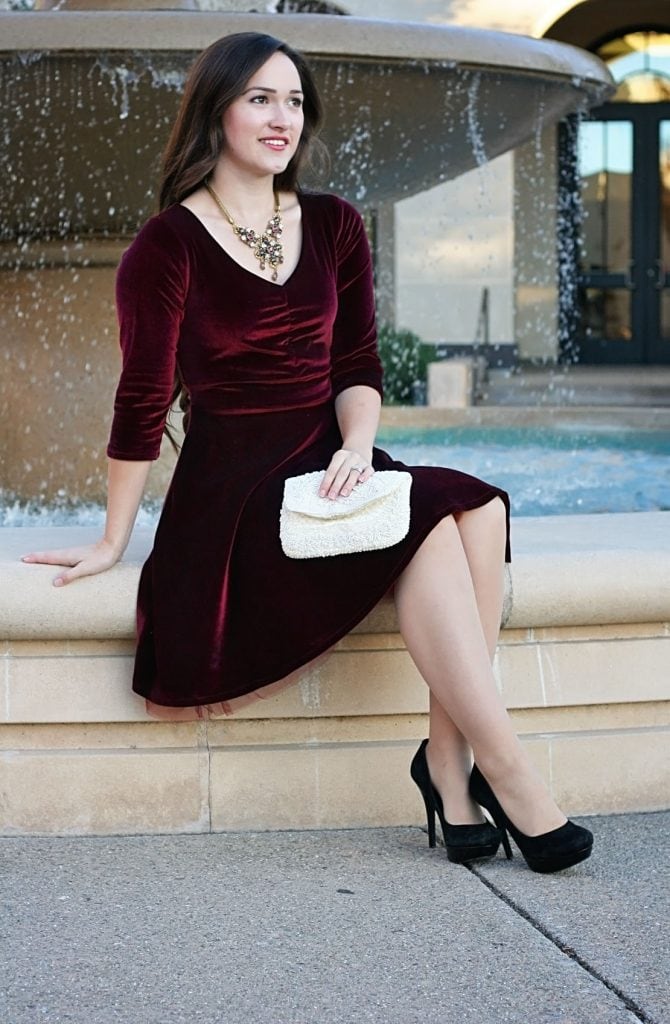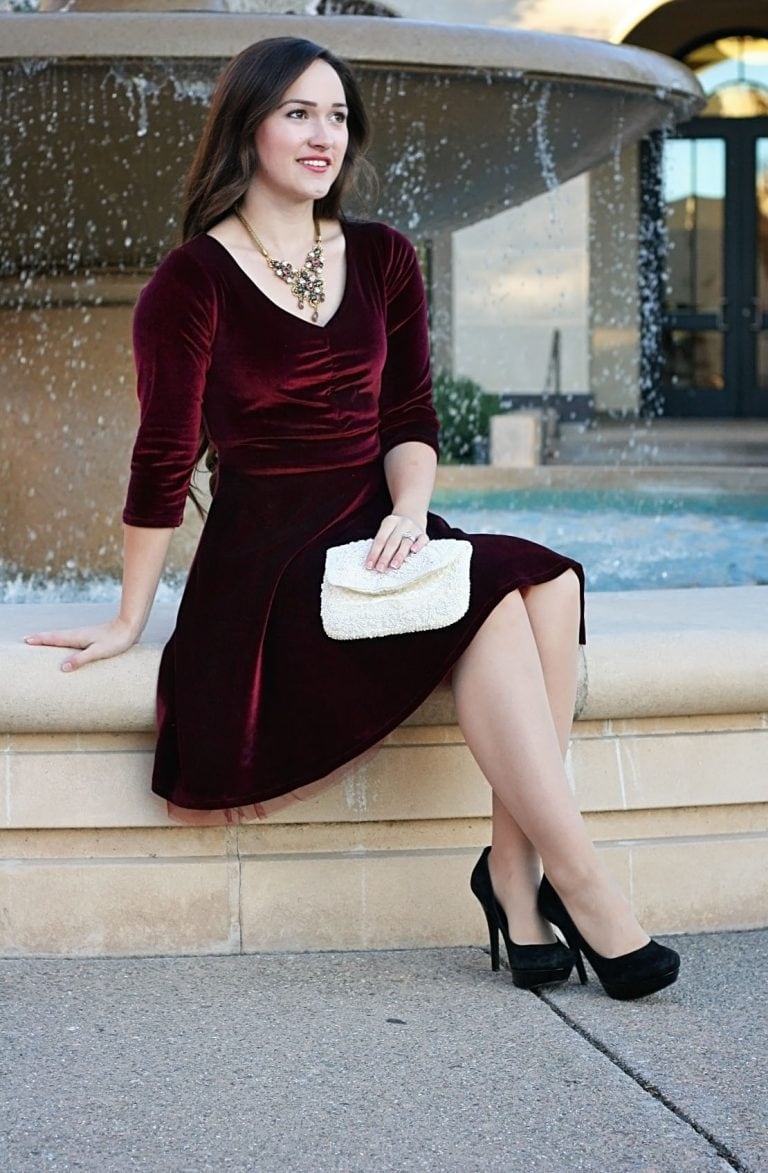 I'm the first stop on the Itch to Stitch Holiday Blog Tour featuring Style Maker Fabrics and I'm so excited to share this outfit with you!
Ever since I saw velvet hitting the runway this year, I've been dreaming up the perfect merlot-colored velvet dress. I wanted it to look like it was straight out of a high-end designer store. The kind of dress I would have found, tried on only to tease myself, swooned over and begrudgingly parted with because I couldn't afford the steep price tag.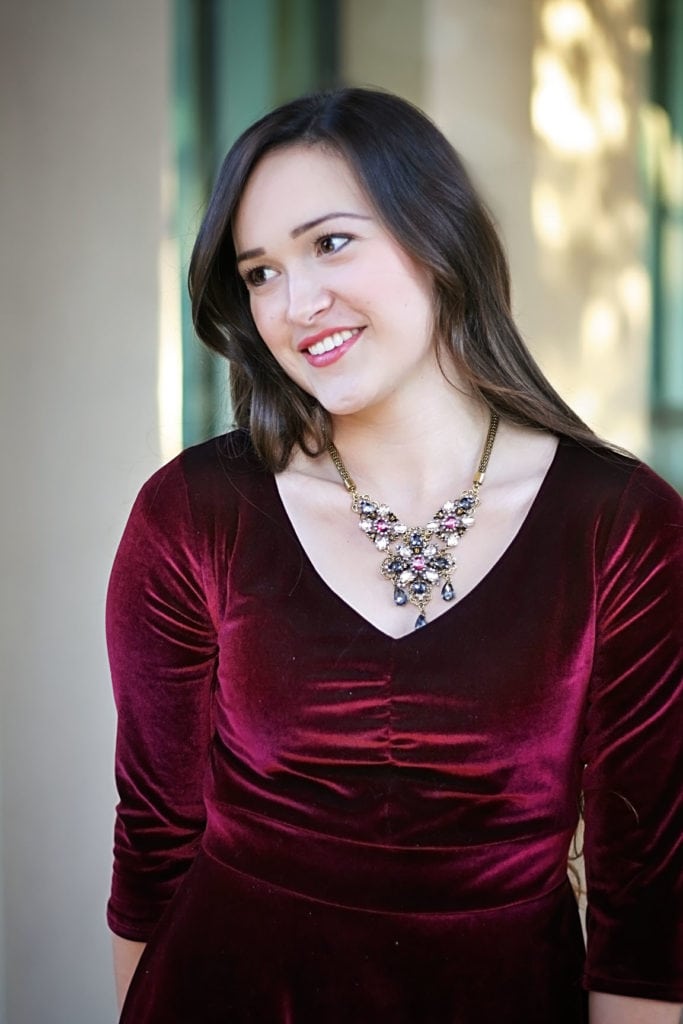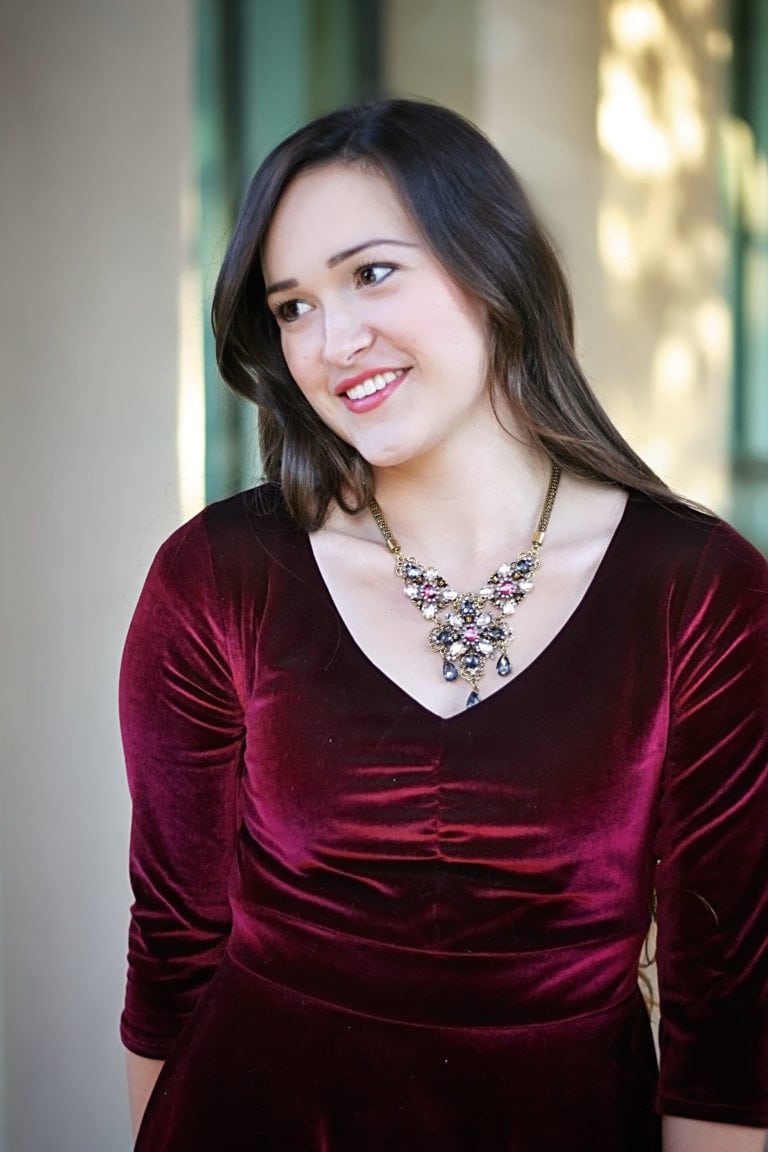 I checked several fabric stores for the right fabric and I went through each selection with a fine-tooth comb, leaving no stone unturned in hunt of the perfect velvet fabric to no avail. I was sorely disappointed in the quality of fabric I came across so I kept on hunting. Then, as fate would have it, the stars aligned and an invite for this lovely blog tour appeared in my inbox. Once I saw that the tour would feature Itch to Stitch patterns and that Style Maker Fabrics would be supplying the fabric, I knew they would have the perfect, high-quality velvet that I was looking for!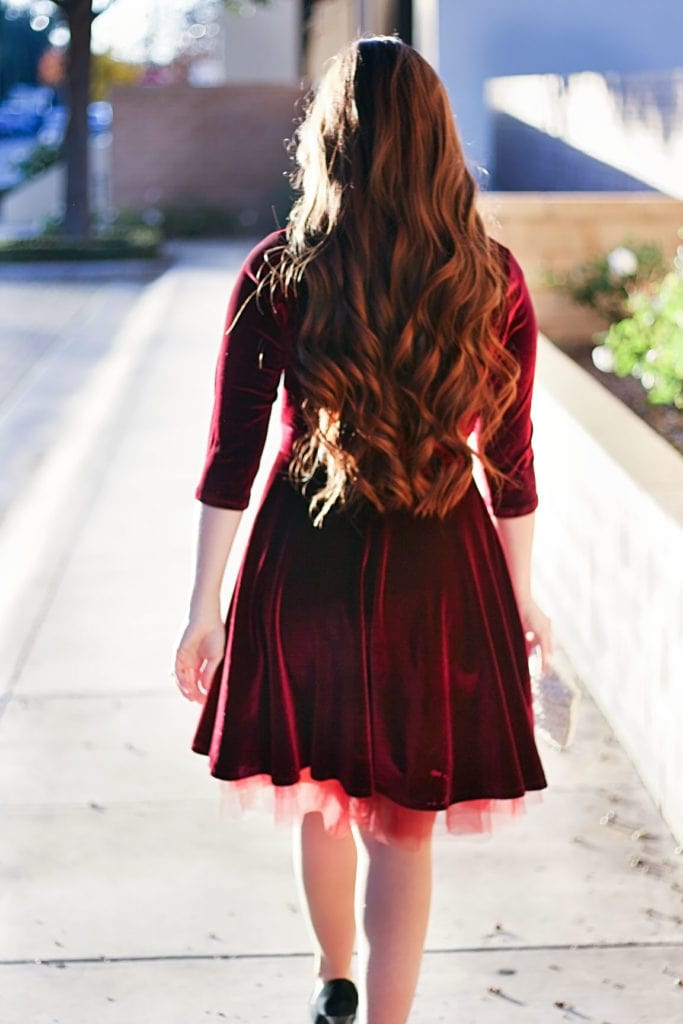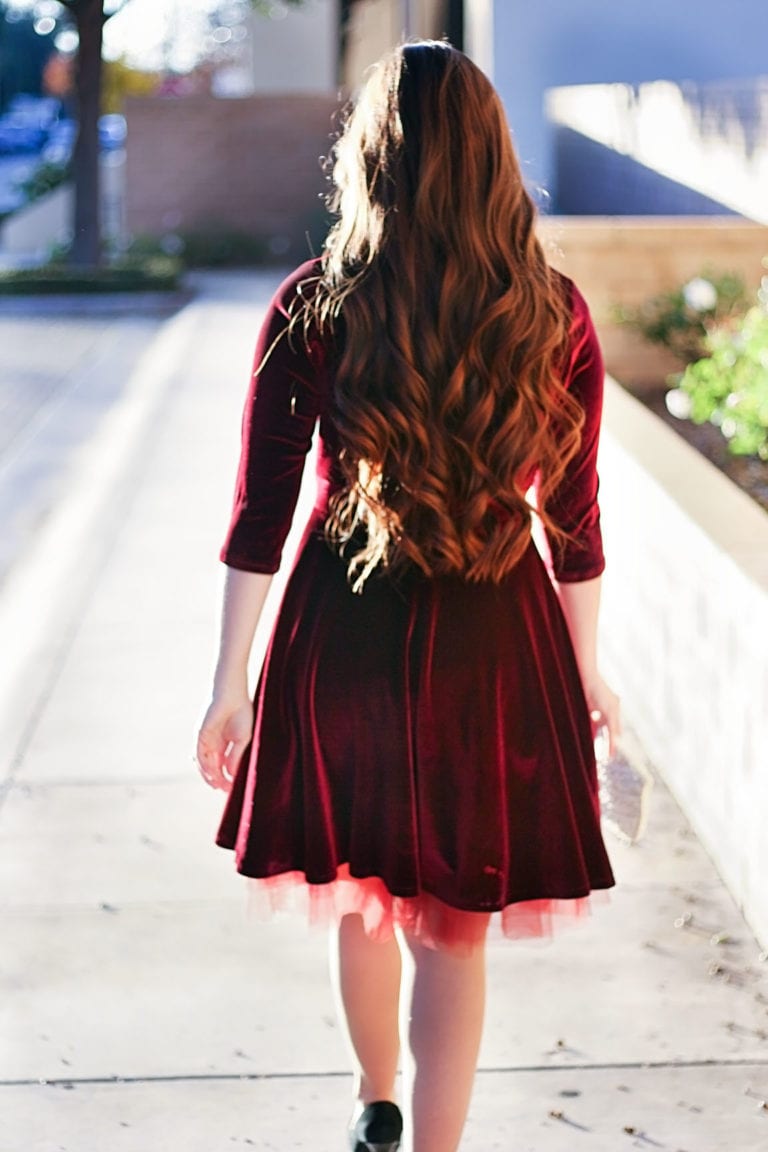 I was giddy with excitement when I opened my package from the mail just a few days later and pulled out the loveliest shade of merlot-colored velvet. The color of this fabric is quite rich and the texture can only be described as heavenly. One thing to note about velvet is that it has a nap. That means it has an obvious up and down direction of the pile, which means you will need to cut all pieces of the pattern in the same direction. You can find the difference by holding the fabric up to the light and turning it. I wanted the dress to really catch the light so it wouldn't lose its beautiful color, so I chose the direction that was the lightest in color.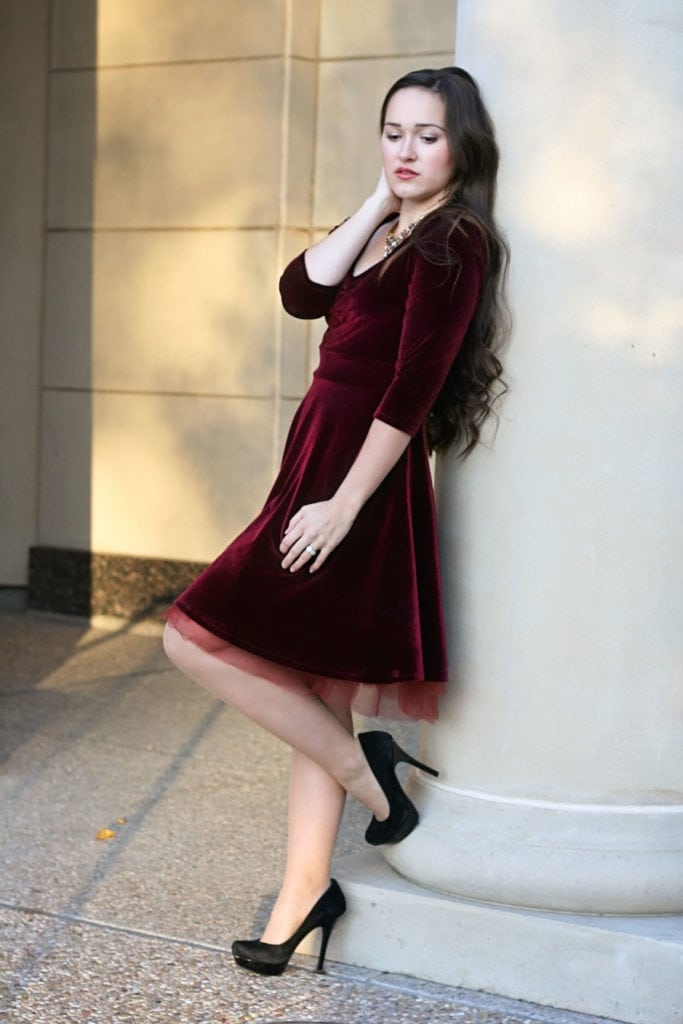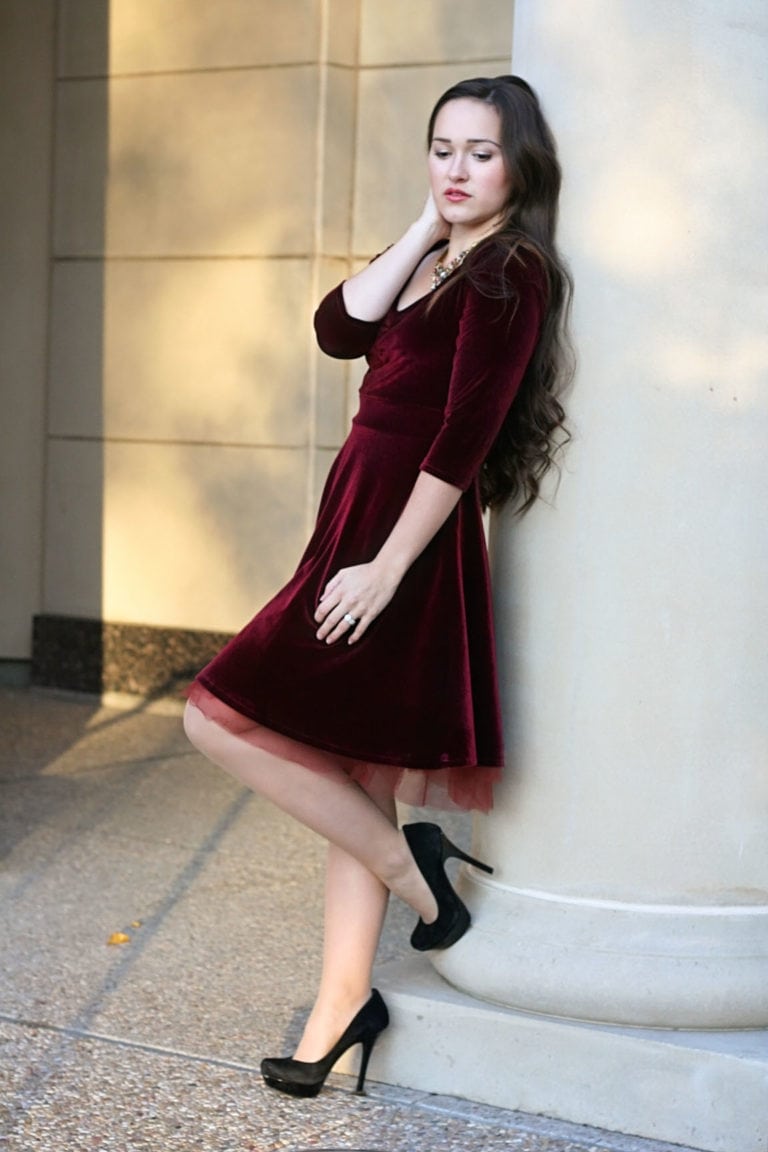 I scoured the Itch to Stitch pattern selection looking for the perfect pattern. When I came across the Davina dress pattern it definitely wasn't love at first sight. I was distracted by the pockets in the listing photo and I don't normally love v-necks on myself. But once I imagined the dress without the pockets (there's a simple way to omit them) and in my rich velvety, fabric I knew I had a winner.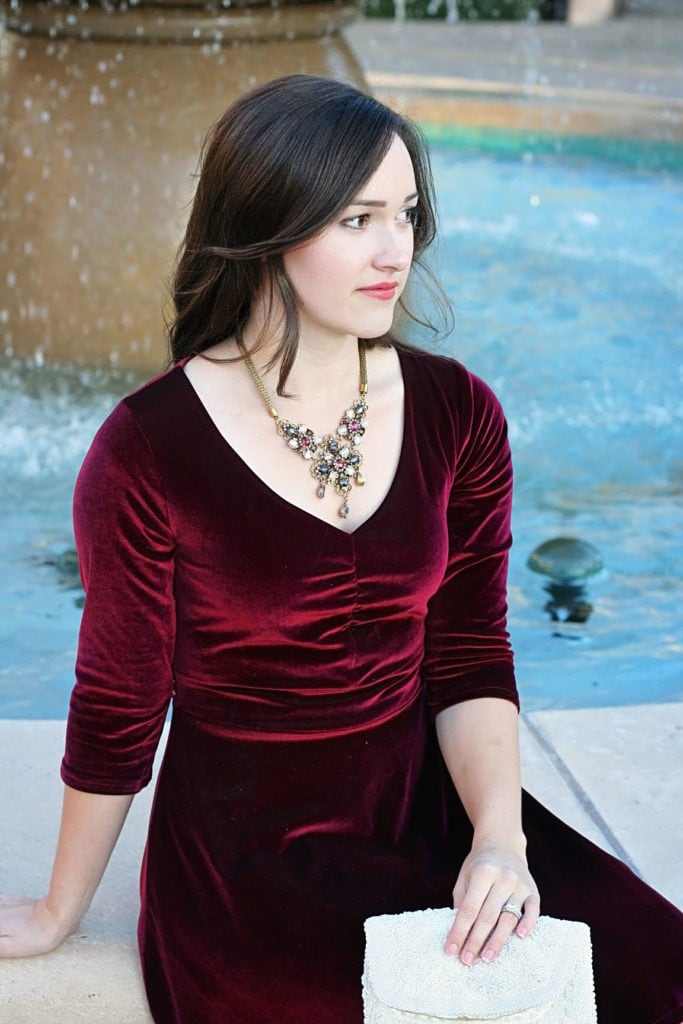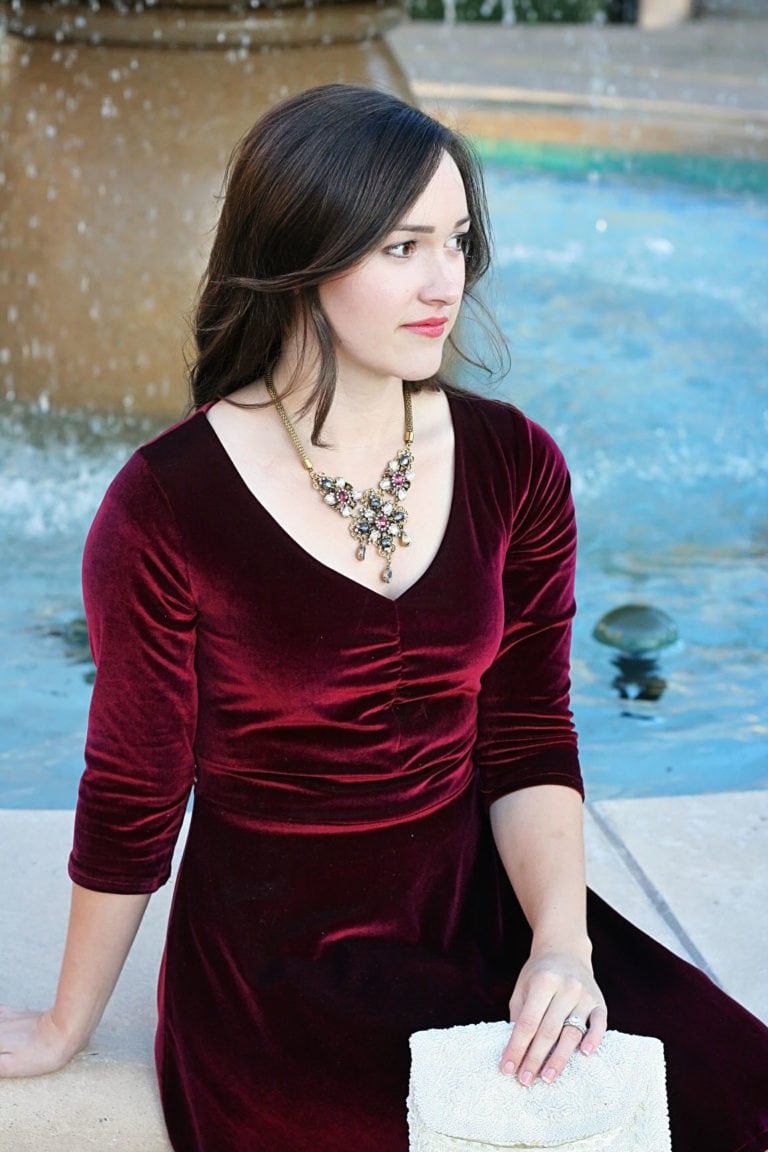 To really put me over the top, I found this gorgeous statement necklace at Target. Madeline has preschool twice a week so I usually head to Target with my two younger kids to pass the time. We stroll the aisles and I pretend that I'm "working out" I've got to get my steps in somehow! 😂 Every time I visit, I seem to leave with a pretty new trinket. It's like pretty things magically place themselves in my cart. I just can't help myself.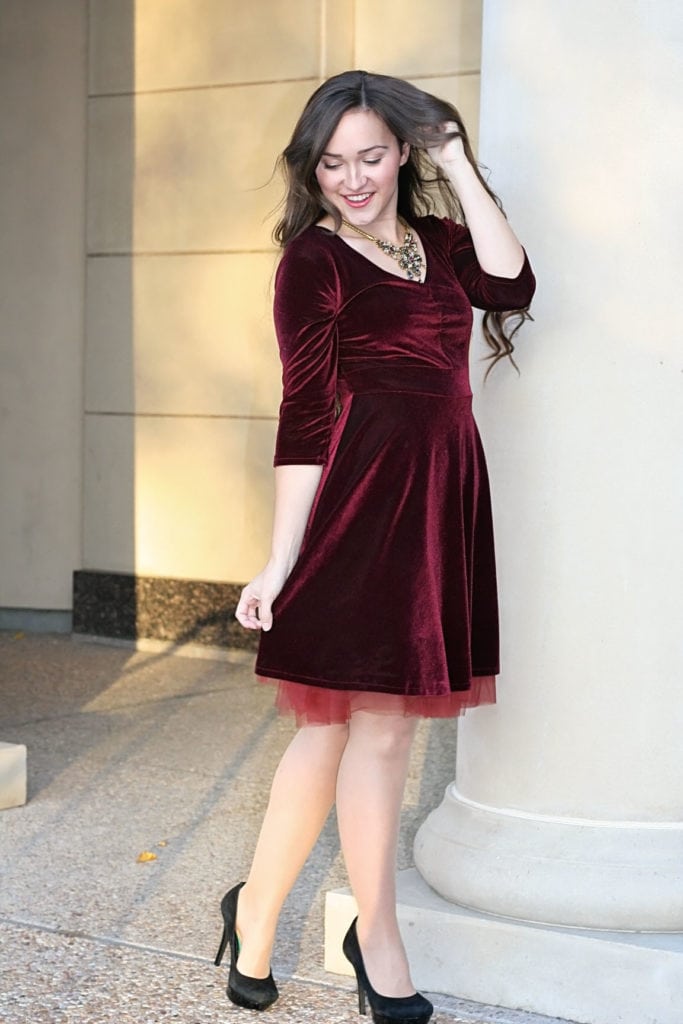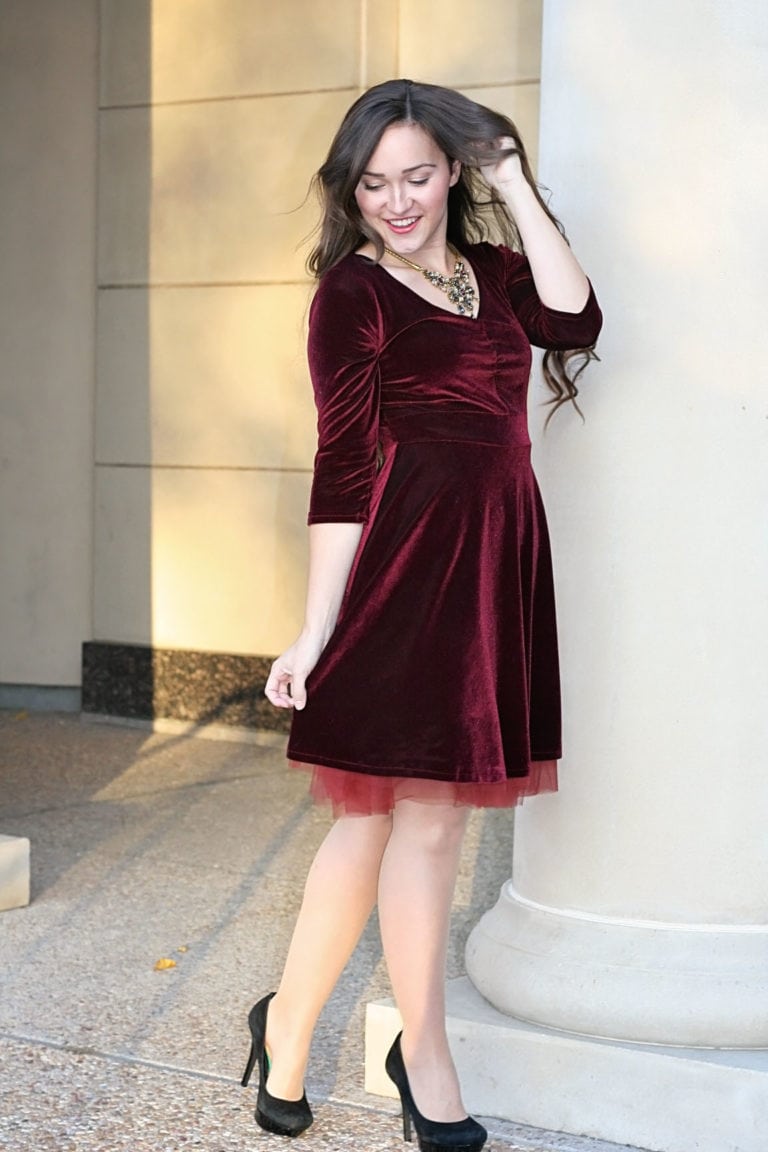 It was like the stars aligned yet again when my soon to be sister-in-law told me that she wanted me to wear a burgundy-colored dress to her wedding in December because that worked perfectly with my plans for this beautiful dress. Since they live in Idaho, which is like a perma-blizzard, I knew the velvet fabric would keep me nice and warm.

I somehow managed to melt my gorgeous fabric as I was setting the hem. I was being such a good seamstress using the iron on low heat and ironing with a pressing cloth when lo and behold I melted my skirt. Cue crying... or sobbing. Luckily it didn't look nearly as bad from the right side as it did the wrong side. I'm still not entirely sure what happened. Though I'd wager it had something to do with the rather interesting scene of an episode of "Call The Midwife" that I was watching.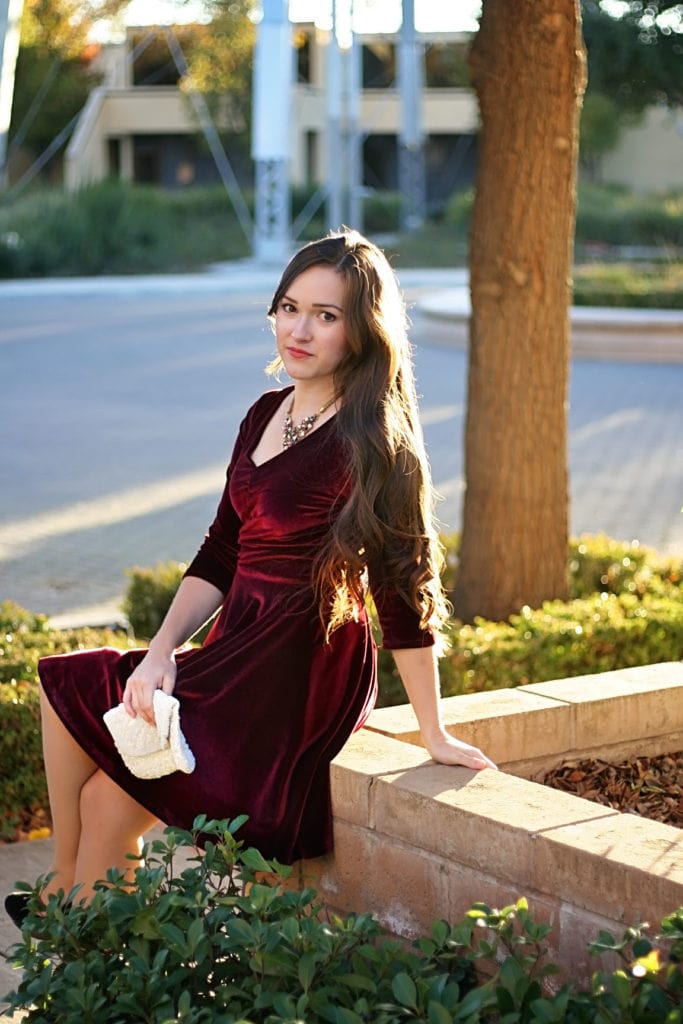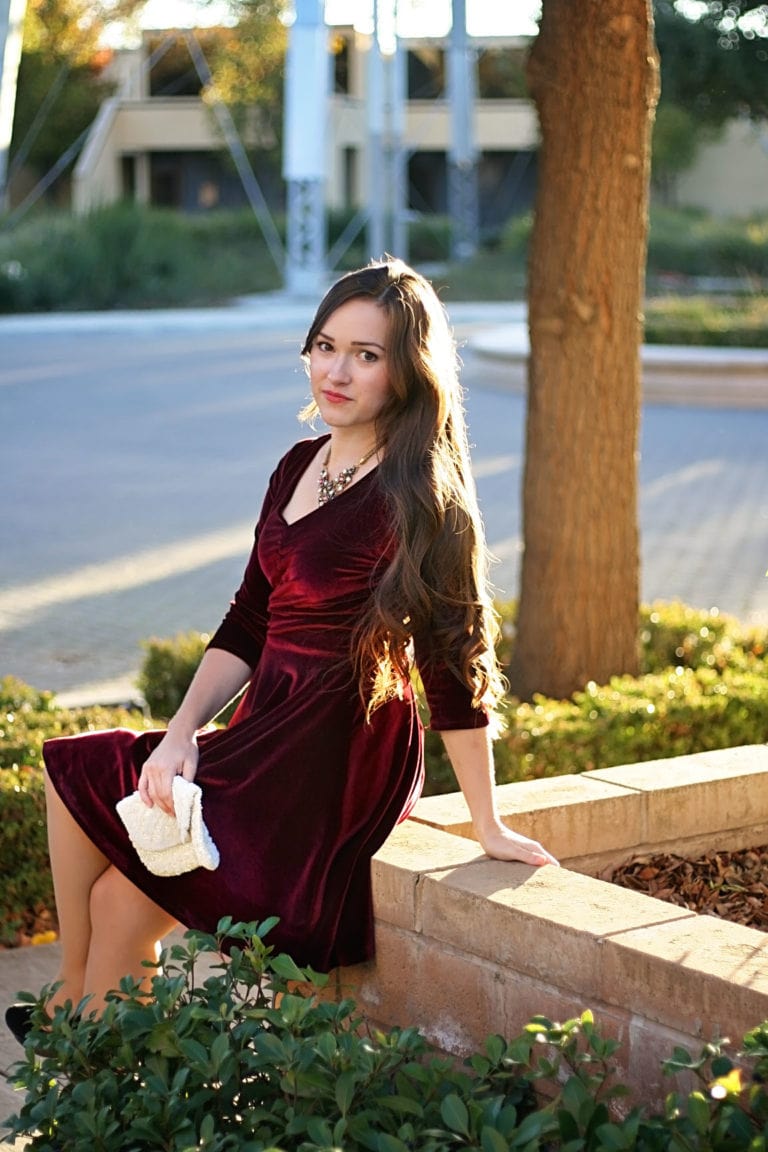 I made up a muslin of this dress using a liverpool knit and took off an entire inch from the bodice to get it to sit squarely at my waist. I did the same with my final dress but it ended up just a tad bit higher than my natural waist. I think my original fabric had a bit more stretch to it in both directions. It also ended up being just a tad bit shorter than I had hoped. For the sake of modesty and the fact that I don't particularly love my knees because they are riddled with stretch marks from all of my pregnancies, I decided to add a few layers of tulle. I love the added drama that the tulle lends to the dress. It's now the perfect length!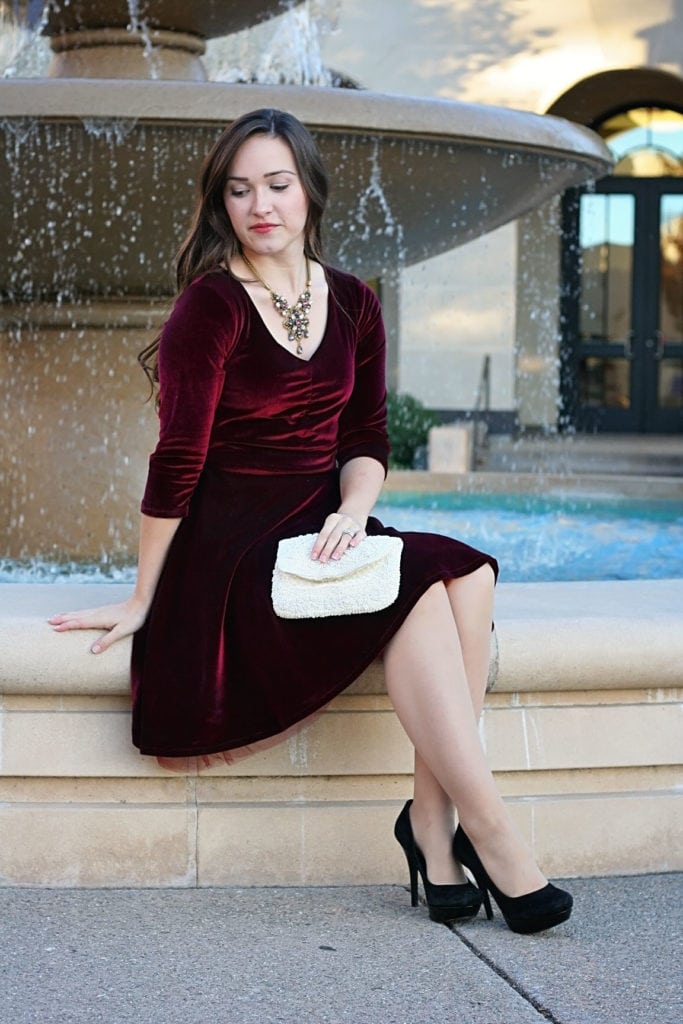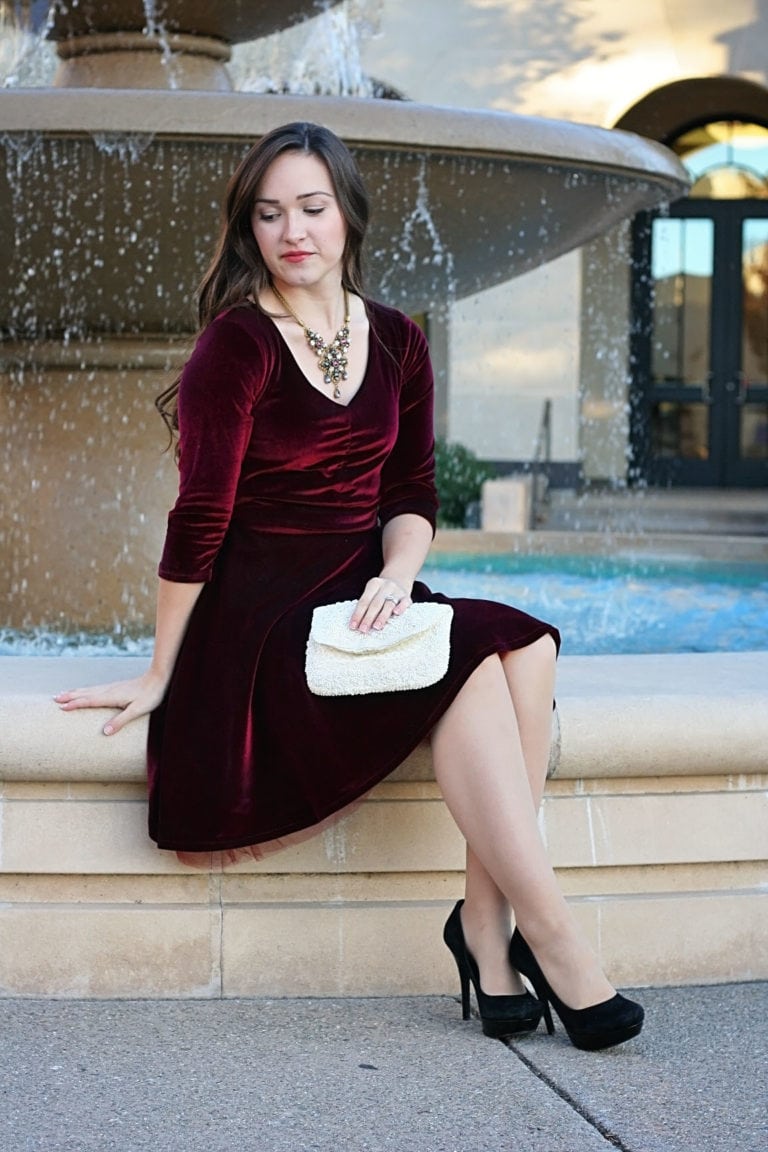 After falling madly in love with the quality of this velvet fabric I took advantage of Style Maker Fabrics Black Friday sale and I stocked up on some pretty fabrics. I got a beautiful sparkly blue sweater knit (no longer available), this red ponte knit, some of this blue and white jersey, a few yards of this yummy flannel and a bit of this lovely floral rayon. One of my favorite parts about Michelle's website is the section where you can shop "The Trends" this includes all the latest colors that are on trend for the current season. I loved looking through her lovely selection of fabrics!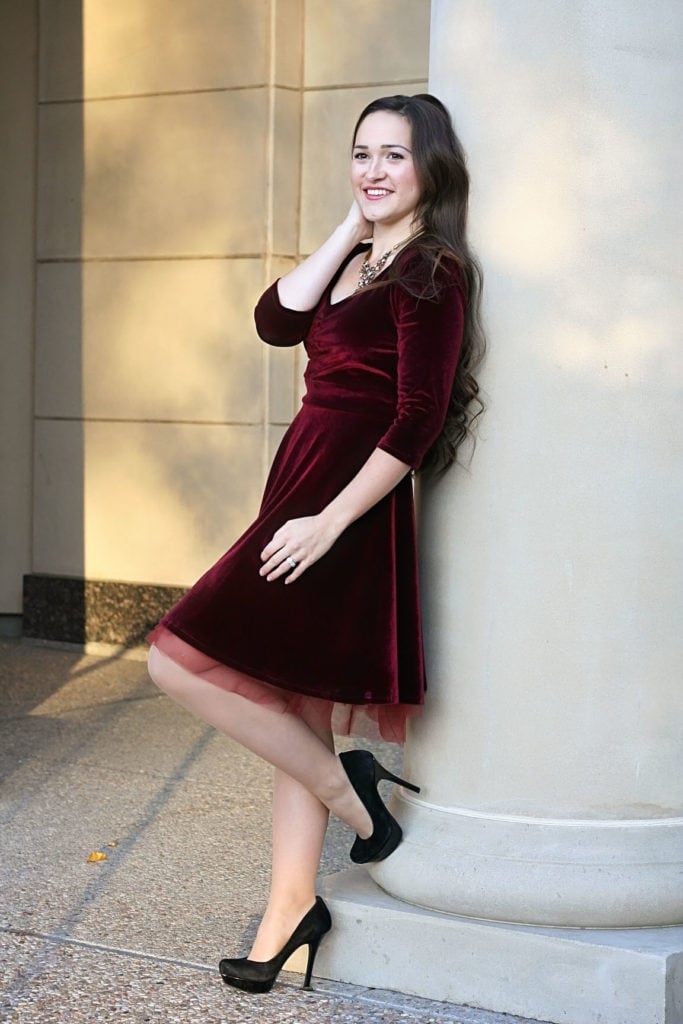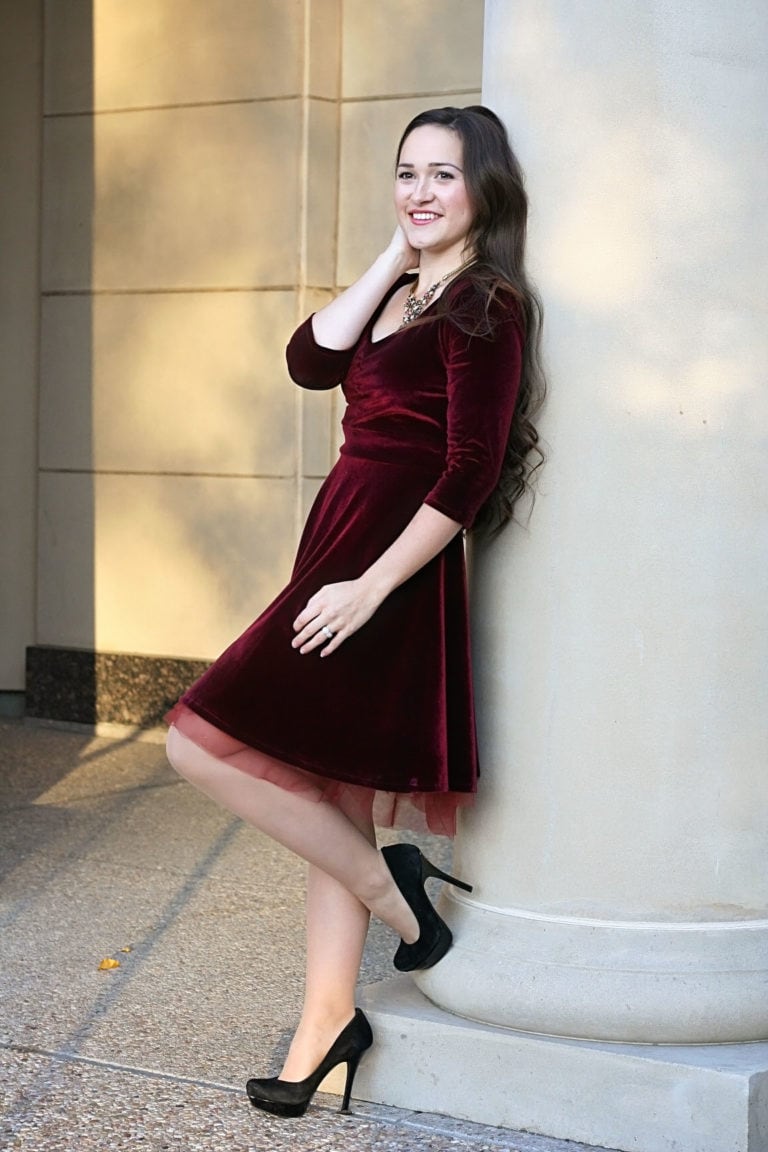 Use discount code "holiday16" for 16% off of all Itch to Stitch patterns! The discount will run December 3rd - December 11th Midnight CST.
Purchase the Davina Dress HERE.
Make sure to stop by all the other blogs on this fabulous tour! There are some really wonderful bloggers lined up for this tour.
DECEMBER 6th
DECEMBER 9th
DECEMBER 10th
SaveSave