Sew a Close-Fitting Cotton Face Mask with Bias Tape or Elastic and a Flexible Nose Wire.
After many requests for a more fitted face mask after my pleated face mask tutorial, I'm sharing a tutorial and free pattern for this face mask! It can be worn alone or layered over an N95 mask.
This post may contain affiliate links, meaning when you click the links and make a purchase, Sweet Red Poppy receives a small commission at no extra cost to you.
This cotton face mask features a flexible nose wire to allow for a tight fit along the nose and the option to use bias strips or elastic.
Don't forget to join my face mask Facebook group where you can show us what you're making, ask questions, and learn from others! Follow me on Instagram for daily crafting inspiration and a look behind the scenes.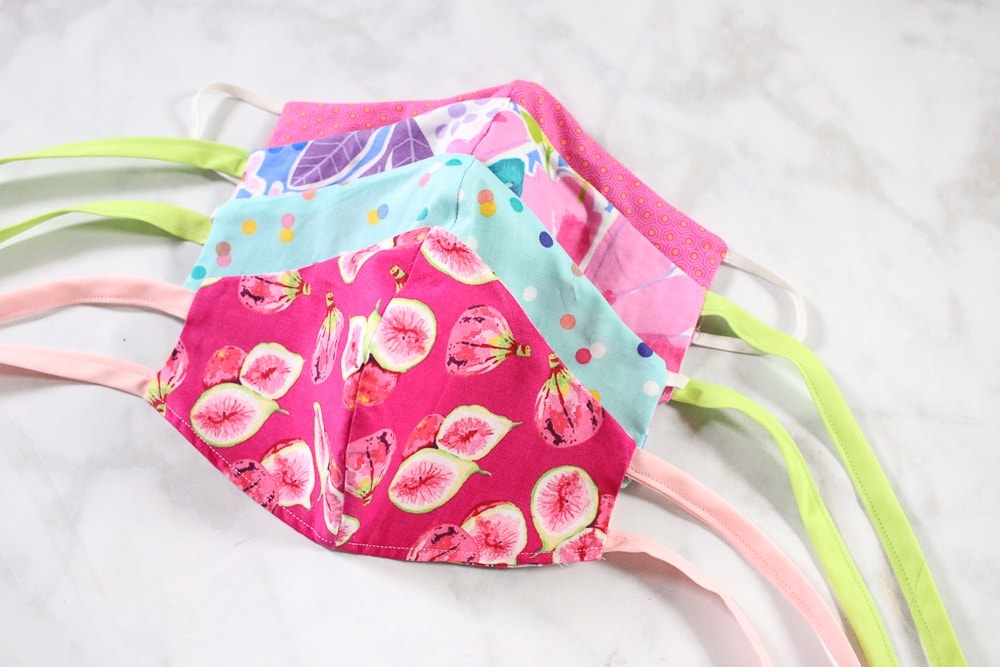 It's important to use a tightly woven 100% cotton fabric. If you're not sure what tightly woven means hold it up to the light, you should not be able to see through it.
Please make sure that you prewash your fabric using a mild detergent and no fabric softener. This will help to shrink the fabric to prevent it from shrinking later on after it's been sewn.
Once your masks have been donated, they should be washed and sanitized by the hospital before being put into use.
Looking for more face mask tutorials? Get my Bias Tape Pleated Mask with filter pocket here.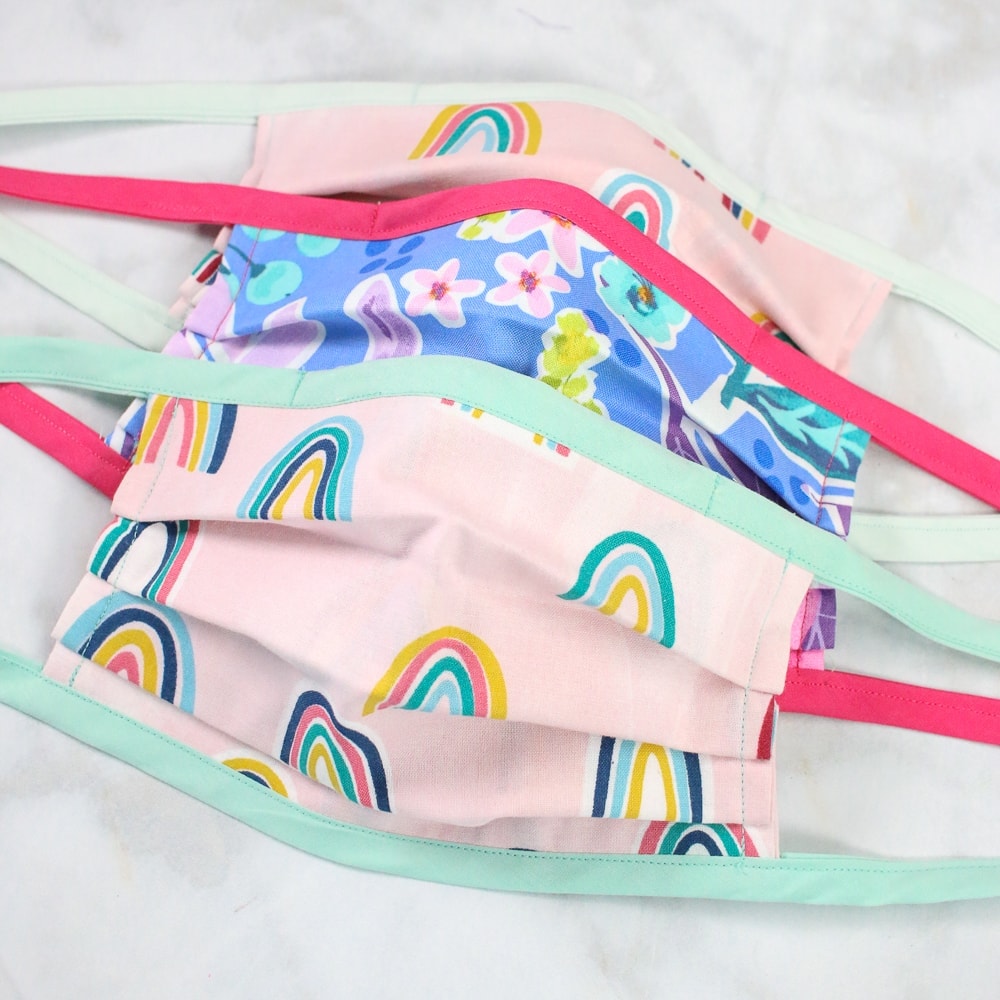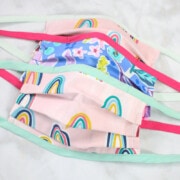 Get my Simple Elastic Pleated Mask here.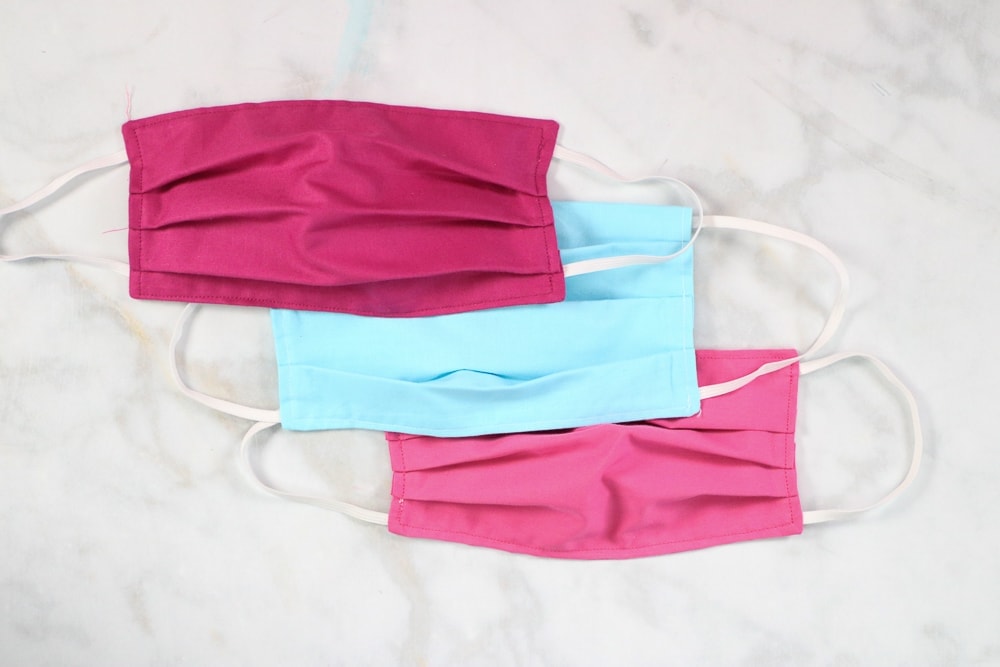 Get the matching Scrub Cap FREE Pattern here!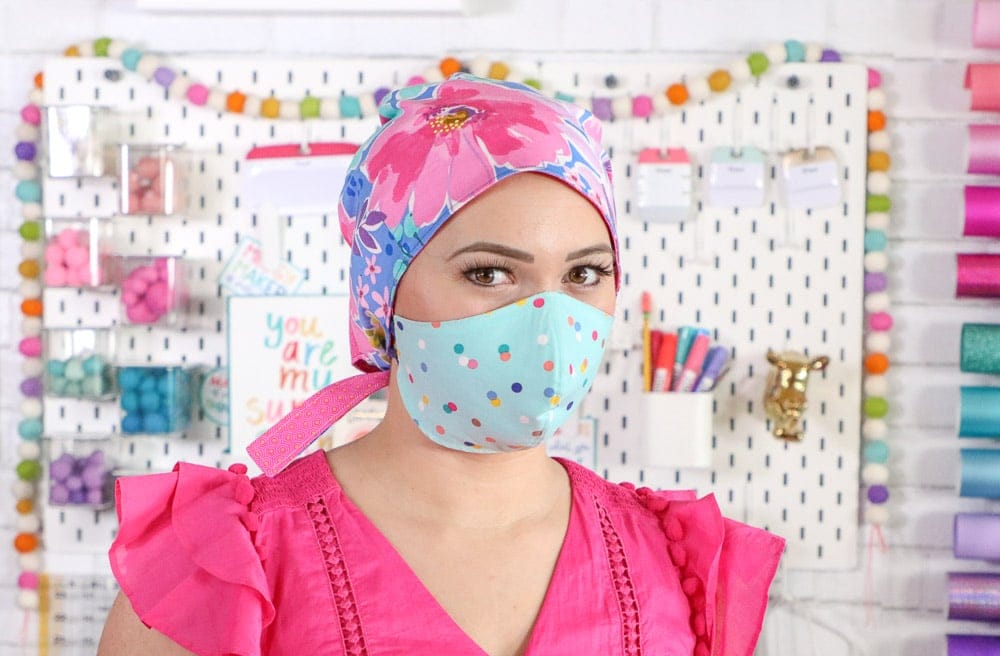 How to Sew a Close-Fitted Cotton Face Mask
*Disclaimer- Homemade masks will not prevent someone from becoming infected with Covid-19. They are approved by the CDC to be used as a last resort when all other PPE options have run out. Health providers experiencing shortages, who have handmade masks can use them on lower-risk patients allowing N95s to be reserved for emergency cases. This post is in response to pleas from hospitals for handmade masks.
Cotton Face Mask Supplies
Before cutting out your pattern, review the graphic below. This will help you to choose the correct pattern for your specific face shape. The best way to do this is to take a photo of your face from a side angle and draw a line along the front of your face. If the line is a vertical line version 1 will fit you best. If the line goes inward along your chin, select version 2.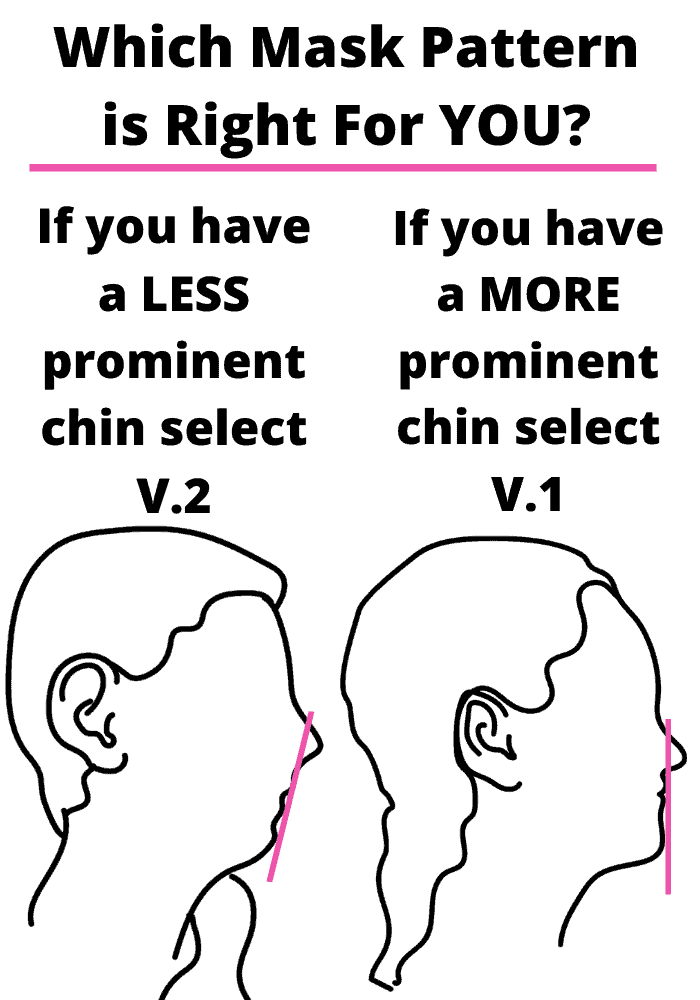 Download the pattern to your computer. Open the file to print.
If you don't have a printer, save the photo below, hold a piece of paper up to the screen and trace the desired size. Double-check that the 1"x1" square is measuring correctly before tracing. You may need to zoom in or out.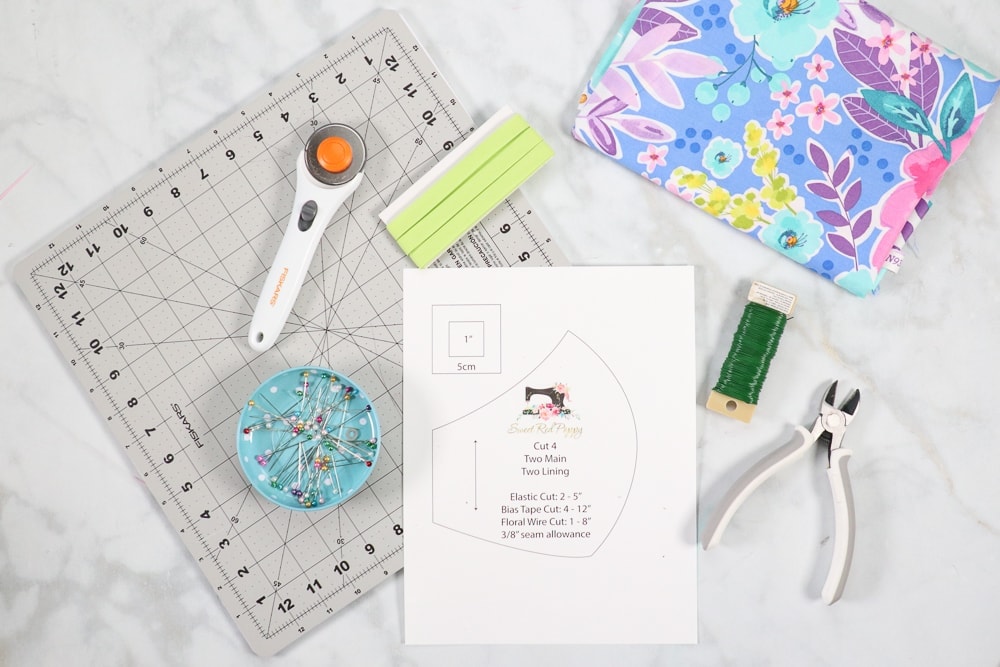 My friend Cori George of Hey, Let's Make Stuff digitized this pattern into an SVG file. If you have a Cricut Maker, you can cut this pattern out on your machine. Click here for her SVG file.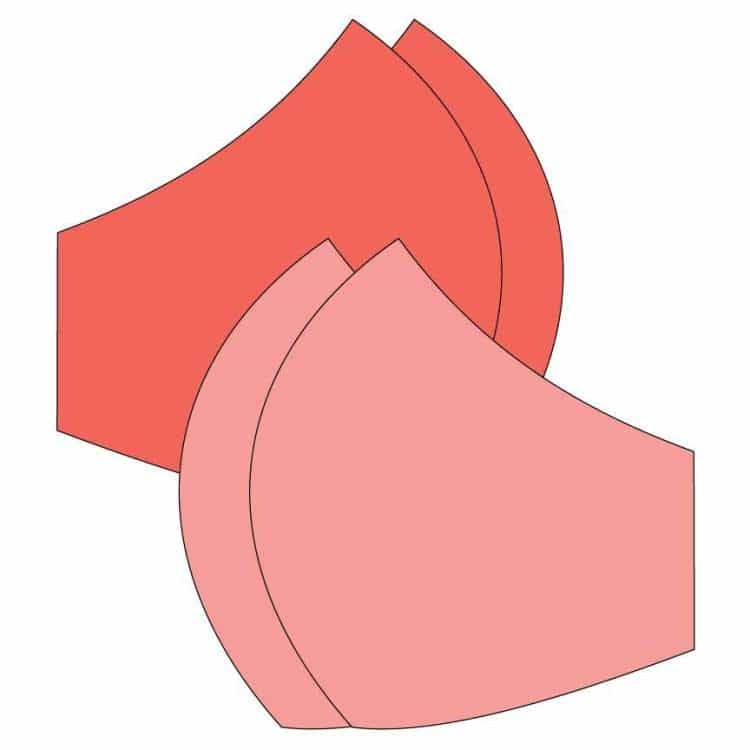 Step 1. Print & Cut Cotton Face Mask Pattern
Begin by printing off the PDF pattern. Download the pattern to your computer, open it up and print at 100% with no scaling.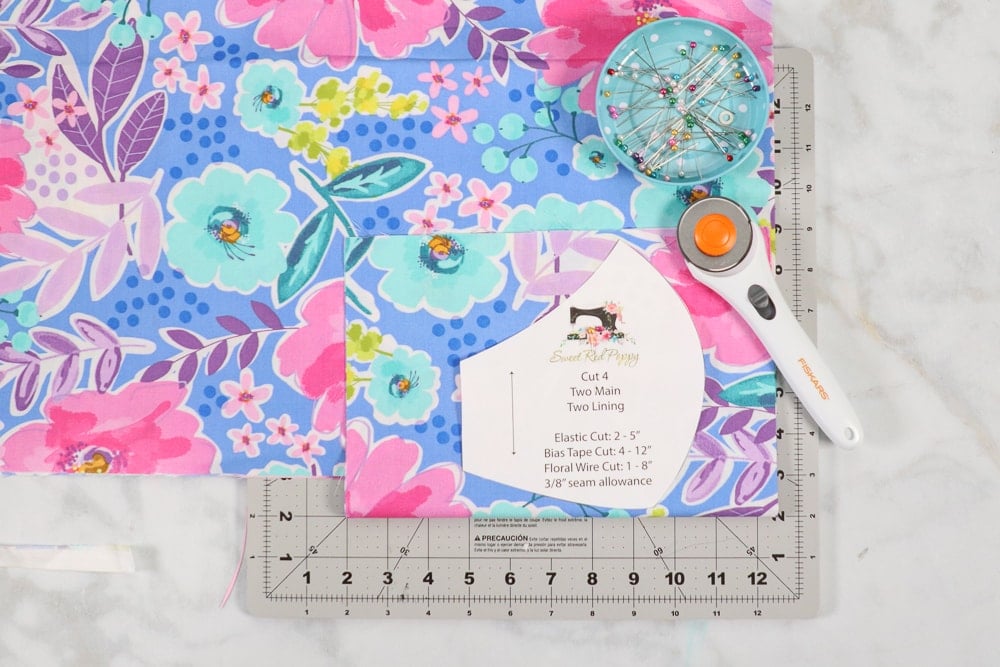 Don't forget to measure the 1-inch square to make sure the pattern has printed off right and is sized correctly. Cut around the black line of the pattern.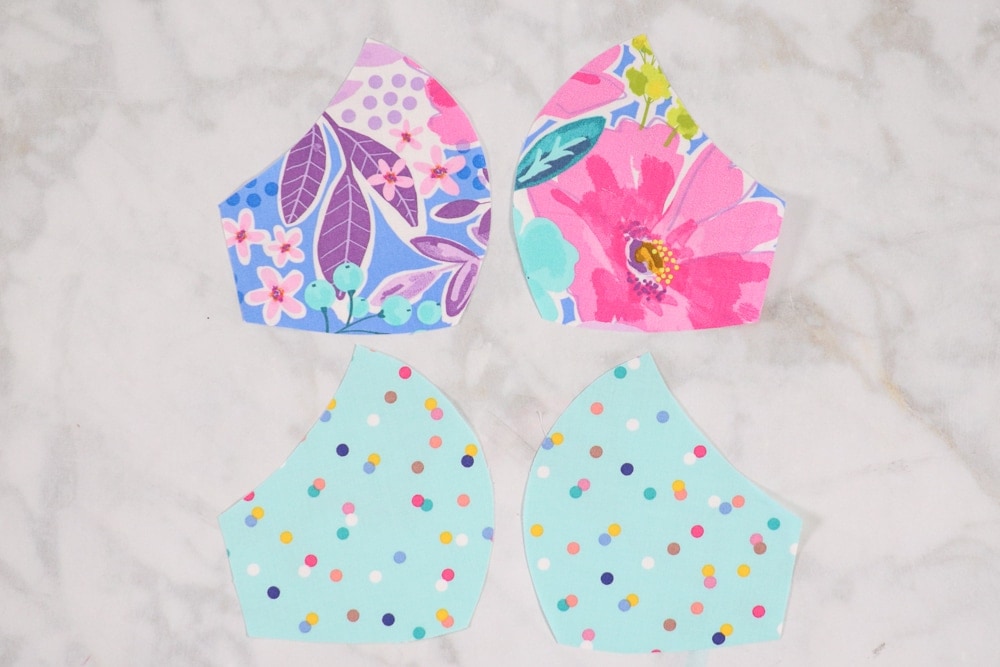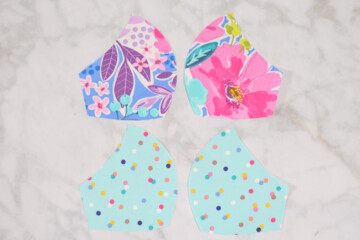 Cut out a total of 4 pieces of fabric using this pattern. You should end up with two sets of mirror images.
Step 2. Pin and Sew Lining and Main Fabrics
Place the mask pieces right sides together and pin along the outward curve of the fabric.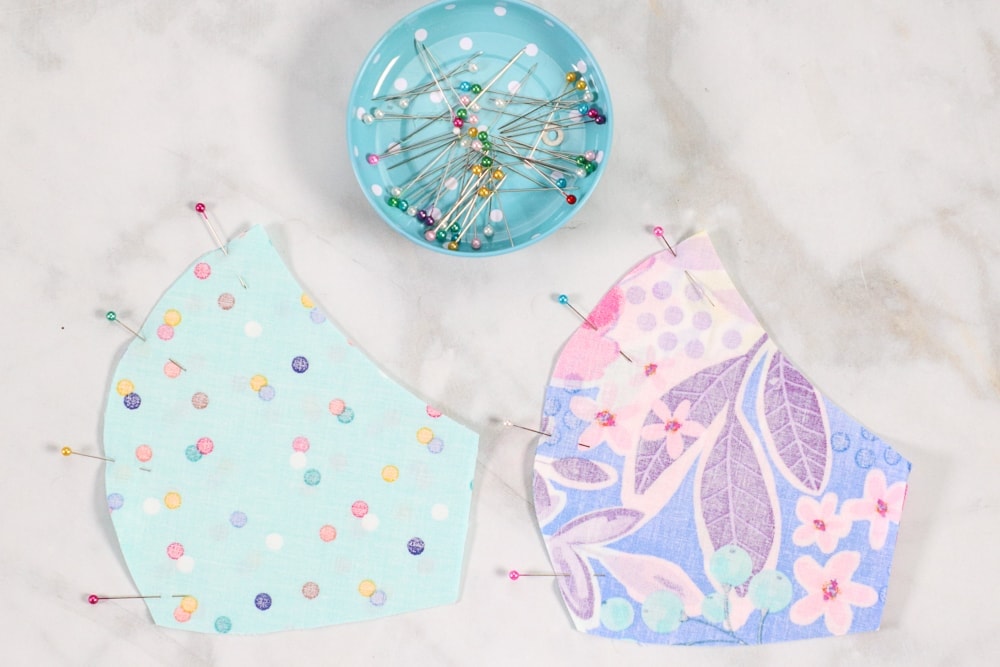 Sew the seam with a 3/8ths inch seam allowance. Clip small notches (cutting close to, but not through the stitching) into the fabric to reduce the bulk of the seam. Press the seam to the side.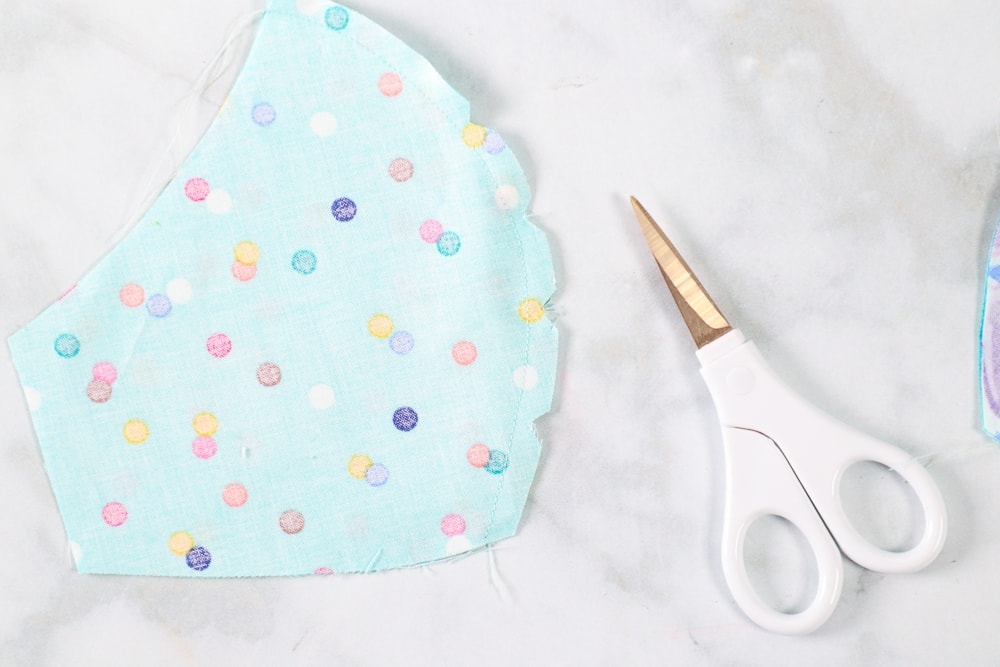 Step 3. Cut and Sew Elastic or Bias Tape Strips
Now it's time to prepare either your elastic or bias tape.
Elastic- For elastic cut 2 pieces of elastic 10 inches and 8 inches long (shorten both lengths for child-sized masks). Hold them around your head to double-check the length. Different brands of elastic have different amounts of stretch so this number may vary.
To create a mask with elastic ear holes cut two pieces of elastic 5 inches long.
These numbers are suggestions, please measure your own head before cutting your elastic to get the best fit.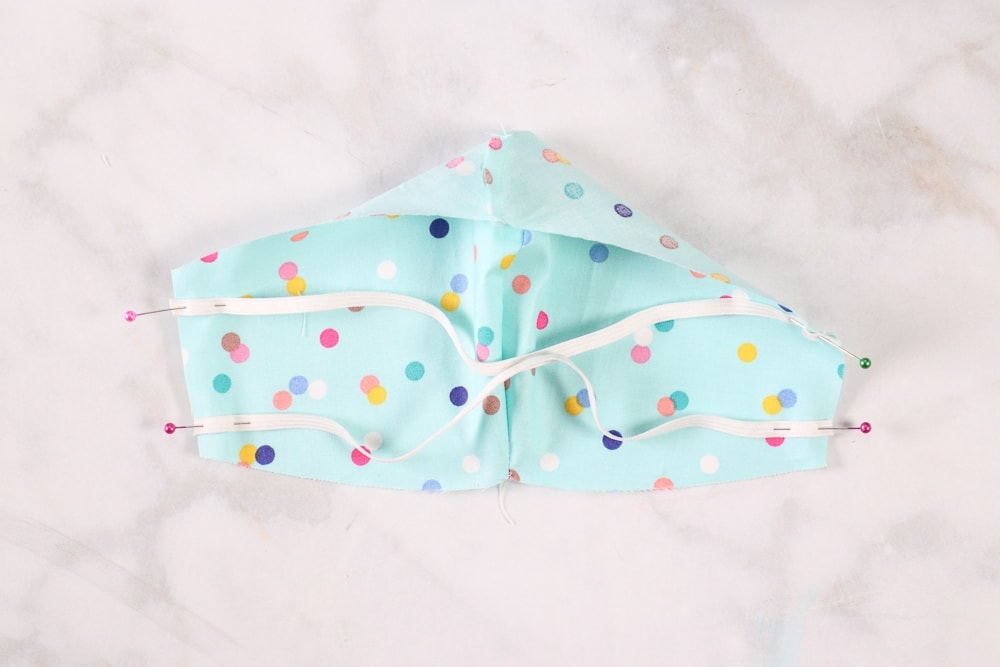 Bias Tape- If you plan on using bias tape cut 4 pieces of double fold 1/2 Inch bias tape 14 inches long.
Pin the elastic or bias tape to the straight edge of the fabric, 3/8ths of an inch from the top. Repeat the same process along the bottom of the mask.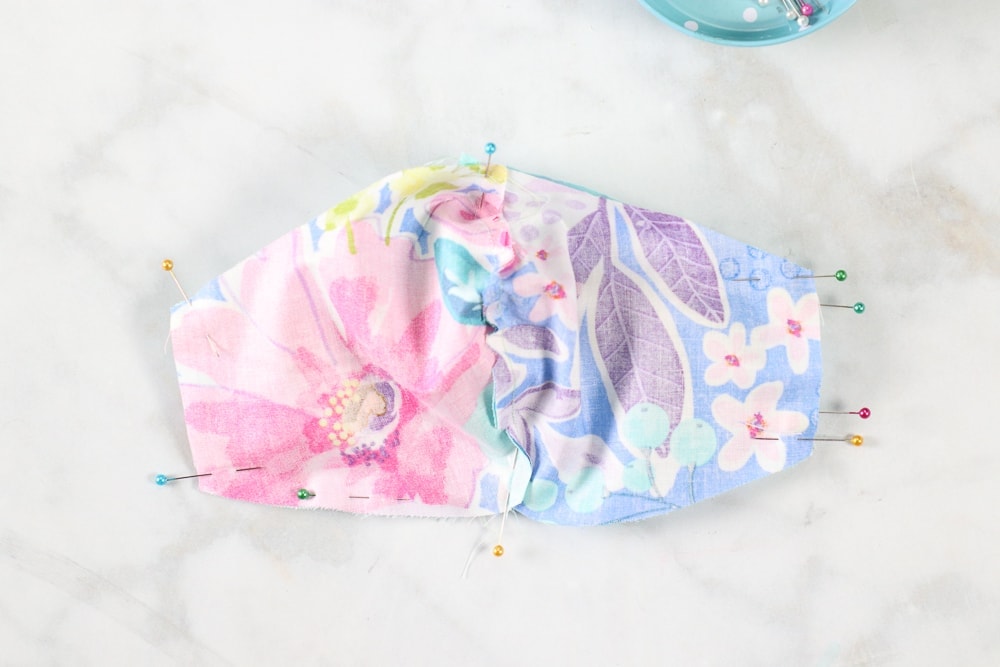 If you are using bias tape, neatly fold the bias tape into the center of the mask so it doesn't get caught in any seams while you are sewing. Place the lining fabric on top with right sides facing together and pin around the entire mask.
Place a pin horizontally along the seam allowance of the bottom of the mask as a visual reminder to leave a 3 inch opening for turning.
Sew around the entire mask using a 3/8ths inch seam allowance. When you reach the corner of the mask, put your needle in the down position, lift the presser foot and pivot. This will help you to get nice, sharp corners.
Step 4. Create Flexible Nose with Wire
Optional
Cut a 7-inch length of floral wire to create a flexible nose piece for a better fit around the nose.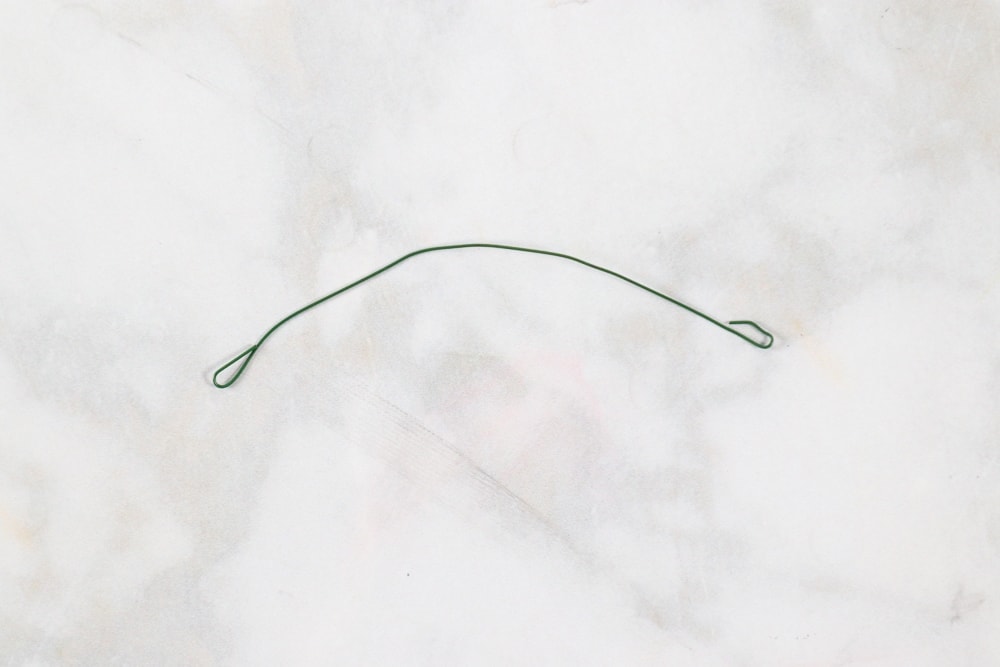 Turn the ends of the wire inwards to prevent them from poking through the fabric.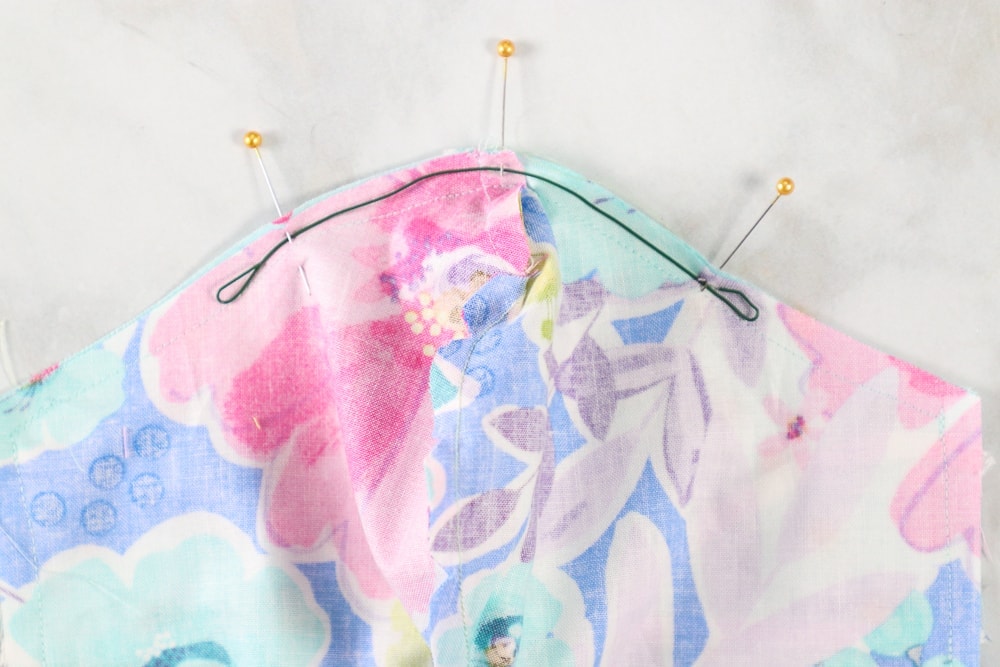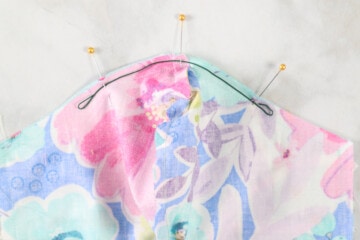 Gently bend and center the wire along the seam allowance on the top of the mask and pin it in place.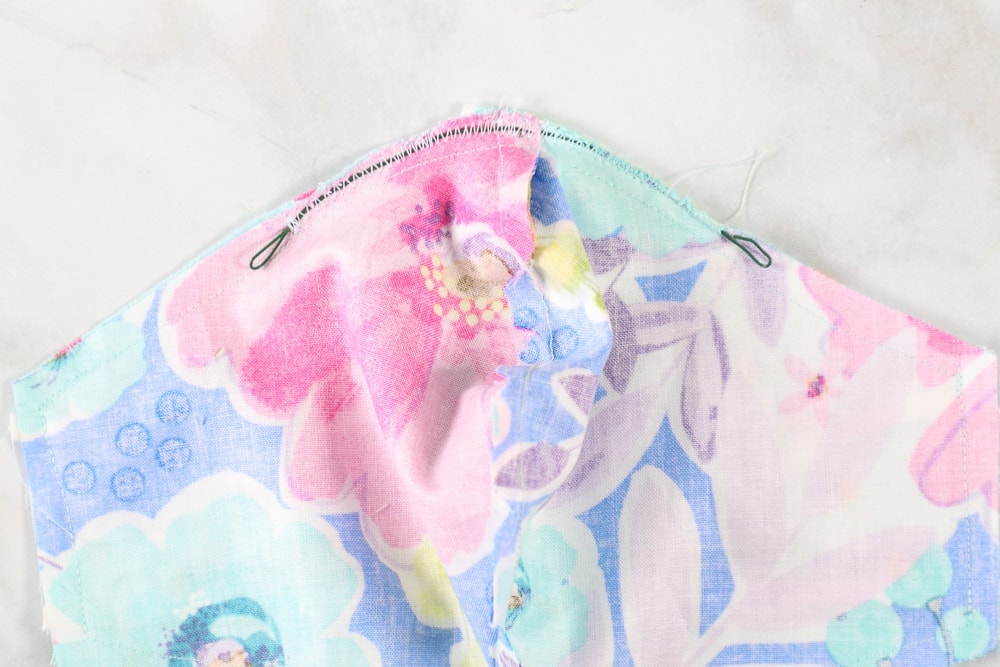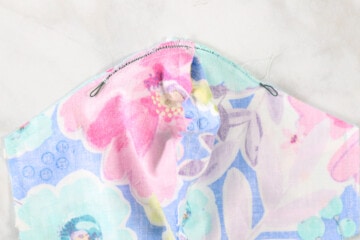 Using a zig-zag (increase your width to the highest setting) stitch slowly sew over the wire to secure it in place. Make sure to keep the wire positioned in the very middle of your presser foot to avoid hitting it.
Step 5. Turn Right Side Out
Turn the mask right side out by pulling the inside of the fabric through the 3-inch opening. I like to grab onto the wire as I pull to prevent it from bending.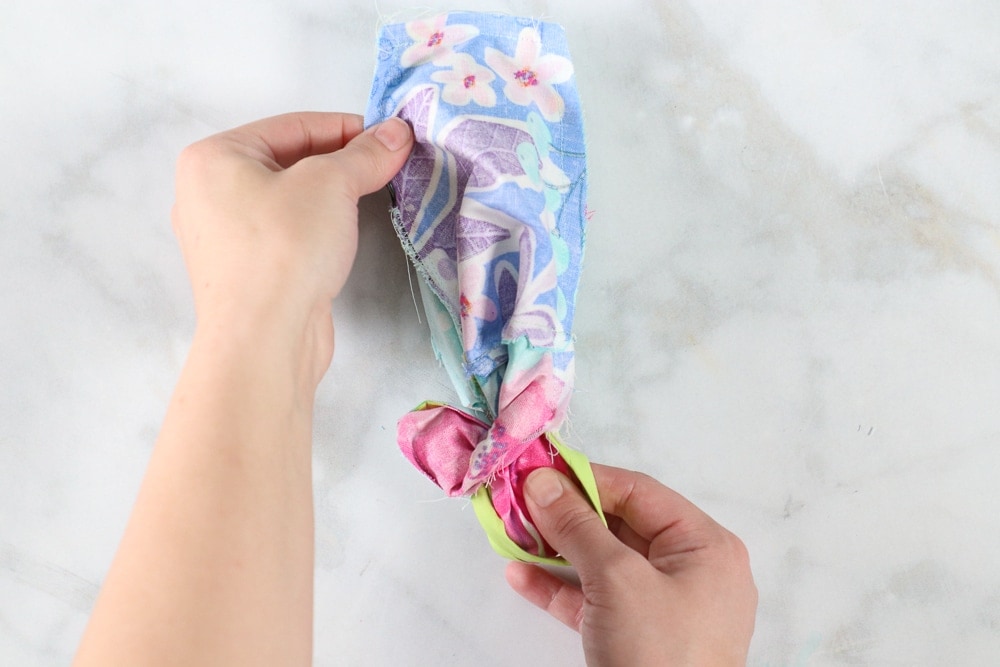 Press the mask, taking care to tuck in the unsewn seam allowance along the bottom of the mask.
Step 6. Press and Top Stitch your Cotton Face Mask
Topstitch 1/4th of an inch from the edge along the bottom of the mask.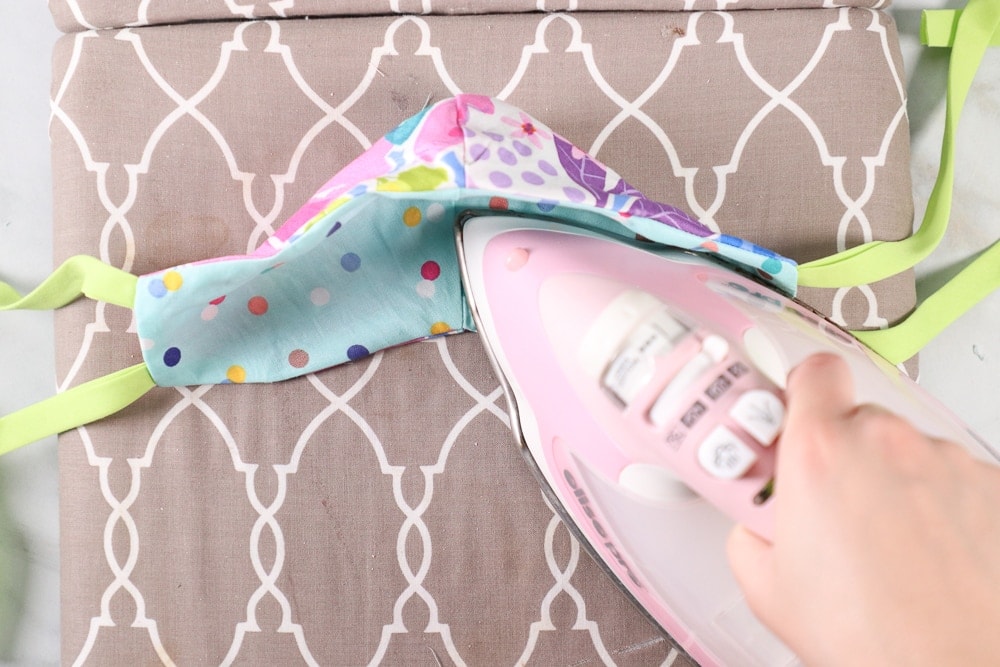 If using bias tape, fold the end of the bias tape backwards on itself with right sides facing and sew a straight line to close it. Turn it right side out and press. Then sew along the folded edges using a 1/4" seam allowance to secure the bias tape in place.
Give the mask one final press and clip any threads.
Don't forget to join my face mask Facebook group where you can show us what you're making, ask questions, and learn from others! Follow me on Instagram for daily crafting inspiration and a look behind the scenes.

Don't want to forget about this free template? Save this project for later! Click here to save this project on Pinterest.