How to Make a DIY Personalized Welcome Doormat With a Freezer Paper Stencil Using a Cricut Cutting Machine - Free Custom SVG File Download
Today we are talking all about how to make coir doormats! This is such a trendy project and this tutorial has been requested over and over. I'm so excited to be sharing this tutorial with you! I'll be sharing my tips and tricks for getting amazing results.
Recently, I fell in love with a doormat that I spotted at a boutique store. I had a bit of sticker shock when I looked at the price, so in typical Sweet Red Poppy fashion, I decided to make it myself! Make sure to check out my tips and tricks section at the end of this post!
A big thanks to Joann for sponsoring this post! All of the supplies I'm using in today's project can be found online at joann.com or at your local JOANN store.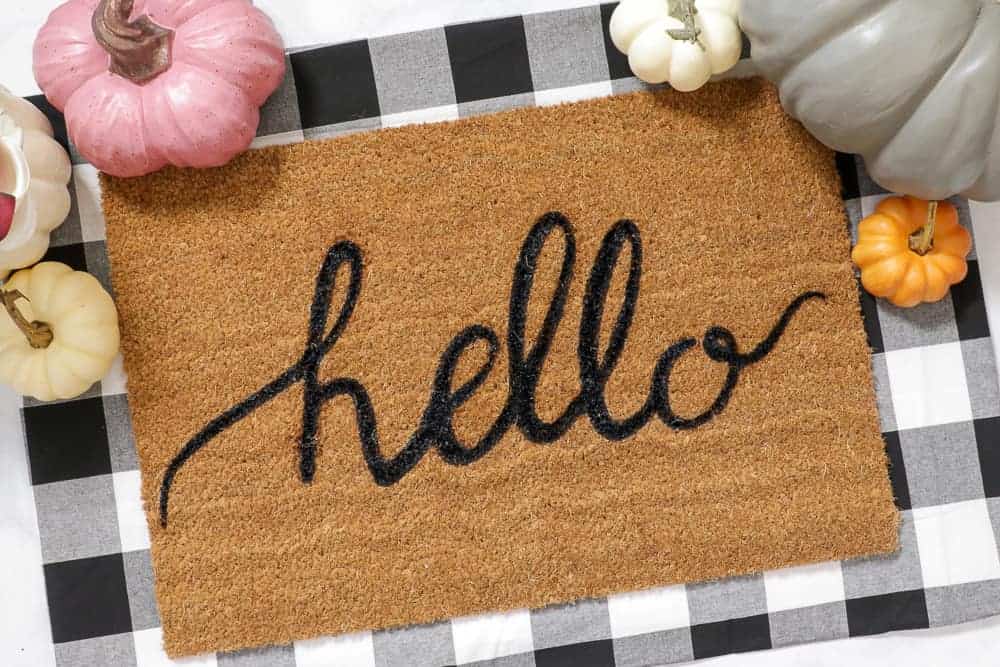 Here's a little bit of background on this type of doormat. Coir mats are made from the fibers of the outer shell of a coconut which is what gives it that coarse feeling. It's a natural fiber making it easy to clean with a vacuum or warm water.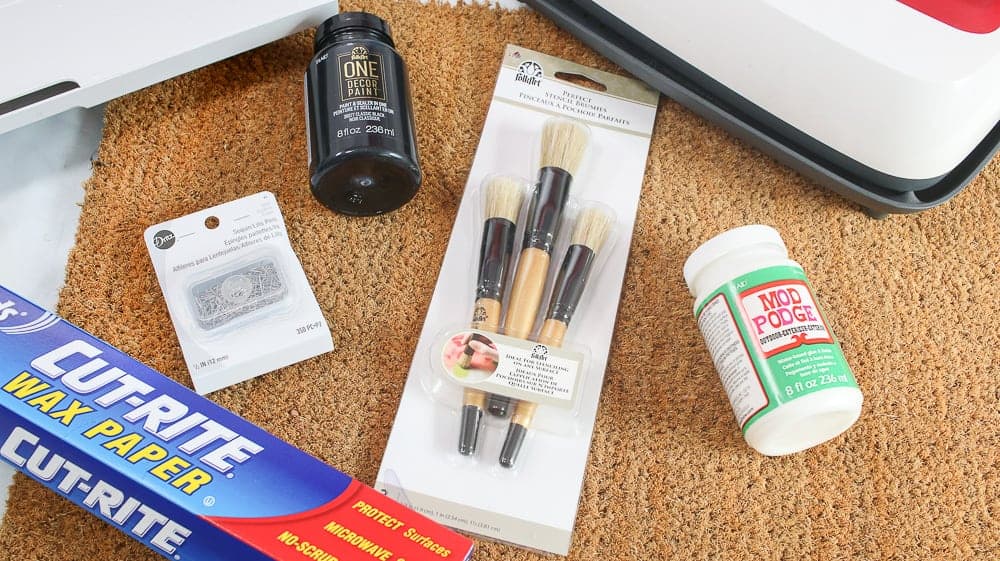 While I'm going to be using my Cricut Explore Air 2, you can use any cutting machine for this project.
Here are a few examples of what your door mat could look like! As an introvert, I'm kinda loving the sarcastic ones! Anyone else?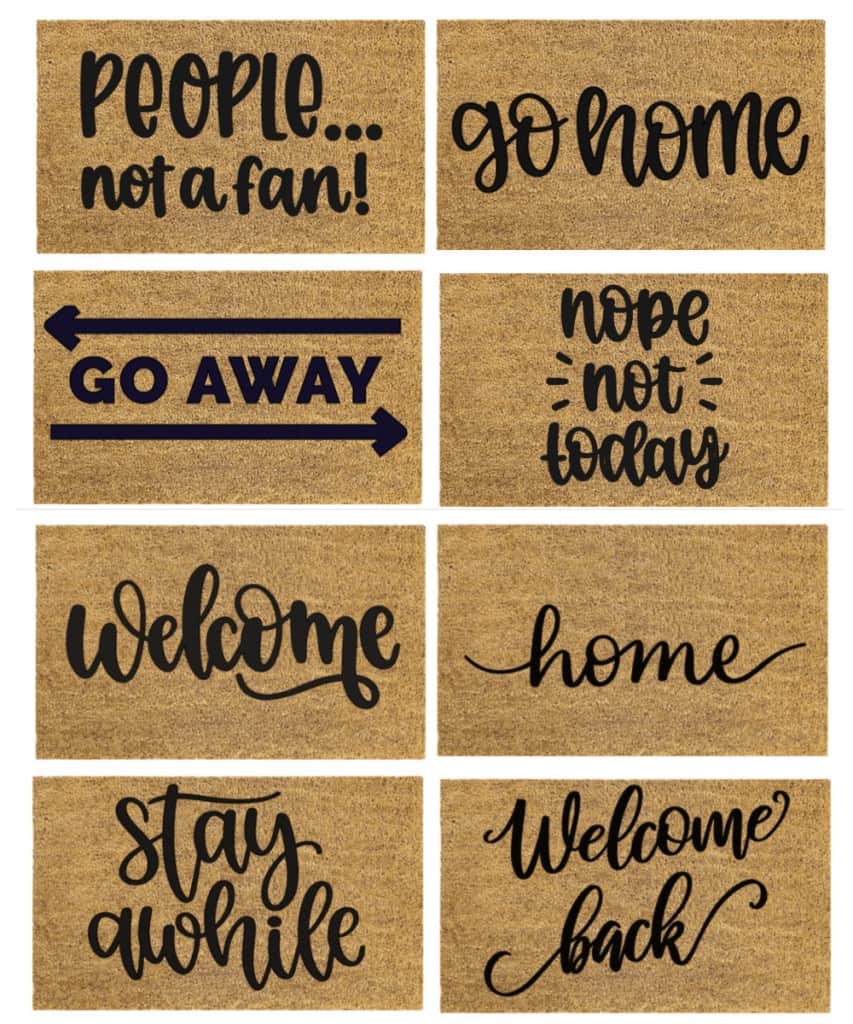 For this project, you will need the following supplies: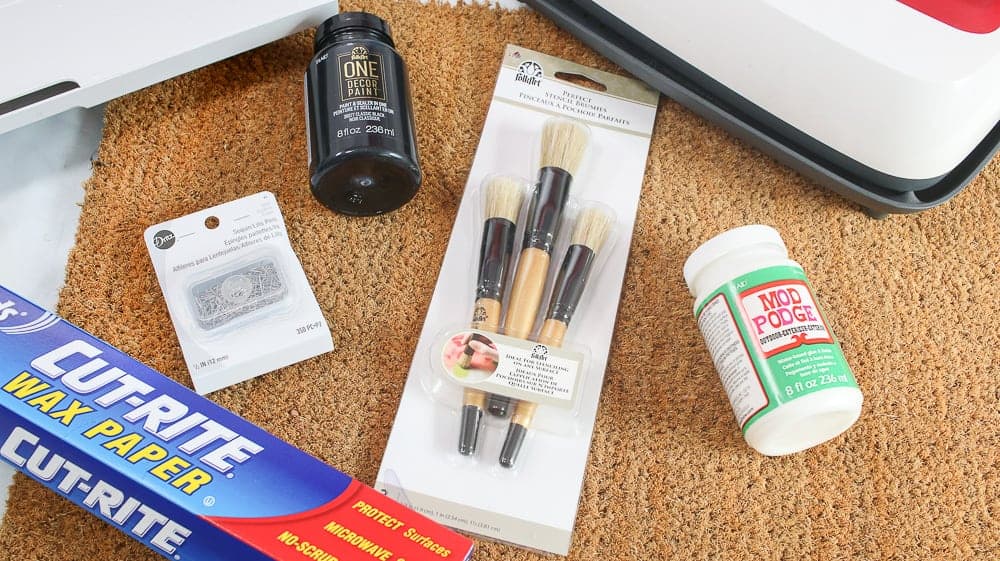 Step 1: Download Personalized Door Mat SVG File
Let's begin by downloading the "Hello" SVG file linked just below the supply list in this post. Open it up in Design Space and resize it to fit your mat. You'll want to take a measurement of the width and height of your mat to get the best fit! My mat measures 18" tall by 30" wide so I'll be using the largest Cricut mat to cover as much surface as possible.
I want my image to take up as much space as possible on my mat so I'm going to change the size to about 22" wide.
If you want a different image, you can search for images on the left-hand side of Design Space, or you can create your own. A few things to keep in mind, you'll want to make sure you use a font that's somewhat bold, avoid any thin lines and keep the design simple for the best results!
Here are a few images in Design Space that would work perfectly for this project. Just type in the number into the image search.
Home: #M910B8B9
Stay Awhile: #MB4FFD43
Welcome: #M8A1DAA3
Welcome Back: #MF9CC3F0
You could always go with a bit of sarcasm with these ones.
Go Home: #MBC49A01
People Not a Fan: #M1DA5C311
Go Away: #M16F7AE26
Nope Not Today: #M1DA5C2B3
Go Away I'm Introverting: #M1DA5BE6E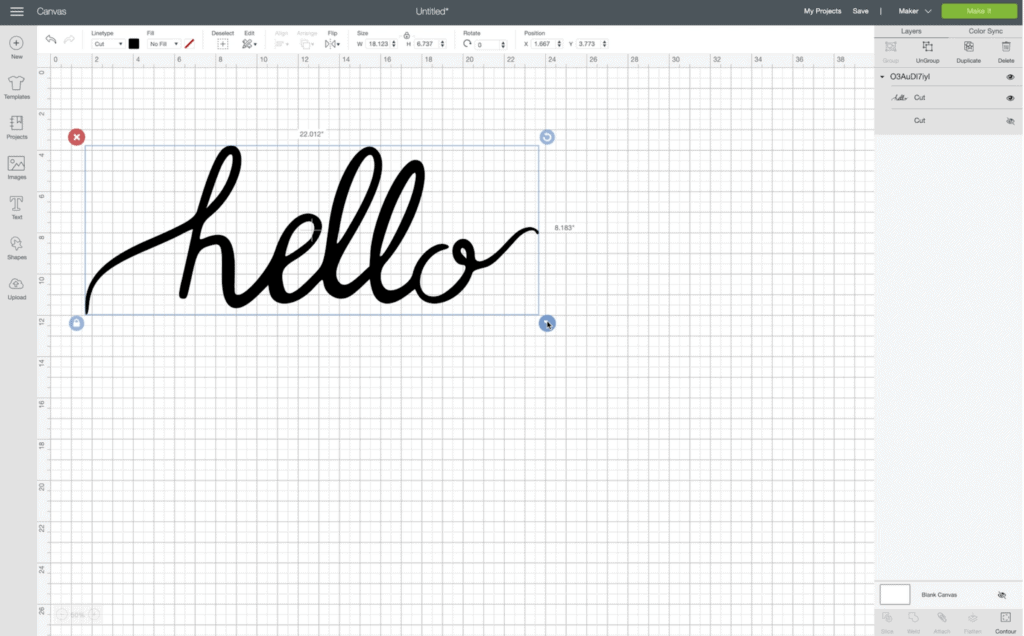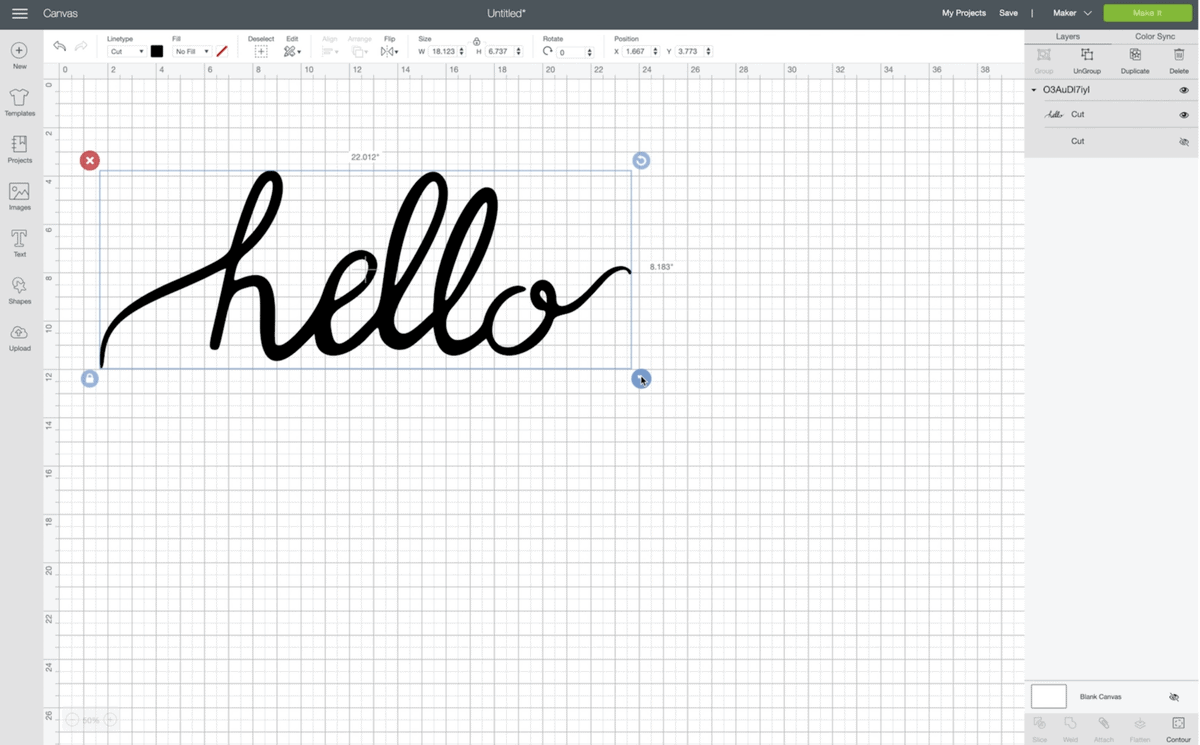 Go ahead and click make it, center your image on the canvas and press continue. You will need to use a 12" x 24" mat for this project.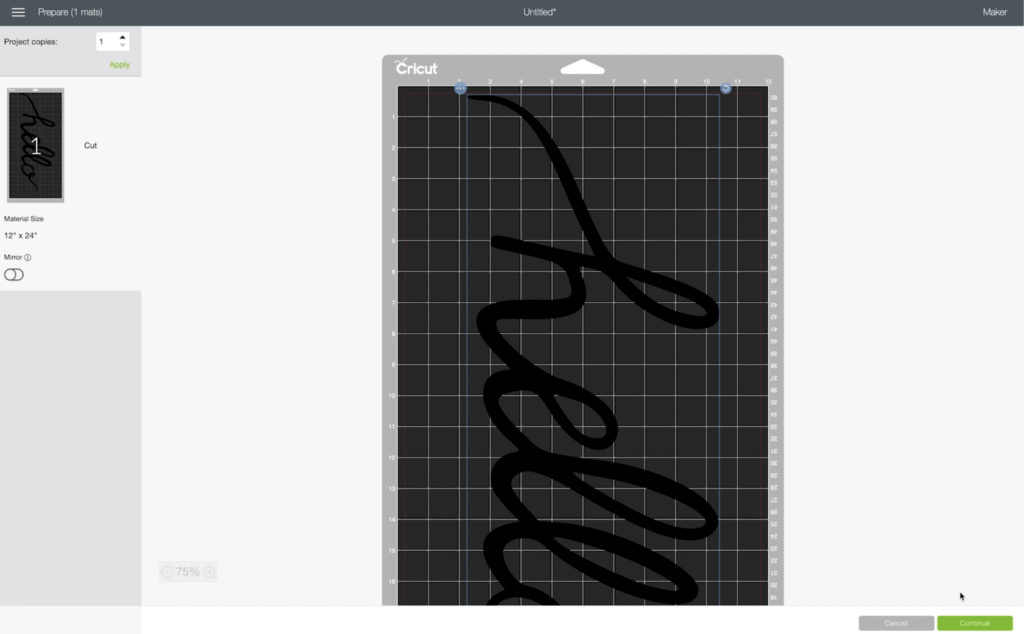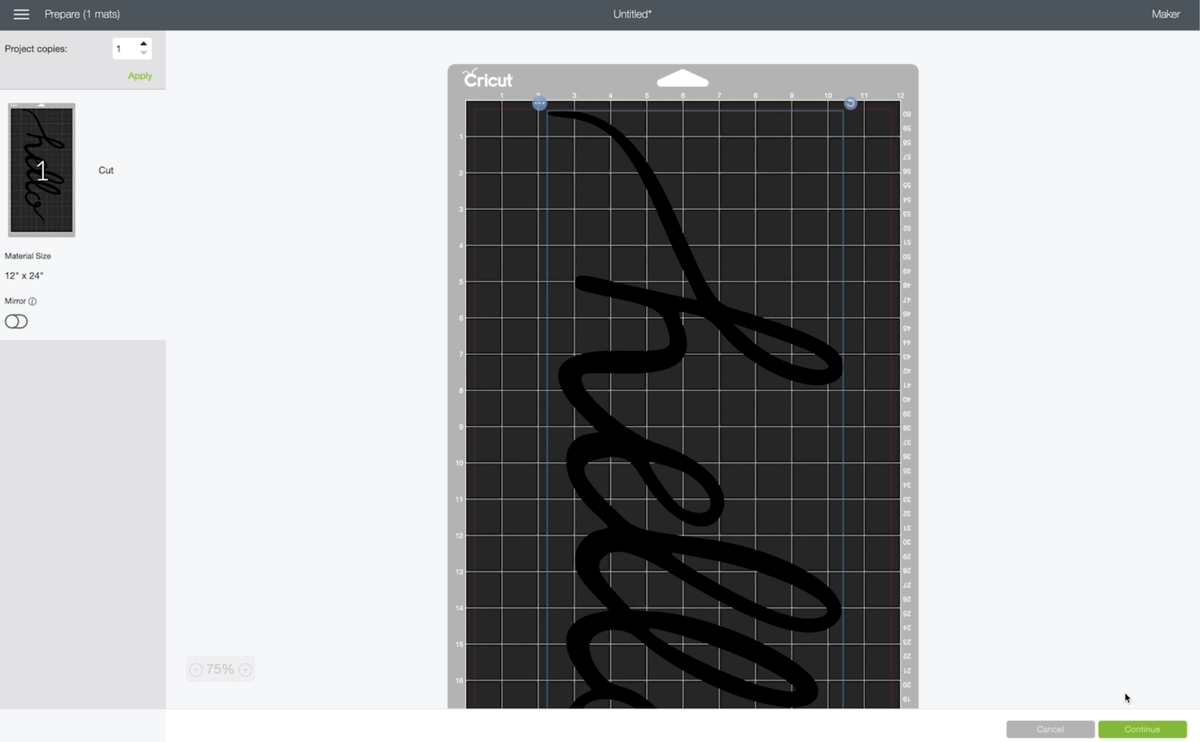 Set your base material as freezer paper and make sure you've loaded your fine-point blade.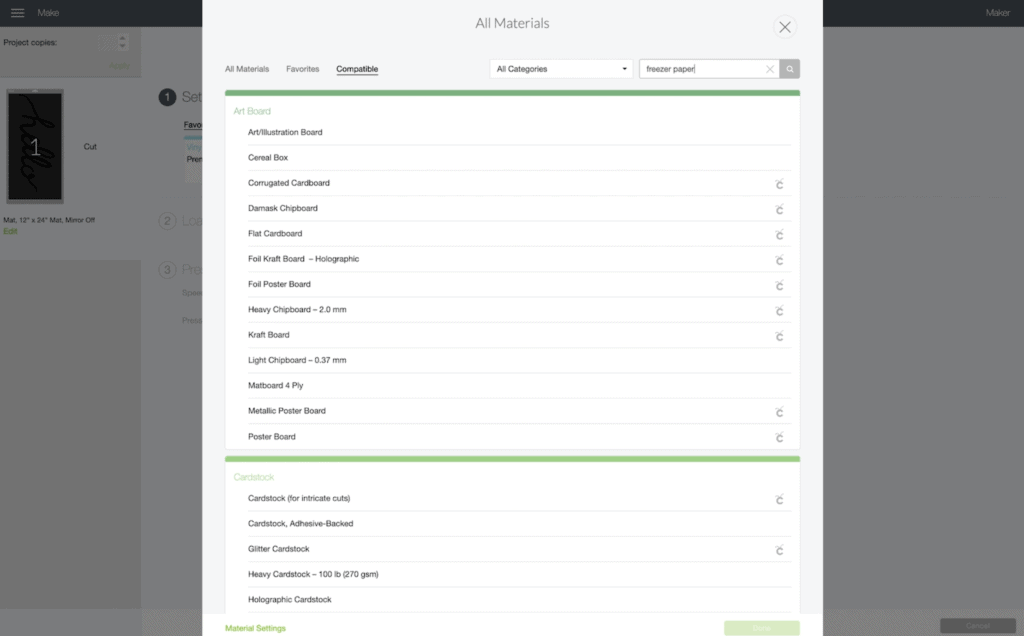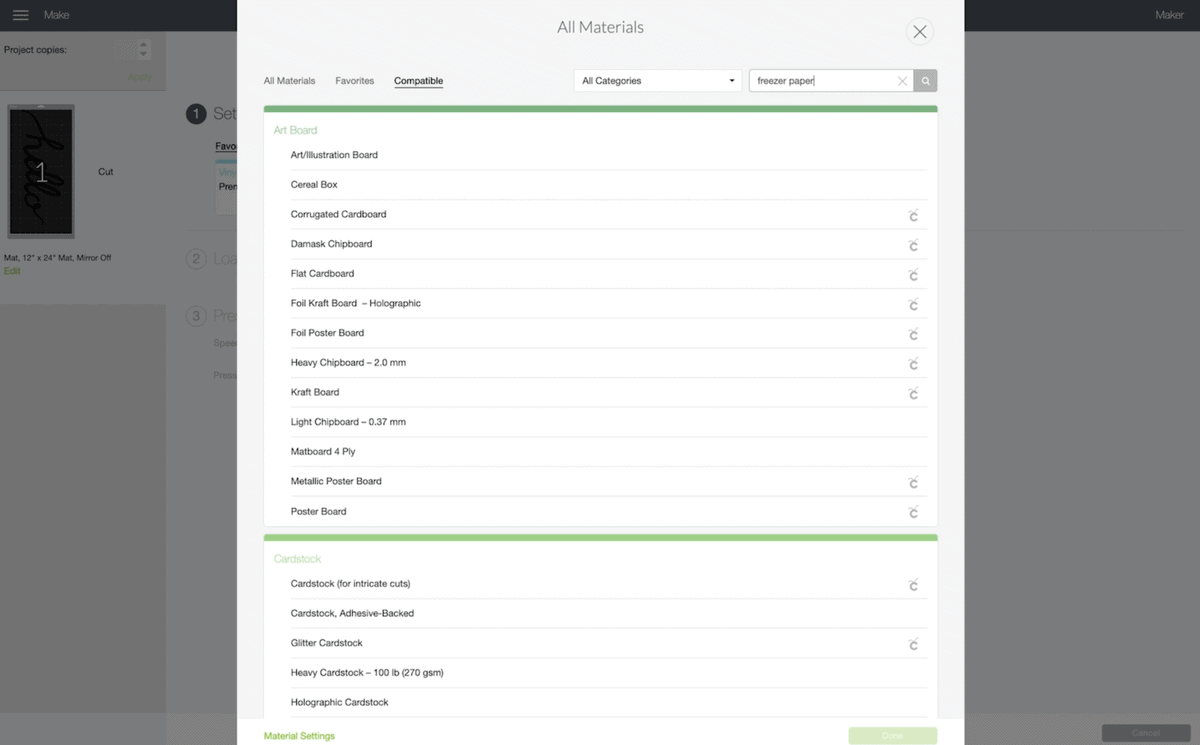 Step 2: Cut Freezer Paper on Cricut Machine to Create Stencil
Now let's work on our freezer paper. The nice thing about using freezer paper is it's very inexpensive so you can easily make multiple mats or use the rest of the roll for other projects. It features a shiny waxed side which allows the material to be temporarily fused to the material making it perfect for stenciling.
Place your freezer paper shiny side facing downwards on the light grip mat. I like to roll my sheet up and slowly place it on the mat. Place the mat into the machine and load your mat, then press the flashing Cricut mat to start cutting. Remove the mat once it's finished cutting.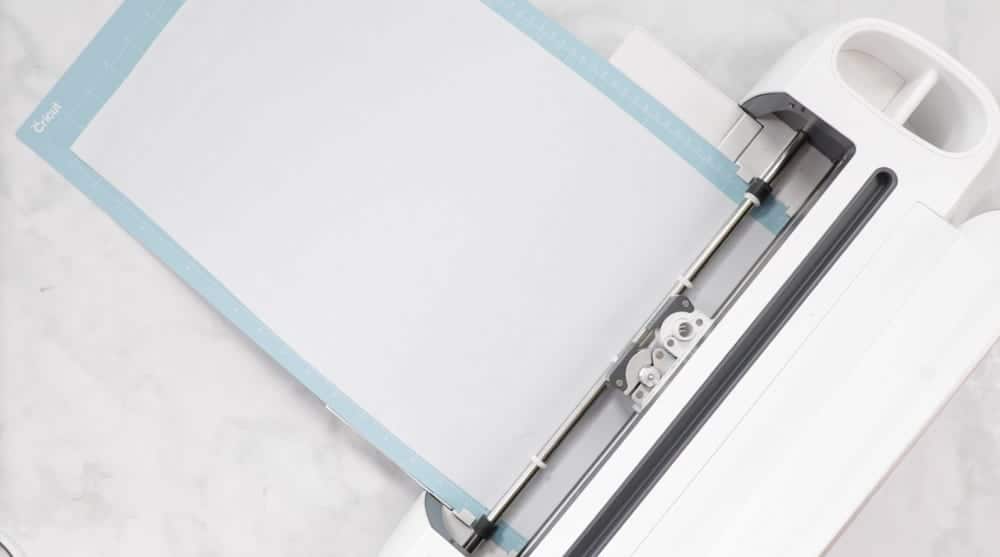 With a weeding tool remove the letters from the design. Keep the small pieces from the inside of the letters in place on the mat.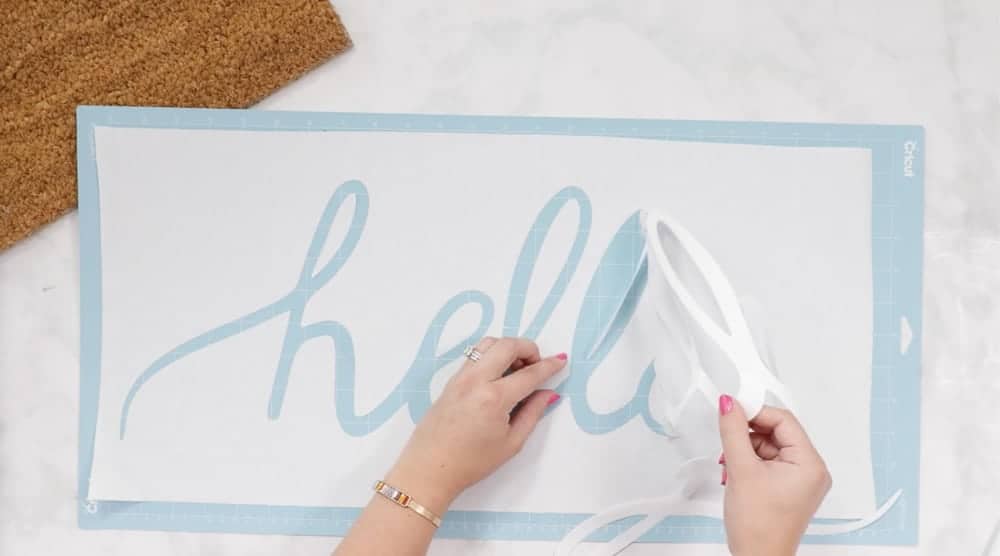 Gently remove the freezer paper from the mat.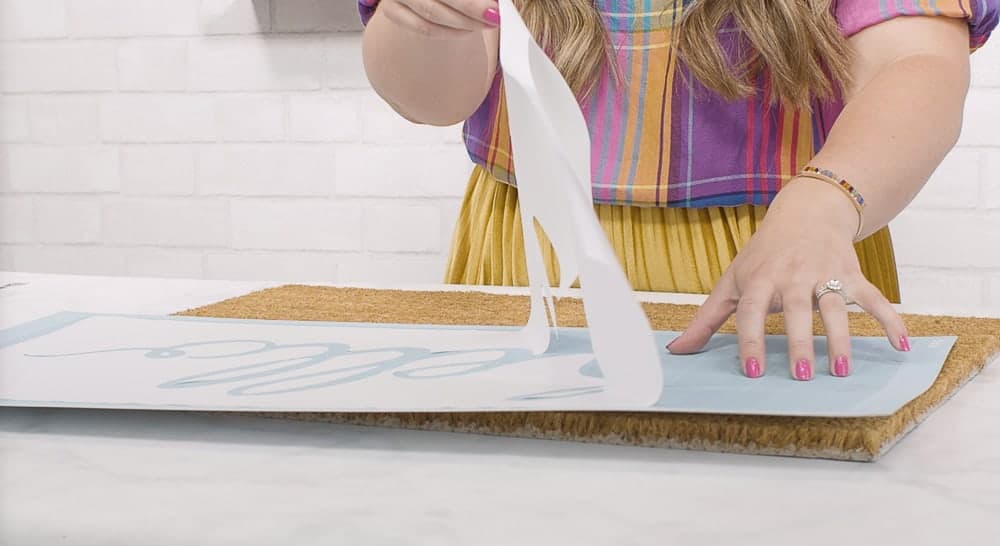 Place the stencil with the shiny side facing down on top of your coir doormat. Make sure the design is centered from side to side and top to bottom.
Once you're happy with the placement of the mat, use a few flat head pins to tack it into place. Transfer any remaining pieces of freezer paper to the mat. You can use the flat head pins to secure them into place.
Step 3: Transfer Stencil & Iron Freezer Paper to Door Mat
Heat up your EasyPress to around 300 degrees or your iron to its highest heat setting with the steam turned off.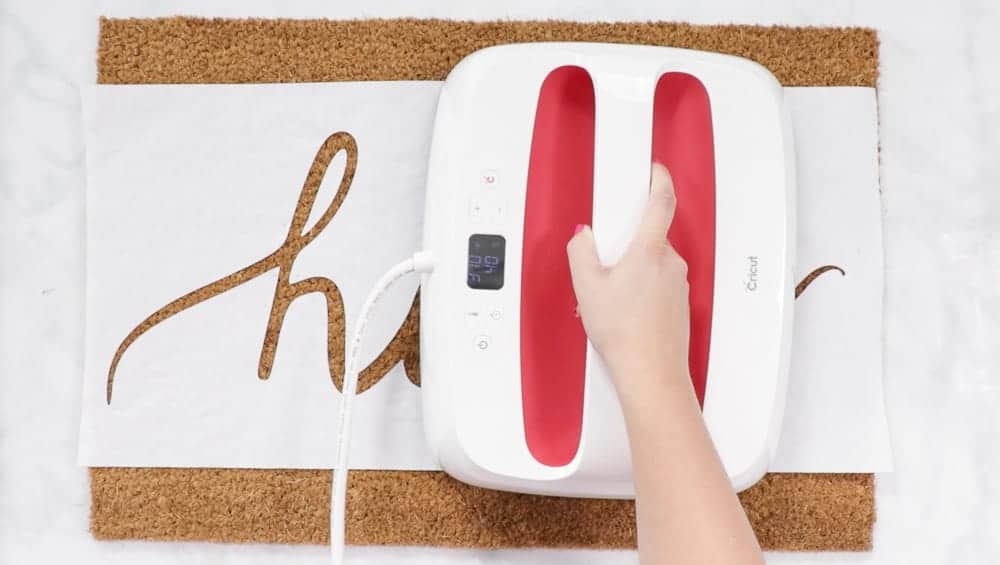 Now it's time to adhere the freezer paper onto the mat using either an iron or an EasyPress. I'm using my largest EasyPress to cover as much surface area as possible with each press. I typically press each section for about 20-30 seconds until I see that the freezer paper has begun to adhere to the fibers of the mat.
Step 4: Paint Doormat with Stencil
With a stencil brush, dab the paint straight up and down along the inside of the stencil. Make sure you aren't applying the paint at an angle as that will lead to the paint bleeding underneath the stencil.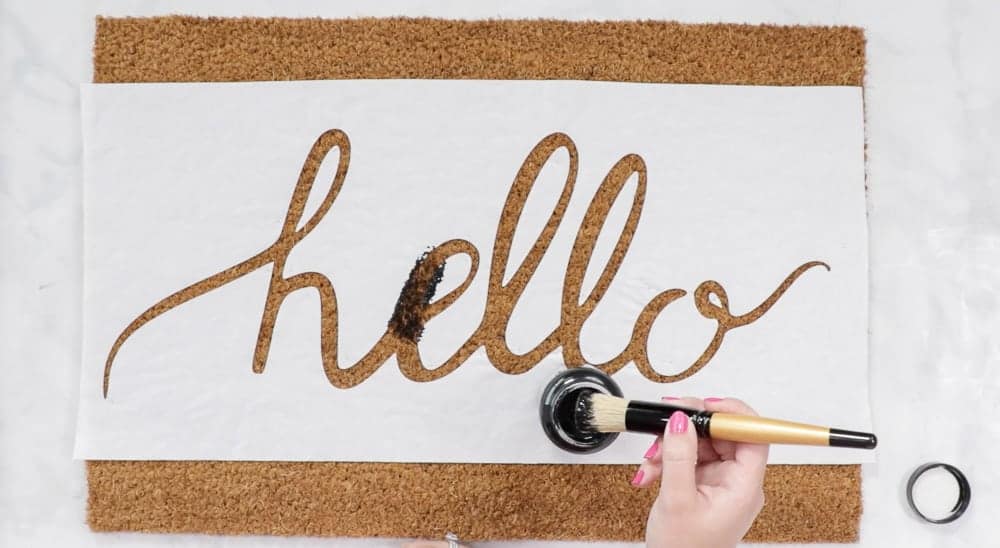 Cover the entire design and allow the paint about 10-15 minutes drying time before layering on a second application of paint.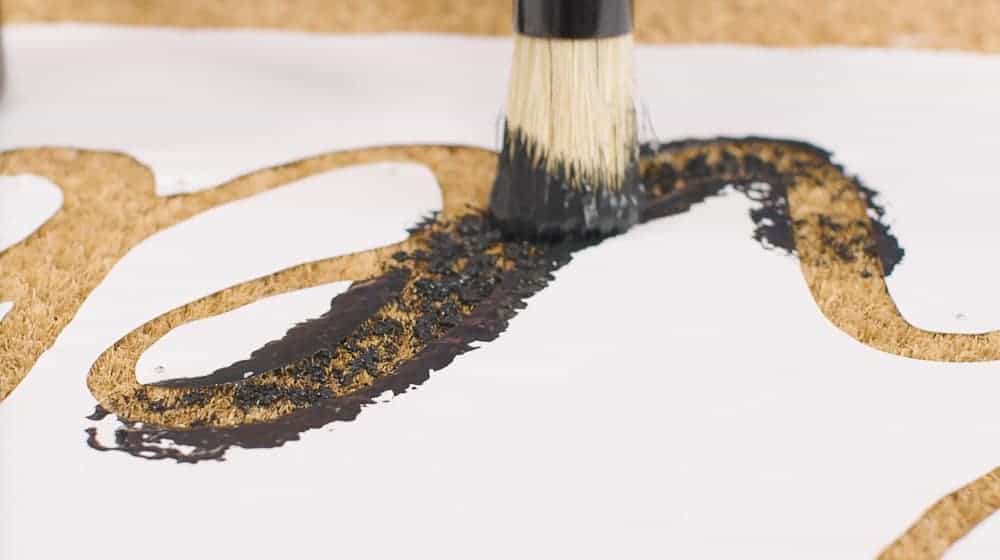 If needed, you can go back and add a third layer to get a really vibrant and bold result.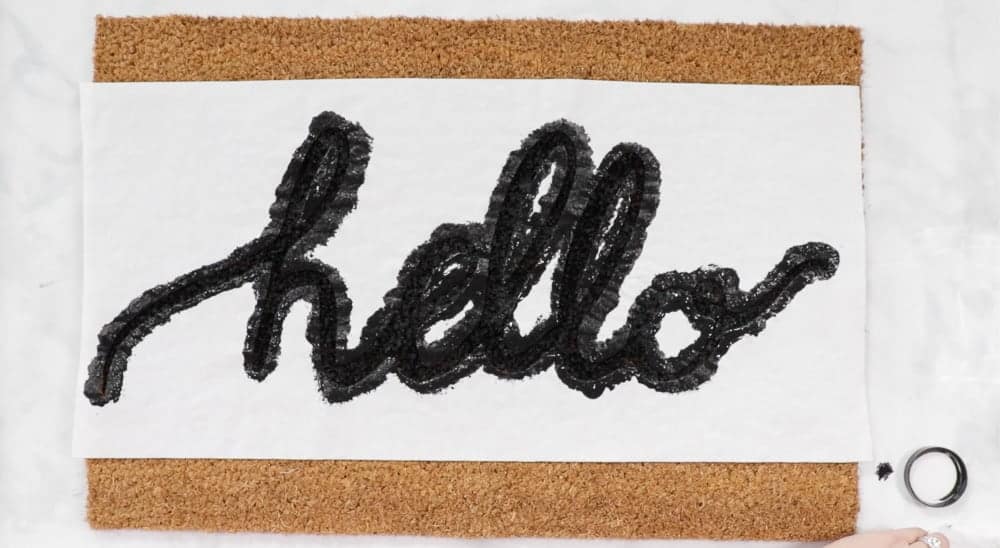 Allow your paint to dry completely. Now it's time to remove the stencil and reveal our finished door mat!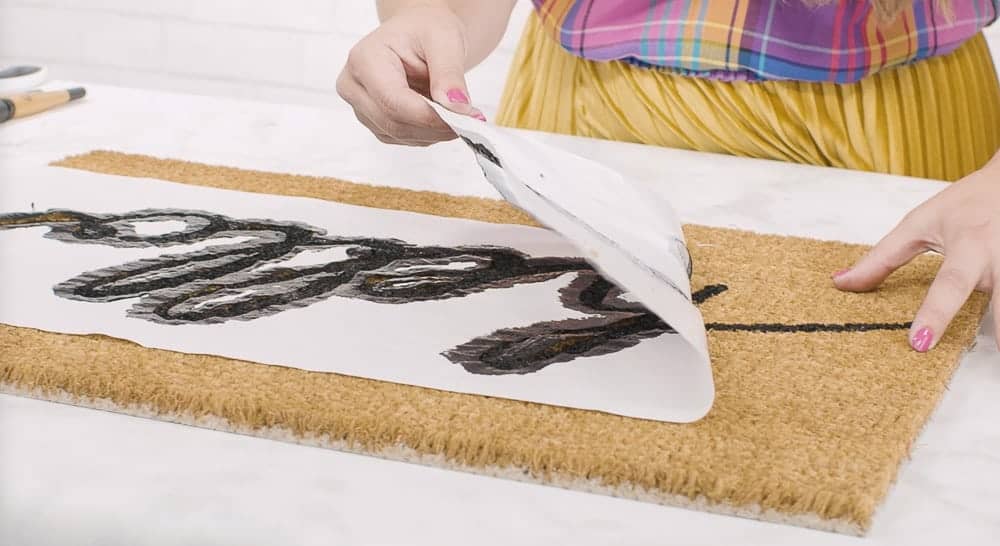 Step 5: Seal Your Customized Doormat
This next step is optional. Apply a layer of Mod Podge Outdoor sealant to your project to help it stand up to harsh outdoor weather.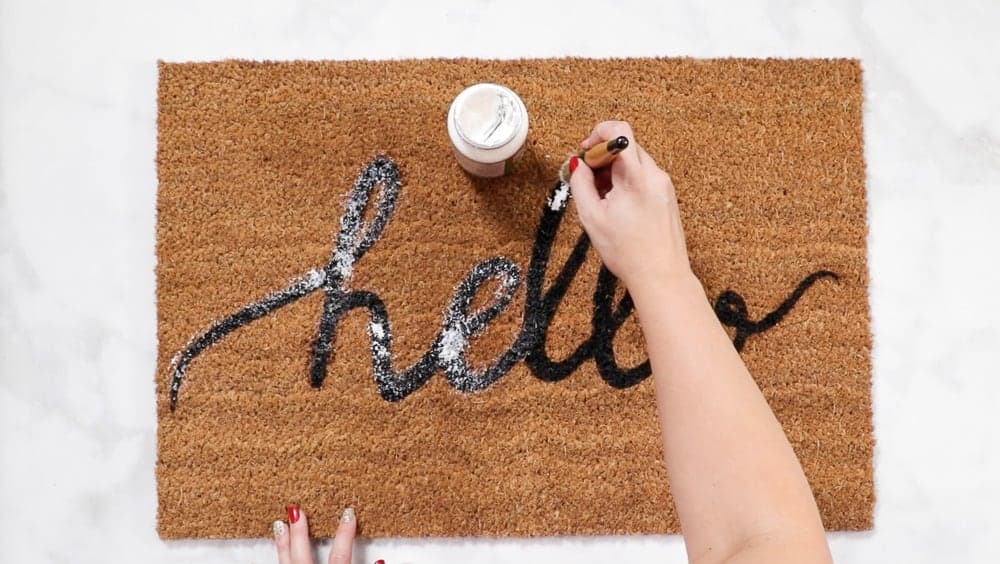 I love how this project turned out and I can't wait to set it outside of my front door!
Tips & Tricks for Troubleshooting a DIY Door Mat with Cricut
Use a squeeze bottle like this one to make transferring the paint to the doormat easier. FIll it with paint and then draw the paint onto the stencil cut outs directly.
Make sure to use an outdoor acrylic paint as this will give you longer lasting results than normal acrylic paint.
Allow the mat to dry completely for 24-48 hours before using it.
When stenciling, use an up and down motion. Avoid brushing or going side to side as this will cause the paint to seep underneath the stencil.
Make sure that you've applied heat to the stencil and fully adhered it to the mat for a good seal.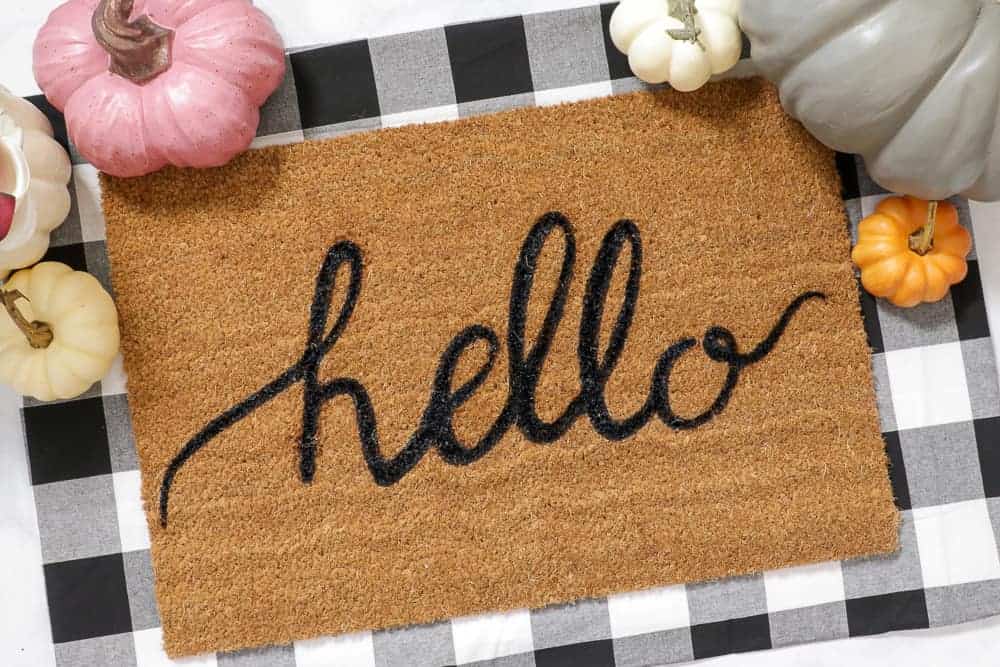 Do you have a Cricut loving friend who needs this tutorial? Make sure to share it with them!
Is there a crafting tutorial you want to see next? Let me know in the comments!
Save yourself a trip to the store and grab all of the supplies for this project online from JOANN!
Don't forget to join my crafting Facebook group where you can show us what you're making, ask questions, and learn from others! Come follow me on Instagram for daily crafting inspiration and a look behind the scenes. If you use these files, be sure to tag @sweetredpoppy so I can see what you're making and share your photos in my stories!