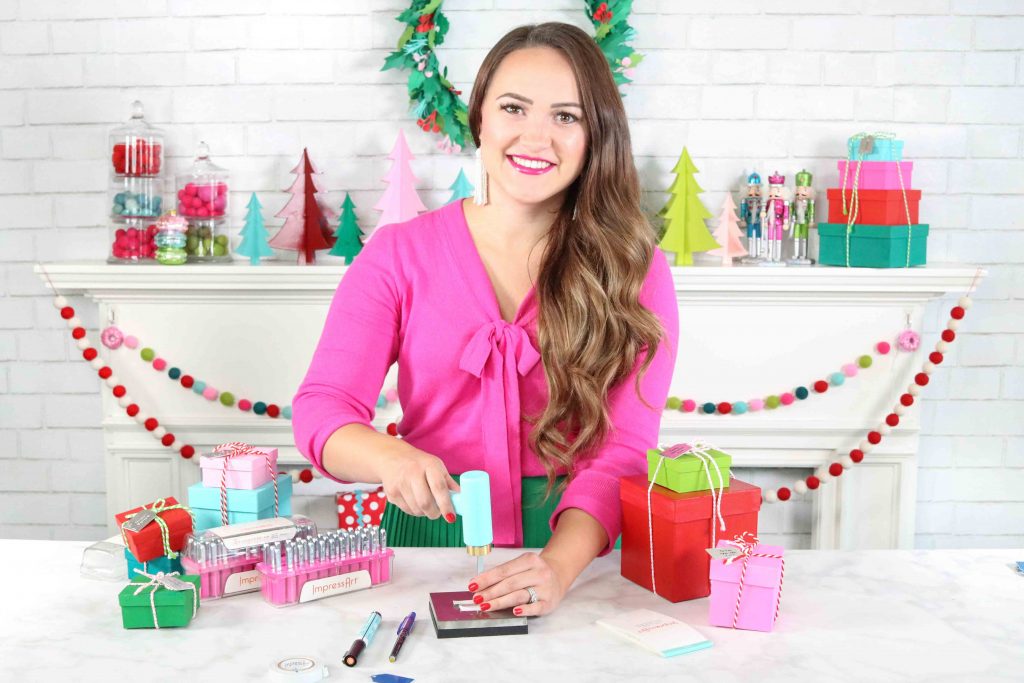 Intro to Metal Stamping for Beginners. Learn How to Easily Stamp Metal and Create a Custom Holiday Jewelry Gift Tag Using an Impress Art Kit and Supplies.
I teamed up with Impress Art to bring you a fun holiday metal stamping tutorial. I'm SO excited to share this tutorial with you because it's perfect for decorating gifts for Christmas.
I'm also sharing tons of tips and tricks for getting great results when working with metal stamps. These techniques can be applied to any type of project.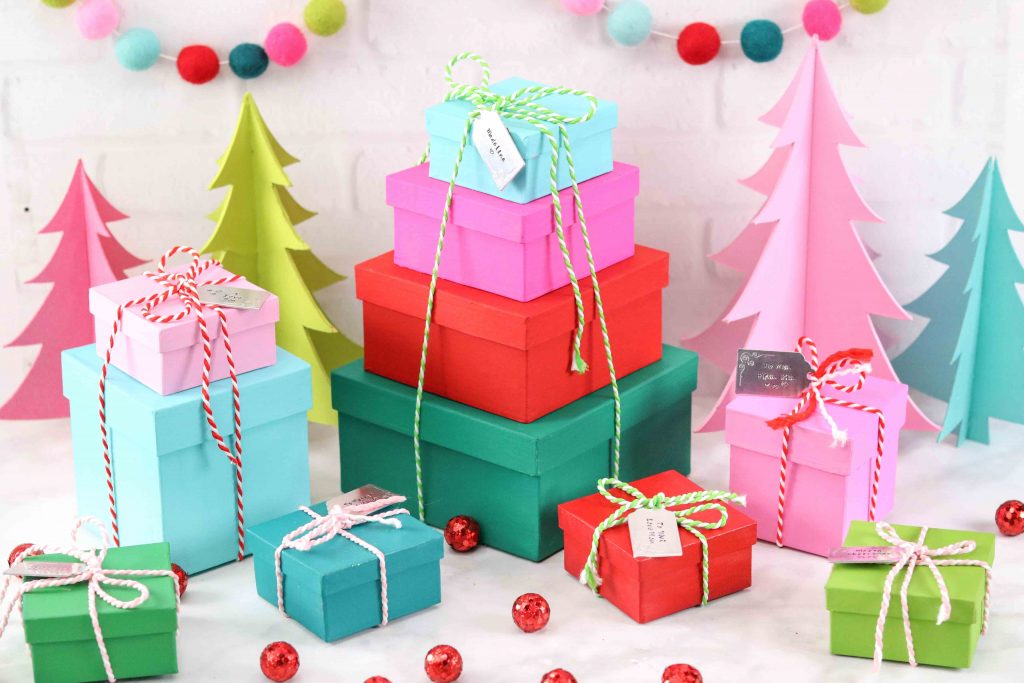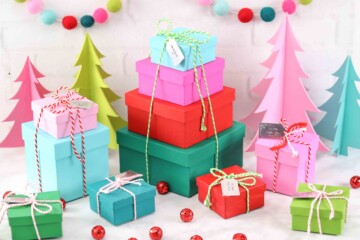 I'll be honest, the first time I tried metal stamping I didn't have a great experience. I used cheaply made materials (NOT ImpressArt) that I ordered off a somewhat sketchy website and I didn't understand any stamping technique.
After using Impress Art supplies at Snap Conference this summer and being so impressed with their products, I decided I needed to give it another shot.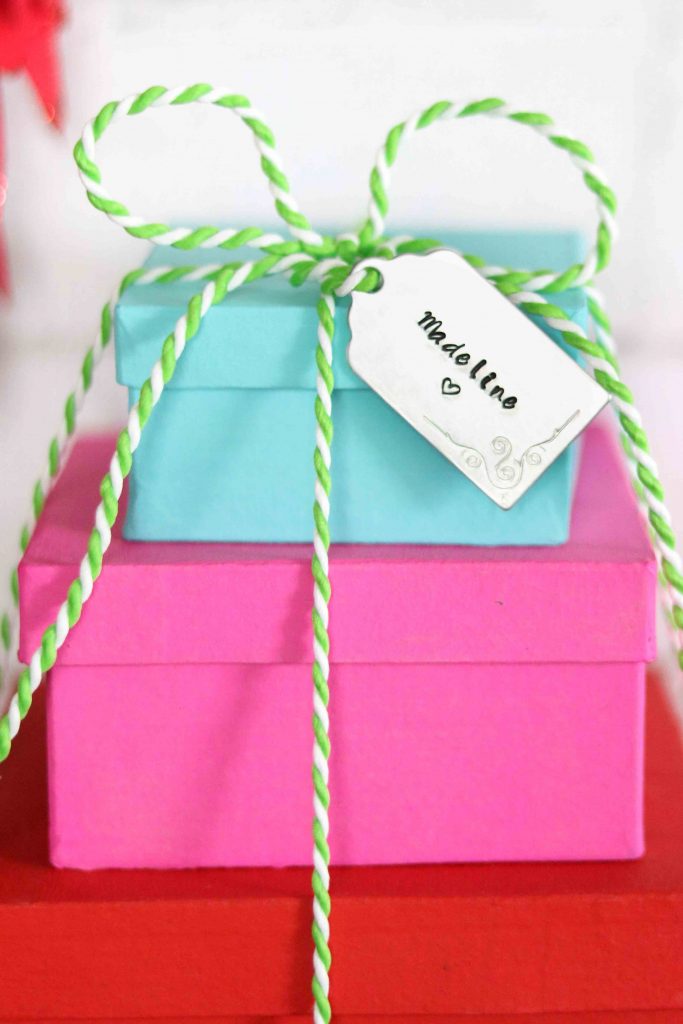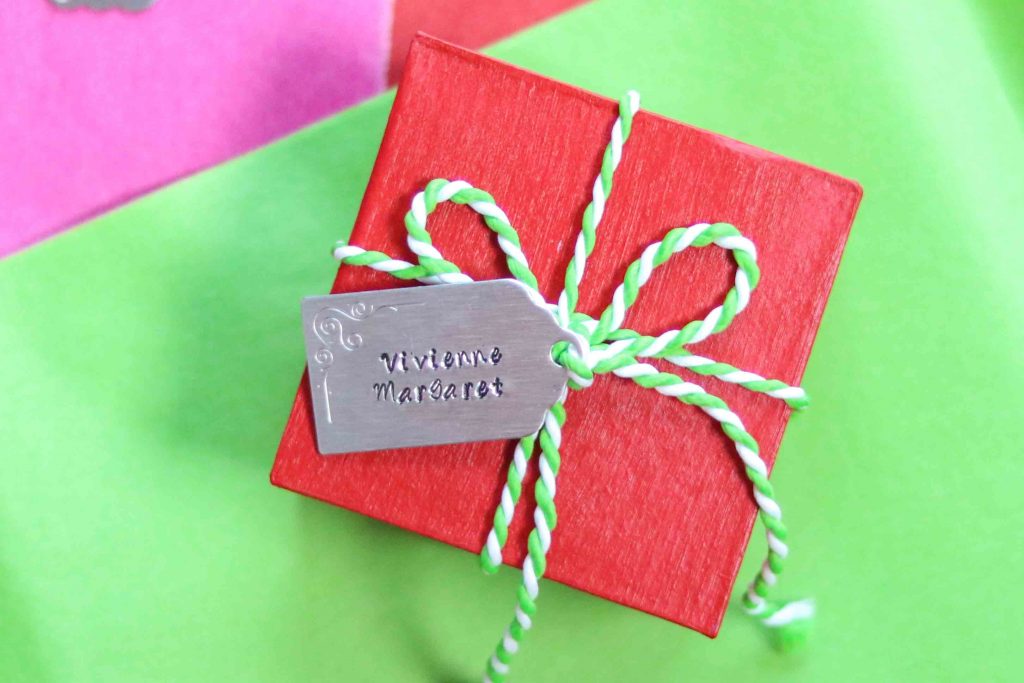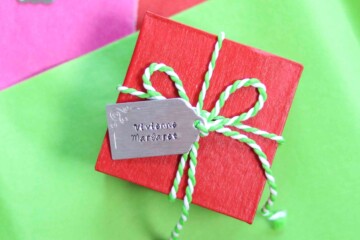 After just a few projects, I was hooked. What can I say? I've definitely caught the metal stamping bug and I now feel the need to personalize everything! I've made necklaces, bracelets, ornaments, and gifts tags. I've already planned out my new few projects!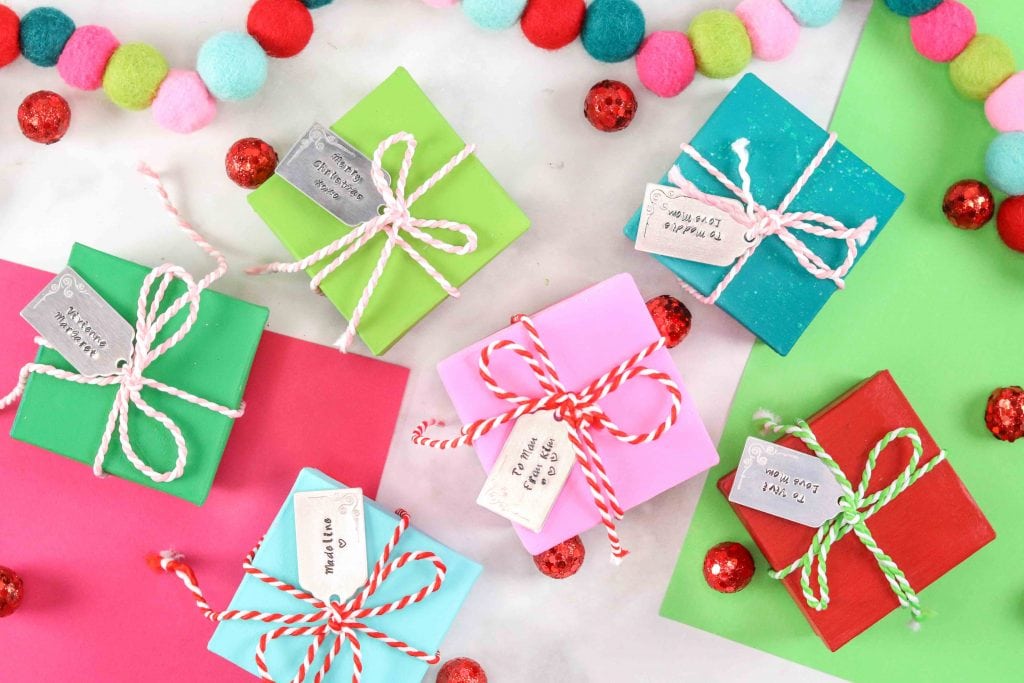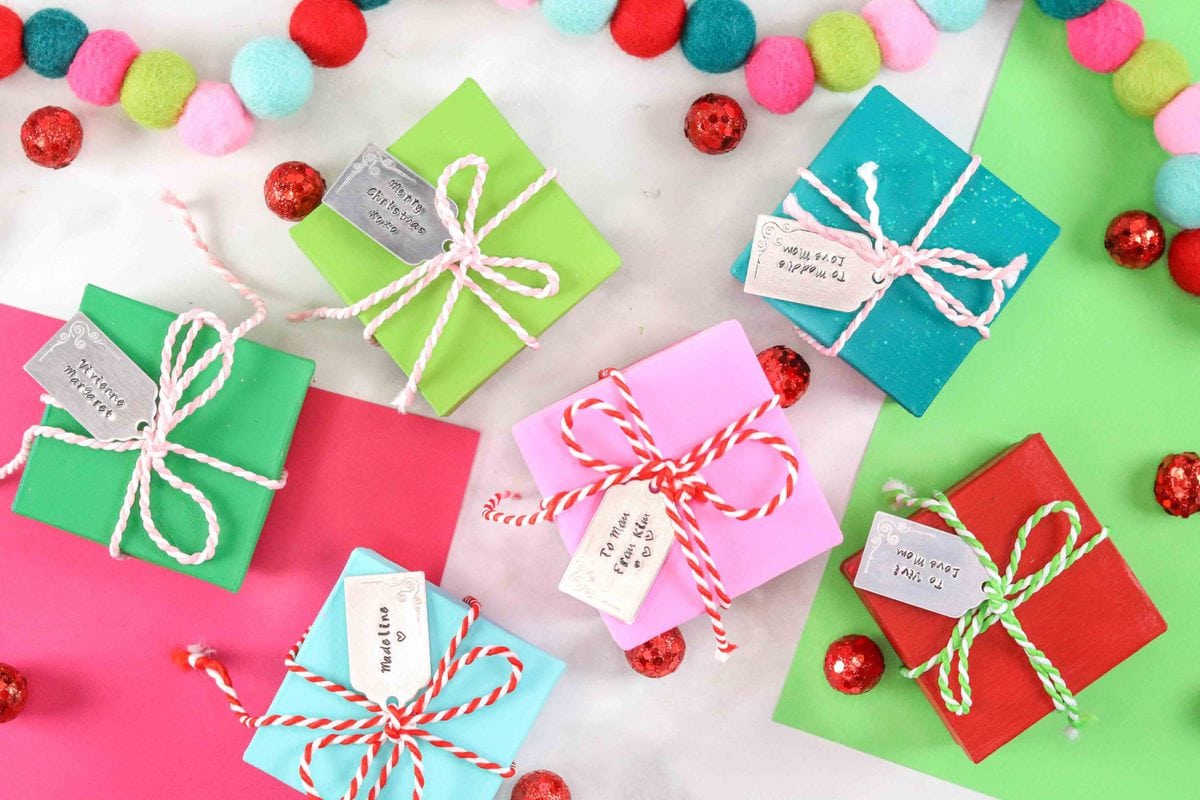 Want to know what made the biggest difference this time around? Education and great products!
I have been so impressed with the extensive videos that Impress Art has created that walk you through every single step of their projects.
Instead of just showing you how to make a project, they teach you how to use the correct technique in order to get great results and troubleshoot any problems you might run in to along the way! As someone who's a bit of a perfectionist, I can't tell you how much I appreciate that.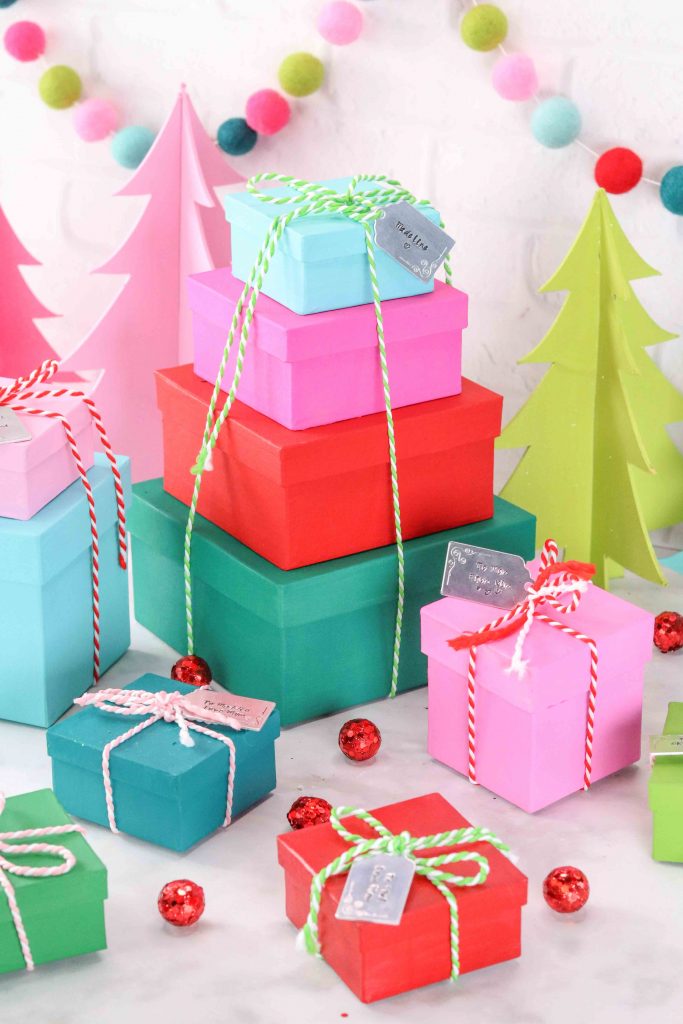 Are you ready to get started?
Here's what you'll need for this project! Don't forget to use my special discount code SRP20FALL for 20% off of your purchase!
Supplies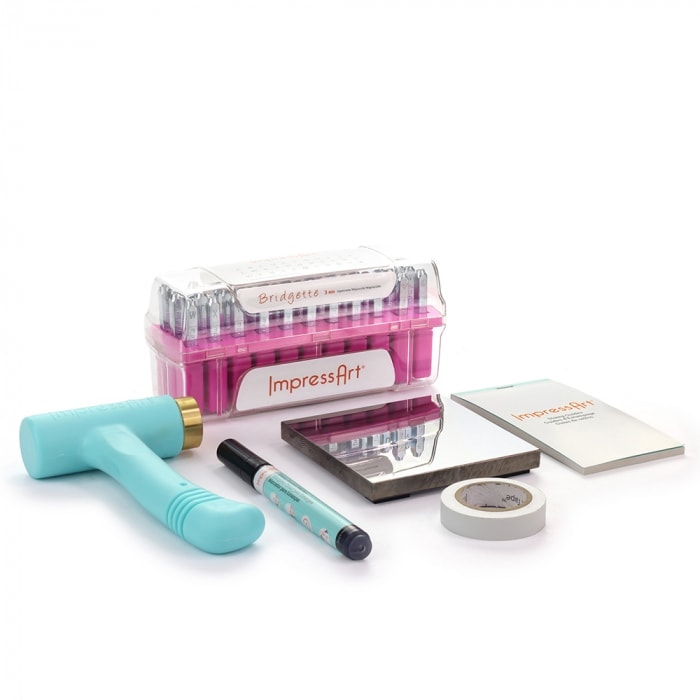 Watch this step-by-step video for all of my tips and tricks!
Metal Gift Tag Tutorial
Secure your gift tag to the stamping block using stamp tape. This will prevent your gift tag from moving during stamping.
Using the stamp guide book, place a straight guide along the bottom of the tag. The guide allows you to evenly place each marking.
With a pen, write each letter on the stamp guide using every other line.
Pull out your selected letters from your stamp set. Make sure that the Impress Art logo is facing you before you begin stamping to ensure it is stamped in the right direction.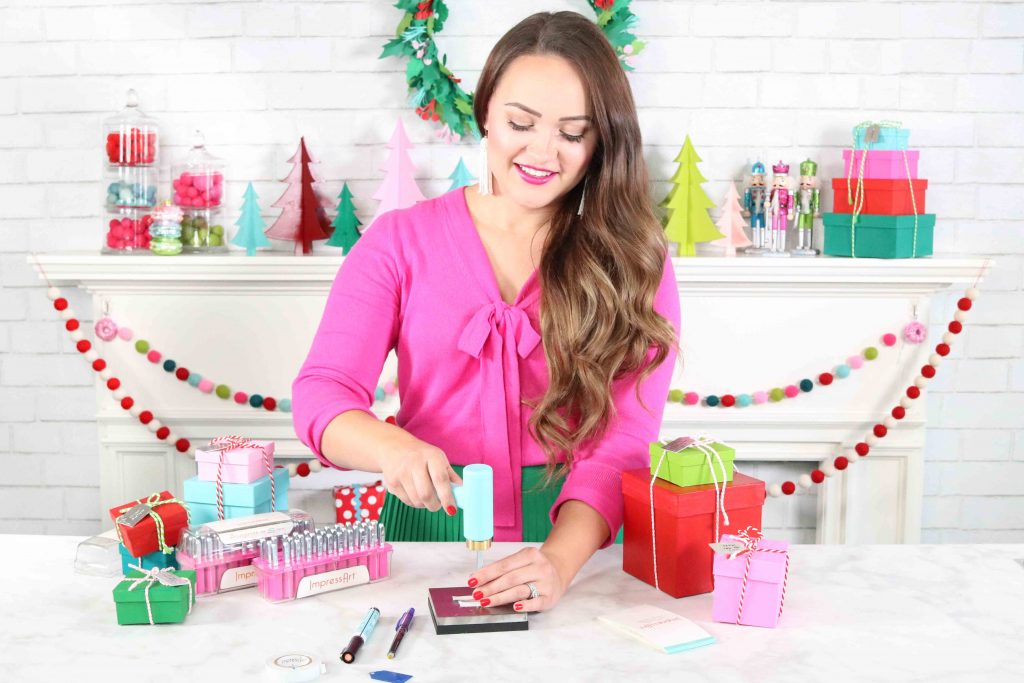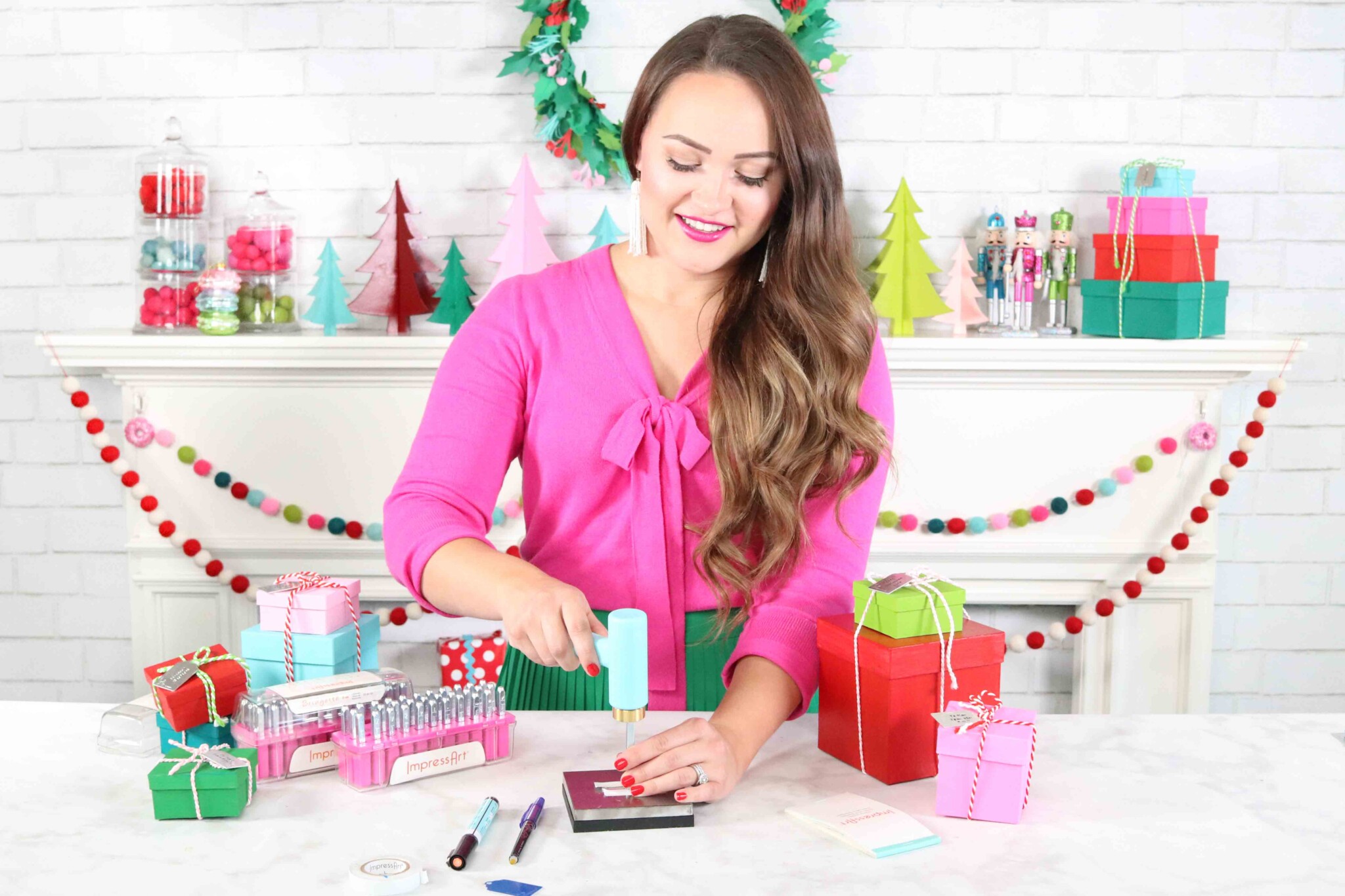 Firmly hold the stamp close to the bottom of the stamp shank and align it with the guide. Make sure your hand is resting partly on the stamping block.
Lightly drag the stamp towards you until it catches the edge of the stamping guide. Position the stamp so it is straight up and down.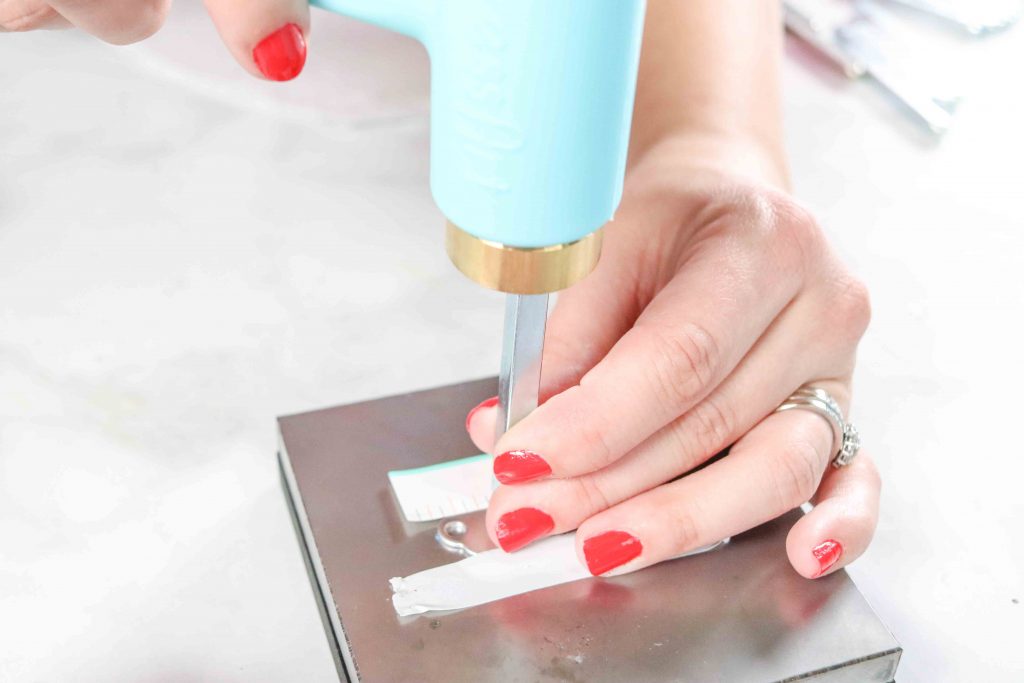 Use your hammer to firmly strike the stamp from above one time.
Repeat this process with the following stamps.
If your stamp doesn't make a full impression, realign it until you feel it fall into the impression and hit it once more.
Remove the tape from either side of the tag as well as the guide.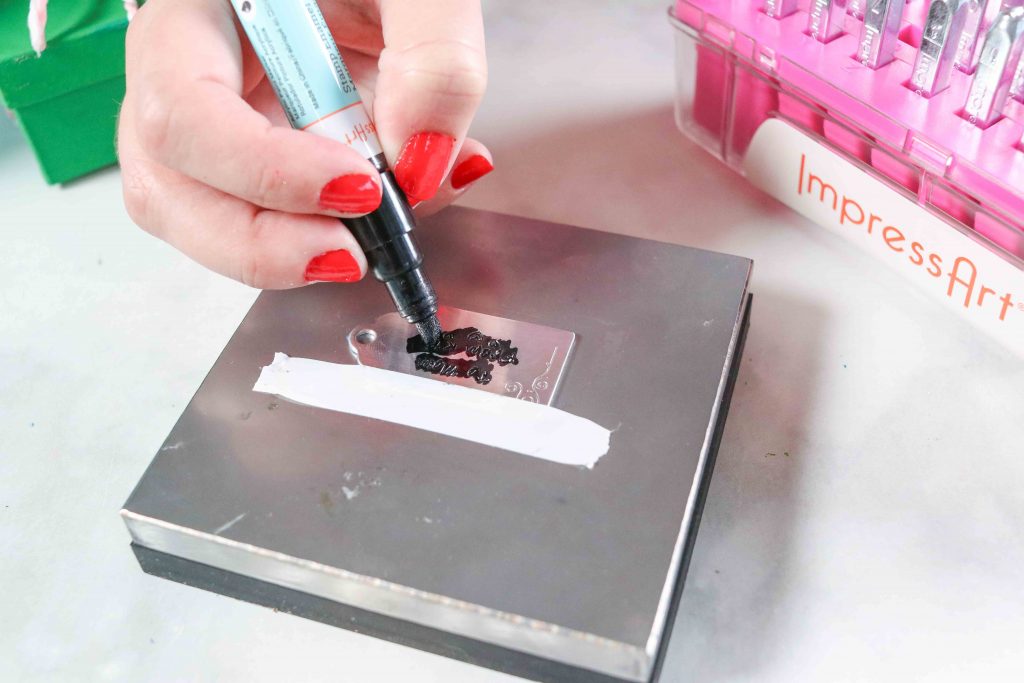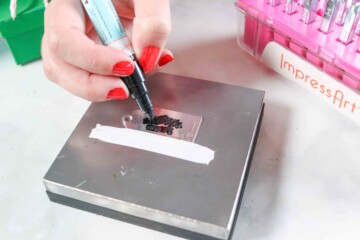 Use a Stamp Enamel Marker to highlight the impression to give it more definition.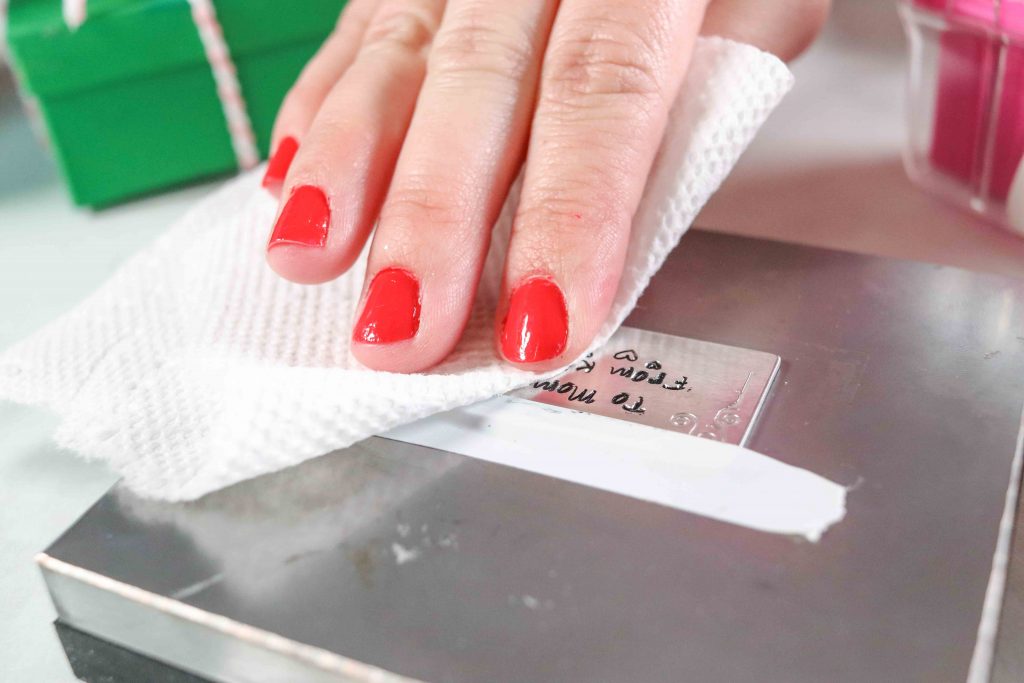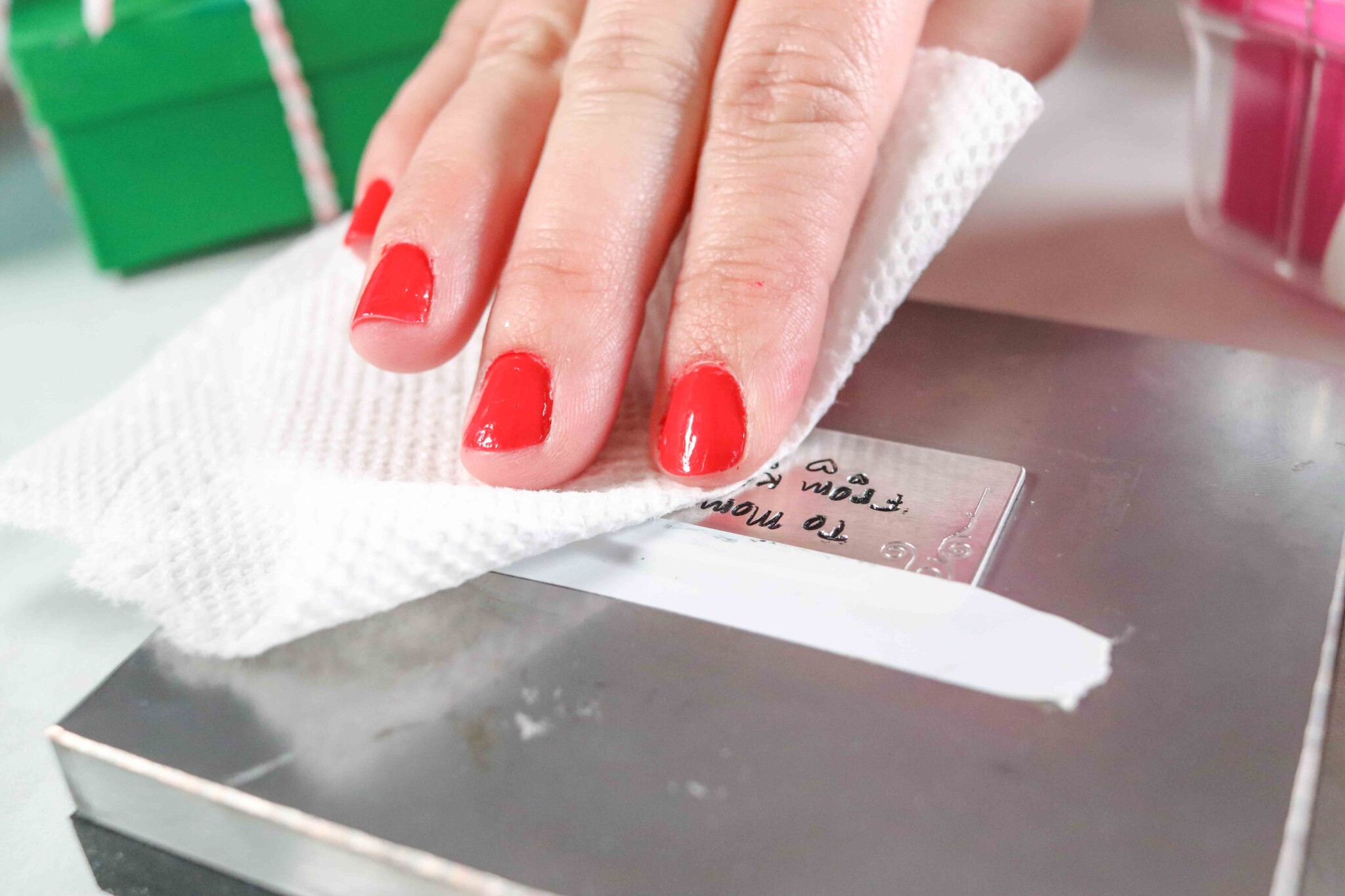 Allow the enamel to dry completely for three to five minutes before wiping it away using a paper towel.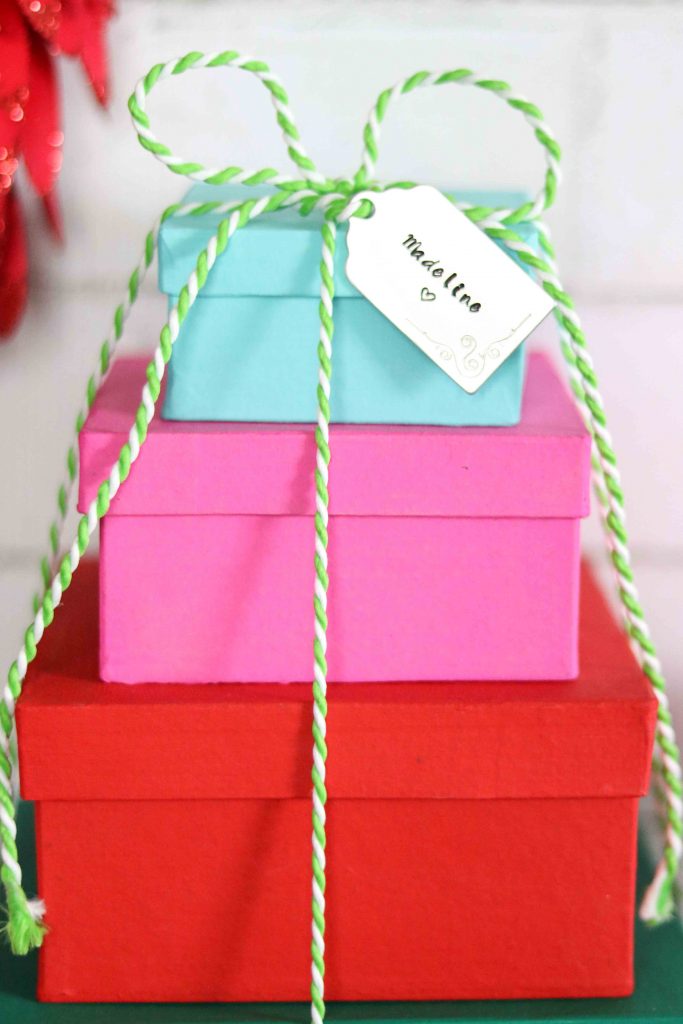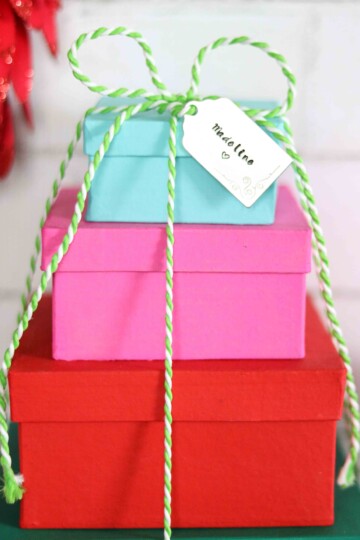 Attach the gift tag to a string and tie it around your present! The best part is it can be reused after Christmas as a charm on a bracelet or a necklace.
You can get all of the supplies for this project by visiting ImpressArt.com Don't forget to use the code SRP20FALL for 20% off of your purchase!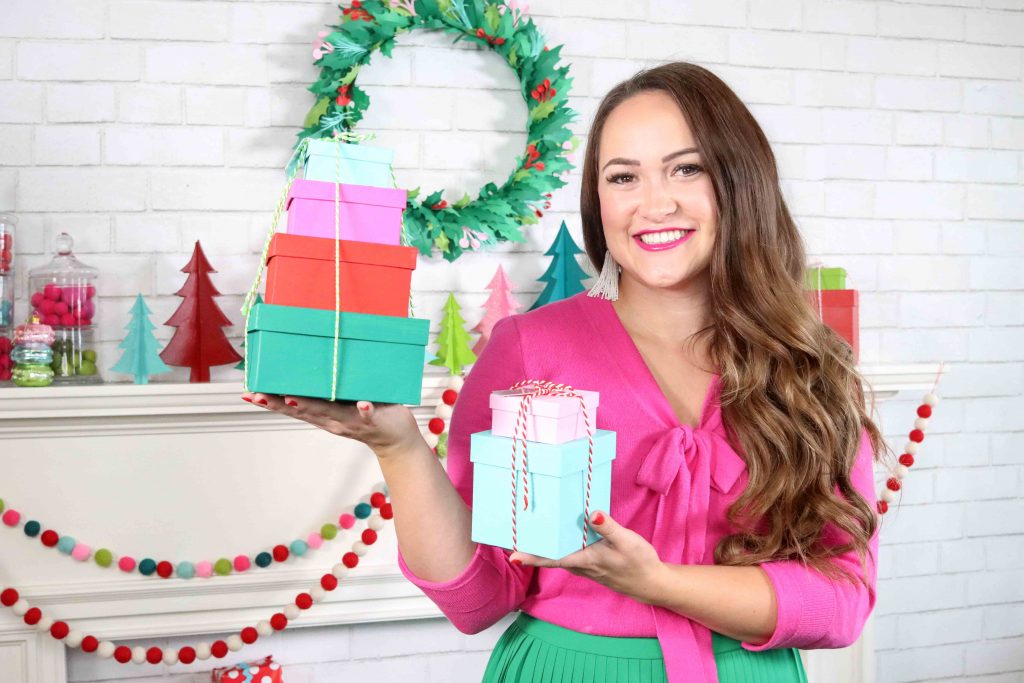 Want even more metal stamping tutorials?
Check out ImpressArt.com for even more metal stamping tutorials!