Learn all about the different file formats crafters use as cut files for Cricut, Silhouette, and other cutting machines, as well as in their design software.
When you're just starting out designing your own cut files, the different file formats can be a bit confusing! You have to know what the difference is between each of the file formats, when to use each one, and with which cutting machine.
So I've put together a File Formats for Crafting Printable Guide to help you navigate the different file formats as you're designing and crafting!
You can print this off to have it next to you so you always know what the right file format is for your project. Get the free download below!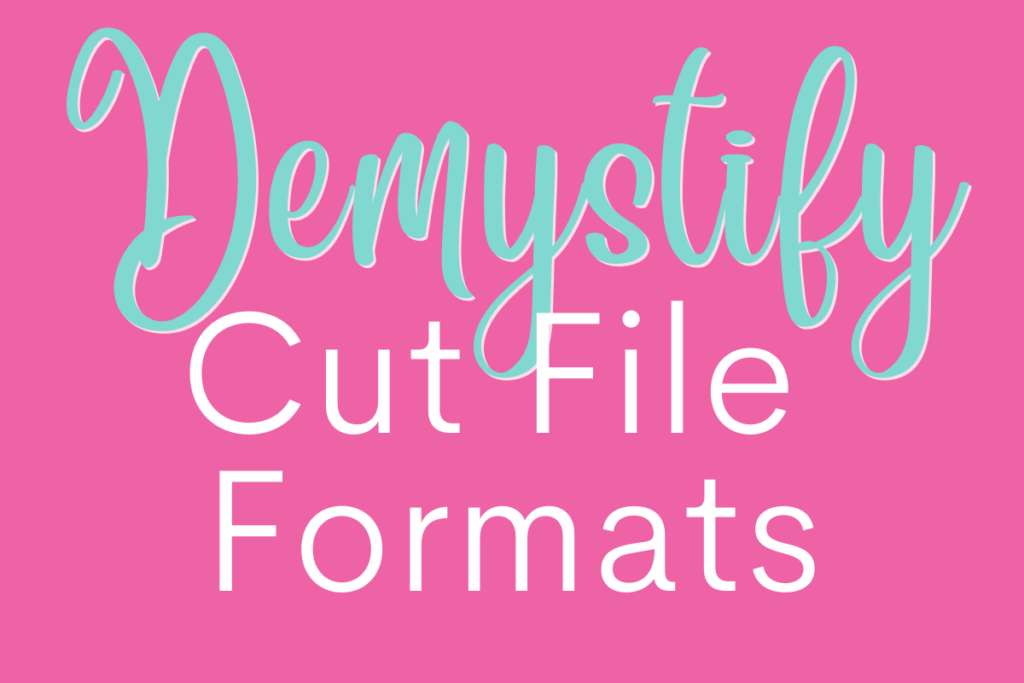 What Types of File Formats Are There?
Cut files can come in a variety of different file formats. When paired with a cutting machine, they can be used with various materials including adhesive vinyl, heat transfer vinyl, paper, and fabric.
Typically you'll see SVG, PNG, EPS and DXF files. The file format you use depends on the cutting machine and design software you have.
Sometimes you'll also see a PDF included and that's for crafters that don't have a cutting machine and cut out the design by hand. Bless those crafters!
Wondering what an SVG file is? Find out here.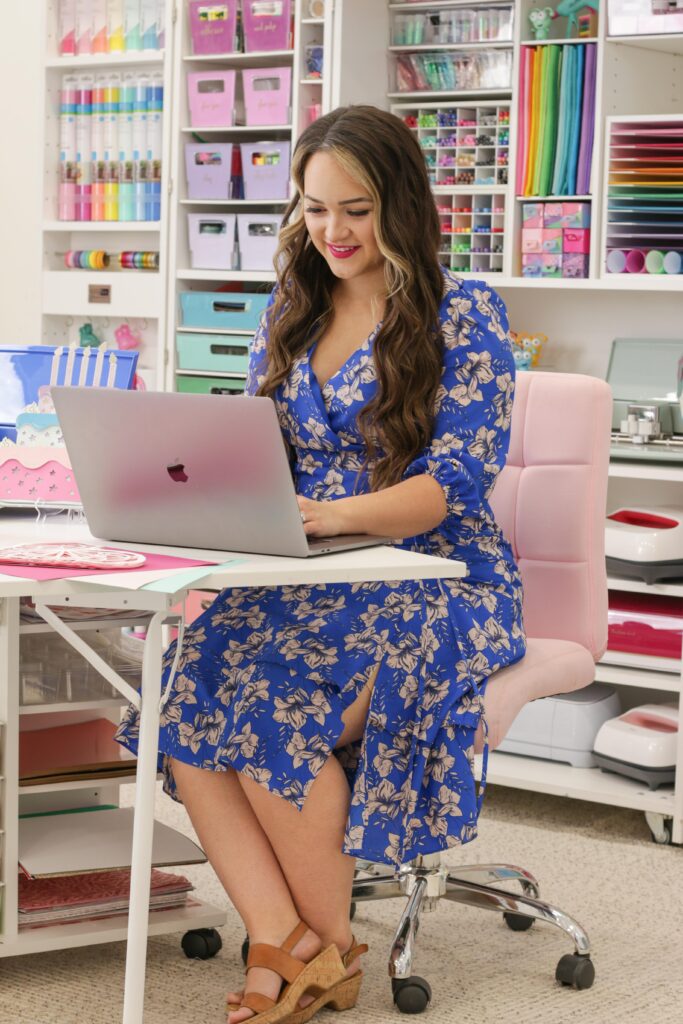 What Cutting Machine and Design Software Uses Which File Formats?
SVG files are compatible with Silhouette Designer Edition, Cricut Design Space, Sure Cuts a Lot, and Make the Cut.
DXF files are compatible with Silhouette Basic Edition, Silhouette Designer Edition, and Cricut Design Space.
Note: DXF may be identified as AutoCad by your computer file manager.
EPS files are compatible with Adobe Illustrator, Corel Draw, Photoshop, and InDesign.
PNG files are provided as an example of the design but can be opened in most design software. This file type is also used for the Print then Cut feature on some cutters and for sublimation printers.
Find Out What You Need to Know to Design Your Own Cut Files in Adobe Illustrator or Inkscape Here.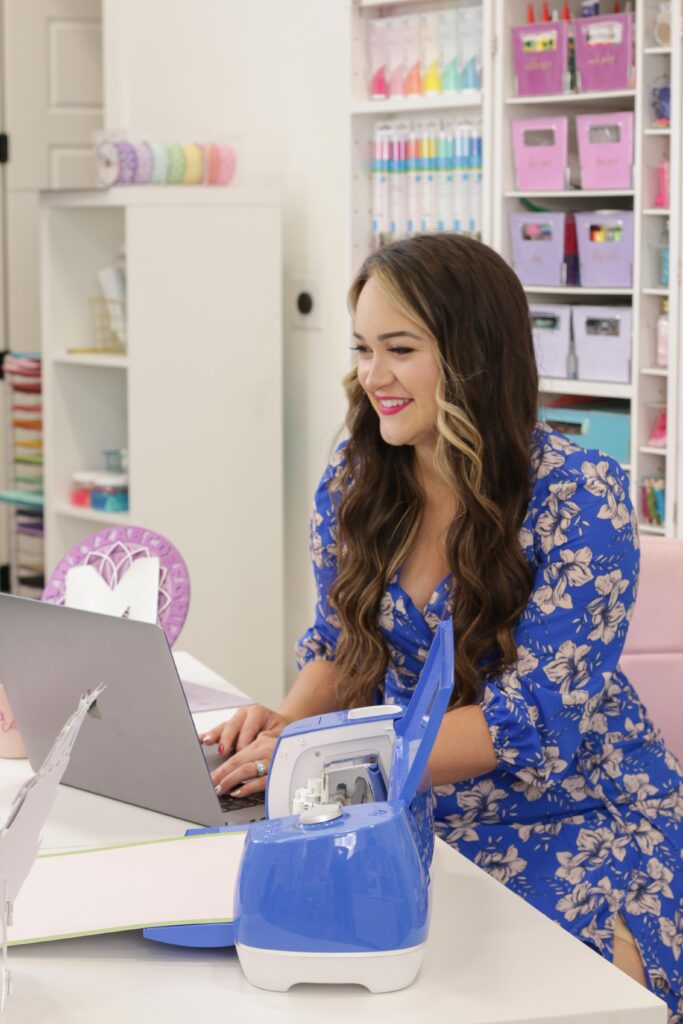 What's the Difference Between SVG, ESP, Dxf and PNG Files?
Simply put, the file formats appear differently when opened on the design screen.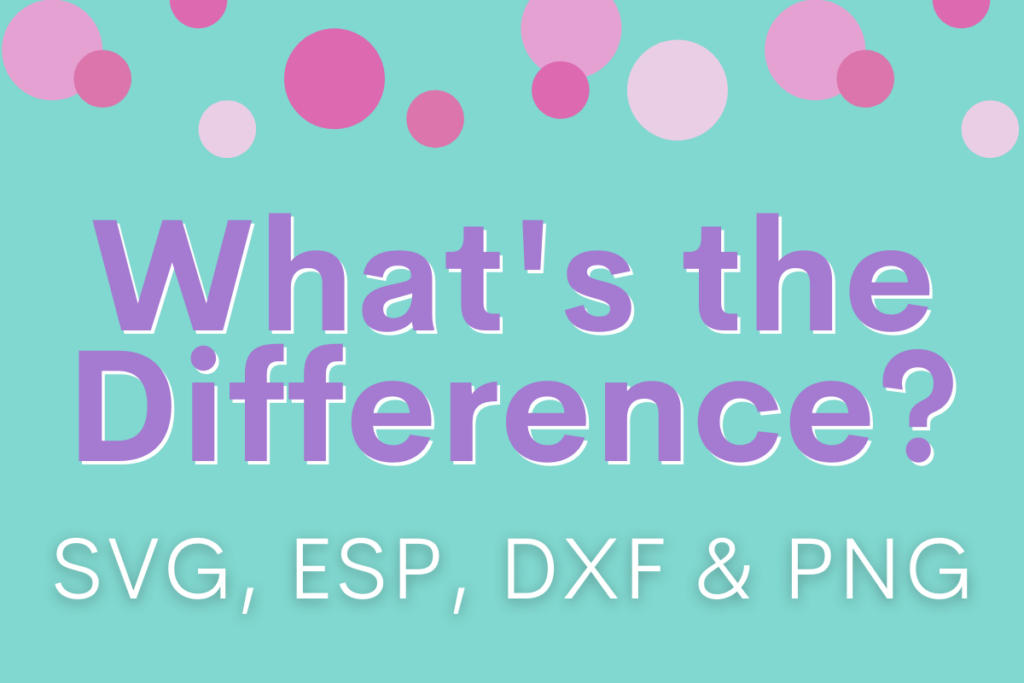 SVG AND EPS FILES
These file formats maintain colors and solid shapes as well as maintain the layers of the design if multiple layers exist.
The cutting lines may not appear until you select cutting preferences in your software or hover the cursor over the design.
Before resizing the design or moving it on the screen, "select all" to see if it opened as one group or multiple groups.
Make sure all of the layers are selected on your screen before you manipulate the design or you won't be able to scale proportionally.
For designs with more than one element, elements may be ungrouped for editing with your software's "ungroup" command. You may then regroup by color for efficiency in cutting different colors of media.
DXF FILES
This file format appears as a black outline of the design's cutting lines. There are no colors or layers.
In designs with more than one element, you may be able to ungroup elements with the "release compound path" command.
You can then regroup by color for efficiency when cutting different colors of media. Then click "make compound path" again to retain all formatting.
Please note that DXF files are very node-intense and cutting can be noisy and take longer than your own designs or SVG files. I recommend a test cut.
PNG FILES
PNG files are full-color static images without cutting lines. None of the elements can be ungrouped.
PNG files are mainly used for sublimation (the process of transferring a design into a material or fabric using ink and heat) or the Print then Cut feature (to make stickers, tattoos, decals, and more).
While PNGs can still be traced and cut, you may find that one of the other formats works on your machine to provide cleaner cutting lines.
Which Files Should I Use?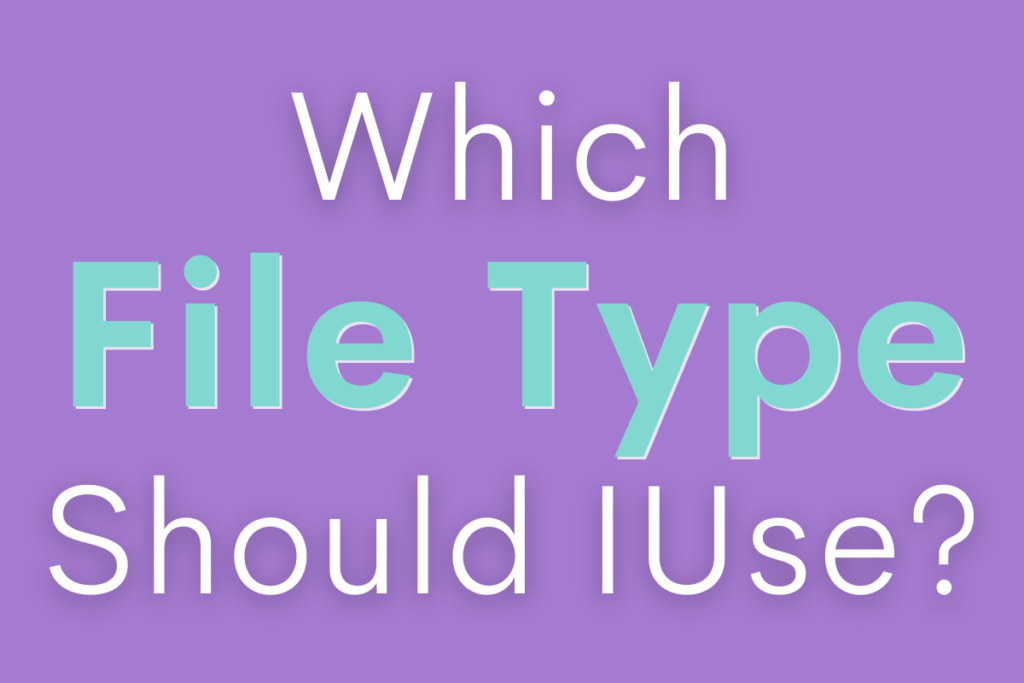 When designing for yourself, I recommend using the file that works best for your cutting machine and the project you intend to use it for.
But, if you plan on selling your designs, I recommend including SVG, PNG, EPS, DXF and PDF files. Including all of these file types ensures your end-user has the file type they need.
Get the free File Formats for Crafting printable HERE to help keep formats clear as you design!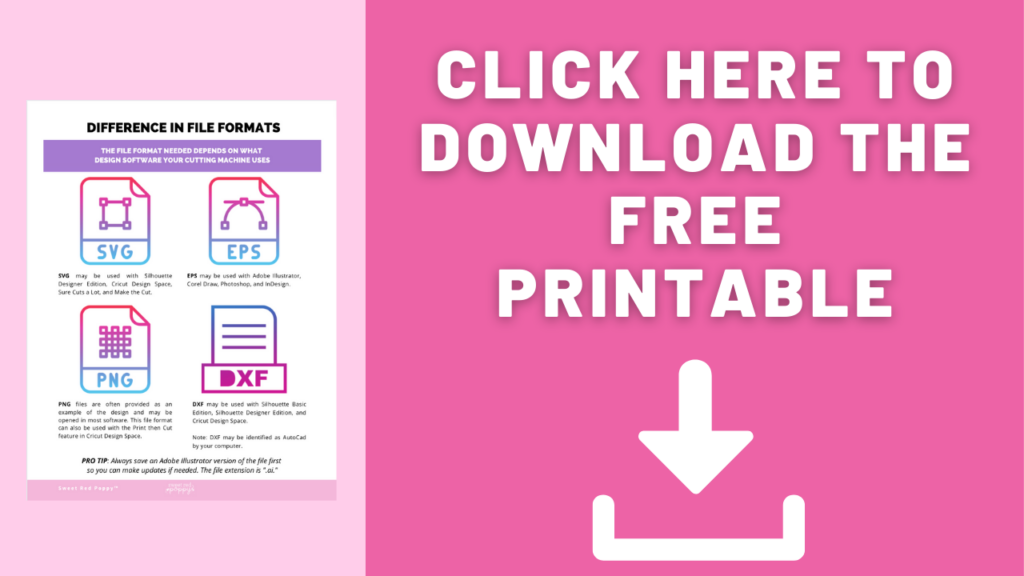 SVG Design School
Whether you just started crafting or begin creating your own cut files, I'm here to help.
In my new SVG Design School (which will be launching soon) I teach you everything you need to know to design your own cut files.
Starting from the basics, I cover editing, text, colors, saving your design, and so much more.
Throughout the course, I'm including a variety of class projects. These projects are designed to put into practice the skills you'll learn in the course.
I've found that the best way to really learn how to design is to do it yourself.