Learn to use your Cricut Maker, Explore Air, and Cricut Joy with the brand new Cricut® Made Easy with Sweet Red Poppy™ online Cricut classes. Keep reading for more info! 💕
Are You Struggling to Get the Most Out of Your Cricut Machine?
In 2016, I purchased my very first Cricut machine. Now, I wish I could say it was love at first sight. But that wouldn't be the whole truth. I was quickly overwhelmed by the number of things to learn and I had NO clue where to start. After multiple failures, I was frustrated to say the least.
I'm guessing you've probably felt the same way.
I immediately started searching online for Cricut classes on how to use it and ended up empty-handed. I couldn't find anything that walked me through step-by-step how to fully utilize my Cricut machine, so I decided to teach myself how to use it. After spending months of work on trial and error, I finally got the hang of it and fell head over heels in love with my Cricut machine!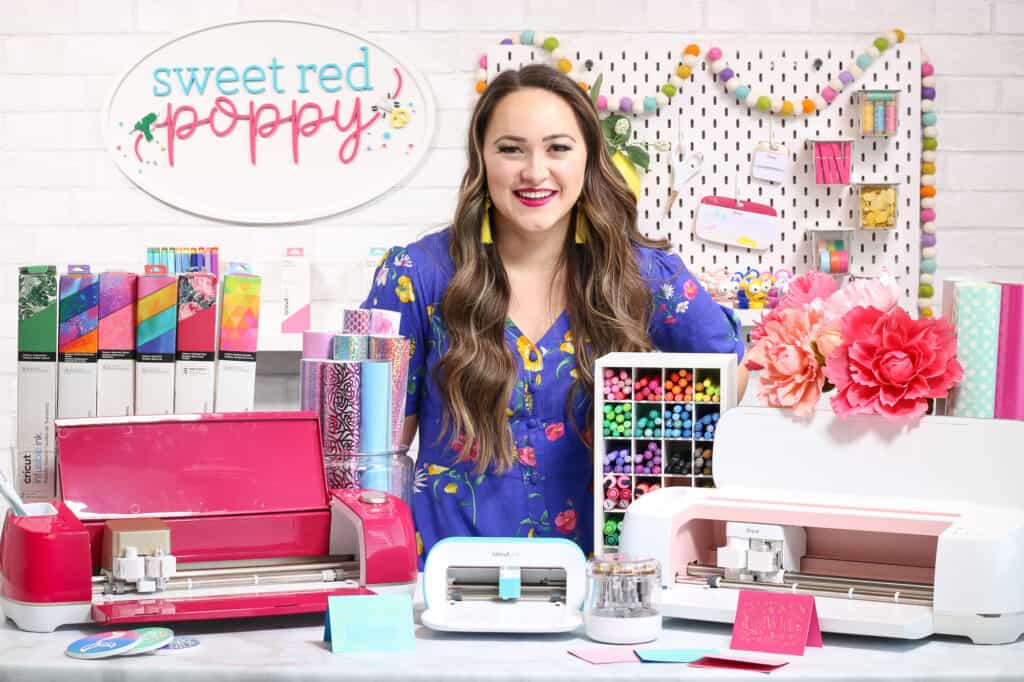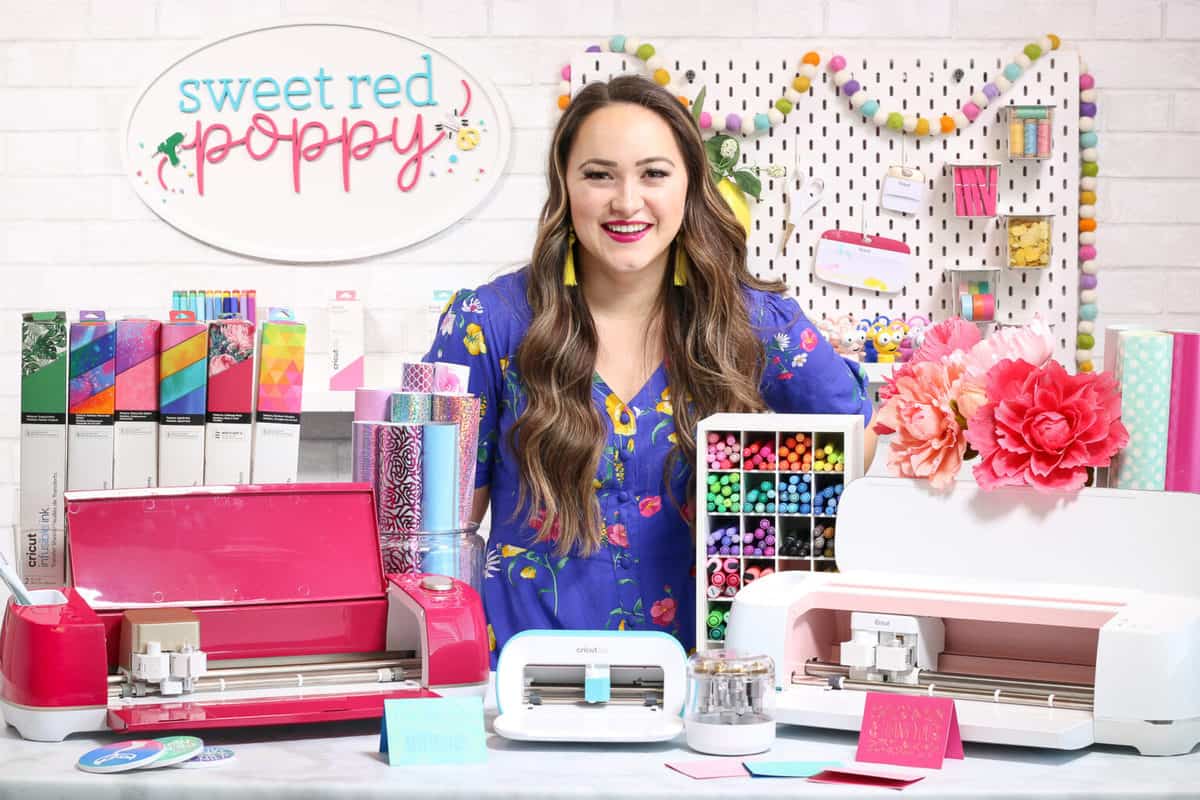 Soon after, I had the privilege to start working with Cricut as an influencer, and I was chosen to receive the Cricut Maker before it launched. I was trained on the machine a few months before the launch and received it for testing a month before it went live. I was thrilled to work with the machine and fabric! The Maker launch was an amazing experience.
A few years later I was lucky enough to get the Cricut Joy before it was launched to the public. I was able to get early training on the machine and test it out before it went live.
Since the beginning of my Cricut journey, I have been passionate about learning all that I can about the machines, tools, accessories, materials, etc. I love teaching as well. This course is my love of learning and teaching all in one!
This course has been a long time coming with writing, revising, videoing, creating, and writing some more. We are thrilled to teach you how to not only use your Cricut, but to love using it too!
Check out the exciting FREE printables that are just a sneak peek of what you can get with the course!
Join us in Cricut® Made Easy with Sweet Red Poppy™ today!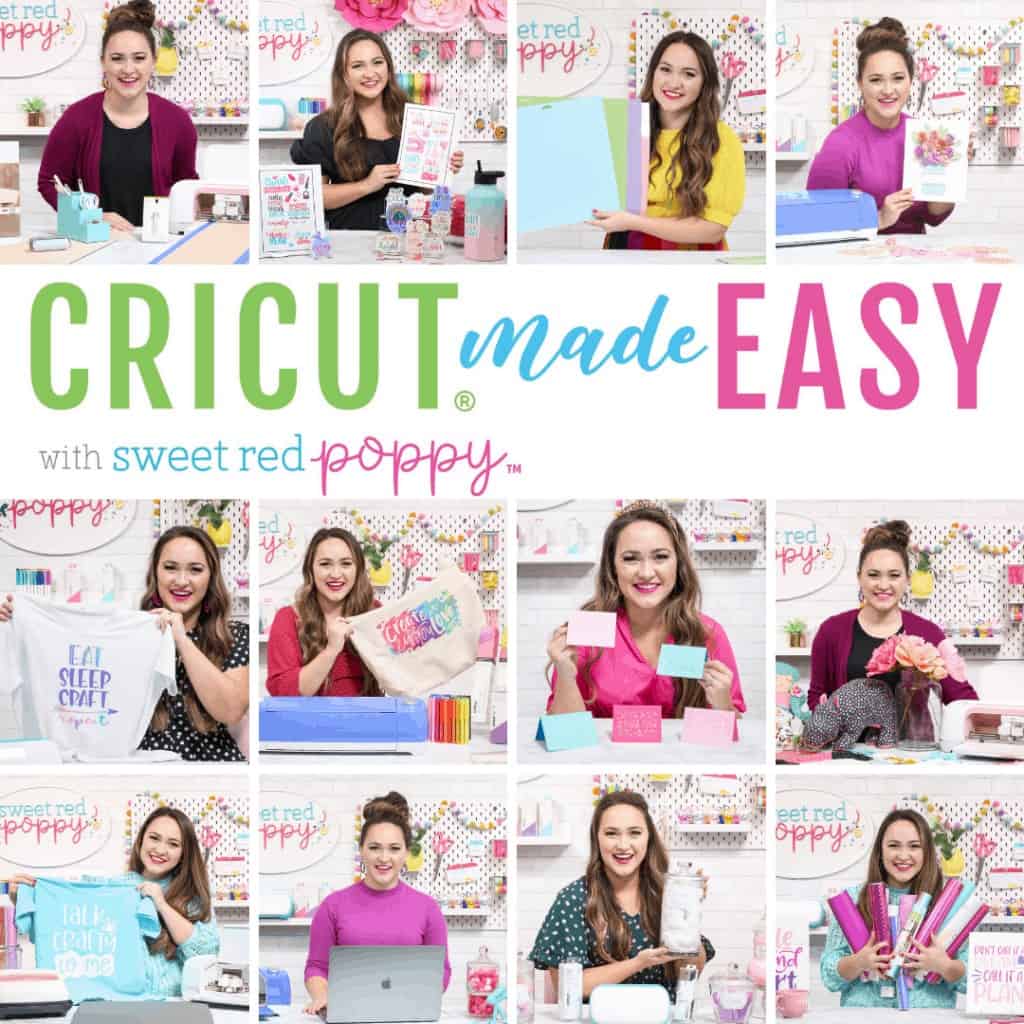 Cricut® Made Easy with Sweet Red Poppy™ are Cricut classes designed to help you master the Cricut, so you can create beautiful projects and most importantly have fun doing it!
From the fundamentals of understanding which machine is right for you, how to set-up of the machines, and which cutting mats to use, to the complexities of cutting certain materials, and learning the in's and out's of Design Space, this course has it all! You will be feeling confident with your Cricut in no time!
Once enrolled in these Cricut classes, you can work through the video course at your own pace. If you are feeling overwhelmed, simply hit pause and take a break. With full, lifetime access to the course, there is no need to rush through complicated topics.
And, if in a year from now you need a little refresher, simply open your course back up and dive right in.
The Cricut Made Easy Course Includes Cricut Classes with:
19 Amazing video modules
30+ Helpful printables
16 Fabulous Projects
The Maker's Guide to Cricut (a 100 pg e-book eeeek!)
Full Lifetime Access
Exclusive access to our Cricut Facebook Page
And a No Stress environment where you can learn at your own pace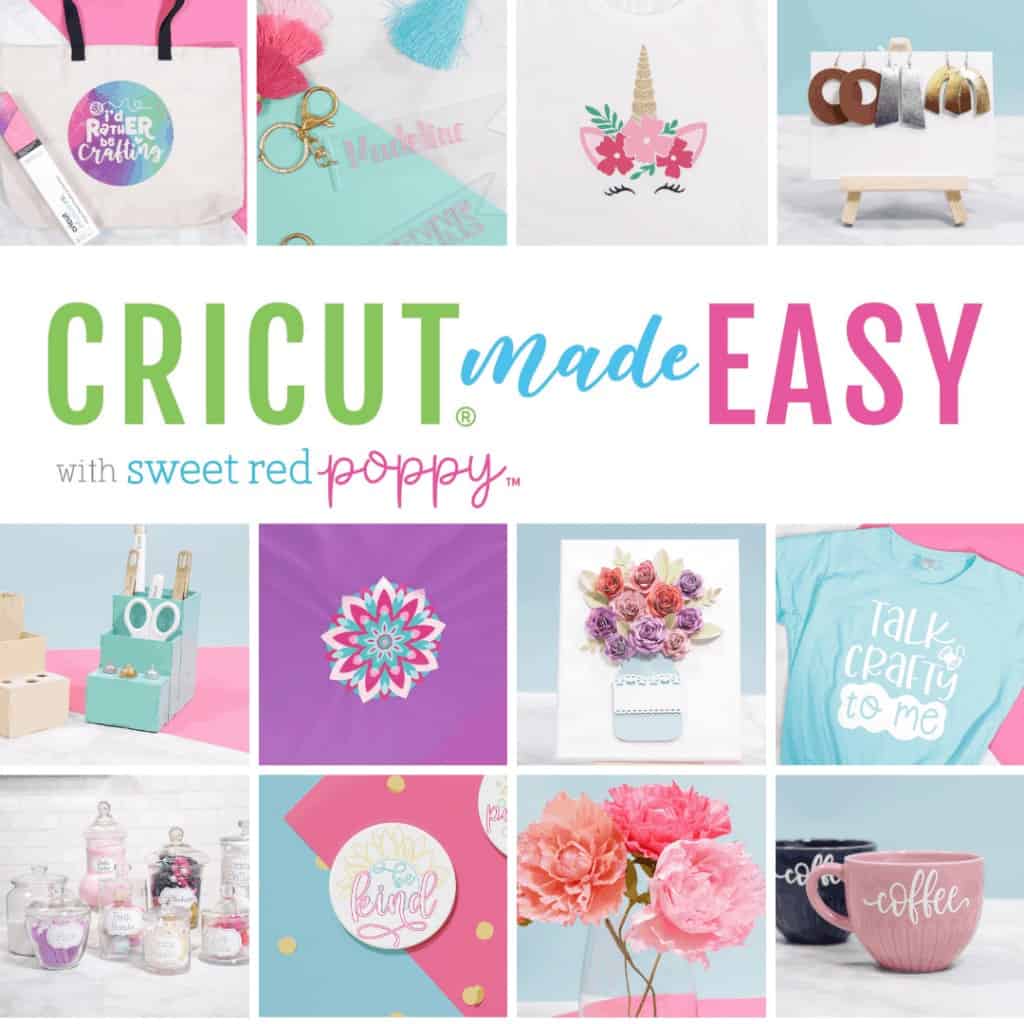 What You Will Learn in these Cricut Classes:
All about Cricut cutting machines, and which one is right for you
All about Cricut cutting mats, and the materials you can cut on each
All about materials; we're talking vinyl, paper, Infusible Ink, and more
How to use a variety of tools that are available
How to get started and utilize Cricut's design software, Design Space
How to organize your craft room and materials
And so much more!
Whether you don't yet own a Cricut, are a new Cricut owner, or have had a Cricut for years, join me in my exciting online Cricut course, Cricut Made Easy with Sweet Red Poppy! We are excited to see you soon.
Get your FREE Cricut printable downloads below! It's a FREE gift from me to you, to help you on your Cricut journey and give you a little sneak peek of what you can expect to see in my course!
Blue, green, purple, and pink oh my! Never fear, the mat guide is here! Grab your FREE mat guide printable and get crafting!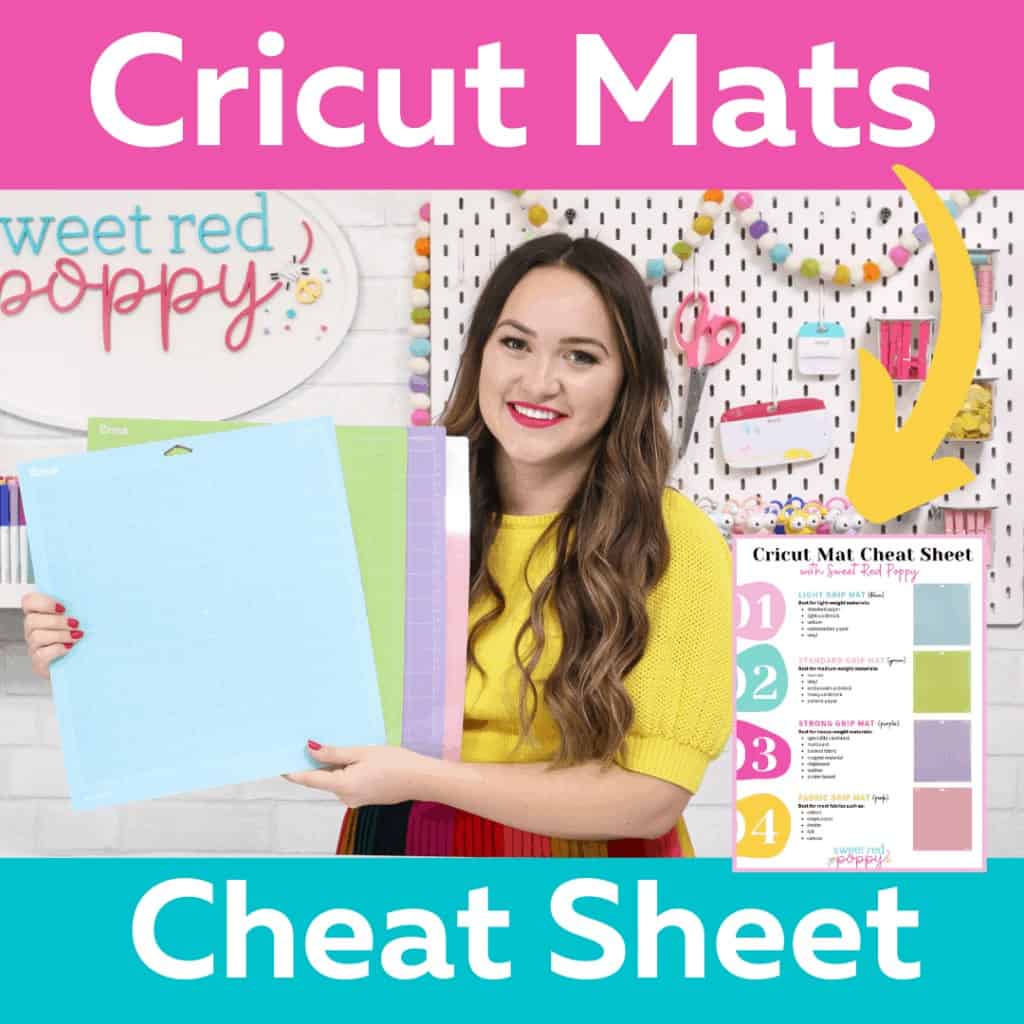 Can't remember what temperature or time to set your Easy Press to? You'll love this FREE printable! Keep it near your Easy Press so you never have to guess again! Click here to download the file!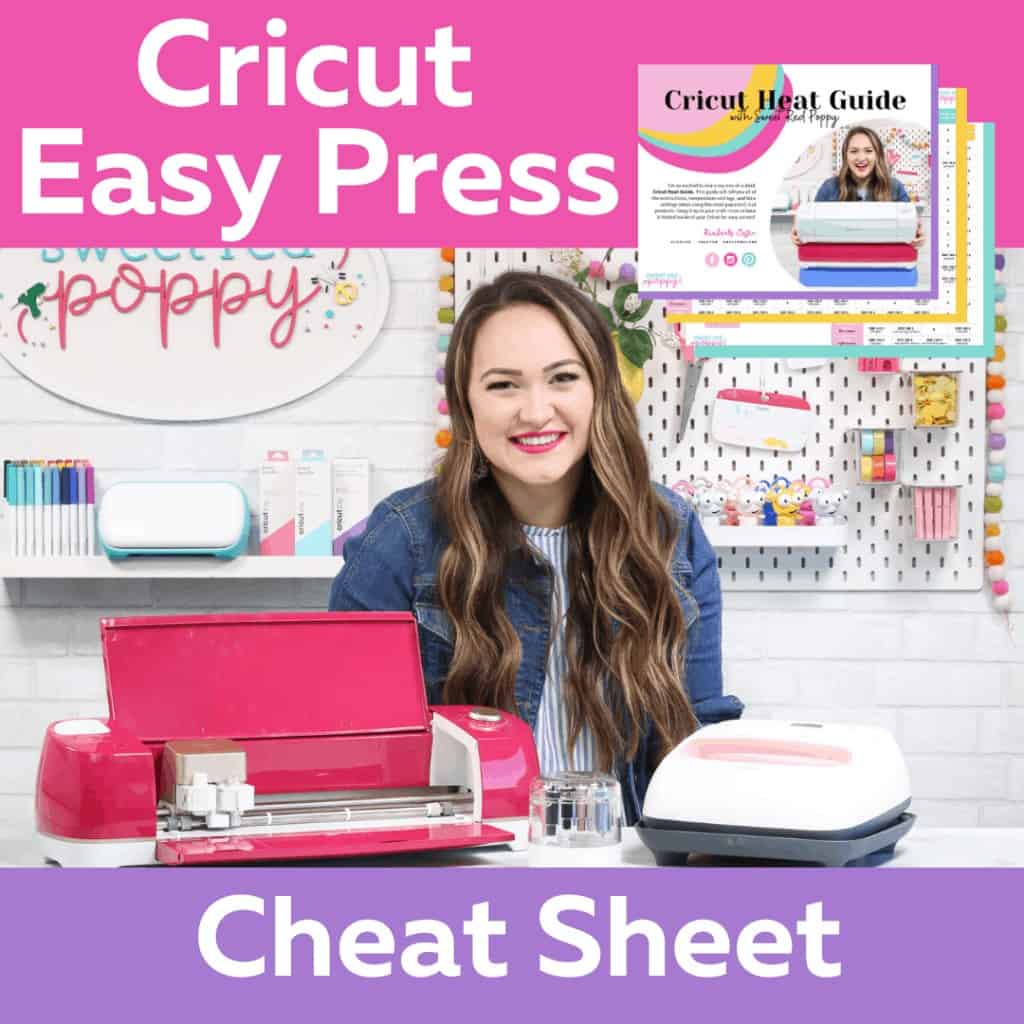 Not sure what size to cut your Iron-On? Use this FREE printable to get the right size every time for perfect Iron-On results! Click HERE!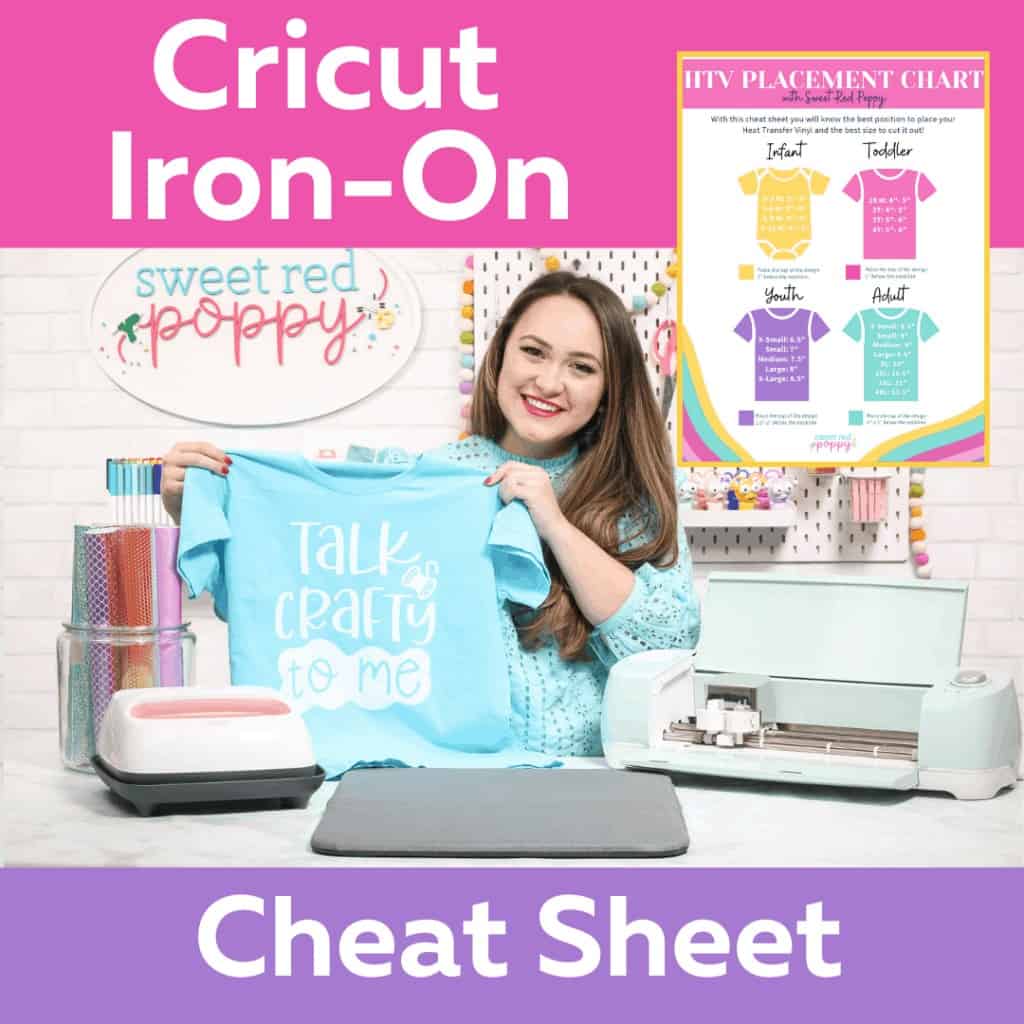 Design space can be a little confusing, who am I kidding it can be a lot confusing. Use this FREE printable to learn more about Design Space. Click here to get the files!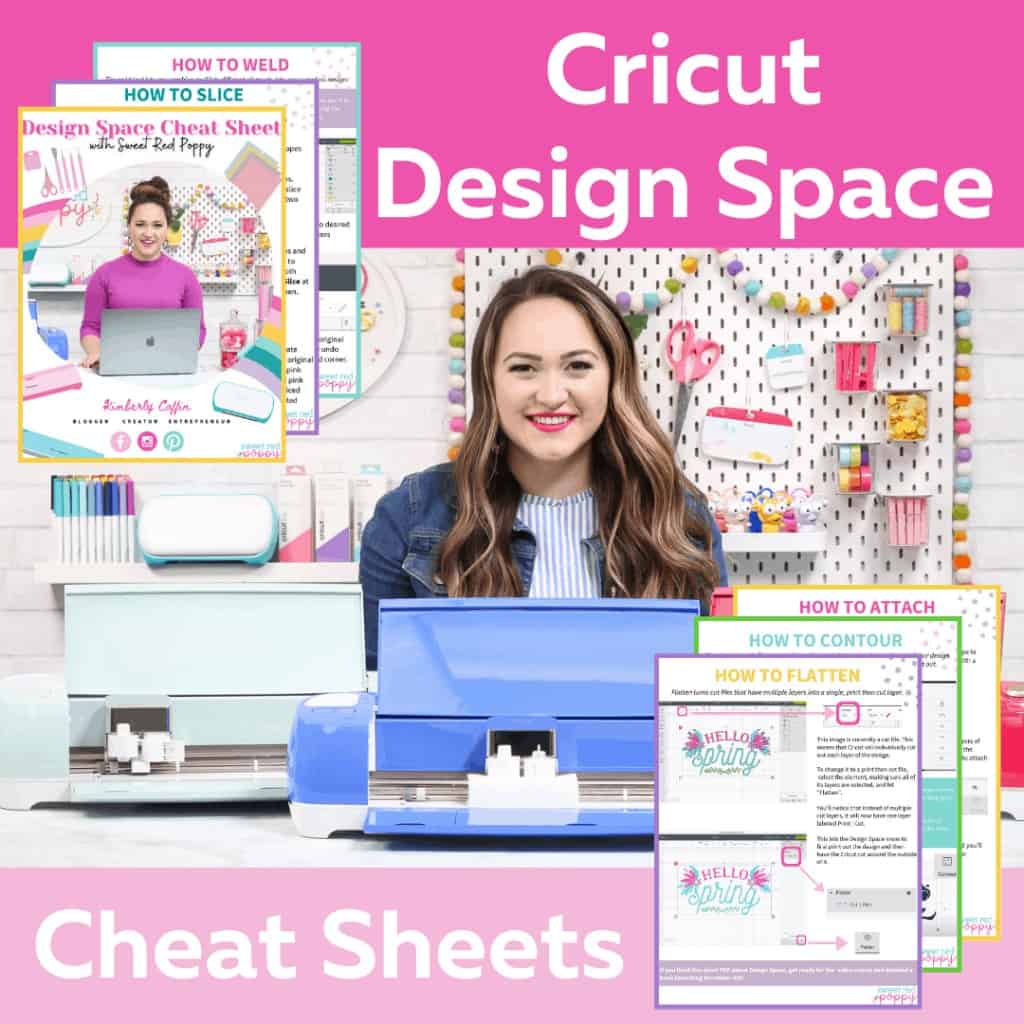 Not sure which blade to use with your Cricut machine? With this handy printable you'll never wonder again! Find out here!!