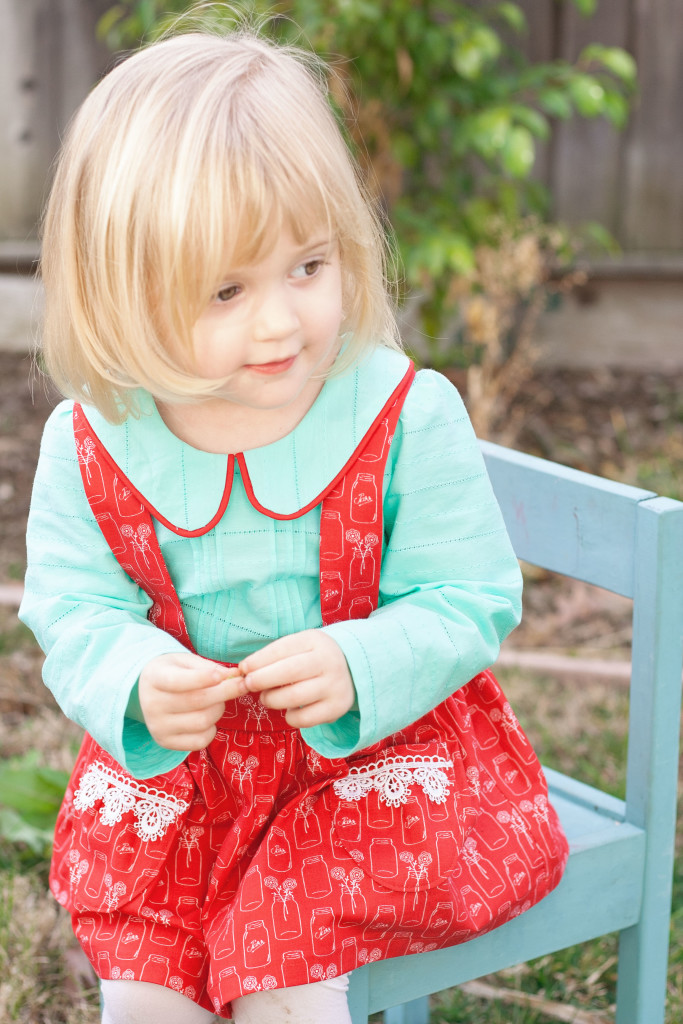 I can't say enough how much I adore this little Samantha Suspender Skirt!!!
I wanted to make an outfit for Madeline that was retro-inspired and I knew I just had to use this Riley Blake Mason Jar fabric. I've been hoarding it since July while I searched for the perfect pattern to use it on. I've had this adorable Made for Mermaids (Affiliate Link) Samantha Suspender Skirt pattern sitting on my dining room table for an entire month now. I kept telling myself I would sew it but this pregnancy has left me feeling really fatigued and somehow I managed to keep putting it off. So there my dining room table sat, covered in piles of contrasting fabrics and all my sewing supplies. Of course, I have a sewing room I could do all of this in, but somehow I always end up finding my way to the dining room table.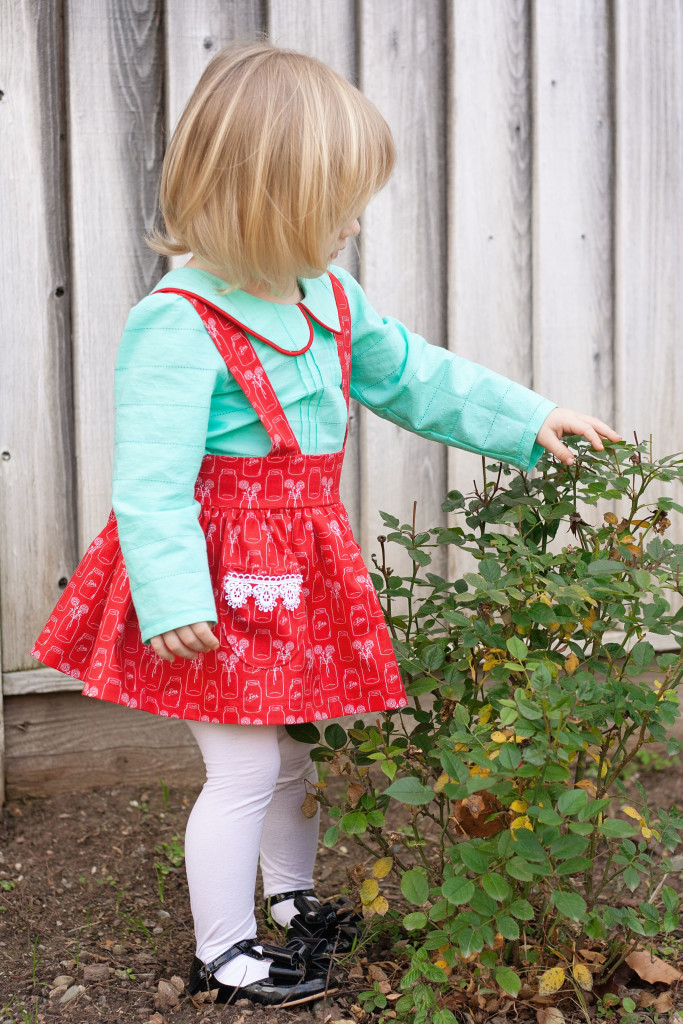 When my husband told me he had a week-long business trip, I knew that would free up some late-night sewing time for me! I basically don't sleep while he's away because I'm a big scaredy cat. Every little noise just about scares me to death, so I stay up late sewing the whole time he is gone. Once I'm sufficiently exhausted, I drag my droopy eyes to bed where I have nightmares about forgetting to turn off the iron. Anyone else overly paranoid about burning down their house with the iron?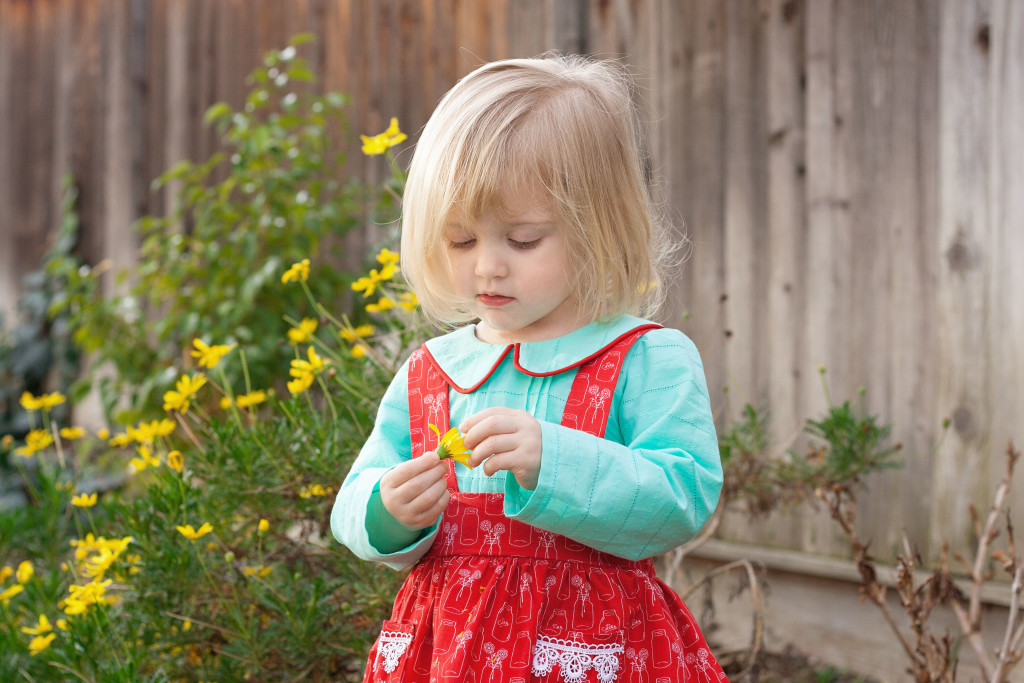 Basically every time my husband leaves on a business trip, someone in our family ends up with a new wardrobe. This was one of my least productive weeks seeing as how I only made this outfit, another Samantha Suspender Skirt, and a sweater for myself. But considering my kids had pink eye all week, I was sick with some never-ending virus, and I'm pregnant, I'm calling it a win. Can we talk about how disgusting pink eye is? To put it lightly, I'm a total clean freak/germaphobe. When the doctor told me my kids had pink eye I was completely disgusted. So we started antibiotics immediately and I kept the kids on lock down for a week. That was probably excessive. But honestly, there was NO way I was passing that nastiness around to our friends because, in this case, sharing is most definitely NOT caring!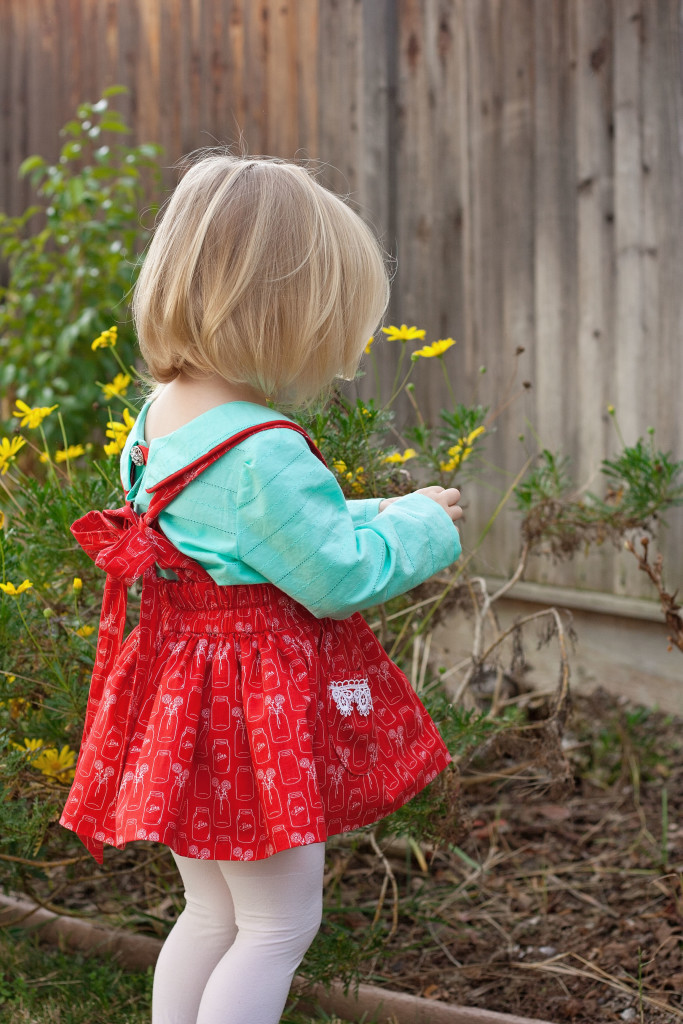 I sewed a size 2 in both the Samantha Suspender Skirt and the Lauren Pintuck Top and Tunic. Madeline's measurements were closer to a size 1, but I wanted her to get more wear out of both so I sized up. The Samantha Skirt is meant to be a short skirt that hits above the knee. It ended up just a tad bit short for my liking so I think I will add an inch or two next time I sew it. Other than that I found the pattern to be great. It's a very straight-forward tutorial and everything was clearly explained. I really love the way it ties in the back; that's probably my very favorite part of the whole skirt. I did add some pockets to the skirt that weren't included in the pattern.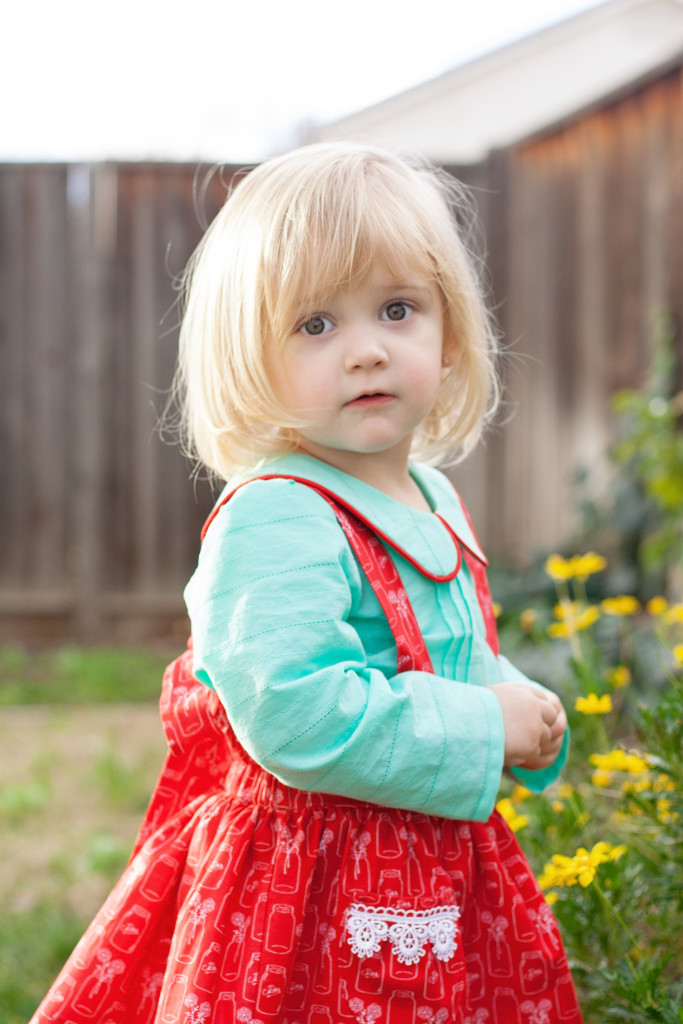 If you want to make a Samantha Skirt but you're doubting your sewing skills, there is a sew-along coming up on the Made for Mermaids blog. It's the perfect way to get a little extra help if you're new to sewing or even if you're just looking for a fun way to sew. The sew-along will feature a tutorial on how to add flutters to the suspenders. I'll definitely have to try out that variation!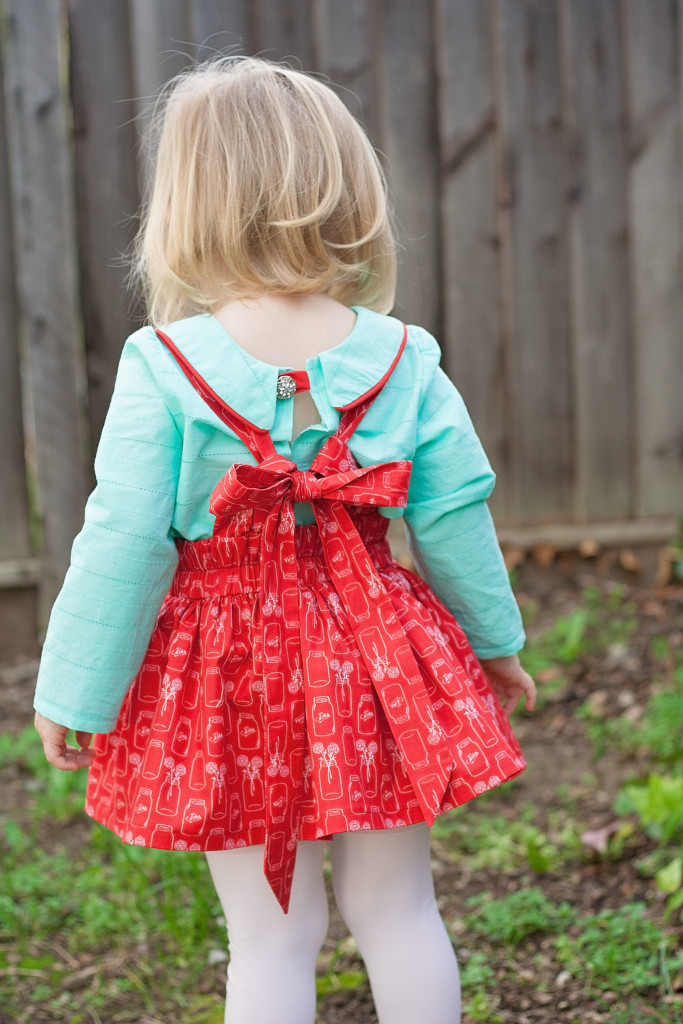 The Lauren Pintuck Top and Tunic pattern is one I will definitely be using again in the future! I chose to make the tunic length instead of the top so that it could be worn alone with tights or layered under a skirt. I added the red piping for a little bit of interest. How sweet are those little pintucks? Ah I just die over pintucks; it's all in the details! Also, the back features a button and button loop. And I know all of you buttonhole-haters will be loving!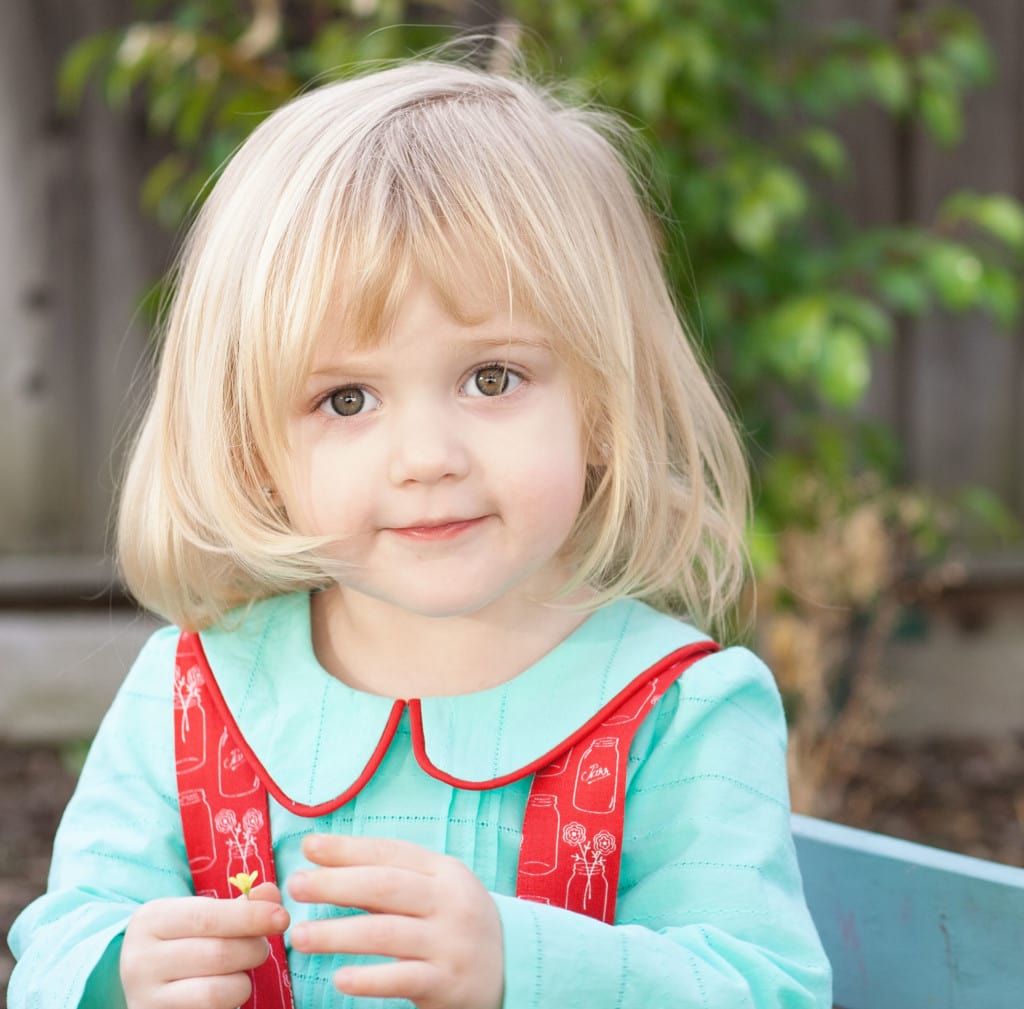 This will definitely be an outfit I make over and over again! I'm very happy with the way both patterns turned out and I've already made a second skirt! Made for Mermaids does it again with both of these patterns!