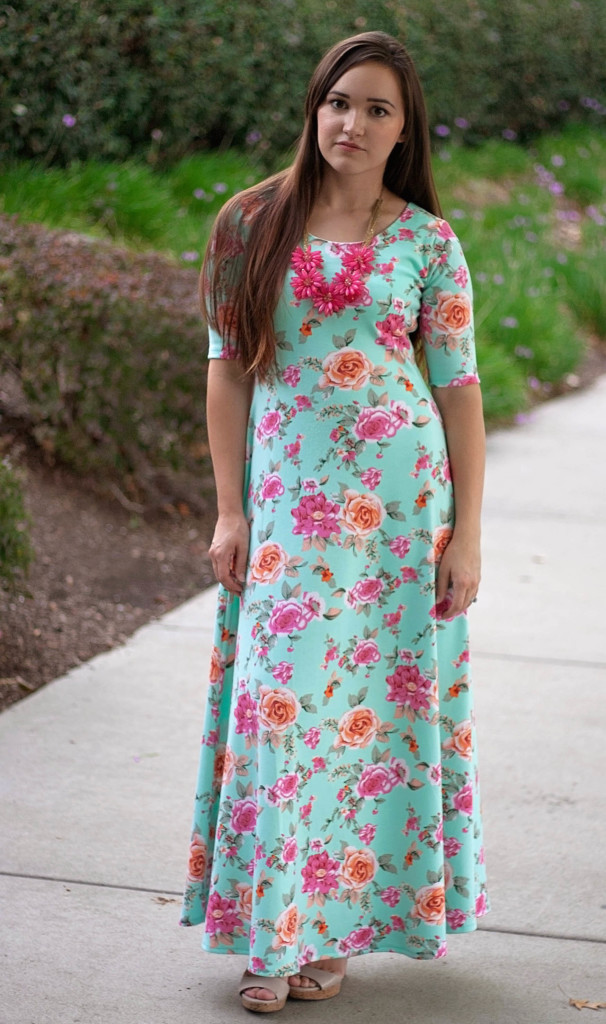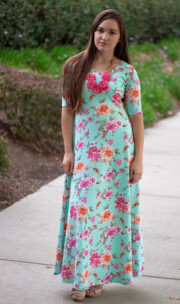 I've always enjoyed supporting small businesses, especially ones with amazing customer service! Last week I noticed a new Instagram follower of mine had liked a couple of my photos. So curiosity got the best of me and I clicked on her profile. Turns out it was a brand new fabric business with the most amazing designer fabric and a fantastic uptown/downtown dress pattern!
Finding new fabric shops is so exciting because it feels like the fabric world is filled with all the same fabric, especially when it comes to knit fabric. Finch Fabrics of Los Angeles is a high-end fabric shop that purchases first quality, post-production fabric. You might even spot the same fabric being worn on the runway. How exciting is that? They have a great variety of all types of fabric.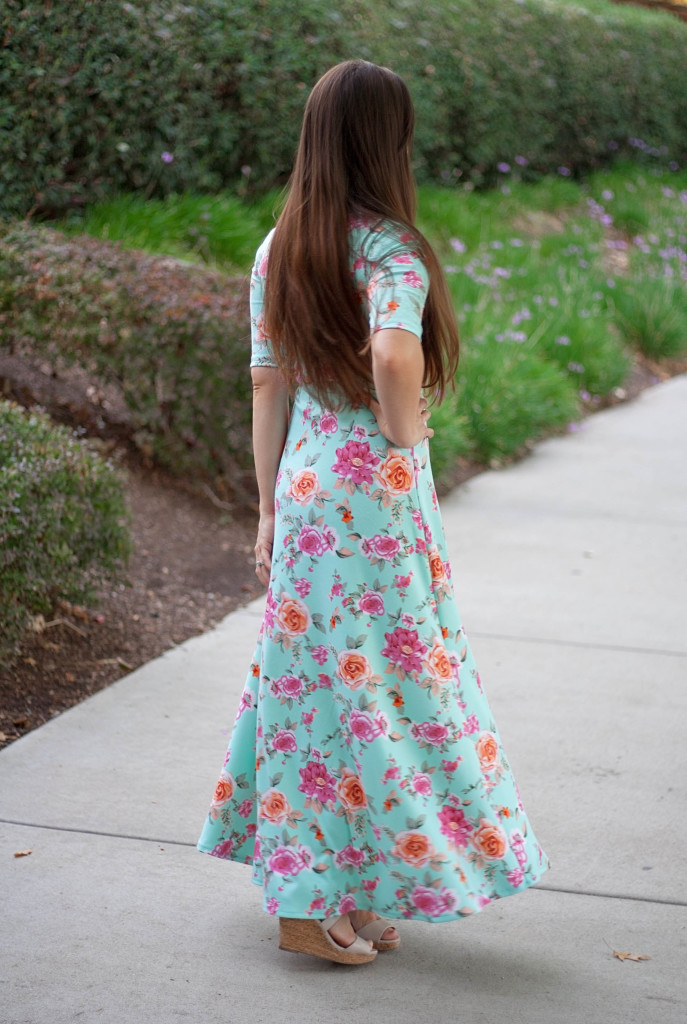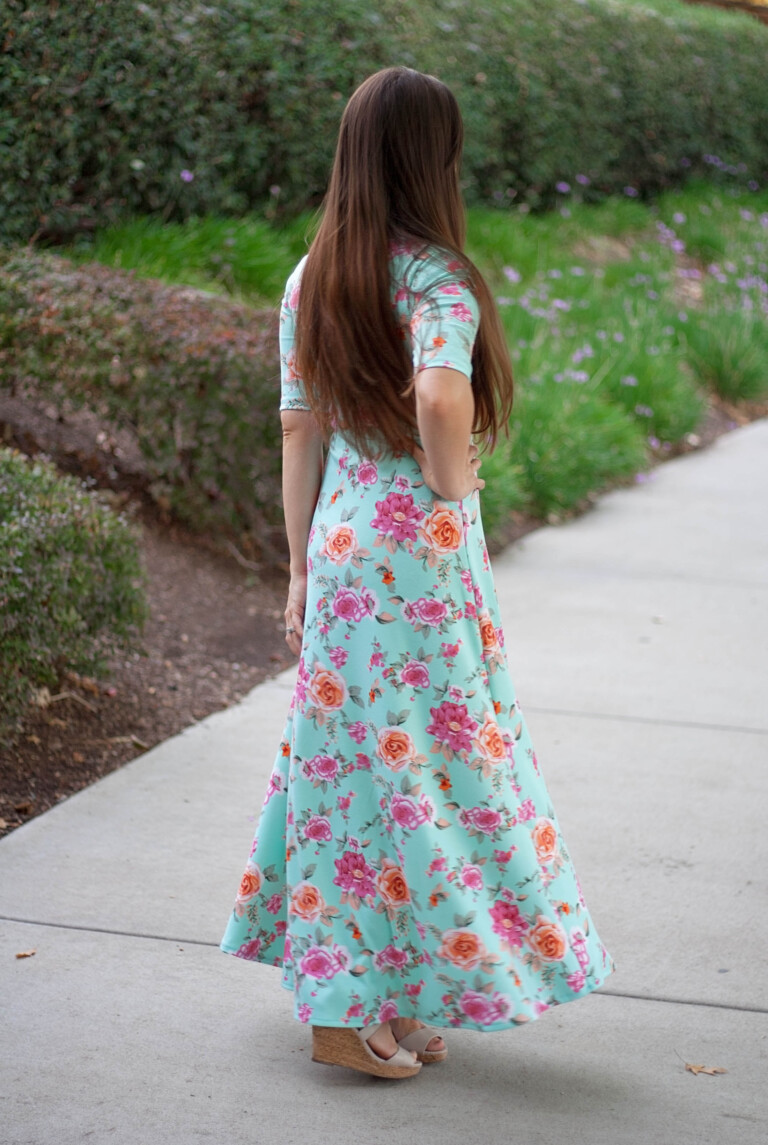 I chose a beautiful Mint Floral Ponte De Roma knit for my first purchase. It's smooth like butter and it's the perfect weight! It also comes in a darker colorway. When I put in my order for the fabric, I messaged Josephine the owner to let her know that her discount code wasn't working. She immediately responded (at midnight no less) and offered to refund my purchase so I could redo the transaction or add an entire yard of fabric of my choice. Obviously, I opted for the latter. When I got the package it was stuffed full with extra lace, buttons and fabric samples. It was like the sewing equivalent of a bakers dozen. 🙂 I could hardly even wait to wash and air dry my fabric before cutting into it. I'll be honest, I'm kind of a fabric snob. It takes a lot to get me really excited about fabric, but this little shop has me so excited!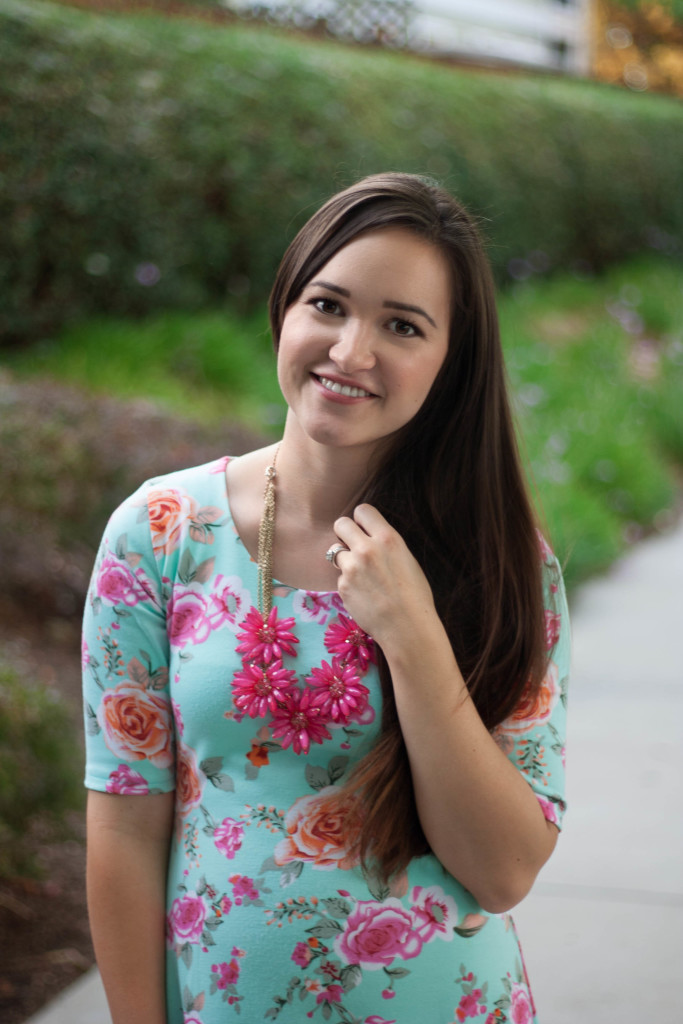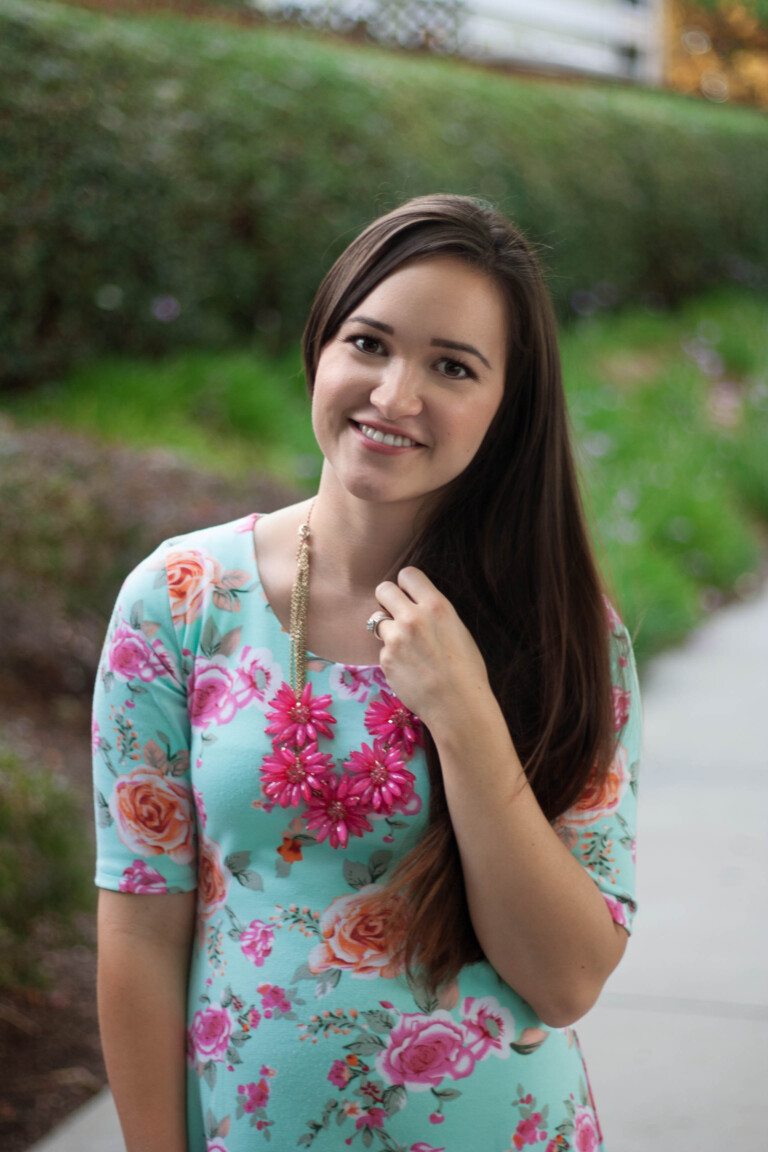 For my Maxi Dress I used the Women's Uptown/Downtown Dress pattern from Sew Straight Pattern Company. You definitely want to check out the gorgeous dresses that Terri, the designer of this pattern made. Her fabric choices are to die for!
Dress Features:
Bodice Options:
Sleeveless Lined Bodice
Lined Bodice with Sleeves
Lined Bodice with Cowl
Lined Tank
Bodice with Cowl and Sleeve
Sleeveless Bodice with Binding
Tank with Binding
Neckline: High, Middle or Low
Sleeves: Short, Half or Long
Length: Dress or Maxi
I chose to make the maxi length with half sleeves. I shortened the sleeves by two inches and I took off one inch from the torso lengthen/shorten line. Keep in mind I'm 5'2" so almost all patterns require a bit of altering. I made an extra small for the bust, and a small for the waist and hips. For reference my current measurements are 33" 28" 38" I probably needed right in between a x-small and a small for the sleeves. I tend to be a size bigger in my sleeves than I am in my bust. But at least I know that for next time!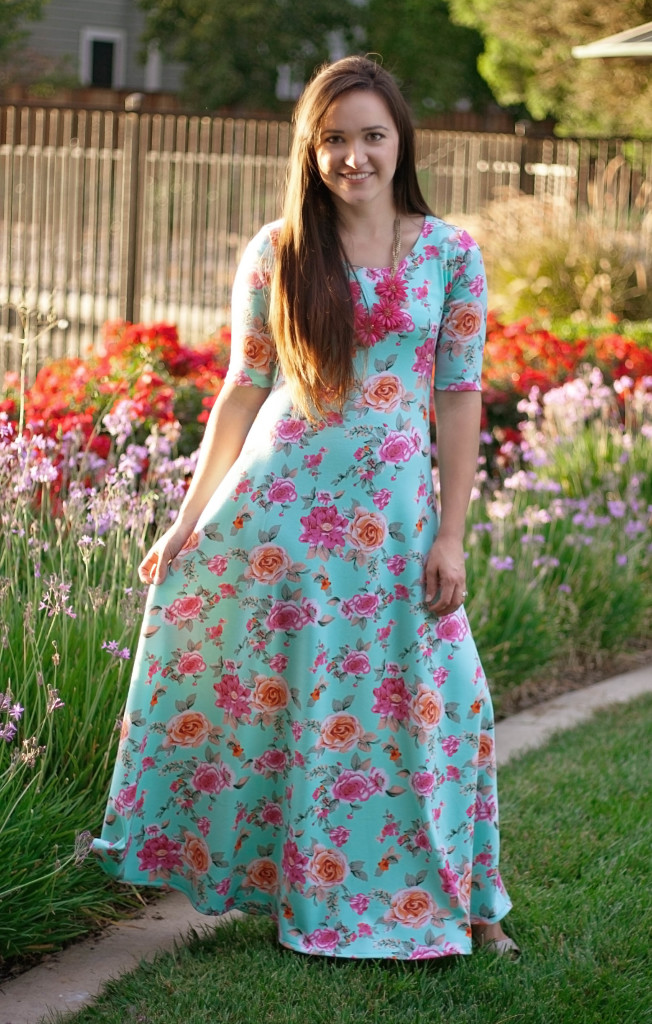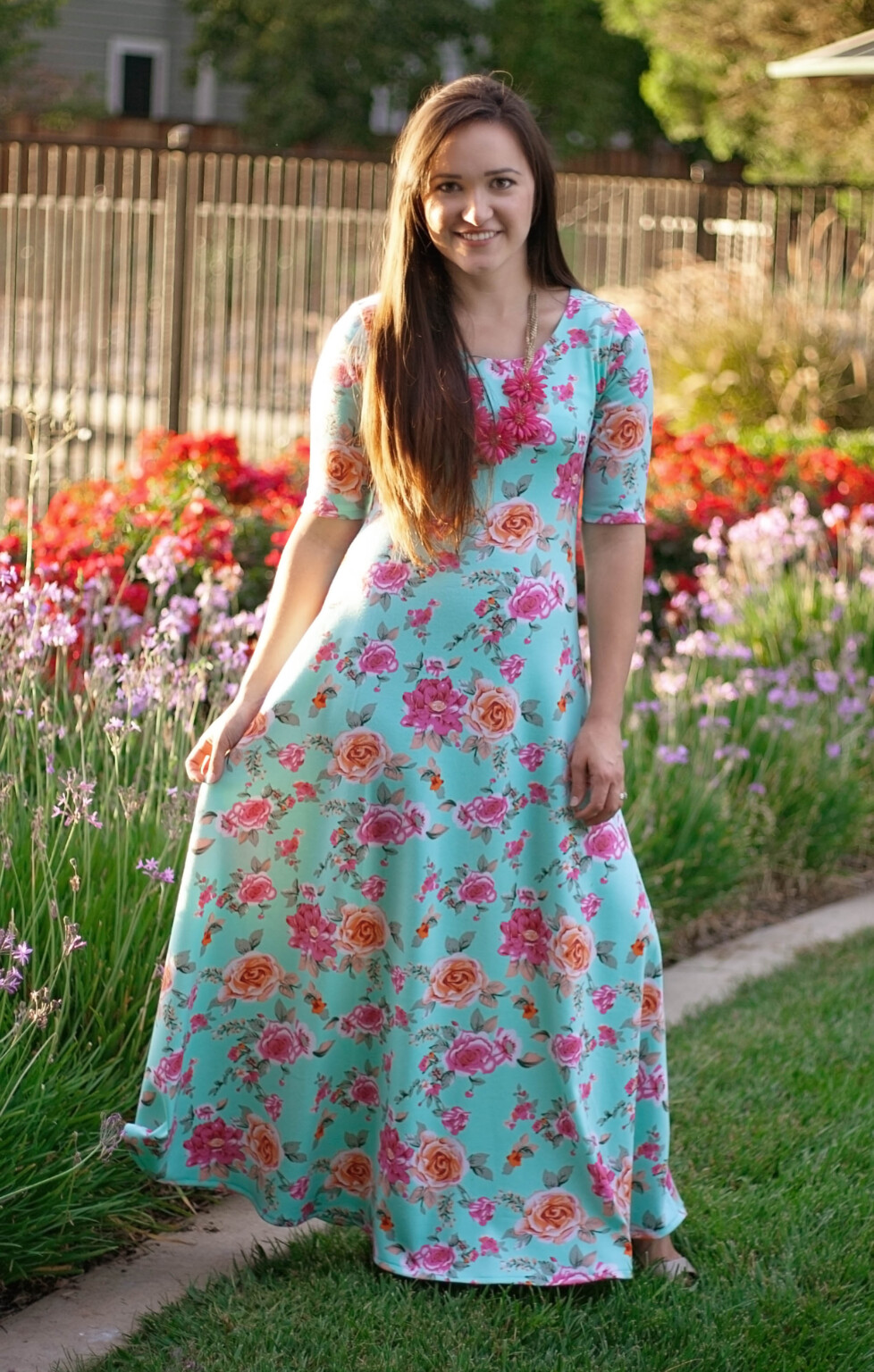 The pattern has so many different options! But one of my favorite parts is the partial lining. A lining can take a a sewing project from looking homemade to store bought. I really appreciate the professional finish that it adds to the dress. If you didn't notice the Uptown/Downtown Dress has the most gorgeous drape! While my husband was taking these pictures my daughter kept yelling "twirl"! Of course I had to listen to her. 🙂 I can't wait to make the normal dress version as well! The directions actually say to always make two at a time. How cute is that? I really should have followed those directions instead of kicking myself later for only cutting out one!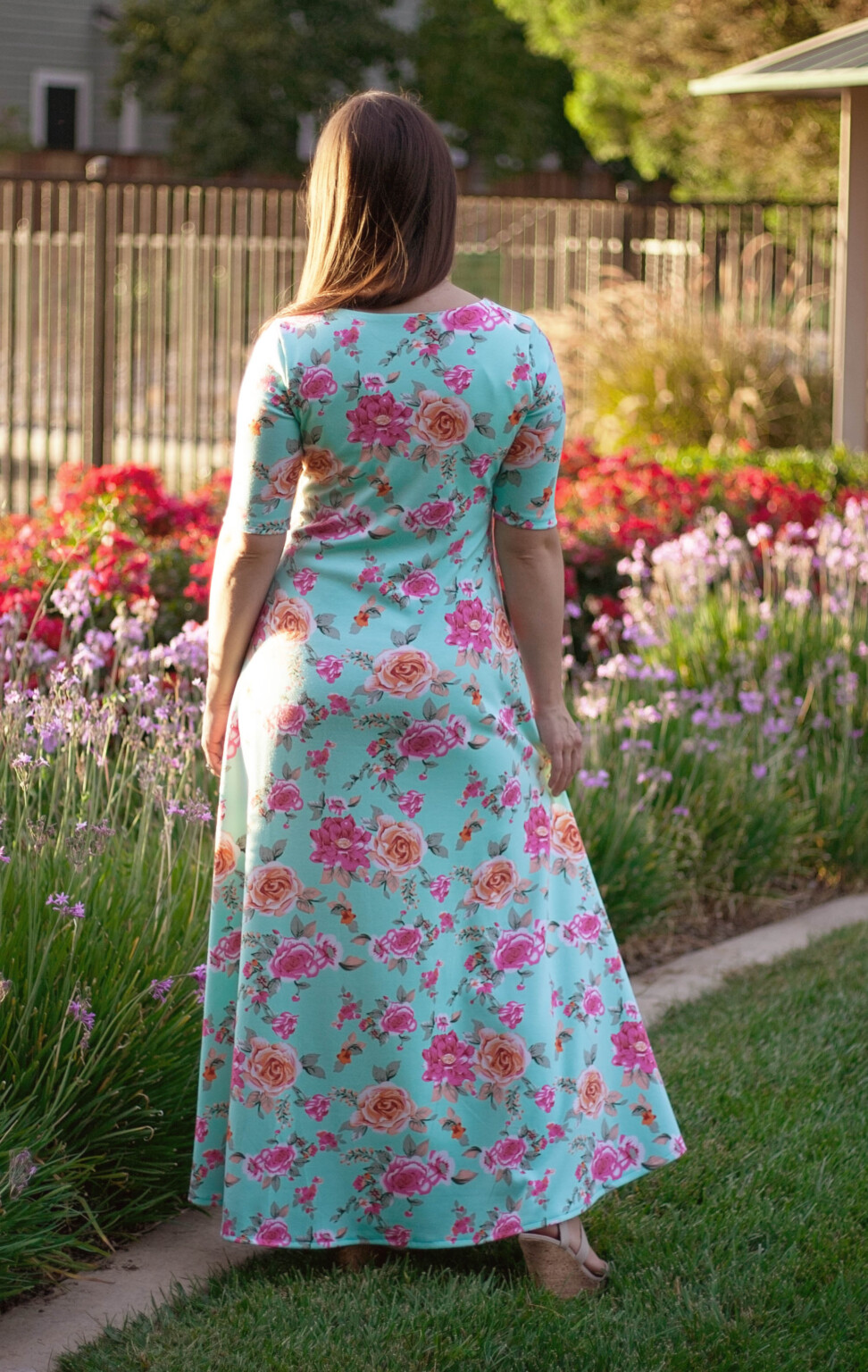 Overall, I'm very pleased with this pattern. The directions and diagrams were spot on, and it has the most thorough directions for all the different options. The pattern even features tips on sewing with knit and a glossary that covers common sewing terms. This was my very first time using Sew Straight Pattern Company and I am very impressed with their high quality product! I will definitely add Sew Straight and Gather to my list of favorite pattern designers! I can't wait to see their future Women's patterns.
Terri so generously offered to give me two Uptown/Downtown Dress patterns to give away to two of my readers! How exciting is that!?!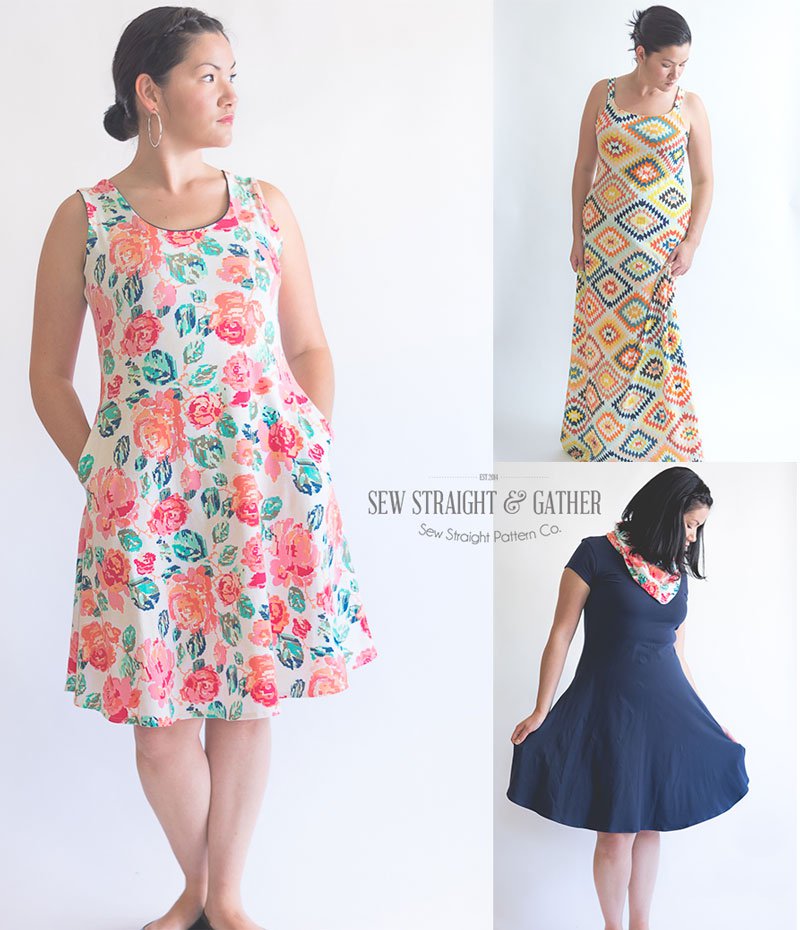 In addition to the patterns, Josephine from La Finch Fabrics sent me some gorgeous fabric to give away! I'm so blown away by her generosity and I'm elated to share this giveaway with my readers!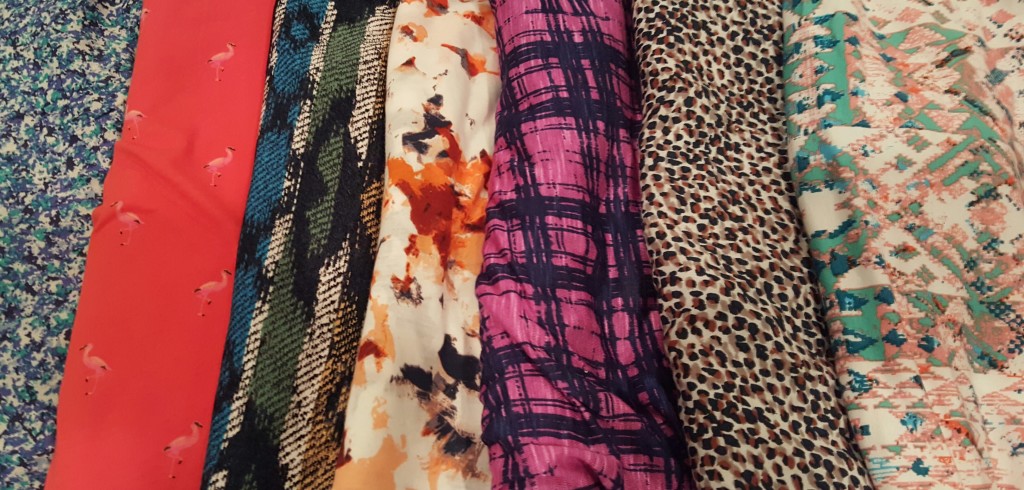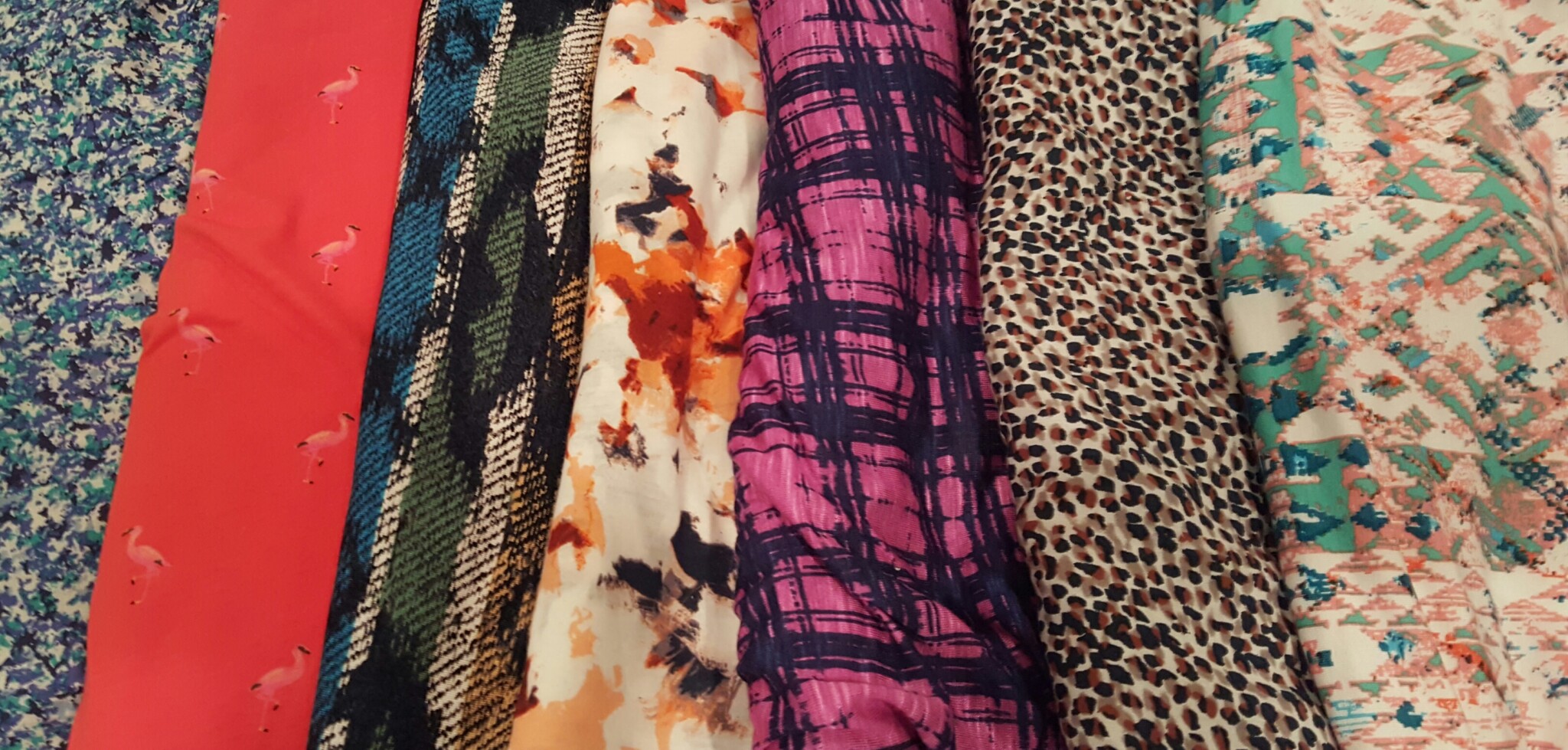 Josephine also created a discount code just for my readers, use code SWEETREDPOPPY10 for 10% off all fabric purchases (even already discounted fabric). She just got some gorgeous new fabric in, so hurry over and check it all out! Her quantities are limited and she always sells out quickly!
There will be THREE separate winners for this giveaway.
To enter the giveaway, follow the raffle copter below and visit the Sweet Red Poppy Facebook page.
Make sure to click like so you can get updates on new blog posts and giveaways.
Don't forget to head over to the Sew Straight Pattern Company Facebook group. It's a great place to ask questions, get inspiration and share what you are working on.
Stop by LA Finch Fabrics on Instagram to stay up to date on their latest inventory!
The winners of this giveaway will be contacted by email. The two pdf patterns winners will receive an email with directions for claiming their pattern and fabric will be mailed to the third winner upon confirmation of an address. Entries will be accepted for the giveaway beginning at 12:00 A.M. on 10/01/2015. The giveaway will close on 10/08/2015 at 12:00 A.M.