One of my favorite seasons to sew for is fall! I love the crisp chill in the air and all of the beautiful autumn colors. While some people opt for a more muted-color palette in the fall and winter, I find that my favorite looks involve those with a burst of color!
I teamed up with Simplicity to share two looks that are perfect for transitioning your wardrobe into fall and winter. After browsing through Simplicity's new pattern releases, I fell in love with Simplicity 8513 and Simplicity New Look 6525!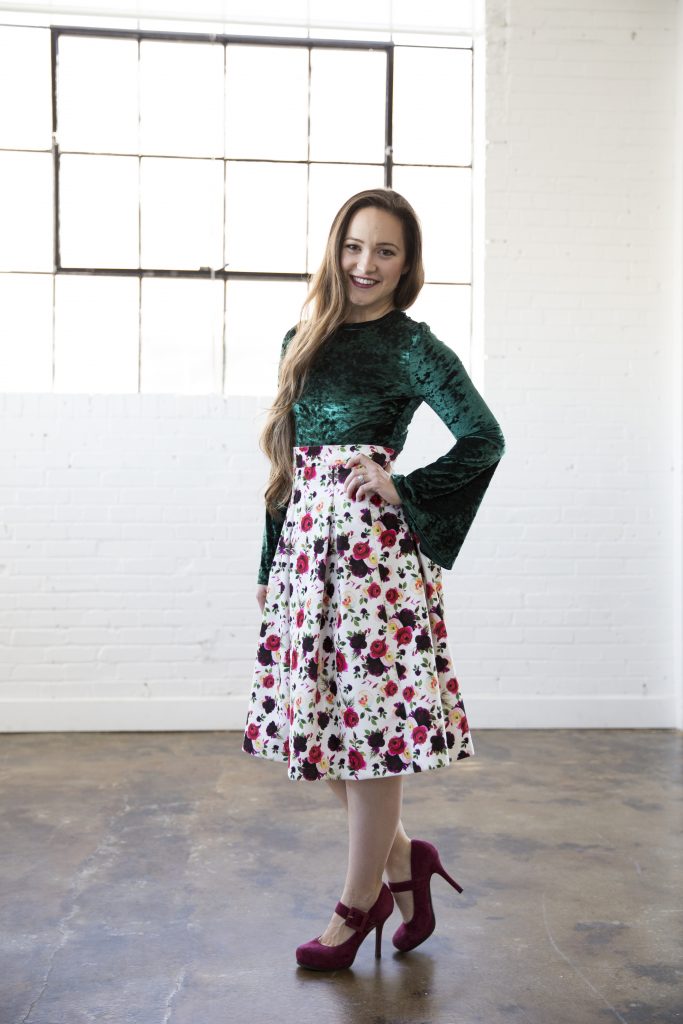 Let's start with Simplicity 8513
This bodysuit is the perfect piece to add to any wardrobe! It comes in five styles and it's loaded with different options! The bodysuit can be made with a mock turtleneck, crew neckline, or a deep V-neck. The sleeve options on this bodysuit include long sleeve or short sleeve with cold shoulders or long bell sleeves. There are also options for a wrap front or a lace-up front. This pattern is totally on trend for this season and can be used over and over again with endless combinations!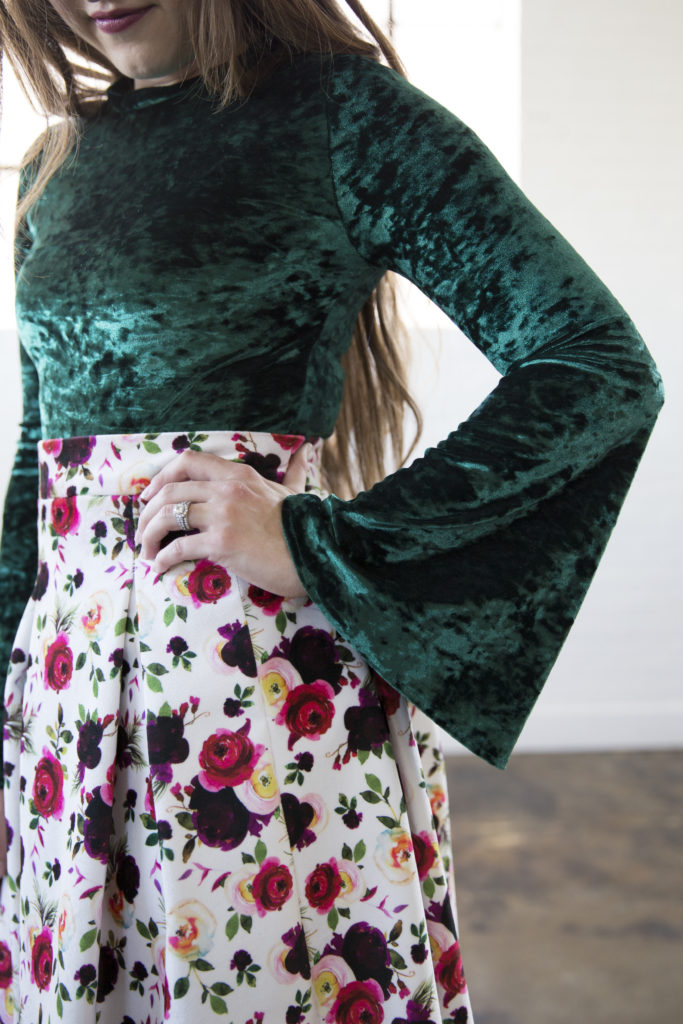 For this pattern, I cut out a size small bust blended to a size medium hip. I chose the crew neckline with the long bell sleeve. The fit of this pattern is really great!
I always like to remind people that when sewing a paper pattern, your RTW size in clothing doesn't always translate to your pattern size. Take your measurements before sewing the pattern, pay close attention to the ease or negative ease and choose the size that best fits the style and fit you are going for.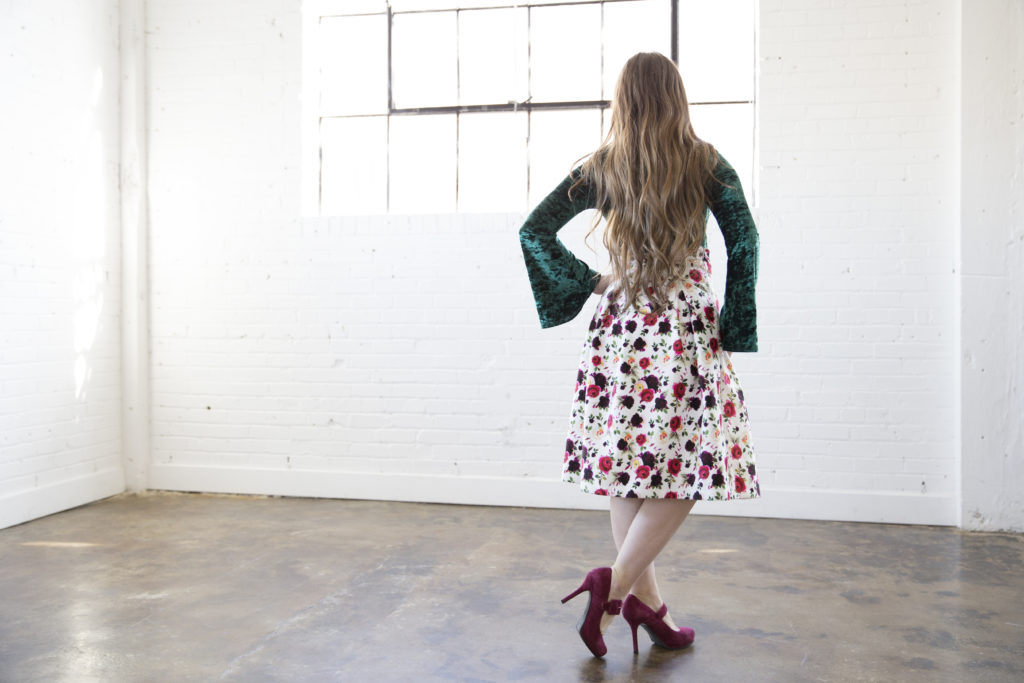 Stretch velvet was an obvious choice for this pattern seeing as how it's everywhere this fall! I fell in love with this crushed emerald stretch velvet from Stylish Fabrics and I knew it would be perfect for a glam top that would work for holiday parties! I just love the way it drapes and it makes these bell sleeves to die for!
I knew I wanted to work Pantone's Fall 2017 colors into my wardrobe and Shaded Spruce was at the very top of my list. I think this emerald green fabric is a pretty close match! Not to mention I have Grenadine, Tawny Port and Ballet Slipper all covered with this skirt.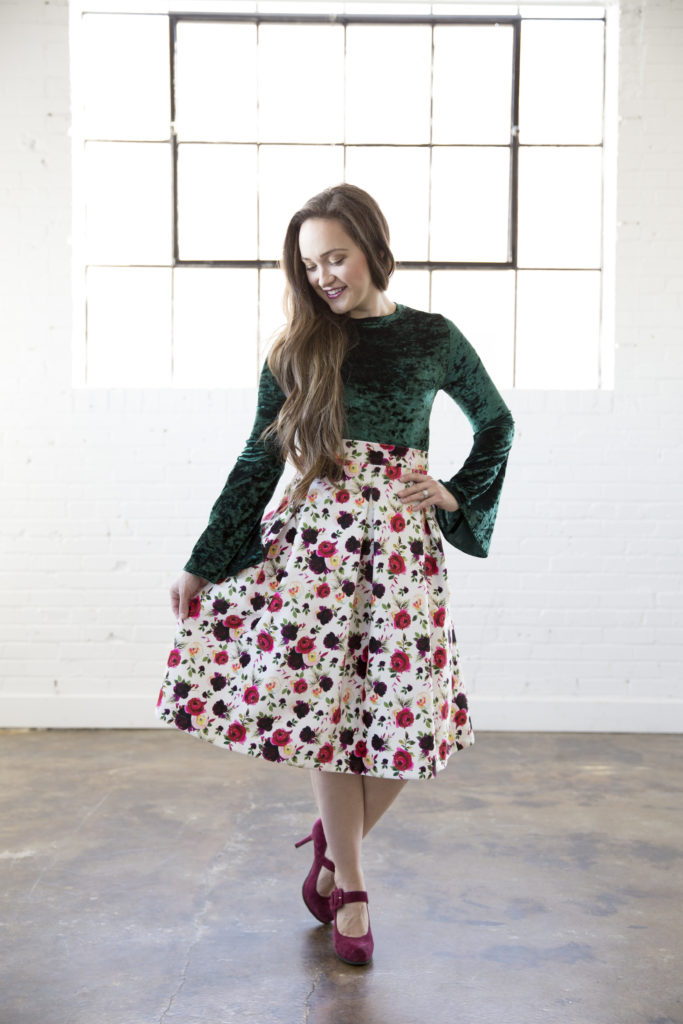 This gorgeous floral watercolor fabric is from Spoonflower and it's designed by Amelie Rainfall. I fell in love with it the minute I saw it!
I actually planned on sewing up Simplicity 8511 with it, but it was a bit thicker than I expected. It's more of an upholstery weight so I knew the extra volume would lend itself perfectly to a pleated skirt. I'll be sharing the tutorial for this skirt soon so stay posted!
The sheen of this fabric is incredible and the velvet is dreamy soft! I loved this print so much I ordered it in chiffon as well and I have a cute tasseled scarf I'm working on right now that I can't wait to share!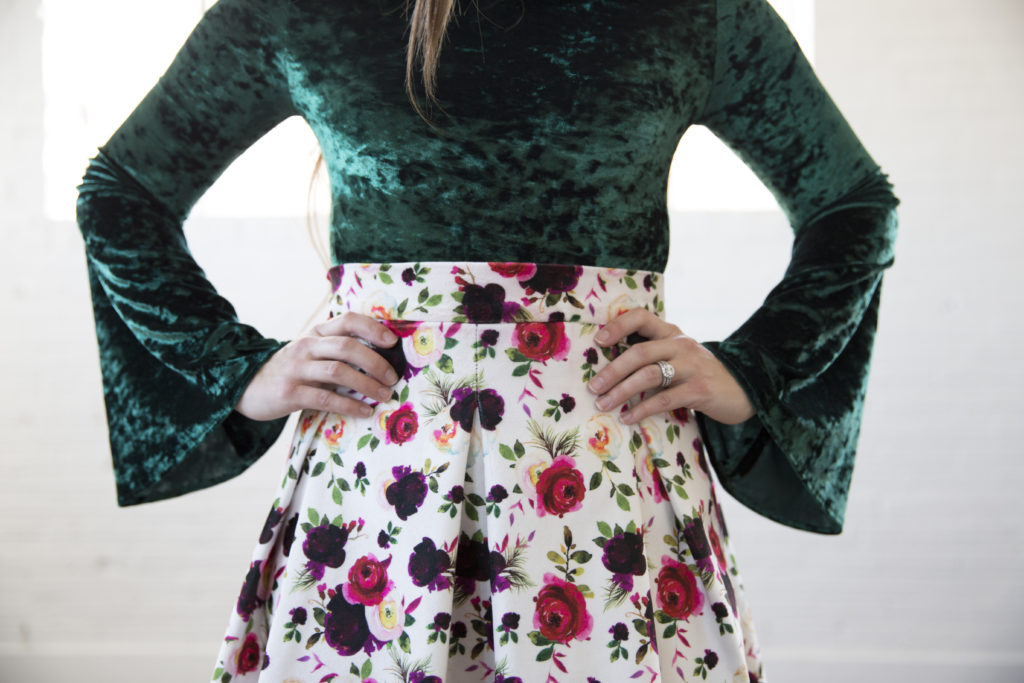 Honestly, I was a bit apprehensive about the idea of a bodysuit. Bodysuits are what my children wear so why would I put one on myself? But I'm actually really loving this. It has negative ease so it sucks everything in and the top doesn't come untucked which is my favorite part! I can't wait to try out this top with a pair of high-waisted jeans!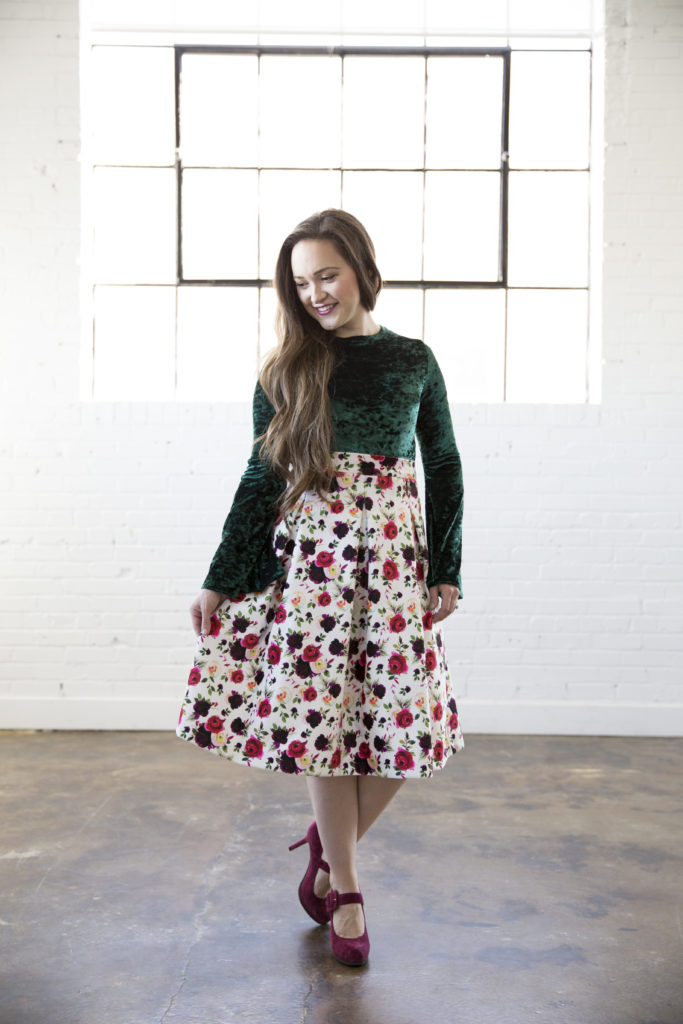 The next pattern I sewed up was Simplicity New Look 6525. This Misses' knit dress is available in two lengths, it features three sleeve variations and two necklines.
I chose to sew up view B with slit bell sleeves and a knee-length hemline. This is the year of the sleeve so you can bet I'm squeezing in all the fun sleeves this year while I still can!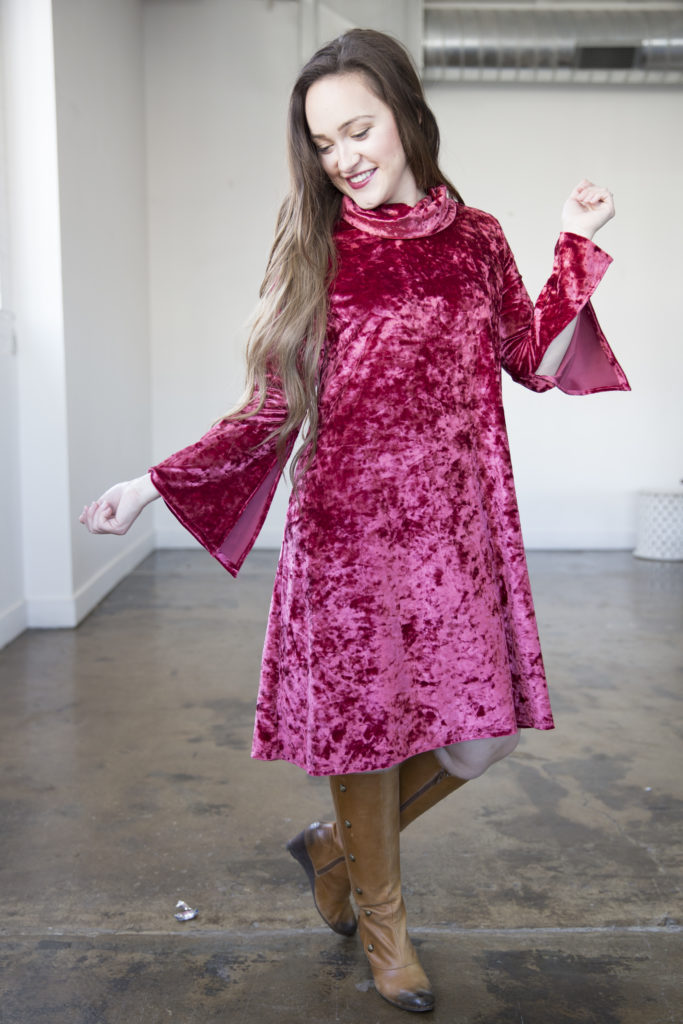 This pattern comes together amazingly fast! I cut it out while I was at a sewing blogger get together and I spent the majority of the time chatting instead of working. The directions are clear and concise and it's a beginner-friendly project.
I need to cut out a few more dresses from this pattern because it's super comfy and it really doesn't take much work at all!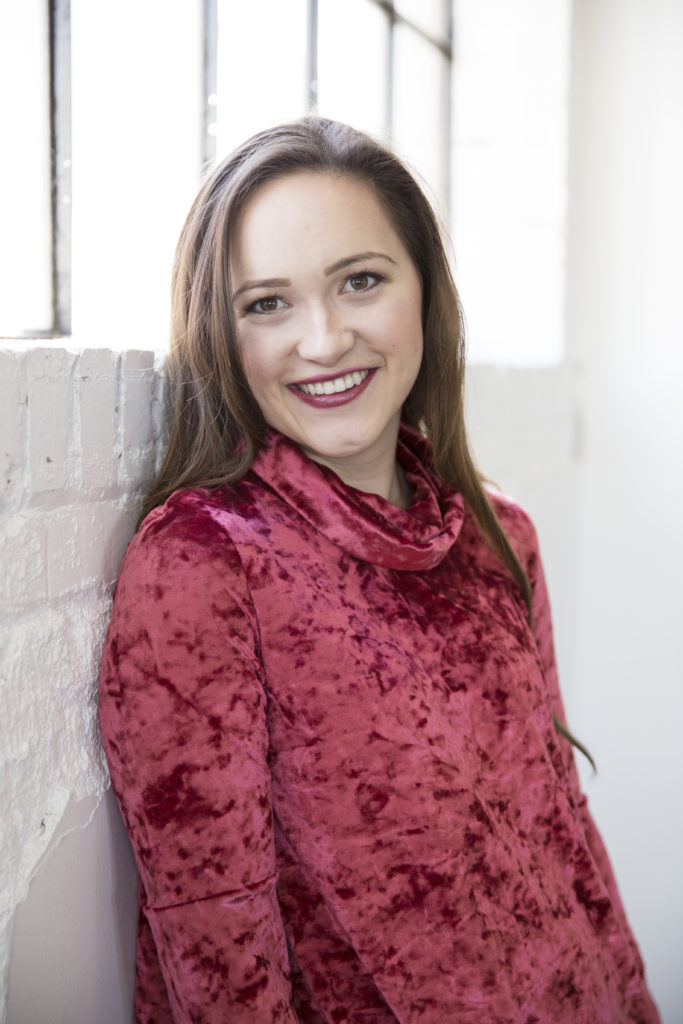 I really love the cowl neck on this dress because it keeps my neck nice and toasty. The stretch velvet makes it feel likes I'm wearing PJs all day long so you won't hear any complaints from me on this outfit! The flared swing fit means I can eat a little extra and no one will know! Which is perfect considering Thanksgiving is just a few days away, right?
The fabric I used on this dress also came from Stylish Fabric. It's a coral-crushed stretch velvet that's a poly spandex blend so it holds its shape nicely and it keeps me plenty warm.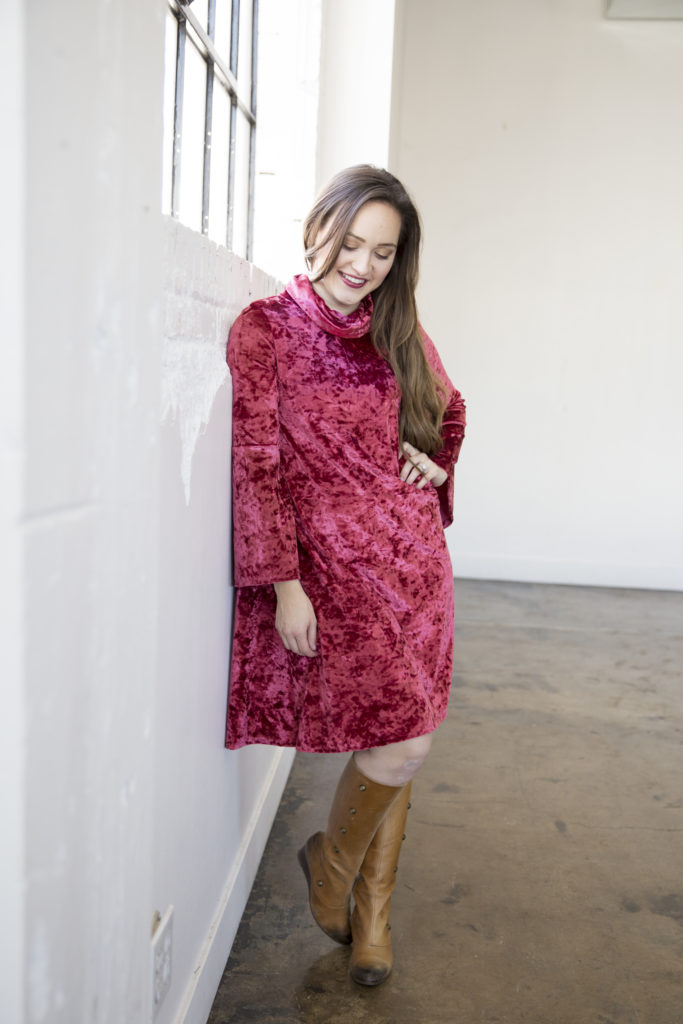 Isn't this split bell sleeve just gorgeous? I love the little bit of added drama it lends to this outfit!
For this pattern, I cut a straight size 10. I didn't worry about blending out to the larger size for my hips because of the loose fit. It turned out a tad bit big in the shoulders so I took it in just a little. That's a common alteration for me as my shoulders are on the smaller side.
Other than that I'd say the fit is spot on! I did take about two inches of length off of both sleeves since I'm petite and didn't want my sleeves to be too long.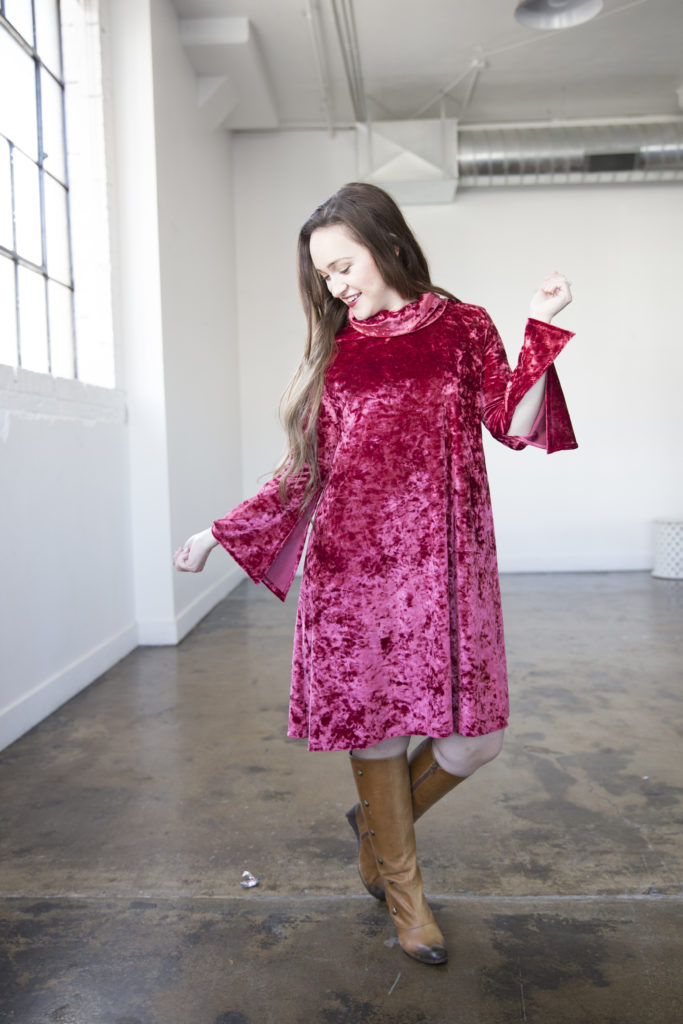 I'm really happy with how both of these patterns turned out! I'll definitely be sewing these patterns again and both garments will be in heavy rotation in my fall/winter wardrobe!
Next up on my sewing list from Simplicity is 8511 (those sleeves are amazing), 6533 (perfect momiform) and New Look 6536. What do you have planned?
A big thank you to my talented photographer Rachel who also happens to be an amazing seamstress! She managed to take these photos while my three children were running around like wild animals and she even strategically cropped them out of a few photos.
SaveSave
SaveSave
SaveSave
SaveSave
SaveSave