Oliso Pro TG1600 Iron Review
Have you ever spent hours and hours sewing up a beautiful outfit only to accidentally burn it while you were pressing it? I had this happen to me while I was using my old iron on a gorgeous velvet dress! I was pressing the hem of the dress when one of my little ones called my name and I accidentally left my iron on the fabric. Oops! Cue all the cringing and crying because my beautiful velvet fabric shriveled up and melted.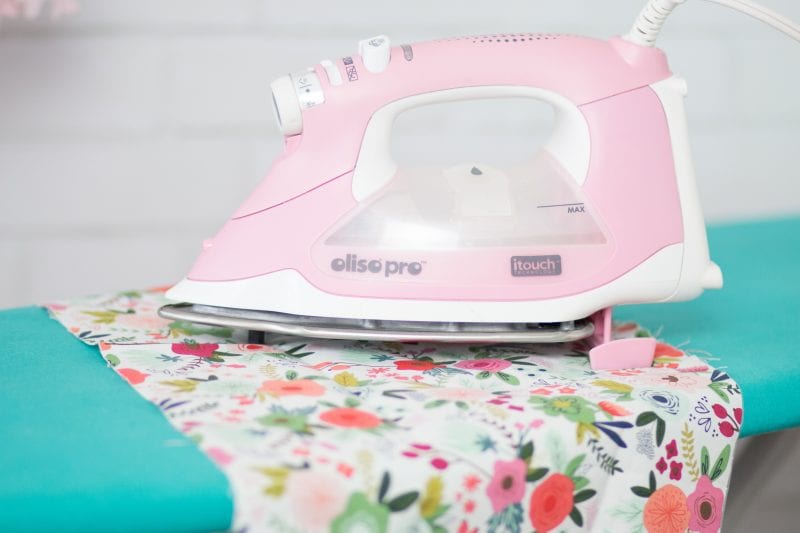 When I heard about the Oliso Pro TG1600 Iron and it's iTouch Technology I knew I had to try it out! A few months ago while I was in New York for a sewing retreat with Janome I had the chance to finally try out this amazing iron that everyone raves about. I've had my eye on it for the past three years so I was pretty excited!
After falling in love with it during the sewing retreat and nearly sneaking it home in my suitcase (I'm only half kidding) I asked Oliso if they would be willing to send me an iron for review.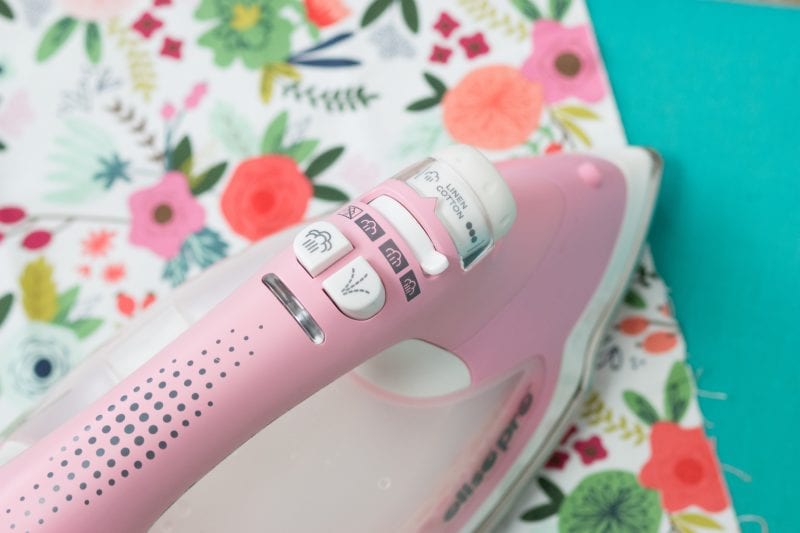 I've been using the Oliso Pro TG1600 for the past 2 months on all of my sewing projects, you might have seen it in a few of my photos over the past few months and now I'm sharing all of my thoughts about it!
Let's start by talking about the features on this specific model!
Features
Designed for Quilters and Sewers (Available in Pink and Yellow)
iTouch® technology: Patented Scorchguards™ lift with the touch of your hand and lower when you've stopped ironing, preventing burns, scorching and tipping.
Ergonomic: No more repetitive lifting; iron levitates above the fabric and lowers with the simple touch of your hand.
Ready when you are: Iron stays on for 30 minutes before shutting off. Simply touch the handle to reactivate.
Anti-drip system: Prevents spitting and leaking while the iron is hot.
Pointed Detailer Tip: Creates crisp pleats, pockets, cuffs and collars. Great for bias tape and tight corners.
Pro-Zone™ Soleplate: Extra flat pressing area eliminates dimple impressions in fabric. Beadblast chromium finish for unparalleled glide and scratch-resistance.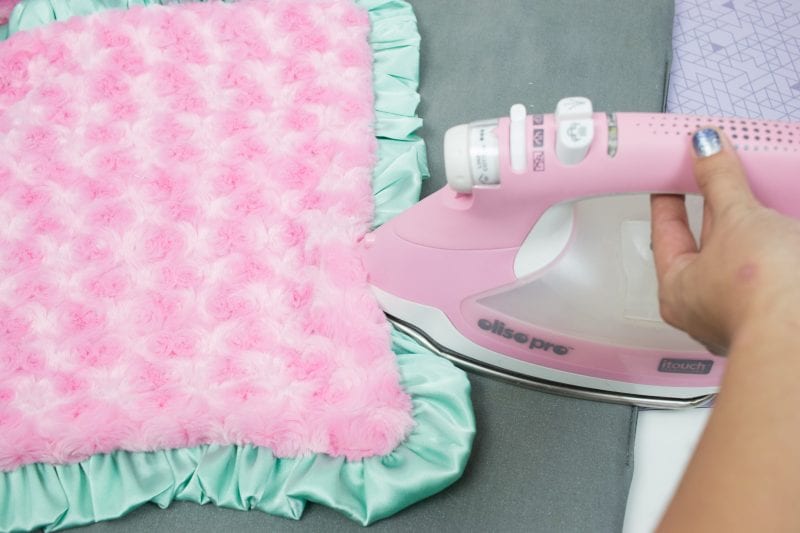 My favorite feature by far is the iTouch Technology that prevents burning, tipping and scorching! I'm a busy mom who is always getting interrupted and accidents tend to happen. I can leave the iron in a horizontal position at all times (even when I'm not using it) without worry of it tipping over and causing burns. The iron remains on for 30 minutes at a time which is ideal for sewing projects that require multiple steps of pressing and then sewing.
The pointed detailer tip is perfect for small detailed areas like cuffs and collars and the chromium finish allows you to easily glide over thick and bulky seams.
My other complaint with my old iron was that it constantly dripped and leaked. I can't count how many times I stained a beautiful fabric with rusty water spots.The Oliso Pro TG1600 is amazing when it comes to the anti-drip system! I can iron over beautiful fabric likes satin without any worry of leaving behind ugly water stains.
If you've ever used an inexpensive iron, you've most likely ended up with impressions in your material from the iron's soleplate. The extra flat soleplate on the Oliso Pro TG1600 eliminates that problem entirely! I can hold the iron in place without worrying about creating dimples in my fabric.
I'm one of those people who takes ironing very seriously so this is a big deal! In fact, I actually enjoy ironing.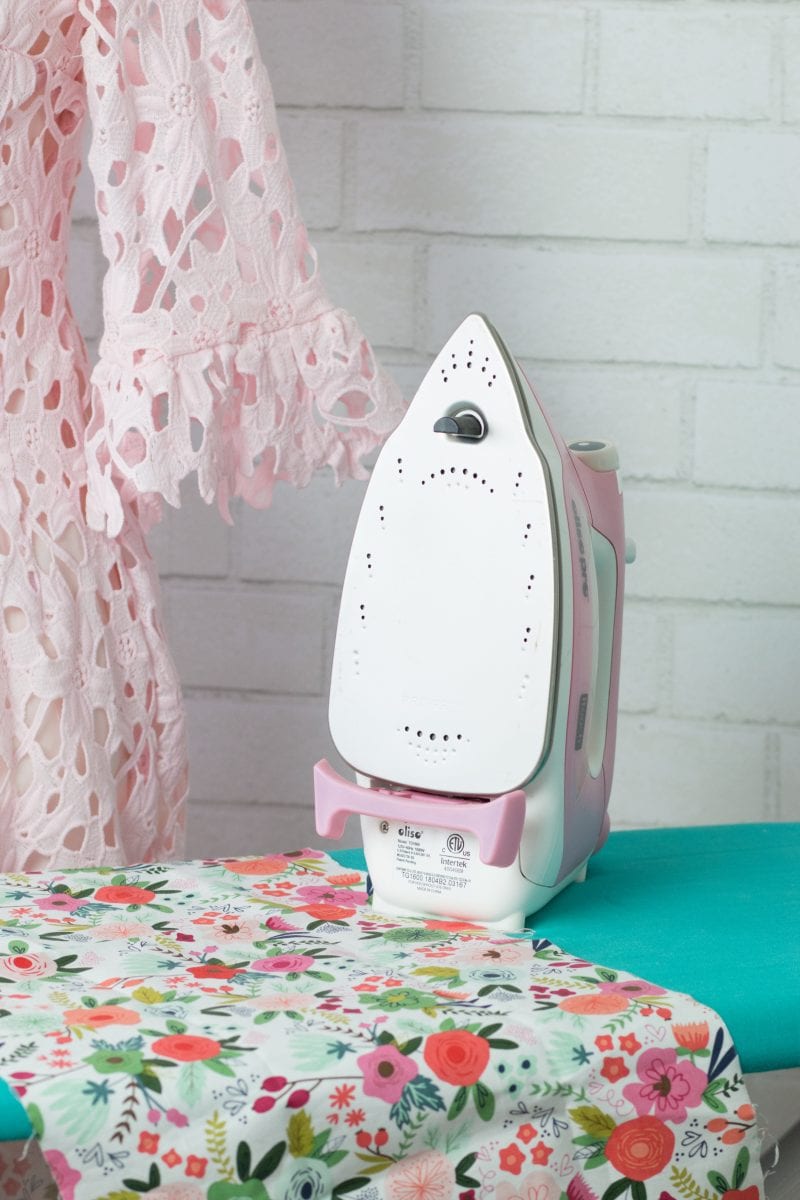 Powerful
Quick Heating: 1800 watts of power
OnePass™ Pressing: extra thick soleplate for optimal heat retention. Powerful vertical and horizontal steam removes the toughest wrinkles.
The steam on this iron is amazing!! I love how easily it removes set in wrinkles and glides over fabric. This iron has 1800 watts of power which means it heats up quickly! I'm usually really to go in under a minute with this iron, which is wonderful for those of us who have little to no patience...I know I'm not the only one guilty of this, right?!?
After using this iron on a variety of different fabrics and projects my only complaint is that it doesn't get quite as hot as I would like, but I definitely feel like the pros outweigh the cons for this iron!
Extra Features
12' cord with a 360° pivot
Extra large (12.7 oz) water tank for heavy steam usage
Water tank is side-loading for easy access
Comes with large fill cup
The pivot cord allows for easy ironing from any directions without the worry of twisting. Did I mention the extra large water tank? I'm an obsessive steamer, I'm probably even a bit excessive when it comes to the amount of steam I use on each seam but this iron can definitely put up with my needs! It's easy to fill from the side and it doesn't leak. The amount of steam this iron puts out is down-right impressive!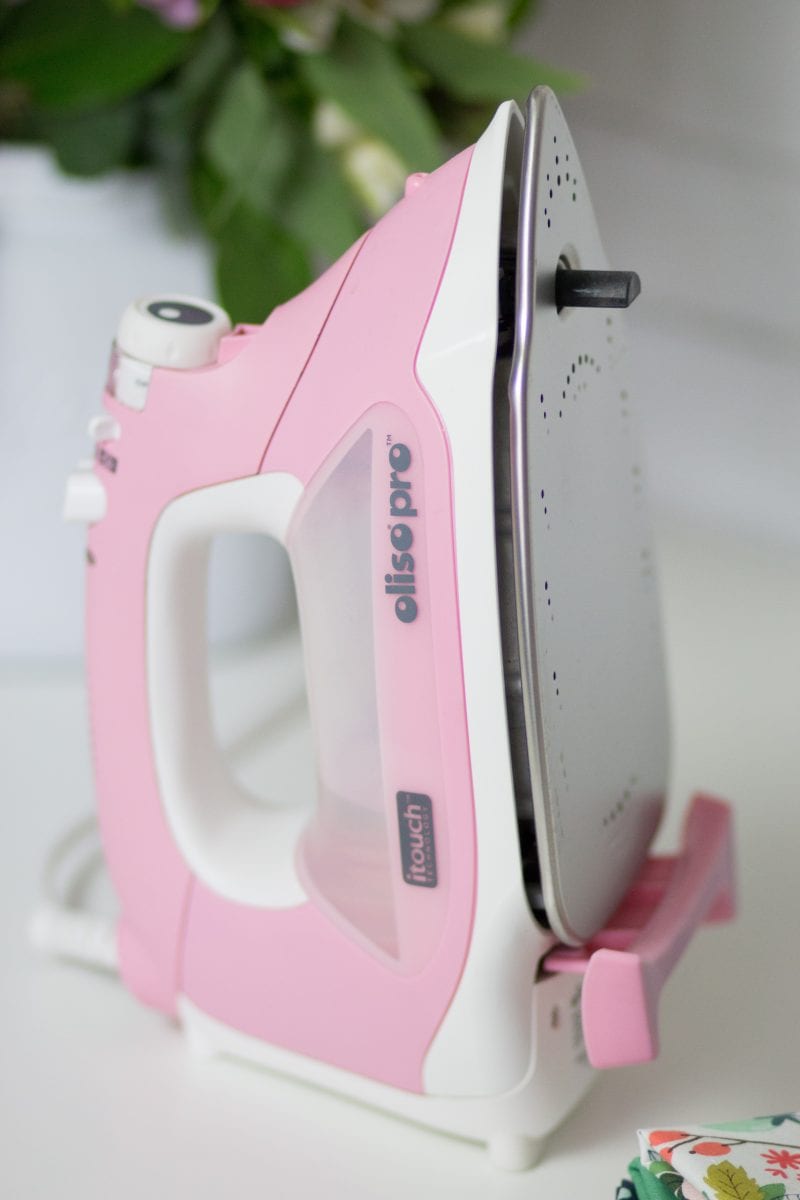 Overall I'm really happy with the Oliso Pro TG1600 and I'm looking forward to using it for many years to come! I'd love to hear your thoughts on this iron if you used it as well! I'll keep you updated and share another review after I've had the iron for a year.