New to the Cricut Hat Press? I'll Teach You Everything You Need to Know About This Brand New Heat Press!
What is the Cricut Hat Press?
The Cricut Hat Press allows you to make a variety of professional quality hats from the comfort of your home. It has Bluetooth connectivity via the Cricut Heat App.
This press features a rounded heating plate that's designed to work specifically with hats. The heat plate has a coating of protection that allows it to easily glide along the surface of the material which is really important because the Cricut Hat Press requires a steady back and forth movement throughout the pressing process.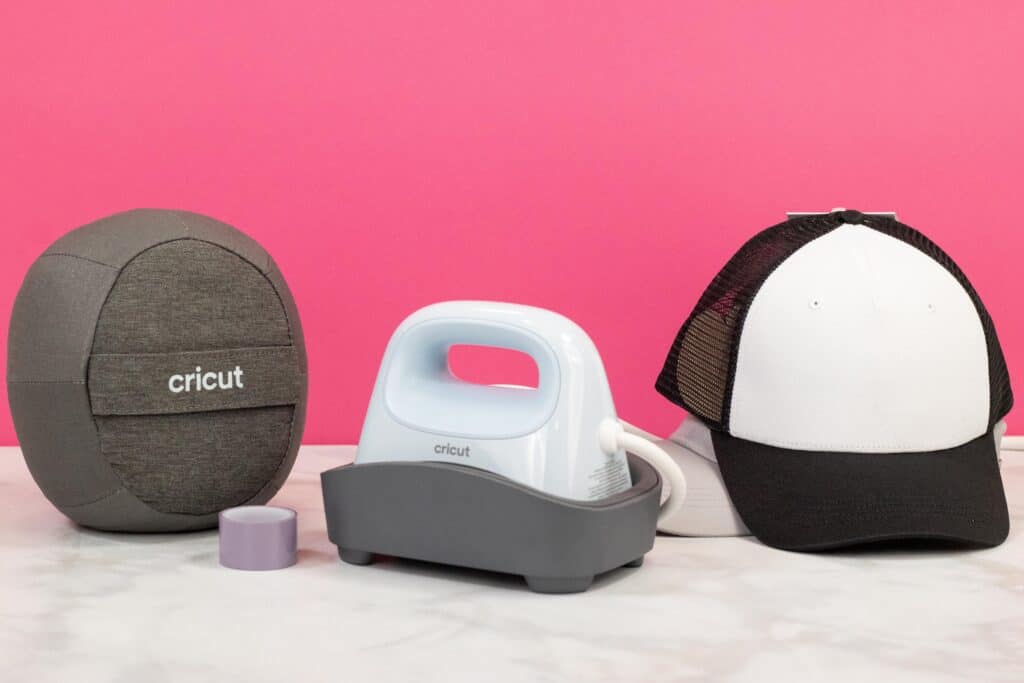 The Cricut Hat Press will be available for purchase online on Sunday, March 13th and it will be available in stores for purchase on May 1st.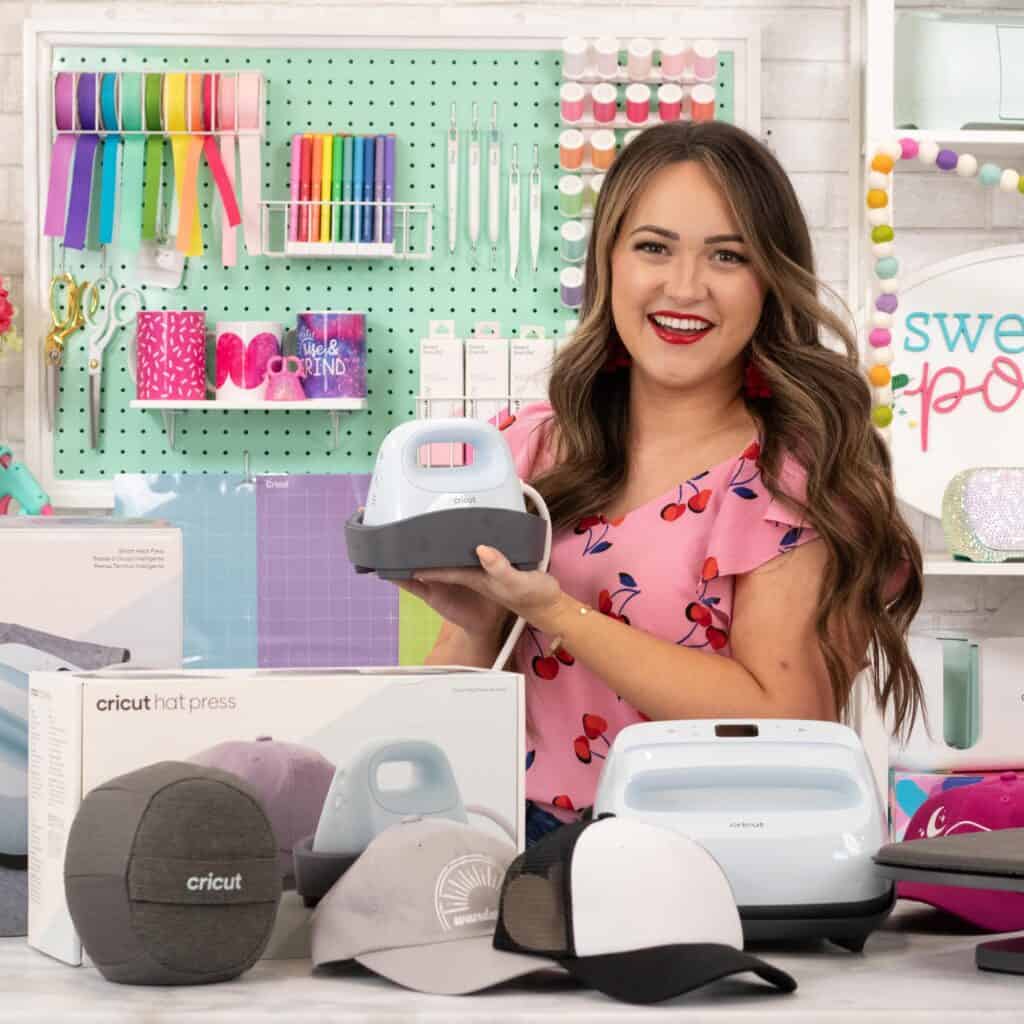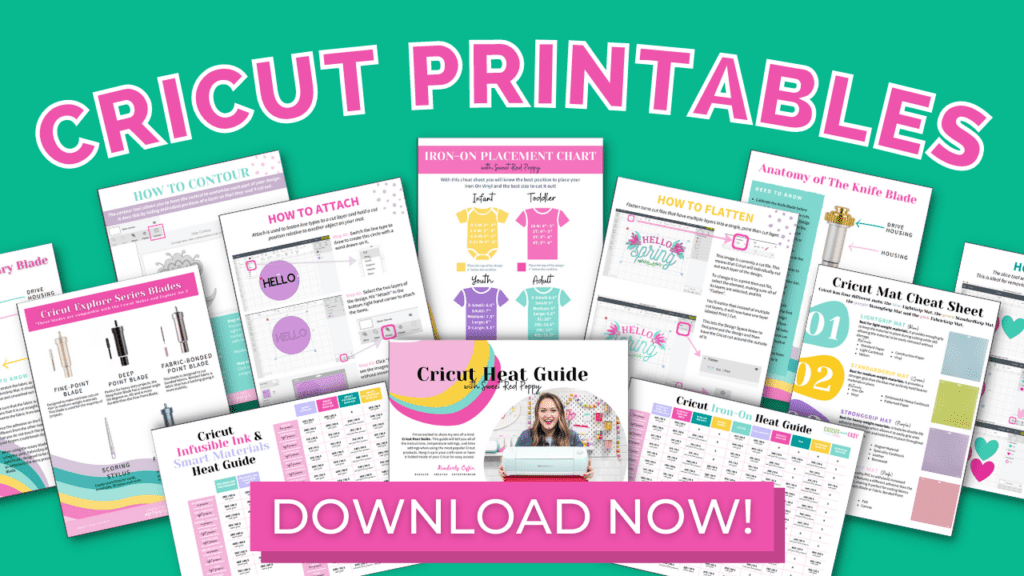 The Cricut Hat Press Includes the Following Items:
Cricut Hat Press
Safety Base
Cricut Hat Pressing Form
Practice Iron-On Design
Strong Heat Resistant Tape
Quick Start Guide
User Guide

Watch my full-length video where I cover this product in depth.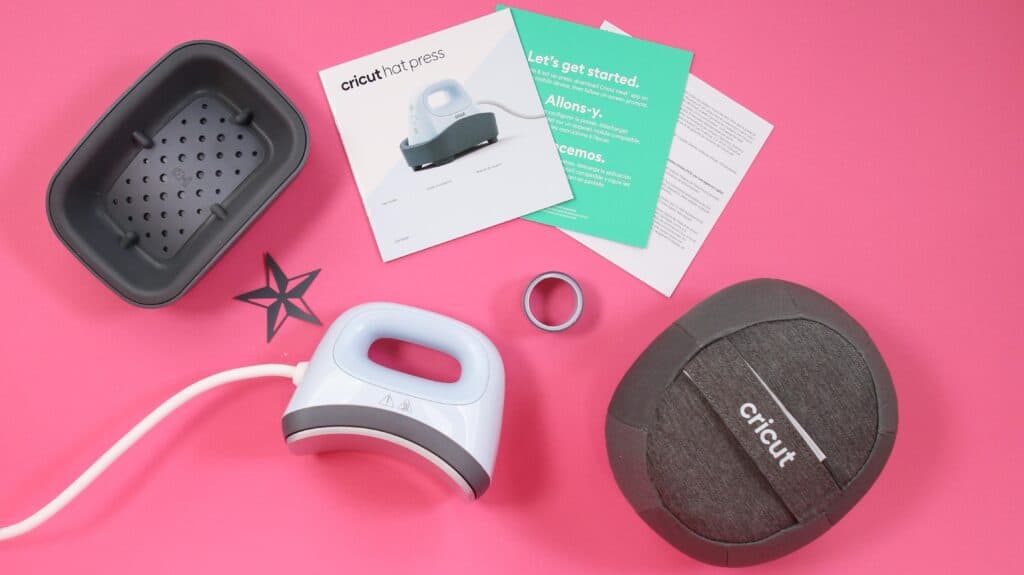 Here's a look inside of the Cricut Hat Press box.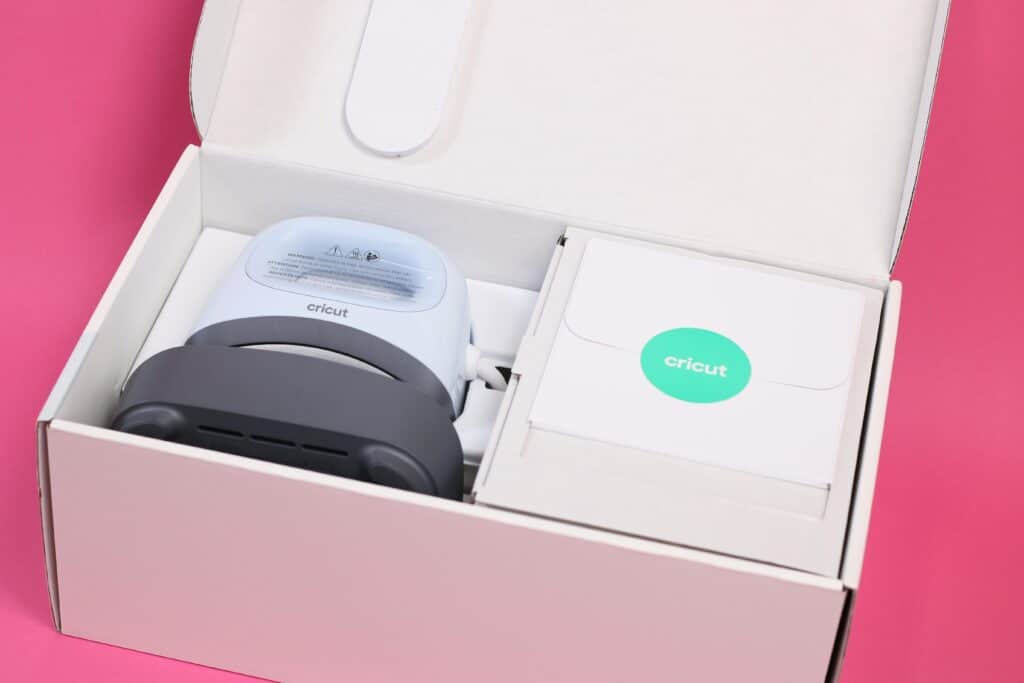 Cricut Hat Press Price
The Cricut Hat Press will be available for purchase online on March 13th for $149.99.
Click here to purchase the Cricut Hat Press.
Cricut Hat Press Temperatures
The Cricut Hat Press features three different temperature settings to help you achieve flawless transfers with a variety of materials and bases.
LOW: 255°F - 295°F
This setting is meant to be used with base materials that are more sensitive to heat and should be used with a 60-second timer.
MEDIUM: 300°F - 355°F
This is the primary setting that's used with most heat transfer materials like Iron-On and should be used with a 60-second timer.
HIGH: 360°F - 400°F
Infusible Ink and heavy-duty base materials should be used with the highest temperature with a timer of 90 seconds.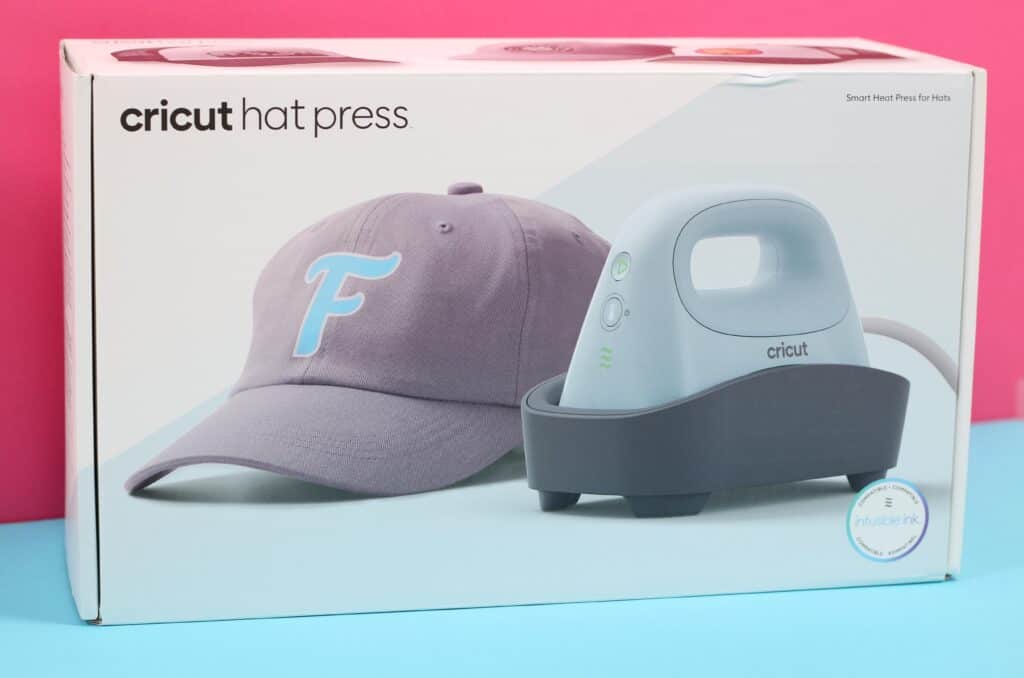 While each setting has a small range of temperatures that it encompasses, the Cricut Hat Press will not fluctuate within that range during the pressing process. Each material has a specific temperature that has been thoroughly tested and the Cricut Hat Press will maintain that temperature throughout the press without any variance. This exactness is one of the things that really sets Cricut apart from any other heat press currently on the market.
The Cricut Hat Press weighs approximately 2.4 lbs or 1.09 kilograms. It measures 4.3" in diameter by 6.5" in width and 5.1" in height.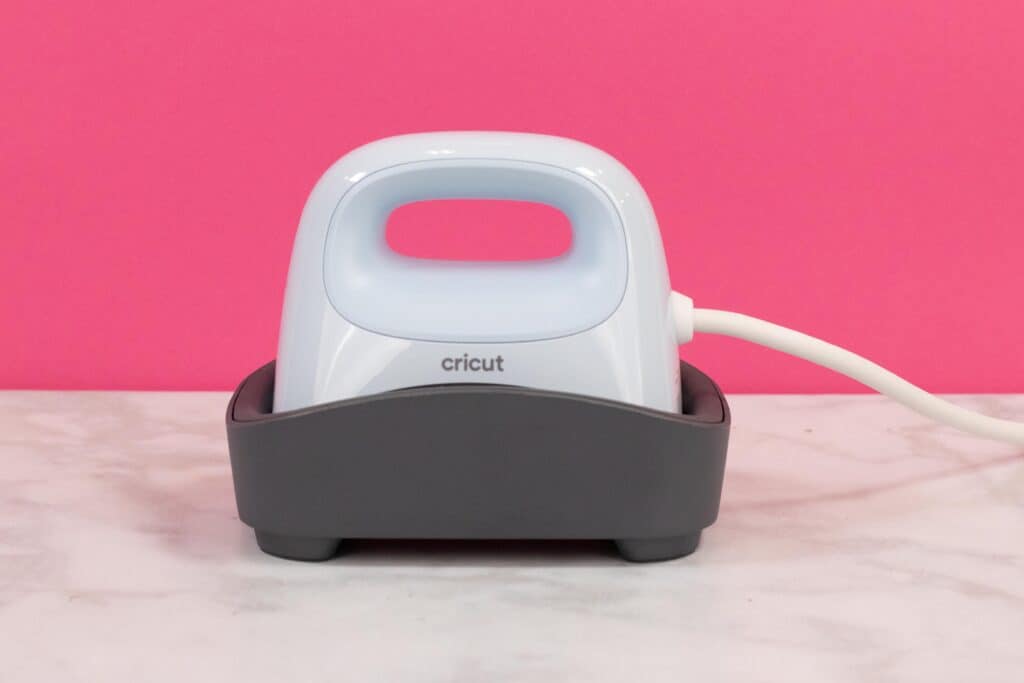 For safety purposes, the Cricut Hat Press comes equipped with an auto-off feature. This is one of my favorite things about Cricut Heat Presses as a busy mom who regrettably tends to get distracted while crafting. After 13 minutes of inactivity, the Cricut Hat Press will automatically shut off. It will give a warning beep 30 seconds before shutting off.
The Cricut Hat Press is compatible with Cricut's newest app Cricut Heat.
The Cricut Heat App
So what's so special about the Cricut Heat App?
We already have Design Space, so you might be wondering why you need yet another app!
The Cricut Heat App is designed to be your heat-press companion. This app removes room for error or mistakes by providing you with precise settings that have been thoroughly tested paired with step-by-step instructions.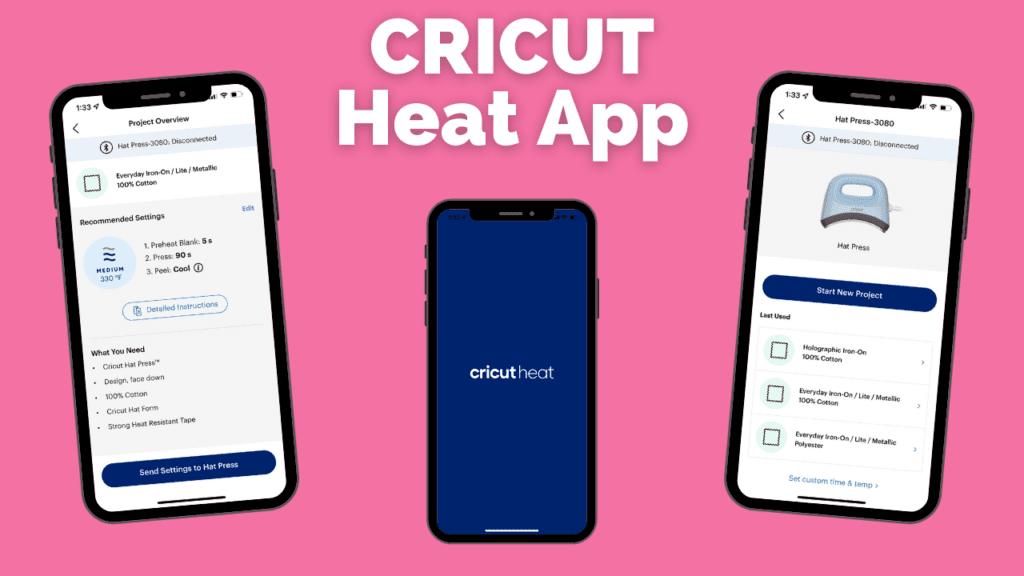 You'll be guided through the heat transfer process from the moment you preheat your base to the moment you peel away your backing to reveal your customized project.
The Cricut Heat app takes the guesswork out of creating projects with Iron-On and Infusible Ink.
Within this handy little app is everything you need to know to successfully complete a project and get great results.
The way that the Cricut Heat app accomplishes this is by allowing you to input your specific base material, the transfer material you'll be applying to it, as well as the surface you'll be pressing on. While these might not seem significant, when you add these three factors together there's actually quite a bit of room for error.
The Cricut Heat App Provides a Step-by-Step Guide
The Cricut Heat app eliminates the guesswork by providing you with the perfect settings (ones that have been thoroughly tested by the Cricut team) to create your project. It even guides you through the entire process step-by-step. That means no more wondering if you need to use butcher paper, trying to guess if you should apply tape, or having to press your project multiple times.
Cricut Heat app is a free download that can be found in the Apple App Store or in the Google Play Store. iOS and Android devices can download the Cricut Heat app as long as they meet the same system requirements as those of Design Space.
Compatible heat presses must be activated before using them. Activation requires downloading the Cricut Heat App and following the prompts. Activation allows the heat presses to have the latest firmware. Cricut heat presses can be used without the Cricut Heat app, but it is not recommended.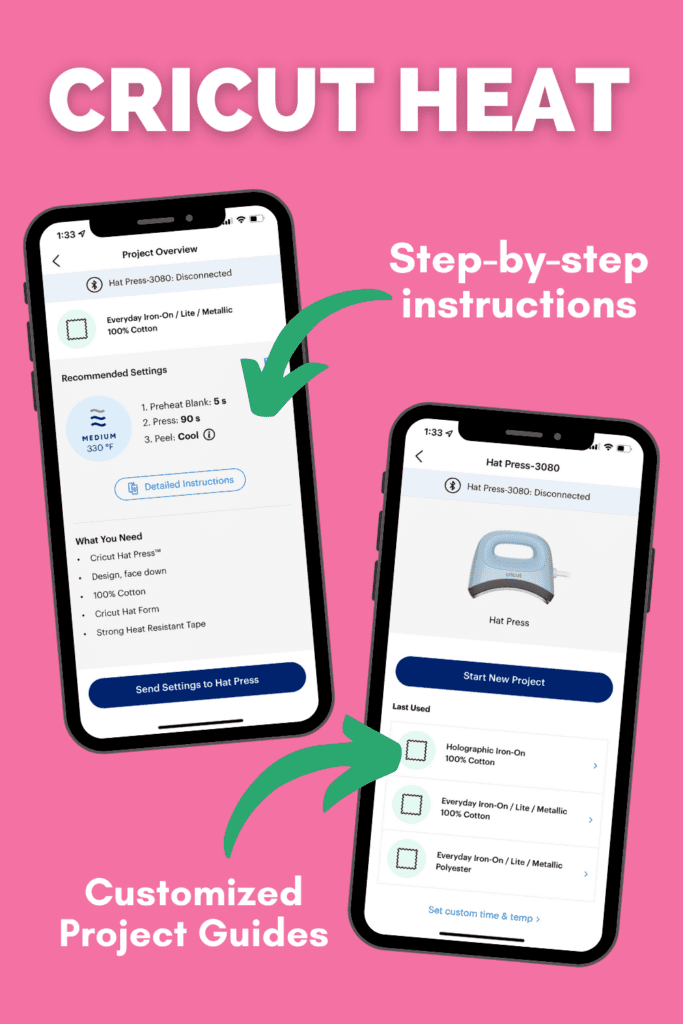 What Products are Compatible with the Cricut Hat Press?
Cricut currently offers two different hat blanks that are compatible with the Cricut Hat Press
Both of these caps have gone through rigorous testing and they are designed to be compatible with both Iron-On and Infusible Ink. This means they can withstand heat of up to 400 degrees Fahrenheit without melting.
While the main part of the hat can withstand 400 degrees of heat, the bill of the cap is not rated for this and you'll want to avoid applying Infusible Ink to the bill because it can melt or become damaged.
Gray Baseball Cap
The first hat is a blank Ball Cap that's gray. It's made up of 80% polyester and 20% cotton. Purchase the hat here.
Black & White Trucker Hat
The second is a blank black and white Trucker Hat. This hat features a black mesh backing with a white front and it's made up of 100% polyester. Purchase the hat here.
Cricut Hat Pricing
The Cricut hat blanks will retail for $9.99 each.
There will also be two options to purchase hats in a pack online.
The first option is a 3-pack for $19.99 and the second option is a 12 pack for $69.99.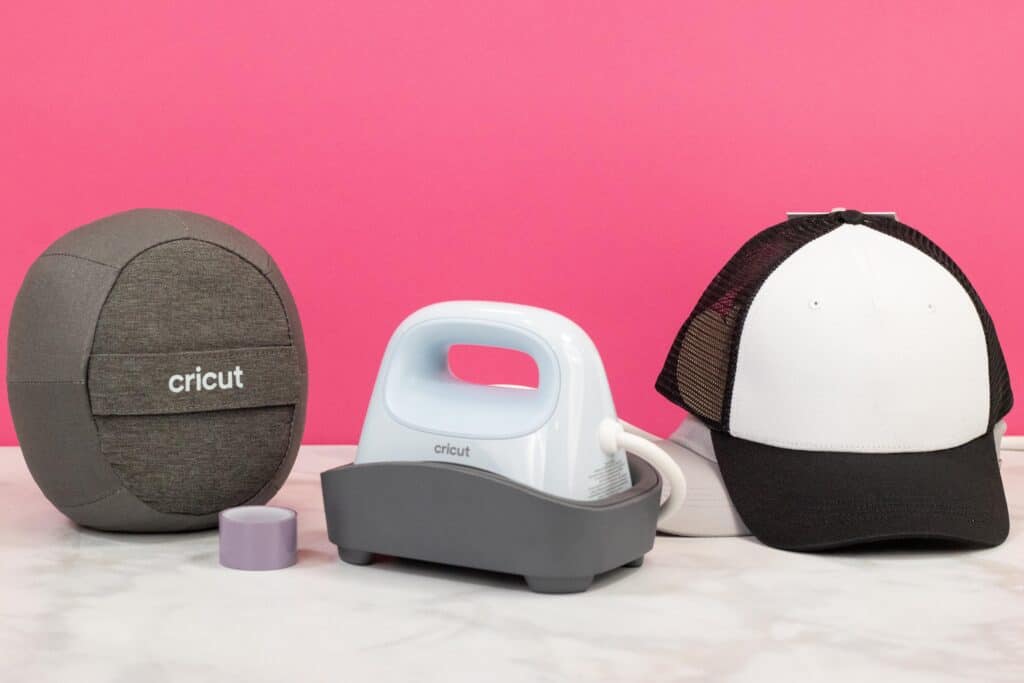 Cricut also sells Strong Heat Resistant Tape for $6.99. Purchase it here.
Strong Heat Resistant Tape is designed to be used with curved surfaces to create a seamless process. It has a stronger hold than the blue Infusible Ink Tape and features the perfect width for use with the Cricut Hat Press.
Of course, you can always use generic products with Cricut's Heat Presses but it will require some testing on your end!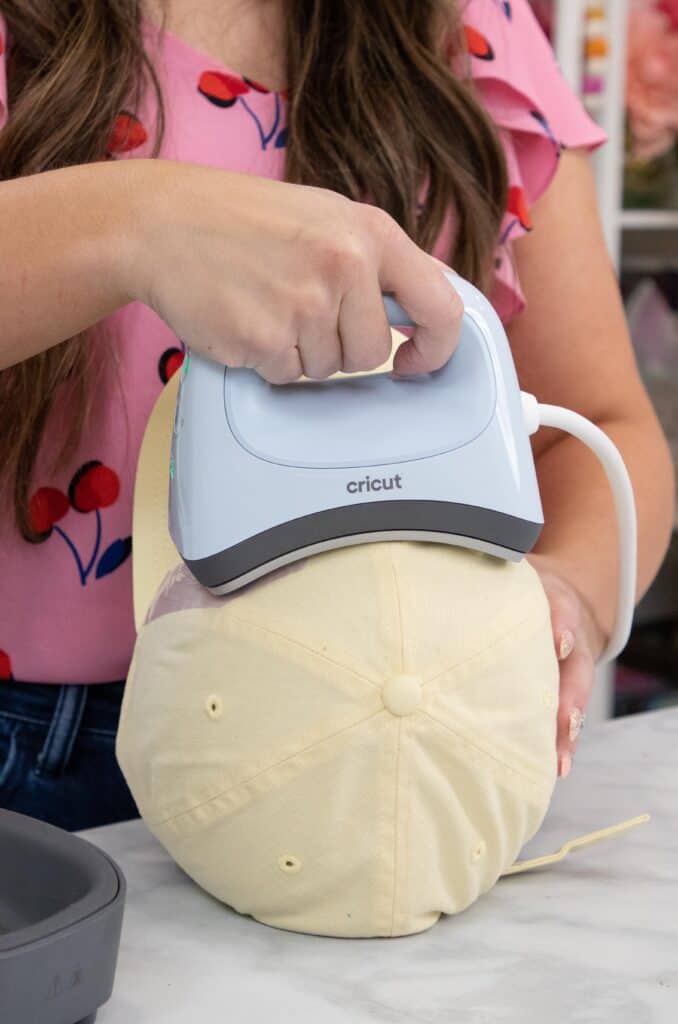 Cricut Hat Pressing Form
Let's talk a little bit about the Cricut Hat Pressing Form. To get the very best results when working with a curved surface, you really need a pressing form that has a rounded shape to it to protect the integrity of the hat.
This prevents the hat from getting deformed and allows for even heat to be applied and distributed across the surface of the hat.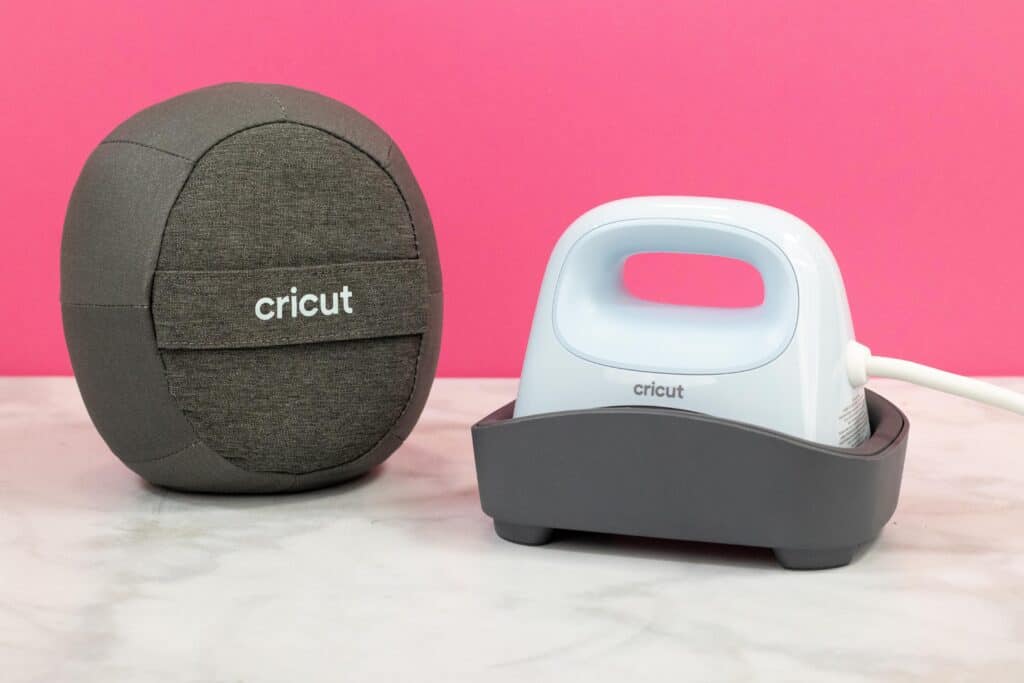 The Cricut Hat Pressing Form was created as the perfect partner to the Cricut Hat Press. It's designed to perfectly fit the inside of the hat, giving you a firm pressing surface that's free of bumps or air pockets that could negatively affect your design.
How Big is the Cricut Hat Pressing Form?
It measures 6.5" in diameter, 5.2" in height, and 7.5" in width and it weighs 3 lbs.
Now, what's really neat about this form is what's on the inside! It's actually filled with walnut shells.
Walnut shells are an all-natural, biodegradable material that is extremely durable. They also offer water absorption while having great microbial resistance.
What that means is that this pressing form is able to pull moisture away from your material, ensuring a dry pressing surface while also reflecting heat back towards the
The exterior of the Cricut Hat Pressing Form is made from 59% Polyester and 41% Cotton. The Interior of the form is made from 91% Walnut Shells and 9% Polyester.
For best results, you should NOT wash, bleach, dry or dry clean the Hat Pressing Form. You should also avoid using any steam on the pressing form and instead opt for dry heat.
Transfer Size Recommendations
When you're creating your hat's design, it's important that you keep the design smaller than 2.25" high by 4.25" wide. This is the ideal size to ensure your design gets the right amount of heat ensuring a smooth transfer.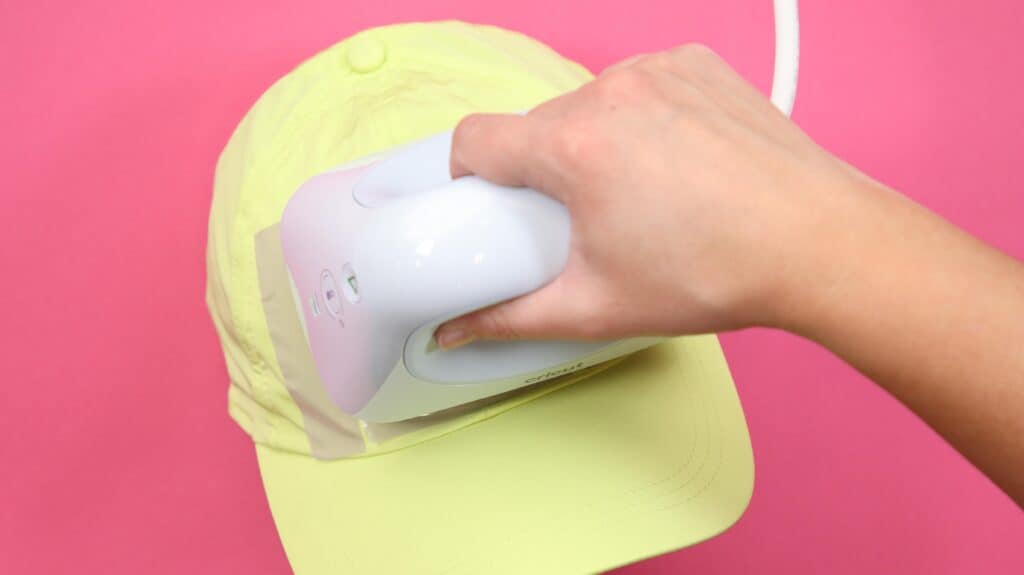 Do you have any questions about the Cricut Hat Press? Leave your questions in a comment below!