If you're looking to level up your heat press game, scale up your production, start your own side hustle and even sell your crafts, the Cricut Autopress is perfect for you!
This is a sponsored post written in partnership with JOANN Fabric and Craft Stores. All thoughts and opinions are my own.
What is the Cricut Autopress?
The Cricut Autopress is a revolutionary automated heat press that has the perfect combination of style and function. This beautiful machine is so much more than just a pretty face.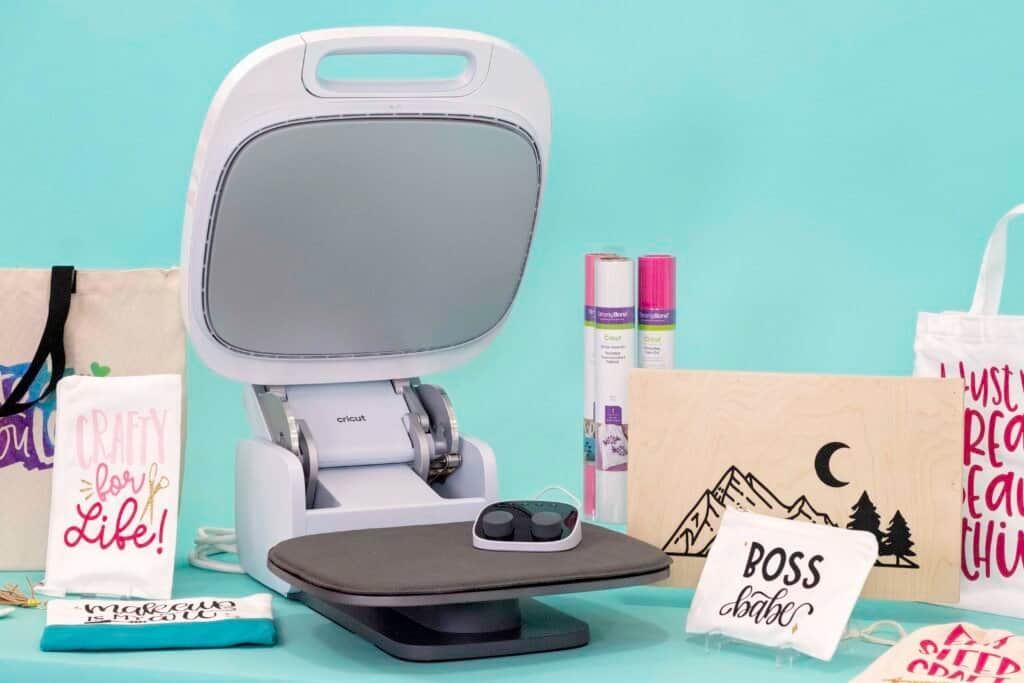 The Cricut Autopress takes the guesswork out of creating by utilizing automatic features. It auto-adjusts to your project's thickness up to 2", and it auto releases as soon as the pressing cycle has been completed. It even comes pre-programmed with built-in presets for the most commonly used bases and materials. The perfect amount of pressure, plus the precise amount of time and the exact temperature all combine for flawless transfer every time!
What Comes in the Cricut Autopress Box?
Cricut Autopress mat
Control Pod
Instruction Manual
The Cricut Autopress will retail for $999.99 and it will be available for purchase online from JOANN.com after May 16th.
Additional pressing mats can be purchased for $54.99 and I'd definitely recommend having an extra if you want to speed up your process.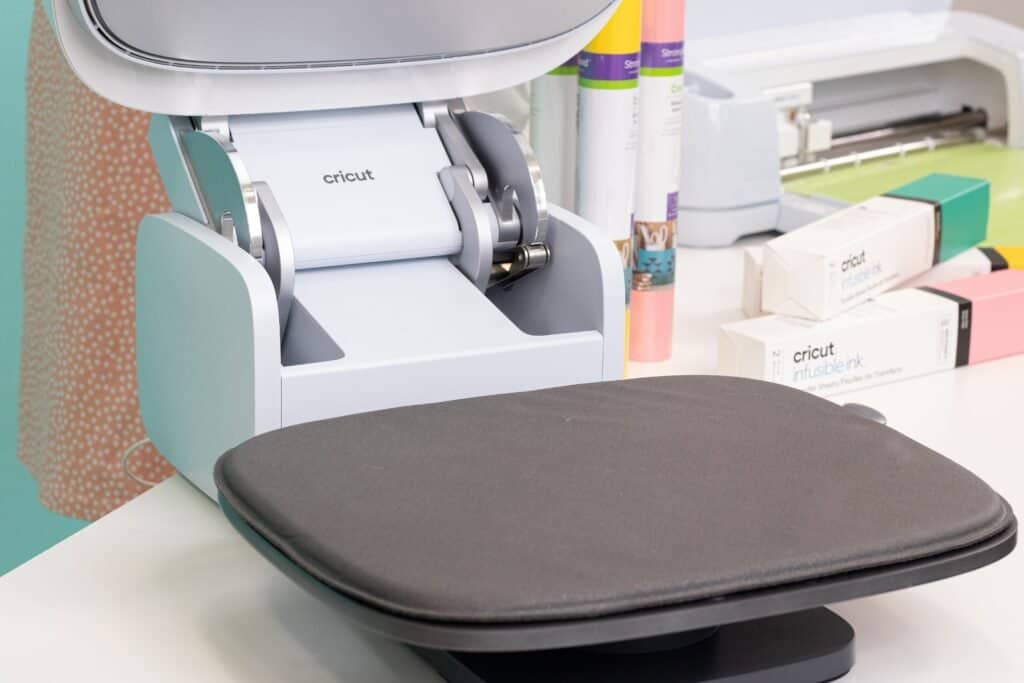 While the Cricut EasyPress is great when it comes to portability, the Autopress really needs a dedicated space because of its size and weight. The Autopress measures 16.63" in width x 6.62" in height x 26.07" in depth and it weighs in at just under 53 lbs.
Because of the Autopress size and weight, it does have some requirements when it comes to a pressing surface. For the best results, you'll need a sturdy table or counter space that measures 22.5" deep to allow the machine to open to its fullest position.
When the Cricut Autopress is in the open position it measures 25.14" in height. It can be stored vertically in a locked position behind a door or under a table when it's not in use.
What makes the Cricut Autopress Unique?
First off, you make more in less time. With the Autopress, you're able to make more items in less time because of the automated and thoughtful features.
Safety was one of the biggest concerns with the Cricut Autopress. This machine uses certified temperature-rated plastics, offers an auto-off feature, and has an extra-wide clearance of 62 degrees.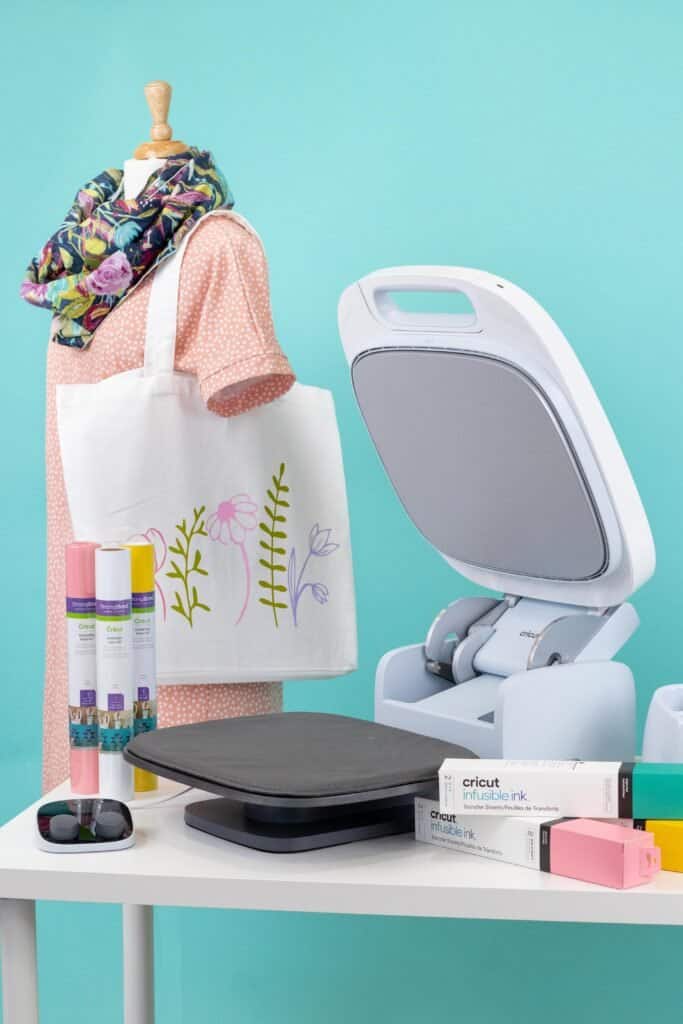 Zero Effort Operation
This begins with the Zero Effort operation. The Autopress applies just the right amount of pressure to your project and it only takes the pressure of two fingers to engage the motor. As the Autopress closes from its 65-degree angle, it will go straight up and down for the last 2" before making contact with your project. This gives your project an even amount of pressure and heat.
Auto-Open Feature
While your Autopress is transferring your design, you can be prepping another design right next to your machine. What I find really nice about this feature is that the Autopress has an auto-open function. This means, as soon as the press has completed its timed press, it's going to automatically open. You don't have to babysit the press, which allows you to prep a project and create more projects in less time.
What Size is the Cricut Autopress Heat Plate?
The Autopress features a durable 15" x 12" heat plate. It comes with a ceramic-coated surface to ensure stable pressing without any shifting.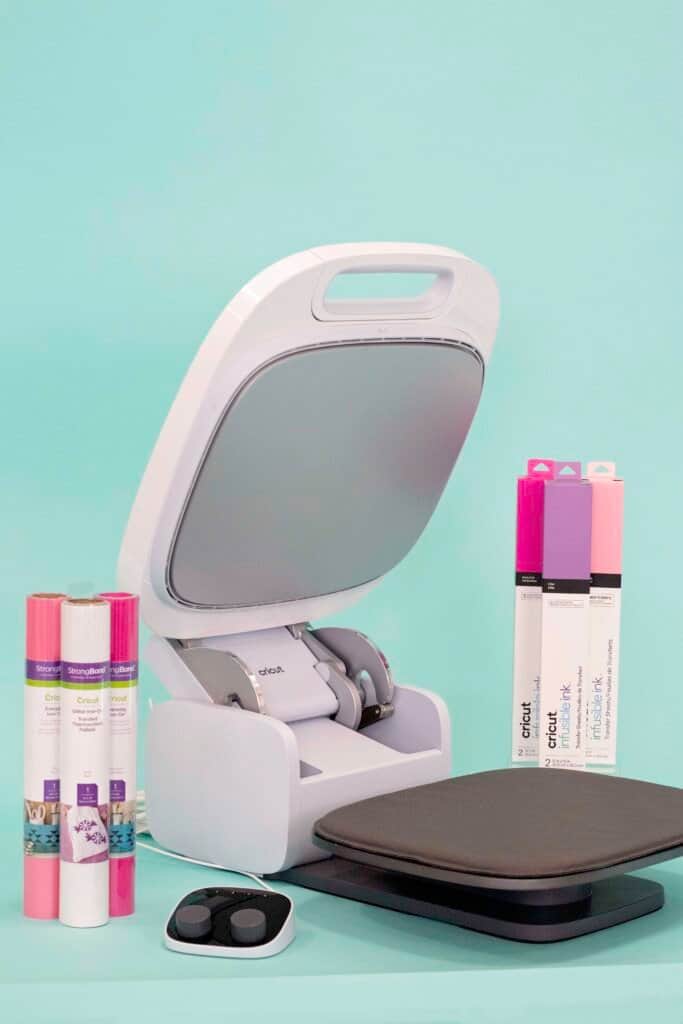 What is the Max Temperature of the Cricut Autopress?
The 15" x 12" heat plate heats up to 400 degrees Fahrenheit making it compatible with Heat Transfer Vinyl such as Iron-On and Sublimation products like Infusible Ink.
How Long Does the Cricut Autopress Take to Heat Up?
On average, the Cricut Autopress takes approximately 8 minutes to fully heat up to 400 degrees Fahrenheit. I recommend turning on your heat-press and then cutting your design or prepping your transfer while it warms up.
What is the Cricut Autopress Control Pod?
Unlike Cricut's other Heatpresses, this machine is not Bluetooth enabled and it is not compatible with Cricut Heat. This product was designed with professional and advanced creators in mind and doesn't offer the same step-by-step experience that you would need as a beginner starting with an EasyPress.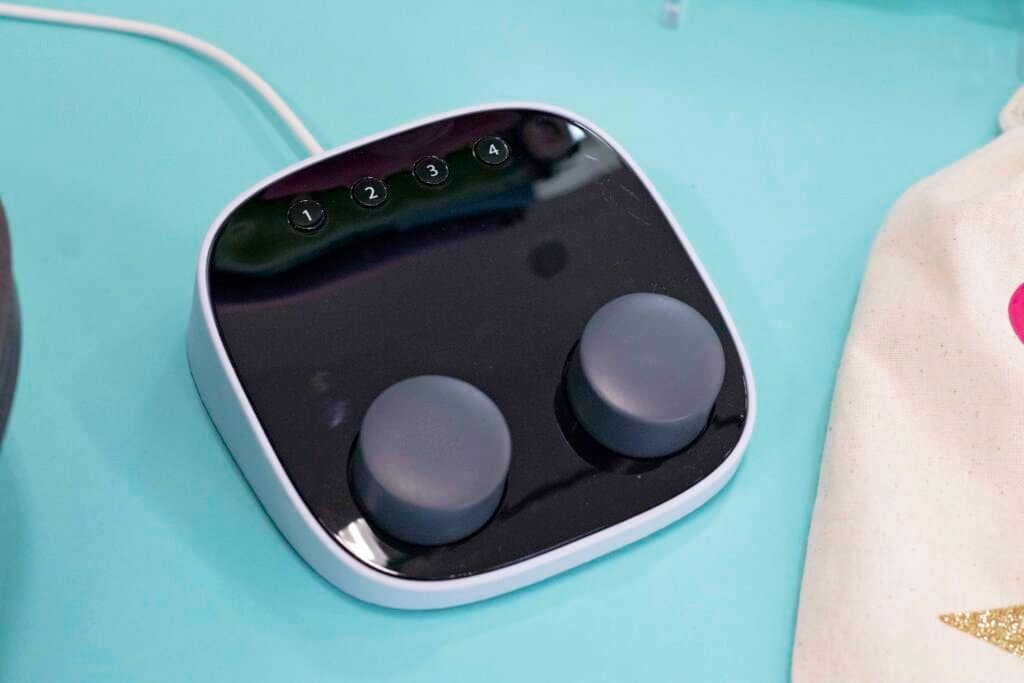 The Control Pod has 4 presets that are preprogrammed with the most commonly used materials and bases. If needed, the presets can be changed to better fit your specific needs.
Preset 1: SportFlex/Polyester - 315°F (155° C)/25 seconds
Preset 2: Everyday Iron-On/Cotton - 315°F (155°C)/30 seconds
Preset 3: Glitter Iron-On/Cotton - 330°F (165°C)/25 seconds
Preset 4: Infusible Ink™/Polyester - 385°F (195°C)/30 seconds
While it doesn't work with the Heat app, it does come with access to Cricut's Heat Guide. This will give you recommended settings for time, pressure, and pressing length based on your base material and transfer material.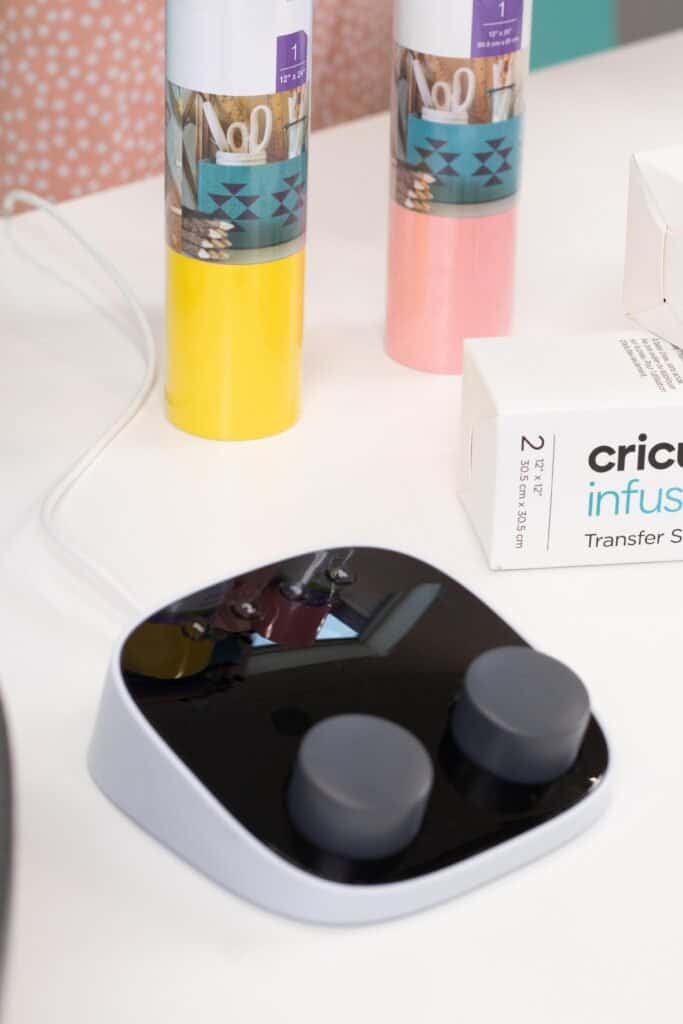 To create your own preset, use the dial on the control pod to select your time and temperature setting. Press on the preset button and hold it for 3 seconds or until it beeps. After the beep, the control pod will now use your custom setting. The presets can be reset to factory setting by pressing a paperclip into the hole located on the bottom of the control pod.
Why Does the Cricut Autopress cost $999?
The Autopress wasn't designed as a larger EasyPress, it's a fully functional professional grade heat press that was designed to outperform every competitor within this price range in the market.
This machine isn't going to be the perfect fit for every Cricut crafter. It's really designed with an advanced crafter in mind who makes products in large quantities and is looking for professional quality results in less time.
While it's designed for what I like to call a "professional level crafter", that doesn't mean that it's hard to use. It's incredibly easy to use because of its automated features which eliminate the guesswork.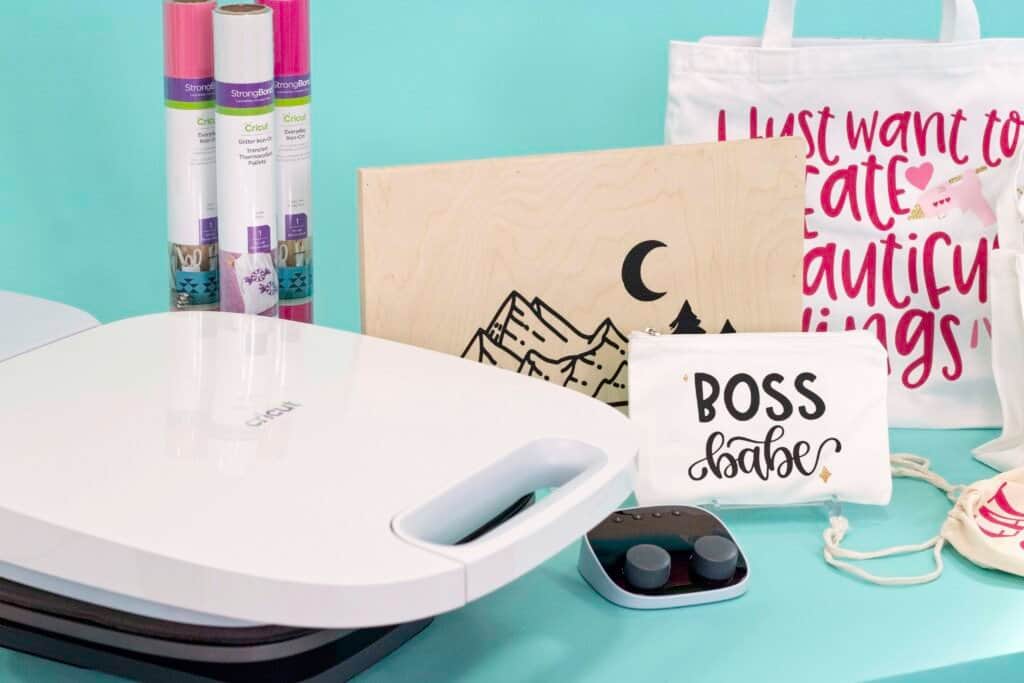 Thoughtful Features
Cricut really thought of everything when designing this product. In fact, they started designing it over 4 years ago! It's gone through a rigorous testing process to best meet the needs of professional crafters.
Extra Wide Clearance
First off, the Cricut Autopress was designed to fully open to 62 degrees. Throughout the research process, Cricut found that many heat presses didn't open wide enough. This caused a variety of different problems from accidental burns, to uneven pressing and the need to bend over to get under the heat plate which caused back strain.
Safety was one of the biggest concerns with the Cricut Autopress. This machine uses certified temperature-rated plastics, offers an auto-off feature, has advanced airflow to manage temperatures, and has an extra-wide clearance of 62 degrees.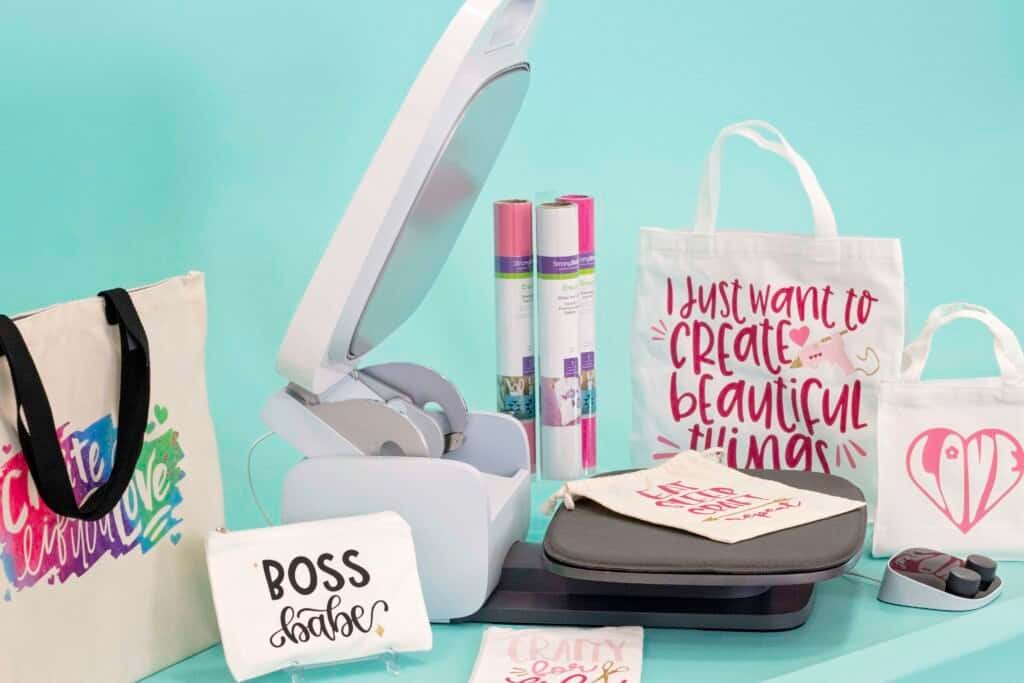 Material Versatility
While the Autopress is great when it comes to t-shirts, totes, and apparel, it's also compatible with other materials like wood signs, and ceramic coasters up to 2" in thickness. The Autopress is able to press thick materials evenly because of its unique design that allows the heat press to switch from an angled close to a straight up and down motion.
The Cricut Autopress was rigorously tested to withstand an immense amount of presses without any issue. In fact, it can complete 26,000 cycles without error so you can rest assured that your Cricut Autopress is with you for the long haul.
Created with Safety in Mind
One of the common issues with other industrial-sized heat presses is that they tend to cause accidental burns. If you've used another brand of heat-press, then you know what I'm talking about! Cricut made sure to create a handle that wouldn't get hot and it ensured that the top of the Autopress wouldn't get hot. They did this by using certified temperature-rated plastic.
The Cricut Autopress closes to a locked position to cool down. As a mother with little kids running around (and as someone who tends to be a bit clumsy), this gives me peace of mind because there is no exposed heat plate.
For even more peace of mind, the Cricut Autopress features a 13-minute auto shut-off timer. If the Autopress is not in use, it will automatically shut off.
Modern Aesthetic
Unlike almost every heat press currently on the market, the Autopress is not an eyesore. It was thoughtfully designed with both form and function in mind. You can proudly display this beautiful heat press in your crafting room.
The Cricut Autopress applies pressure based on the transfer material, base, the heat needed, and thickness. Taking all of these varying factors into account is what allows it to offer flawless transfers every time.
Upon launch, the Cricut Autopress will be available in one color, Mist. This is a gray color with a slight tint of blue that matches the Cricut Bright 360 Lamp. The Autopress is white on top and Mist on the back. It's important to note, that this colorway is different than other new heat presses which launched in Zen Blue.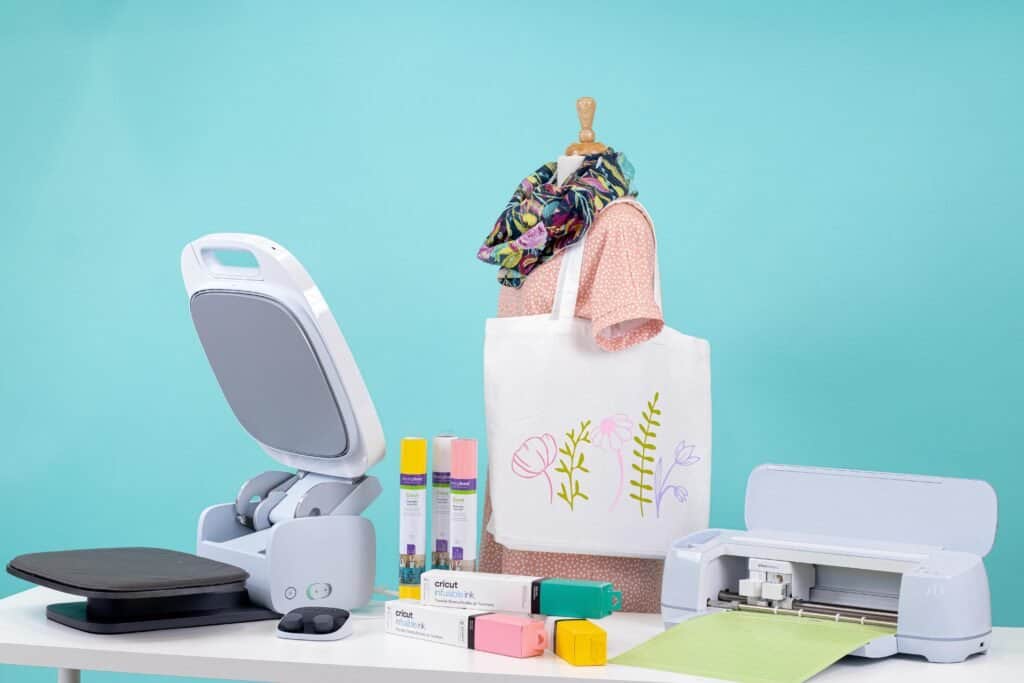 Cricut Autopress Setup
To set up and register the Cricut Autopress, you will need access to a laptop or desktop computer as well as a USB cord and an internet connection. This is only required for setup.
What are the Power Requirements for the Cricut Autopress?
The Autopress requires 120-240v and it uses 1300 watts of power. It can be safely used with an extension cord as long as the extension cord can meet the power needs of the Cricut Autopress.
Who Is the Cricut Autopress Designed for and How Can It Be Used?
The uses for this machine are endless and they really depend on the type of crafting you want to do! With the Autopress you can make larger designs and more items in less time than before.
Hobbyist - This machine can be used to create personalized projects for your friends and family or community. For this type of use you could create family reunion t-shirts, create t-shirts for a school sports team, customize shirts for a volunteer group or create customized presents.
Small Business Owner - It could also be used by small business owners to create branded items for their employees and customers like t-shirts, totes, coasters, packaging items, and more.
DIY Business - Finally, it could be used to start or level up your DIY side-hustle or creative business. The Autopress allows you to create professional-level quality products that can be sold like apparel, customized wooden signs, pillowcases, coaster, totes, and more.
When creating in bulk I find it's easiest to have multiple Cricut Autopress mats. This allows you to prepare your projects while the Autopress is transferring your image.
Purchase the Cricut Autopress from JOANN after May 15th.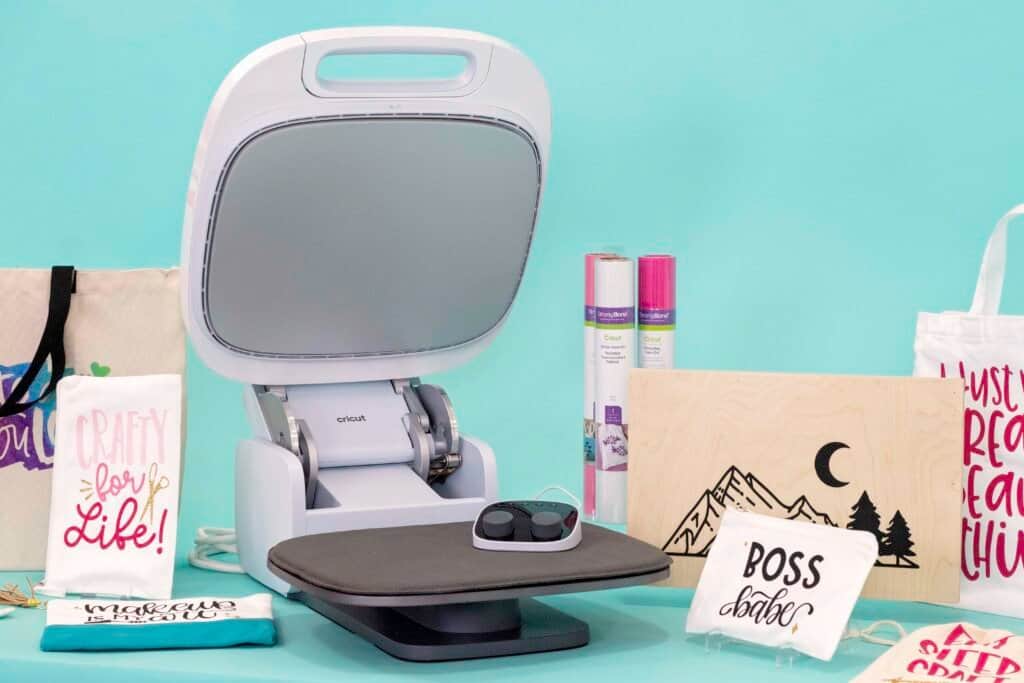 Questions & Answers
Is the Autopress control pod replaceable?
Yes, the control pod is replaceable.
Is there a way to override the automatic settings to end a press?
If something goes wrong and you need to open the press during the transfer process, you can simply tap upwards on the hand and the machine will open. It will also automatically open if it happens to lose power.
What is the maximum amount of time that the heat press can be set to run on any single press?
The heat press has a max time setting of 300 seconds or 5 minutes.
Can non-Cricut branded blanks be used with the Cricut Autopress?
Yes! You can use any heat-friendly blanks with the Cricut Autopress. You will want to refer to the manufacturer's recommended heat settings.
Is there a warranty offered with the Autopress?
Cricut offers a manufacturers' warranty with the purchase of an Autopress.
Do you have questions about the Cricut Autopress? Leave them in the comments below!
Purchase the Cricut Autopress from JOANN after May 16th.
Join my crafting and sewing Facebook group where you can show us what you're making, ask questions, and learn from others!