This post on how to make a blanket scarf is sponsored by JOANN.
Every year when the seasons start to change, I head straight to JOANN to pick up fabric to make Blanket Scarves. It's one of my favorite no-sew projects and I love how warm and cozy blanket scarves keep you during the fall and winter! They also make wonderful gifts so keep that in mind as you are planning out Christmas gifts this year!
One of the questions I get asked the most is, "How do you wear a blanket scarf?" I've rounded up all of my favorite ways to wear, wrap and tie a scarf! There's even a video to walk you through the entire process!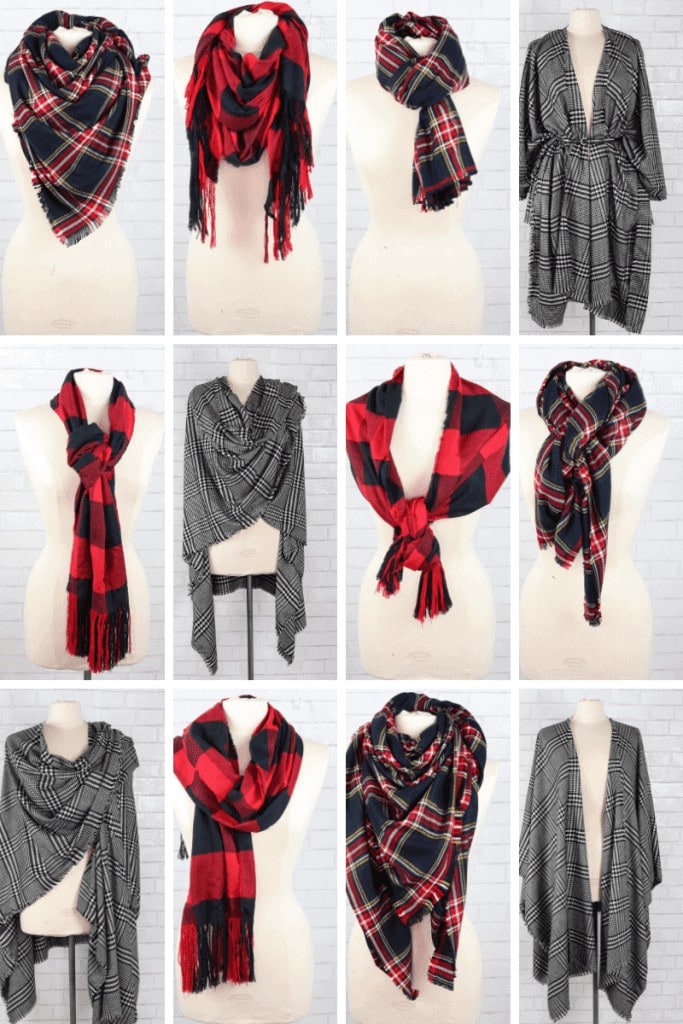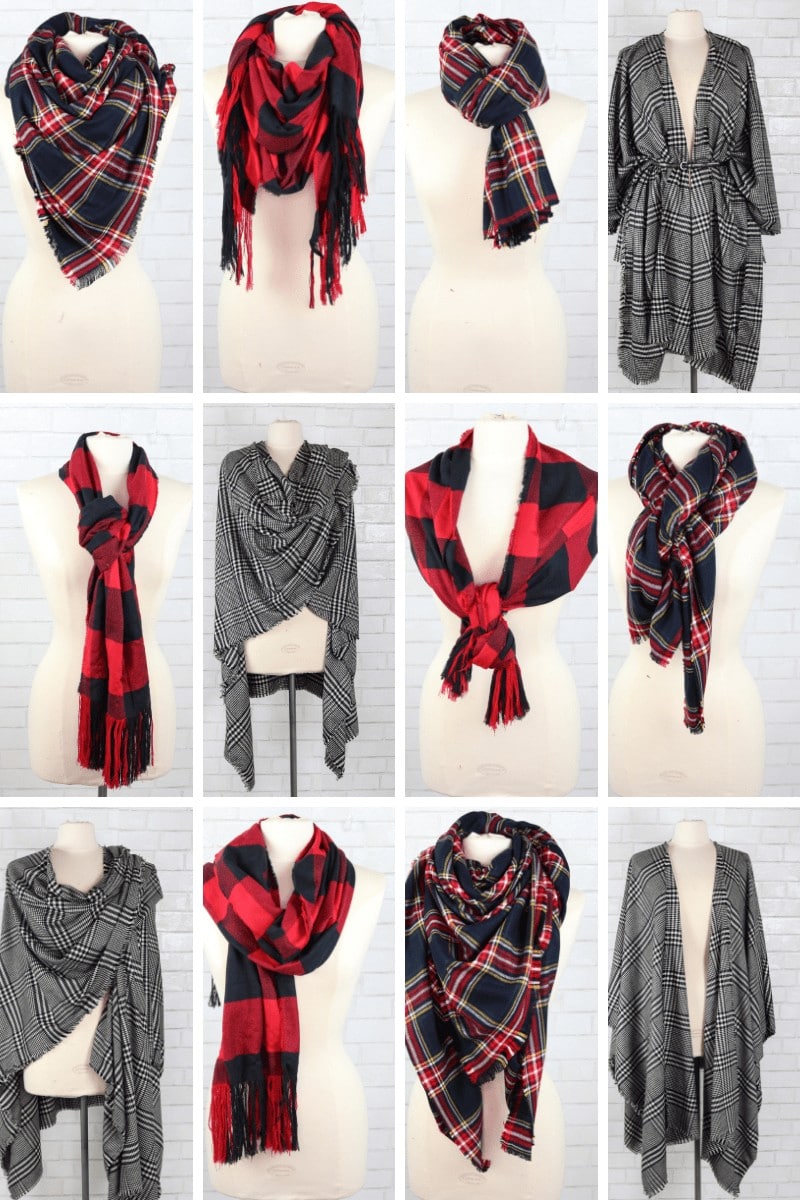 I found the most amazing fabric for blanket scarves at JOANN. It's called Sportwear Acrylic Fabric and it comes in a variety of different prints and colors. It's 52" wide which is ideal for this project and the fabric is so soft and drapey!
How to Make a Rectangle Blanket Scarf
Supplies Needed for your Scarf
3 Yards of Red and Black Buffalo Plaid Fabric
Cut the 3 yards of fabric in half lengthwise to create two rectangles. If needed, trim the edges of the fabric so that the print is straight.
Divide the shorter ends of the rectangle into 4-5 sections, cutting 4 inches into the fabric.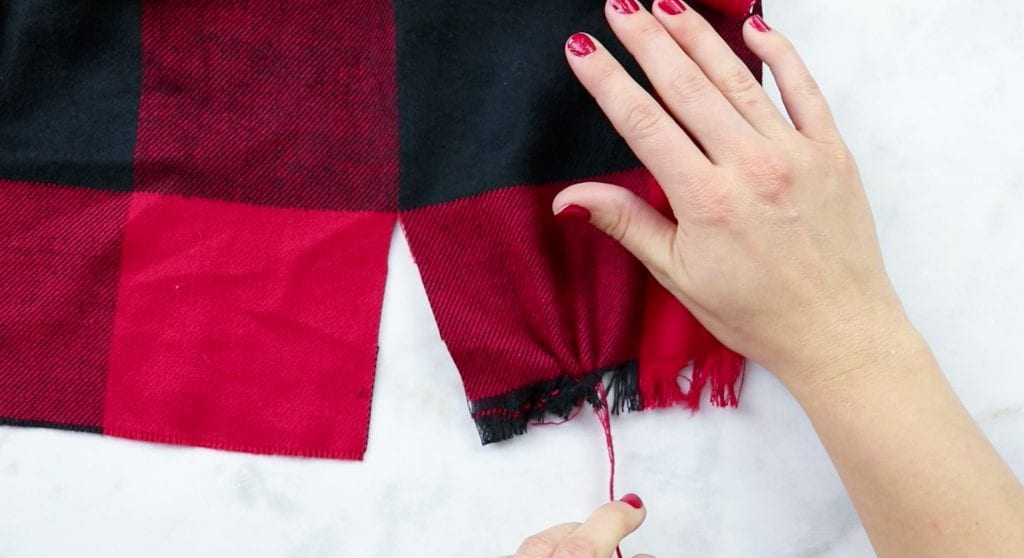 Using scissors or a Cricut Weeder carefully remove the horizontal threads from each section one at a time. Repeat this step on the opposite side.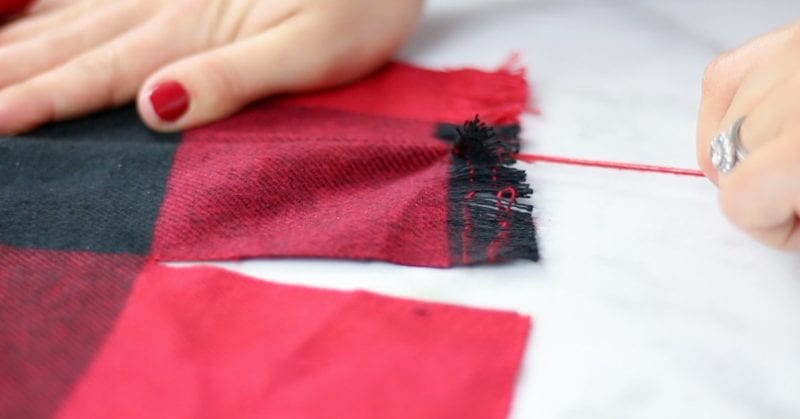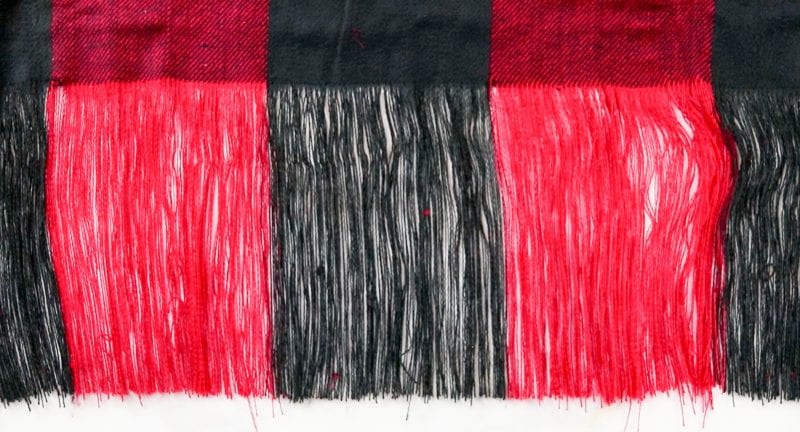 Refer to the video below for step-by-step instructions.
Divide the fringed pieces of thread into small sections and twist them between your fingers in a clockwise direction. Take two twisted sections and wrap the right section counterclockwise around the left section. Allow the two sections to twist together as you let go of them.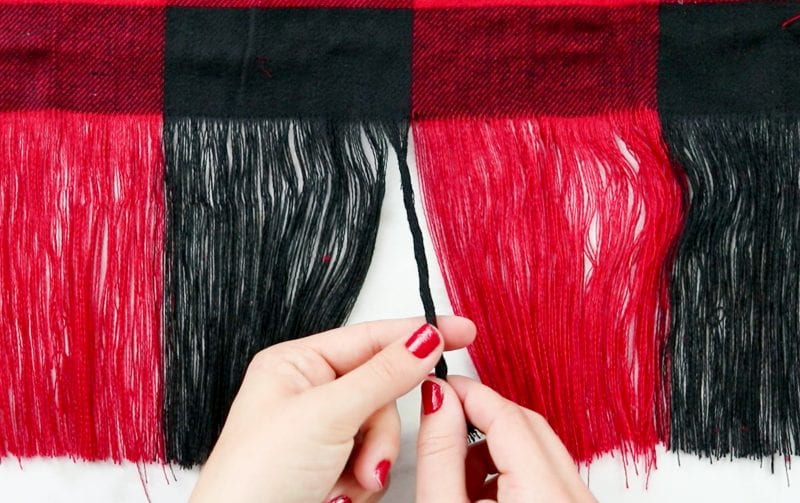 I love this style of blanket scarf because it can be styled SO many different ways, not to mention it keeps your neck nice and toasty on those chilly winter days! Below are some different ideas on how to tie a plaid blanket scarf for a variety of different looks. You can wear your scarf around your neck or like a poncho.
How to Style and Wear a Rectangle Blanket Scarf

How to Make a Square Blanket Scarf
Supplies Needed for your Square Blanket Scarf
3 Yards of Plaid Tartan Fabric
This is the easiest blanket scarf to make! All you need to do is trim down your 3-yard cut of fabric into a square. Fold the bottom corner of the fabric upwards until you reach the top of the fabric and trim away the excess on the side.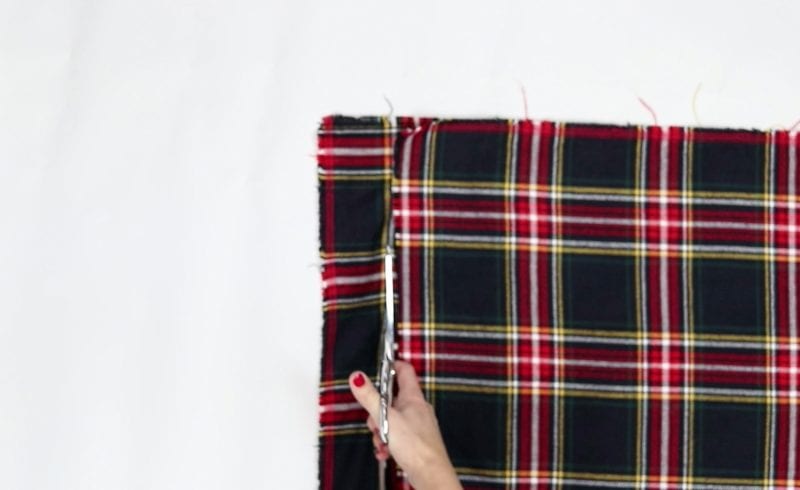 If desired, you can add fringe to the outside edges of this scarf using the directions listed in the previous tutorial.
To style, a blanket scarf folds in half taking one corner and matching it up with the opposite corner so that it resembles a triangle.
How to Style and Wear a Square Blanket Scarf

How to Make a Shawl Blanket Scarf
Supplies Needed for your Shawl Blanket Scarf
3 Yards Houndstooth Fabric
Fold your fabric in half lengthwise and then in half again to find the center of the fabric. Mark it with a small fabric pen. Open up the fabric so it is laying flat in front of you but still folded in half lengthwise.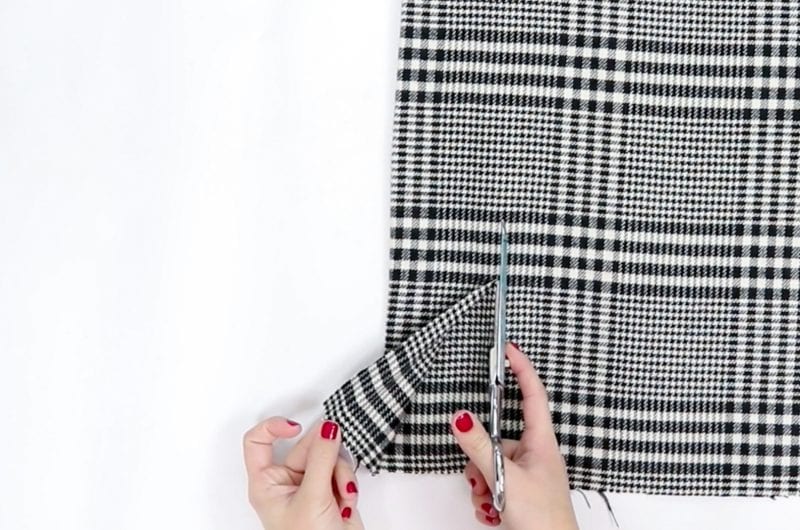 From the folded edge of the fabric, measure in 2 inches. With a pair of scissors cut to the center point of the fabric and removed the rectangular piece of fabric. Your scarf should resemble the photo below.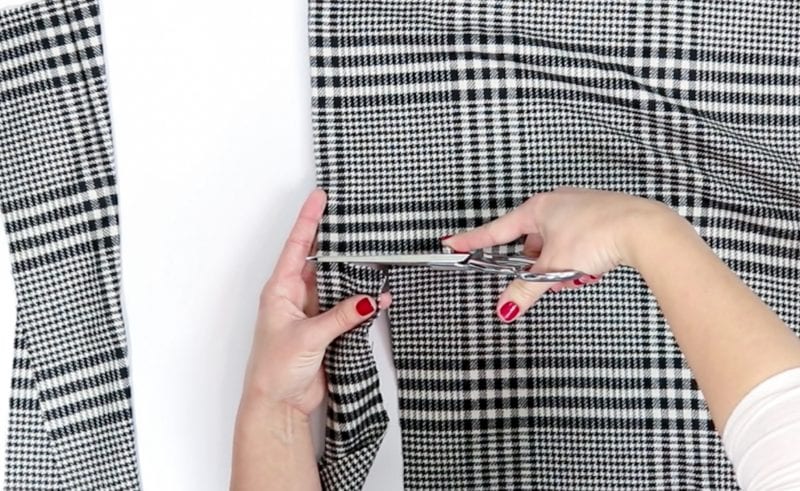 Cut 1 inch into the corners vertically and horizontally where the rectangular piece of fabric was removed. This will allow you to add fringe to the scarf.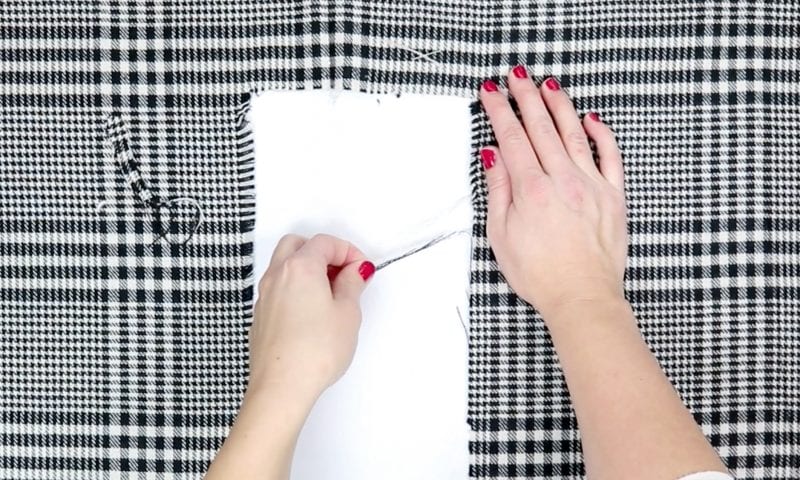 Gently remove the horizontal threads at the top of the missing rectangle. Start from the bottom to remove the vertical threads from the sides of the fabric.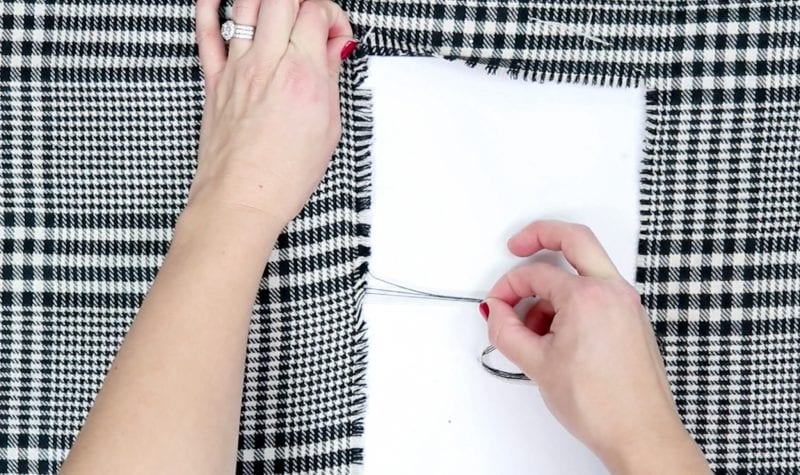 Now it's ready to wear! Styling a blanket scarf is SO simple. You can wear the scarf like a poncho, belt it or even wrap the blanket scarf around your neck.
How to Style and Wear a Shawl Blanket Scarf

I can't wait to see all of the beautiful scarves you make with this tutorial!
Let's get social! Connect with me on Instagram and Facebook.
Don't want to forget about this free template? Save this project for later! Click here to save this project on Pinterest.