Craft and Sewing Room Ideas
It's been months in the making and I feel the need to preface this post by saying that it's never this clean and it lasted all of five minutes but I'm so excited about my new craft room set up!
I really wanted to create a space that was bright and colorful but still sophisticated. A place where I could retreat from the world and enjoy a little peace and quiet.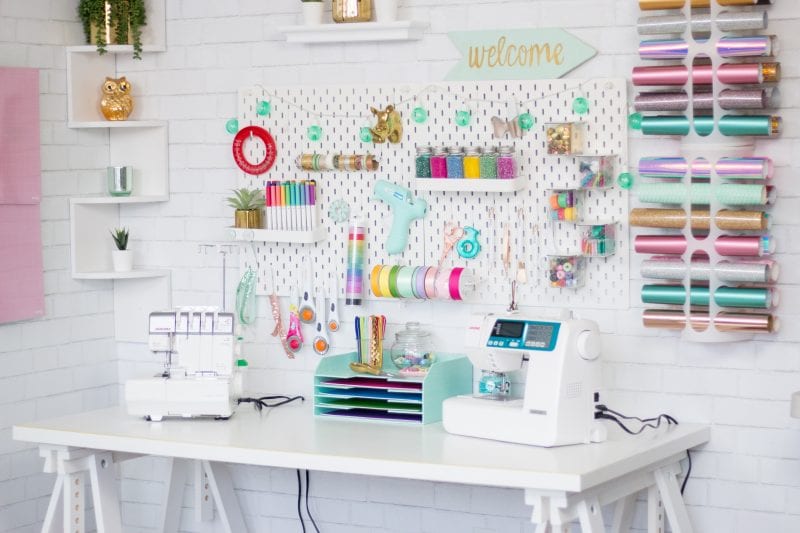 I tried to keep all of the supplies and organizers budget-friendly and I've included links to almost everything in this post!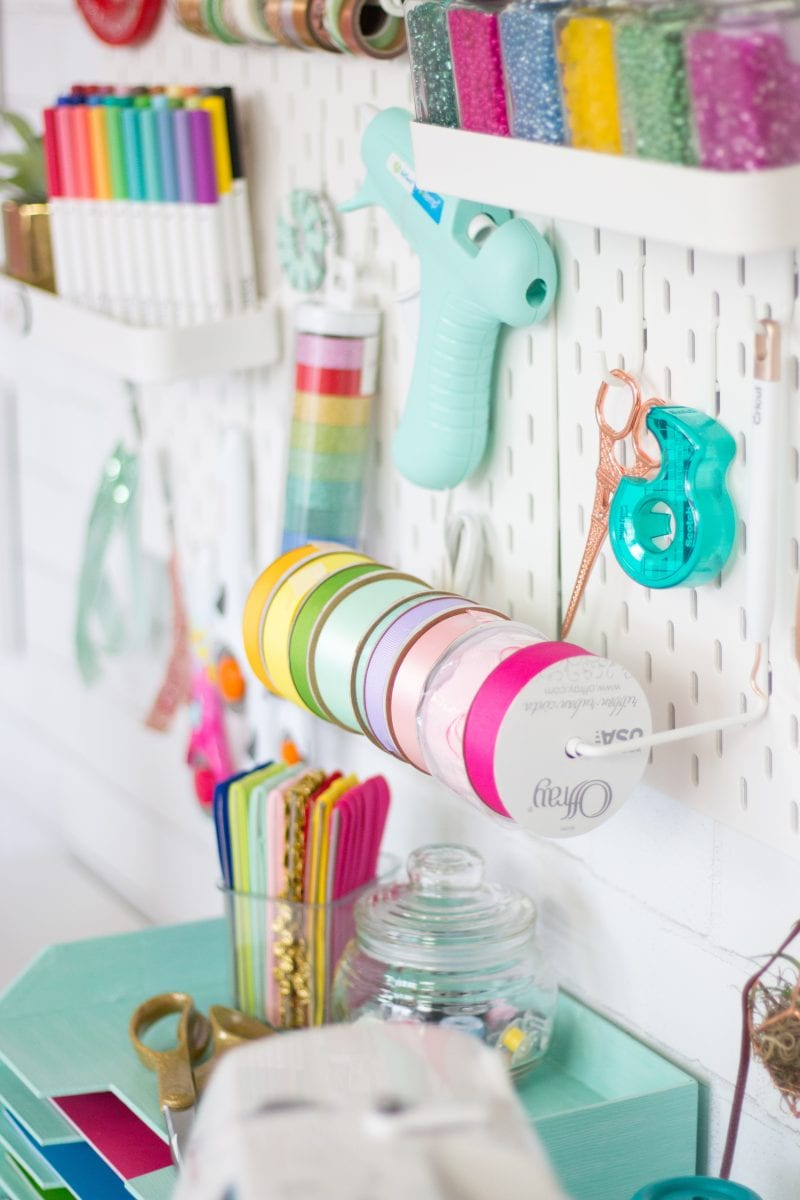 Are you ready for the tour?
When you first walk into the room this beautiful 5x5 organizer is directly to your left. It holds the majority of my crafting supplies.
5x5 Cube Organizer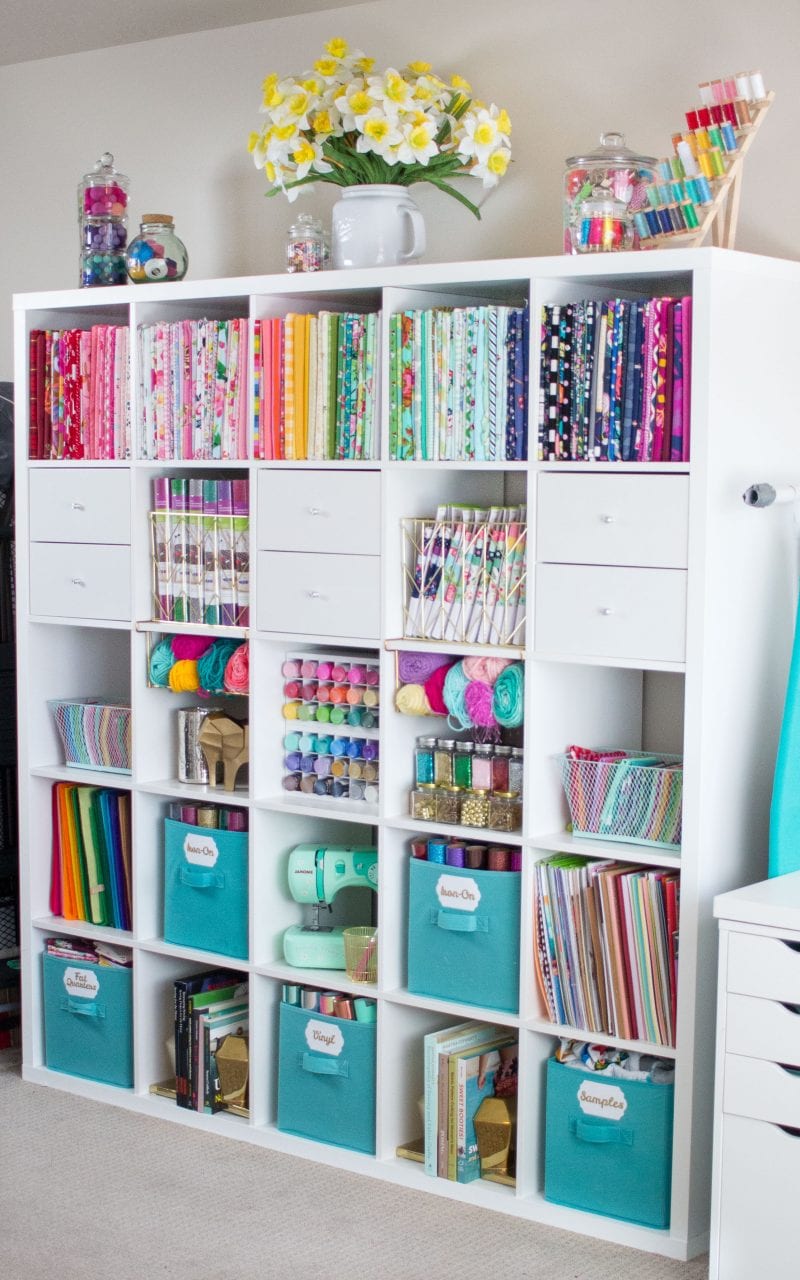 I purchased this Kallax organizer from IKEA a little over a year ago and it was worth every single penny! It took a good amount of time to assemble but for the price, I really can't complain. I added three set of Drawer Inserts because I have a 2, 3, and 4-year-old plus a 1-year-old puppy and they all love getting into things! I store my scissors, pins and camera supplies in the drawer inserts.
I never realized just how much paint I had until I went to organize it! I had it stored away in a box and I would always forget about it. I found this Paint Divider organizer on Amazon and purchased two of them. They stack on top of each other and make it SO much easier to see exactly what you have. No more buying multiples of the same color on my craft store trips!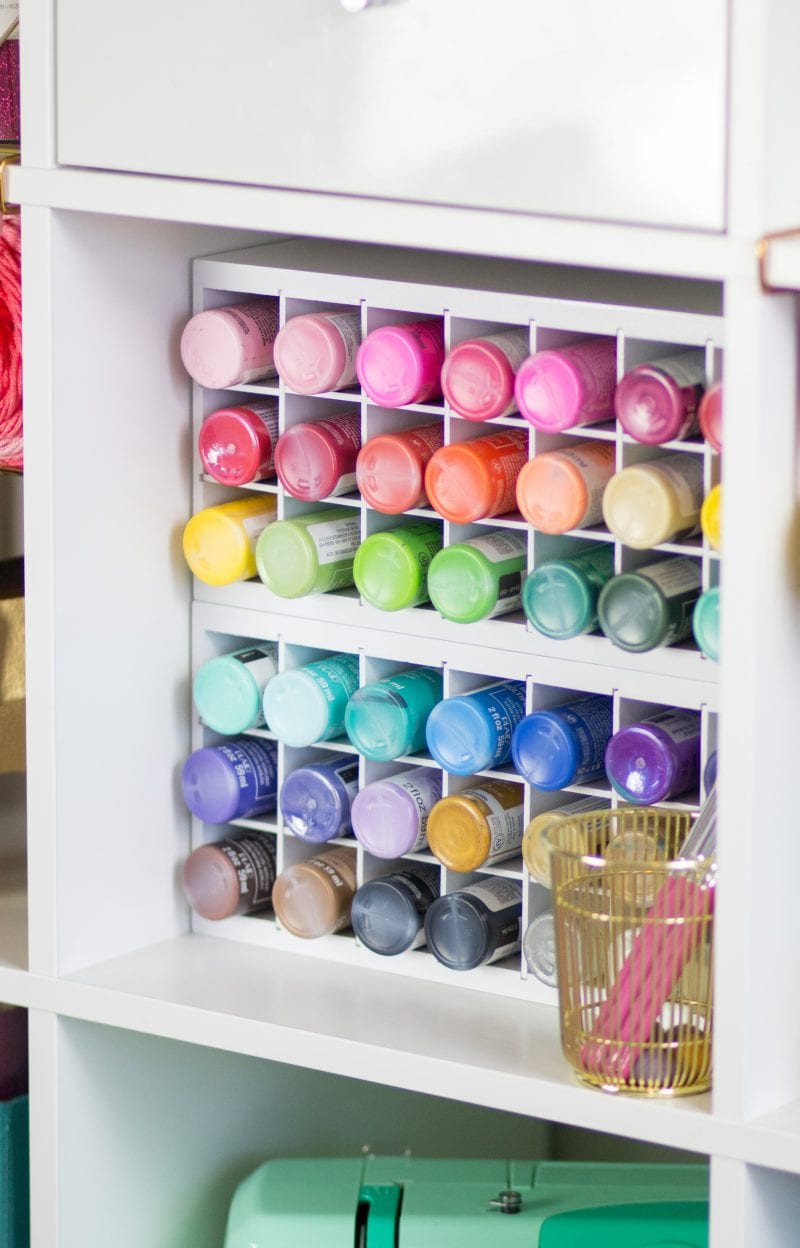 I found some inexpensive Spice Jars on Amazon that were perfect for sorting my stash of glitter.
Now I can see exactly what I have and I can easily access it. I have even more colors on a different shelf.
I used the same spice jars to organize my small beads. I love how pretty it looks but it's also totally functional.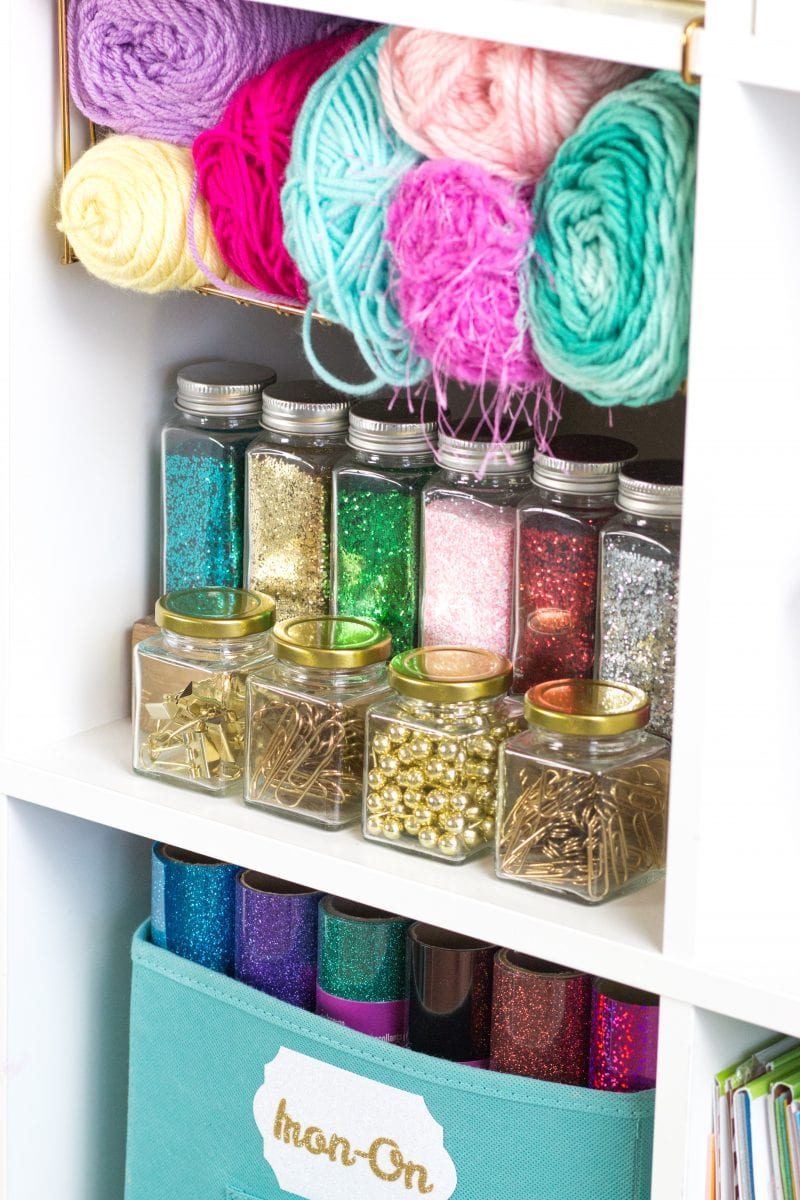 I found these adorable baskets to store all of my fat quarters. I love the pop of color and I really like being able to see the colors so I can choose the right one.
I can't rave enough about these Collapsible Storage Bins. I grab a few of them every time I stop by Walmart. I use them all throughout my house to organize my kids' toys, pantry, and bedrooms.
They are only a few dollars and they hold up really well! I cut out some Iron-On Vinyl to label all of the organizers so I know exactly where everything goes.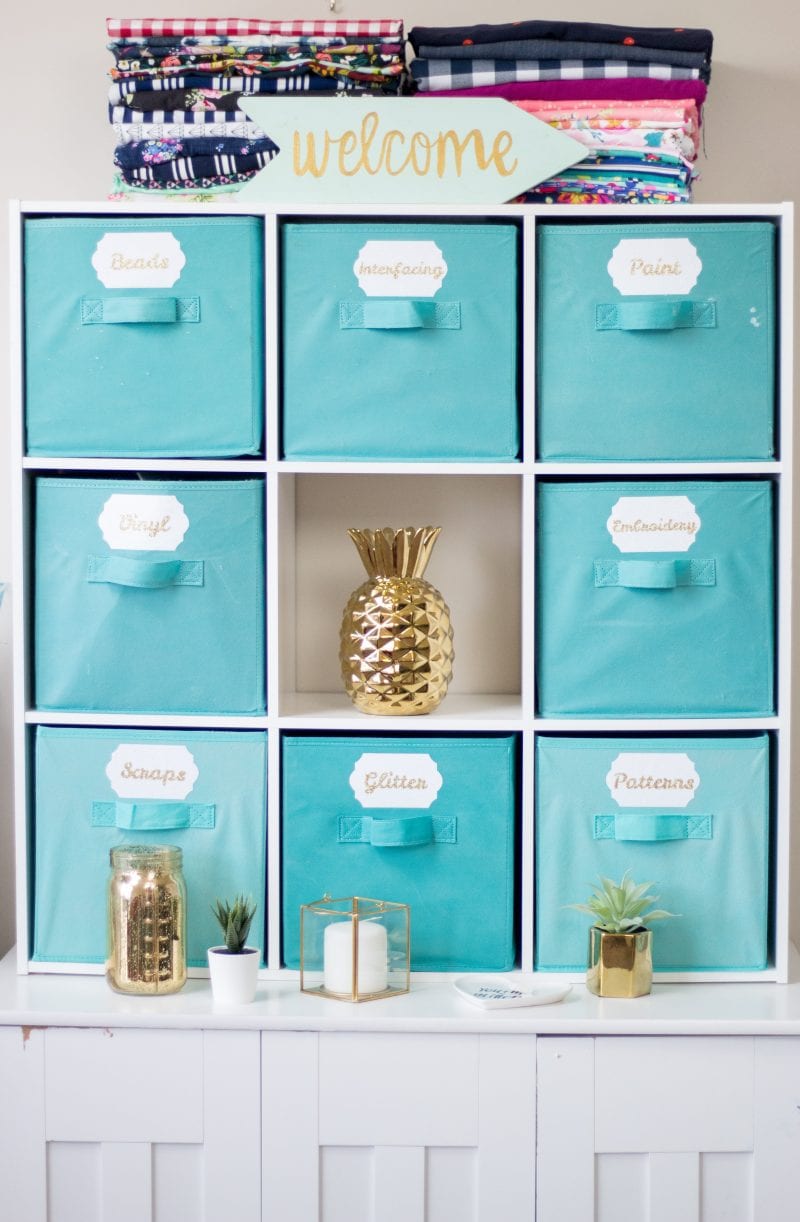 I came across this genius method for storing fabric a few years back and I've been hooked ever since. All you need is a Comic Book board. I've linked to them here (Storage Boards).
You fold your fabric so it's the same height as the board and then wrap the fabric around the board, It makes the fabric stand straight up and everything ends up being the same size. It's an inexpensive alternative to the pricey fabric boards I originally fell in love with.
You can find the video demonstration of how to wrap your fabric here.
Craft Room Supplies & Organizers Used: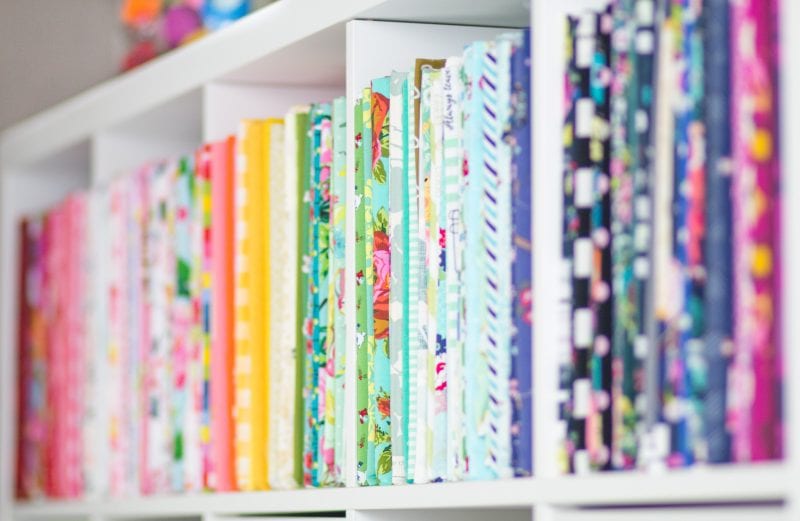 Sewing Room Ideas: Thread Storage
Having adequate thread storage has been a huge game changer for me! I know it might sound silly but I used to have a basket of knotted, twisted and tangled threads that drove me crazy.
I had the same problem with my paint basket and I kept purchasing duplicates just because I couldn't clearly see what I had. I found this Mega Rack at JOANN. My recommendation is to go in person when you have a 60% coupon.
It's a steal of a deal and it makes it incredibly simple to find the exact shade of thread you are in need of. And yes, I really do need all of those shades of thread! Haha!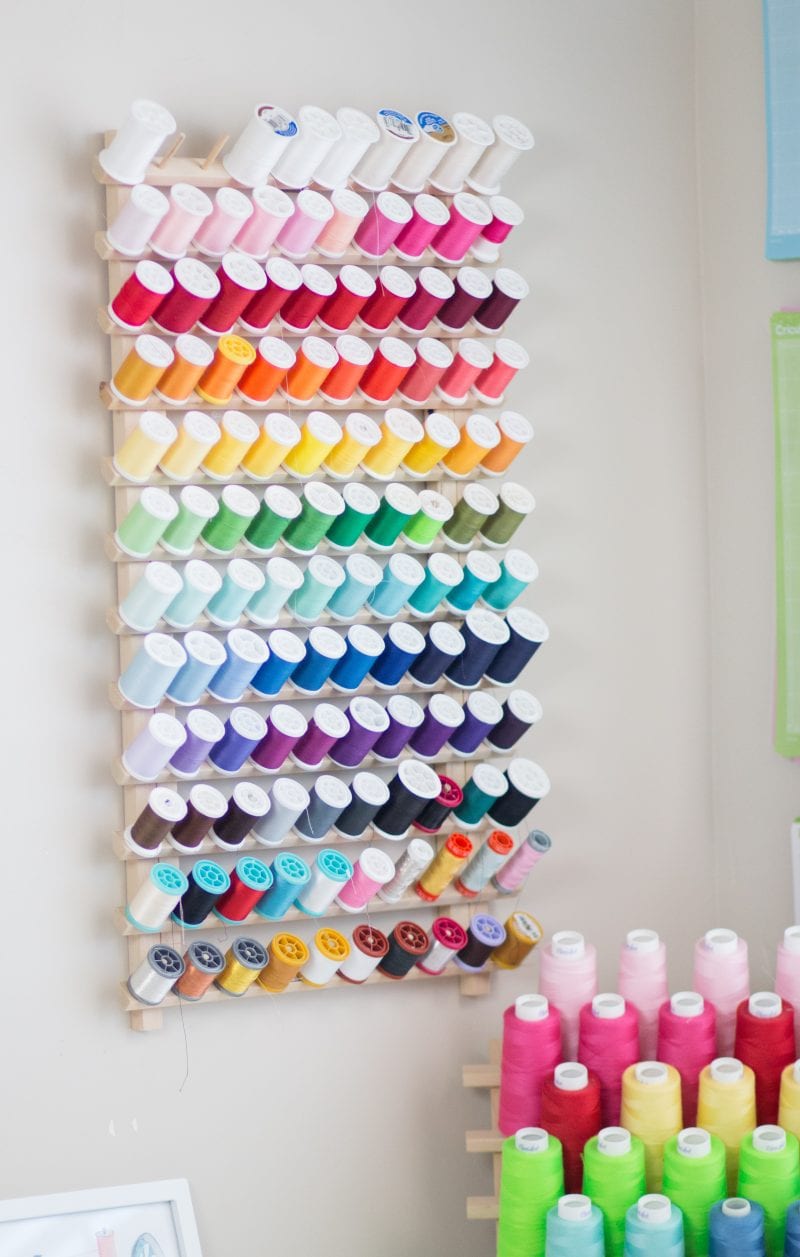 This Mini Thread Rack is the perfect size for my small wooden spools of Aurifil embroidery thread. Plus, it's pretty dang cute!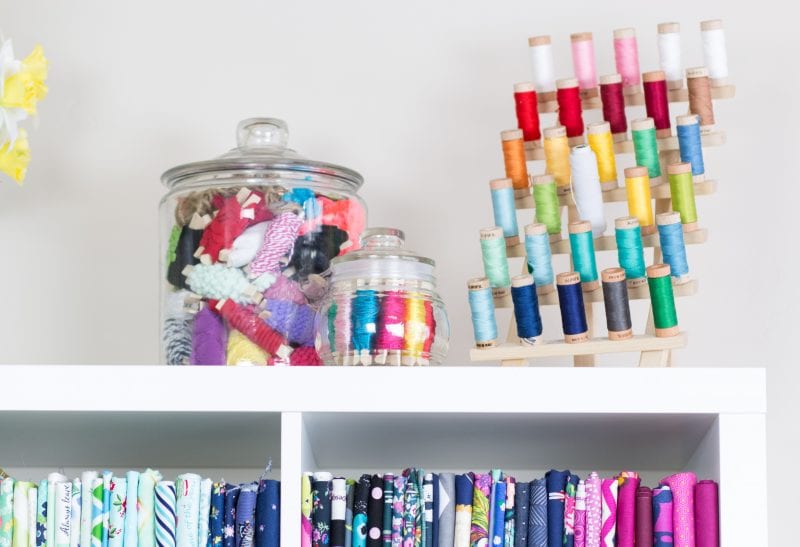 Last but not least in the saga of the thread organizers is this Cone Thread Rack. It's the ideal size for cones of serger thread and yes, I have indeed used every single color on that rack!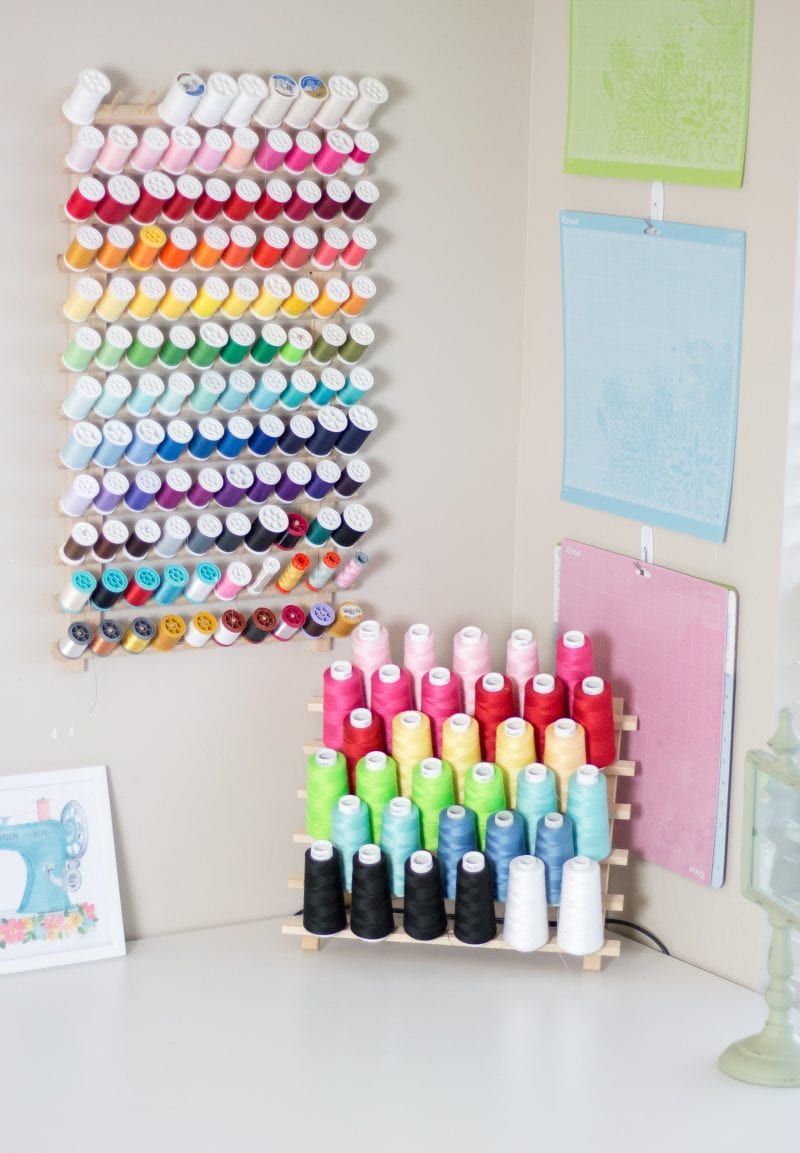 The Ribbon Holders are a bit hard to see but they are on either side of the sewing machine. They are wooden ribbon holders that I found at JOANN.
Again...go in person and use a big coupon on these racks to bring down the price tag! It's so nice to have my ribbons, trims and washi tape within arms reach while I'm sewing. It makes it easy to audition each trim with whichever project I'm working on.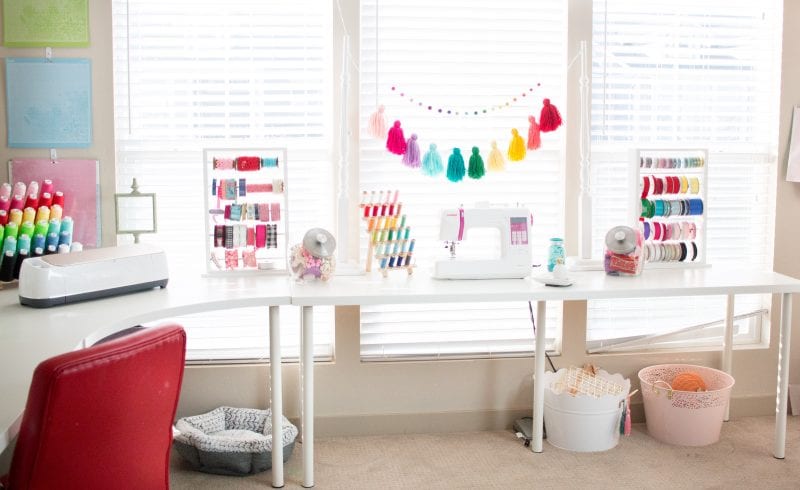 I have a small obsession with felt balls. I feel the need to have felt balls in every shade imaginable. Also, my children LOVE (and no, that's not an overstatement) to get into them. When I spotted these 3-Tiered Apothecary Jars at JOANN (the link takes you to something similar, but the exact version isn't available online) they immediately hopped into my cart and begged me to take them home.
Don't believe me? Head over to the glass organization aisle and see what magically pops into your cart. Just don't say I didn't warn you!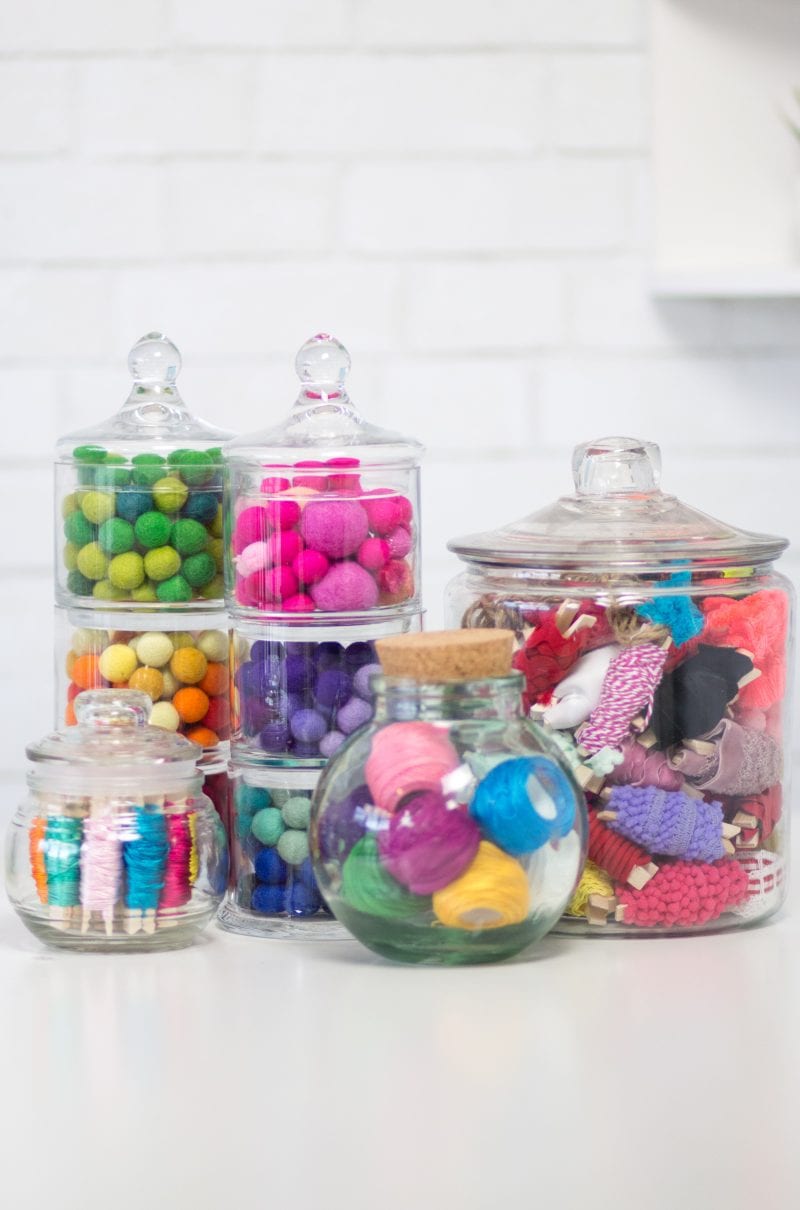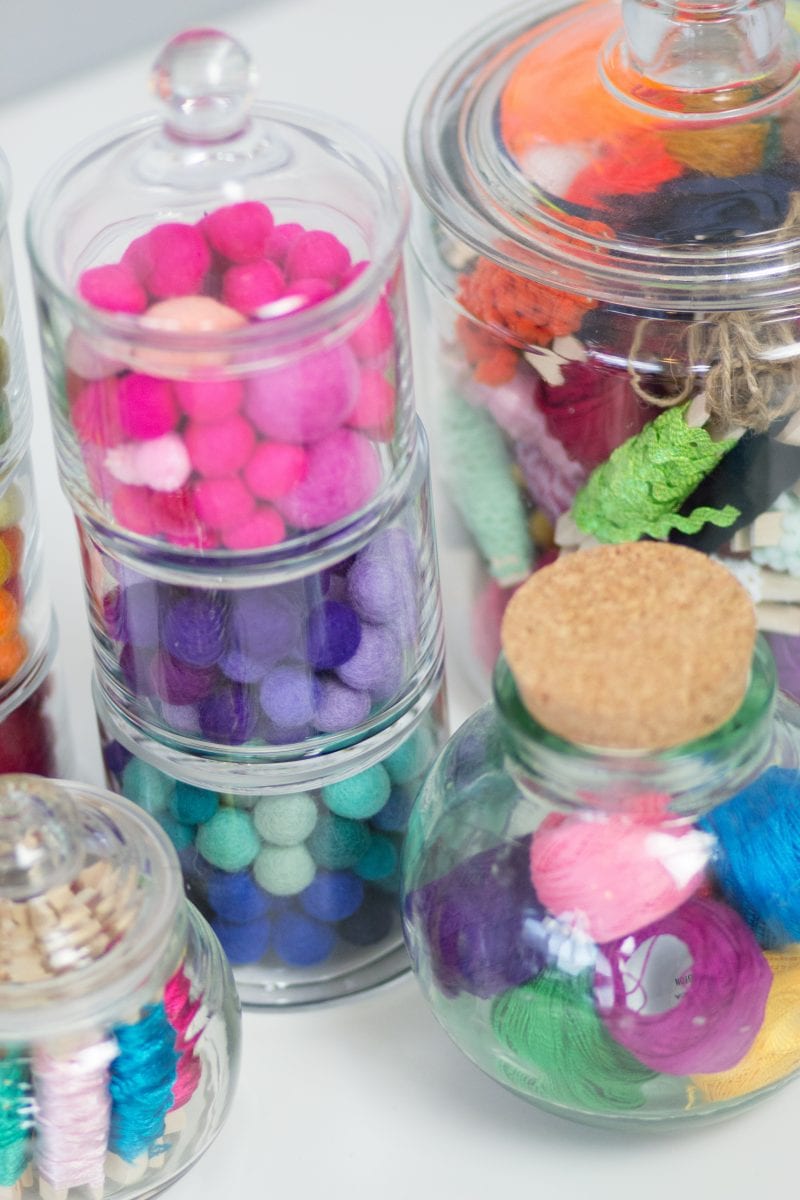 Now feast your eyes on all of the marvelous colors! My felt ball obsession seems totally and completely justified now, doesn't it? And if it doesn't, well I'm not entirely sure we can be friends!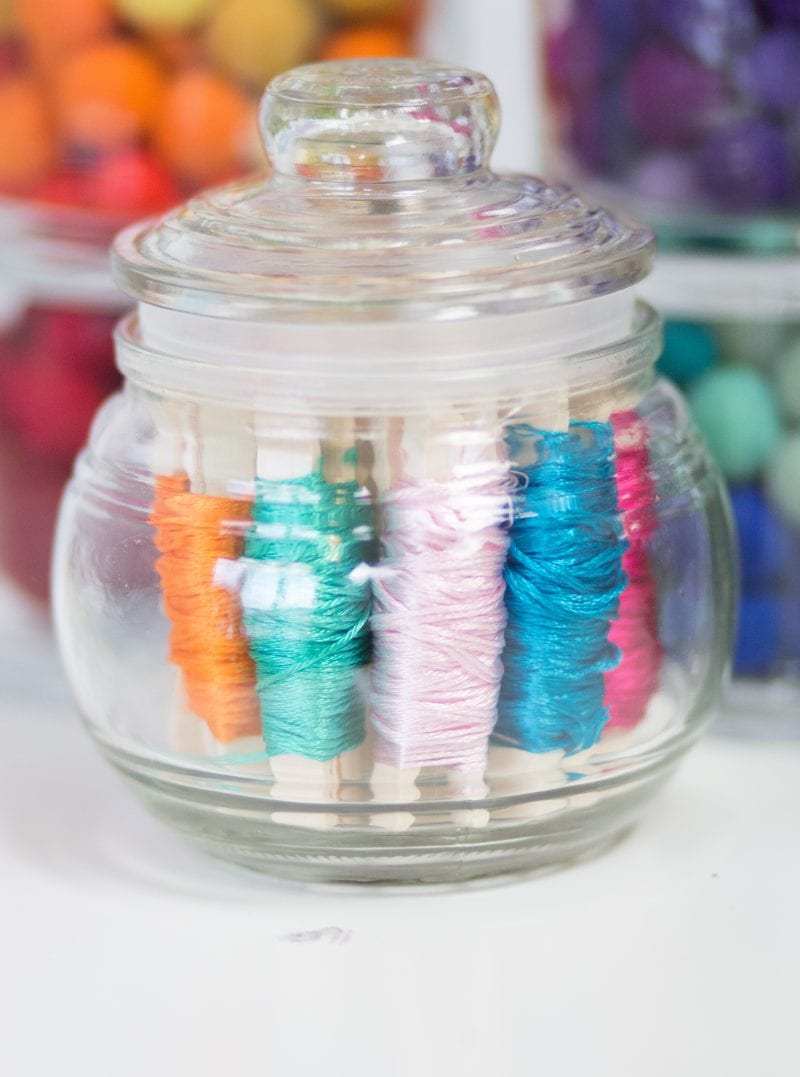 I wrap my embroidery floss around large clothespins once I've started using it and I want to keep the leftovers. It makes it easy to find the color I need and prevents unruly tangles.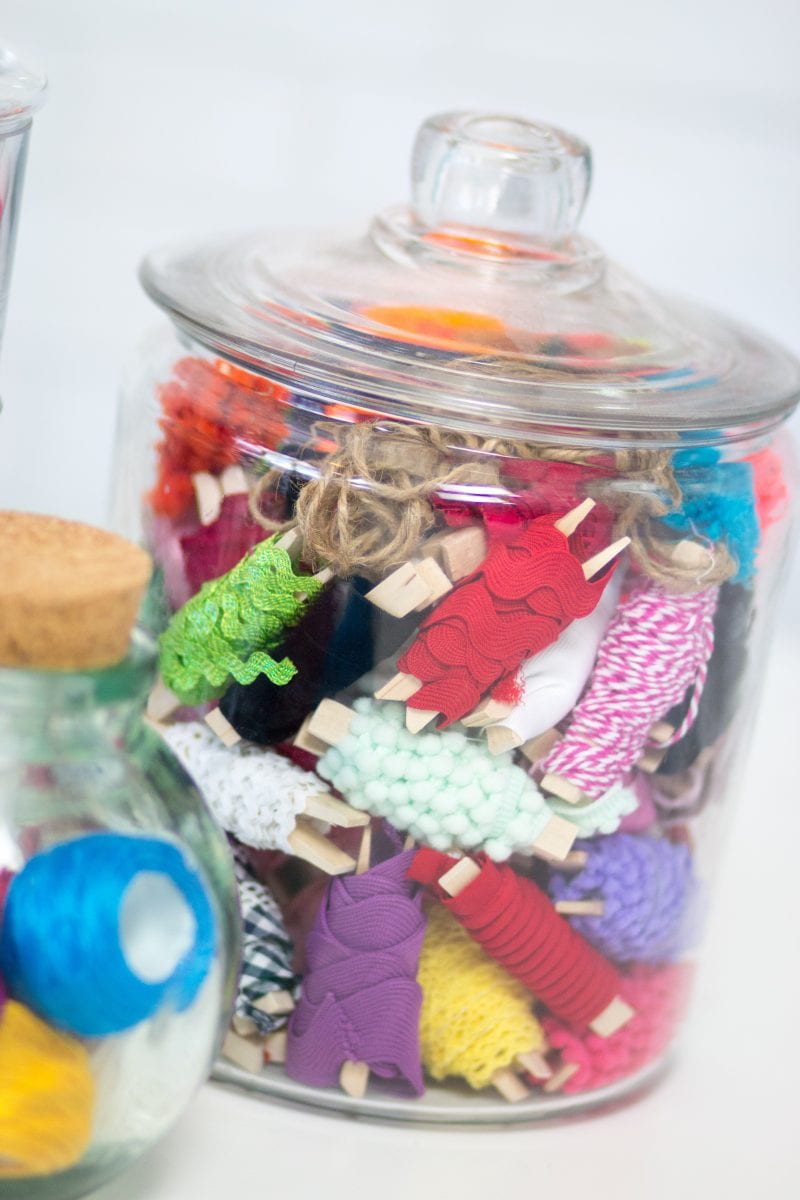 I bought a bunch of yarn just for this post. I really wanted a bit more color in my room and I thought it would be purely aesthetic but I ended up making an adorable yarn garland that completely justifies my yarn purchase, plus it was all on clearance.
Maybe now that it's sitting on my shelf I'll finally build up the courage to break out my crochet hooks!
You can find the Yarn Storage organizer from IKEA or from Amazon.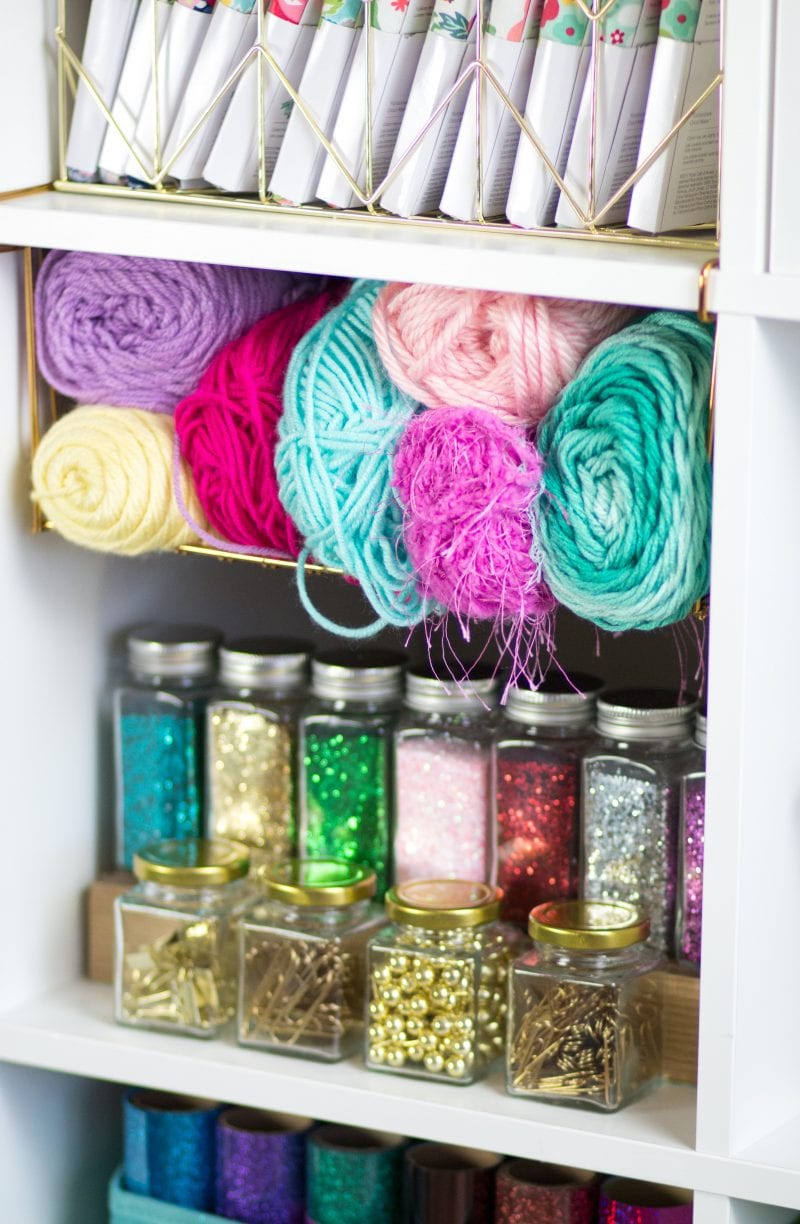 This is by far the best way I've found to organize HTV and Vinyl! These Vinyl Organizers are actually trash bag holders that I purchased at IKEA. They are under $5 when purchased in the store so I grabbed a couple of them for myself and a few for my friends! It makes finding the right shade of vinyl incredibly simple!! I store my duplicates in a collapsible bin.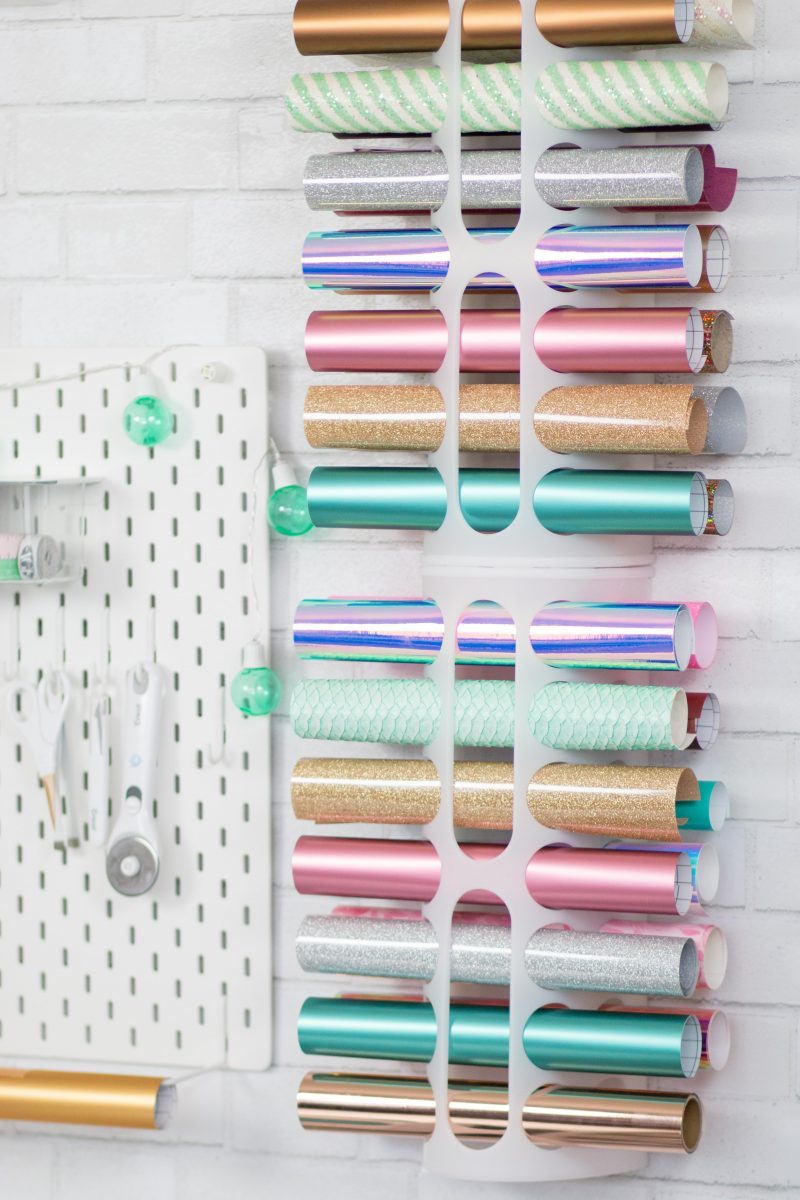 Can you believe this adorable Tiffany Blue 3-Tier Cart Rolling cart came from Walmart? I found it on a late night thread run and I just HAD to have it!
I had been searching for that color for months and just when I finally settled on the idea of spray painting one from IKEA this beauty popped into my life!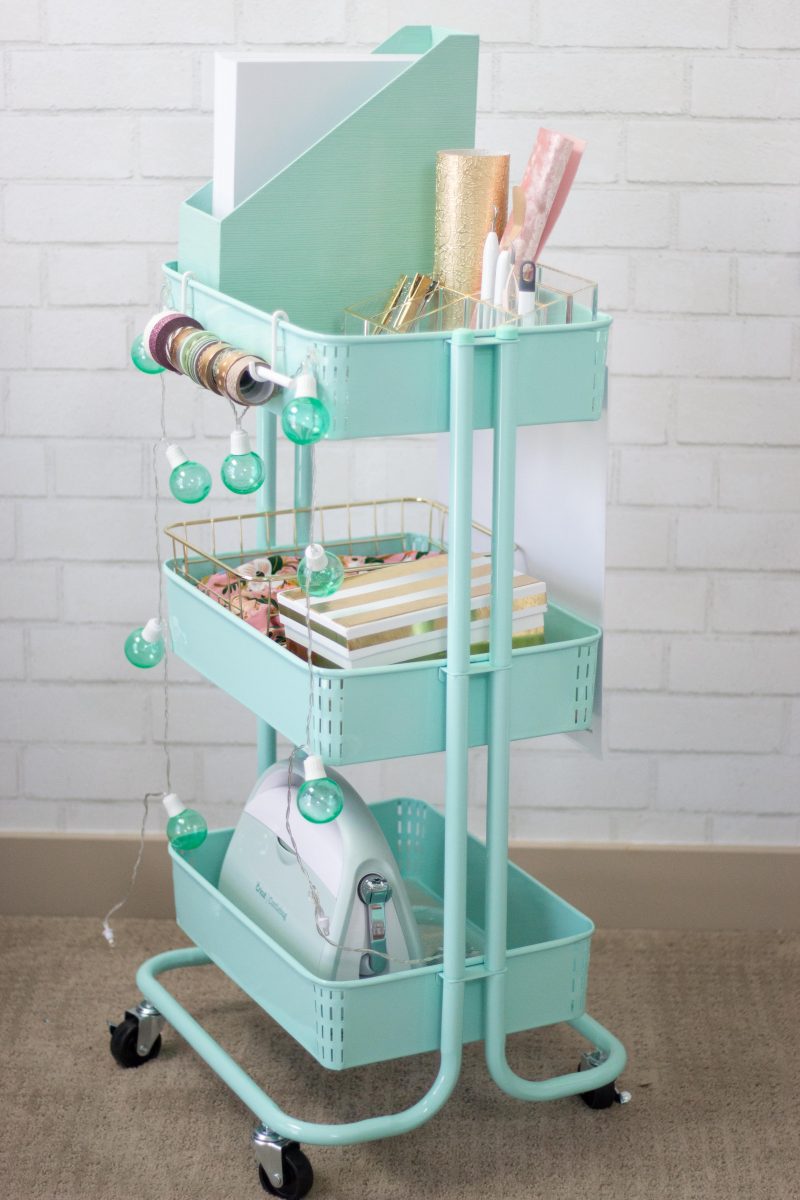 This Pegboard display is my favorite part of the entire craft room! I love having all of my crafting and sewing supplies out in the open where I can see them. No more digging around in dark drawers searching for supplies!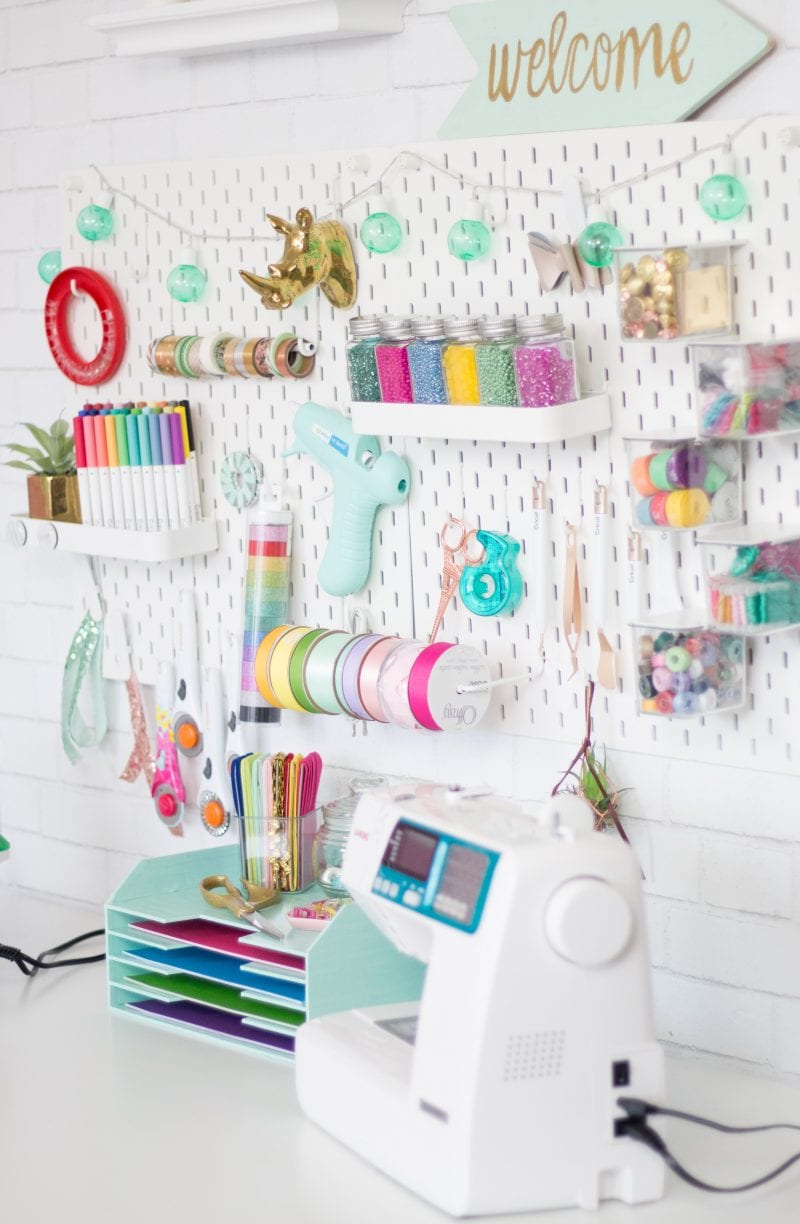 Sewing Room Ideas: Pegboard Accessories
I purchased 6 Clear Containers from IKEA and they are great for so many different items! I like to buy my bobbins pre-wound off of Amazon and pop them in this clear container which is in arms reach from my sewing machine. I have this thing about always using matching thread so this really comes in handy!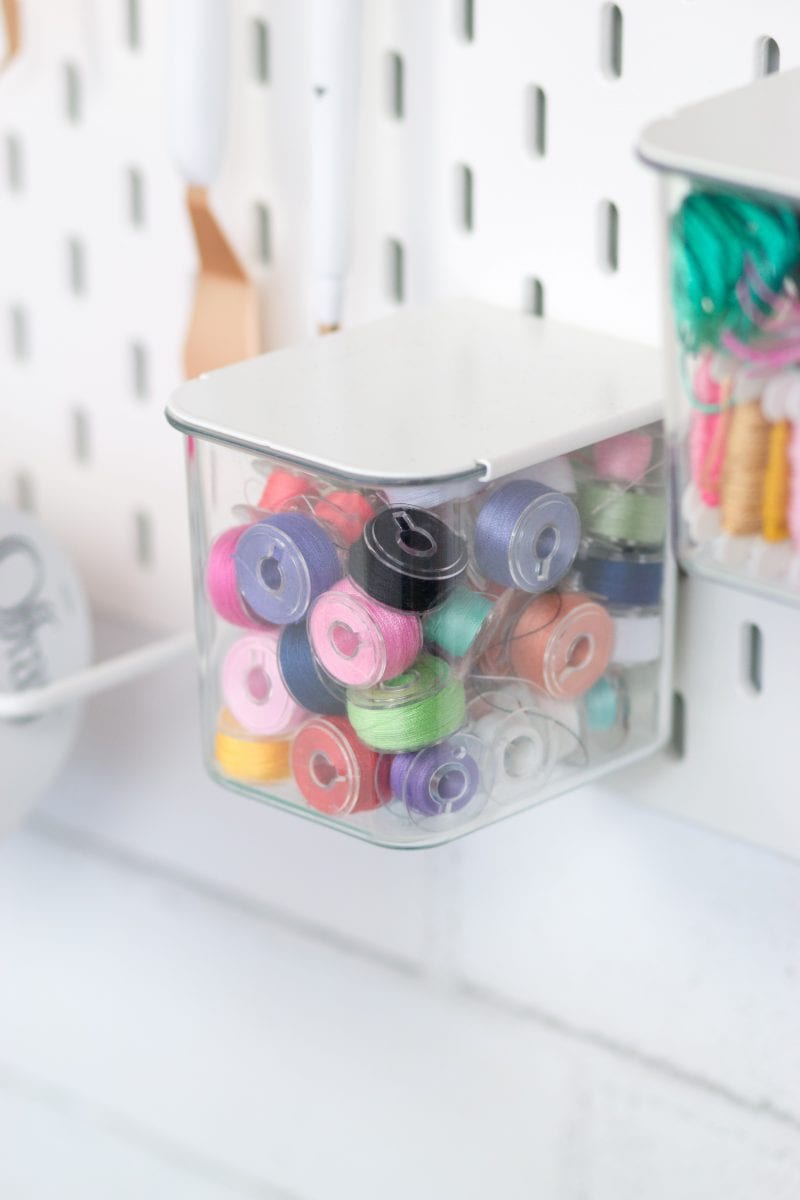 Be sure to stock up on lots of hooks You'll find so many different things to hang on your pegboard!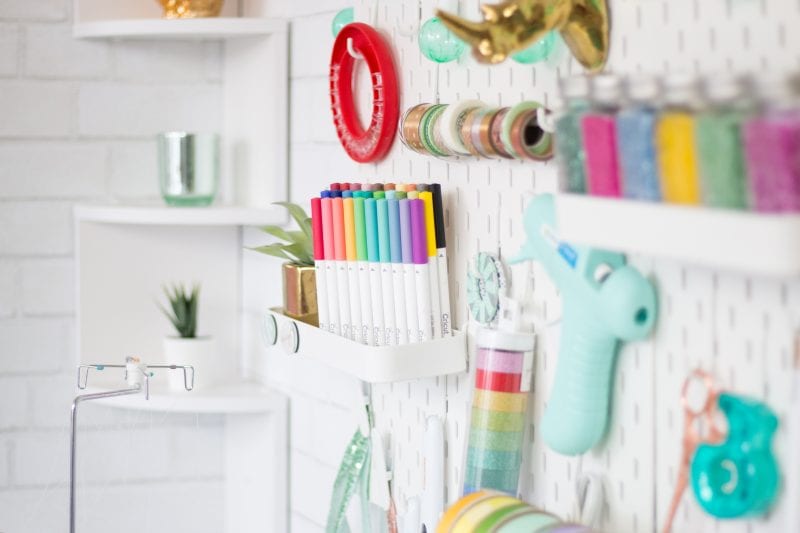 This White Spice Shelf from IKEA is perfect for the Spice Jars I filled with beads and glitter. I can also throw some magnets on them to hang the notes I write to myself while I'm busy planning out tutorials.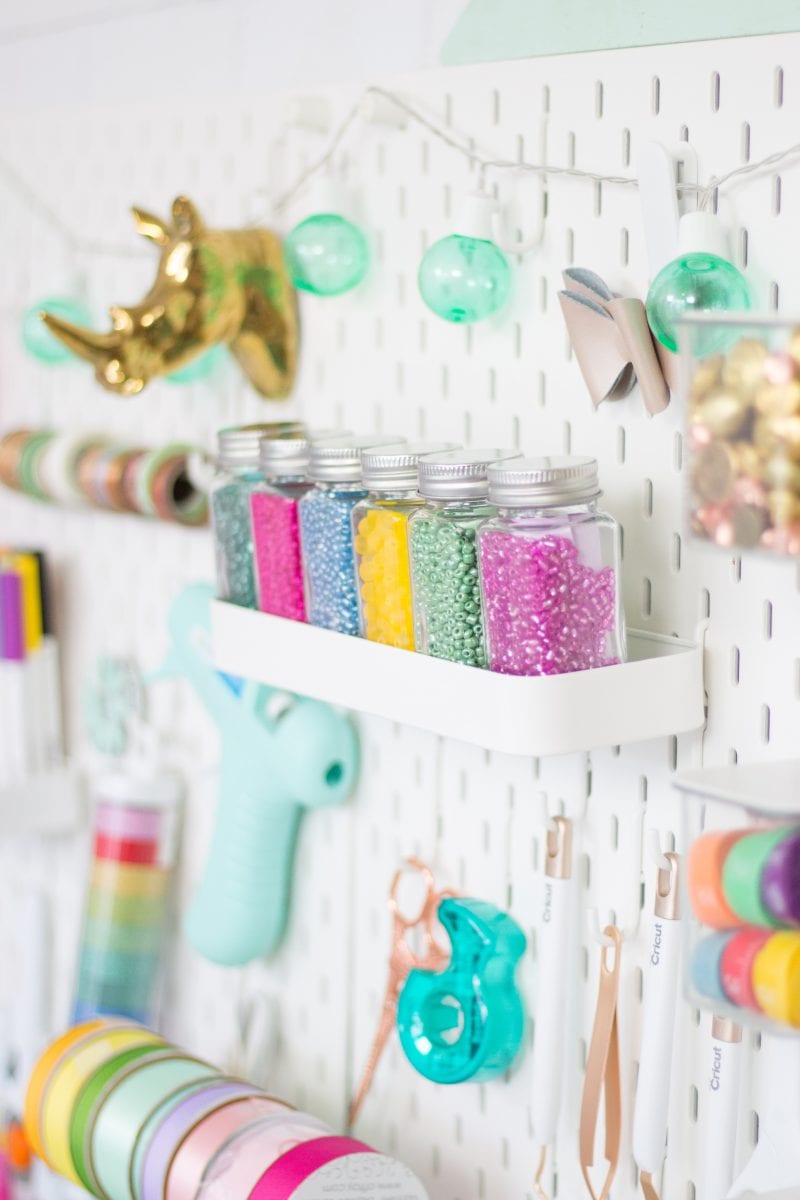 This paper towel holder doubles as the perfect Ribbon Holder, right?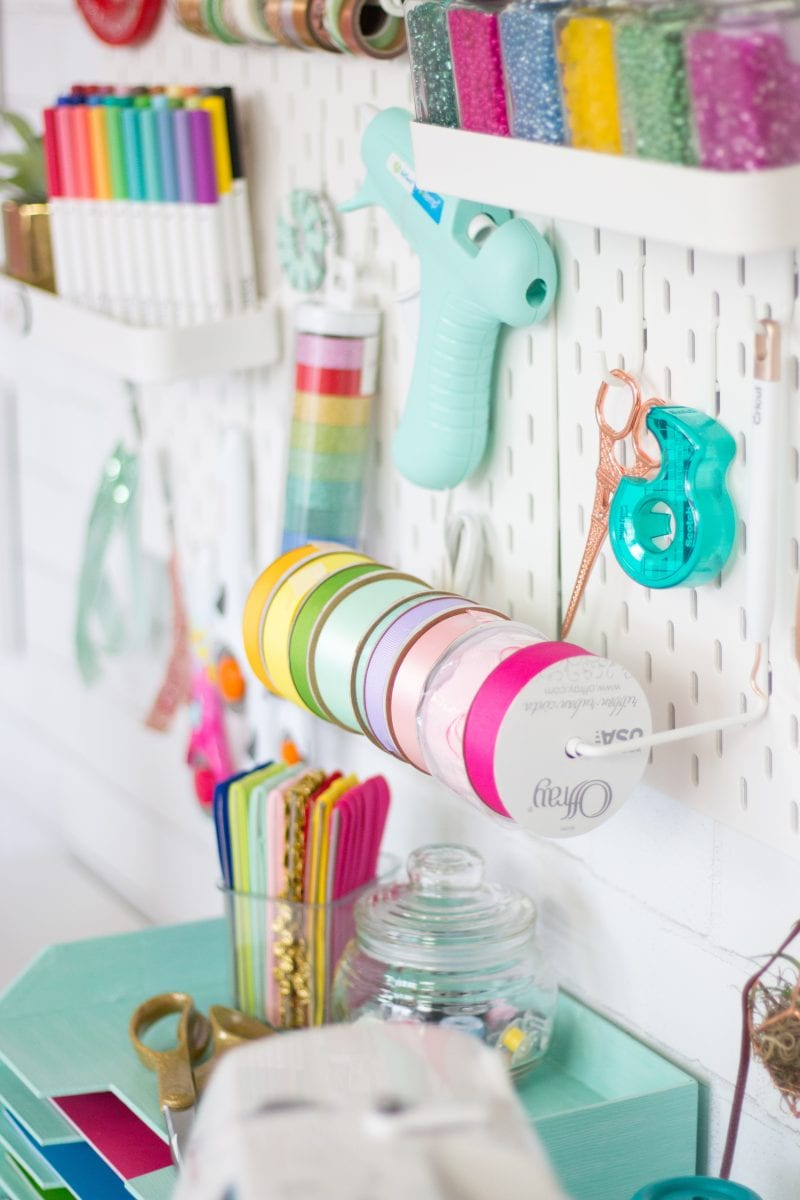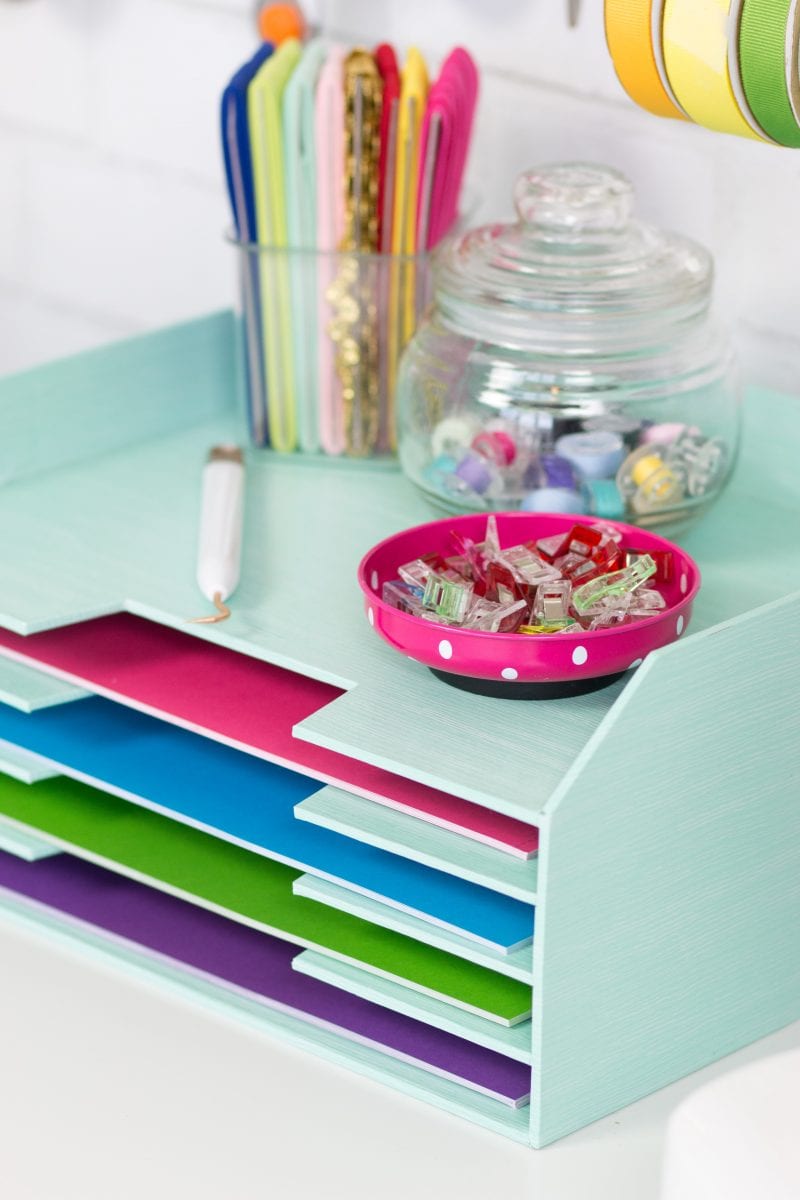 Here's a better view of the entire corner! I used white faux brick wallpaper on this corner because it's where I film the majority of my tutorials. It really made everything in this space pop!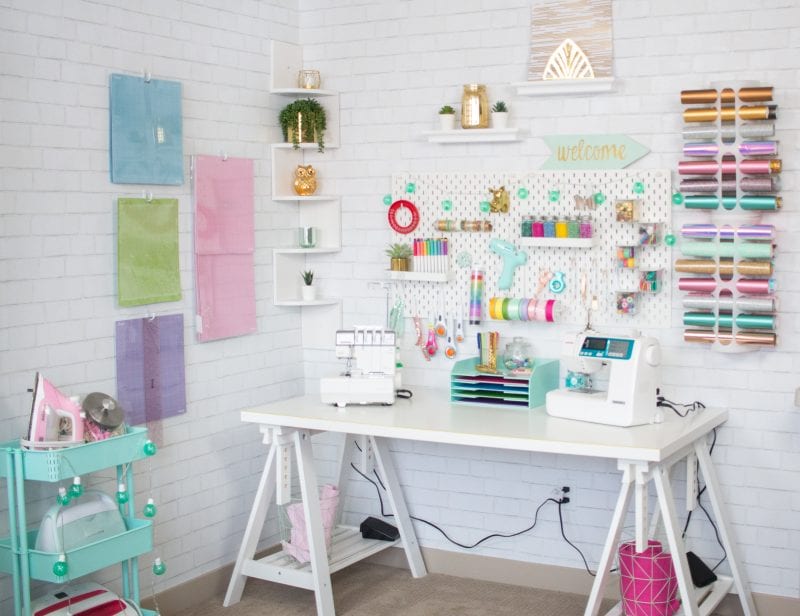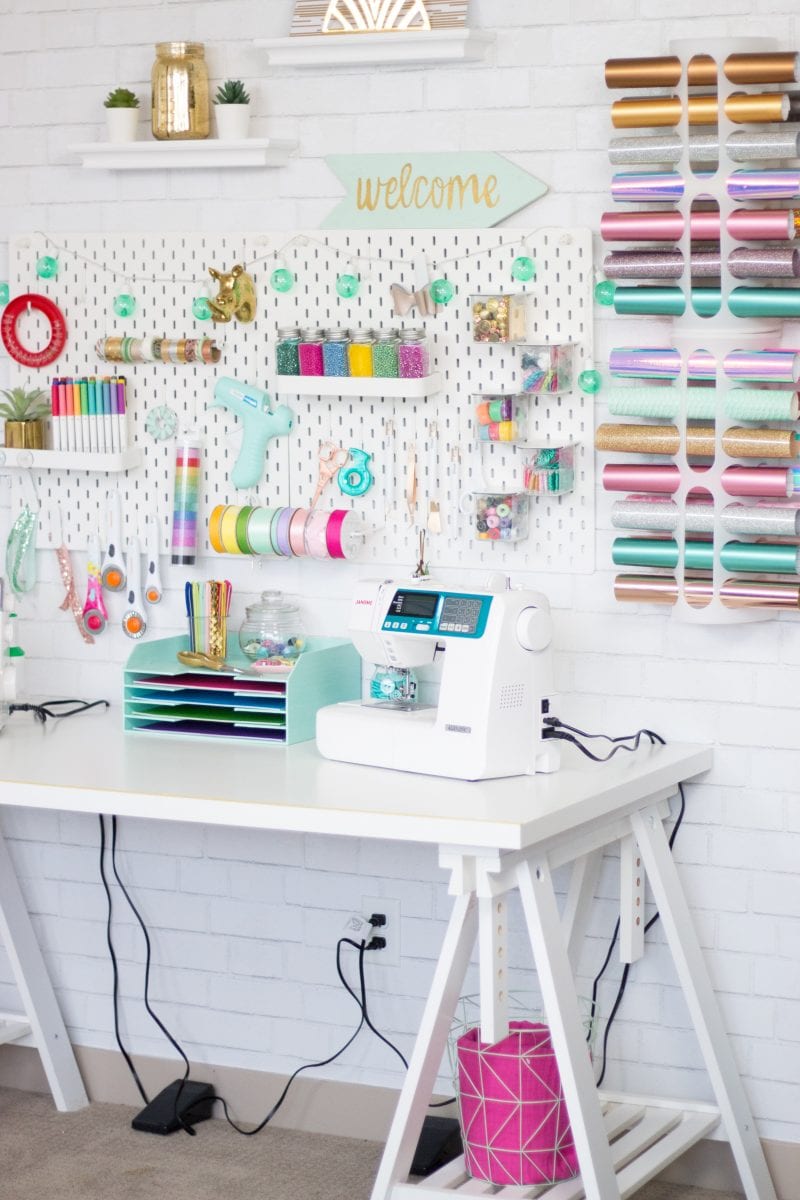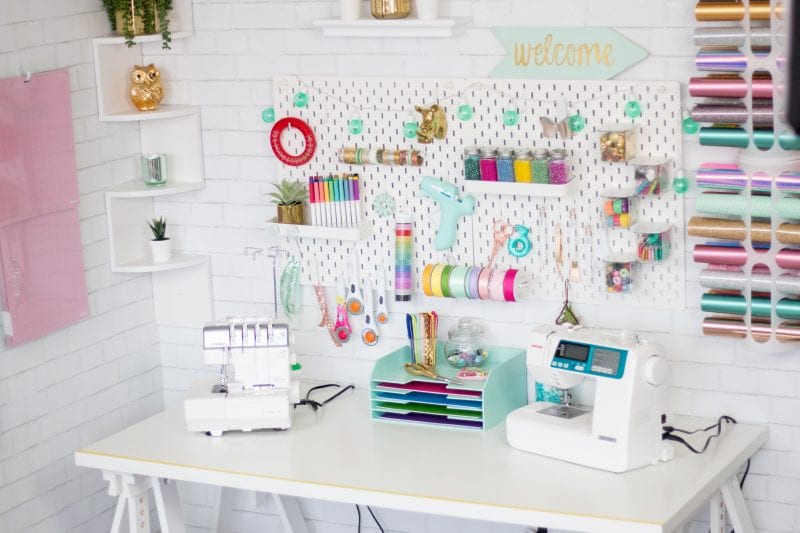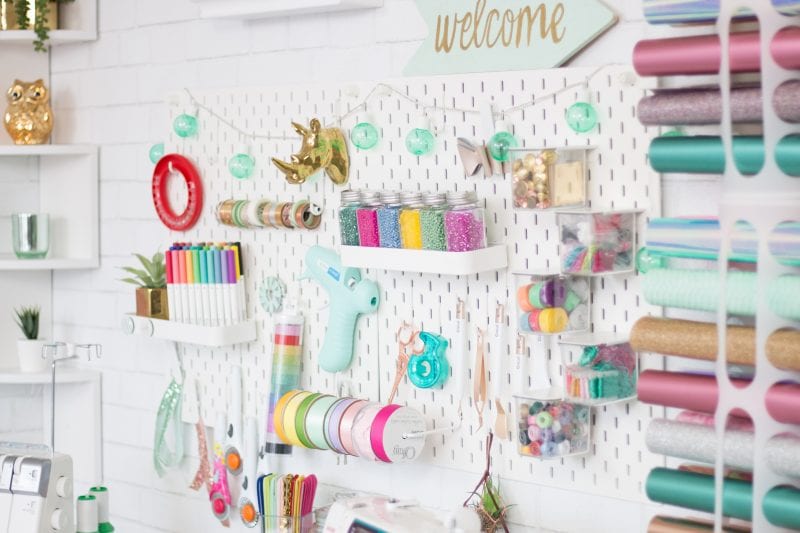 L-Shape Desk
When you walk into the room directly in front of you is this l-shaped desk. I've broken it down into three separate tables so you can recreate this set up if you like it. I've found it to be really functional!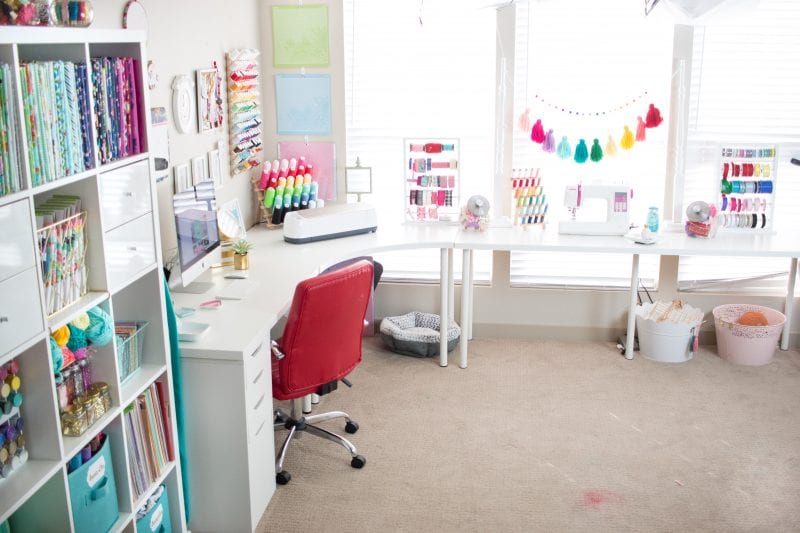 On the left is the Desk with the side drawer which is where I spend the majority of my time editing photos, writing tutorials, and coming up with ideas!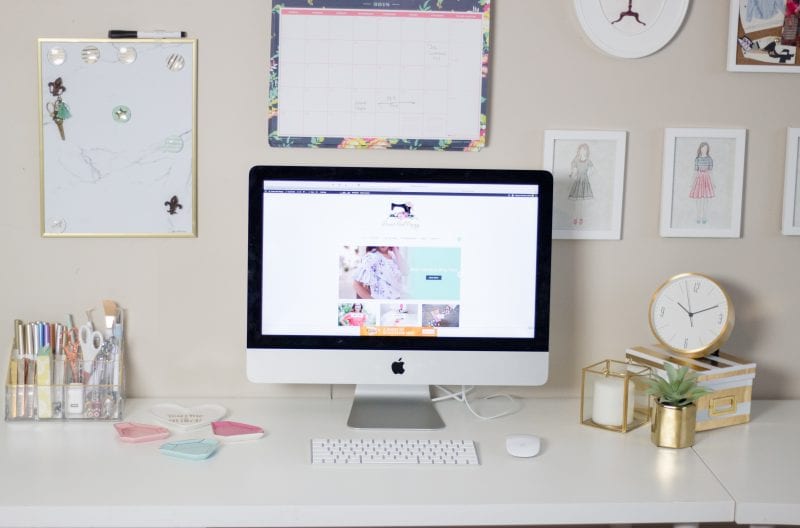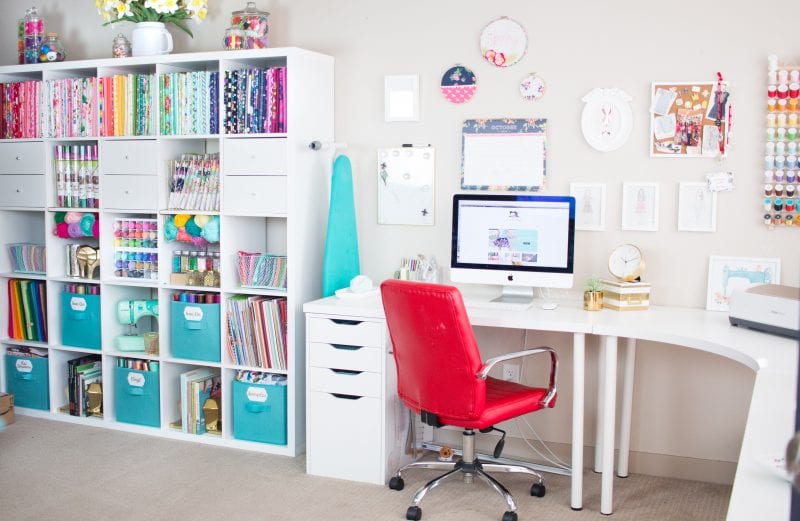 The Curved Corner Desk makes great use of an awkward corner and allows me to have a deep table for holding all of my thread racks.
Finally, I have the Long Desk with 5 Legs which serves as the perfect spot for my extra machine. It's right against my three windows so I use that area to take photos and create flat lays.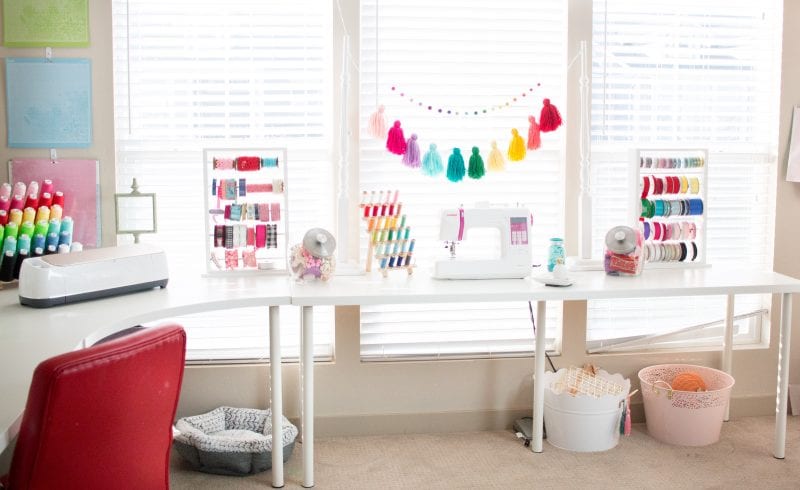 Here is the little yarn and pom-pom garland I referred to earlier! I love having an extra sewing machine set up in my sewing room because I always seem to have a neighbor or friend coming over to sew with me!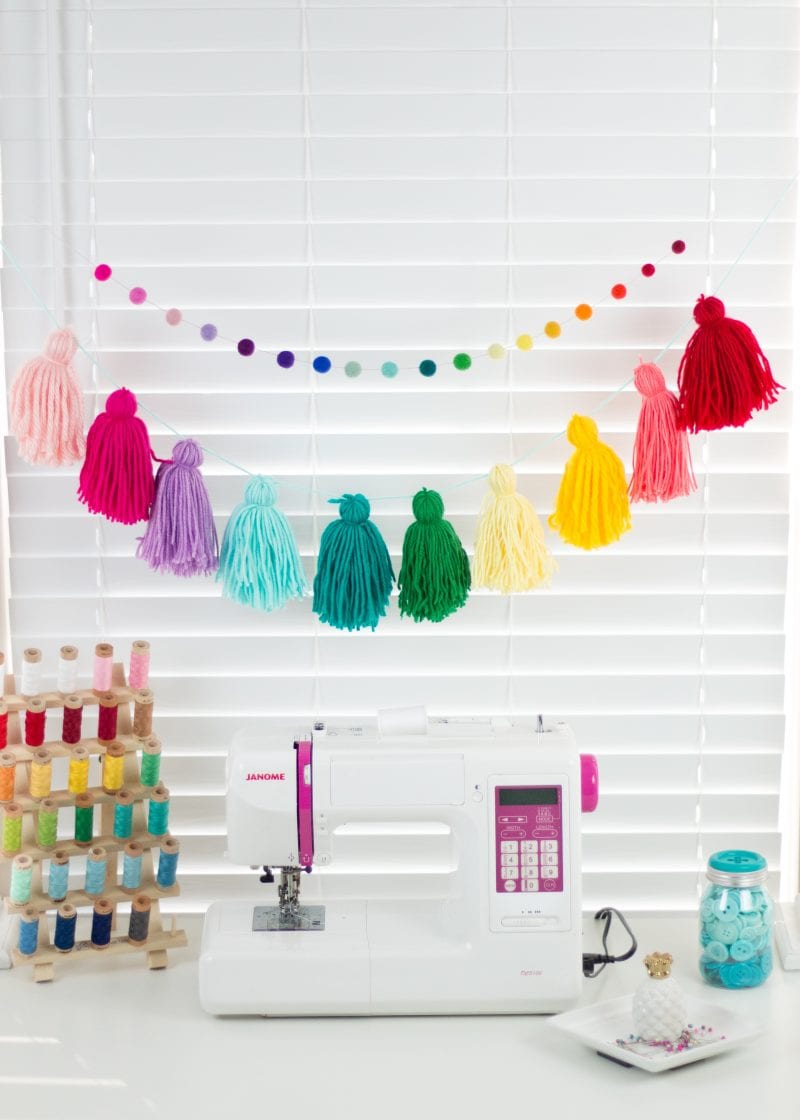 Rulers used to drive me absolutely crazy! I could never find the clear ones because they blend in with the fabric and I never knew how to organize them. Hanging Command Hooks under my table was the perfect solution to this problem!
I used an over-the-door shoe holder for this notions organizer. It was under $10 at Walmart and I cut out some vinyl on my Cricut and made labels to keep everything organized. I'm always guilty of just shoving things wherever when things are properly labeled so this is really helpful. Plus, my best friend loves to come over and sew and now she can find everything she needs!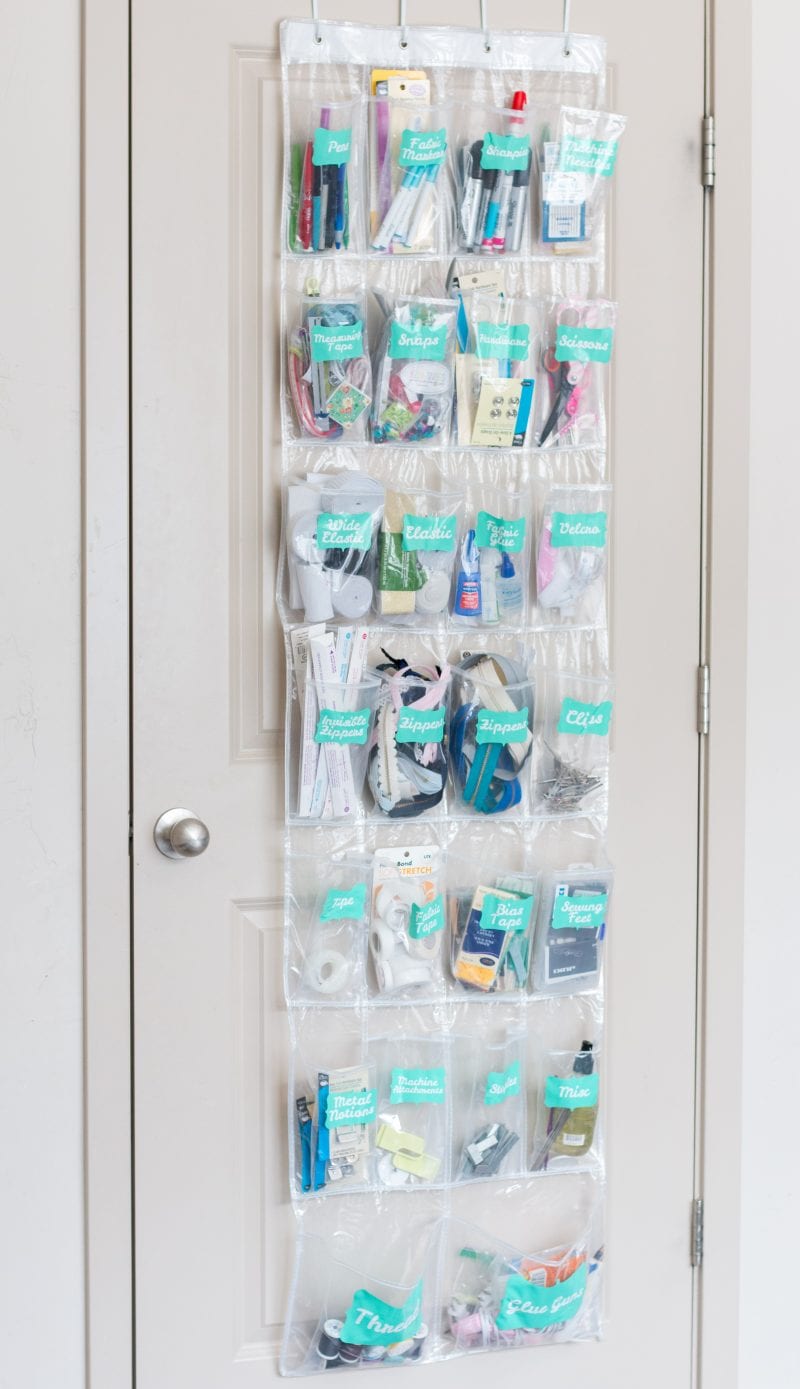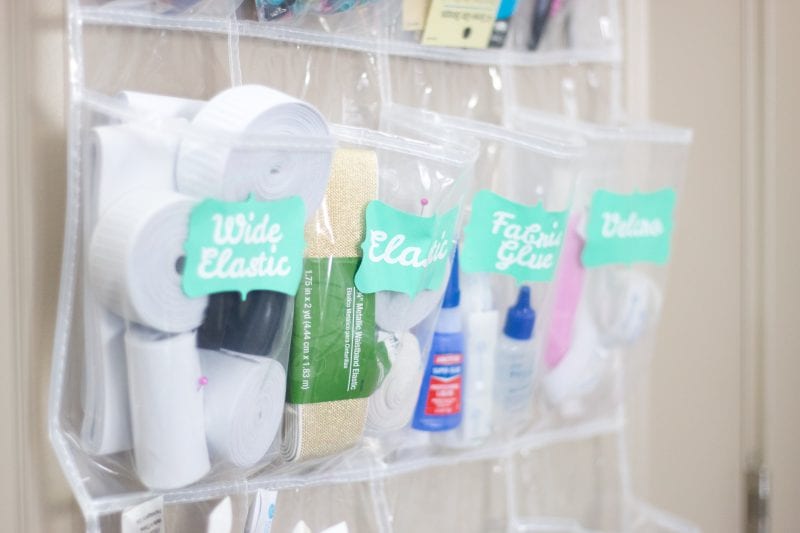 Desks Used:
Sewing Room Supplies & Organizers Used:
That's it for my craft room tour! I hope you enjoyed getting a peek into my sewing and crafting studio. I'd love to see how you implement these craft storage tips in your own space!
You can find me on Instagram at SweetRedPoppy. If you use these sewing room ideas and tips be sure to tag me in your craft room space so I can see it!
Don't want to forget about these sweet, Cute & Functional Craft and Sewing Room Ideas? Save this project for later! Click here to save this project on Pinterest.
SaveSave
SaveSave
SaveSave
SaveSave
SaveSave
SaveSave